Edinburgh is a wonderful city to explore. Climb a volcano, see where JK Rowling got her inspiration for the Harry Potter series, tour a castle, and learn all about whisky. If you have 2 days in Edinburgh, you have enough time to visit the best spots in the city.
Follow our itinerary, complete with maps, walking routes, and recommendations on where to stay and where to eat. If you have more than 2 days in Edinburgh, get recommendations on great day trips to take from the city.
2 Days in Edinburgh Itinerary
Edinburgh Itinerary Day 1
Edinburgh Castle, the Royal Mile & Arthur's Seat
On Day 1 you will tour the Royal Mile, starting at Edinburgh Castle and ending at Arthur's Seat. It's a lot of walking so make sure you wear a comfortable pair of shoes!!
How to Use This Map: Click the tab in the top left hand corner of the map to view the layers (points of interest and the walking route). You can click the check marks to hide or show layers. If you click the icons on the map, you can get more information about each point of interest.

If you click the star next to the title of the map, this map will be added to your Google Maps account. To view it on your phone or computer, open Google Maps, click the menu button, go to "Your Places," click Maps, and you will see this map on your list.
9:00 am: Edinburgh Castle
Edinburgh Castle is the centerpiece of the city. It sits upon Castle Rock, the remains of a dormant volcano. The castle was constructed in the 12th century and has been the site of tumultuous historical events spanning hundreds of years. Now, over one million visitors tour the castle every year.
All of those visitors makes the castle very crowded, especially during the summer months. To avoid the crowds, arrive here before opening time, so you will be one of the first inside of the castle. This makes for a much nicer experience, seeing the Crown Jewels and Royal chambers without queuing with lots of people.
PRO TRAVEL TIP: For low crowds and to avoid a long wait in line, purchase your tickets in advance. We also recommend arriving about 30 minutes before opening time. People line up early to enter the castle, so by showing up before opening time, you should be able to head right into the castle at 9:30 am (as long as you purchased your tickets in advance…if not, you will have to line up in the ticket line). For more tips visiting Edinburgh Castle, plus things to see and do while you are here, read our Guide to Edinburgh Castle.
You can get hours of operation, ticket prices, and purchase your tickets in advance on the official website.
If you prefer to visit Edinburgh Castle with a guide, this 1.5 hour tour includes your entrance ticket and skip-the-line access to the castle.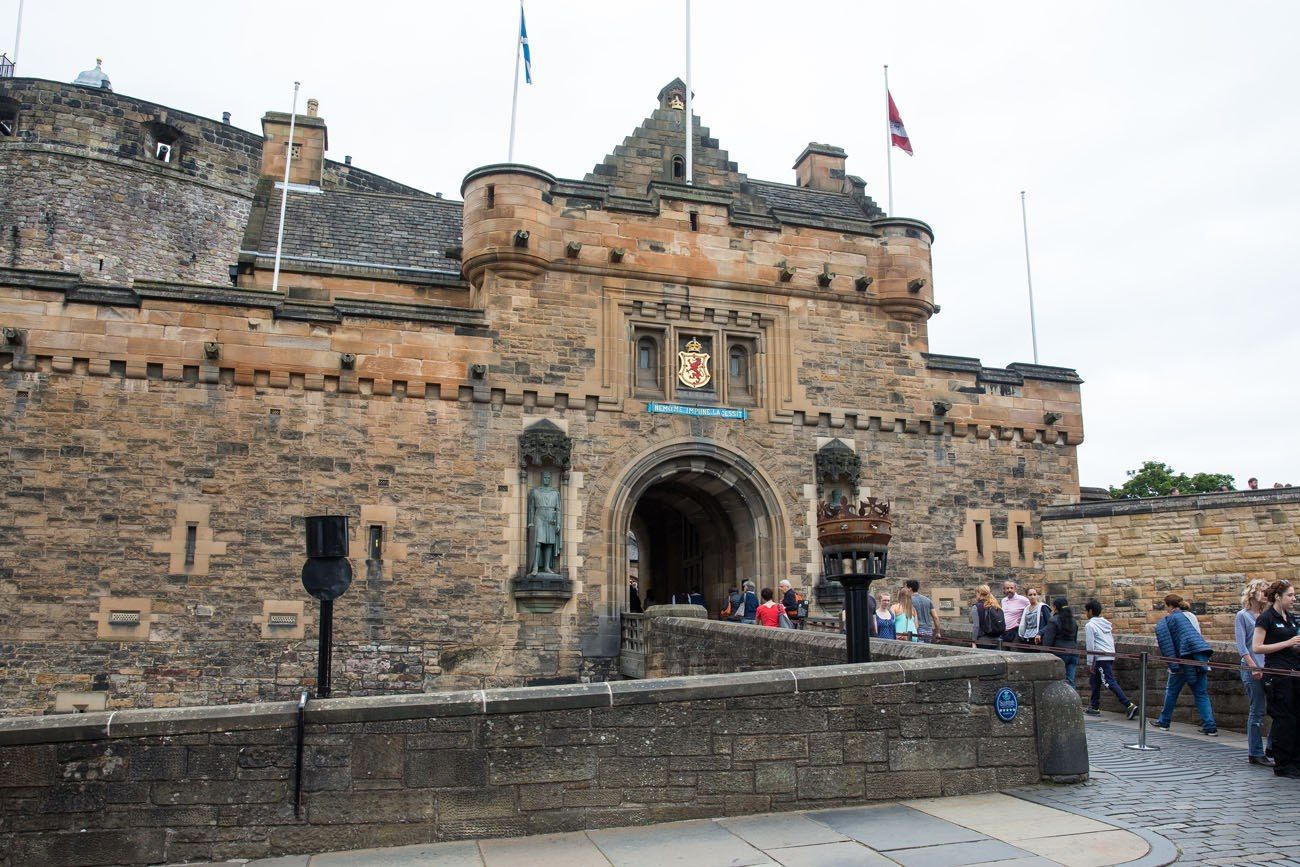 Edinburgh Castle | 2 Days in Edinburgh Itinerary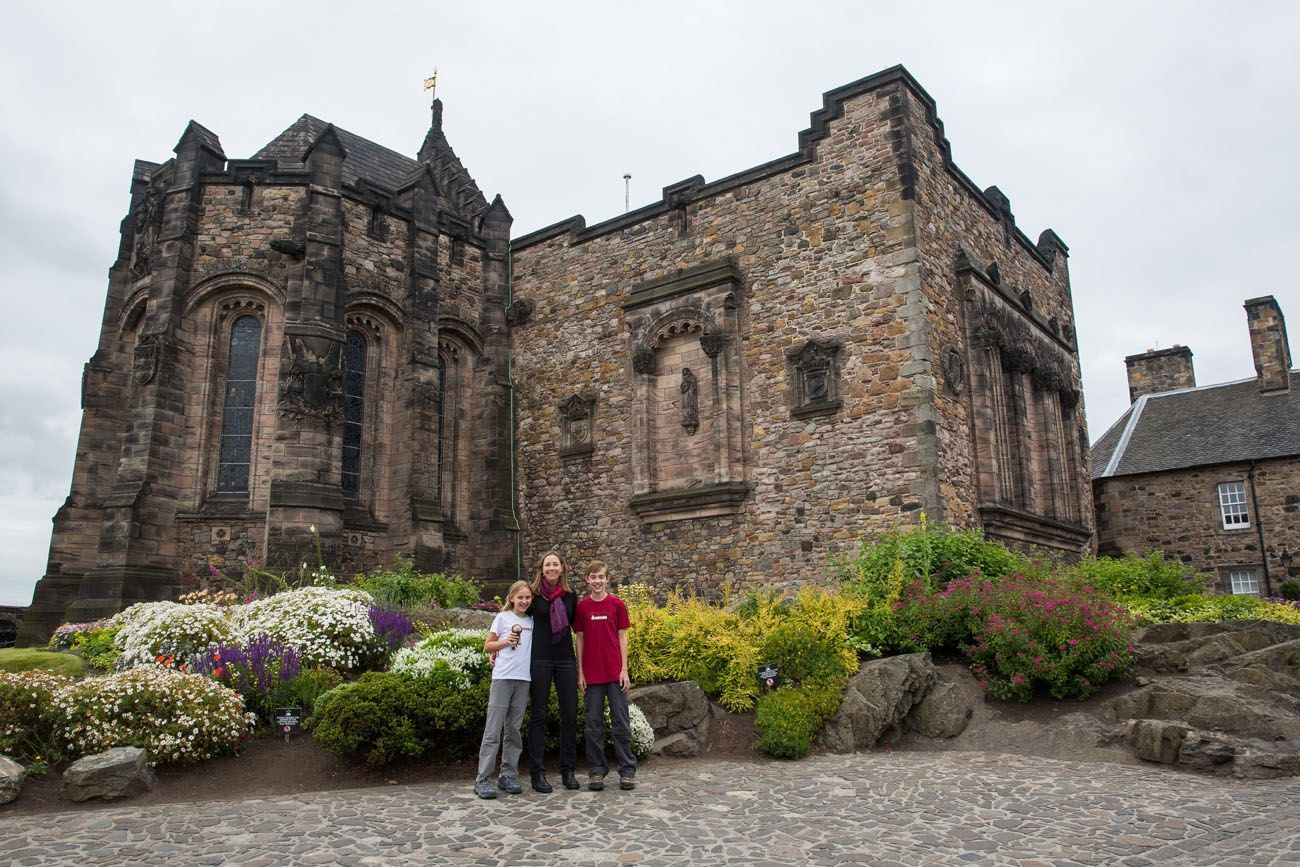 Edinburgh Castle | 2 Days in Edinburgh Itinerary
Take your pick: Whisky or Illusions
Camera Obscura and the World of Illusions
Camera Obscura is located one block down the Royal Mile from the Edinburgh Castle. If you are visiting Edinburgh with kids, this is an awesome spot to visit. Six floors are filled with illusions, puzzles, and optical tricks.
At the top of the building is the Camera Obscura show. During the show, see live moving images of Edinburgh projected onto a viewing table via a periscope. Or, just enjoy the view over Edinburgh from the rooftop. It is one of the best views of the city.
Hours: Hours vary by season but they are generally open from 9 am to 7 pm with longer hours during the weekends. Visit the website for updated hours during your visit.
Website: Get updated hours and pricing on the official website.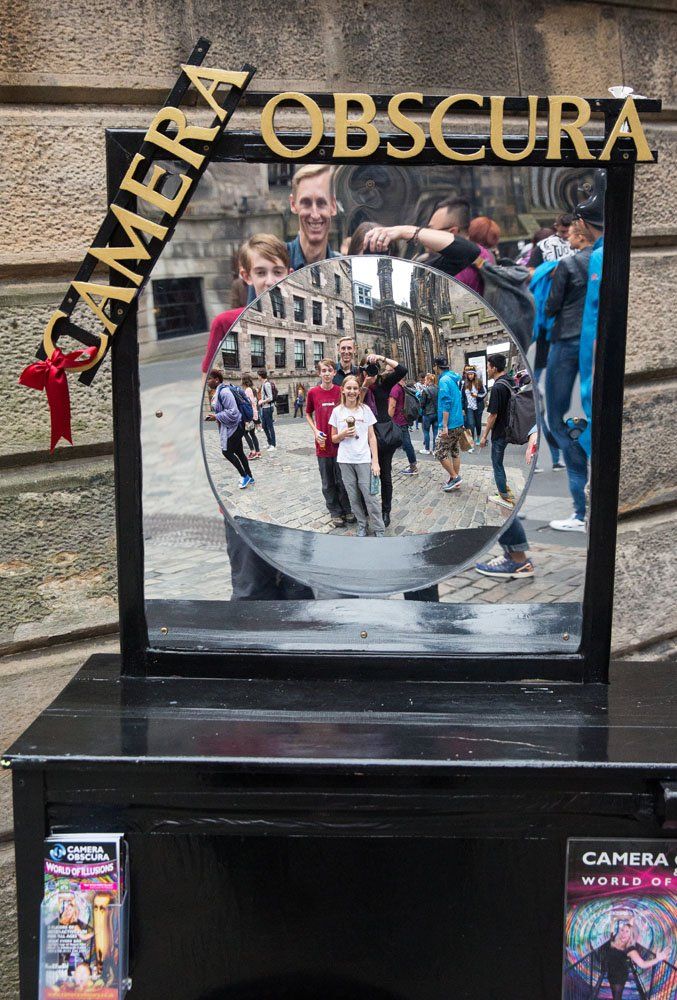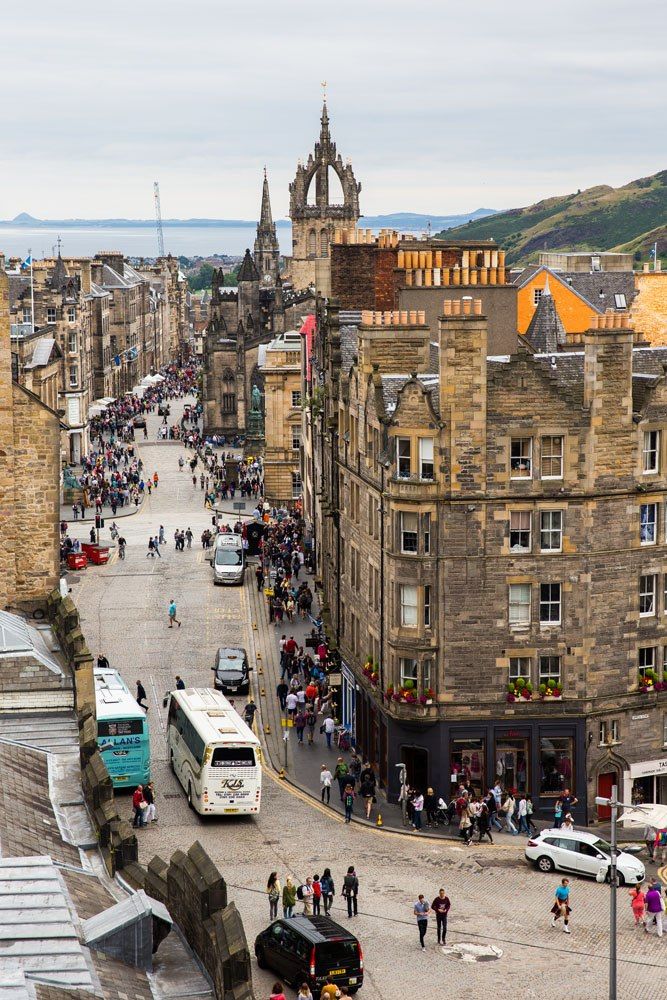 View from the rooftop of Camera Obscura | 2 Days in Edinburgh Itinerary
The Scotch Whisky Experience
At the Scotch Whisky Experience, learn about the distilling of scotch whisky. Your tour starts with a barrel ride through the virtual distillery and ends with a whisky tasting. We did the Gold Tour, which included a tasting of four whiskies from different regions of Scotland.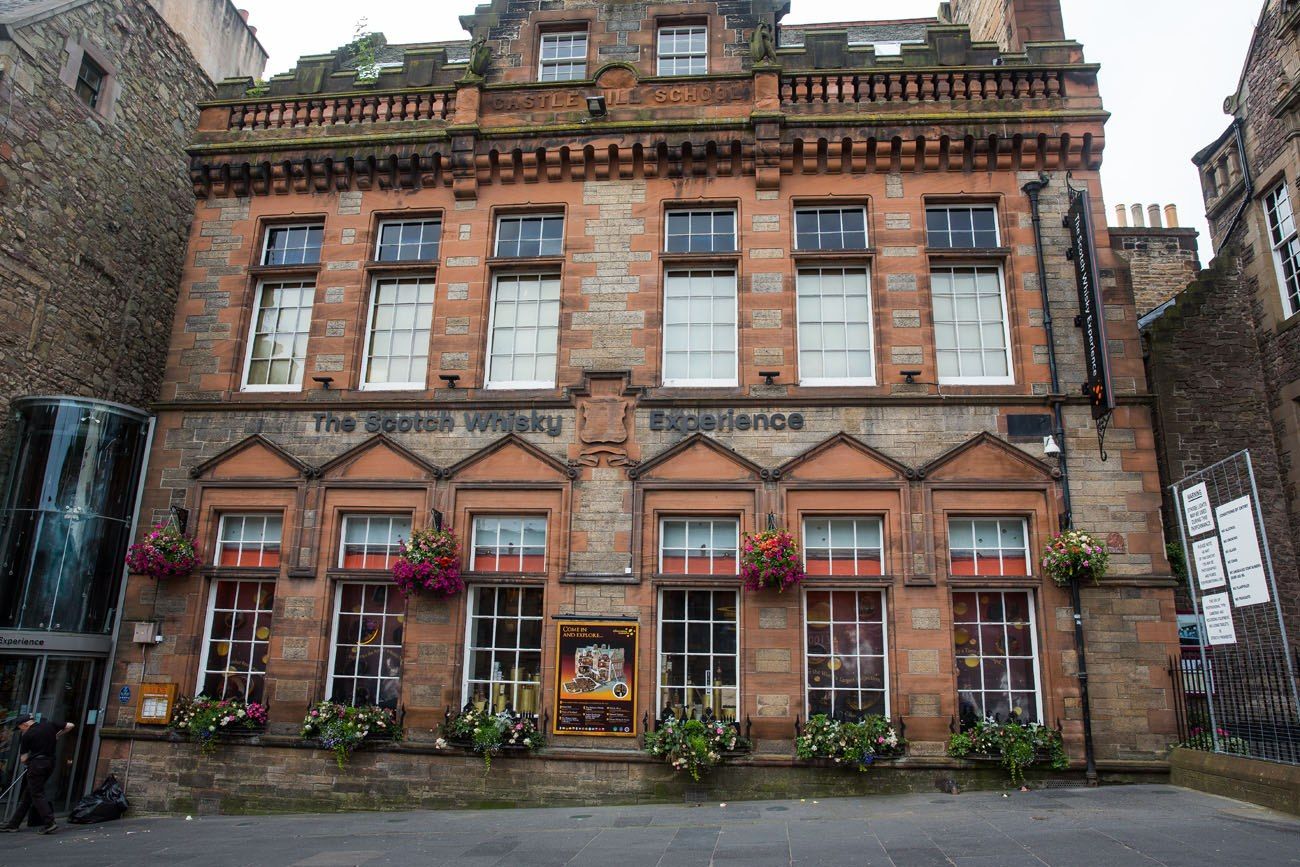 Scotch Whisky Experience | 2 Days in Edinburgh Itinerary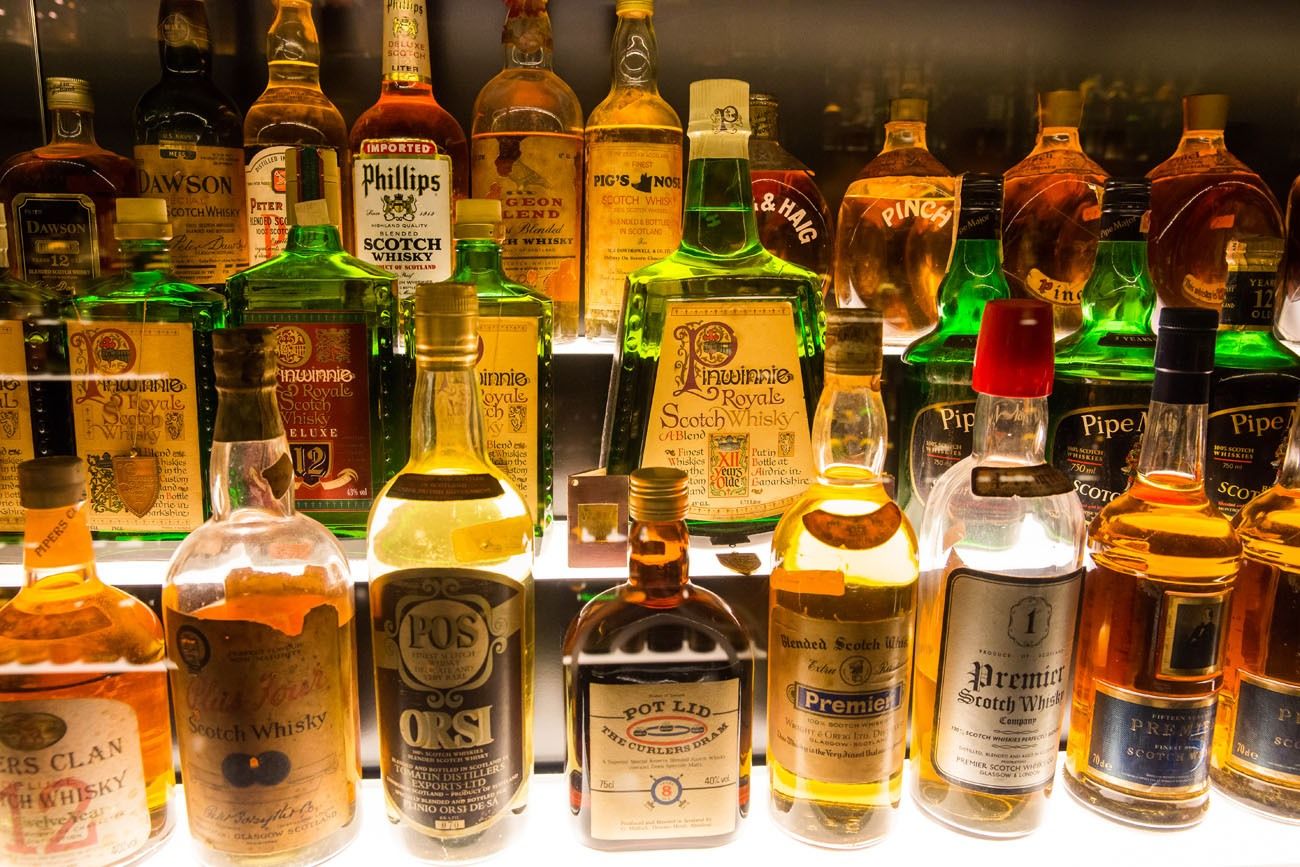 If you are traveling with kids, they are allowed on the tour. Tyler and Kara had a good time, especially during the short, educational barrel ride. Of course, children are not permitted to taste the whisky.
For full details on the tours offered, visit the Scotch Whisky Experience website. Tickets can also be purchased through GetYourGuide.
Note: If you move fast, you can visit the Camera Obscura and take a tour at the Scotch Whisky Experience before lunch.
Lunch
There are several restaurants in the immediate area. Normally, we do not recommend having lunch in the main tourist area, but since the afternoon continues on the Royal Mile, it is convenient to eat here.
We ate at Ensign Ewart, located just a few blocks down the Royal Mile from the Scotch Whisky Experience. This is a cozy pub with a small menu, serving Scottish food, beer, wine, and of course, whisky.
More Sights Along the Royal Mile
For the remainder of the afternoon, continue the walk down the Royal Mile. Go shopping, take a break at a pub for a pint of beer or a dram of whisky, and have your photo taken with one of the street performers. During the walk down the Royal Mile, there are several places we recommend visiting.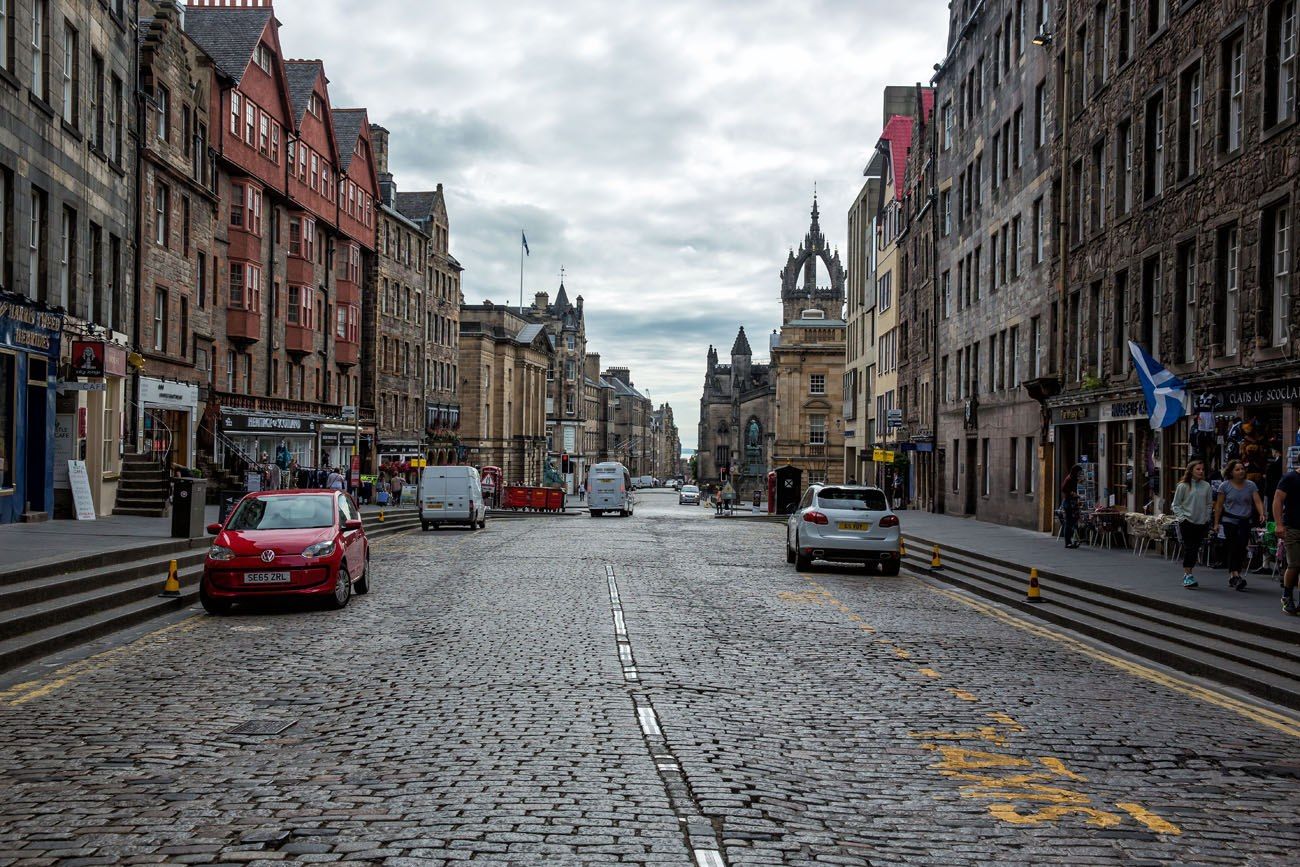 Royal Mile | 2 Days in Edinburgh Itinerary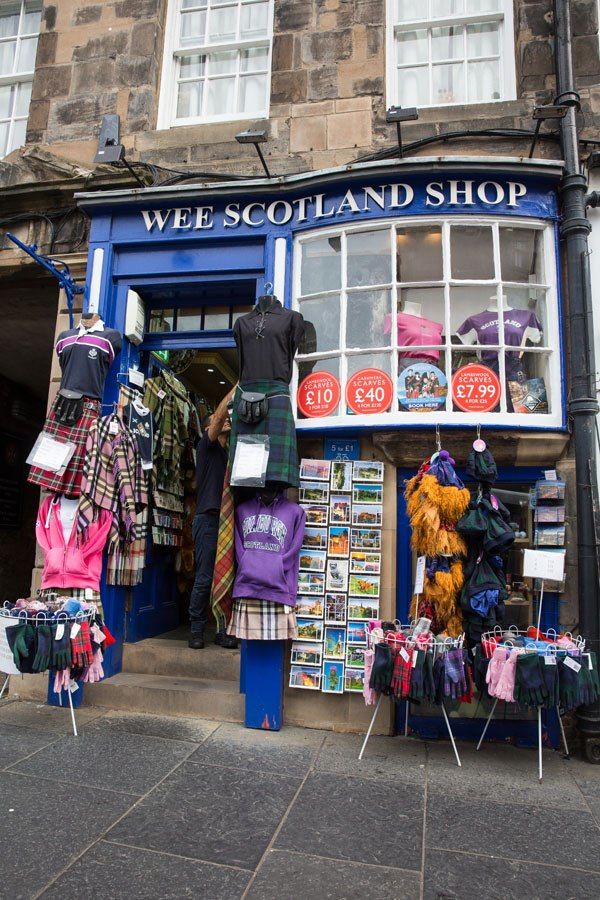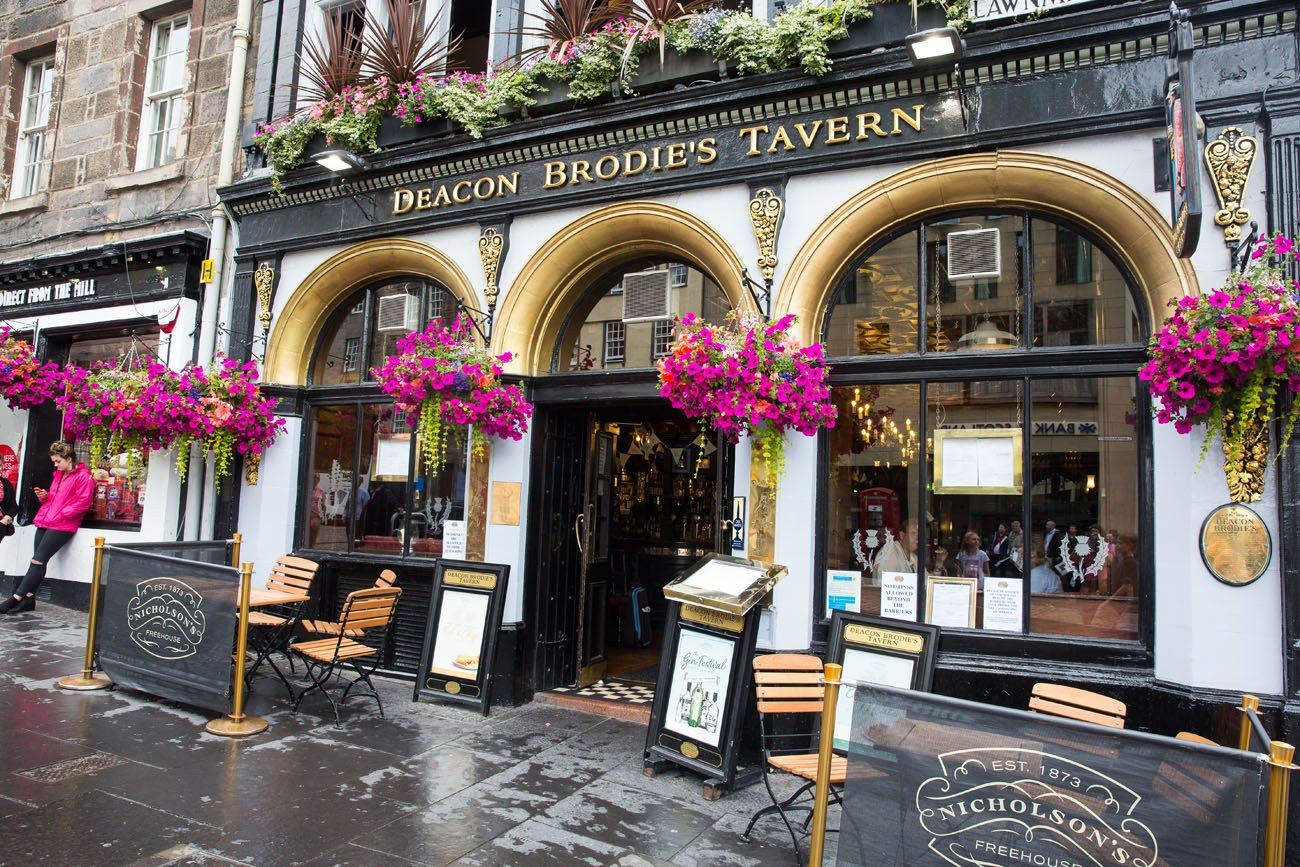 St. Giles' Cathedral
The steeple of St. Giles' Cathedral is one of the icons of Edinburgh. This church was built in the 14th century and today is the main church of Edinburgh. It is free to visit (although donations are welcome). The ceiling of the nave is a brilliant blue and definitely worth a look.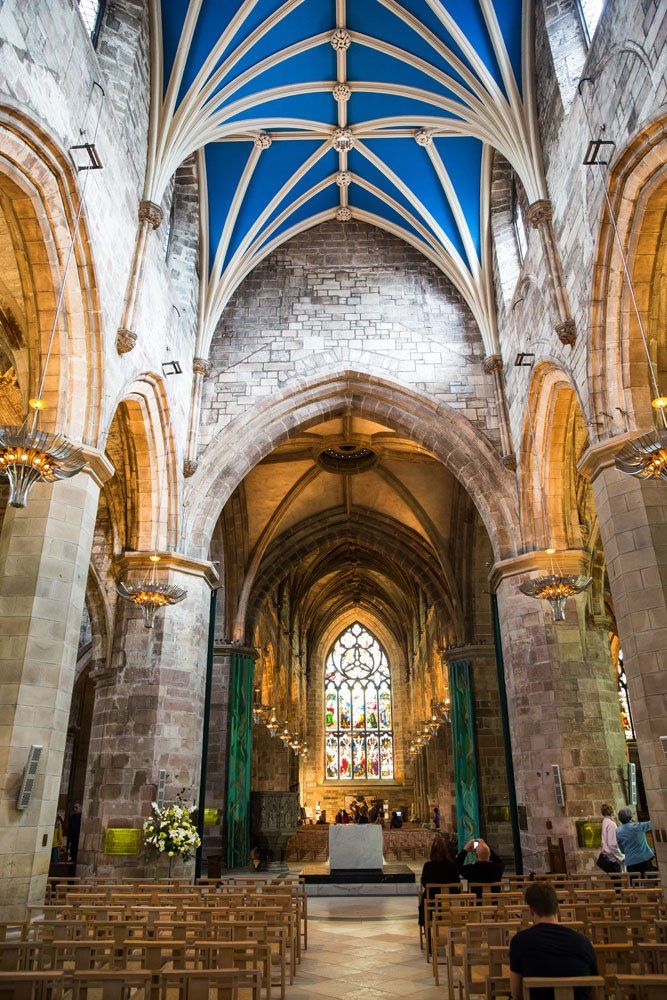 St. Gile's Cathedral | 2 Days in Edinburgh Itinerary
Real Mary King's Close
This is the perfect tour to learn about medieval life in Edinburgh. Journey back in time to 1645 Edinburgh, down Mary King's Close, a real alleyway in the city. This was the year of the Black Death, when one-third of Edinburgh's population succumbed to this terrible illness. With our entertaining guide, we learned what it was like to live in Edinburgh during these hard times. If you want an interesting history lesson about Edinburgh, we highly recommend this tour.
Tours last one hour. If you are visiting Edinburgh on a weekend or during peak season, we advise booking your tickets in advance. Visit their website for more information.
Cadenhead's Whisky
This is a must visit for whisky aficionados. Cadenhead's is Edinburgh's oldest independent bottler of whisky. They offer tastings and have an extensive knowledge of whisky. If you are looking to bring a bottle of whisky home as a gift or a souvenir, this is a great shop to visit.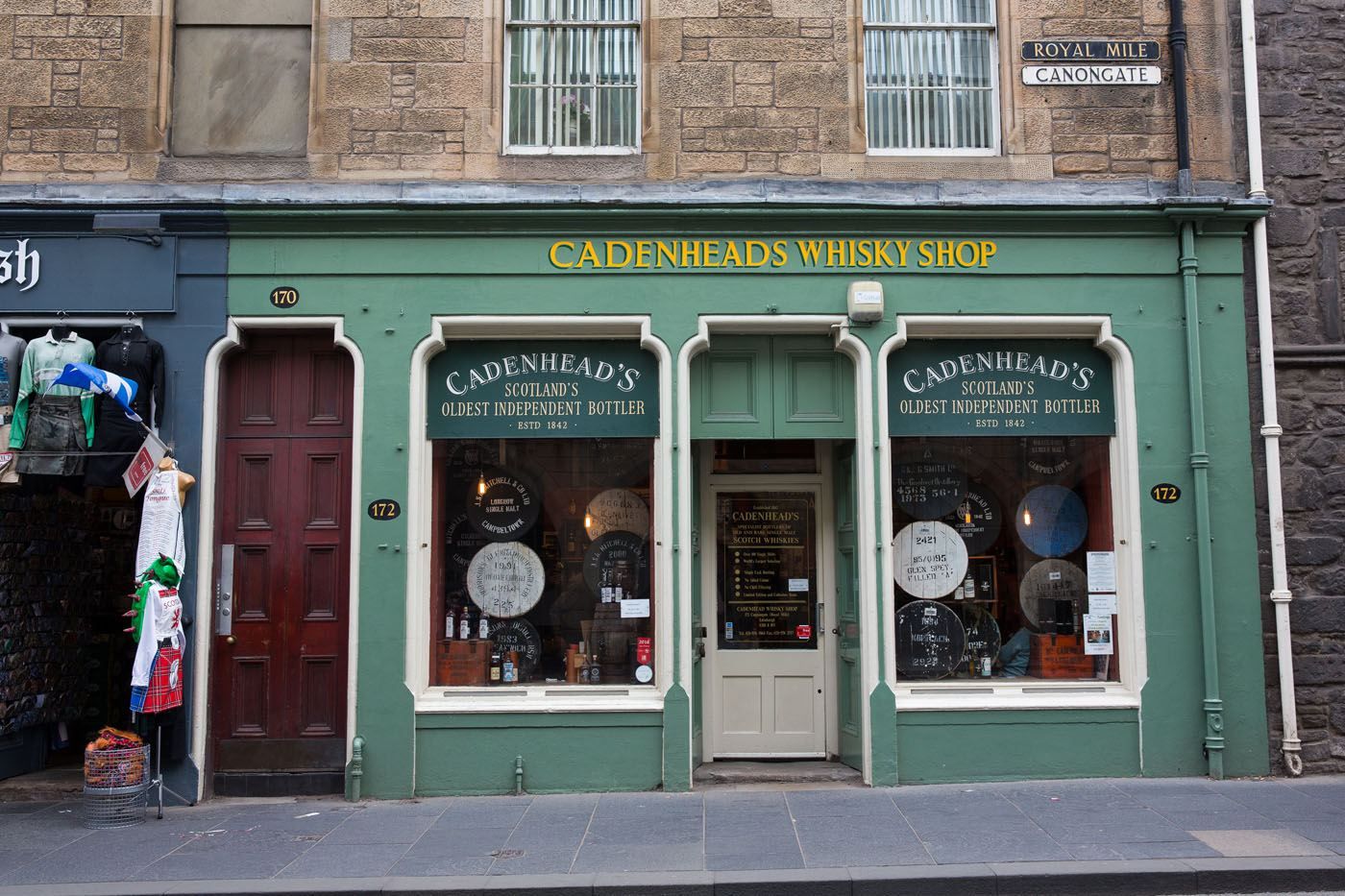 Cadenhead's Whisky | 2 Days in Edinburgh Itinerary
Palace of Holyroodhouse
The Royal Mile ends at the Palace of Holyroodhouse. This palace is the official residence in Scotland of Queen Elizabeth. She resides here about one week every year. When the Queen is not here, the Palace is open for visit. One of the main attractions are the chambers of Mary, Queen of Scots.
Note: The Palace of Holyroodhouse is closed on Tuesdays and Wednesdays.
Dynamic Earth
Dynamic Earth is an Earth science museum. In the 360° dome theater, witness the big bang, fly over a glacier, witness a volcano eruption, or plunge under the sea in a virtual submarine. This is great for kids and those with an interest in science. Hours vary by day of the week and by season. Learn more here.
GETTING AROUND EDINBURGH: Walking the Royal Way from the Edinburgh Castle to Holyroodhouse is one of Edinburgh's best experiences, but an alternative way to get around the city is on a hop-on hop-off bus. This 48-hour hop-on hop-off bus tour includes visits to Edinburgh Castle, Holyroodhouse, and the Royal Yacht Britannica.
Arthur's Seat
Arthur's Seat is located in Holyrood Park, just a few minutes walk from the Palace of Holyroodhouse. This large, grass covered hill is the remains of an extinct volcano that erupted 350 million years ago. Arthur's Seat offers one of the best views of the city. It's a short, slightly strenuous hike to the highest point, but absolutely worth it to look out over Edinburgh from this vantage point.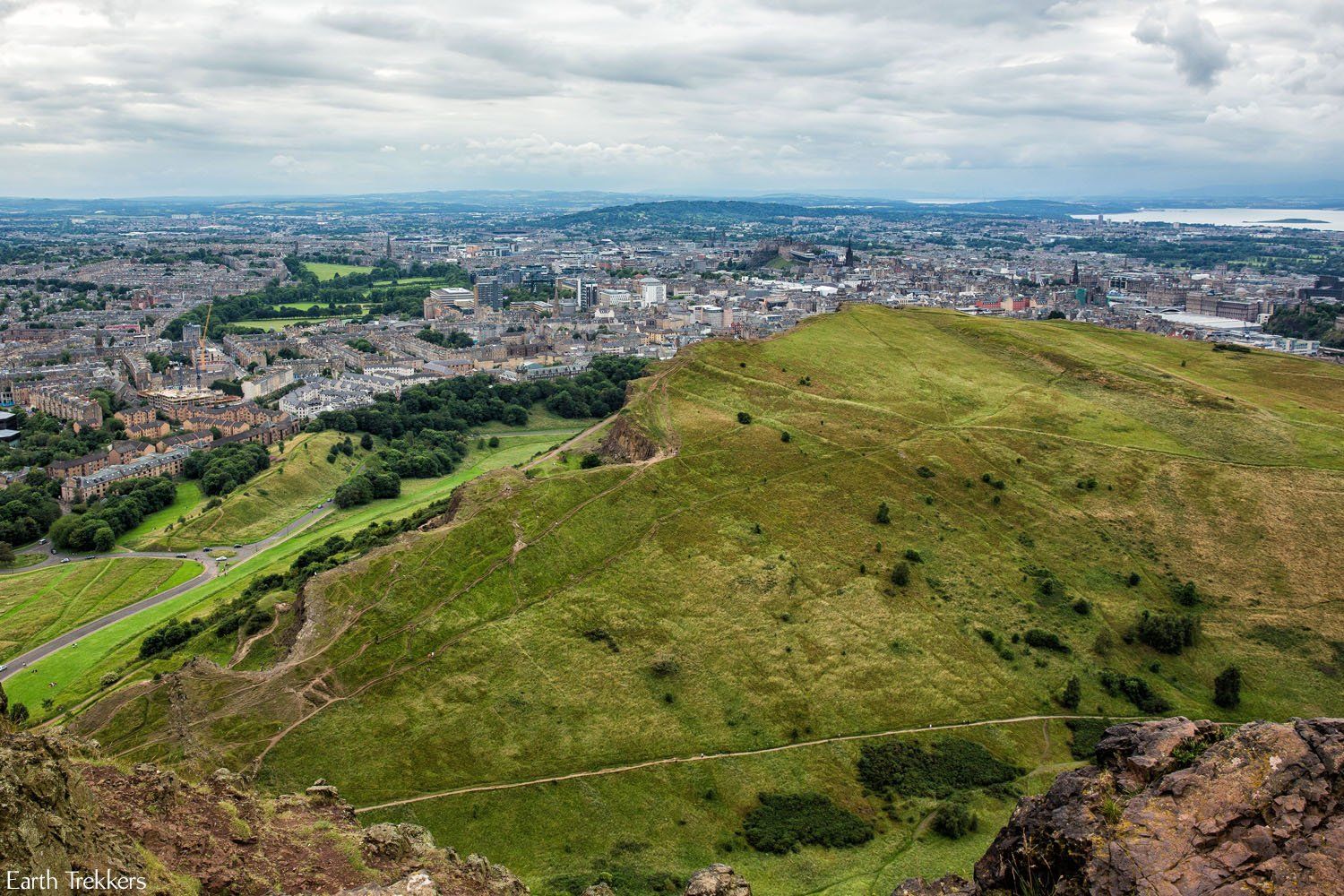 View from Arthur's Seat | 2 Days in Edinburgh Itinerary
There are several options for reaching the summit. For an easy walk with views out over the best of Edinburgh, walk the Salisbury Crags. For more dramatic, panoramic views of the city (and a slightly strenuous hike) climb to Arthur's Seat.
Dinner at The Scran and Scallie
Our day ends with a fabulous dinner. Leave the touristy Royal Mile behind and venture out to the neighborhood of Stockbridge. This was our favorite meal in Edinburgh. If you want to dine on traditional Scottish food cooked perfectly, this is your place. Items on the menu include roasted bone marrow, ox tongue, fish and steak pies, mashed potatoes, cabbage with bacon, and chocolate and whisky mousse. The food is delicious and many things we tried here were brand new to us.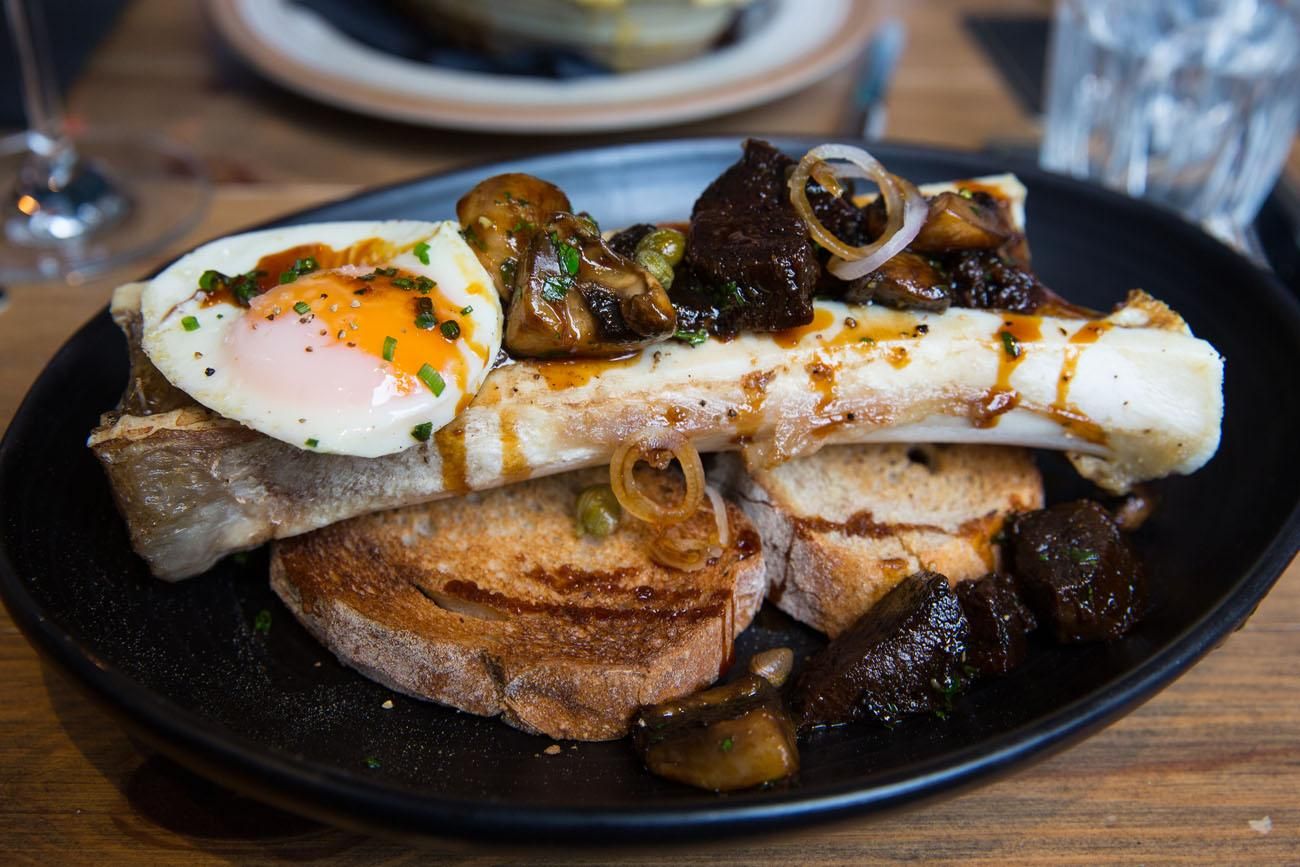 Scran and Scallie | 2 Days in Edinburgh Itinerary
I highly recommend putting this experience on your list of things to do in Edinburgh. And I also highly recommend making sure you have a reservation for dinner…they are busy and fill up fast. Here's the link to their website.
Your day can end here, or, if you still have energy to keep going, visit one of Edinburgh's many pubs.
---
Edinburgh Itinerary Day 2
Museums, Walking Tours and a Visit to Dean Village
Today we explore more of the Old Town of Edinburgh, tour some of Edinburgh's best museums, and visit picturesque Dean Village.
Morning: Tour One of Edinburgh's Best Museums
After breakfast, tour one (or more) of Edinburgh's best museums. Here are your options:
The National Museum of Scotland
This museum has a little bit of everything: world cultures, science and technology, Scottish history, art, and exhibits about the natural world. If you are traveling with kids, this museum is your best bet to keep them entertained. Plus, the museum is free.
Open Daily 10:00 – 17:00
Admission is free, donations are welcome
Website: www.nms.ac.uk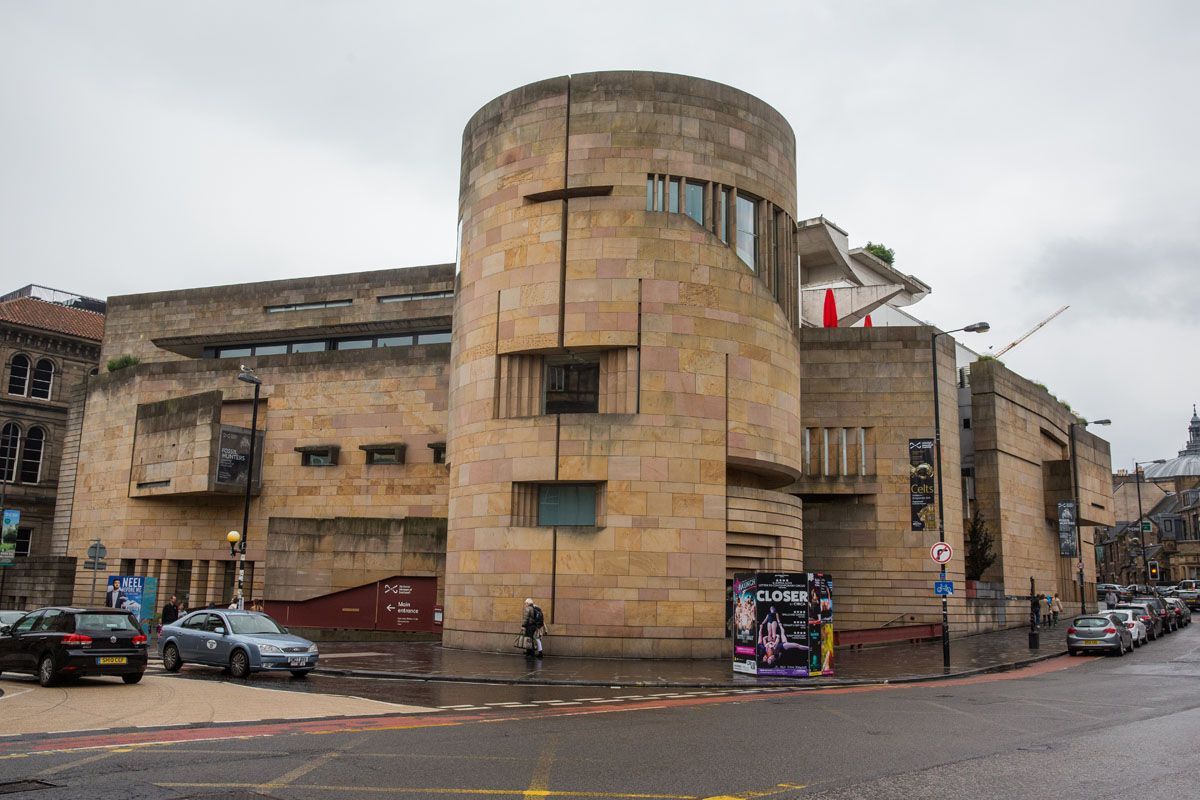 National Museum of Scotland | 2 Days in Edinburgh Itinerary
Surgeon's Hall Museum
Geared towards adults, older kids, and anyone with an interest in the medical field, this is a fascinating look into what can go wrong inside of our bodies. The Wohl Pathology Museum is home to one of the largest collections of pathological specimens in the world. It's a bit gruesome, but for some that may be the appeal. Tyler and Kara were mesmerized, looking at birth defects, fractured bones that never healed, and cancers. If you want a change of pace from the typical Edinburgh sightseeing circuit this may be a place to visit.
PRO TRAVEL TIP: The National Museum of Scotland and the Surgeons' Hall Museum are located near each other. If you tend to move quickly through museums, you can visit both of these before lunch (this is what we did).
Scottish National Gallery
This is a must for art lovers. Located on The Mound, the Scottish National Gallery is free to visit. After your visit, consider a stroll through the Princes Street Gardens or climb the Scott Monument for another bird's eye view of Edinburgh.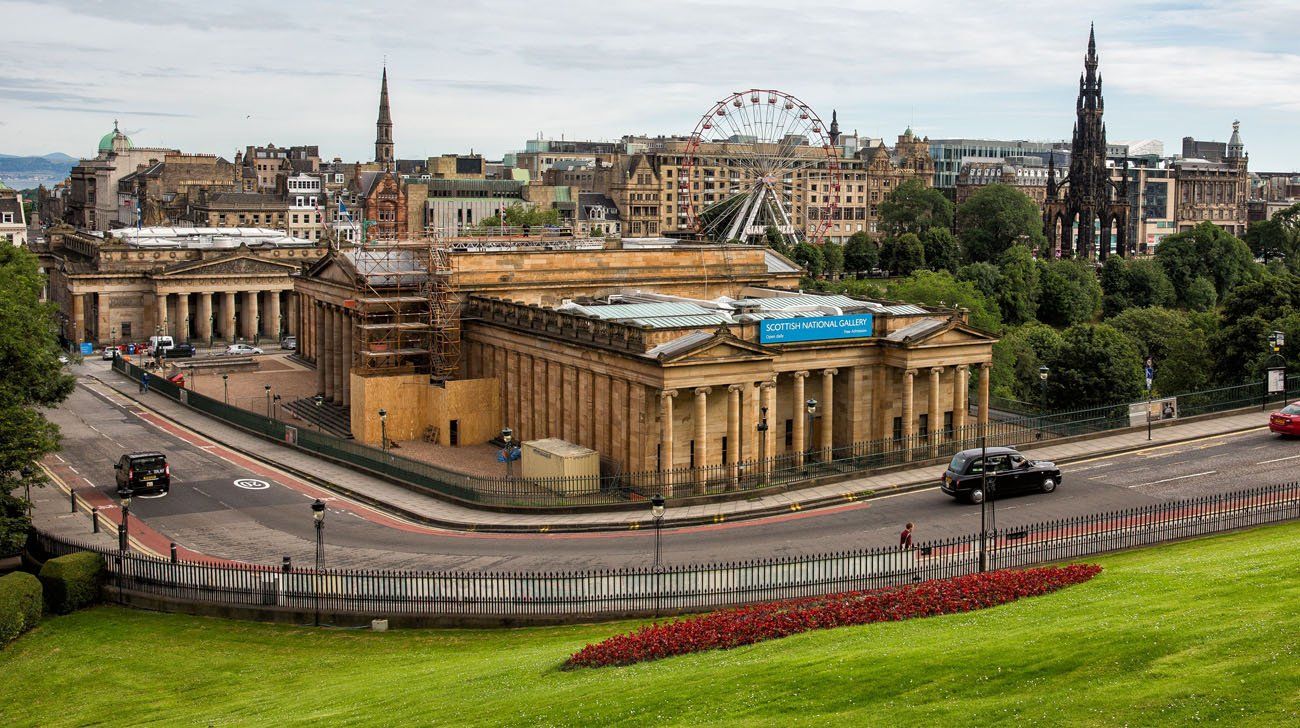 Royal Yacht Britannia
This is one of the most famous ships in the world. It was home to the Royal Family as they cruised to various ports around the world on official visits. Now you can tour this floating palace.
The Royal Yacht is located fifteen minutes from the center of Edinburgh at the Ocean Terminal. To get here, take the Line 35 bus from Chambers Street next to the National Museum of Scotland, take a taxi, or use Uber.
Tickets can be purchased in advance on the official website.
Lunch in the Old Town of Edinburgh
Spend the middle of your day touring the Old Town of Edinburgh, in particular the area around Grassmarket, Cowgate, and Victoria Street. Technically, the Old Town also includes the Royal Mile. Today, we are going just one block south of the Royal Mile to explore the old cobblestoned streets and shops here.
It's amazing how many tourists you will leave behind by stepping off of the Royal Mile. This is a small area so you can walk it in an hour or less.
Don't miss Victoria Street! It is beautiful with its colorful façades and Gothic architecture.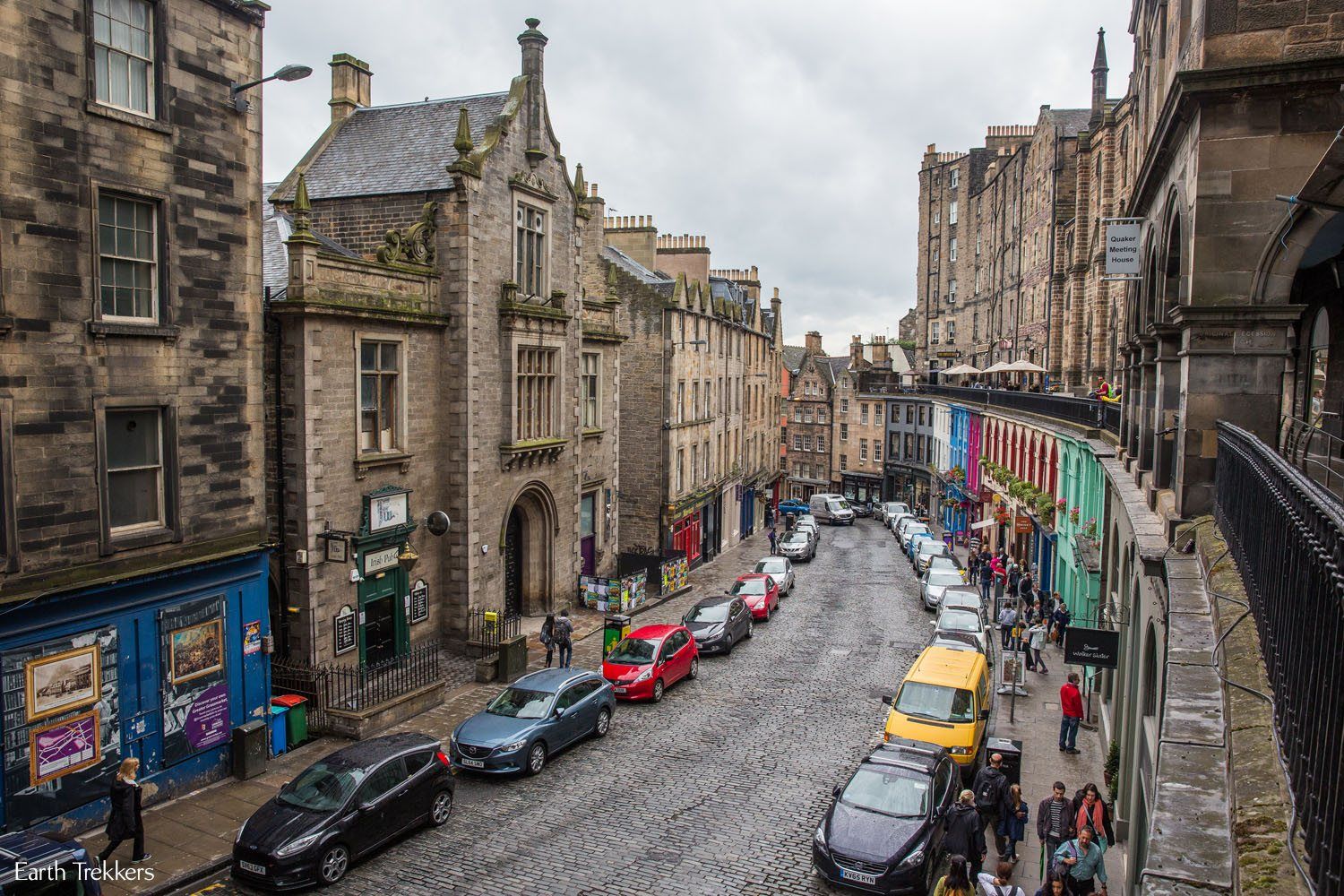 Victoria Street | 2 Days in Edinburgh Itinerary
For lunch, some of the more popular restaurants in the area are:
Oink, specializes in hog roasts, 34 Victoria Street
The Elephant House, where JK Rowling had her inspiration for the Harry Potter series. Food is nothing special but Harry Potter fans might enjoy a visit here. 21 George IV Bridge
Vittoria on the Bridge, Italian and European food, 19 George IV Bridge
Greyfriars Bobby Bar, Scottish Pub, 30-34 Candlemaker Row
Afternoon in Edinburgh
In the afternoon, you have enough to take a walking tour of Edinburgh and wander through picturesque Dean Village.
Take a Harry Potter Tour of Edinburgh
If you are a Harry Potter fan, consider taking a walking tour, visiting the sights that served as the inspiration for scenes in the Harry Potter series. The Potter Trail offers a free tour that covers most of the Old Town of Edinburgh. This 2 hour walking tour has a small group size and gets rave reviews.
Take a Ghost Tour of Edinburgh
These are not your typical city walking tours. Tour the vaults under the Old Town or take a walking tour through historic city center and hear tales of witch burning and grave robbing.
Beautiful Dean Village
Dean Village is a small, residential area in Edinburgh. It's quiet, it's beautiful, and it's off the beaten path.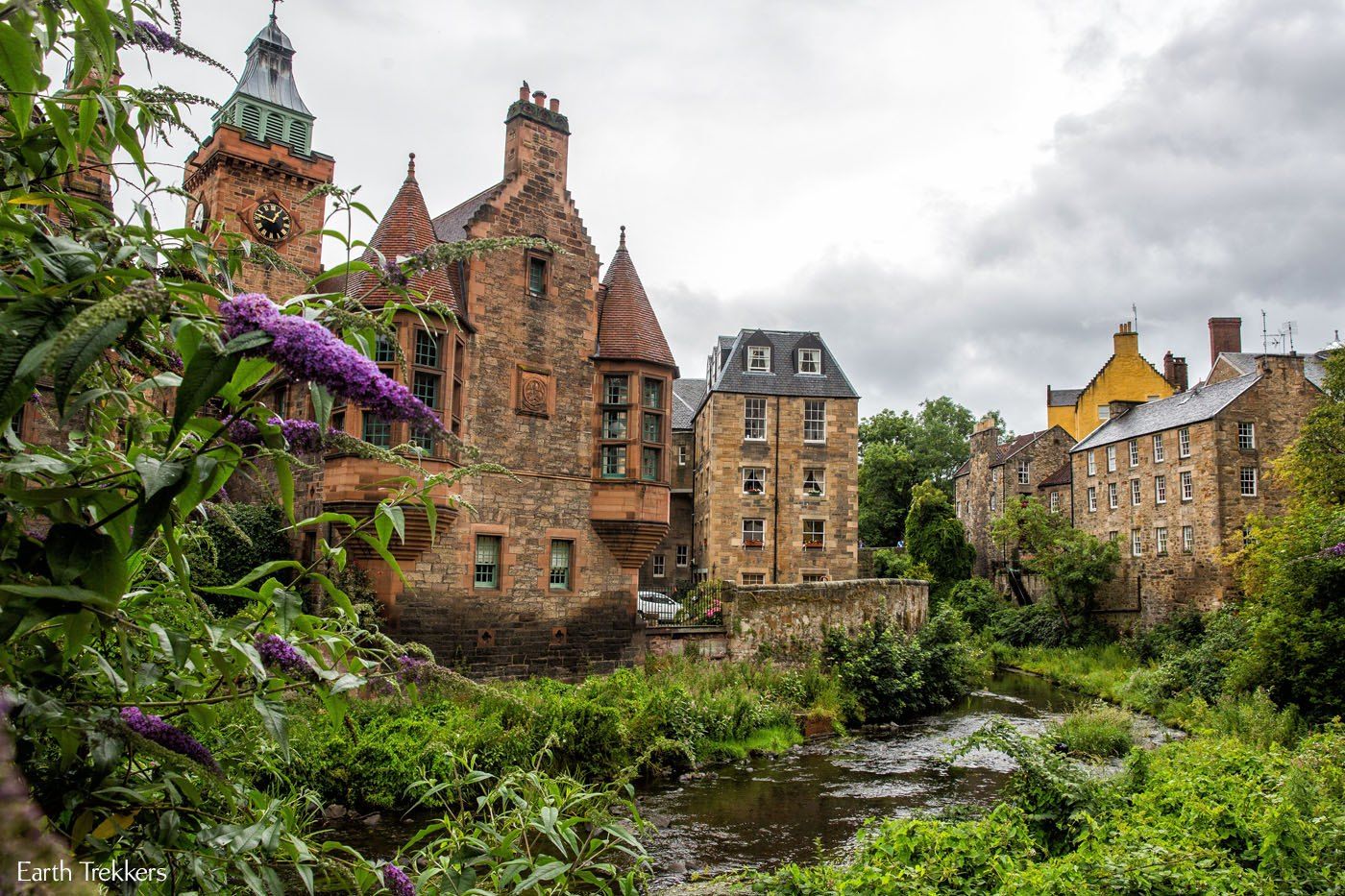 Dean Village | 2 Days in Edinburgh Itinerary
Dinner in Edinburgh
Finish the day with dinner in Edinburgh. There are tons of awesome restaurants to try. We recommend a visit to Pickles, especially if you are in the mood for a snack and not a full meal. Pickles serves cheese and meat platters, and pickles, of course! It's not a full dinner menu, but this is the perfect place to take a break from haggis and beer and have some wine and cheese. Pickles is cozy, inviting, and we all loved it here.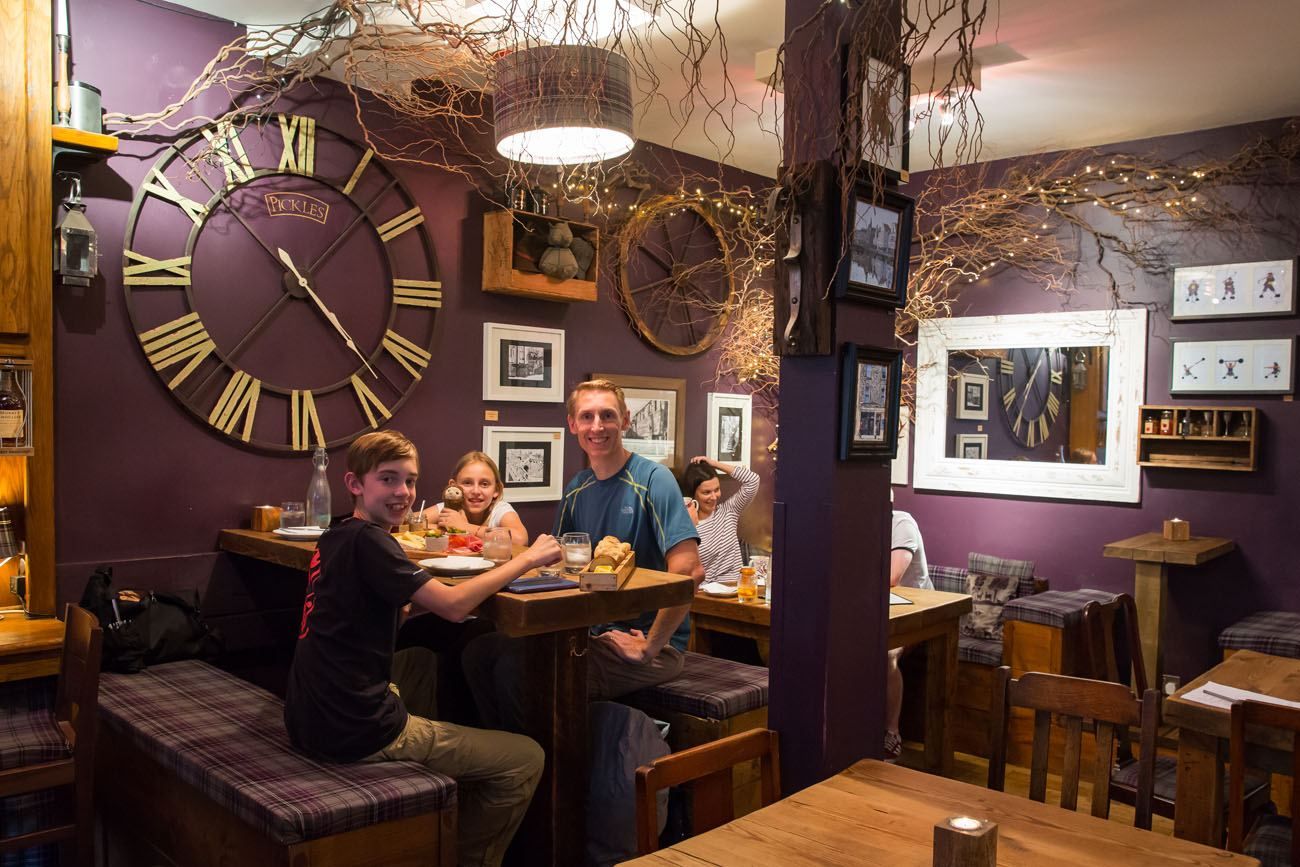 Pickles Pub | 2 Days in Edinburgh Itinerary
Day Trip Ideas from Edinburgh
If you have more than 2 days in Edinburgh, here are three day trip ideas. Take an Outlander tour, visit Glencoe, the Highlands, or Loch Ness.
Where to Stay
LUXURY: The Balmoral Hotel. This 5-star hotel is located on Princes Street, just a short walk from the Royal Mile. Many rooms offer views of the Edinburgh Castle. This hotel has a Michelin-starred restaurant and is the top luxury pick in Edinburgh.
UPSCALE: Old Town Chambers. If you want a high-end experience and are traveling as a family or as a group, this is a great choice. These modern, luxury apartments can accommodate two to six people in apartments with multiple bedrooms. It's also located right of the Royal Mile so its location is superb.
MID-RANGE: The hub by Premiere Inn Edinburgh Royal Mile. This is where we stayed and it was wonderful. With a brilliant location that is clean, modern, friendly, and quiet, it is hard to beat this place. The hotel is located just one block off of the Royal Mile. There is a café in the downstairs lobby that serves excellent food. I really have nothing bad to say about this place (and that almost never happens). We would stay here again, no doubt about it.
BUDGET: CoDE Pod Hostels – The CoURT. Located just off the Royal Mile, this innovative hostel gets rave reviews. Sleep in a "pod" in a dormitory-style room or in a private room.
---
Enjoy your 2 days in Edinburgh, and if you are traveling through Scotland, don't miss our posts on the Isle of Skye, Glasgow, and road tripping through Scotland!
More Information about Scotland
EDINBURGH: We have detailed guides on how to hike to Arthur's Seat, how to visit Edinburgh Castle, the best things to do with kids in Edinburgh, how to visit Dean Village, and where to get the best views of Edinburgh.
SCOTLAND ITINERARY: With 10 days in Scotland, visit the highlights, including Edinburgh, Glasgow, the Isle of Skye, and Glencoe.
GLASGOW: For ideas on what to do while in Glasgow, read our 1 Day Glasgow Itinerary.
ISLE OF SKYE: We cover how to visit the Isle of Skye in our Isle of Skye Travel Guide. We also have articles about the best things to do on the Isle of Skye and travel itineraries for 1, 2, and 3 days on the Isle of Skye.
EUROPE ITINERARIES: Get more travel ideas in our article 10 Days in Europe itinerary, which has 10 itineraries for your next trip to Europe. If you have less time, we also have an article that lists 25 different ways to spend one week in Europe.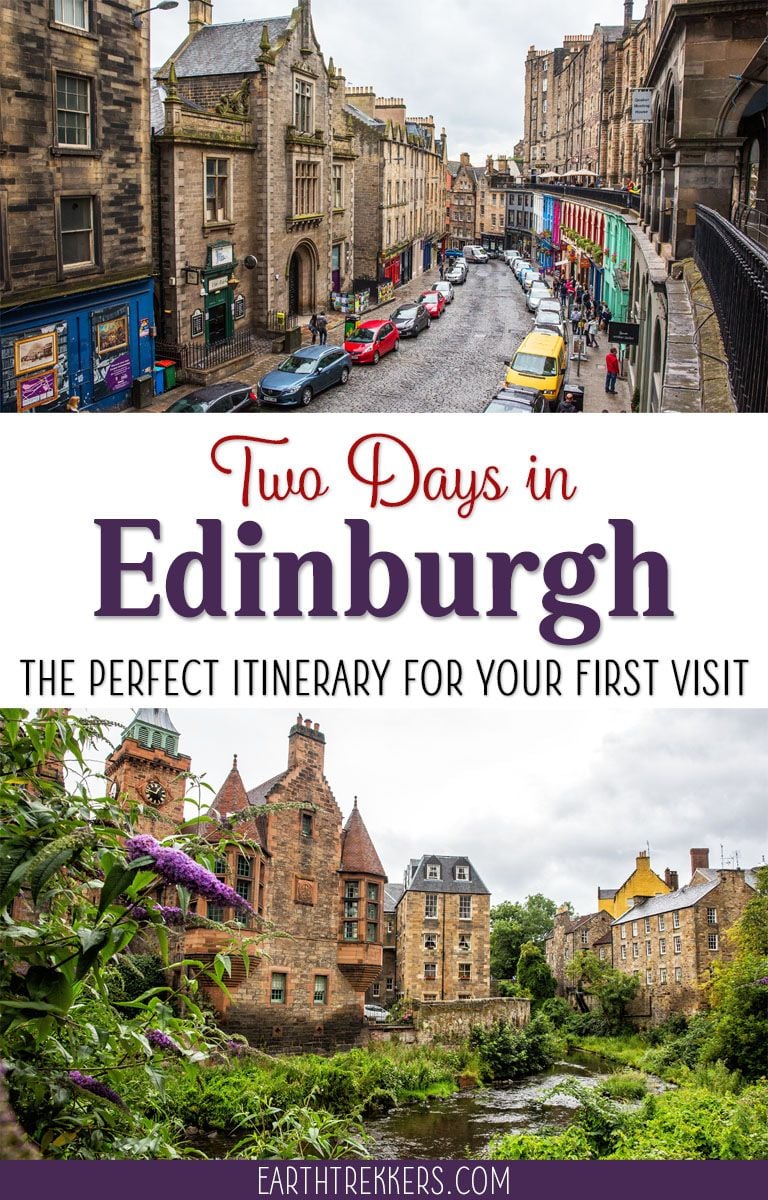 Note: This post contains affiliate links. When you make a purchase using one of these affiliate links, we get paid a small commission at no extra cost to you.
All rights reserved © Earth Trekkers. Republishing this article and/or any of its contents (text, photography, etc.), in whole or in part, is strictly prohibited.