The Golden Canyon – Gower Gulch Loop is an easily accessible, enjoyable hiking trail in Death Valley. Hike through sandstone canyons, enjoy the view from Manly Beacon, and explore the golden mudstone hills that make this part of Death Valley look so interesting.
If you want to add a hike to your Death Valley to-do list, the Golden Canyon – Gower Gulch Loop is a good one.
Hiking Stats
Distance: 4.4 miles
Elevation Gain: 721 feet
Difficulty: Easy to Moderate
Length of Time: 2 to 3 hours
Best Time of Day: Just after sunrise or right before sunset
Location: Golden Canyon Parking Lot on Badwater Road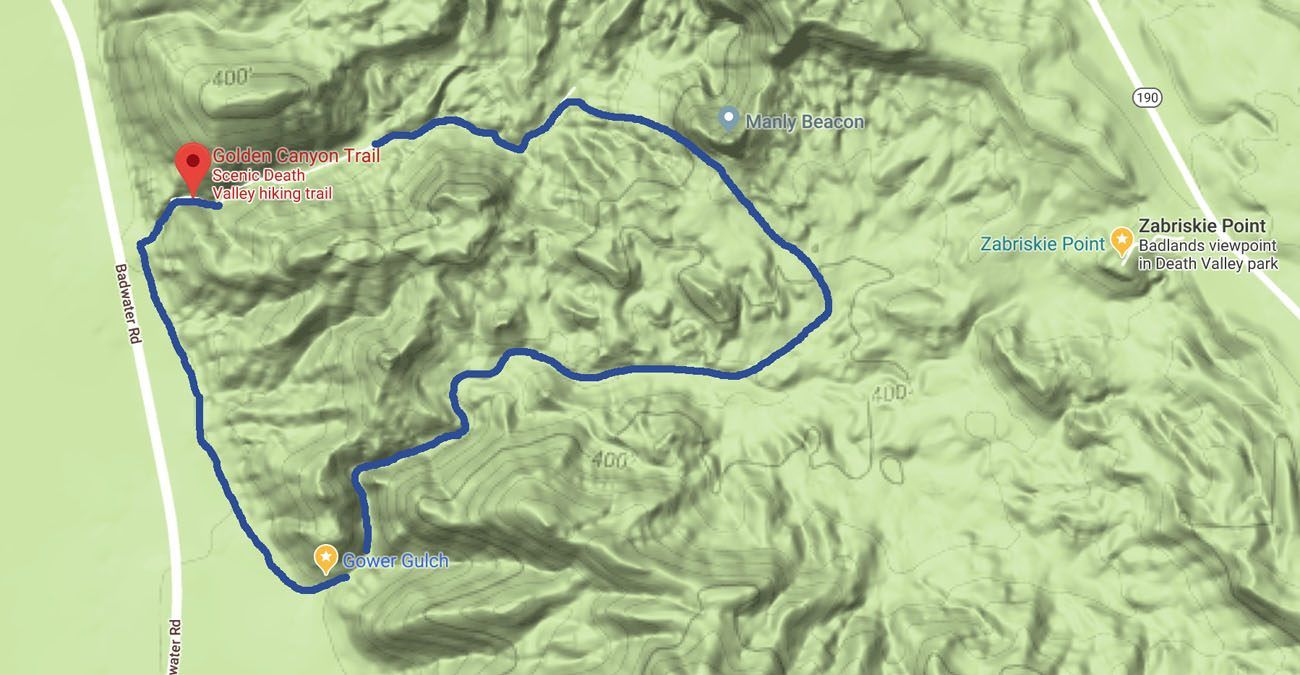 Elevation profile
Please practice the seven principles of Leave No Trace: plan ahead, stay on the trail, pack out what you bring to the hiking trail, properly dispose of waste, leave areas as you found them, minimize campfire impacts, be considerate of other hikers, and do not approach or feed wildlife.
Hiking the Golden Canyon – Gower Gulch Loop
This hike is a loop, so you will start and end at your car. This hike is easiest, and more interesting, in a clockwise direction. By doing it this way, you get the majority of the climbing over with in the first third of the hike.
Golden Canyon
From the car park, follow the signs into Golden Canyon. For one mile you will hike through this canyon.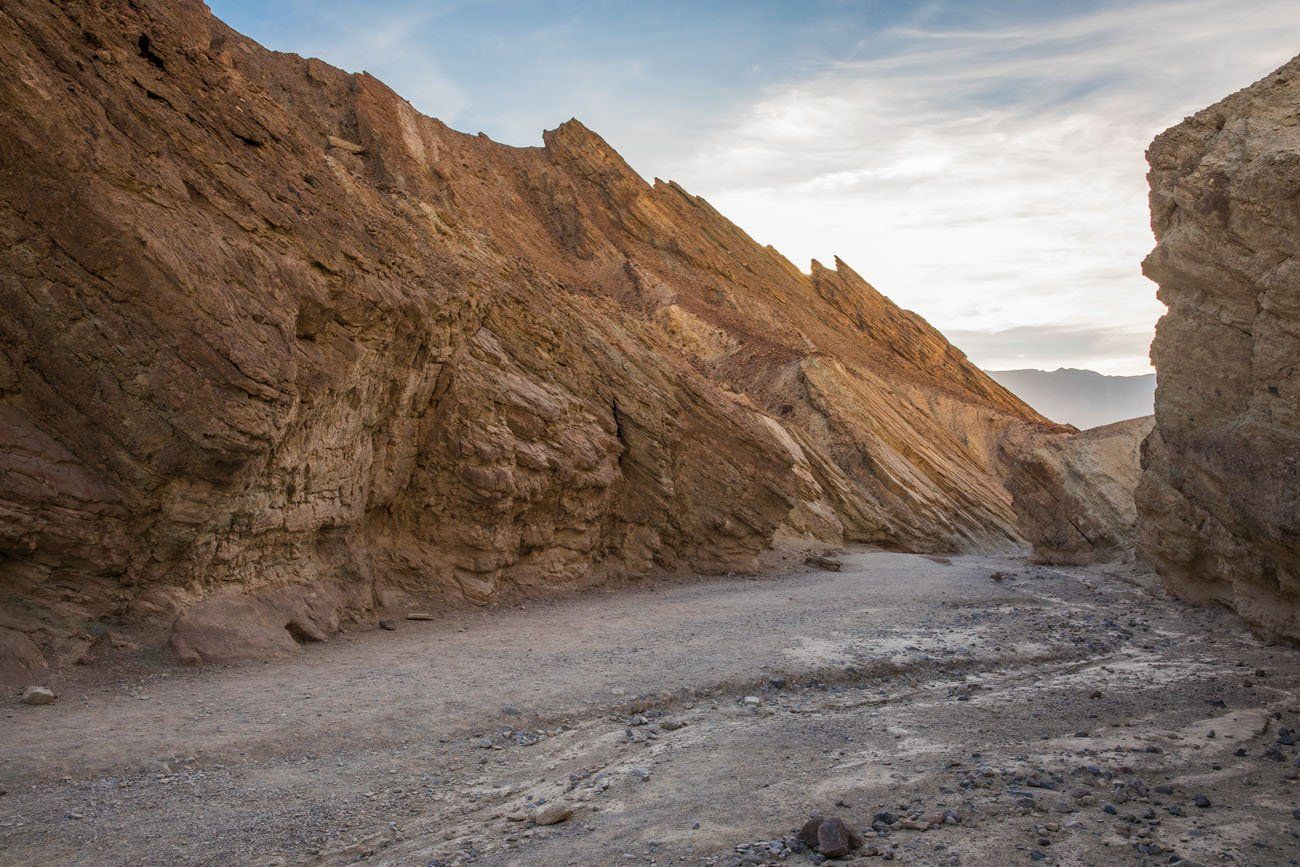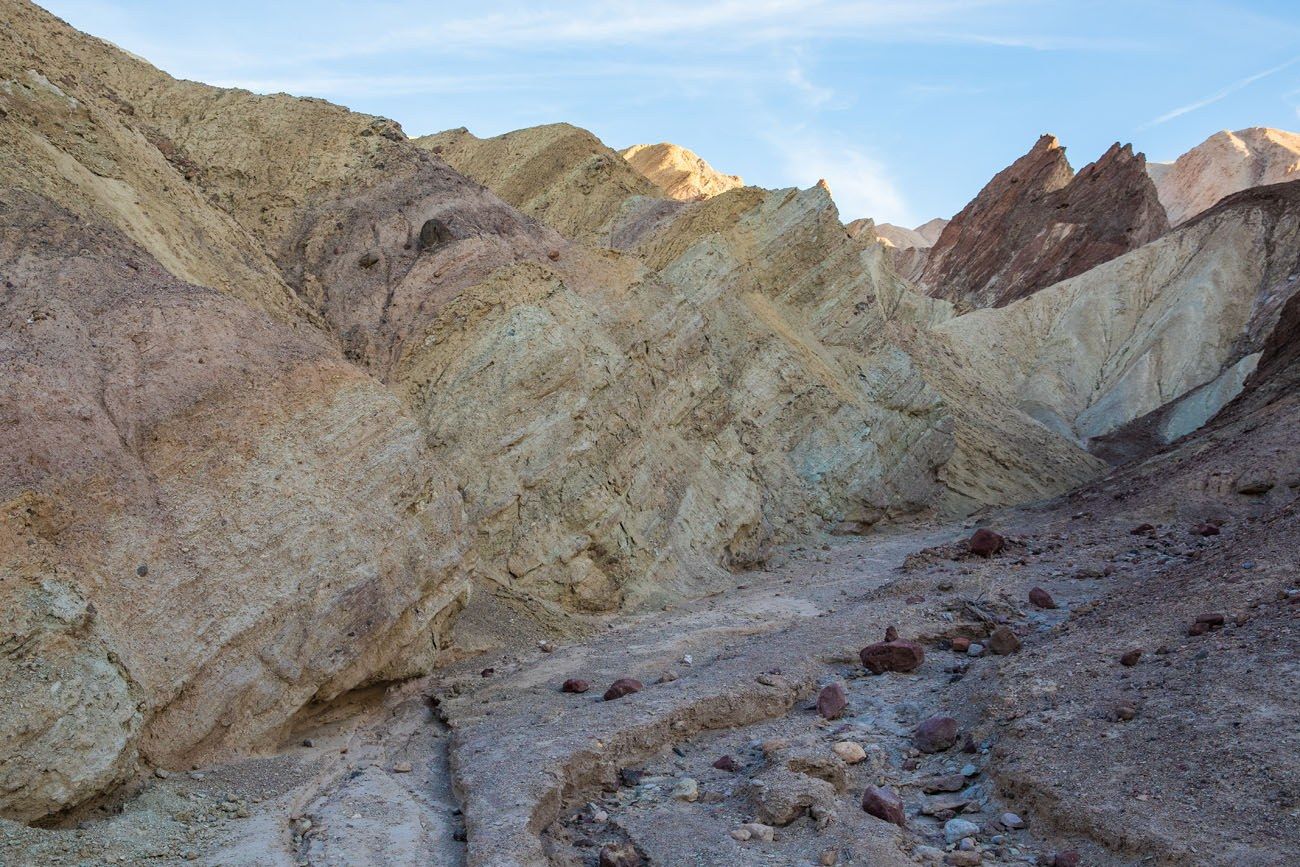 This part of the hike is the most monotonous and boring part of the hike, in our opinion. It also is the most crowded. Many people only hike Golden Canyon, turning around at the 1-mile point. They don't know what they're missing!
Red Cathedral Detour
At the one-mile point, the trail splits. You can turn left for a one mile round trip detour to the Red Cathedral. The Red Cathedral is a huge, red sandstone rock feature.
We chose to skip this since we started our hike late in the day. We ended up racing the setting sun, trying to get back to our car before Death Valley descended into total darkness. And let me tell you, it gets really dark here!
Manly Beacon
At the end of Golden Canyon, at the same one-mile point where you can take the Red Cathedral detour, take the trail to the right to continue onto Gower Gulch. This is when the hike really gets interesting.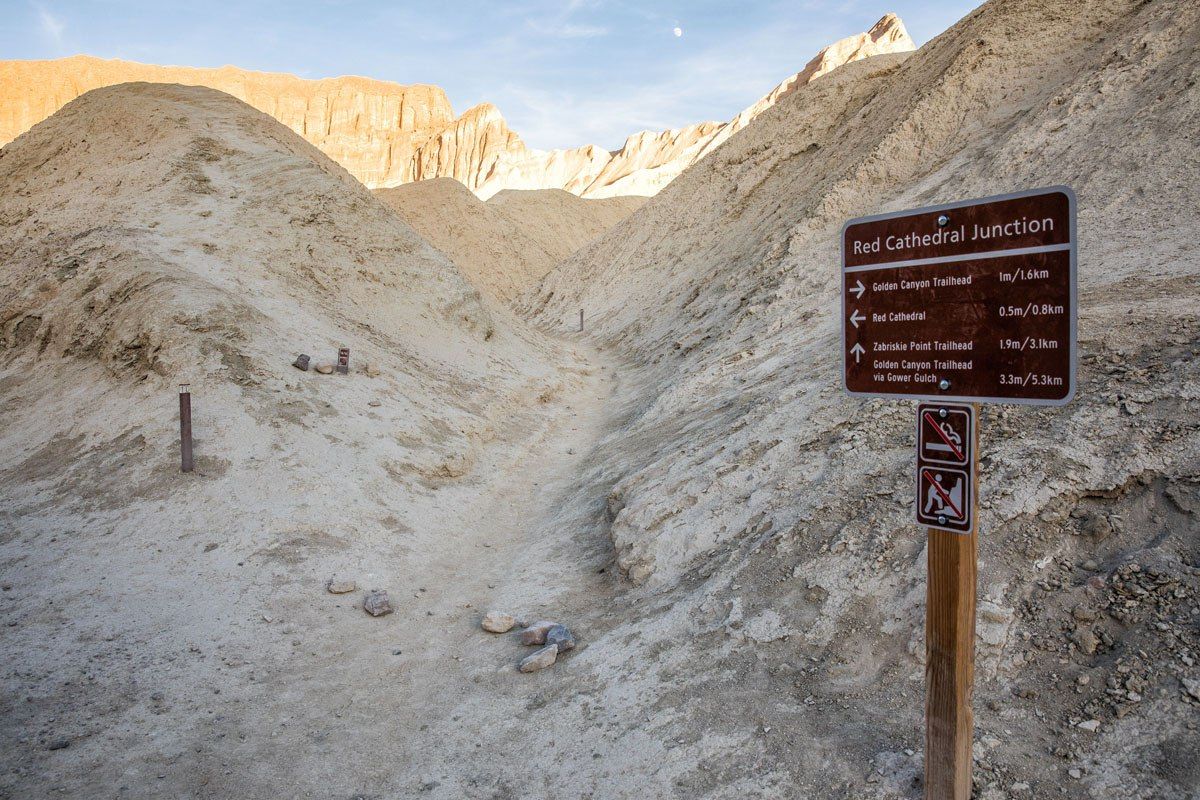 It's here that you leave the wide, rocky canyon behind and walk among the light yellow mudstone hills. Kids (and adults!) may like climbing up to the tops of these peaks for better views.
It doesn't take long for the trail to reach the bottom of Manly Beacon. Manly Beacon is a huge, golden monolith that dominates the area. Hiking up to Manly Beacon is the most challenging part of this hike. Once you get here, it's almost all downhill back to your car.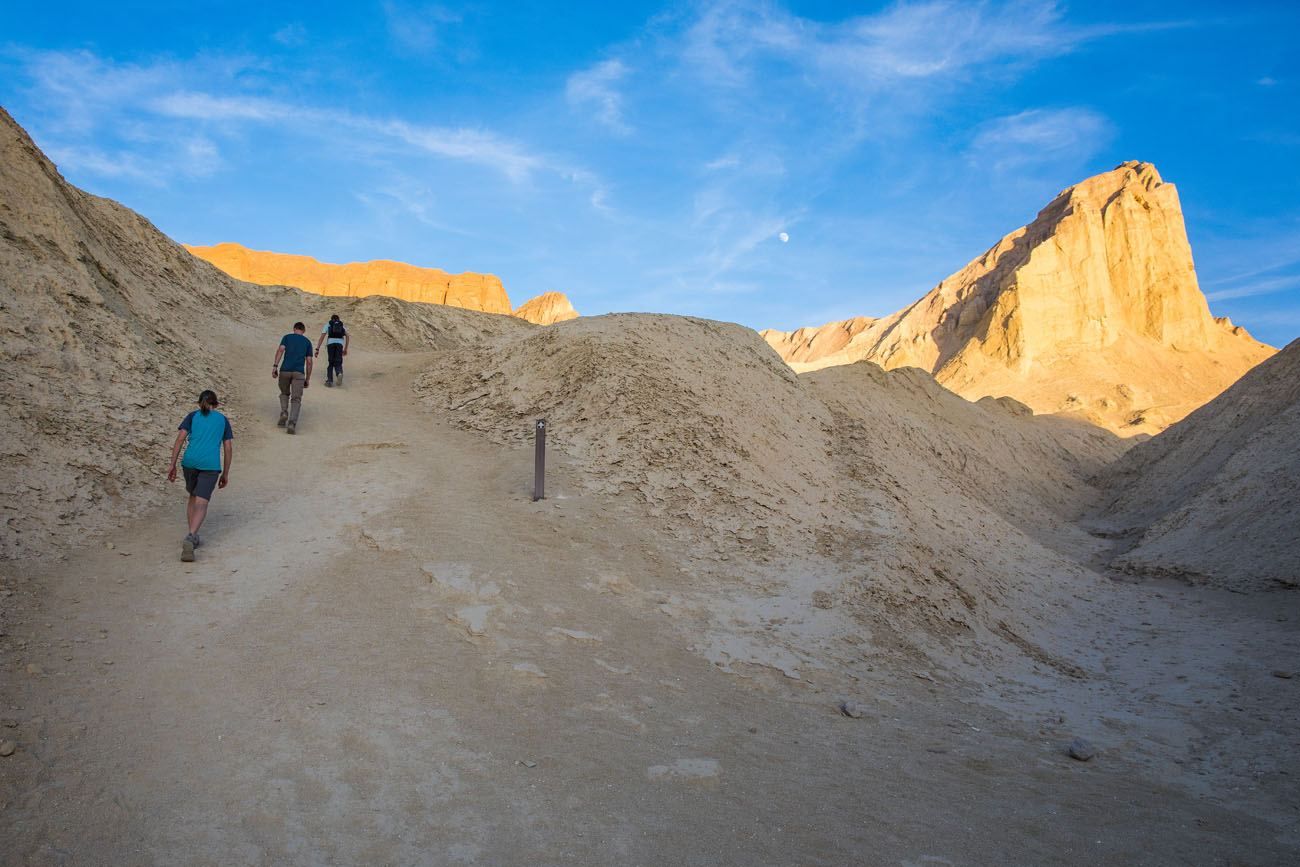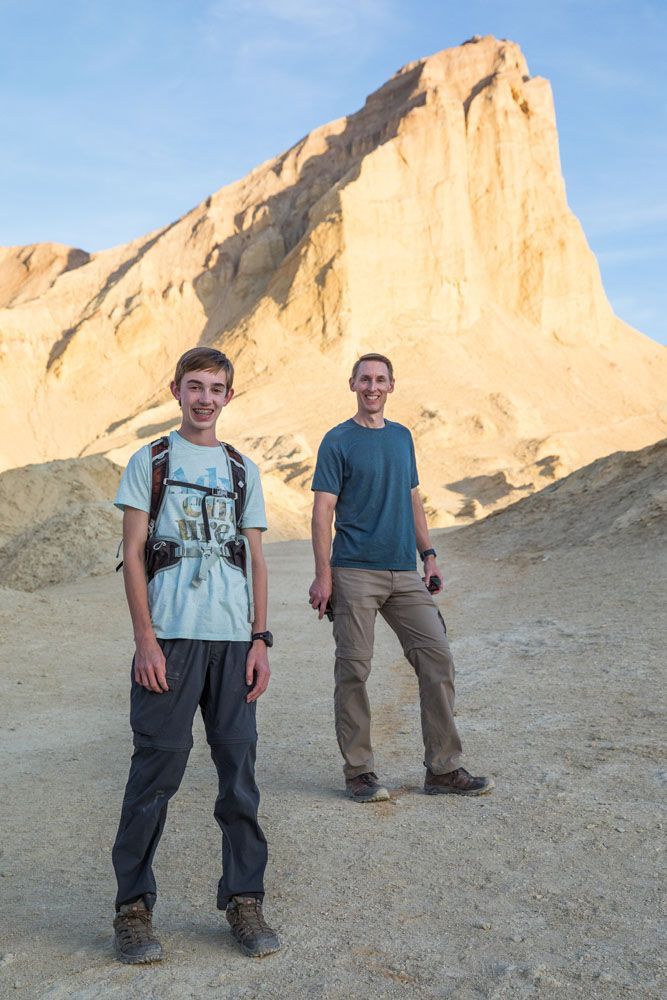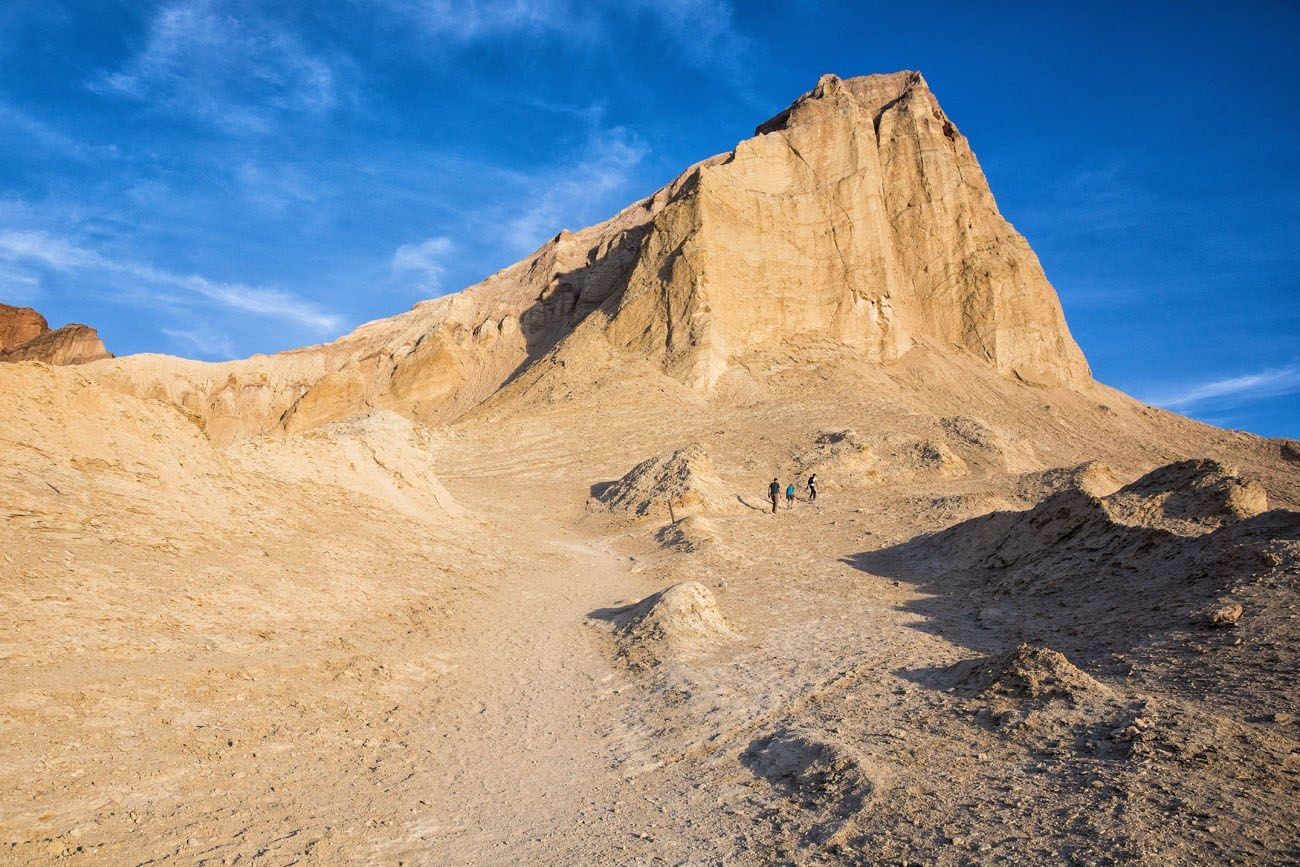 The views from Manly Beacon are the best on the trail. Stretching out in front of you are panoramic views of the Badlands.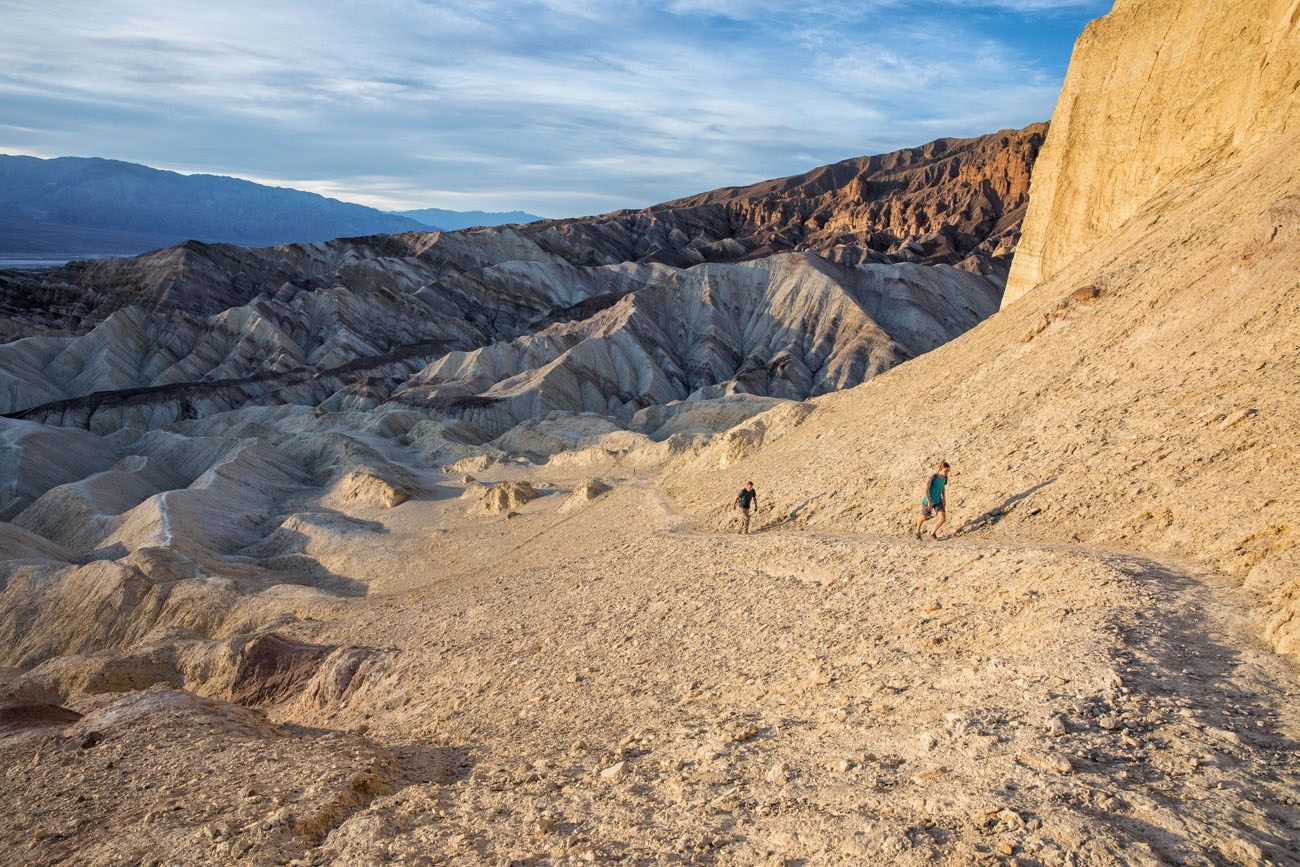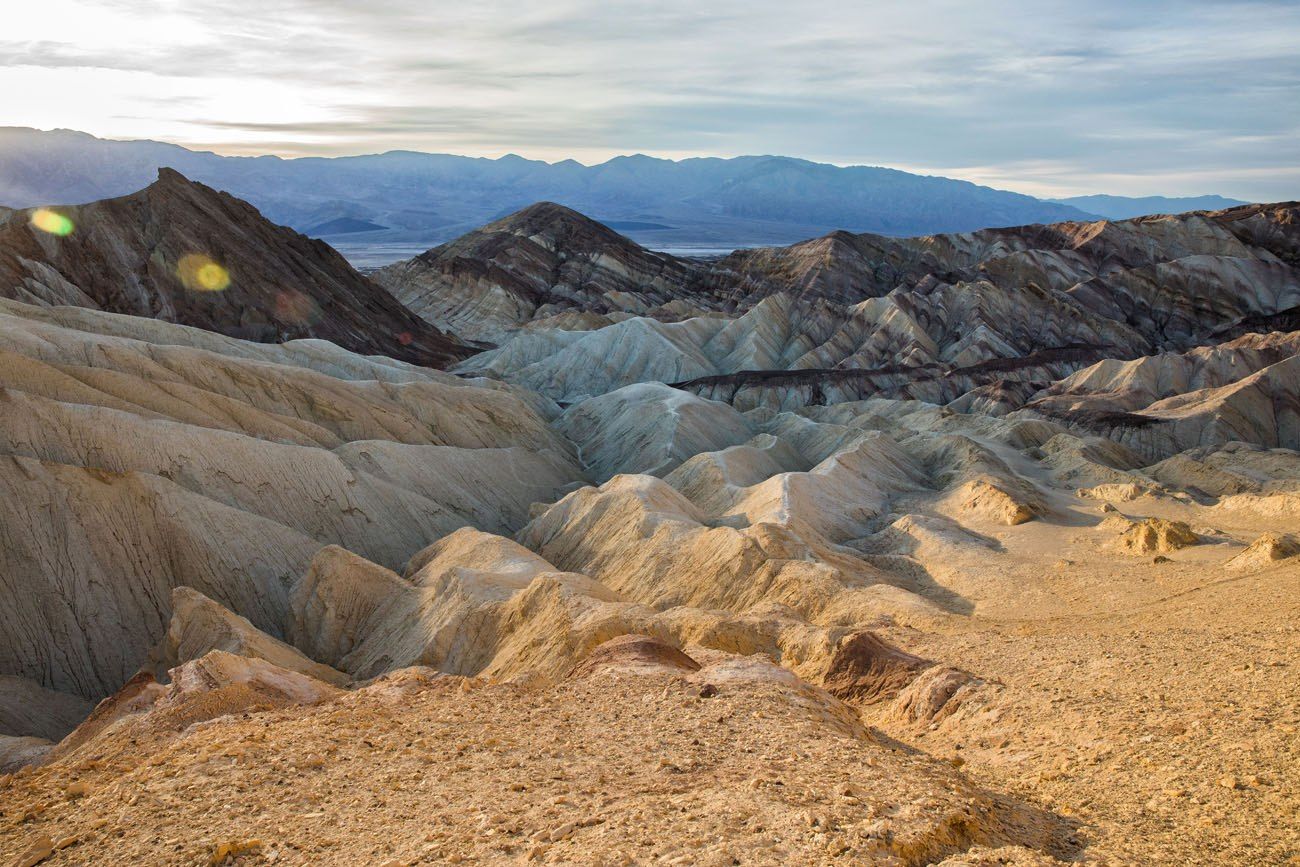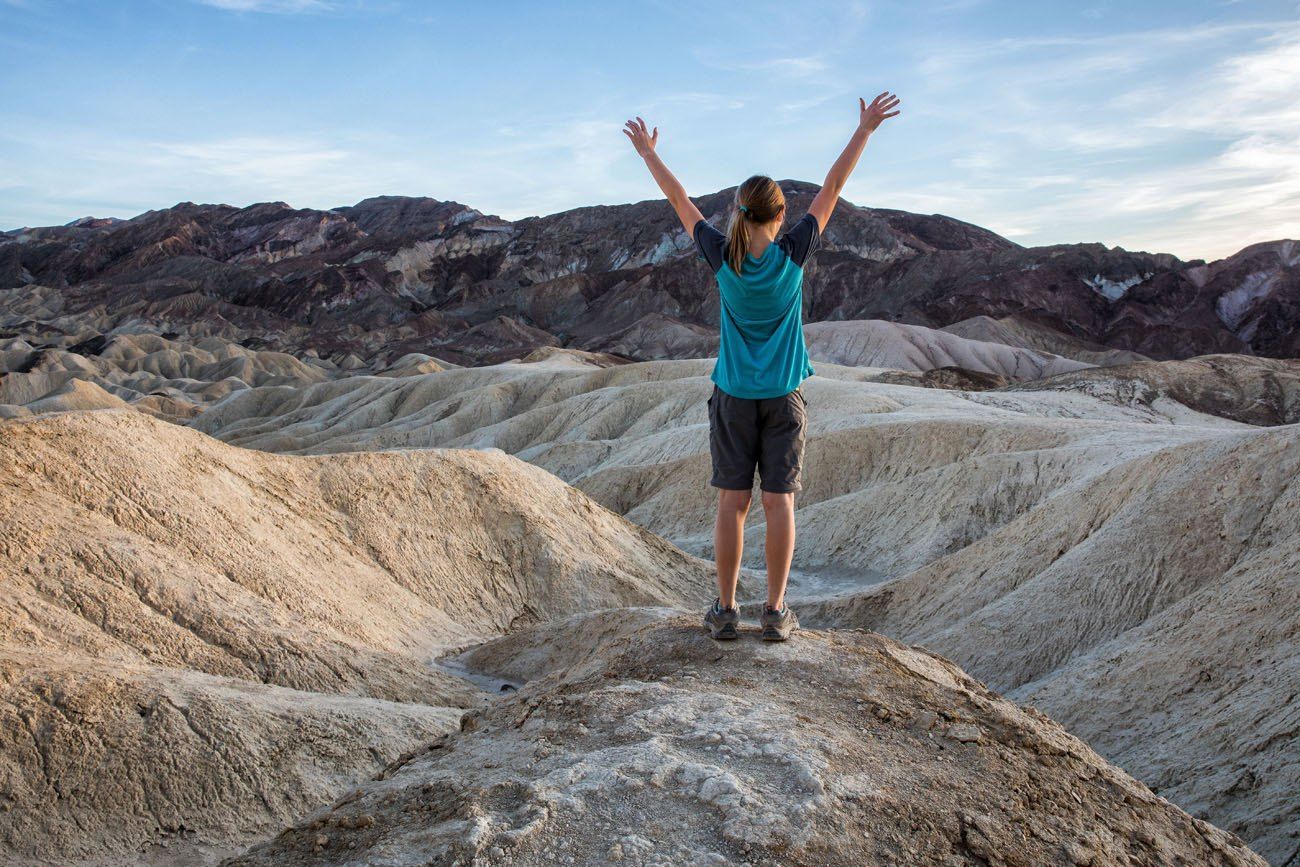 Continuing on past Manly Beacon, the trail descends back down into the mudstone hills.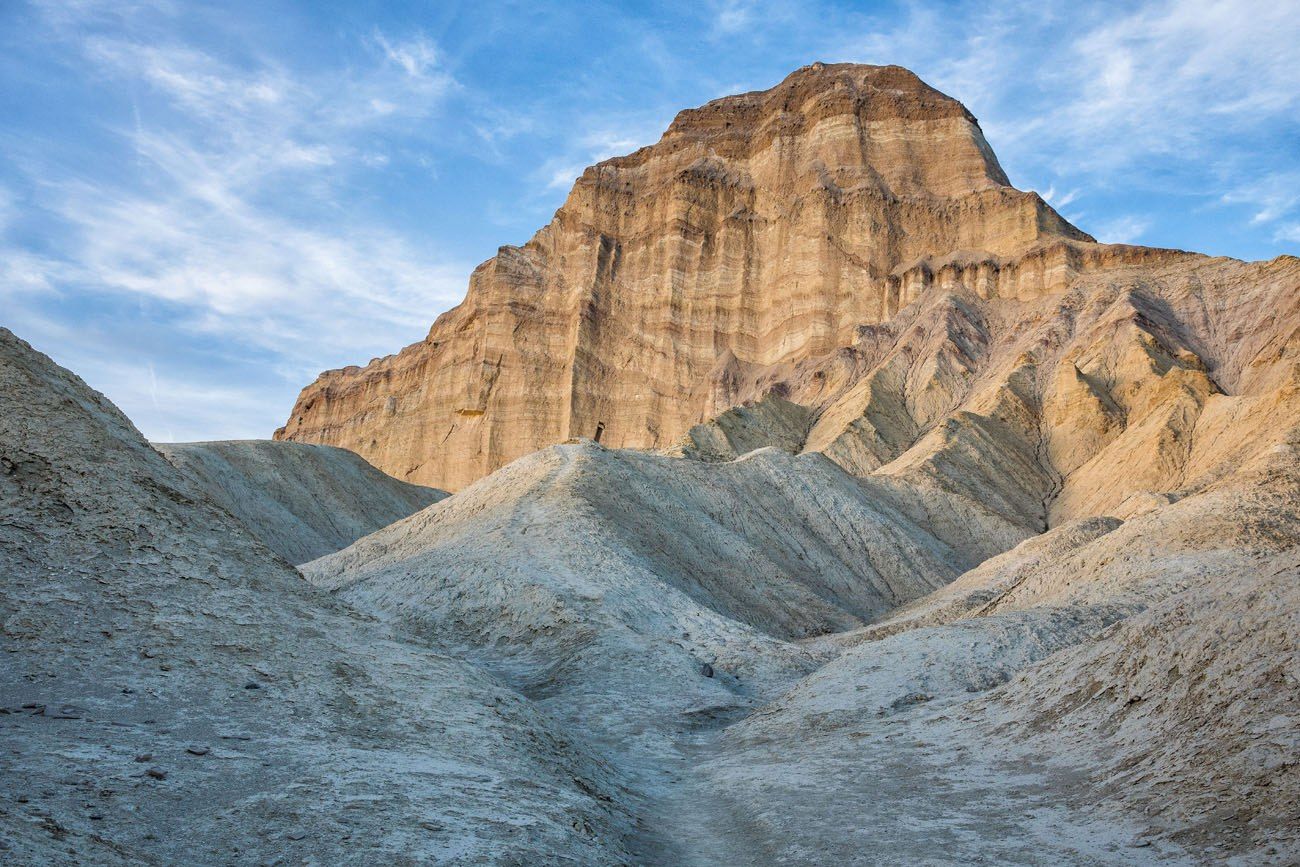 2.4 miles into the hike, you have the option to take the Badlands Trail to Zabriskie Point. Since your car is parked at the Golden Canyon car park, I would recommend skipping this detour, unless you really enjoy the hike through these mudstone hills. Zabriskie Point is very easy to reach in your car, which you can do before or after this hike.
Gower Gulch
Past the turn off for the Badlands Loop, the trail turns to the west and heads into Gower Gulch. Gower Gulch is a wide, gravel filled wash that is slightly more interesting than Golden Canyon. This part of the hike goes fast, as you are now steadily walking downhill.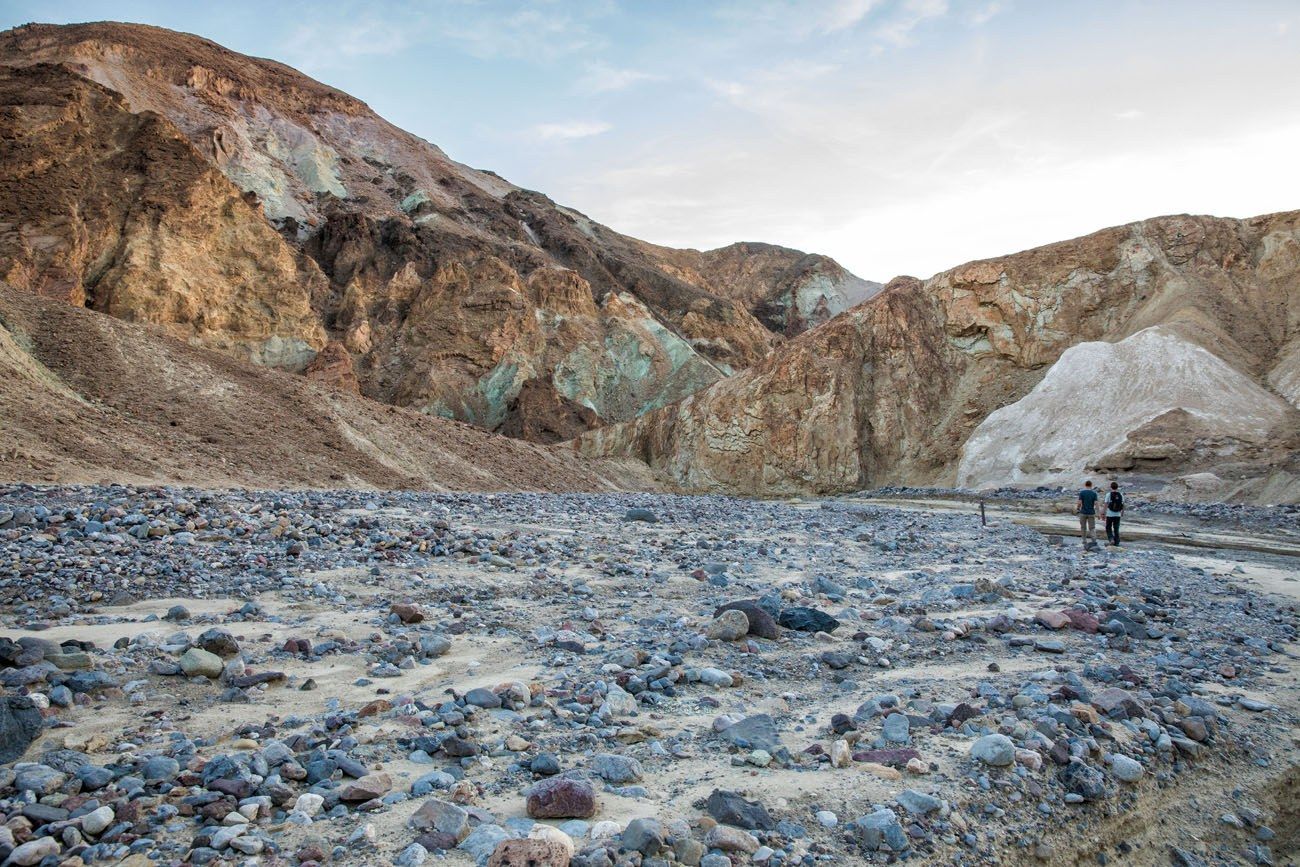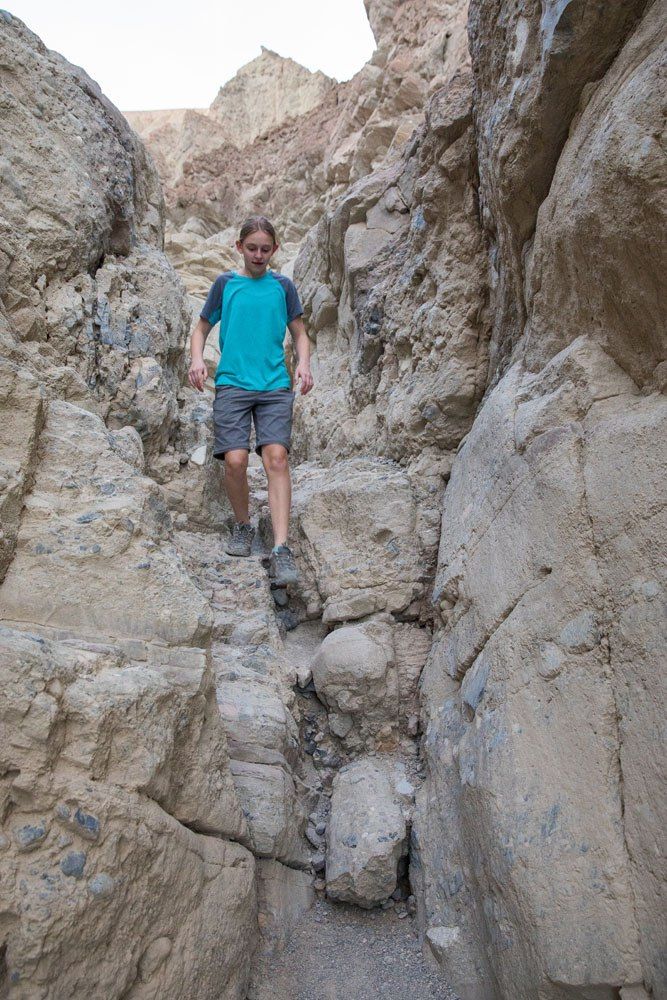 Gower Gulch empties out in the Badlands. Now it is a flat, fast walk back to your car. This part of the hike can also feel monotonous. For us, since we did this hike at the very end of the day, were able to enjoy an amazing sunset.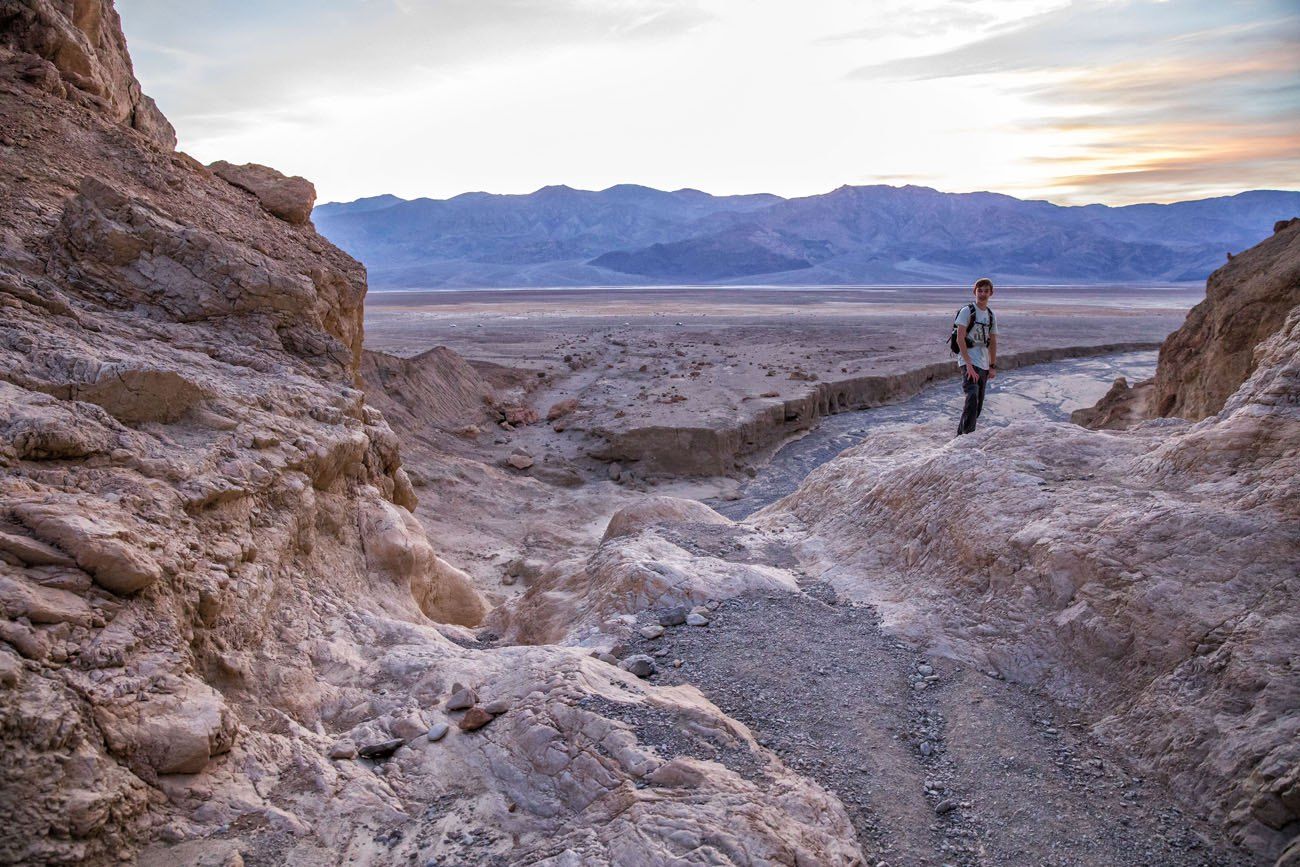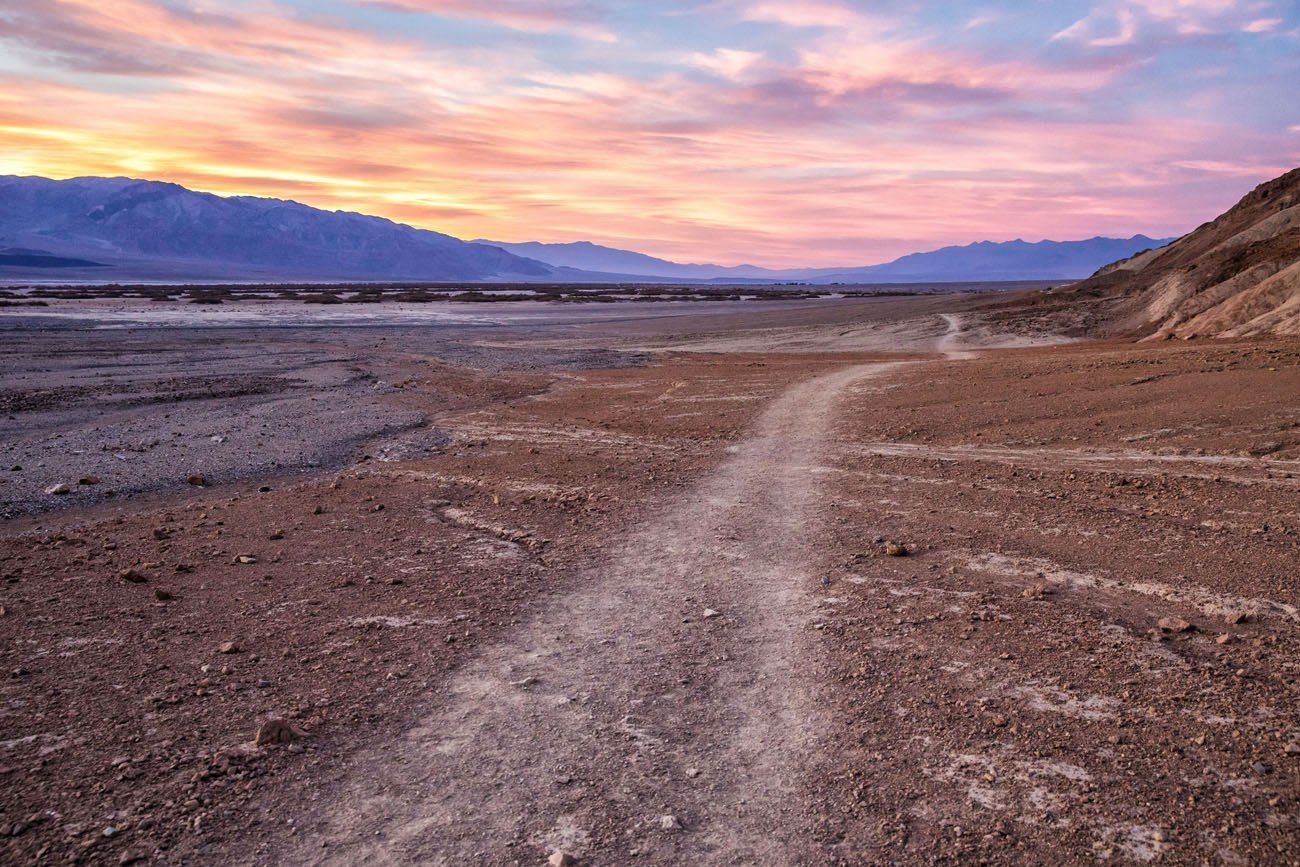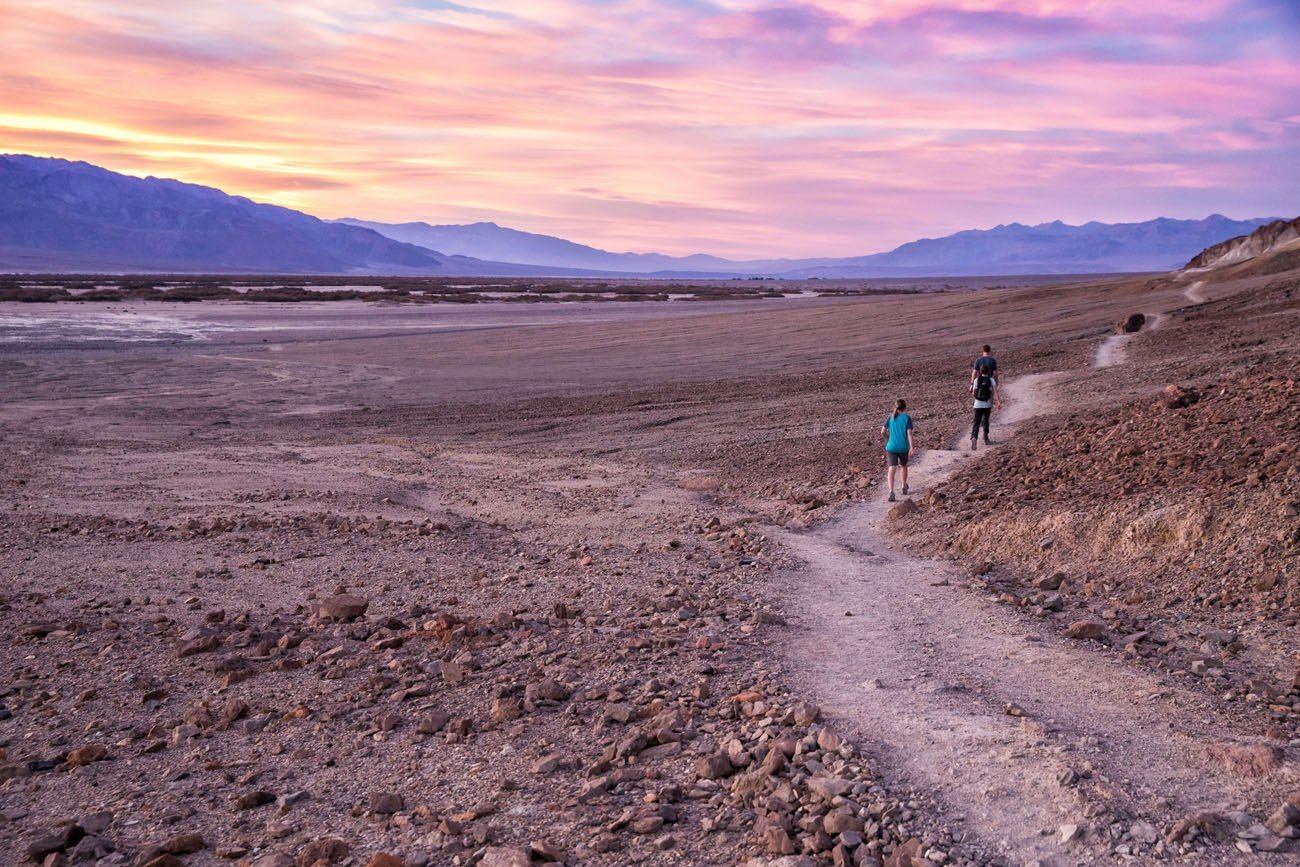 Because of the setting sun, we blazed through this hike, covering the entire loop in an hour and a half. If you don't have time constraints, I recommend taking your time, particularly in the very scenic area around Manly Beacon.
What to Bring on the Hike
Hiking Shoes. Hiking shoes are preferable, however, running shoes with good support and good traction are sufficient.
Water. Bring plenty of water, especially if you will be hiking midday or during the warmer months.
Sunscreen. There is very little shade on the trail.
Flashlight/Headlight. If you want to do this hike at sunrise or sunset, bring a flashlight with you.
If you are new to hiking or are curious about what you should bring on a hike, check out our Hiking Gear Guide. Find out what we carry in our day packs and what we wear on the trails.
More Information About Death Valley

---
Have you been to Death Valley? What is your favorite hike? Comment below!
You Might Also Like: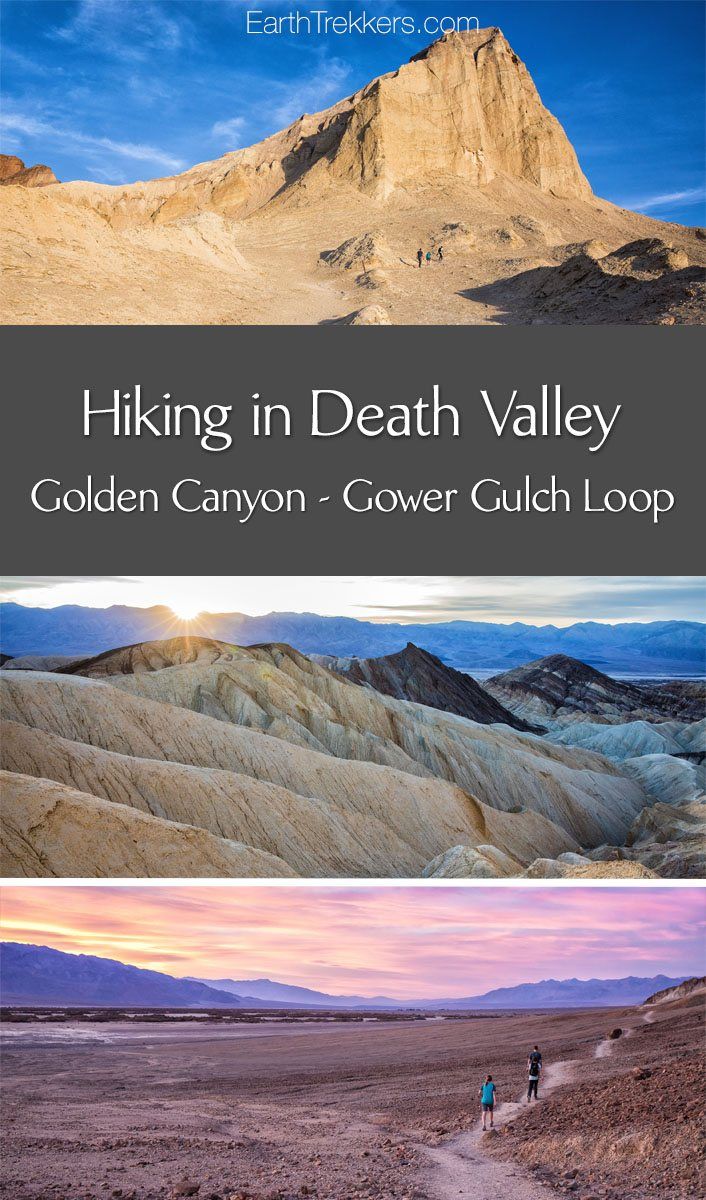 All rights reserved © Earth Trekkers. Republishing this article and/or any of its contents (text, photography, etc.), in whole or in part, is strictly prohibited.