If you are looking for a challenging hike in Death Valley, Grotto Canyon may be perfect for you. Hike through narrow canyons, navigate your way up and over difficult obstacles, and enjoy this quiet, seldom visited trail in Death Valley. This is a very adventurous hike and only those with prior hiking experience should attempt it.
We have tons of hiking experience and a little bit of rock climbing experience. Even so, we found the Grotto Canyon to be challenging. In fact, only one of us, Tim, was able to get through the final, most difficult obstacle.
I debated writing this post, simply because we didn't do the entire hike (and I didn't want to be seen as lame for not being able to complete it). But then again, if we couldn't get through all of it, other people probably have a similar experience. In fact, during our visit, there were people using ropes and harnesses to get through one of the obstacles that we climbed without equipment.
So, read about our experience and then decide if you are up for the challenge.
About the Grotto Canyon Hike
Distance: 2 to 4 miles out and back (depending on how far you go)
Difficulty: Challenging
Length of Time: 2 to 4 hours
Please practice the seven principles of Leave No Trace: plan ahead, stay on the trail, pack out what you bring to the hiking trail, properly dispose of waste, leave areas as you found them, minimize campfire impacts, be considerate of other hikers, and do not approach or feed wildlife.
Getting to the Trailhead
Grotto Canyon is located near the Mesquite Flat Sand Dunes and Stovepipe Wells. To get to the trailhead, you will drive on an unmarked, dirt and gravel road.
Turn onto Grotto Canyon Road, 0.5 miles east of the Mesquite Flats Sand Dunes on Highway 190. The GPS coordinates for the entrance to this road are 36.604347, -117.105803.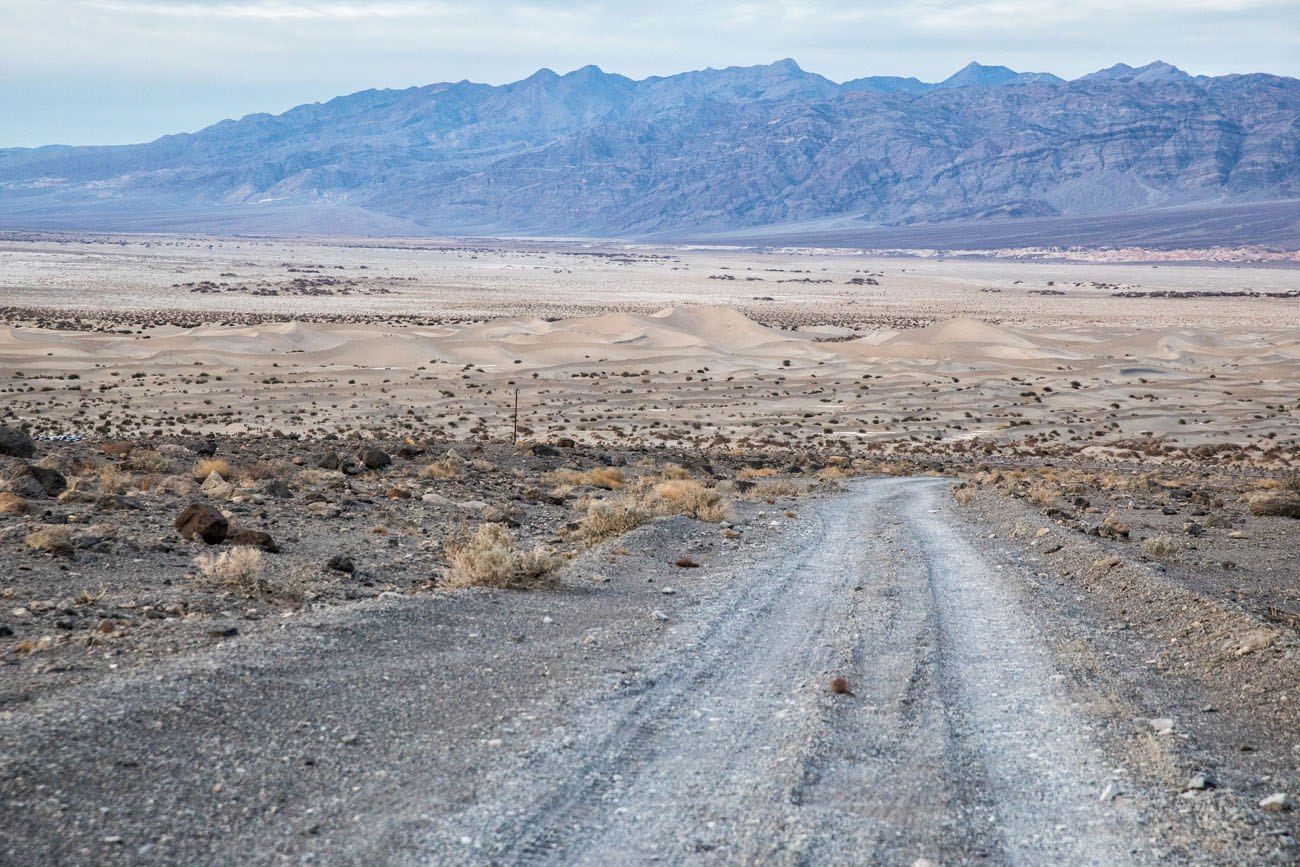 The view back to Mesquite Flat Sand Dunes
The first mile of the road is a dirt and gravel surface that most vehicles should be able to navigate. The second mile of this road has sections of deep sand and loose gravel and only vehicles with 4×4 should attempt this. If you do not have a 4×4, park your car at the one mile point and walk up the rest of the road (1 mile) to the trailhead.
The trail begins where the canyon narrows (GPS coordinates: 36.582300,-117.104100). If you have a 4×4, park your vehicle here and hike into the canyon.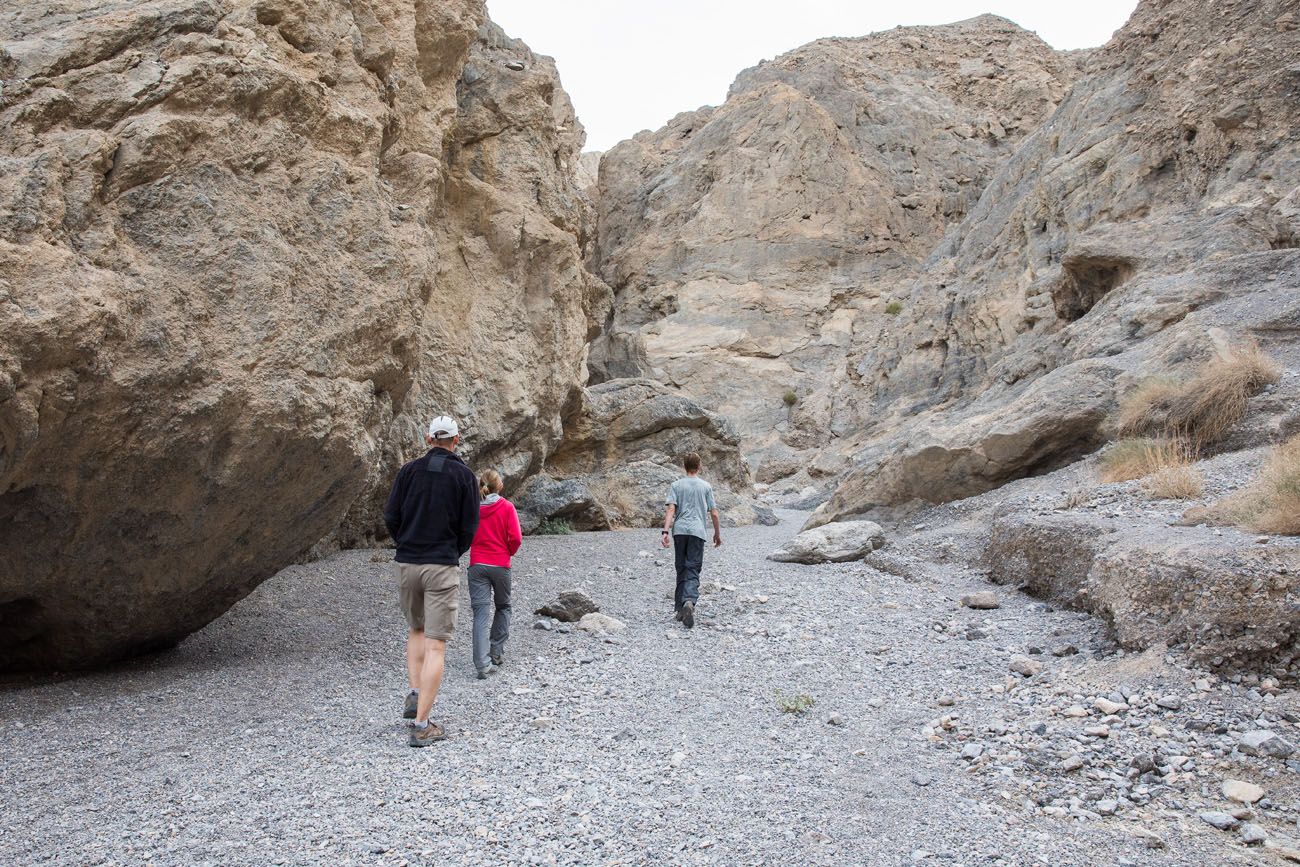 Entering Grotto Canyon
Hiking Grotto Canyon
It doesn't take long for the canyon to narrow. Almost immediately are two obstacles that are quite challenging.
The first obstacle is a 15 foot climb up a rough, rocky surface. This was not too difficult to climb up, but getting down later proved to be more difficult. This is also the spot where we met people using ropes and harnesses to climb down this section.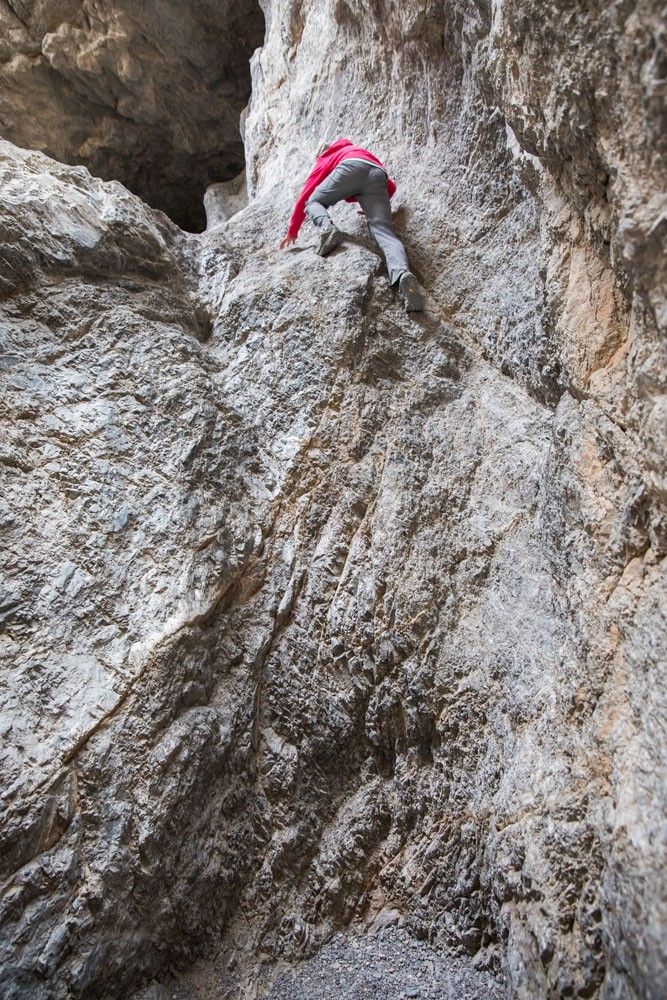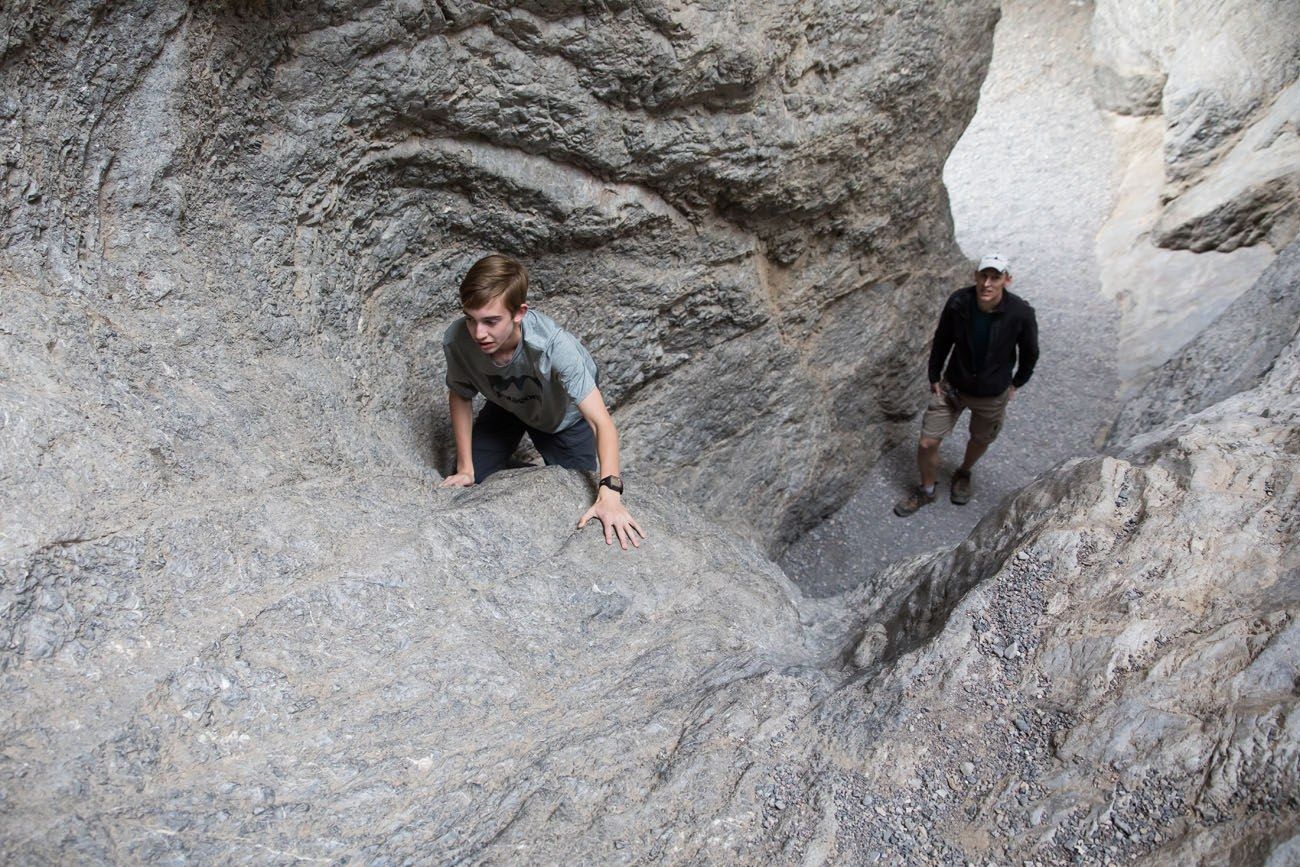 Immediately after the first obstacle is the second climb (the header photo at the start of this post). There are small rocks placed at the bottom to help you climb up. The best climber in your group can go last, so they can give people a boost up if they need it.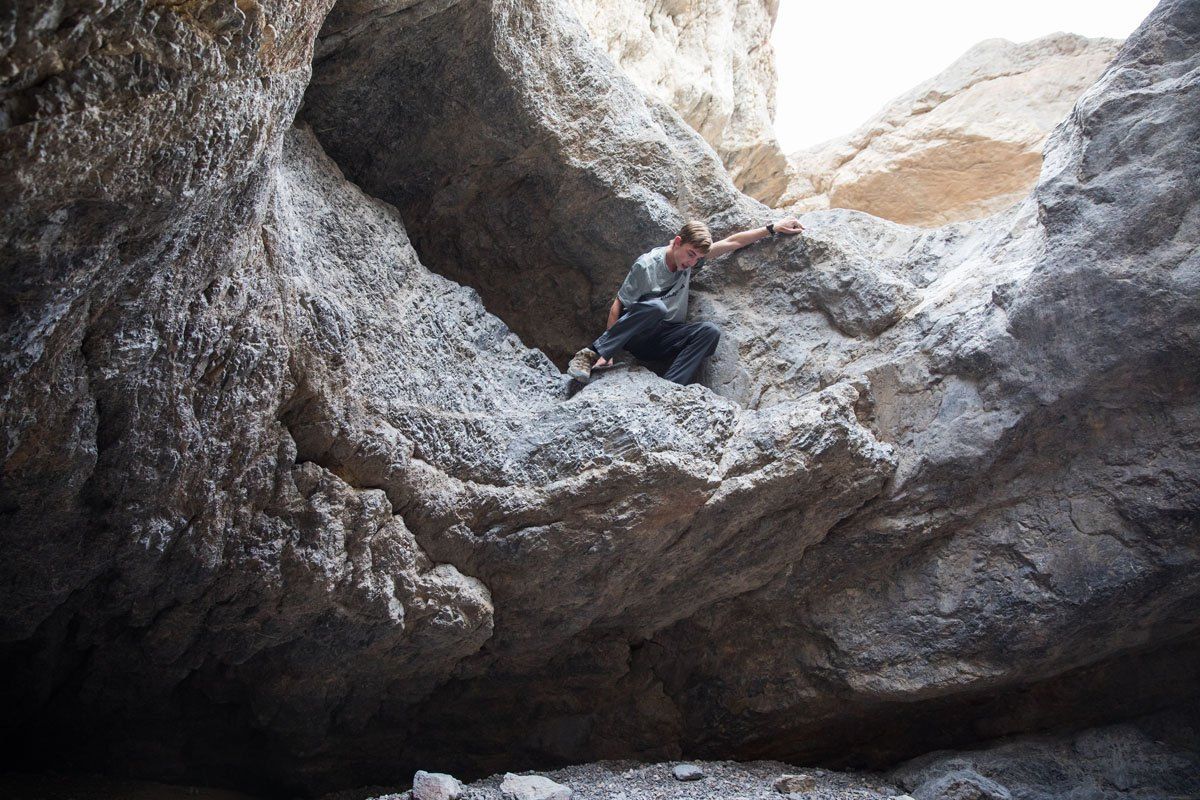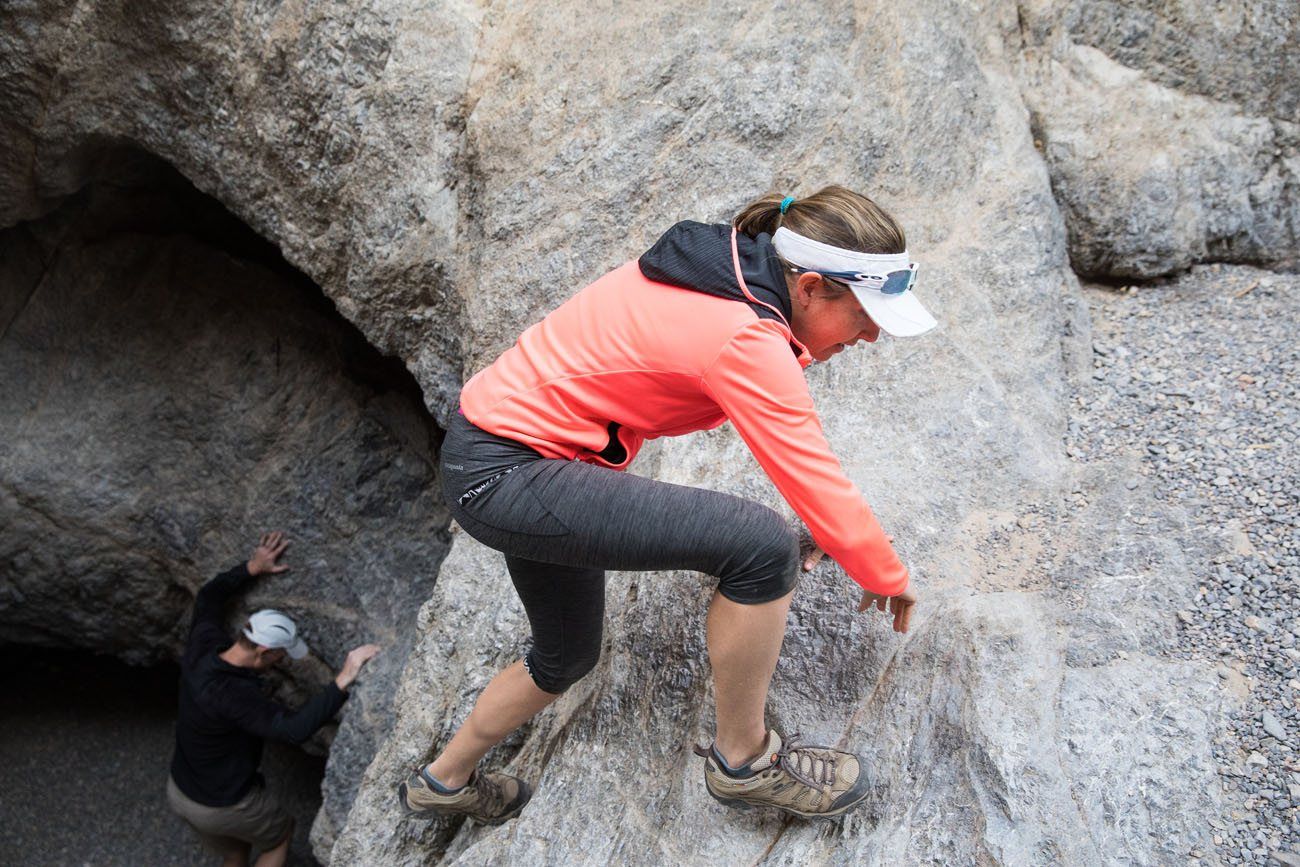 After this point, there is just one more challenging obstacle to go.
The canyon widens for a bit and then narrows once more. After a series of smaller obstacles you come to the point that halted our progress.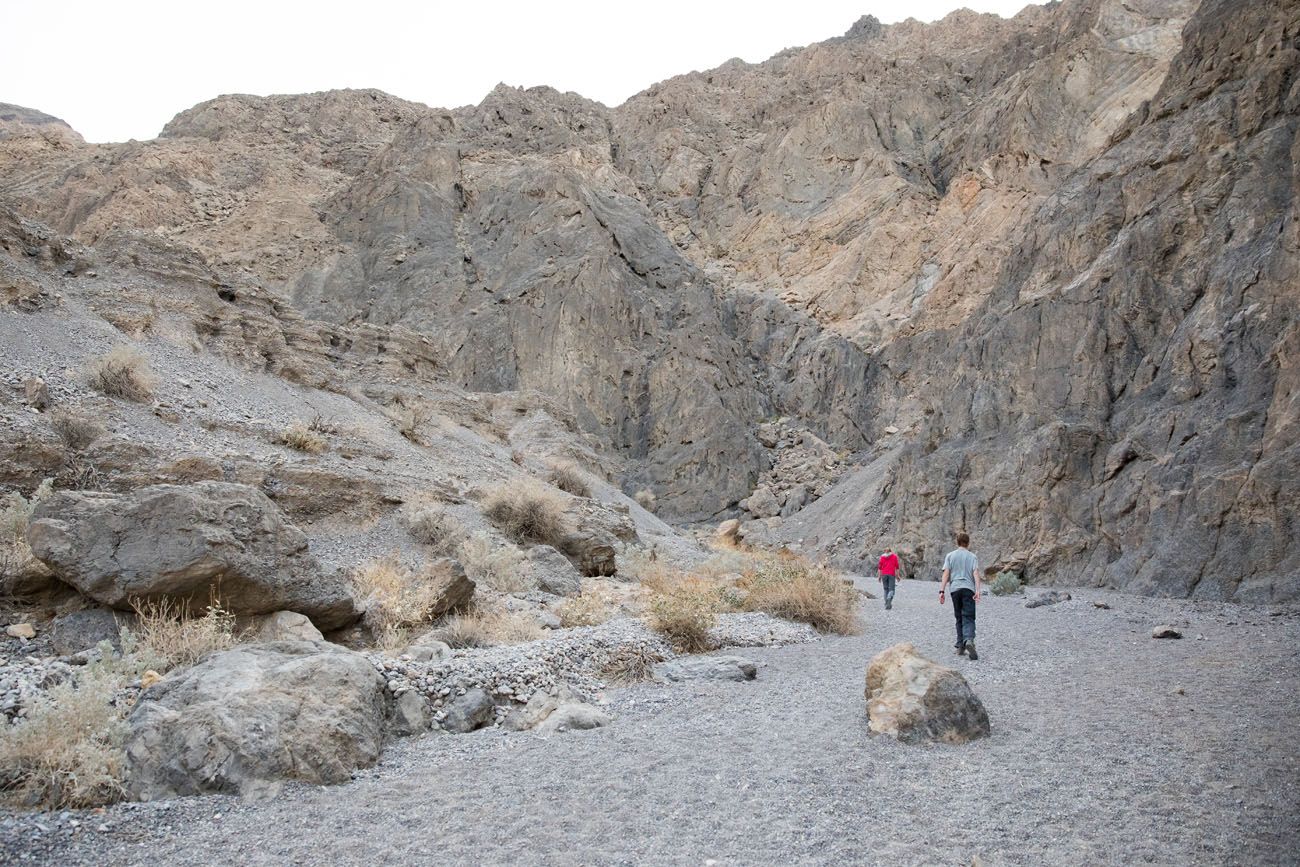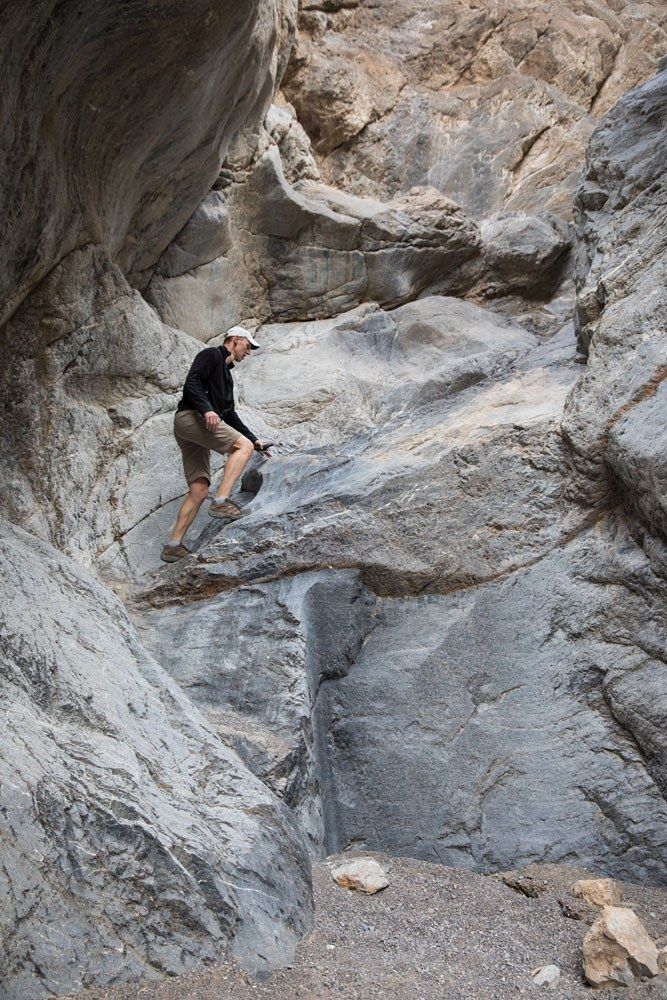 About 1 mile into the hike is an 8 foot chimney. For those with lots of upper body strength and/or rock climbing experience, this may not be too much of an obstacle. But it was for three of us (Tyler, Kara, and I). The narrowness of the chute and the slippery walls makes it difficult to climb. We even tried climbing up the rocks around the chute without success.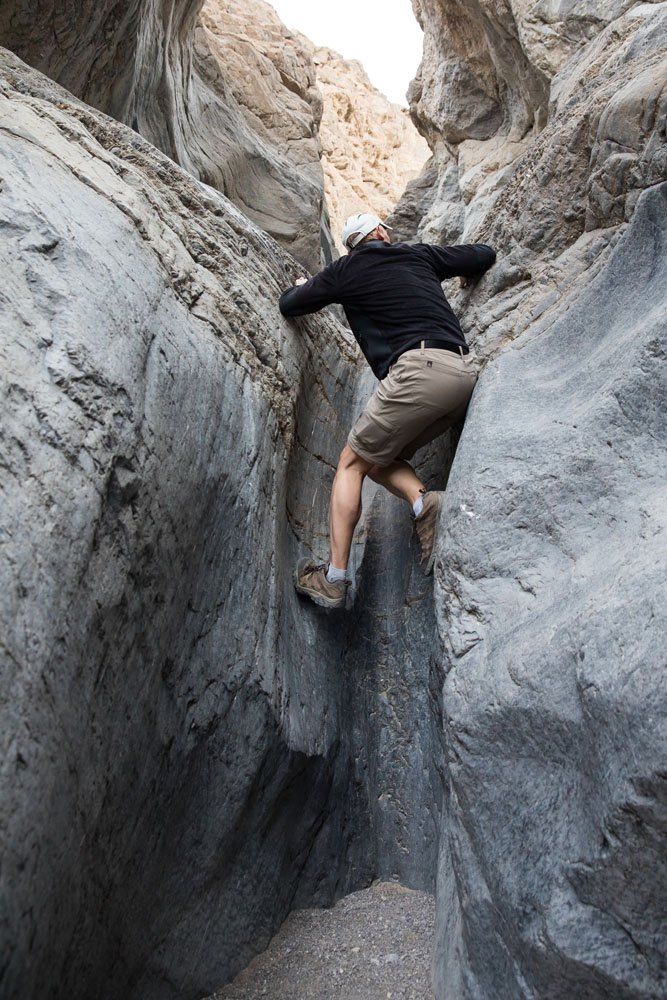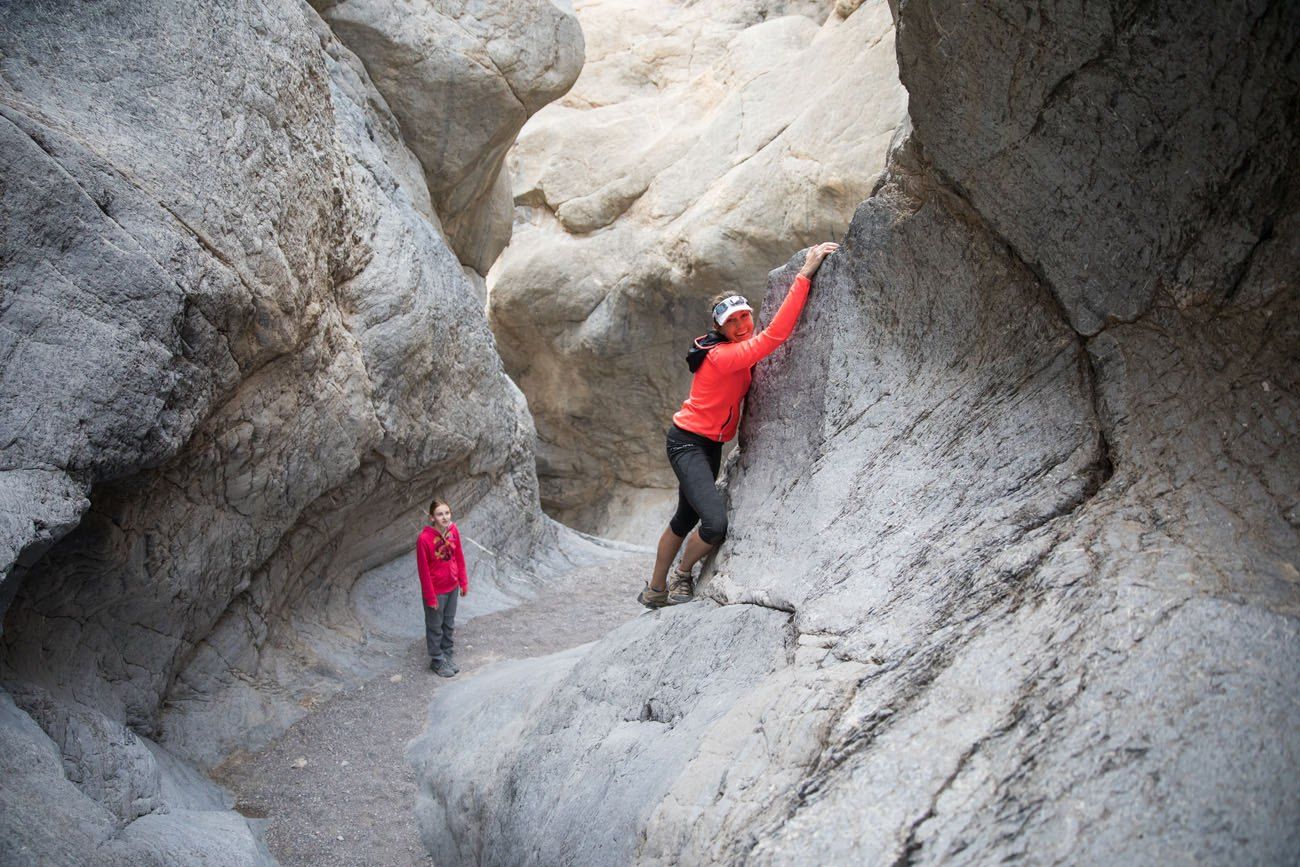 Tim managed to get up the chute, rather easily, but he is a big, strong guy, which helps a lot here. While Tyler, Kara, and I waited (feeling rather bummed out and disappointed), Tim continued the hike.
Beyond the chimney, the canyon widens and then narrows one more time. There is a very high dryfall blocking forward progress. If you backtrack towards the chimney and take the trail up and over the dryfall, you can continue the hike. Tim did not do this, since the three of us were waiting for him.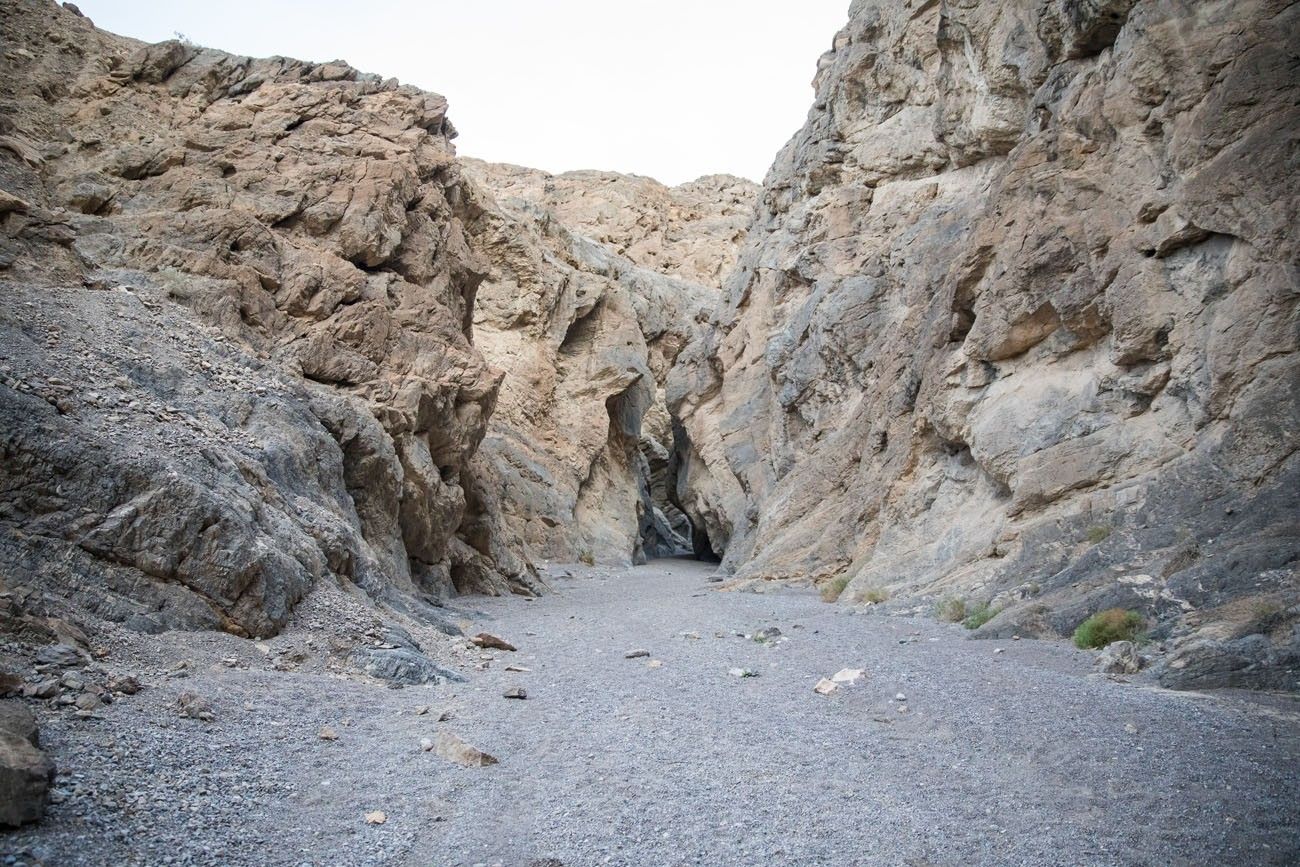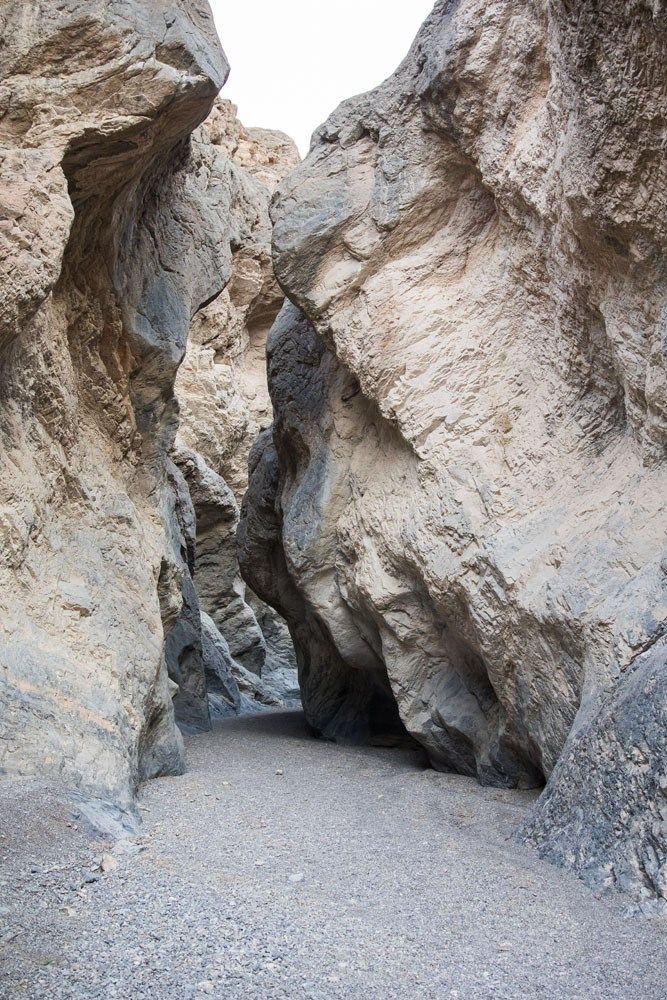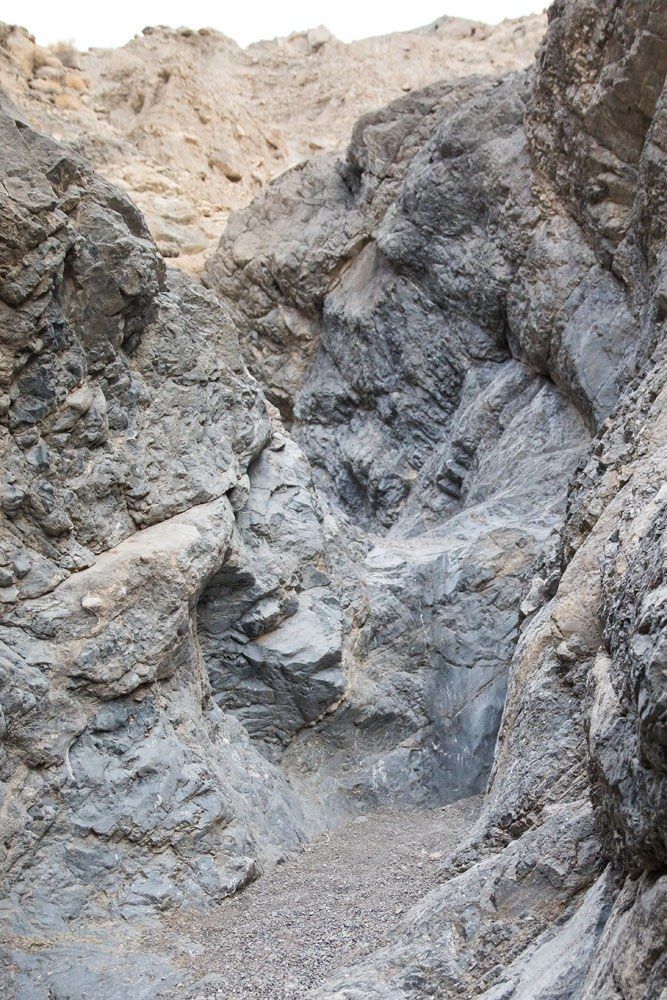 To read about how to continue on with this hike, I recommend this report on Hikespeak or this video on YouTube.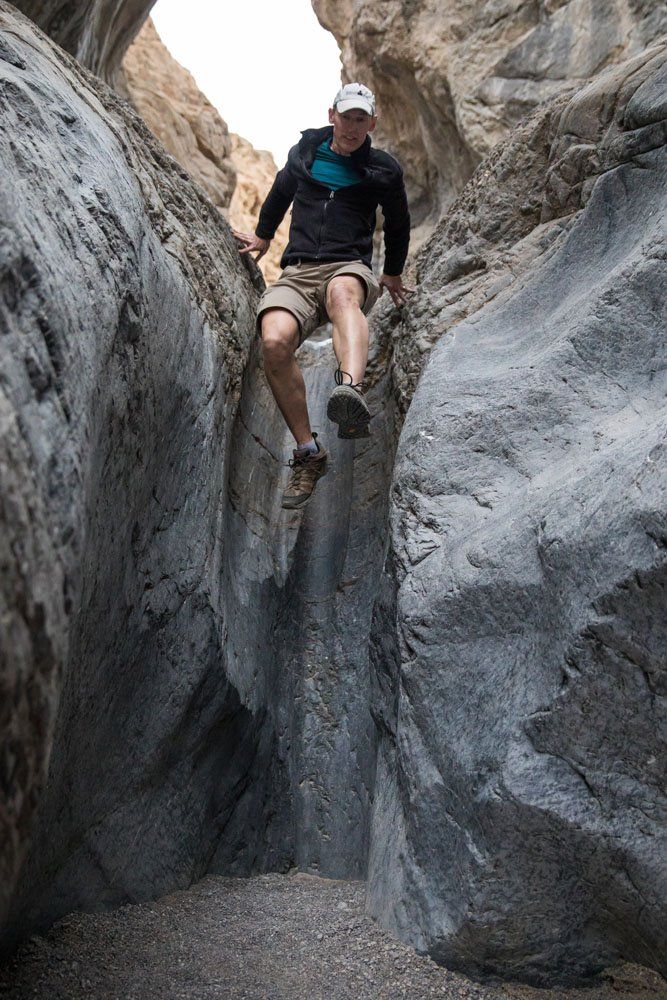 Tim jumping down from the top of the chimney.
Going back down the trail is lots of fun. The trickiest section was the climb down the first obstacle of Grotto Canyon (which is now the final obstacle as you walk back down the trail). We managed by climbing down about halfway and then jumping down onto the ground.
Thoughts on the Hike
This hike was tons of fun, even if we didn't complete the entire thing. However, I only recommend this hike if you have prior experience with rock scrambling and hiking.
If you don't think you're up for this hike, just a few miles away is Mosaic Canyon. This hike also has short sections of rock scrambling, but they are nowhere near the difficulty level of Grotto Canyon. Mosaic Canyon is more appropriate for kids and those with limited hiking experience.
Grotto Canyon is not a well-known hike in Death Valley. We saw only one other group while we were here. If you want to explore a trail seldom visited by other hikers, Grotto Canyon is one of the best in Death Valley.
---
More Information for Your Trip to Death Valley:

---
If you have any questions about this hike, ask us in the comment section below. And if you want to share your experience or offer advice to other readers, don't hesitate to comment below!
You Might Also Like: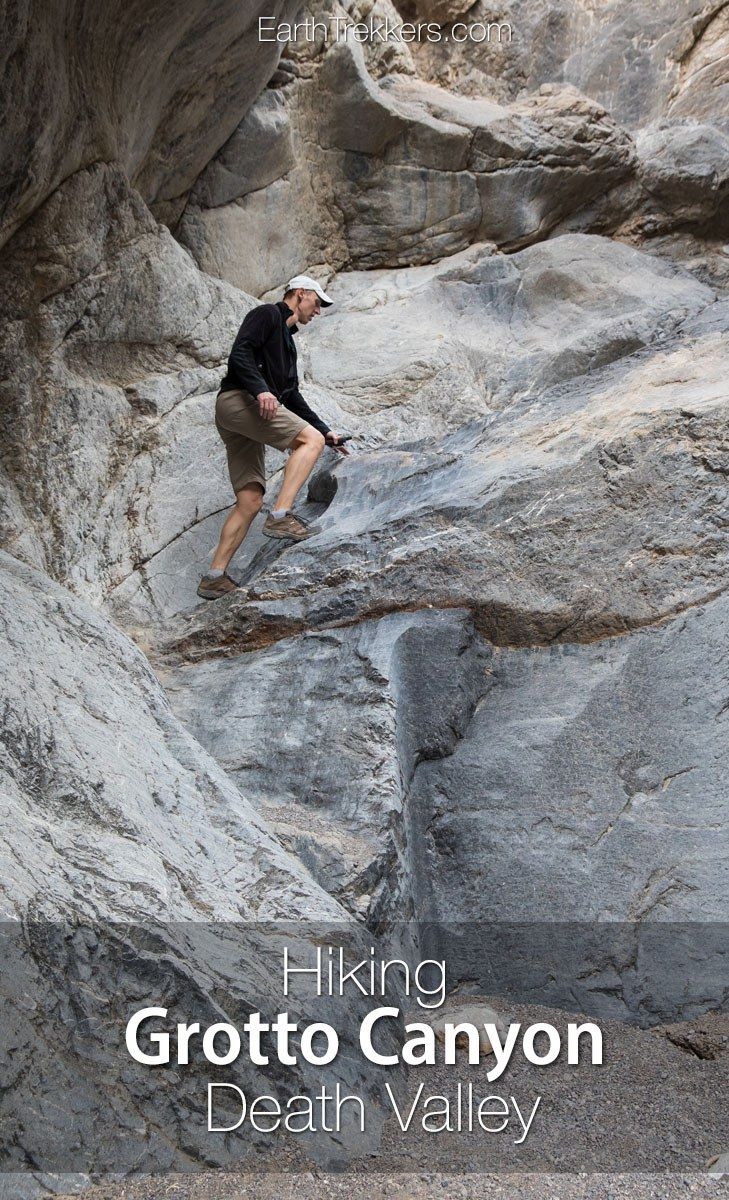 All rights reserved © Earth Trekkers. Republishing this article and/or any of its contents (text, photography, etc.), in whole or in part, is strictly prohibited.