Does the idea of dangling 600 meters (2000 feet) above the Lauterbrunnen Valley floor interest you? How about walking across a tightrope, with nothing below you except a rushing river? Or how about walking across a wobbly, narrow, suspension bridge? If you said yes to all of these questions, then put the Mürren via ferrata on your list of things to do in Switzerland.
The Mürren via ferrata is a 2.2 km journey, part via ferrata and part hiking trail. You'll cling to a cliff, climb down steep ladders, walk on a tightrope and a suspension bridge, and (with a guide) zip line across a ravine.
This is one of the most thrilling experiences to have in the Bernese Oberland. Here's how to do it.
About the Mürren Via Ferrata
Distance: 2.2 km (1.4 miles) one-way
Elevation Loss: 300 meters
Difficulty: K3 on the German scale (more on this below)
Length of Time: 3 hours
Start: Mürren
End: Gimmelwald
When to go: The via ferrata is open from June 1 to October 31 from 9 am to 6 pm
Required Gear: Harness, via ferrata set, helmet, hiking shoes
Cost: Free
Official website: Klettersteig Mürren
Important Note: You cannot climb the via ferrata in the rain or if rain is in the forecast. The metal steps are very slippery when wet. During our visit, we had to wait several days for the forecast to be clear before we could climb the Mürren via ferrata.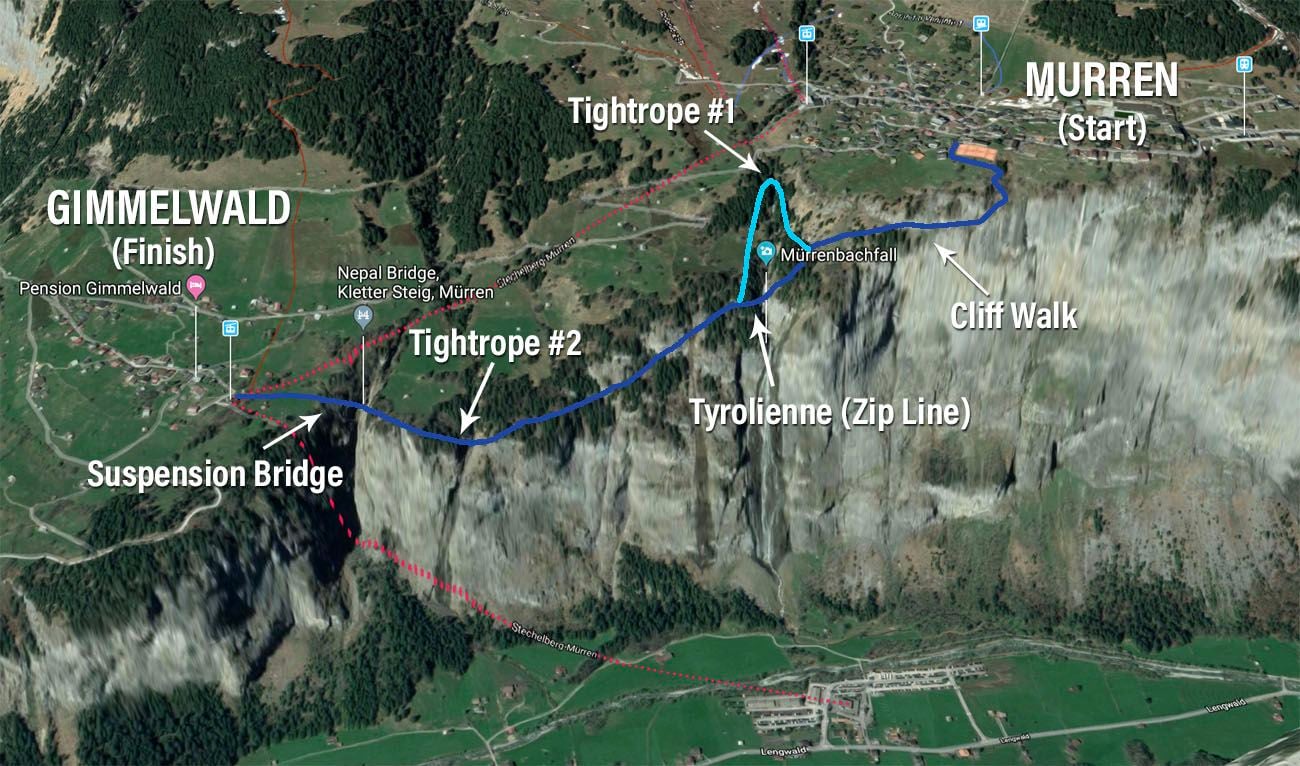 Map of the via ferrata Mürren to Gimmelwald. The dark blue line is the via ferrata route. The light blue line is the short detour you will make to the first tightrope if you do this without a guide.
Please practice the seven principles of Leave No Trace: plan ahead, stay on the trail, pack out what you bring to the hiking trail, properly dispose of waste, leave areas as you found them, be considerate of other hikers, and do not approach or feed wildlife.
What is a Via Ferrata?
In Italian, via ferrata means "iron way." These iron paths date back to the 19th century but they became more widely used during World War I. Many of these routes were created to help move Italian troops and their weapons through the higher elevations of the Italian Dolomites.
More recently, via ferrata routes have been created around the world for recreational purposes.
Usually, a via ferrata is used to climb up a cliff or a mountain. You ascend a series of metal rungs that are bolted into the rock face. To stay safe, you attach yourself to the cable that runs along these rungs, using the carabiners on your harness. For the easier via ferratas, you are essentially climbing a ladder attached to the cliff.
The Mürren via ferrata is slightly different. Since it is an overall descent from Mürren to Gimmelwald, you will be climbing down these ladders and rungs, rather than climbing up.
The Mürren via ferrata is a one-way route: Mürren to Gimmelwald. There is no two-way traffic on this trail.
In Switzerland, the term klettersteig is used, which means "climbing path."
View from the Mürren via ferrata.
Equipment for the Mürren Via Ferrata
In order to climb the Mürren via ferrata, you must have a helmet, a via ferrata set, and a pair of hiking shoes.
The via ferrata set has an attachment loop, energy absorption system, two lanyards and two carabiners. You will wear a harness on your waist and attach the via ferrata set to this harness. The two carabiners will be clipped on the steel cable at all times. Each time you meet an attachment point, you will unclip one carabiner, clip it on to the cable on the other side of the attachment point, and then repeat the process for the second carabiner.
Make sure you wear a sturdy pair of shoes with good traction. No sneakers, no running shoes, no sandals, definitely no flip flops. Hiking shoes are appropriate footwear.
If you have your own gear, perfect! But if not, you can rent gear at Intersport in Mürren. The cost is 30 CHF for a helmet, harness, and carabiners. They will check your shoes. If they think they are not appropriate, they will rent you a pair of hiking shoes for 20 CHF.
Gloves are not necessary but highly recommended. For three hours, you will be holding onto metal rungs and cables so a pair of gloves will help protect your hands and give you a little more traction. Bring your own or you can also rent these at Intersport.
Important Note: The staff at Intersport will not rent any equipment if it is raining or if rain is in the forecast. You need to have at least 3 hours of dry weather in order to do the via ferrata. It took us several days of waiting in order to have weather that was clear enough for us to do this.
You can check the weather forecast here.
Do You Need a Guide?
If you have prior experience on a via ferrata and have a good head for heights, you do not need a guide to do the Mürren via ferrata.
If this is your first experience on a via ferrata, you should do this with a guide. There is a section with lots of exposure where there will be nothing below you but air, so this is not a good place to learn a new skill. A guide will make sure you are using the equipment correctly and will help you get through these more challenging sections safely.
Also, if you have a fear of heights, even if it is very mild, I would recommend doing this with a guide.
If you need a guide, prices start at 159 CHF. Group size is limited to 8 people and two tours are offered every day. I recommend booking your tour at least several days in advance to get the date and time you prefer, but just keep in mind that rainy weather can cancel your plans. Click here to learn more.
We did this without a guide. All four of us have rock climbing experience and have been on a via ferrata in the past.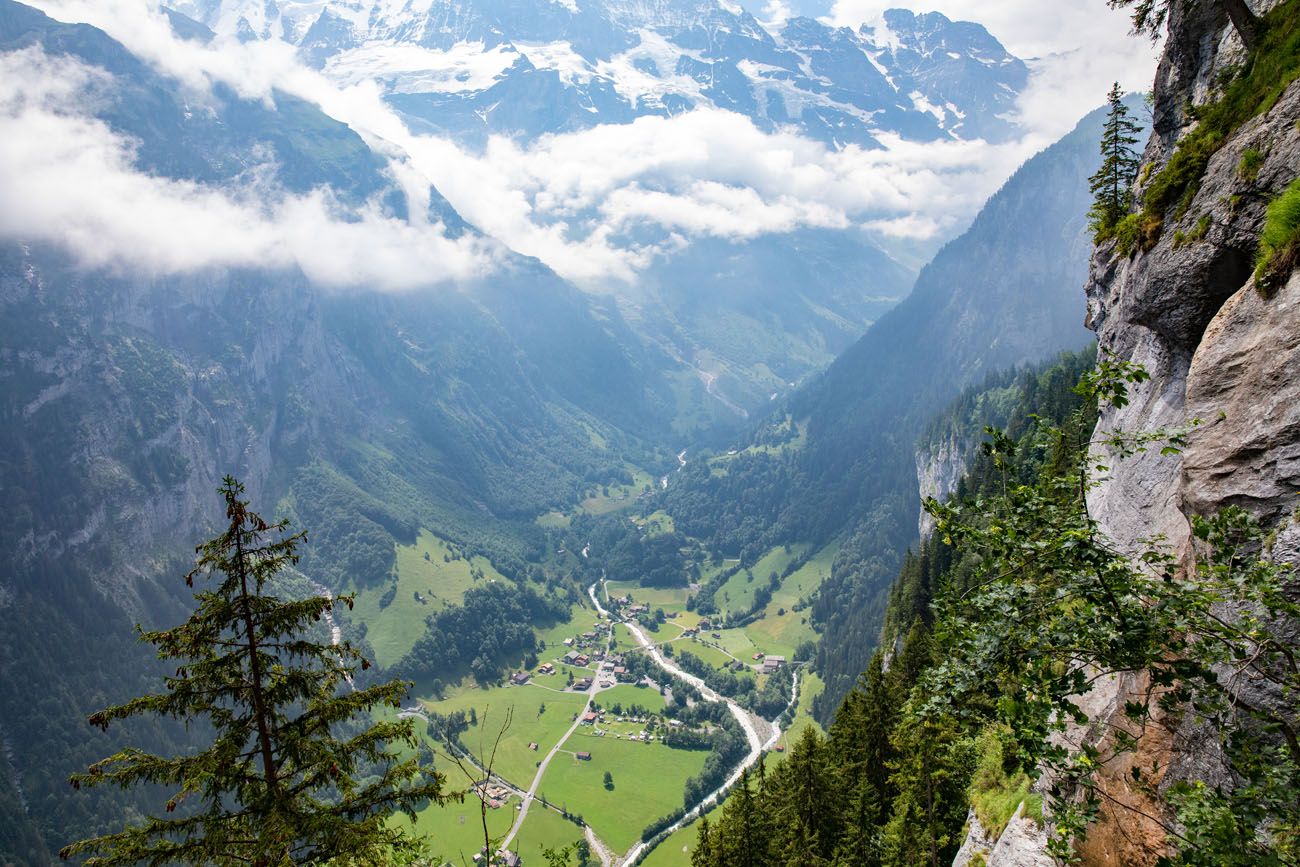 How Difficult is this Via Ferrata?
There is a classification system for rating the difficulty of a via ferrata. Just to keep things interesting, each country has its own classification system.
In Switzerland, they use the German classification. The Mürren via ferrata is rated as a K3 (the scale goes from K1 to K6), which is an easy to moderate via ferrata.
This via ferrata features one short section of extreme exposure, where you are attached to a cliff face roughly 600 meters (2000 feet) off of the ground. This can be challenging, even if you do not have a fear of heights.
You will also cross a wobbly suspension bridge, 1 to 2 tightropes (depending on whether or not you do this with a guide), and climb down numerous ladders.
For most of the route, you will be walking on a path in the woods and climbing up and down small obstacles. There will be short sections where you are hiking through the woods, with no exposure at all. So, you should also expect to do a little bit of hiking.
Since it's an overall downhill hike over a relatively short distance, it's not too physically demanding. If you are of average fitness, you can do this via ferrata.
On the Mürren Via Ferrata
The via ferrata starts in Mürren, just a short walk from Intersport. Follow the "klettersteig" signs to the Sportchalet in Mürren.
Look for this green sign and enter the door where it says Eingang. It's a short walk through a dark tunnel to get out onto the trail.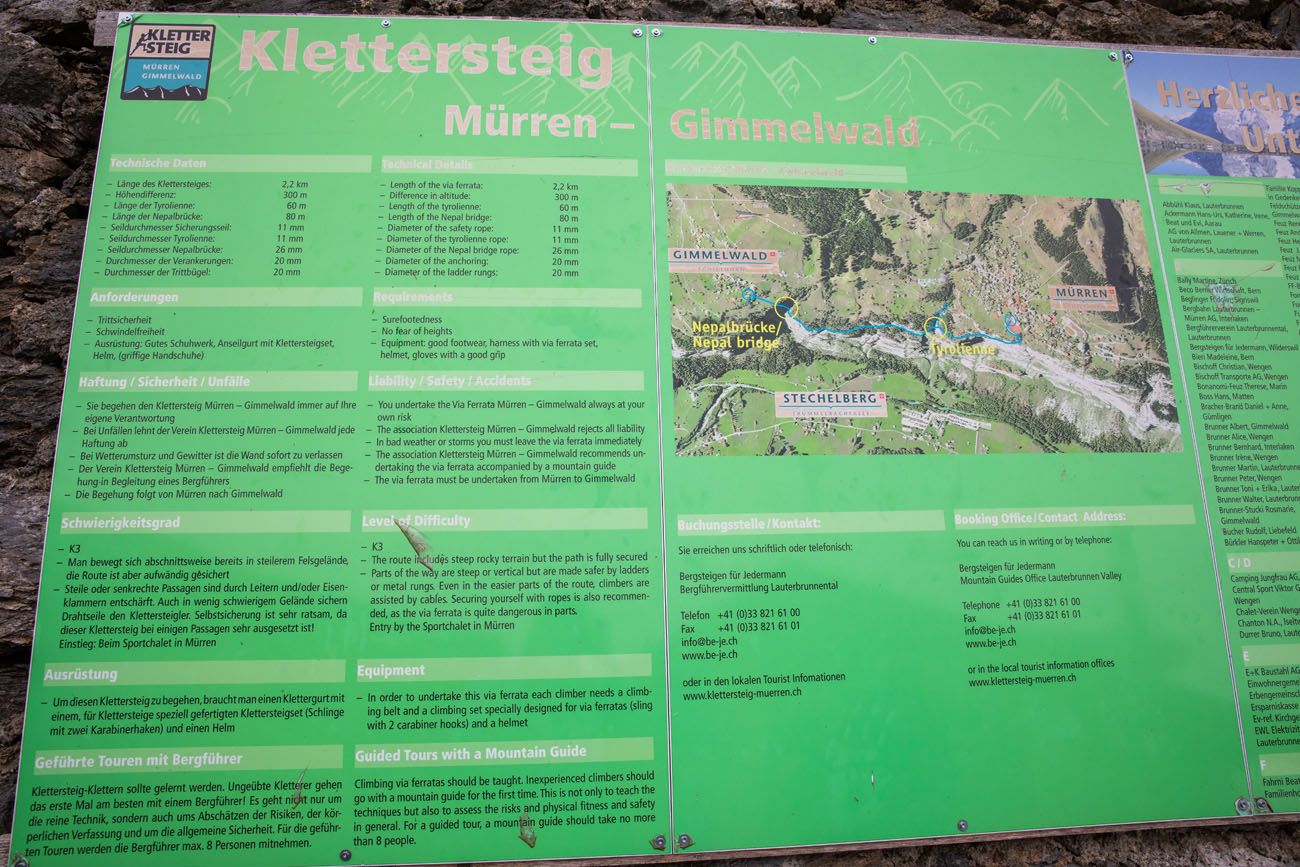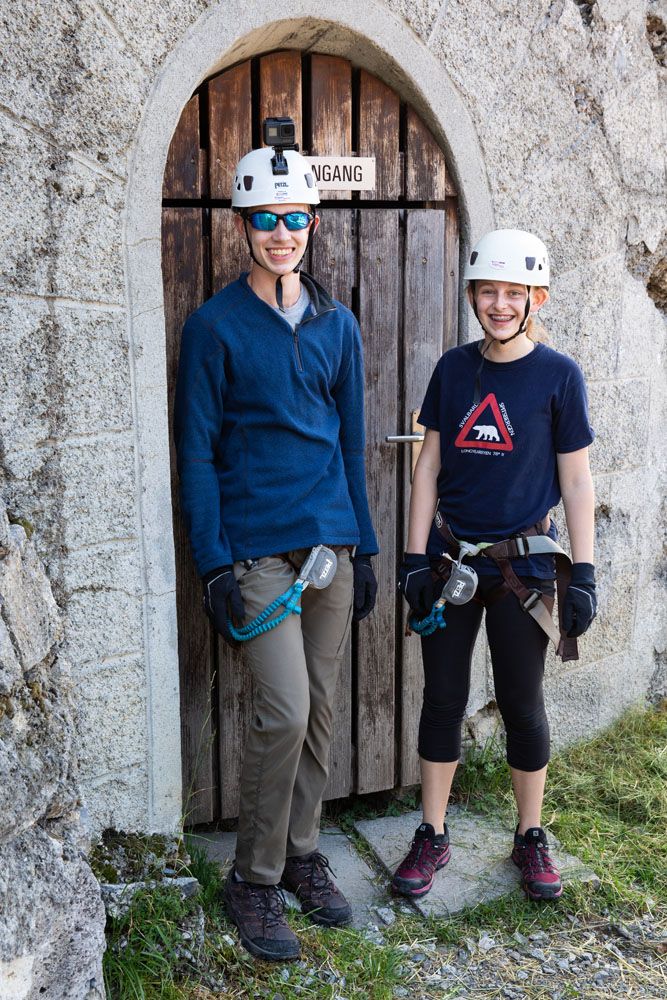 When you emerge on the other side, clip both carabiners onto the steel cable. There is no exposure here, since you initially walk through a forest to get out to the cliff, making this is the perfect place to practice using the carabiners.
At the beginning, there will be several sections where you will descend on the metal rungs. Nothing too challenging, just more practice before you get out to the cliff face. Along the way, enjoy the view.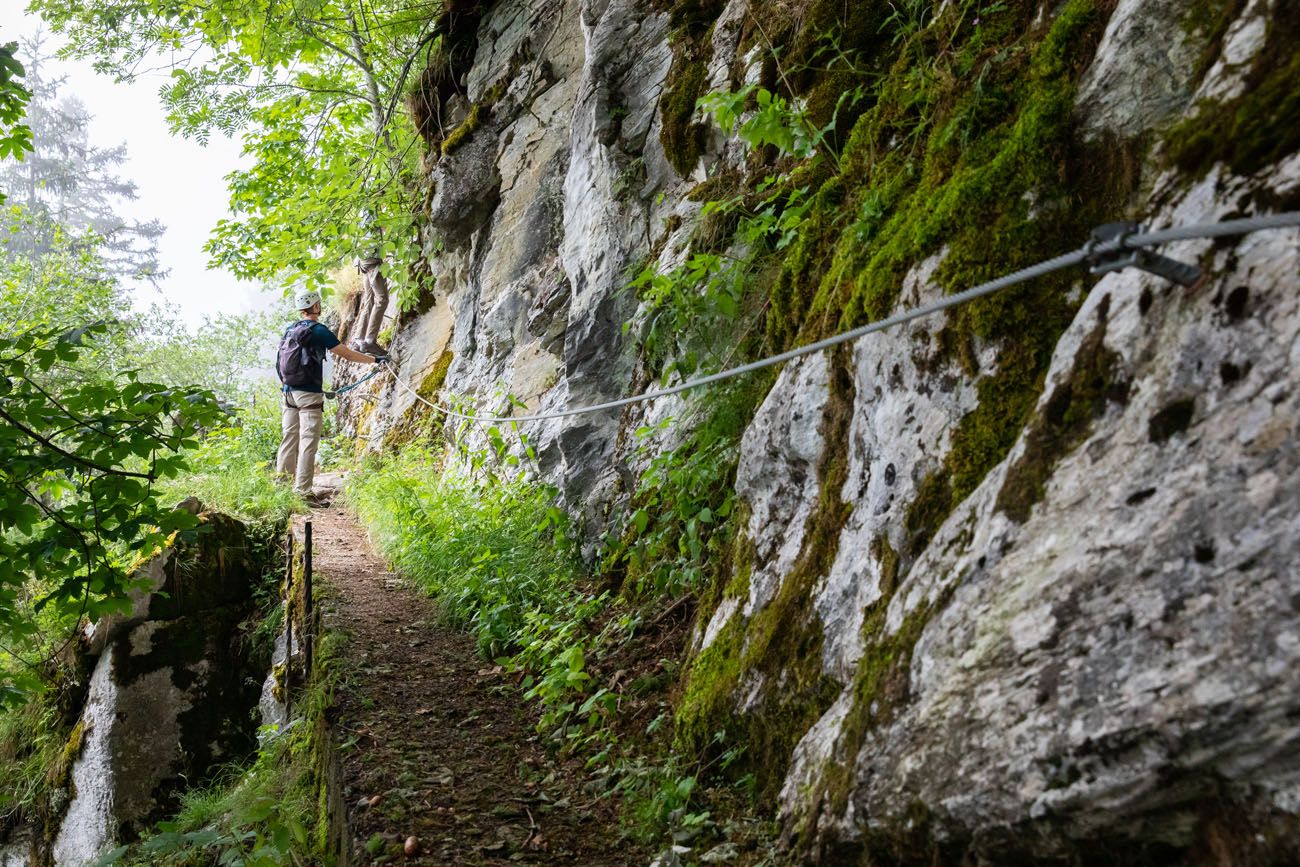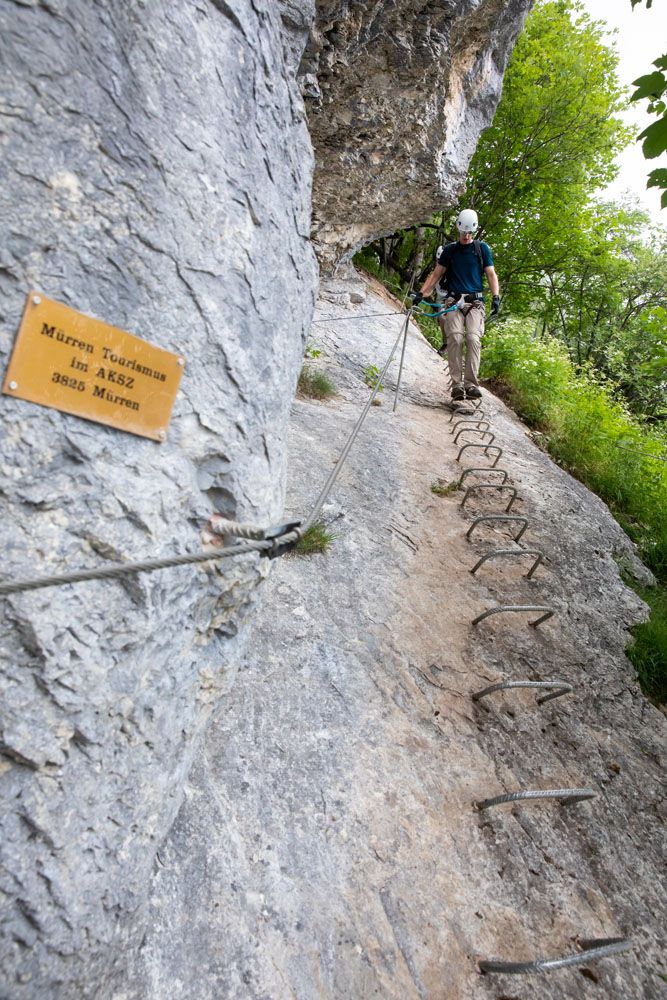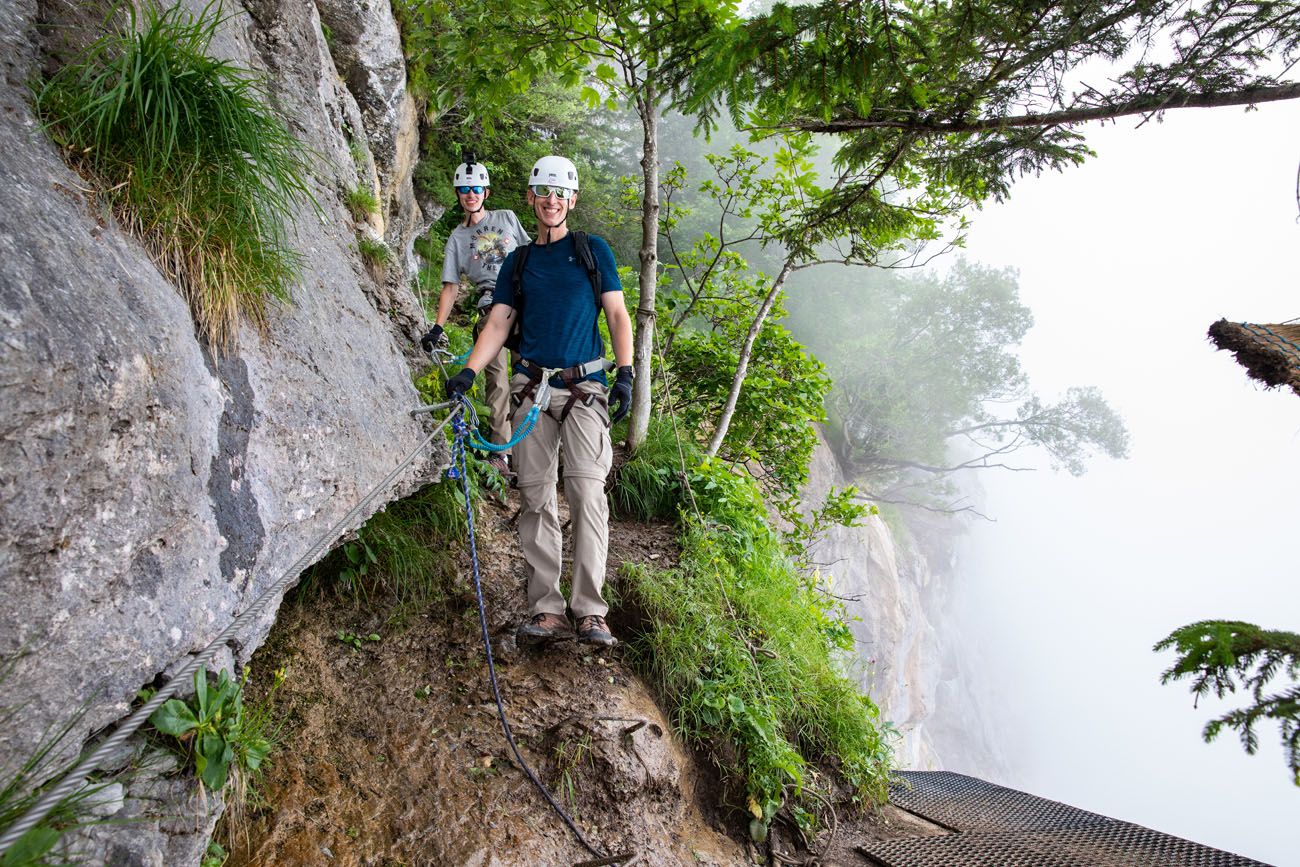 Once you reach the base jumping platform, you are getting very close to the cliff walk.
As you will see from our photos, we had very cloudy weather. On the day we did this, low-lying clouds hovered right along the path of the via ferrata. There was no threat of rain but these clouds hid the valley floor, taking away some of the thrill and beauty of this hike. The skies cleared up by the end of our hike.
Fortunately, Wendy and Jeremy, Earth Trekkers "fans" that we met up with in Mürren, have provided us with their photos of the cliff section, so that you can see what to expect. Hopefully you will get a clear day like they did!
Along the Cliff Face
Next up is scaling the vertical cliff face. This part is short but it's exhilarating! For roughly 40 meters, you will walk sideways across the rungs on a sheer face of rock. 600 meters below you is the Lauterbrunnen Valley floor.
This is the most exposure that you will have on the entire route.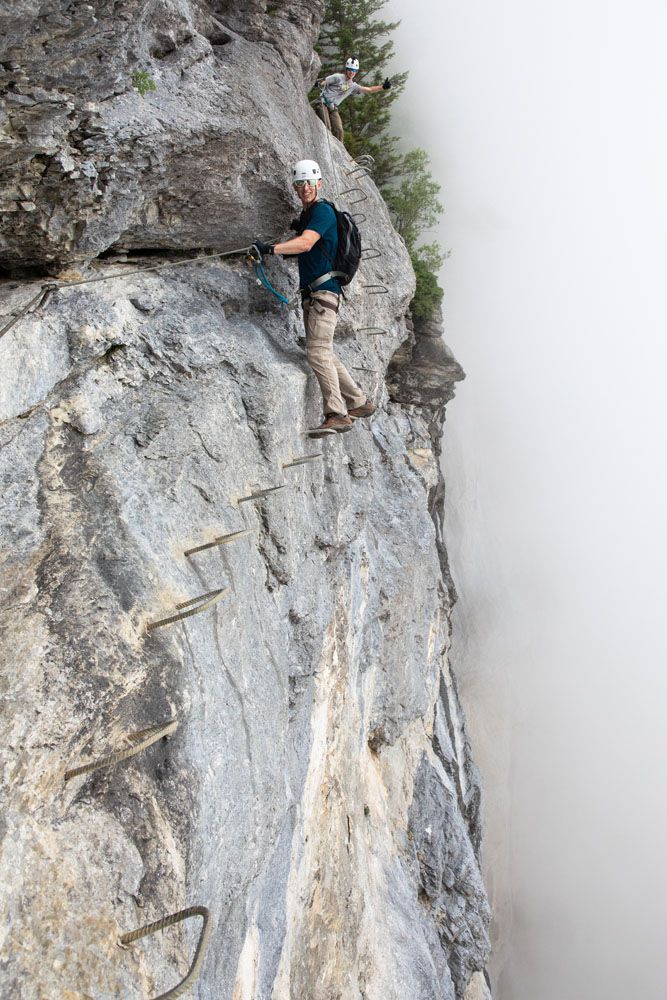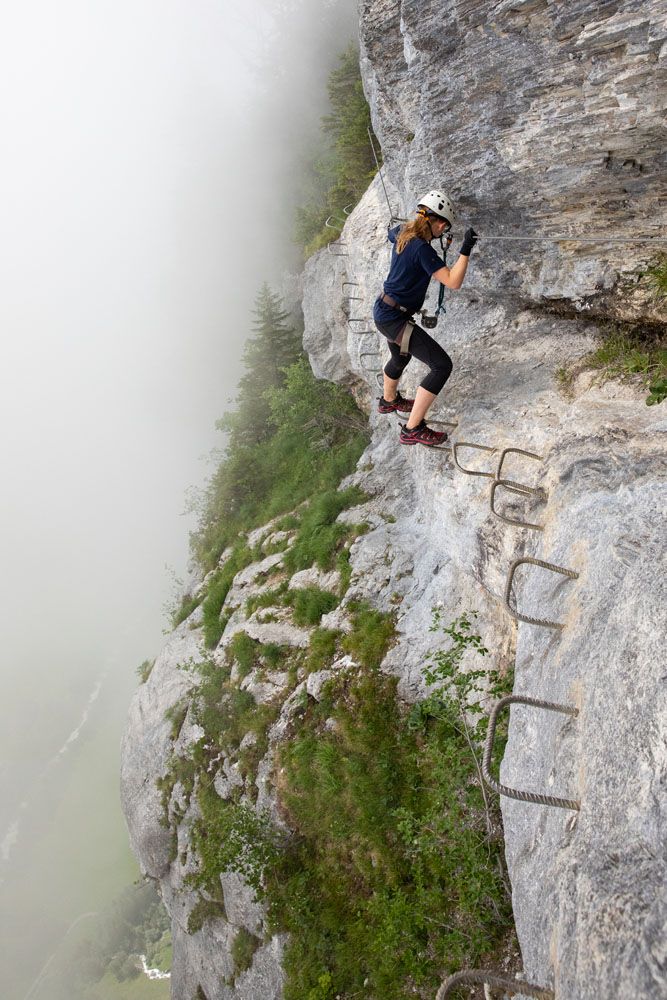 Here are Wendy and Jeremy's photos, so you get an idea of just how beautiful this is when the skies are clear.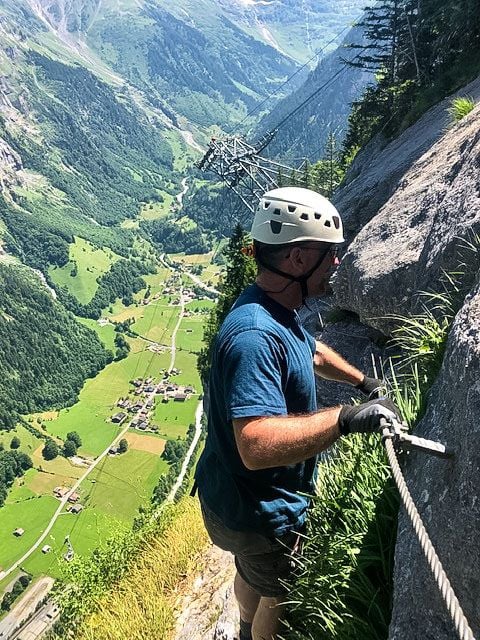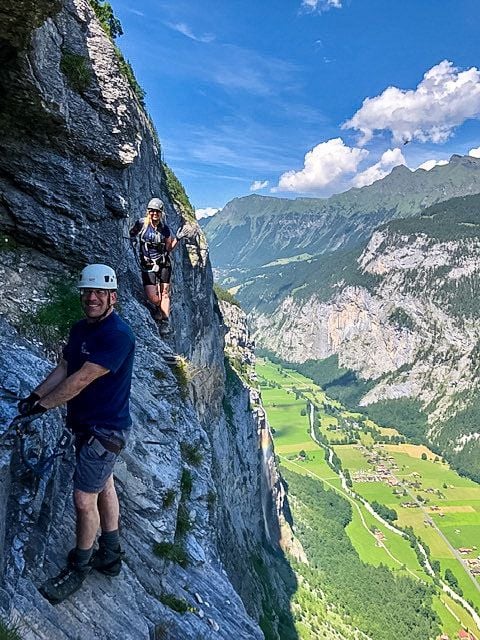 On the Zip Line or Tightrope
Your next obstacle is getting yourself across the ravine created by the Mürrenbachfall.
If you have a guide, you will ride a zip line (Tyrolienne) across it.
If you do not have a guide, you will hike a short distance to the first of 2 tightropes. This section is made up of three steel cables: one cable to walk on and two higher cables to attach your carabiners to and to use for balance.
There are two steel cables at about shoulder height. Clip one carabiner onto the left cable and one carabiner onto the right cable and then walk across the tightrope.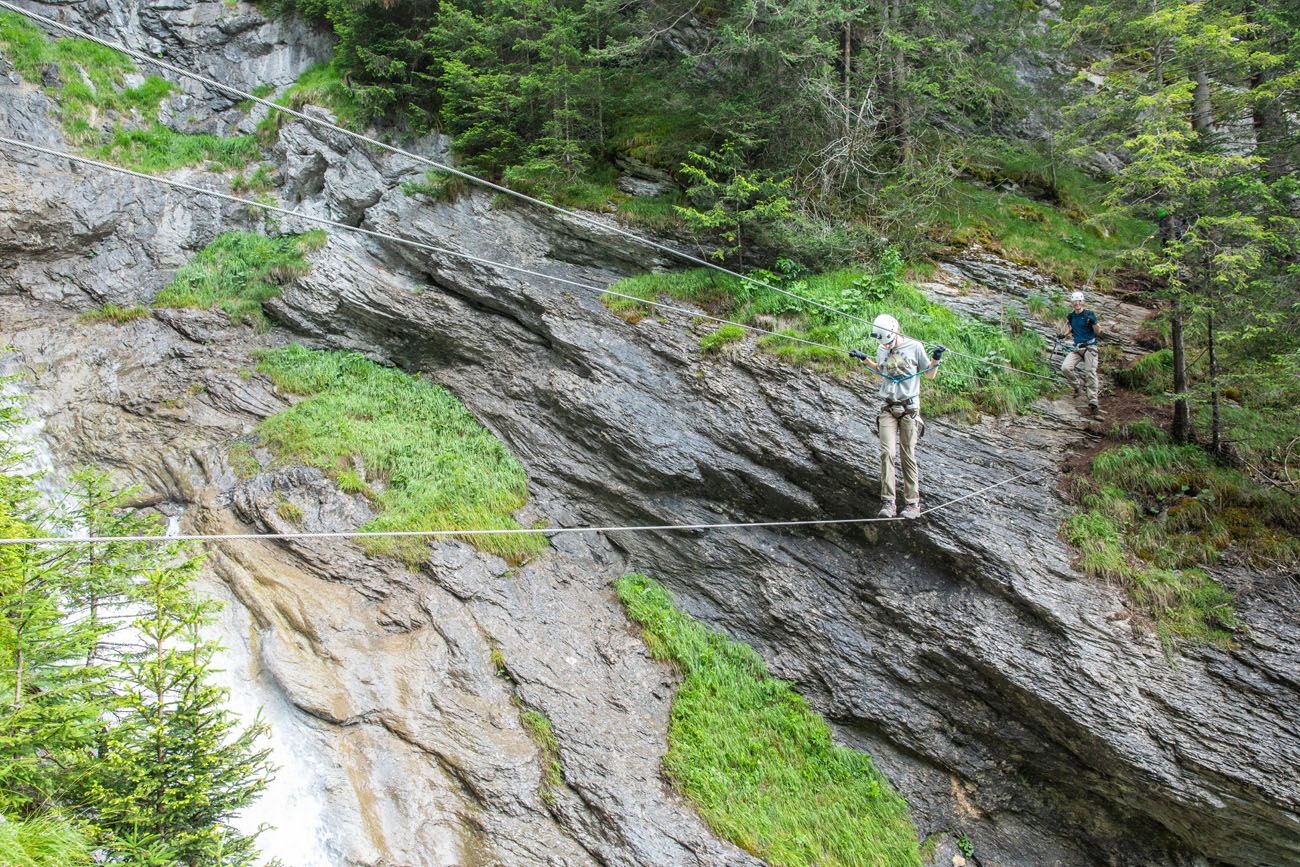 This part was fun and it is easier than it looks. As long as you take your time it's not too difficult. We walked one at a time across the tightrope for safety reasons.
Ladders and Tightrope #2
As you continue down the path, you will climb down several sets of ladders. This section can tire your arms out as you hold onto the ladder with one hand and unclip and clip your carabiners with your other hand.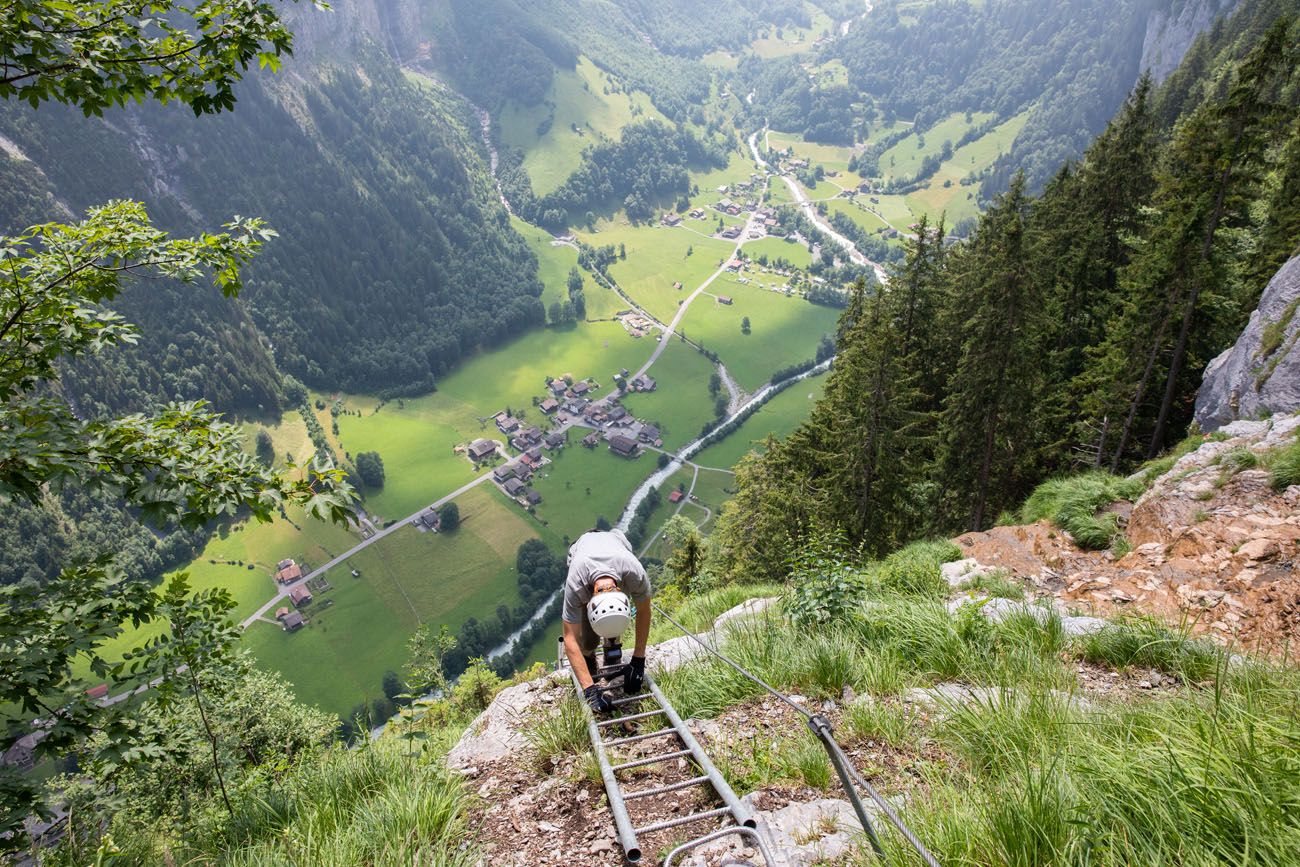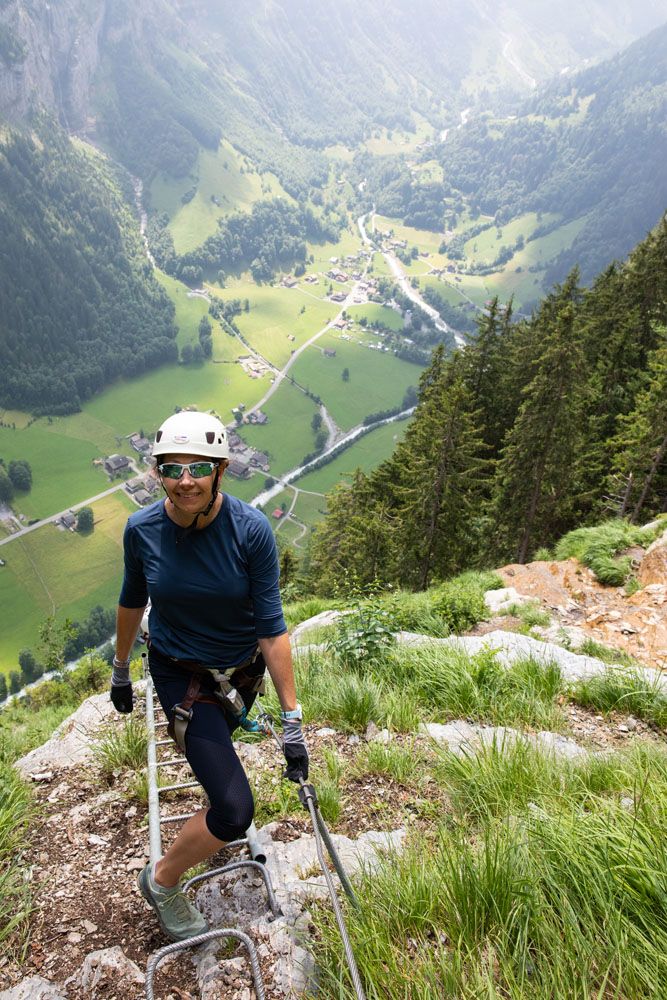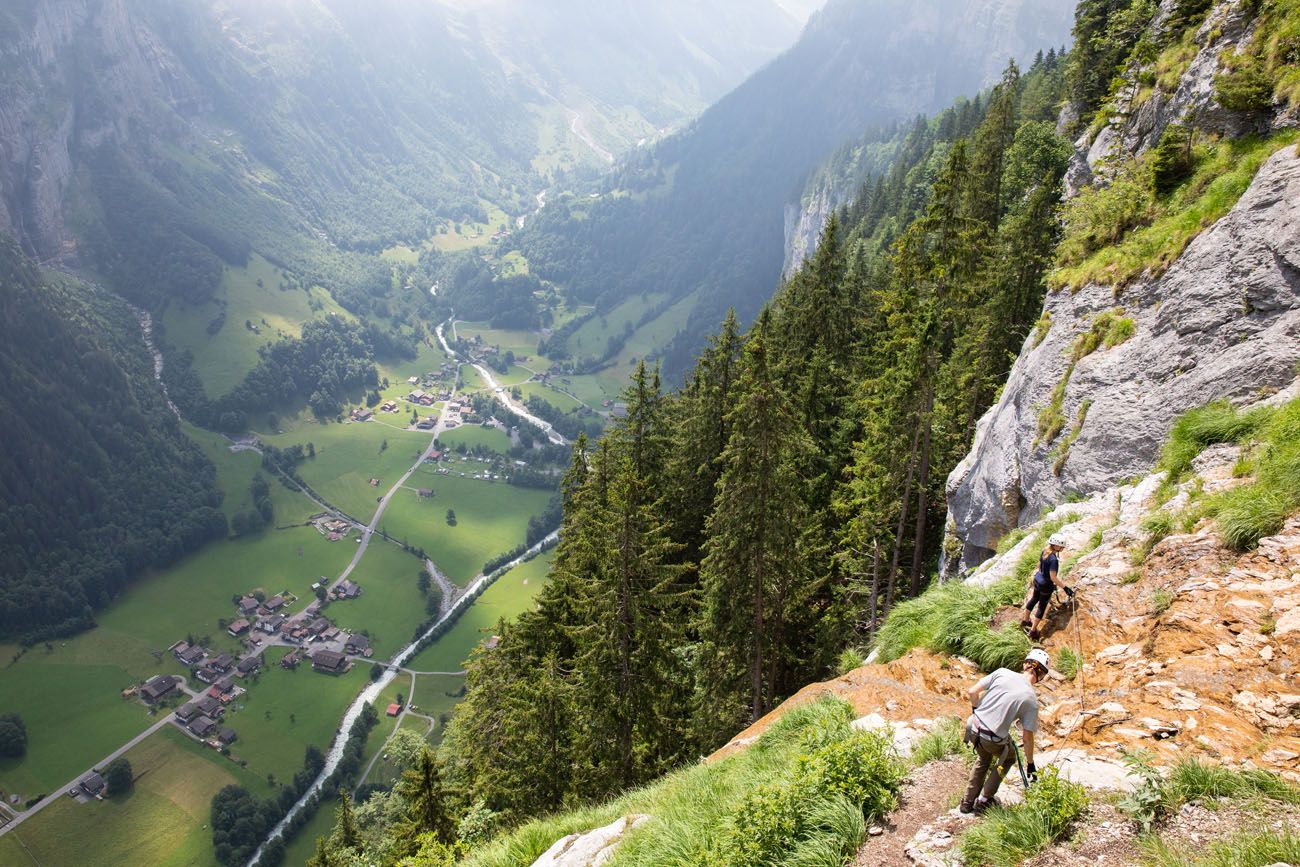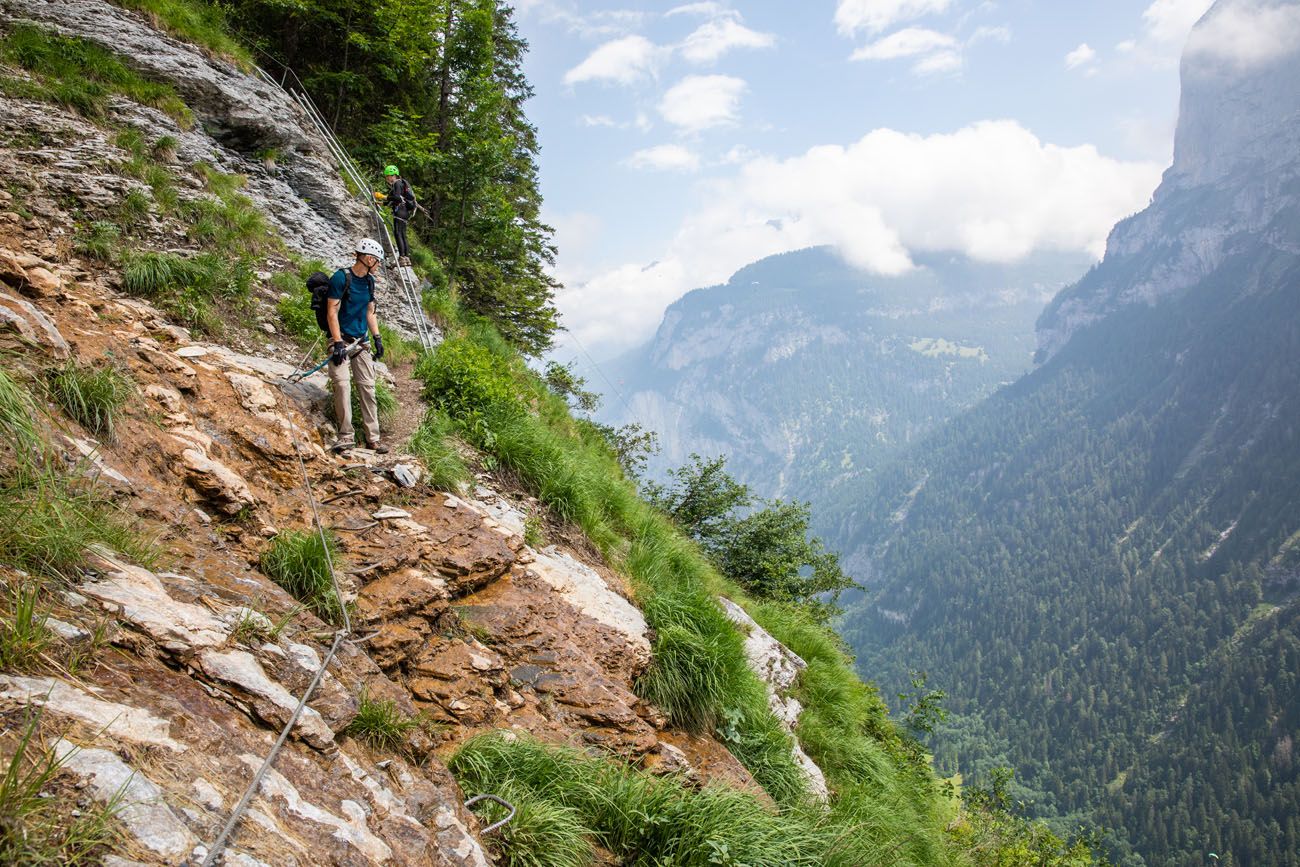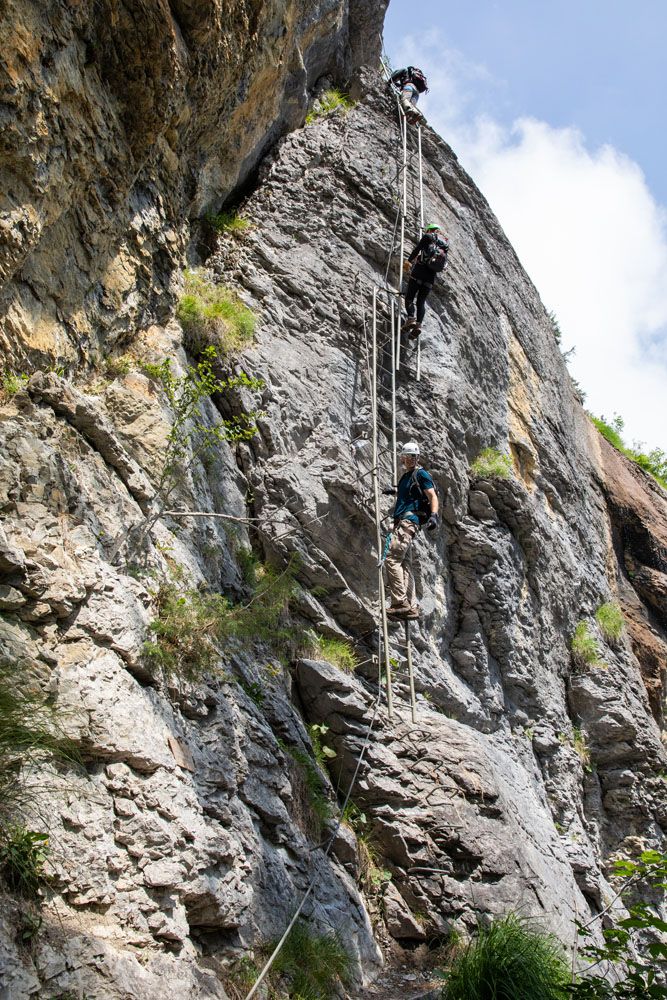 After a short walk through the woods you will cross tightrope #2.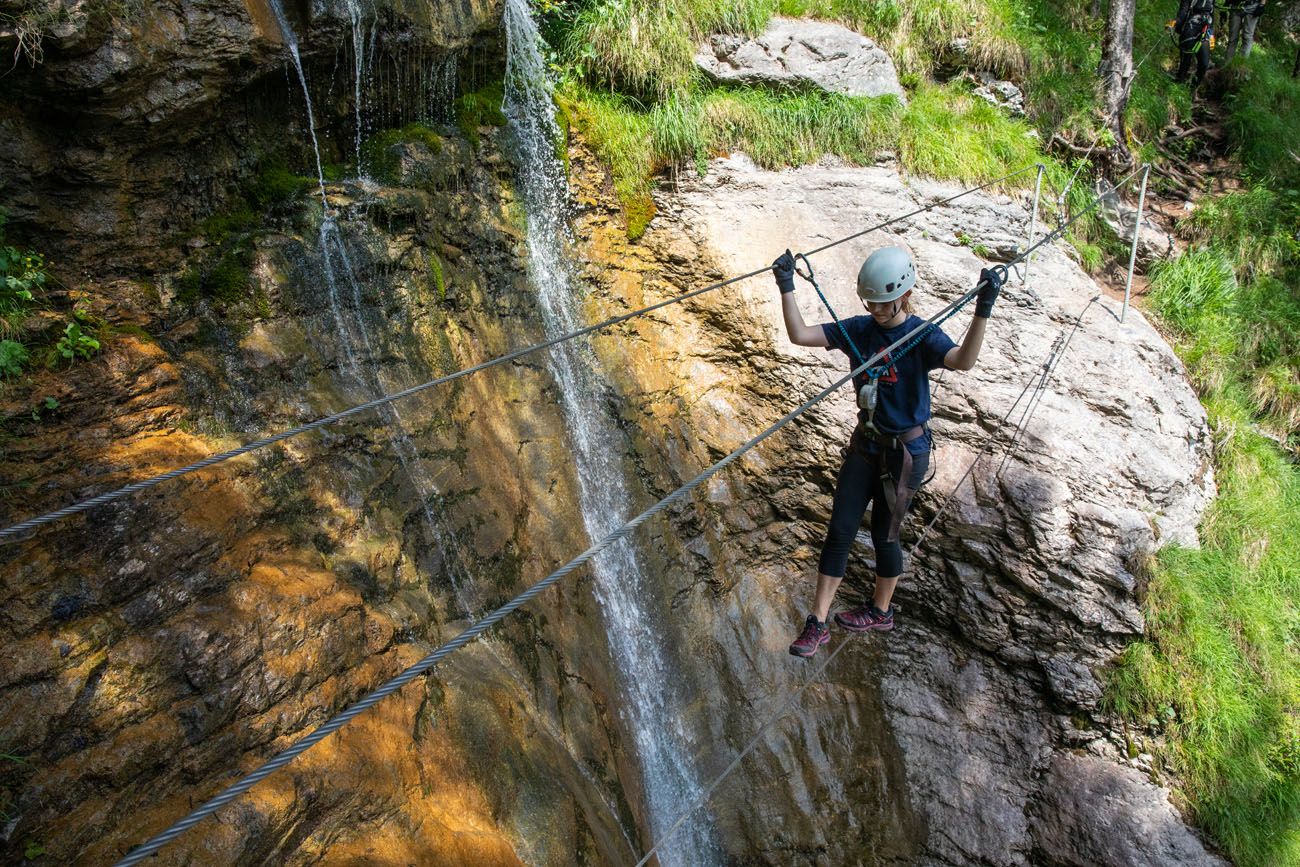 Nepal Suspension Bridge
It doesn't look that bad in photos, but we all thought that the suspension bridge was the "freakiest" part of the route.
It's narrow, it sways, it's long, and it's very high off of the ground. We loved it but not everyone feels the same way.
This bridge is 80 meters in length. There is only one steel cable running down the right side of the bridge to attach your carabiners to. At the ends of the bridge, where the support cables are over your head, it can feel like you almost have nothing to hold onto.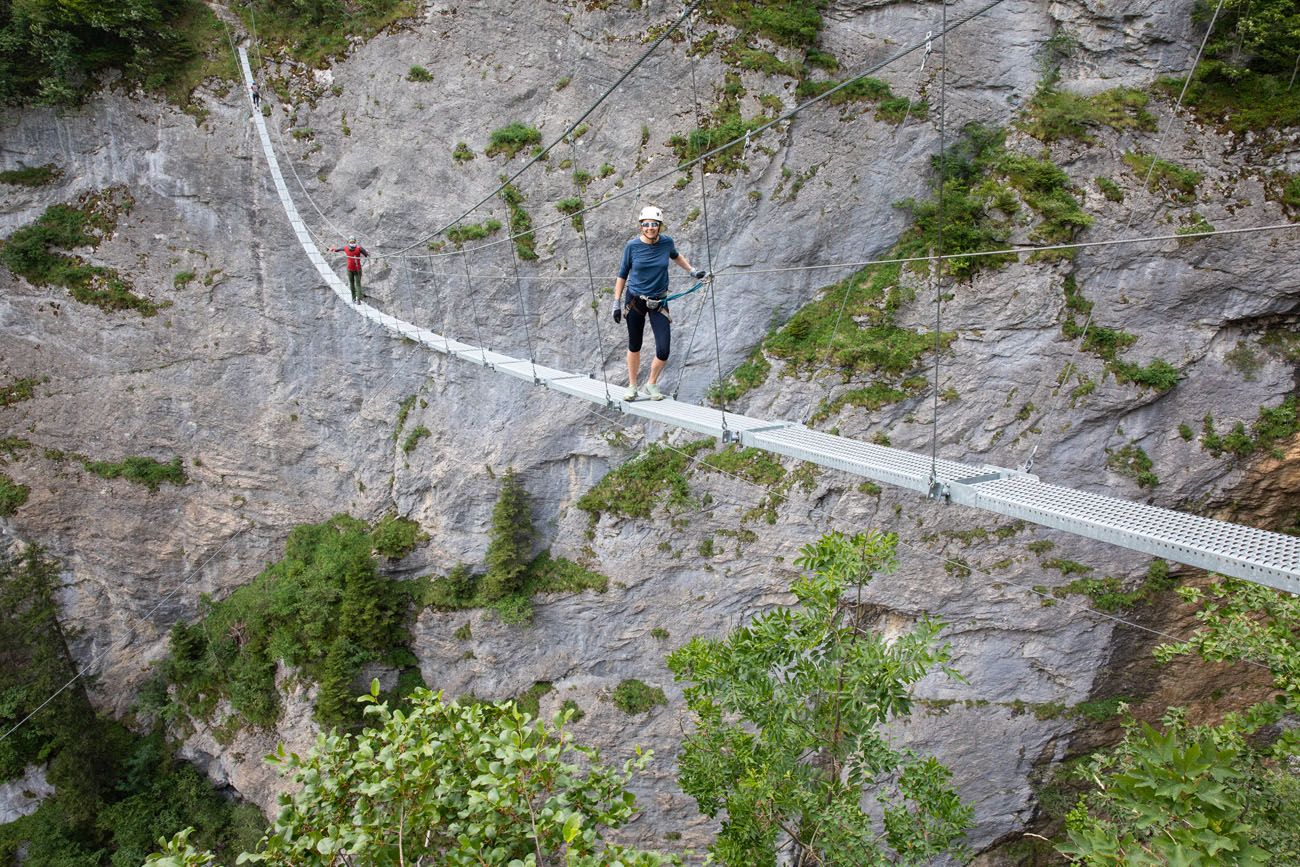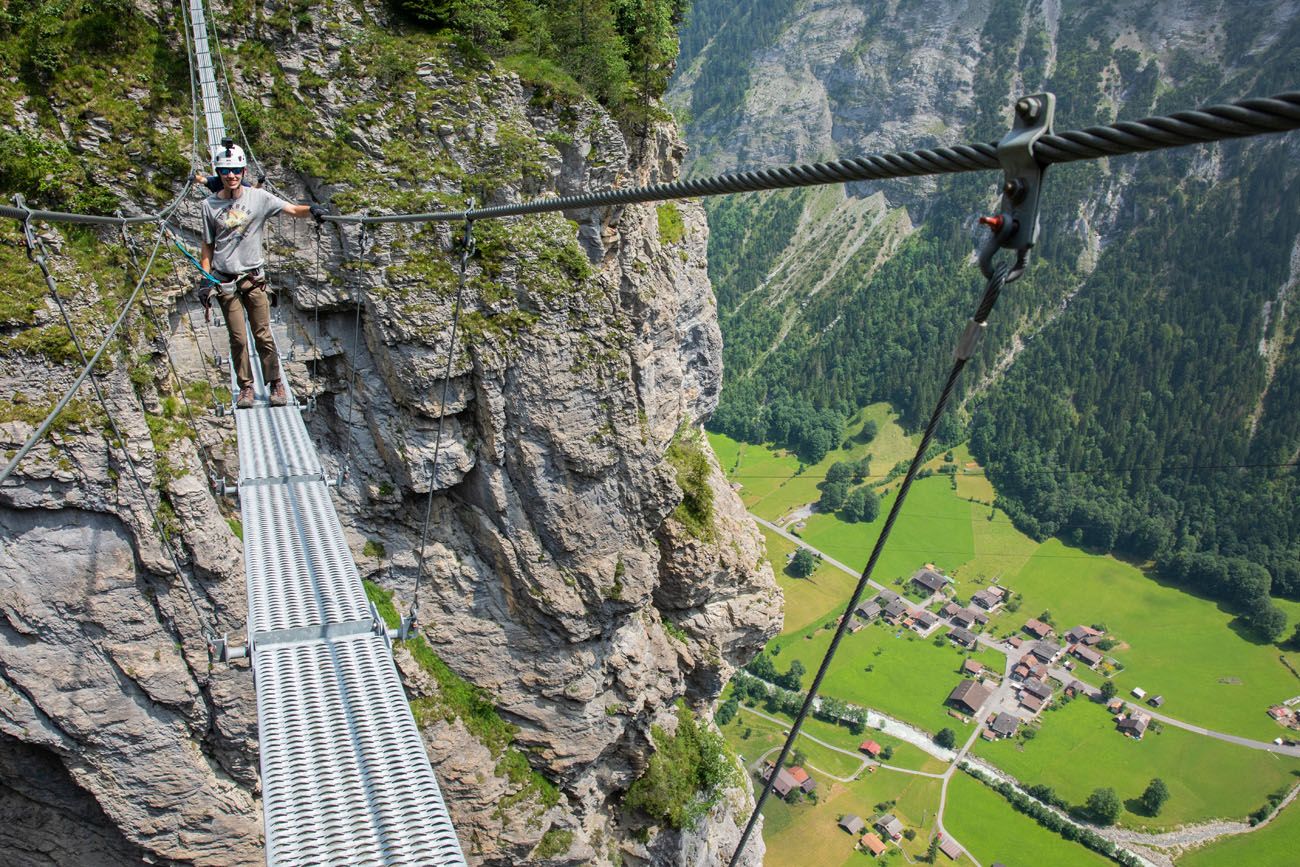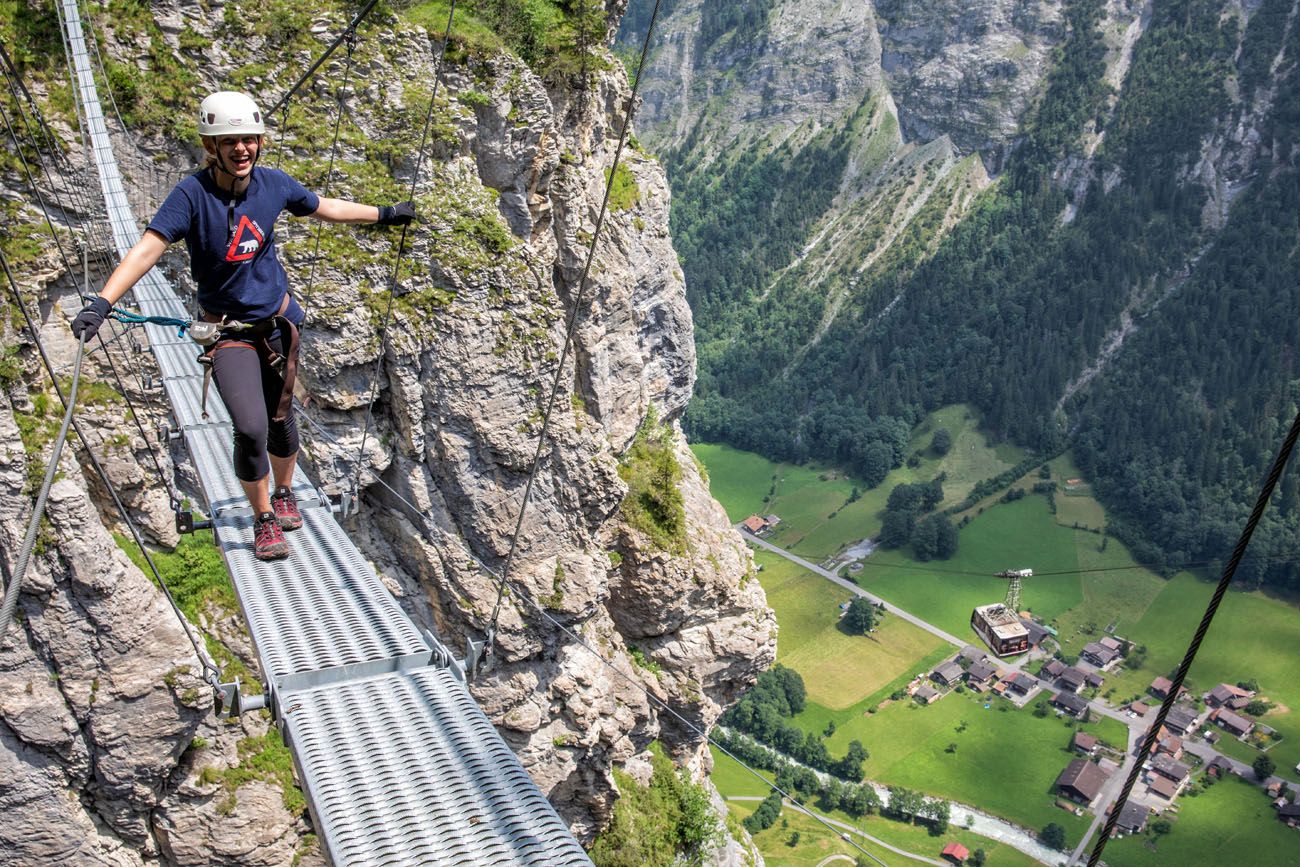 Once on the other side, the journey is over. It's just a short walk through the woods into Gimmelwald.
Take the cable car back to Mürren and return your rental gear, if you rented equipment from Intersport.
Mürren Via Ferrata Video
Want to see more? Check out our video of the via ferrata Mürren to Gimmelwald.
Where to Eat in Mürren
If you worked up an appetite on the via ferrata and are looking for restaurant recommendations, here are a few great places to try in Mürren.
Hotel Bellevue. This great restaurant offers cozy, indoor seating as well as seating on their outdoor terrace, which offers spectacular views of the Alps. The food was the best we had while in Mürren.
Hotel Eiger. Located right across the street from the Mürren train station, this restaurant is a bit pricey but the food is great. We ate here twice, at lunch and at dinner, and the lunch menu is cheaper than the dinner menu.
Eiger Guesthouse Restaurant. This restaurant serves Italian and Swiss dishes. We ate here on our last night in Mürren. If we had eaten here earlier in the week, we would have been here more than once! 🙂
Where We Stayed
We spent 6 wonderful nights at Hotel Alpenblick in Mürren. This small hotel is located near the Mürren train station on the edge of town. We stayed in the family room so we had two bedrooms, one bathroom, and a balcony with a view of the Alps. The rooms are basic but they are comfortable, quiet, and cozy. The wifi works well and the views are amazing. Hotel Alpenblick is a great value for the money you spend and we chose it since it's a highly rated hotel that was cheaper than many in Mürren. We would not hesitate to stay here again.
We also have a Guide to the Best Hotels in the Jungfrau Region, which as more recommendations for Mürren, Wengen, Lauterbrunnen, Grindelwald, and the other small towns in the area.
---
If you are planning to do the Mürren via ferrata and have any questions, comment below. We would also love to hear about your experience!
More Places to Go in Switzerland:
JUNGFRAU REGION: What exactly is the Jungfrau region? Find out in our Guide to the Jungfrau Region, which includes maps and important travel planning information, and a Jungfrau Itinerary to help you plan your time. We also have articles about the best things to do in the Jungfrau region as well as the top hikes in the Jungfrau region. The Eiger Trail and Schynige Platt to First are our favorite hikes. Learn how to combine Jungfraujoch and the Eiger Trail for one amazing day in Switzerland.
MORE GREAT HIKES IN SWITZERLAND: The Bernese Oberland is one of Switzerland's top hiking destinations. Hike the short, incredibly scenic trail from Männlichen to Kleine Scheidegg, walk the Northface Trail from Mürren, or hike from Schynige Platte to Faulhorn, a longer, more challenging, but awesome hike in this region. We also recommend hiking to Riffelberg in Zermatt, hiking the to Hörnlihütte in Zermatt, and hiking the Gastlosen Tour near Gruyères.
ZERMATT: In Zermatt, don't miss the hike from Gornergrat to Riffelberg. For more ideas on what to do, read our article Best Things to Do in Zermatt. For more alpine views, learn how to visit Matterhorn Glacier Paradise (and find out if it is worth it) and how spend one day on Sunnegga, Blauherd, and Rothorn.
LUGANO: Lugano is located in southern Switzerland. This city is another great place to stay for day trips in Switzerland and you can easily day trip to Lake Como and Bellagio.
LUCERNE: Learn how to spend one perfect day in Lucerne with a trip to Mt. Pilatus.
SWITZERLAND ITINERARY: If your visit to the Jungfrau region is part of a bigger trip to Switzerland, check out our Switzerland Itinerary, which has suggestions on what to do if you have 7 days, 14 days, or even longer.
EUROPE TRAVEL INSPIRATION: For more great ideas on where to go in Europe, check out our article 30 Beautiful Places to Visit in Europe and the 20 Best Hikes in Europe. You can also get more travel ideas in our 10 Days in Europe itinerary guide, which has 10 great itineraries for your next trip to Europe.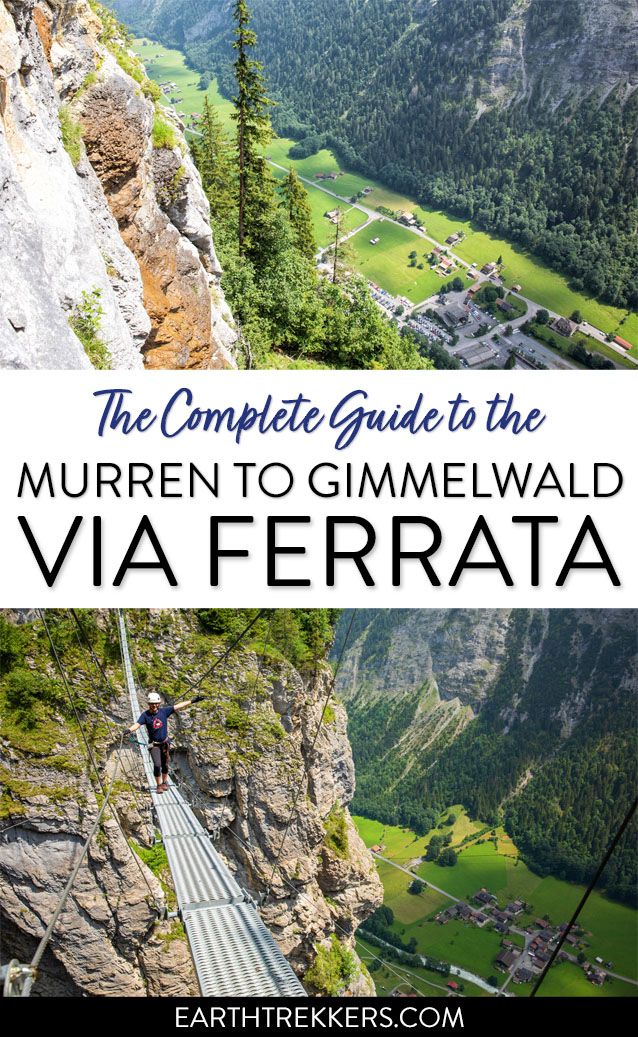 Note: This post contains affiliate links. When you make a purchase using one of these affiliate links, we get paid a small commission at no extra cost to you.
All rights reserved © Earth Trekkers. Republishing this article and/or any of its contents (text, photography, etc.), in whole or in part, is strictly prohibited.