Singapore, a city that is also a country, is the closest that we would get to the equator on our trip around the world. We were just 137 kilometers (85 miles) from the equator and wow, could we tell! This is one hot city.
We spent four days in Singapore, walking around in the sticky heat. Our taxi driver from the airport to our hotel was the first person to let us know that it had been hotter than normal the past few days. In the morning we would step out into hot, humid air. Midday was the worst but sunset offered little relief. Even at 8 pm we would work up a sweat just walking the shortest of distances. We come from the mid-Atlantic region of the US, a place that is famous for its hot, sticky, summer weather, but honestly, this was so much worse.
Interesting Facts about Singapore
Singapore is the fourth largest financial center in the world (New York, London, and Hong Kong top the list) and the second busiest container port in the world (Shanghai is number one). It is one of the most globalized cities in the world, with a third of its citizens being foreign-born nationalized citizens. Chinese Singaporeans make up much of the population, but this country is also home to Malaysians, Indians, Europeans, and Americans. English is the common language but Mandarin and Malay are widely spoken as well.
Singapore gained independence from Malaysia in 1965 and has been known as the Republic of Singapore ever since. Lee Kuan Yew, Singapore's first prime minister, can be credited with taking Singapore from a third world country to a first world financial super power.
Singapore has some unique and rather strict laws. Taxi drivers must be national born citizens. Selling chewing gum is illegal. Go to a 7-Eleven and there will not be one pack of gum for sale but there will be an entire aisle stocked with breath mints and cough drops.
The legal drinking age is 18. Alcohol cannot be purchased past 10:30 pm. Drug traffickers are punished by death. Spitting is also illegal.
Spitting may not sound like something you would need a law against, but after going to Myanmar and India, we are all in favor of "no spitting" laws.
Basically, Singapore is a clean, modern, and safe city and our "scam radars" could relax for a few days.
In our four days in Singapore, we visited some of the more popular sights but also tried to beat the heat as well. Here were some of our favorite activities.
Buddha Tooth Relic Museum
Many times when we visit temples we get a glimpse into local life, watching people lighting incense, praying, and chanting. This would not be the case today. It seemed like the only people at this temple were curious tourists like us.
The other thing that was different about this temple was its age. Most temples we visit are very old. Tyler and Kara are both older than this temple, which opened to the public in 2007. It is named for the Buddha tooth found in a collapsed stupa in Myanmar which is now housed here. We never did see that famous tooth but we loved seeing the buddha statues lining the walls and the larger buddhas that were the centerpiece of the room.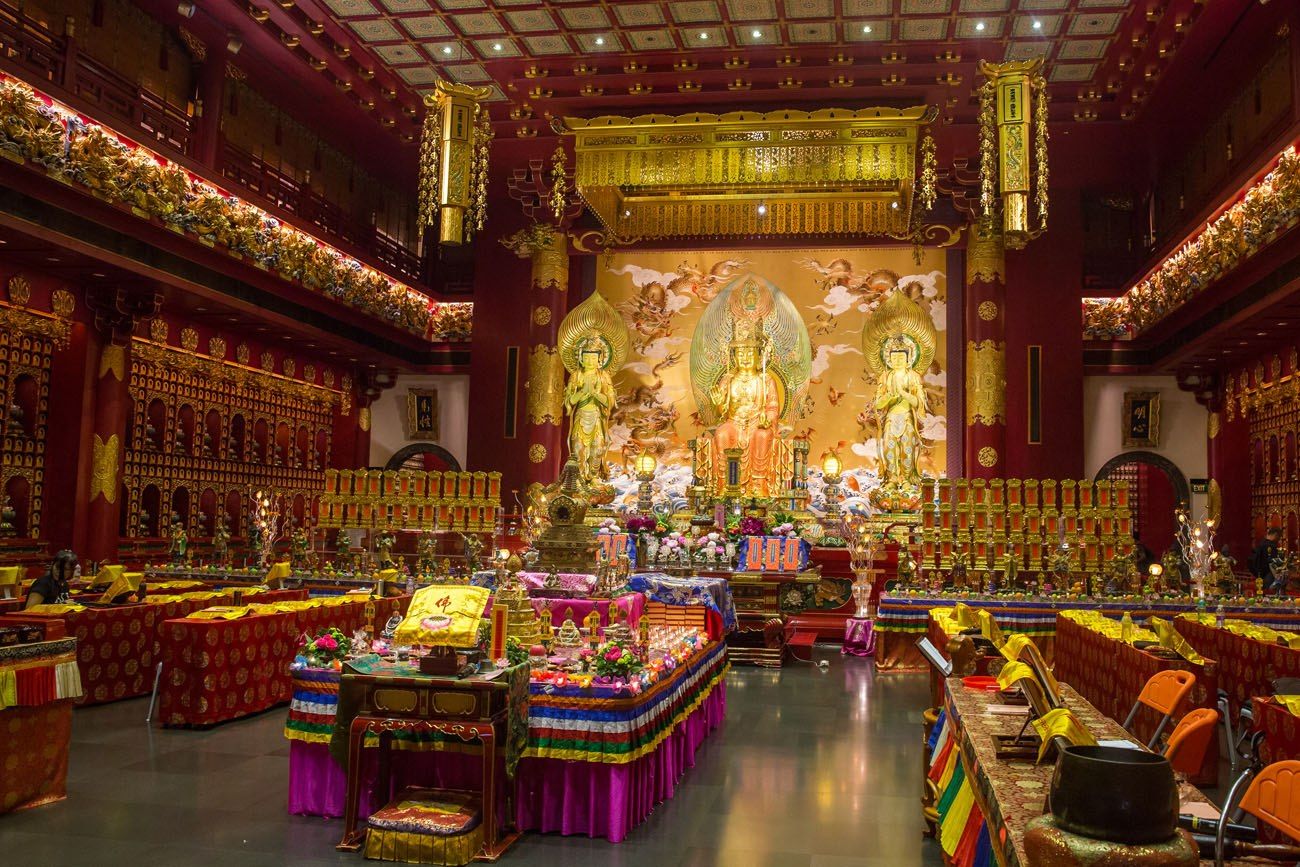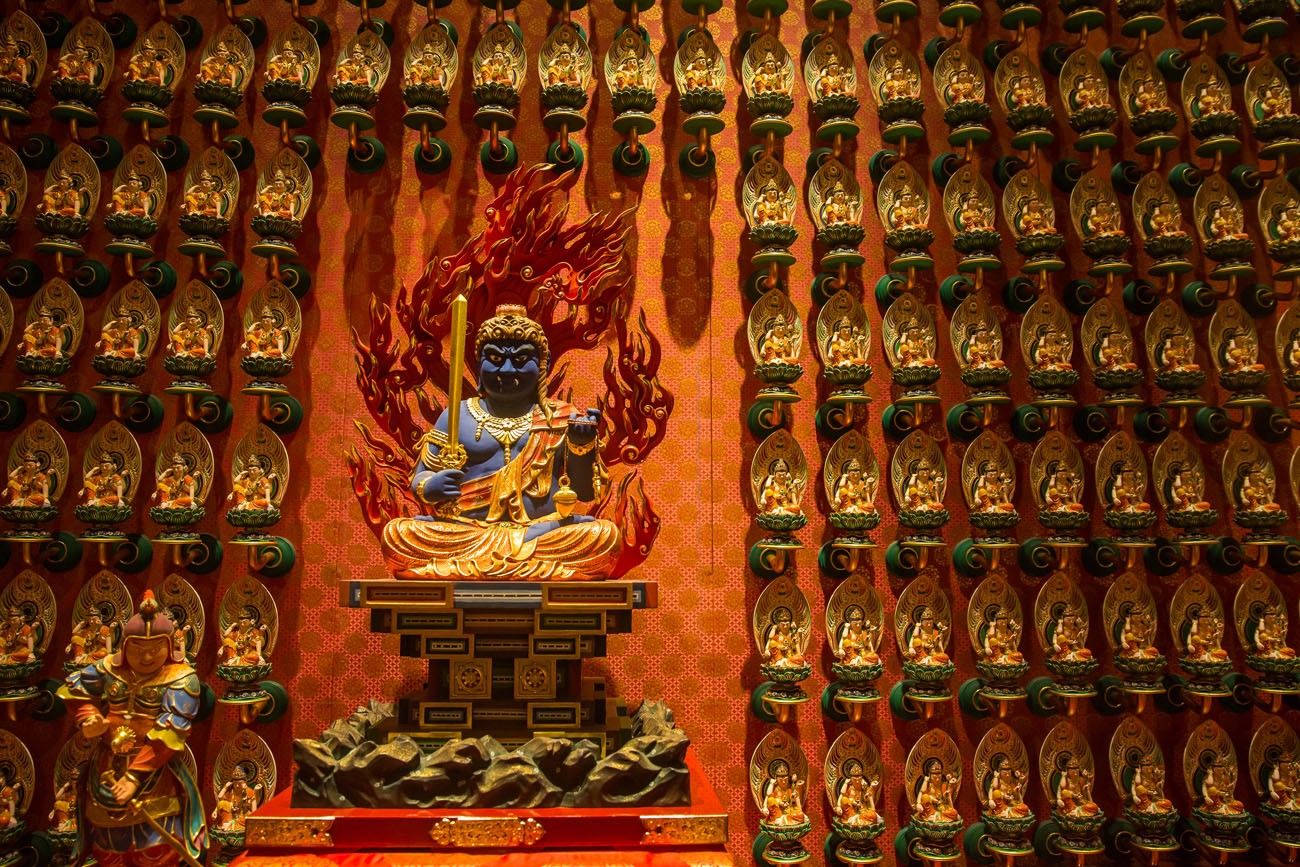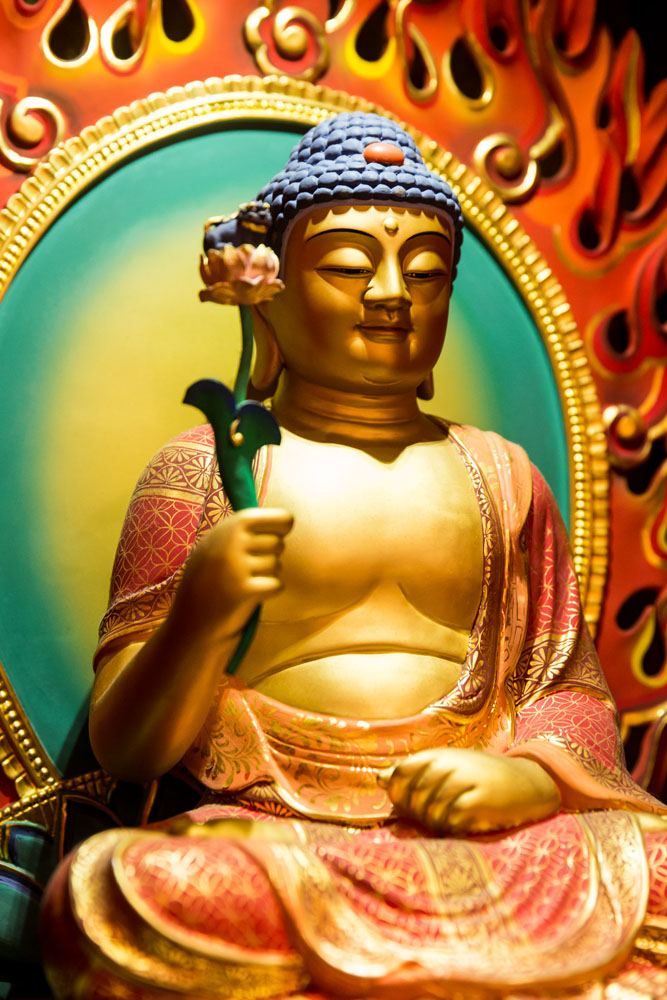 Get Around on the MRT
We love getting around by metro and Singapore has a fast, clean, modern system called the MRT. During the hours that we rode the metro, the crowds were low, wait times were minimal, and the trains were air conditioned. There are designated seats for the elderly and for pregnant women, distinguished by their colorful, flowery printed seats. The advertising went as far as coming up with StandUpStacey, a character that looked like a cross between a minion and cartoon character, letting all on board know to give up their seat for those who may need it more than you.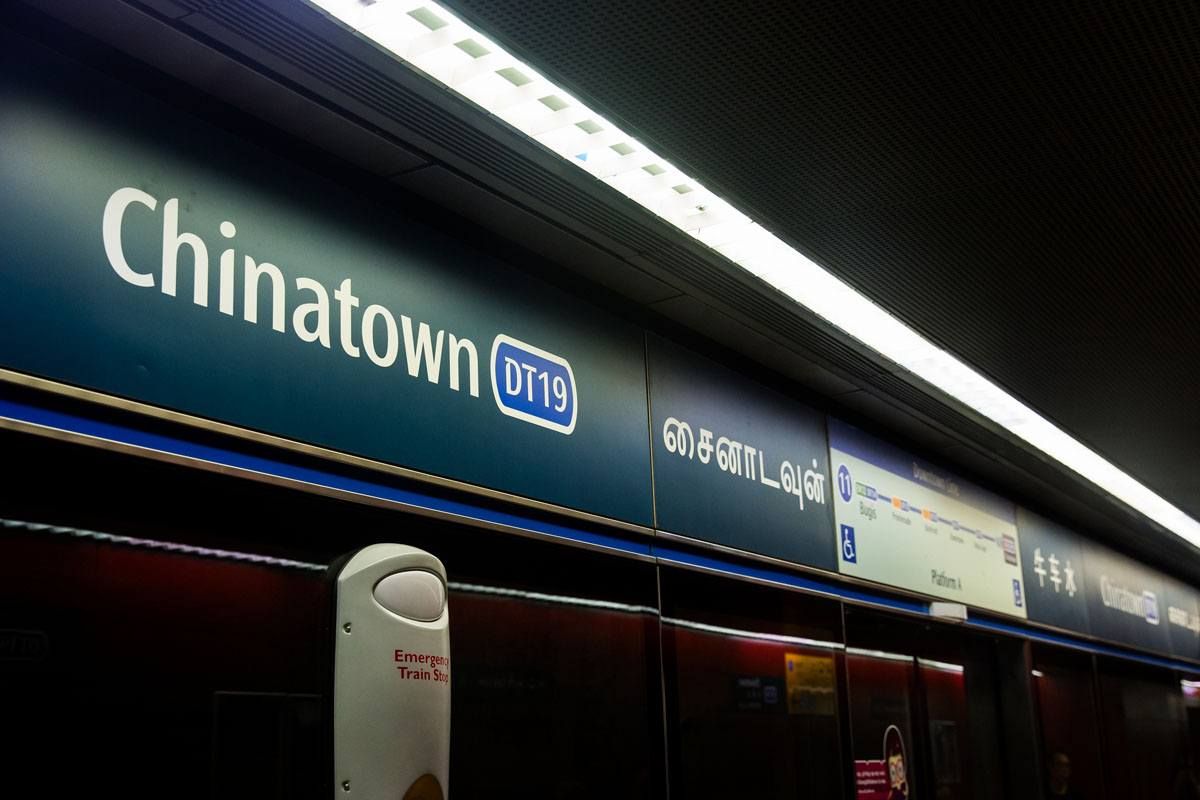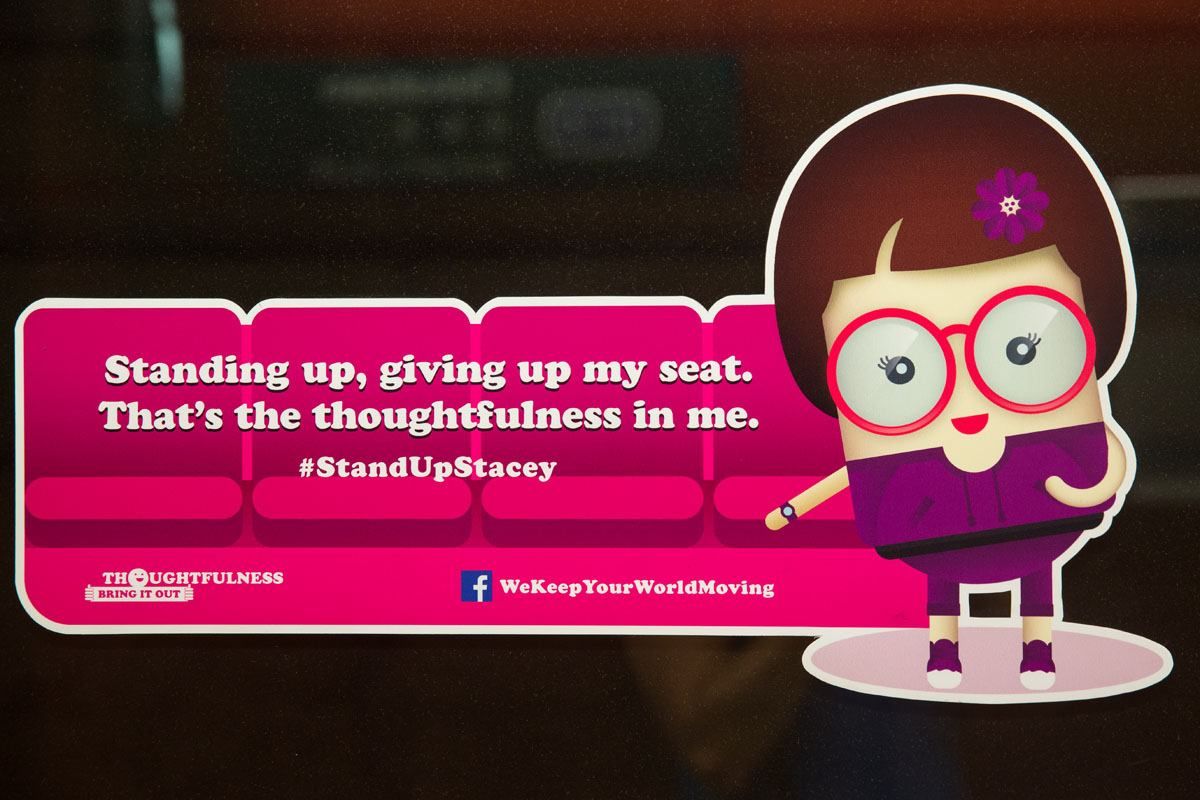 Get a Bird's Eye View of Singapore from the Marina Bay Sands
The Marina Bay Sands is Singapore's ultramodern hotel, a building that looks like it comes from the future. Three towers support a platform that houses an observation deck, restaurant, and infinity pool. Tyler and Kara were disappointed they couldn't go swimming here! So were Tim and I, especially after taking in the views while standing in Singapore's sticky heat.
Out in the distance we could see many container vessels waiting for their turn to come in to port, as well as the Gardens By the Bay, Singapore's skyline, and the waterfront area. There was a slightly cool breeze up here, so it wasn't totally miserable, but we were still happy to get back into the air conditioned elevator once we had our fill of the Singapore skyline.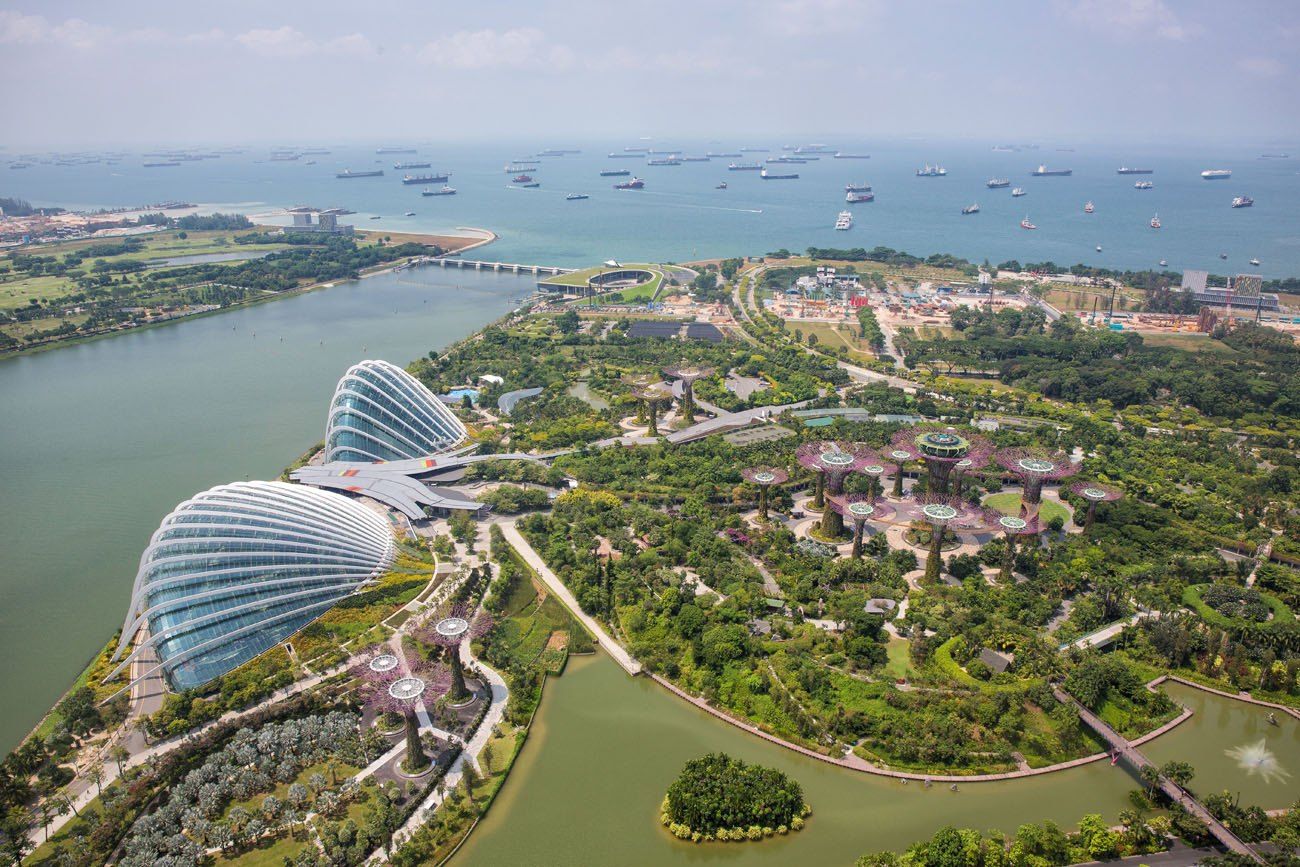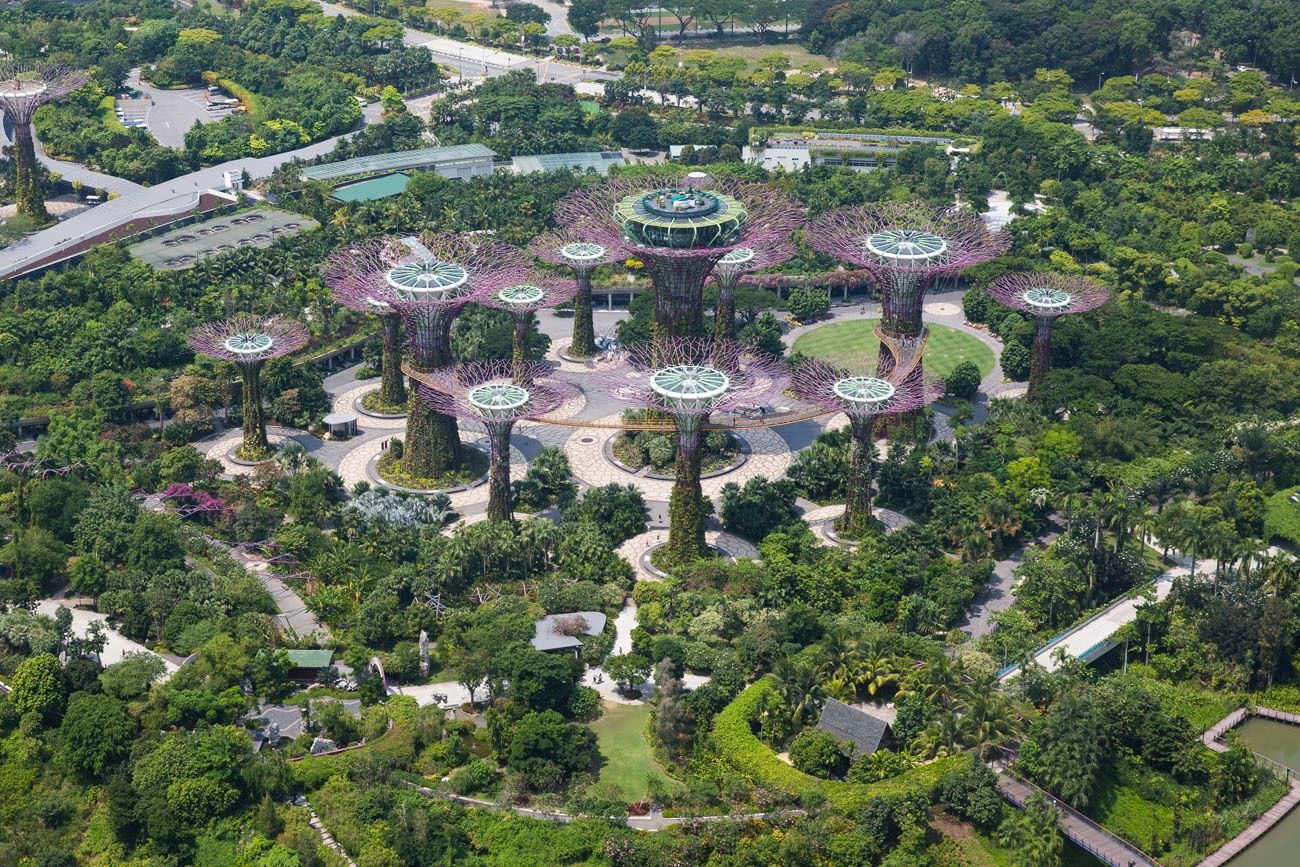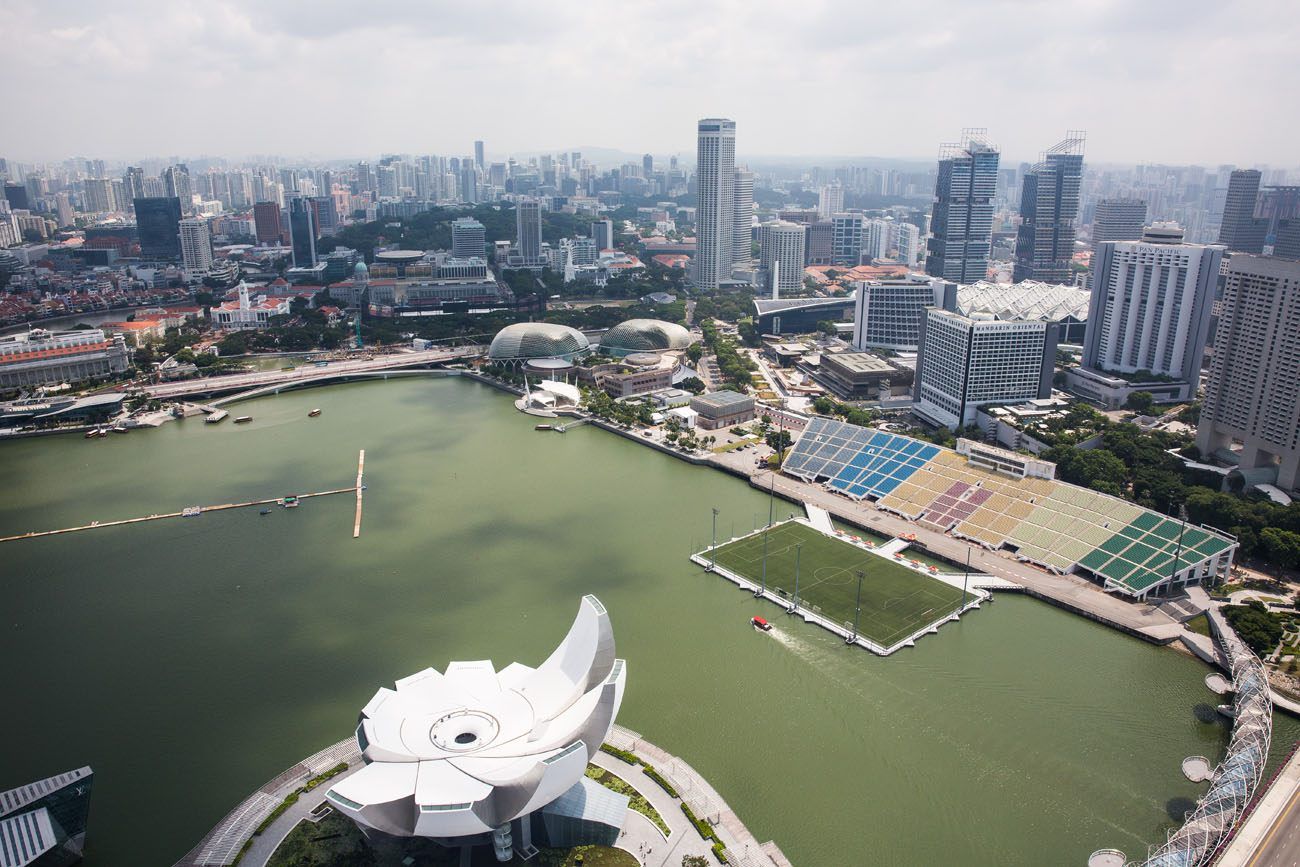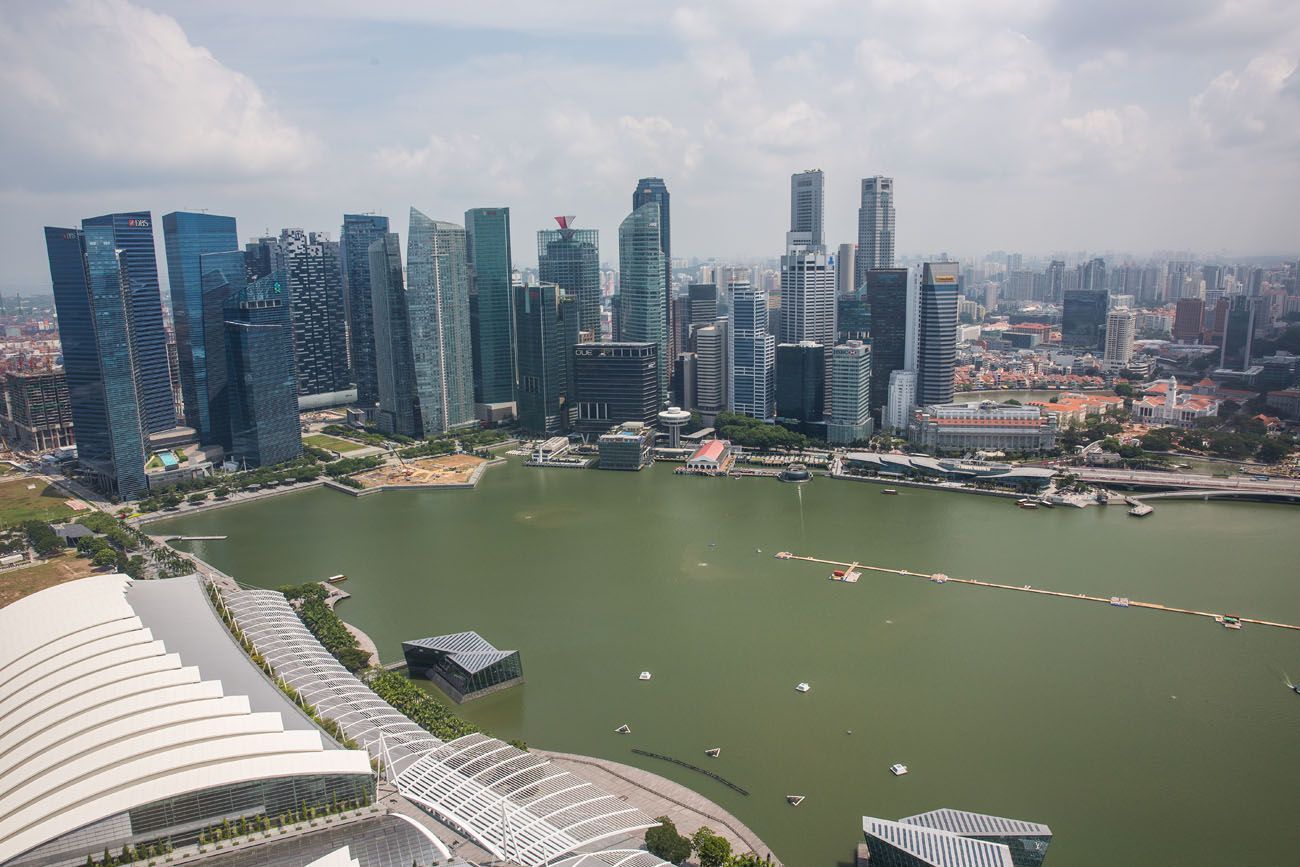 Visit The Shoppes at the Marina Bay Sands
The Marina Bay Sands is also home to one of Singapore's upscale shopping malls. We window shopped here, looking into shops like Ferrari, Cartier, Gucci, and so many more. This is a beautiful, glitzy mall, not the type of place we do our shopping but if you are in one of the top financial centers in the world, people here need an outlet to spend all of their hard earned money. Though we didn't go shopping here, we did dine at Din Tai Fung, my new favorite restaurant, first discovered while in Taiwan.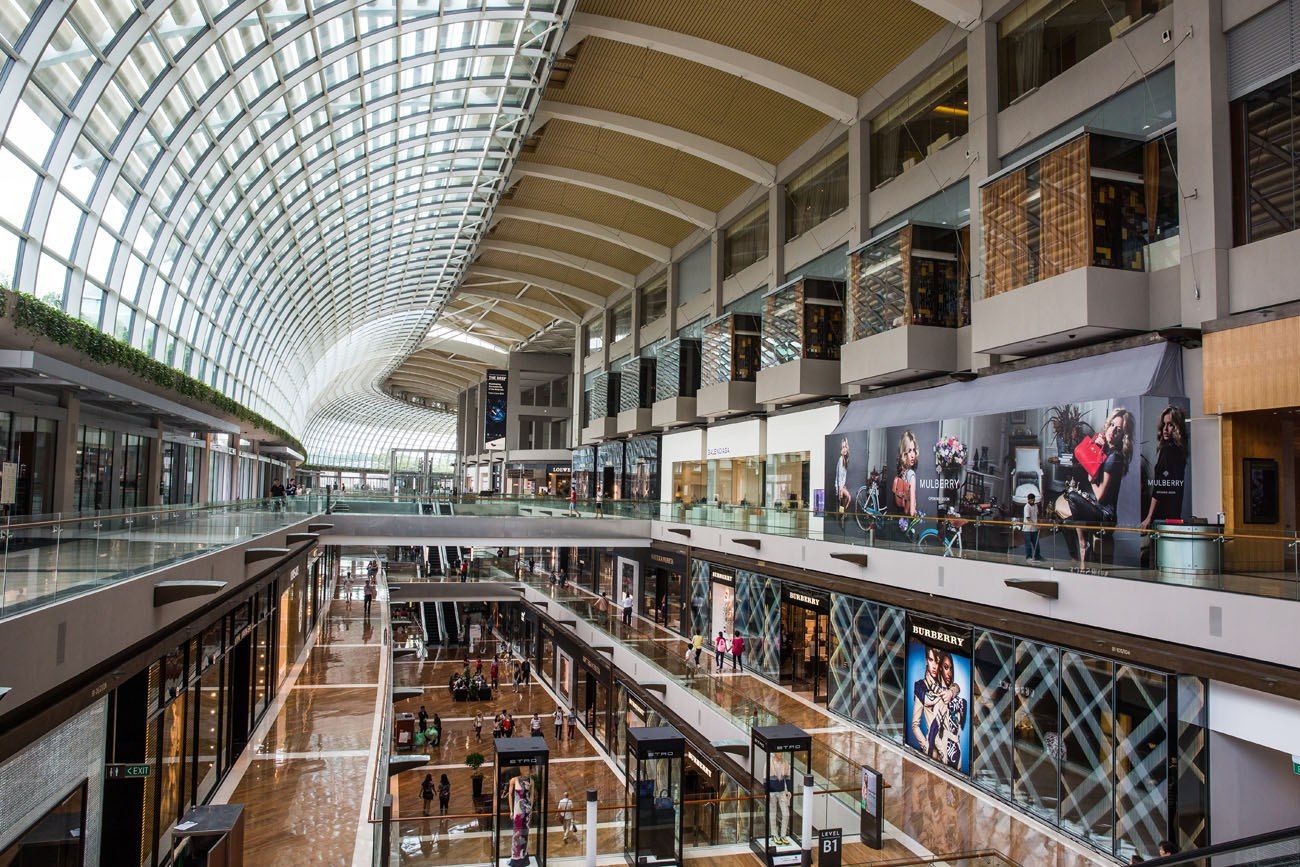 Join the Crowds at Universal Studios Singapore
Mention the words "roller coaster" and Kara's ears perk up. She is a coaster addict and we were not going to spend four days in Singapore without paying a visit to Universal Studios. Not only were we in Singapore during hotter than normal weather but we were also unfortunately here while school was on break. We managed to beat the crowds by splurging on the Express Pass, allowing us to bypass the lines, and it was absolutely worth it. Walking past other guests waiting in line, standing in hot rooms with wait times of an hour or more, we were so glad to bypass the long lines and the misery.
The Return of the Mummy was our favorite. Not only is it a roller coaster but it was also one of the few rides where the wait was in an air-conditioned building. We also loved Human vs. Cylon, Universal Studios biggest coaster where two lines run simultaneously, racing each other.
We watched "Jurassic World" the day before coming here so touring through Jurassic Park was a little more interesting.
Tyler and Kara were very appreciative of a day spent at an amusement park and I was appreciative of Tim for buying the express pass. The day would have been torture without it.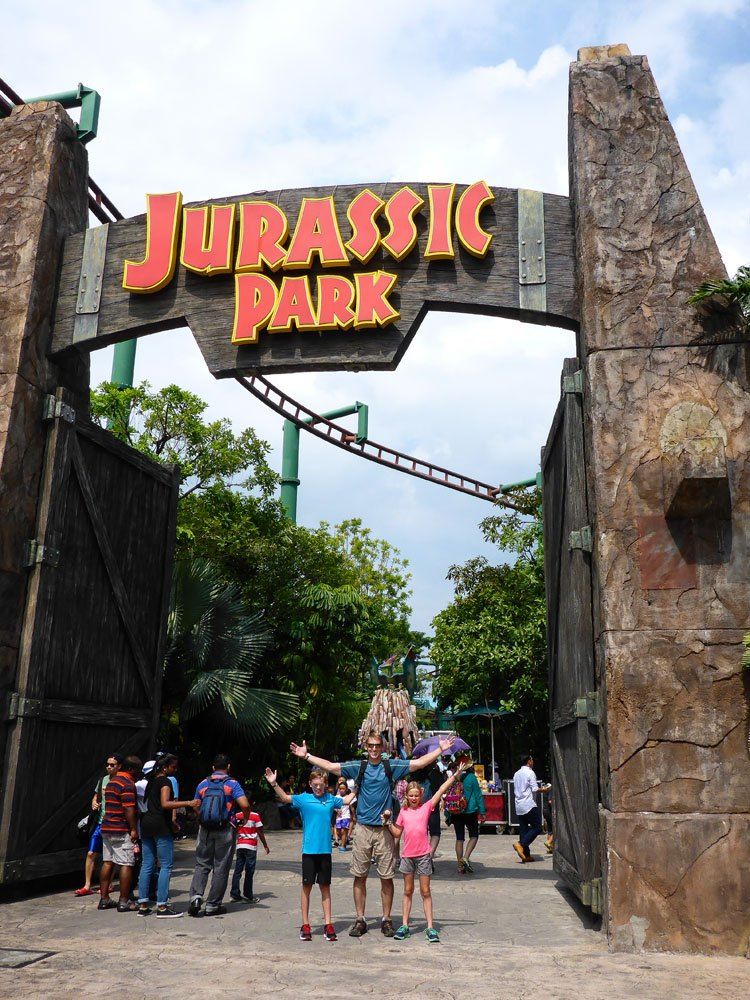 Japanese for Dinner. Yum!
We stayed near Bugis Mall, home to numerous Asian restaurants. Early in our stay we became fans of a Japanese restaurant, Ramen Champion, that we ate at over and over again. We are just getting warmed up for our travels through Japan, a little more than a week away!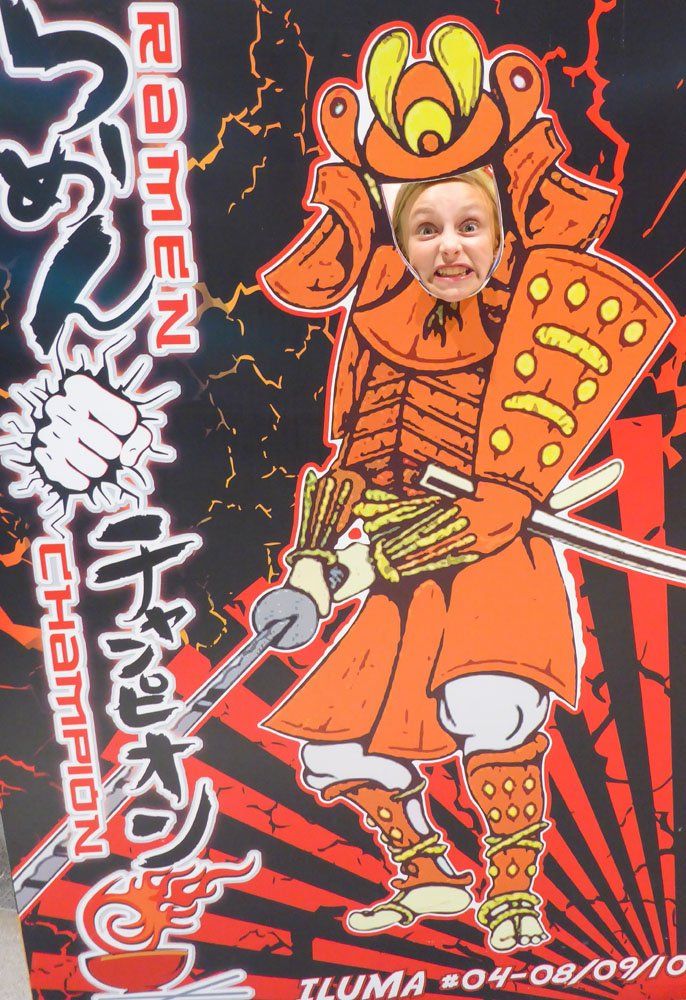 Beat the Heat at Wild Wild Wet
What better way to escape the heat of Singapore than visit a water park. Tim took Tyler and Kara to Wild Wild Wet while I stayed back at the hotel, working on that huge 365 Days of Travel post that was published just a few days ago. The slides, raft rides, and water activities were tons of fun.
What was even better was making a new friend, Meng Yao. After a day at the water park, he joined us for dinner and now stays in touch with Tyler and Kara through email and Instagram.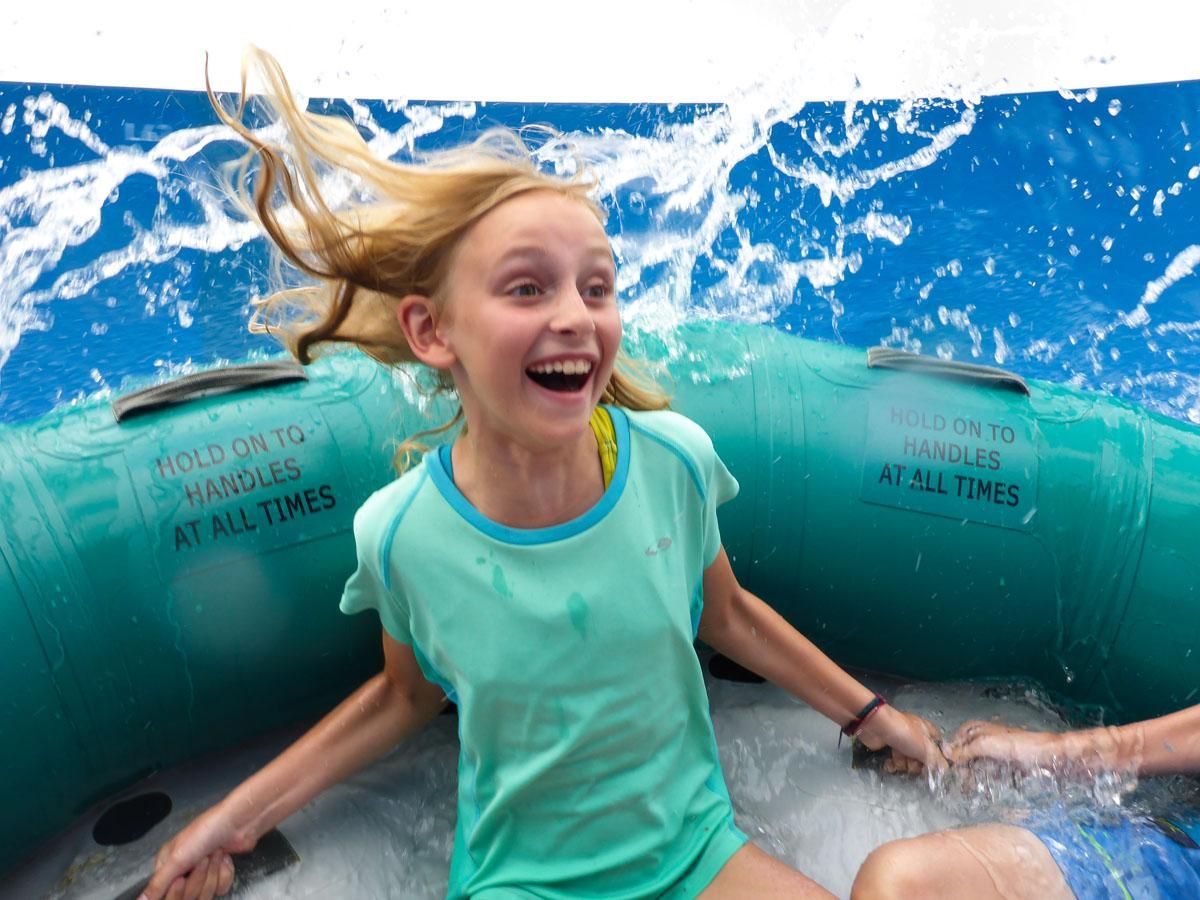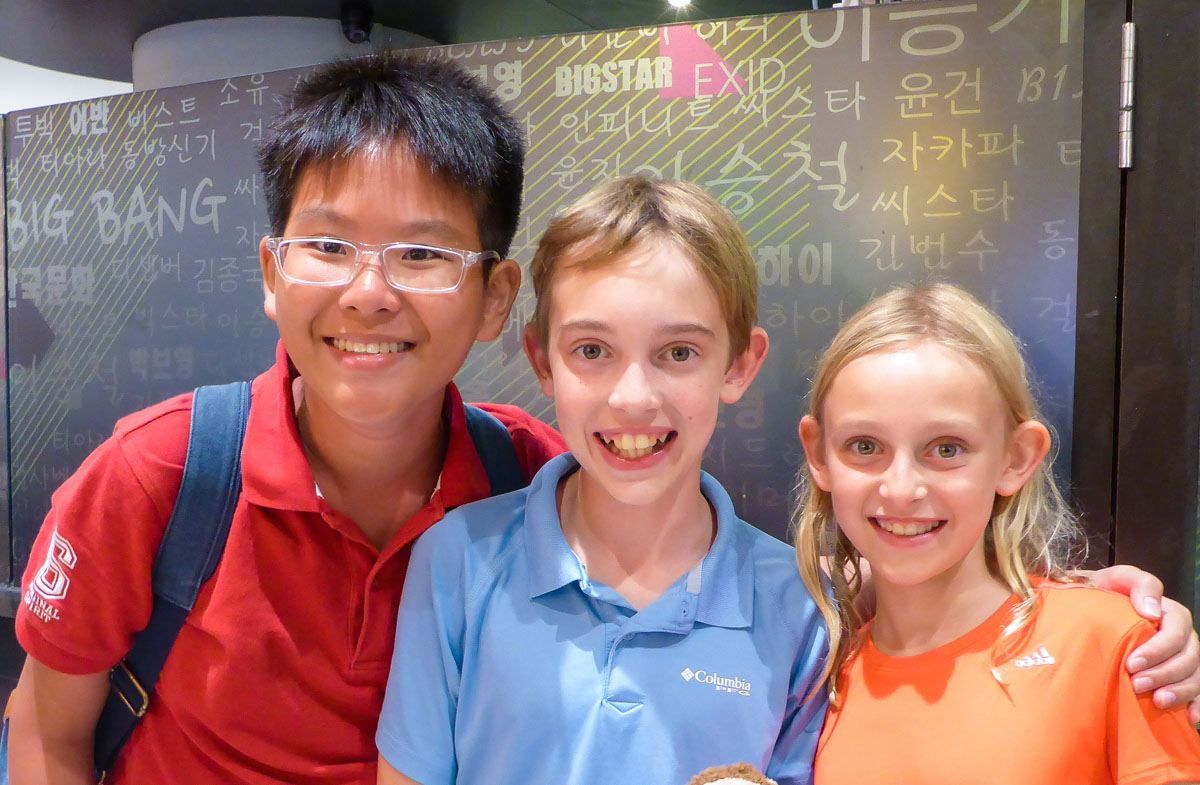 Our New Addiction, Llaollao Frozen Yogurt
The first day we arrived in Singapore we noticed a small stand in the mall with a very long line. They sold frozen yogurt with very simple toppings. We tried some and were hooked. At first we ate this just once a day, but before long we couldn't walk by the mall without stopping in for some more frozen yogurt, eating it several times a day. It's so good!
Meeting Up With Co-workers and Friends
We had a chance to meet up with Dan and Melissa, co-workers of Tim's from AGI. They have been living and working in Singapore for three years. Along with that comes the chance to travel through Asia, visiting places like Australia, Japan, India, and South Korea.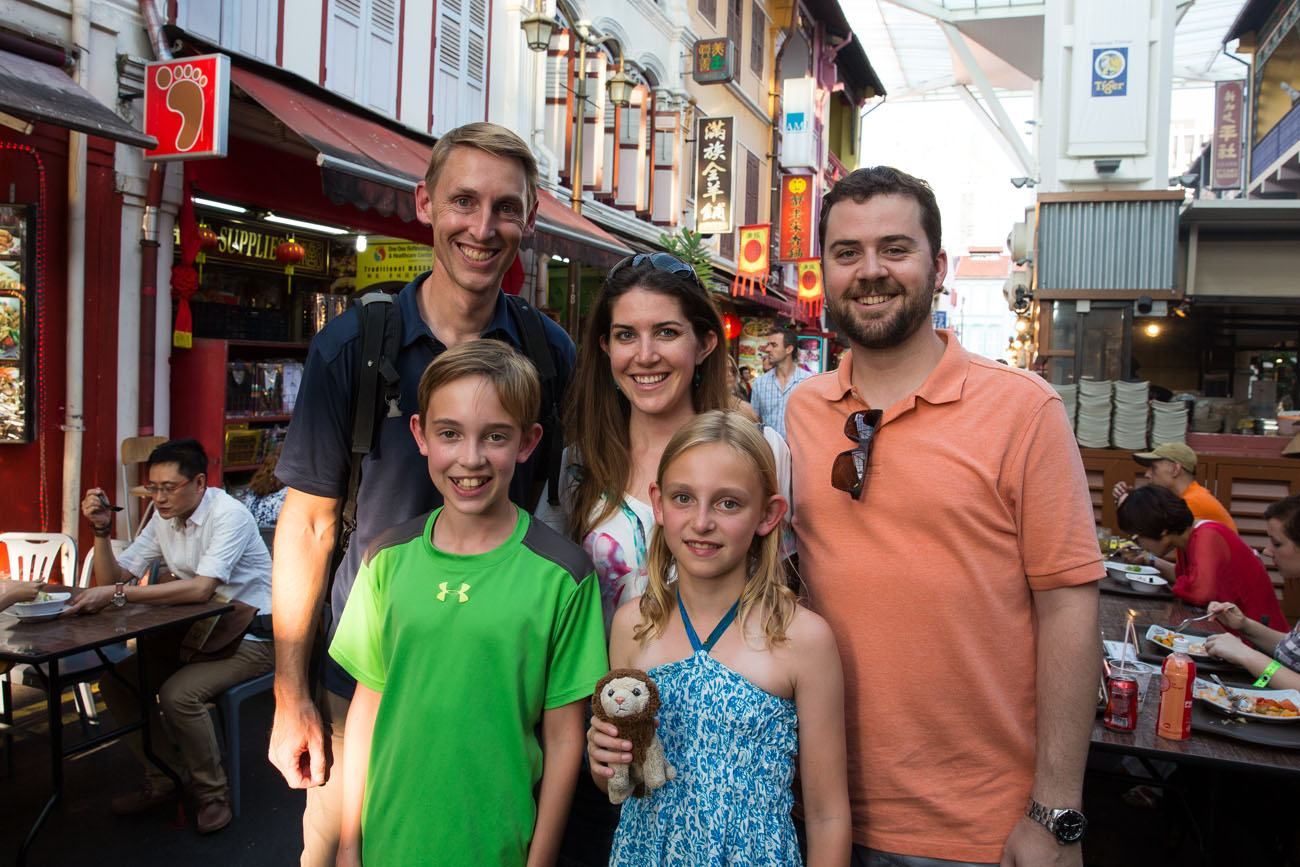 We met up with Dan and Melissa in Chinatown, not far from the Buddha Tooth Relic Museum. We sampled foods like roasted chicken with rice, kueh pie tee, fried calamari, and Thai chicken, while drinking Tiger beer. It was great exchanging traveling stories and turning co-workers into friends.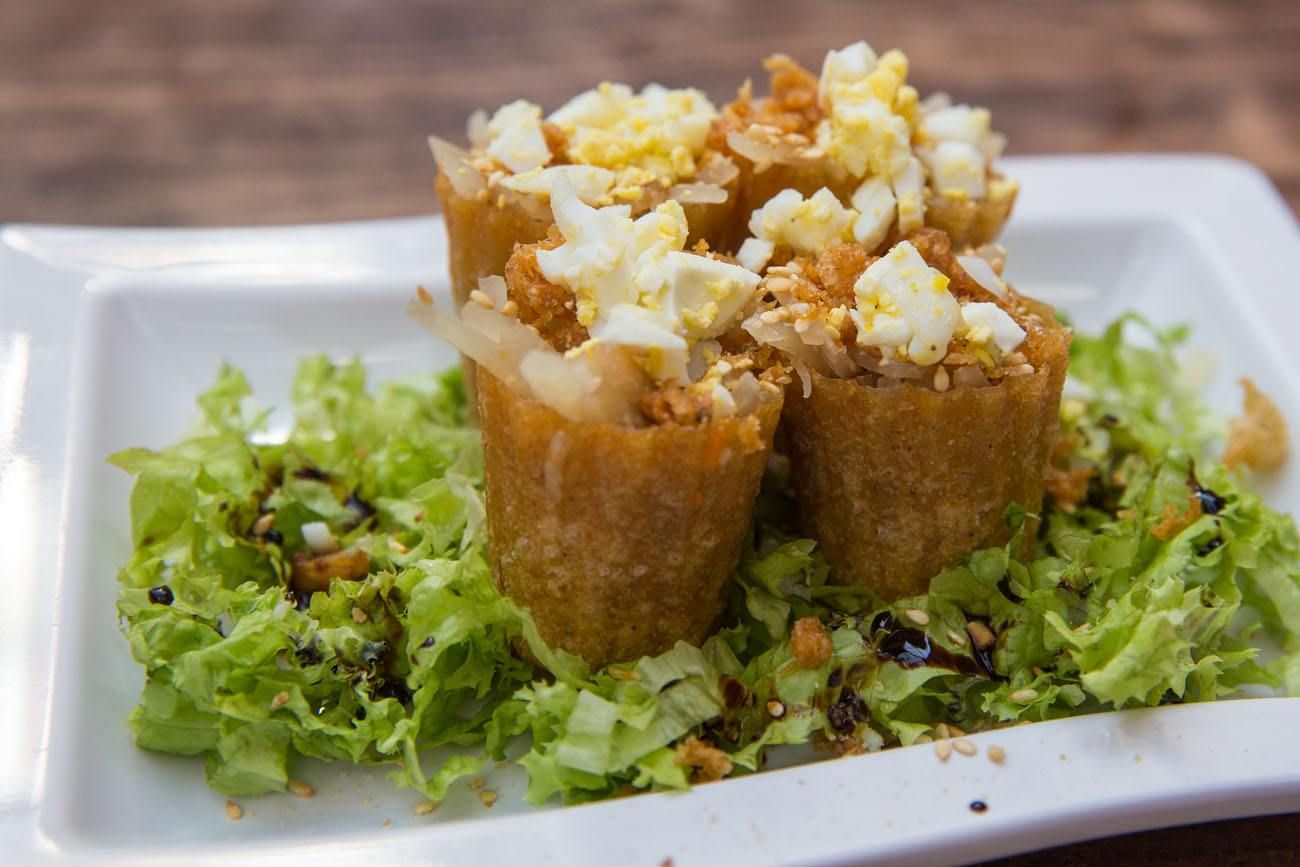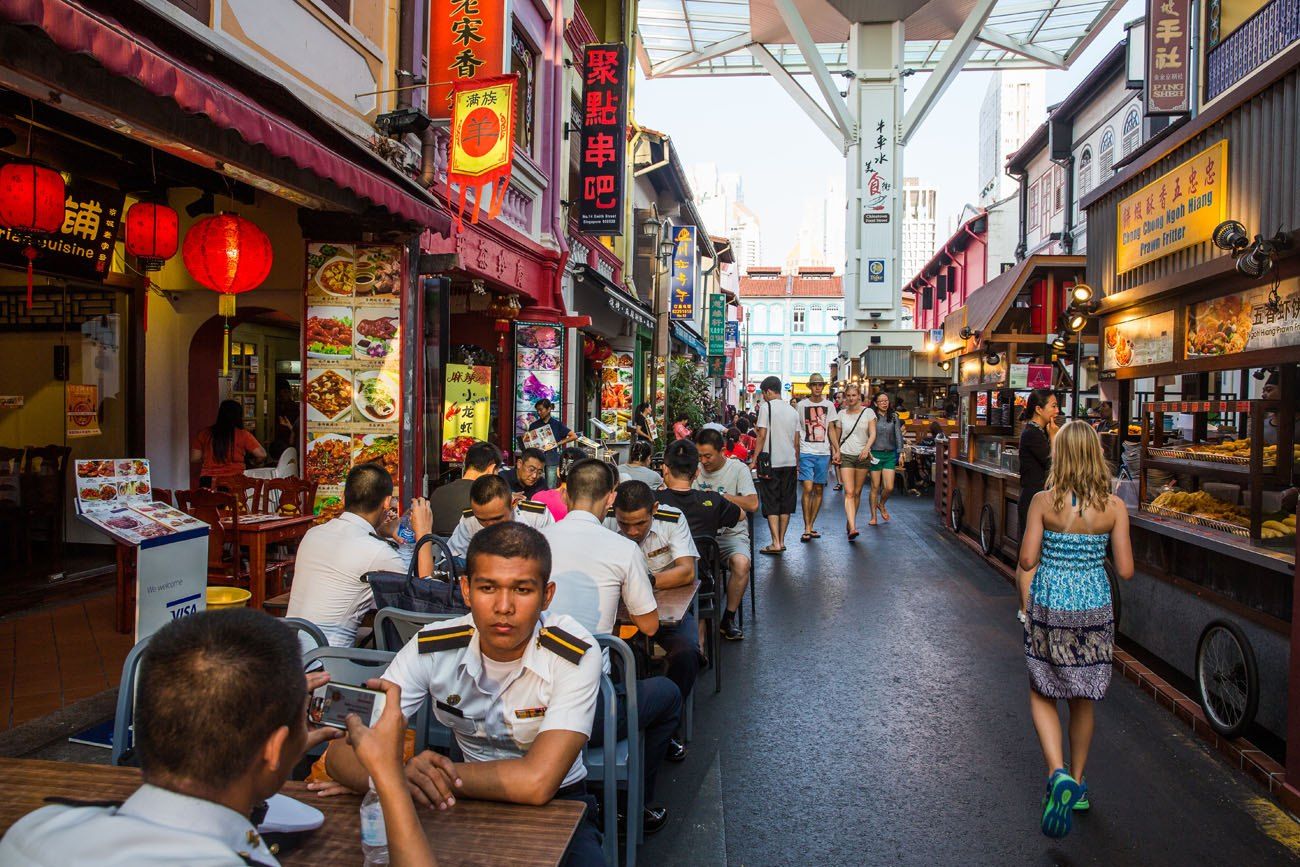 Observe the Street Scene Outside of our Hotel
We stayed at the Ibis Hotel on Bencoolen. Not far from here was the Kwan Im Thong Hood Cho Temple, a buddhist temple. We walked by this everyday on our way to the MRT (and on our way to more delicious Llaollao yogurt!).
Sitting under umbrellas were women selling incense, flowers, and offerings for those going to the temple.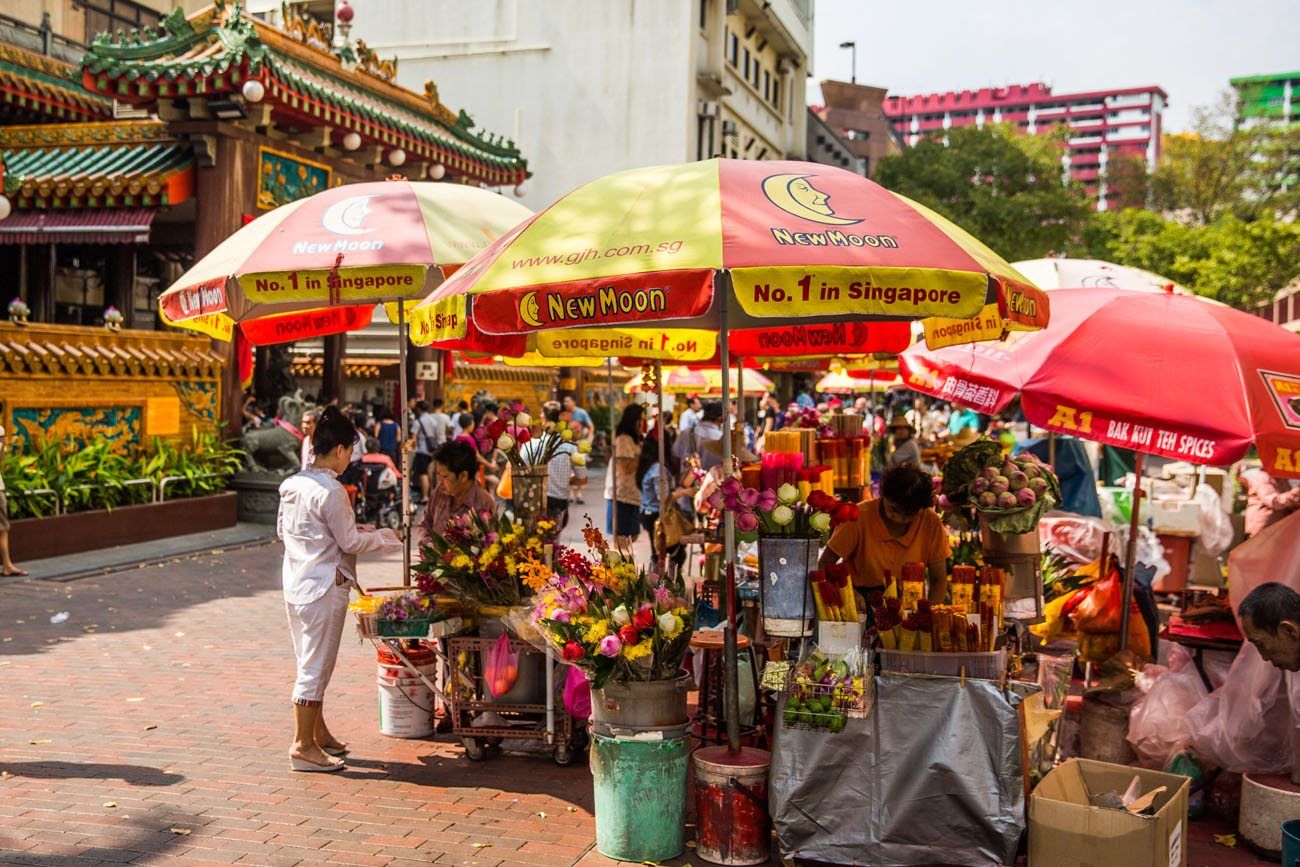 Visit Gardens by the Bay
On our final night in Singapore we finally made it to Gardens By the Bay, one of Singapore's premiere tourist attractions. Here, manmade trees sparkle and tower overhead, orchids bloom, and a cloud forest is contained entirely within a glass dome.
Due to the high cost, we skipped the domes but did pay the fee for a walk on the OCBC Skyway, a walkway that is suspended from manmade trees, offering unique views of Singapore.
We were also lucky enough to see the practice run of the air show that will be commemorating the 50th anniversary of Singapore's independence. This was Tyler and Kara's first time watching fighter jets roar past right overhead and it was exhilarating.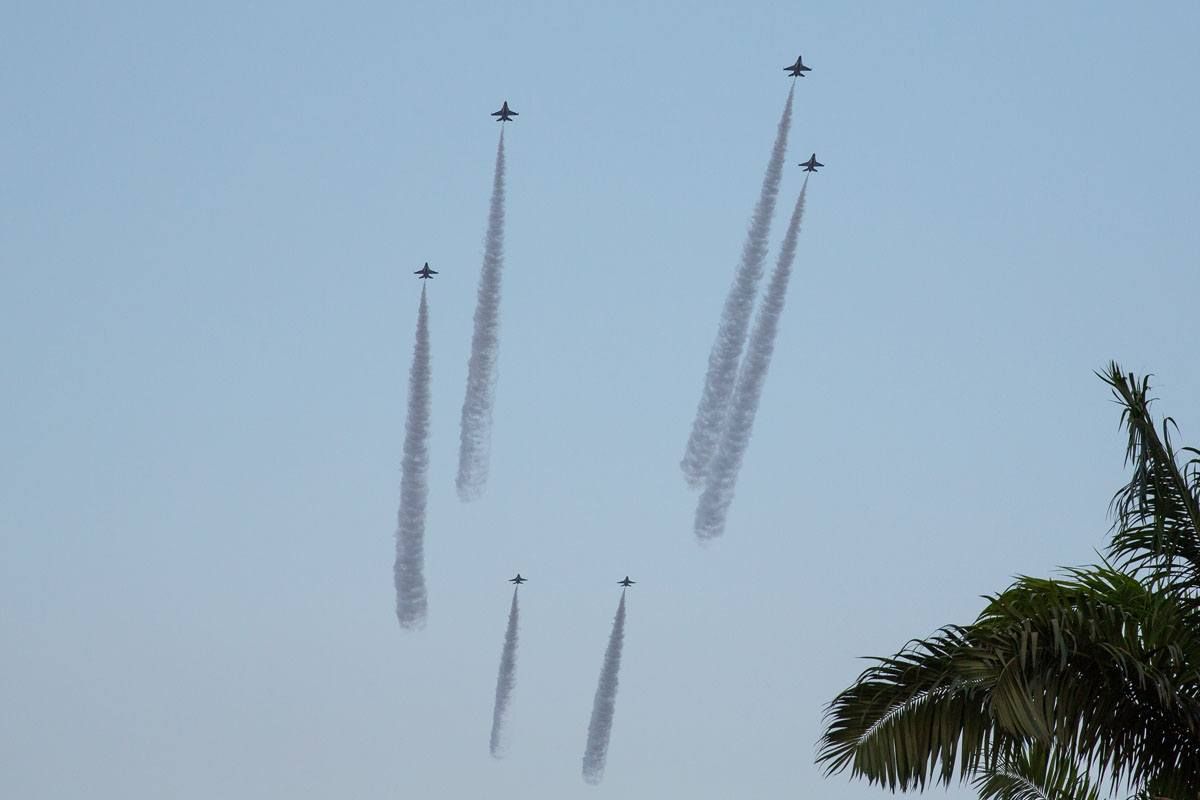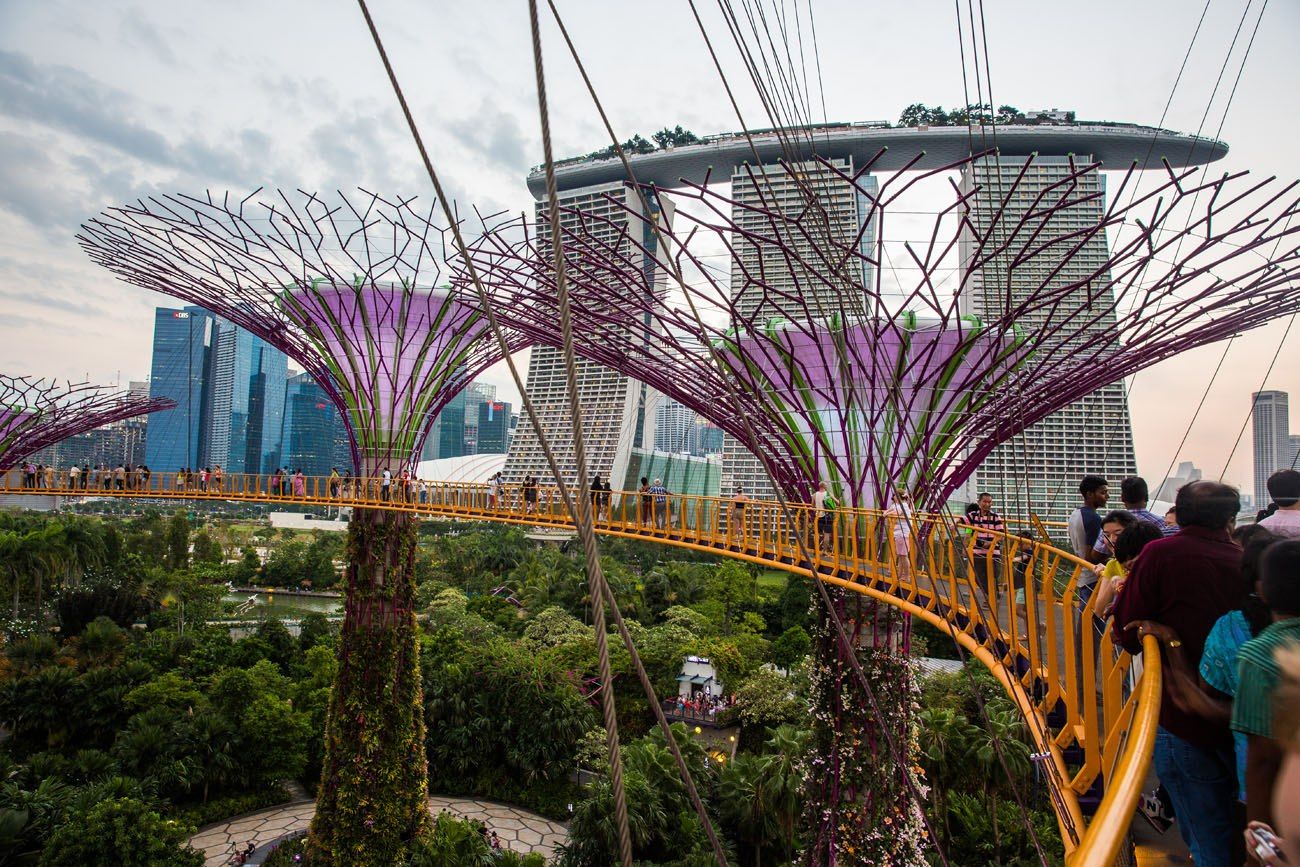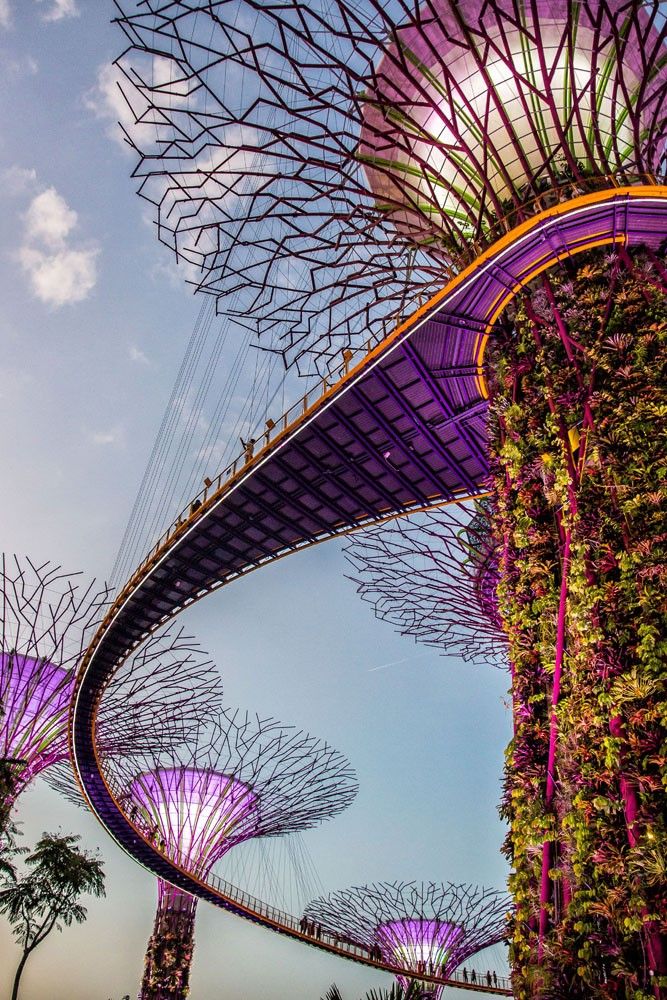 Where We Stayed
We spent five nights at the Ibis on Bencoolen. The location was fabulous, just a five minute walk to the Bugis MRT Station, a station that provides easy access to the main sights in Singapore. We had two twin rooms that came with good wifi, comfortable beds, coin operated laundry, and free access to a local gym. From here it was a five minute walk to the Bugis Mall, home to many restaurants and our favorite place to eat, Llaollao Frozen Yogurt.
---
You Might Also Like:
Note: This post contains affiliate links. When you make a purchase using one of these affiliate links, we get paid a small commission at no extra cost to you.
All rights reserved © Earth Trekkers. Republishing this article and/or any of its contents (text, photography, etc.), in whole or in part, is strictly prohibited.