Norway never ceases to amaze me. You know how you see photos online and think to yourself, "yeah, that looks nice…I'd like to do that." And you get there and it's so much better than you thought it would be? For us, that was the Stave-Bleik Coastal Trail on the Vesteralen islands. It's not an overly difficult hike, the views from Måtind are incredible, and there were very few people on the trail when we did this.
Norway, you are amazing!
Where is the Måtind & the Stave-Bleik Coastal Trail?
Vesteralen is an archipelago located just northeast of the Lofoten Islands. People travel here to get a glimpse of sperm whales and humpback whales. During certain parts of the year you can also see puffins nesting on the smaller, rocky islands.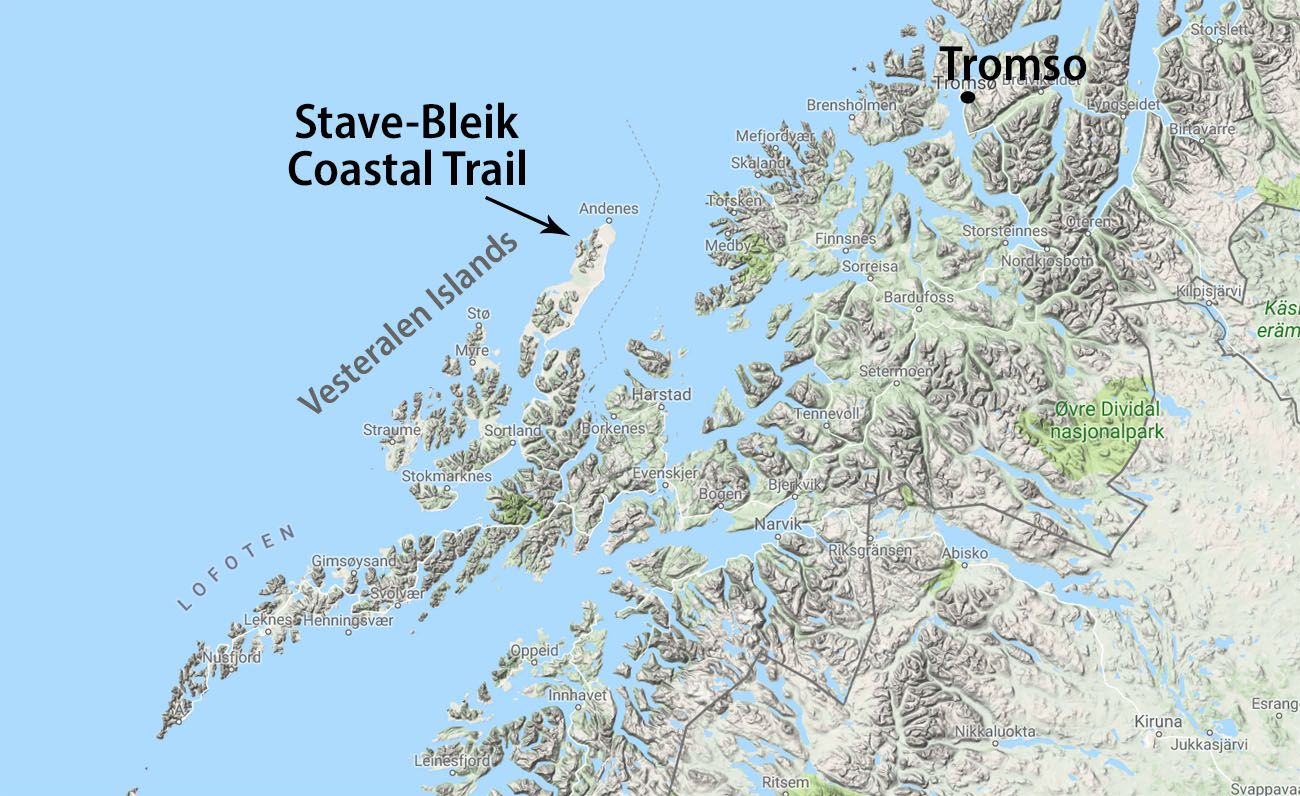 The landscapes here are very similar to the Lofoten Islands. It seems like many people skip right past Vesteralen (and it's awesome little neighbor Senja) to the Lofoten Islands. That's a shame, for them. Sure, the Lofoten Islands are dynamite, but they are missing out on some incredible scenery, quaint fishing villages, hiking trails, and those mighty whales. But it's good for you. That means that there are less people on the trails, making this an awesome spot to go hiking.
I'm sad we only spent one day here.
If you have the time, a road trip from Tromsø to the Lofoten Islands is an amazing trip, just make sure you budget in some time for Senja and Vesteralen.
How Do You Get to the Stave-Bleik Coastal Trail?
We did this as a road trip from Tromsø to the Lofoten Islands. The day before, we hiked Segla on Senja (another awesome hike!!) and spent the night on Senja.
The following morning, we took the car ferry from Gryllefjord on Senja to Andenes on Andøya, one of the Vesteralen Islands. This ferry only runs during the summer months and only sails three times a day. You cannot reserve your spot in advance, you just have to get in line early. We took the first ferry of the day, at 11am. It takes 1 hour and 45 minutes to make the crossing to Andenes, so we arrived at 12:45 pm.
From Andenes, it takes 20 minutes to drive to the car park for the hike. Along the way, we stopped in Bleik to fill up our water bottles.
How to Hike the Stave-Bleik Coastal Trail
The trail is named for its starting and ending points: the town of Stave in the south and the town of Bleik in the north. It is 9 km in length, taking hikers past coastal beaches and coastal cliffs. Måtind is the highest point along the coast and this is the spot where you get the best views.
You can do this as a point-to-point hike, starting at one end and hiking to the other (the red route on the map).
Or, you can do what we did. Start near the midway point, hike to the top of Måtind for the best views of the day, and wander as far as you like towards Bleik and/or Stave (the blue route).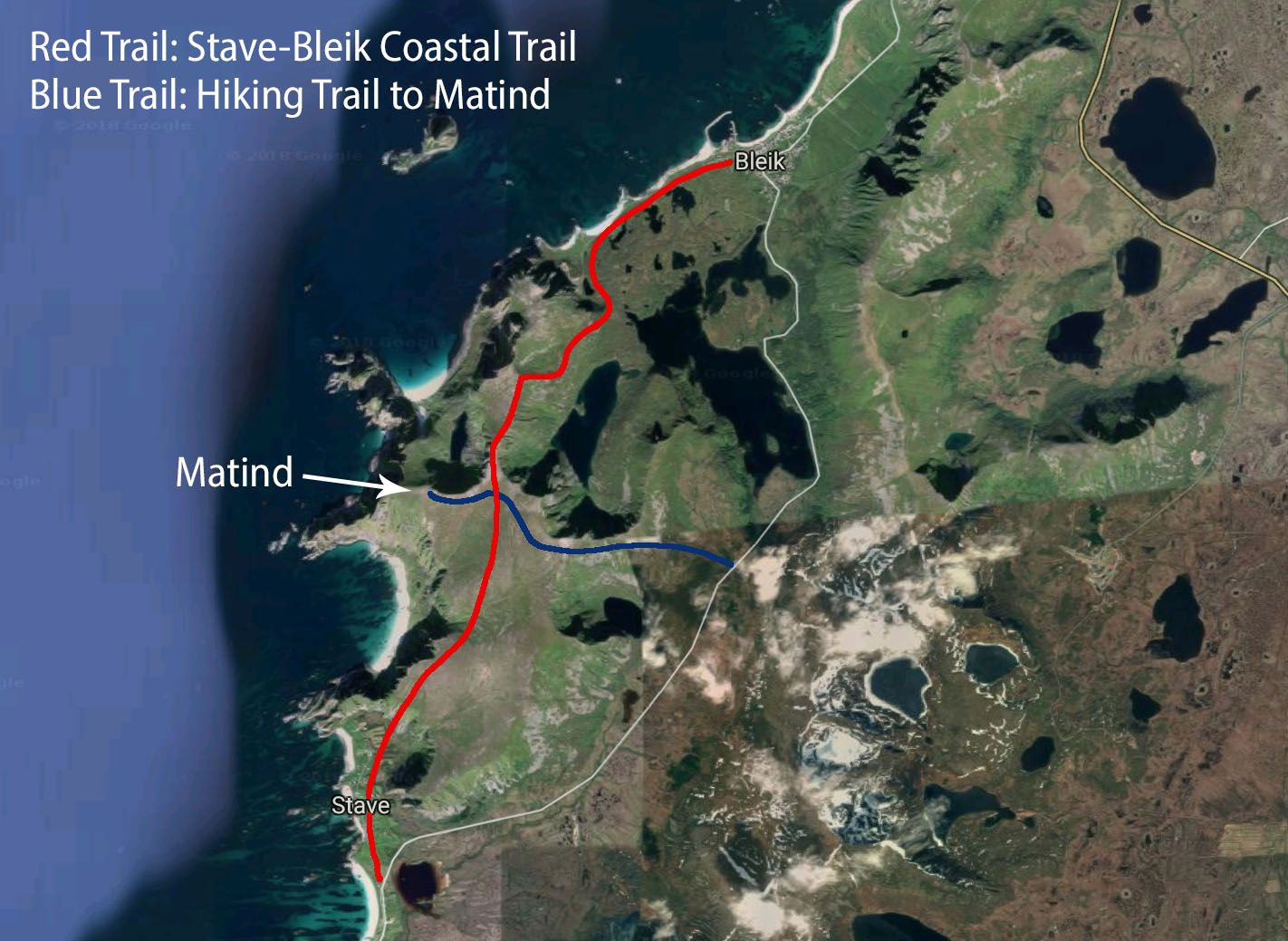 In this article, read about how to hike to the midpoint of the Stave-Bleik Coastal Trail, hike to the top of Måtind, and then make a quick detour towards Bleik.
Måtind Hiking Stats
Distance: 7.6 km (4.7 miles) round trip to Måtind only
Total Ascent: 520 meters (1700 feet)
Difficulty: easy to moderate
Length of Time: 3 to 4 hours
If you plan to add on the detour towards Bleik, the total distance of the hike is 10 km (6 miles). This adds roughly another hour, depending on how far you go and how long you stop to enjoy the views.

Elevation profile without the detour to Bleik.
Please practice the seven principles of Leave No Trace: plan ahead, stay on the trail, pack out what you bring to the hiking trail, properly dispose of waste, leave areas as you found them, minimize campfire impacts, be considerate of other hikers, and do not approach or feed wildlife.
Getting to the Trailhead
There is a small car park located in Baugtua on Fv976 (GPS Coordinates: 69.235489, 15.949225). From Bleik, drive 5 km south on Fv 976 until you reach the car park. There are large signs marking the trailhead. Parking is free.
Hiking to Måtind: Step-By-Step Trail Guide
The trail starts next to the large signs. From this point, it is a 3.8 km walk to the peak of Måtind.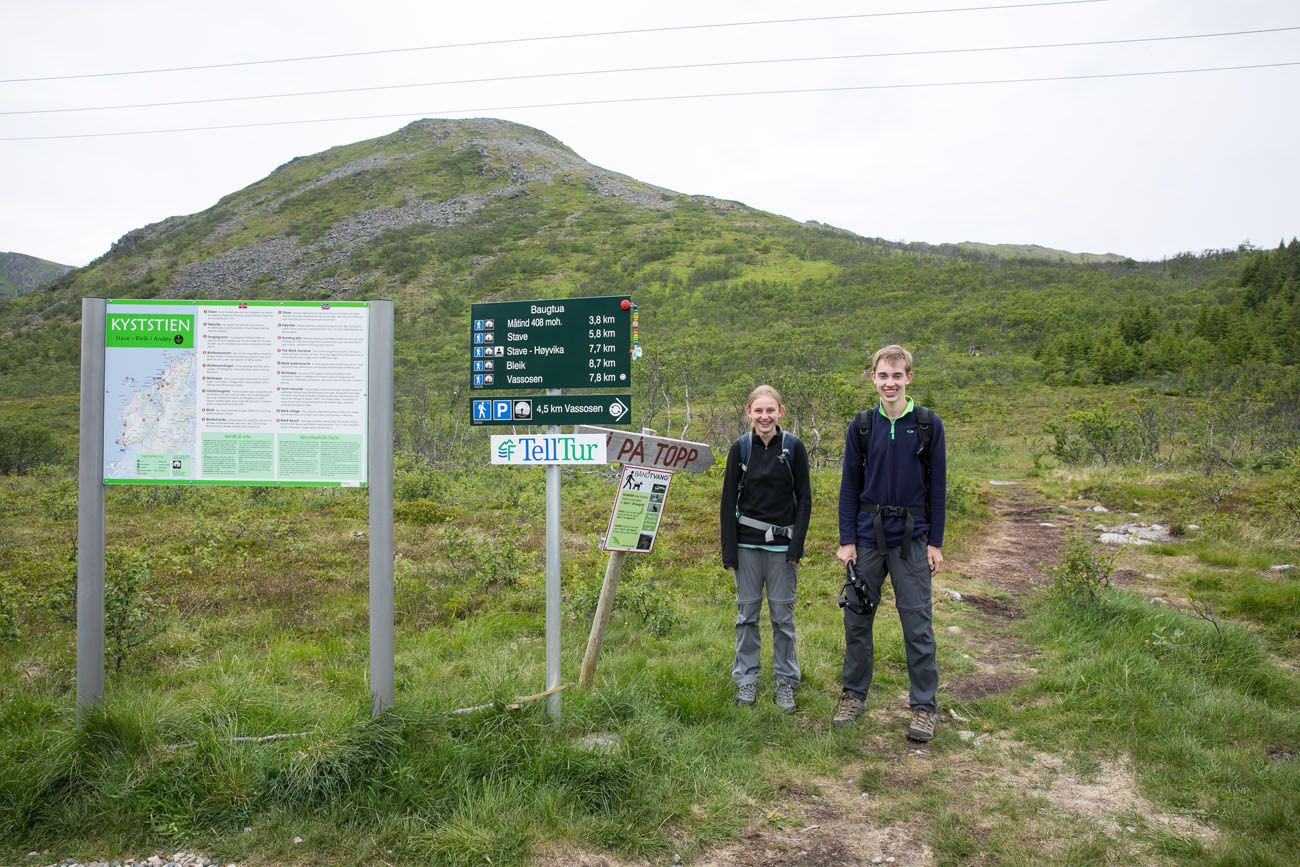 You can see the first, "big" climb behind the signs.
At first you hike through some short, twisted trees. The trail forks towards the end of the forest. Stay to the left and aim for the peak in front of you. The trail is marked by painted red circles.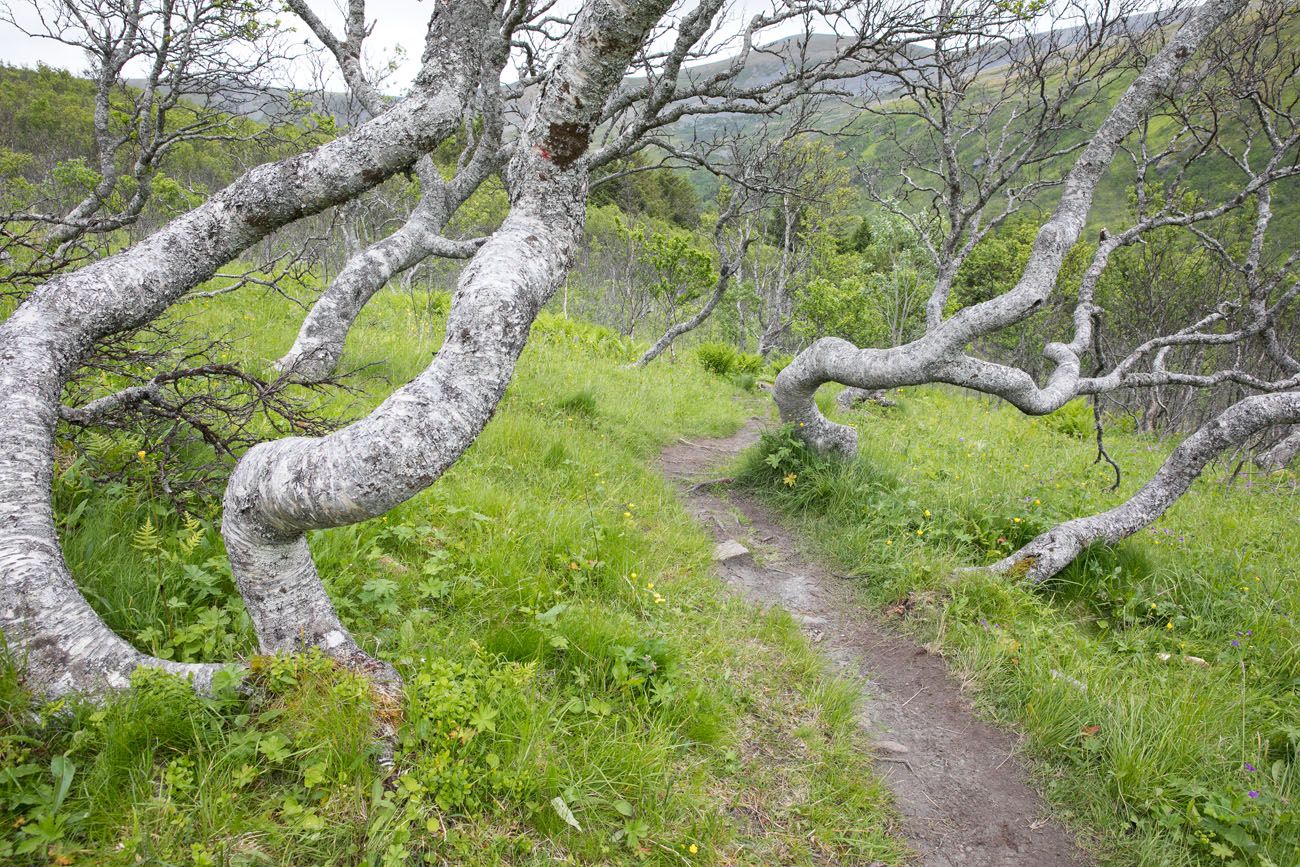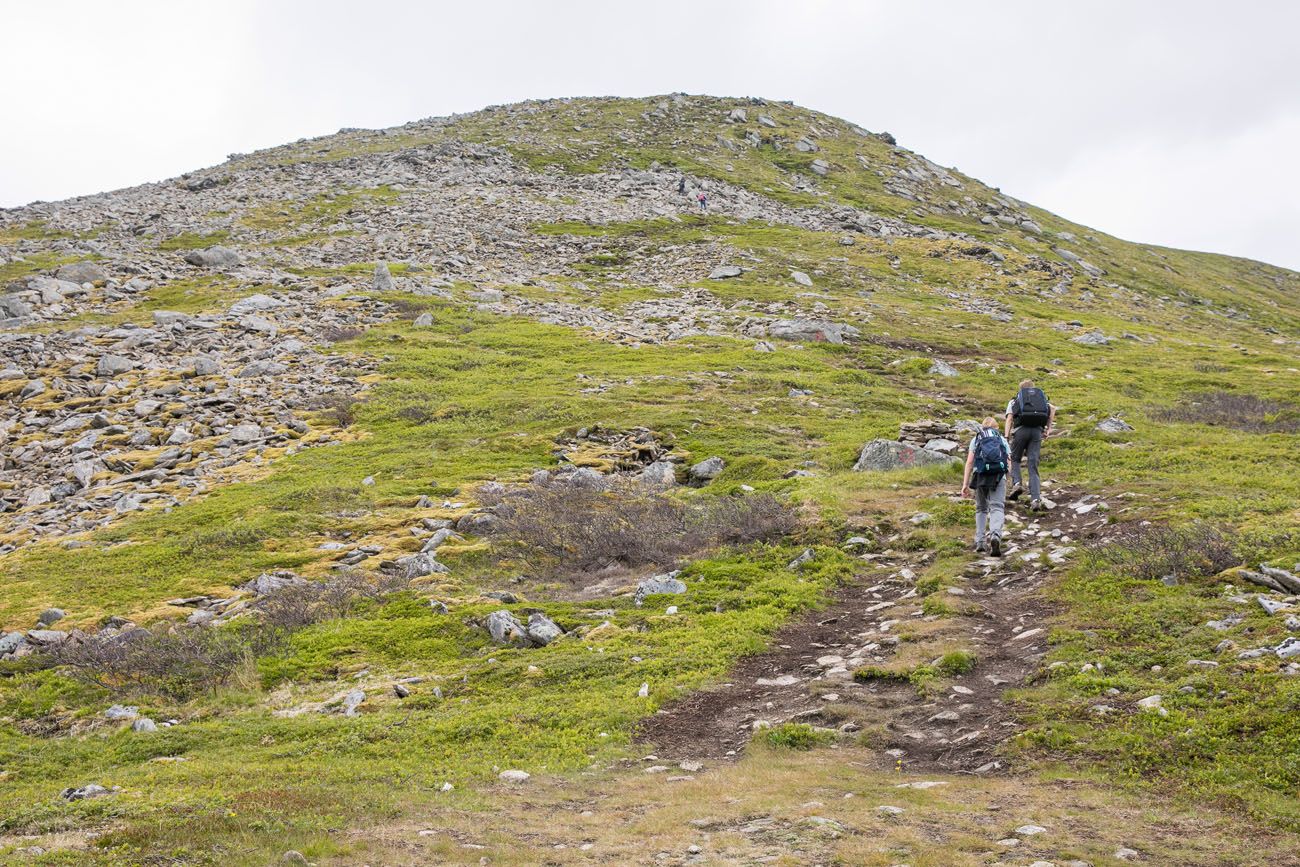 Once out of the trees, the trail quickly climbs up a steep trail with lots of rocks. This is the most challenging part of the hike, so once you are past this, the worst is over. Later in the hike there will still be some hills to climb but they are not as steep.
Once on top of the hill, the views really open up. The trail undulates along this higher, rocky plateau. It's quick and easy walking. The trail is easy to follow and there are also cairns marking the way.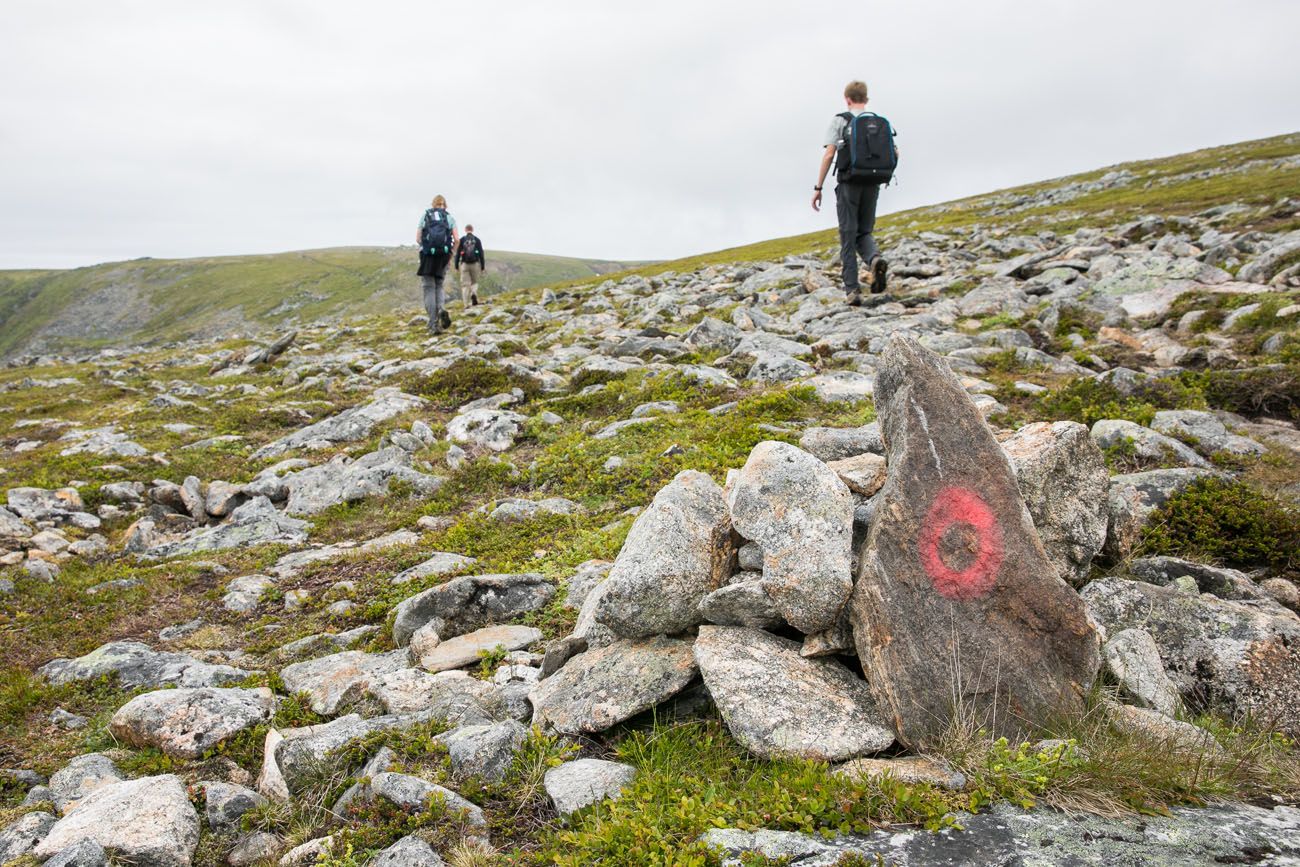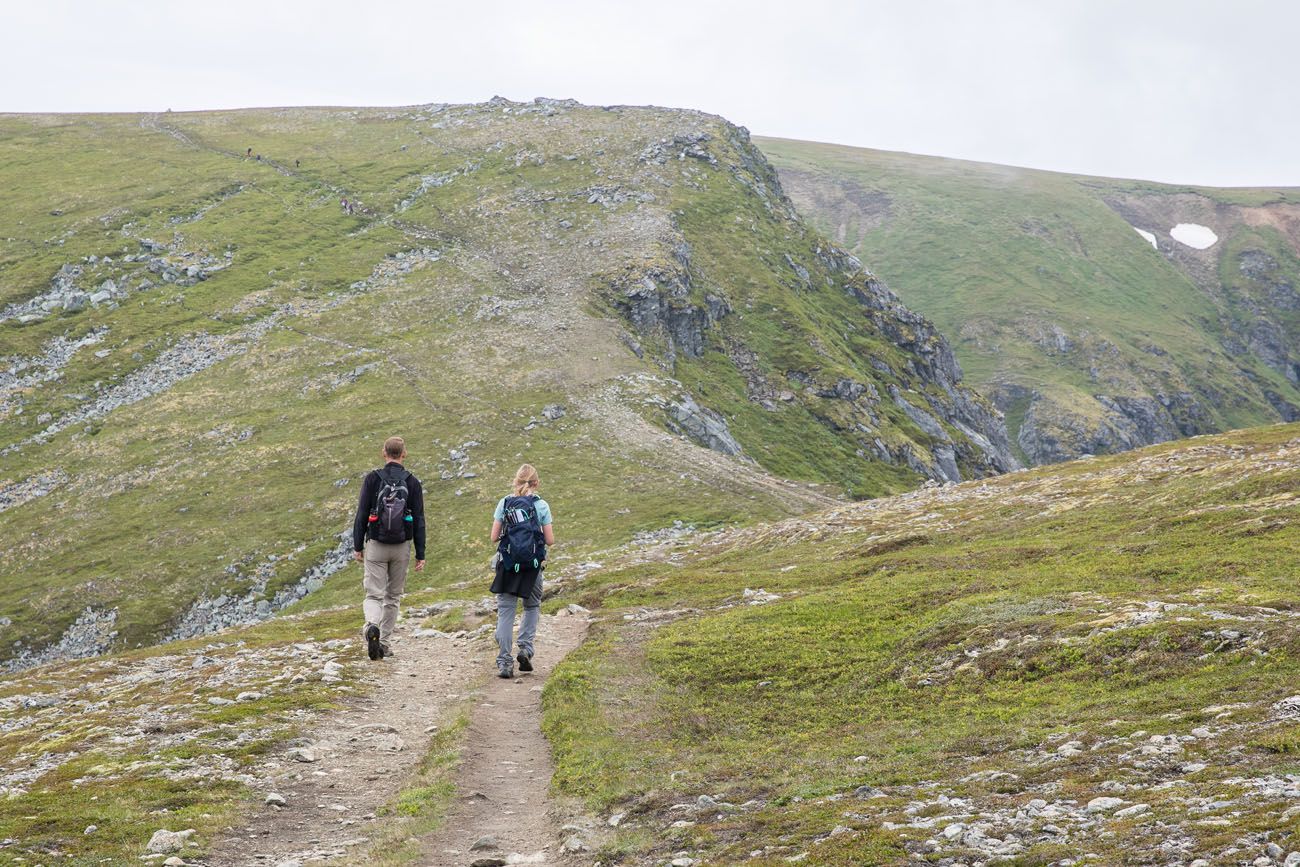 The trail tops out at a ridge. Continue down the trail for approximately 400 meters until you reach a sign marking your options. Continue straight to summit Måtind. Turn left to hike to Stave and turn right to hike to Bleik.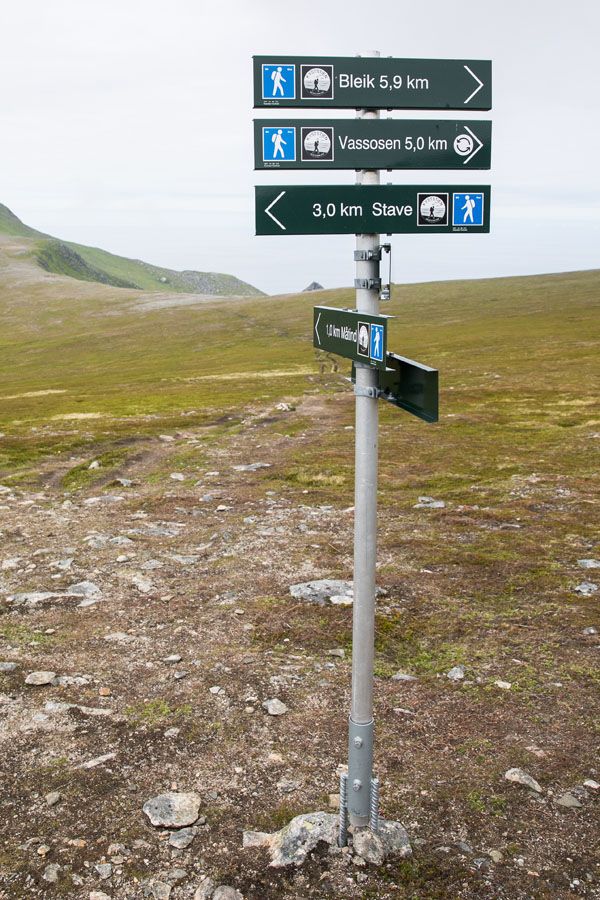 The hike up Måtind is relatively easy and straightforward. Simply follow the hiking trail to the top. From the bottom of Måtind, it takes about 30 minutes to get to the top.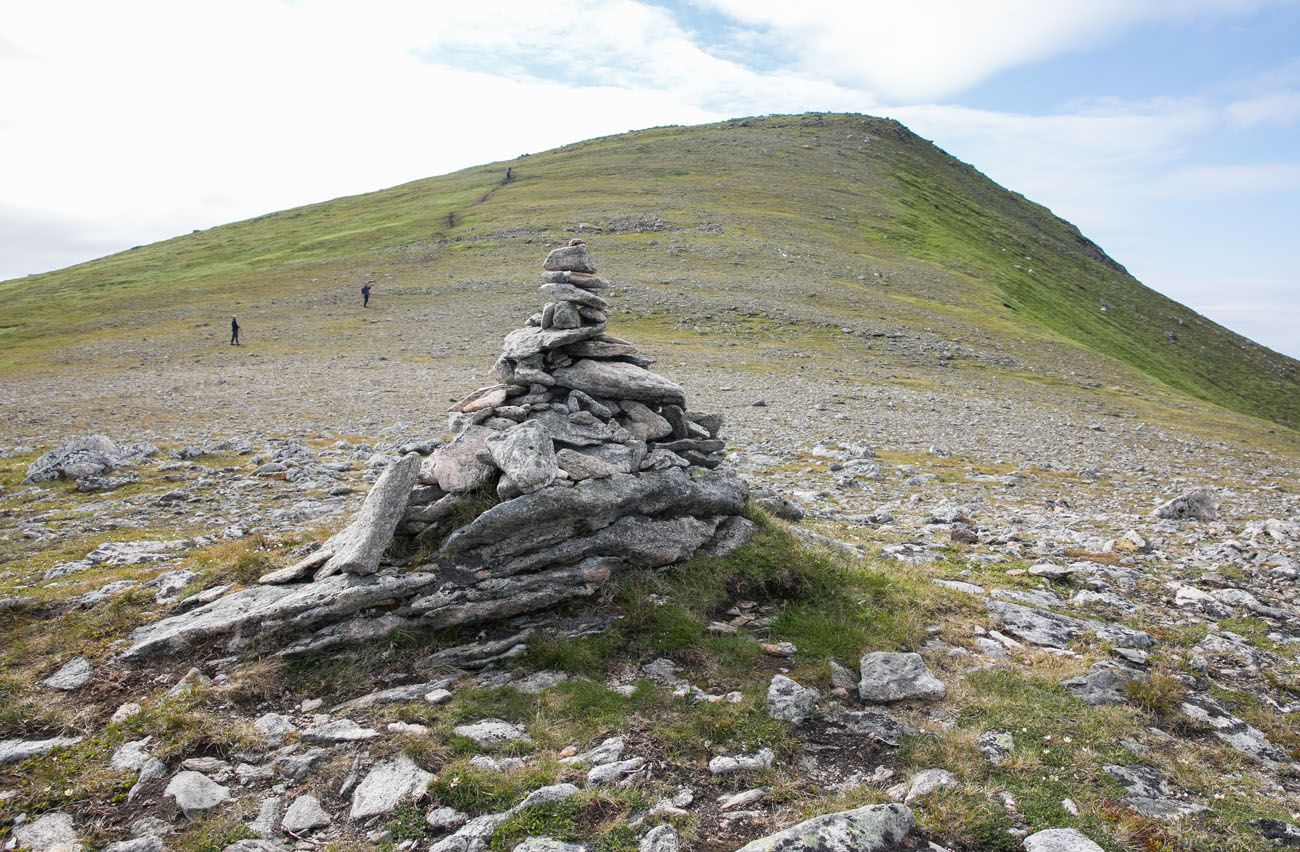 And wow, what a view! This is the highest point in the area, so you have 360° views out to Stave, down the rocky peninsula that juts off of Måtind, and down the trail you just walked up.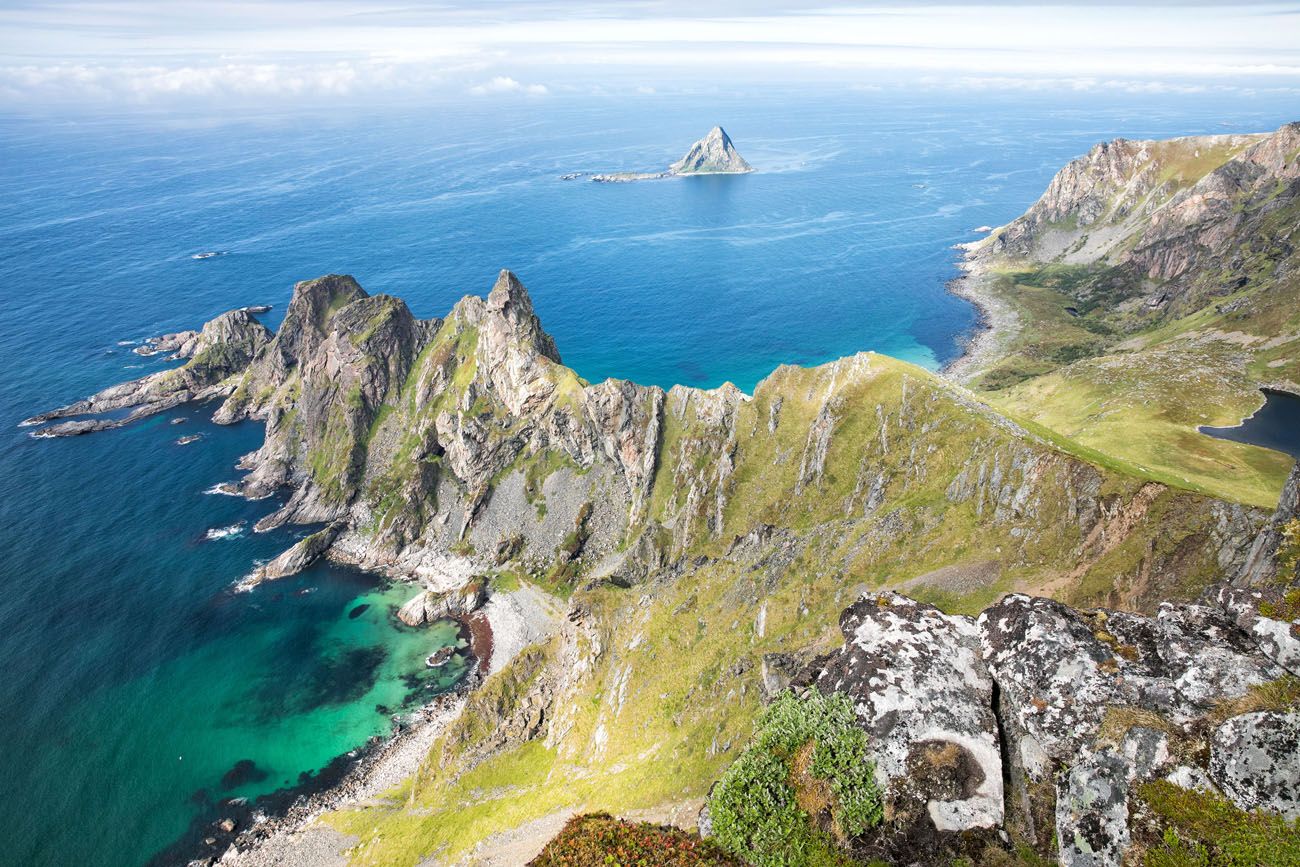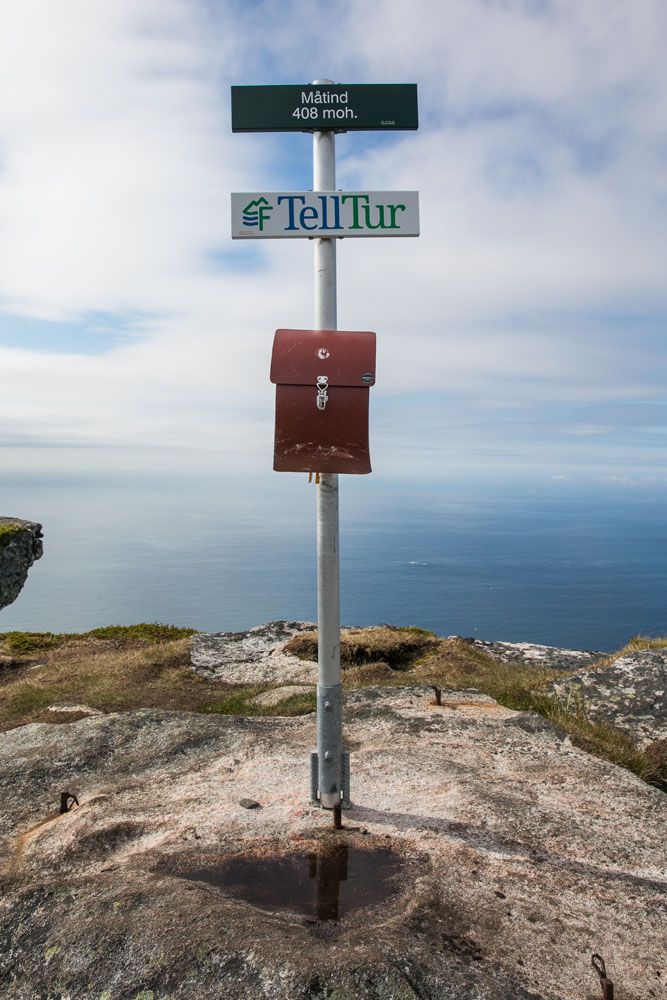 Take some time to explore the short trails and viewpoints on top of Måtind. Make sure you sign the "turboka," the tour book.
We spent almost one hour up here. Tyler flew our drone and Kara and I explored the various viewpoints. We couldn't decide what we liked more: the peninsula and the view out to Bleiksøya or the view out to Høyvika Beach.
Have fun deciding what your favorite view is!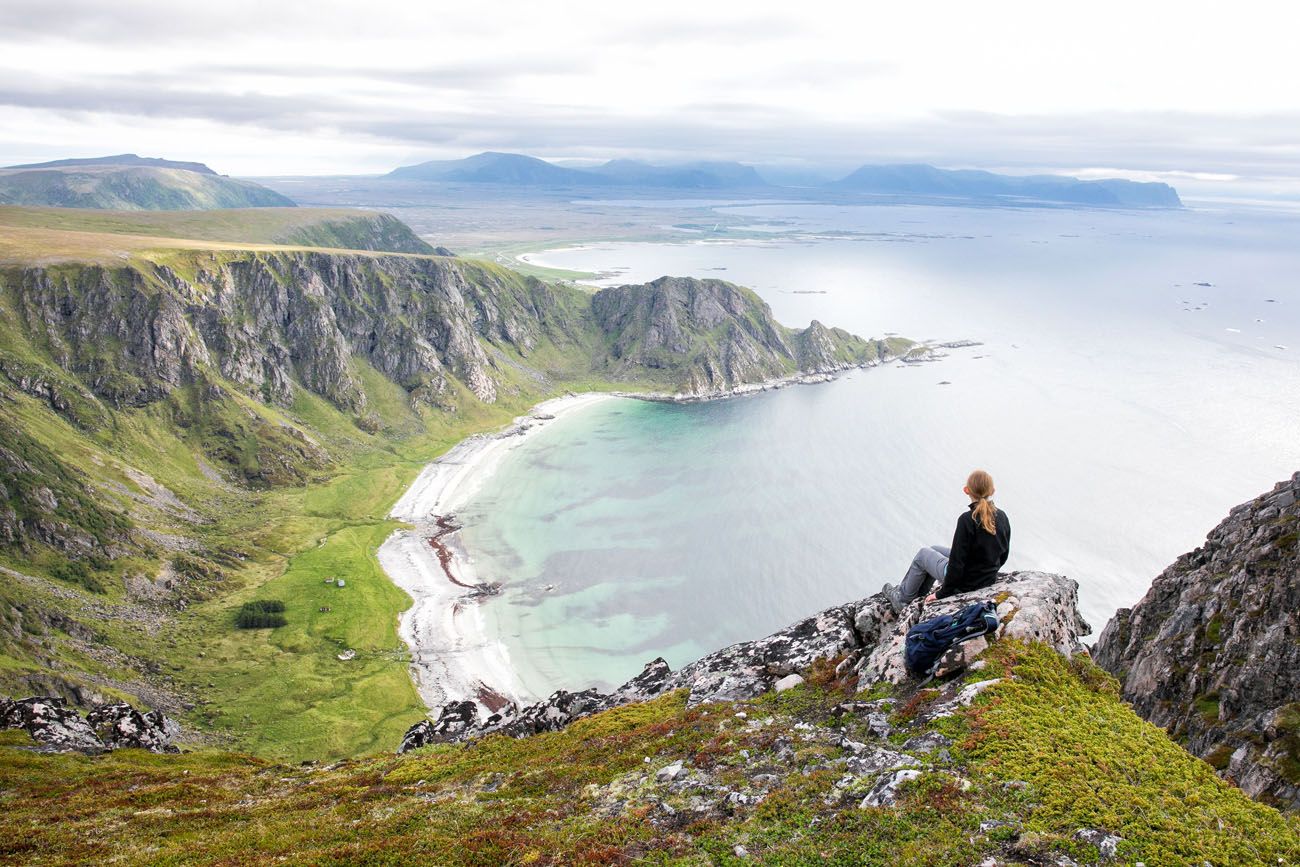 Looking out over Høyvika Beach towards Stave.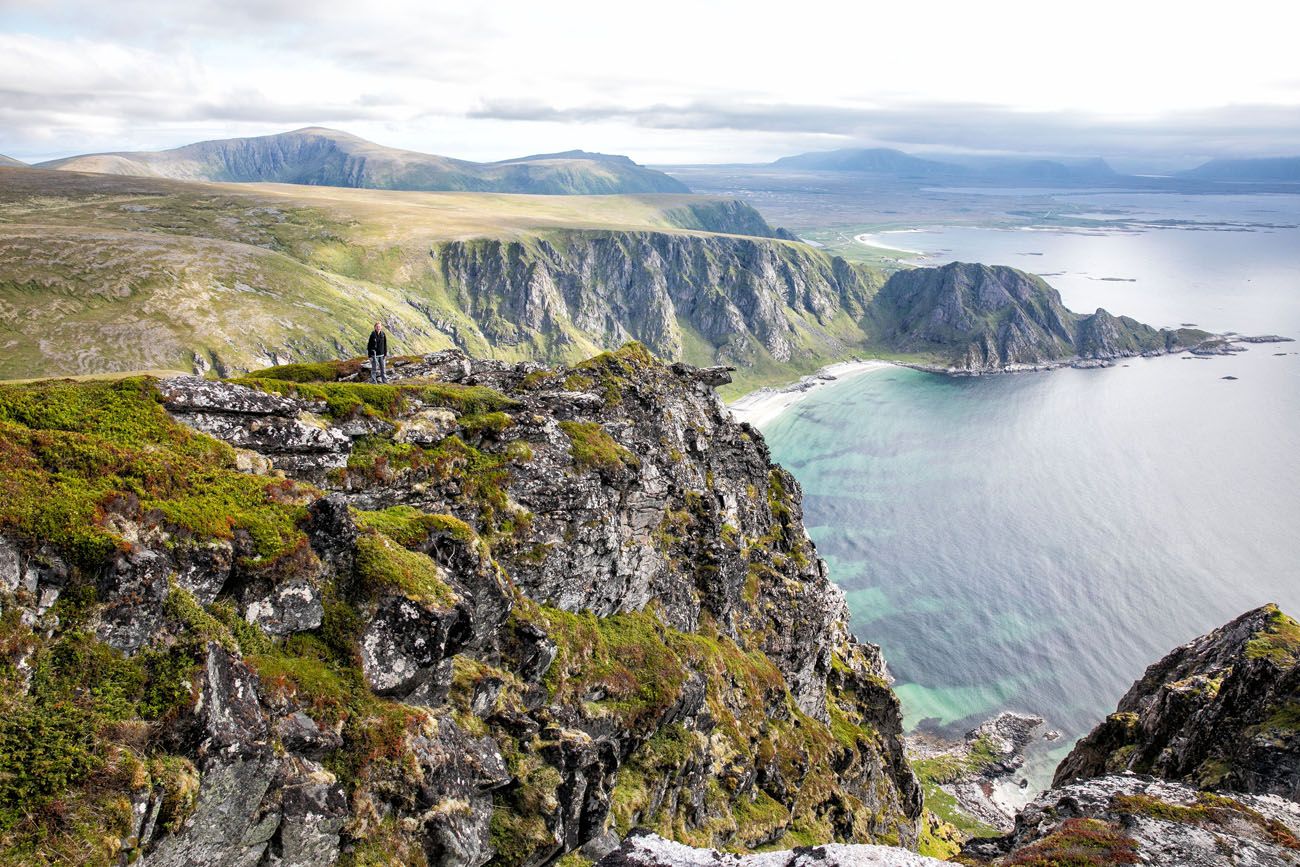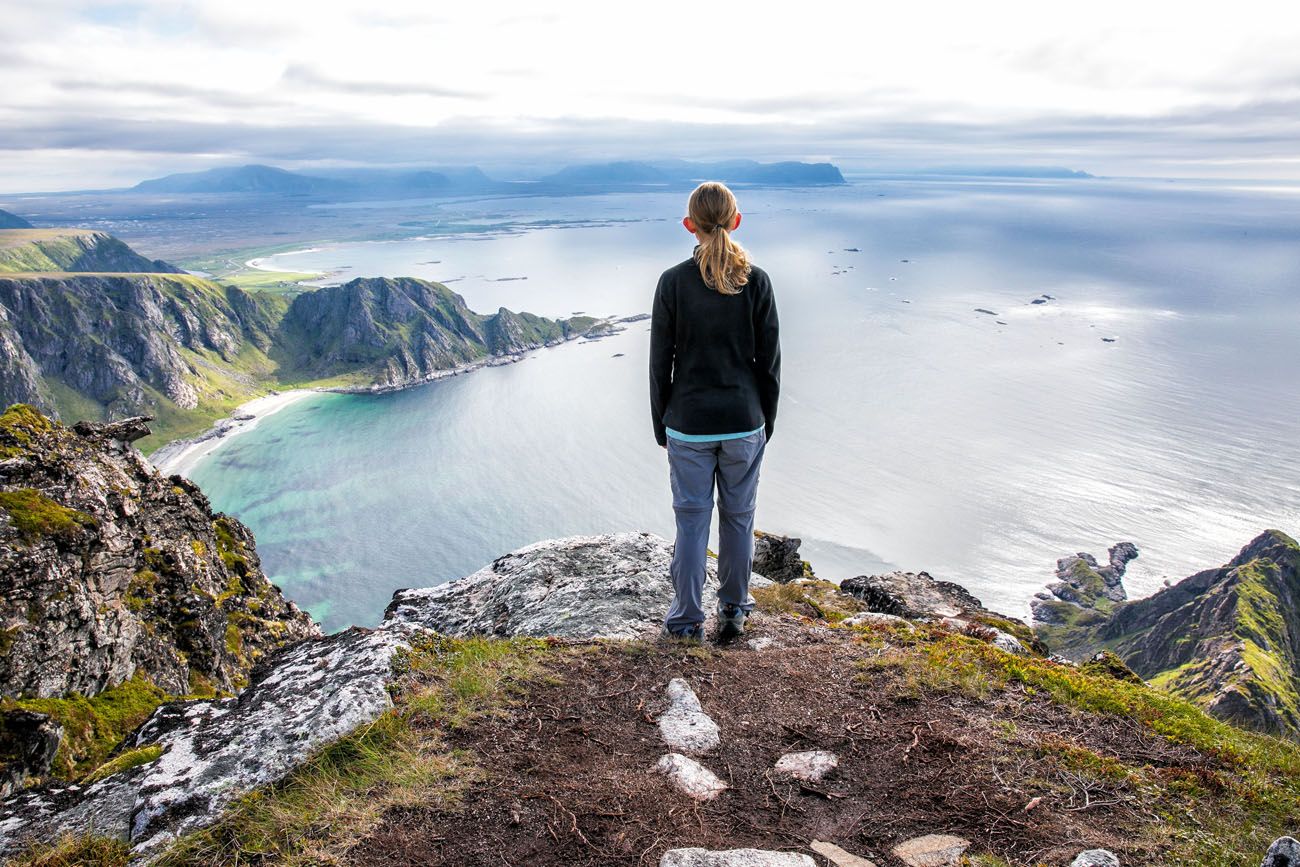 From here, you can hike directly back to your car or you can explore the trails that lead to Stave and/or Bleik.
From the top of Måtind, it takes approximately one hour to hike back to the car park.
Hiking towards Bleik
We also took some time to hike towards Bleik. We only walked for roughly one more mile (round trip), but just going that short distance offered us more amazing views. If you have the time and energy, this is worth it.
At first you get a closer view of the gorgeous beach next to Måtind. I never expected to see beaches like this in Norway. Nice, right? And there's no one there, just a lot of sheep, their bells making music for all of us to hear.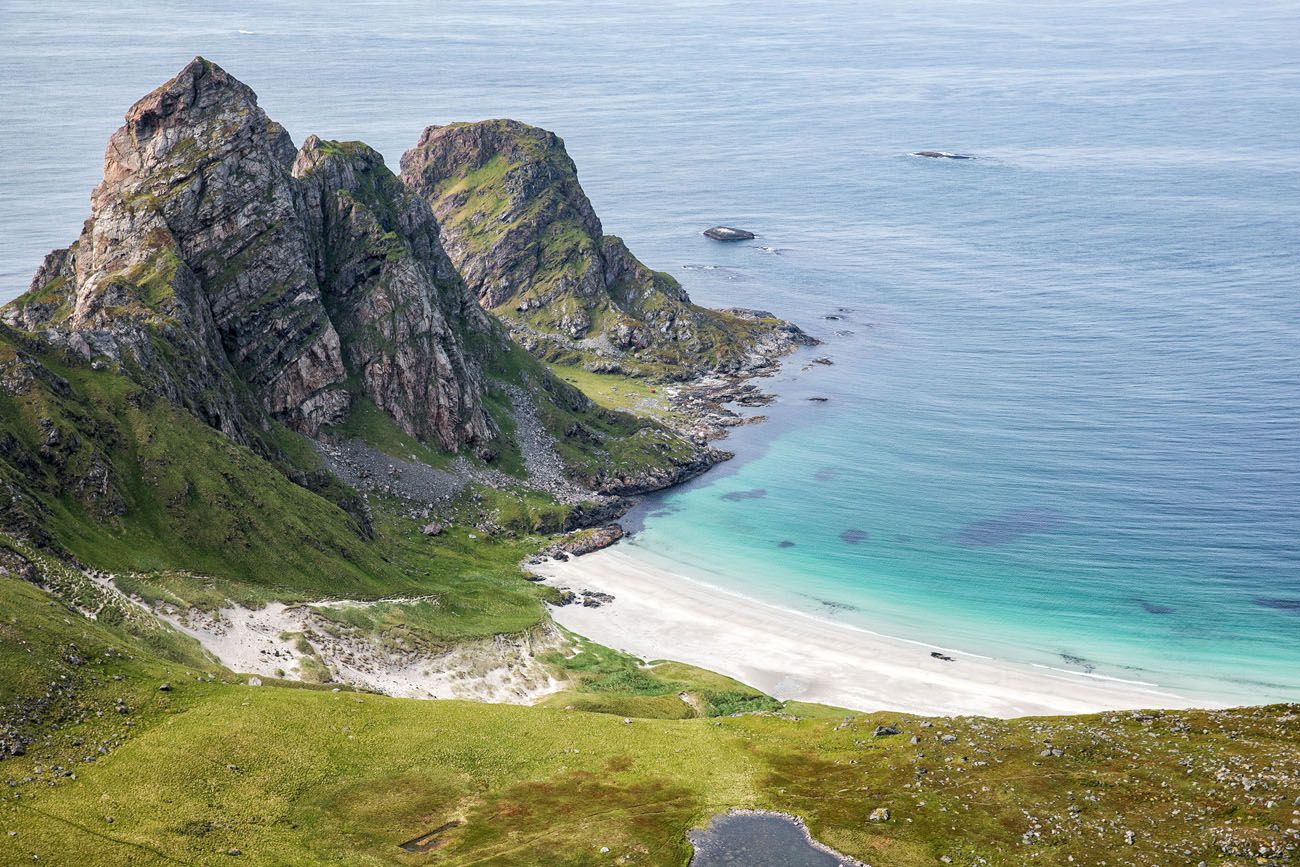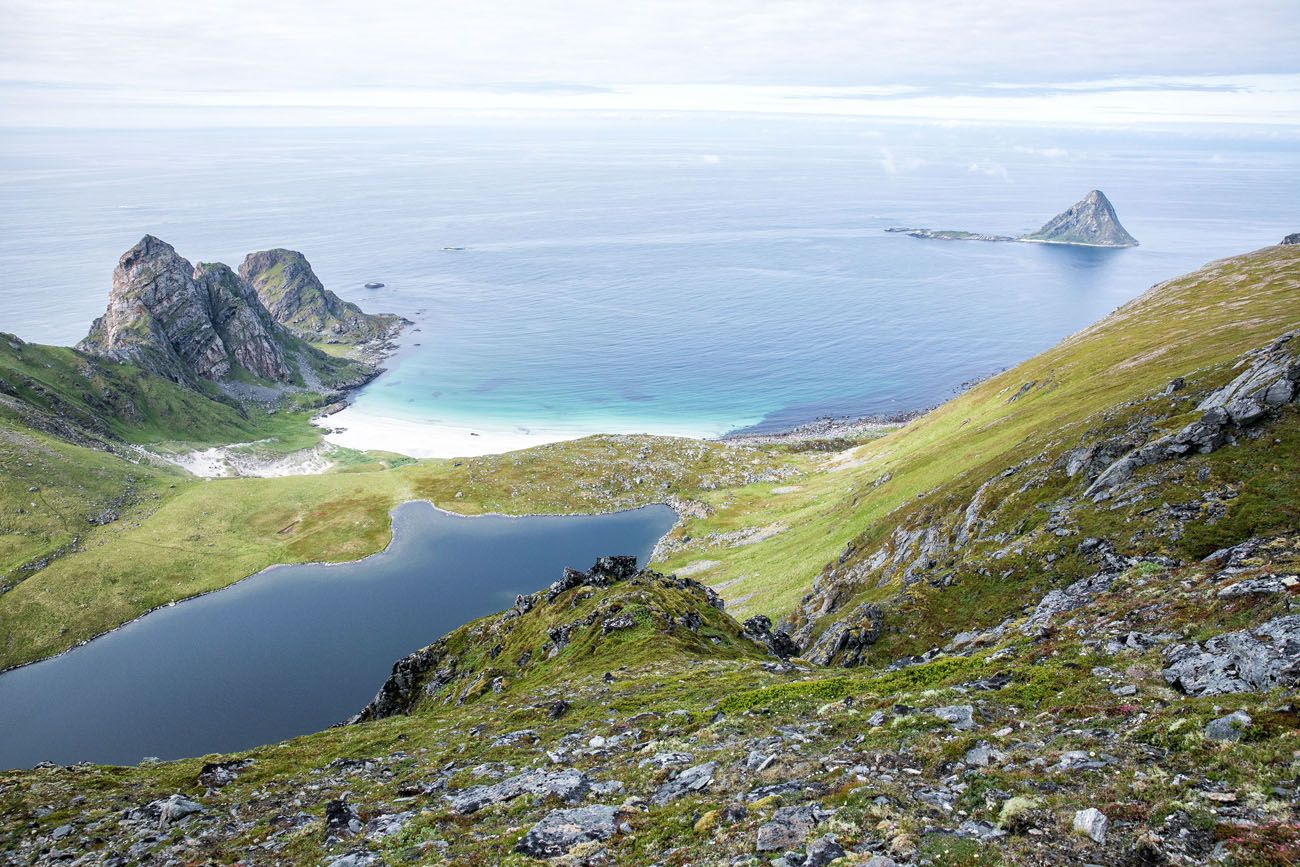 The small, rocky island is Bleiksøya, a nesting site for puffins.
If you walk a bit further towards Bleik, you get a really nice view of town with its own pretty beach and backdrop of jagged mountains.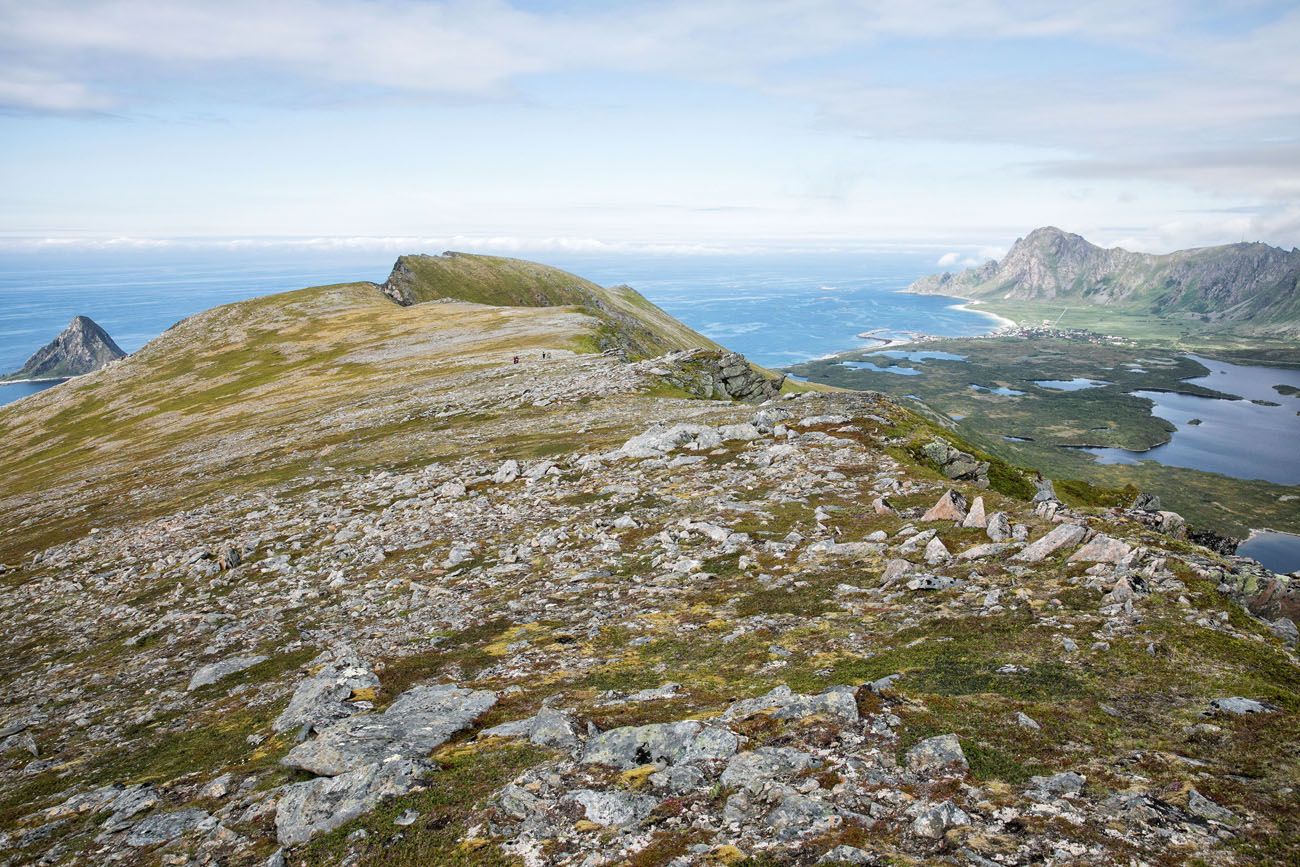 Hiking to Bleik.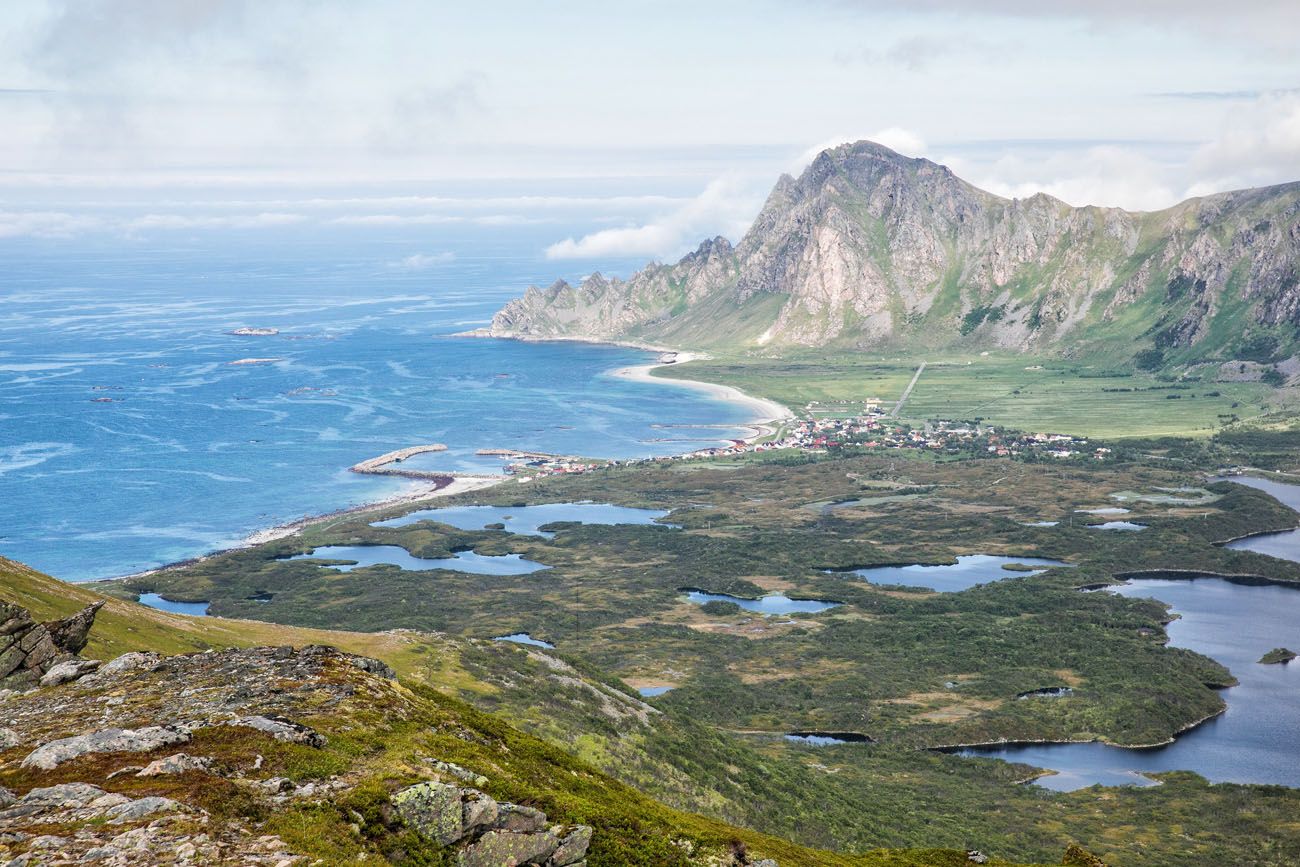 Hiking towards Stave
We did not do this, since we were running short on time. But if you hike towards Stave, you can get some really nice views looking back at Måtind. You also have the option to hike down to beautiful Høyvika Beach.
Video of Måtind and the Stave – Bleik Coastal Trail
Want to see a video of the entire hike? This includes some awesome views of the coastline captured by drone.
Helpful Tips for Hiking Måtind
The weather can change rapidly in Norway. It rained during our ferry ride from Senja to Andøya. Somehow, miraculously, the skies cleared up during our hike. However, by the time we were back in our car, low clouds moved in again and lingered until the following day.
You can do this hike with kids. We saw several young kids (about 8 to 10 years old) on the trail. There is the one strenuous climb at the start of the hike but it is not dangerous. The biggest risk here is twisting an ankle. Once you are on Måtind, do not let your kids get near the edge of the cliffs.
What to bring: hiking shoes or sturdy walking shoes, sunblock, water, snacks, your camera, and a warm jacket even in the summer. It can be cold and windy on Måtind.
If you are new to hiking or are curious about what you should bring on a hike, check out our Hiking Gear Guide. Find out what we carry in our day packs and what we wear on the trails.
After the Hike
There are not a lot of dining options in the area. We drove back to Andenes and had dinner at Lysthuset, a mediocre restaurant that serves pizza, fish and chips, and seafood. It's nothing spectacular but it refueled us so we could be ready for another adventure tomorrow.
Where We Slept
Again, there aren't a ton of options. We stayed at the Nord Fish Apartments, picking this place for its budget prices and decent reviews. It's out in the middle of nowhere, in a cluster of communist-style buildings. The hotel runs fishing expeditions, so many of the people who stay here do so for the fishing. We had two enormous rooms that were spotlessly clean. But the old building echoes a lot and it felt more like a dormitory than a hotel. I would describe this hotel as clean and functional. If you are looking for "boutique" or "charming," this is not your place.
If you are just two people, check out Apartment Utsikten in Andenes. This highly rated property offers a gorgeous sea view and is within walking distance of the center of Andenes.
Where We Went Next
The following morning we drove south to the Lofoten Islands. We spent the afternoon rock climbing iconic Svolvaergeita and hiking Svolvaer Fløya. And yes, Norway continued to amaze us! 🙂
More Great Hikes Around the World
If You Like This Hike…
If you like the Stave Bleik Coastal Trail, here are six similar hikes from around the world:
For more great hikes from around the world, check out our Hiking Guide.
---
Do you have plans to visit the Vesteralen Islands? Comment below if you have any questions or advice for our readers.
More Information for Your Trip to Norway
BEST OF THE LOFOTEN ISLANDS: For an overview of the best things to do, read our Lofoten Islands Top Ten List. Great hikes in the Lofoten Islands include Ryten, Reinebringen, Festvagtind, and Svolvaer Floya. For a big adventure, climb Svolvaergeita for one of the most unique experiences in the Lofoten Islands.
NORTHERN NORWAY ITINERARY: On this 10 day Norway itinerary, road trip through Senja and the Vesteralen Islands, two beautiful off the beaten path destinations, and visit the Lofoten Islands.
BEST OF NORWAY: For a list of top experiences in Norway, don't miss our Norway Bucket List. If you are a hiker, we also have a hiking guide with 14 epic day hikes to do in Norway.
SVALBARD: Plan the perfect visit to Svalbard with our Svalbard Travel Guide. We also have articles about the best things to do in Longyearbyen, what it is like to go glacier kayaking, and how much does it cost to visit Svalbard?
MORE GREAT HIKES IN EUROPE: From thrilling trails in the Alps to easy walks along the coast, read our article 20 Best Hikes in Europe for some beautiful hiking trails to put on your travel wish list.
Are you planning a trip to Norway? Read all of our articles about Norway in our Norway Travel Guide.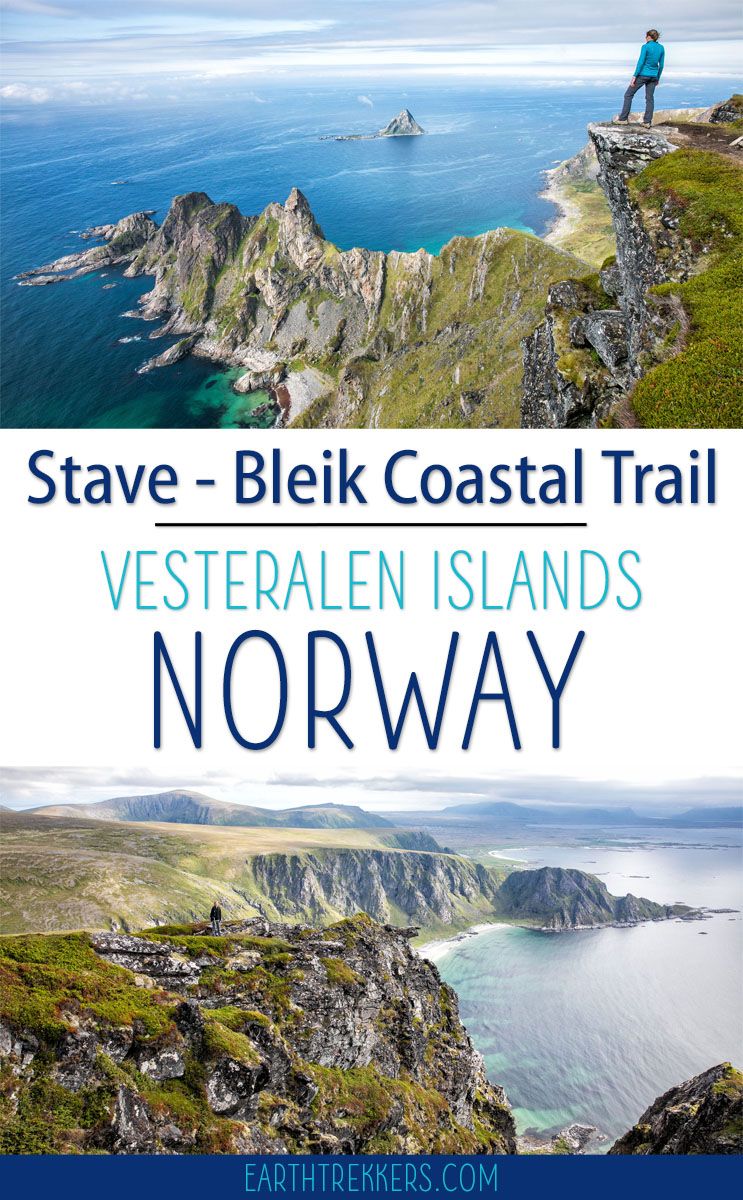 Note: This post contains affiliate links. When you make a purchase using one of these affiliate links, we get paid a small commission at no extra cost to you.
All rights reserved © Earth Trekkers. Republishing this article and/or any of its contents (text, photography, etc.), in whole or in part, is strictly prohibited.