Climbing to the summit of Breithorn is one of Zermatt's most adventurous experiences. Standing at a height of 4,164 meters (13,660 feet), Breithorn is one of the highest peaks in the area and it is one of the easiest 4,000+ meter peaks to summit in the Alps.
Thousands of hikers come to Zermatt to summit Breithorn every year. Hiking across snowfields and up icy slopes, Breithorn offers a unique hiking experience for those looking to add some adventure to their trip to Zermatt. And the best part is, you don't need extensive mountaineering training to reach the top (if accompanied by a guide).
Information about Breithorn
Breithorn is one of the easiest 4,000+ meter peaks in the Alps to summit. A series of cable cars transports hikers to Klein Matterhorn (Matterhorn Glacier Paradise), which sits at an elevation of 3,883 meters. From Klein Matterhorn, you only have 281 meters to climb to reach the summit of Breithorn.
Breithorn sits on the border between Switzerland and Italy. This mountain is has several peaks and it is Breithorn Occidentale, the western summit and highest peak of Breithorn that is summited on this hike.
Breithorn can be climbed in both winter and summer.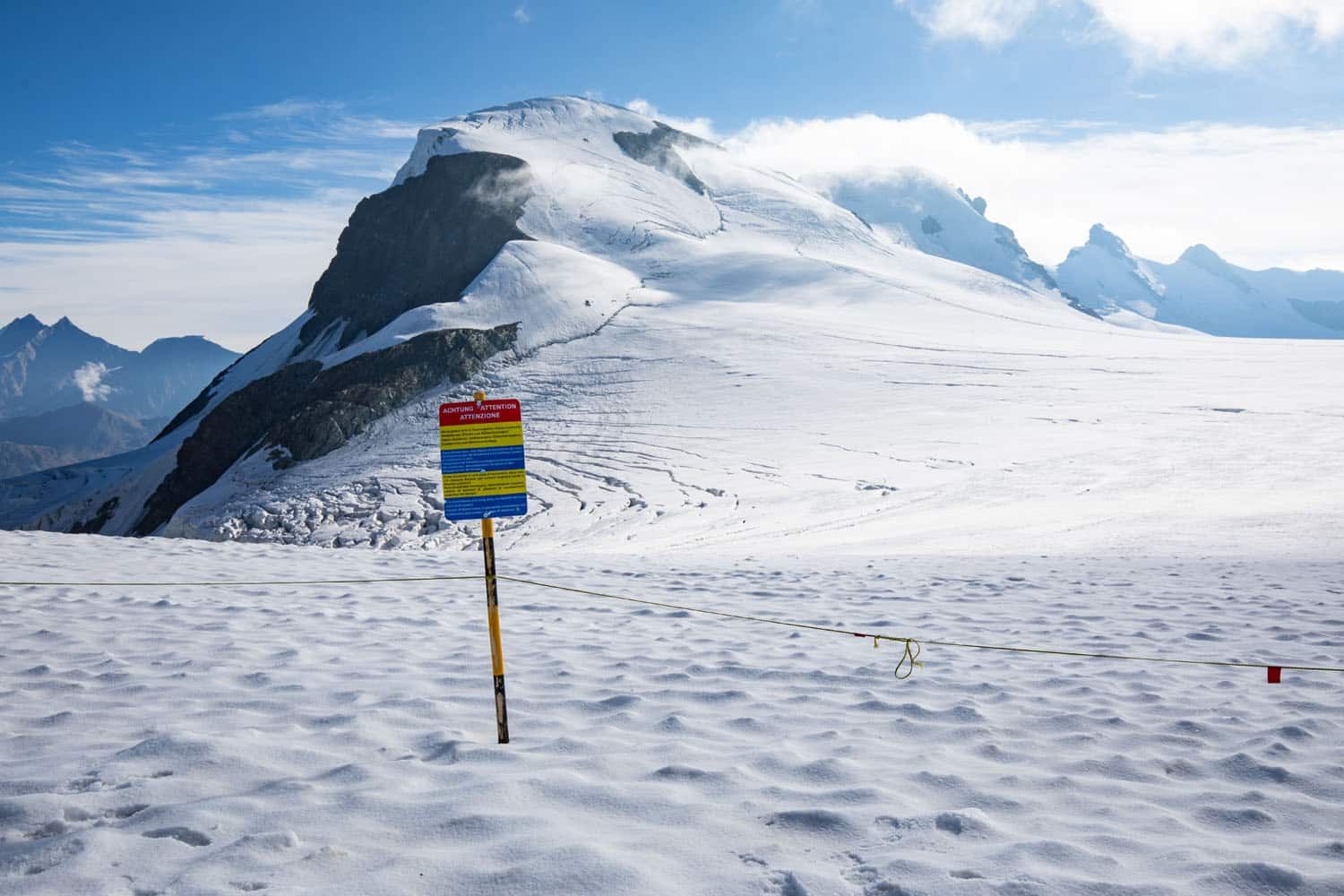 A view of Breithorn from the start of the climb, near Klein Matterhorn.
Matterhorn Glacier Paradise
The hike to Breithorn starts at Matterhorn Glacier Paradise (Klein Matterhorn).
To get here, you will ride a series of cable cars from Zermatt and this takes about 45 minutes.
For the full route and pricing, plus a list of things to do at Matterhorn Glacier Paradise, read our Guide to Matterhorn Glacier Paradise.
Once you complete the climb to Breithorn, it's worth spending an hour or two visiting the sights at Matterhorn Glacier Paradise, since it is so pricey to get here and the views are wonderful (although not quite as epic as what you get from the peak of Breithorn).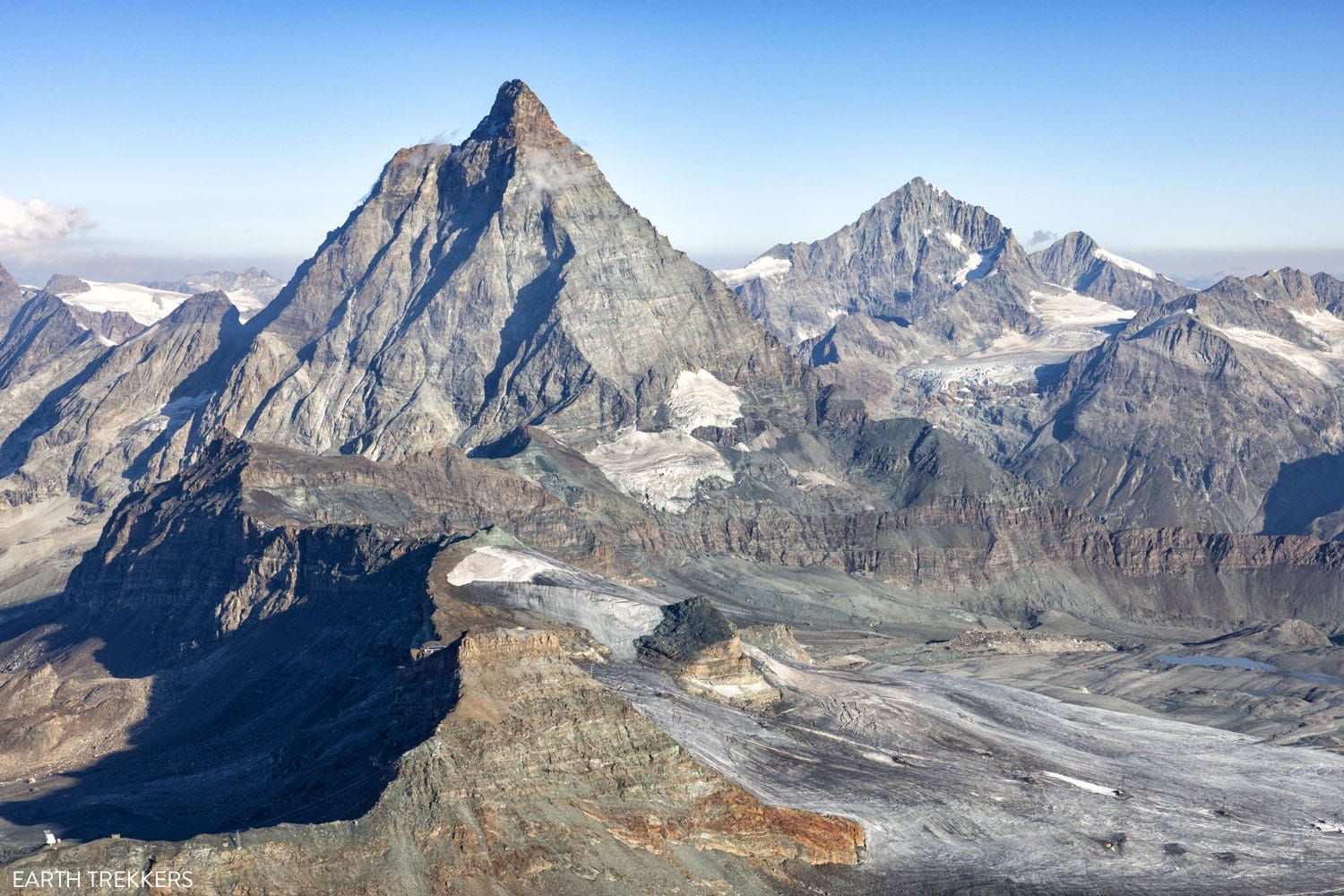 View of the Matterhorn from Matterhorn Glacier Paradise.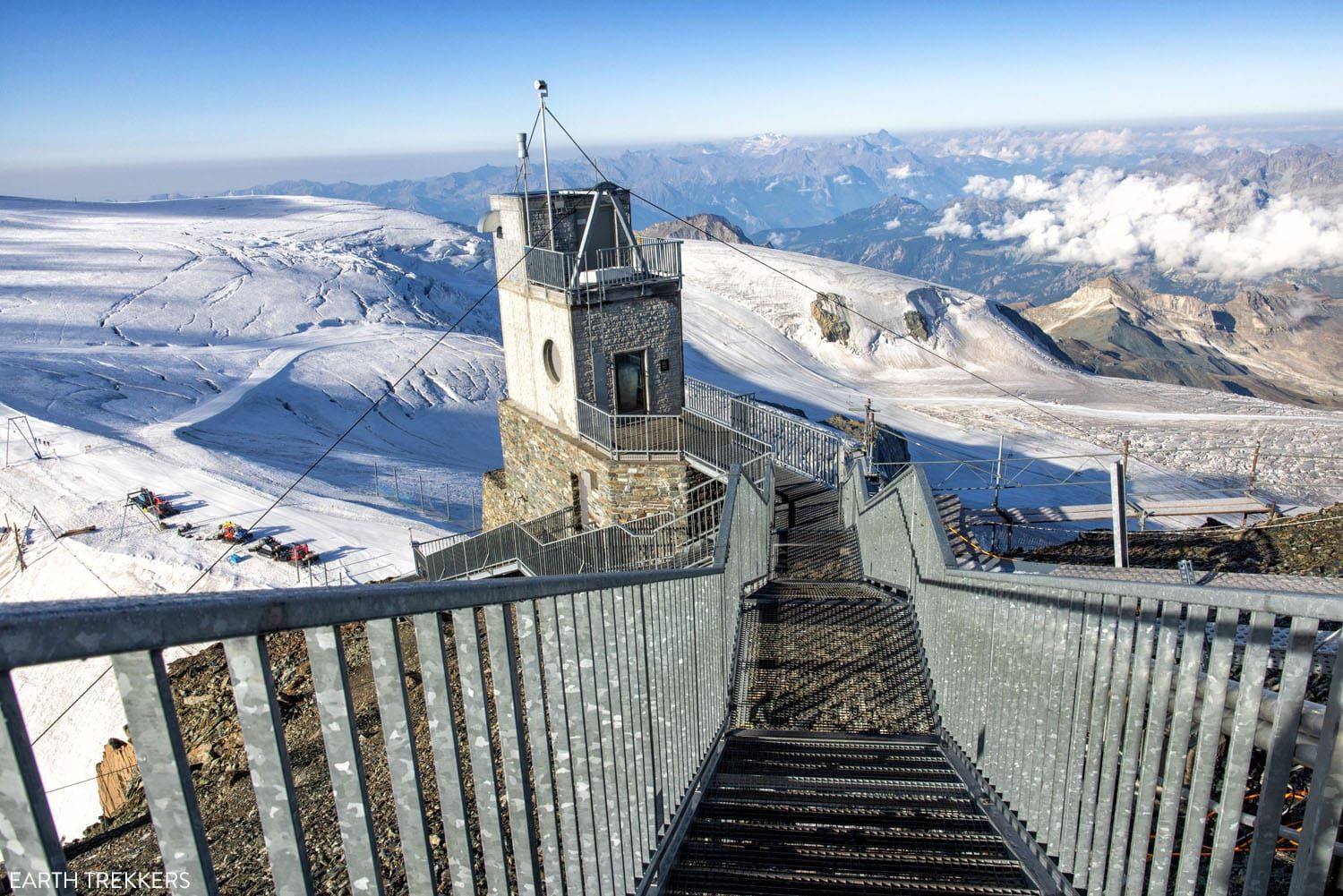 Matterhorn Glacier Paradise
Hiring a Guide
The best (and only way for most people) to hike to the summit of Breithorn is with an experienced guide.
This hike takes you across a snow-covered landscape that is riddled with crevasses. Every year, people fall into a crevasse and are not recovered, so this experience is not without its dangers.
To stay safe, you need special equipment (we wore crampons and a harness, and we were roped together with our guide; our guide carried an ice axe).
You also either need extensive mountaineering experience and knowledge about Breithorn, or you need to hire a guide. You should not attempt this hike without a guide and the proper equipment…don't become a Breithorn statistic.
We hired an experienced guide from Zermatters. They offer different options and we chose to have a private tour. At a small additional fee, Zermatters provided crampons and a harness. Tickets to ride the cable cars to Matterhorn Glacier Paradise were not included.
Check in with them a day or two before your hike so they can verify if your boots are acceptable. Our hiking shoes were not sufficient so we rented mountaineering boots from the Yosemite Zermatt store. You need time to make sure your gear is in order, so don't wait until the last minute to check in.
Get updated pricing on the Zermatters website.
Breithorn Hiking Stats
Distance: 5.7 km (3.5 miles) out-and-back
Difficulty: Moderate
Total Ascent: 407 m (1,335 feet)
Lowest Elevation: 3,792 m (12,442 feet)
Highest Elevation: 4,164 m (13,661 feet)
Time: 3 to 3.5 hours

Breithorn Climb Elevation Profile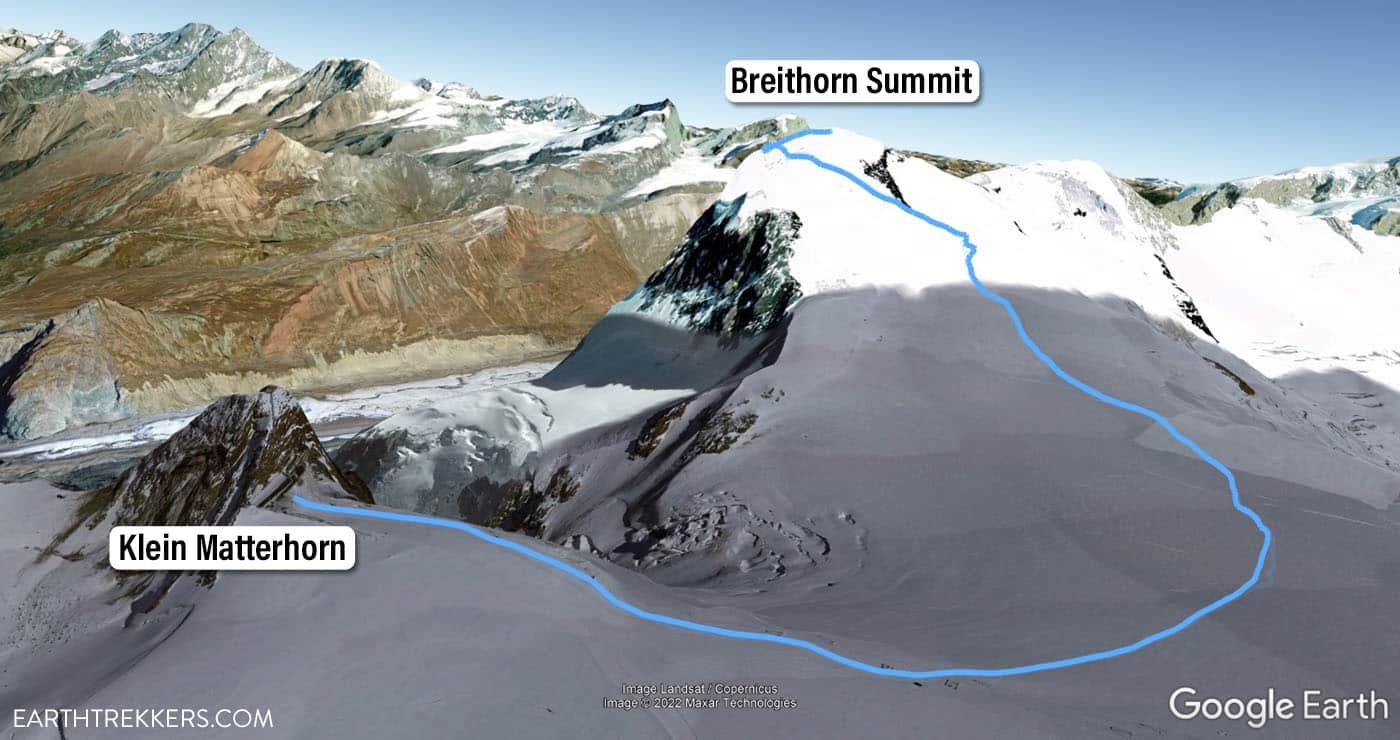 Breithorn Climb Map
How to Climb Breithorn
Step-By-Step Trail Guide
Getting Geared Up
The climb begins at Matterhorn Glacier Paradise.
Stepping outside into the thin, brisk air, you'll notice how much harder it is to breathe at this elevation. Matterhorn Glacier Paradise sits at 3,883 meters (12,700 feet) where oxygen levels are noticeably lower than down in Zermatt. If you haven't been acclimated to higher elevations, you'll want to be on the lookout for signs of altitude sickness (headache, fast heartbeat, dizziness).
Tim, Kara, and I geared up for our climb while Julie completed another hike further down the mountain (the Matterhorn Glacier Trail). We were on a private tour, so it was just the three of us, plus our guide, making our way up Breithorn.
Our guide provided crampons and a harness for all of us, and we also rented mountaineering boots in Zermatt the day before (at Yosemite Zermatt, a sporting goods store).
We recommend applying sunscreen and putting on sunglasses before you begin the hike. Even if it's not a sunny day the snow can reflect the sun's rays so you're more prone to sunburn.
We attached our crampons and connected ourselves to the safety rope that ran between the three of us and our guide, and then began our hike.
Before reaching the actual trail through the snowfield, we first hiked down an iced over ski path. This was a good warm-up to get used to the feel of the crampons and the slick trail beneath our feet. We started our hike at 8:30 in the morning, so the path was a bit icy until the sun warmed up the snow. A few minutes later, we took our first steps onto the snowfield.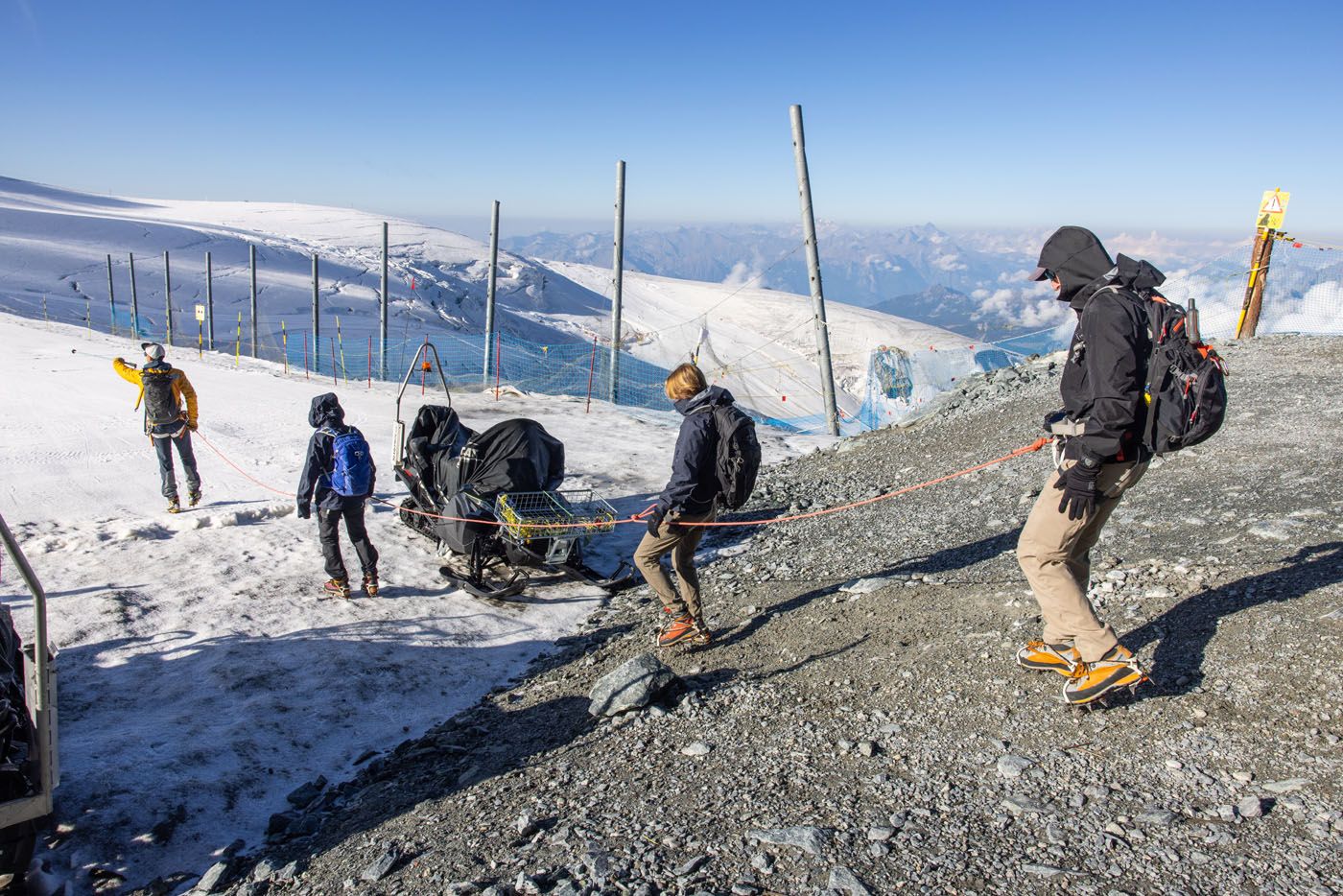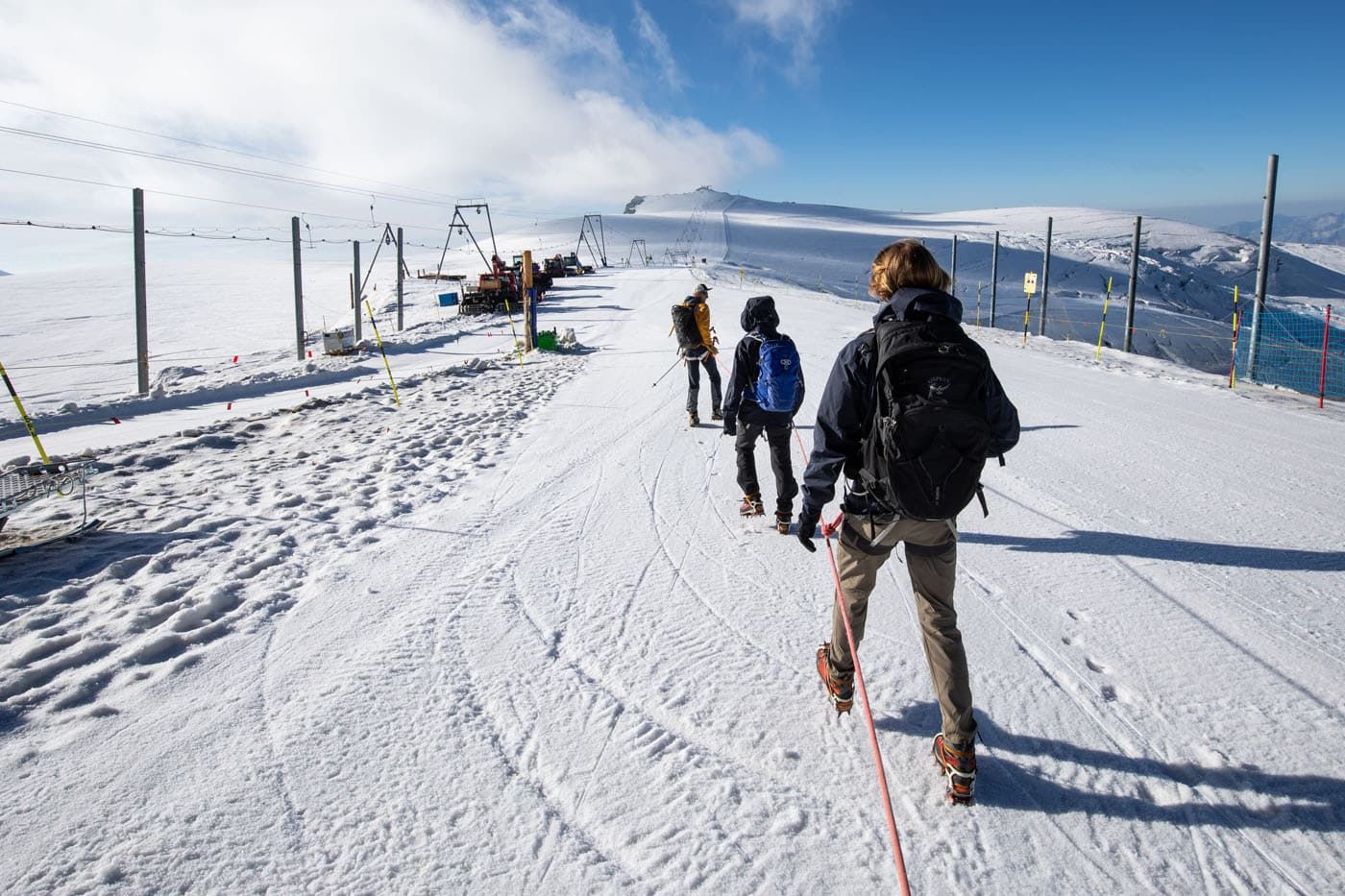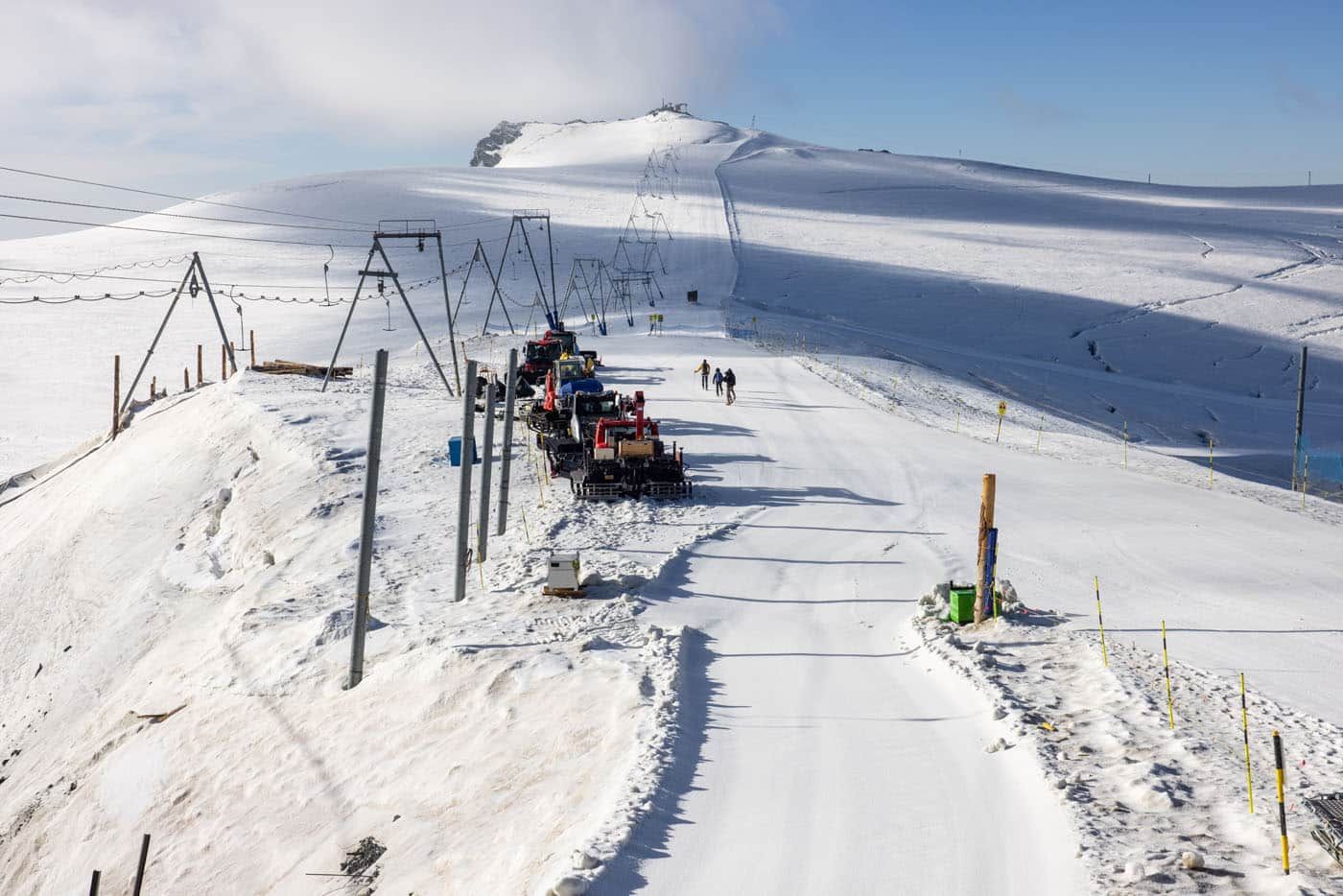 Tim, Tyler, Kara, and our guide at the start of the hike.
Climbing to the Summit of Breithorn
There is no defined trail up Breithorn, so we followed the path that other hikers carved in the snow earlier that morning. The snow was iced over which made our path very firm and easy to walk across in crampons.
As we walked, we kept about 10 feet between the person in front of and behind us, keeping the safety rope taut. Our guide instructed us to do this in order to increase safety in case one of us fell. Occasionally, if one of us tripped, we'd feel the rope go tight and pull us back. It was a strange feeling to get used to, but it made hiking feel safer as we neared the summit.
The south face of Breithorn.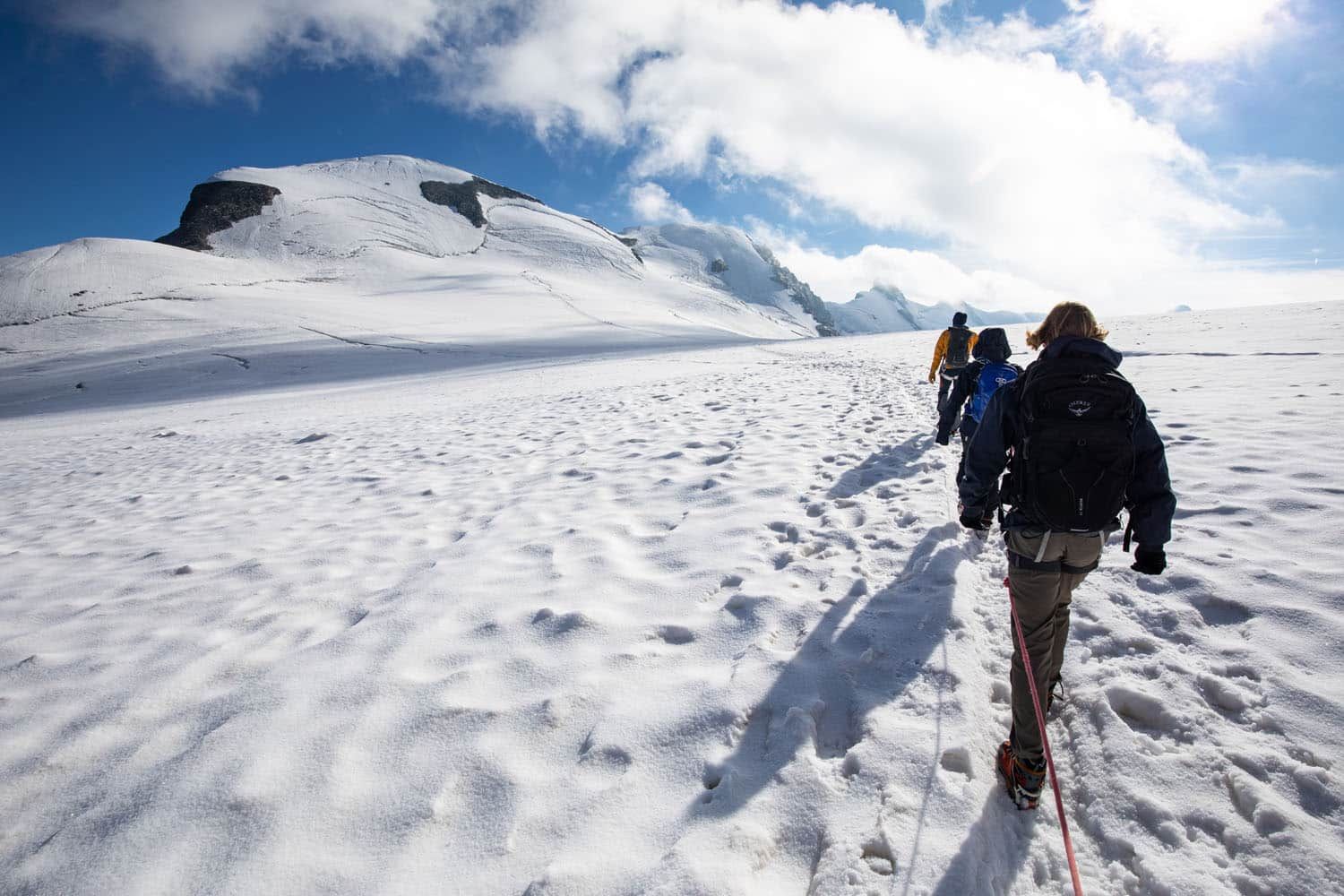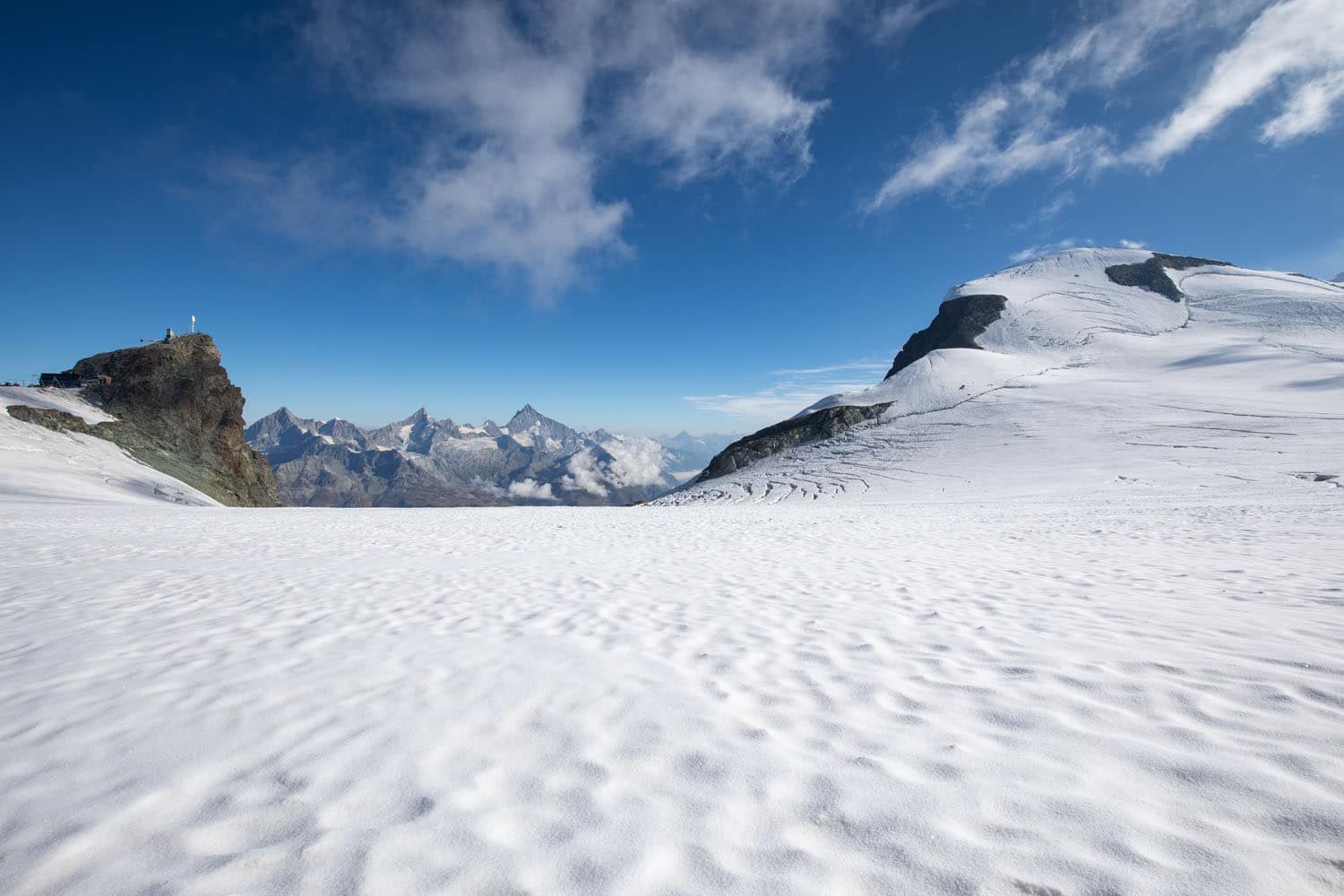 Klein Matterhorn and Breithorn
After we crossed the snowfield, we took a break to snack and take off layers since it was warming up fast. It was surprisingly warm on Breithorn in the morning sun. I continued the climb wearing a short-sleeve shirt with a light fleece overtop and was totally fine.
Our guide also shortened the length of safety rope between each of us in preparation for our climb up. Now we had a max length of 5 feet between the person in front of us.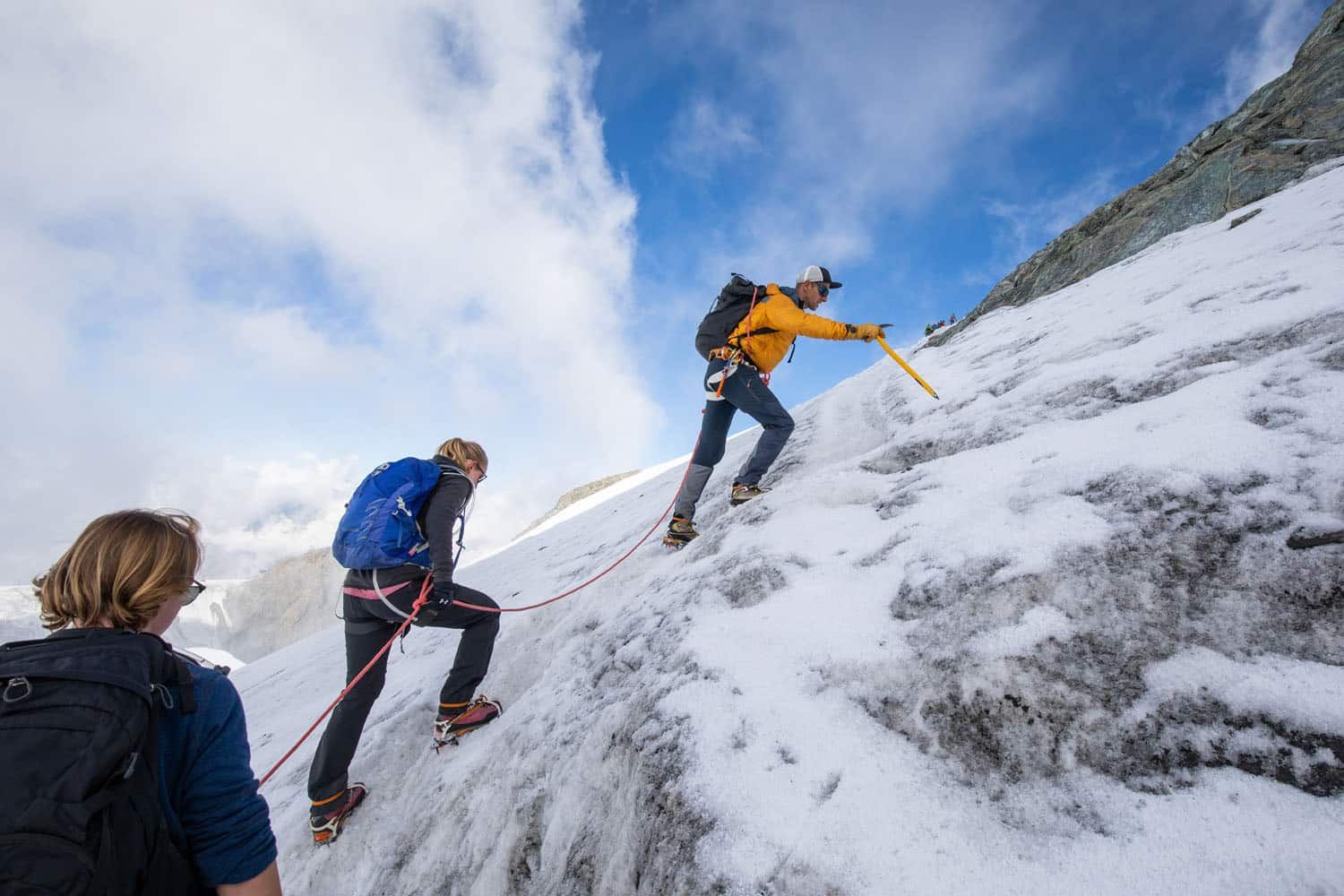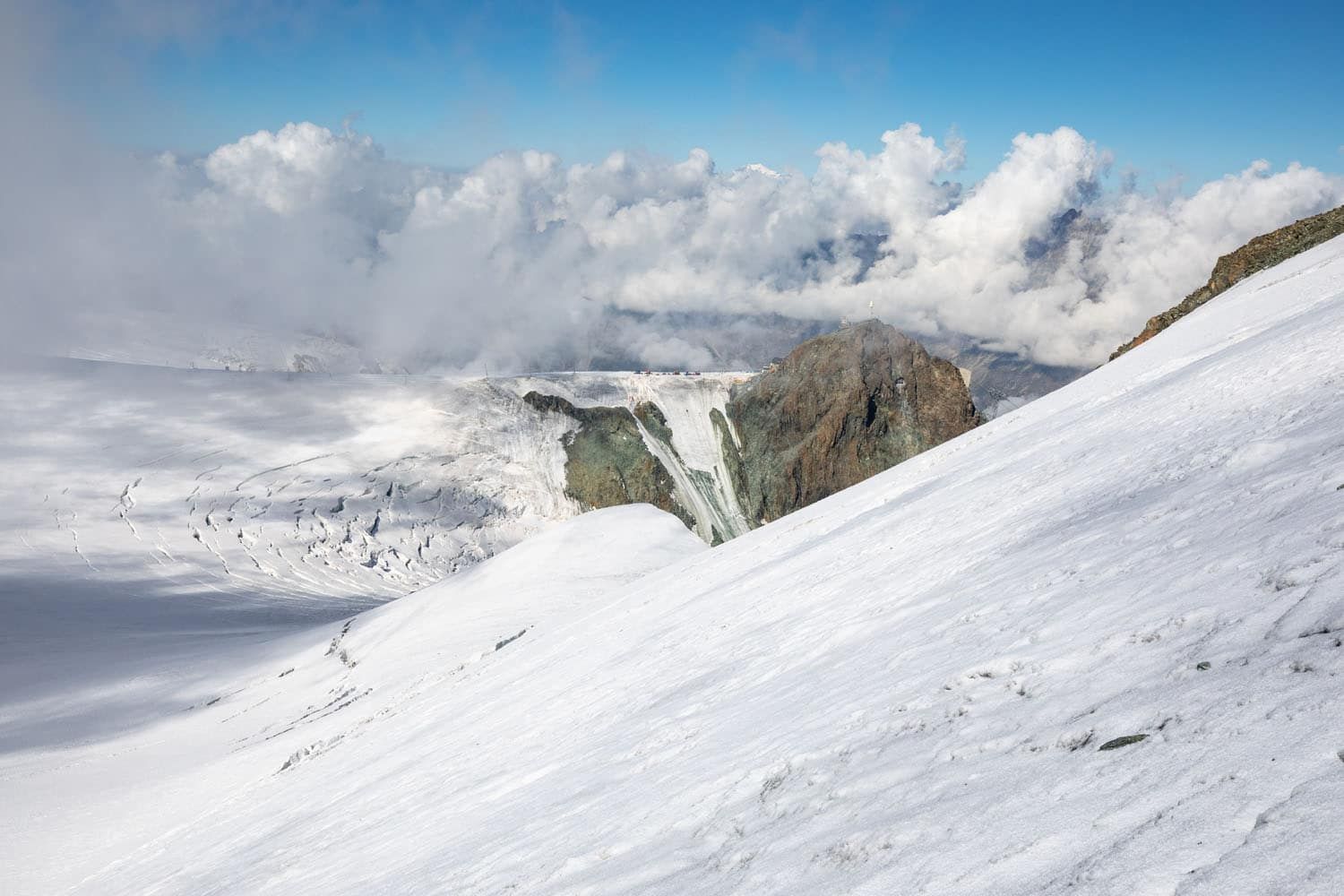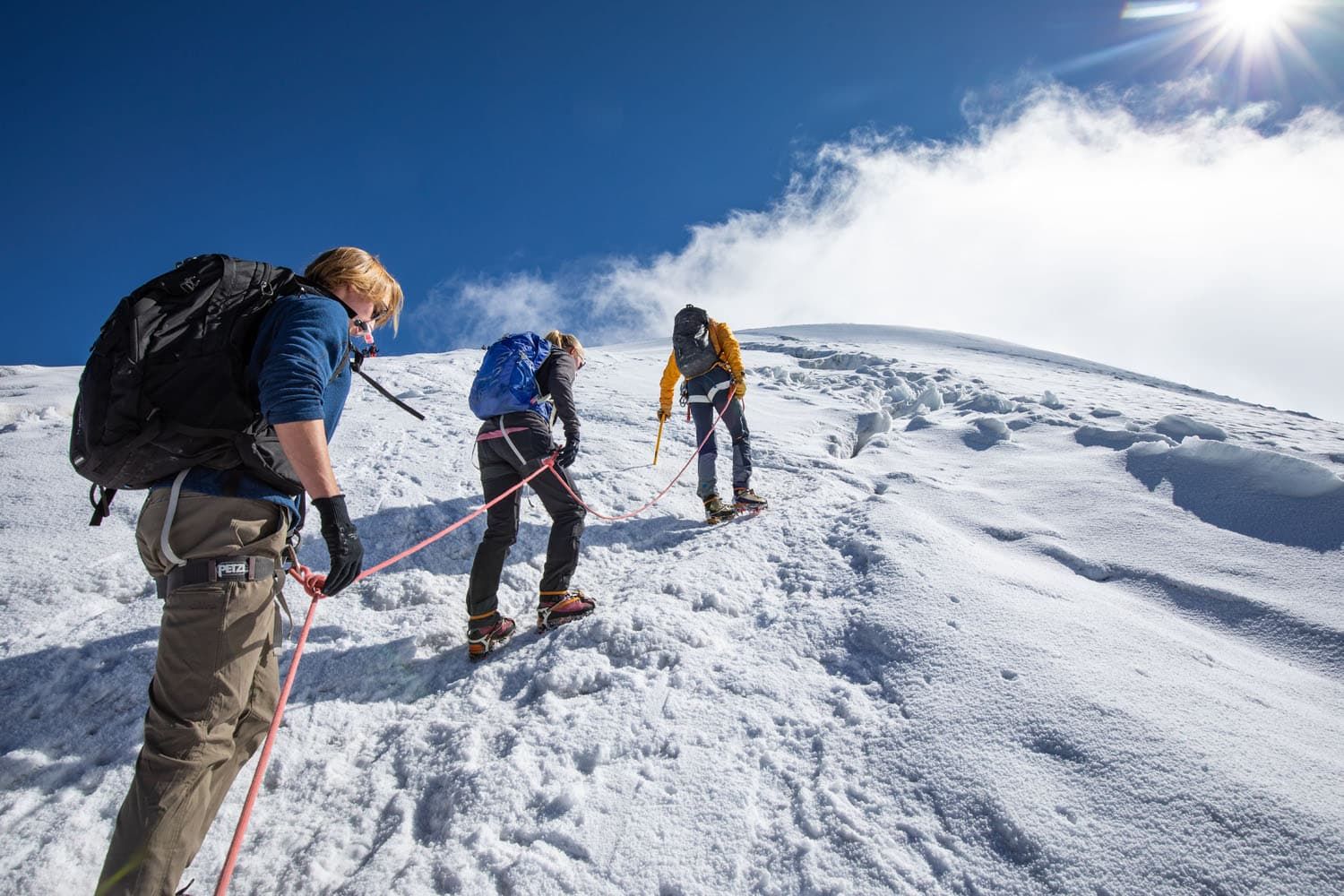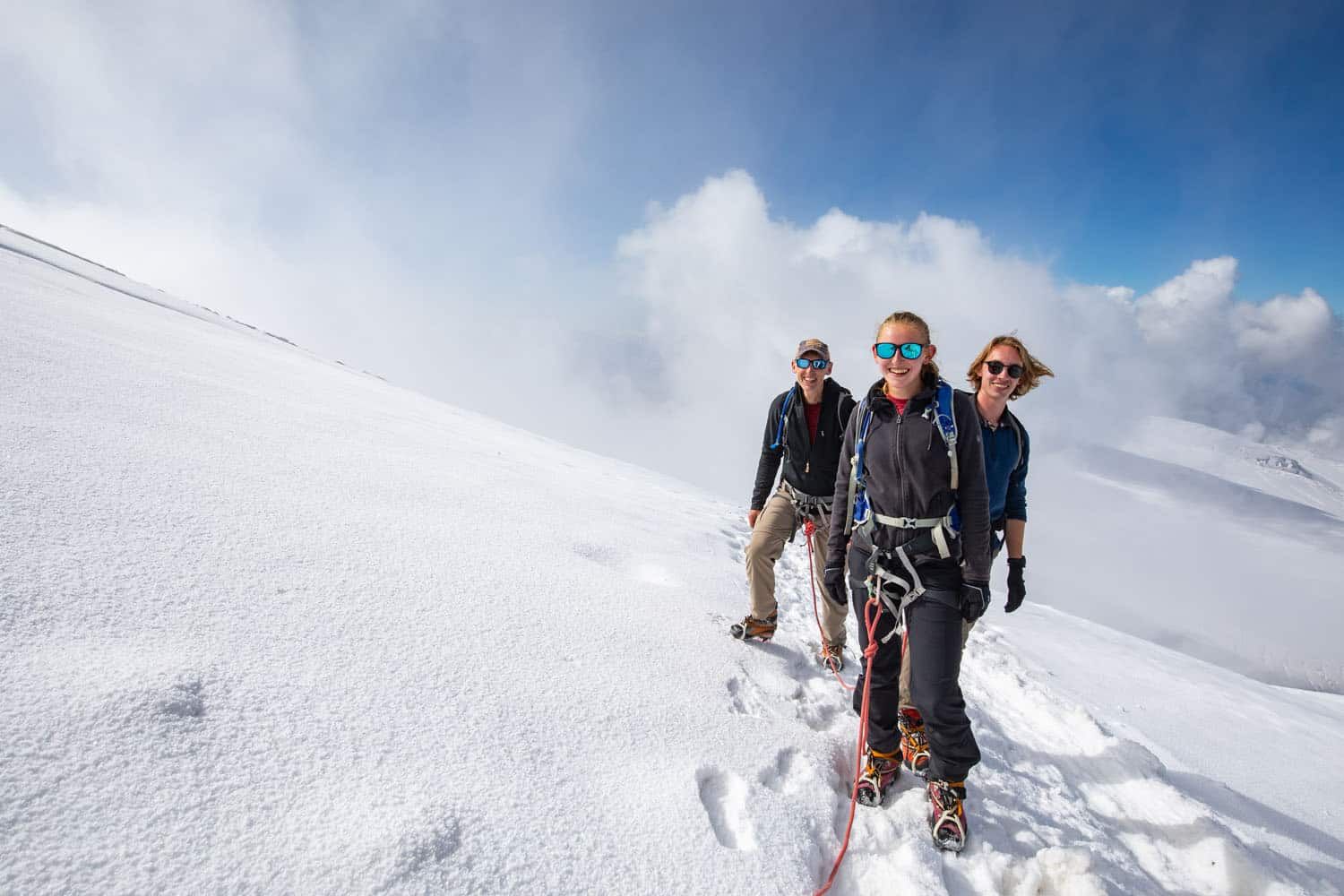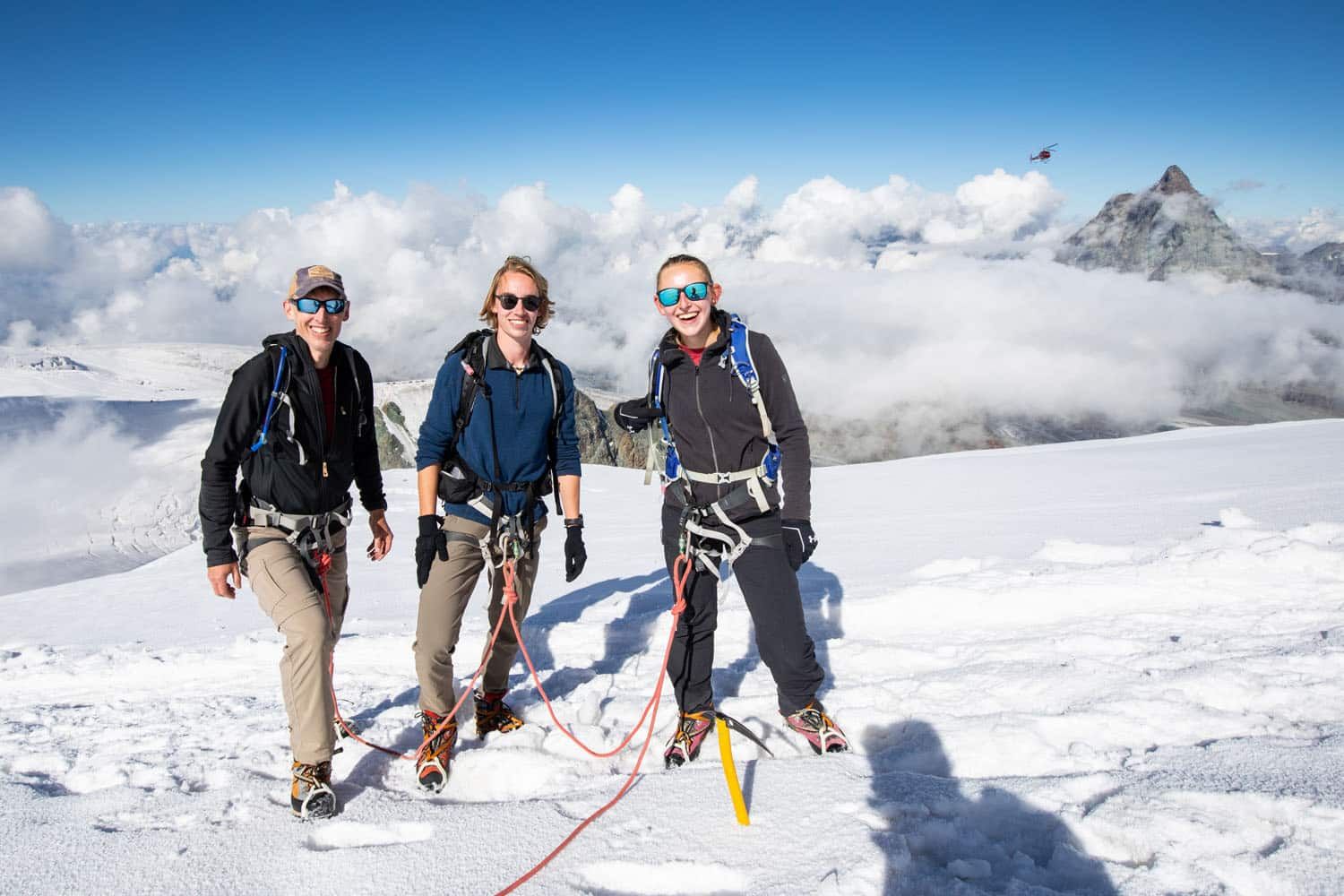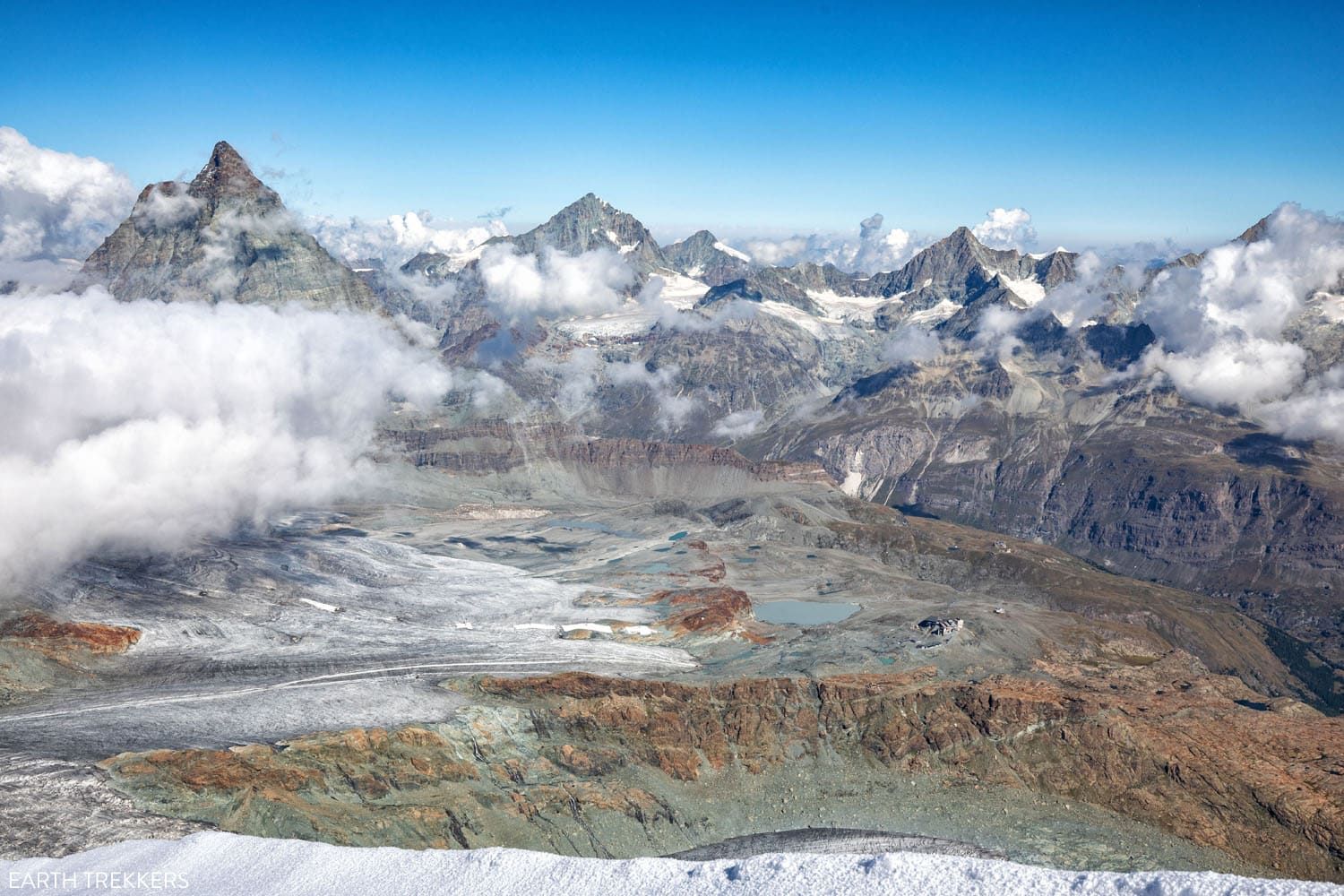 View of the Matterhorn and, if you look closely, the Trockener Steg station.
Since we had completed the Walker's Haute Route two days prior, the climb up to Breithorn's summit felt surprisingly easy. We followed a somewhat steep path that zig-zagged up the south face of Breithorn. By now I had gotten used to the feel of hiking through the snow with crampons and the ascent felt identical to previous hikes. Just replace a dirt & rock trail with ice & snow. Still, the climb up was very slow as we had to deal with the high altitude and other groups of hikers traveling both ways on one narrow path.
Nearing the summit, we rounded a bend onto an icy ridge that led us straight to the top.
This was without a doubt the coolest part of the entire hike.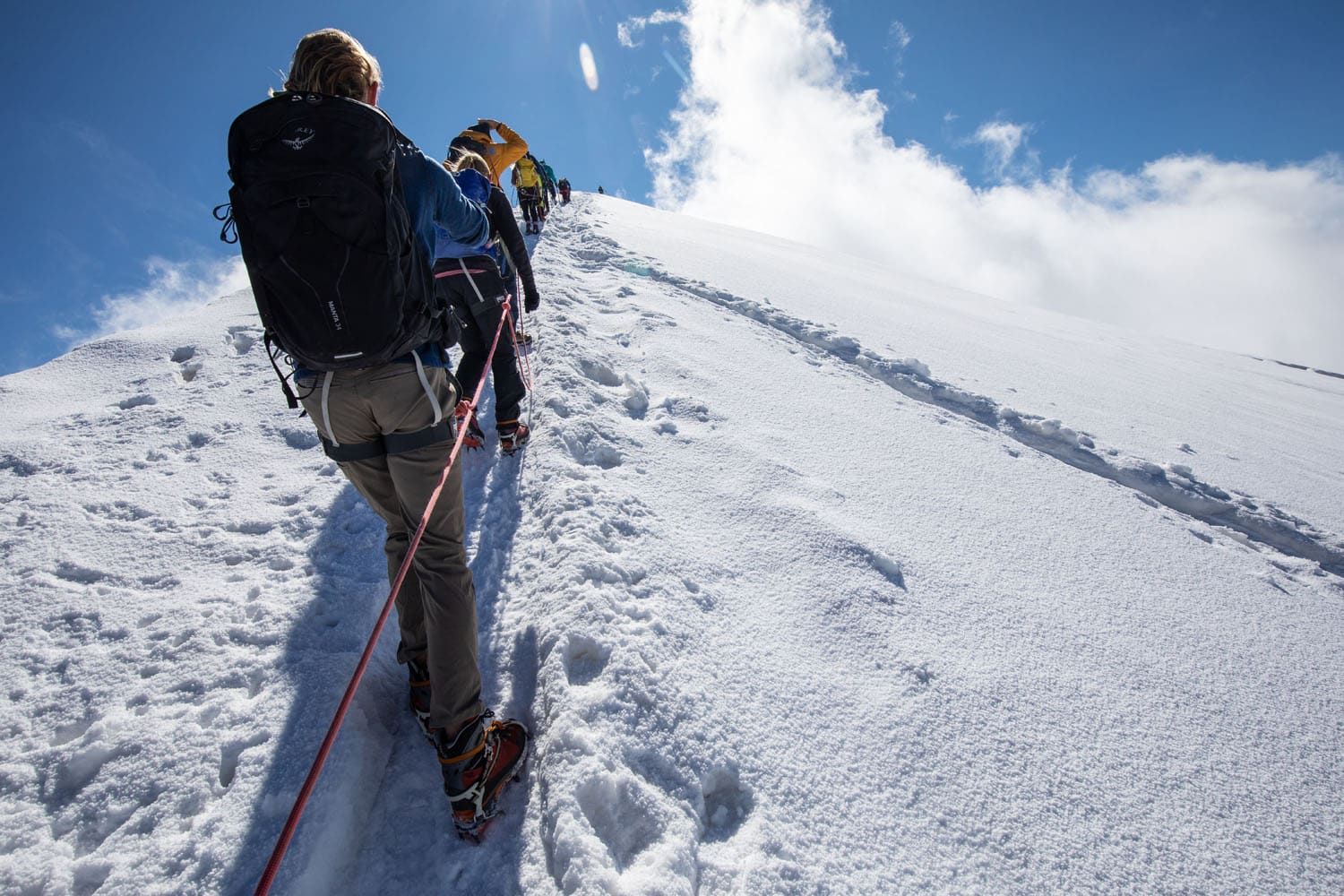 On our right was the long, steep descending slope of Breithorn's south face and the snowfield below which we hiked across. On our left, less than 10 feet from the trail, was a several-thousand-foot drop-off into the valley below. Not to mention you get the best views of the Mattertal valley, Zermatt, and the surrounding peaks.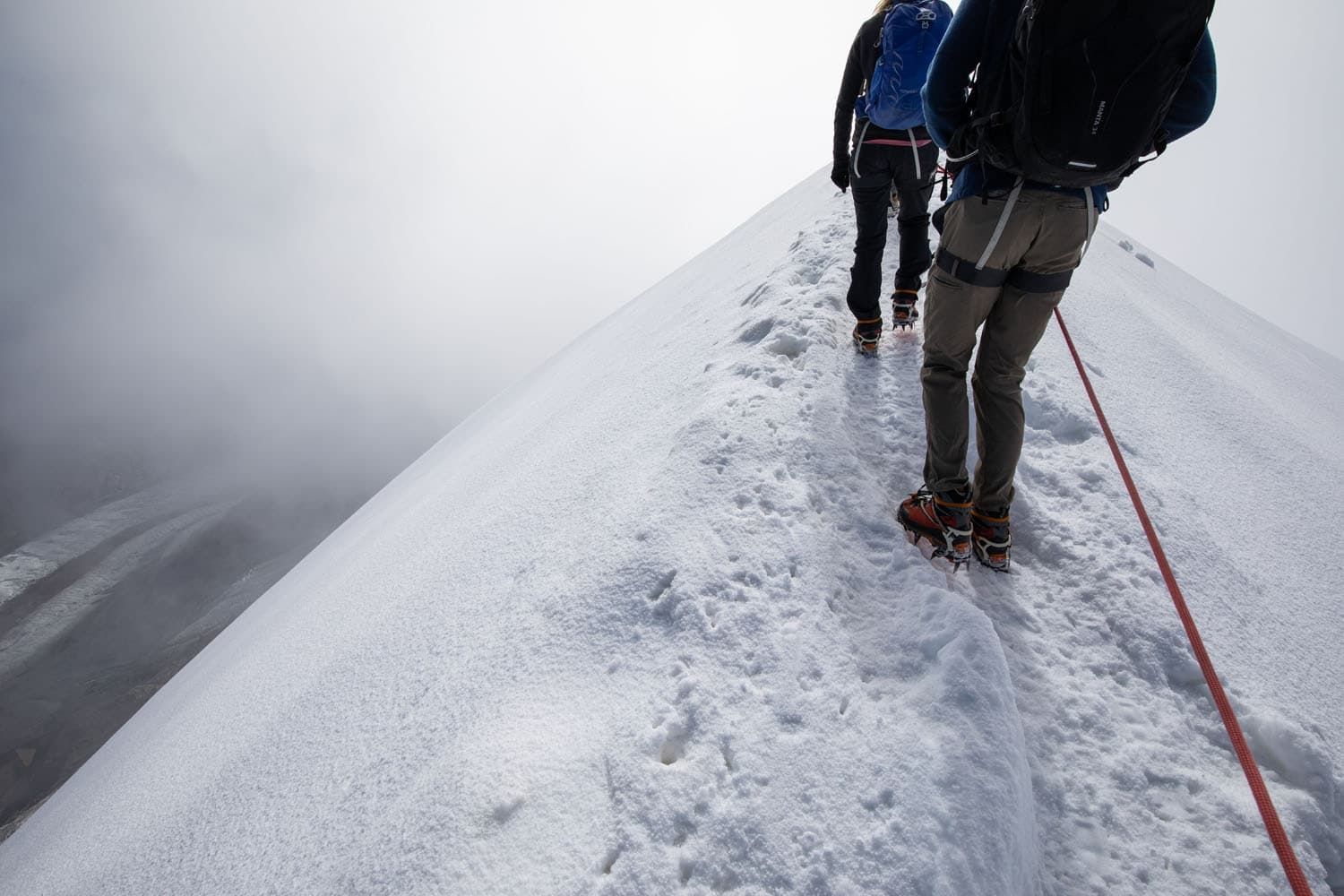 Near the summit, you walk along a ridgeline of snow…one misstep could be a disaster.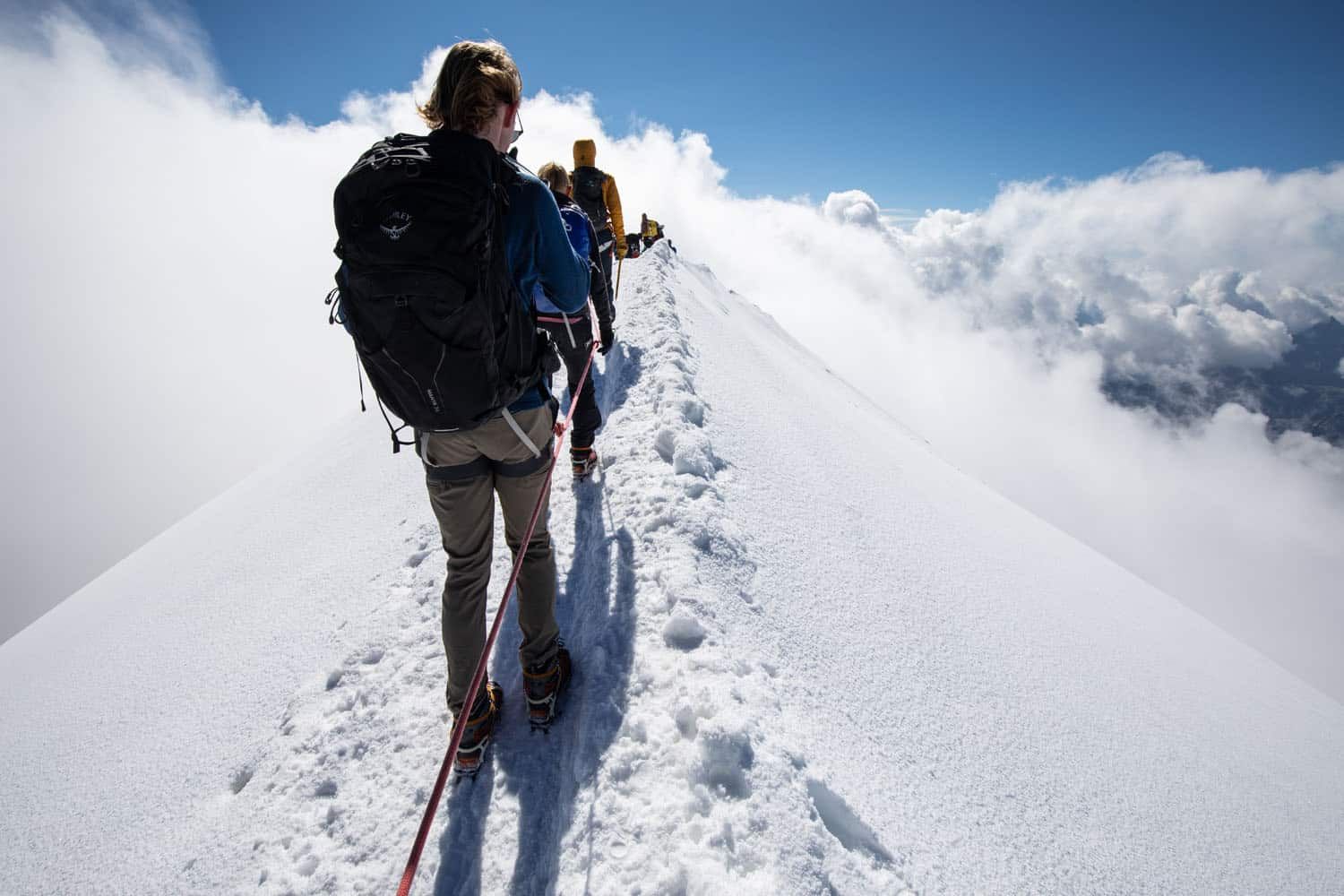 10 minutes later we had reached the summit, standing at an elevation of 4,164 meters (13,660 feet). The views here were spectacular!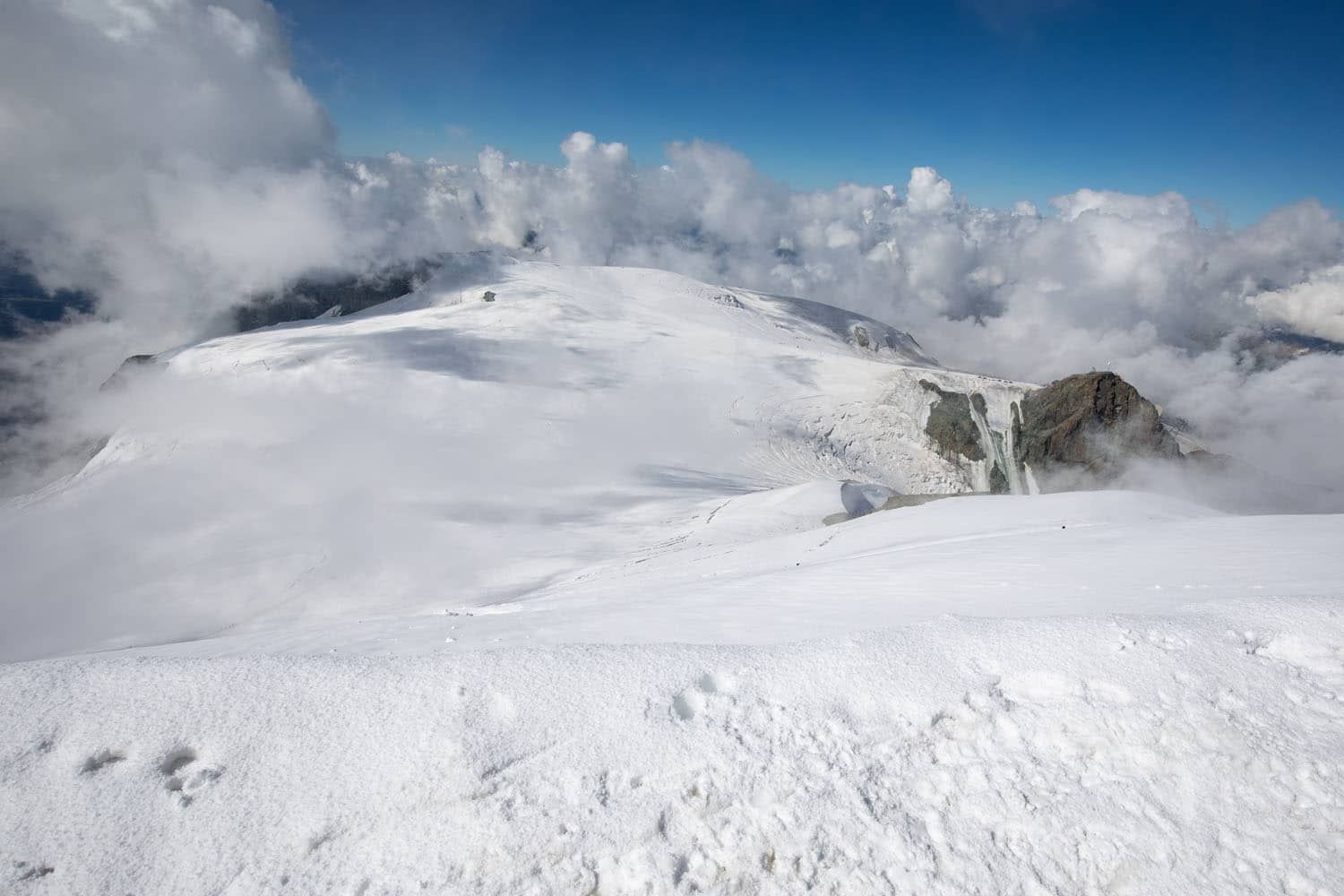 View from the top of Breithorn.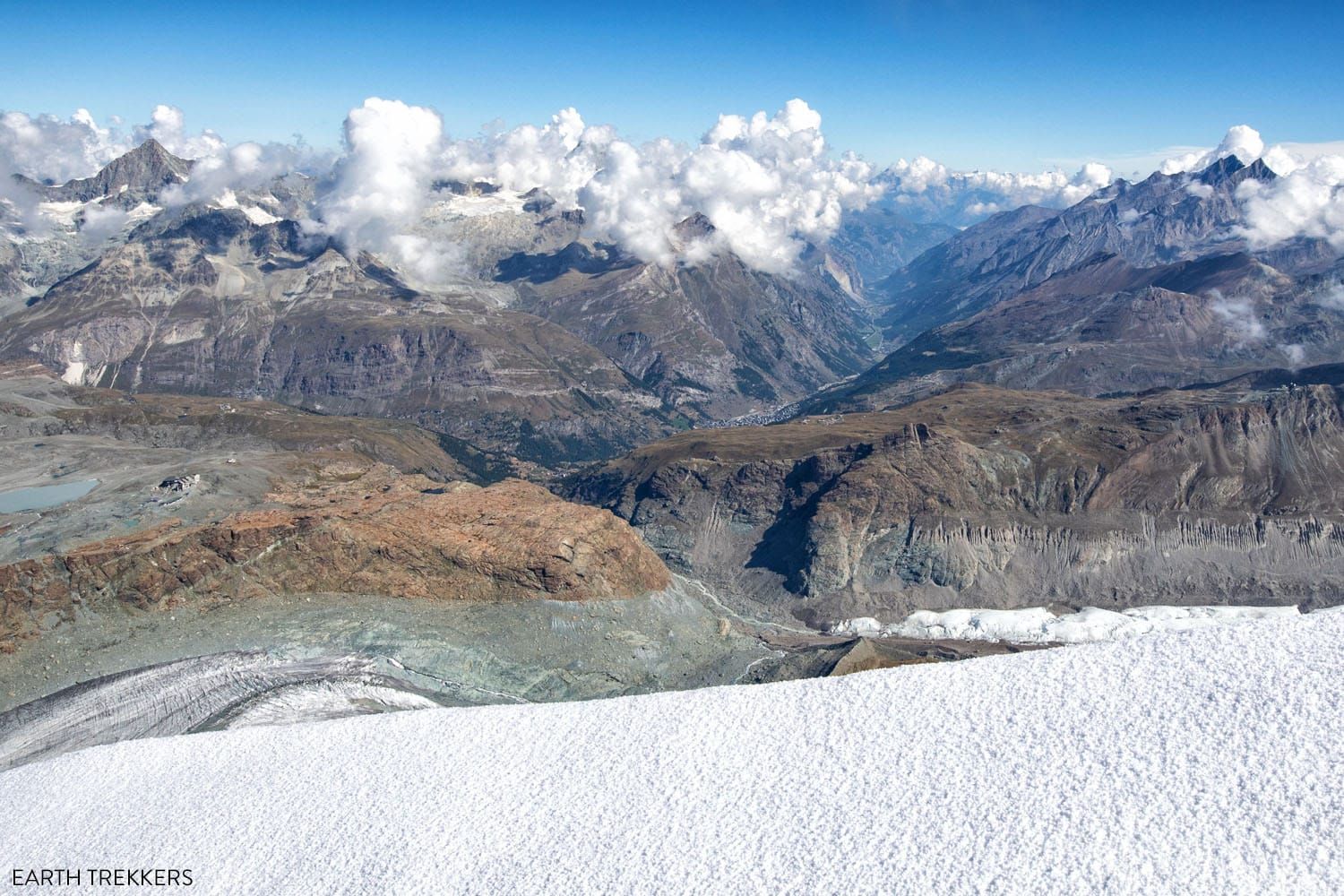 Another view from the top of Breithorn.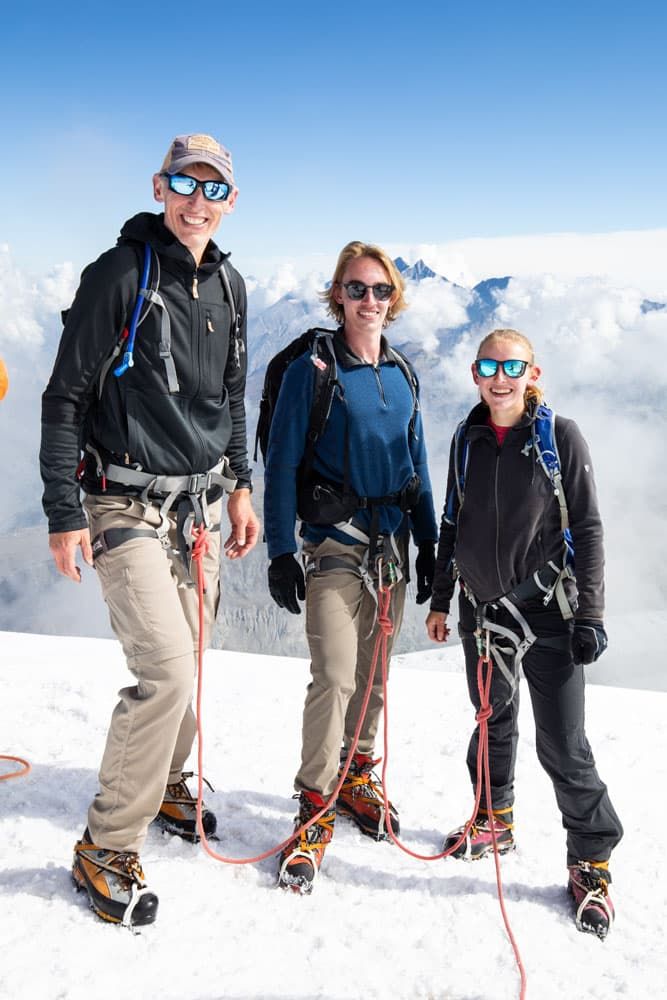 After a quick celebration and lots of photos, we made our way down the same trail we came up. By now it was warmer than when we started, and the thin layer of ice atop the trail had melted, leaving loose snow. We essentially flew down the mountainside as we half hiked, half skied down Breithorn.
Here are a few photos of Breithorn taken during the descent.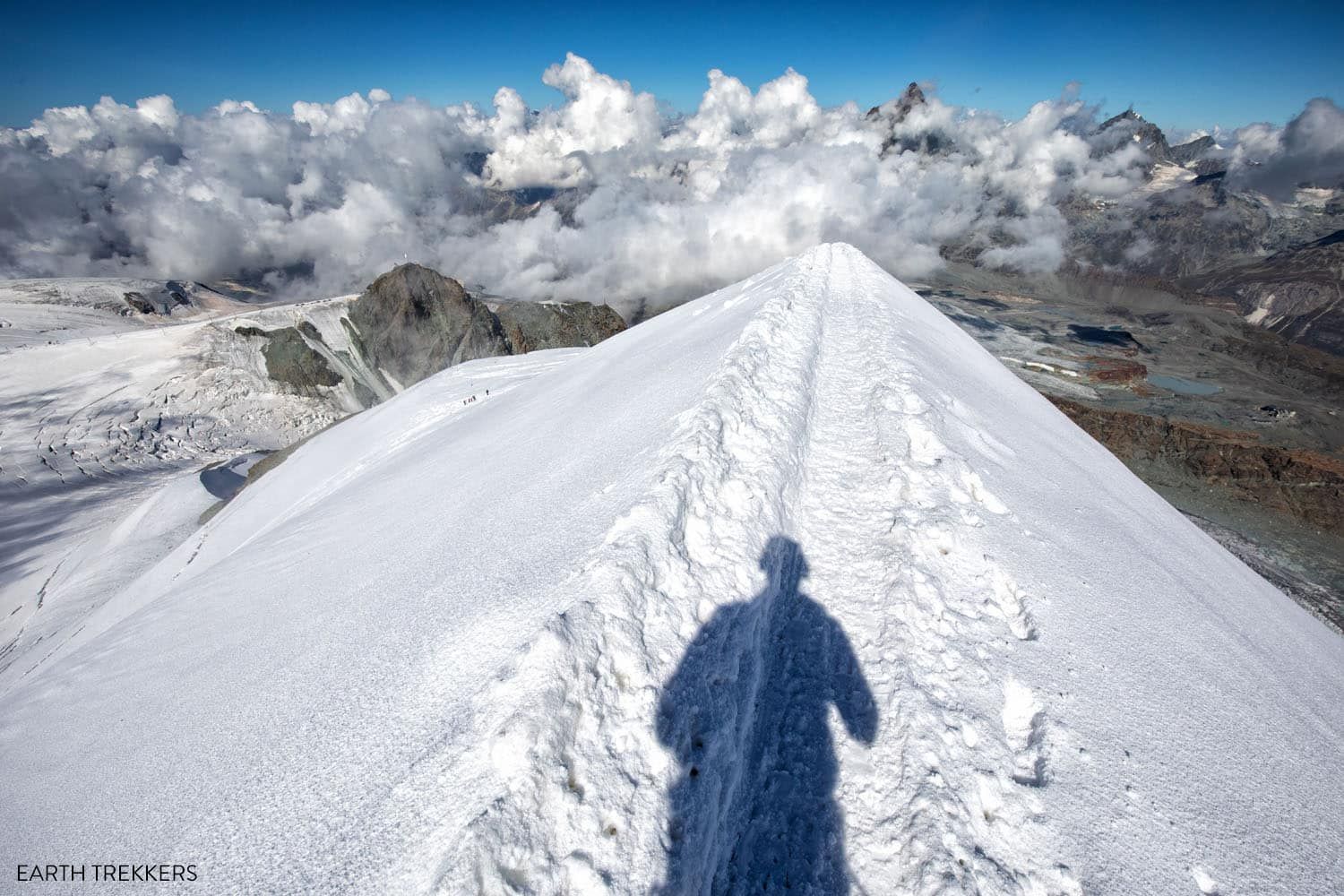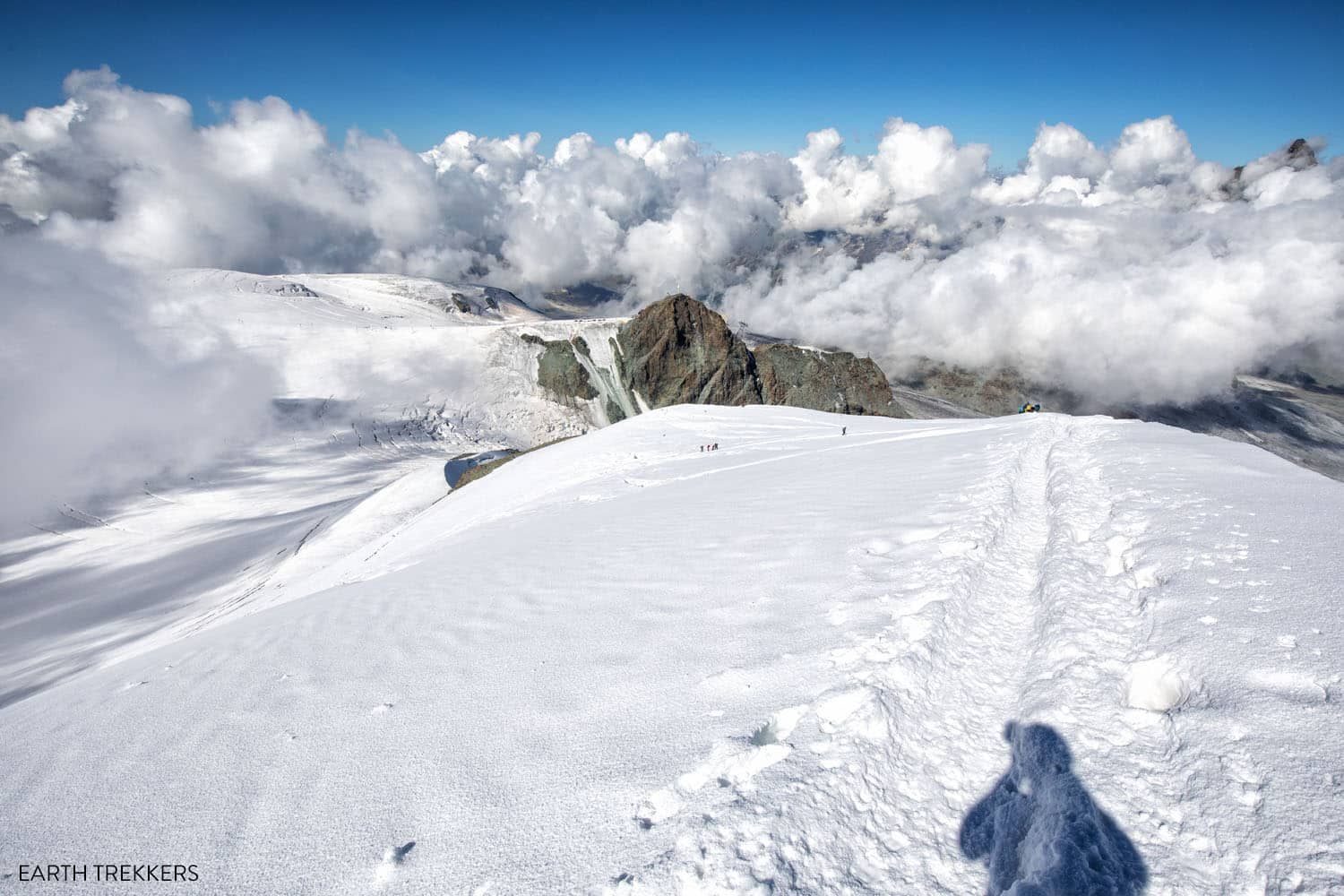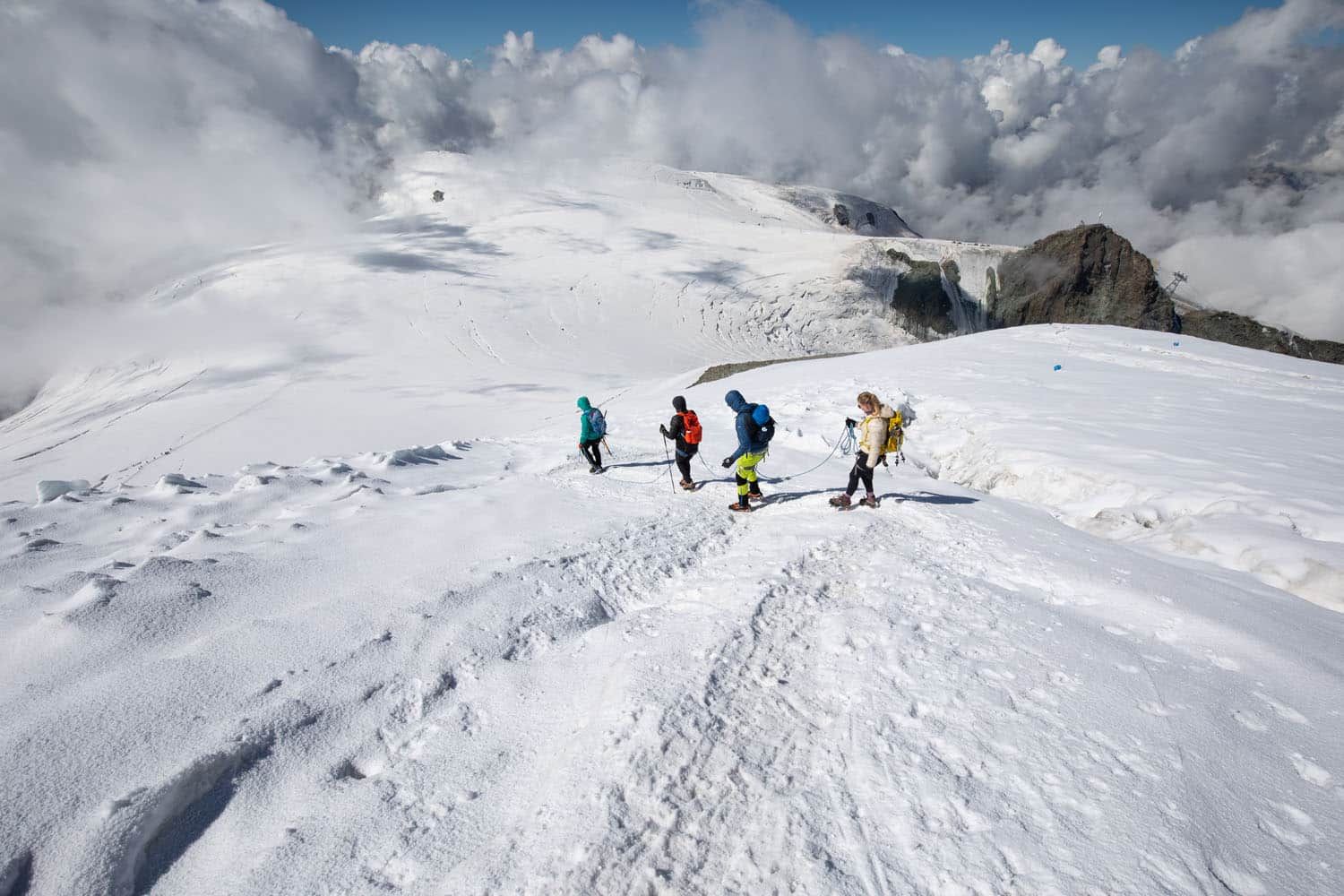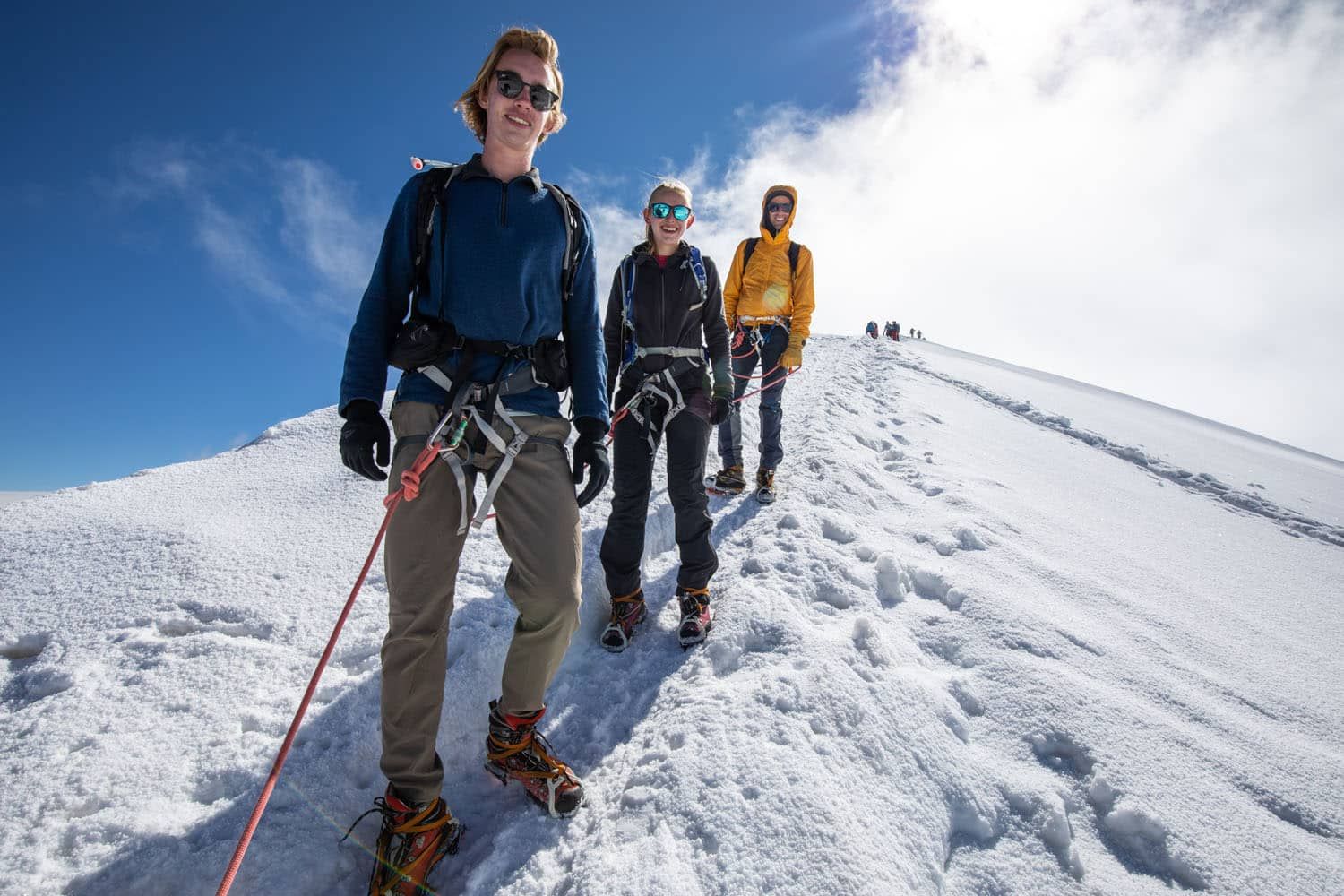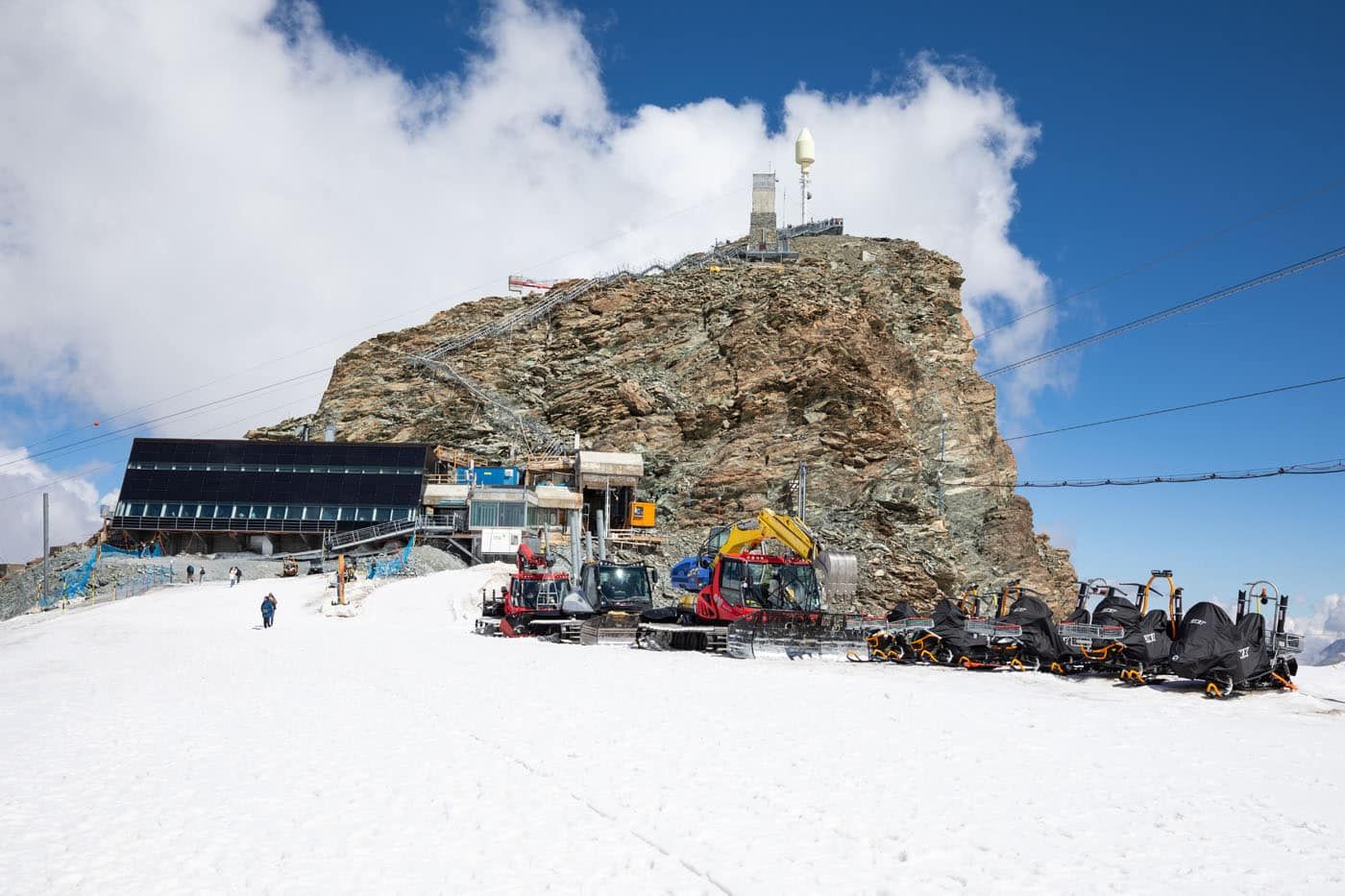 Klein Matterhorn
About an hour after leaving the summit, we made it back to Matterhorn Glacier Paradise, completing one of the coolest hikes we've done in Switzerland.
What to Bring on the Hike to Breithorn
Here is a list of things we packed/wore:
Sunscreen
Sunglasses
Hat and gloves (even in the summer)
Long pants
Long-sleeved shirt
Fleece
Rain jacket
Mountaineering boots or boots that are suitable to be used with crampons (we rented ours from Yosemite in Zermatt)
Water and snacks
Camera
Backpack
Hiking poles (optional)
Zermatters provided the crampons, harness, and rope.
Frequently Asked Questions
How fit do you need to be to hike to the summit of Breithorn?
You need to have a high level of physical fitness in order to do this hike. The hike is relatively short and there is not a lot of elevation gain, but the altitude and the surface (snow and ice) make this much more different than your average hike in Zermatt or Switzerland.
How hard is the hike to the top of Breithorn?
If you are physically fit, sure-footed, and have experience hiking with crampons, the hike to Breithorn is moderately difficult. It helps to spend some time hiking in Zermatt or another location in the Alps for at least several days before hiking to Breithorn, to acclimate to the higher elevation.
We did this hike after completing the Haute Route and Breithorn felt easy compared with the climbs on many of the stages during the trek.
How long does it take to hike to the top of Breithorn?
On average, it takes about 3 to 3.5 hours to hike out-and-back from Matterhorn Glacier Paradise (Klein Matterhorn) to Breithorn.
The entire excursion, which includes transportation to and from Zermatt, takes about 5 hours.
Can kids hike to the top of Breithorn?
It is generally recommended that kids under the age of 12 skip this hike.
---
If you have any questions about hiking to the summit of Breithorn, or if you want to share your experience, let us know in the comment section below.
More Information about Zermatt, Switzerland, & Hiking in Europe
MATTERHORN GLACIER PARADISE: Learn how to visit Matterhorn Glacier Paradise, the highest cable car station in Europe. The Matterhorn Glacier Trail is an easy and very scenic hike that runs from Trockener Steg to Schwarzsee and can easily be added on to Matterhorn Glacier Paradise.
HÖRNLIHÜTTE: The Hörnlihütte is as close as you can get to the Matterhorn without actually climbing it and is a must-do if you are an avid hiker. Learn how to get here in our article How to Hike to Hörnlihütte.
SUNNEGGA & ROTHORN: In our Guide to Sunnegga, Blauherd, and Rothorn, learn how to visit this area, what there is to do, and how to spend one day visiting the highlights.
BEST OF ZERMATT: For more great things to do, read our article Best Things to Do in Zermatt. And for the best hikes in Zermatt, take a look at our Zermatt Hiking Guide.
SWITZERLAND ITINERARY: If your visit to Zermatt is part of a bigger trip to Switzerland, check out our Switzerland Itinerary, which has suggestions on what to do if you have 7 days, 14 days, or even longer.
MORE GREAT HIKES IN SWITZERLAND: The Bernese Oberland is one of Switzerland's top hiking destinations. Hike the short, incredibly scenic trail from Männlichen to Kleine Scheidegg, walk the Northface Trail from Mürren, or hike from Schynige Platte to Faulhorn, a longer, more challenging, but awesome hike in this region. We also recommend hiking the Hörnlihütte Trail and Gornergrat to Riffelberg in Zermatt and hiking the Gastlosen Tour near Gruyères.
MORE GREAT HIKES IN EUROPE: From thrilling trails in the Alps to easy walks along the coast, read our article 20 Best Hikes in Europe for some beautiful hiking trails to put on your travel wish list.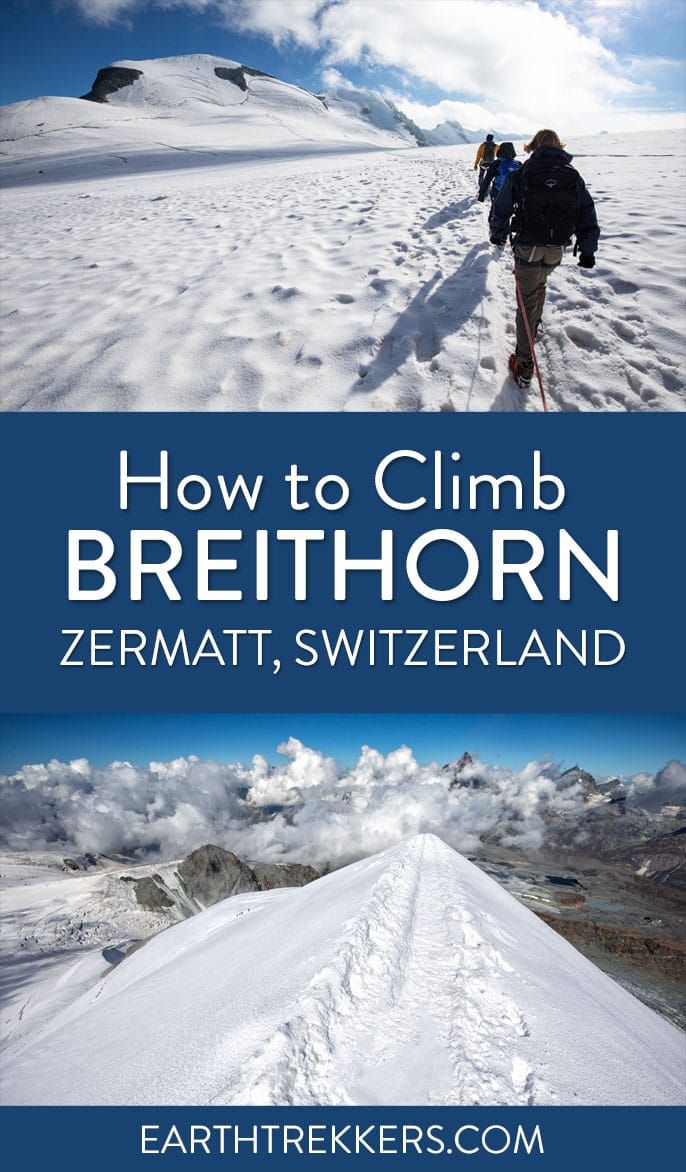 All rights reserved © Earth Trekkers. Republishing this article and/or any of its contents (text, photography, etc.), in whole or in part, is strictly prohibited.