It was our last night in Seoul. I had just finished doing the laundry and preparing our things for our early flight to Jeju the next morning. It was 9 pm and Tim and I were hungry so we decided to go out and get a quick bite to eat. Leaving Tyler and Kara in our hotel room, we vowed that we would just get something quick and cheap to eat, so we could all get a good night's sleep before waking up early for tomorrow morning's flight to Jeju Island.
Tim and I have been intrigued by the alleyway of restaurants near our hotel. The fish place that we smell before we see it has always caught our interest as we walked by, but tonight neither of us felt motivated enough to pick around the bones. We walked down the alleyway and picked the first restaurant that was filled with people. Those are usually the best.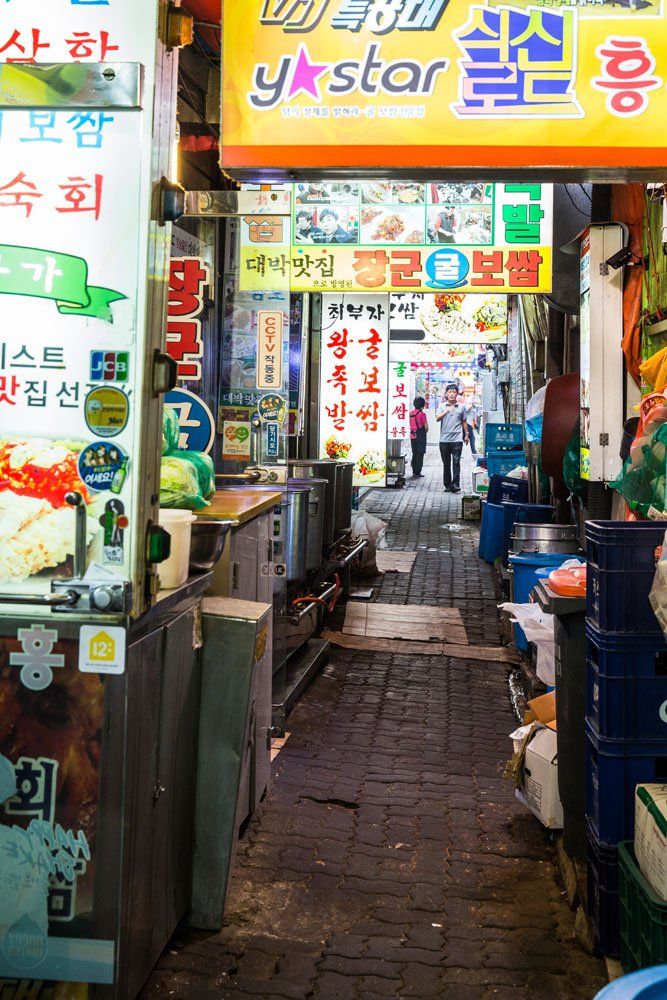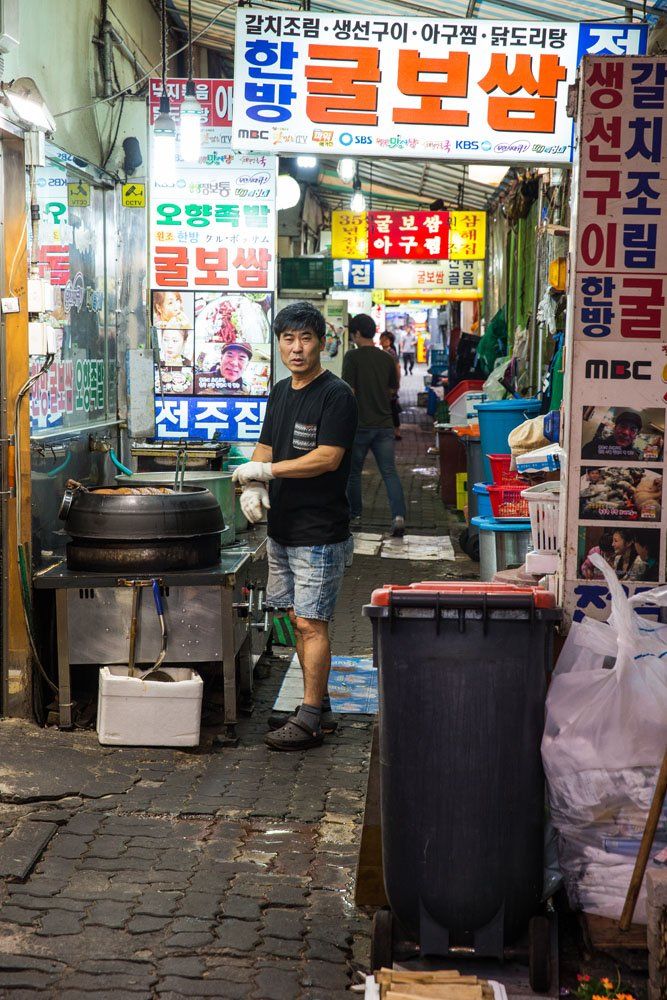 I wish I knew the name of the restaurant where we ate because this was an awesome experience. This is another one of those restaurants only visited by the locals. As we were shown to our seats, walking through the kitchen first and then through the restaurant, we received a lot of stares.
We do these kinds of things with a mix of excitement and trepidation. The menu is in Korean, in the photos we cannot tell exactly what we will be eating or if we will like it, and there is always the difficulty of communicating with the wait staff. But these things are also what makes travel so much fun…going outside of our comfort zones and feeling lost and having to find our way.
One year ago, Tim and I never would have sat down in a restaurant like this. As we have traveled, we have learned that putting ourselves in these situations usually creates the best memories.
Our waitress, who spoke 0% English, showed us a menu with four choices illustrated in color photographs. I am glad I still remember those Chinese characters from our travels through China. I picked the stir fried octopus, small (xiao) size, for 20,000 won. At $20, so much for a quick snack, right?
Tim wanted a beer so he pointed to a picture of Korean alcohol. And so the fun begins.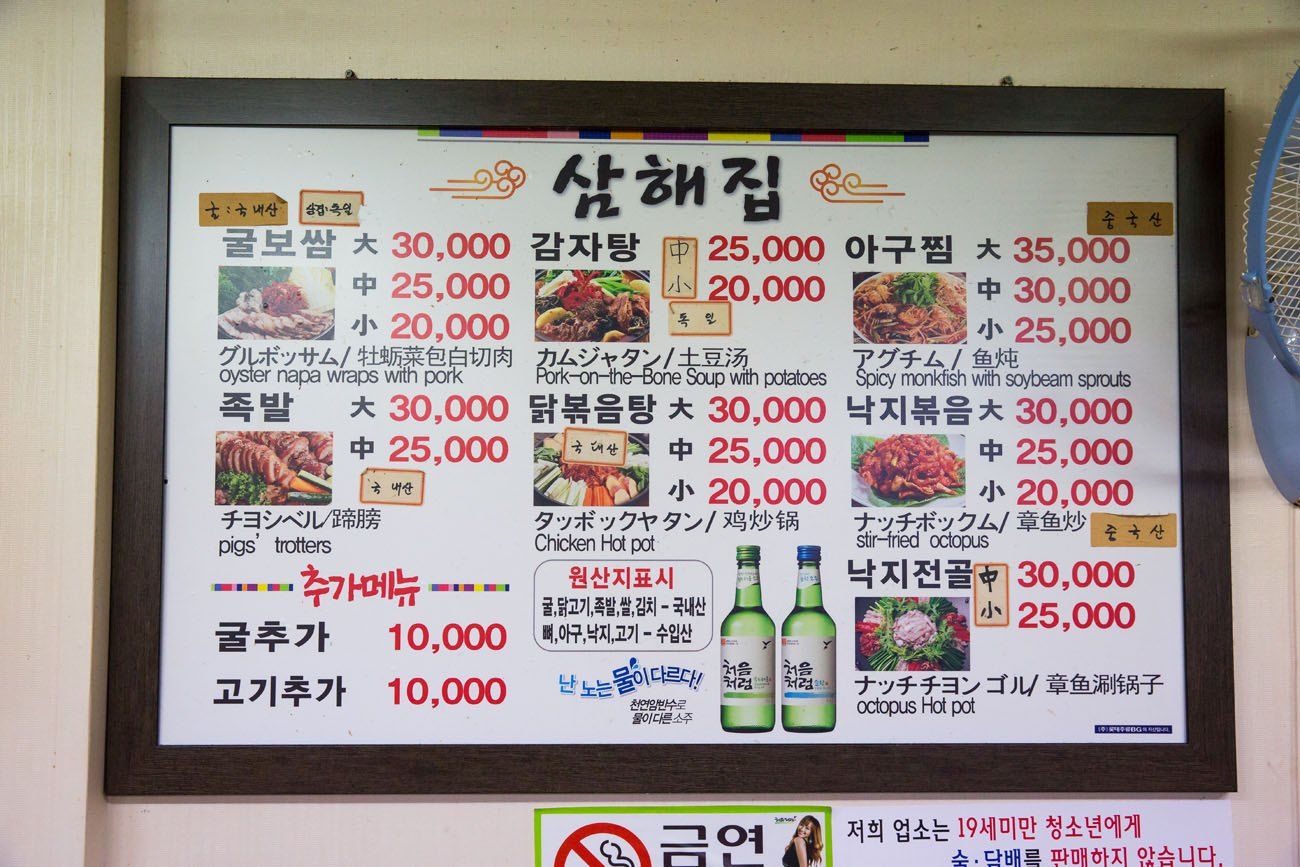 Our hot plate was turned on and multiple dishes of mystery food were brought over. A pot of broth containing leaves of some kind of vegetable as well as bones with a minimal amount of meat was put onto the hot plate. On the table were small dishes of tiny, salty shrimp, kimchi in a red, spicy sauce, lettuce leaves, dipping sauces, and more. Some of it looked unappetizing and a bit scary. Tim's "beer" may have been some version of Korean sake, although that is just a total guess on our part.
A huge plate of steaming octopus with onions, peppers, and garlic was served. So much for that snack!
As soon as I tasted it, I knew that coming here was totally worth being tired tomorrow. I knew I was going to eat too much and stay up too late but this was tons of fun.
While I shared Tim's "Korean beer" we sampled all of the food on the table. The soup was good, the miniature shrimp were very, very salty, and the octopus was amazing. That Korean beer was very strong and by the time I finished dinner I had a very good buzz going.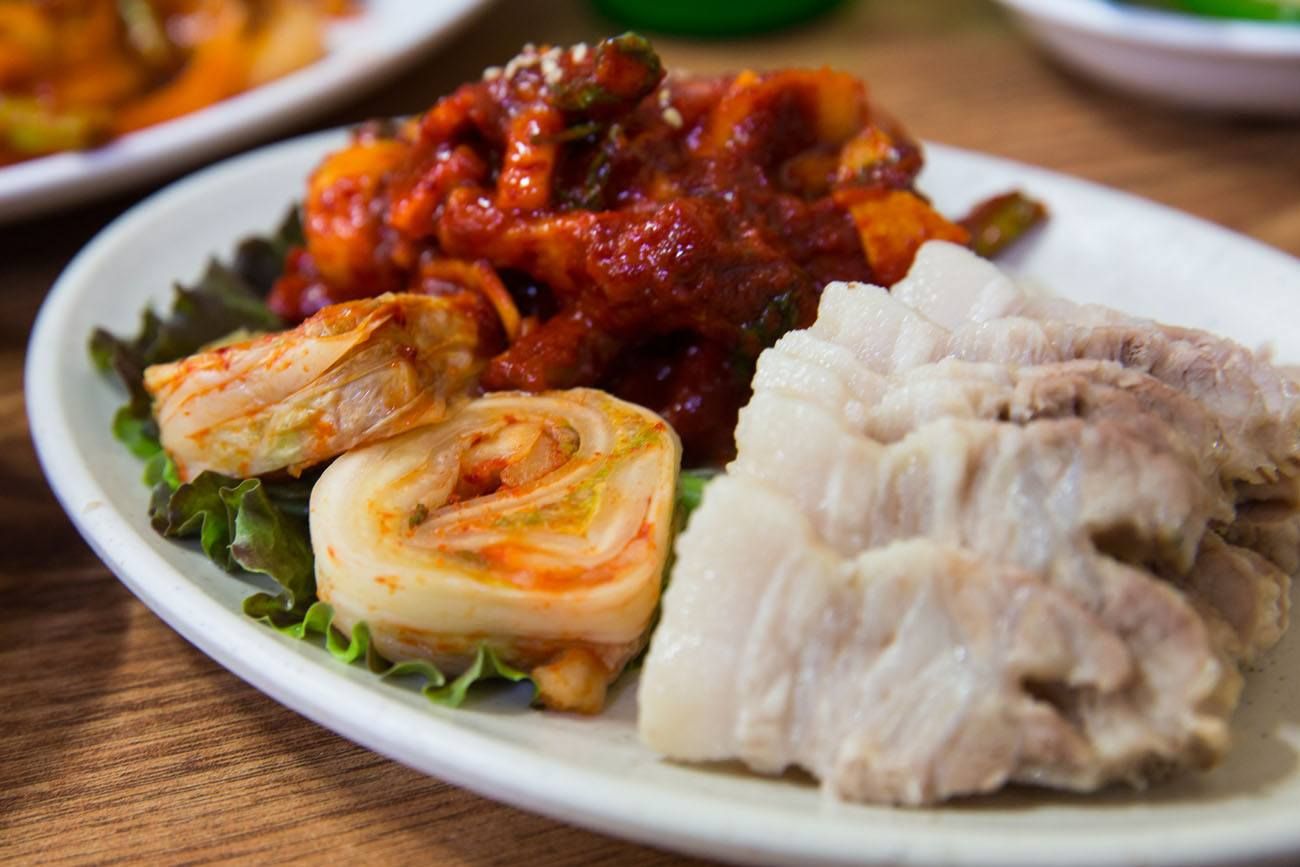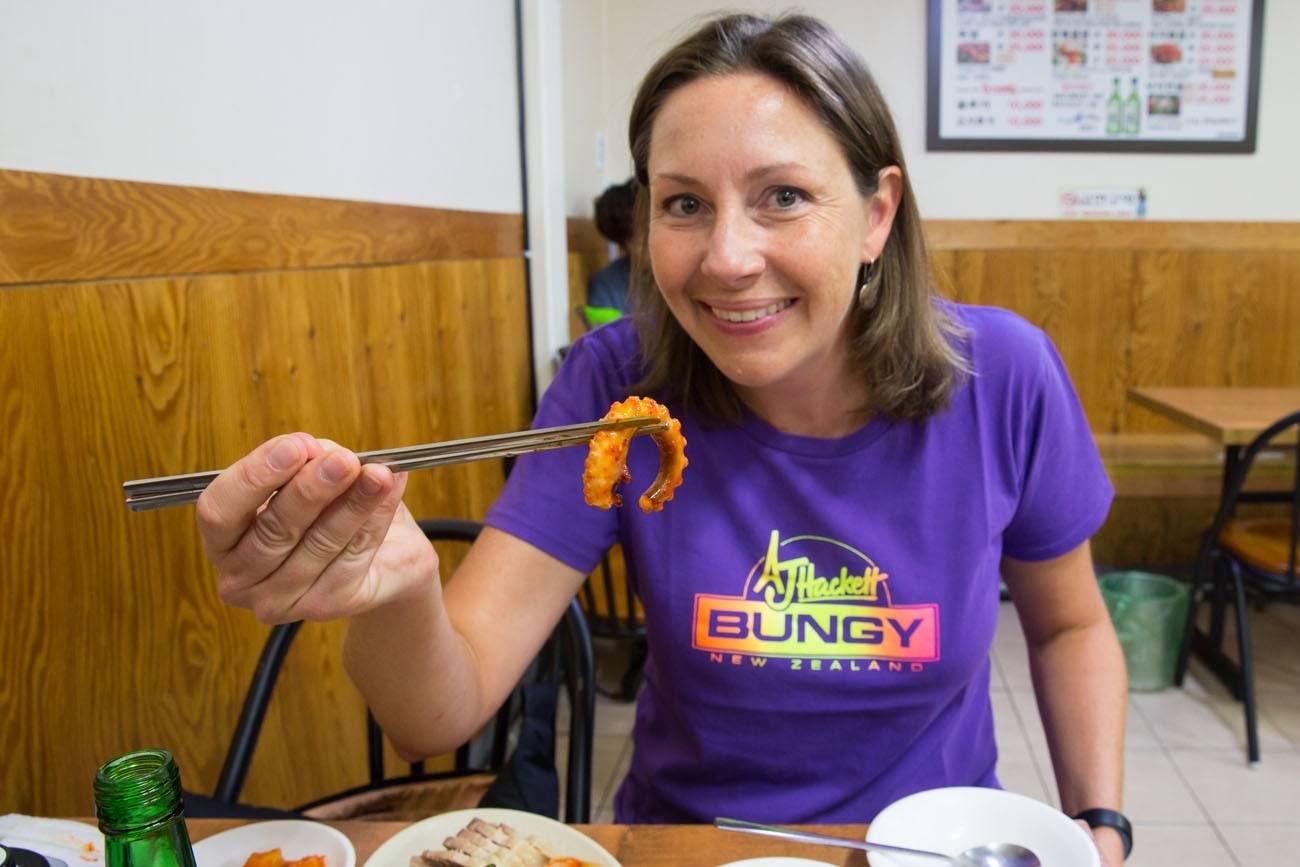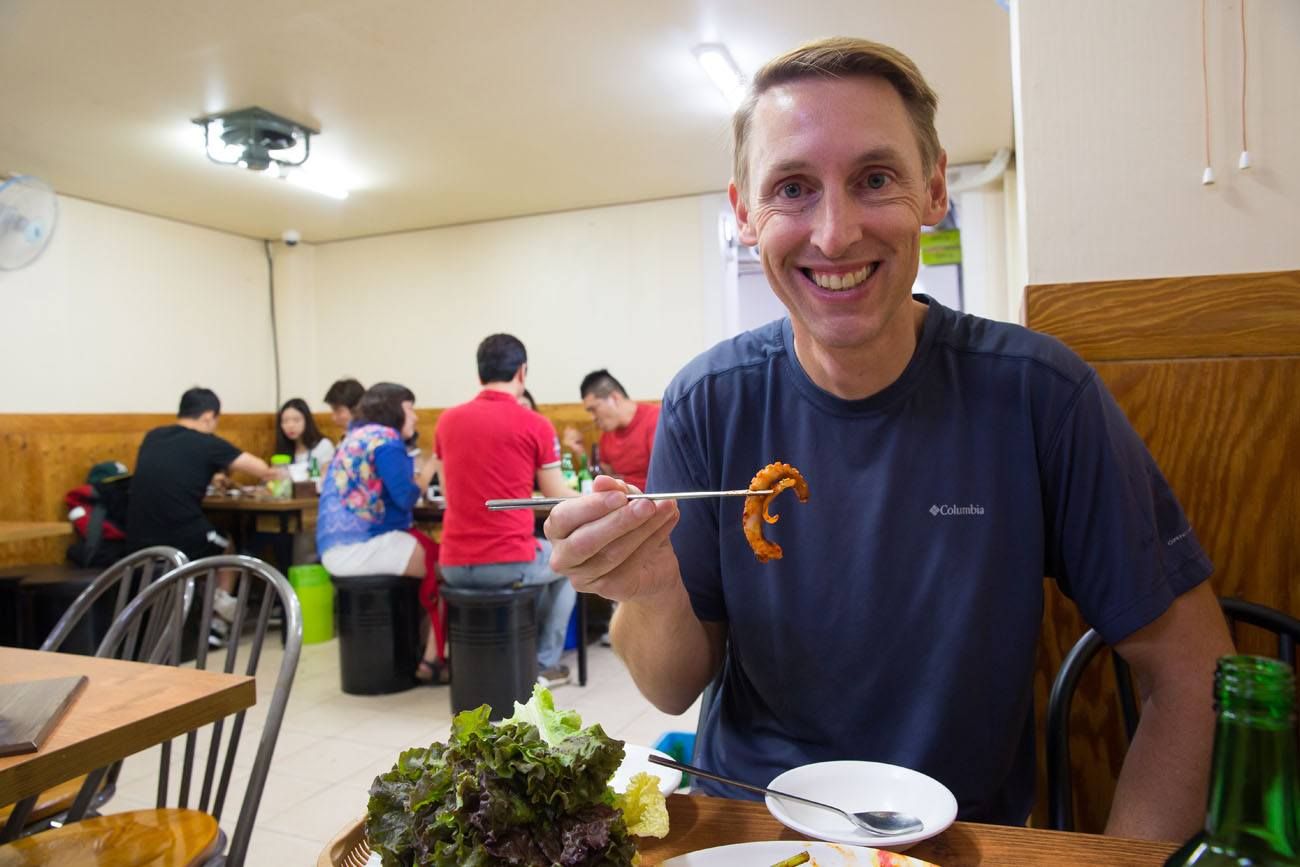 Just when we were ready to get up and leave, a group of five Korean men sat down at the table next to ours. One of them, Kyongfeel, was already slurring his words, making his friends laugh.
We watched and learned what was really supposed to be done with all of this food in front of us. They were not drinking the beer directly from the bottle, like we had been, but pouring it into the provided shot glasses.
They noticed us watching them and they struck up a conversation with us. Kyongfeel spoke English and he was hysterical. Tim filled everyone's glass with a shot of the Korean "beer" and we were invited over to their table.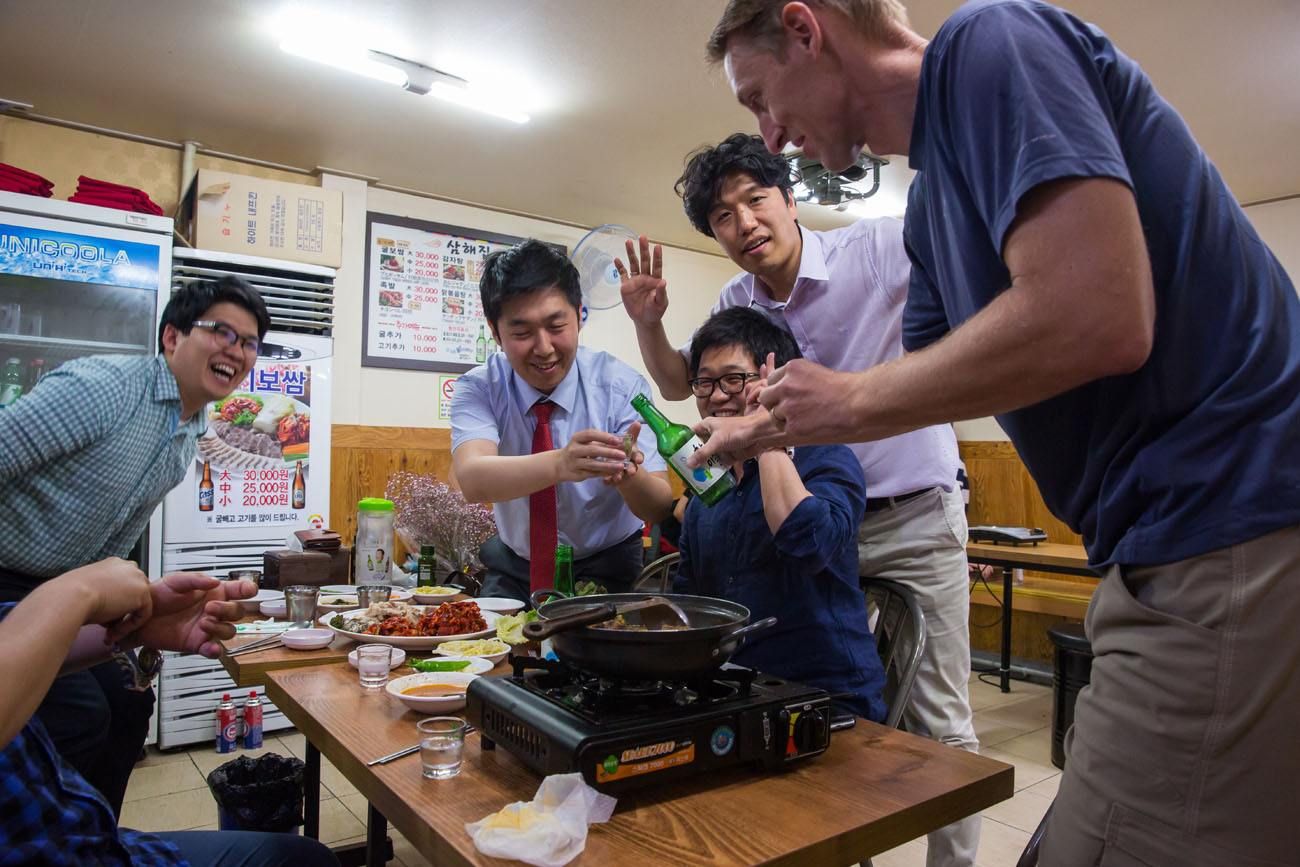 For an hour we talked to them, about Korea, about their lives, about our travels, and we had them name all of the food on the table (we were so happy to put names to what we have been eating the past two days).
We kept refilling each other's shot glasses and before I knew it, I had way too much to drink.
Our quick snack turned into a culinary adventure and then binge drinking with our new Korean friends. Tim and I were having a blast. However I felt tomorrow, I knew it would be worth it.
They kept trying to give us their hangover cures, a liquid in a green bottle that reminded us of 5 Hour Energy at home, but at the time I thought they needed it more than me. I refused their offer, wrong decision.
I had no idea just how strong this Korean alcohol is.
After taking some photos together, the restaurant closed and it was time to say goodbye. What an awesome night!
With Tim's help, I stumbled back to our hotel. I haven't been like this since college and all I had was one and a half bottles of "Korean beer." Wow!
It was going to be rough morning tomorrow, waking up early and packing for our flight to Jeju.
But it was worth it, trying new foods and making new friends.
UPDATE on that "Korean Beer:"
What we thought was beer is really called "soju," the national alcohol of Korea. I was surprised to learn that soju is the world's most popular spirit, outselling rum, whiskey, and vodka. It is drank neat out of shot glasses and works amazingly fast.
My experience is proof of that, for sure.
Here's a quote from someone's experience with soju: "Soju is only 20% but there's something else in it that creeps up on you like a deranged hooligan with a 2X4 behind his back that wallops you across the back of the head. You can't say you've lived in Korea until you've had your Soju experience, flat on your ass, and praying for a quick death…"
Well, that about sums it up! No more soju for me, please!
---