Puffins nest in Iceland from late-April through mid-August. They can be found along the coast throughout Iceland, but there are a few places where you can easily see enormous colonies of these birds.
Some of the most popular places to see puffins in Iceland are Heimaey Island, Hornstrandir Nature Reserve and the Latraberg Cliffs on the Westfjords, and Dyrholaey Arch in south Iceland.
Borgarfjörður eystri is one of the safest places in Iceland to see puffins. Boardwalks and viewing platforms have been erected so that you can get up close to the puffins without damaging their burrows. It is estimated that 10,000 pairs of puffins nest here from mid-April through mid-August.
If you are road tripping around the Ring Road, getting to Borgarfjörður eystri may feel a bit out of the way. And it is. But this experience is really more than just seeing a colony of puffins. It's also a fun detour through a beautiful part of Iceland.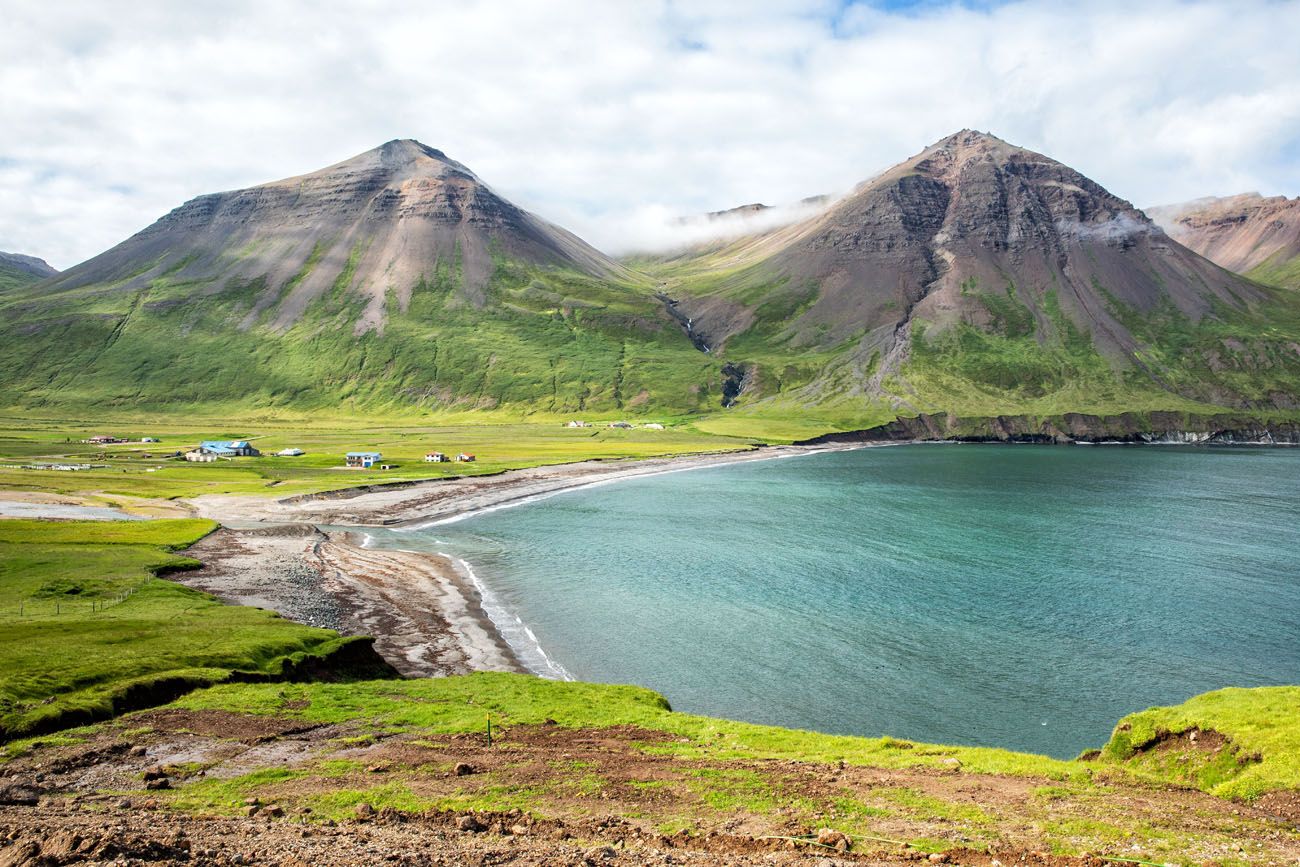 A view of Njardhvik on the drive to Borgarfjörður eystri.
So, if you like the idea of getting up close with puffins and going on cool little road trip, put Borgarfjörður eystri on your list.
Interesting Facts about Puffins
There are several species of puffins. The Atlantic Puffin is the species you will see in Iceland. In fact, Iceland is home to more Atlantic Puffins than any other country, with a large percentage of these puffins nesting in the Westmann Islands.
The colorful reddish-orange bill only appears during mating season (late April through August) and then fades as winter approaches. This brightly-colored beak has earned puffins the nicknames "sea parrot" and "clown of the sea."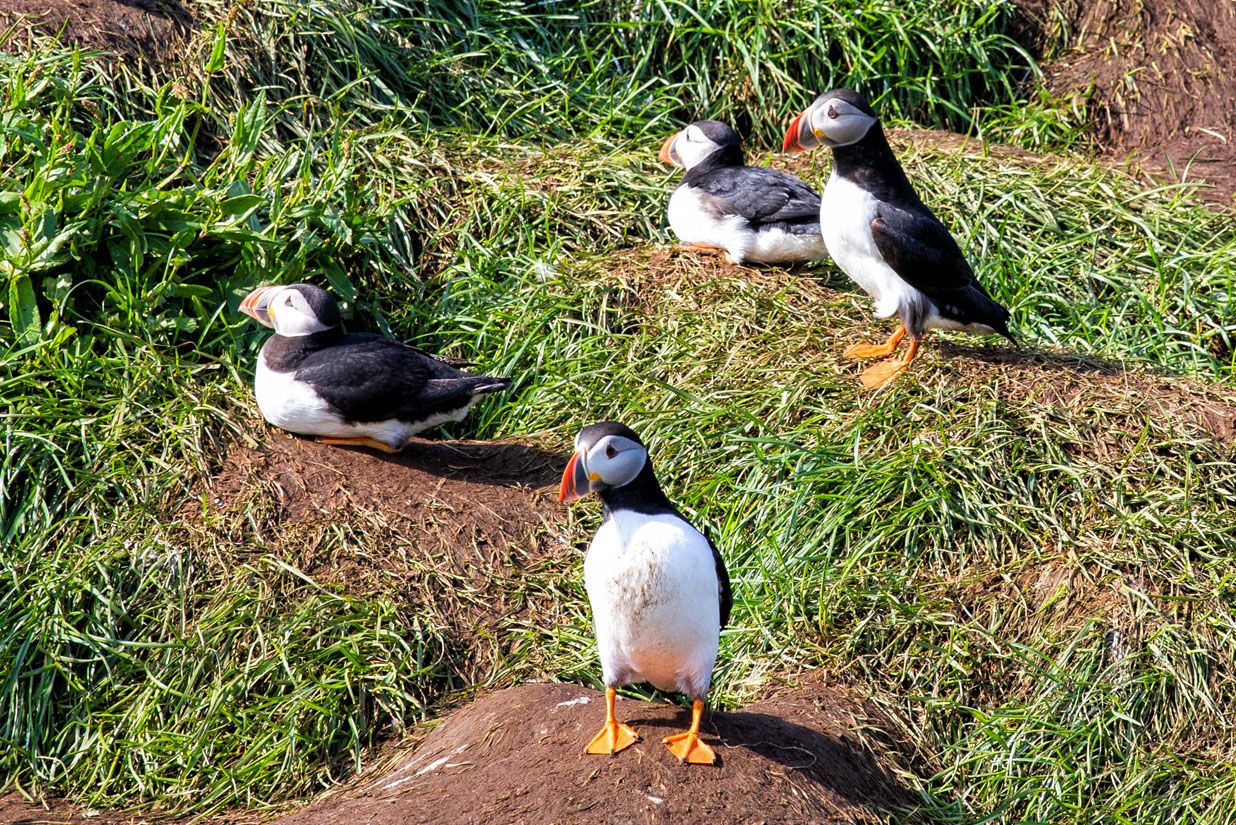 Puffins spend most of their time out at sea. During this time, they live a solitary existence, away from the crowded, busy colonies that we see on land. It's only during breeding season that they nest together on coastal cliffs.
A male and female pair will construct an underground burrow. The female will lay one egg and for roughly 40 days, both parents take turns incubating the egg. Once the egg hatches, the puffling (the puffin chick) and the adults return to sea.
How to Get to Borgarfjörður eystri
Borgarfjörður eystri is located in east Iceland. The nearest large town is Egilsstaðir. From Egilsstaðir, it takes an hour and fifteen minutes to drive to Borgarfjörður eystri.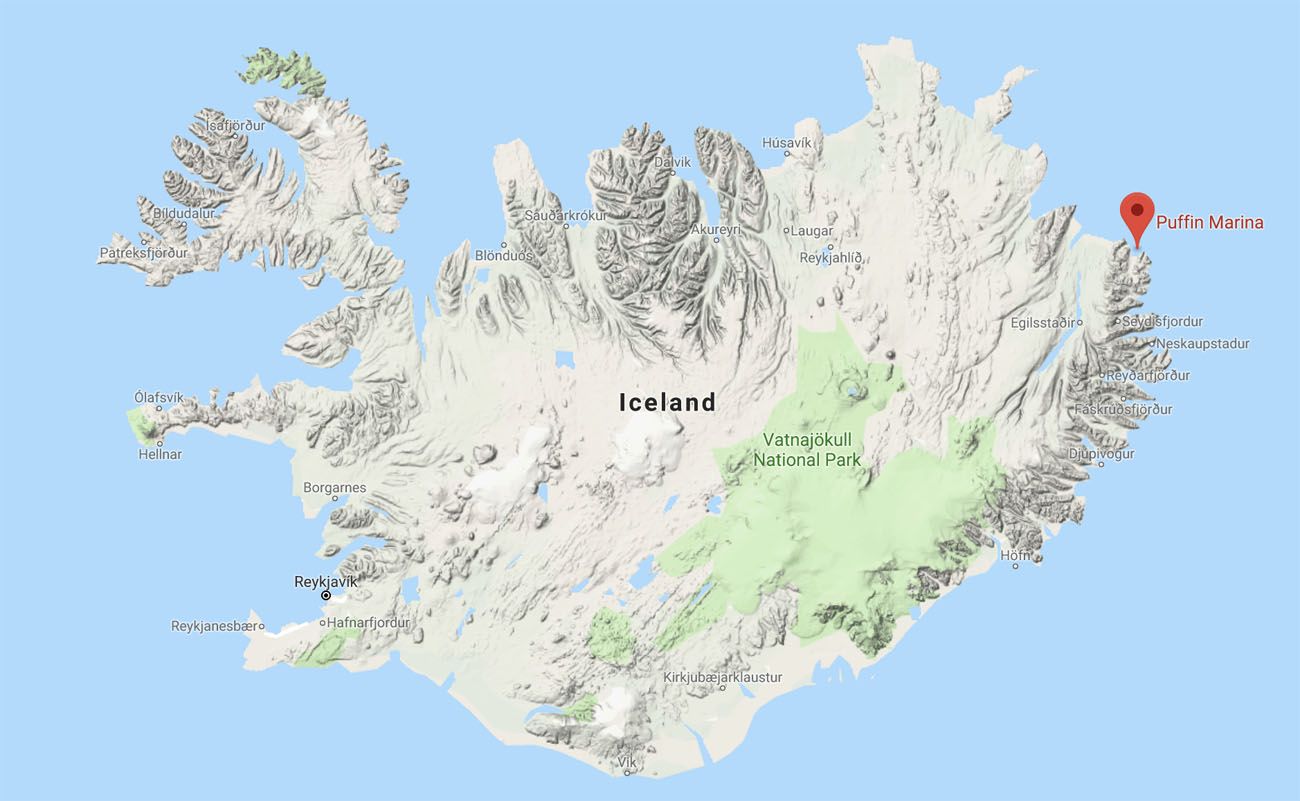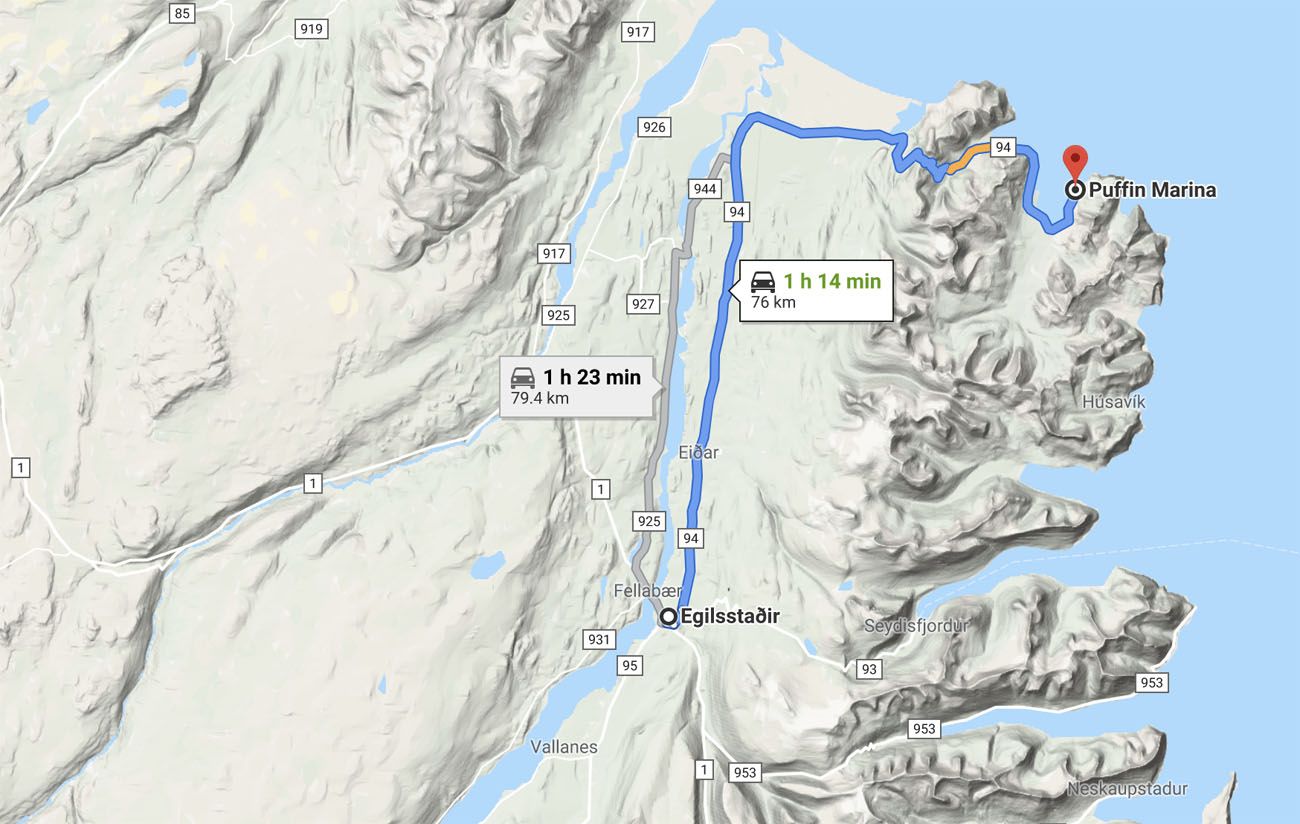 Most of the drive is flat and unexciting. The road alternates between being paved and unpaved.
However, once you get to the mountain pass, this drive becomes a lot more interesting.
Route 94 weaves its way up and over a large mountain near Borgarfjörður eystri. When we made this drive in 2019, the road was unpaved, as you will see in our photos below. In 2023, we got an update that this road is now paved the entire way. Thank you Kathy!
And if the weather is clear, what a view!!
On our drive out to Borgarfjörður eystri, these mountain peaks were covered in low-lying clouds. We had zero visibility so we had no idea on what we were missing. These clouds turned this into a bit of a white-knuckle drive, since we could only see a few meters in front of our car.
Fortunately, the clouds cleared while we visited the puffins. Here are photos of the drive, taken on our drive back to Egilsstaðir.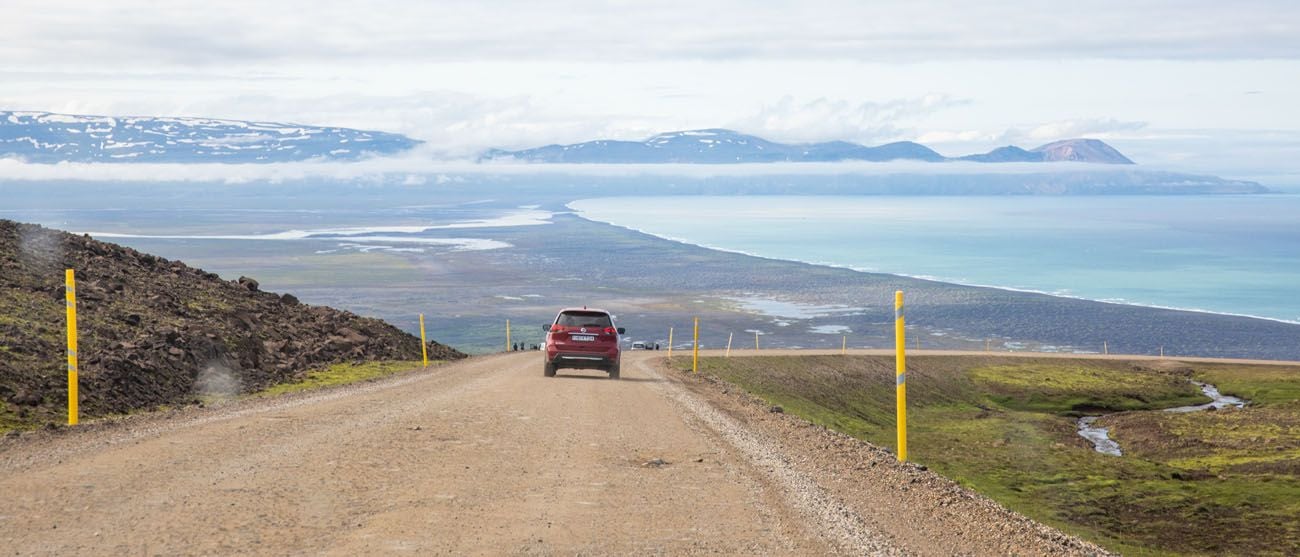 This is the view looking east, back towards Egilsstaðir.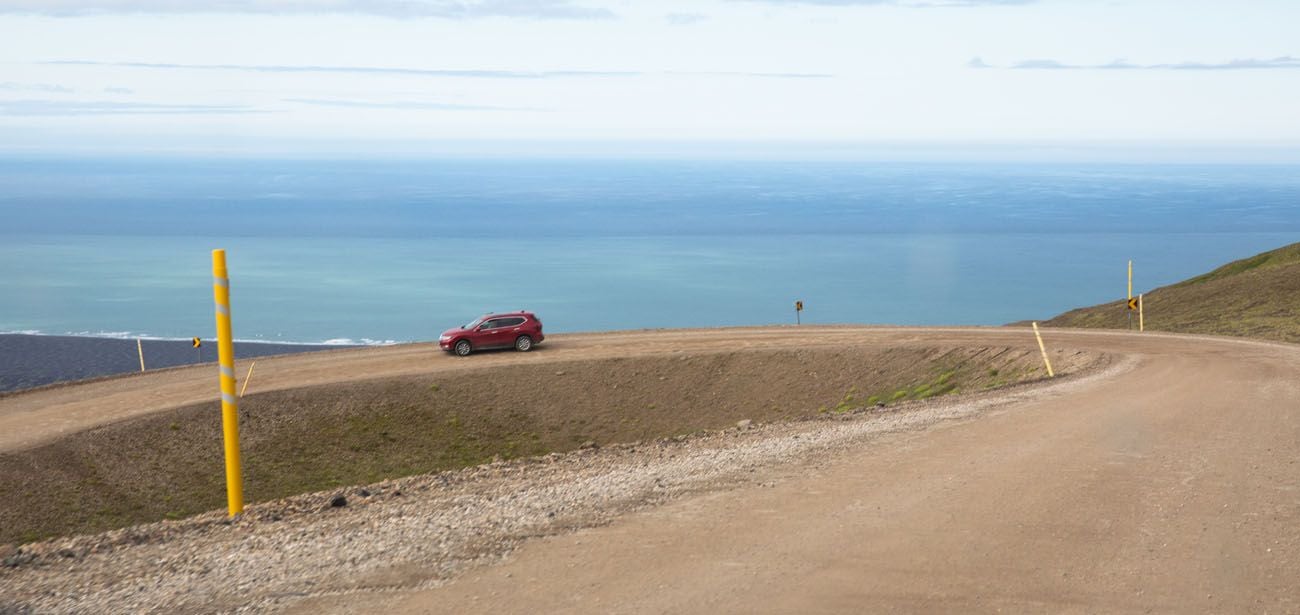 This gives you an idea of what the road is like. Near the top, you have large hairpin turns with no guardrails.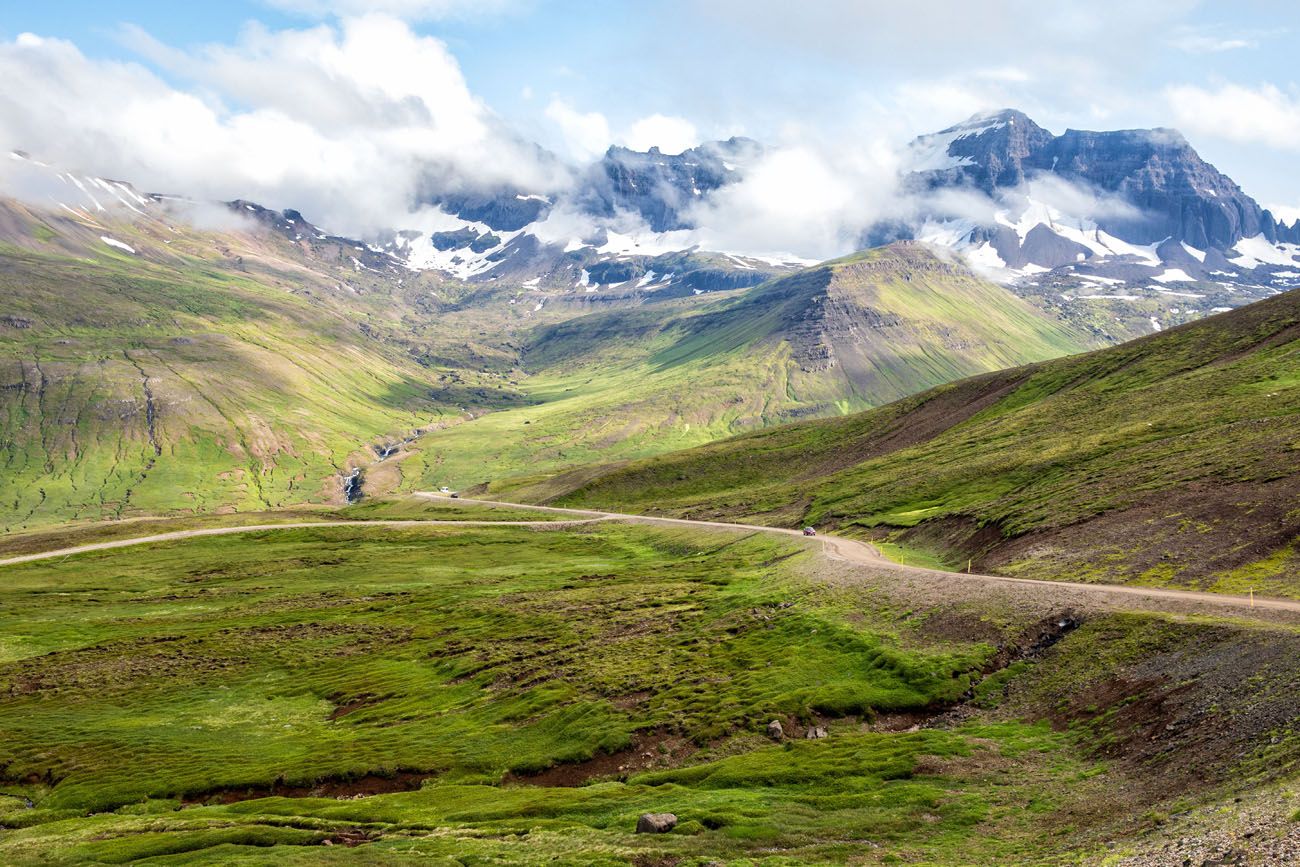 Views of the mountains as you descend down the other side of the pass.
Another view of the road.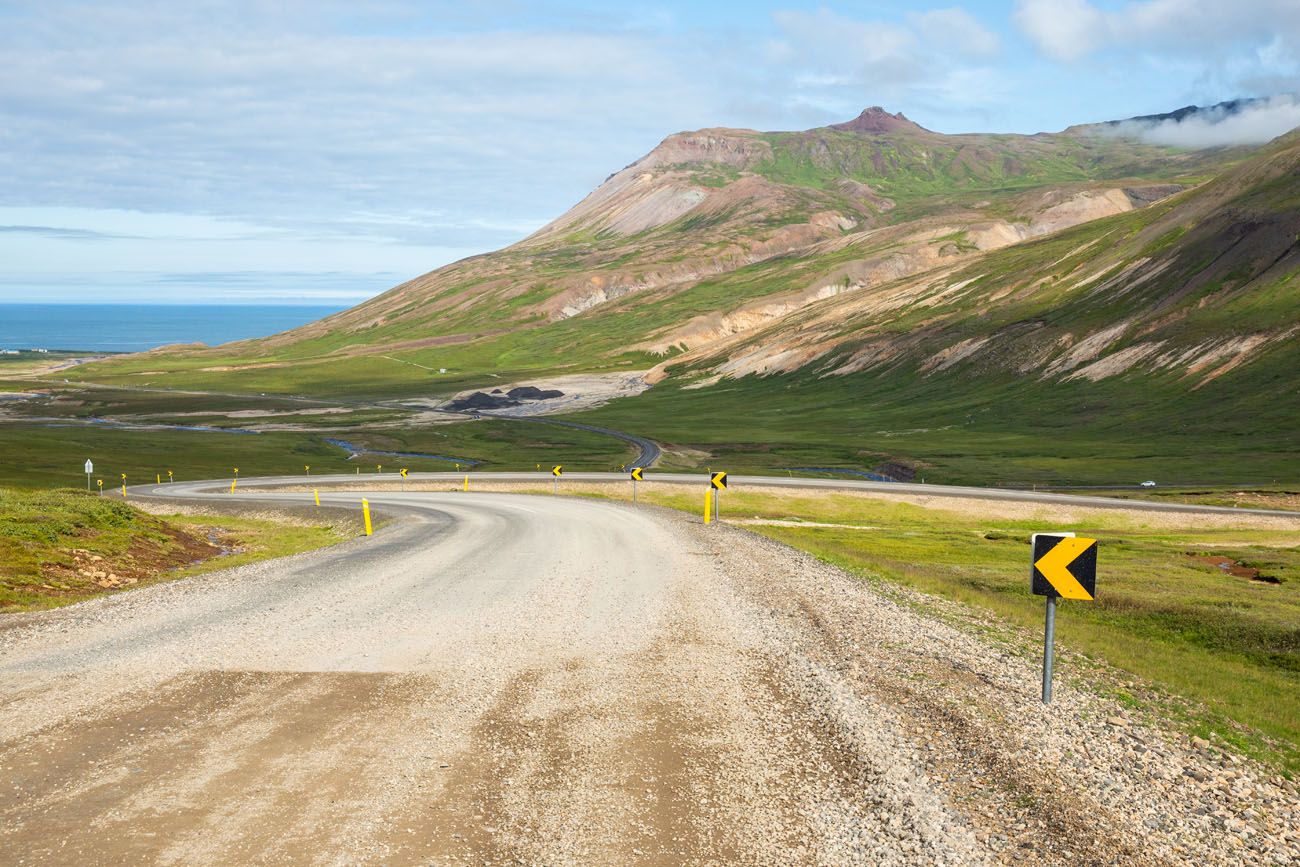 Once you are over the mountain pass, route 94 winds its way along the coast. During our visit in 2019, road construction was in the works. It appears that the road is being widened and it is paved now.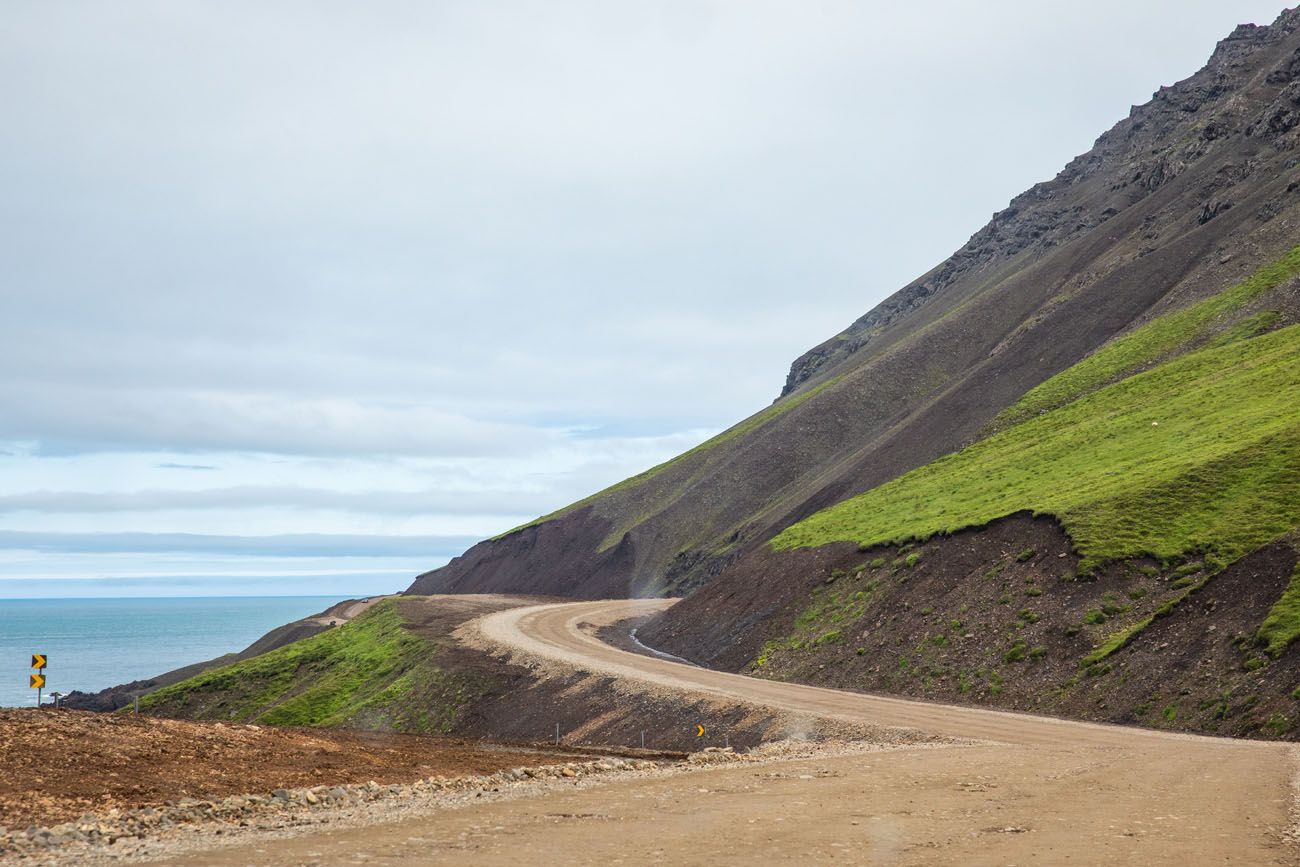 This is what the road along the coast looked like during our visit in 2019.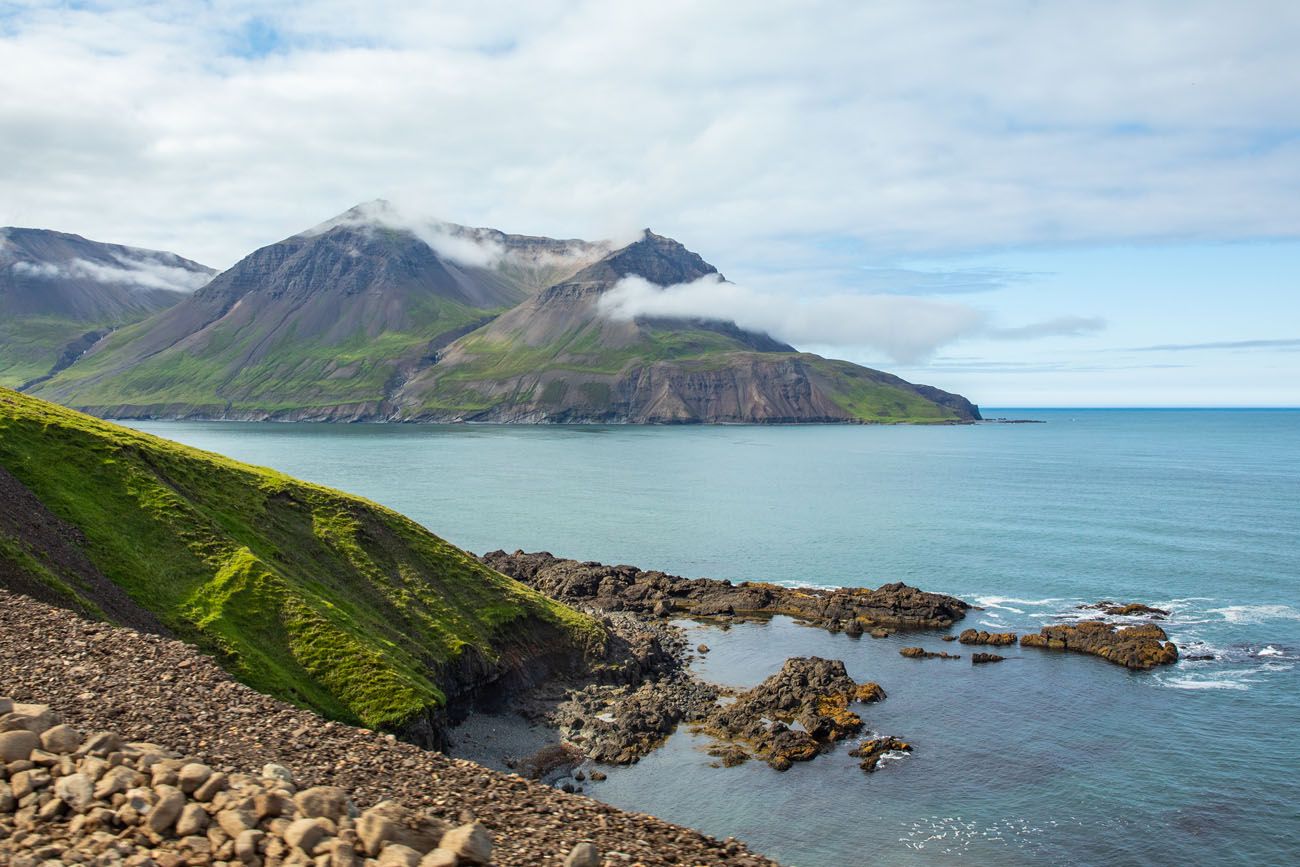 This is the view from the coast.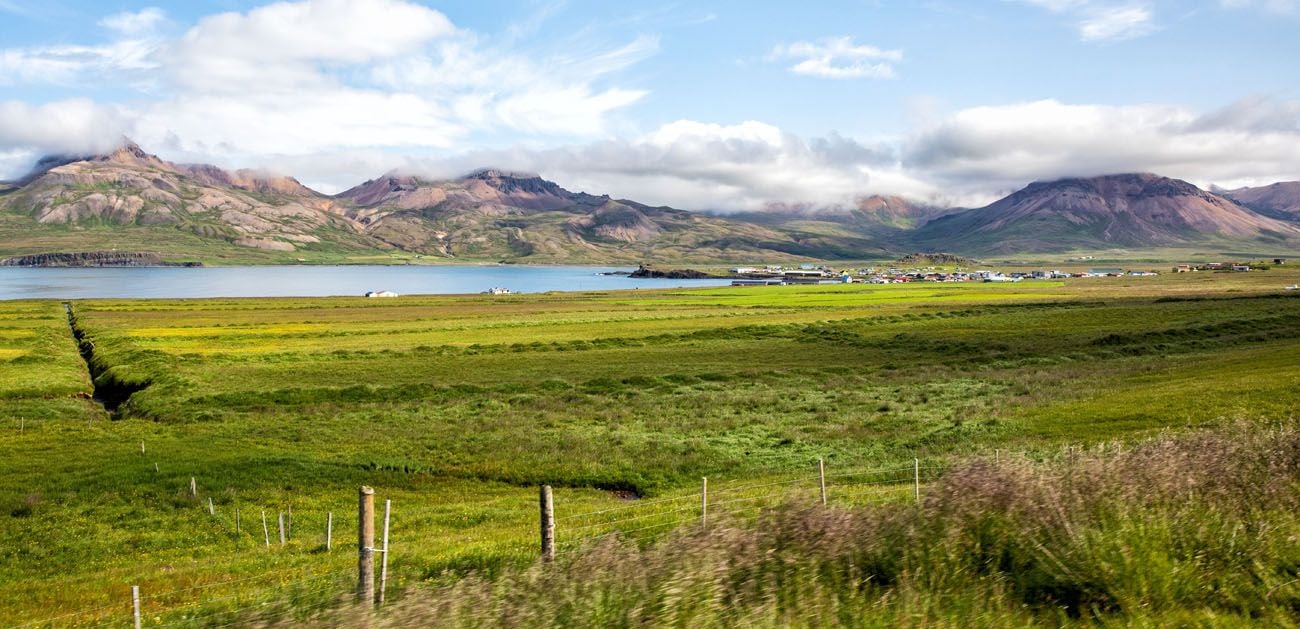 View of Borgarfjörður eystri from route 94.
To get to the puffin nesting site, you will drive past Borgarfjörður eystri, to where route 94 ends at Hafnarhólmi marina. There is a small parking lot here and it is a very short walk to the nesting site.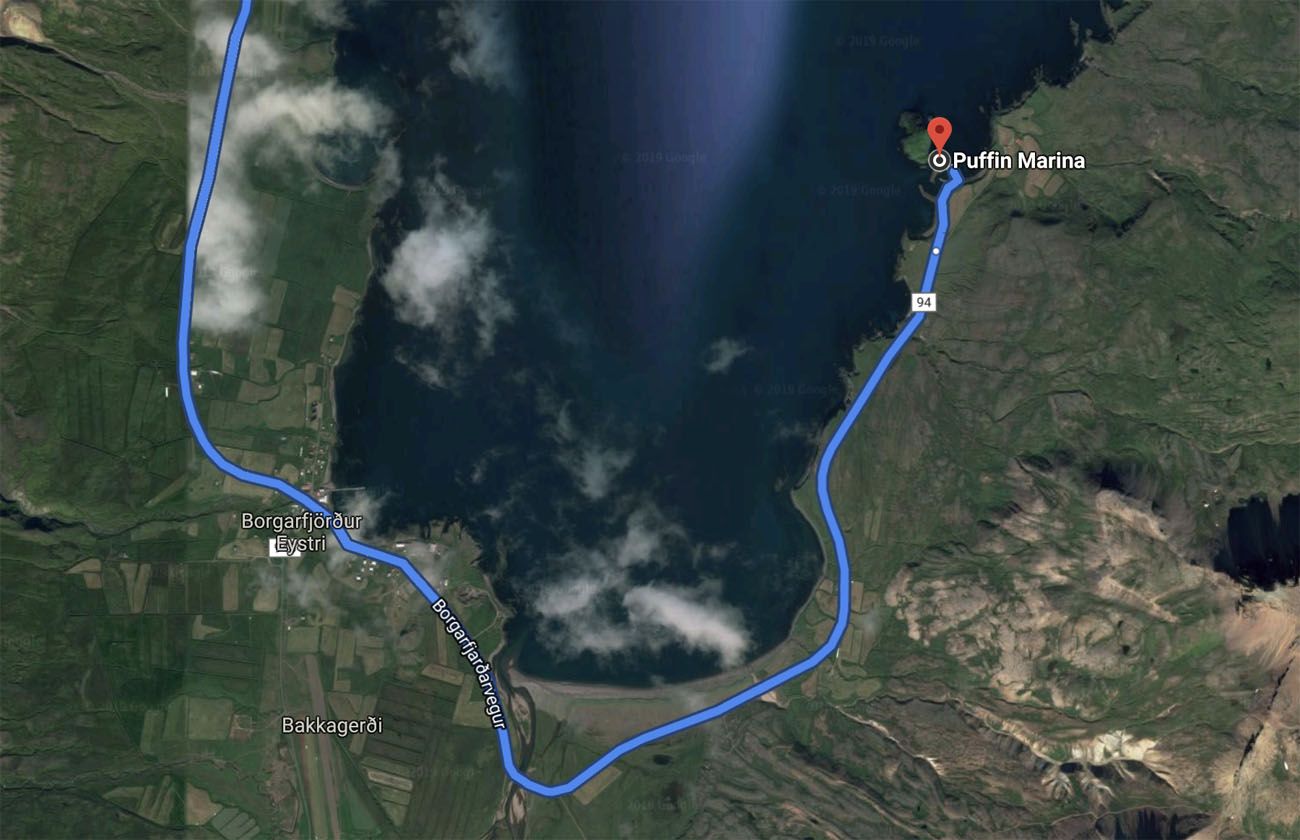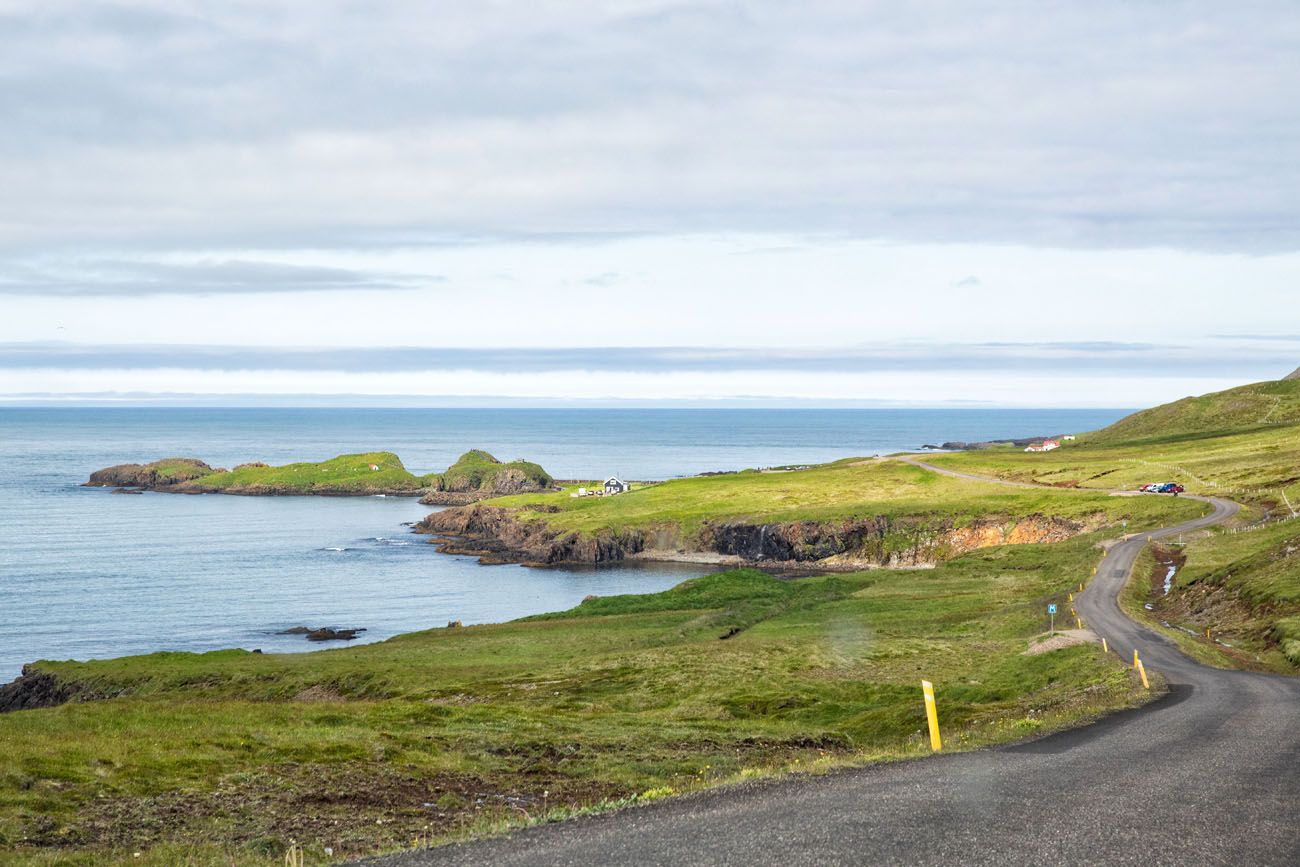 The thin peninsula is the puffin nesting site.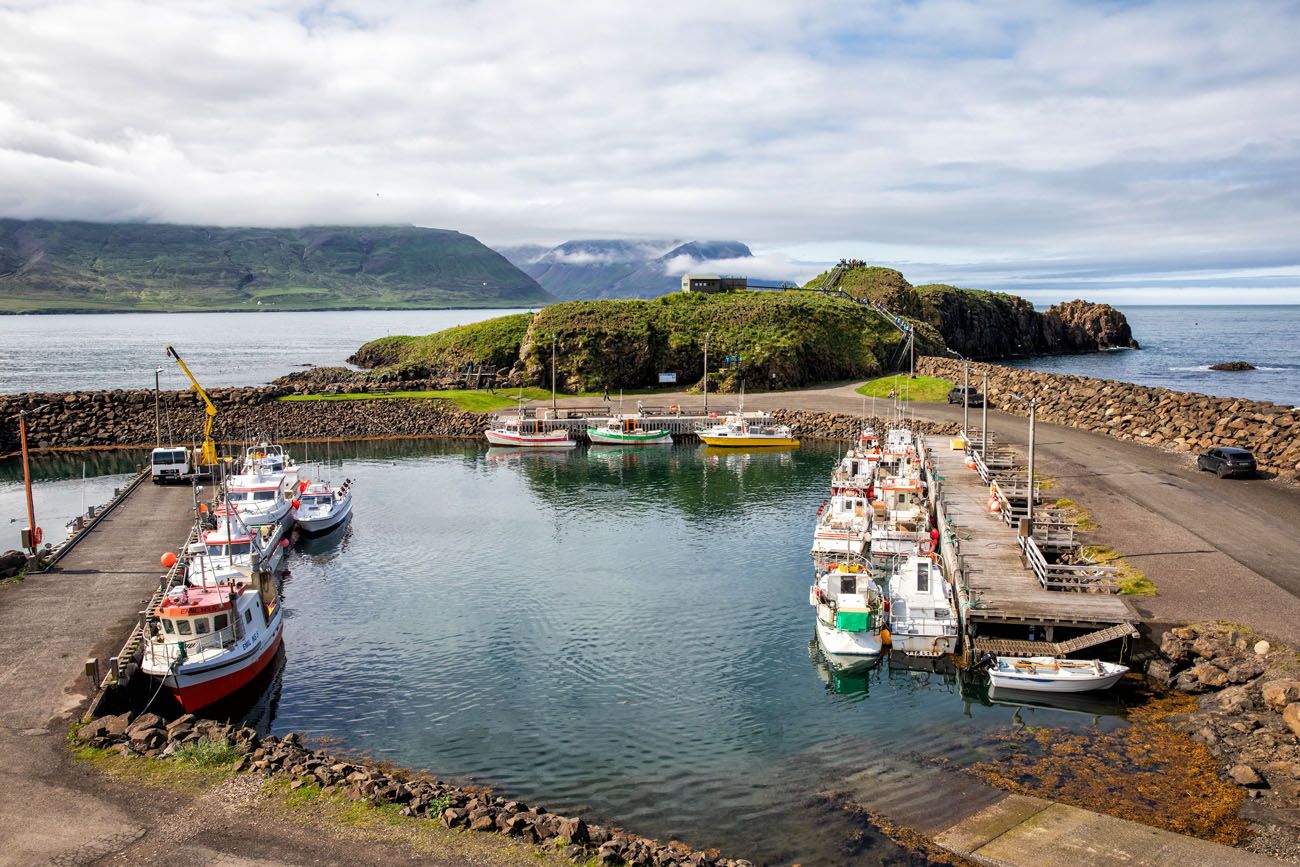 The marina with the puffin nesting site behind it.
Seeing the Puffins at Borgarfjörður eystri
A series of boardwalks and viewing platforms have been constructed at this nesting site. You can literally get right up to the puffins, without damaging their burrows.
This is free to visit although donations are gladly accepted.
What a great experience, to stand here and see these cuties. They are a bit clumsy on land, sometimes falling into burrows, sometimes nearly crashing into each other as they come in for a landing. But apparently, out at sea, they are quite nimble.
And puffins make the funniest sound…a low growl that sounds a lot like a chainsaw. Listen to it here.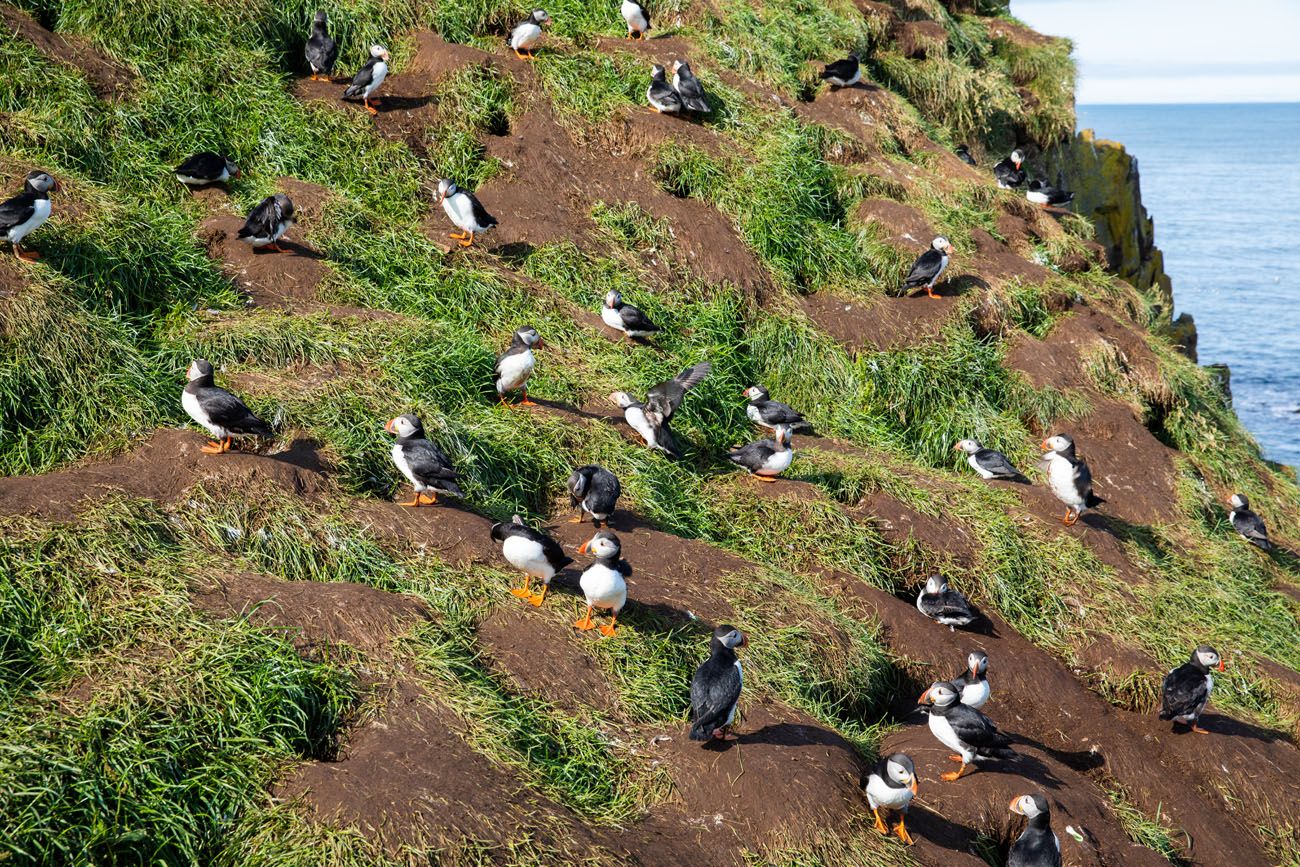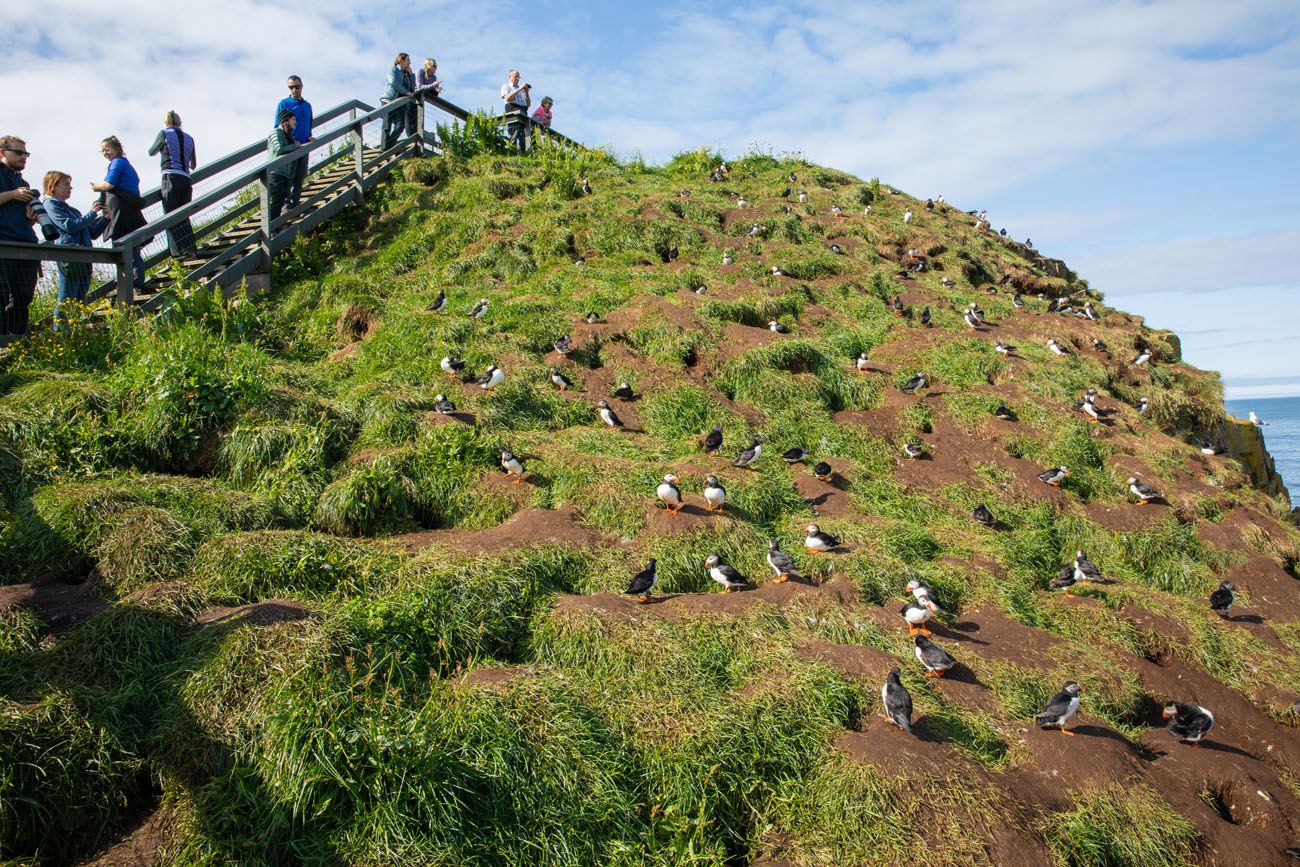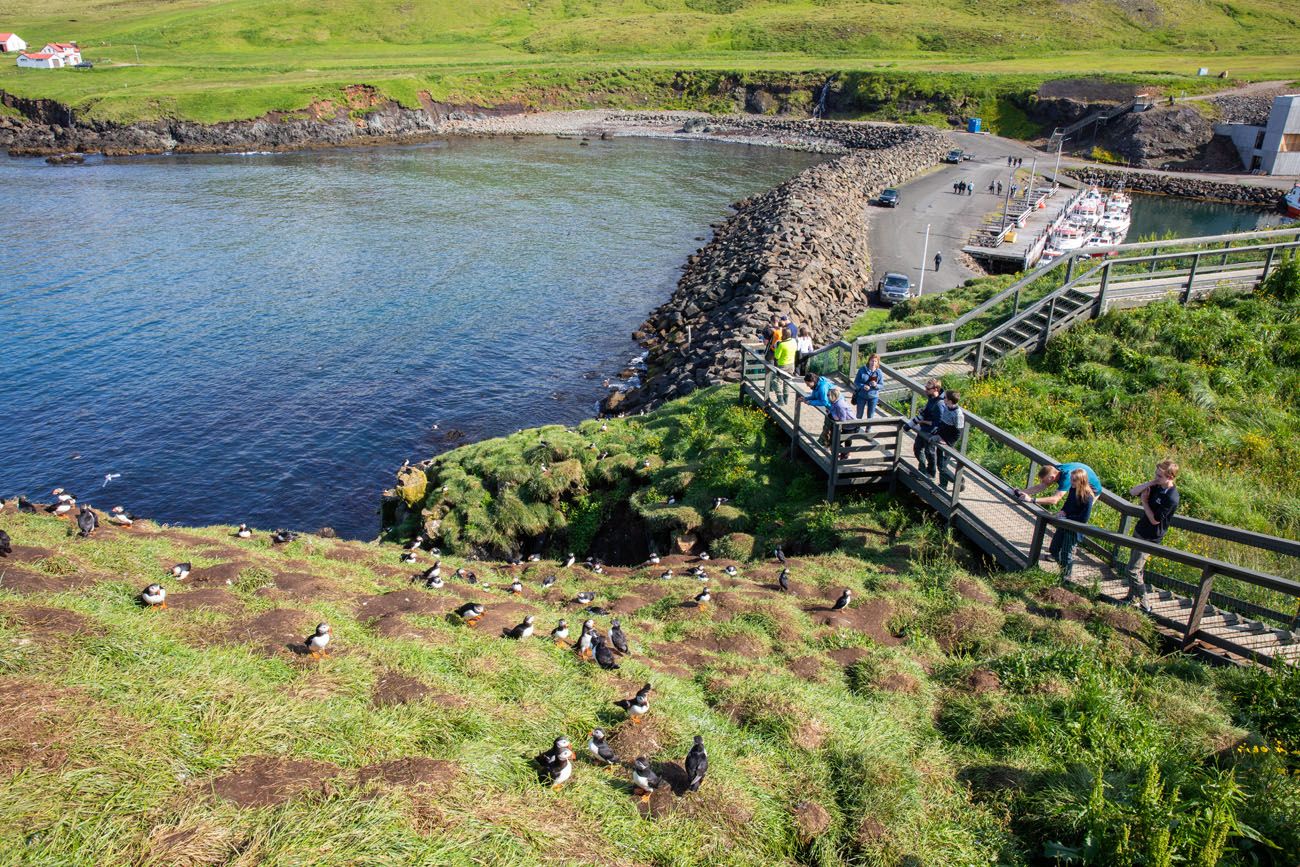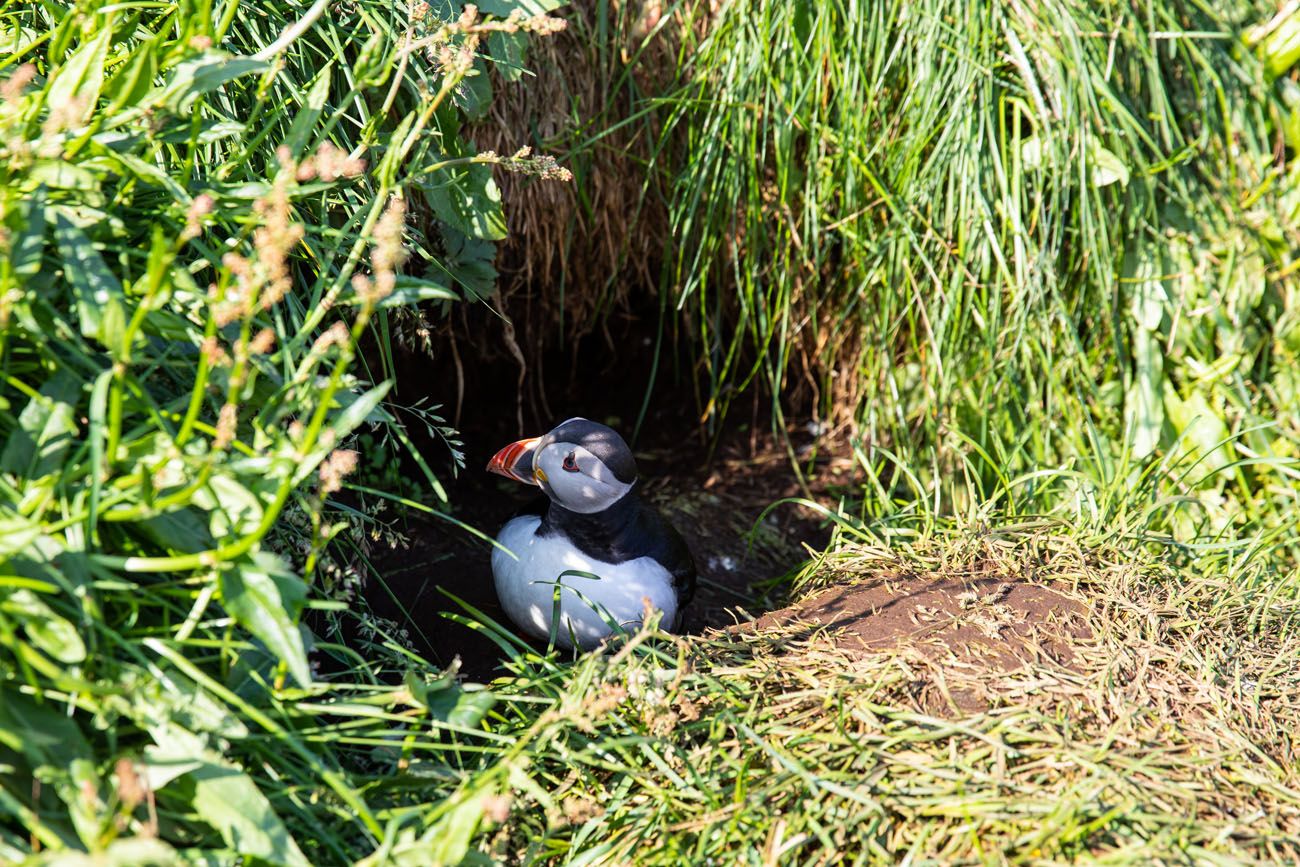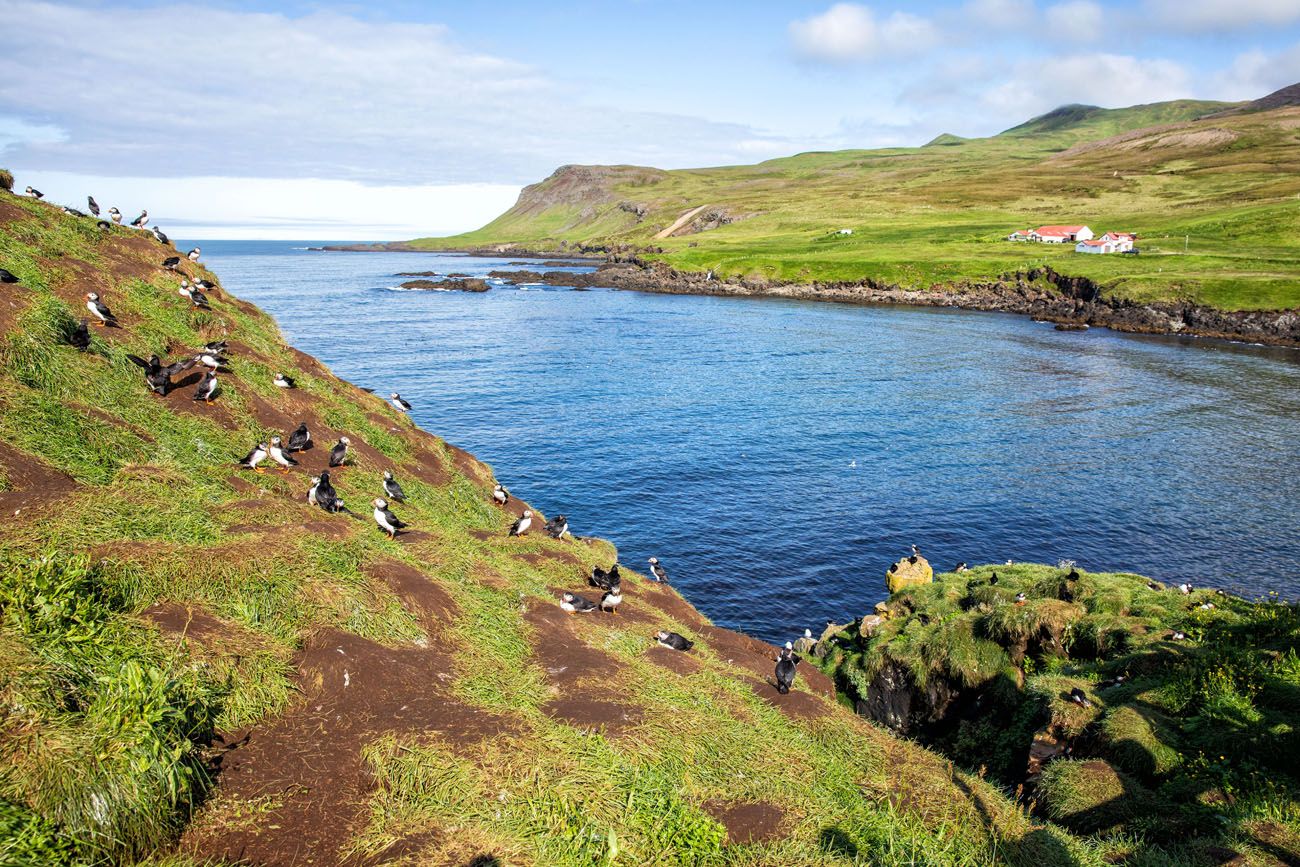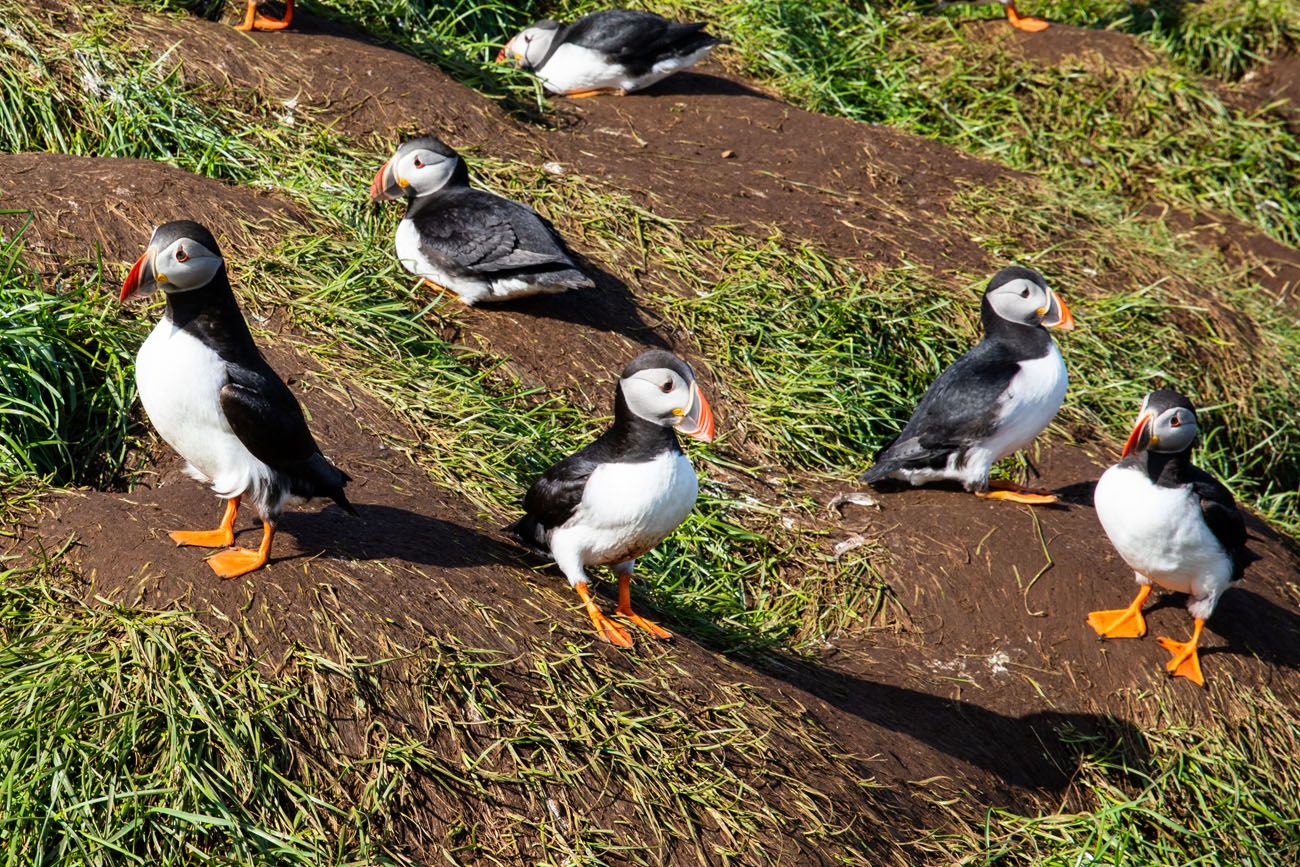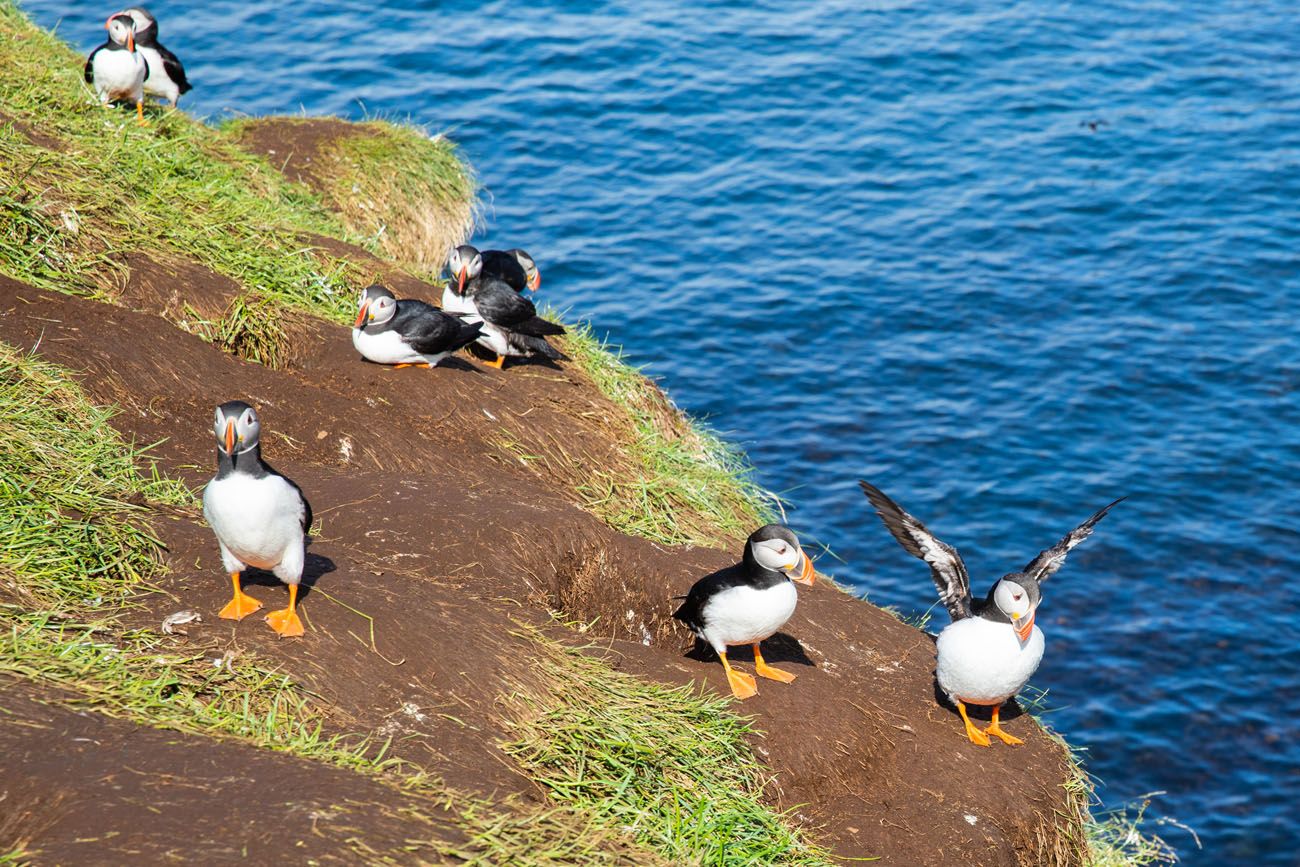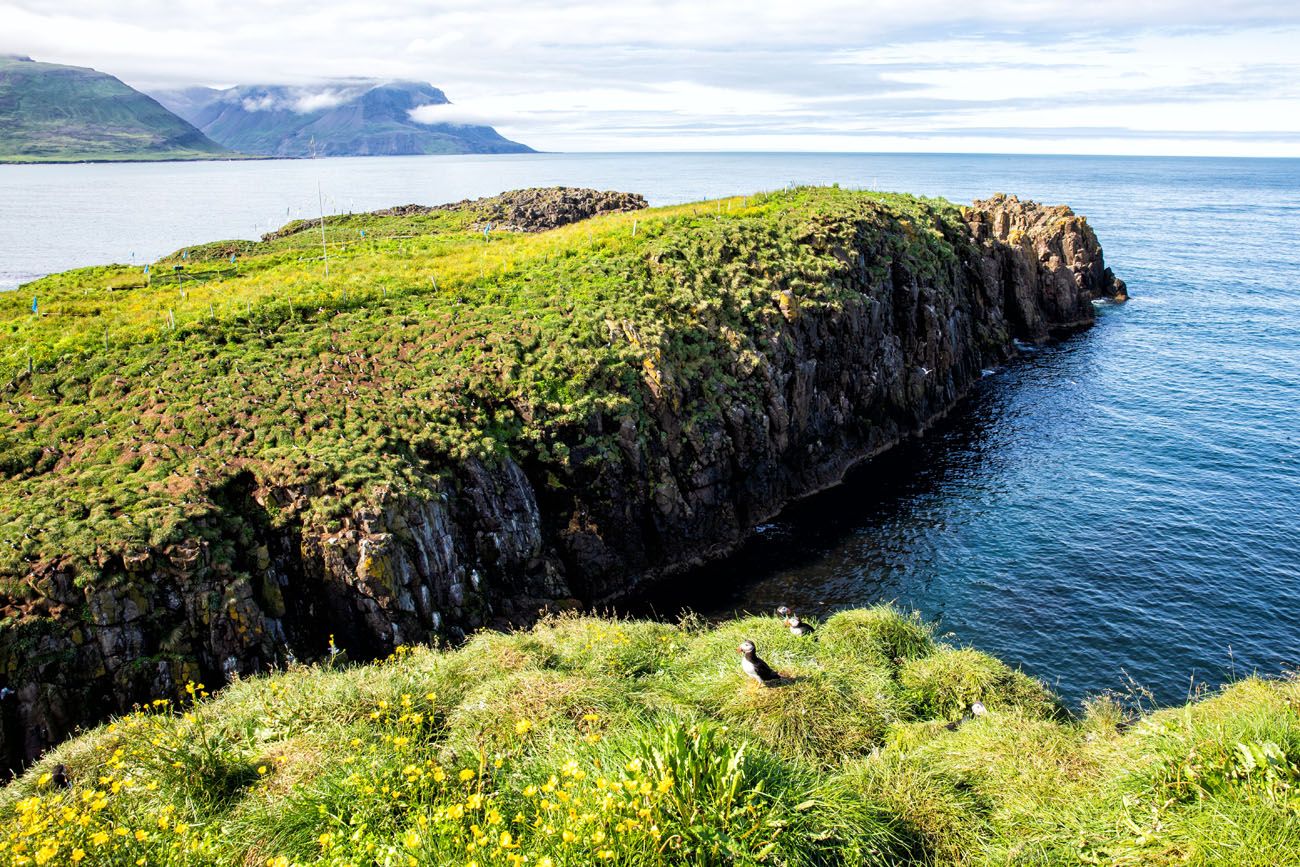 Most visits here last 15 to 30 minutes. Puffins nest at Borgarfjörður eystri from mid-April through mid-August. I read that they typically return to the ocean on August 15.
How Long Does This Take?
If you are doing this as a road trip from Egilsstaðir, this entire visit takes 3 hours: 2.5 hours driving time (round-trip) plus 30 minutes to see the puffins. If you stop in Borgarfjörður eystri, this will add on more time.
What Else to do in the Area
Borgarfjörður eystri. Borgarfjörður eystri is an Icelandic fishing village. See the grass covered houses at Linderbakki or grab a bite to eat at one of several cafes in town. There is a grocery store (Budin) and gas station here, as well as several hotels if you want to spend the night.
Go Hiking. Numerous hiking trails can be found in this area. With the mountains and the coastal views, this looks like a beautiful area to go hiking. Learn more here.
What We Did: We visited Borgarfjörður eystri on our road trip from Mývatn in the north to Höfn in the south. Our morning was spent visiting Dettifoss and Selfoss, and then in the afternoon, we drove to Höfn. It was already a huge driving day, so we went back and forth as to if we really wanted to add this three-hour detour onto the day. I'm so glad we did! Seeing the puffins made it worth it, but the gorgeous drive over the mountain pass was a huge bonus. It was a long day, but a very memorable day.
By the way, this wasn't even in our original plans. One of our Facebook followers recommended this to us and I'm so glad she did. Thank you Beth!
---
If you have any questions about visiting the puffins at Borgarfjörður eystri, or if you want to share your experience, comment below!
More Information for Your Trip to Iceland
RING ROAD ITINERARY: In 7 to 10 days, you can drive the entire Ring Road and experience the highlights of Iceland. With two weeks in Iceland, drive the full loop and add on Landmannalaugar and a few hidden gems.
SOUTH COAST OF ICELAND: The south coast is filled with some of the top sights in Iceland. Go glacier hiking, visit Skogafoss and walk the amazing Waterfall Way trail, and visit Bruarfoss. For the full list, check out our Guide to the South Coast of Iceland.
DAY TRIPS FROM REYKJAVÍK: If you are planning a short visit to Iceland with Reykjavík as your home base, here are 10 great day trips to take from Reykjavík.
BEST OF ICELAND: For a list of top experiences in Iceland, don't miss our Iceland Bucket List. If you are a hiker, we also have a hiking guide with 10 epic day hikes to do in Iceland.
TRAVEL PHOTOGRAPHY: For more information about the camera gear we carry, check out our Travel Photography Gear Guide.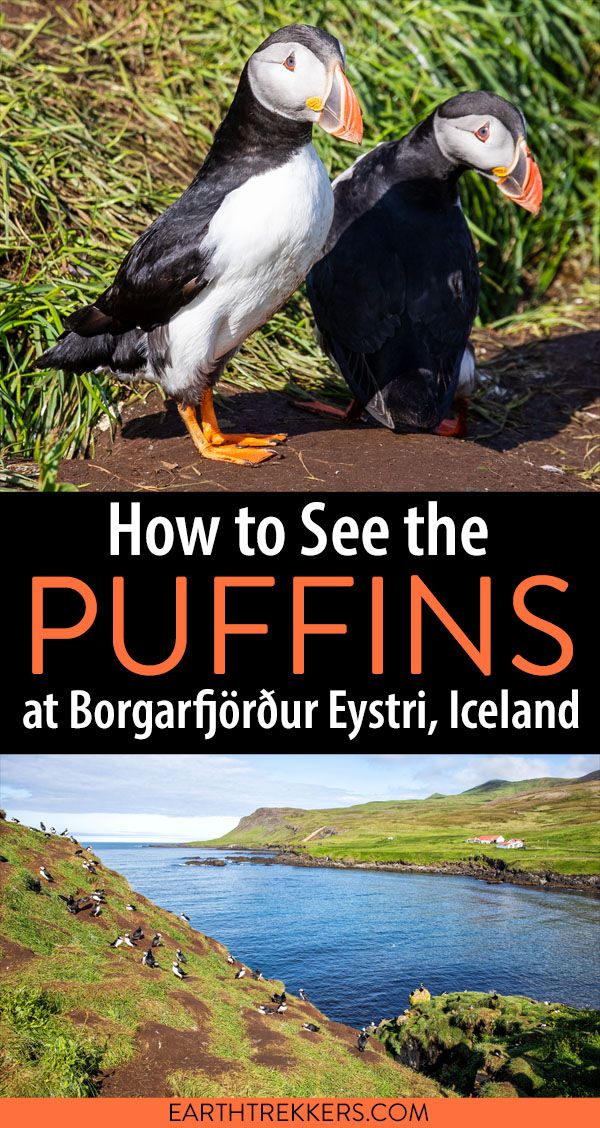 All rights reserved © Earth Trekkers. Republishing this article and/or any of its contents (text, photography, etc.), in whole or in part, is strictly prohibited.