Ranakpur Temple, one of the most beautiful temples in India, makes a perfect day trip if you are traveling between Udaipur and Jodhpur. We were very pleasantly surprised with the beauty and serenity of this temple.
What is Ranakpur Temple?
Ranakpur Temple is a Jain temple located in the state of Rajasthan. Jainism is an Indian religion that emphasizes non-violence and asceticism. Jain temples are few and far between and Ranakpur is noted by some people as being the most beautiful. Another famous grouping of Jain temples are the temples of Khajuraho, famous for their amorous carvings.
For us, it was a three hour drive from Udaipur to Ranakpur Temple. It takes about an hour to visit the temple, the perfect amount of time to get out of the car and stretch your legs before resuming your journey.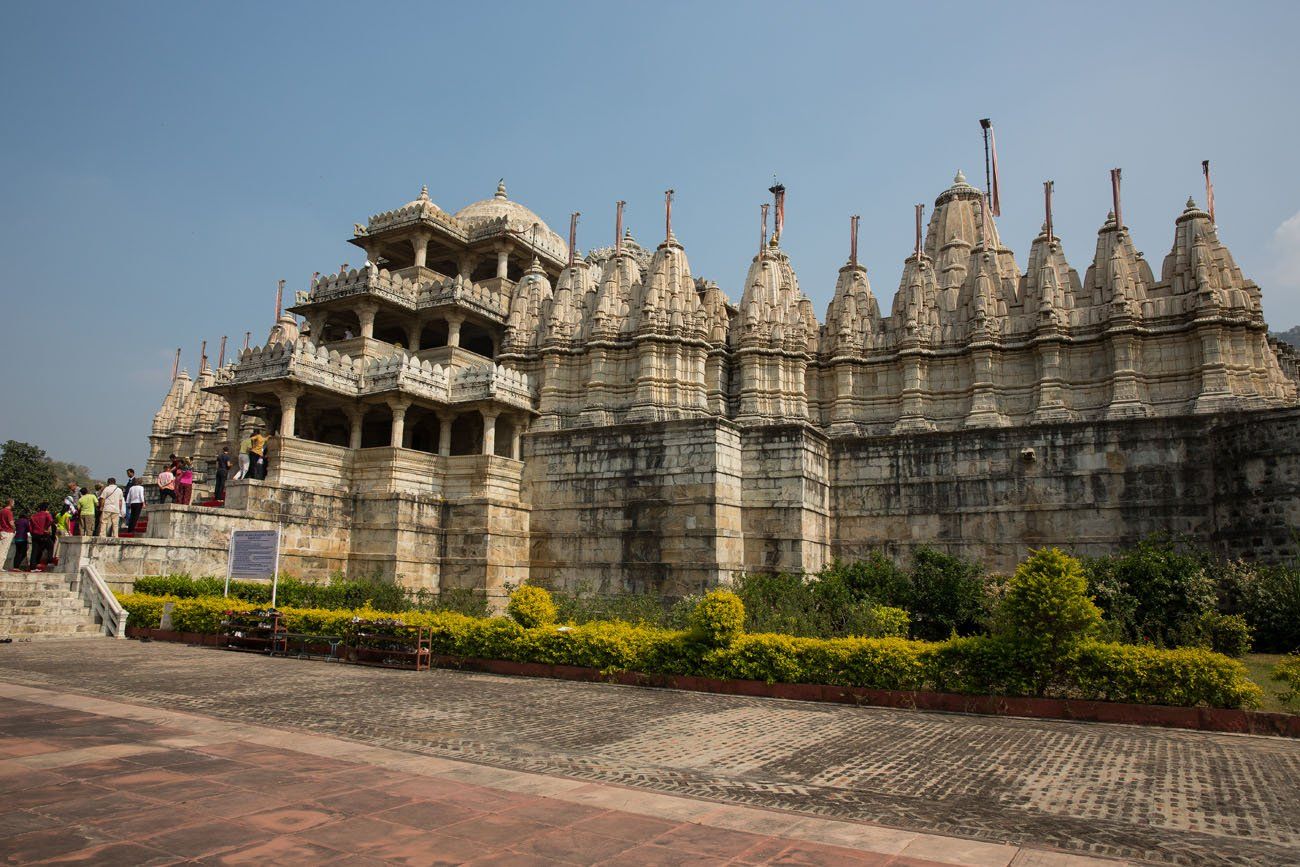 Our Experience
We arrived just before visiting time, bought our tickets, and Tim and I were each loaned a pair of long pants so we could enter the temple. Tyler and Kara, being children, were permitted to enter while wearing short pants.
As we walked towards the temple, I was surprised to see this sign directed towards women: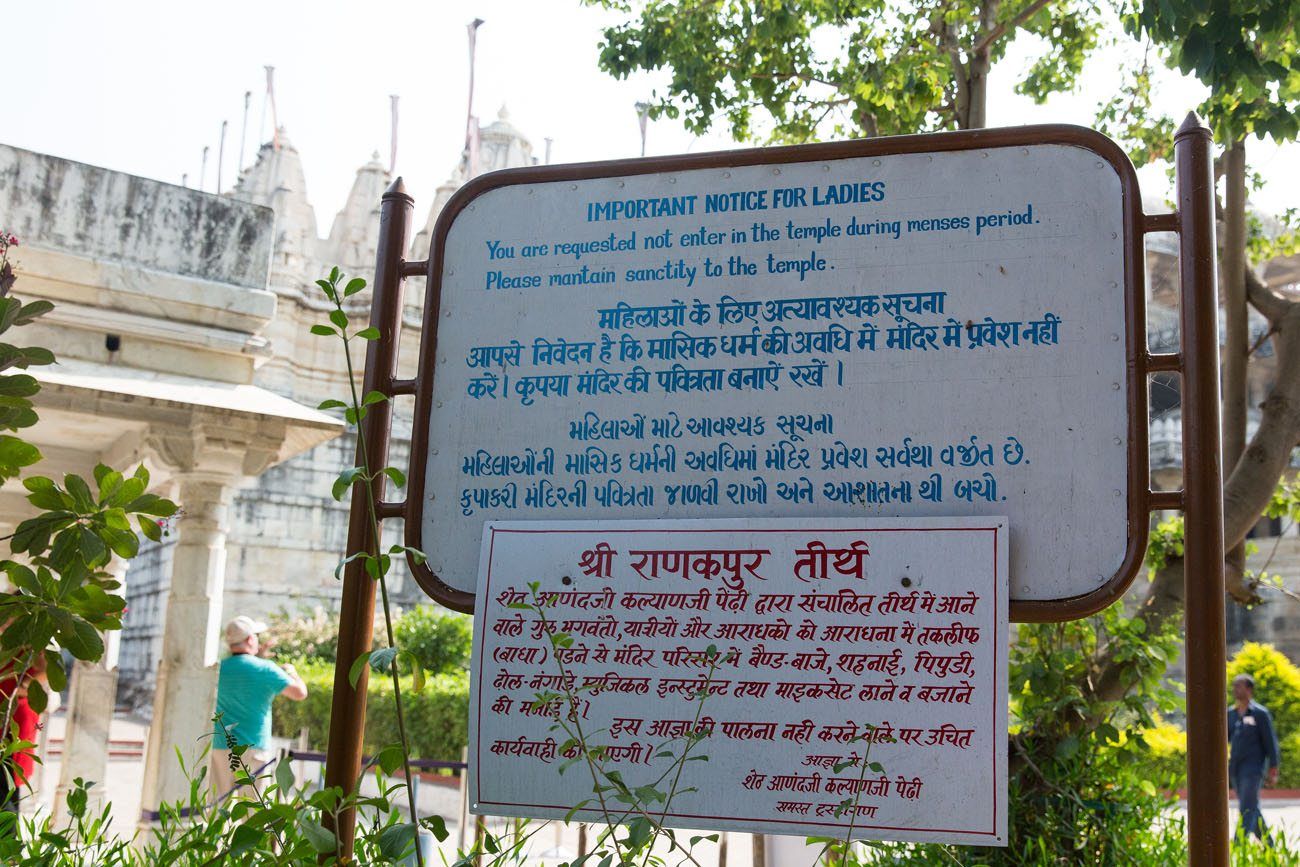 The temple is beautiful from the outside but the four of us were amazed by the beauty on the inside. The entire temple is carved from white marble and over 1,444 pillars hold up the ceiling. All of the carvings were intricate in detail, portraying people, elephants, flowers, and geometrical patterns.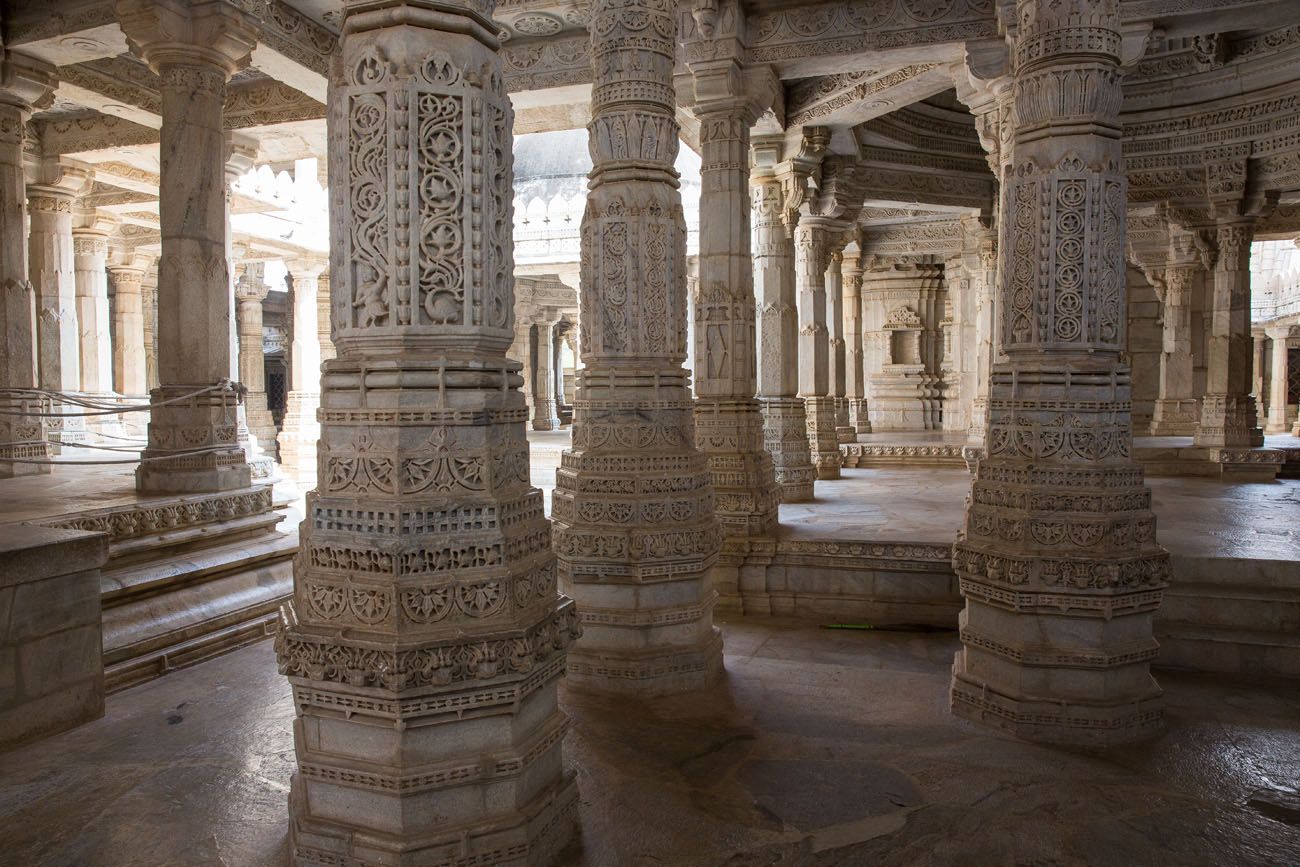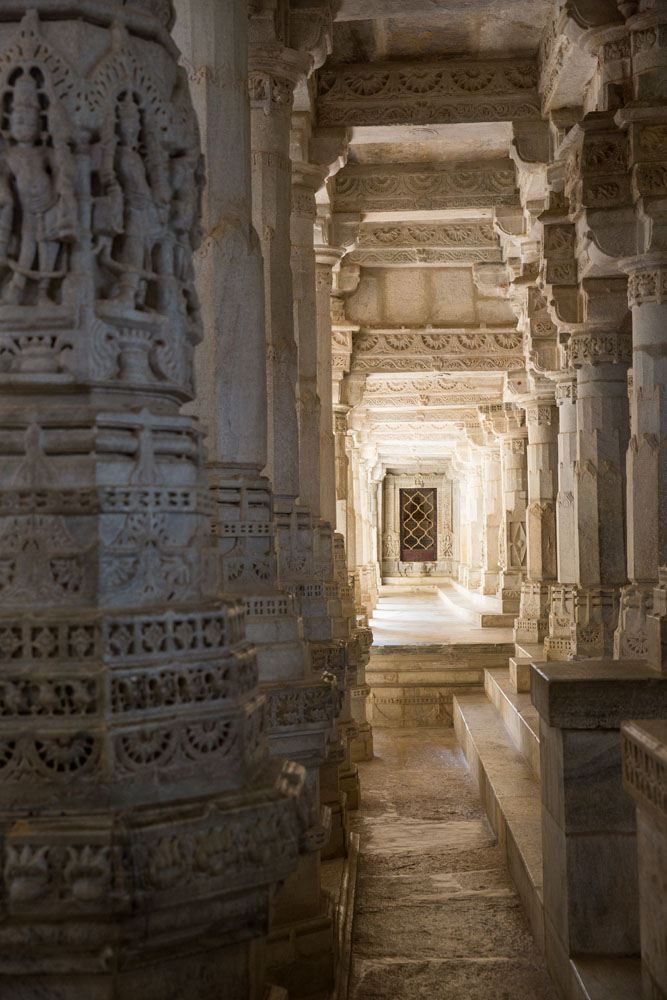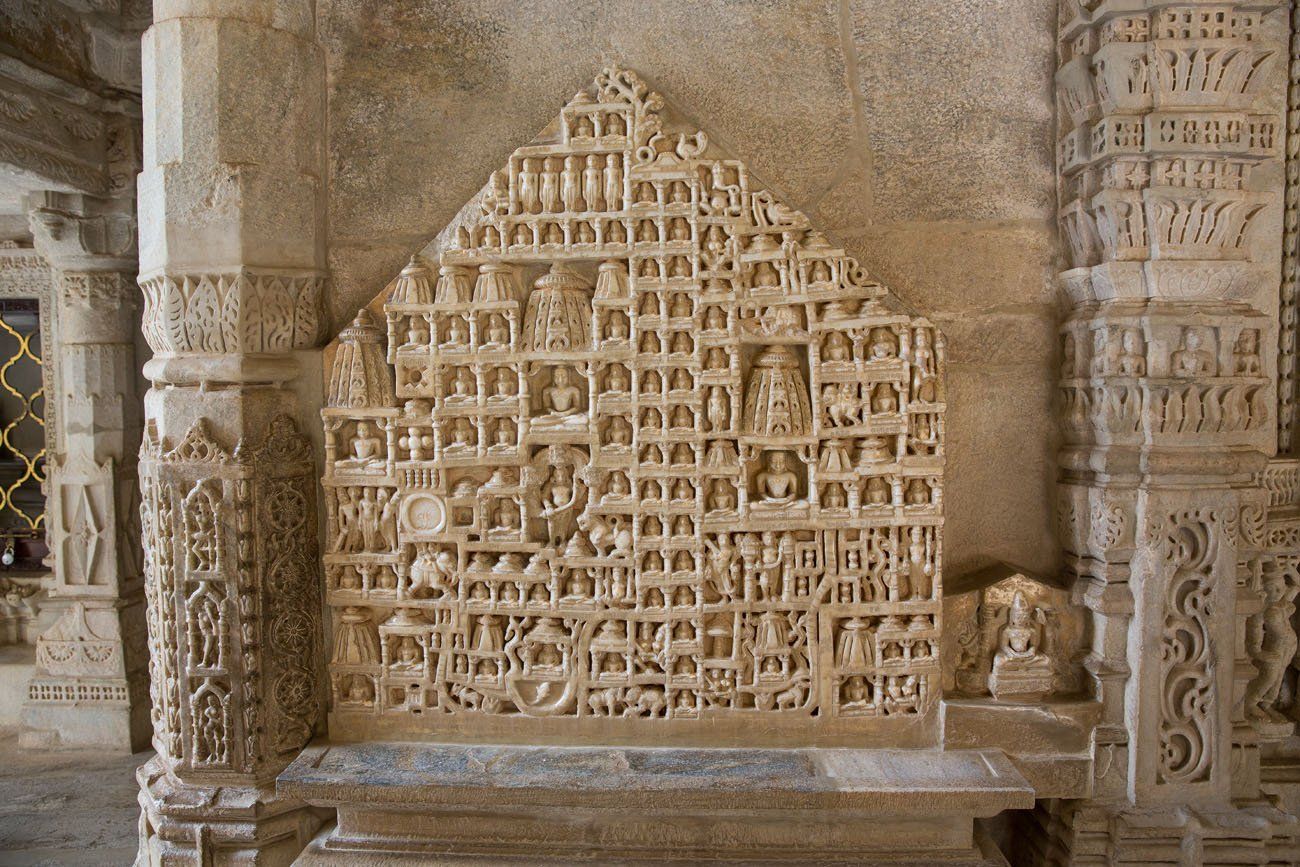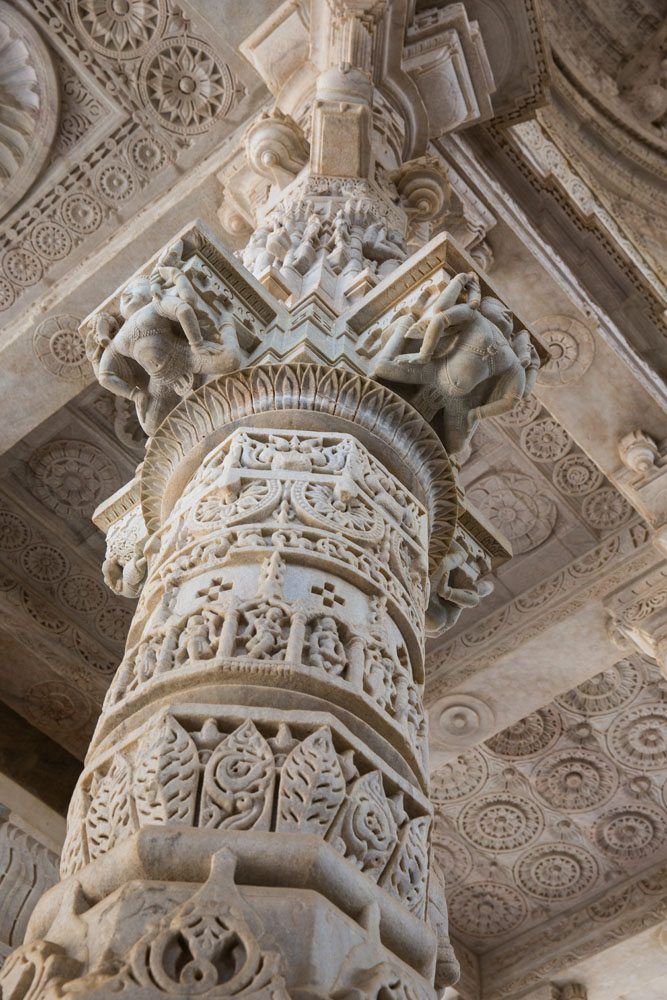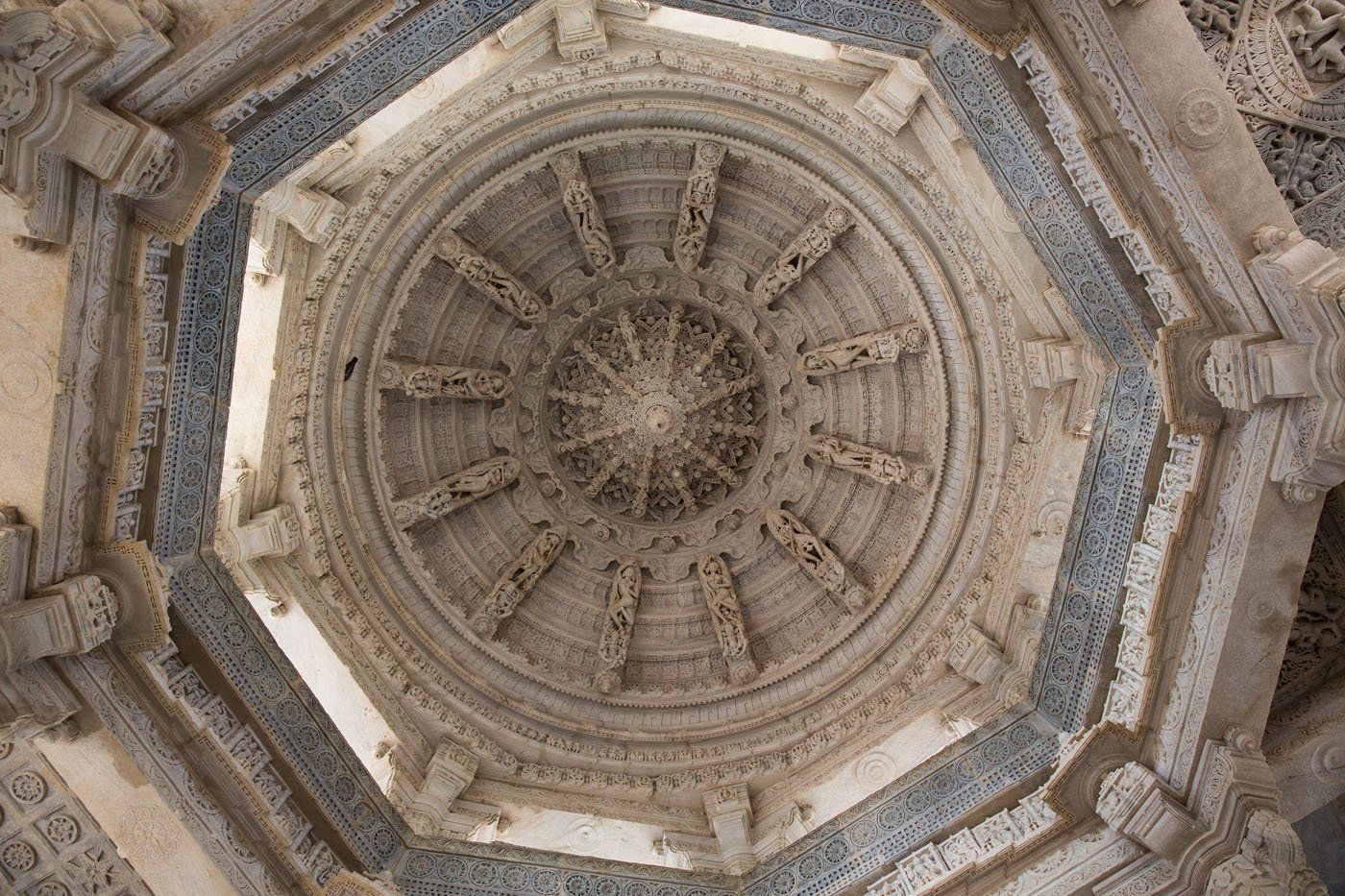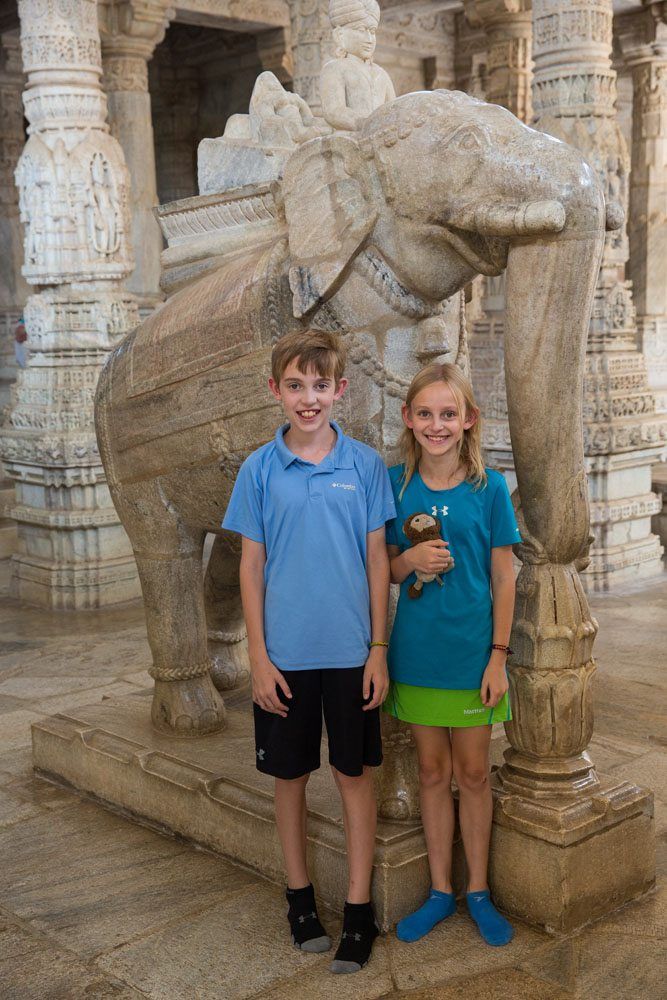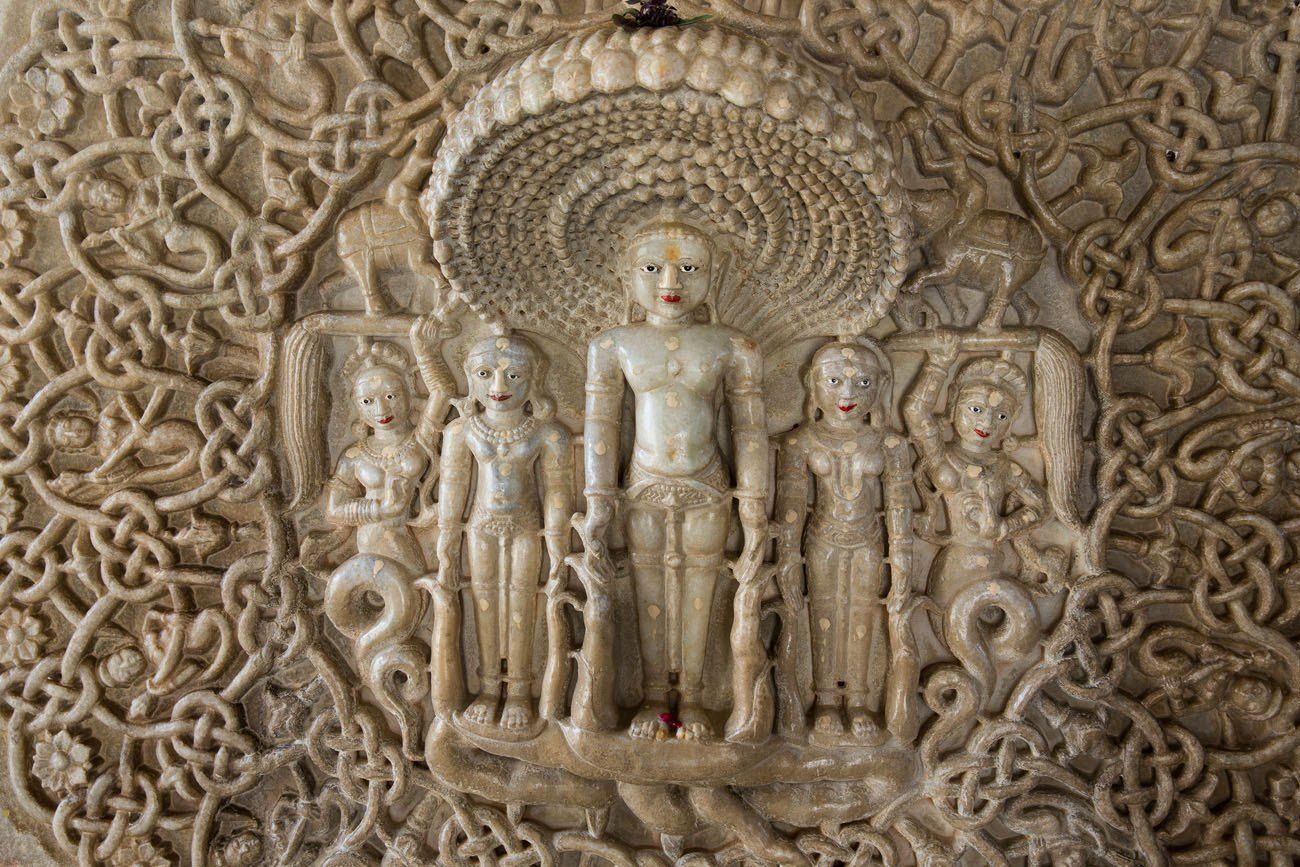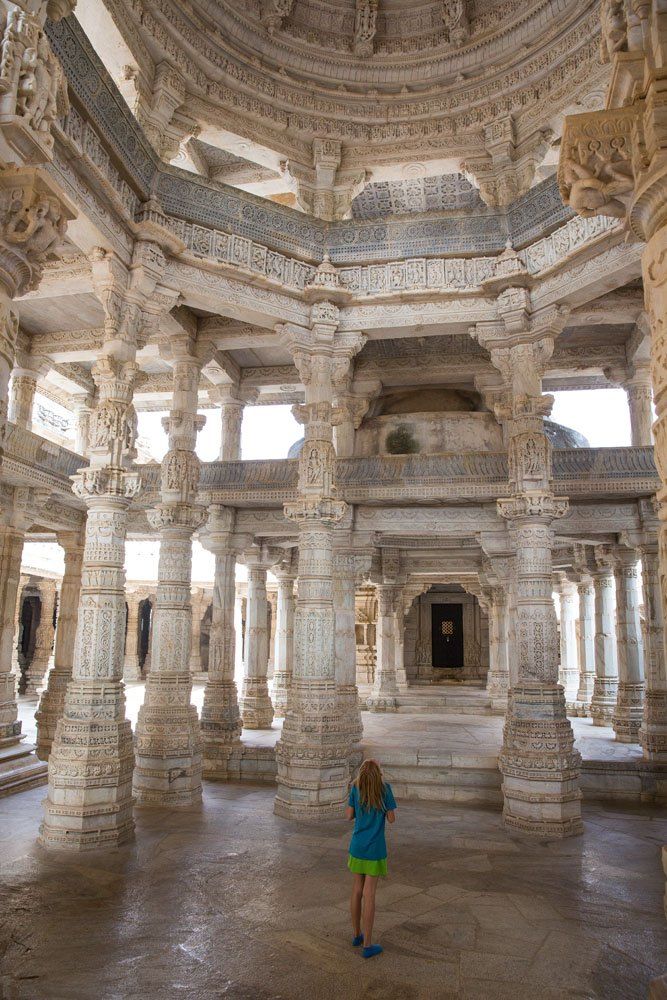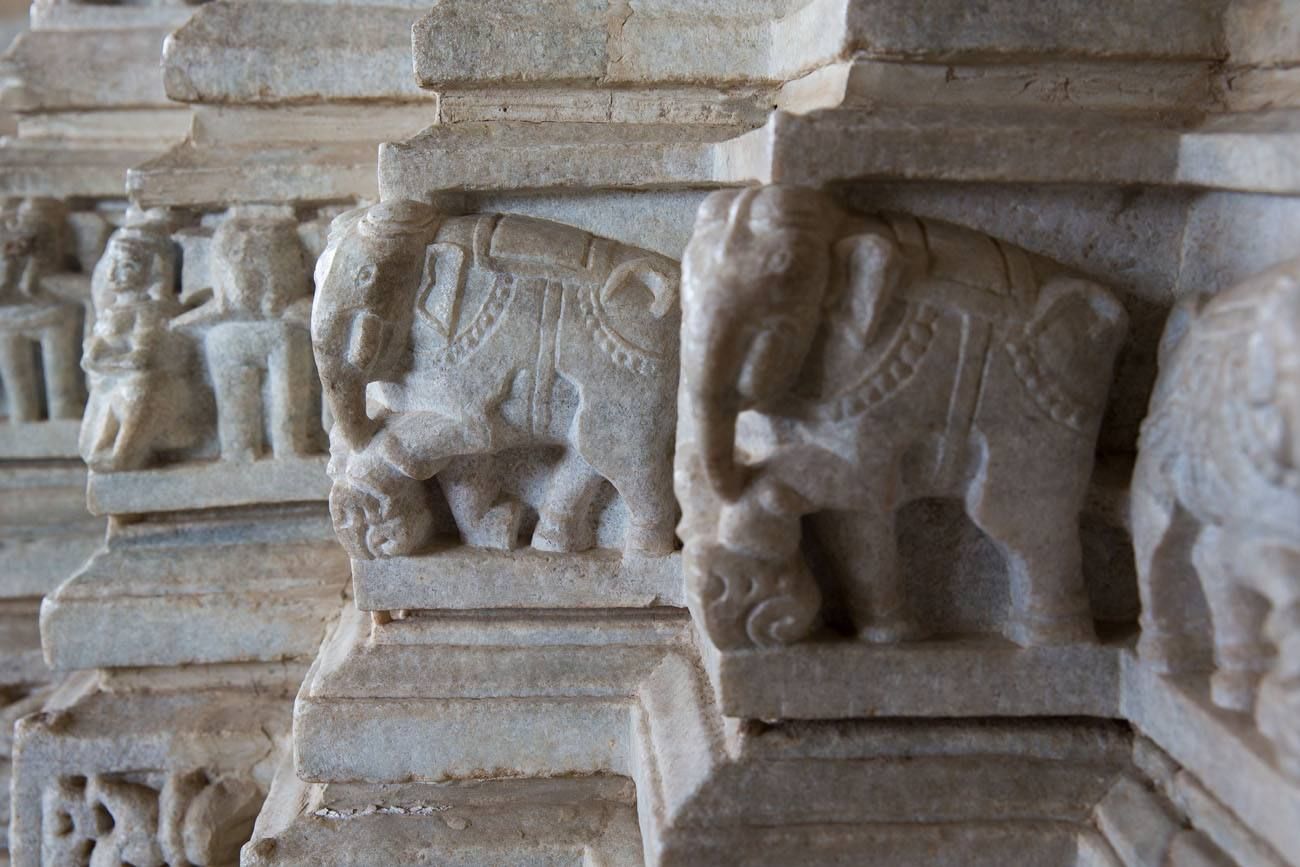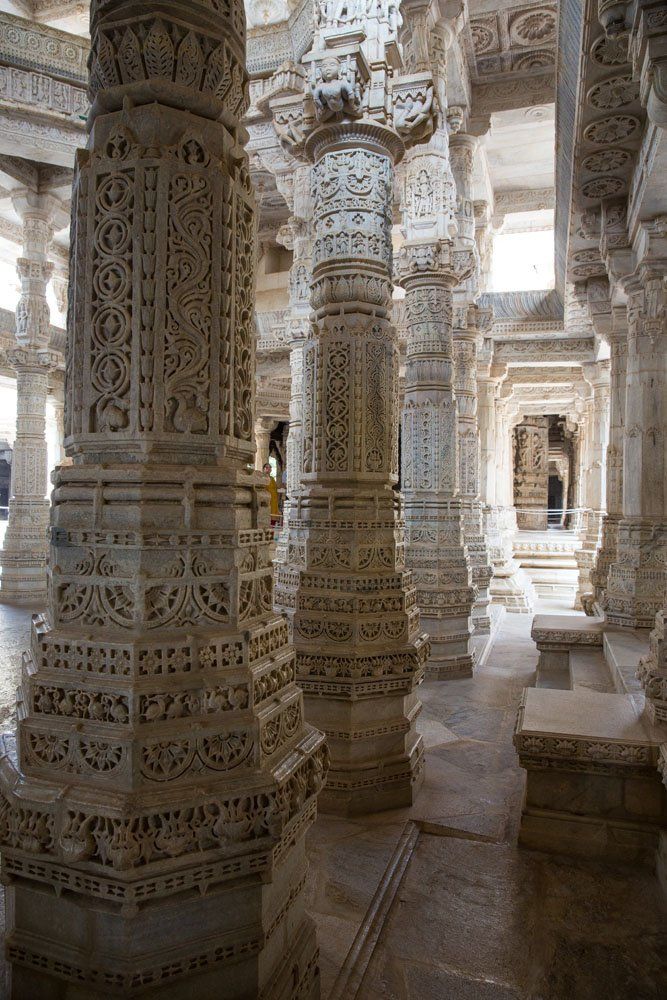 Once you pay the entrance fee, you are able to explore the temple on your own. While inside of the temple, be aware that the Pujaris will expect a "donation" if you accept their offer to provide a tour or to say a prayer for you.
Update: You can now tour the temple with an audio guide.
On the same property are two much smaller temples that we visited and in our opinion, not worth the time, especially not after the splendor of Ranakpur.
While heading back to our car, we passed this sign (and I wish I had my photo taken with it, as I was turning 40 the next day).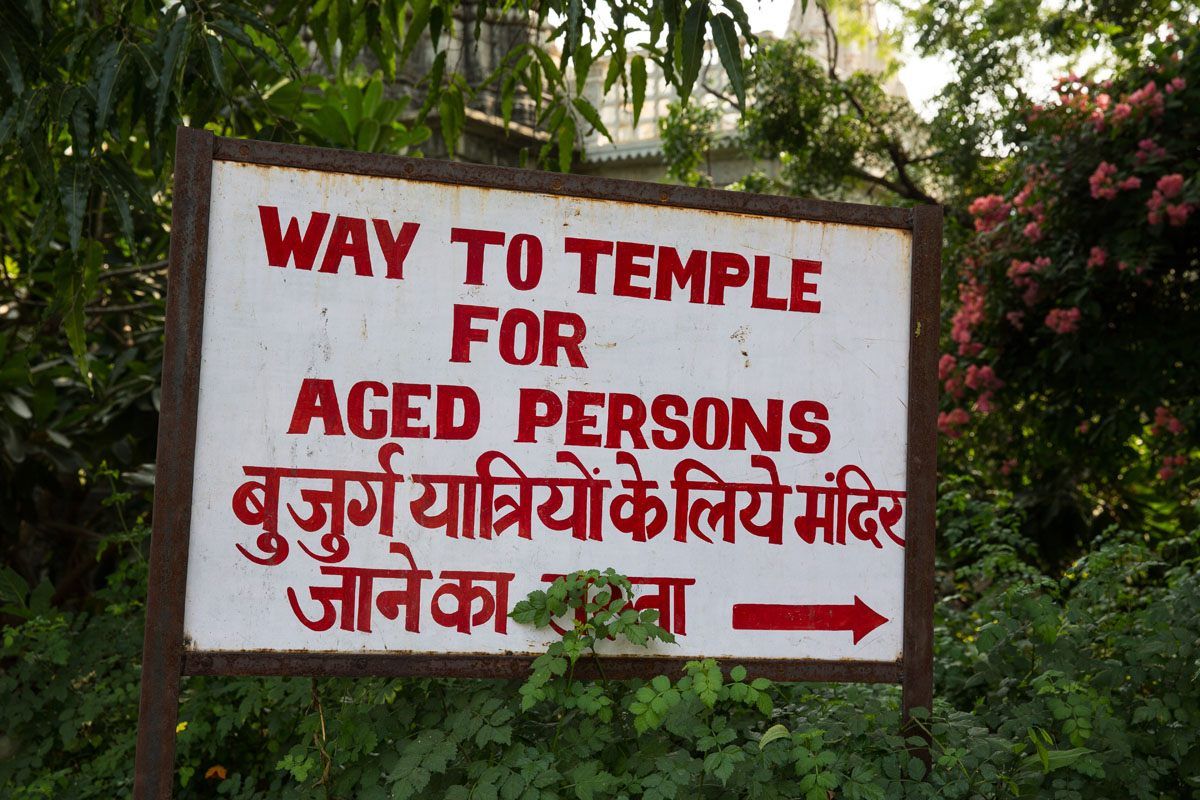 About Visiting Ranakpur Temple:
Getting There: Arrive by car or bus only. The closest airport is in Udaipur and the closest train station is Falna, located 36 kilometers away. We hired a driver for the day, left Udaipur at 9:30 am, arrived at Ranakpur at noon, and then had a three hour drive to Jodhpur.
Distance to Udaipur – 93 km (2.5 hours)
Distance to Jodhpur – 156 km (3 hours)
Distance to Jaipur – 357 km (5 hours)
Opening Hours: Ranakpur Temple is open everyday. Tourists are allowed to tour the temple from 12:00 pm to 5:00 pm. The temple is open for prayer prior to 12:00 pm.
Nearby: In addition to Udaipur and Jodhpur, Mt. Abu is located nearby, 160 kilometers away and a 2.5 hour drive. Mt Abu is the only hill station in Rajasthan, a small, forested mountain range which is an oasis in the desert of Rajasthan. Visitors who come here have the opportunity to visit more temples and do a little hiking.
---
More Information about India:
Are you planning a trip to India? Read all of our articles about India in our India Travel Guide.
You Might Also Like: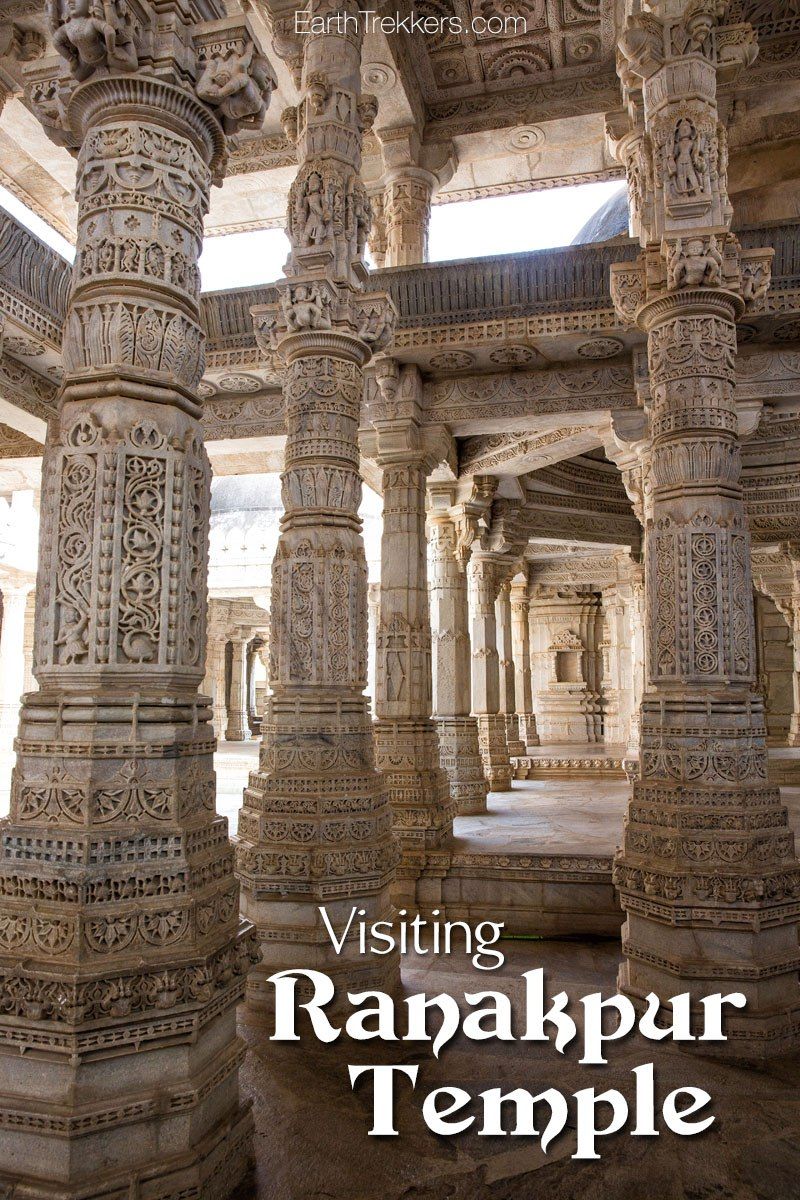 All rights reserved © Earth Trekkers. Republishing this article and/or any of its contents (text, photography, etc.), in whole or in part, is strictly prohibited.