Mumbai, known as Bombay until 1996, was the first major city we visited while in India. Mumbai is known for its film industry, being home to Bollywood, and its slums, made famous by the movie "Slum Dog Millionaire." Sixty percent of the Mumbai population lives in slums. While in Mumbai, toured the Dharavi slum, Mumbai's largest slum, with Reality Tours.
The goal of Reality Tours is to dispel the negative connotations of living and working in Dharavi. Our guide said that the word "slum" is a derogatory term that the Indian population does not like to use. The people here are working citizens and contributors to society. Prior to taking the tour, we associated laziness, drug dealing, and crime with living in slums. By the end of the tour, our views had changed.
We took this tour in 2014.
We met our guide at Churchgate Station, a very popular train station in Mumbai. These trains are the lifeline of the city, linking residential areas and popular sites together. We learned that eight to ten people per day die while riding on these trains – either from hanging too far out of the open doors, electrocution (from riding on the roof), or other unfortunate events. These trains are notorious for overcrowding, with famous images of people crushed together like sardines inside of the trains and groups of people traveling on the roof of the train. Today, the train was relatively empty. From Churchgate Station we had a very interesting twenty minute ride north to Dharavi.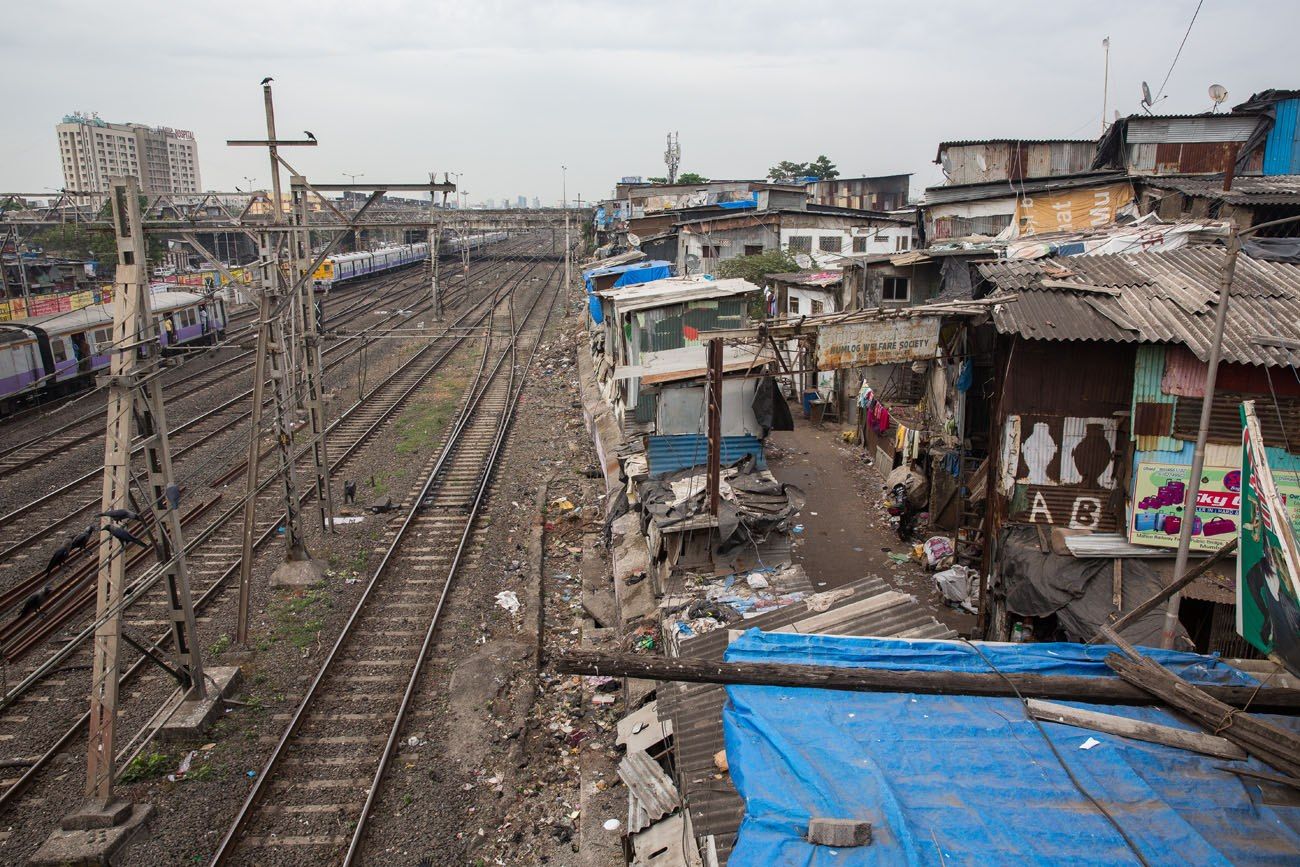 We disembarked the train and crossed over the train tracks by way of an elevated walkway, getting our first view of Dharavi. Stretching out as far as the eye could see were dilapidated buildings made of corrugated metal and concrete, dirt roads, and piles of trash. There were people everywhere. I was only permitted to take photos of Dharavi from the bridge. Once inside Dharavi photos are not allowed, a policy of Reality Tours. On the bridge a small crowd of men had gathered to have their photos taken with us.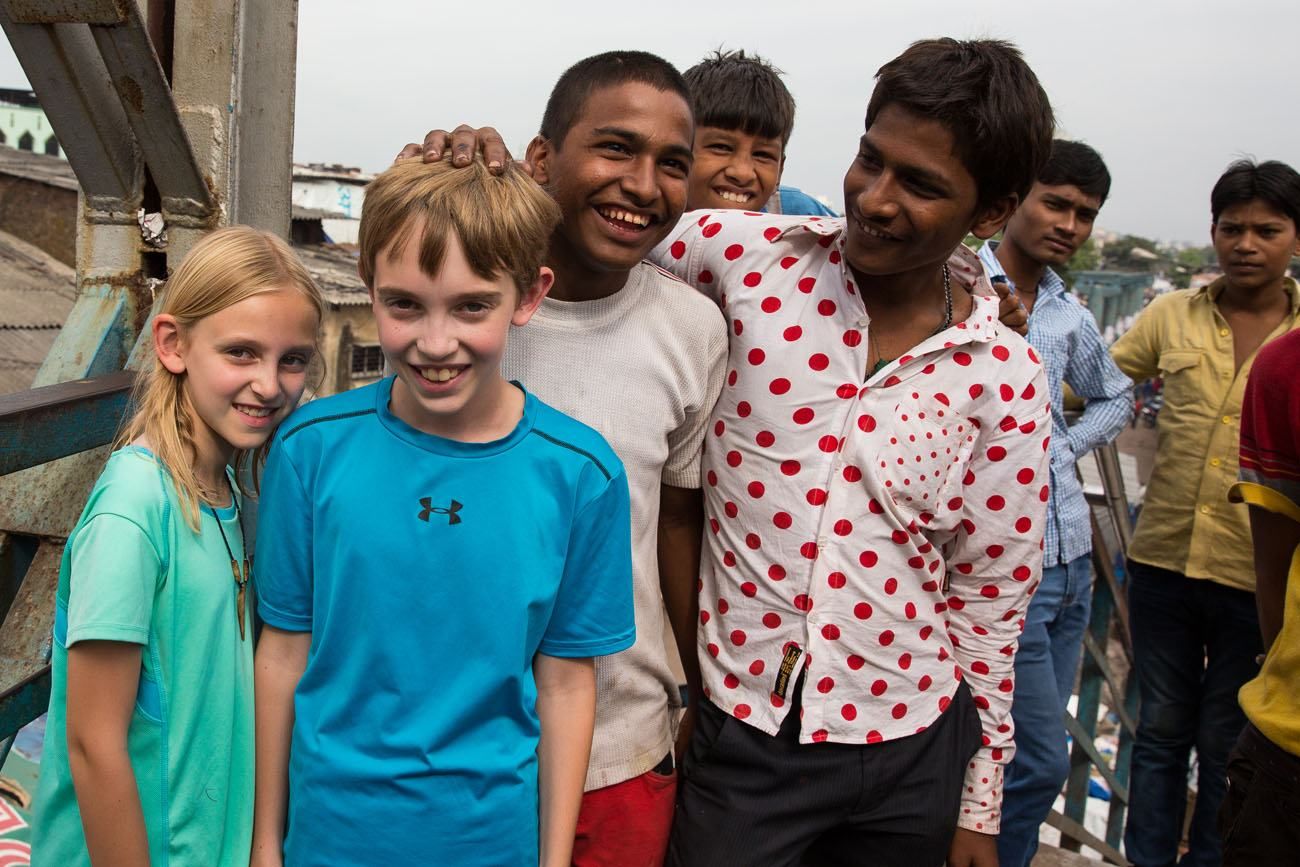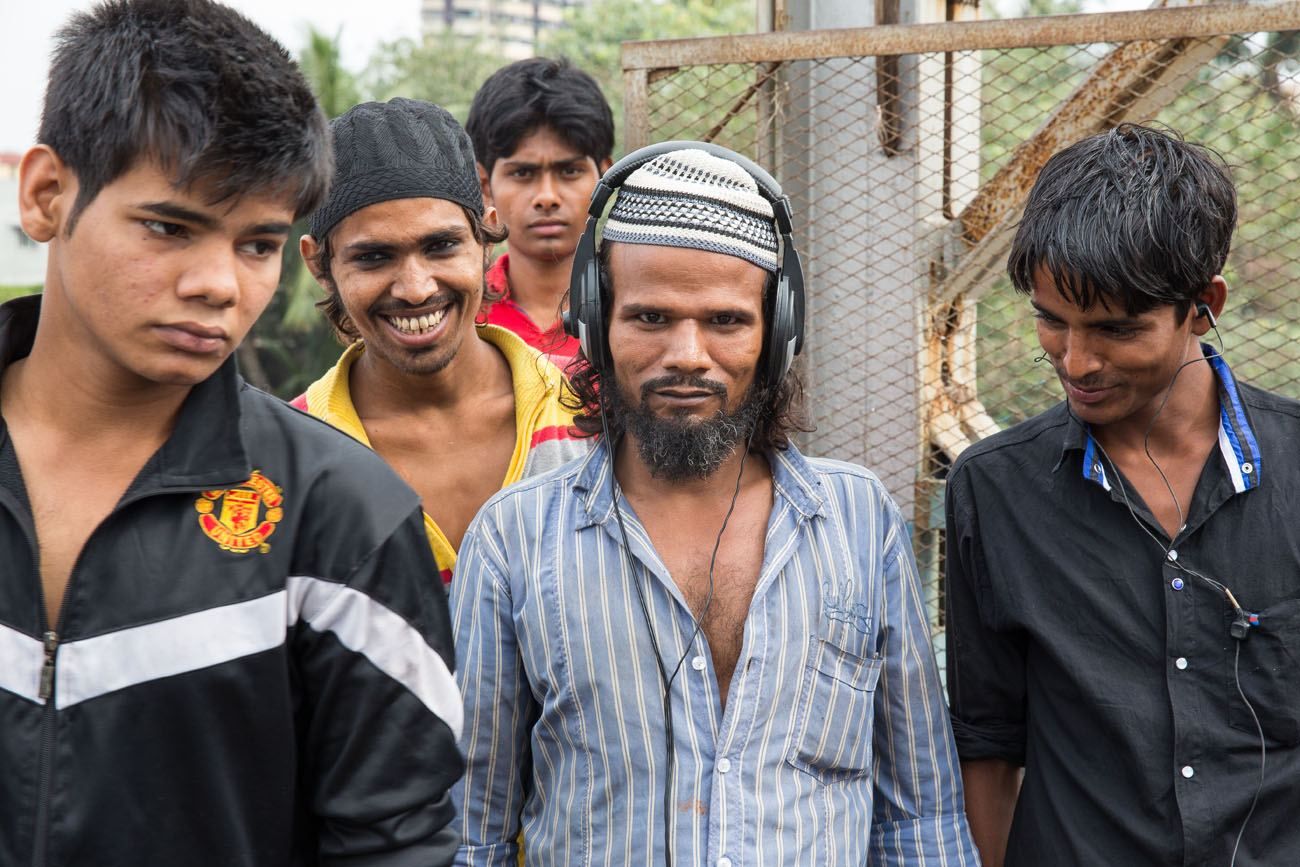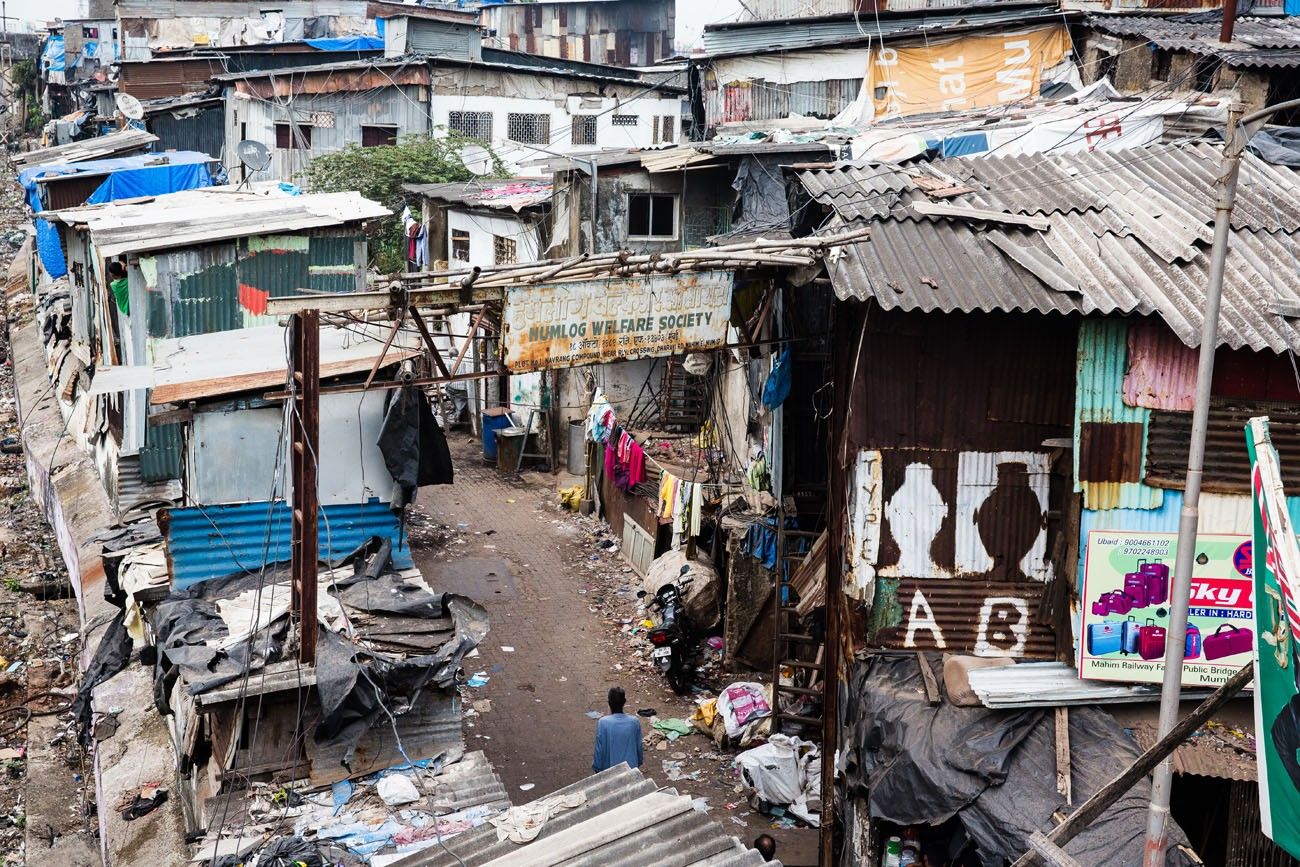 Our tour started in the commercial section of Dharavi. Here, small factories recycled plastic and aluminum and paint canisters, made clothing, and manufactured parts for appliances. It was dangerous, toxic work where workers got paid little and worked without safety equipment. In just the brief time we were there my eyes were stinging from the dust and chemicals in the air.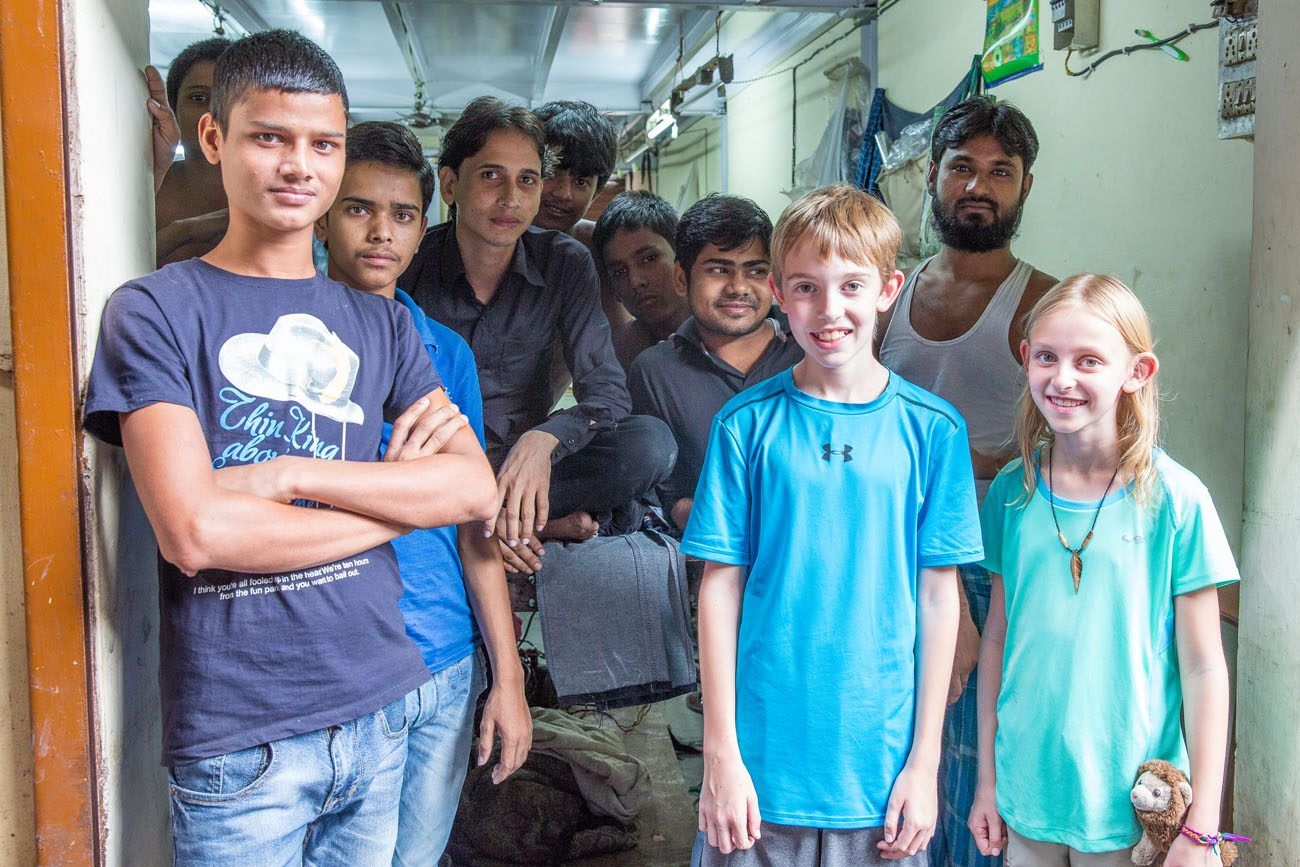 From the commercial area we had to cross the Mahim River to the residential area. This river was the foulest body of water that I have ever seen. People use this river to dump trash and waste material. Trash, and tons of it, was floating in gray, murky, filmy water, slowly flowing out to the ocean. So, that is why my Lonely Planet guidebook warned readers that the ocean is toxic! The smell was horrible. Our guide stood here and talked to us for a few minutes, so we all had the joy of breathing in one of the many unpleasant scents of Dharavi.
In the residential area, our guide took us through the alleyways, a maze of very narrow passageways between concrete houses. This place truly is a maze and a place where it would be very easy to get lost.
The lanes were narrow, just wide enough for two people to pass. The alleyways were dark because over our heads were the overhangs of buildings and tangled power lines. Every fifteen feet there would be a doorway leading into a house, a singular 4×4 meter room which was the kitchen, living room, and bedroom for an entire family. People would be laying on the floor watching TV.
I found it interesting that people were still able to afford satellite TV. Most of these houses also had electricity and water, but no indoor toilet. In Dharavi, there is one toilet per 1400 people.
As we walked through the alleyways, barefoot children would say "hello" or "namaste." It was hot in here as there was very little airflow. We constantly had to duck down to avoid hitting our heads on the buildings, metal rebar, and those dangling electrical wires.
I found it to be fascinating, walking through the residential area of Dharavi. The population here is so dense that it is estimated that there are at least 430 people per acre.
We stepped back out into daylight and into a field of garbage. An area about 100 feet by 150 feet was filled with mounds of trash and dirt. Here, young children were running around barefoot or in flip-flops, kicking a plastic soccer ball. This trash heap was their playground. What a sight this was. But the children were smiling and happy and having a great time. They were thrilled to see our group come through and played chase with each other, running between our legs.
We continued our walk through the residential areas, past nicer houses and small leather and pottery factories. Our two hour tour concluded at the Reality Tours office.
What an eye-opening experience. It looked a lot like I imagined it would, with one-room houses, dirty, smelly streets, and barefoot children. I was surprised by how much money and products are generated in Dharavi. Dharavi generates 665 million dollars per year. This is not a place filled with lazy, non-working people. Many people have jobs, and there are even doctors and lawyers living here. There is a strong sense of community here, as well.
Still, a lot needs to be done to make this a better place to live. The first thing, in my opinion, would be proper waste disposal. Seeing children running through piles of trash and that nasty river flowing out to sea was very distressing. The money generated from the tour is given back to the people of Dharavi for schools and medical care.
This was a great learning experience for our family, in particular for Tyler and Kara. This tour of Dharavi was just one of many interesting things we did while in Mumbai.
---