We spent several days exploring Shanghai while on our trip around the world. For part of our visit to China, we were joined by my mother, Kathy, and Tim's mother, Valerie.
While traveling, most of the time we feel like we fit in with our wardrobe. Traveling with only five shirts and several pairs of pants really limits the types of clothing in our wardrobe. In Cambodia and India we fit in just fine with shorts or long pants, hiking shoes, and polyester shirts from Under Armor.
There are times where we do feel a little out of place and Shanghai was one of them. Here the streets and malls are filled with upscale shopping stores. People here dressed fashionably…nice shoes, the latest clothing styles, perfect makeup. Our hiking shoes were a little out of place here but believe it or not, they just may be the fanciest footwear that we have with us right now. Coming directly from the US, Mom and Valerie looked nicer than we did. This is just an example of what life is like with long term travel.
Photo Tour of Shanghai
Here is yet another photo tour, this time of our visit to Shanghai. Shanghai was one of our favorite places in China…an ultramodern city with one of the world's most iconic skylines.
The six of us travelled from Beijing to Shanghai by way of high speed train. Here is the South Beijing Train Station.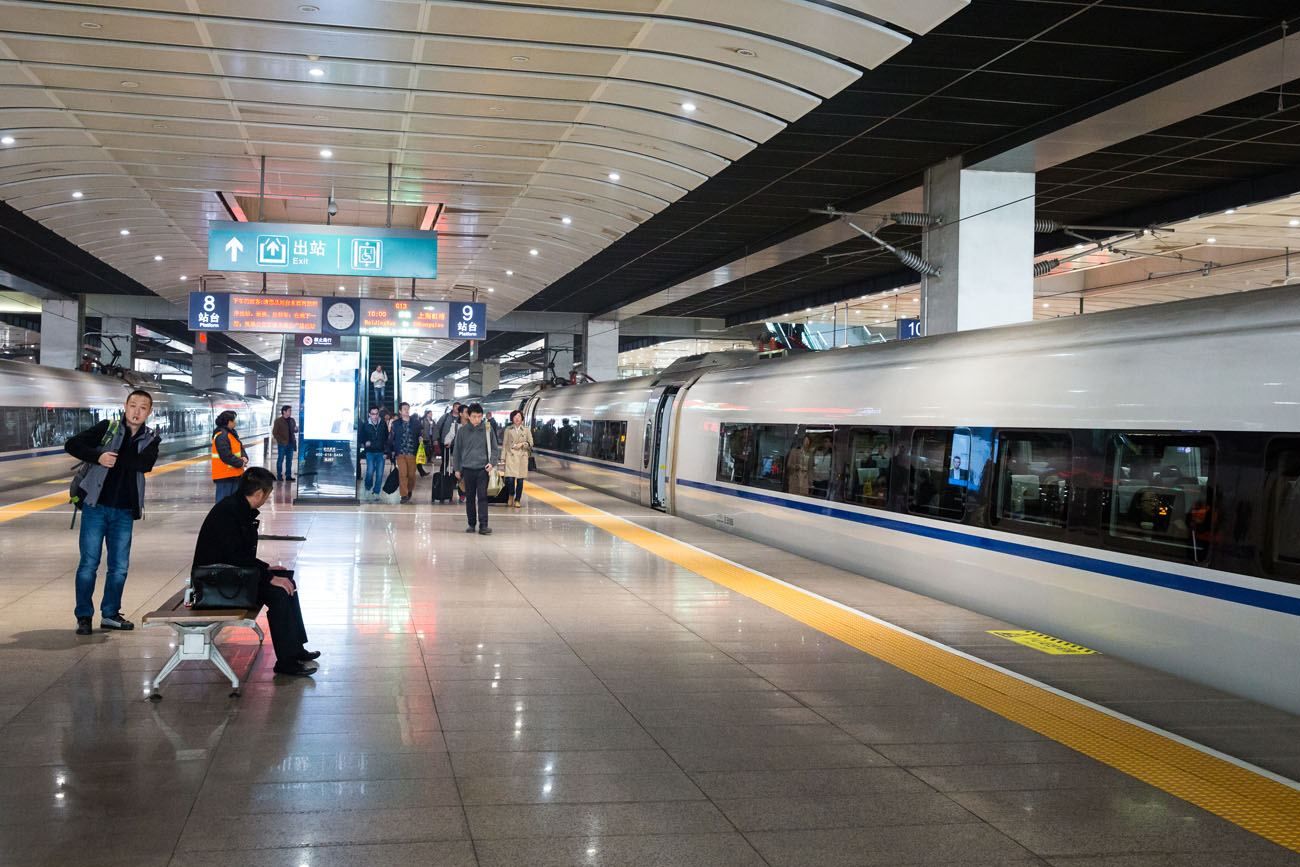 East Nanjing Road
We stayed at the Seventh Heaven Hotel, a hotel with a fantastic location right on the East Nanjing Road pedestrian street, but that was the only positive thing about this place. There was only one elevator for a 17 story hotel, breakfast was disgusting, the wifi hardly ever worked, and our AC never worked either. At least we were near the city center.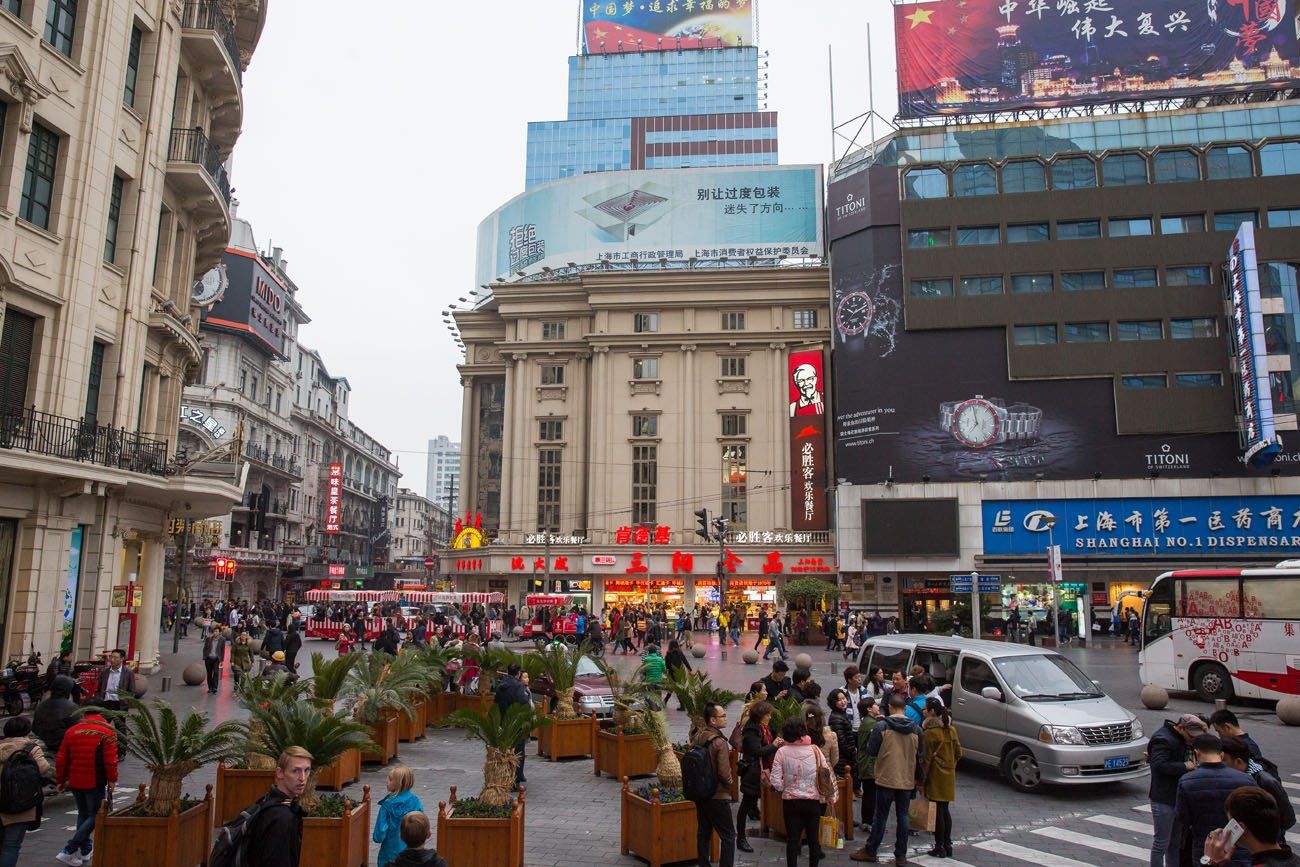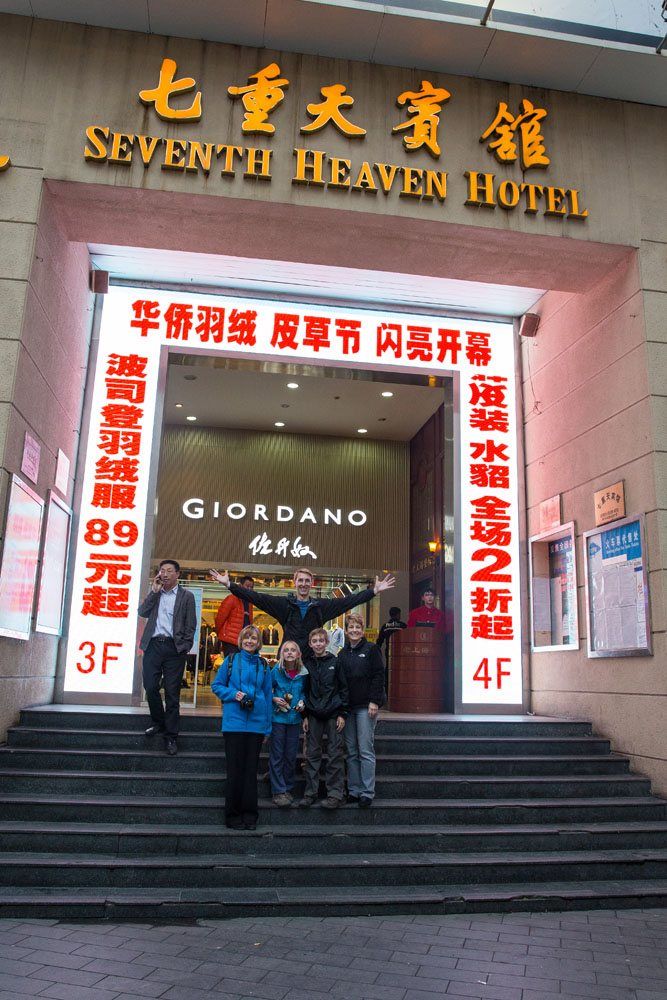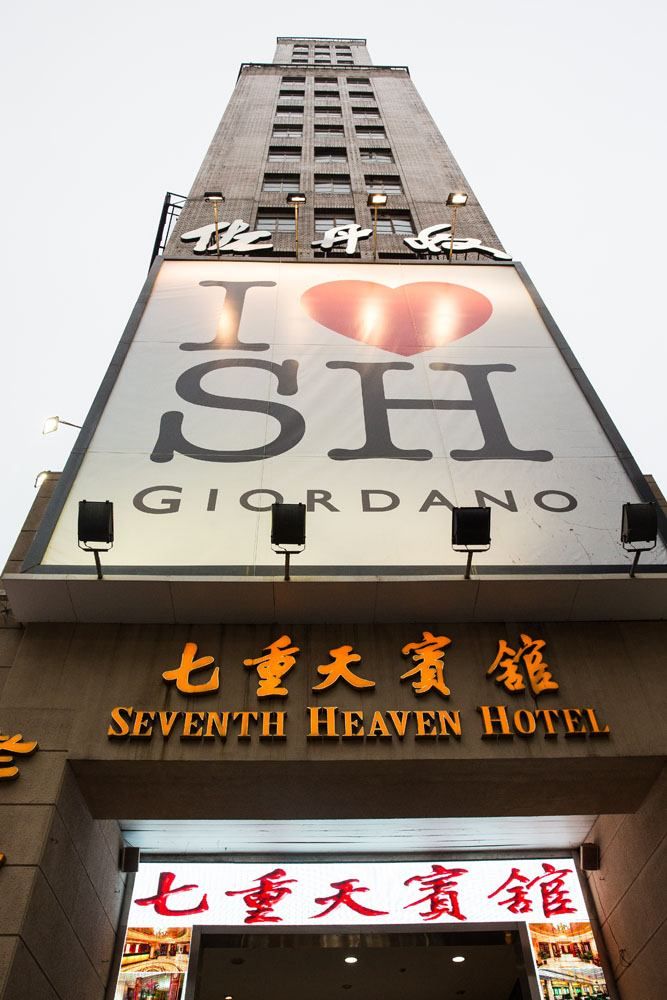 If I hung myself out of my window and looked left, this was our view of Shanghai and East Nanjing Road.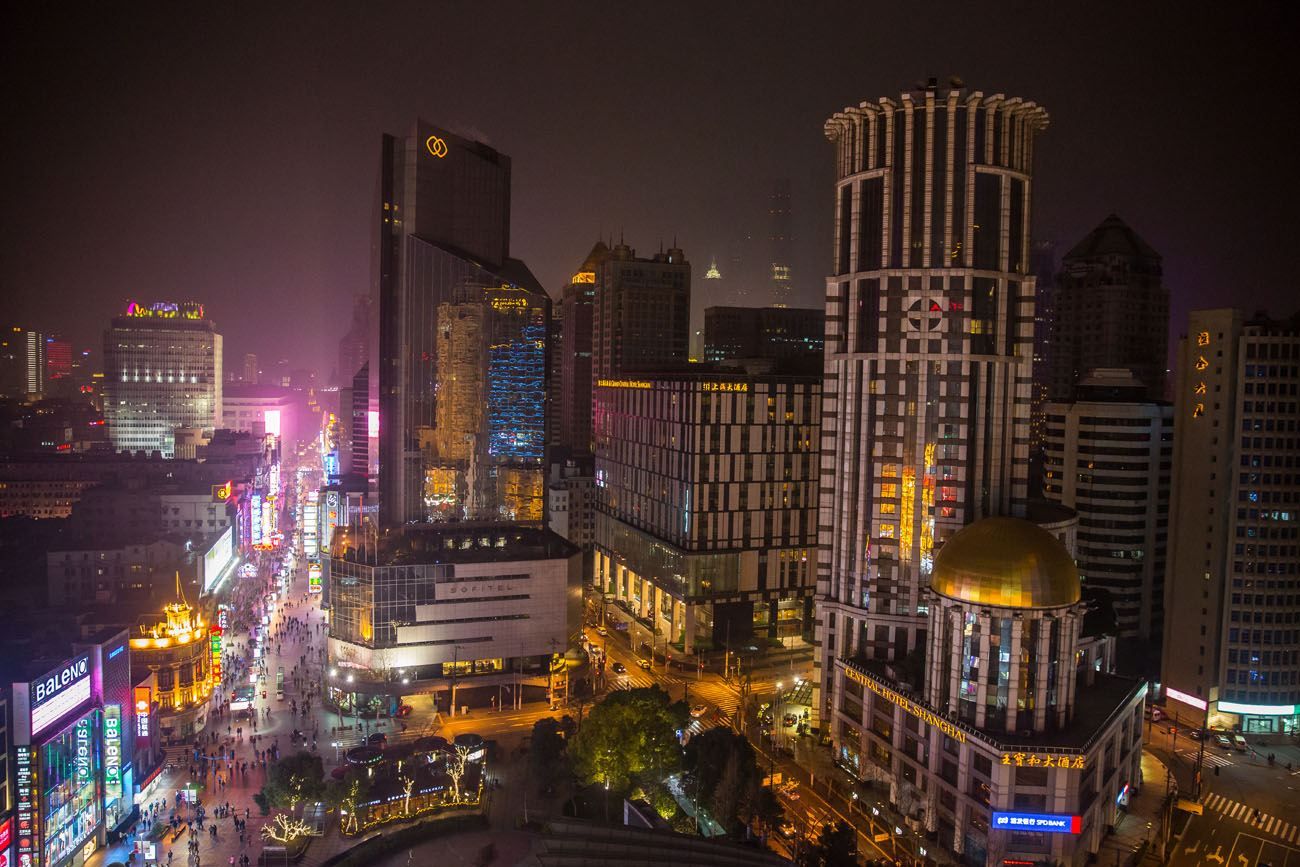 We walked up East Nanjing Road a lot, during the daytime, at nighttime, in the sunshine, fog, and rain. One and a half kilometers down this road and we would be at Shanghai's iconic skyline and the Bund.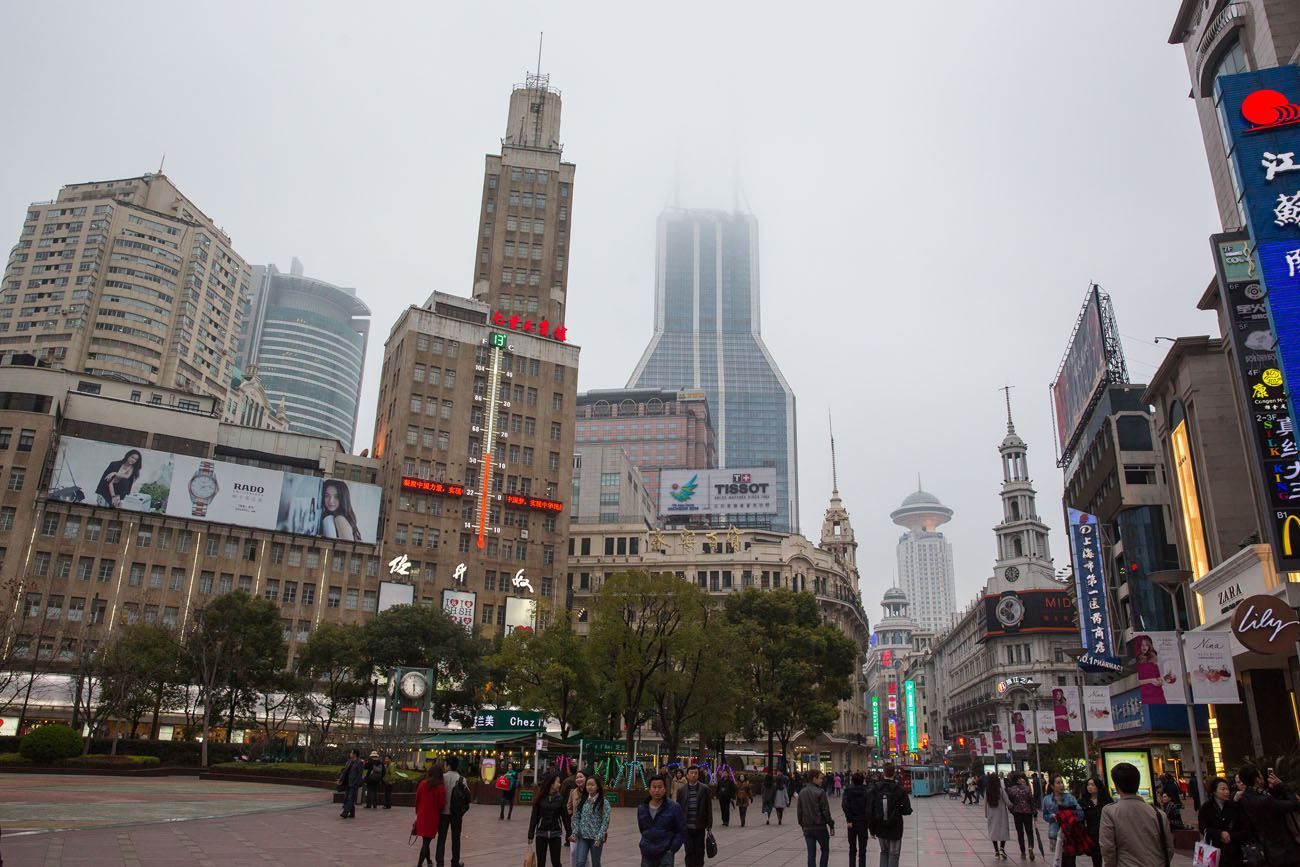 Here is the same view, only on a clearer night.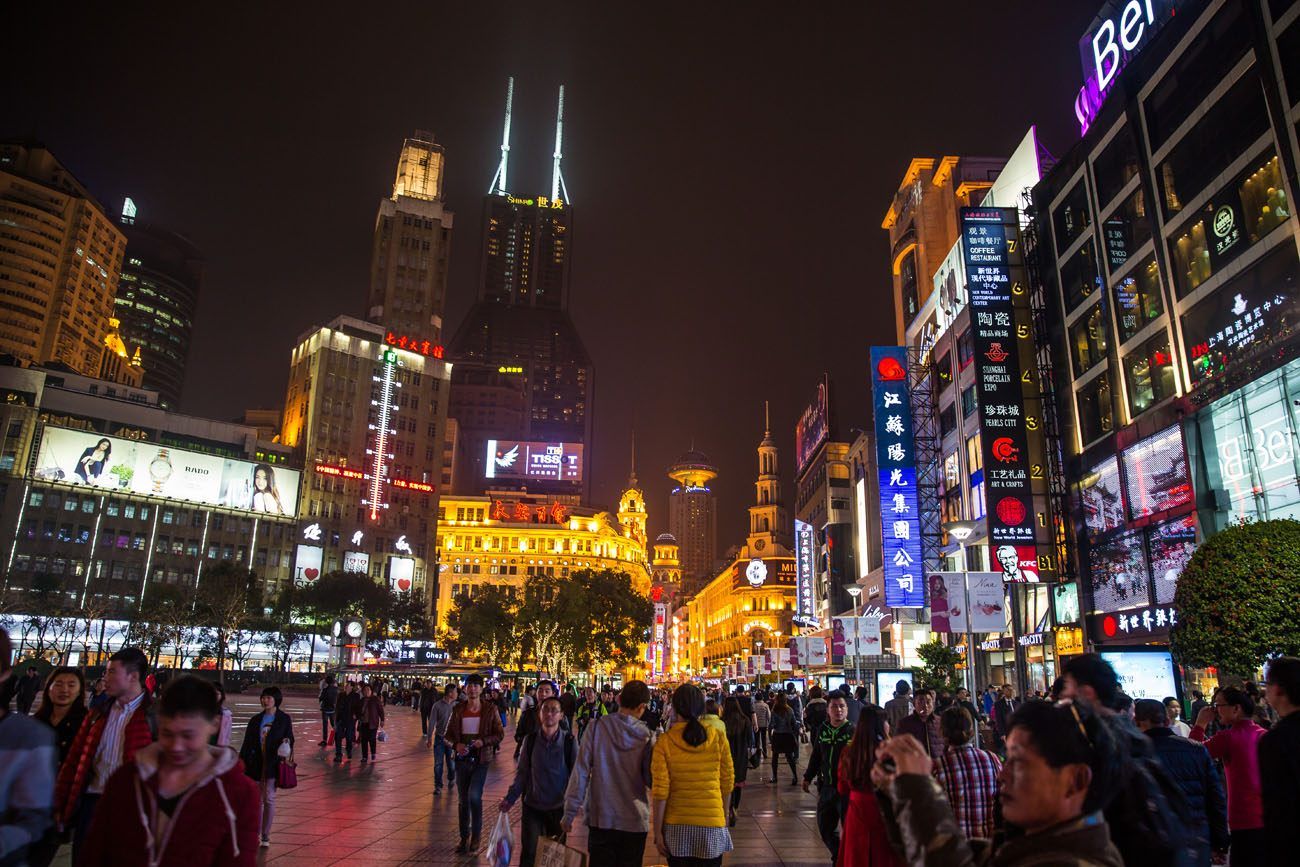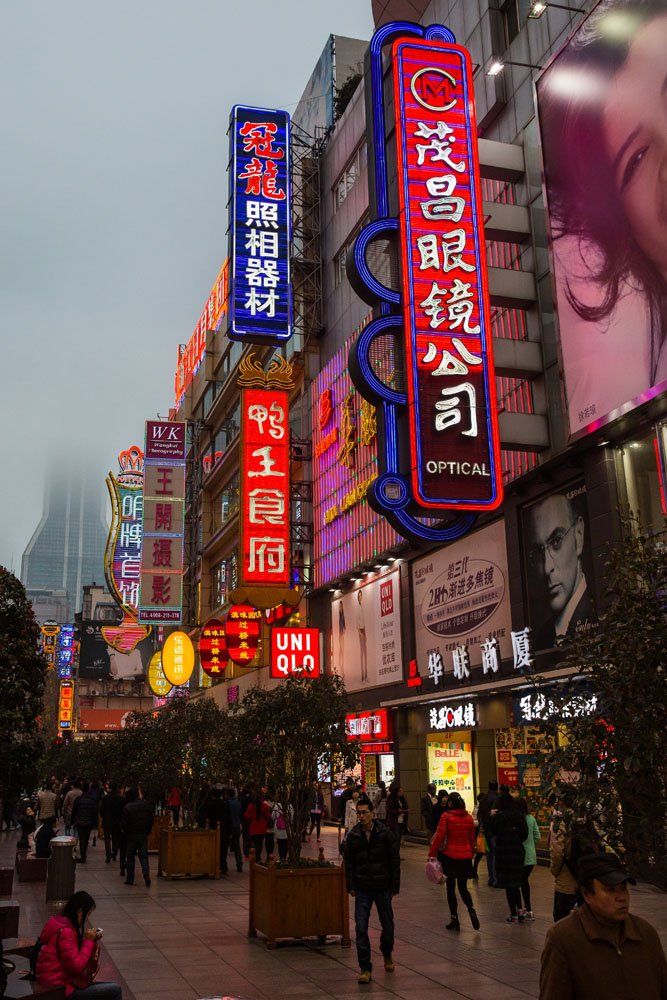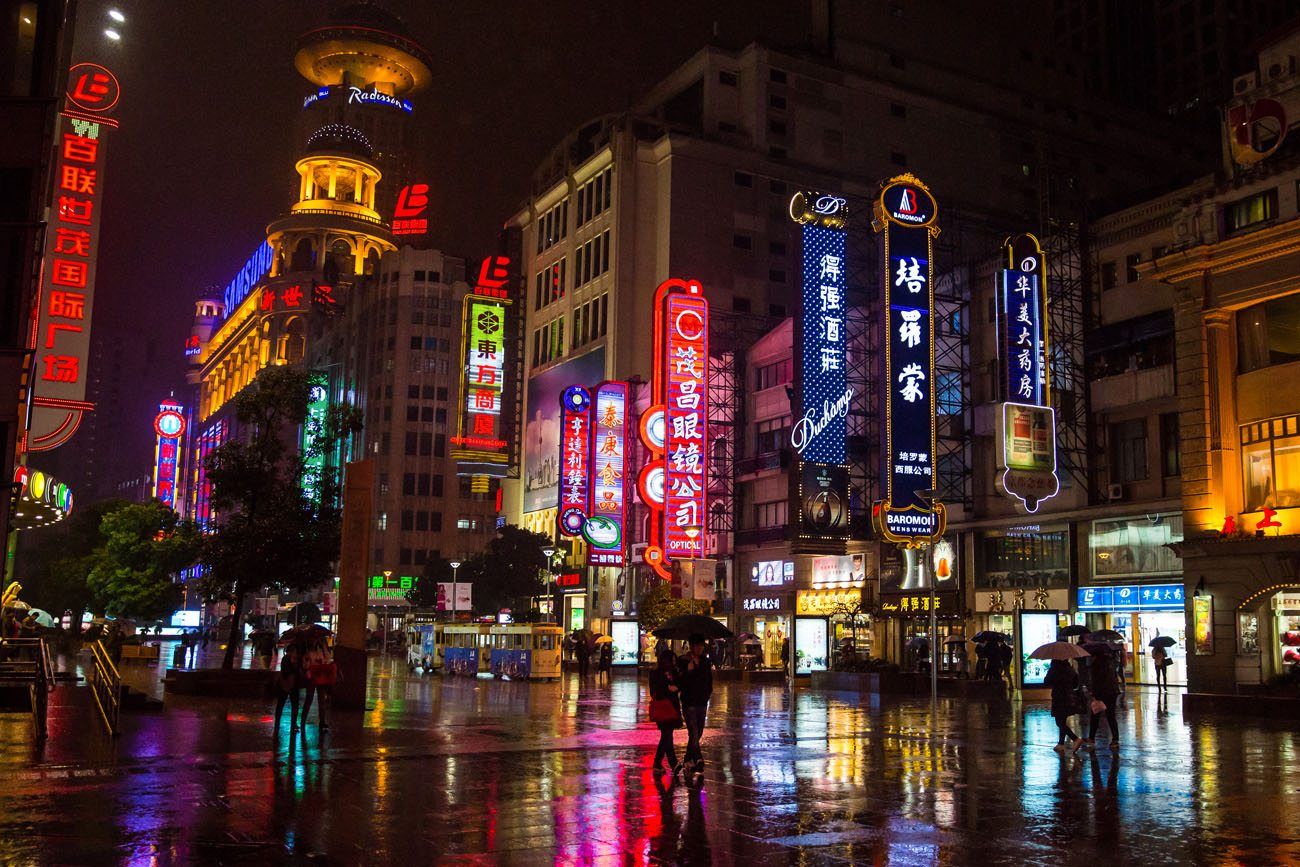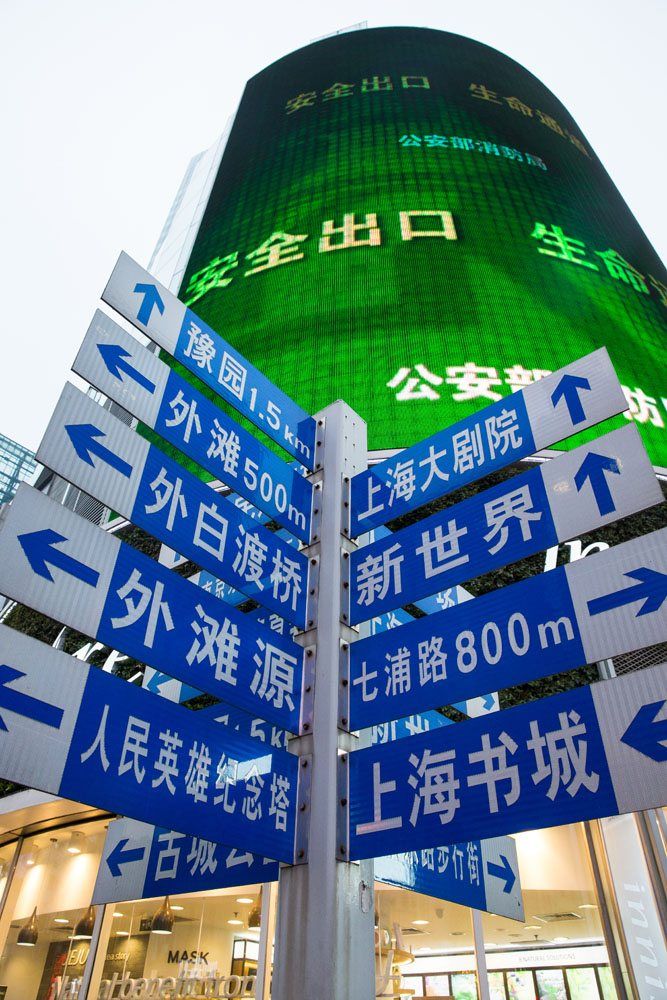 The Bund
Seeing the Bund and Shanghai's skyline was one of the highlights of our time here. The Bund is Shanghai's Wall Street, lined with buildings one hundred years old from the times when this was one of England's many colonies.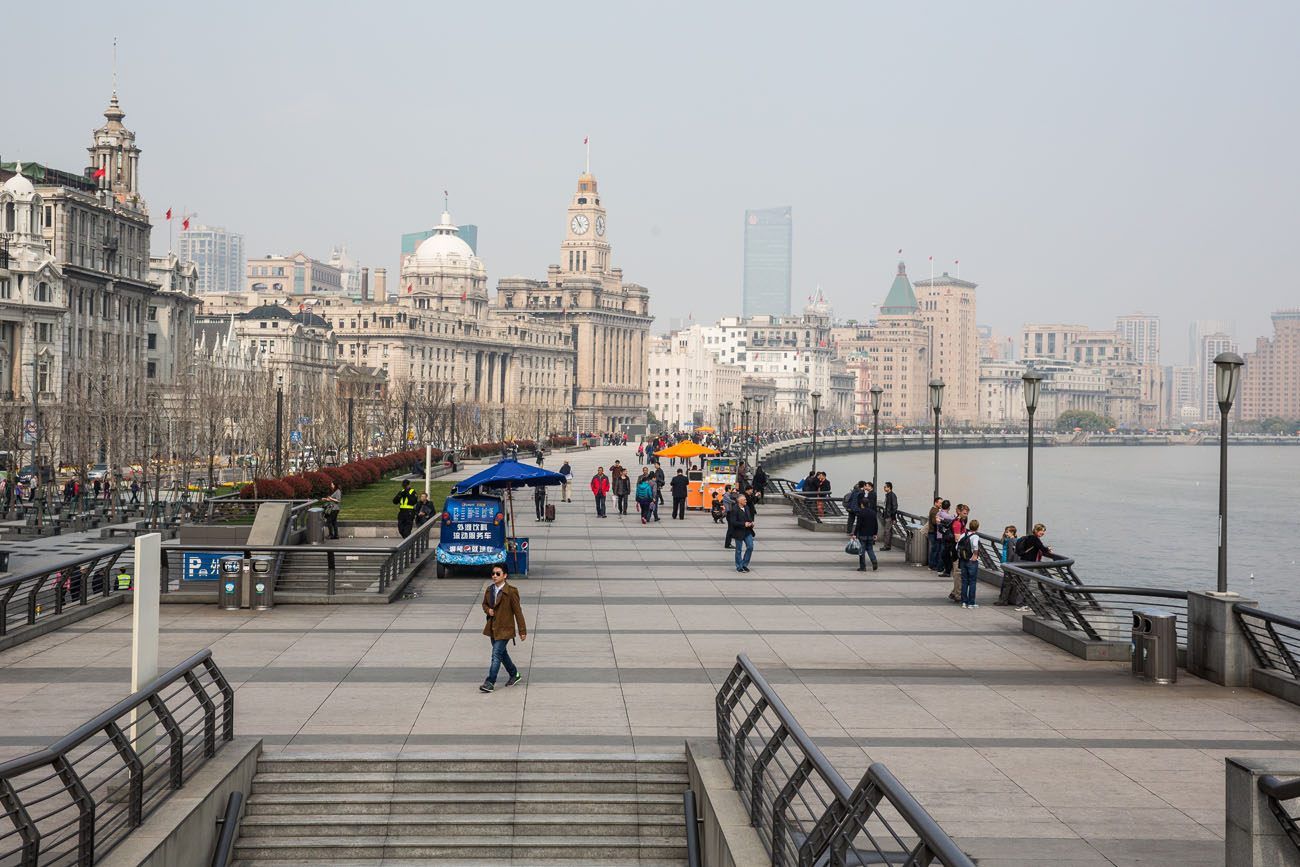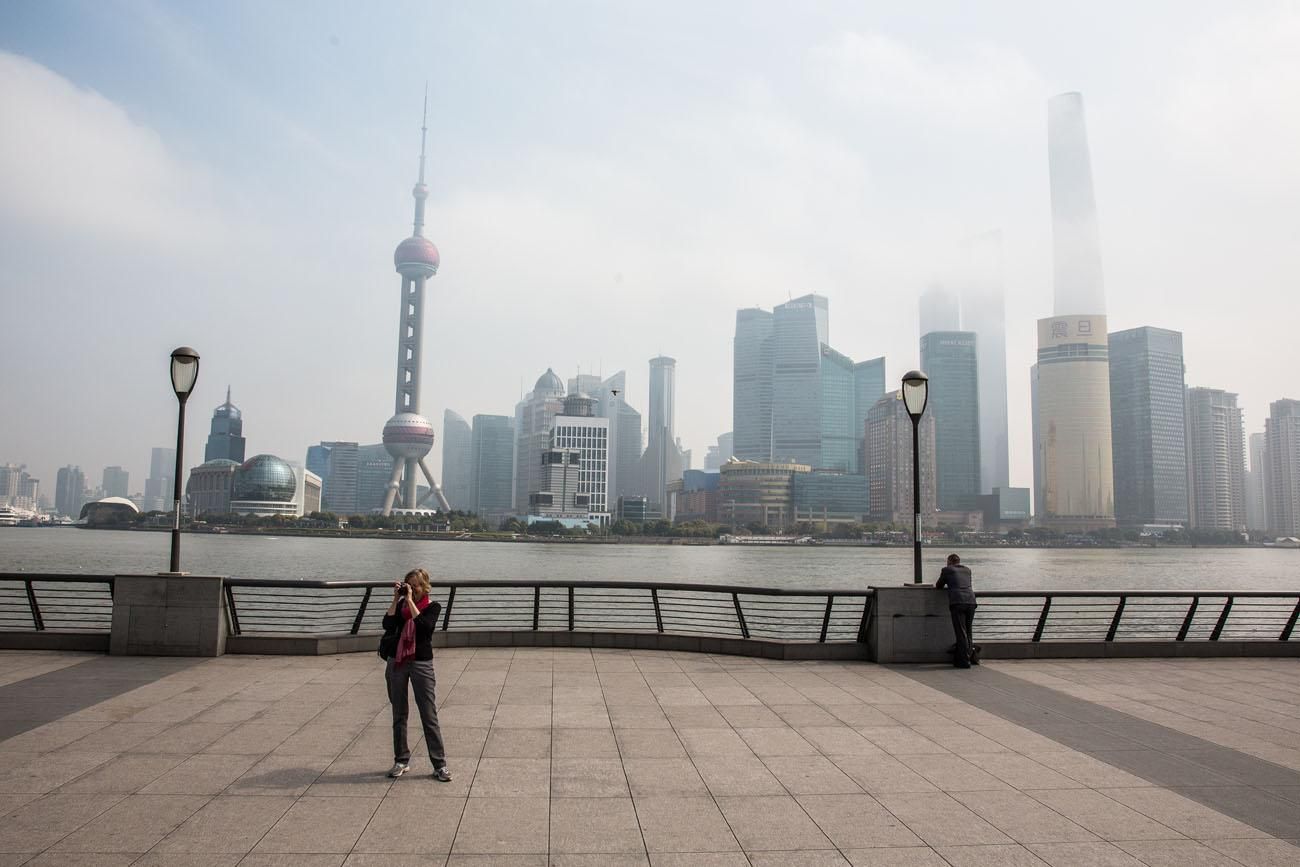 We walked along The Bund, enjoying the views in both directions. What a cool area…ultramodern on one side, historic on the other. What I found very interesting about the more modern skyline is that most of these buildings did not exist before 1994. If you look at photos from 1994, one of the only buildings is the Oriental Pearl Tower, the space needle looking building. Shanghai has had a huge expansion during the past 20 years, similar to Dubai and Abu Dhabi.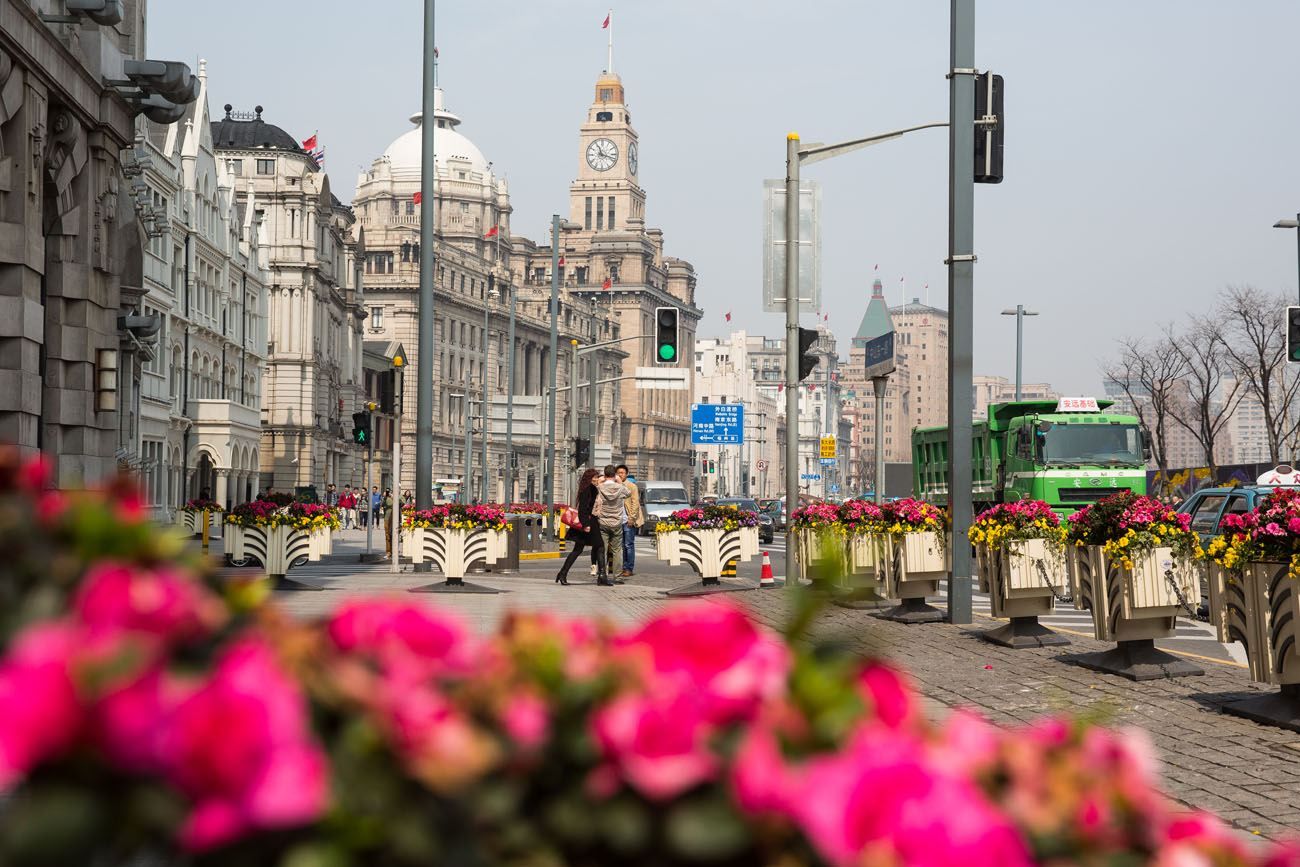 The Oriental Pearl Tower
From the Bund we took the Pedestrian Sightseeing Tunnel which was really a tram under the river to the other side. Now we were in modern Shanghai and ready to climb a tower.
There were several to choose from, including the Shanghai World Financial Center, one of the world's tallest buildings. Apparently, this building's observation deck is just as high (or maybe even higher) the Burj Khalifa's, the tallest building in the world located in Dubai. We chose to climb the Oriental Pearl Tower, for historic purposes and its better views of the city.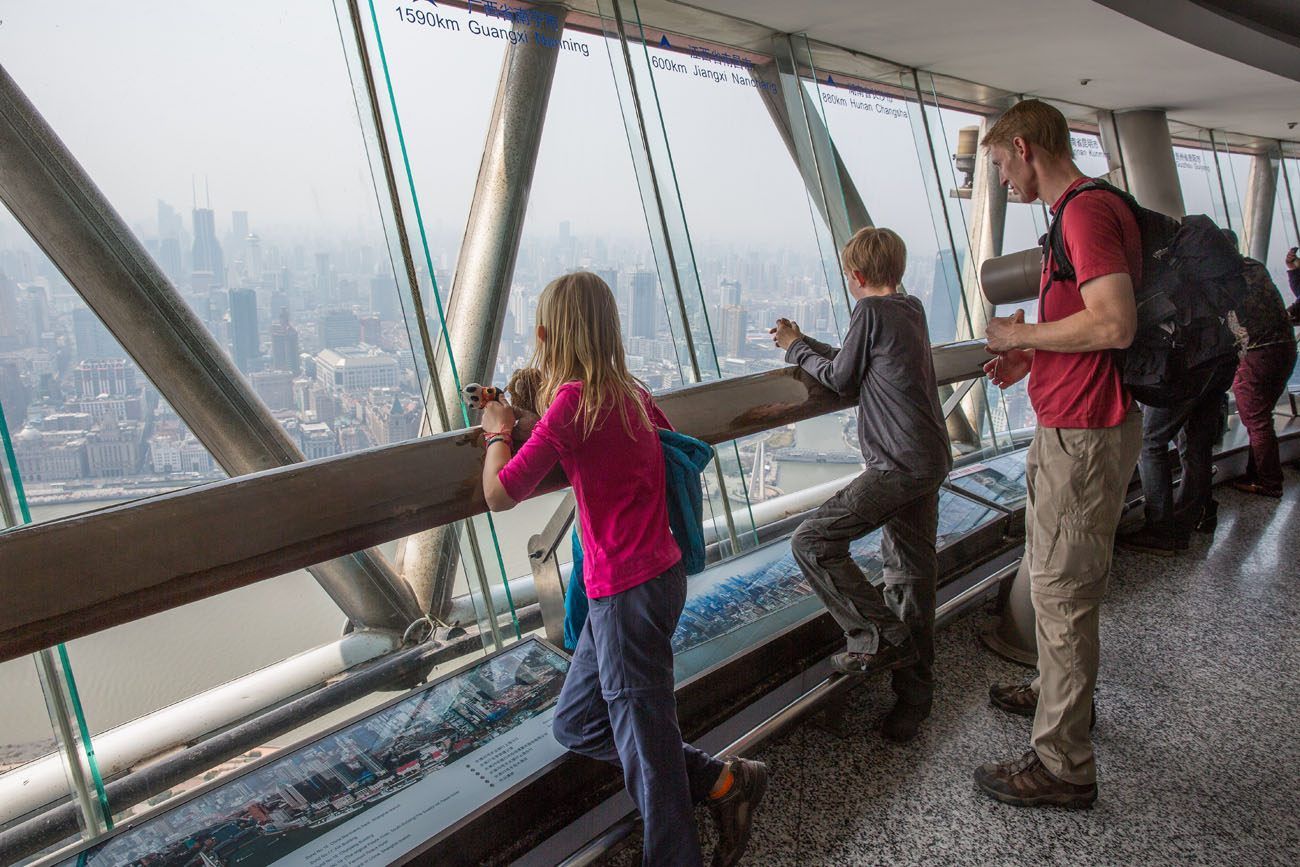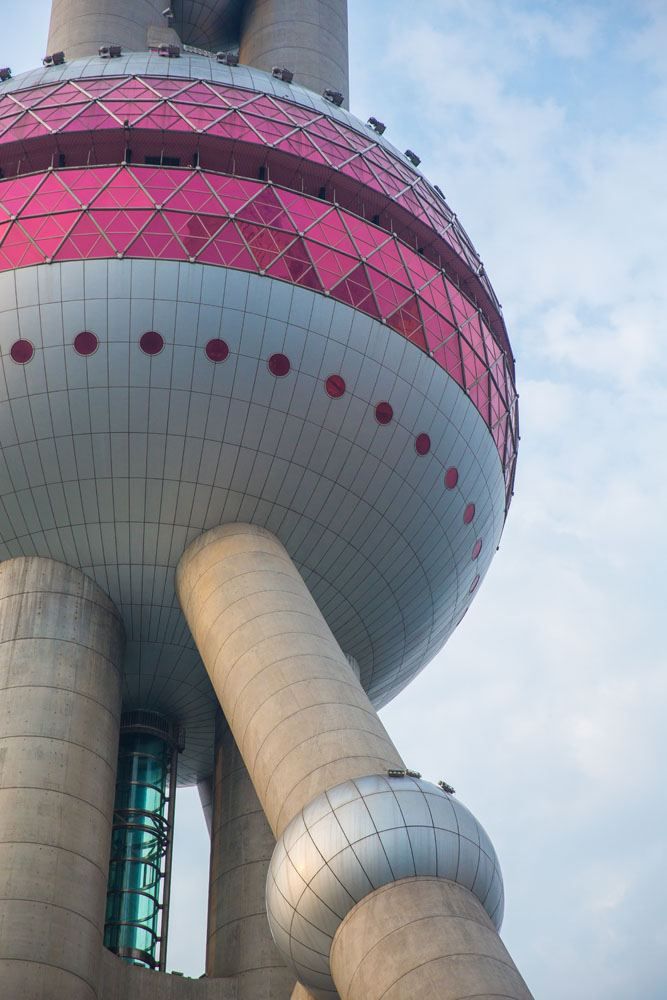 Shanghai is home to 24 million people, making it the world's most populous city. For a little perspective, in 2014, 26 million people live in the entire state of Texas, the third most populous state in the United States. This city is a sea of skyscrapers with a Starbucks on every corner.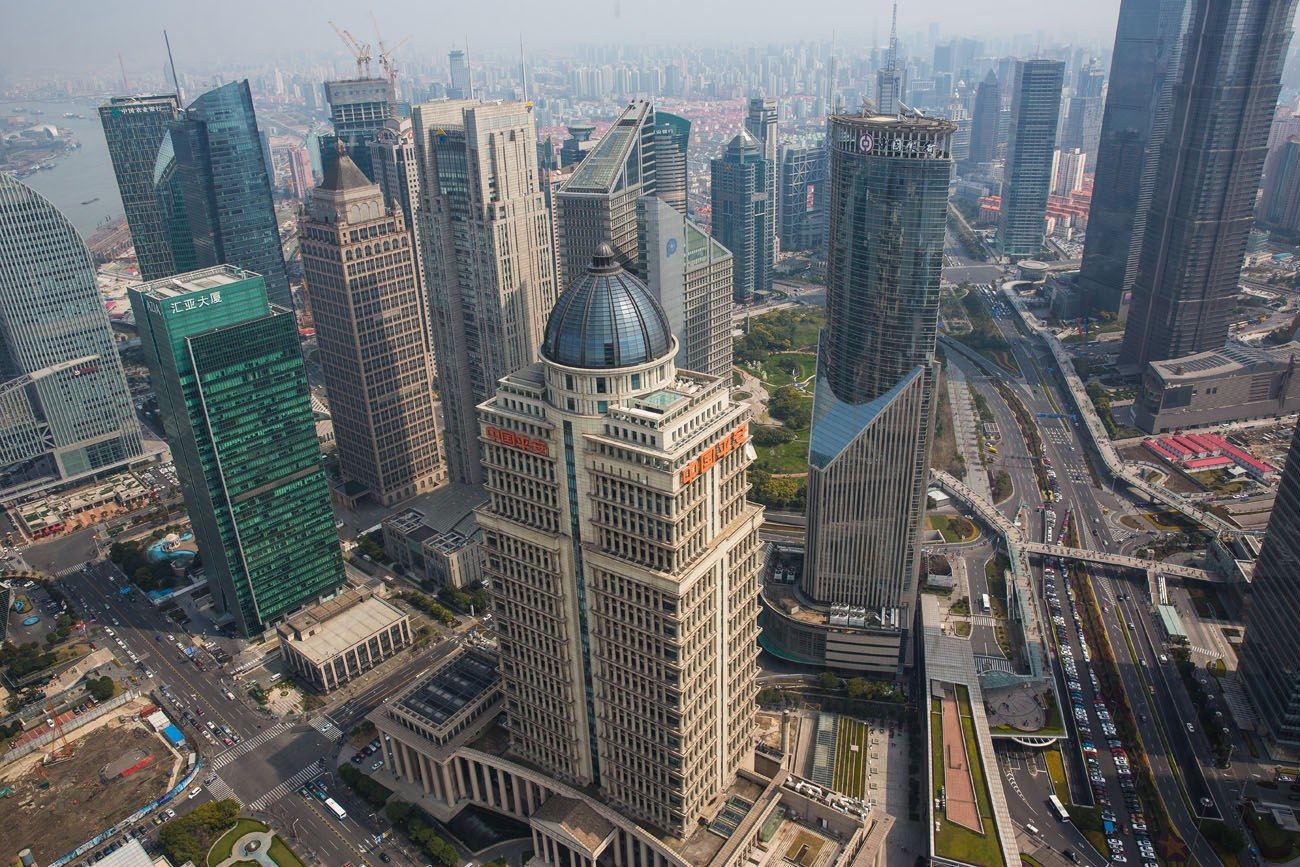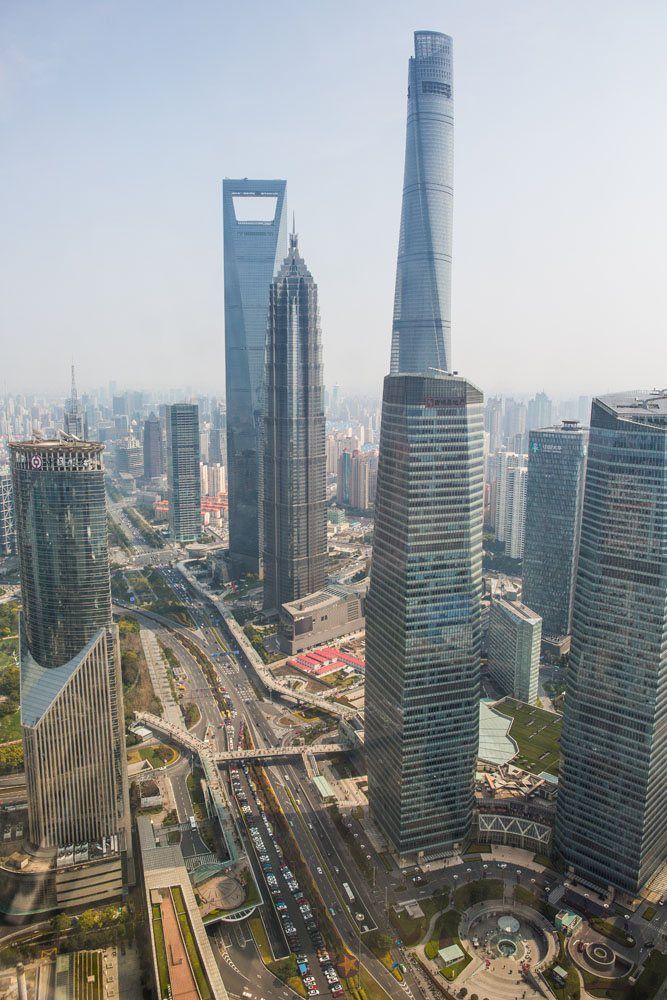 In the photo above, the building that looks like a bottle opener is the Shanghai World Financial Center. The spiky building in front of it is the Jimao Tower. The tallest building in the picture, Shanghai Tower, is currently under construction and looks to be ready to open any time now (in 2014). This building is the world's second tallest.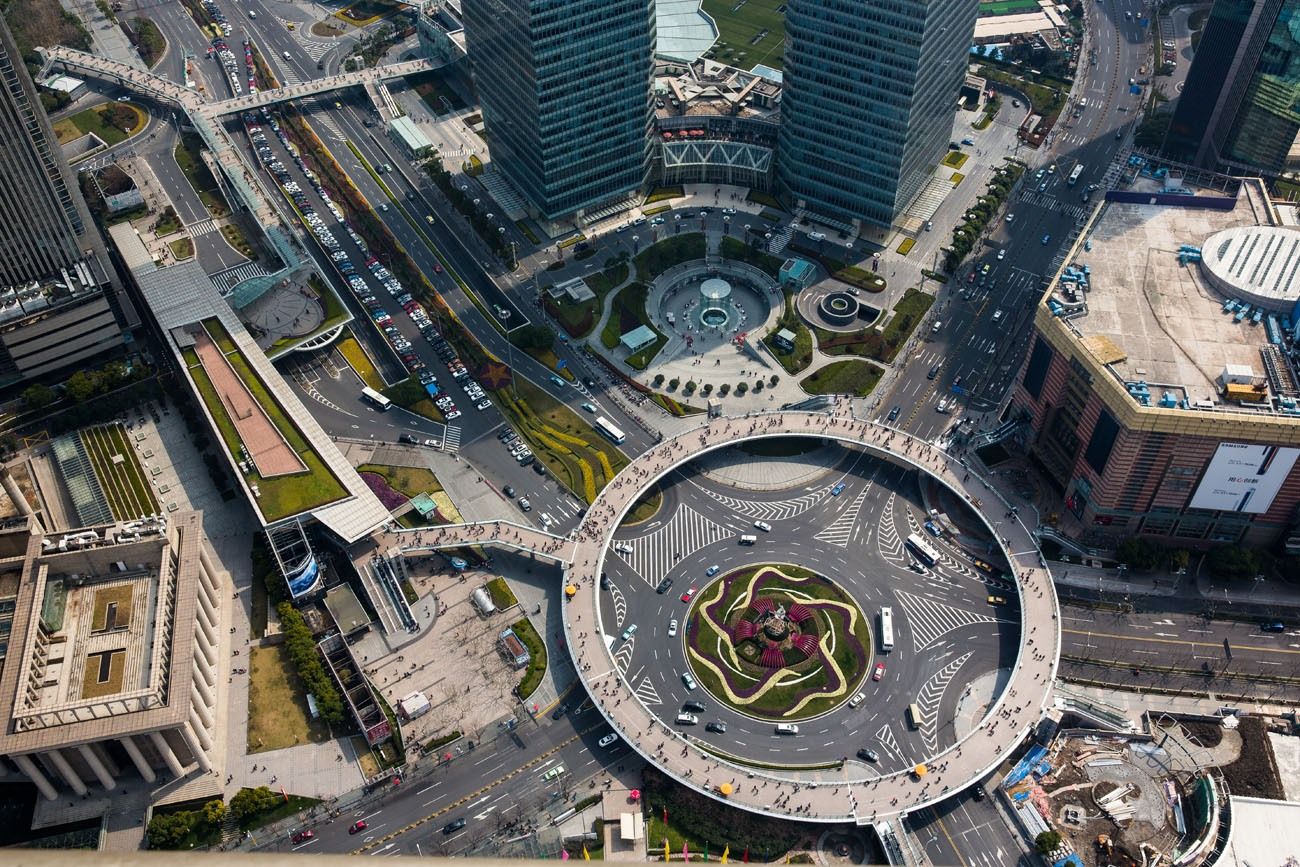 One level below the observation deck was a glass walkway around the tower. The glass floors were scratched up but we could still see through it to the ground far, far below our feet. It was very cool and Tyler and Kara loved it. Tim got them to pretend that they were falling through mid air.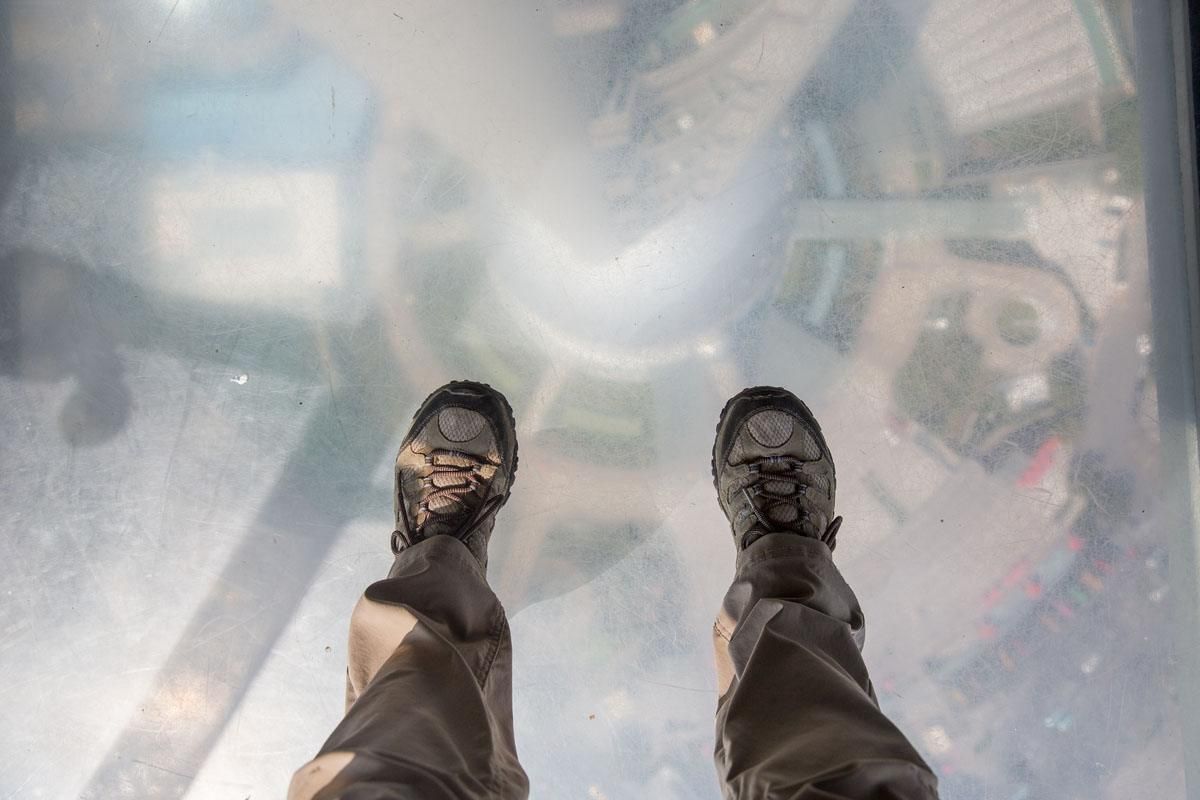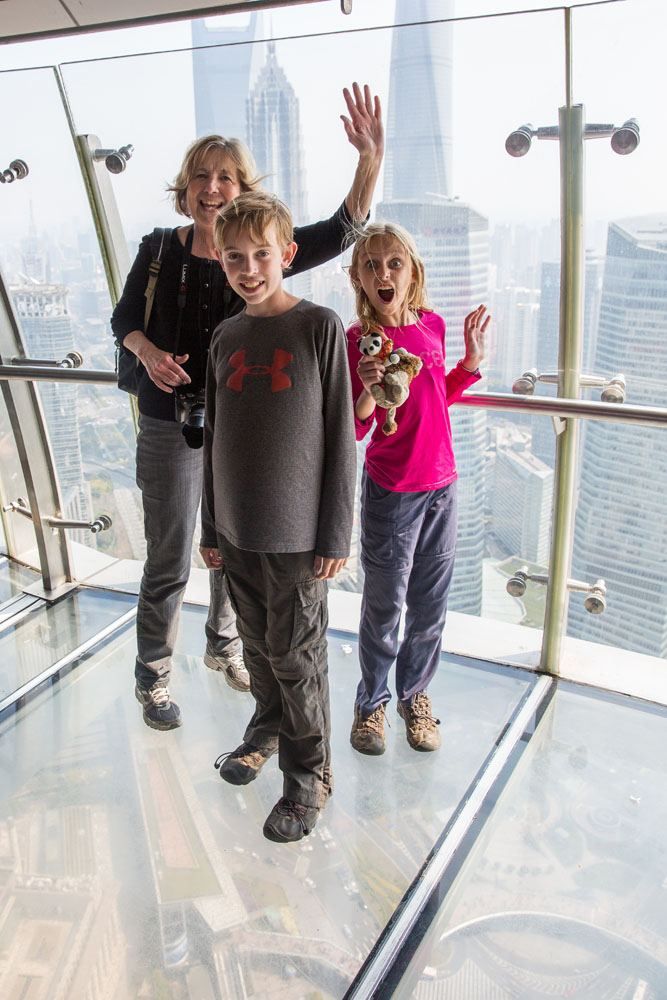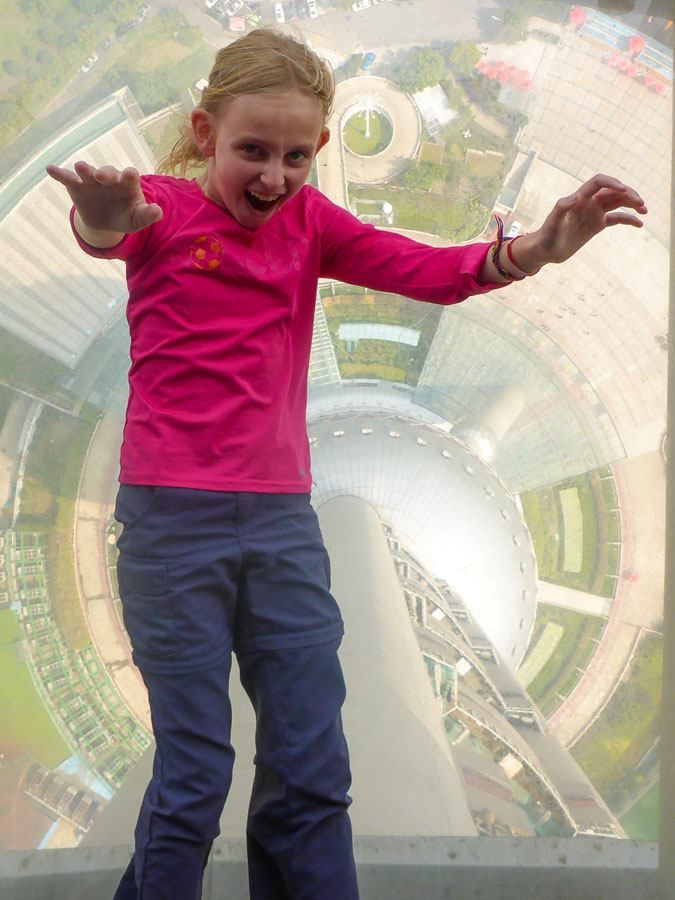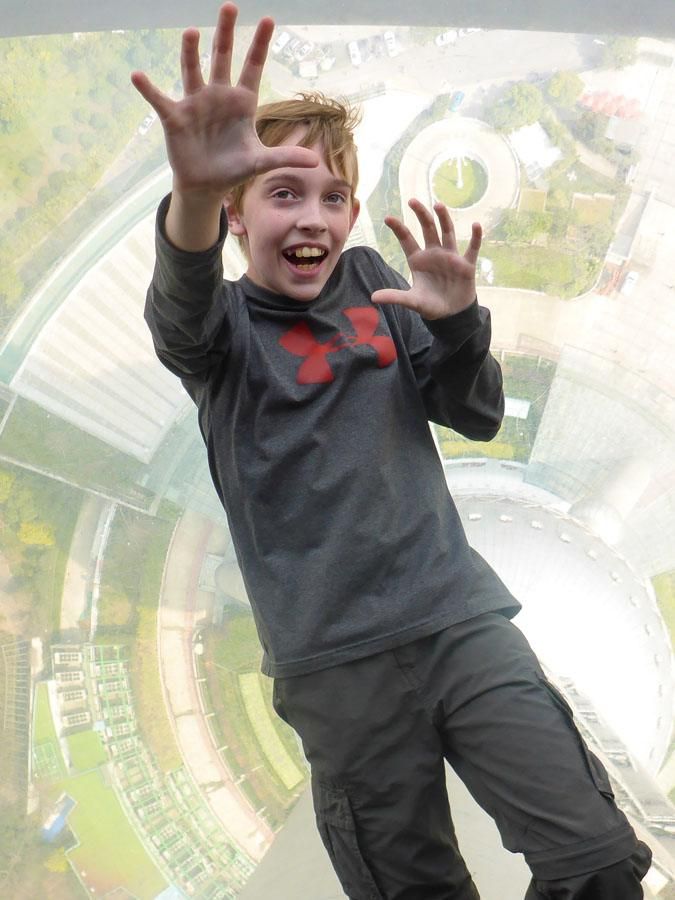 Shanghai Financial District
Once we had our fill of the Shanghai skyline we descended back to ground level and took a short walk through the financial zone. Since this area is only twenty years old, this place is a good example of modern urban planning, with wide streets, convenient pedestrian walkways, and interesting landscaping.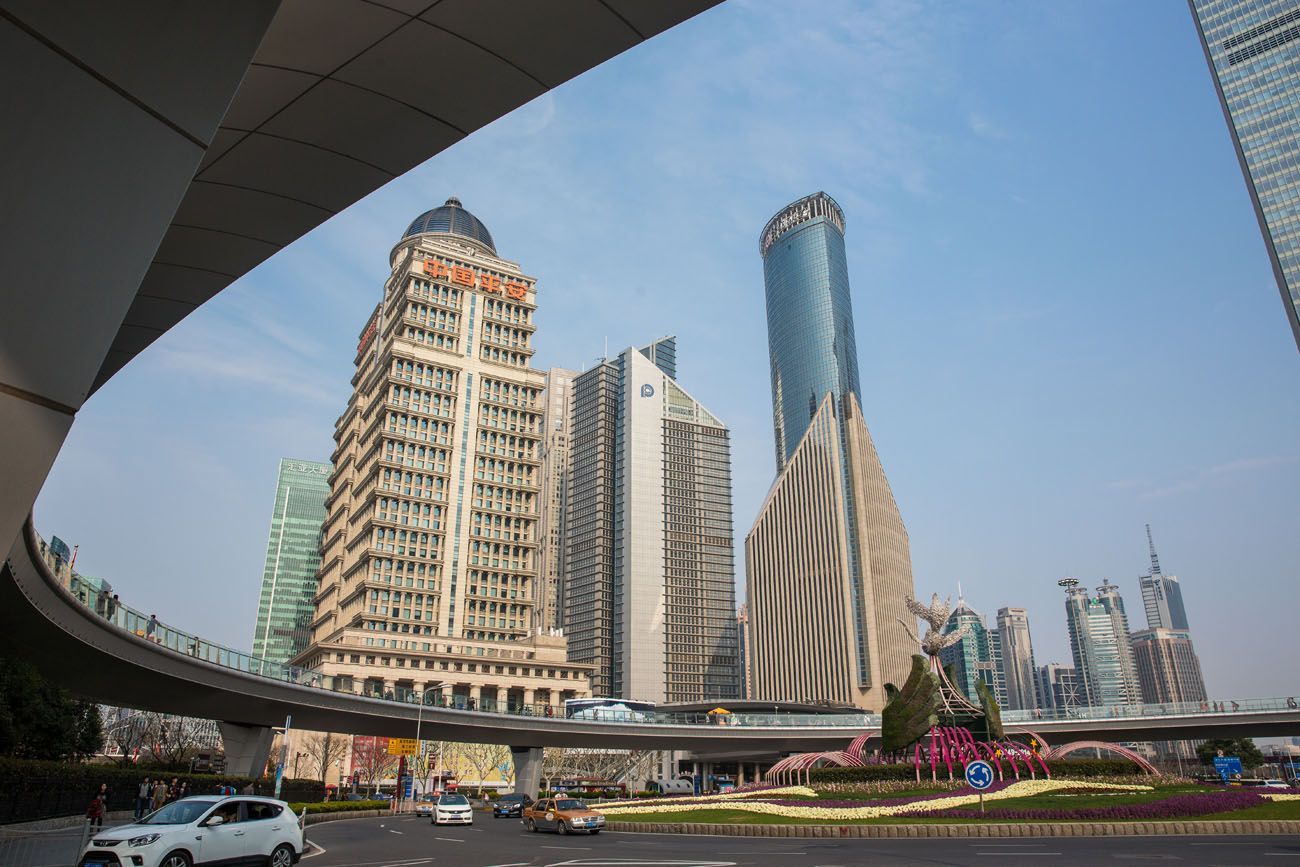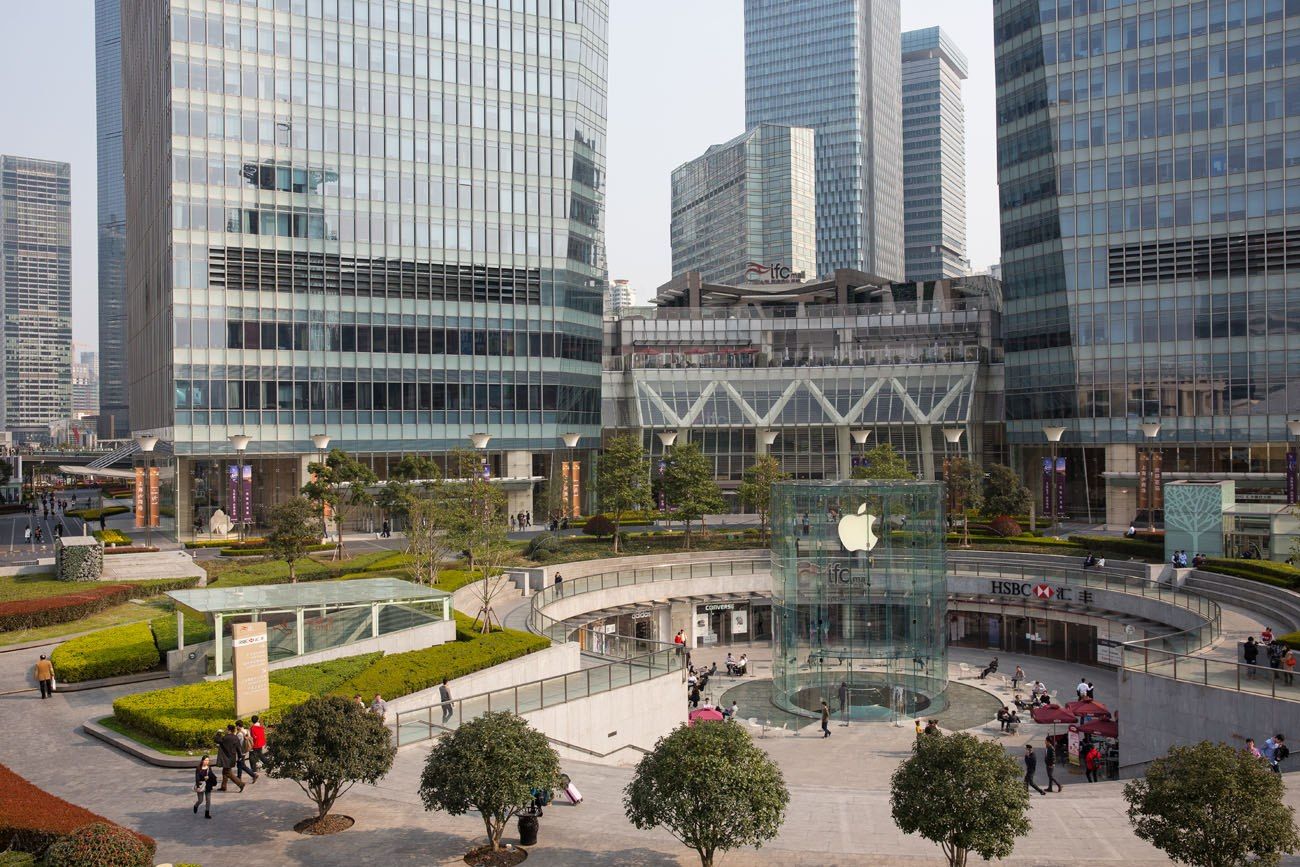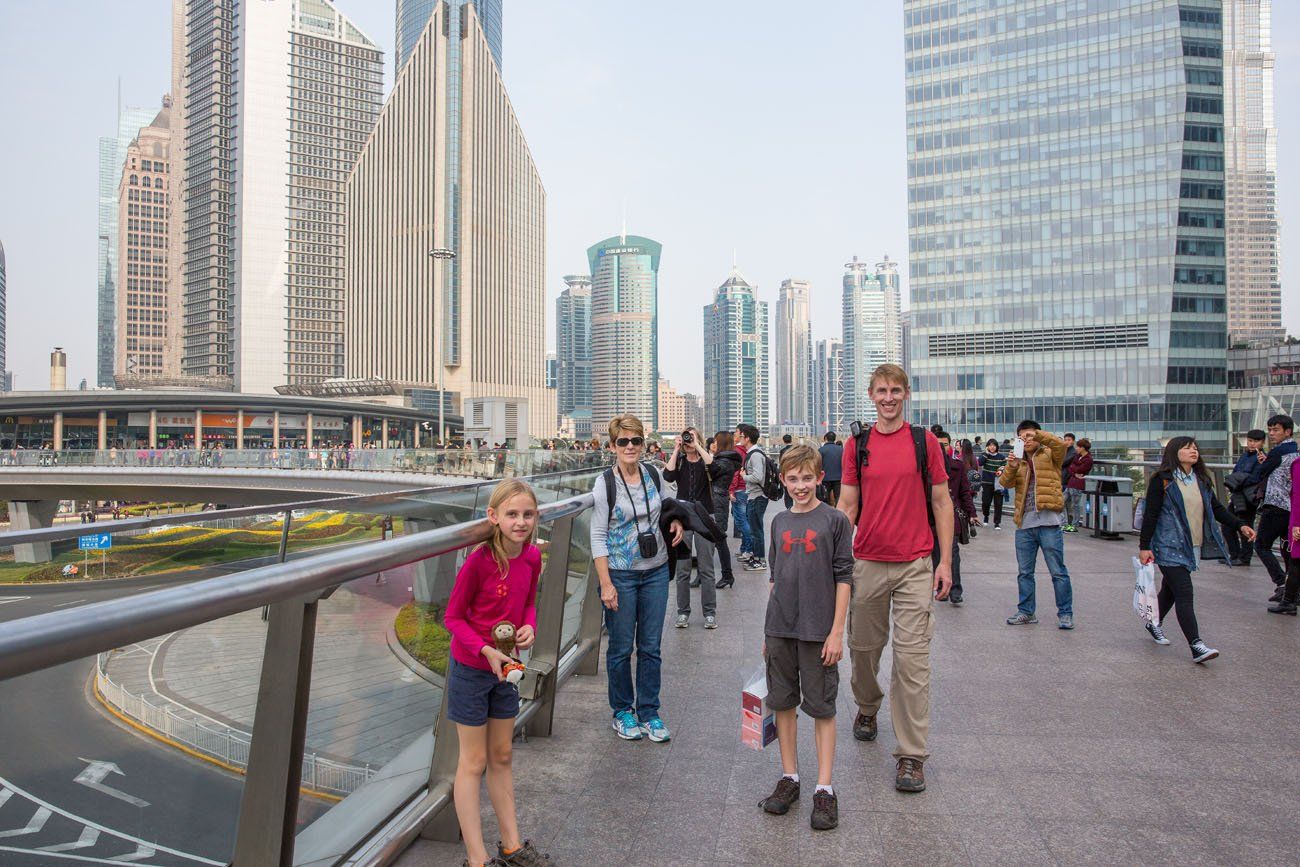 Shanghai Skyline
I spent the rest of the afternoon on the waterfront with my camera, getting photos of the skyline as the sun set. Before Tyler, Kara, Kathy and Valerie went back to the hotel, I caught Tyler making friendly displays of affection to his wonderful sister.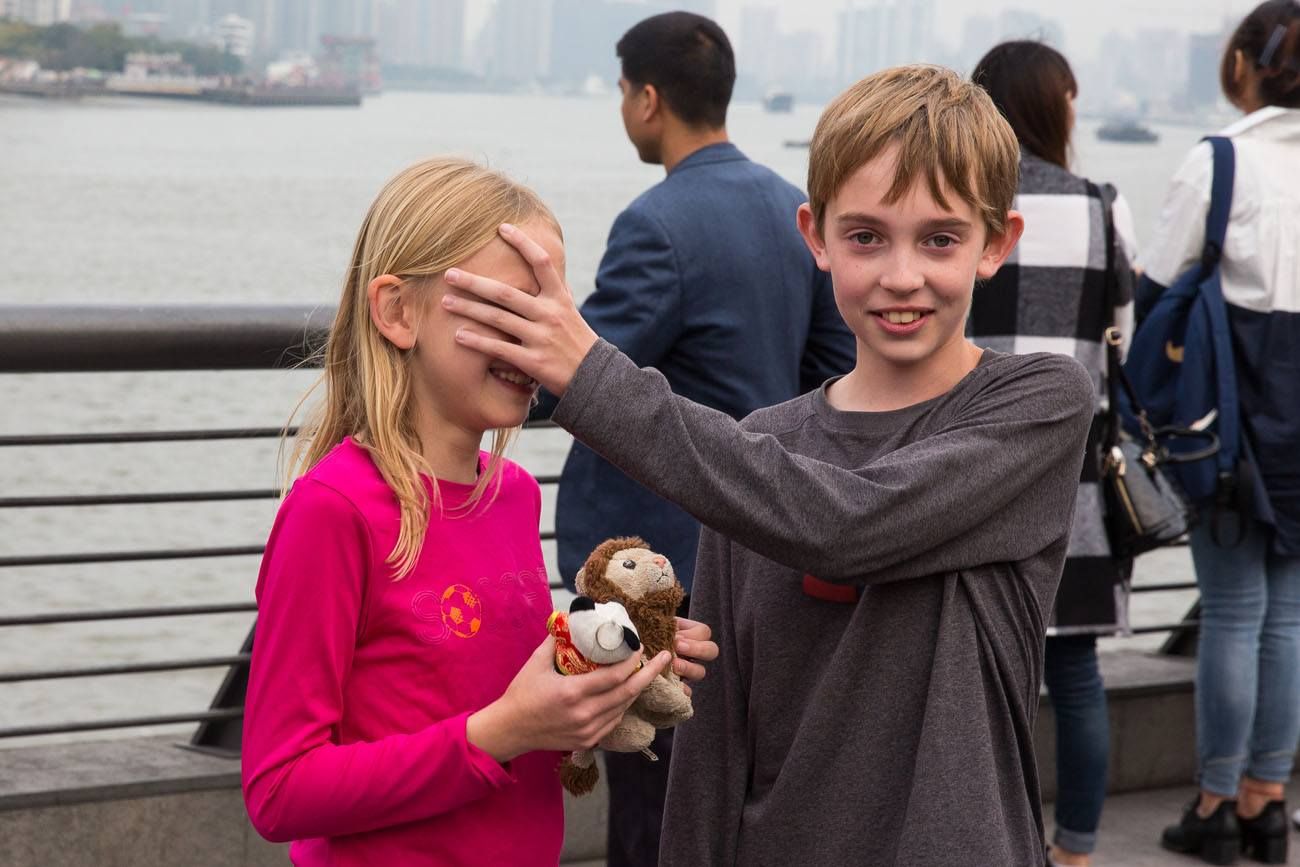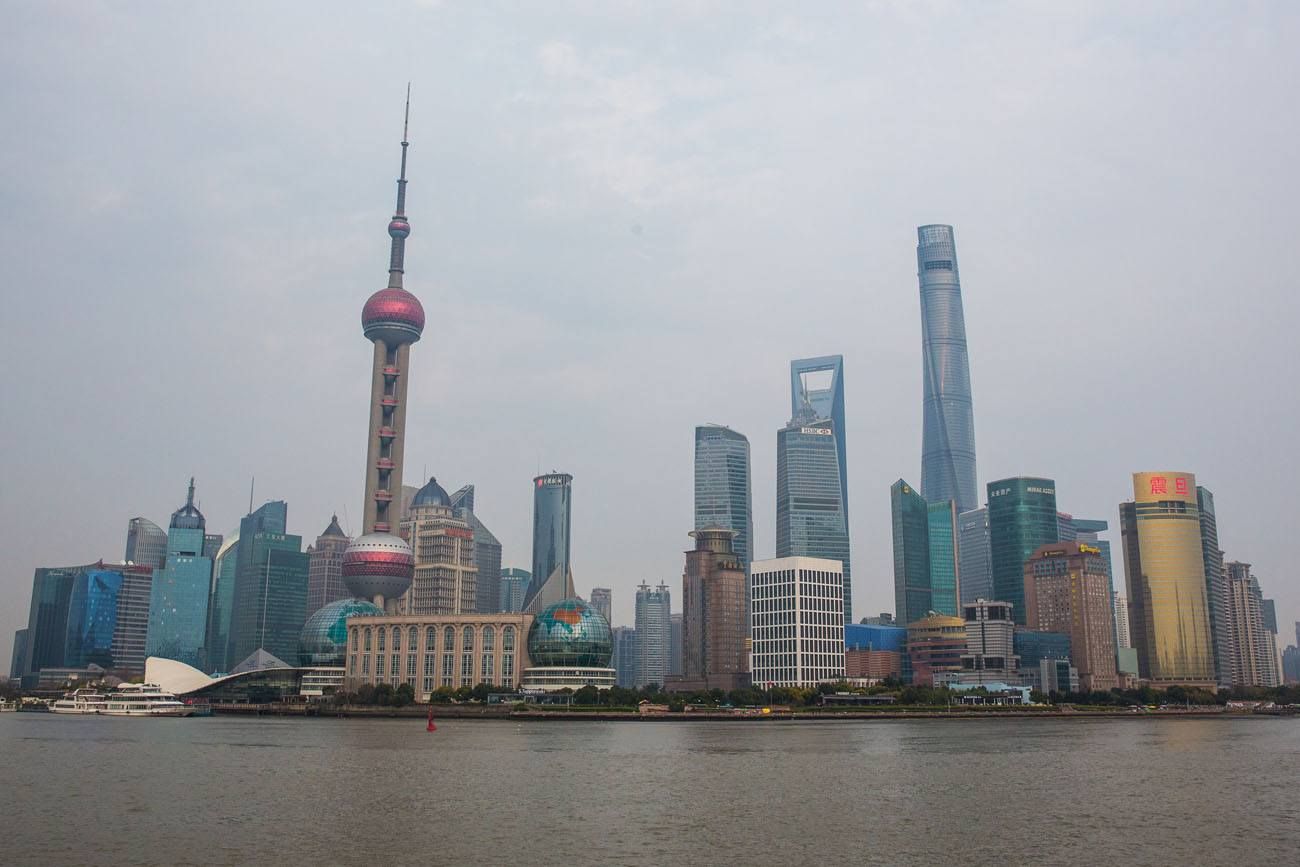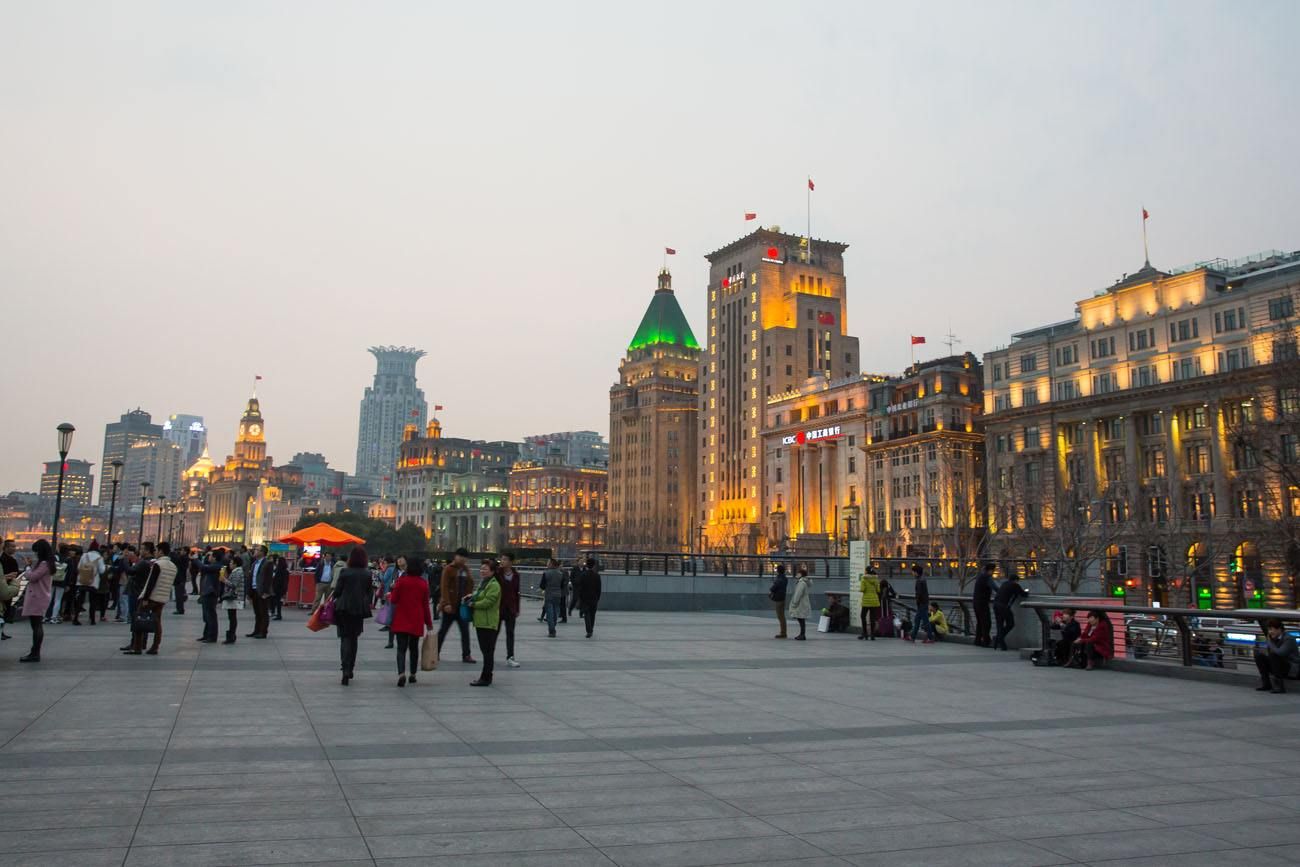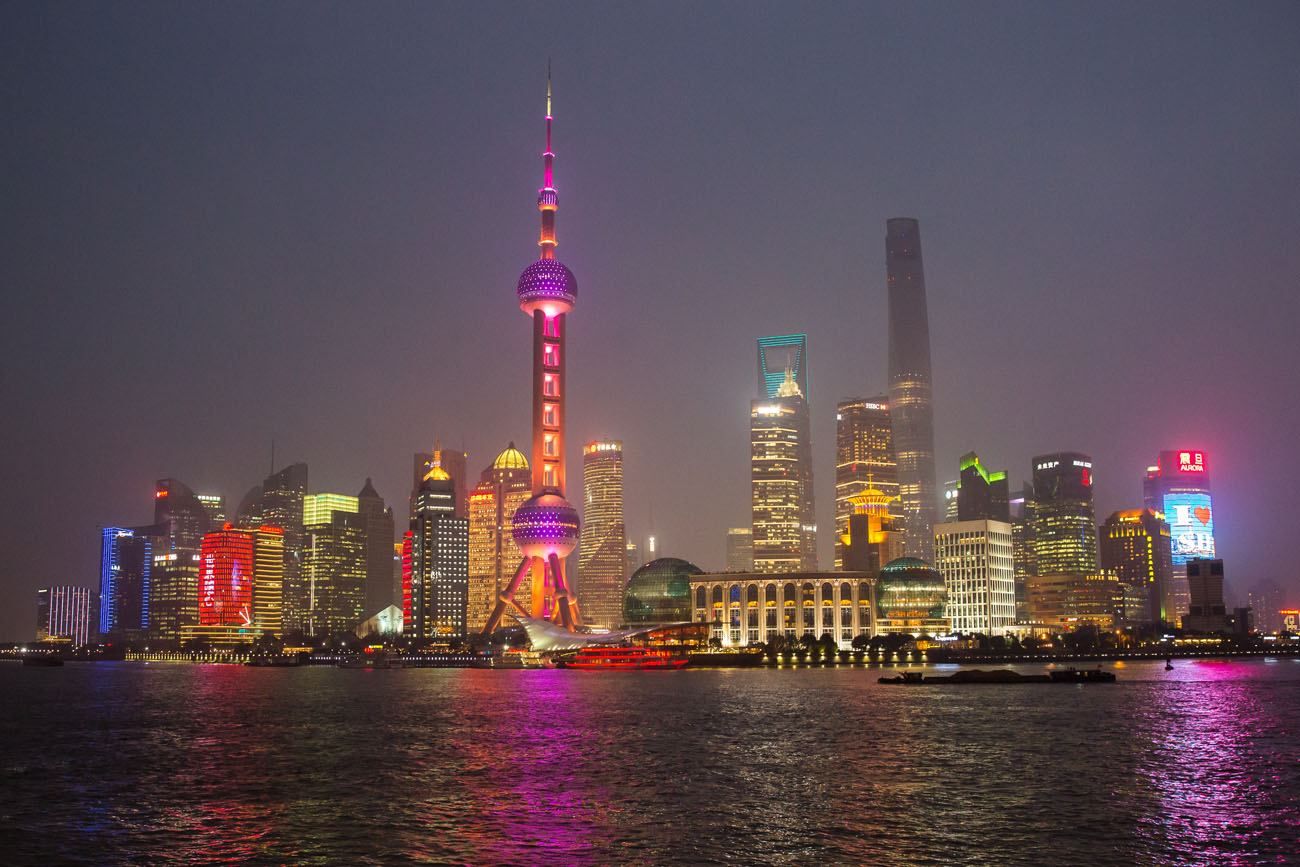 Shanghai Museums
Shanghai has its fair share of museums so we visited two of them. Our favorite of the two was the Urban Planning Exhibition, an entire five floors that illustrated Shanghai's explosive growth during the past 20 years and where they plan on going from here. It was fascinating. We also visited the Shanghai Museum, the place to see ancient Chinese artifacts, like pottery, money, calligraphy, and furniture.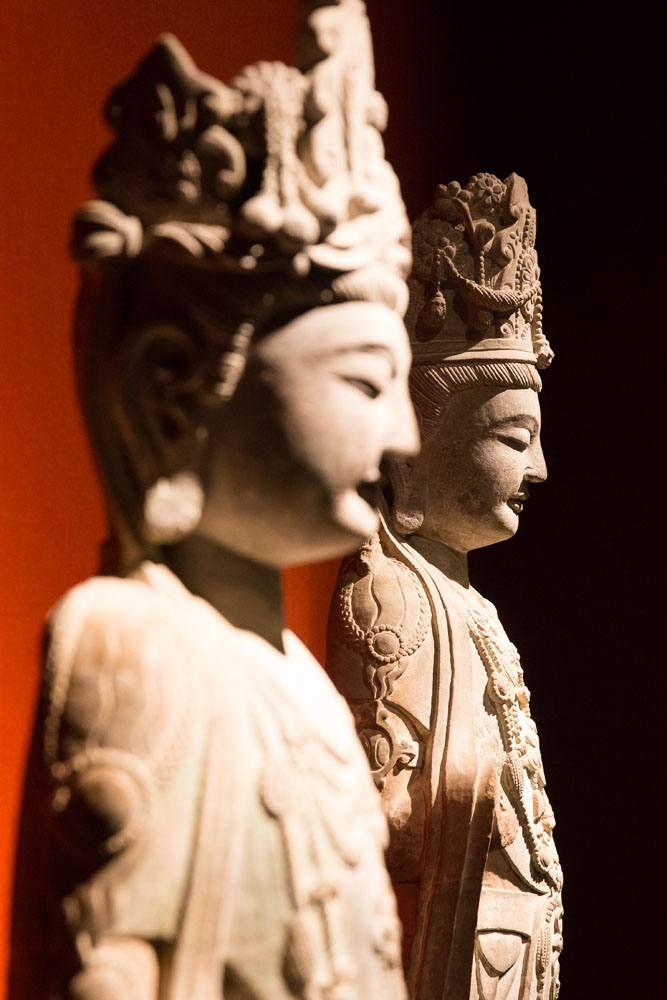 Yuyuan Gardens
There are many places to go shopping in Shanghai, mostly in shopping malls. We chose to go to Yuyuan Gardens, more touristy than the malls but the place to buy those chopsticks, teapots, and other Chinese souvenirs.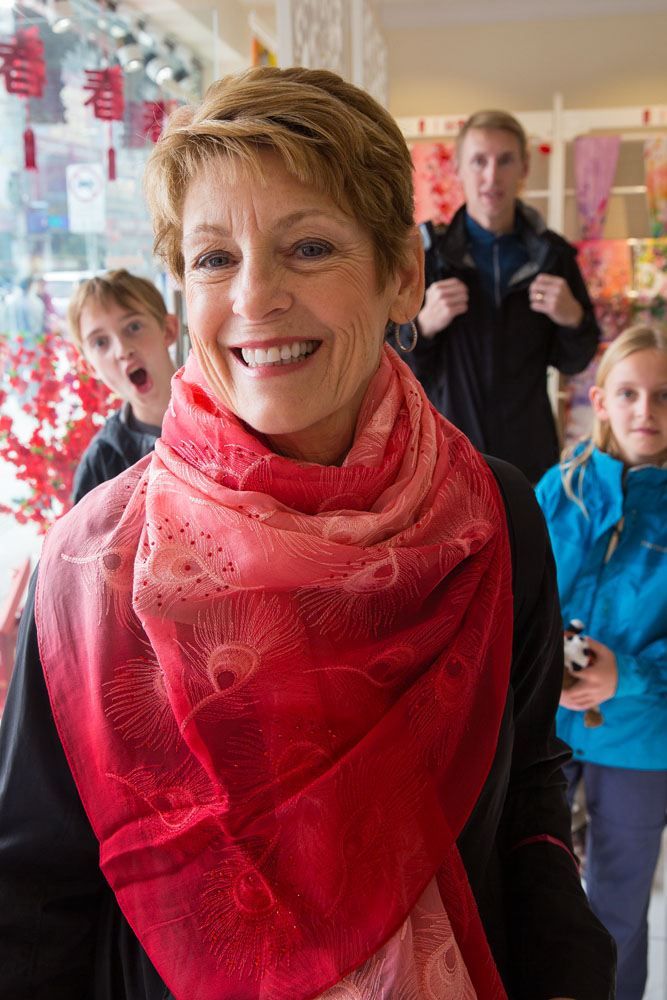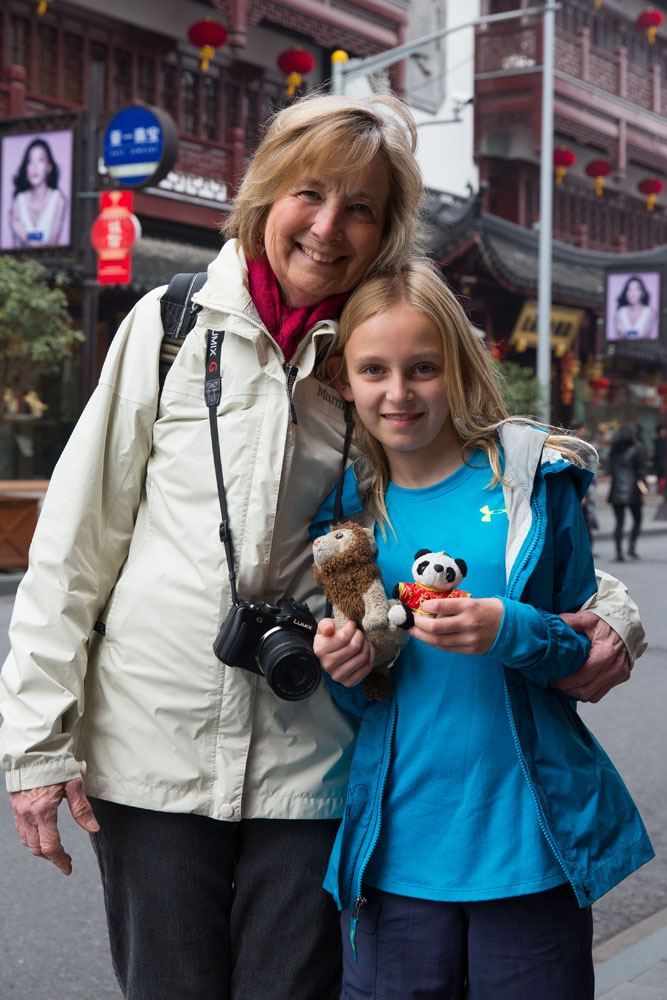 Dining in Shanghai
Tyler's peanut allergy had us visiting places like Subway and Pizza Hut for his meals. The food looked, smelled, and tasted the same, but the signs were in Chinese, making Subway seem just slightly exotic.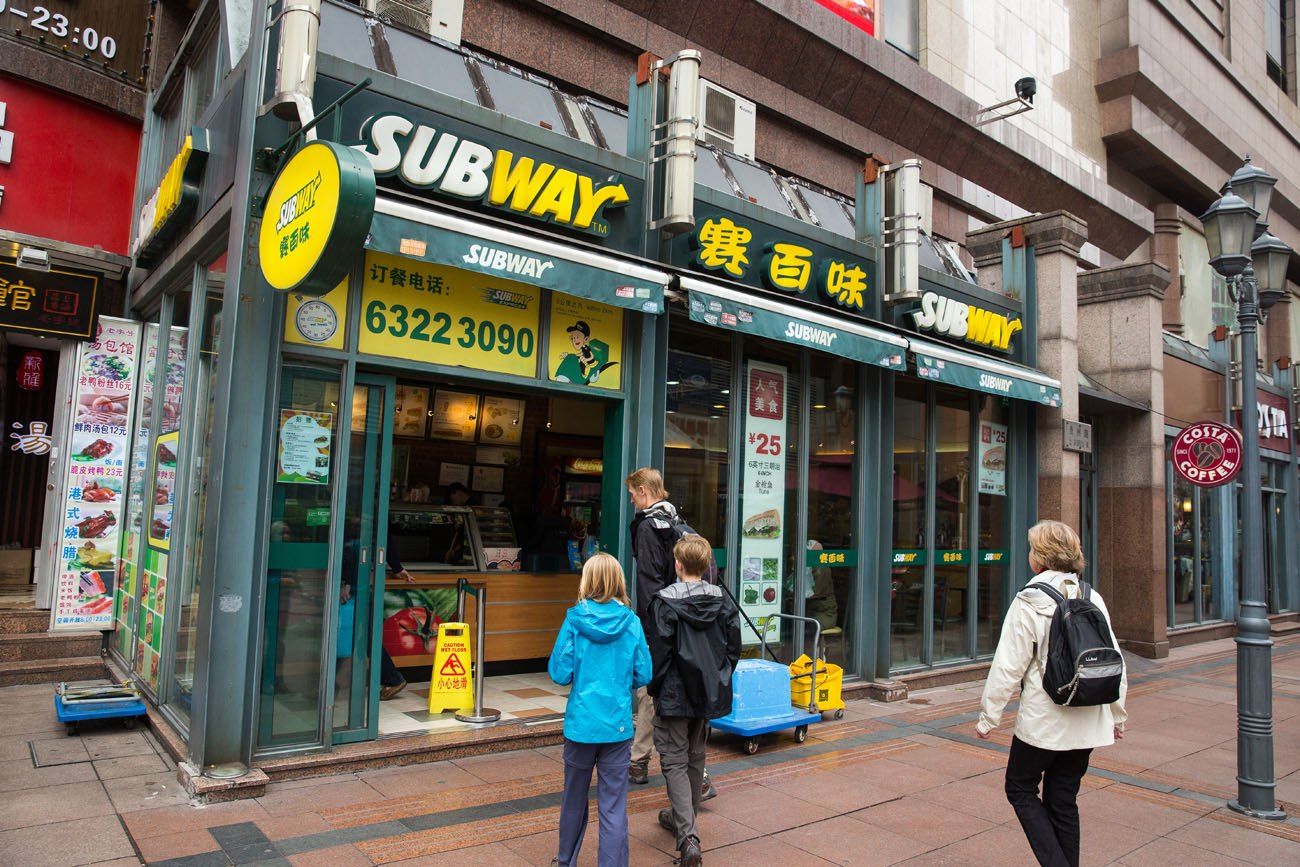 One of the best things that we did was have drinks at the Skybar at the Radisson Hotel. From their slowly revolving floor we had 360° views of Shanghai, one of the best ways to see the city. Kara liked freaking us out by acting like a daredevil.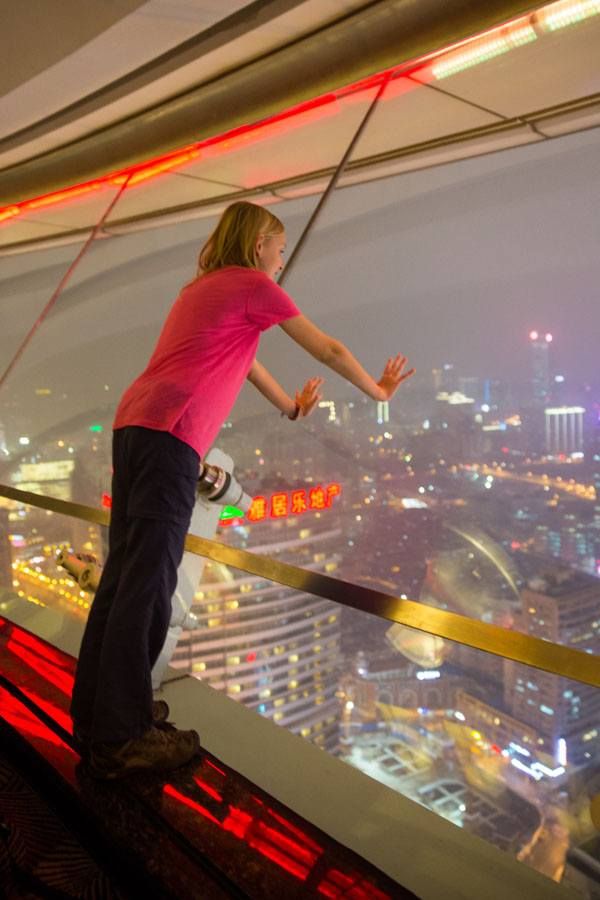 Shanghai was our grand finale to China before heading to Hong Kong. For us, this city was all about getting those views…from high off of the ground at the Oriental Pearl Tower and at the Radisson, and also on the ground, walking along the Bund and getting plenty of views of the skyline. I wonder what Shanghai will look like in another twenty years?
---
More Information about China
Are you planning a trip to China? Read all of our articles about China in our China Travel Guide.
You Might Also Like:
All rights reserved © Earth Trekkers. Republishing this article and/or any of its contents (text, photography, etc.), in whole or in part, is strictly prohibited.