Vietnam is an amazing country to visit. Filled with rich history, historic towns, beautiful beaches, friendly people, and some of the best street food in Asia, there is something here for everyone. Sail through Ha Long Bay on a Junk cruise ship, rent a motorbike and ride through the quaint town of Hoi An, witness the sunrise markets on the Mekong Delta, crawl through the Cu Chi Tunnels, or walk the crowded, fascinating streets of the Old Quarter of Hanoi. You will never have a boring moment in Vietnam!
Vietnam Stats
Official Languages: Vietnamese
Population: 96 million
Capital City: Hanoi
Currency: Vietnamese Dong, VND
Power Outlet: Type A, C, and G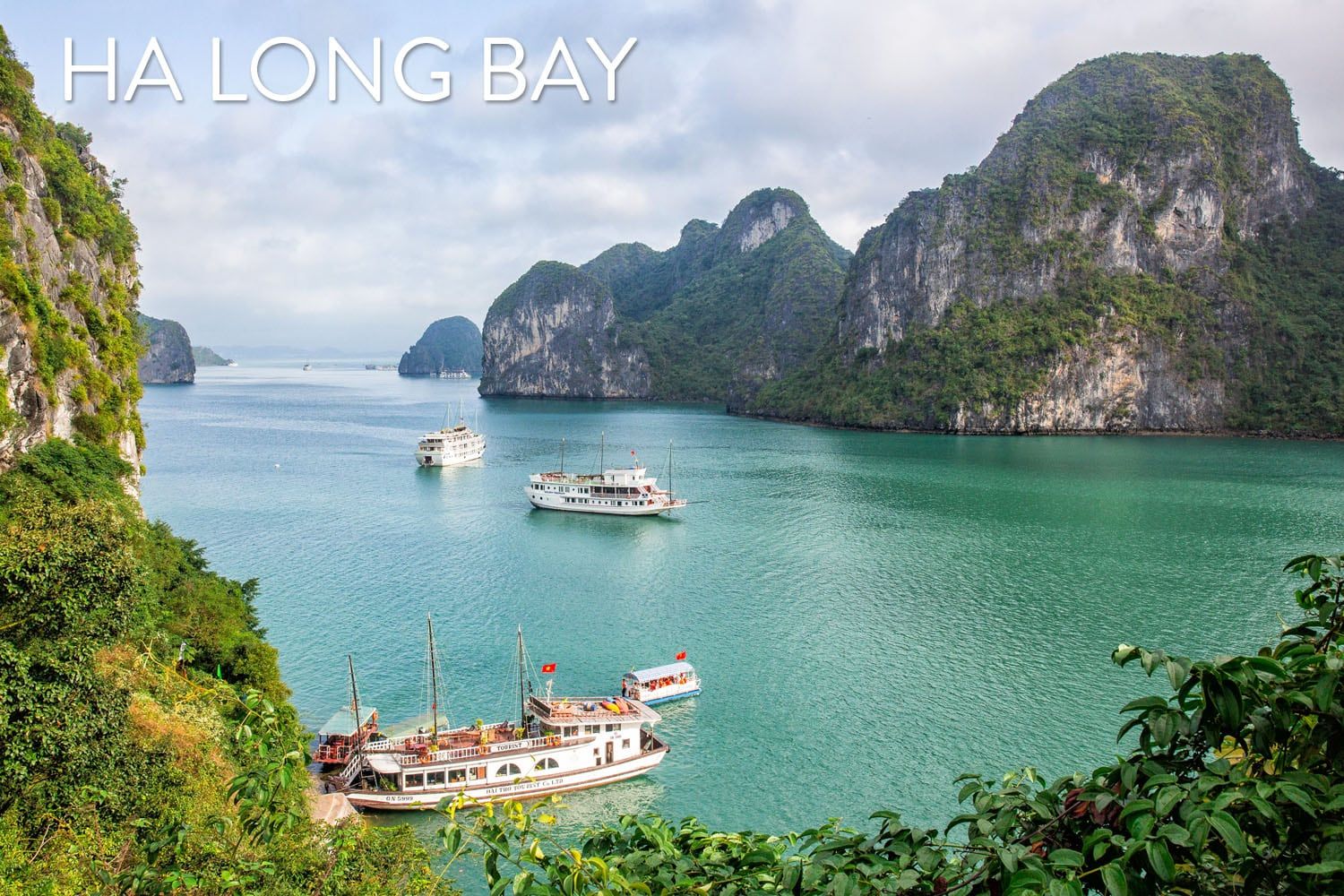 Explore the ancient Imperial Palace in Hue, tour rapidly growing Ho Chi Minh City, and watch as the Dragon Bridge in Da Nang puts on a pyrotechnic show. The cuisine in Vietnam is phenomenal. I would travel back to Vietnam just for the food…it's that good. But there are also beautiful beaches, mysterious caves, and exotic cities to explore. Here is our list of the best things to do in Vietnam.
In northern Vietnam, visit Hanoi, cruise Ha Long Bay, explore Sapa, or read about our experience traveling from Hanoi to Nanning, China by bus.
In central Vietnam, visit the beautiful towns of Hoi An, Hue, and Da Nang.
In southern Vietnam, spend some time in Ho Chi Minh City, day trip to the Mekong Delta, or visit the island of Phu Quoc.
More Articles about Vietnam
Here are a few more articles about things to see and do in Vietnam.
Here is more information about our experiences in Asia plus articles about how to plan a trip through Southeast Asia and travel ideas for the winter months.
Top Experiences in Vietnam
Cruise on Ha Long Bay. Take a 2-day or 3-day junk cruise on iconic Ha Long Bay. This is one of the most beautiful areas of Vietnam and cannot be missed. Activities include fishing, taking a cooking class, kayaking, and hiking.
Old Quarter of Hanoi. Walking these gritty, bustling streets can be an eye opening experience. Check out the markets and the street food, go shopping, and don't forget to bring your camera!
Visit the Cu Chi Tunnels. Located just outside of Ho Chi Minh City, tour this historical area where the Vietnamese hid from US forces in a series of underground tunnels. You also will have the chance to shoot AK-47's and other rifles at the end of the tour.
Wander the ancient city of Hue. Hue is home to the Imperial City of the Nguyen Dynasty. Take a tour or wander the palace on your own. Afterwards, have dinner at the DMZ Bar, a popular restaurant in the heart of Hue.
Hiking in Sapa. Known for its trekking through rice terraces and alpine territory, Sapa is located in northwest Vietnam.
Mekong Delta. The Mekong Delta is located in southern Vietnam. Every morning, thousands of Vietnamese converge here, buying and selling produce. Watch the hustle and bustle of the sales, then tour the smaller tributaries by rowboat and short walks.
Hoi An. If you have time to visit only one city in Vietnam, Hoi An gets our vote. This picturesque town has it all...fabulous shopping, superb restaurants, history, nearby rice paddies to cycle through, and a beautiful beach just a few kilometers away.
Phu Quoc Island. Off the normal tourist track, this island is located off the coast of Cambodia and Vietnam. If you want to go somewhere a little different, consider Phu Quoc. We recommend staying in a nicer place (4 or 5 star hotel) to make the most of your visit.
My Son Sanctuary. Located in central Vietnam, My Son Sanctuary is an important historical site with ruins over 1000 years old.
Visit Da Nang. Located just north of Hoi An, Da Nang makes a quick day trip. The beach was beautiful and deserted, our visit to the Lady Buddha give us another glimpse of the Chinese-style architecture commonly found in Vietnam, and we loved the technicolor Dragon Bridge.
Safety

Vietnam is a very safe country to visit. Pickpocketing and petty thievery do occur. Do not leave your valuables unattended. There have been reports of theft on beaches when belongings are left unattended. Also, we heard reports of men on motorbikes snatching bags and cameras from tourists as they drove by. To prevent this, wear your shoulder strap across your body with your bag to the inside of the sidewalk.

Most people travel by motorbike

We saw more motorbikes here than in any other country we have visited. Families of four will all travel on one motorbike and people will use their motorbikes to transport anything from small trees to widescreen TV's to enormous bundles of trash. It is something to see!

Visiting Vietnam during Tet

Many travel sites will warn against visiting Vietnam during the holiday season of Tet. We disagree. We spent one month in Vietnam, from the beginning to the end of Tet and it was a very positive experience for us. This is a very festive time to be in Vietnam and with proper planning, visiting during Tet can be very enjoyable. For more on visiting Vietnam during Tet, read our post Should I Travel to Vietnam During Tet?