I had read that Hoi An is one of Vietnam's best destinations, but I had no idea how much we all would love it here. There is something in Hoi An for everyone…a quaint, old town perfect for strolling, shopping, and dining, awesome beaches for the kids, and a perfect mix of countryside and villages to be explored by motorbike. We spent three and a half days here and could have been happy with a week or more.
Hoi An, Vietnam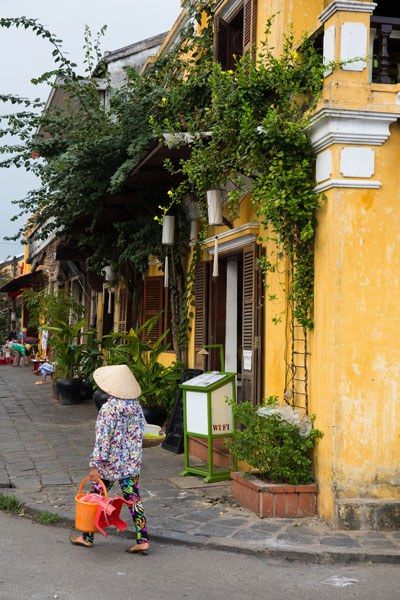 Hoi An is a UNESCO World Heritage Site, located just a half hour drive south of Da Nang. To get to Hoi An, we flew Vietnam Airlines from Ho Chi Minh City to Da Nang and then had a driver from our hotel transport us to Hoi An.
During the month of February the weather is perfect. The mornings would start out overcast and cool, but by noon it was bright and sunny with temperatures in the mid 70's. It was wonderful to get a break from those 90° plus days we've been having for the past few months.
From our hotel, the Golden Bell Homestay, we would borrow free bicycles and ten minutes later would be parked in the heart of Hoi An. Tyler and Kara loved cycling through the streets, dodging cars and motorbikes and pedestrians. The streets in Vietnam can get chaotic, making it so much fun for our kids, like playing dodgeball on a bicycle.
Best Things to Do in Hoi An
The main section of Hoi An is closed off to cars and motorbikes, making it much more pleasant for walking around. Hoi An is one of Vietnam's best destinations for dining. This is the perfect place to grab a seat at an outdoor cafe, have a drink, and watch the sunset over this historic city.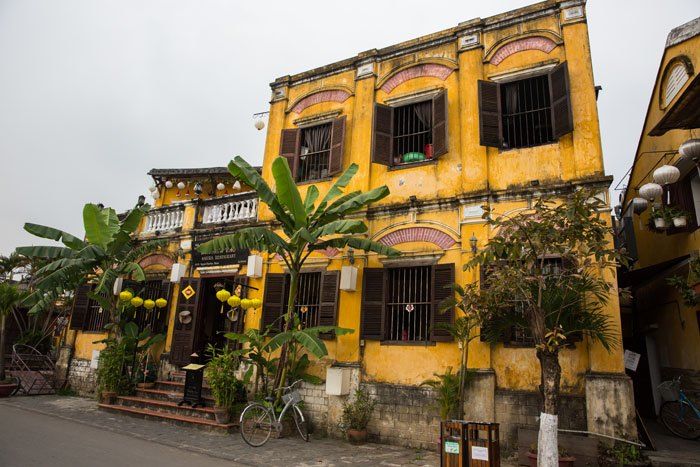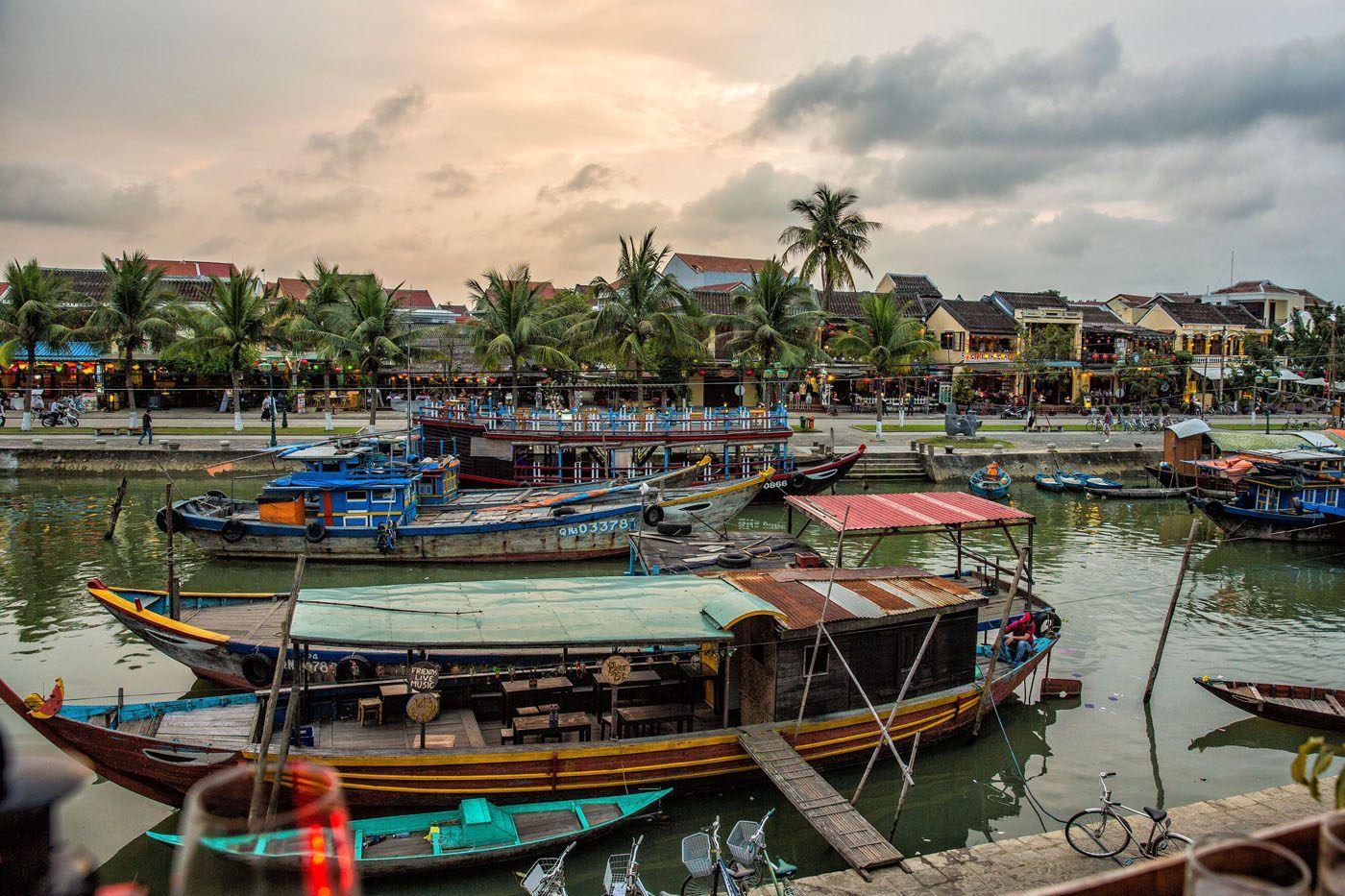 We ate in Hoi An three of four nights while staying here and most restaurants sell a mix of Vietnamese food and western/European food. One of Hoi An's more famous dishes is Cao Lau, a bowl filled with thick rice noodles, pork, and local greens. The dish is seasoned with fresh lime juice and red chili peppers and tastes delicious!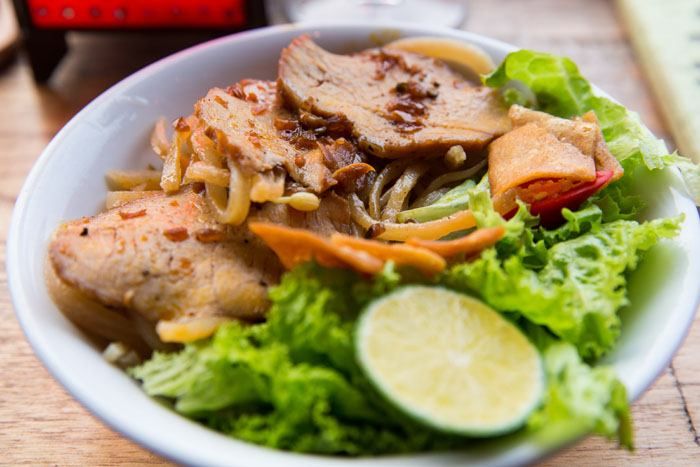 Hoi An is also popular for its numerous tailor shops. Visit a shop, pick out your favorite fabric, usually silk, and by the next day a hand tailored suit will be awaiting pick up. We did not purchase any suits and we did not buy much of anything in Hoi An, but we did enjoy window shopping.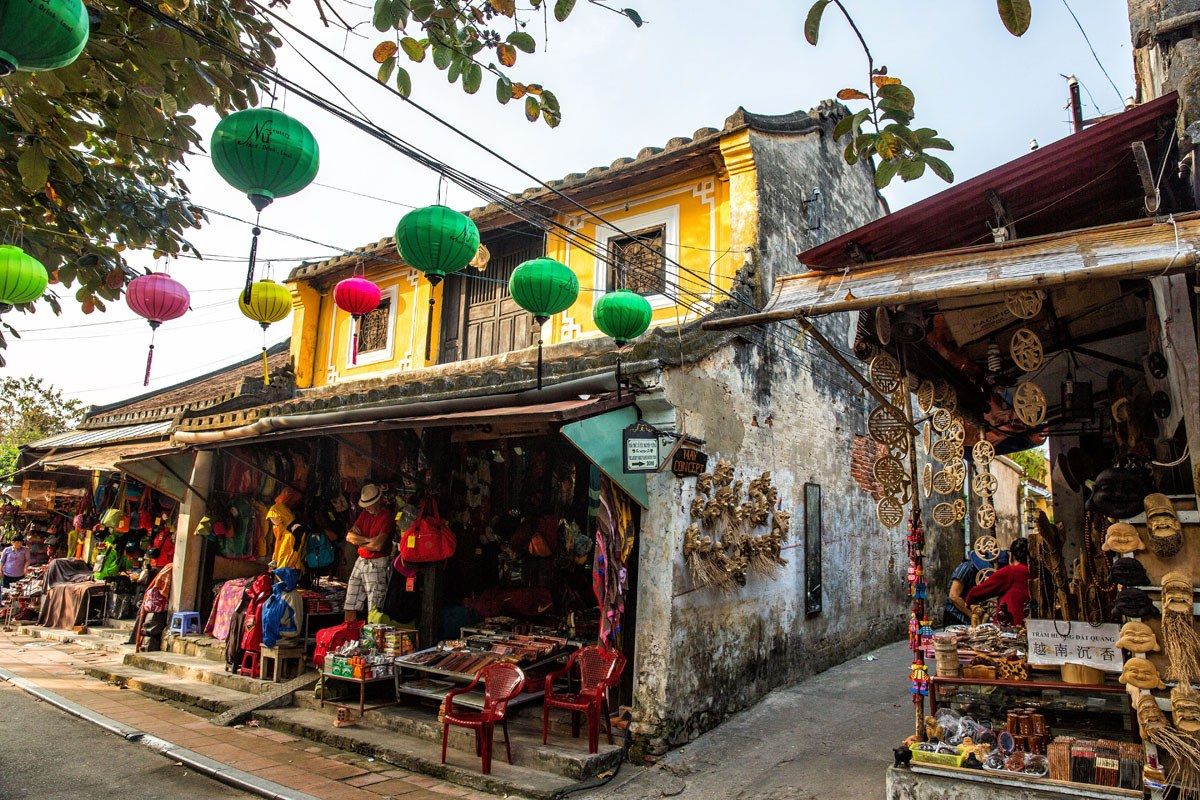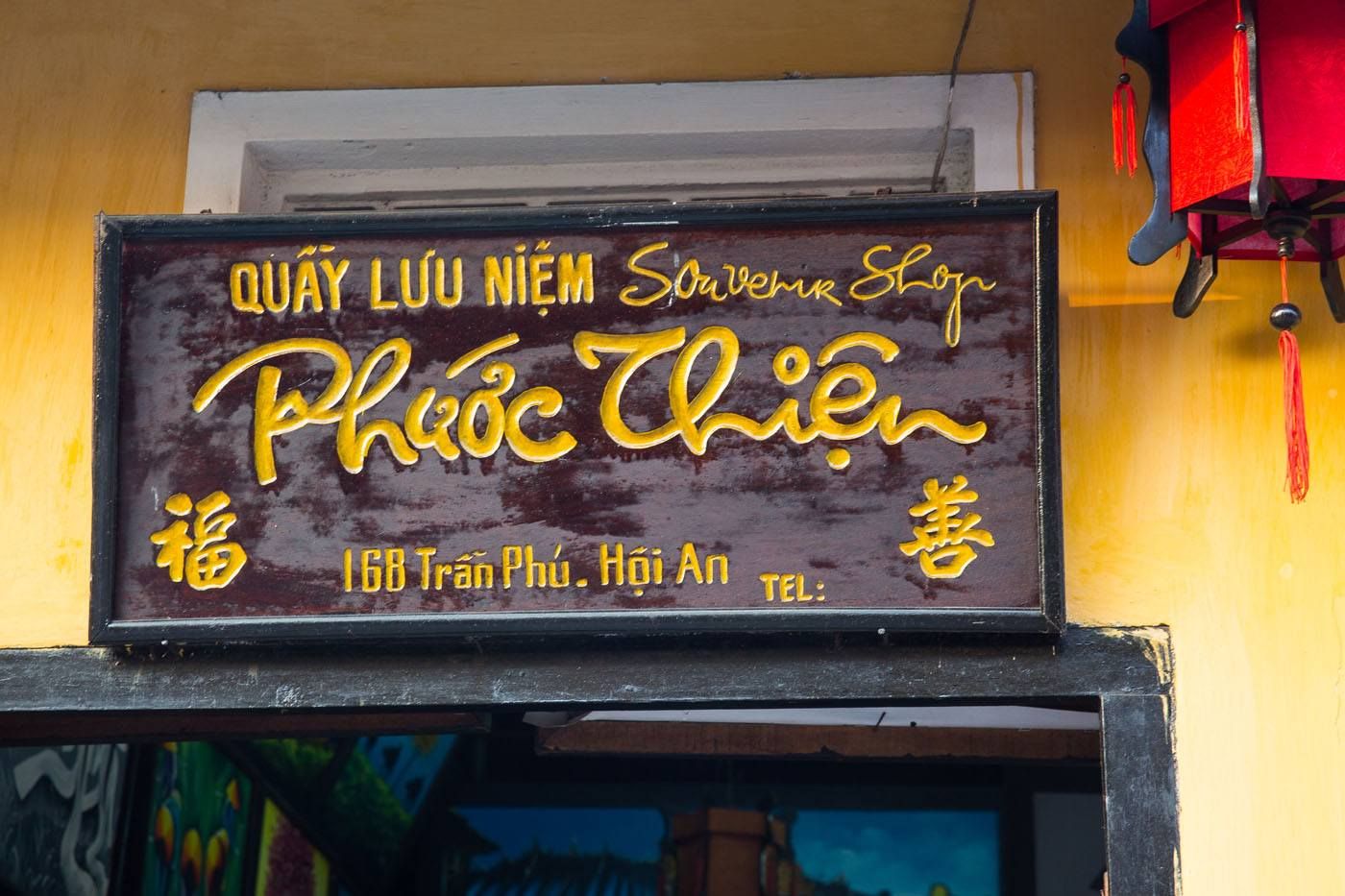 Hoi An is also filled with ancient historic buildings. The most famous is the Japanese Bridge, which dates back to the 16th century. During the 18th century, Hoi An was the most important trading port in all of Asia, linking Japan and China with the rest of Asia.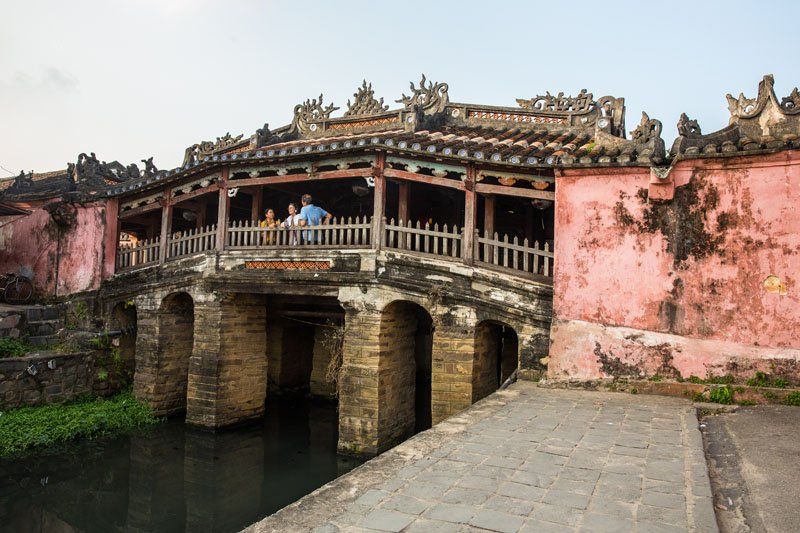 In Hoi An, there is a law stating that every shop must hang lanterns from their facade. As the sun sets, the lanterns turn on, lighting up the town in the warm glow of yellow, red, and green light.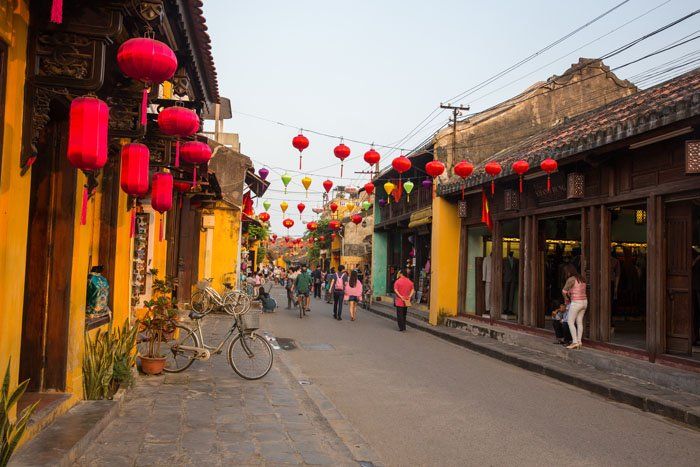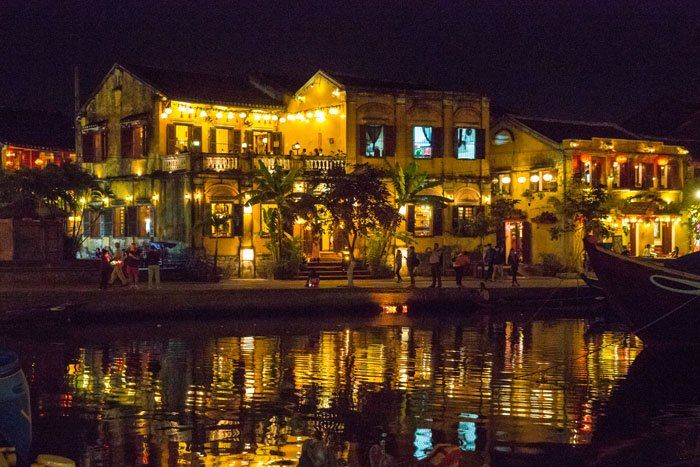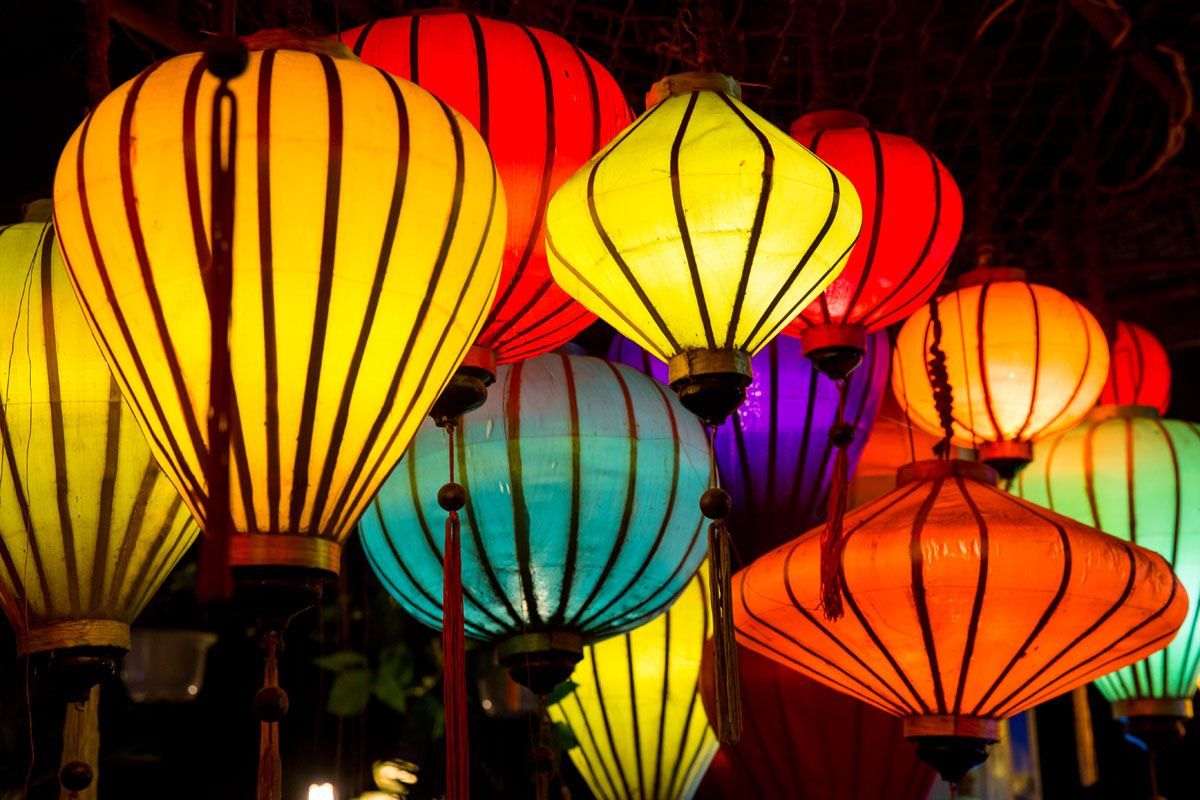 An Bang Beach
If you ask Tyler and Kara what was their favorite thing to do in Hoi An, they would very enthusiastically answer, "the beach!" From our hotel, a ten minute bike ride in the opposite direction from the old town of Hoi An, is the South China Sea and a long stretch of amazing coastline. We came here several times, eating lunch at one of the cafes that overlook the beach and giving Tyler and Kara some playtime in the water.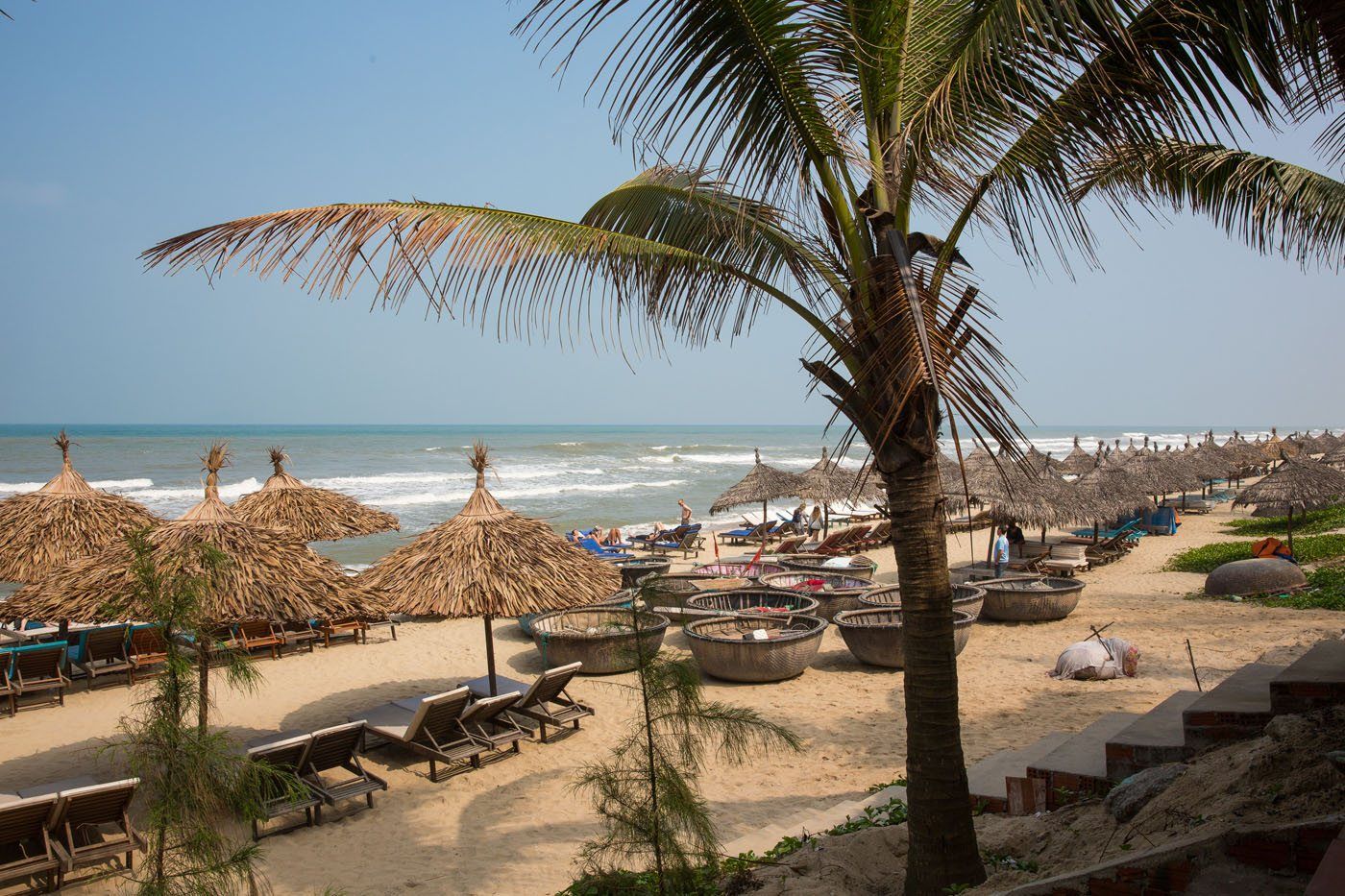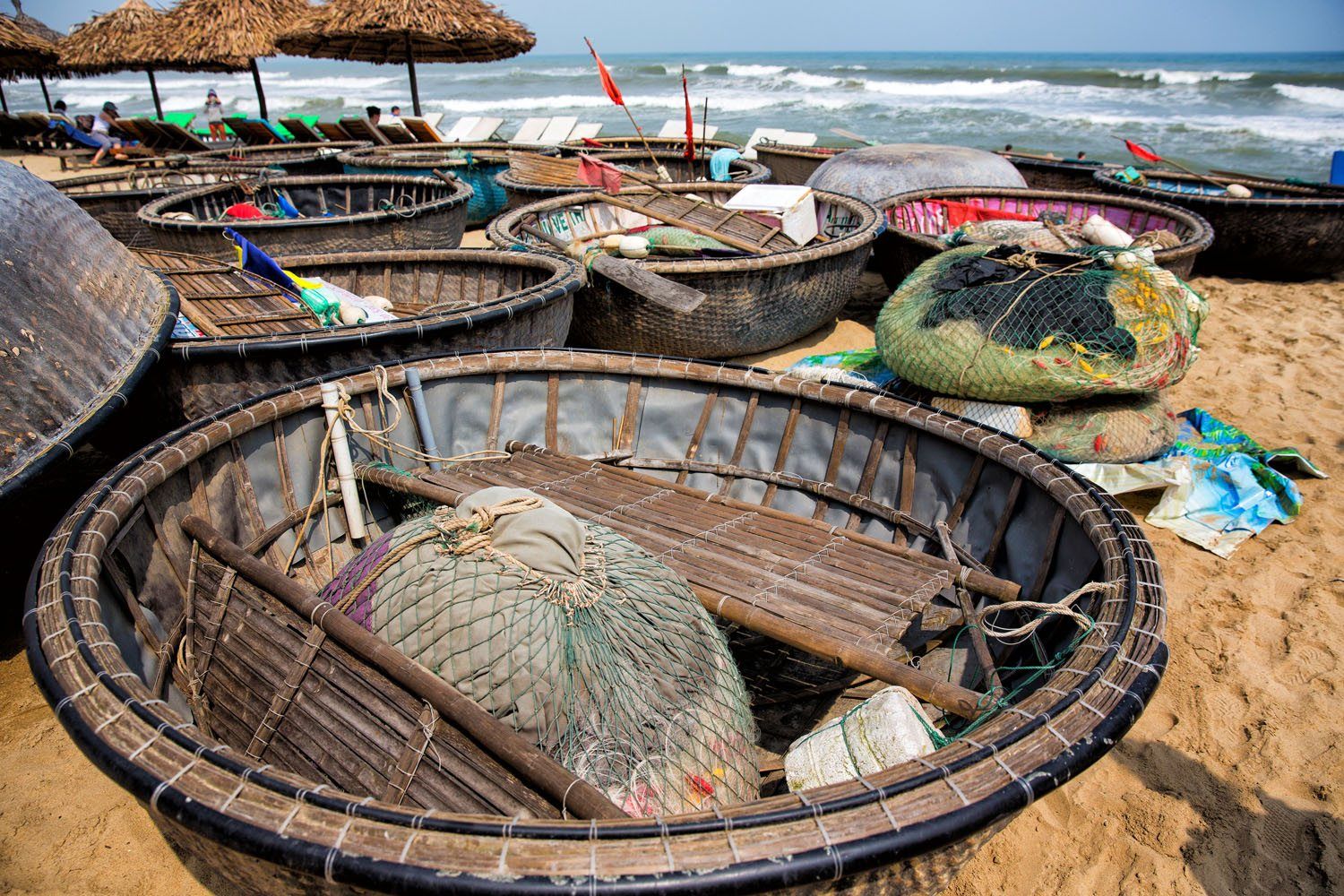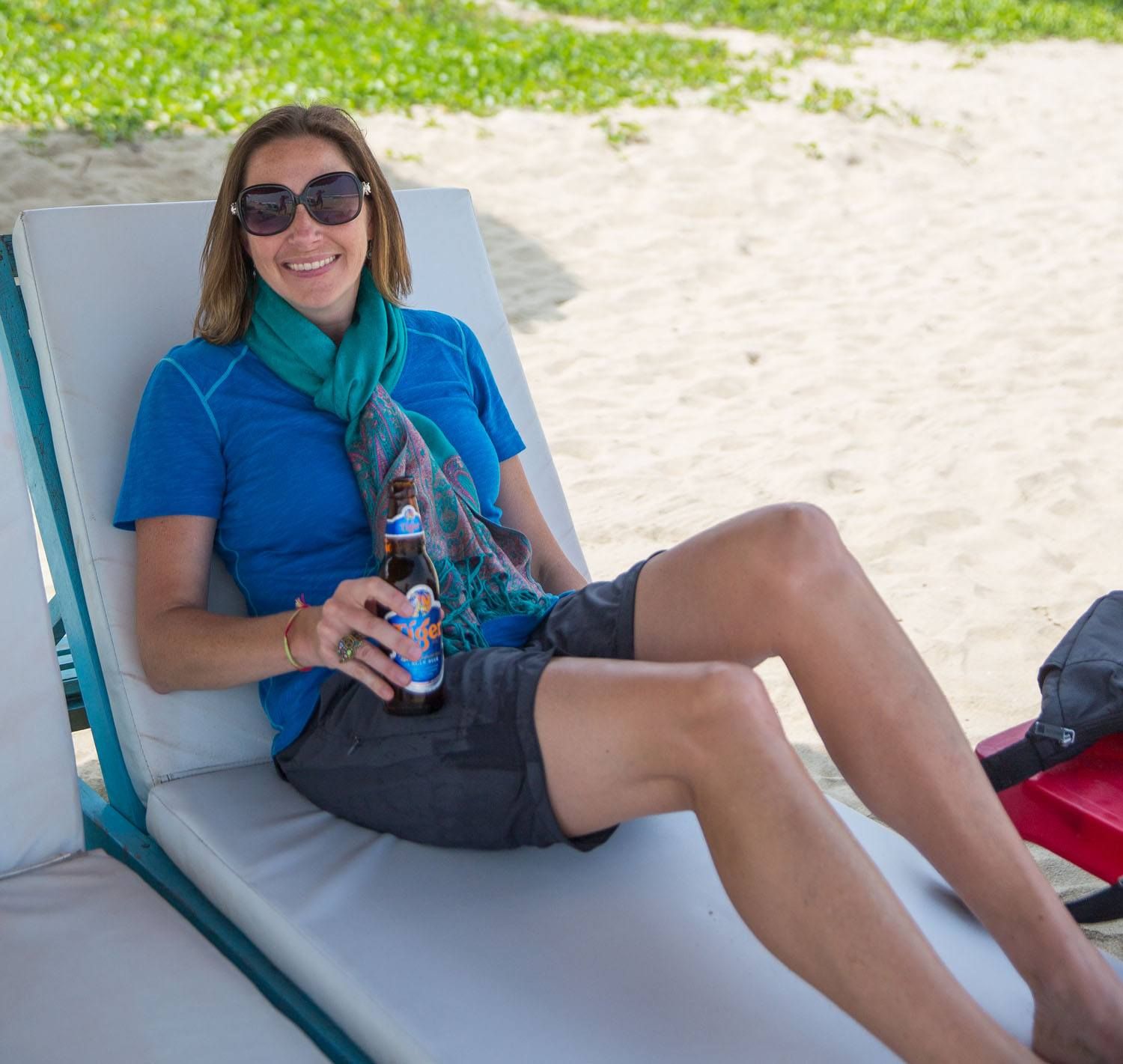 Even though it was February and daytime temperatures were a little on the cool side, Tyler and Kara were eager to play in the ocean. We have not seen a beach with waves since South Africa. For kids, being at a beach without waves gets boring rather quickly. These waves were almost a little too rough and they couldn't go out very far without being knocked over. That made it even more fun!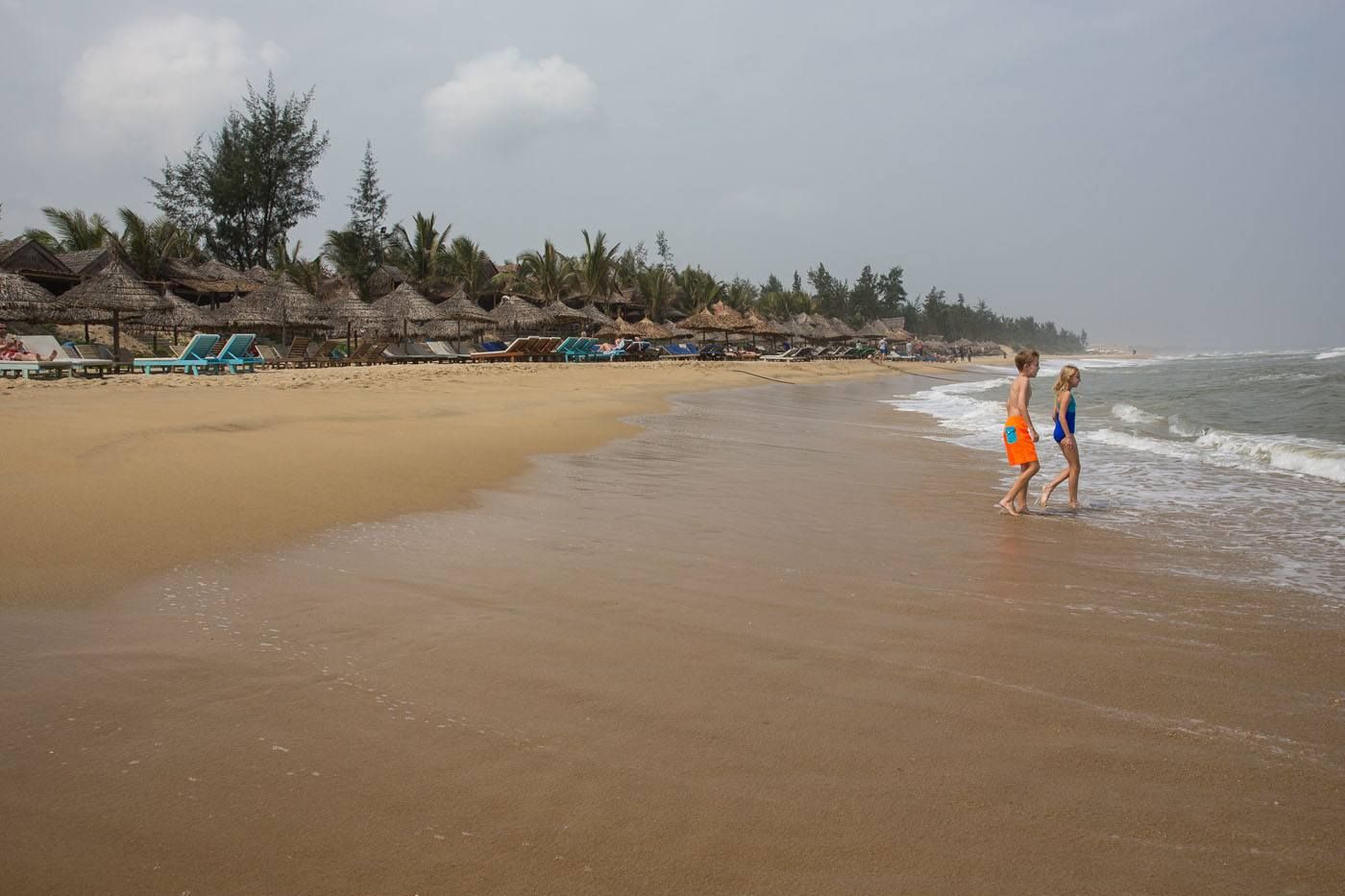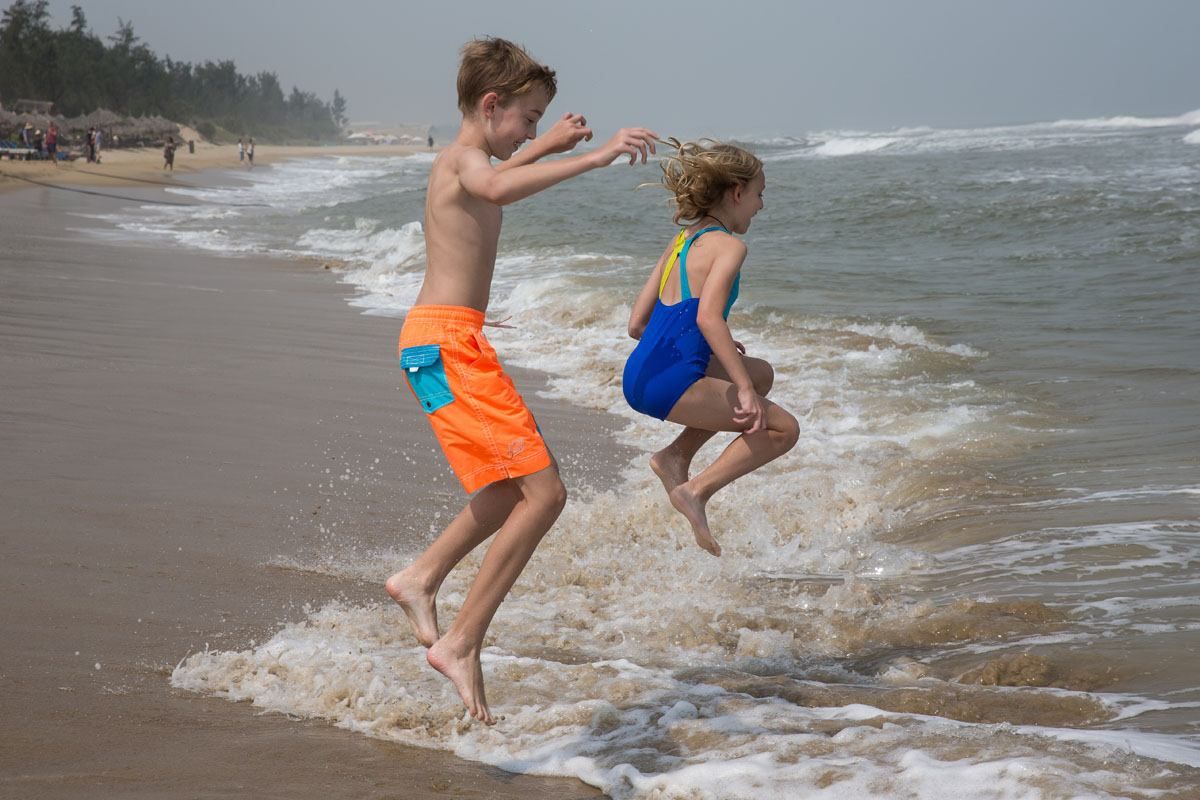 So here we are, on a beautiful beach on a postcard perfect day, so where are all of the people? This is a great beach destination…low cost accommodations, great food, great weather…we loved it. And for those who like luxury resorts, just south of Da Nang are world class five star resorts like the Hyatt and Vietnam's luxury hotel line Vinpearl.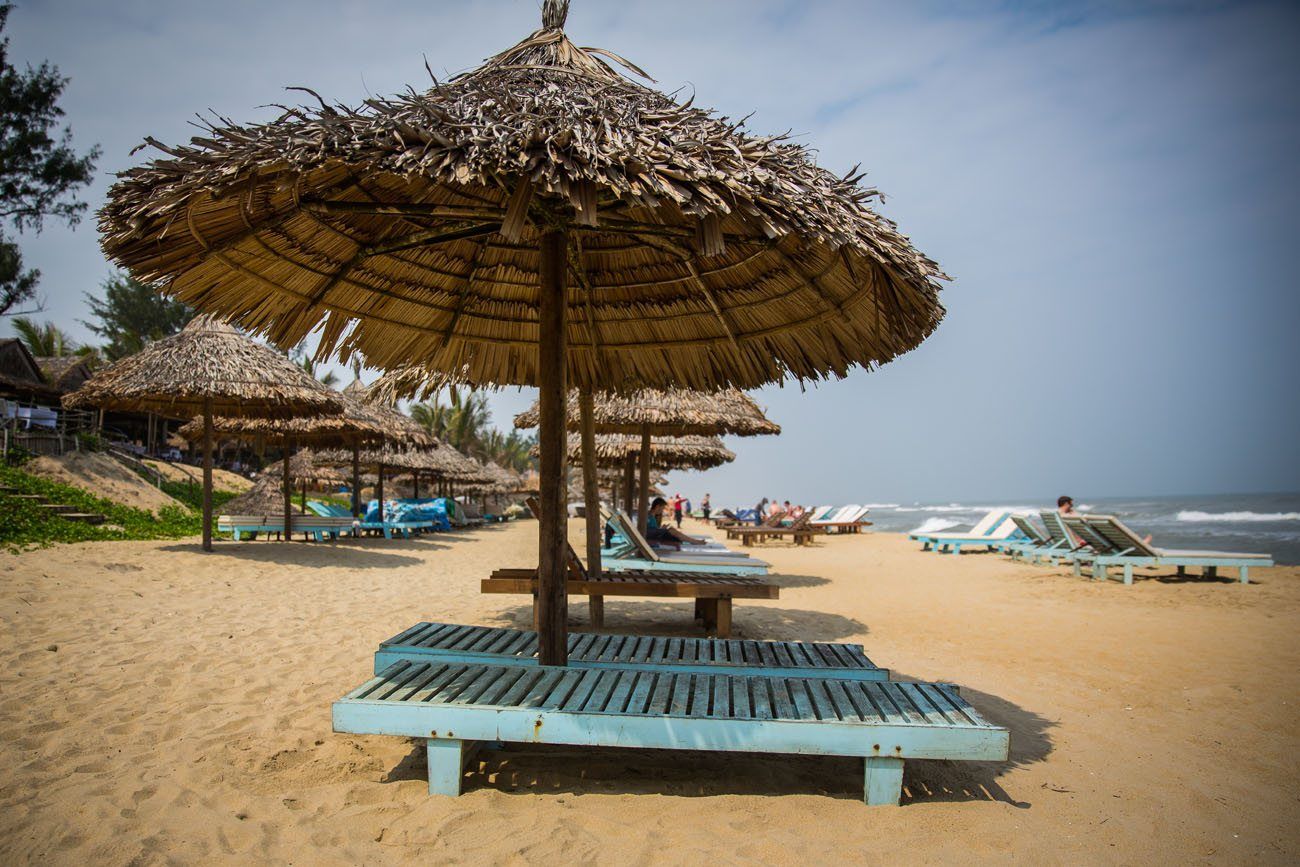 Exploring the Rice Fields
Between the beach and our hotel are large fields of rice paddies. We could ride our bikes on the small dirt and concrete path among the rice fields, enjoying the scenery and meeting the people. Kara got a chance to sit on a buffalo and I learned how to plant rice.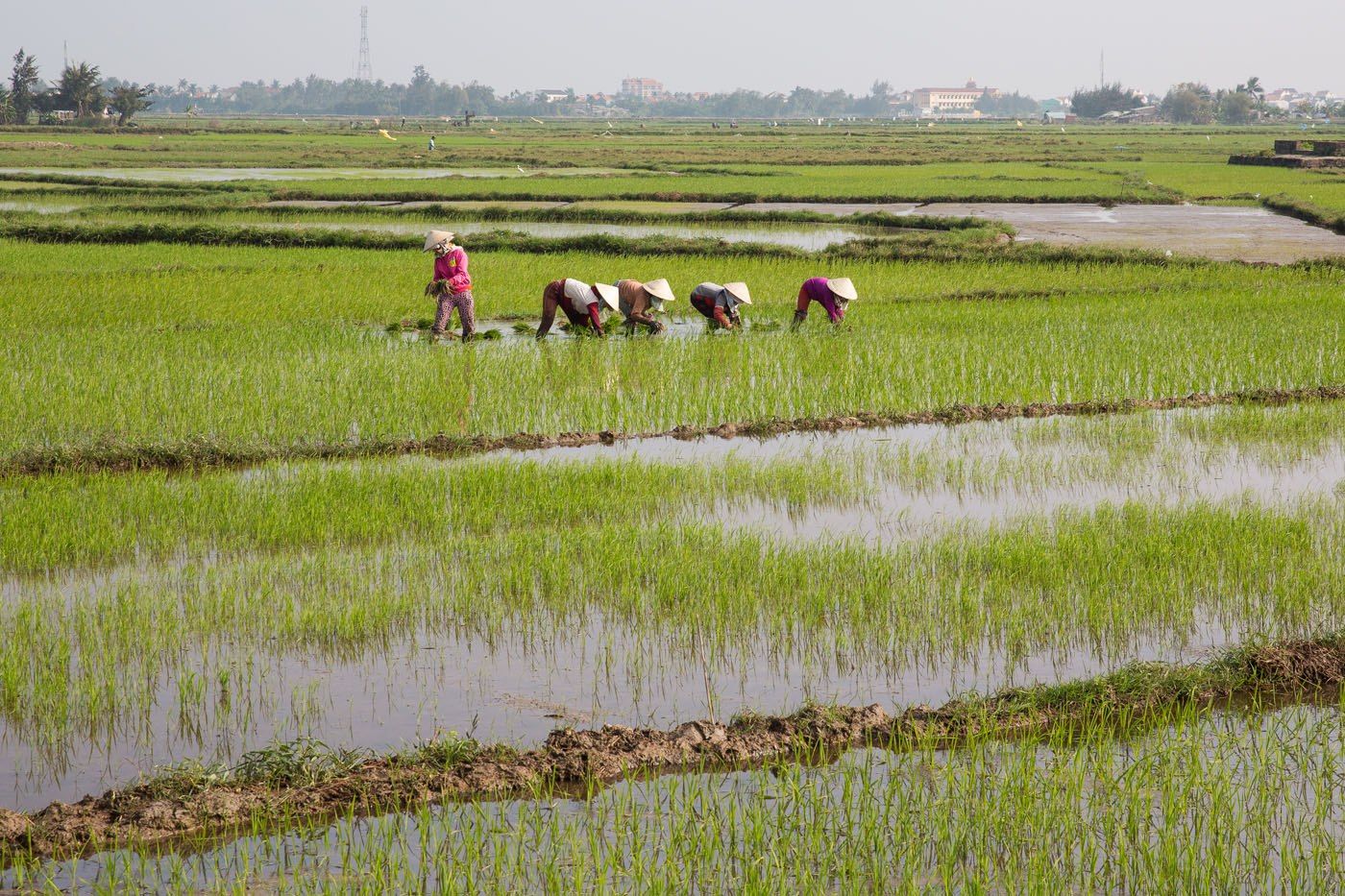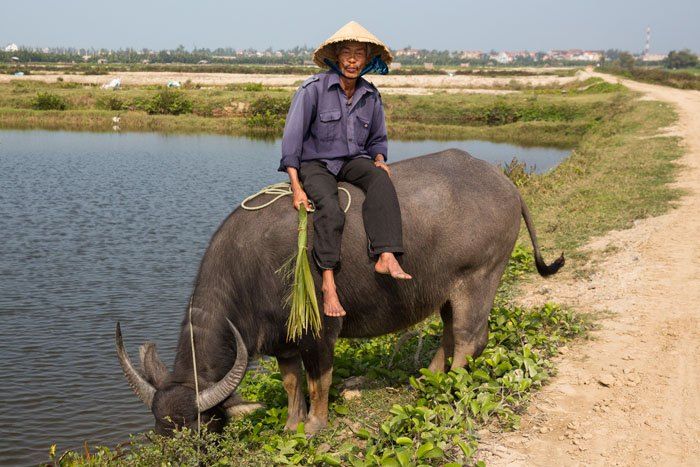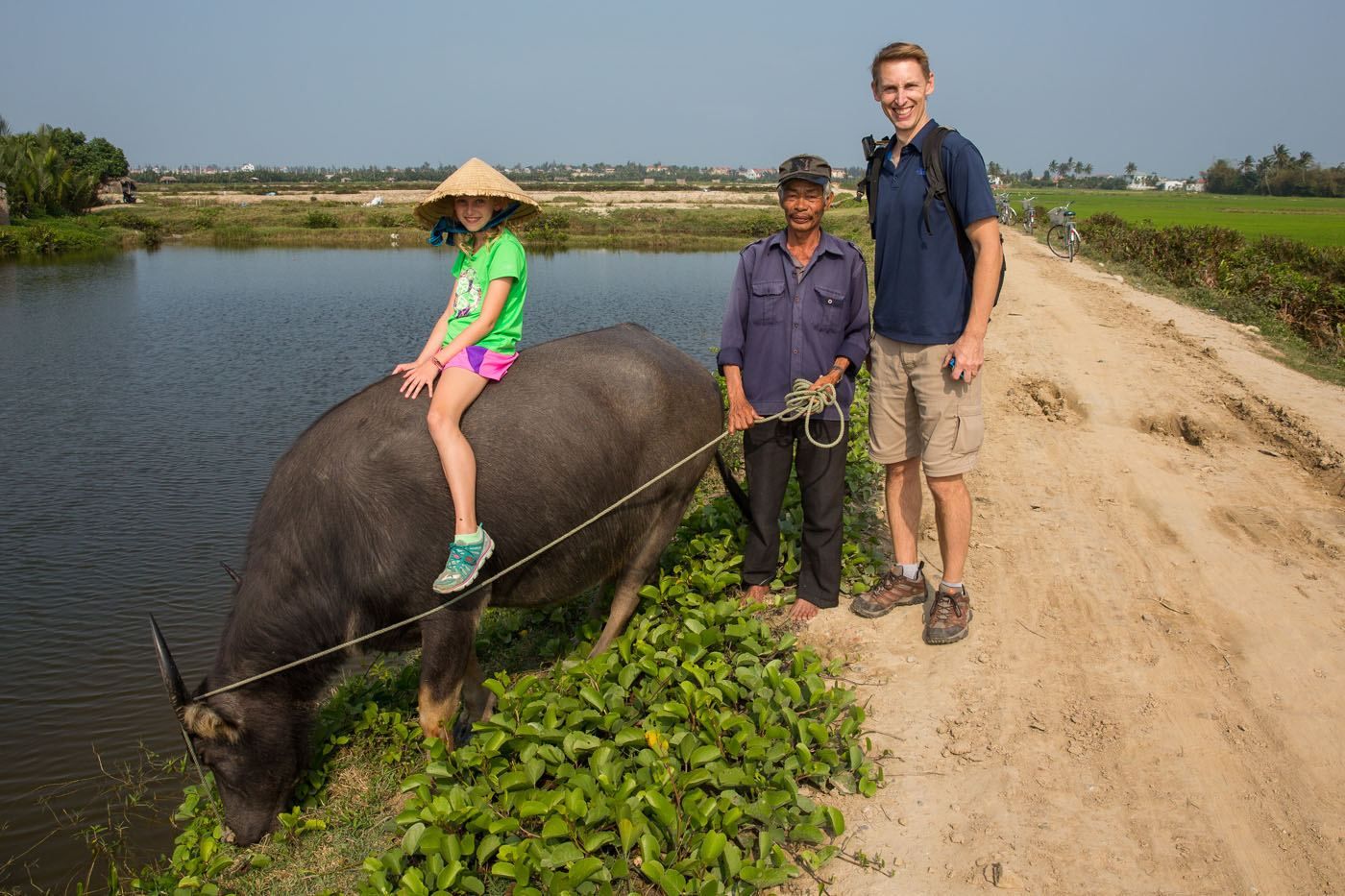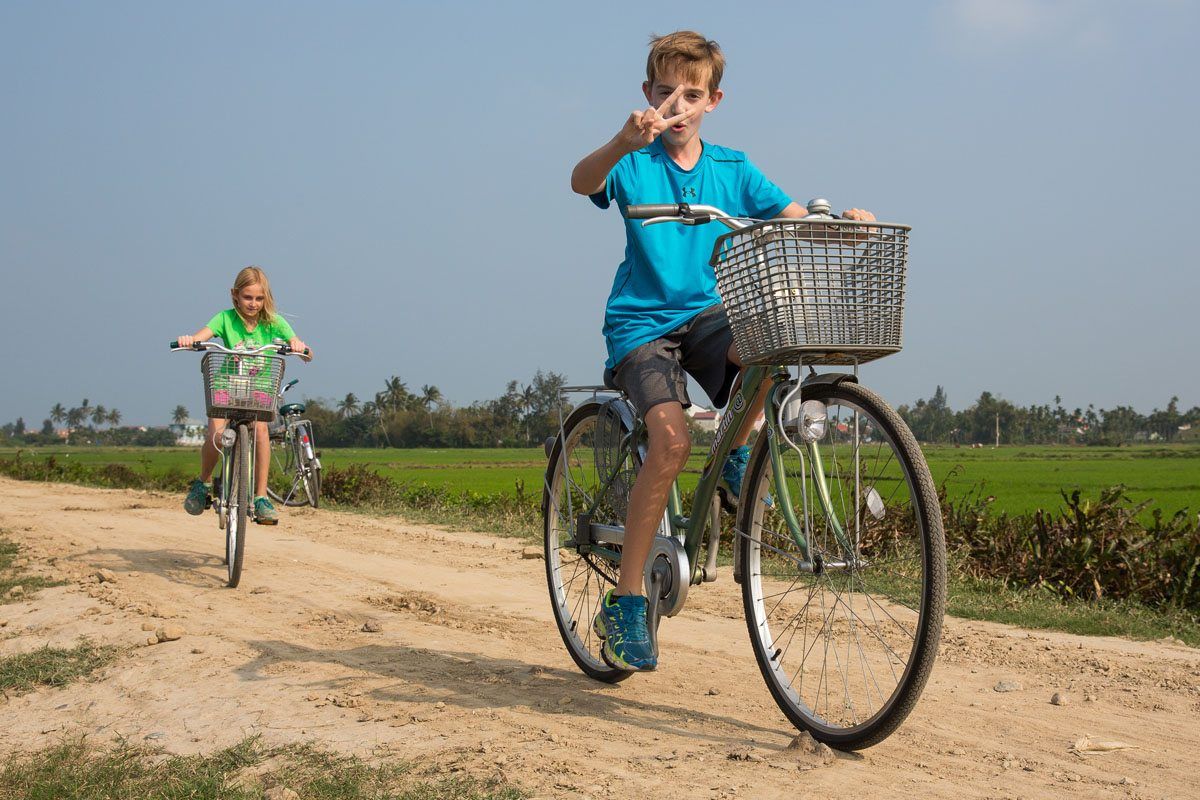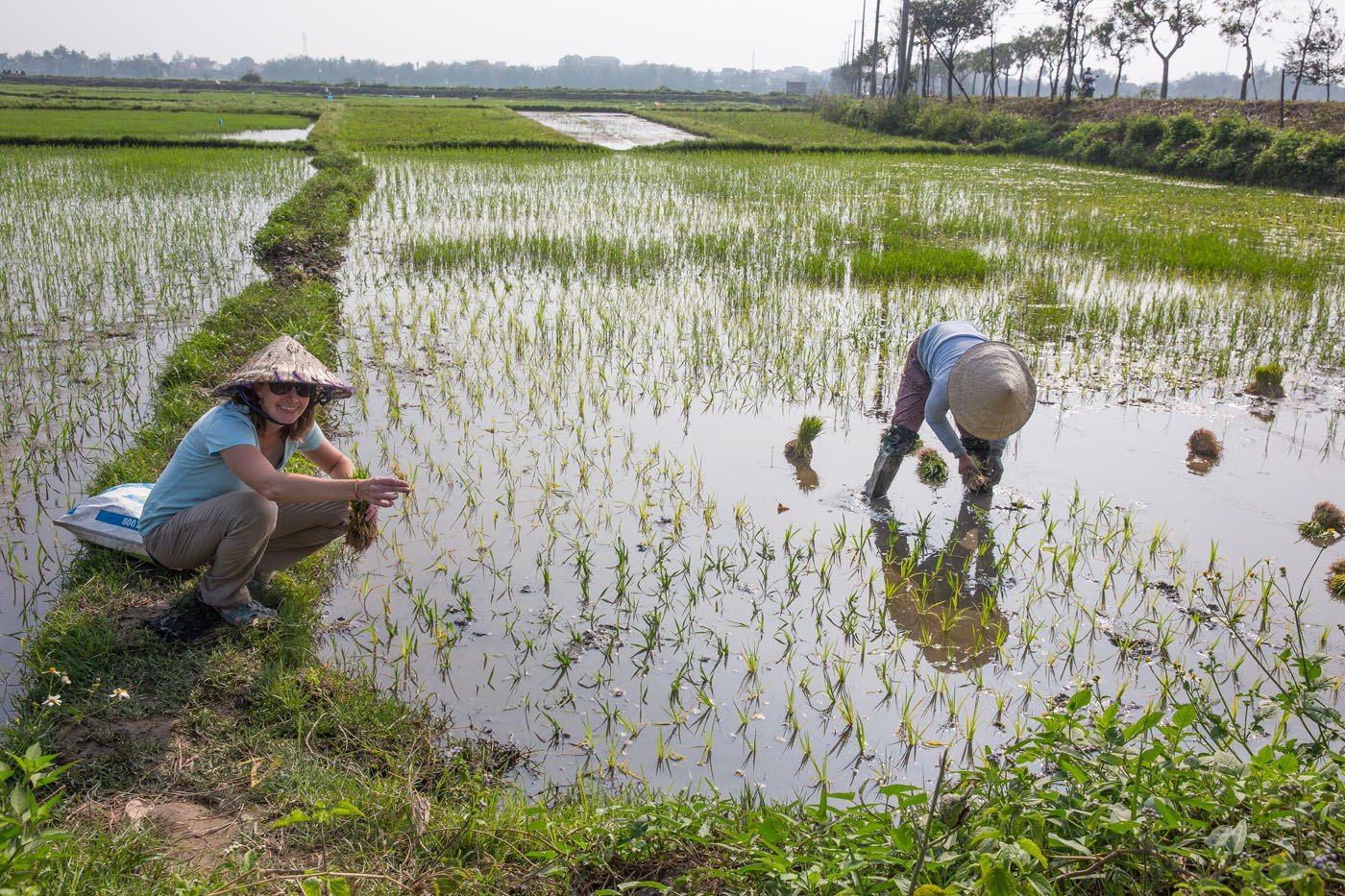 I was handed a bunch of rice seedlings which looked like a wet clump of long blades of grass bound together with a rubber band. One by one I pulled off a seedling and plant it in the ground. Just underneath the water's surface was very wet soil. All I had to do was to gently push the seedling down into the soil. Simple! Easy for me to say. I just planted ten to fifteen seedlings. These men and women spend all day bent over at the waist, planting new seedlings or harvesting the rice that is fully grown.
Touring Hoi An on Motorbike
Tim's favorite activity was renting motorbikes for the day and exploring on our own. We left Hoi An, rode along the coastline, and explored the narrow, residential lanes outside of the city. Still new to driving motorbikes, there was an element of excitement just getting out on our own and wandering through the countryside.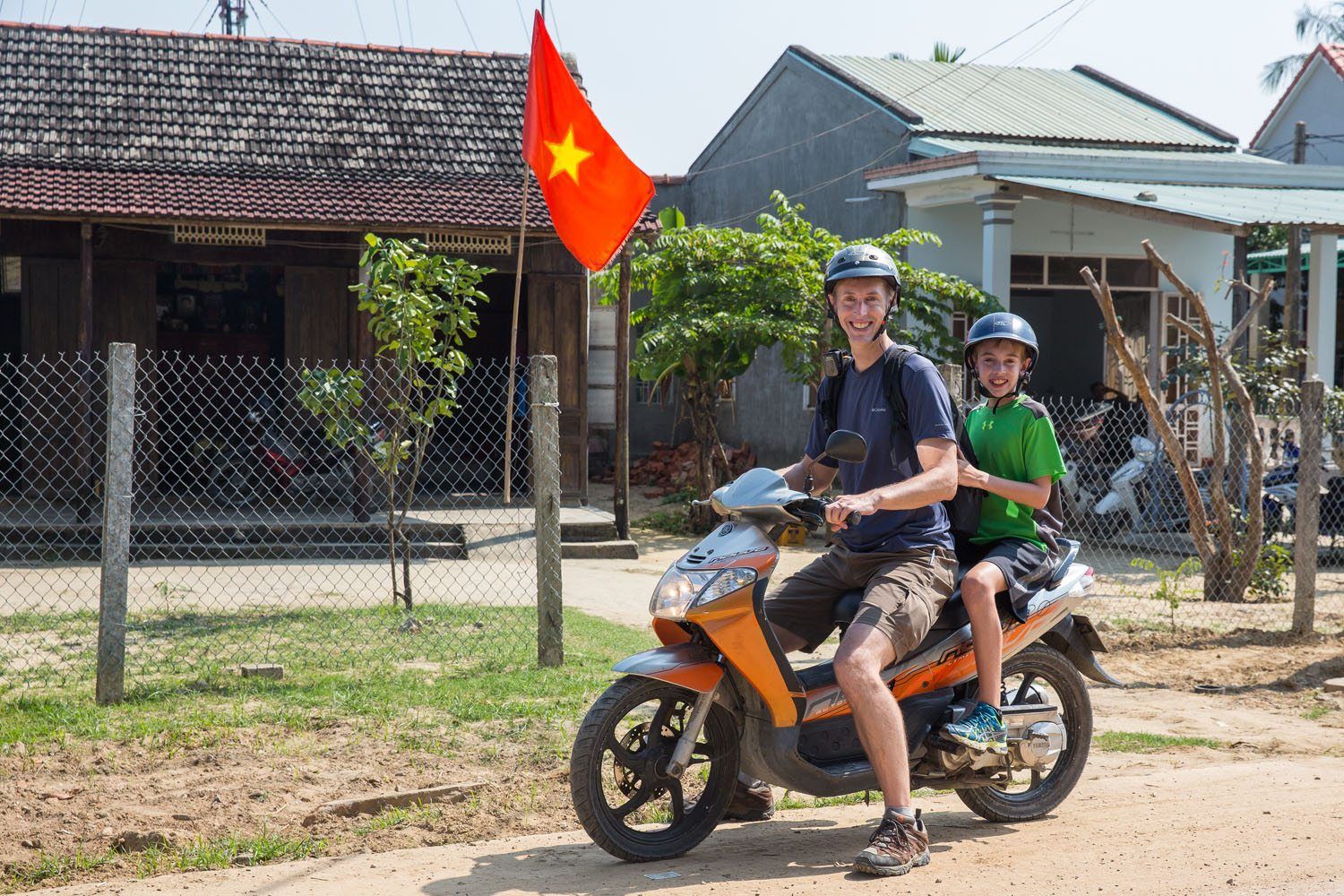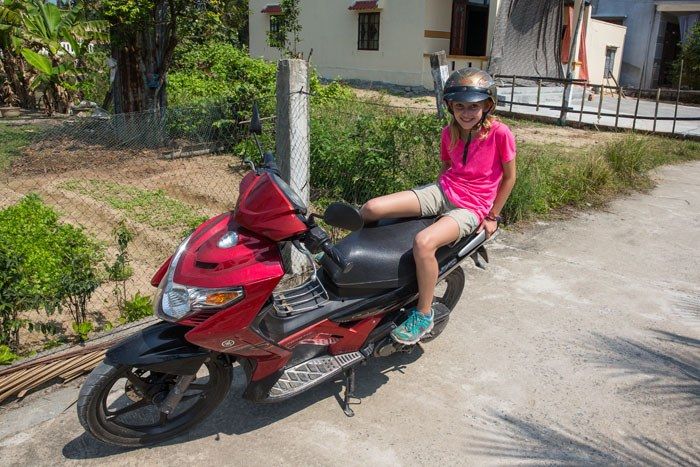 At one point we stopped to take a break along one of the many canals. It was here that we were invited to join Quan at his house. We drank fresh coconut water while watching life along the river. Quan knew hardly any English and we know only a few words of Vietnamese but we still enjoyed each other's company. He was thrilled to have Tyler and Kara as guests at his place.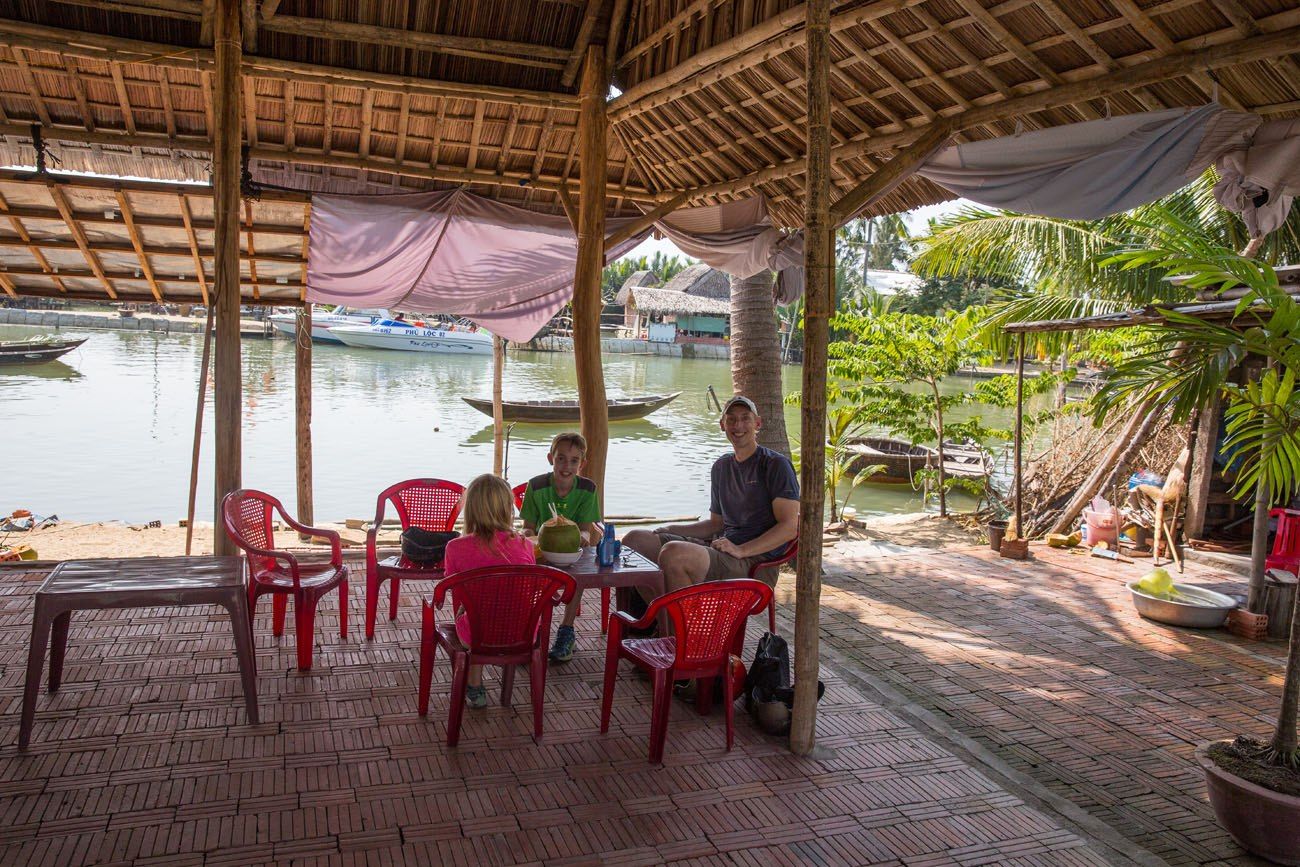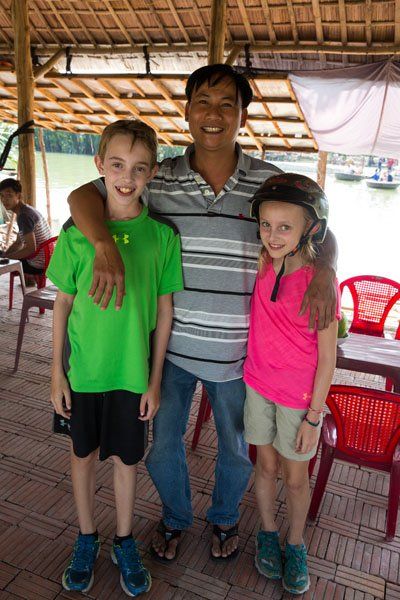 Hoi An is located on a river delta and we rode on street after street located along the water's edge. Most people get around by motorbike but fishing boats and round bamboo boats are very popular as well. This seemed like a great place to live…palm trees by the water, the people were friendly and happy, and life here seemed to be very peaceful.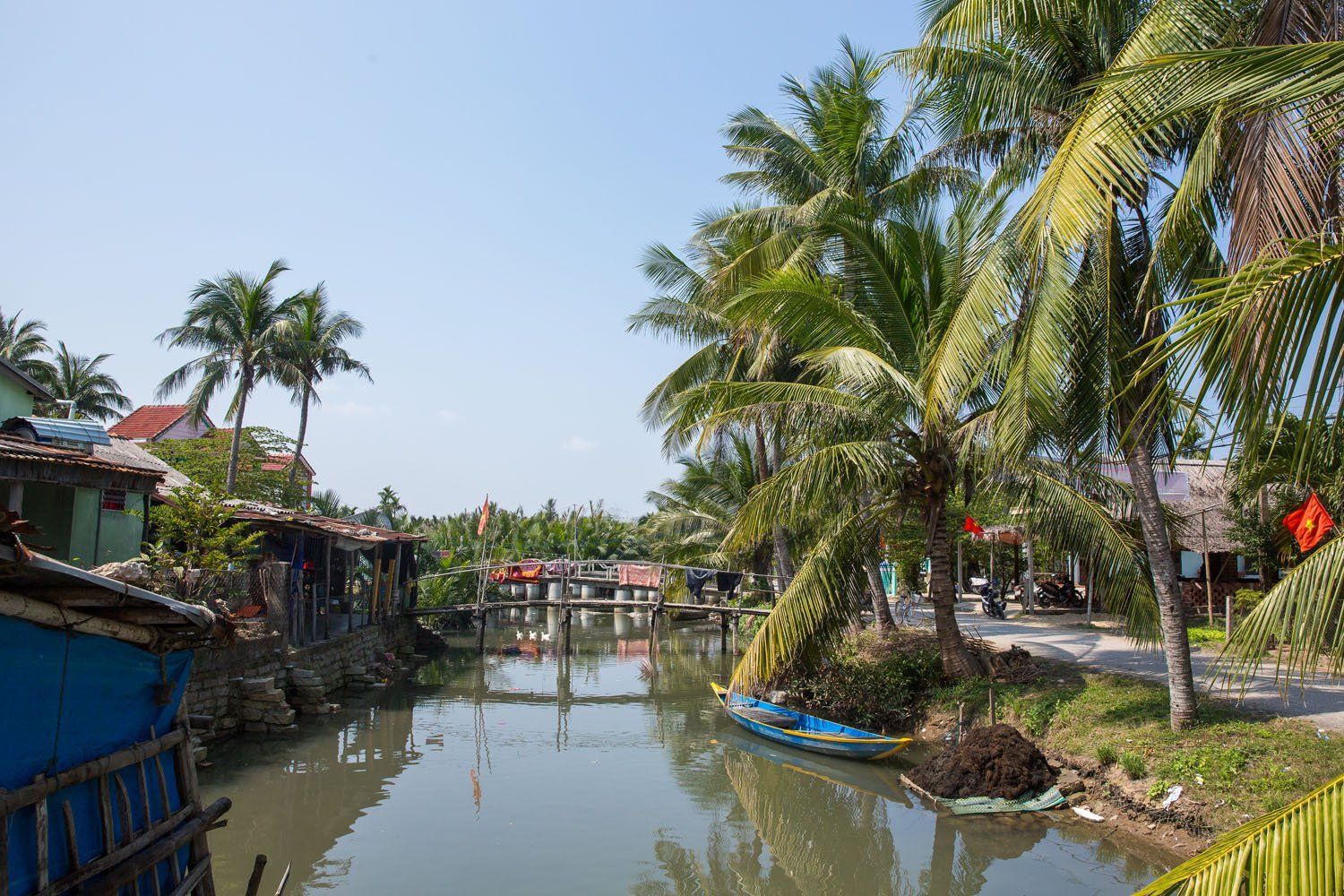 Our Impressions of Hoi An
Hoi An, the perfect mix of history, culture, shopping, cuisine, and relaxation. It was so much better that we expected and a place worth coming back to in the future. For anyone considering a visit to Vietnam, put Hoi An at the top of your list!
I recommend a minimum of three full days to explore all that Hoi An has to offer. This gives you enough time to see Hoi An and its beaches, spend an afternoon in Da Nang, and maybe take a day trip to My Son (see below). Having more time makes it possible to really get to know Hoi An, take a cooking class, or take one of the many bicycle or motorbike tours that are popular here.
Visiting My Son Holy Land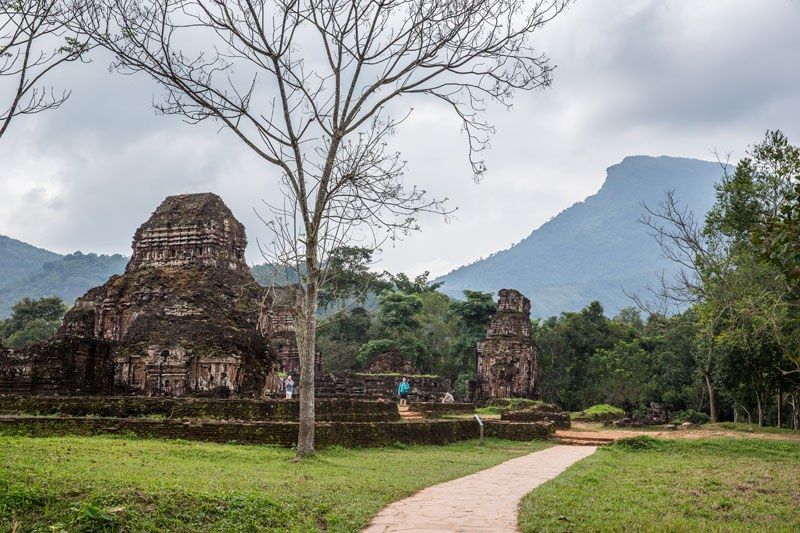 Many people take a day trip from Hoi An out to My Son Holy Land. We made the trip as well.
My Son is located an hour and a half by car west of Hoi An. It is also a UNESCO site that is home to ancient Cham temples. It reminded us of a smaller version of the temples in Bagan, Myanmar or Angkor Wat, Cambodia.
This site is much less impressive, due to its smaller size. It doesn't help that US Army bombs destroyed some of the temples of My Son during the Vietnam War (the Viet Cong was using My Son to stockpile their artillery).
In our opinion, visiting My Son was not worth the time and effort. It was small, crowded, and honestly not very exciting. The best part was heading inland from the coast, traveling up into the misty mountains, where temperatures got a lot cooler and the scenery changed dramatically. Read more about My Son here.
---
More Information for Your Trip to Vietnam
BEST OF VIETNAM: For a list of the best experiences in Vietnam, check out our Vietnam Bucket List.
CENTRAL VIETNAM: From Hoi An, you can day trip to My Son Holyland, travel by car to Hue, and spend a few days in Hue touring the historical sites.
EXPLORING NORTHERN VIETNAM: Go on a photojourney of Hanoi and what it is like to cruise Ha Long Bay.
SOUTHERN VIETNAM: Cruising the Mekong Delta is one of the top experiences to have in Vietnam. Spend a few days in Ho Chi Minh City and from here, visit the Cu Chi Tunnels. For those wanting some beach time, journey to the lovely island of Phu Quoc.
SOUTHEAST ASIA ITINERARY: If your visit to Vietnam is part of a bigger trip through Southeast Asia, don't miss our 3-month Southeast Asia itinerary and travel planner.
TRAVEL BLOGGING: This website started with a trip around the world and has become one of the most popular travel sites on the internet. Learn more about what it is like to run this website in our article My Life as a Travel Blogger.
Note: This post contains affiliate links. When you make a purchase using one of these affiliate links, we get paid a small commission at no extra cost to you.
All rights reserved © Earth Trekkers. Republishing this article and/or any of its contents (text, photography, etc.), in whole or in part, is strictly prohibited.