The best way to get from Hoi An to Hue is by hiring a private driver for the day. By having a driver, we were able to visit My Son Sanctuary, Da Nang, Marble Mountain, travel over Hai Van Pass, walk on Lang Co Beach, and have pit stops for lunch and photos.
Traveling From Hoi An to Hue
Our day started at 9 am. We hired a car and driver through our hotel, the Golden Bell Homestay, to take us from Hoi An to Hue.
My Son Sanctuary
Our first stop was the My Son Sanctuary, a UNESCO World Heritage Site. My Son is a collection of ancient Hindu temples built by Champa people that are now in ruins. This is the most popular day trip from Hoi An and takes half a day.
My Son is only 40 km away from Hoi An but it took us an hour and half to get there. As we approached My Son the terrain changed. Mountains now dominated the scenery, the skies became cloudy, and the temperatures dropped. Now we were driving in misty forests and it was beautiful.
Once at My Son we paid our entrance fee and then wandered among the ruins. It did not take long as this site is very small. The temples are now crumbling and covered with vegetation, the result of it being swallowed up by the jungle for many years. We had heard that the US bombed My Son Sanctuary during the Vietnam War, since the Viet Cong was using this place as a repository for their military supplies.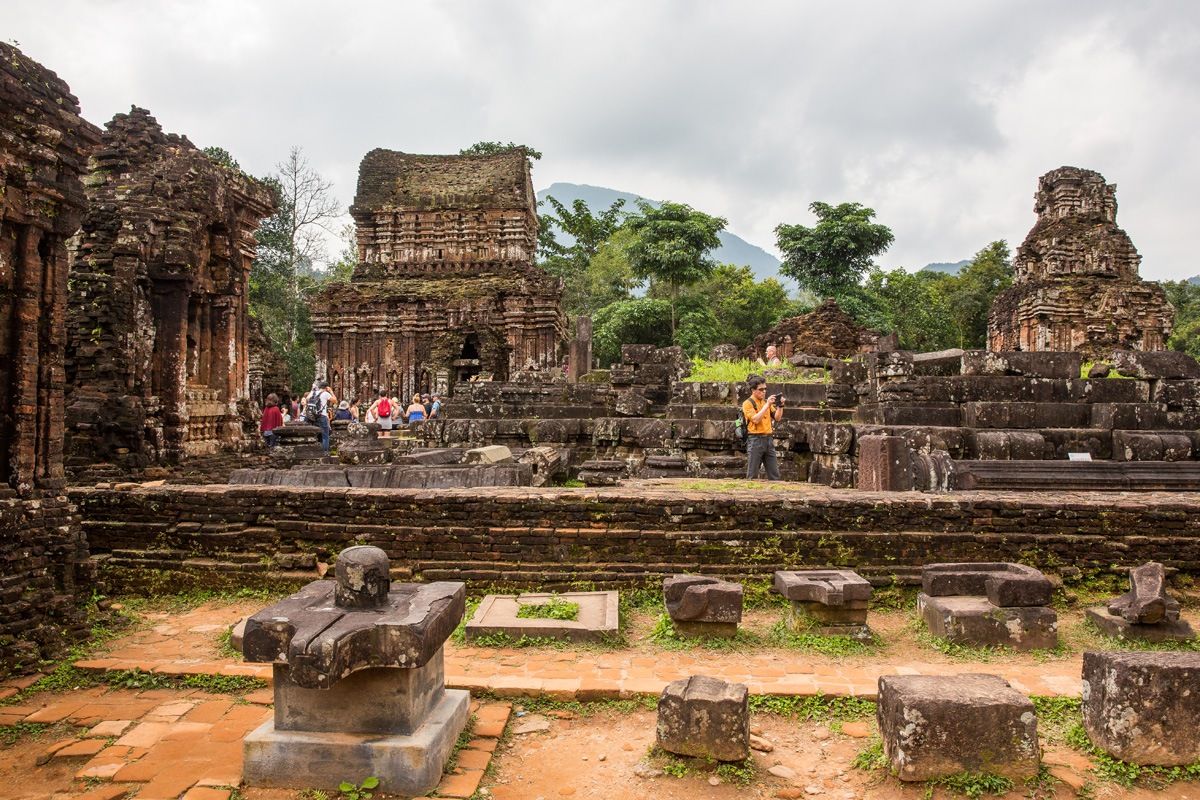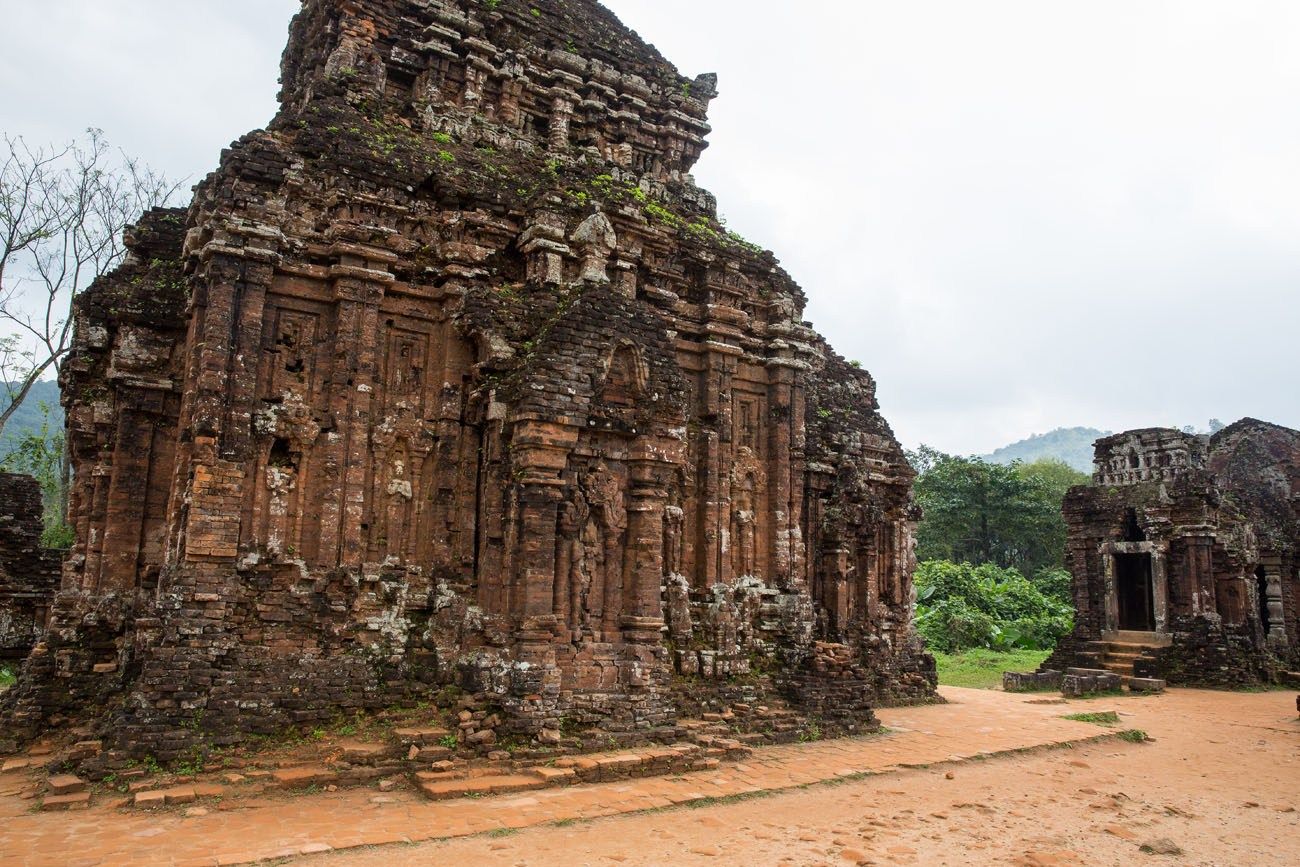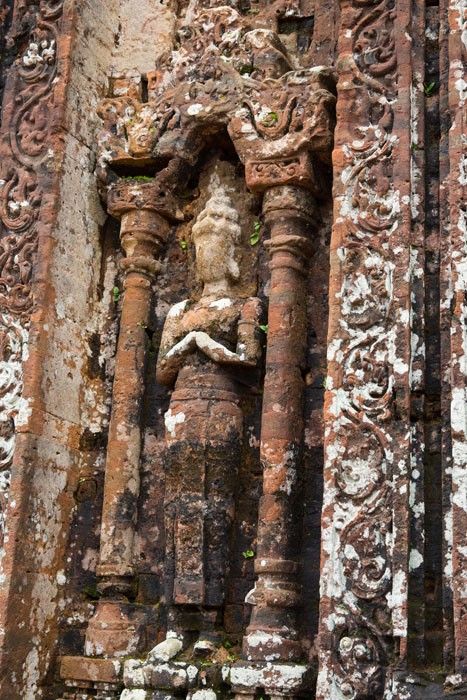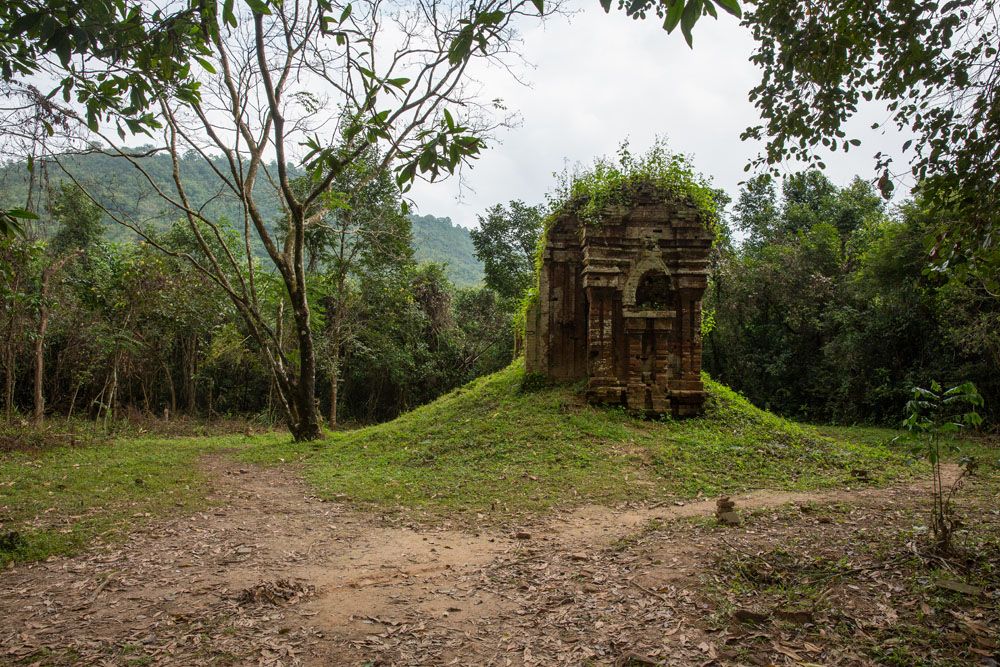 Next Stop, Marble Mountain
To continue our journey to Hue, we first had to drive back towards Hoi An and then on to Da Nang. Our next stop was the Marble Mountain, a limestone karst mountain containing a series of caves and religious sites. We climbed the steps to the top, looked out over Da Nang, and took some pictures. Again, unfortunately, we were not impressed.
Earlier in the week we had visited the Lady Buddha on a day trip to Da Nang. We liked the Lady Buddha a whole lot more. The Lady Buddha was less crowded, had a collection of Chinese-style buildings and statues to view, and the views over China Beach were magnificent.
If you have a choice between Marble Mountain and the Lady Buddha, we recommend seeing the Lady Buddha.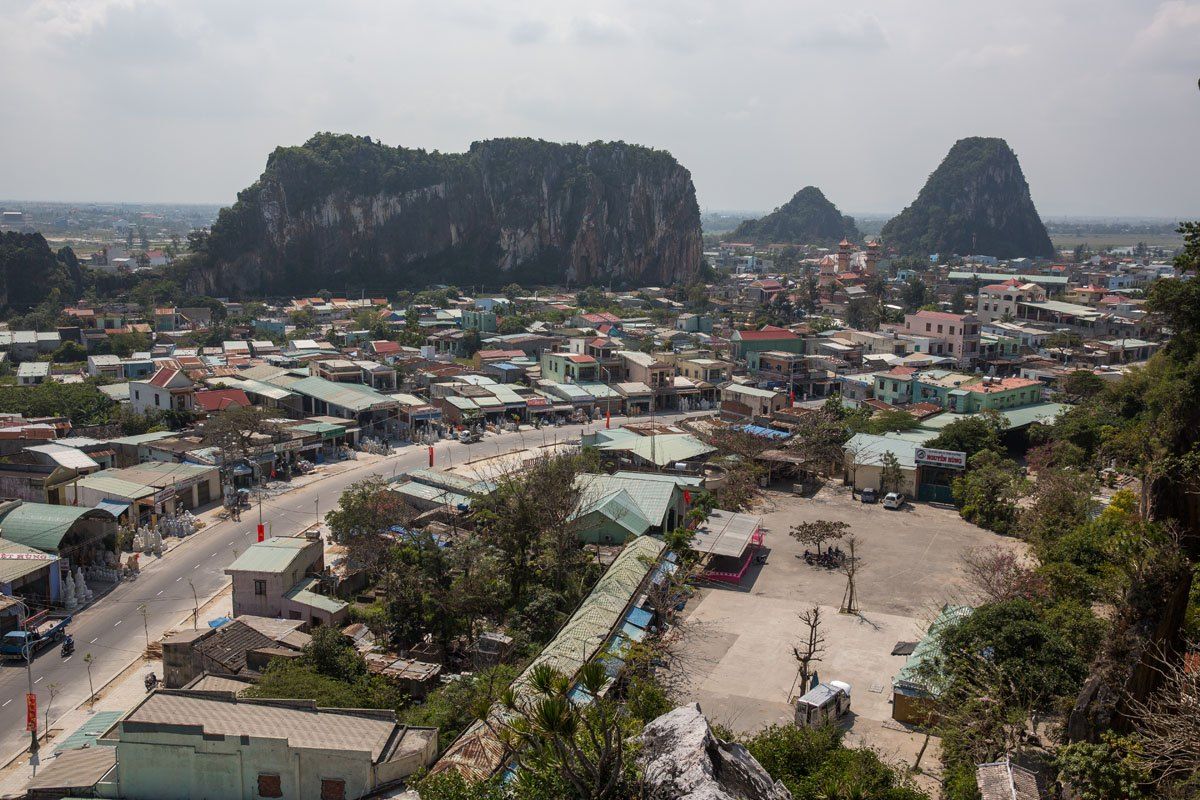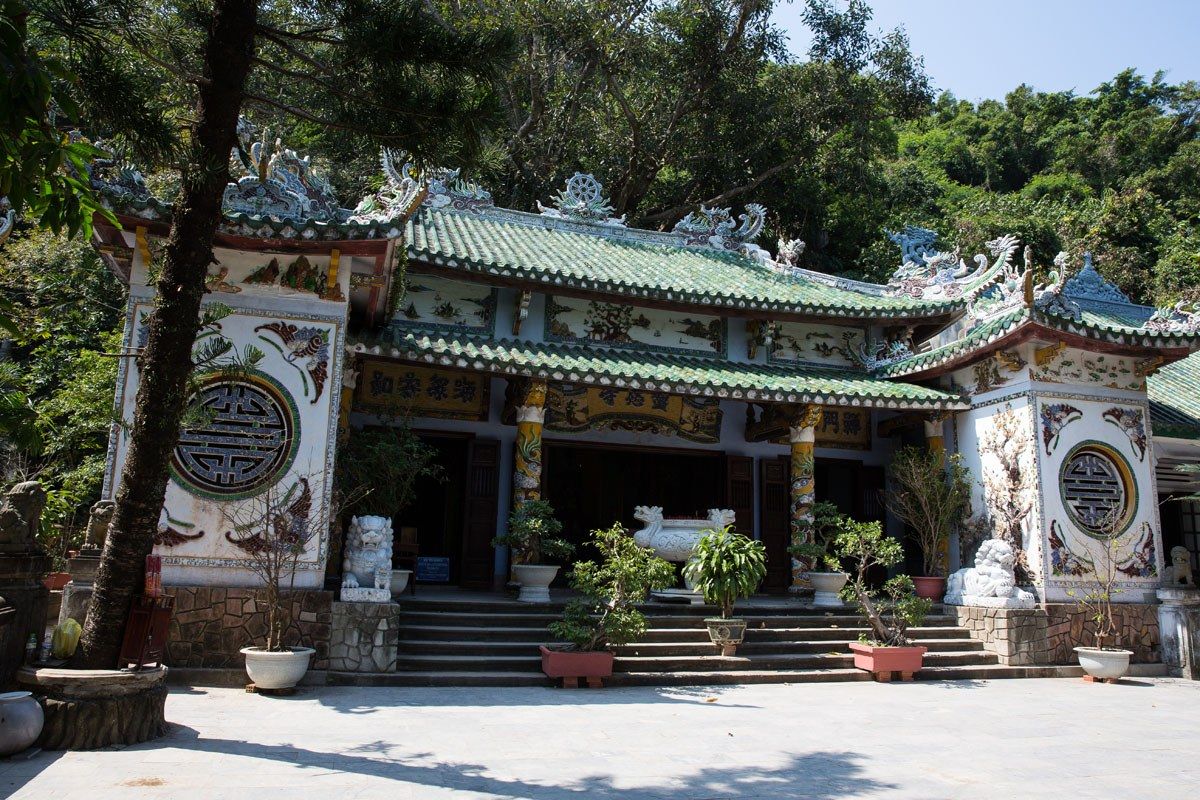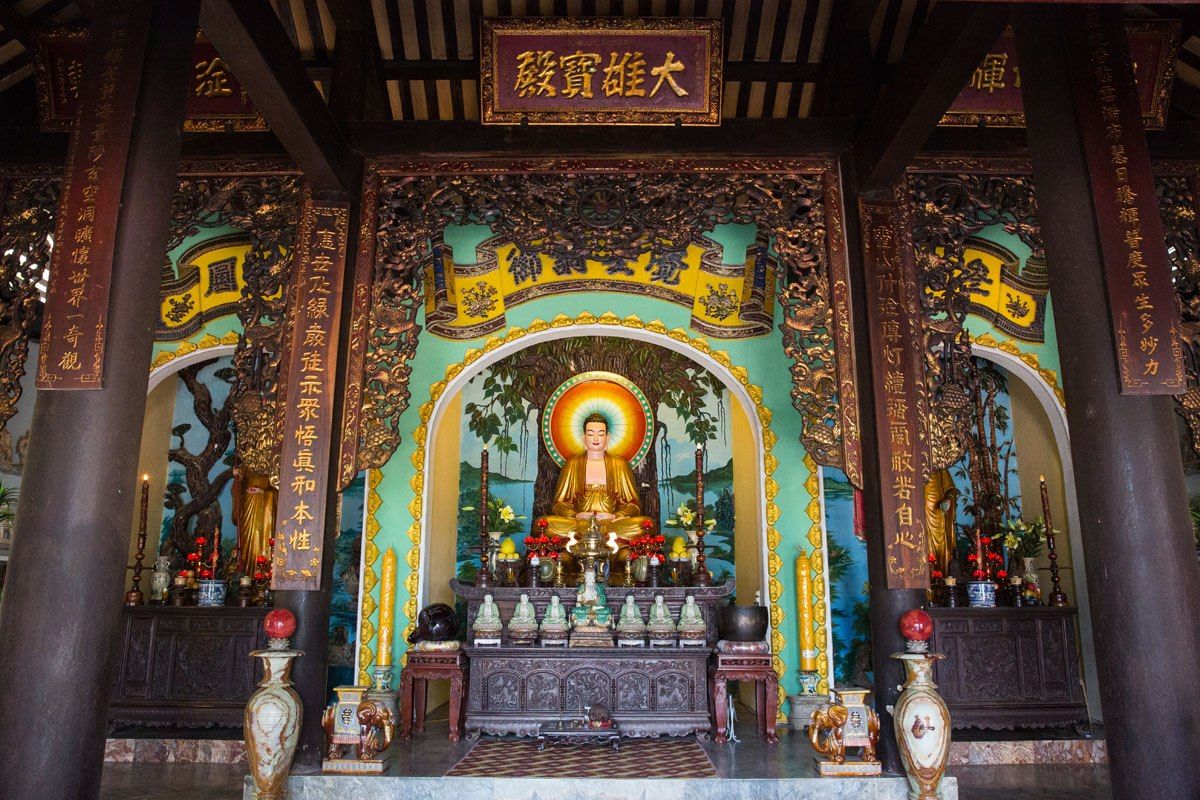 The Hai Van Pass
The next part of our drive was the best…the drive over Hai Van Pass. This was very scenic. Now we were driving up winding roads to the top of a mountain, with views along Vietnamese coastline.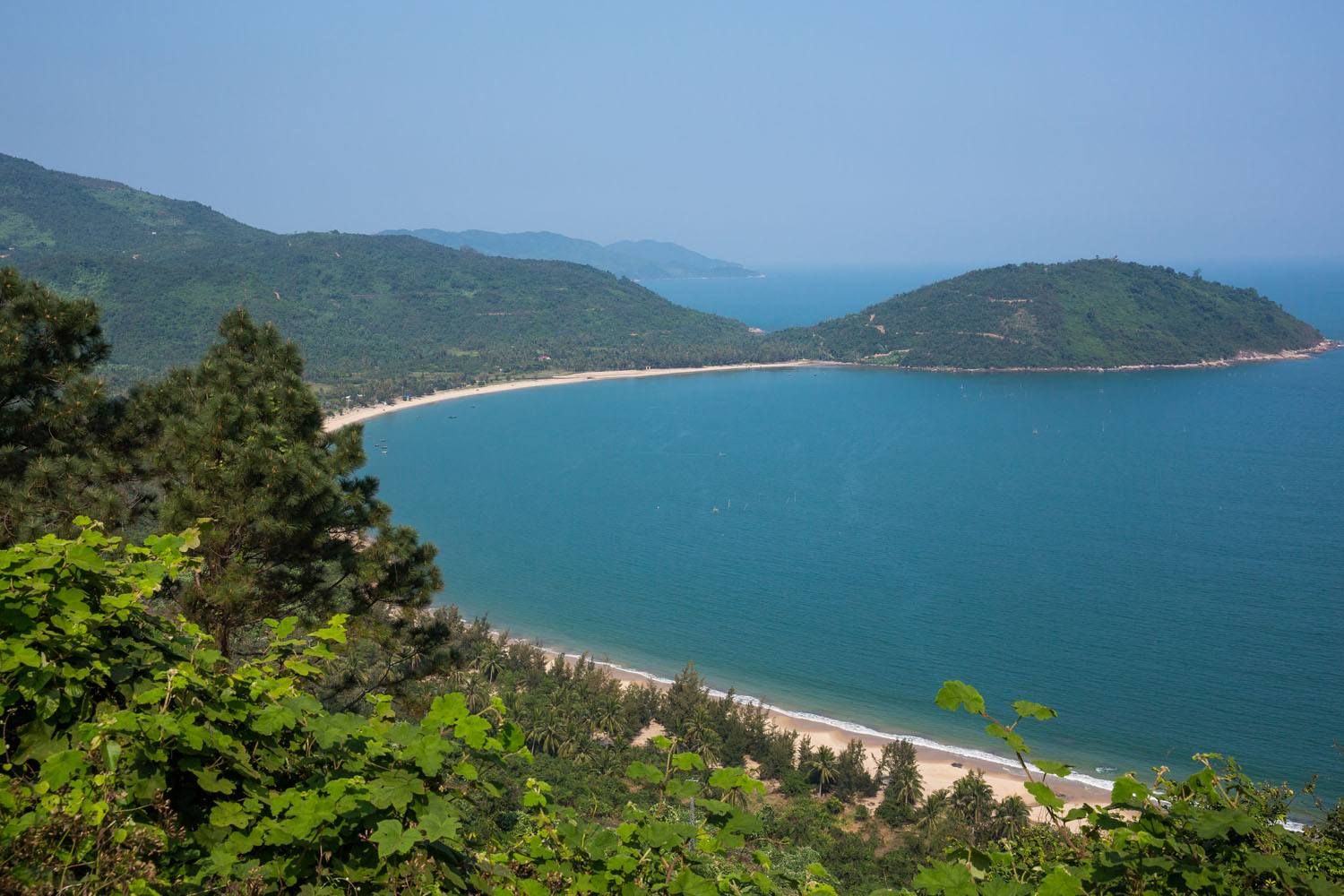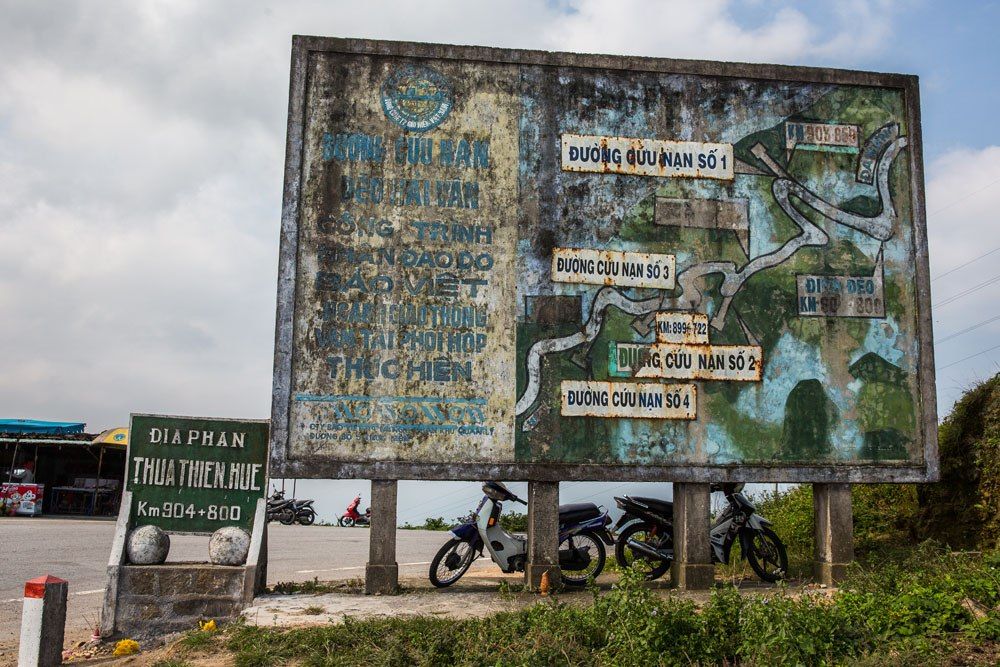 From Hai Van Pass we drove past wide fields of rice paddies.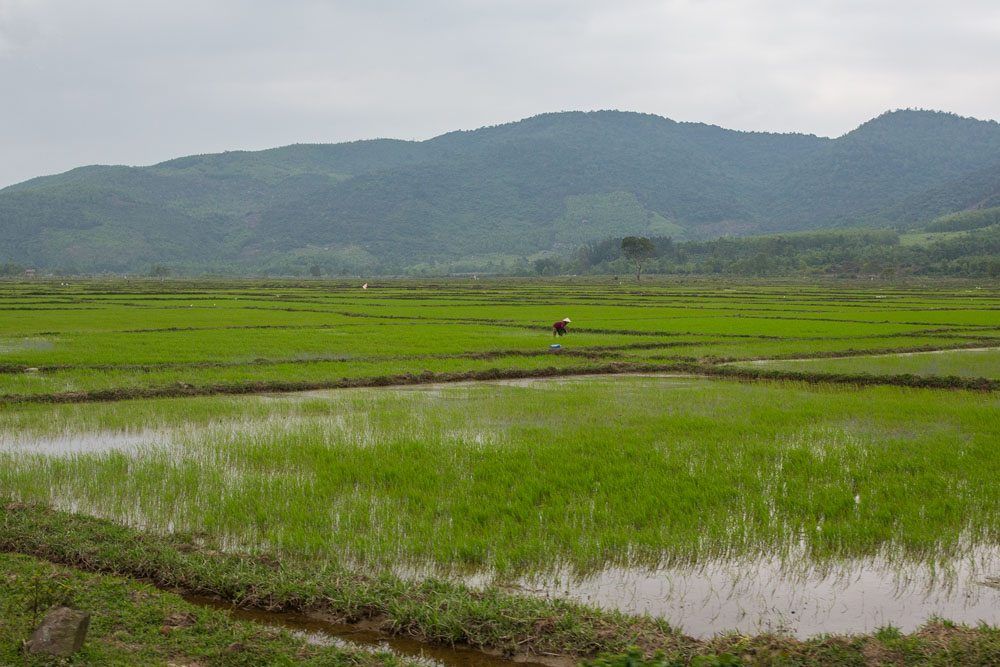 Lang Co Beach
Our last stop before arriving in Hue was Lang Co Beach, a beautiful, almost clean beach. The beaches in Vietnam have so much potential…these wide, scenic stretches of coastline that are almost deserted. Unfortunately, on some beaches around Hoi An (and also on Phu Quoc Island) it was not unusual to see more than just a little bit of trash.
Final Stop: Hue
The final stretch to Hue seemed to take forever. We were traveling in and out of small towns and the going was slow. Our entertainment came from watching people on their motorbikes who were transporting chickens, ducks, framed pictures, trees, and even pigs.
At 5 pm we arrived in Hue. It was a busy day but it was great to combine sightseeing and transportation.
Getting From Hoi An to Hue
Hoi An and Hue are 126 km apart, a distance that is easily covered by car or bus. Both modes of transportation can be arranged by most hotels. Expect it to take approximately 6 hours to travel between Hoi An and Hue, with a stop at the Marble Mountain. Hiring a private driver will be more expensive but will give you the flexibility to alter your schedule and stop for photos.
To see My Son Sanctuary on the way to Hue, you will need to hire a private driver.
We paid $95 USD for our car and driver for the day. This fee did not include entrance fees into My Son Sanctuary and Marble Mountain.
Visiting My Son Sanctuary
How To Visit My Son Sanctuary from Hoi An
My Son Sanctuary is located 40 km from Hoi An. Most travel sites state it takes one hour to get to My Son, although it took us an hour and a half. Most people visit My Son as a day trip from Hoi An, leaving in the morning and returning during the early afternoon hours.
Tour companies can book a half or full day tour, but most hotels can easily book a car and driver for you. This can easily be arranged by hotel staff once you arrive in Hoi An.
The cheapest way to get to My Son is by bus, with bus fares being as low as $3 USD per person. Expect to make many stops in Hoi An picking up other customers, adding on as much as an hour in the morning and afternoon for this service.
Is My Son Worth It?
We were not impressed with My Son. We had just recently visited Angkor Wat and the temples of Bagan, and My Son hardly compares to the sheer size and awesomeness of these places. If you are into history or enjoy visiting temples and ruins, seeing My Son would be a worthwhile experience. I am glad we saw it but would rather have spent that extra time in Hoi An, a place we loved.
---
More Information about Vietnam
EXPLORING NORTHERN VIETNAM: Go on a photojourney of Hanoi and what it is like to cruise Ha Long Bay.
CENTRAL VIETNAM: Hoi An is one of our favorite places to visit in Vietnam. From Hoi An, you can day trip to My Son Holyland, and spend a few days in Hue touring the historical sites.
SOUTHERN VIETNAM: Cruising the Mekong Delta is one of the top experiences to have in Vietnam. Spend a few days in Ho Chi Minh City and from here, visit the Cu Chi Tunnels. For those wanting some beach time, journey to the lovely island of Phu Quoc.
SOUTHEAST ASIA ITINERARY: If your visit to Vietnam is part of a bigger trip through Southeast Asia, don't miss our 3-month Southeast Asia itinerary and travel planner.
DESTINATIONS AROUND THE WORLD: For more places to visit around the world, check out our Destinations page.
Note: This post contains affiliate links. When you make a purchase using one of these affiliate links, we get paid a small commission at no extra cost to you.
All rights reserved © Earth Trekkers. Republishing this article and/or any of its contents (text, photography, etc.), in whole or in part, is strictly prohibited.