Our family spent almost one month in Vietnam, giving us plenty of time to watch as the Vietnamese people celebrated their most important holiday, Tet. Tet is the Lunar New Year for Vietnam and falls on the same day as the Chinese New Year. For the Vietnamese, Tet is like Thanksgiving, Christmas, and New Year's Eve all rolled up in one. It is a time to return home to families and celebrate the upcoming new year. For us, it was a wonderful experience to be in Vietnam for the duration of Tet.
What is Tet?
Tet, shortened from Tet Nguyen Dan, is the most important holiday in Vietnam. It marks the arrival of spring, falling in the months of January and February. It is a time to forget about past troubles and hope for a better upcoming year. Since many people return home for the holiday, busy cities can become almost like ghost towns during the main day of celebration.
Preparations for Tet begin two weeks before the arrival of the New Year. Houses are cleaned, new clothes are bought, and debts are paid off, all done to have a fresh start to the upcoming year. Markets become busy as food is bought for family reunions and special, extensive meals are cooked. This is also a time to buy flowers, such as peach blossoms, kumquat trees, and chrysanthemums. For tourists, this is a great time to be in Vietnam. Everyone is in a very festive spirit and the streets are filled with flowers.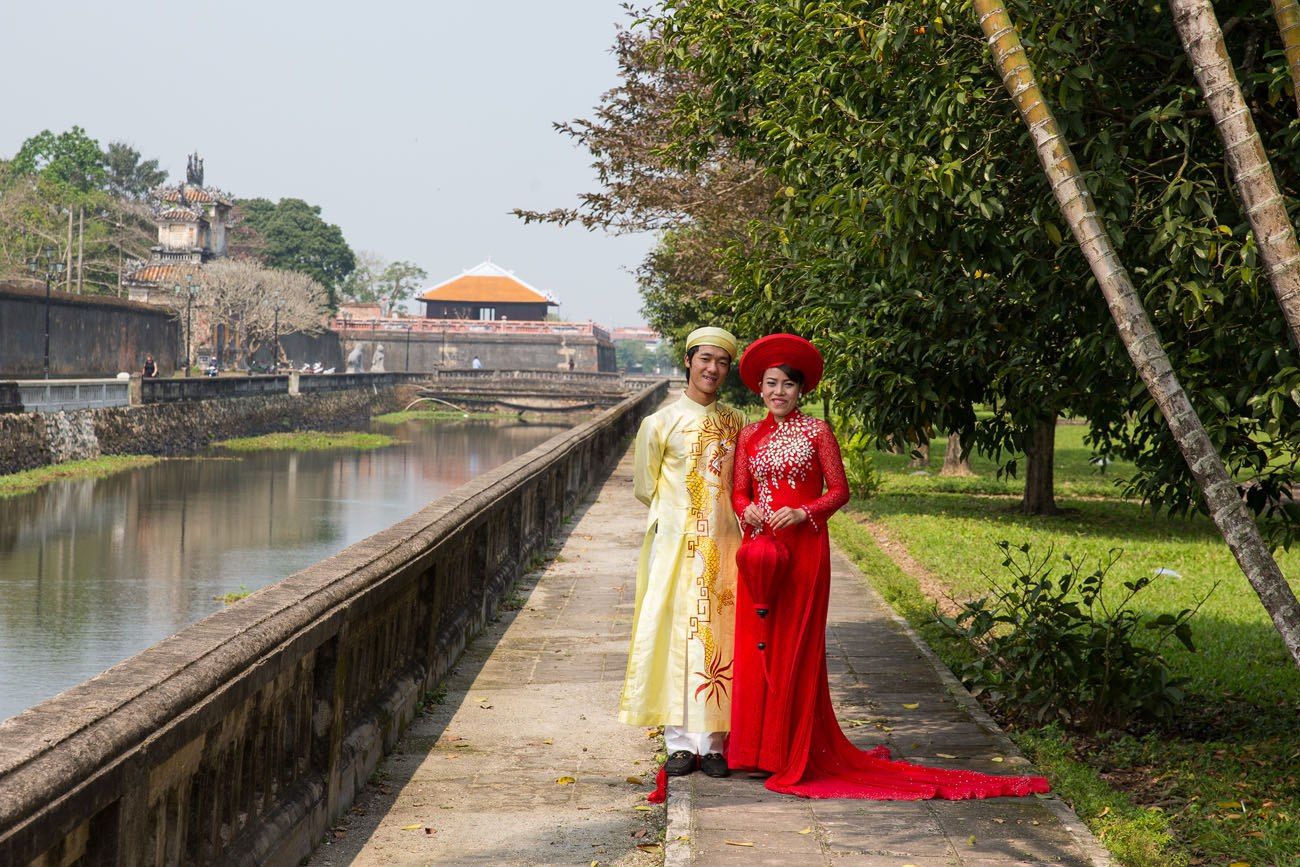 New Year's Eve has a party like atmosphere. Cities will launch fireworks, people will be making noise with gongs, bells, and firecrackers to ward any an evil or unlucky spirits nearby.
Tet lasts for a total of nine days and the first day of Tet is the most important. Good fortune on the first day of Tet is very auspicious for the remainder of the year. Vietnamese people believe that the first person to enter a household can determine that family's fortune for the entire year. Families may choose a person of good moral character and success to enter their house first. Then, for several days after the New Year, families and friends pay visits to each other. About four days after the start of the New Year, towns and cities start to come back to life as people return to work and their homes.
Flowers for Tet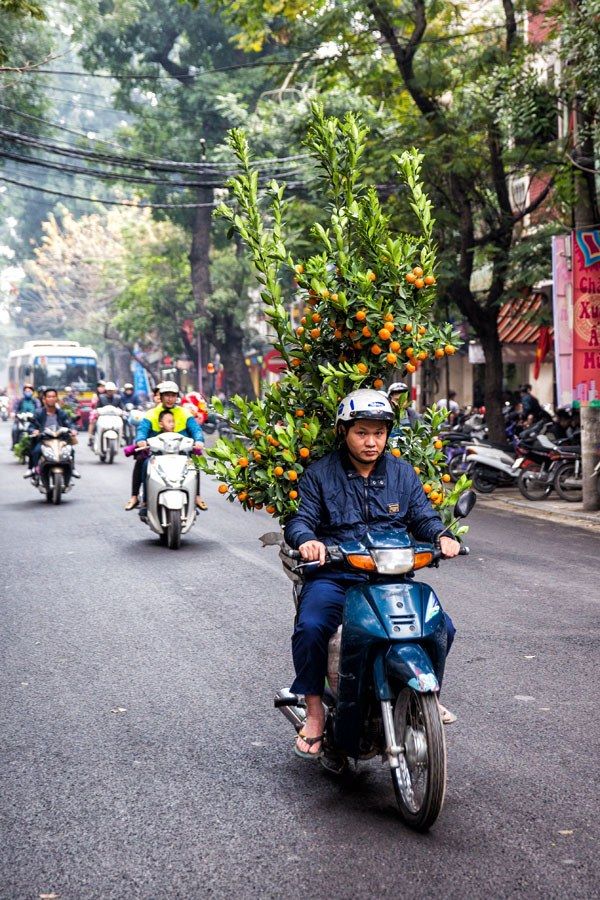 Flowers are very important decorations for Tet. Which flowers are used depends on location in Vietnam.
All over Vietnam the most popular plant we saw was the kumquat tree. Countless times we saw men carrying kumquat trees on their motorbikes. At times it looked like the tree was driving the motorbike with just arms and legs sticking out of it.
In southern Vietnam we saw tons of yellow chrysanthemums. Flower markets were erected in fields, in parking lots, and along the road, all of them selling potted chrysanthemums not much smaller than Kara. These yellow flowers reminded me a lot of October back at home, only these were just five times bigger.
Peach blossoms are also very popular. These trees are just starting to bloom and people would buy a branch to take home, their pink flowers filling the city streets.
In southern Vietnam the Hao Mai tree is very popular, having bright yellow flowers. The amount of blooms on the tree is linked to how fortunate that family will be.
What is it like to be in Vietnam for Tet?
I did a lot of research on this topic before traveling to Vietnam. Numerous online travel sites warn travelers to avoid Vietnam during the season of Tet. The large number of Vietnamese traveling home for the holidays makes finding space on buses, trains, and planes very difficult. Then, for several days on either side of Tet, businesses and museums close. I read that many restaurants also close which can make it very difficult for tourists to find meals.
We decided to take our chances and visit Vietnam regardless of these difficulties and looked at the bright side…what a great experience for our family to witness this important Vietnamese holiday.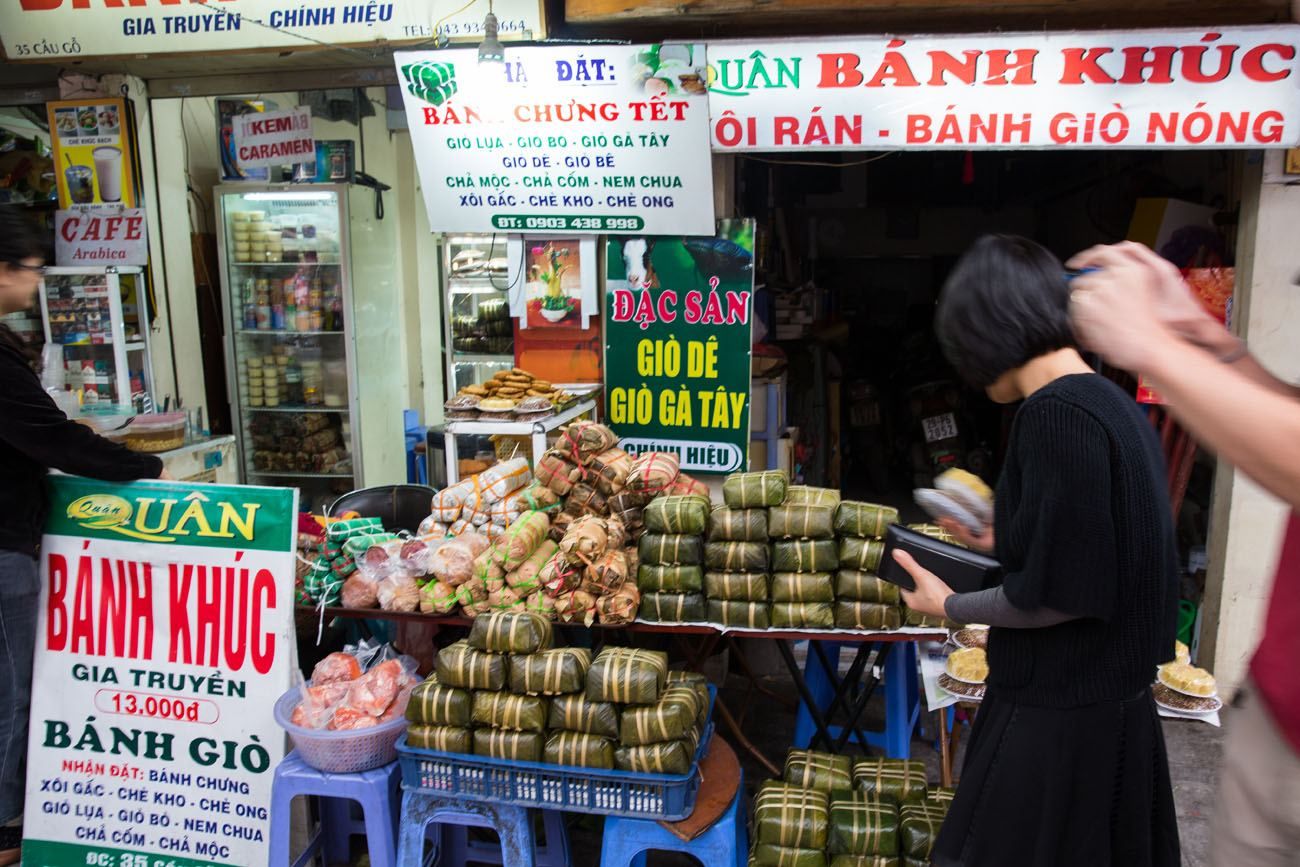 We started in southern Vietnam two weeks before Tet. Businesses were open, markets were very busy as everyone was doing their shopping, and flower markets were just opening. In Can Tho and Ho Chi Minh City we watched as the first festivities began. People were already making the pilgrimage home and this had an impact on visiting the floating market of Cai Rung. What usually is a chaotic collection of boats and people buying and selling produce was instead very quiet and almost empty. It was a little disappointing to miss the best floating market but that's just the way it goes.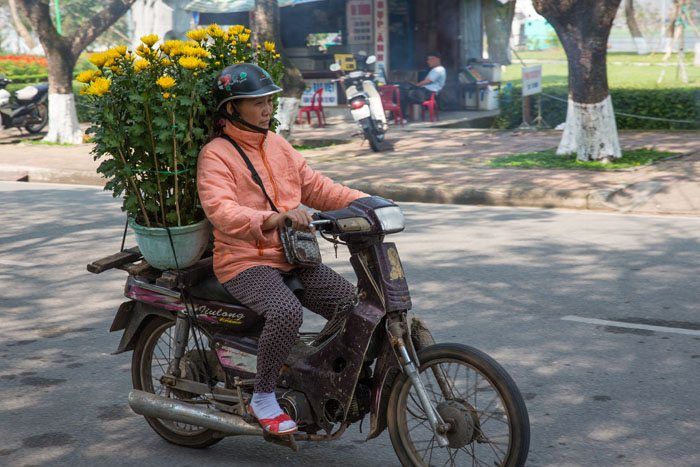 In Hoi An and Hue we saw chrysanthemums everywhere. There were so many flowers for sale I wonder how many were left over, still sitting in flower markets after Tet. It was during this time, one week before Tet, that we began to see many more Tet decorations, red envelopes, and flowers for sale.
We were in Hanoi for Tet. We arrived by plane from Hue several days before Tet, giving us a few days to do some sightseeing before the city closed down. The four of us walked the streets of the Old Quarter, our favorite sight being the shops lining the roads selling decorations for Tet. It felt like the few days right before Christmas when people are out buying last minute Christmas gifts. People were happy and smiling and Hanoi really felt alive.
Most businesses close their doors the day before Tet and do not reopen until several days afterwards. For us, than meant no more visits to museums (for Tyler and Kara this really was a great holiday!), shopping malls, or movie cinemas. We were on our own to find things to do. For us, this wasn't a big deal. We have our computers, our homeschooling and future trip planning, plenty to keep us busy.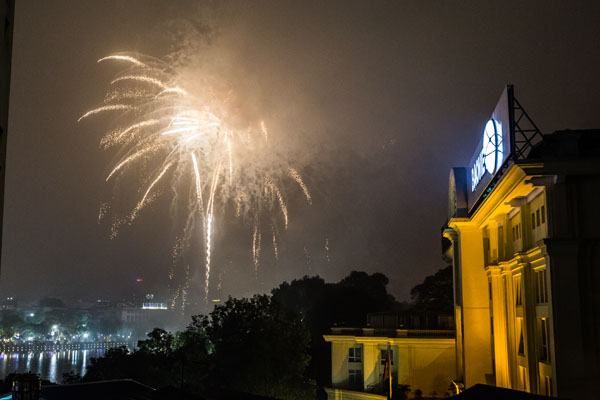 At midnight at the start of Tet, the city of Hanoi launched a fifteen minute firework show over Hoan Kiem Lake. We were able to watch the fireworks from the very small balcony of our hotel room. It was awesome listening to everyone cheering and watching as the fireworks lit up the Hanoi skyline.
Once the fireworks ended the noise continued, as drivers were honking horns and people were out laughing, cheering, and celebrating. Being in Hanoi for Tet was an awesome, festive experience.
For three days after Tet, Hanoi was very quiet. The same streets that were packed with people, motorbikes, and shops just a few days ago had almost turned into a ghost town in some places. Most shops and restaurants were closed, their garage style doors shut and locked. Now there was room to walk on the sidewalks since they were no longer being used by motorbikes as a parking lot. We saw a small number of Vietnamese people dressed up and heading off to family and friend's houses, but mostly it was tourists like us, wandering the empty streets of Hanoi. We loved it.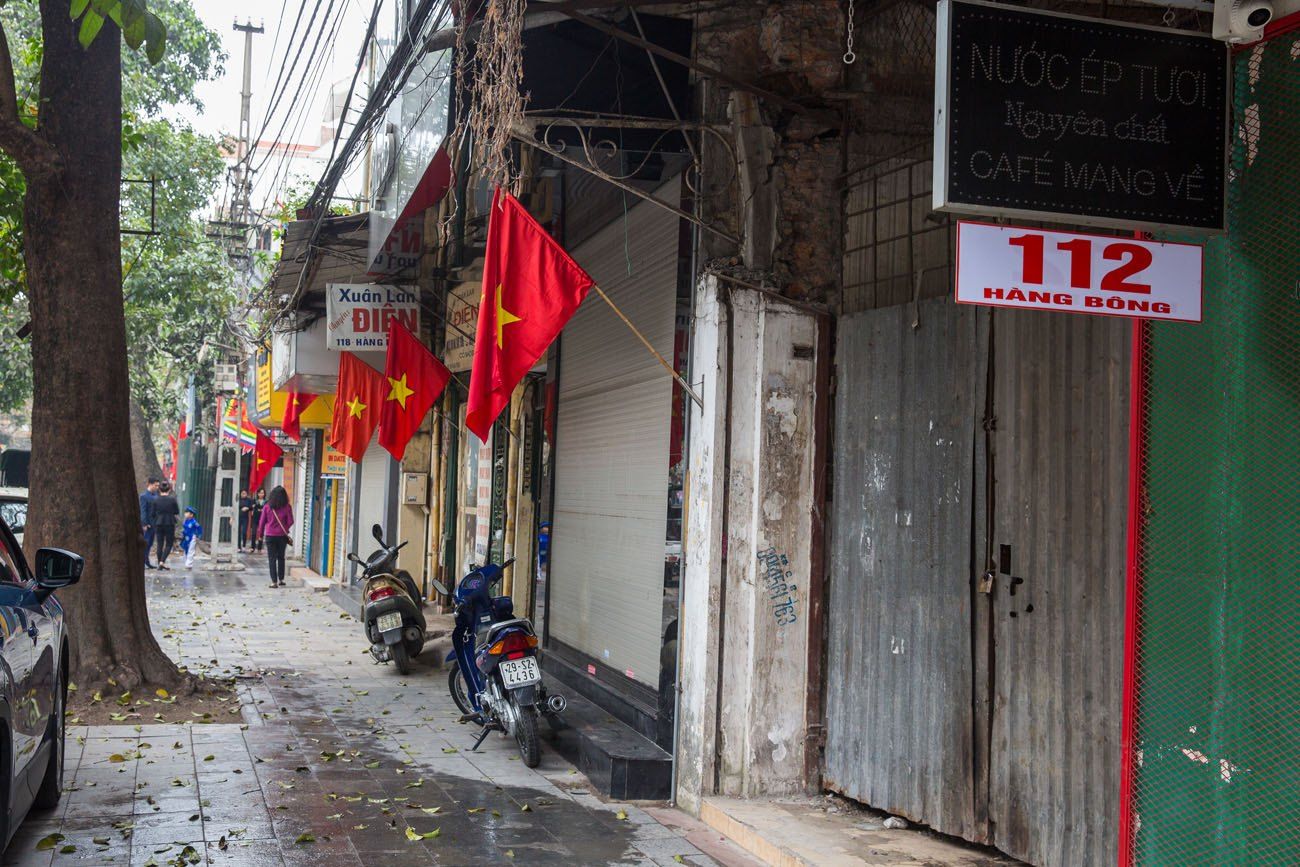 There was not much else to do other than wander the quiet streets, but at least there were restaurants open for business. It was nice to know that we weren't going to starve for several days during Tet. This is what I was most concerned about with being in Hanoi during Tet…finding food.
Fortunately, finding a good meal was easy! There were still several Vietnamese cafes open as well as a number of western style restaurants. We ate at Moose and Roo Pub and Grill, JOMA Café and Buon de la Cafe. Finding food was easy and there was even a minimart near our hotel that was always open for business.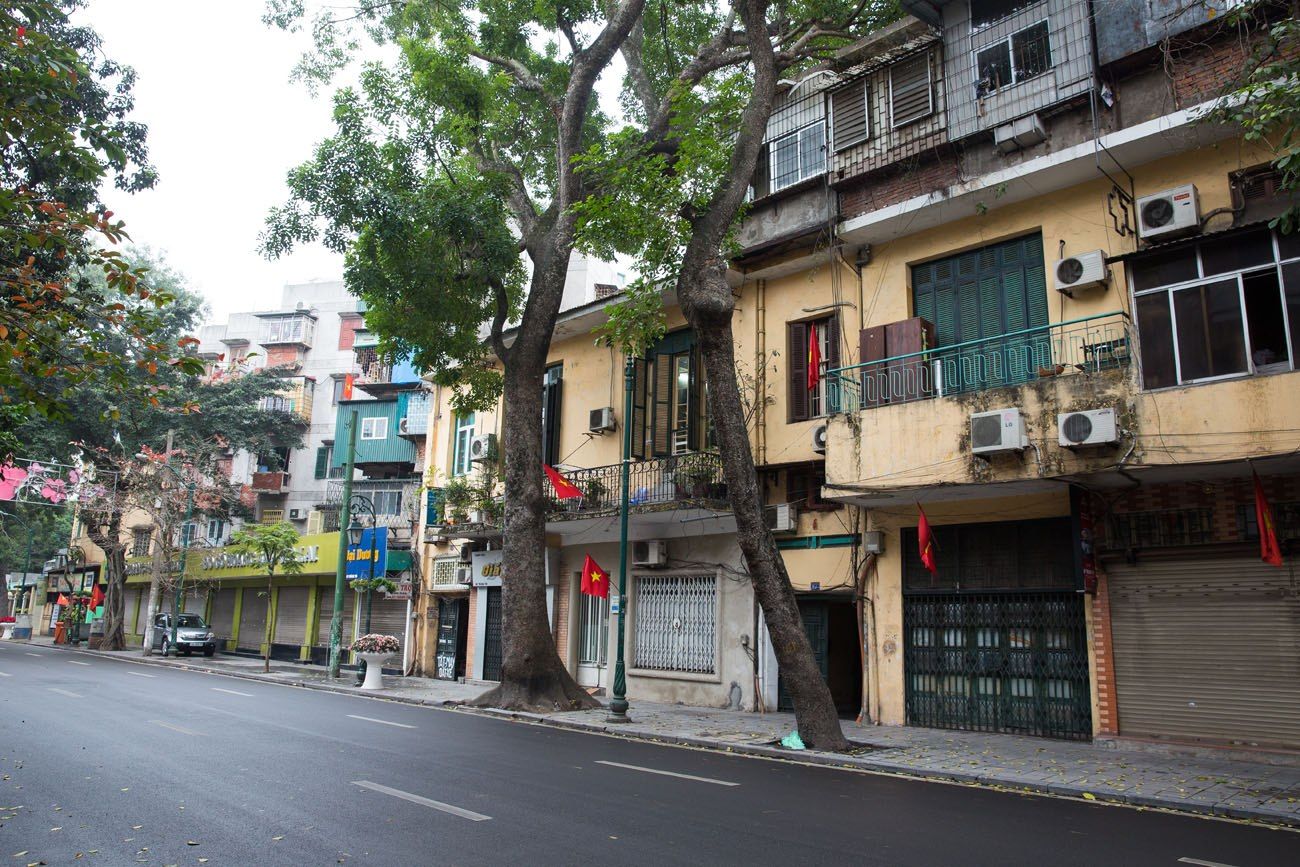 Should I Travel to Vietnam During Tet?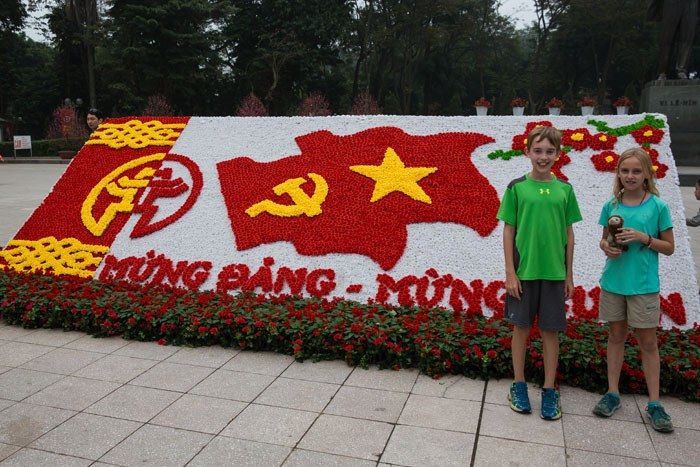 Our family really enjoyed being in Vietnam during Tet. We loved seeing people carrying home flowers and kumquat trees on their motorbikes, hotels and restaurants decorated for Tet, and we loved seeing how happy and excited the Vietnamese people were in anticipation of this holiday.
How often do you get to walk to streets of Hanoi when they are so quiet?
Plus, the weather in Vietnam this time of year is very comfortable. It is hot and dry in the south and cooler and overcast in the north. In Hanoi, we awoke to cloudy, drizzly skies every morning but by the afternoon the skies had cleared up. Temperatures were a pleasant 75 degrees during the day and 60 degrees at night.
Traveling during this time does not come without its difficulties. Trains and buses are sold out in advance so travel plans cannot wait until the last minute. Hotels do not usually sell out since most Vietnamese travel home rather than stay in hotels, but it still helps to have your room booked in advance as well. For up to five days museums and shopping areas can be closed which can really impact sightseeing plans, so make sure you have things to do to keep you occupied.
All in all, if you want to witness Tet celebrations in Vietnam and do not mind four to five days of downtime in your schedule, traveling to Vietnam during Tet is worth it.
Tips for Traveling During Tet
Make all travel arrangements in advance, especially those for one week before and one week after Tet. Prior to Tet everyone is trying to get home, mostly by motorbike, bus, and train. Planes are used less frequently since they are more expensive. Be prepared for higher costs for travel at this time since there is a much greater demand for it. Trains and buses may be overbooked, with people sleeping on mats in the aisles.
The worst days to travel are two days before Tet and three days after Tet. Unless you have your own transportation, I would plan on staying put in one place during this time. We arrived in Hanoi four days before Tet, giving us plenty of time to get in our sightseeing and to get to know the city before museums and businesses closed.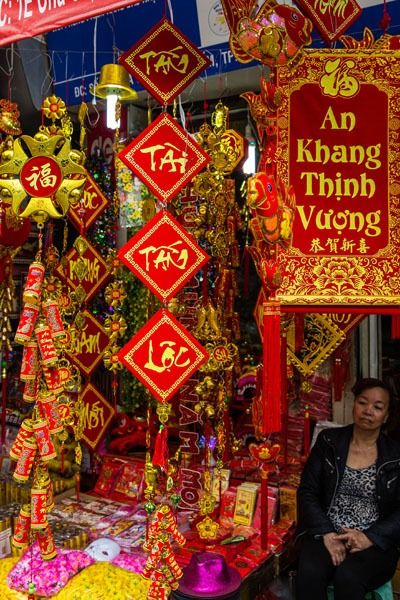 Do not plan on doing much for one to two days before Tet and for three days afterwards, as many tourist sites close during this time. Stay in a hotel with a DVD player or download some movies on a computer or iPad so you have something to do if boredom sets in. There are shops in Hanoi selling DVDs for as little as a dollar a piece.
Finding restaurants is not a problem. What I was most concerned about turned out not to be an issue…where to eat. Many restaurants catering to tourists remain open during Tet. It's nice to know that after all of your wandering through quiet, city streets you will still be able to find a good meal.
Get out and celebrate! Go shopping at the markets, buy Tet decorations to hang in your hotel room (they are so cheap), send "lucky money" home in red envelopes, join in the festivities around the city. We loved walking around Hanoi before the fireworks and seeing how happy and excited everyone was.
Be ready to listen to ABBA. Yes, ABBA. The song that we heard over and over again before and after the New Years celebration was "Happy New Year" by ABBA. By the way, we also heard a fair amount of Celine Dion and Britney Spears from the 1990's.
Future Dates:
Tet in 2023: Sunday, January 22

Tet in 2024:

Saturday, February 10
Tet in 2025: Wednesday, January 29
In conclusion, all four of us enjoyed being in Vietnam for Tet. It is a joyous time to be in this country and with enough planning and preparation, it can be an awesome experience.
Chuc Mung Nam Moi…best wishes for the New Year!
---
If you have any questions about visiting Vietnam during Tet, or if you would like to share your experience, let us know in the comment section below.
More Information about Vietnam
PLACES TO GO IN VIETNAM: Hoi An is our favorite city in Vietnam but Hanoi is a close second. Cruising Ha Long Bay is a wonderful experience as is taking a boat trip on the Mekong Delta. For a bigger list of things to do, read our article Best Things to Do in Vietnam.
DA NANG: Da Nang is an underrated town near Hoi An. Find out why we think this is a great city to add to your Vietnam itinerary.
SOUTHEAST ASIA ITINERARY: If your visit to Vietnam is part of a bigger trip through Southeast Asia, don't miss our 3-month Southeast Asia itinerary and travel planner.
TRAVEL INSPIRATION: Looking for more travel ideas? Here are 10 great destinations to visit during the winter months. We also have articles listing our favorite bucket list destinations and 10 different ways to spend 10 days in Europe.
You Might Also Like: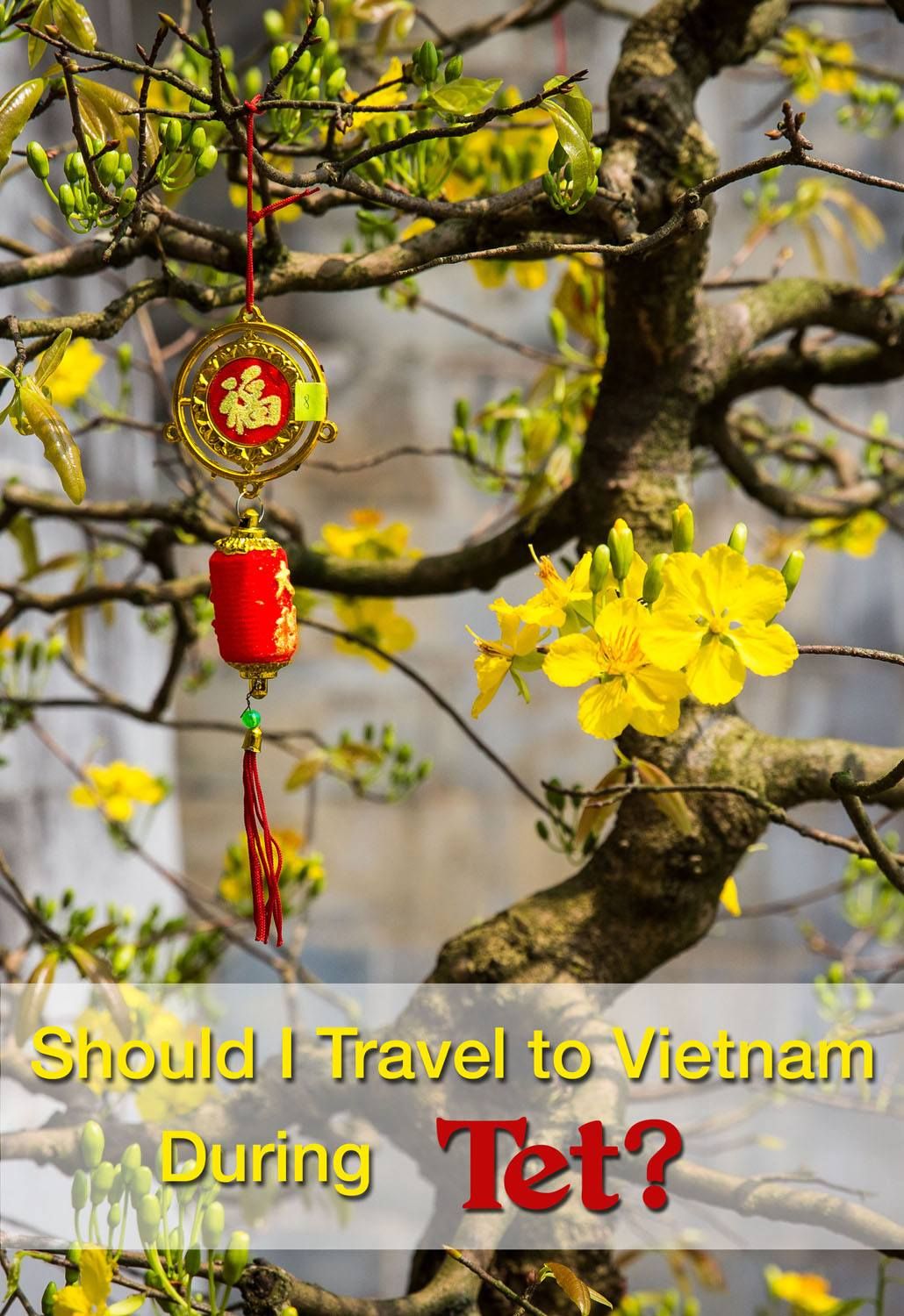 All rights reserved © Earth Trekkers. Republishing this article and/or any of its contents (text, photography, etc.), in whole or in part, is strictly prohibited.