The area around Adelaide is Australia's premiere wine region. Sitting around Adelaide are Barossa Valley, Adelaide Hills, McLaren Vale, and Clare Valley. Some people say that Barossa is the best and most well known, with McLaren Vale a few spots lower down on the list. The area around Adelaide produces some of the world's best Shiraz, as well as very good Cabernet Sauvignon and Grenache wine.
Our sole purpose for visiting Adelaide was to take a tour of the wine regions, and with two days here, we had just enough time to sample some wine from two different regions.
This is a recap from our first visit to South Australia in May 2015. Tim and I returned to the area in 2023 and have a guide to 18 Wineries to Visit in McLaren Vale, our experience wine tasting in Clare Valley, and 13 Wineries to Visit in Barossa Valley, which have more updated information and practical planning advice.
Wine Tasting Barossa Valley
Our tour started in Barossa Valley, located one hour northeast of Adelaide. We had a rental car, with Tim at the wheel and myself navigating, how we usually do things. I had no real plan for the day, other than visiting Penfolds, one of the biggest wineries in the region. Mostly, we were here to enjoy the scenery, sample some Shiraz and Cabernet Sauvignon, and just enjoy being here.
This is what we came to Adelaide for…WINE!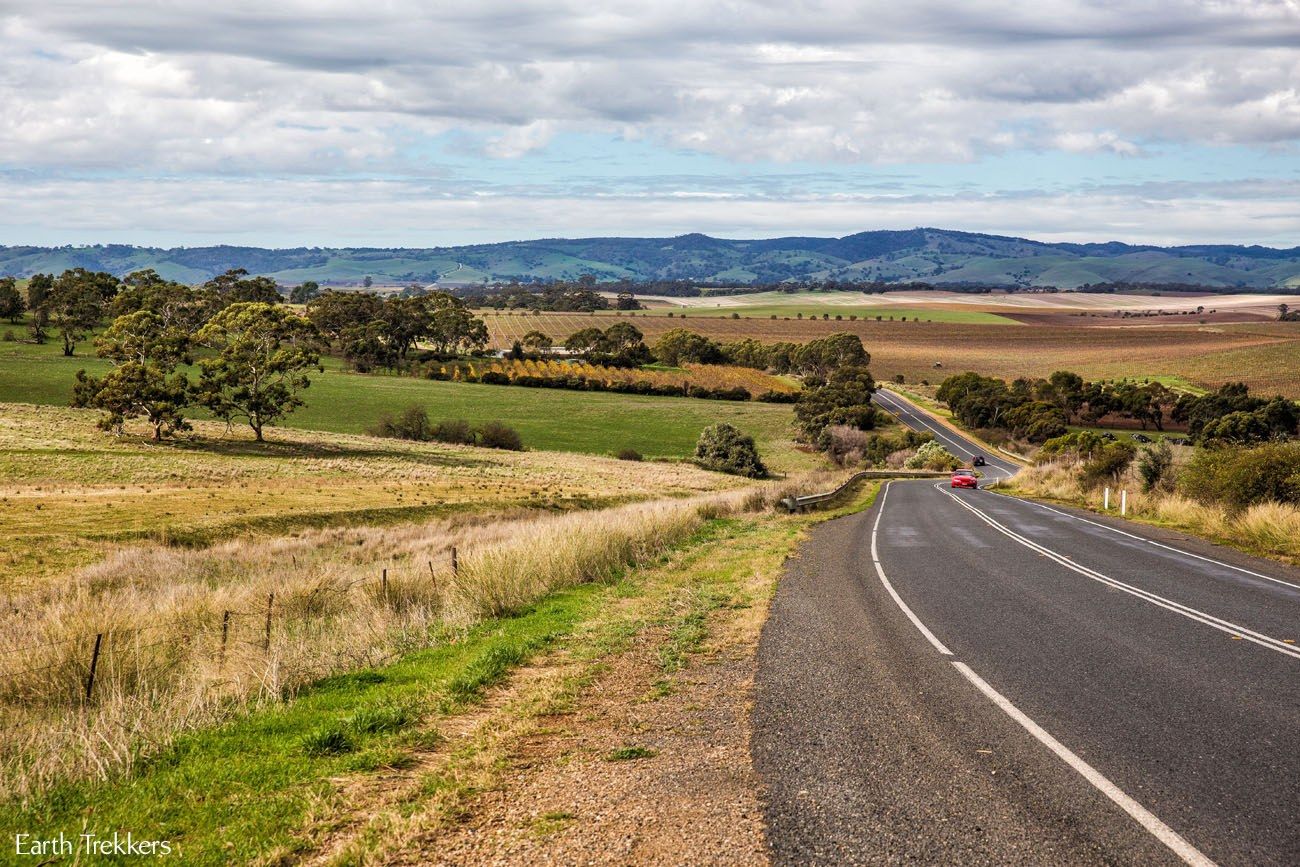 It is autumn now in Australia. The vines are either hanging on to their yellow and red leaves or have lost all of their leaves until spring. The harvest is done and things were very quiet. We had a gorgeous day, with blue skies and big, puffy white clouds, and cool temperatures.
It was a joy just being here, enjoying the views, even without tasting a drop of wine. Yikes, did I just say that?! Seriously, I was so excited to get started. Wine tasting in New Zealand was great, but Tim and I could not wait to taste some Australian reds.
Chateau Tanunda
Our first stop was located in the small town of Tanunda, in the heart of Barossa Valley. Chateau Tanunda is home to Australia's oldest and largest chateau, established in 1890. This is the birthplace of Barossa's wine industry, with the first vines being planted here in the 1840's.
We came here mainly to check out the wine cellar, a large room filled with oak barrels containing wine. With its historic architecture and cellar door filled with wine barrels, it was everything we thought a wine cellar should be.
Our sommelier was a young Chinese woman. As she took us through tastings of Tempranillos and Shiraz, we talked about our travels through China. The wine was fantastic. What they had that was even more amazing were chocolate Shiraz cordials. We bought several to take with us, but had we known how awesome they were, we would have bought the entire jar!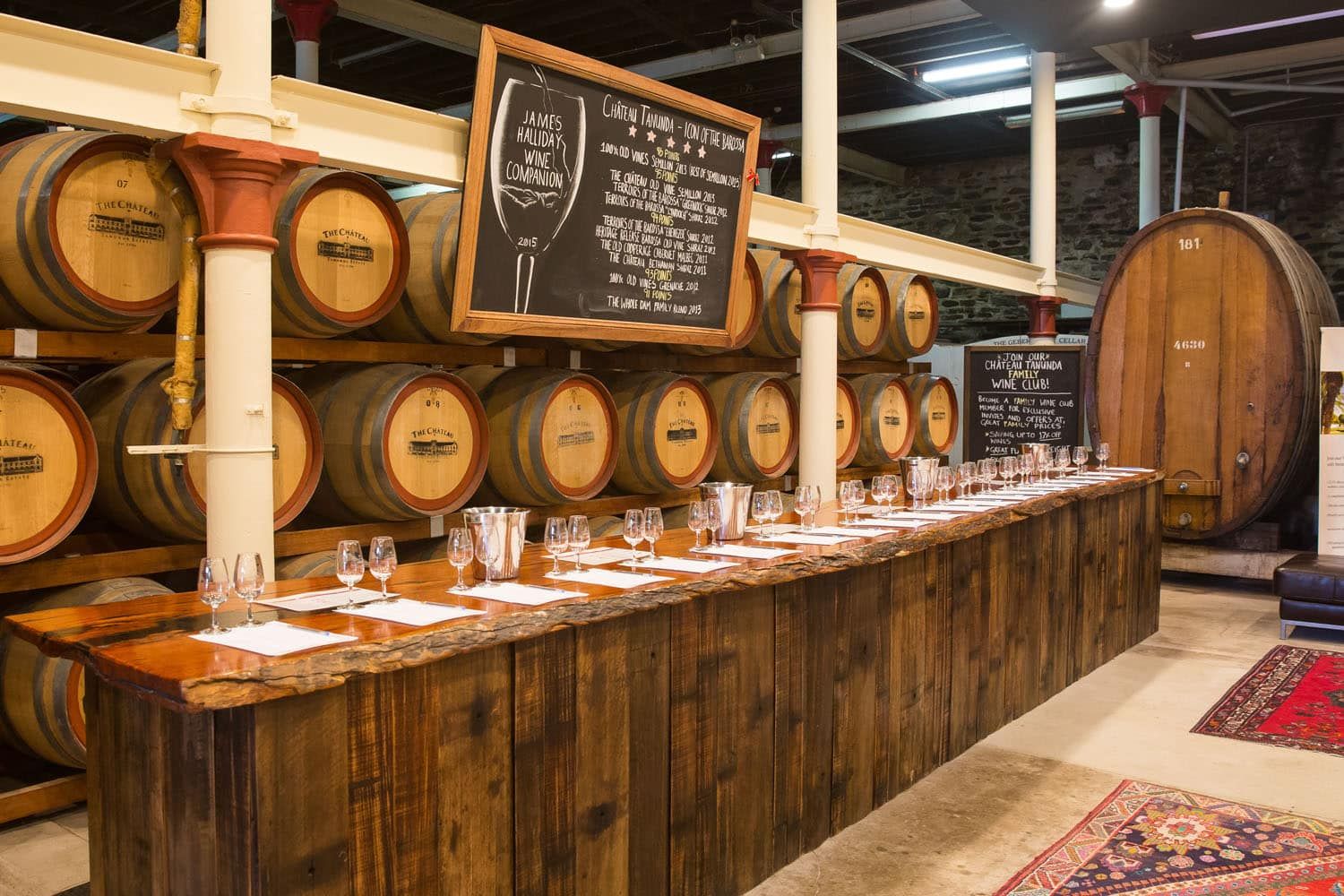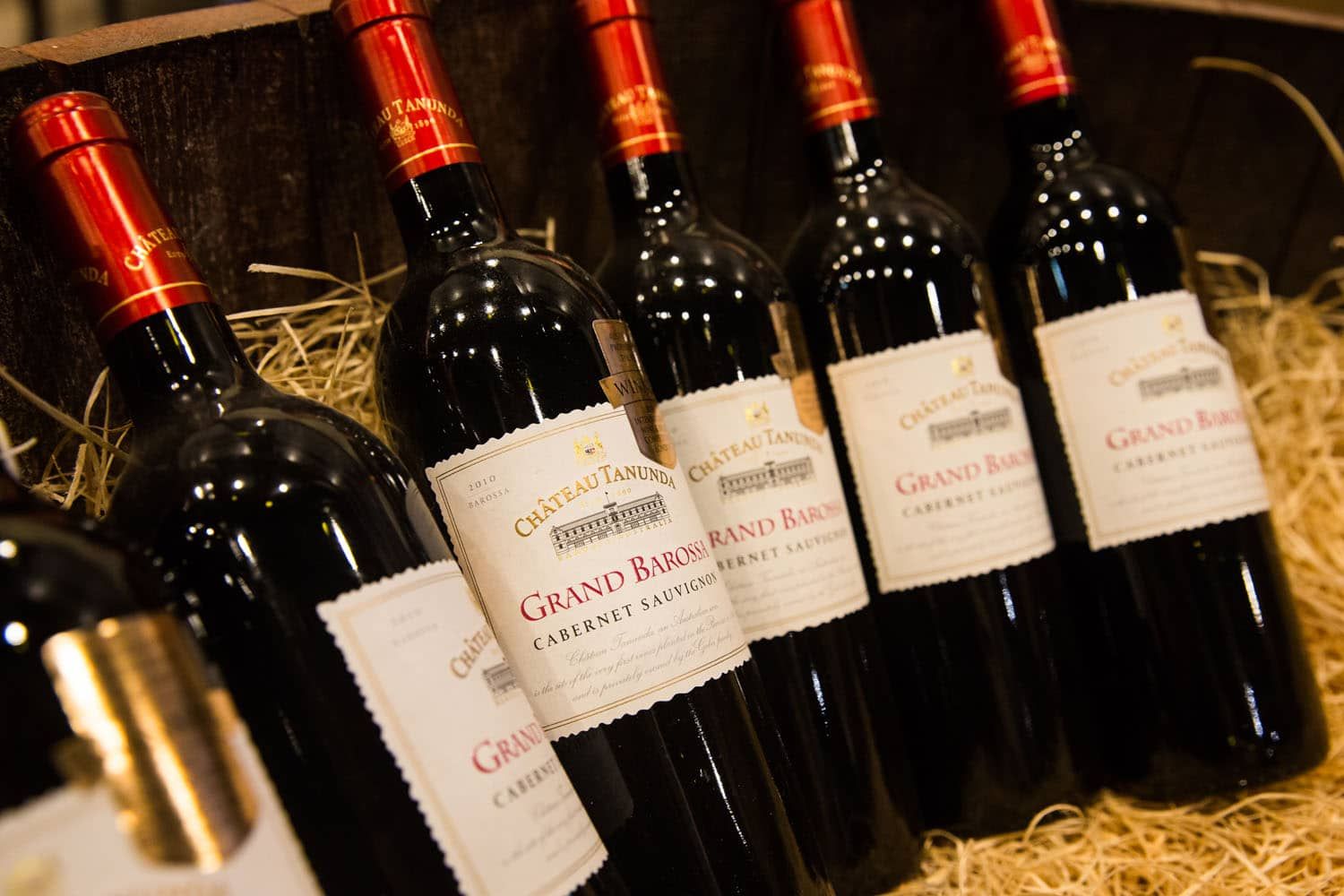 Penfolds
This was one of the few wineries we had heard of before arriving in Barossa Valley. Our friend, Sam Matz, recommended the Penfolds Grange, putting this Barossa winery at the top of our list to see.
The staff here were very friendly and the setting was very casual. There was no snootiness or snobbiness at any of these cellar doors we would visit, although I did feel a little out of place with our hiking shoes, hoody sweatshirts, and bush walking clothing. You would think I would be used to this by now, but under certain circumstances I am not.
Anyway, once people heard our around the world traveling story, we would become mini celebrities. Then they understand why we look so disheveled and grungy, but our appearance does not matter so much anymore. At least, that is what I like to believe!
At Penfolds, we were taken through their reds, trying more Tempranillo, Cabernet Sauvignon, and Shiraz. Once again, everything was very good, although the Shiraz was the clear winner over everything else. Delicious!
As we went through the wine tasting, I familiarized myself with the price list. On average it costs $30 AUD per bottle. How about the Grange? For the 2010 it would set you back $785 AUD. Yikes! Quickly we were learning that the Grange is not only great, it is legendary.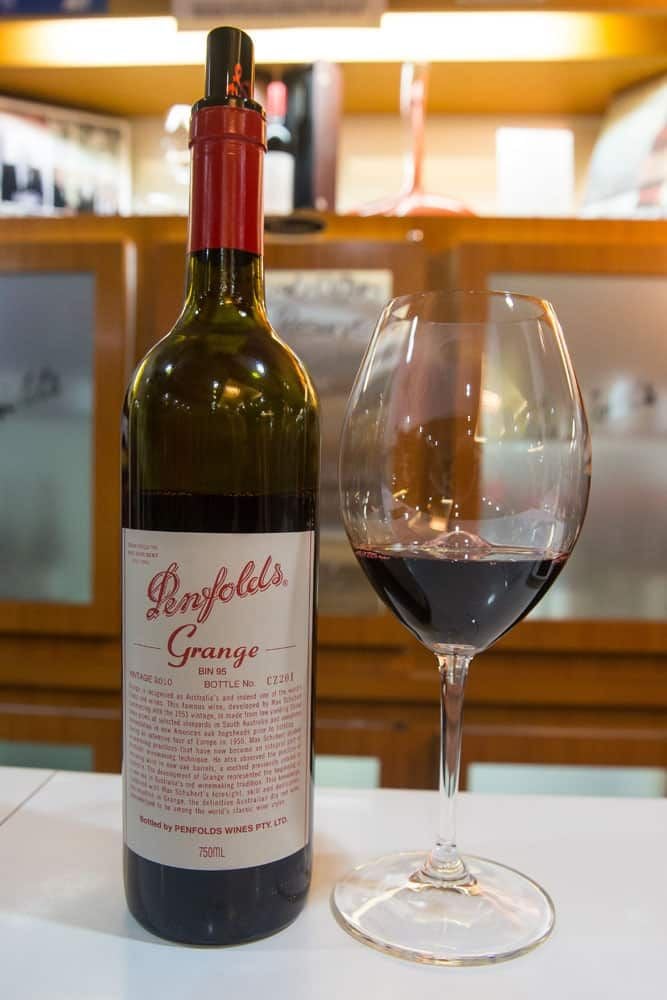 For $50 AUD we had the option to taste the Grange. Would it be worth it? We would never spend that kind of money on a bottle of wine at home but maybe $50 is worth it for a taste.
Tim and I agreed to do the tasting, and with a heavy hand, our sommelier poured our tasting of Grange. It was delicious and well worth the money spent.
The Grange has a smoothness and a complexity that we are lacking when I buy those cheaper wines. Now we are spoiled for life! Just kidding, but it truly was delicious, and the longer we drank it, the better it got. Of course, with just a tasting, it did not take long to finish it, but it was wonderful while we had it. Little did we realize that it would spoil our wine tastings for the rest of the day.
Seppeltsfield
Seppeltsfield is another big name with some history behind it. Not much younger that Chateau Tanunda, with origins dating back to the 1850's, Seppeltsfield prides itself on being the only winery in the world that releases a 100 year old single vintage every year.
Tim and I tasted more wine, but it was here that Tyler and Kara got a chance to do a tasting as well. Seppeltsfield is also well known for their raspberry cordial, a non-alcoholic option that our kids gulped down. We purchased a bottle, and now when Tim and I drink our wine, our kids can have their cordials.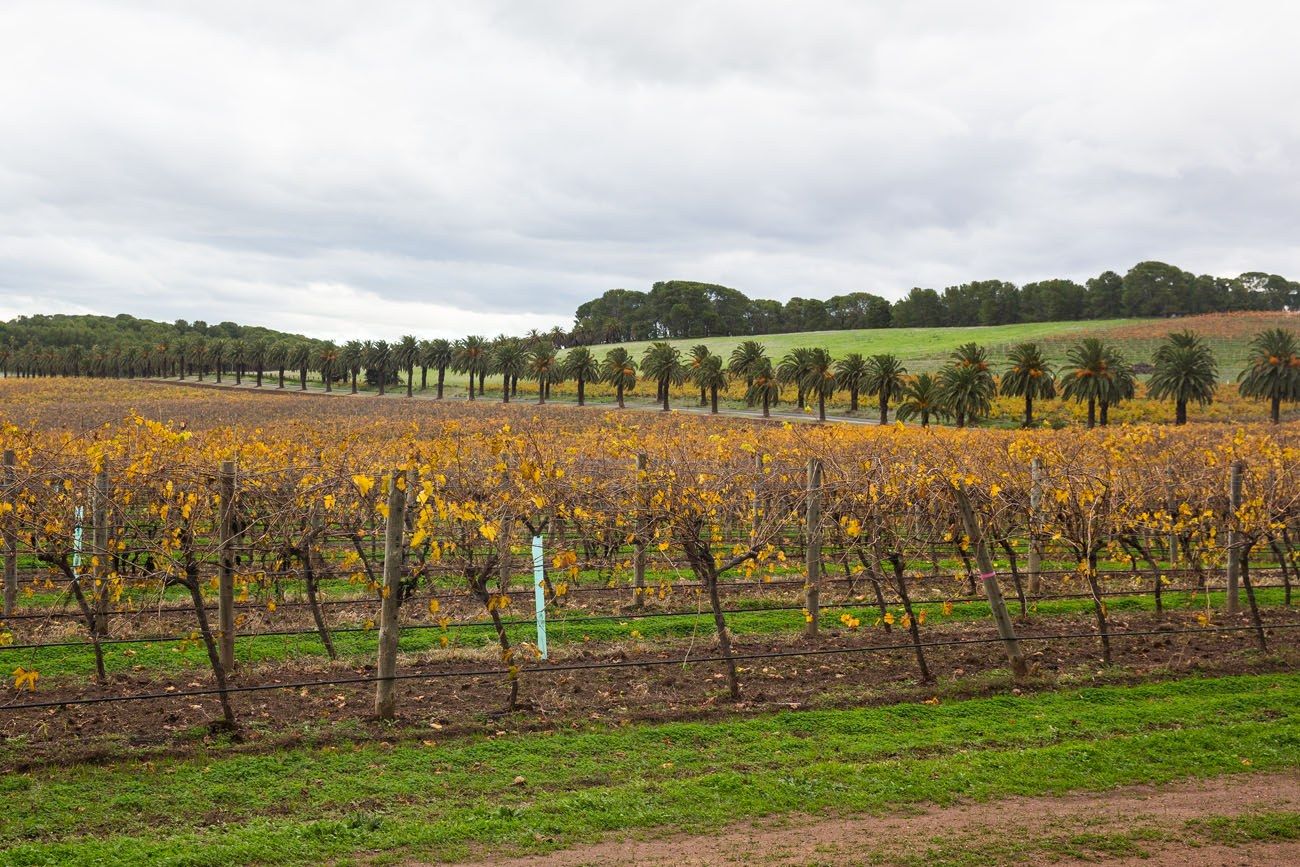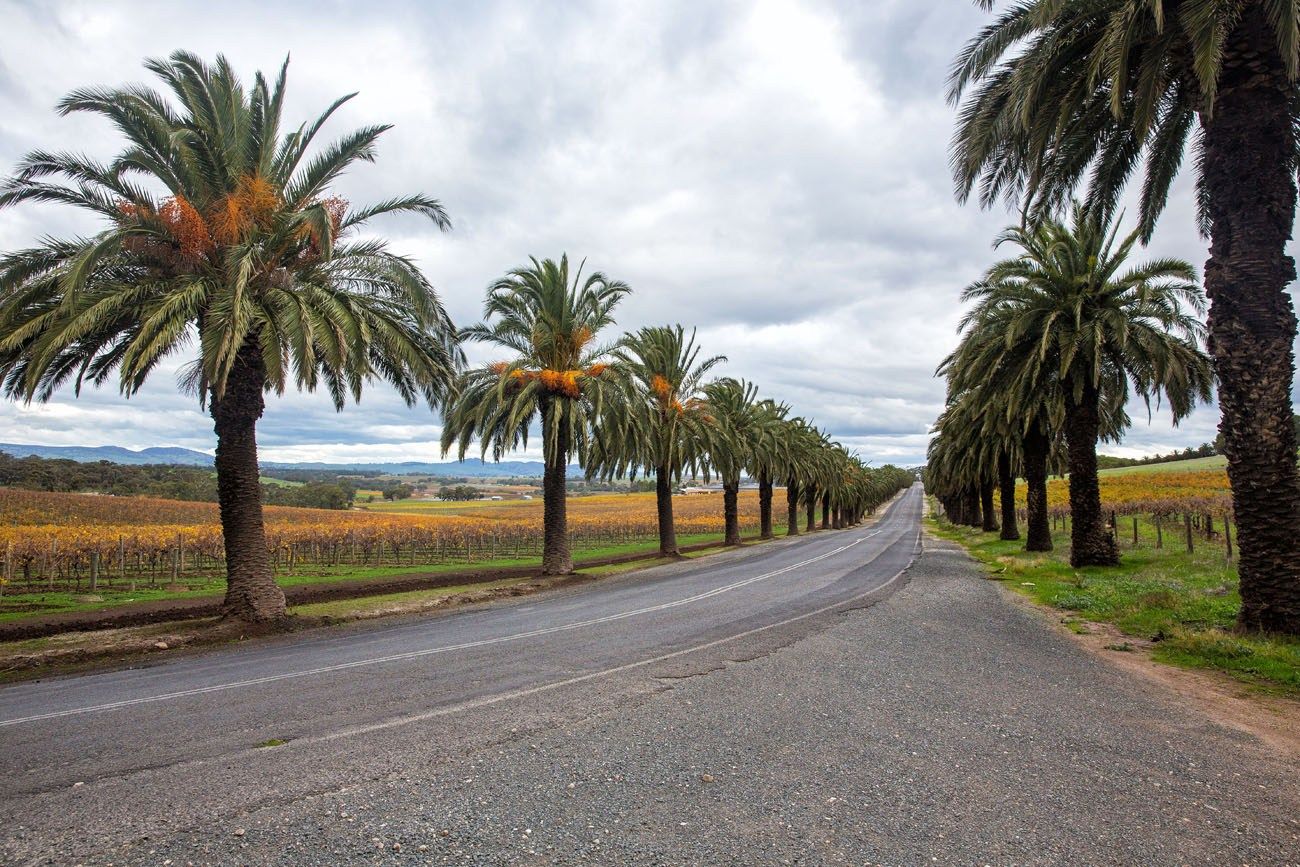 Jacob's Creek
Our Barossa Valley wine tasting ended at Jacob's Creek, another huge winery in the region. Here we tried more reds, preferring the Shiraz over everything else. The best part of Jacob's Creek were the sunset views over the vineyard, with the sunlight streaming in through the floor to ceiling windows. Gorgeous!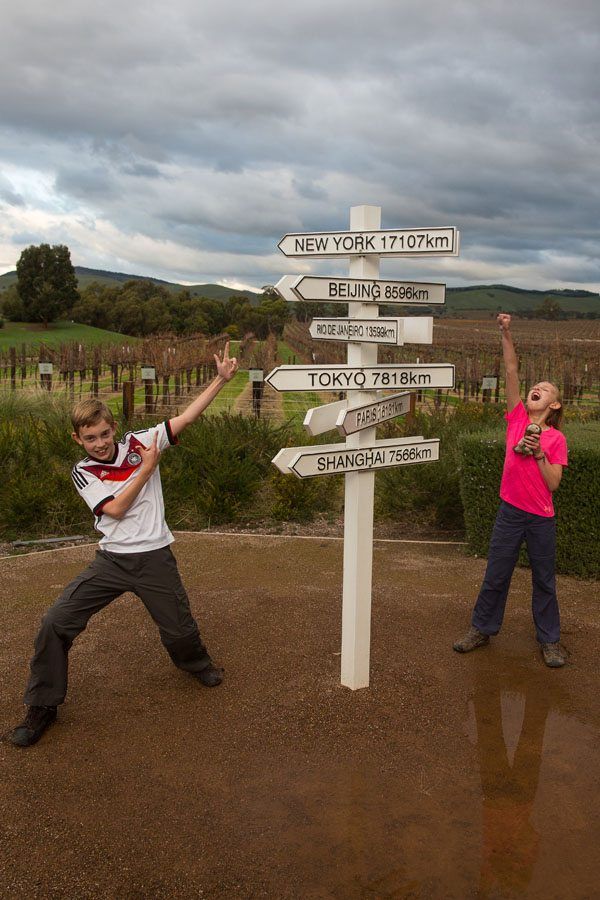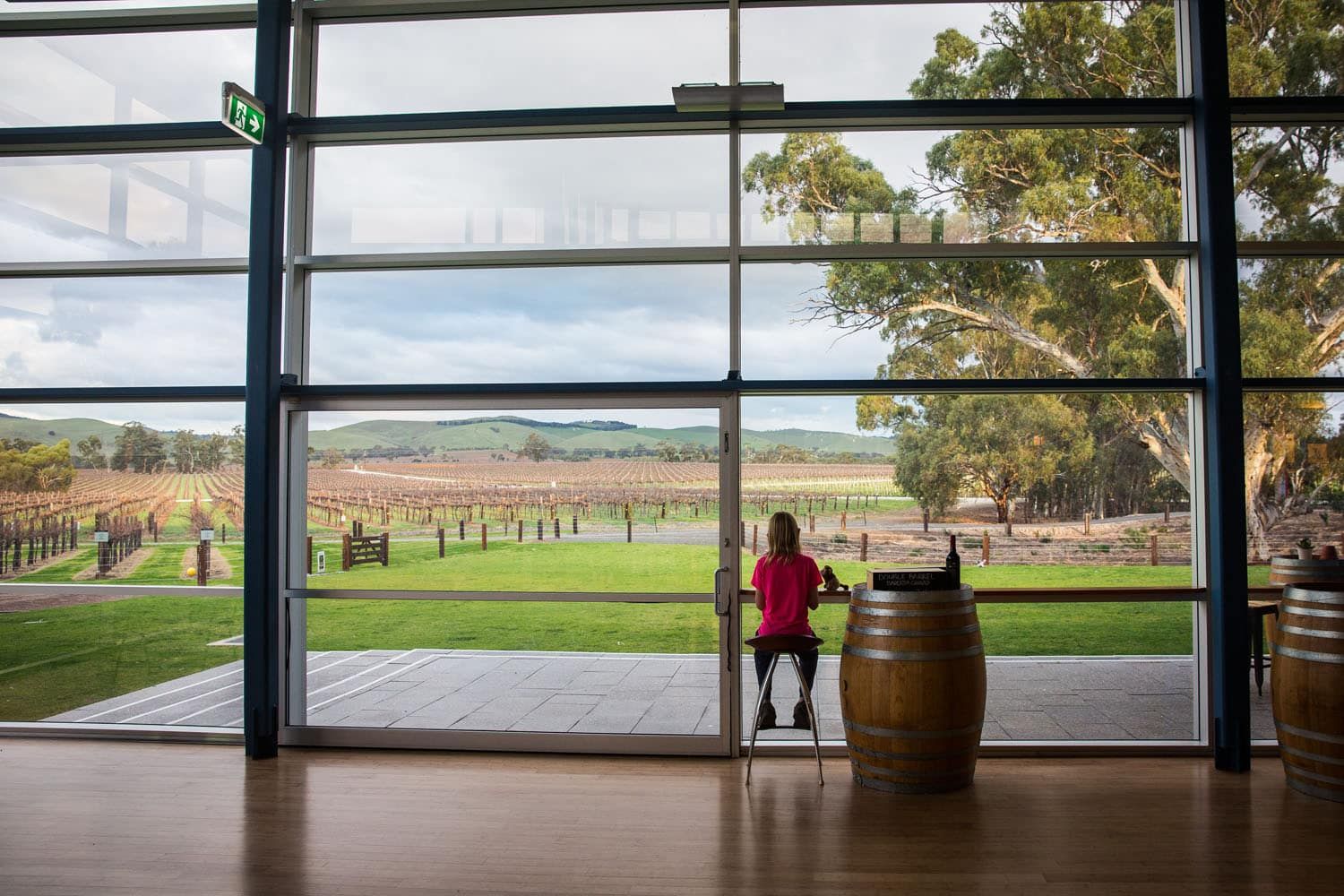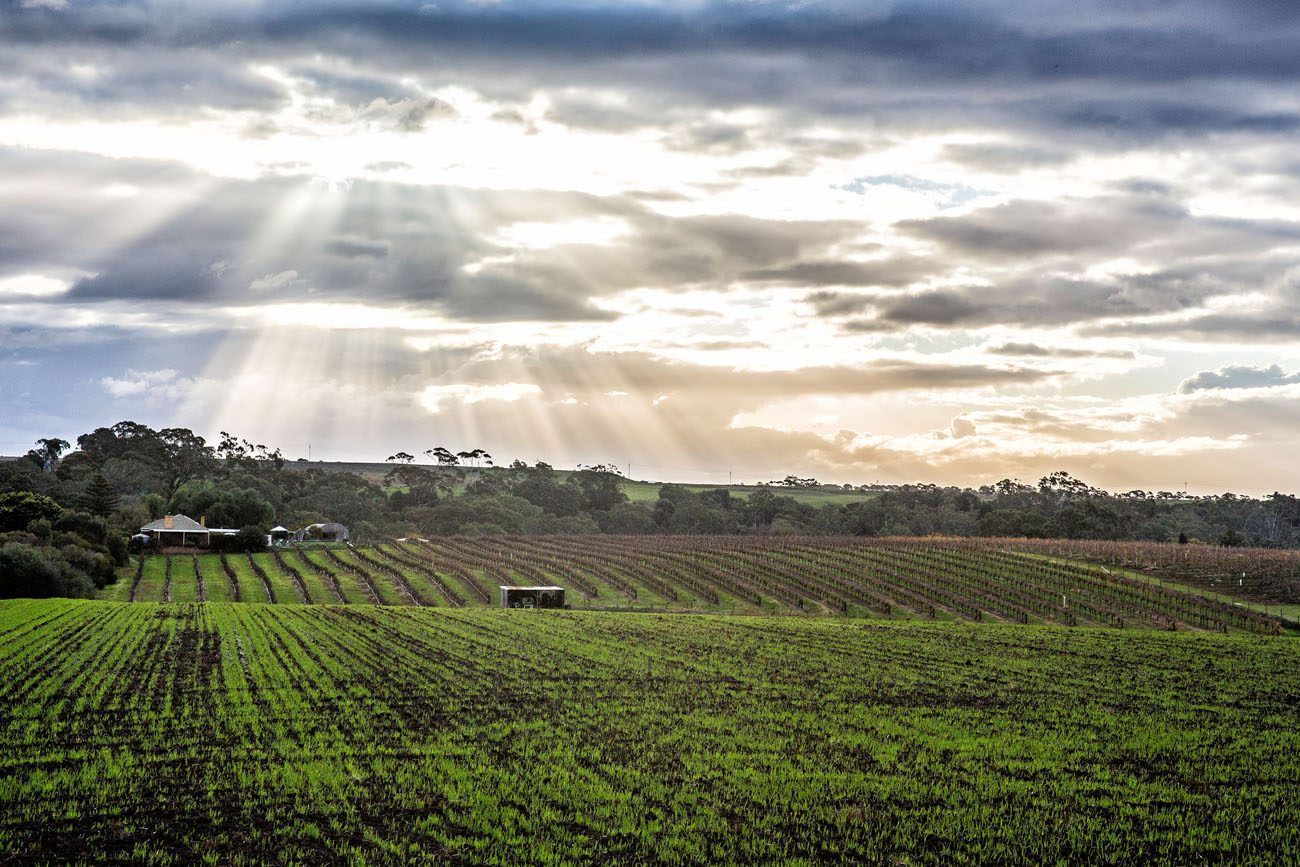 Wine Tasting in McLaren Vale
Our second day of tastings took us to McLaren Vale, located forty-five minutes south of Adelaide. I did my research for this day, picking five wineries that all offered something a little bit different. It felt better having a plan, rather than wandering around like we did yesterday.
Oliver's Taranga
This place would be our favorite of all the wineries we would visit on our Adelaide tour. I picked this place because people loved the cellar door experience and the fabulous wines.
This is another oldy but goody, dating back to the 1840's. Grapes have been growing here for years, but it wasn't until 1994 when winemaking first began here. Now, Oliver's Taranga produces "ultra premium" Shiraz, as well as Grenache, Tempranillo, and Sagrantino wines.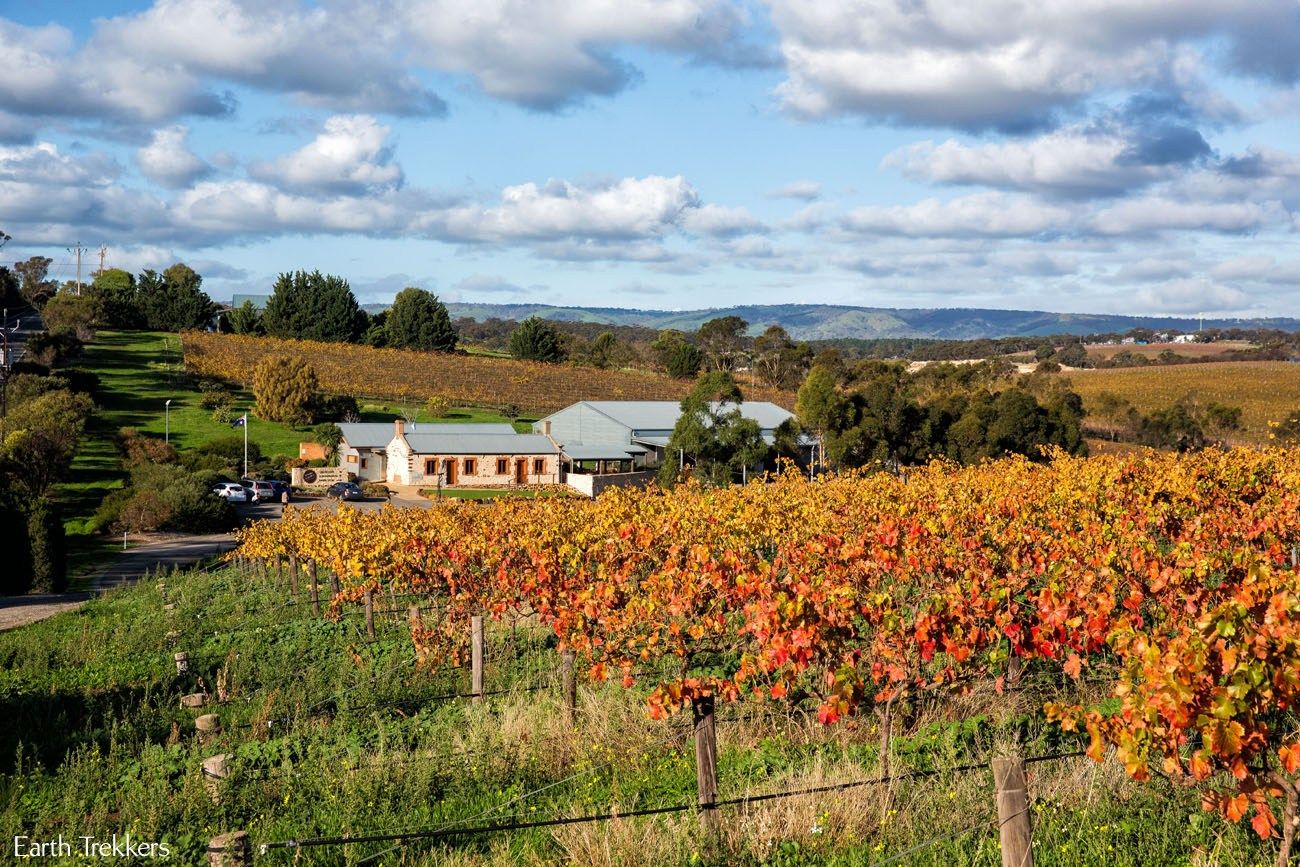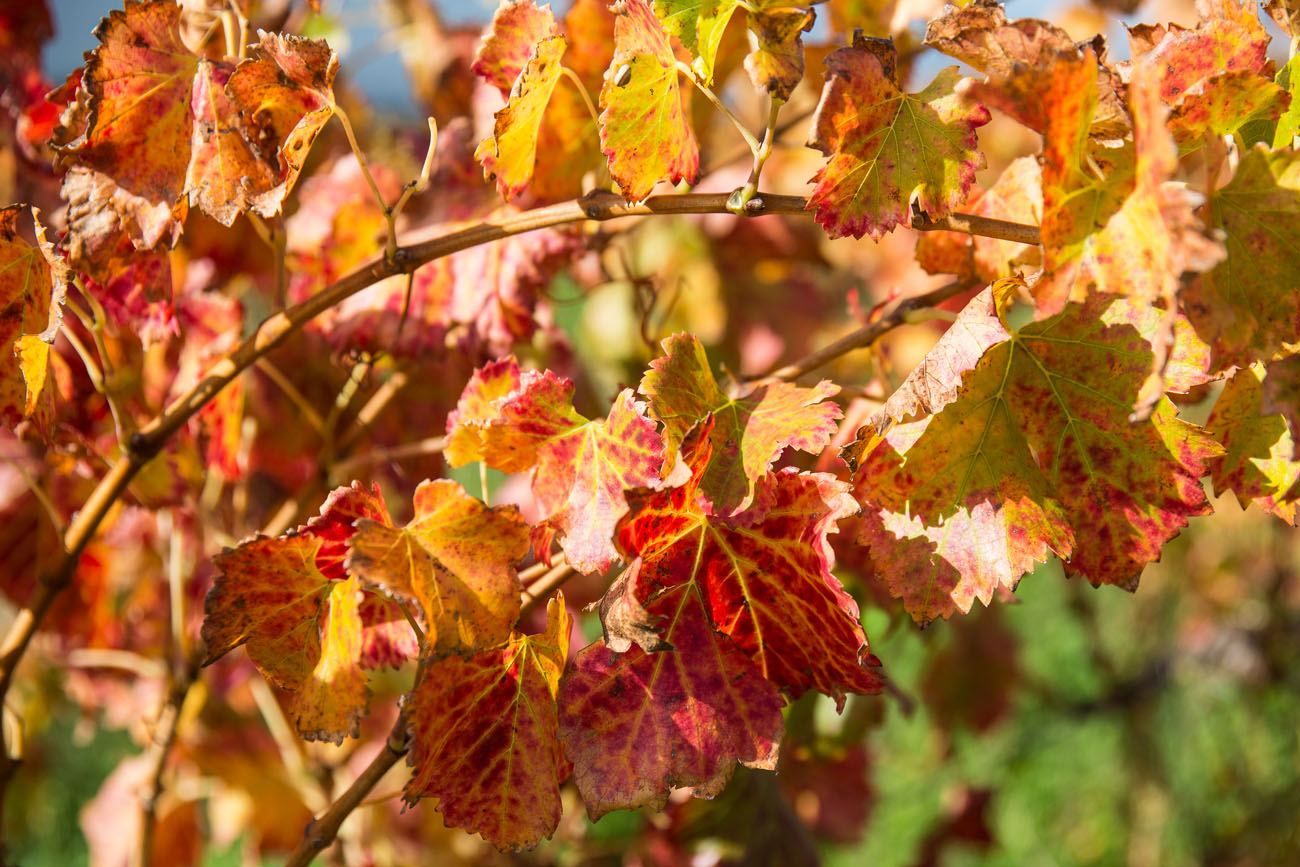 We entered the historic cellar door, Tyler and Kara finding seats at a table that had tic tac toe, while Tim and I took our seat at the bar. Very friendly Sally White took us through Oliver's Taranga red wines. Everything was delicious. Tim loved the Tempranillo while I loved the Sagrantino. We instantly loved Sally, as she was easy to talk to and so down to earth.
Then she had us try the Reserve wines. So, so good, and Tim and I agreed that the HJ Reserve Shiraz was our favorite. What makes this wine so much better is learning that the same grapes that go into making this wine also get sold to Penfolds to go into their Grange. Oliver's Taranga's grapes get selected to go into the Grange more years than not, an accomplishment that really makes them stand out from other wineries. To Tim and I, the HJ Shiraz had a similar taste to the Grange at a fraction of the cost, making this an economical way to get a taste close to the Grange.
We loved it so much, that we made our only big purchase during our two days of wine tasting, sending some wine home for the future.
Mollydooker
Mollydooker is a bit quirky, with their retro label designs and more modern cellar door. I loved it, but I also love retro art, and yes, I will admit, sometimes I choose wine just by the appearance of the label.
Mollydooker means "left handed" in Australia and this winery got the name since both owners, a husband and wife team, are both left handed. Like most of our tasting experiences, we preferred the shiraz over the other reds.
In 2012, Mollydooker's Carnival of Love Shiraz won second best wine in the world by Wine Spectator. Impressive! We tasted it, and it was awesome, but we went home with a bottle of The Boxer instead, a more economical choice for our budget.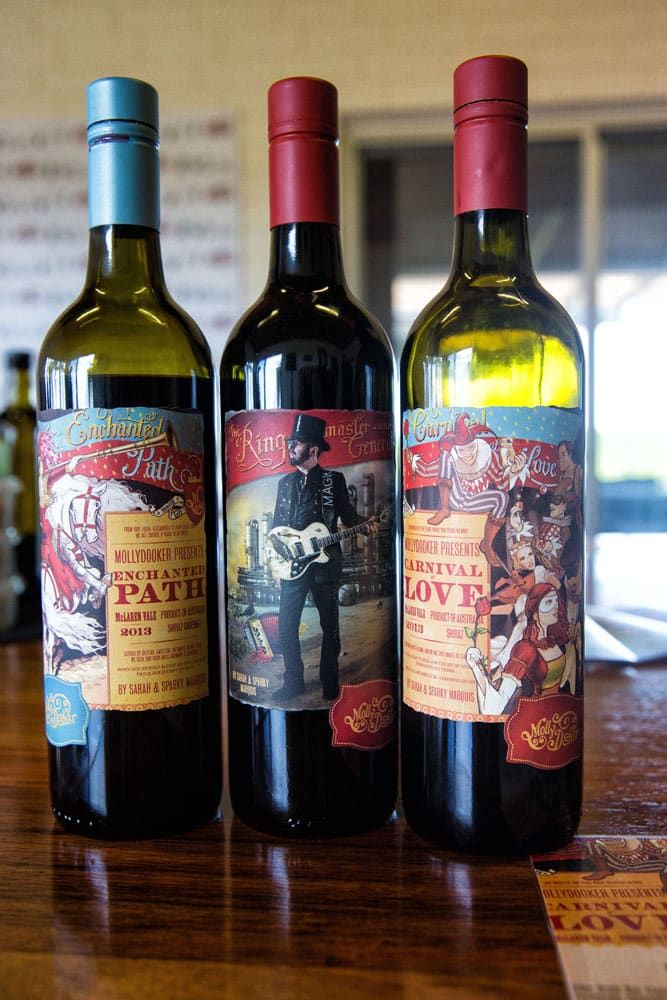 Blessed Cheese
This is not a winery. This is where you go when your stomach starts rumbling and you need some good food. Located in town in McLaren Vale, this is a small restaurant offering gourmet food…burgers served with blue cheese, pumpkin soup, brioche french toast, tons of cheese, and more wine, if you so dare. Note: The Blessed Cheese has changed locations since our visit. It is now located in Aldinga.
We have learned that keeping Tyler and Kara's bellies full keeps them happy. Good thing, because we have three more wineries to visit!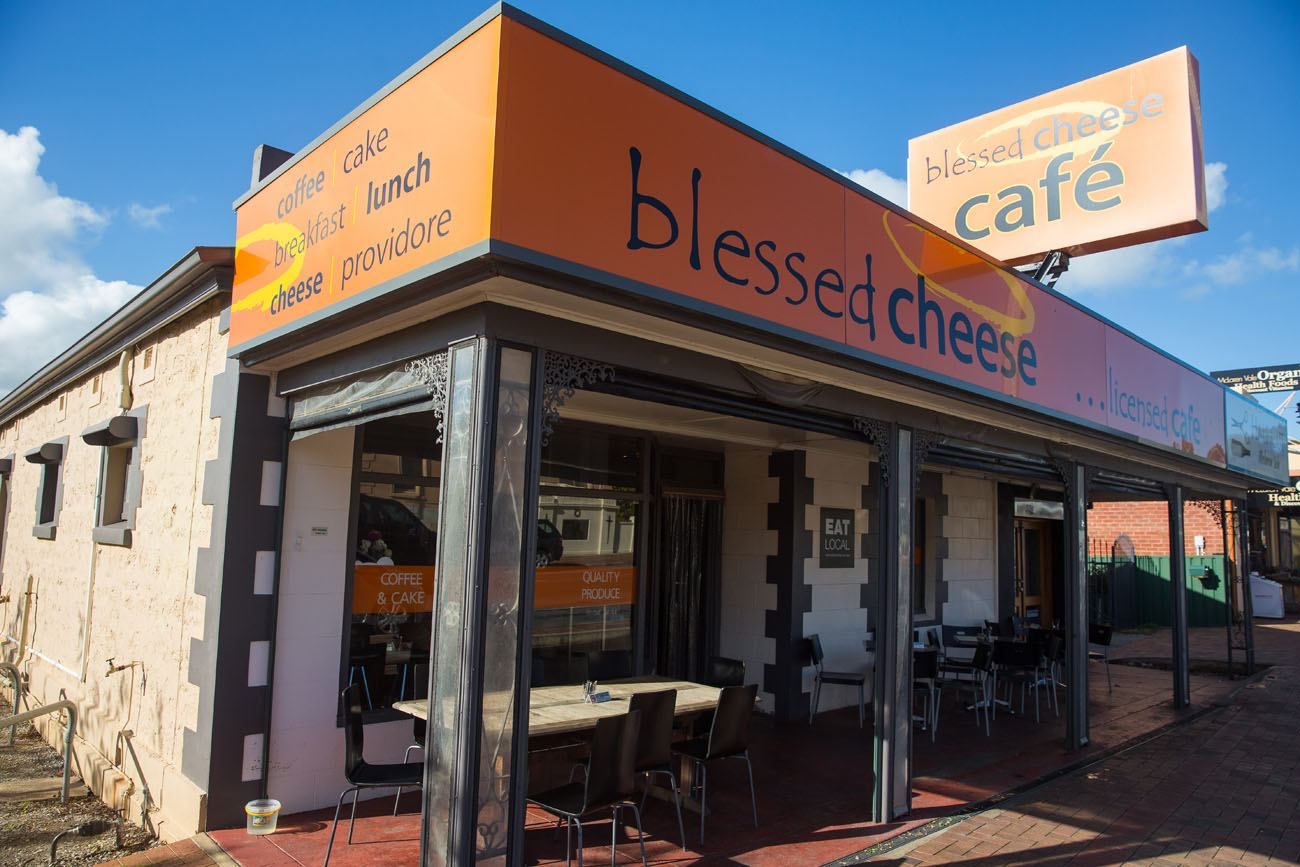 Alpha Box & Dice
Next came the most creative winery of the day, Alpha Box & Dice. This small winery had some fantastic wines with the coolest names.
Instead of using bin numbers to label wines, like many wineries do, Alpha Box uses the alphabet. For example, their wine Siren had a picture of a naked woman on the label, her body curved in the shape of the letter S. This wine comes from grapes that grow close to the ocean, not far from Australia's first nude beach. I love the creativity!
We purchased a bottle of wine here, DWS, which stands for Dead Winemakers Society. There is a party in McLaren Vale every year where guests have to bring a bottle of wine produced by a deceased winemaker, and this wine is named in honor of the party.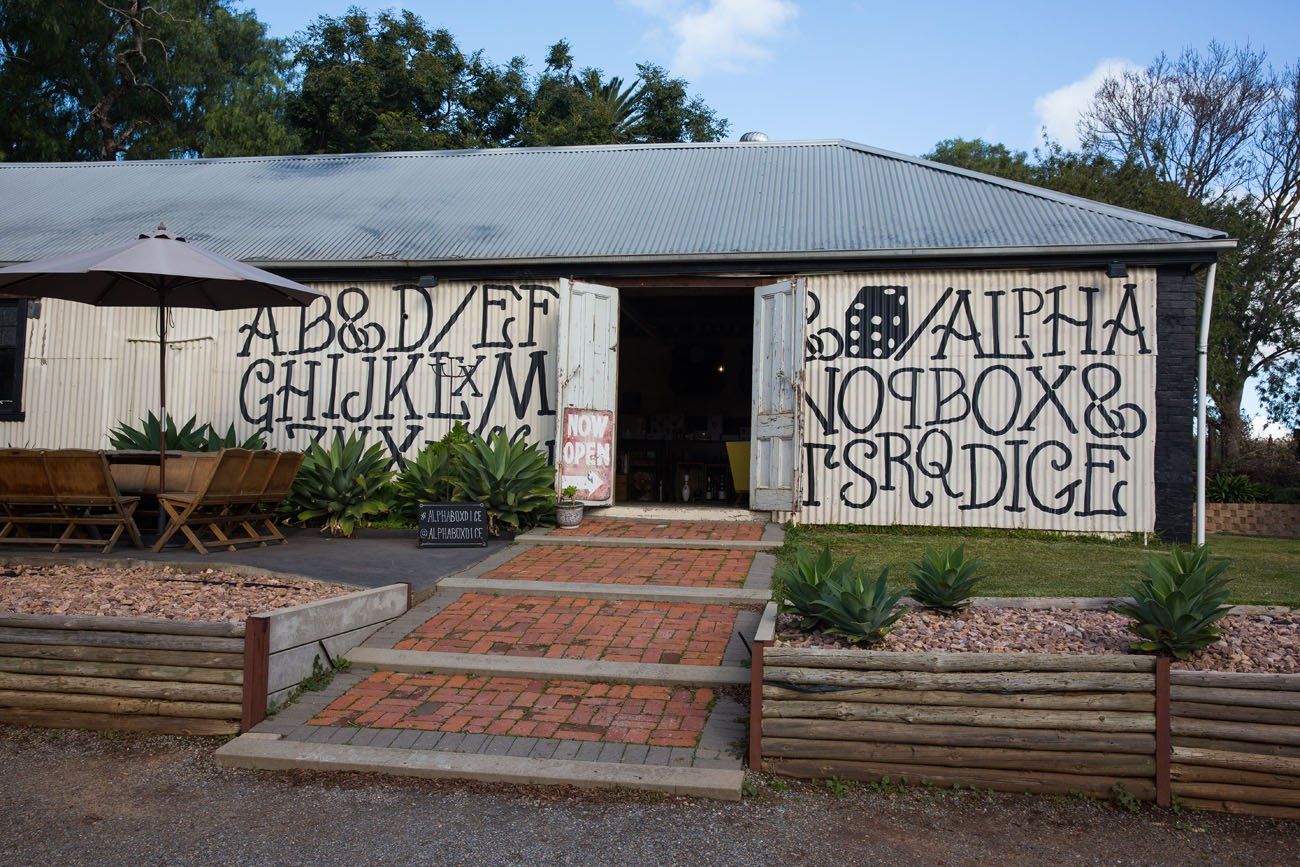 Tim and I loved this winery. This place is so laid back (aka our hiking shoes did not matter here). A young man wearing a black T-shirt with tattoos covering his arms served us our tastings.
Angove Winery
This place reminded us of Jacob's Creek in Barossa Valley, with its modern cellar door and wall of windows that looked out over the vineyard. Yes, it was bright, sunny, and beautiful, and the wine was delicious, but so far the other wineries have provided a better experience.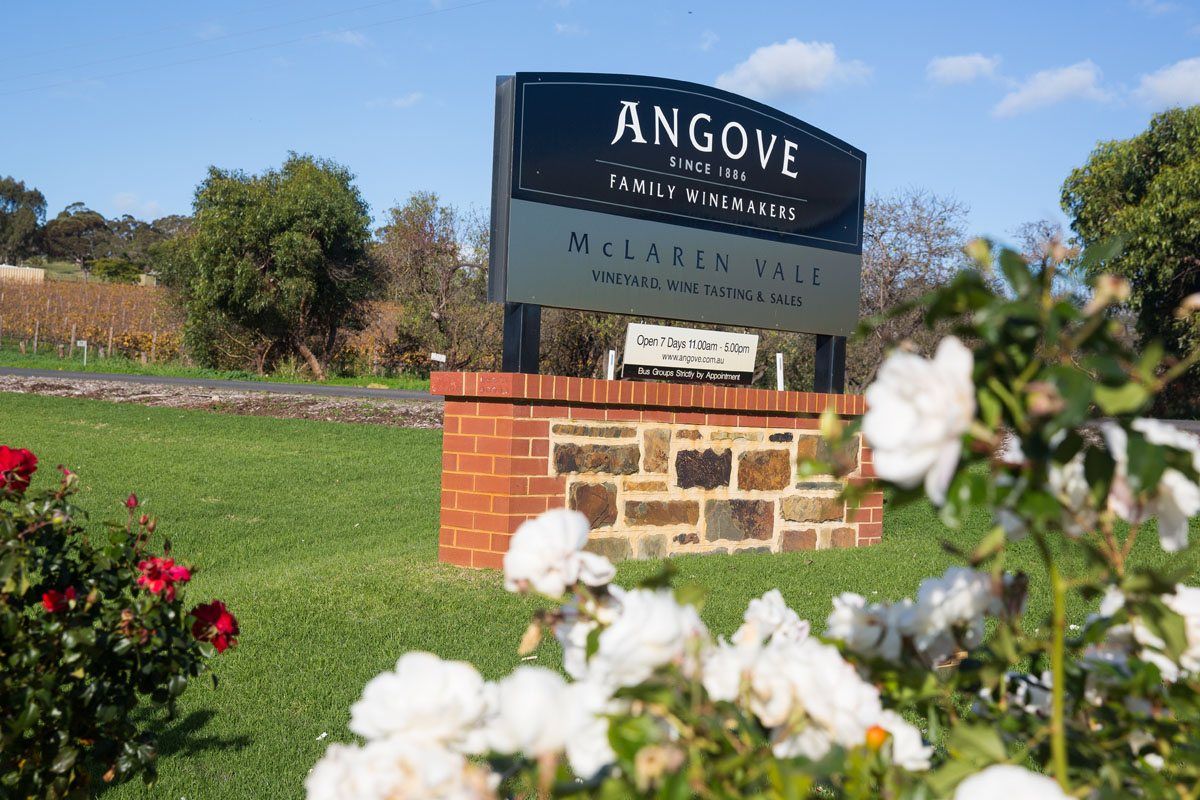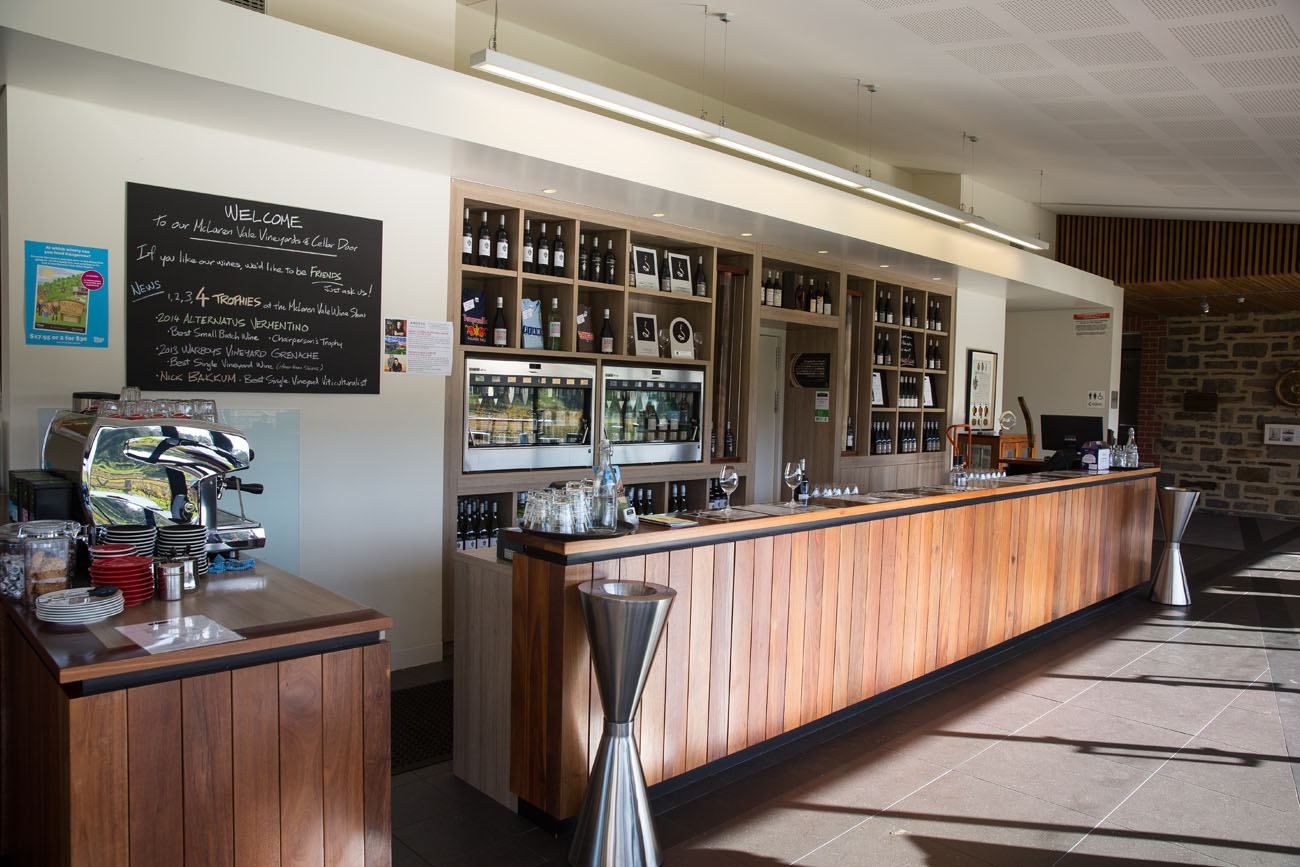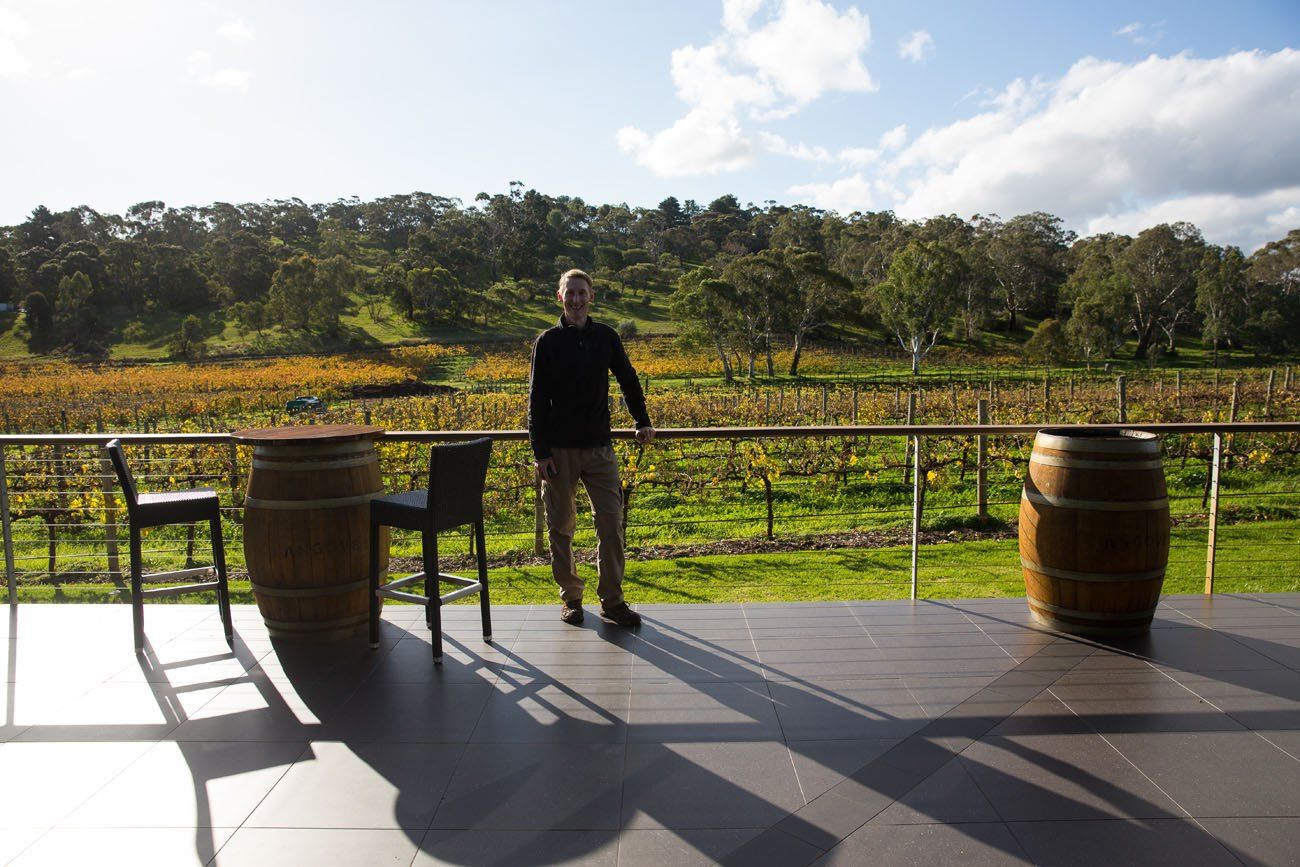 Samuel's Gorge
When you have visited four wineries in one region and two of them recommend Samuel's Gorge, do you ignore the recommendation? No.
Scrapping our original plans to visit D'Arenberg, we made the short drive to Samuel's Gorge, wondering why this place got so many rave reviews from its neighbors.
Samuel's Gorge was unlike any other winery we have been to. We arrived at the cellar door by way of gravel roads, located on a hilltop with some of the best views of McLaren Vale. A small sign pointed us to the cellar door. The cellar door was an ancient looking building, lacking fancy landscaping and the beautifully manicured grounds that so many other wineries cannot do without.
The cellar door was an old, rustic building, tucked in behind some weeds and piles of newly fallen leaves. But inside it was warm and cozy, with a fire burning in a wood stove. A woman with a half shaved head and multi-colored hair took us through the tastings, of which there were only three wines to try. All of them were awesome.
Midway through our tasting, a man looking like a younger version of Albert Einstein, with curly hair sticking out in all directions and wearing a sweatshirt with the label of another McLaren Vale winery, joined in our conversation. It sounded like he had been drinking just as much as I had today, slurring his words just a little, not quite making sense. Then suddenly, he walked away, stating he had to get back to work.
Apparently, we had just met Justin McNamee, the winemaker of Samuel's Gorge, who I now like to call the mad scientist of wine making. For the next fifteen minutes he bounced back and forth between his work and our wine tasting. He gave us travel recommendations on the upcoming leg of our travels through Australia, but honestly I was having a hard time following what he was saying. Either he needed less wine or I needed more, I am not sure, but this guy was a hoot!
I am so glad we made it here. There is no way that D'Arenberg would beat Samuel's Gorge and meeting Justin McNamee.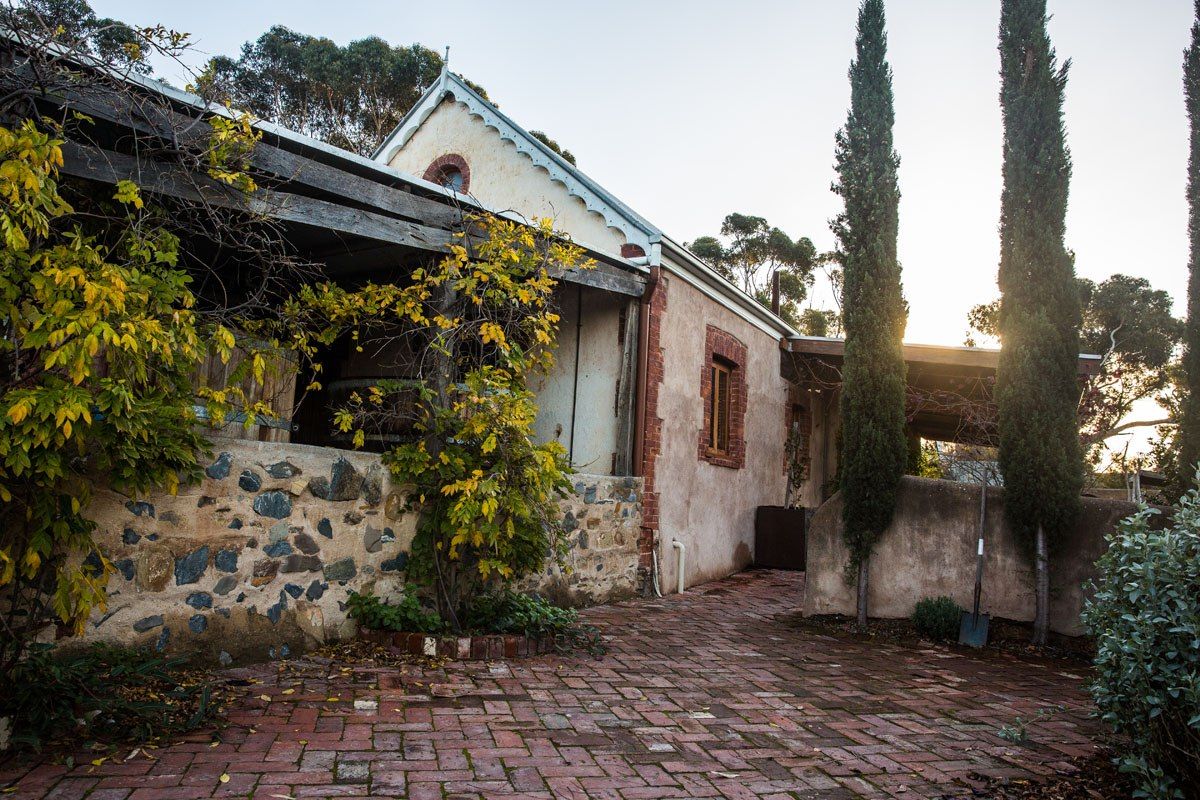 In Conclusion
Both Barossa Valley and McLaren Vale are wonderful, and I would recommend touring both if your schedule allows. However, McLaren Vale was our favorite of the two, of which I am surprised about. I thought the "biggest and the best" Barossa Valley would be our favorite but that was just not the case.
There was a creativeness to McLaren Vale that we really liked as well as a down to earth feel. The wineries here all seemed to be friends with each other. Each wanted to know where else we were going and would offer recommendations to our plan. Tim and I had such a great day in McLaren Vale, we totally loved our experience here, and really look forward to having some HJ Shiraz once home.
What About Touring Wineries with Kids?
Tyler and Kara make it very easy for us. As long as they have their kindles or their journals (like myself they are always writing about our travels) they are pretty well occupied. Most cellar doors have comfy chairs to curl up in, which Tyler and Kara took full advantage of. At some wineries they had the chance to run around outside, burning off pent up energy. We have learned as long as we keep them fed and occupied Tyler and Kara are happy.
---
More Information about Australia
SOUTH AUSTRALIA: One of the best things to do in South Australia is to visit the wine regions near Adelaide. Plan your visit with our Guide to McLaren Vale, our Guide to Barossa Valley, and our Guide to Clare Valley.
SYDNEY: Get started with our Sydney Bucket List, which contains 40 of the best things to do in Sydney. We also have a guide to the Sydney Bridge Climb and the Coogee to Bondi Coastal Walk, with a lot more information coming soon.
PLACES TO GO IN AUSTRALIA: Spend some time in Sydney, explore Uluru and the Red Centre of Australia, visit Melbourne, go snorkeling in the Great Barrier Reef, and don't miss Tasmania, one of our favorite places in Australia.
TASMANIA: In Tasmania, hike to Cape Raoul and Wineglass Bay, explore the Tasman Peninsula, spend some time on Bruny Island, visit Bonorong Wildlife Sanctuary, and cruise to Tasman Island.
TRAVEL INSPIRATION: Here are 15 fairytale destinations to visit around the world. And if you are considering a trip to Europe, check out our article 30 Beautiful Places to Visit in Europe.
TRAVEL ITINERARIES: For travel itineraries for destinations around the world, take a look at our Travel Itineraries page.
All rights reserved © Earth Trekkers. Republishing this article and/or any of its contents (text, photography, etc.), in whole or in part, is strictly prohibited.