The Isle of Skye is one of Scotland's most popular destinations. It may seem like a long drive to get there, but by adding in scenic pitstops along the way, you can turn the journey into a sightseeing adventure. In fact, the journey through Scotland is almost as good as the destination! Keep reading to learn how to make the most out of driving to the Isle of Skye.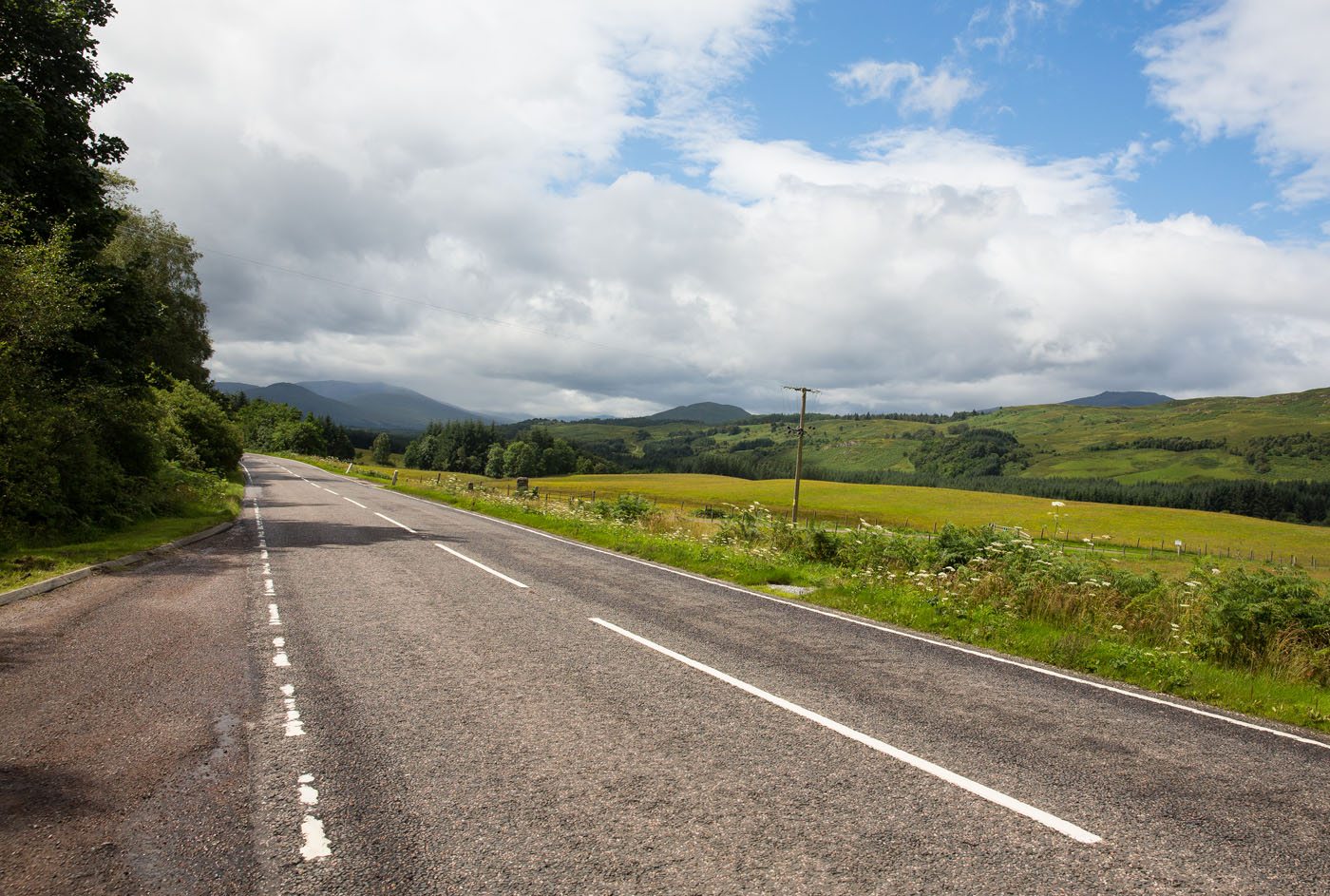 Sights to See Along the Way
Incredible scenery, old castles, whisky distilleries, hiking trails, and Scottish pubs are just a few of the sights and places you can visit on a drive to the Isle of Skye.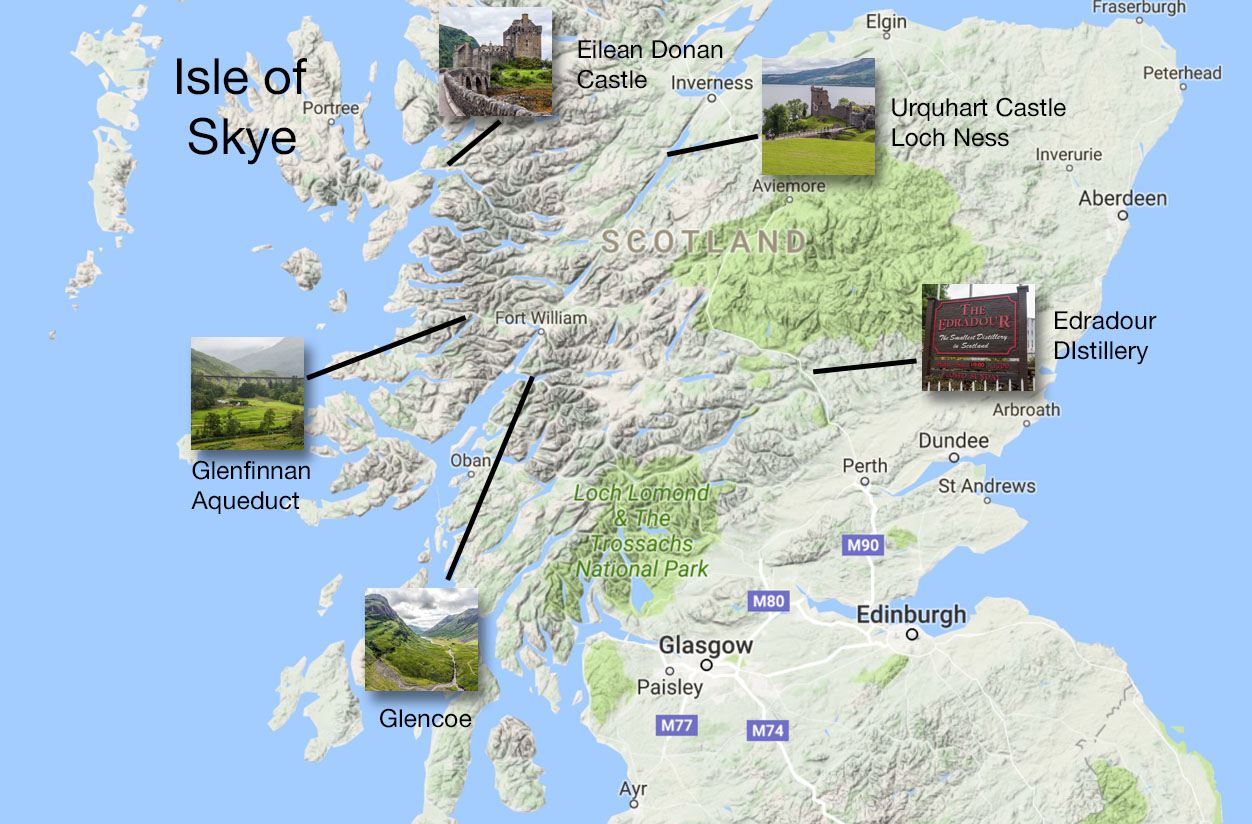 We recommend driving two different routes to and from the Isle of Skye. The "northern" route takes drivers through Pitlochry, past Loch Ness, past Eilean Donan Castle, and across the Skye Bridge onto the Isle of Skye. Our "southern" route involves taking the car ferry to Mallaig, visiting the Glenfinnan Viaduct, taking the scenic route through beautiful Glencoe Valley, and driving alongside Loch Lomond.
Edinburgh to the Isle of Skye (Northern Route)
Places to Visit:
Edradour Whisky Distillery
Loch Ness and Urquhart Castle
Eilean Donan Castle
If you were to drive from Edinburgh directly to the Isle of Skye, it would take between five and six hours with 235 miles of driving. Expect this route to fill most of your day, adding an additional 50 miles to the total drive (to visit Loch Ness).
Pitlochry
Edinburgh to Pitlochry: 70 miles, 1.5 hours
Start your journey early in the day, preferably by 9 am. From Edinburgh, head north on M90 towards Perth and Pitlochry. This first part of the drive will be one of the few times that you will drive on a divided highway (dual carriageway).
The small town of Pitlochry is your first chance to get out and stretch your legs. Why visit Pitlochry? This quaint town is home to Edradour, Scotland's smallest whisky distillery.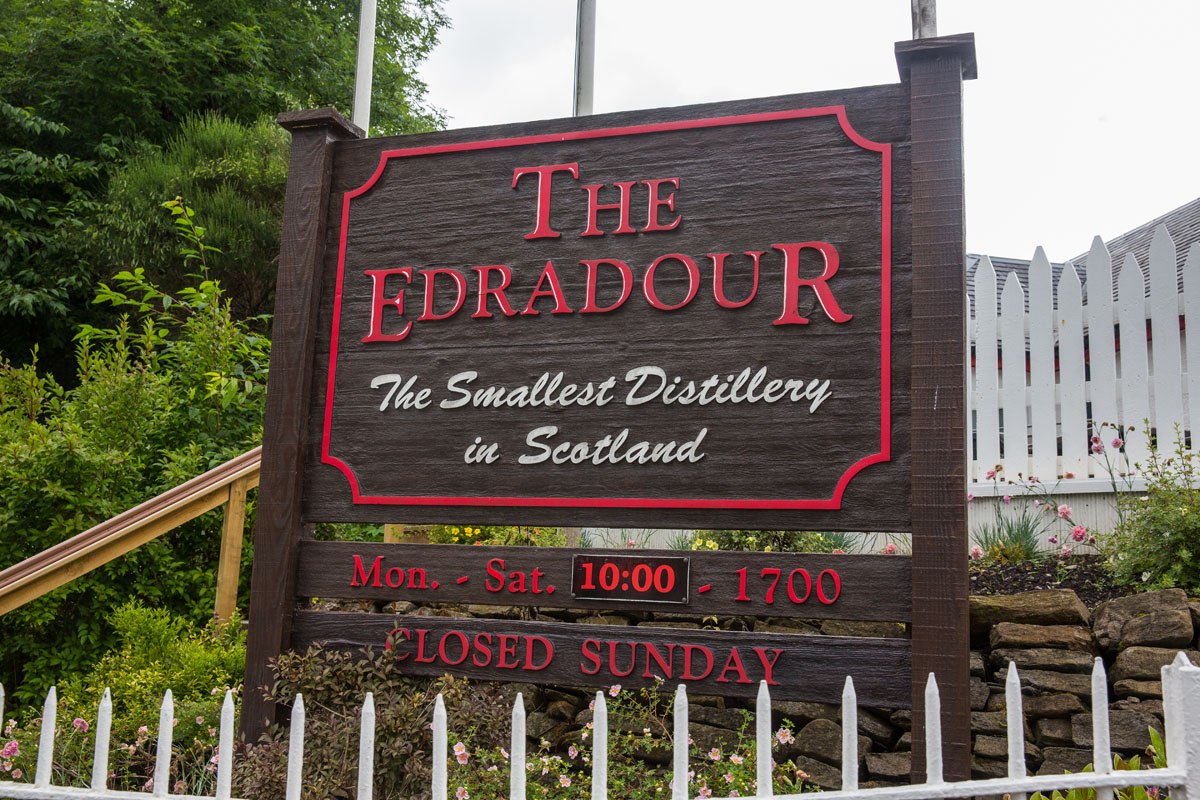 Guided tours and whisky tastings are offered Monday through Saturday (closed Sundays). Or, just visit their shop and bring home some whisky as a souvenir.
Edradour Distillery is open to visitors between mid-April to mid-October. Visit their website for full details.
Have an early lunch in Pitlochry or continue on your way.
Pitlochry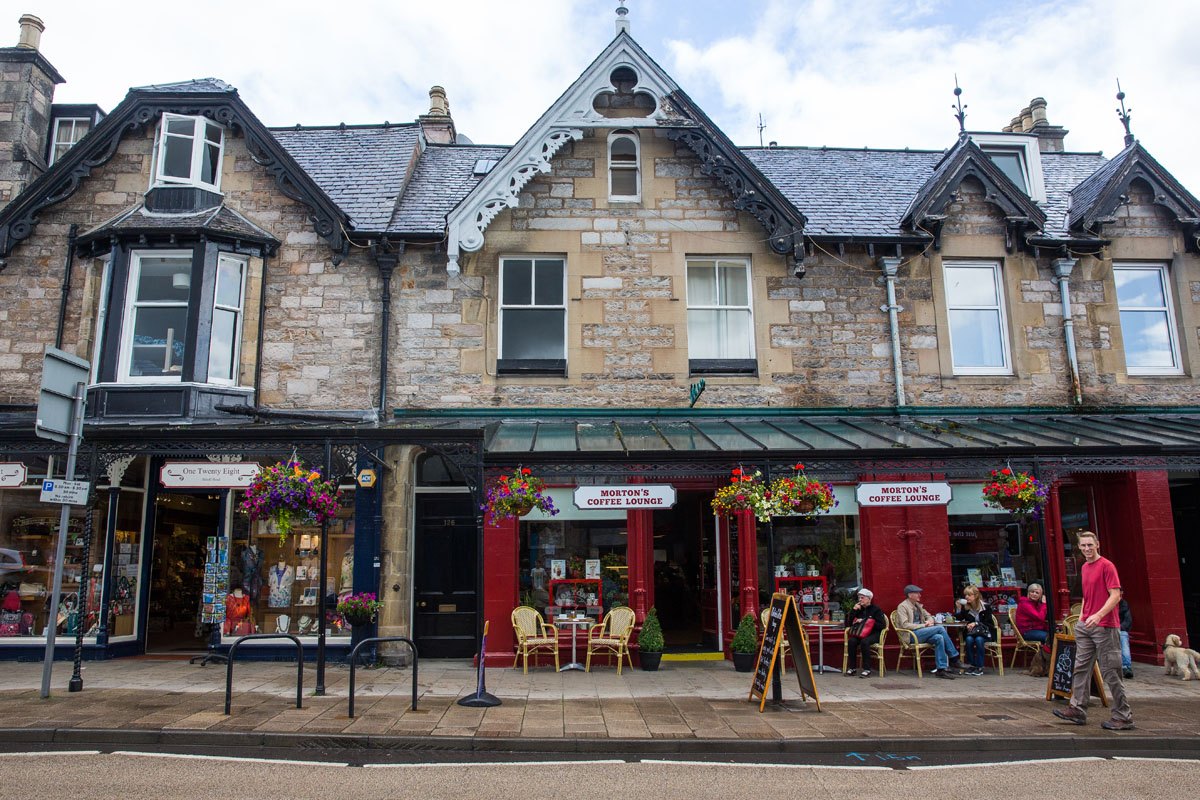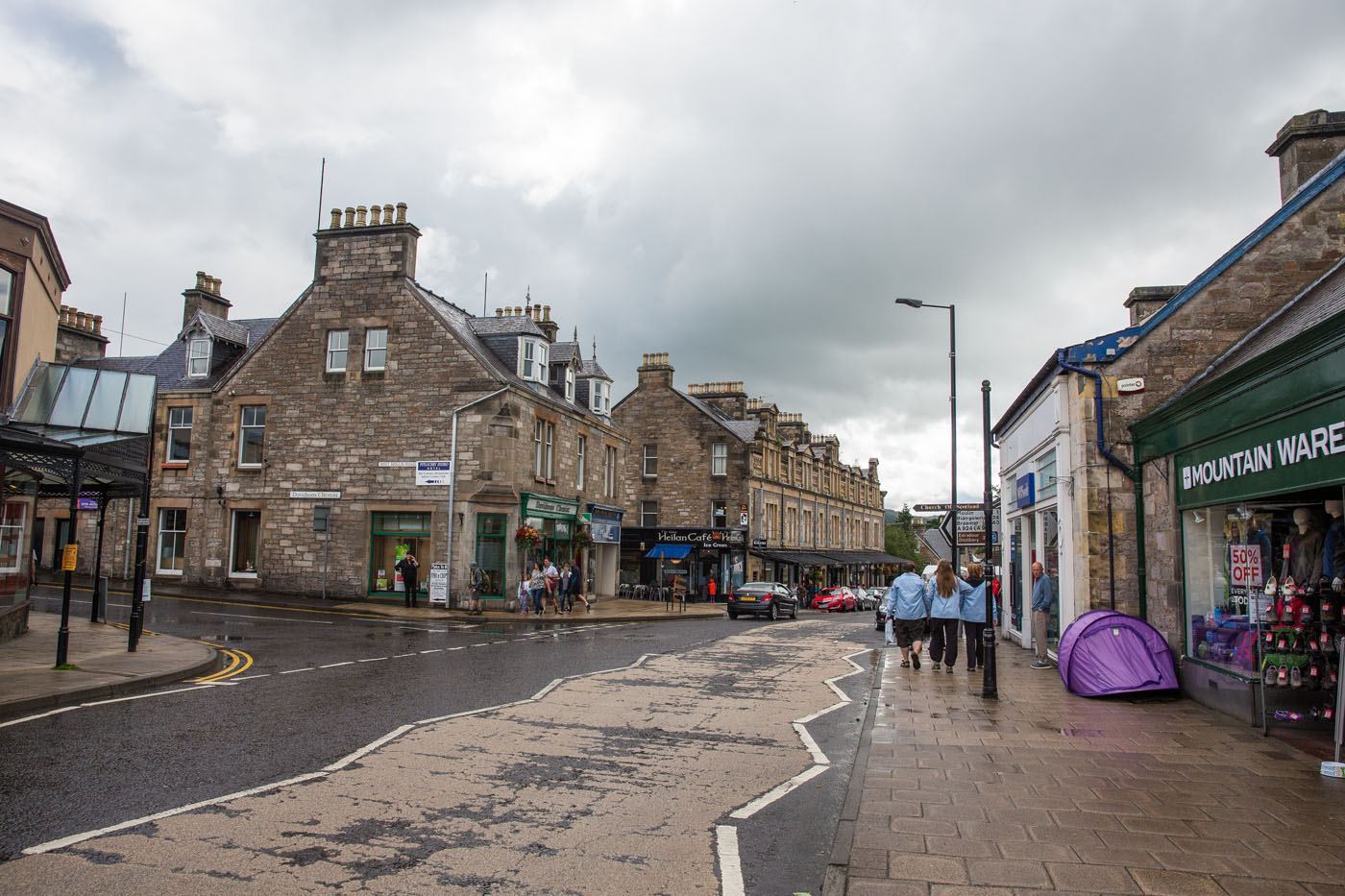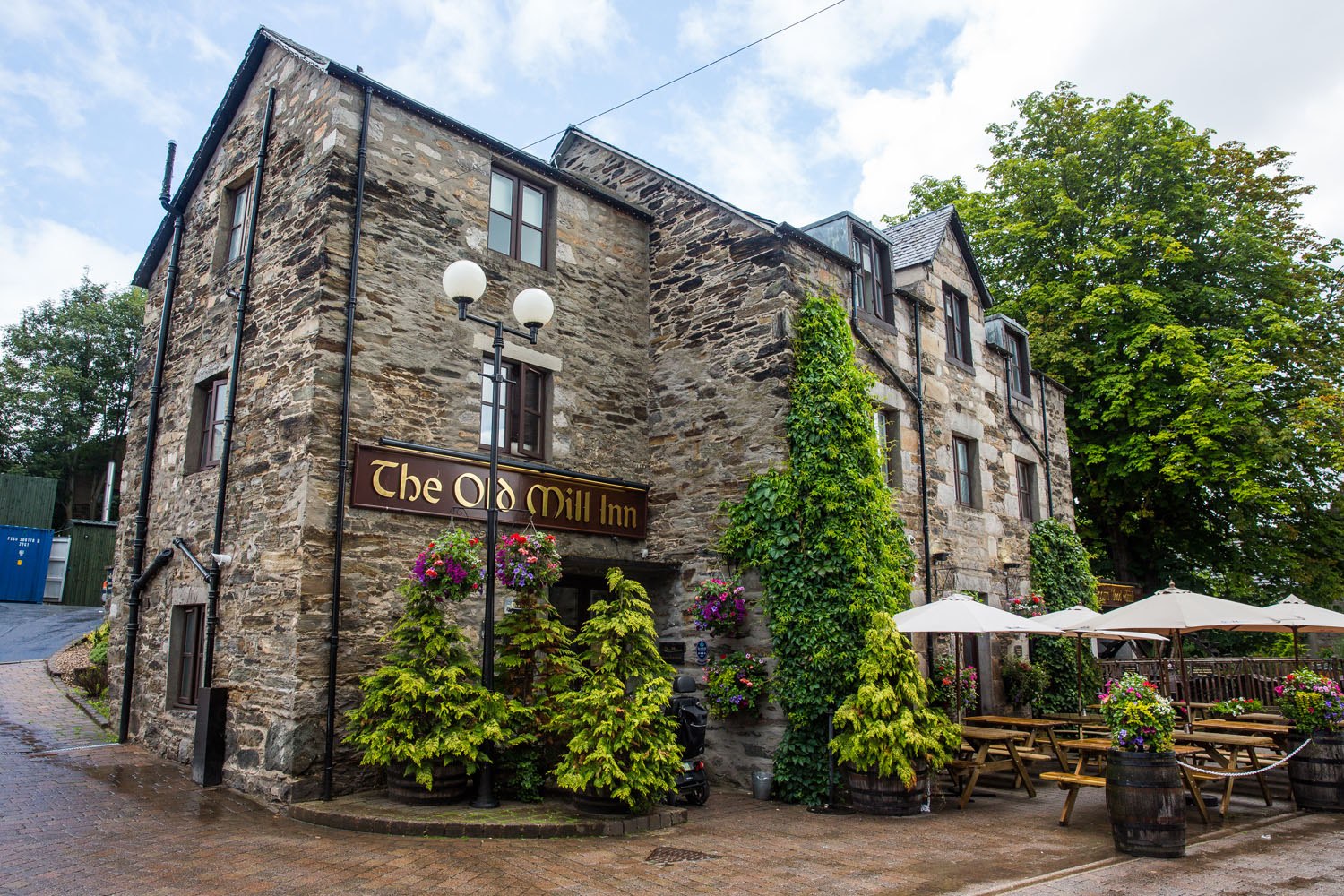 Pitlochry to Invergarry
Pitlochry to Invergarry: 82 miles, almost two hours
Continue your journey northwest from Pitlochry, on A9. Now you are driving along the southern border of the Cairngorms. The rolling hills are becoming mountains, the roads are getting narrower, and your cell service is probably starting to fade. If you are renting a car, it's a great idea to get a car with the built in navigational system. Once you are in the Highlands and on the Isle of Skye, it can be very difficult to get a good signal on your cellphone.
At Dalwhinnie, take A889 to Laggan, then A86 to Spean Bridge. The road name changes again to A82, taking you to Invergarry.
On the road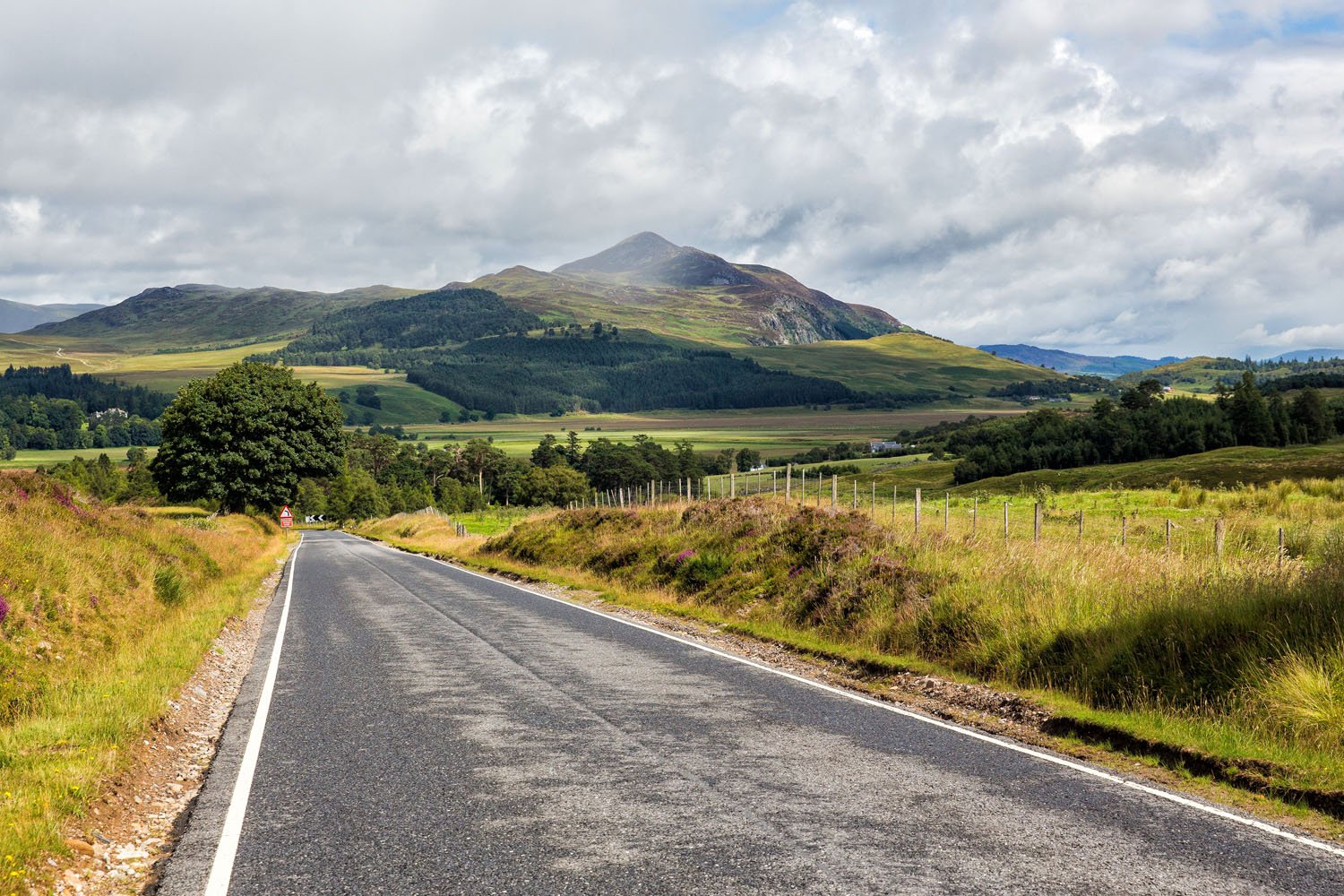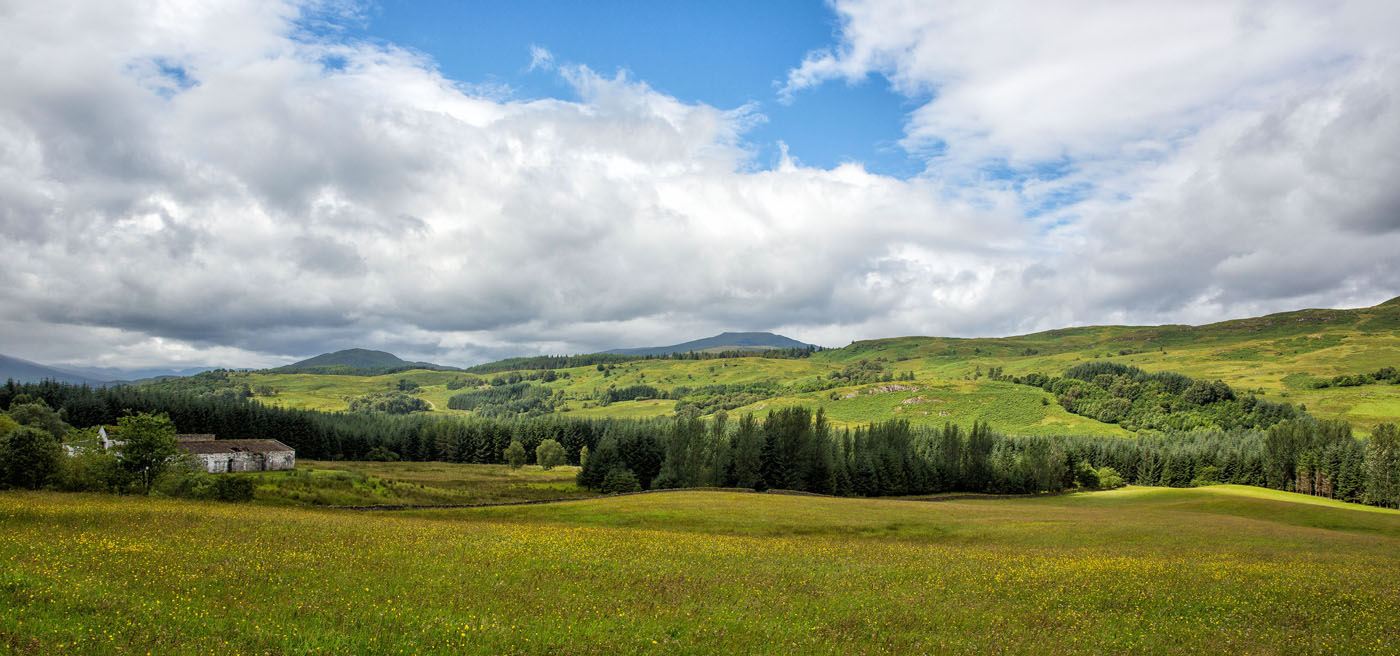 Loch Ness and Urquhart Castle
Invergarry to Urquhart Castle: 50 miles round trip, 1.25 hours
Now you have a choice to make. Continue directly to the Isle of Skye or take a detour to Loch Ness and Urquhart Castle. To get to Urquhart Castle, the detour takes an hour and twenty minutes with 50 miles of driving (round trip).
For us, the detour to Loch Ness was worth it. Seeing Urquhart Castle against the backdrop of one of Scotland's most famous lochs was wonderful. And of course, if you get lucky, maybe you will spot Nessie, the Loch Ness monster.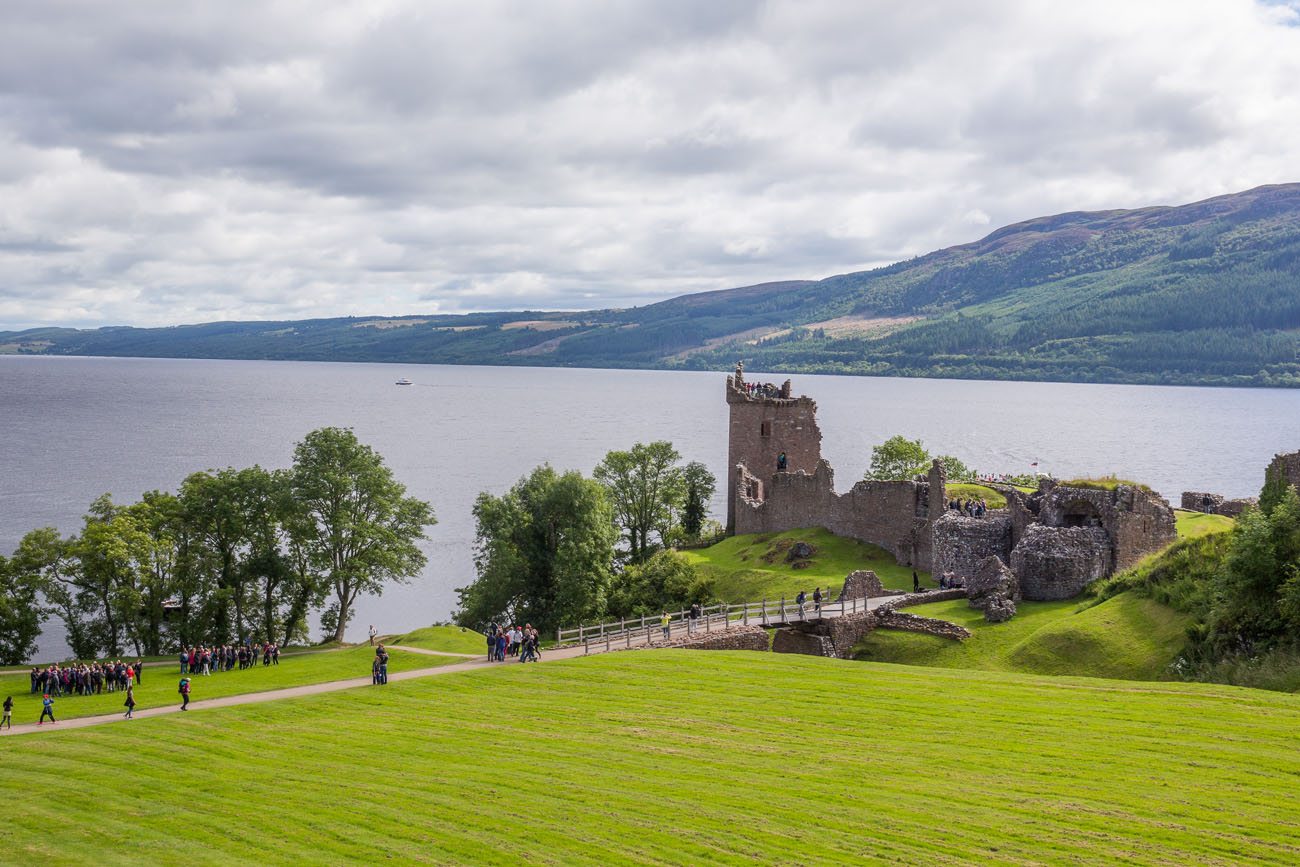 For a late lunch, consider dining at the Glenmoriston Arms Hotel, located in Invermoriston. Stop here on your way to Urquhart Castle.
Urquhart Castle is open daily. In order to tour the castle, you have to pay an entrance fee. Allow approximately one hour for a visit to the castle, although speed demons can see it in a half an hour or less. For full details on hours of operation and ticket prices, visit the Urquhart Castle website.
Read More: Loch Ness and Urquhart Castle…Are They Worth Visiting?
Eilean Donan Castle
Invergarry to Eilean Donan Castle: 41 miles, one hour
From Invergarry, you are just one hour away from the highlight of the day, Eilean Donan Castle. This castle gets our vote for coolest castle in Scotland.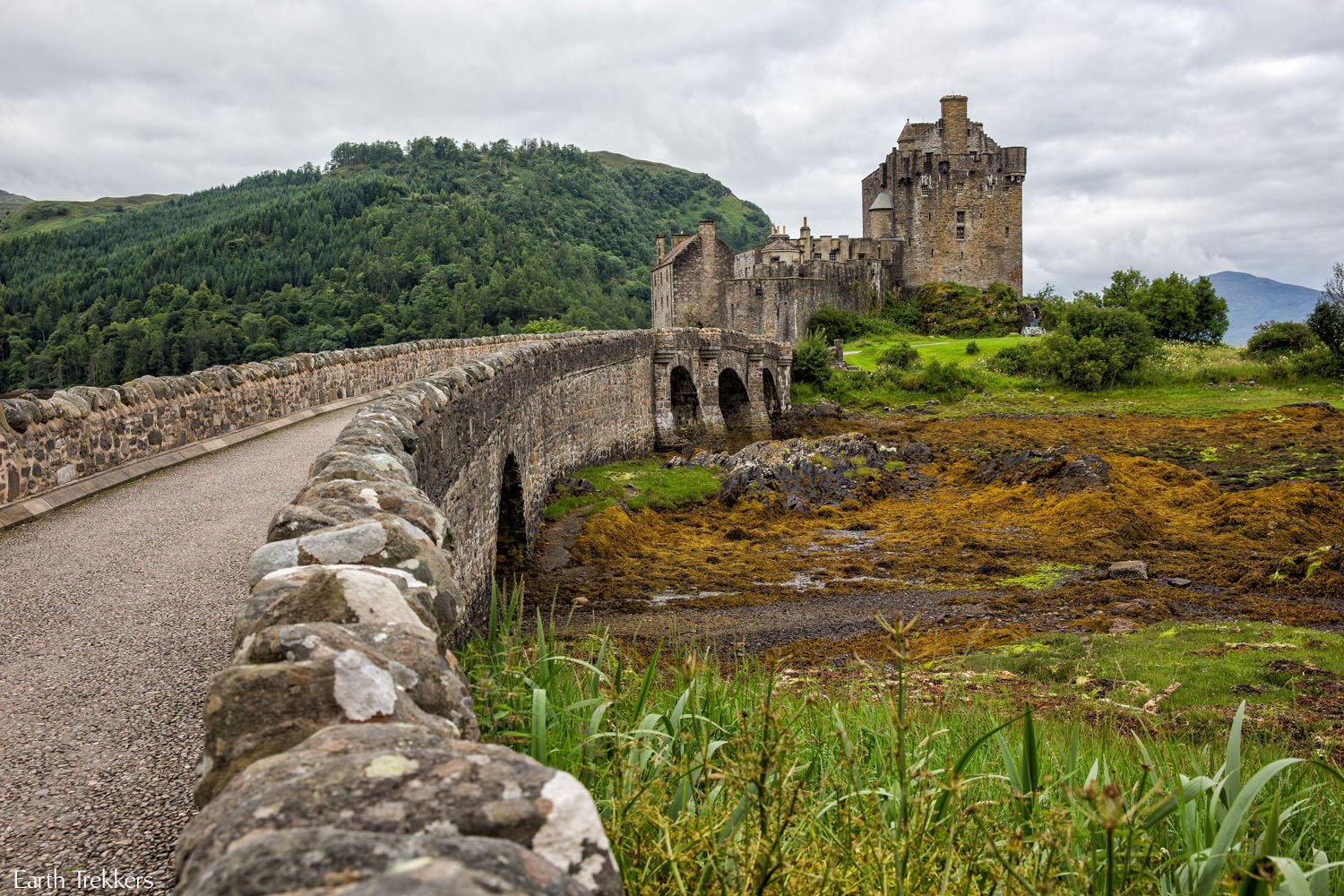 You can simply see it from land, for free, or pay the entrance fee to enter the castle. The castle is open from 10 am to 6 pm during the summer months, with shorter hours during other times of the year. Tickets are £7 for adults, £17 for families.
Visit the Eilean Donan website for full details.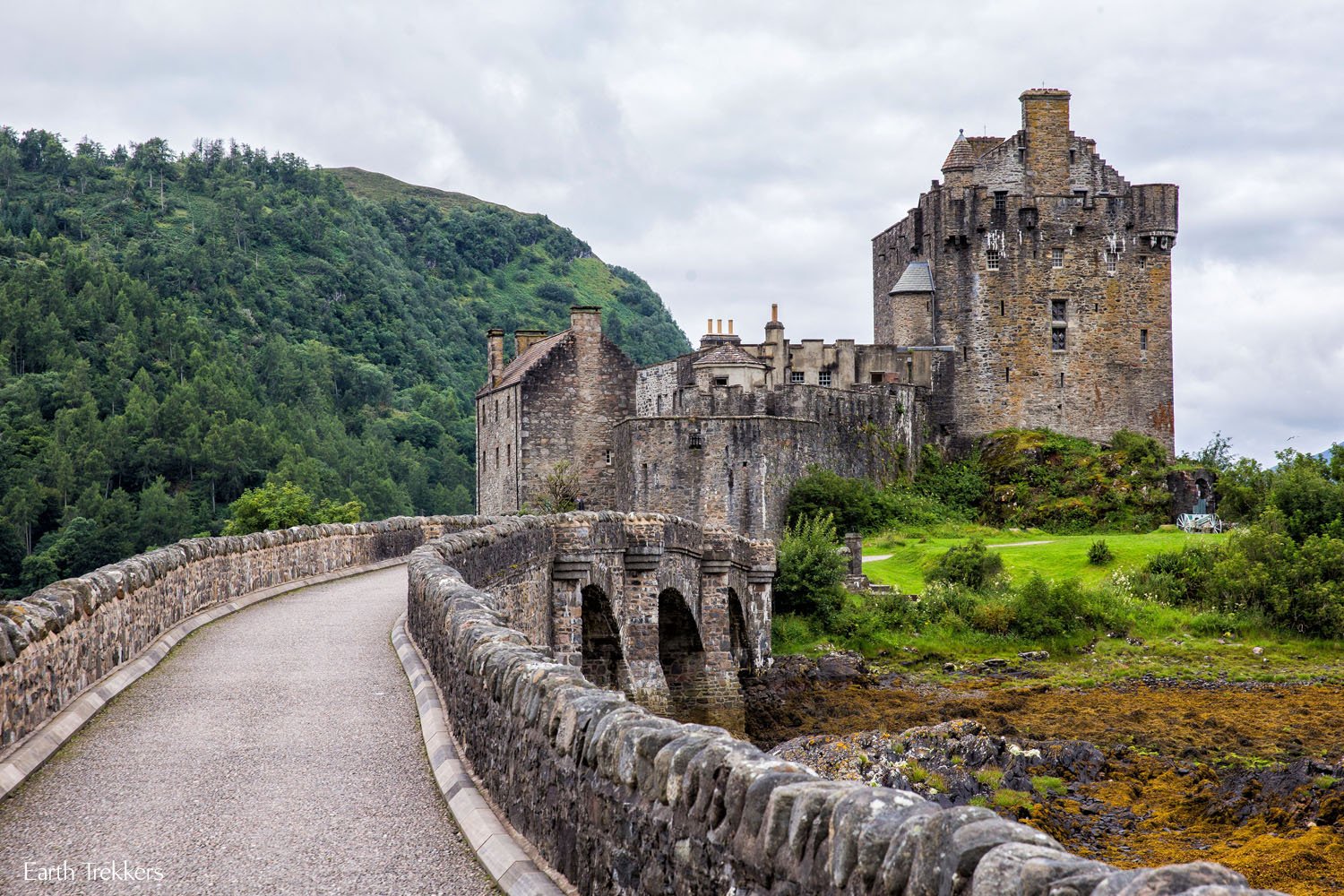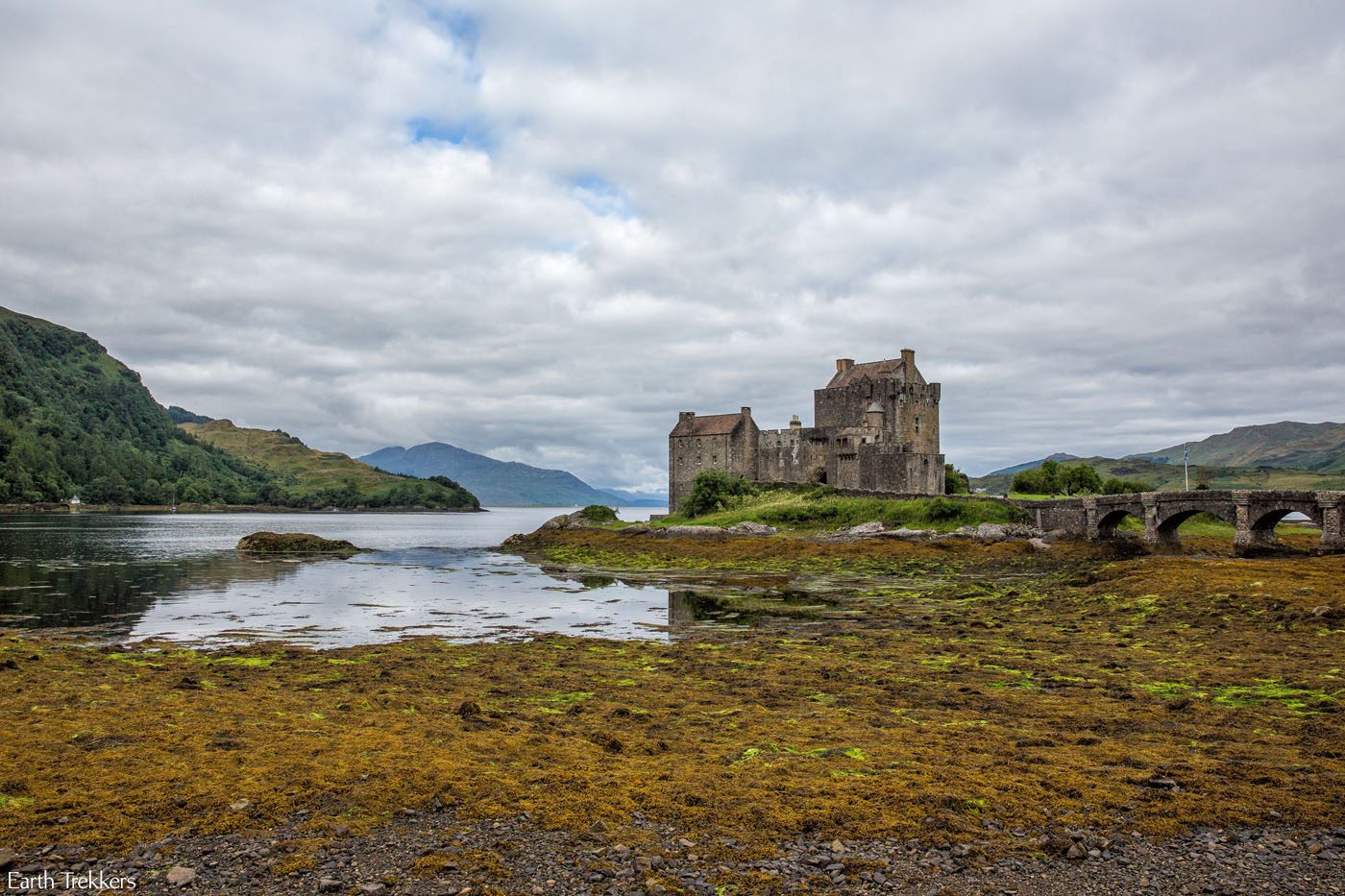 Isle of Skye
Eilean Donan Castle to the Isle of Skye: 10 miles, 15 minutes
From Eilean Donan Castle, you are just 15 minutes away from the Skye Bridge, the gateway to the Isle of Skye. Continue on A87 through Kyle of Lochalsh and cross the Skye Bridge (there is no toll to cross the bridge).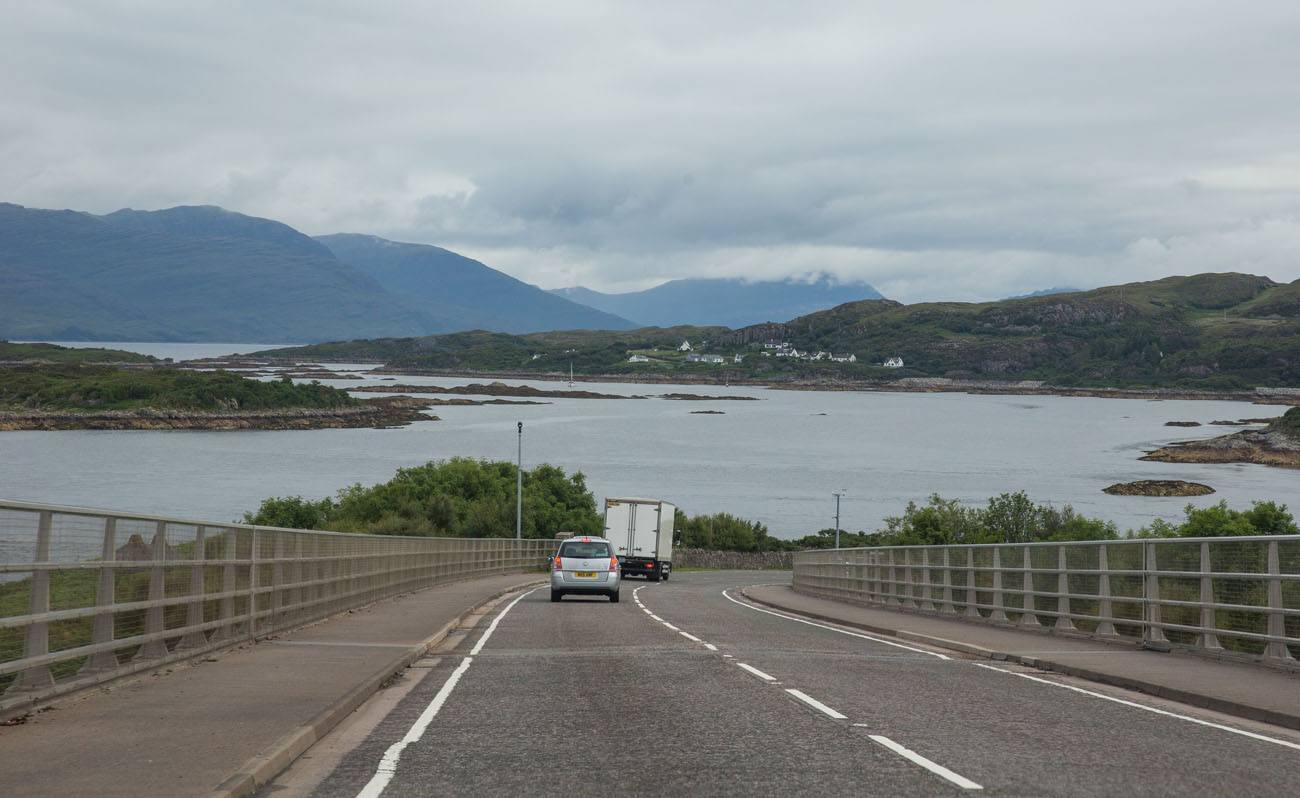 Welcome to the Isle of Skye!!
Continue on to your accommodation. Most people stay in Portree, just under an hour driving away.
Driving from the Isle of Skye to Glasgow or Edinburgh (Southern Route)
Places to Visit:
Glenfinnan Viaduct
Glencoe Valley
Loch Lomond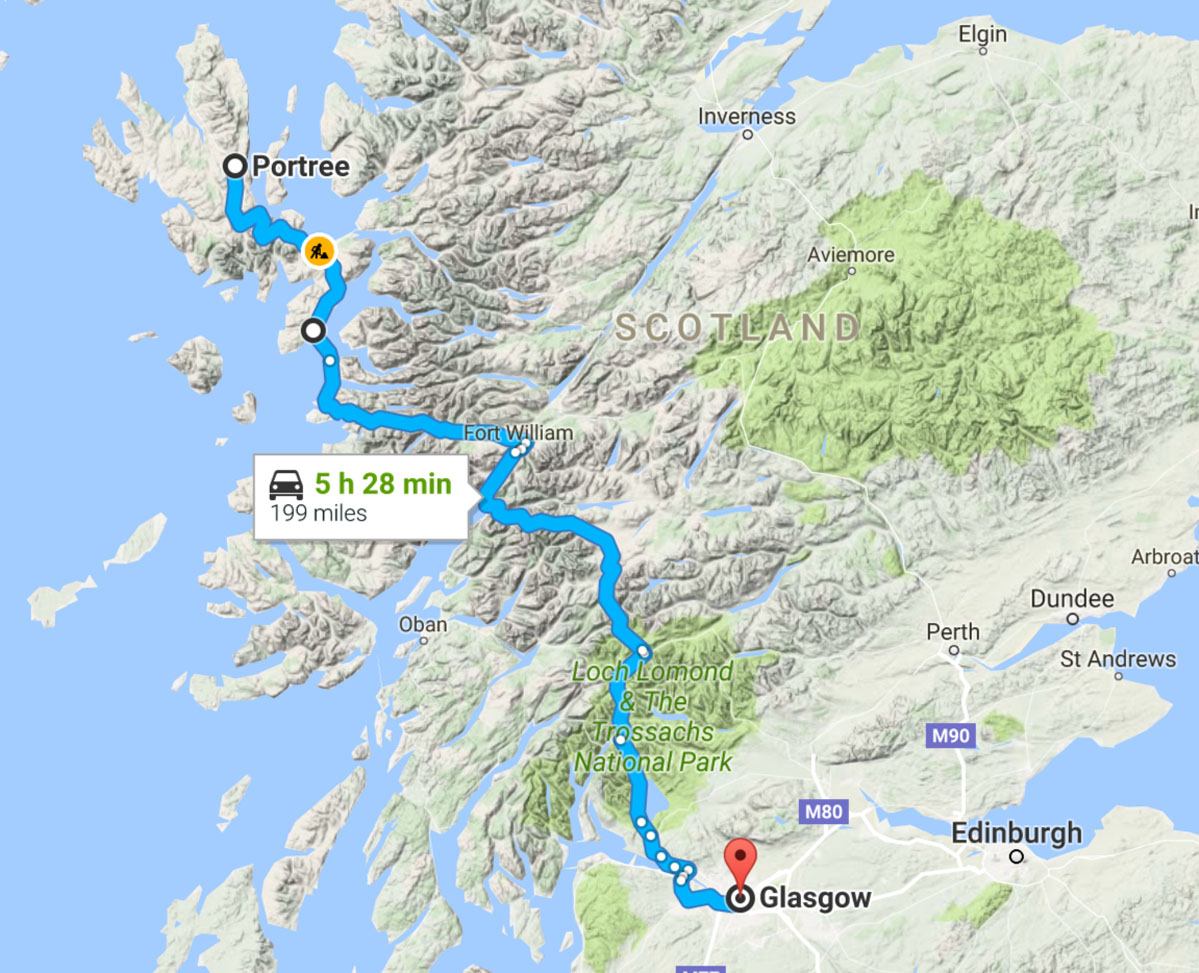 This route requires a ferry crossing from the Isle of Skye to the mainland. This route takes drivers past the Glenfinnan Viaduct, through gorgeous Glencoe Valley, along Loch Lomond, and on to Glasgow or Edinburgh.
View of Sleat Peninsula, Isle of Skye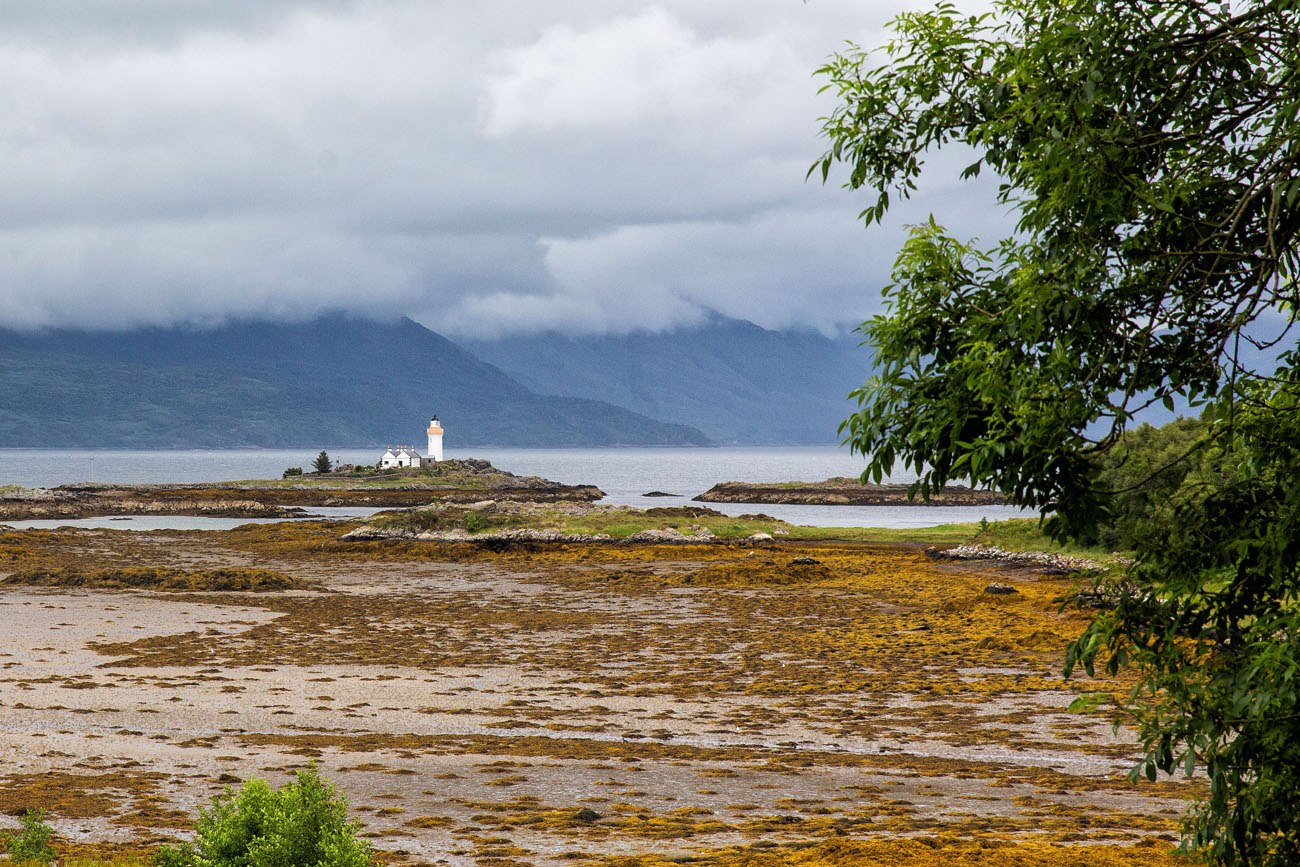 Ferry Crossing: Armadale to Mallaig
From Portree, it takes between an hour to an hour and a half to drive to Armadale. From here, you will take the ferry to Mallaig, on the mainland. It is highly recommended that you book your ferry tickets at least several days in advance, especially during the busy summer months.
The ferry is operated by Caledonian MacBrayne. The journey takes 40 minutes and ferries run all day. For a family of four with one car, a one-way ticket costs £17.80. Tickets can be purchased directly on the Caledonian MacBrayne website.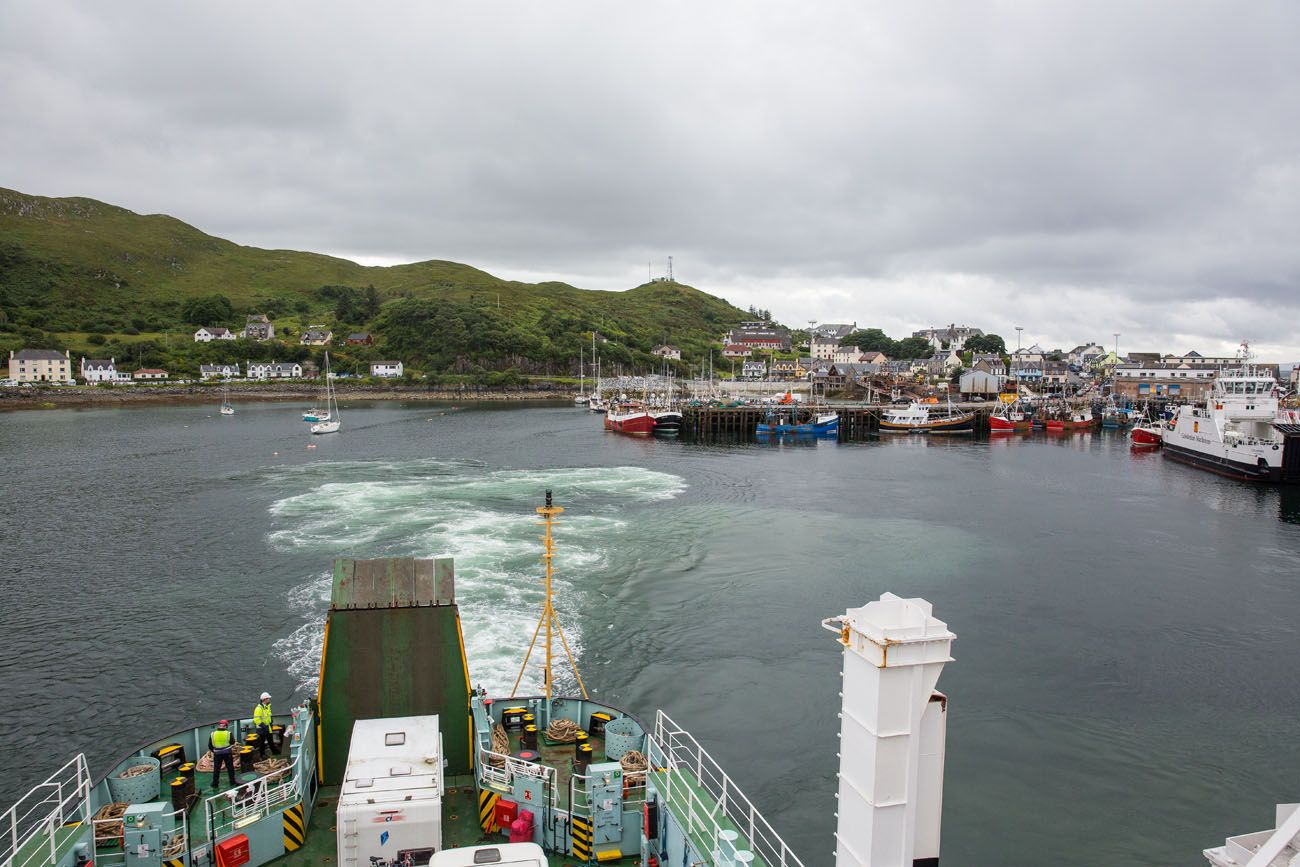 Glenfinnan Viaduct
Mallaig to Glenfinnan: 26 miles, 40 minutes
From Mallaig, take A830 to the Glenfinnan Viaduct. Park in the very small car park (during peak visiting hours it can be nearly impossible to find a spot here!). A short walk uphill takes you to a viewpoint over the Glenfinnan Viaduct.
For Harry Potter fans, this is well worth it. The Glenfinnan Viaduct was used in the filming of the Hogwart's Express.
We were here under less than ideal weather conditions. The Viaduct looks rather dreary in rainy weather. Hopefully, you will have better luck, but it is Scotland, and wee bit of rain here and there is expected.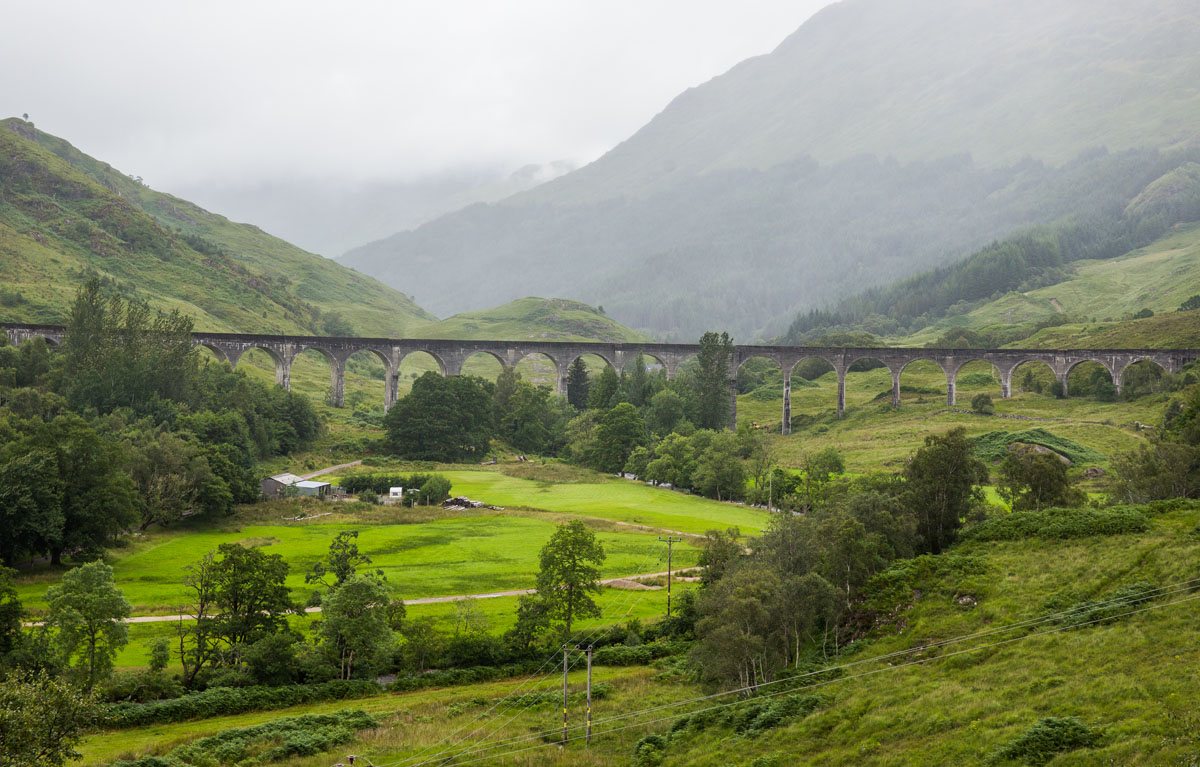 Glencoe Valley
Glenfinnan to Glencoe: 33 miles, 50 minutes
Now it is time to visit the gorgeous Glencoe Valley. This place blew us away!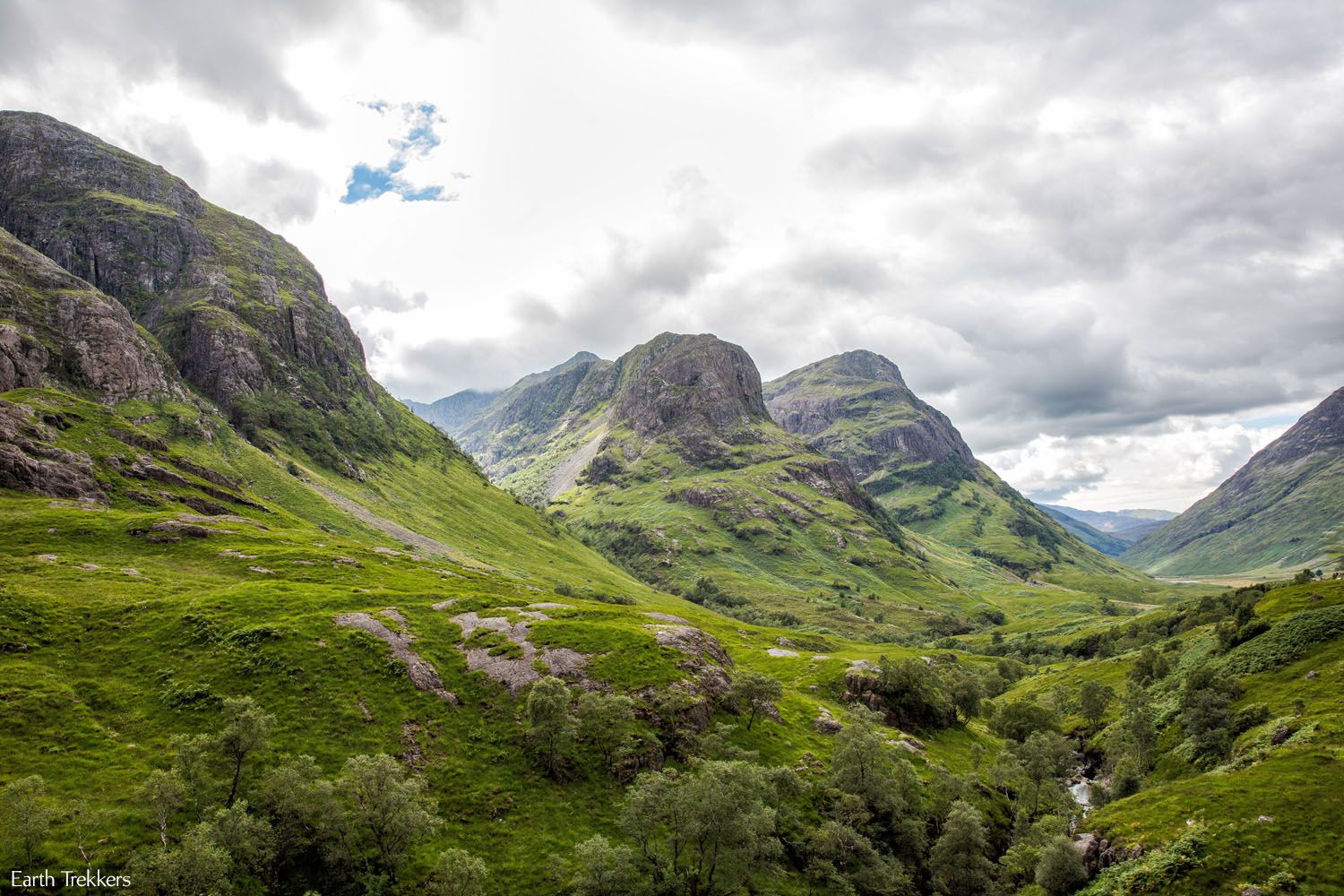 From the Glenfinnan Viaduct, continue on to Fort William and then drive south on A82.
For full details about what to see and do in Glencoe, do not miss this post: Postcards from Glencoe, Scotland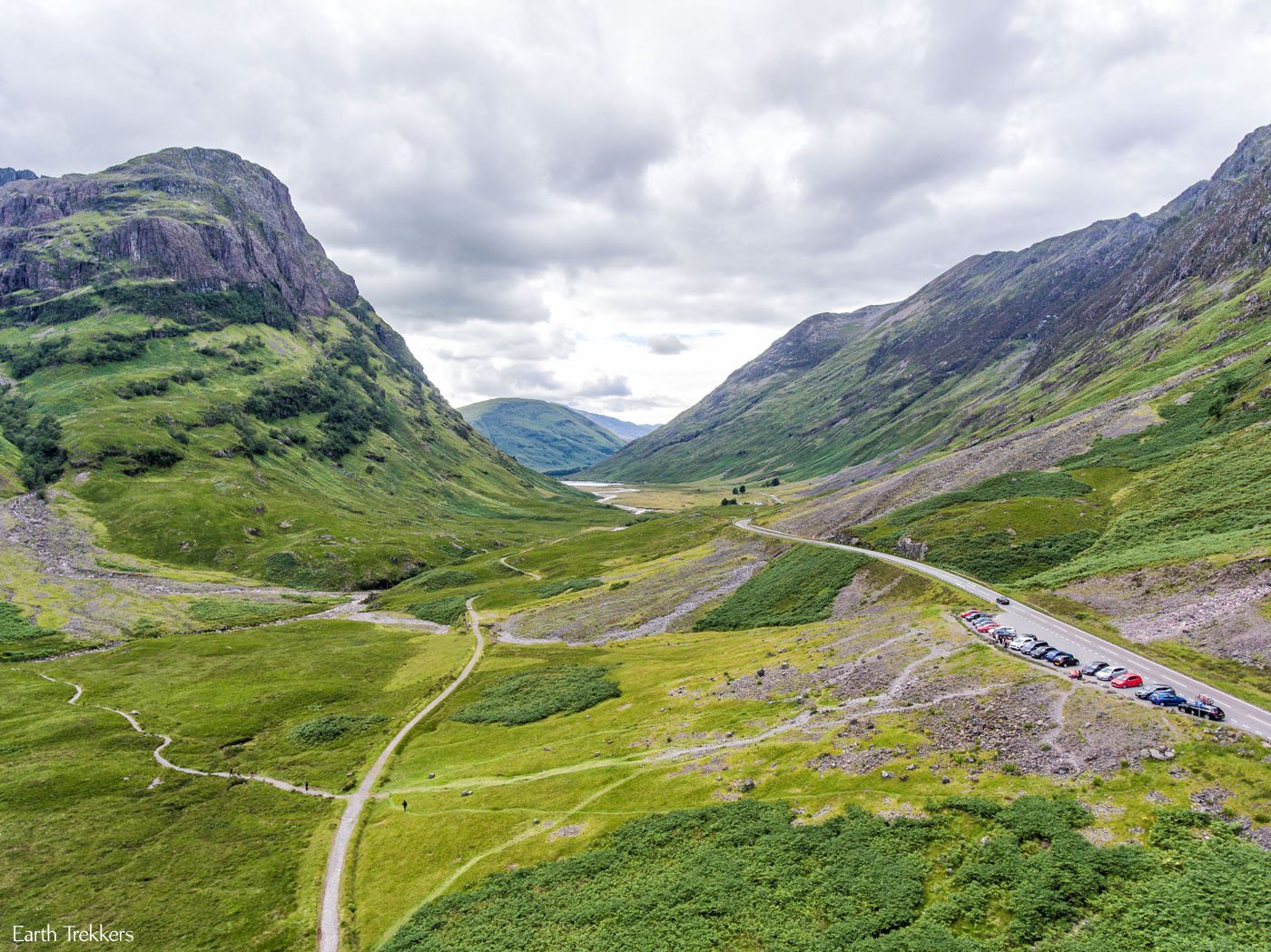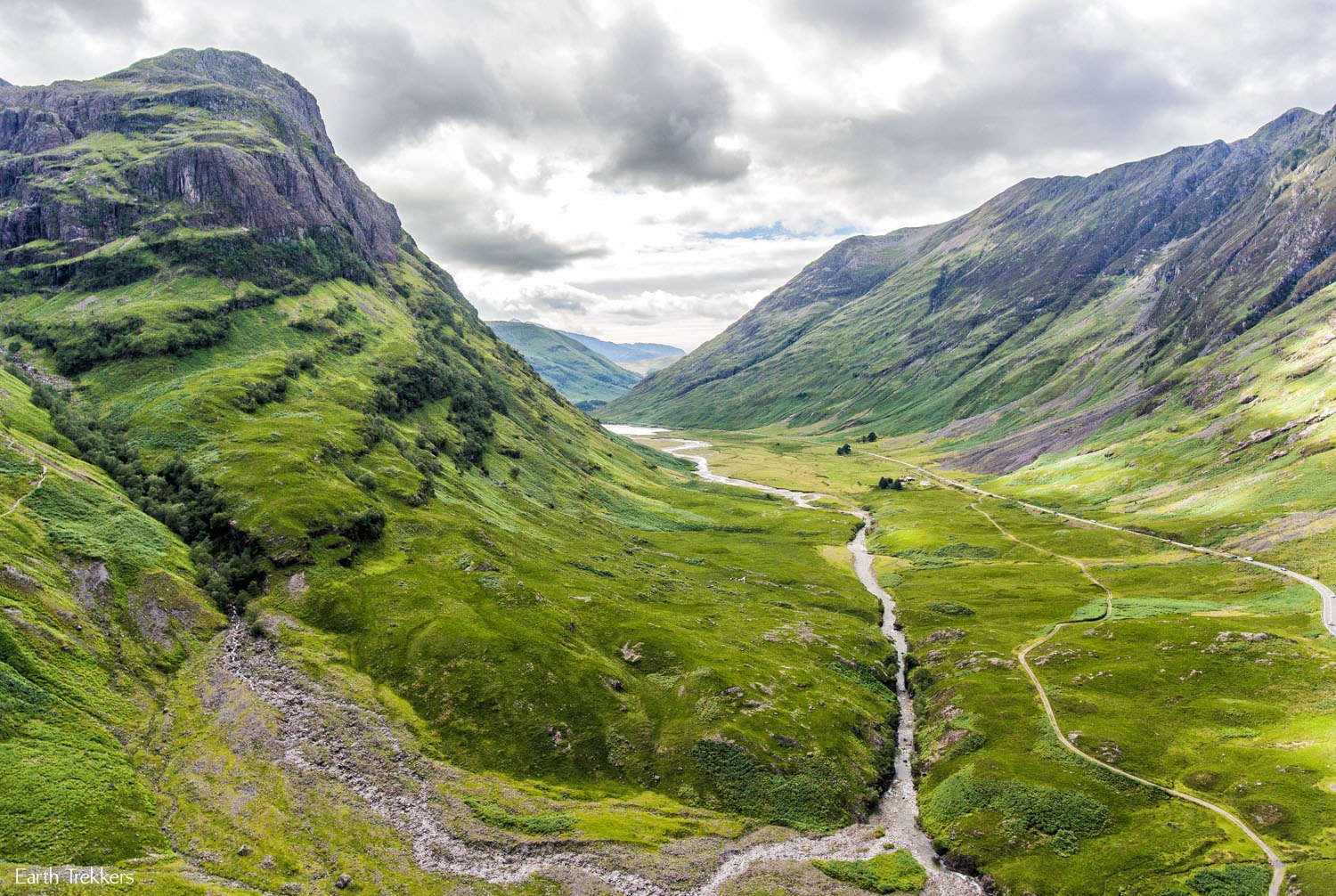 Loch Lomond
Glencoe to Glasgow: 94 miles, 2 hours
From Glencoe, continue south on A82 towards Glasgow. This drive takes you along Loch Lomond. It is another scenic spot in Scotland, although after what you have already seen on the Isle of Skye, in Glencoe, and near Kyle of Lochalsh, Loch Lomond may not seem that thrilling. Even so, it is a very nice drive.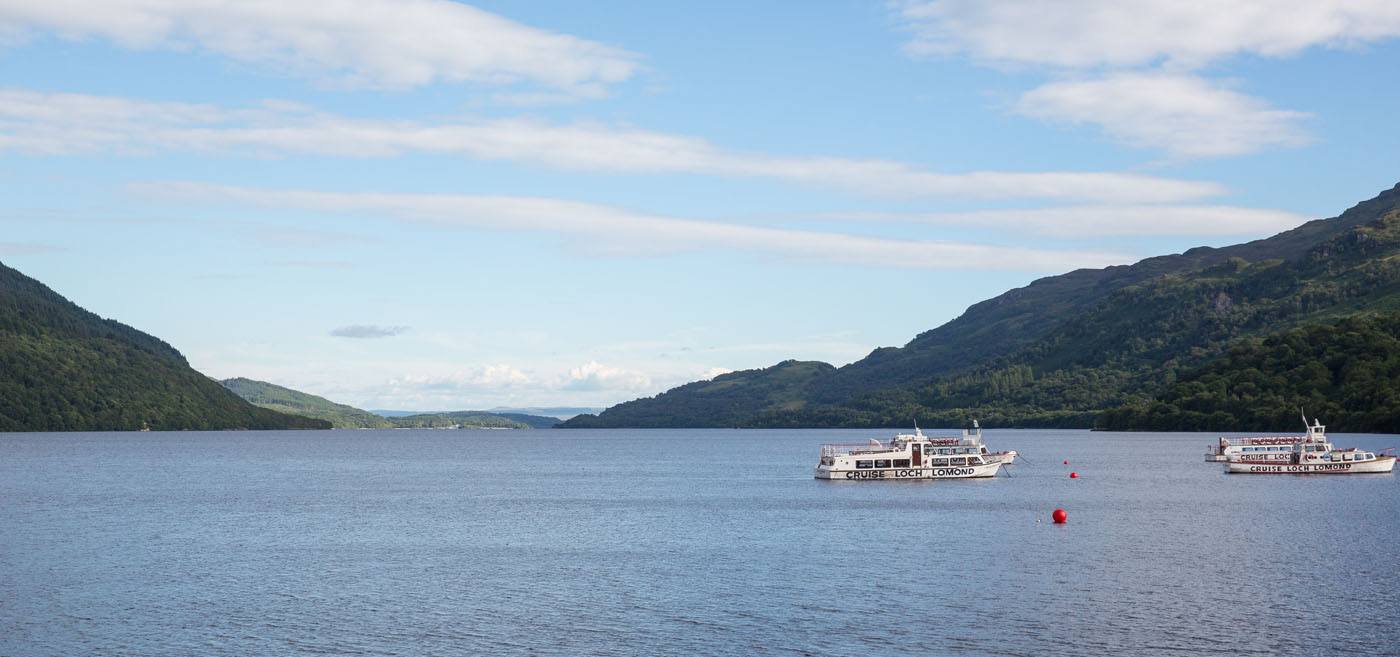 From Glencoe, it takes about two hours to reach Glasgow. If you are continuing on to Edinburgh, it's one more hour of driving.
With More Time
Here are some recommended side trips.
Whisky Trail
Whisky lovers may want to add two days into this itinerary to drive the whisky trail. On our northern route, from Dalwhinnie, continue north on A9 and then A89 to Glenlivet. You can spend several days here touring the whisky distilleries.
Isle of Mull
From Glencoe, head south to Oban and take the ferry over to the Isle of Mull.
Tips for Driving in Scotland
If you have a valid license in your home country, you can drive in Scotland.
In the UK, they drive on the left. Roundabouts are very common and can be intimidating to first time drivers in the UK, especially if you are accustomed to driving on the right. It takes a little getting used to!
In rural areas, it is not uncommon for sheep and other livestock to cross the roads.
In the most remote areas, including much of the Isle of Skye, you will drive on singletrack roads. These one-lane roads are only wide enough for one car. There are frequent passing zones, areas of the road that have been widened for two cars to pass. At times, this may require that you put your car in reverse, backing into one of these spots, to let oncoming traffic pass.
Slower drivers are expected to pull over into these passing zones in order to let faster traffic pass them.
Post updated August 2017.
---
Do you have plans to drive to the Isle of Skye? If you have any questions, comment below!
Keep Reading:
If there was one thing we wanted to see on the Isle of Skye,...

Rubha nam Brathairean, also known as Brothers Point, is a hidden treasure on the...

The Isle of Skye is a must have experience in Scotland. If you want...

When you think of fairy tales, what comes to mind? Breathtaking castles, quaint, colorful...

The Fairy Pools are one of the most visited sites on the Isle of...

The Fairy Glen is a lesser-known attraction on the Isle of Skye. It's also...

The Isle of Skye is one of Scotland's hottest destinations. Every year, thousands of...

The Isle of Skye is one of Scotland's most popular destinations. It may seem...

On a map, Scotland may look small. But don't let that fool you…there is...

Without a doubt, Loch Ness is Scotland's most famous loch. Legend has it that...

For one of the most spectacular views on the Isle of Skye, do not...

The Isle of Skye is one of Scotland's hottest destinations. Why? With stunning scenery,...