Knowing that I would be turning 40 while in India, I had great plans for celebrating my birthday. But India had other plans for me.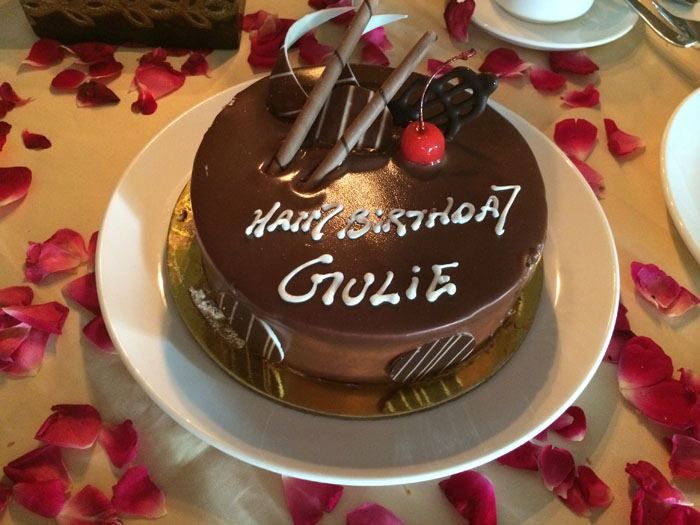 The day before my birthday, on a six hour car ride from Udaipur to Jodhpur, I began to have a headache, fatigue, and fever. Tyler and Kara had just gotten over cold like symptoms so I figured that I had some version of what they had. For the next two days I ran a temperature of 101°F and felt very tired. My skin felt very sensitive but fortunately my headache went away. I felt tired all of the time and could not tolerate the heat at all.
The morning of my birthday Tim surprised me with a chocolate cake for breakfast. The hotel staff sung me "Happy Birthday" while I Facetimed Mom on Tyler's iPod (who was still celebrating her birthday in the US, as it was still November 3rd there). It was a great start to the day. Determined to do something fun, we decided we should go zip lining. Tyler and Kara were in desperate need of thrills and adventure and had no desire to visit more museums or temples.
Zip Lining in Jodhpur
The Flying Fox offers zip lining over the walls of the Mehrangarh Fort, with views over the blue city of Jodhpur. We spent an hour of the afternoon flying back and forth on these wires, with great views and tons of fun. Tyler and Kara had a blast; this was their first time zip lining and what a cool place to do it. I had fun as well, but felt very tired and had to sit frequently.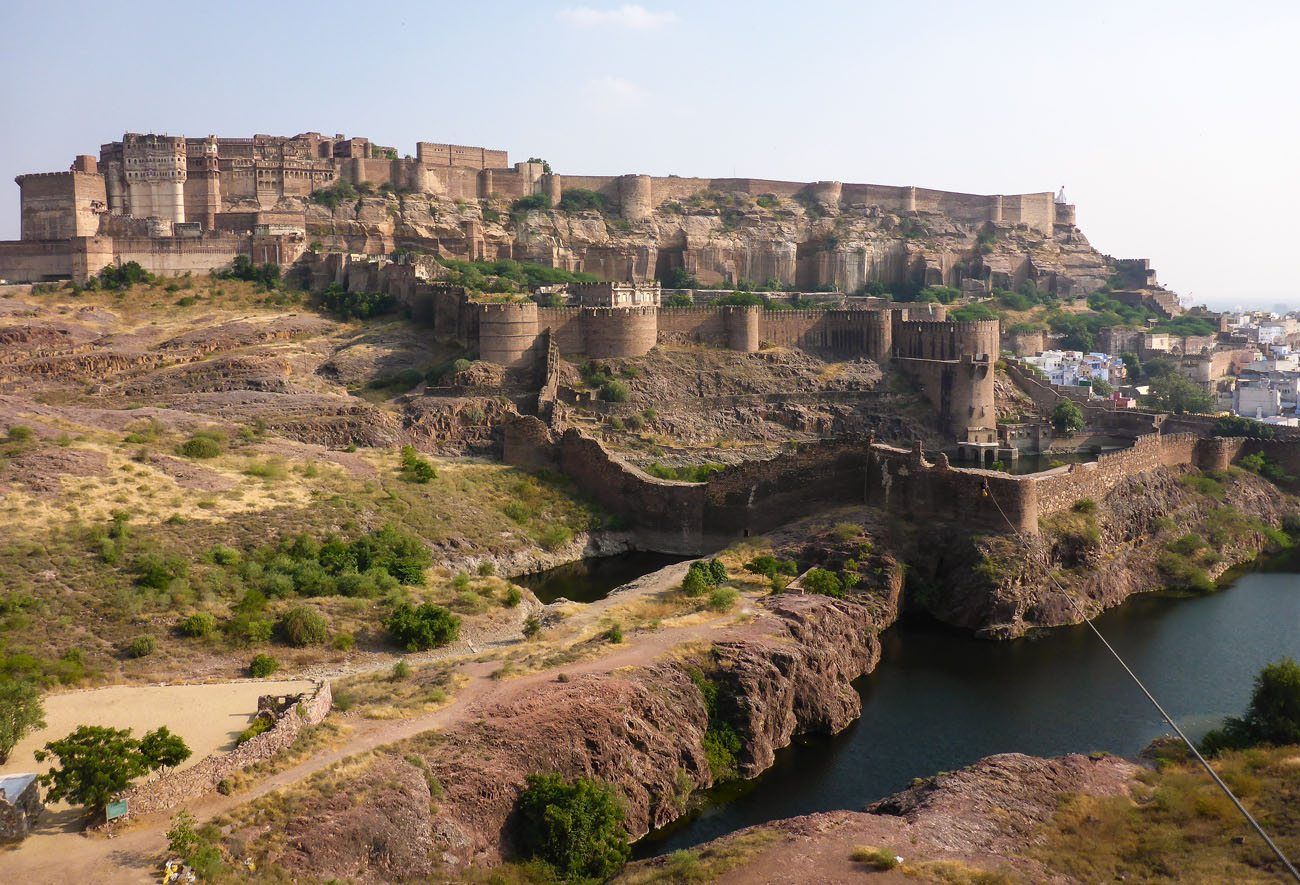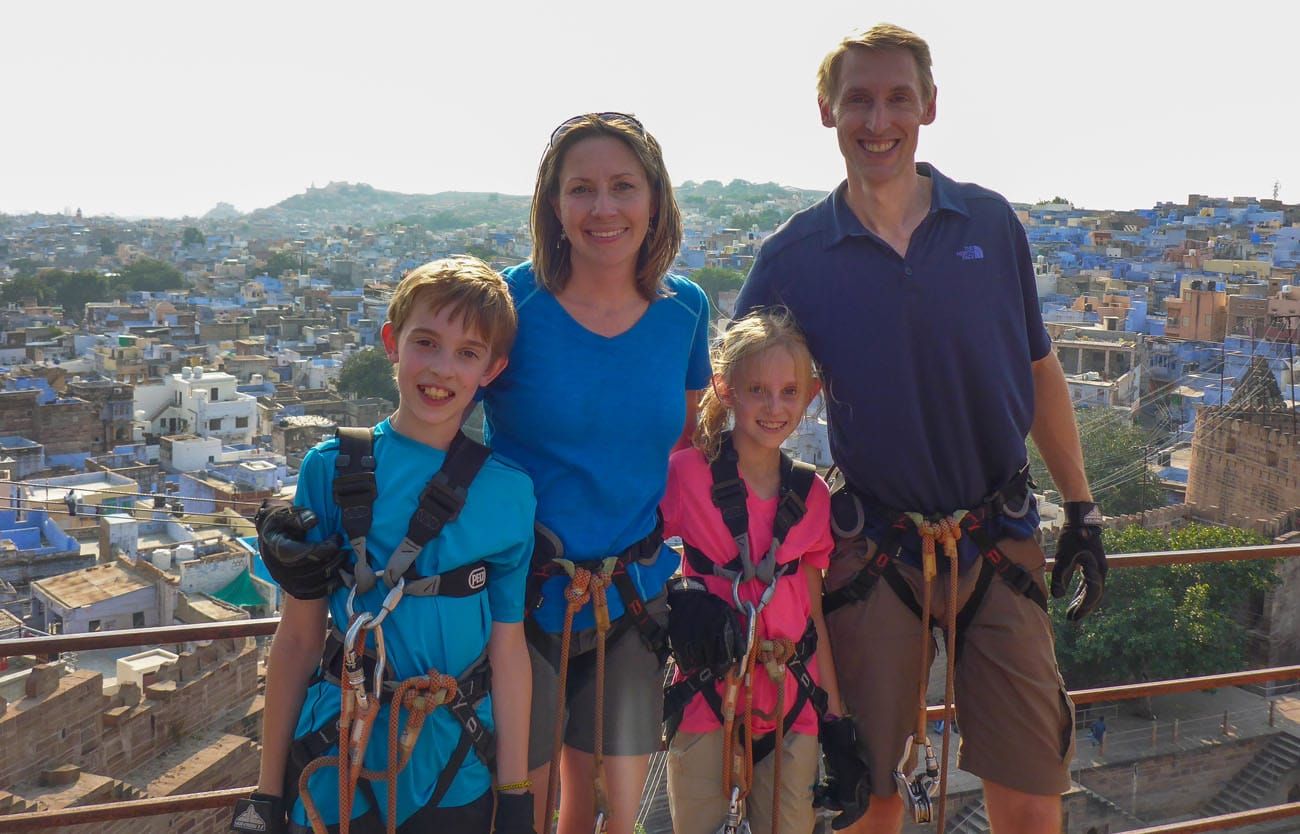 I was hoping to go out for a nice dinner on my birthday but after zip lining I did not feel up for it at all. Instead, we took a tuk-tuk back to our hotel and I watched TV for the rest of the day.
Recovering from Dengue Fever
It took me five days to figure out that I had dengue fever. My fever improved and then spiked again a few days later, a classic sign of dengue fever. Gradually, my symptoms improved. For over a week I would tire easily and could not tolerate the heat. I spent a lot of time laying around in our hotel.
The biggest impact the dengue fever had on our plans was shortening our camel safari from Jaisalmer. We planned on going on a three day, two night camel safari into the desert, riding camels during the day and sleeping under the stars at night. There was no way that I could tolerate this now. Instead, we spent a little less than 24 hours in the desert, still getting to ride the camels and spend one night in the desert. At least we got a taste of the Indian desert.
What is Dengue Fever?
Dengue fever is caused by the mosquito Aedes aegypti. Dengue fever is commonly found in tropical countries, usually in urban areas where there is a lot of standing water.
After an incubation period of 3 to 14 days, the most common symptoms are fever up to 104°F, headache, joint and muscle pains, and rash. The rash resembles a measles-like rash and can be accompanied by petechiae (caused by broken capillaries). Some people experience nausea and vomiting. The fever is biphasic, high for several days, then slowly improves, only to spike one last time for another 24 to 48 hours.
5% of people who contract dengue fever will experience life threatening symptoms, caused by dropping platelet levels and internal bleeding. Children are at a higher risk of getting these life threatening symptoms.
Infection with dengue fever gives the person immunity to the serotype they were infected with, but increases the risk of more severe symptoms if later infected with a different serotype.
Treatment is rest, plenty of fluids, and Tylenol to reduce the fever. The World Health Organization (WHO) endorsed the first vaccine in 2016 although it is only available in a handful of countries. In 2019, the FDA approved the Dengvaxia vaccine in the United States, but it can only be used by individuals aged 9 to 16.
Dengue fever is on the rise worldwide. More and more people are contracting and dying from this disease every year. Cases are now being reported in the southern US. It is estimated that dengue fever kills up to 20,000 per year.
I was very fortunate to only have a mild case of dengue fever. My fever was low-grade, I could still get up and do a little bit every day, and I never really felt too sick. The worst part for me was the 36 hours where my skin was very painful from the rash.
More About Jodhpur
We went zip lining with Flying Fox. For one hour and $100 we zip lined over the walls of the Mehrangarh Fort. Our two guides, Shantnu and Vickey, were awesome. They were both very concerned about me, as they could tell that I wasn't feeling well. This is by far the best thing to do while visiting Jodhpur. We did visit the Fort and walked around the narrow blue streets of Jodhpur, but zip lining was the most fun.
We stayed at Mandore Guest House. This place is located just outside of Jodhpur. A twenty minute tuk-tuk ride will get you to the Fort. The rooms are separate cottages, all clustered in a quiet garden. This is a great, quiet setting, offering a break from the noise of Jodhpur. The food was good and the rooms very comfortable. I know, I spent a lot of time laying in bed here.
---
More Information about India
FAVORITE EXPERIENCES IN INDIA: Our favorite experiences in India was visiting Darjeeling during Diwali, seeing the Taj Mahal, trying street food in Mumbai, going on a camel safari in Jaisalmer, and walking through Old Delhi.
TRAVEL BLOGGING: This website started with a trip around the world and has become one of the most popular travel sites on the internet. Learn more about what it is like to run this website in our article My Life as a Travel Blogger.
TRAVEL INSPIRATION: For more travel ideas, here are 10 unique destinations to put on your travel wish list and 10 bucket list destinations from around the world.
Are you planning a trip to India? Read all of our articles about India in our India Travel Guide.
Note: This post contains affiliate links. When you make a purchase using one of these affiliate links, we get paid a small commission at no extra cost to you.
All rights reserved © Earth Trekkers. Republishing this article and/or any of its contents (text, photography, etc.), in whole or in part, is strictly prohibited.