We spent three days in Udaipur, a city that is labeled as India's most romantic city and one of its least hectic cities to visit. One of Udaipur's claims to fame is that it was featured in the James Bond movie "Octopussy."
Hotel Boheda Palace
We stayed at Hotel Boheda Palace, a great hotel with reasonable prices and views over Udaipur to the City Palace.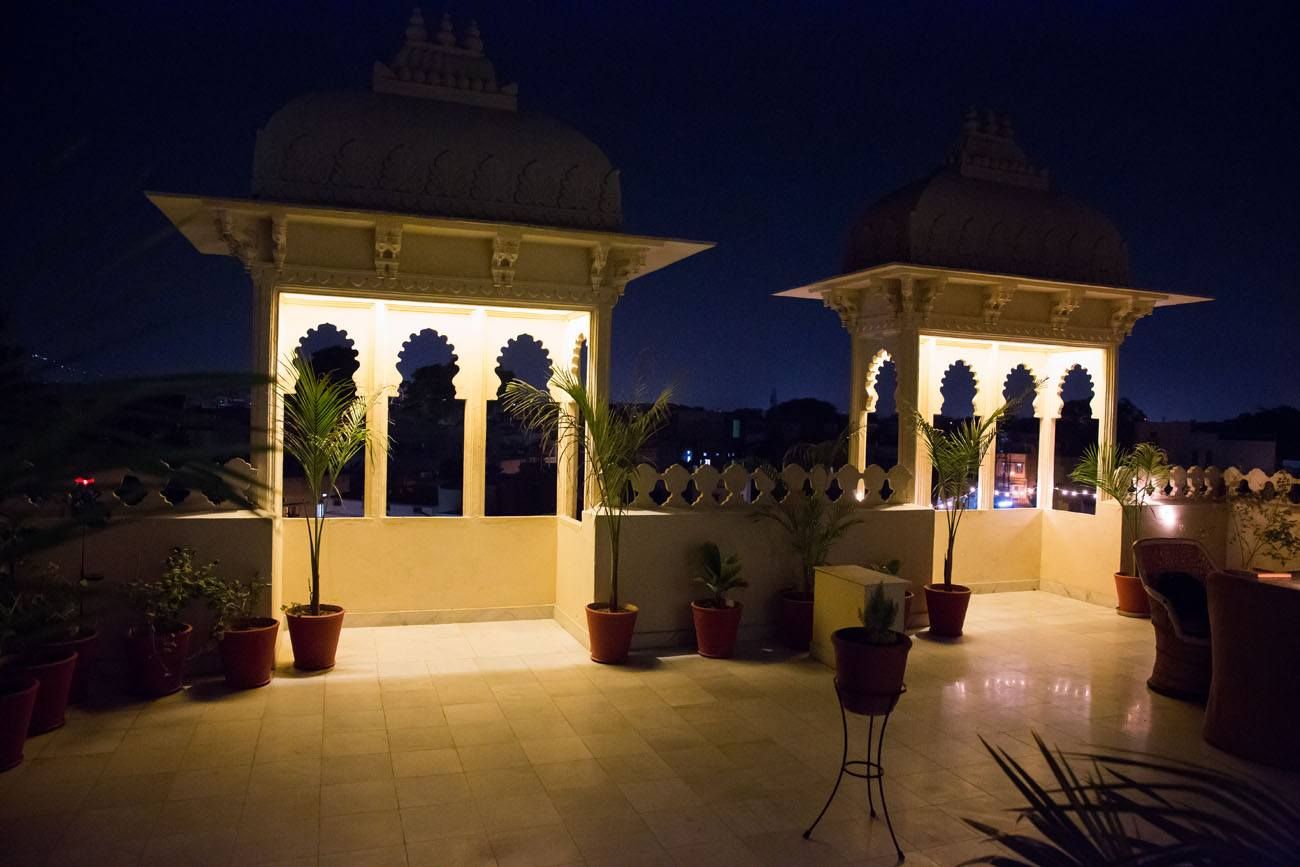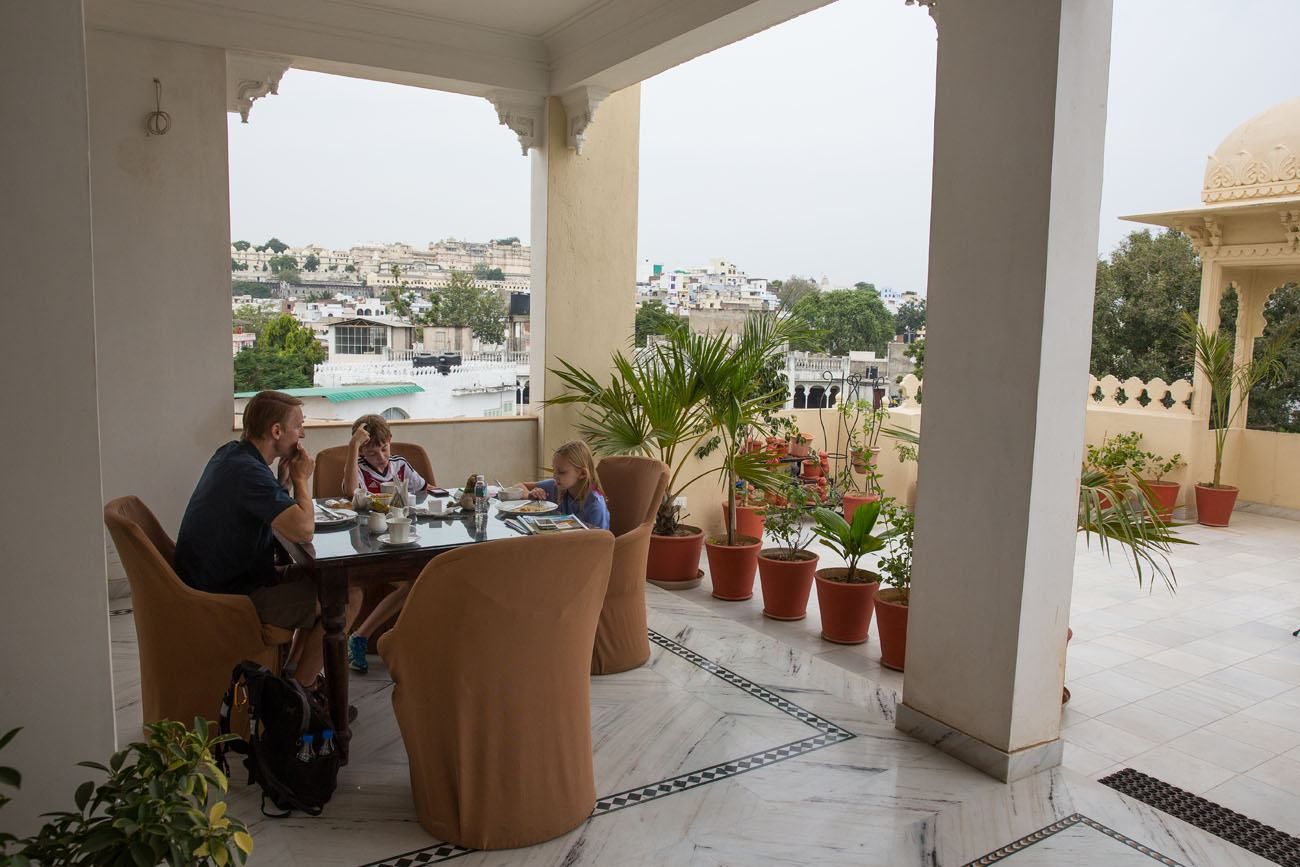 From our hotel it was an eight minute walk through residential streets into the main part of town.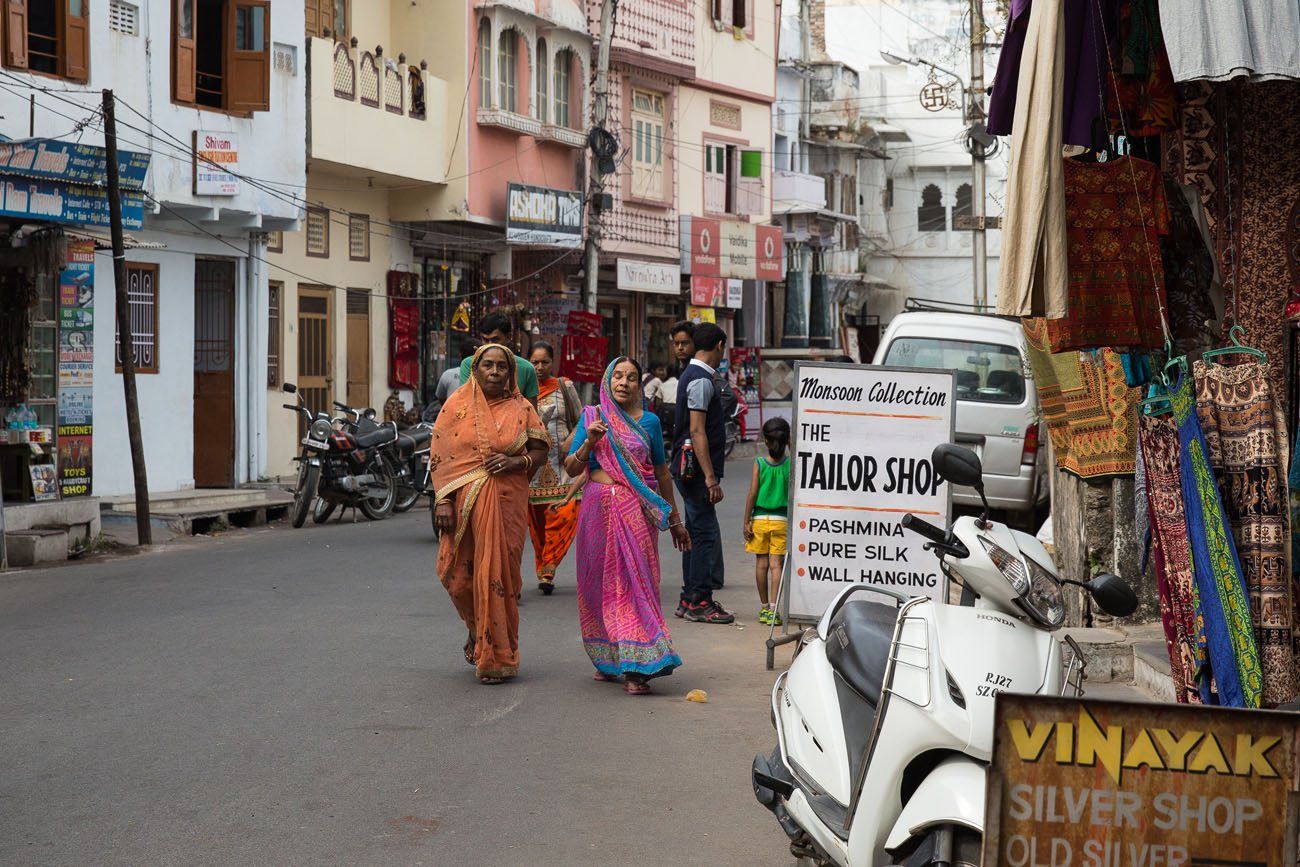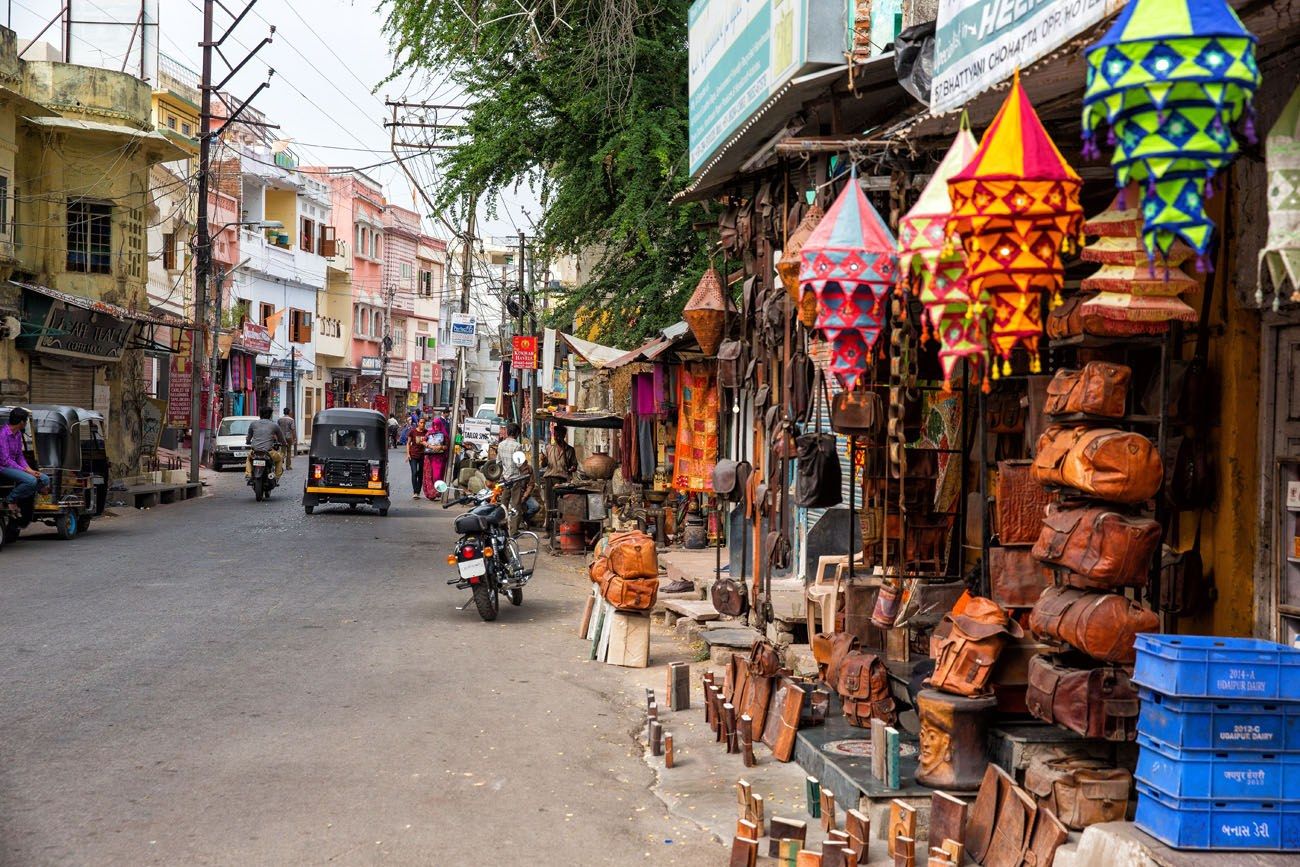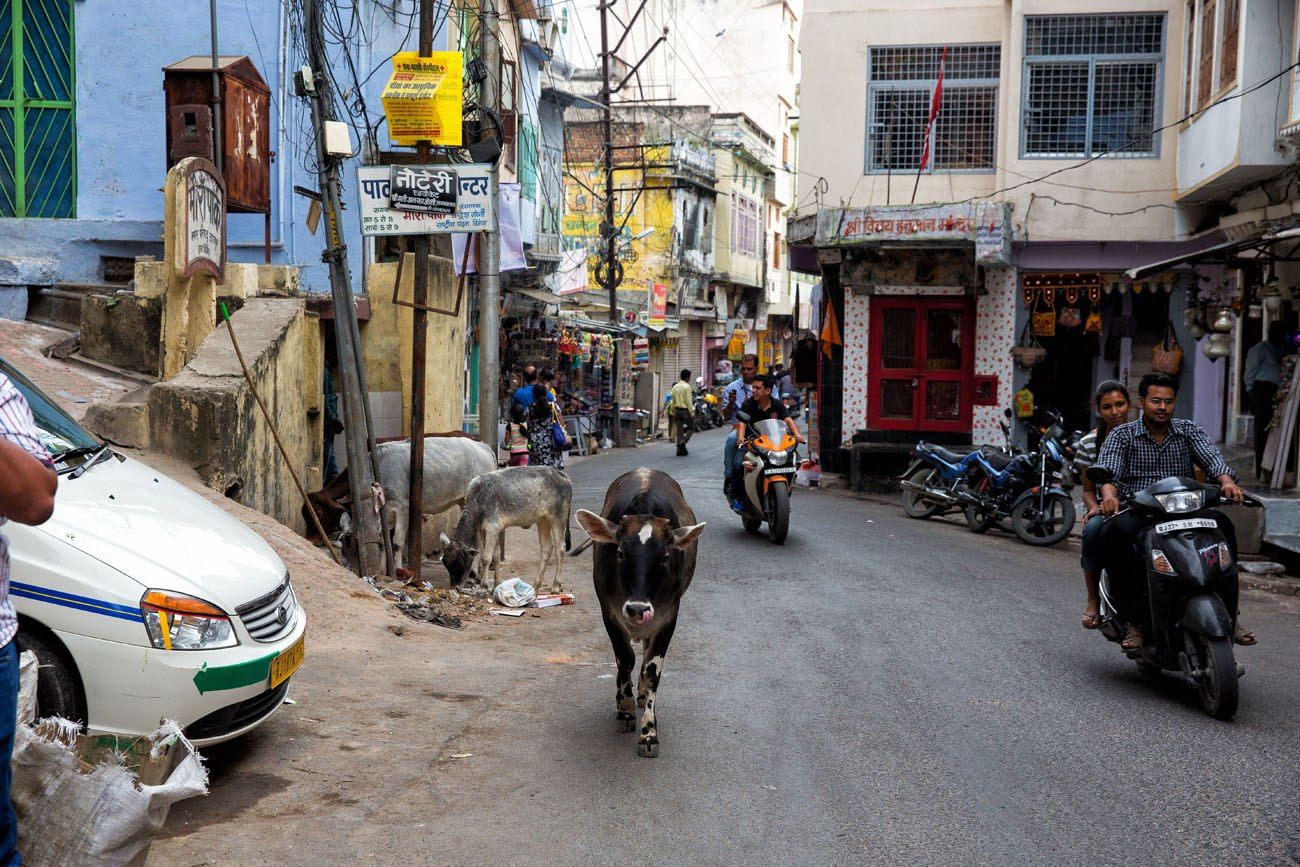 Many buildings had paintings like these next to their front doors.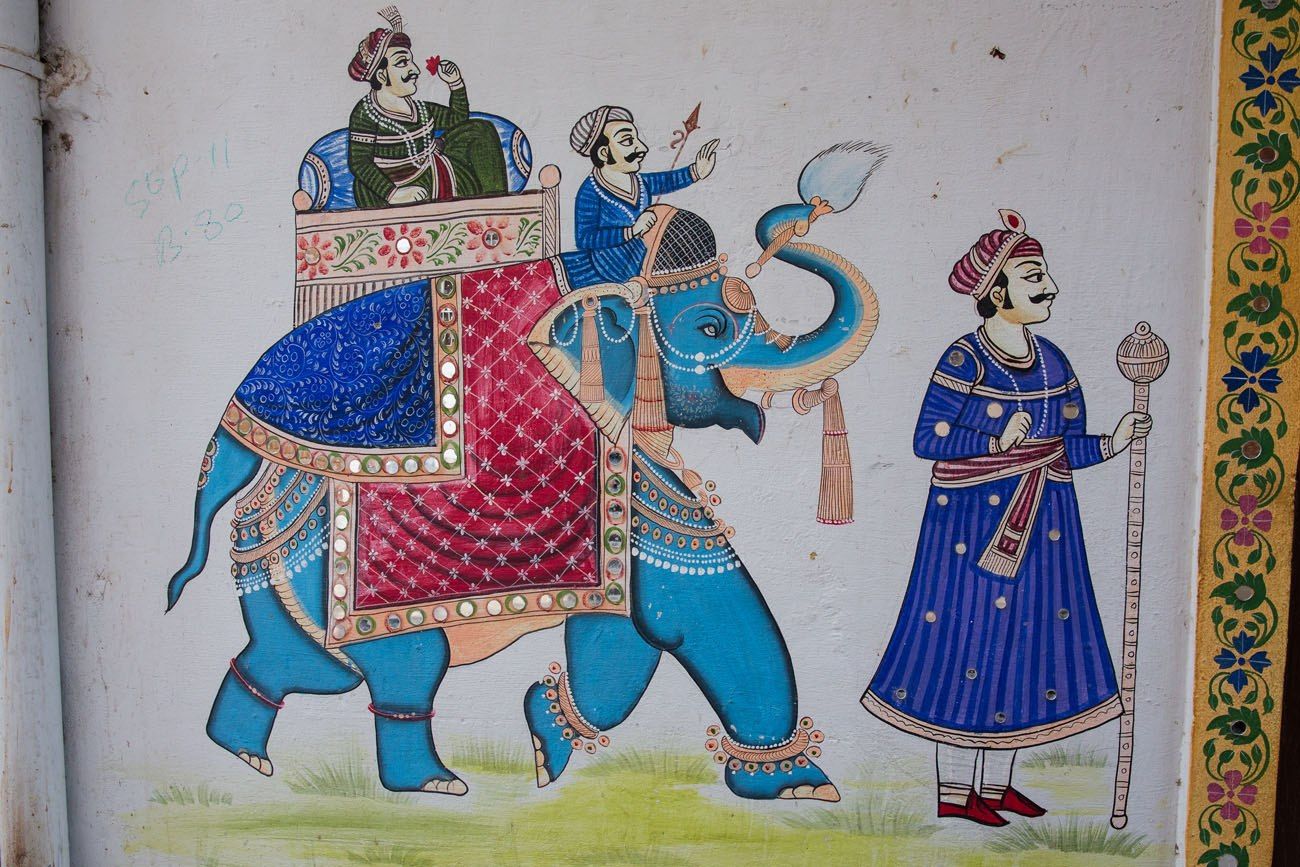 Lake Pichola and Jagmandir Island
One of the main things to do is to take a boat ride around Lake Pichola and out to Jagmandir Island.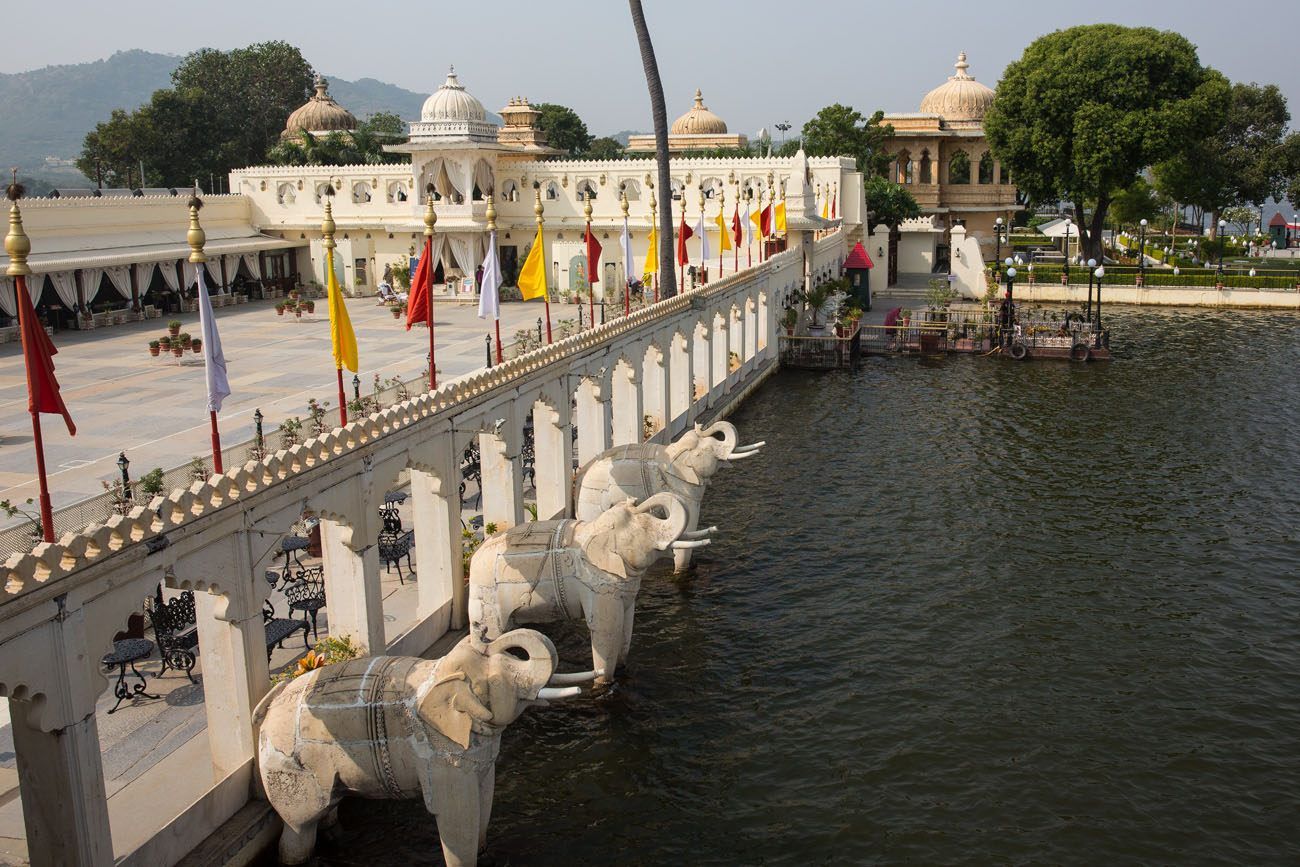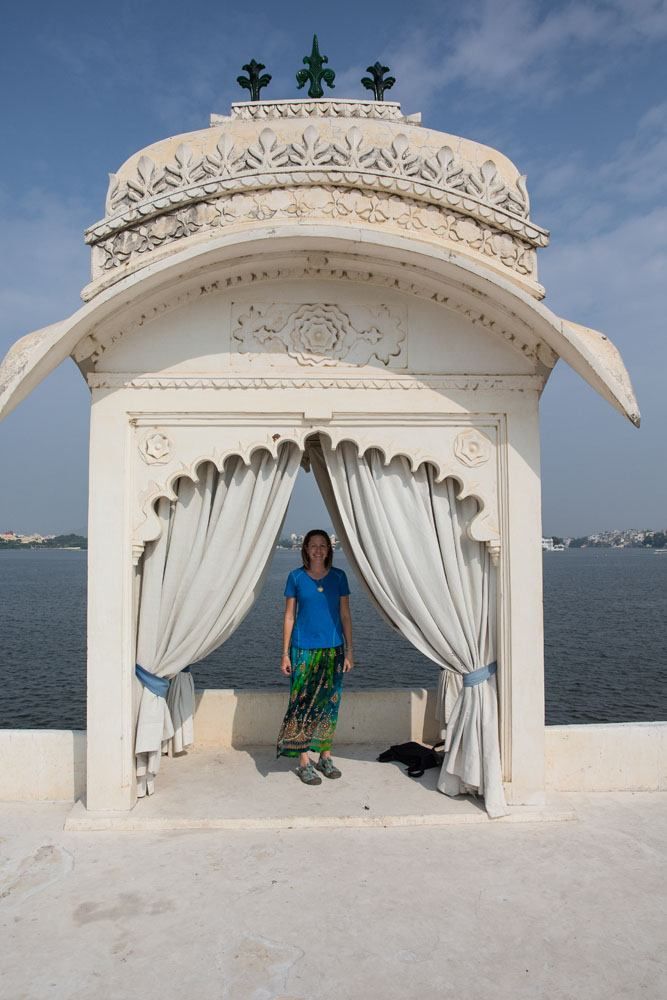 While touring Lake Pichola by boat, we passed several places where people were either washing their clothes, washing their hair, or bathing in the lake. This lake is filthy. Just look at all of the trash in the water. Udaipur has the potential to be such a beautiful city, but there is so much trash everywhere. It's such a shame.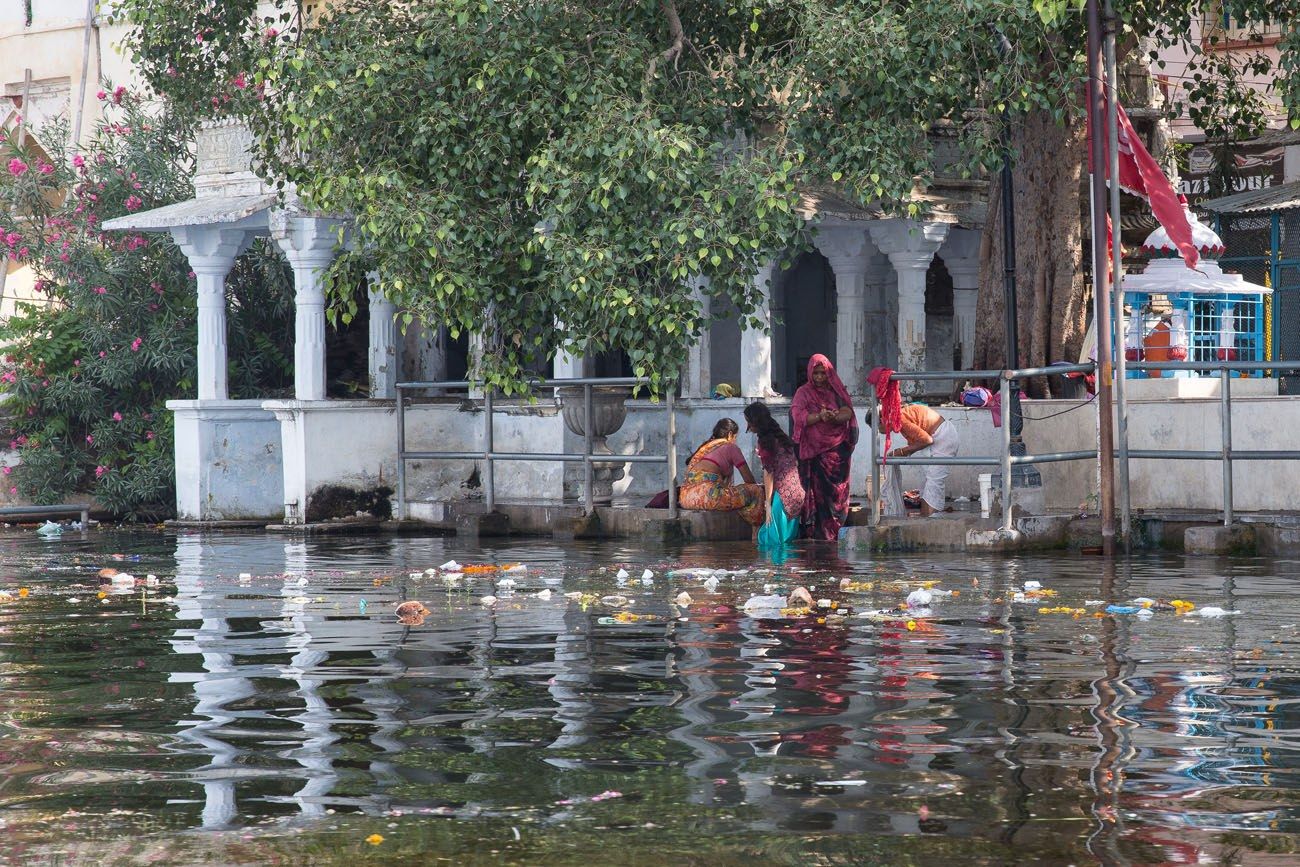 Shopping in Udaipur
We did a little shopping, buying some Indian art and antique postcards.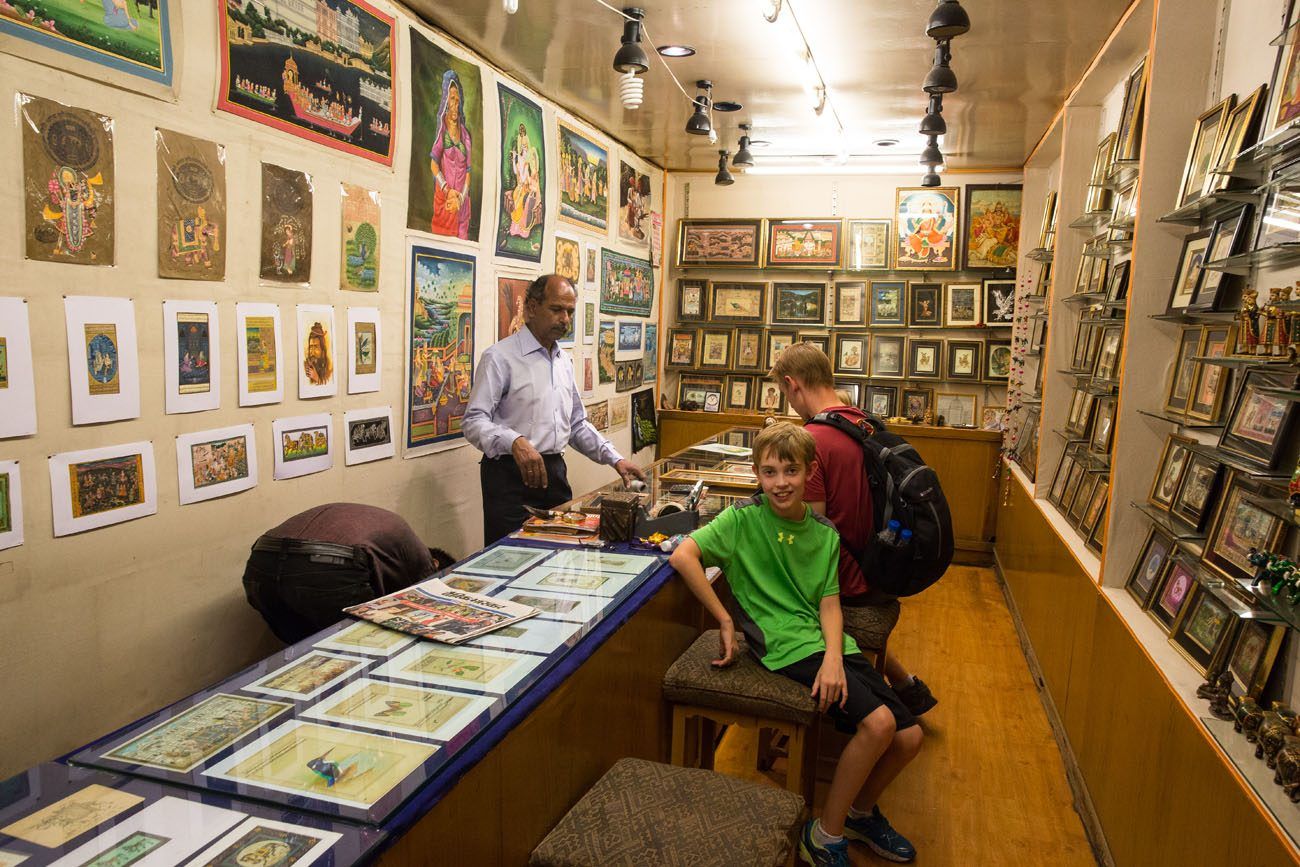 The City Palace
We also visited the City Palace. Here we toured the museum, which was honestly not very exciting for us, as we know little of Indian history. Seeing the building and the views of Udaipur were worthwhile, but if only we knew how long we would have to wait in a series of lines to exit the museum we may have skipped this!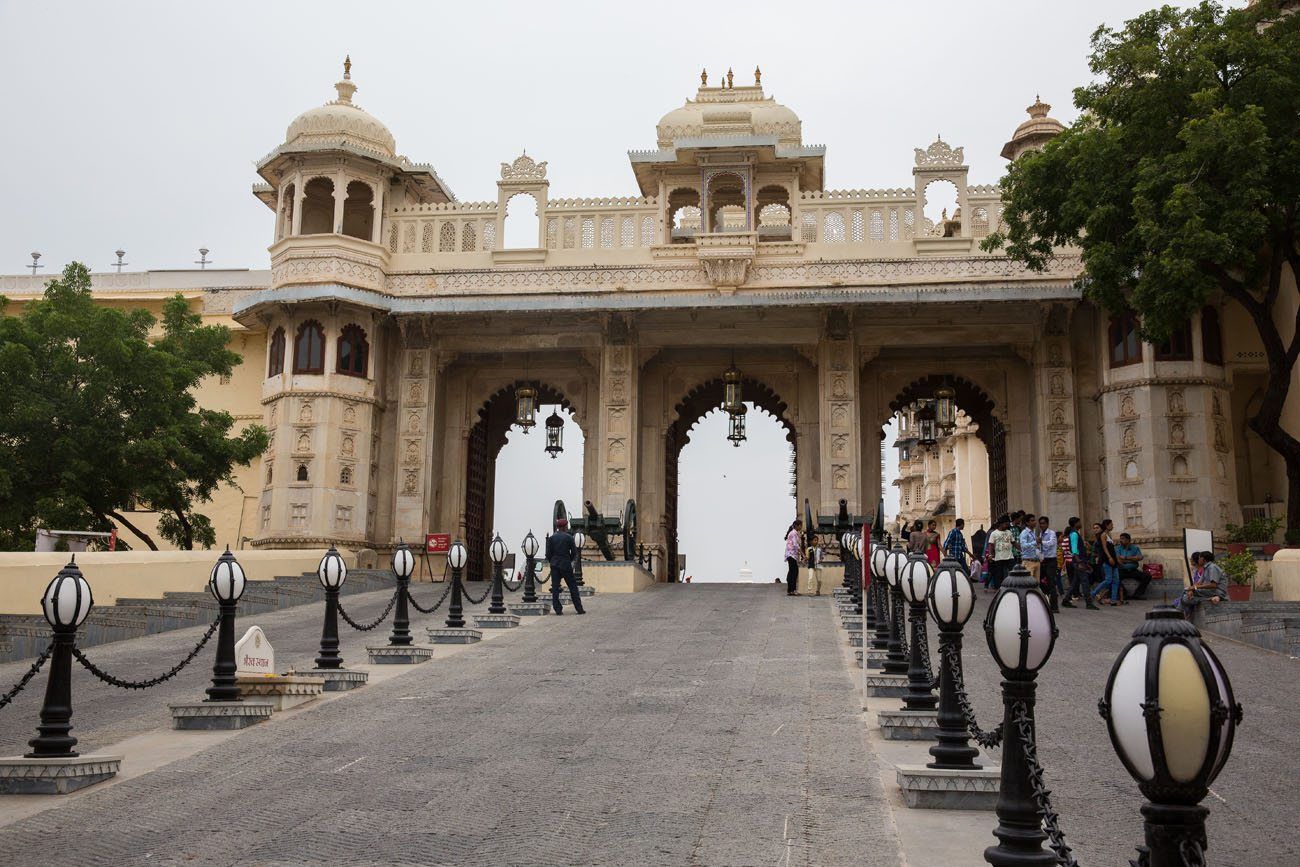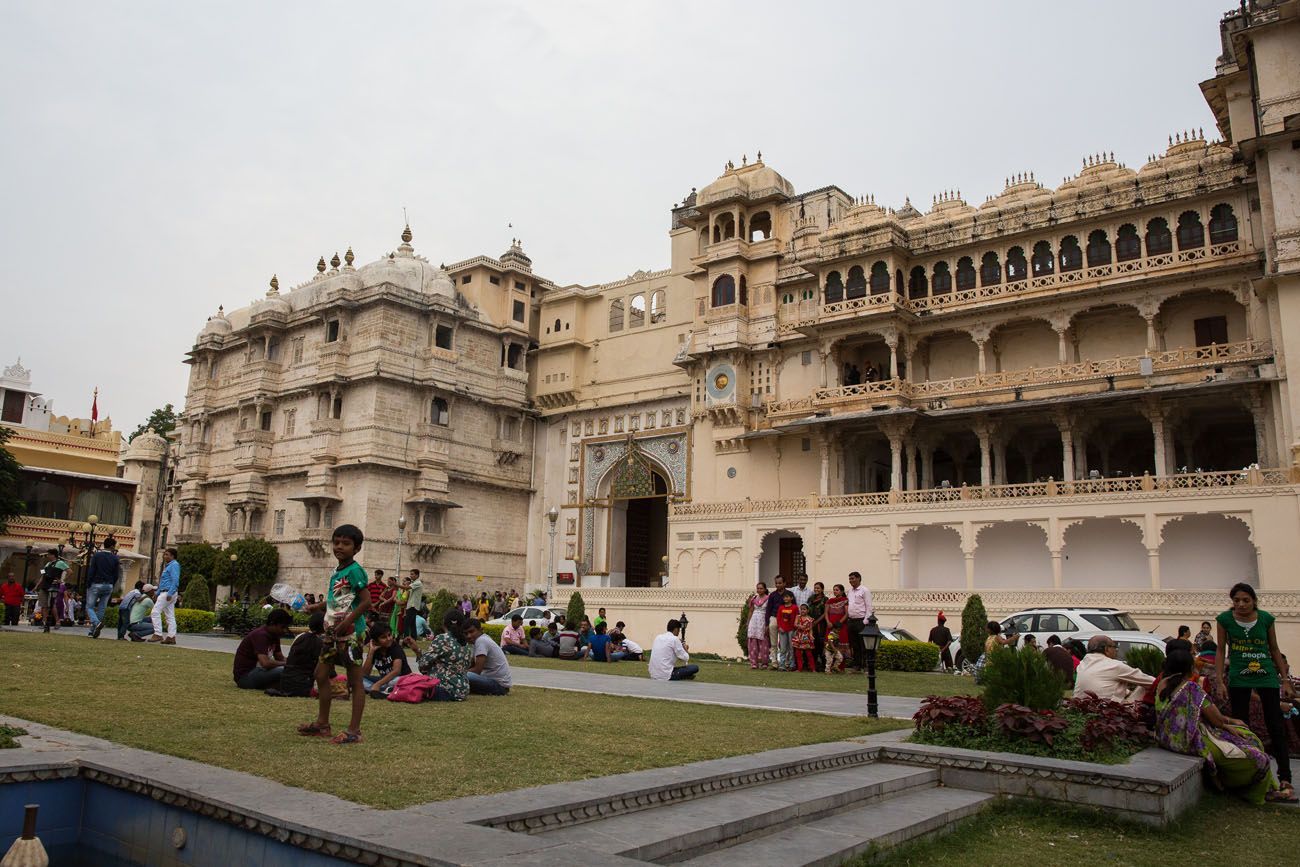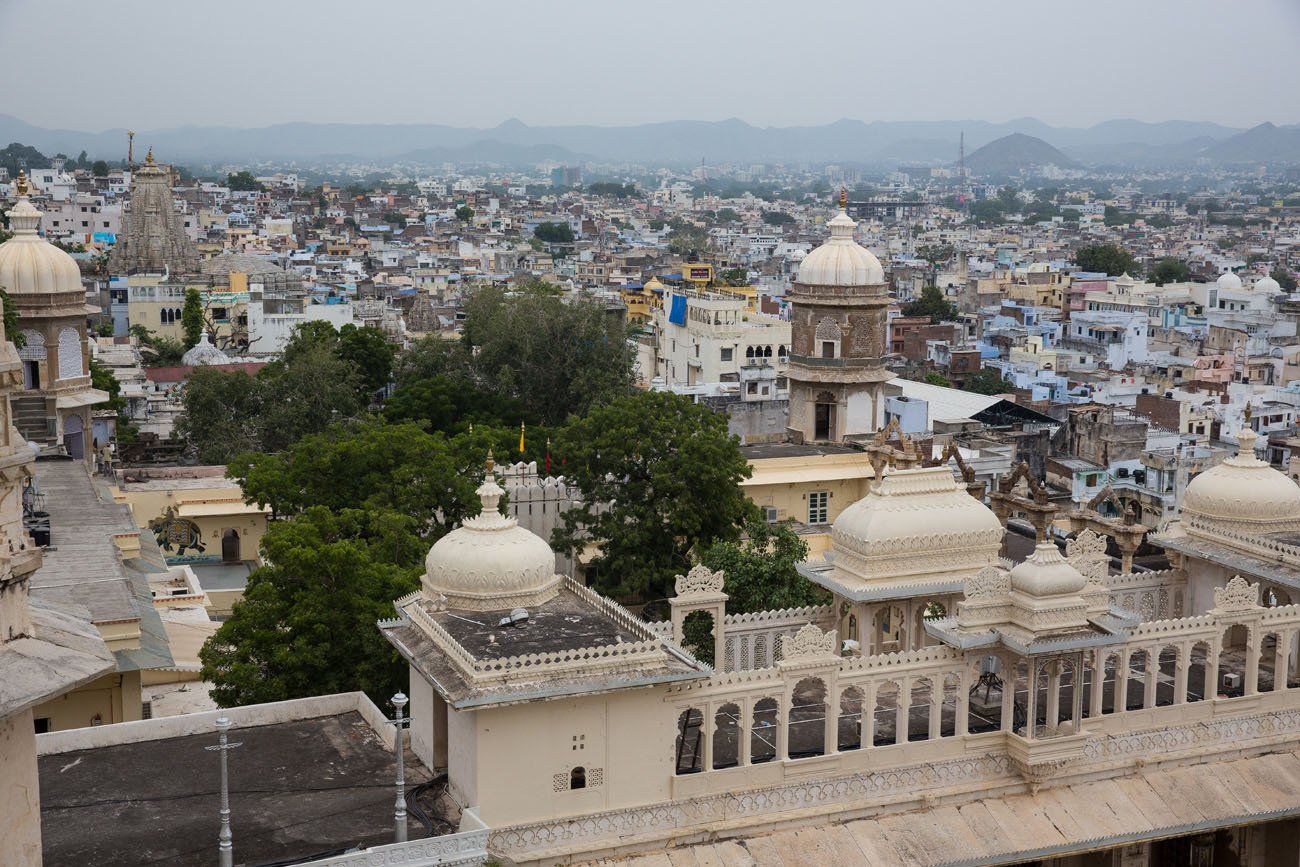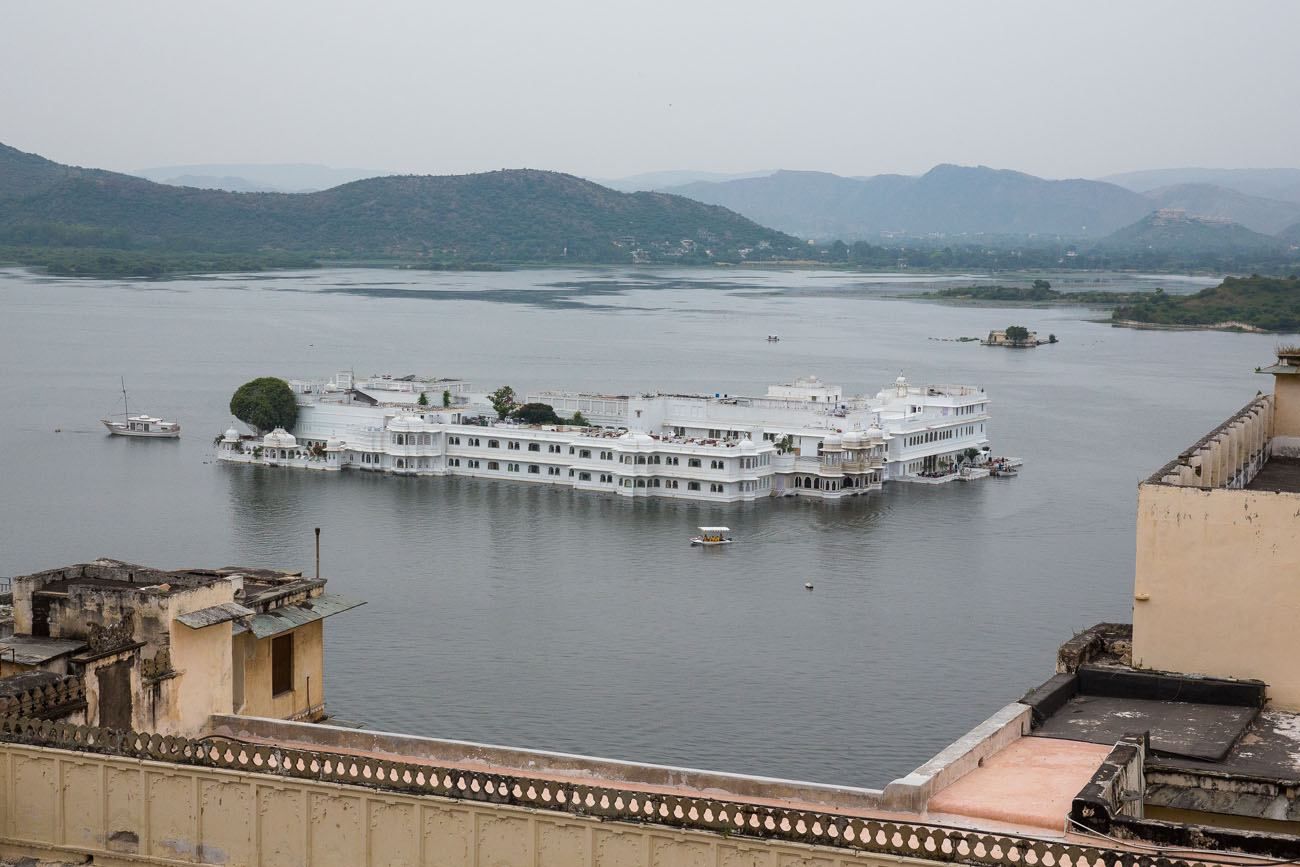 Taken inside the City Palace, this is one of my favorite photos.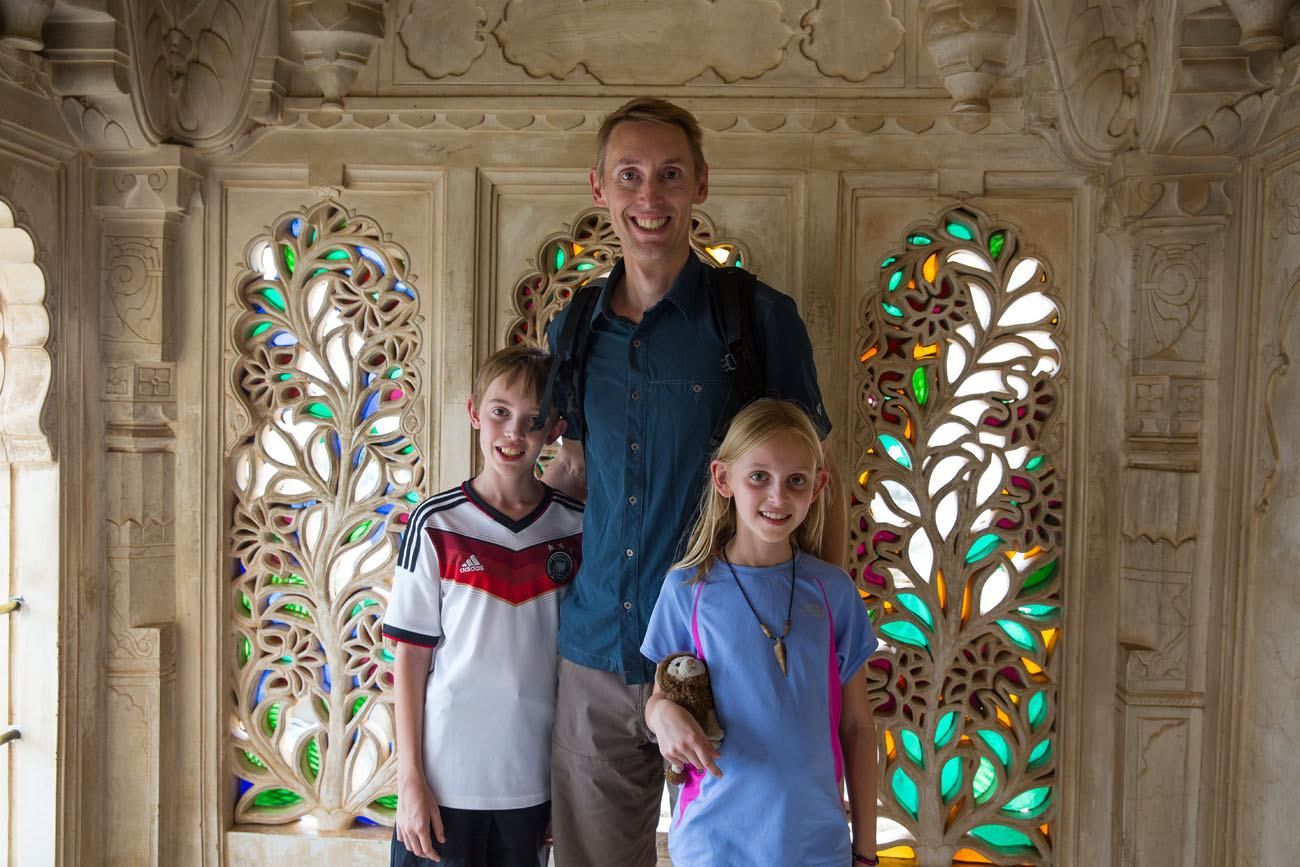 Here is a view of one of the many lines we waited in to exit the museum. It was torture. Anyone who has ever waited in line with Indians probably knows that it is not an orderly procedure. People are constantly trying to elbow their way in front of you and push up against you. Poor Tyler and Kara, who stand at armpit height, were miserable.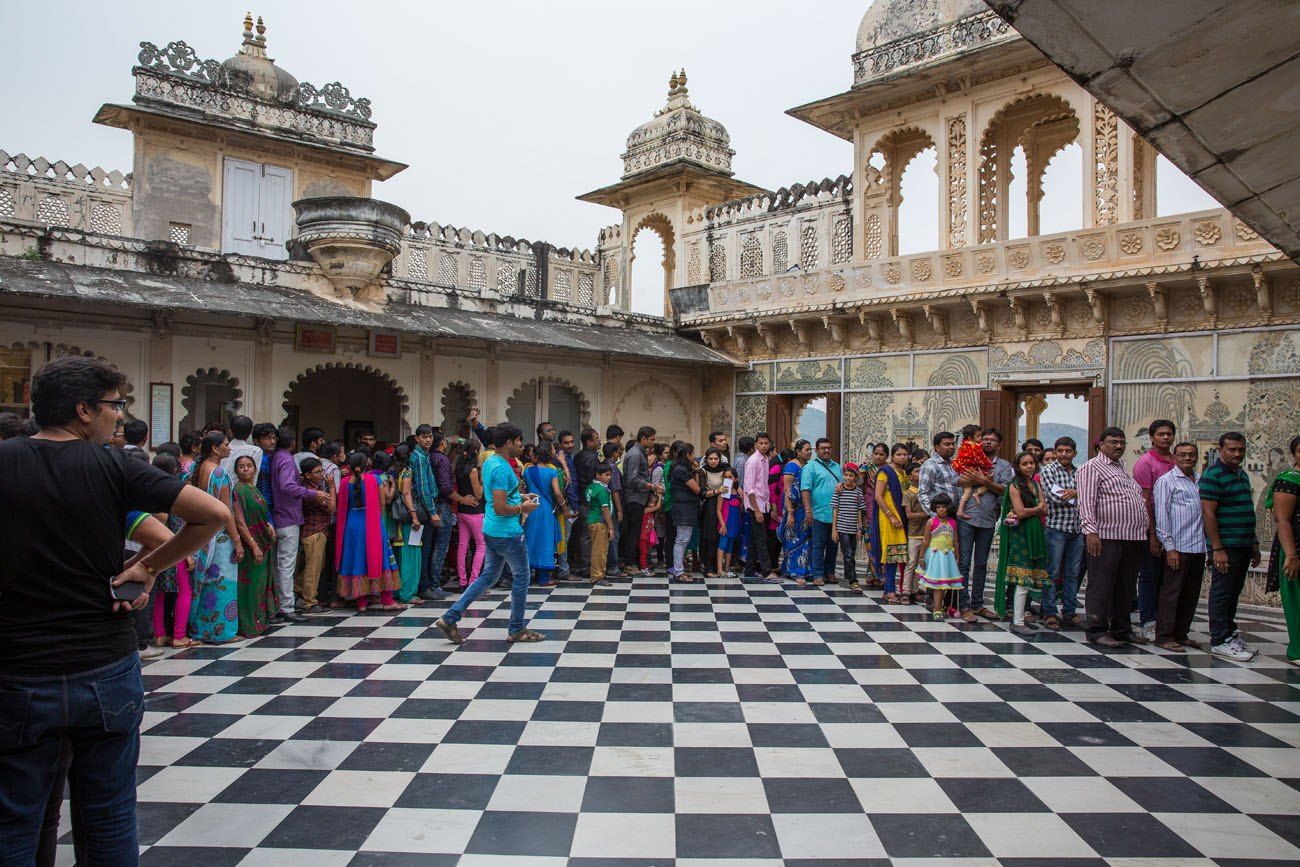 Halloween in Udaipur
On the night of Halloween Kara got a Henna Tattoo. This is the closest she got to dressing up in a costume this year.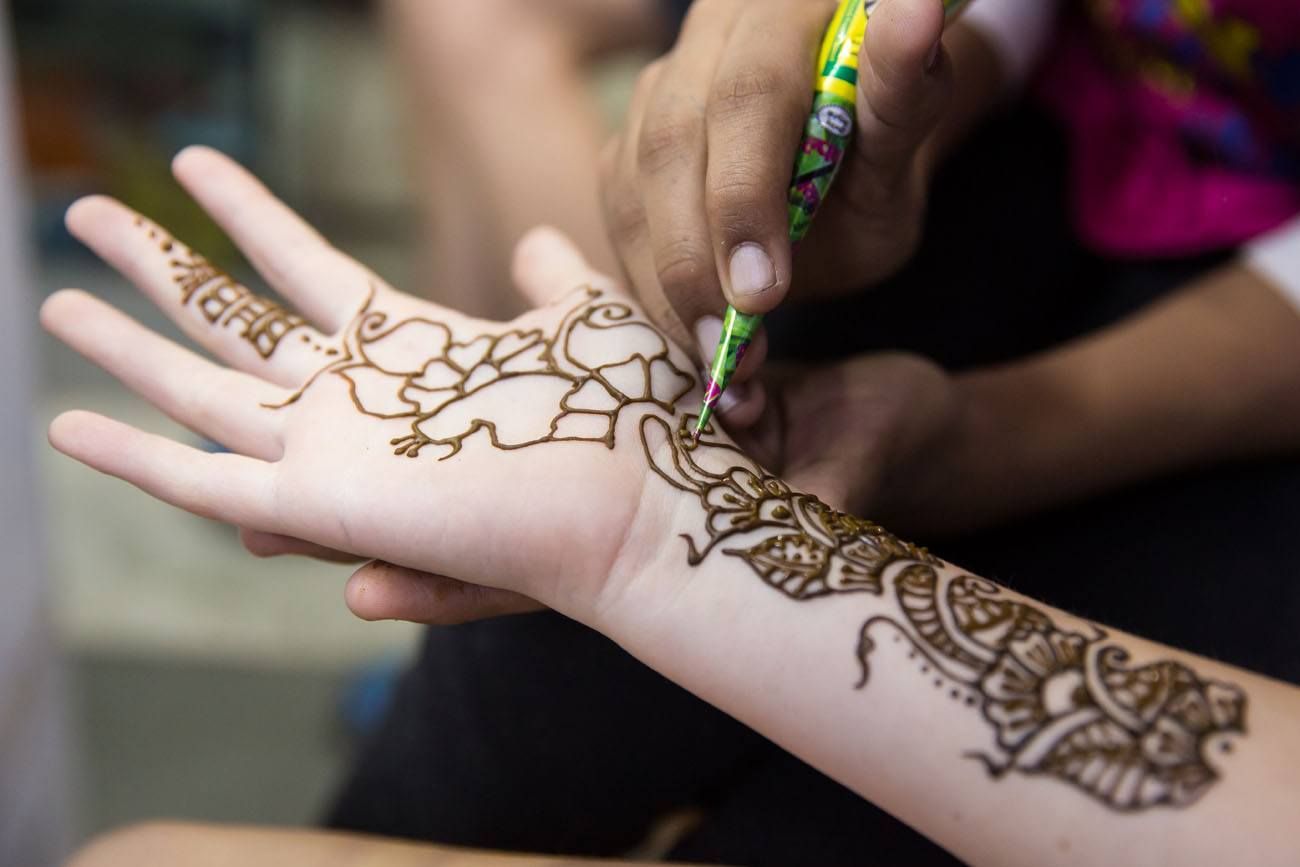 Halloween is not celebrated in Udaipur, so instead, Tyler and Kara handed out candy to the kids here, wishing them a Happy Halloween. It was a big hit.
Jagdish Temple
Another place to visit in Udaipur is the Jagdish Temple, and Hindu temple in the center of town.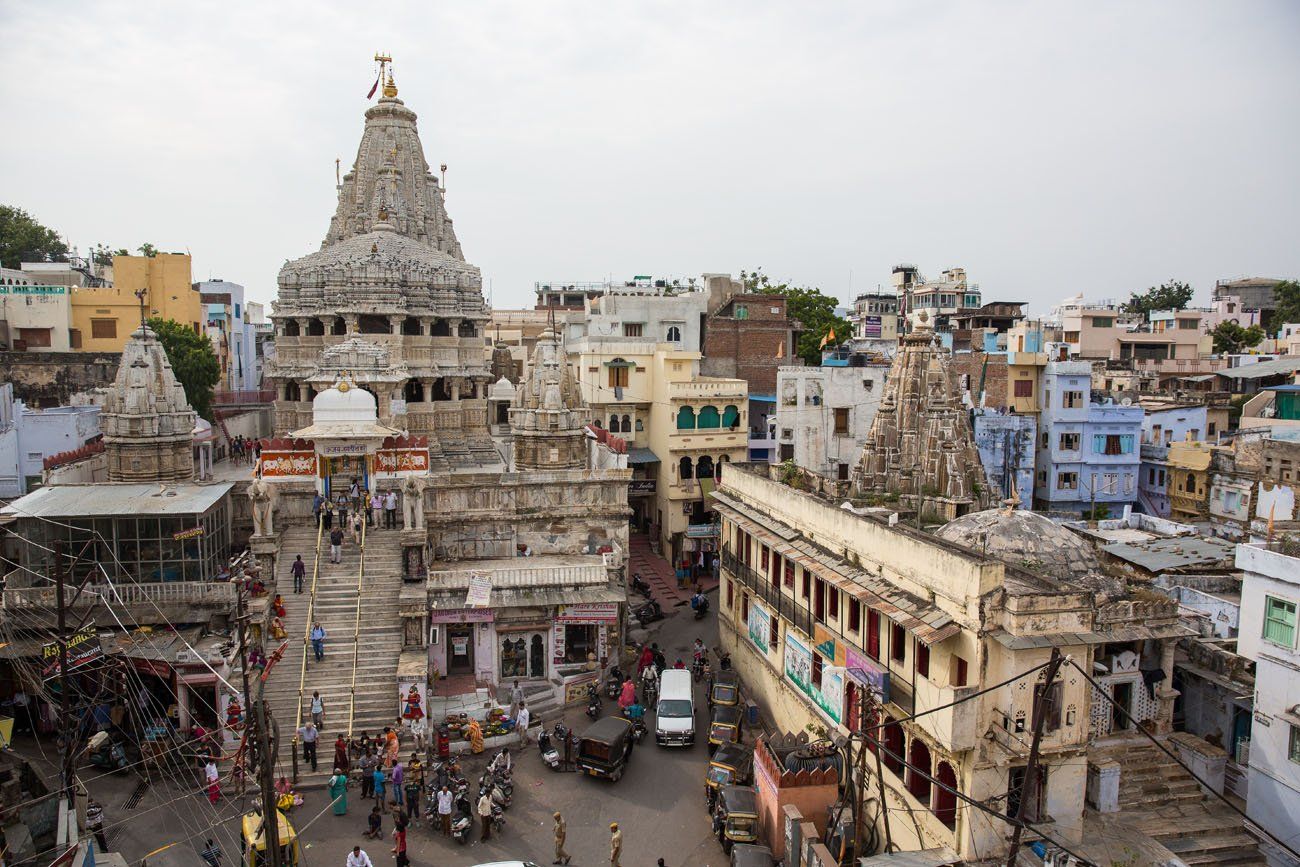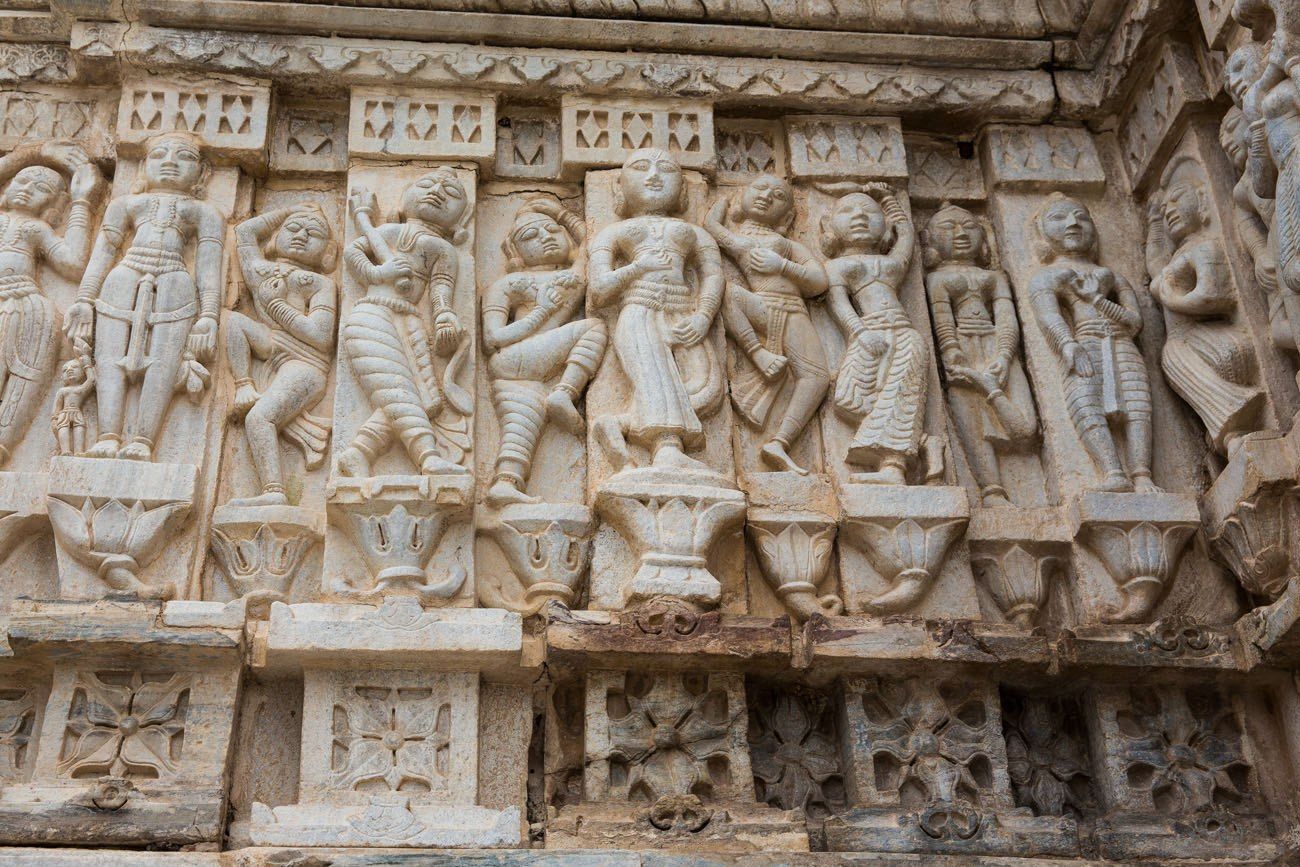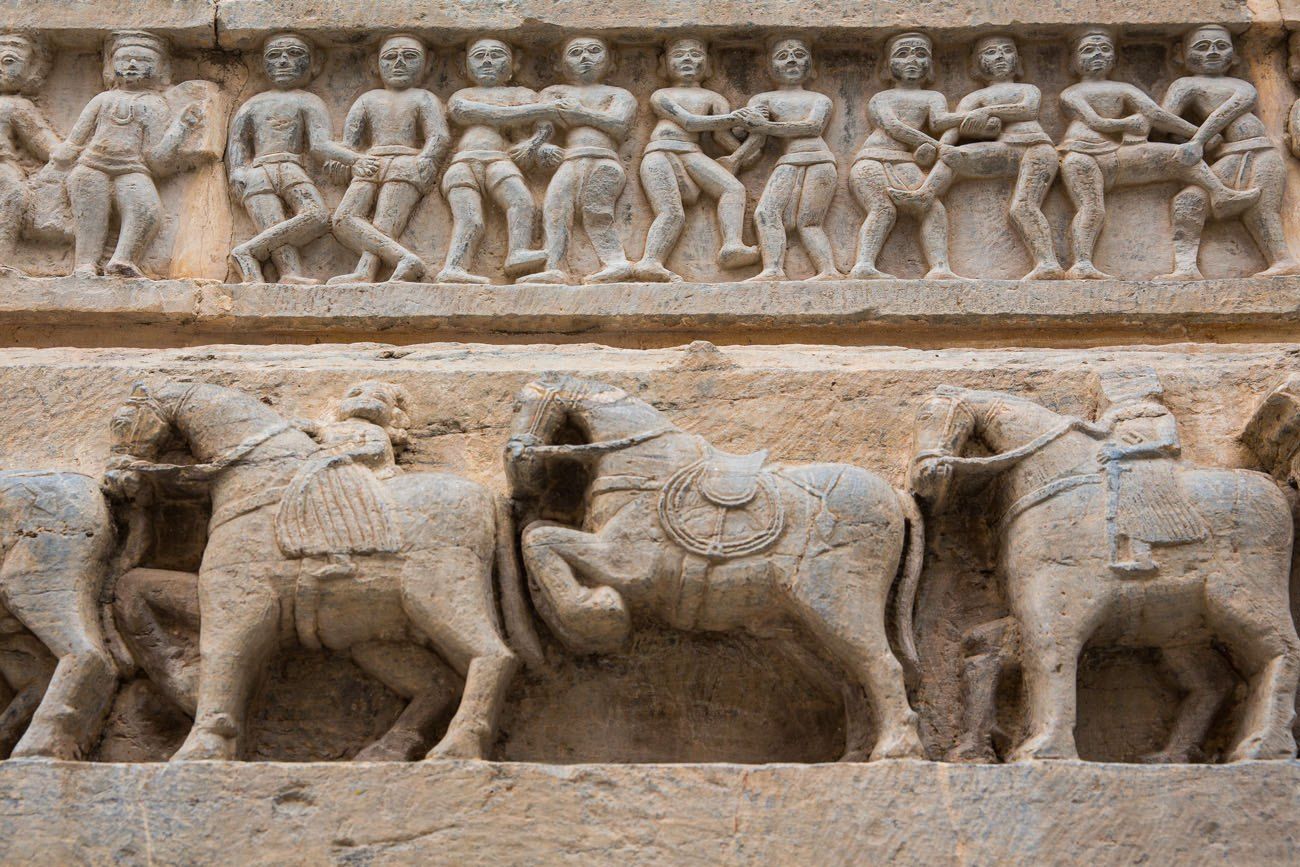 More Views of Udaipur
Walking through town we saw old faded street signs like this one.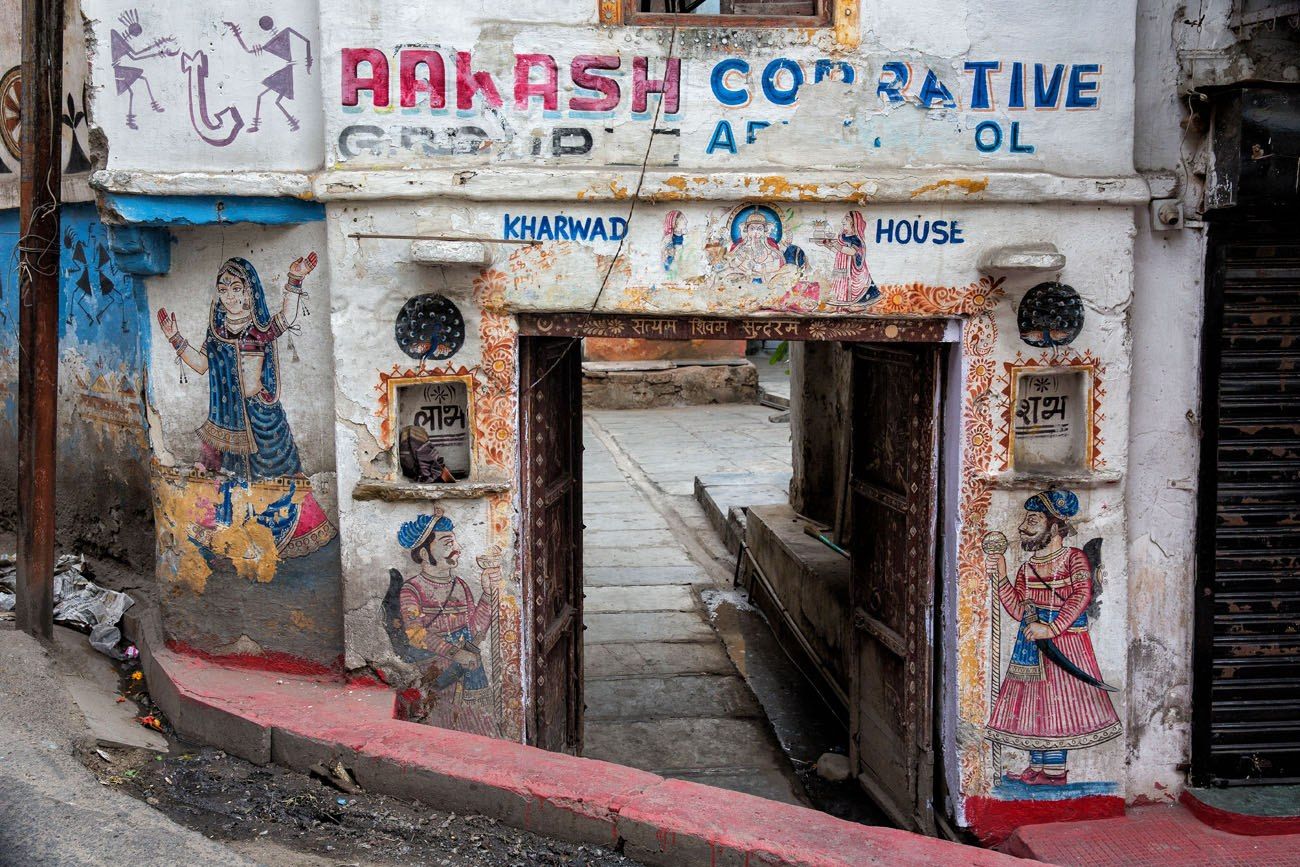 Nighttime in Udaipur was very pretty, particularly around Lake Pichola.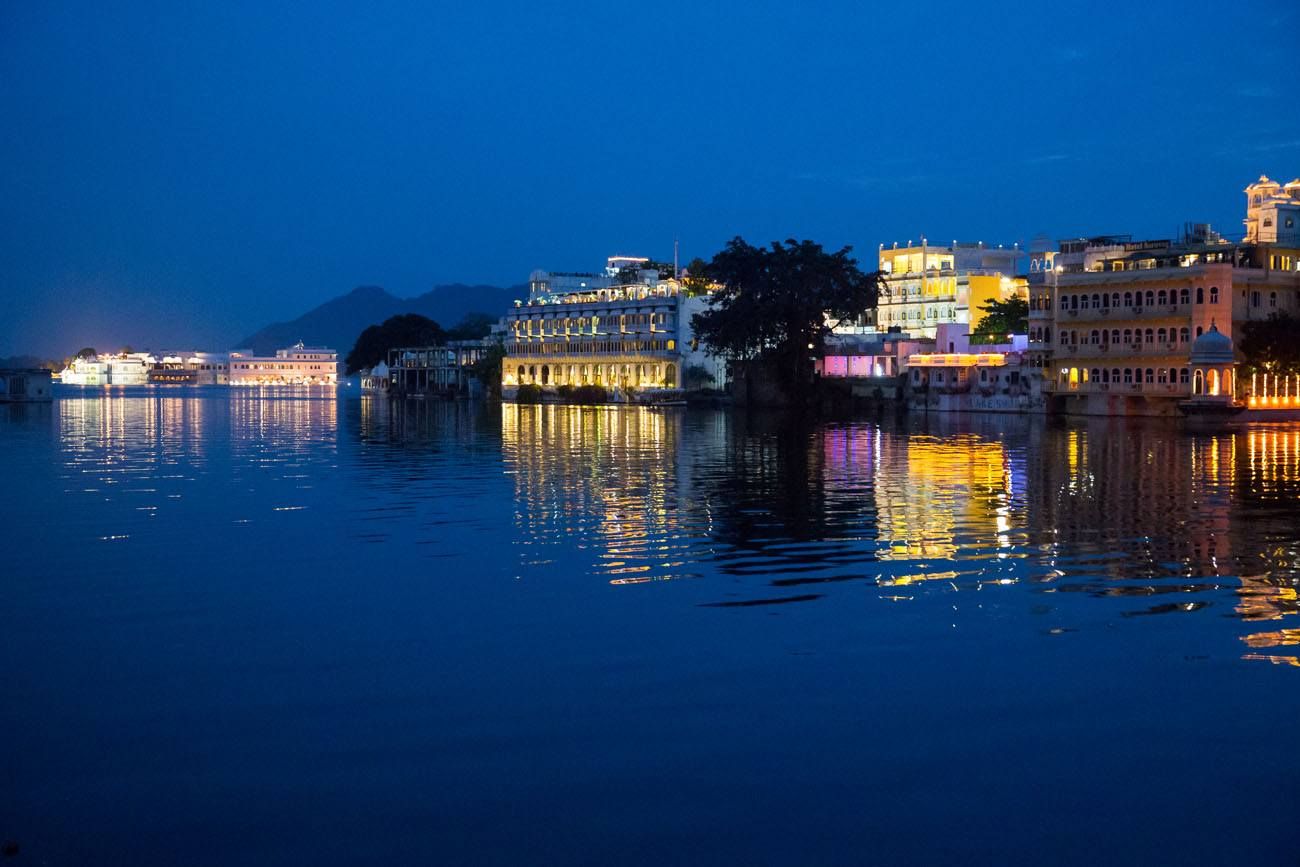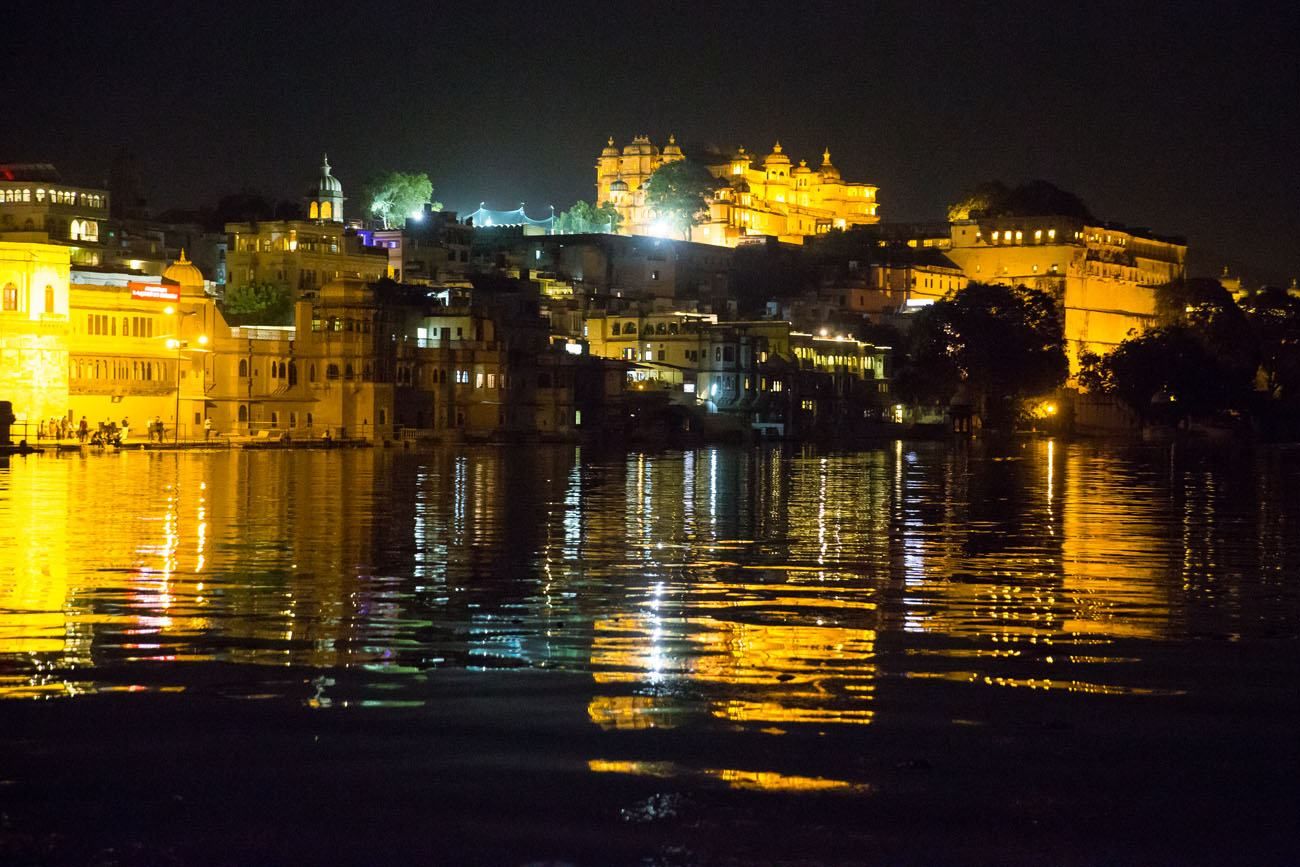 Udaipur was a nice, low key stop on our tour of India. I honestly had expectations that Udaipur would be nicer and cleaner than it was. As we continue to travel through India, I am learning that Indian standards of cleanliness are much different than other countries. We would really see this at our next stop, Jodhpur!
---
More Information about India
Are you planning a trip to India? Read all of our articles about India in our India Travel Guide.
You Might Also Like:
Note: This post contains affiliate links. When you make a purchase using one of these affiliate links, we get paid a small commission at no extra cost to you.
All rights reserved © Earth Trekkers. Republishing this article and/or any of its contents (text, photography, etc.), in whole or in part, is strictly prohibited.