Mont Ventoux is one of the most famous mountains in Europe. It is featured in many Tour de France races, appearing every several years as one of the great climbs of the race. The history and the drama that has unfolded on this mountain is legendary. For cyclists, both amateur and professional, Mont Ventoux is a climb that makes the bucket list.
We are no different. In 2009, Tim and I climbed Mont Ventoux. To say it was challenging would be an understatement. Even to this day, summiting Mont Ventoux on a bicycle is one of our fondest travel memories.
Here's how to do it.
Mont Ventoux
Mont Ventoux means "windy mountain" in French. It is also called the "Giant of Provence." Mont Ventoux is located at the point where Provence meets the Alps. From Avignon, from Chateauneuf-du-Pape, and from other towns sprinkled about Provence, Mont Ventoux looms over you. You can see it from everywhere.
There are three cycling routes to the top. The route from Bedoin is the classic route. Some people say that this is the hardest of the three and it is the route that is usually featured in Tour de France races. You can also climb Ventoux from Malaucene and Sault.
Our Experience
We chose to climb Mont Ventoux from Bedoin. If we were going to do it, we wanted to do it "the right way."
From the the town of Bedoin it is a 22 kilometer (almost 13 miles) climb to the top of Mont Ventoux. It averages an 8% incline over that distance with no chance for rest. This is a climb that even makes professional cyclists nervous. In our case, we were staring up at a mountain that would literally have us climbing on the bike for hours.
Tim and I stayed in Avignon, 40 km away from Bedoin, just a 40 minute drive in a car. After a "healthy" breakfast of one baguette and a Snickers bar each, we were on the road to Bedoin. It was a beautiful drive through the wine region of Provence.
Renting Bikes in Bedoin
We rented bikes from a shop called La Route du Ventoux. One month before our arrival, I reserved two bikes and submitted our measurements so our bikes could be properly sized for us. From the shop, Tim and I rented helmets and bought water bottles. We were ready to go!
Cycling Mont Ventoux

We started our ride at 9:30 am. It was warm and a bit overcast. The first three miles were relatively easy. It was a gentle climb through beautiful wine country with Mont Ventoux looming over us. Tim and I even stopped for photos. For awhile we rode amongst a peloton of cyclists. While passing, instead of saying "Good Morning" or "on your left" we would say "Bonjour!" How fun is that?
Eventually we made a left turn and the serious climbing began. After the third mile, the inclines get steeper and Tim and I were going a little faster than we should have been going. It was a rookie mistake, combined with the excitement of being on Ventoux. I actually had to pull over and take a break. That was the moment I was wondering if I would make it to the top. We still had nine miles to go!
Mile by mile we made our way to the top. Meanwhile, we kept seeing people whizzing by on their way back down, yelling "Allez! Allez!" to us.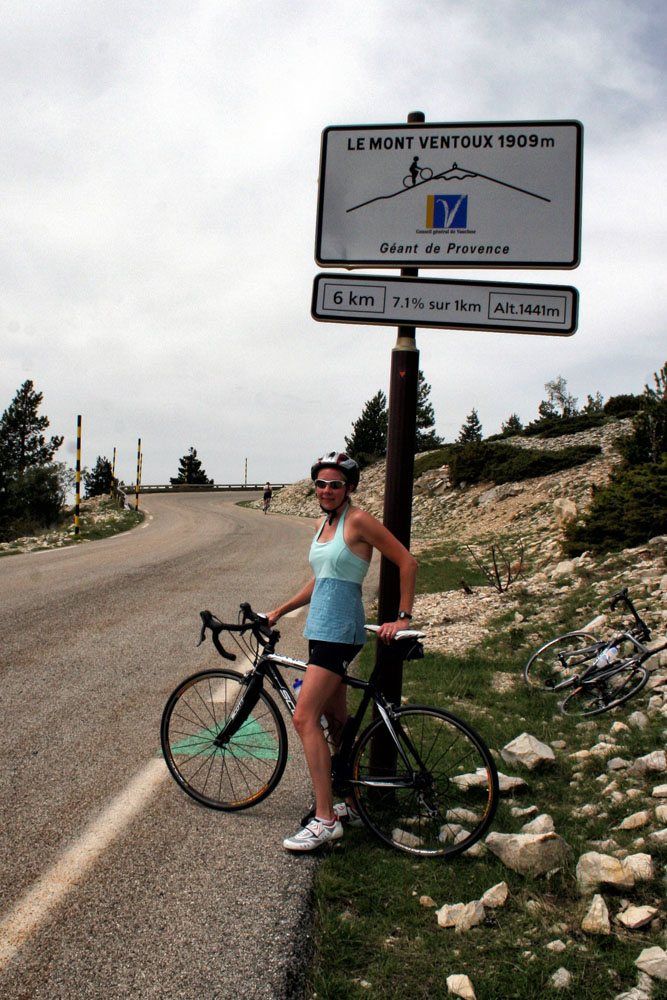 Final Push to the Top
We finally made it to Chateau Reynard (at 16 km into the climb), and from there we made the final turn to the top. This is also where the terrain changes dramatically. The lower two-thirds of Mont Ventoux are covered with pine forests, which suddenly transforms into an almost lunar landscape on the top third of the mountain. The ground consists of white rock devoid of vegetation. It was also getting windy and a lot steeper.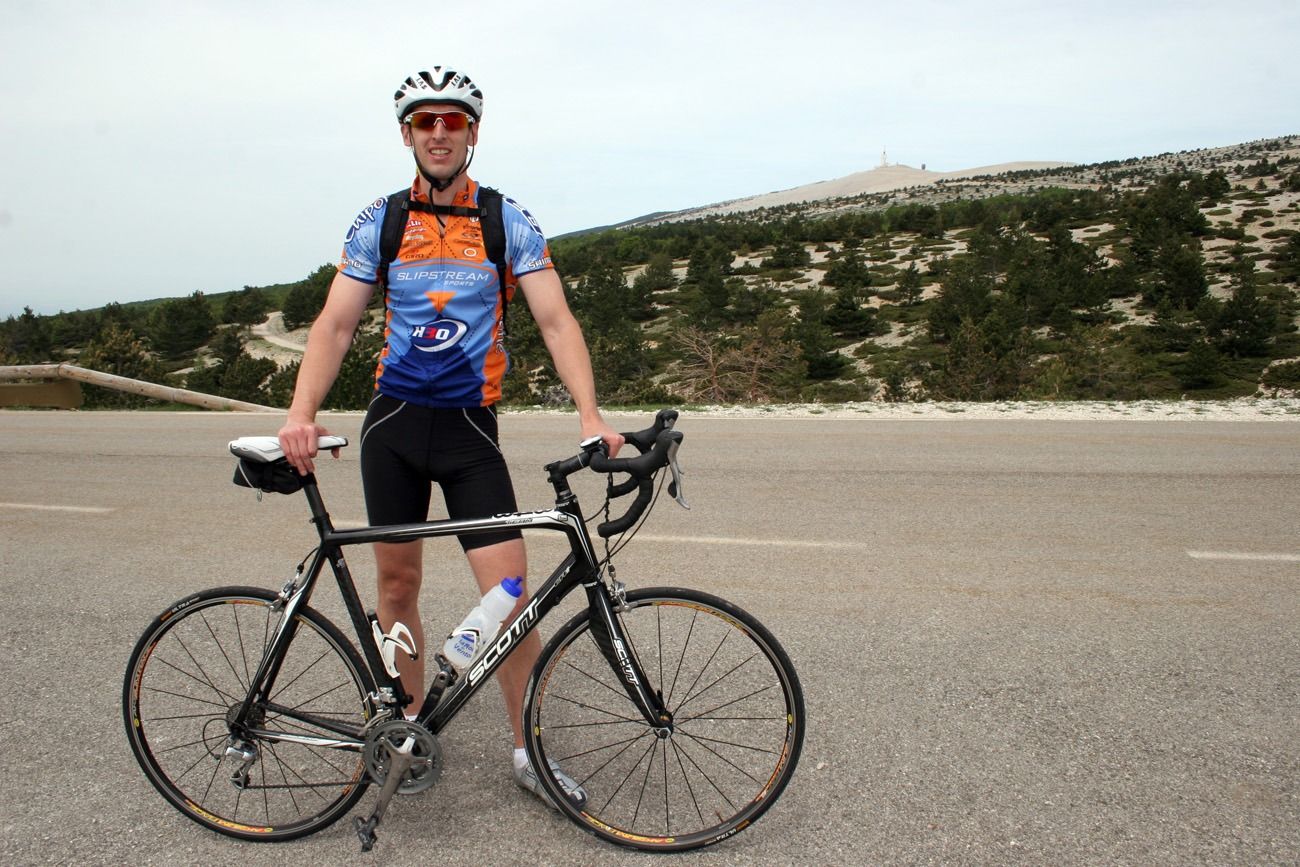 The last three miles were very challenging. It was steep and our legs were tired from the past nine miles of climbing. There were a lot more people here to pass and be passed by. It was mostly men attempting the climb; Tim and I saw very few women on the mountain.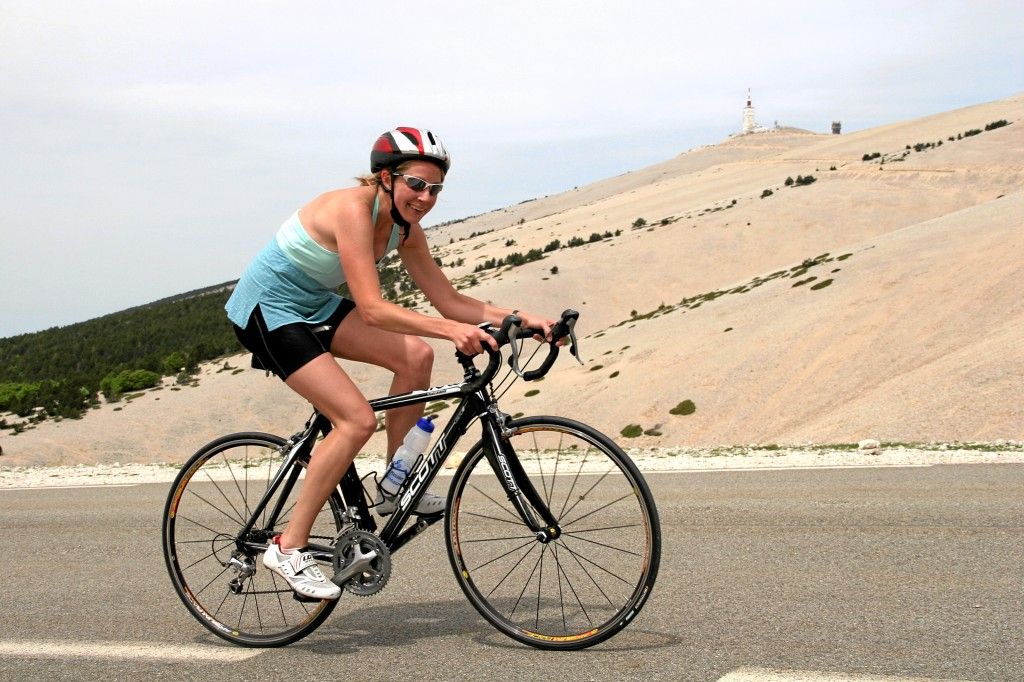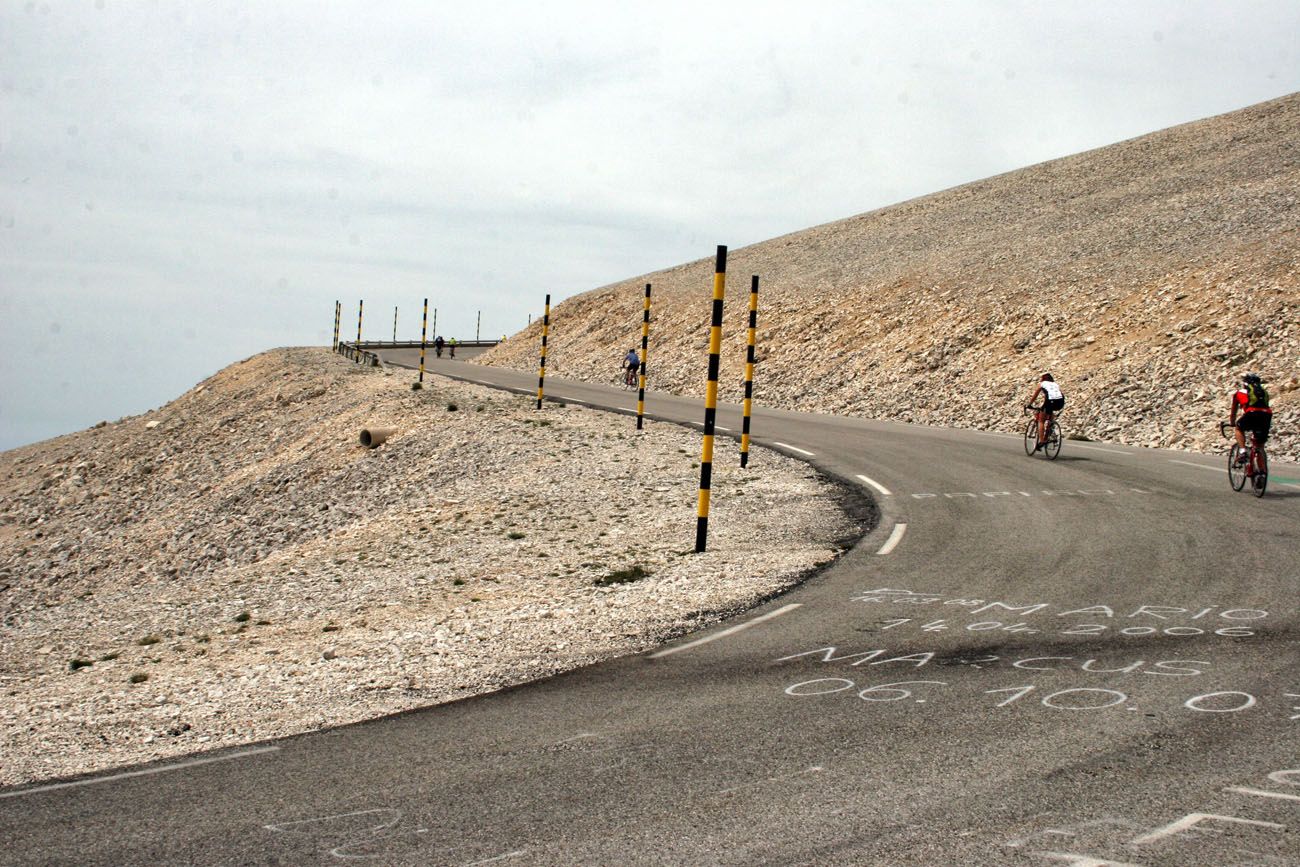 After two hours of climbing Tim and I made it to the top. We were thrilled (and starving), but we didn't stay long. It was so cold! It must have been fifty degrees or less. And the wind did not help.
Descending Mont Ventoux
Now came the fun part, the crazy descent back down the mountain. What took two hours to climb took barely fifteen minutes to descend. Descending was both exhilarating and terrifying. If we let go of the brakes we would have easily been cycling at 50+ mph, but with automobile traffic, bike traffic, and numerous hairpin turns, Tim and I erred on the side of caution. We just hoped our brakes wouldn't burn up.
As we flew past cyclists making the climb, I was thrilled not to be in their position anymore. Tim and I safely made it to Bedoin, returned our bikes, and our French cycling adventure was over. What an amazing experience! It was extremely difficult but also very rewarding. Cycling to the top of Mont Ventoux is an achievement to be proud of.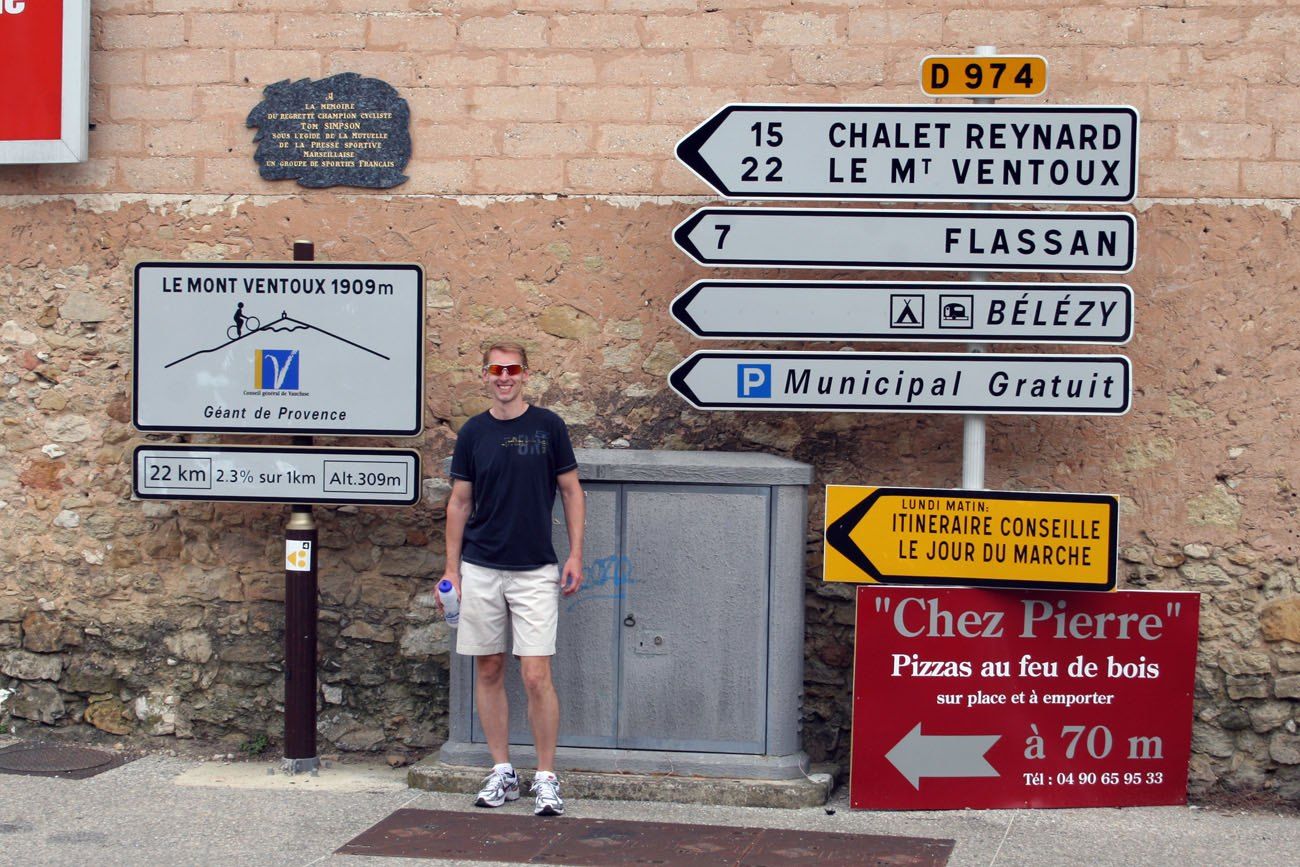 More Information about Cycling Mont Ventoux
The Three Routes to the Top
The Bedoin route is the classic way to get to the top. There are 1600 meters of climbing with an average gradient of 7.5%. The fastest time to the top is 55 minutes, by Iban Mayo! Most recreational cyclists make the climb in 1.5 hours to 2.5 hours.
The Malaucene Route is almost as challenging as the Bedoin Route. It involves the same amount of climbing to get to the top. From this route you have better views to the Alps to the north, if you can manage to take your eyes off of the road.
The Sault Route is the easiest of the three. It's the longest route which lowers the average gradient. Still, it's not an easy climb. This route starts in Sault and then joins the Bedoin route at Chateau Renard.
For an excellent explanation of the three routes with elevation charts, visit the Velo Ventoux website.
If you are totally insane…
If you are totally crazy, you can climb all three routes in one day. This involves 4300 meters of climbing over 72 km. If you are successful, you get to join Club des Cingles de Ventoux (the Maniacs of Ventoux club).
---
More Information for Your Trip to France
PARIS: For the top experiences in the city, read our article Best Things to Do in Paris. Learn how to visit Pere LeChaise Cemetery, plan your time with our 3 Day Paris Itinerary, learn where to get the best views of Paris, and read our Paris Food Guide for information on what to eat in Paris.
CHAMONIX: Riding the cable car to Aiguille du Midi is one of the best things to do in Chamonix. Also, learn how to hike to Lac Blanc and the Argentiere Glacier, two of the best hikes in Chamonix.
ALSACE WINE REGION: Learn how to plan your visit in our 3 Day Alsace Wine Region itinerary. We also have guides to the towns on the Alsace Wine Route and how to spend one perfect day in Colmar.
FRENCH RIVIERA: Plan your visit to the French Riviera and Provence in our 10 Day French Riviera Itinerary. We also have information on driving the Monaco Grand Prix Course, visiting Vence, the Cannes Film Festival, and touring the Provencal wine region.
All rights reserved © Earth Trekkers. Republishing this article and/or any of its contents (text, photography, etc.), in whole or in part, is strictly prohibited.