The list of must-see sights in Edinburgh is long. Every visitor knows to visit the Edinburgh Castle, walk the Royal Mile, eat haggis, climb Arthur's Seat, and go whisky tasting. But there are sights off the main tourist trail that are so worth your time. One of these underrated but incredibly scenic spots is Dean Village.
Even after reading about Dean Village and looking at photos of it online, I still wondered if it was worth our time. A quaint village…simply a small, quiet, residential area in Edinburgh…should we really go out of our way to visit this place?
To add to our conundrum, it was raining in Edinburgh…proper Scottish weather, I suppose, but still not the best of weather conditions to go on a wee stroll through town.
Well, Tim convinced me to go, and I am so glad we did. Once you see these photos, you just may put Dean Village on your list of things to do, also.
Photo Tour of Dean Village
A taxi dropped us off at the intersection of Dean Path and Damside. Fortunately, the rain stopped, but the cobblestoned roads were still very slippery. Our first view of Dean Village was from the bridge crossing the Water of Leith, a small waterway that snakes its way through Edinburgh.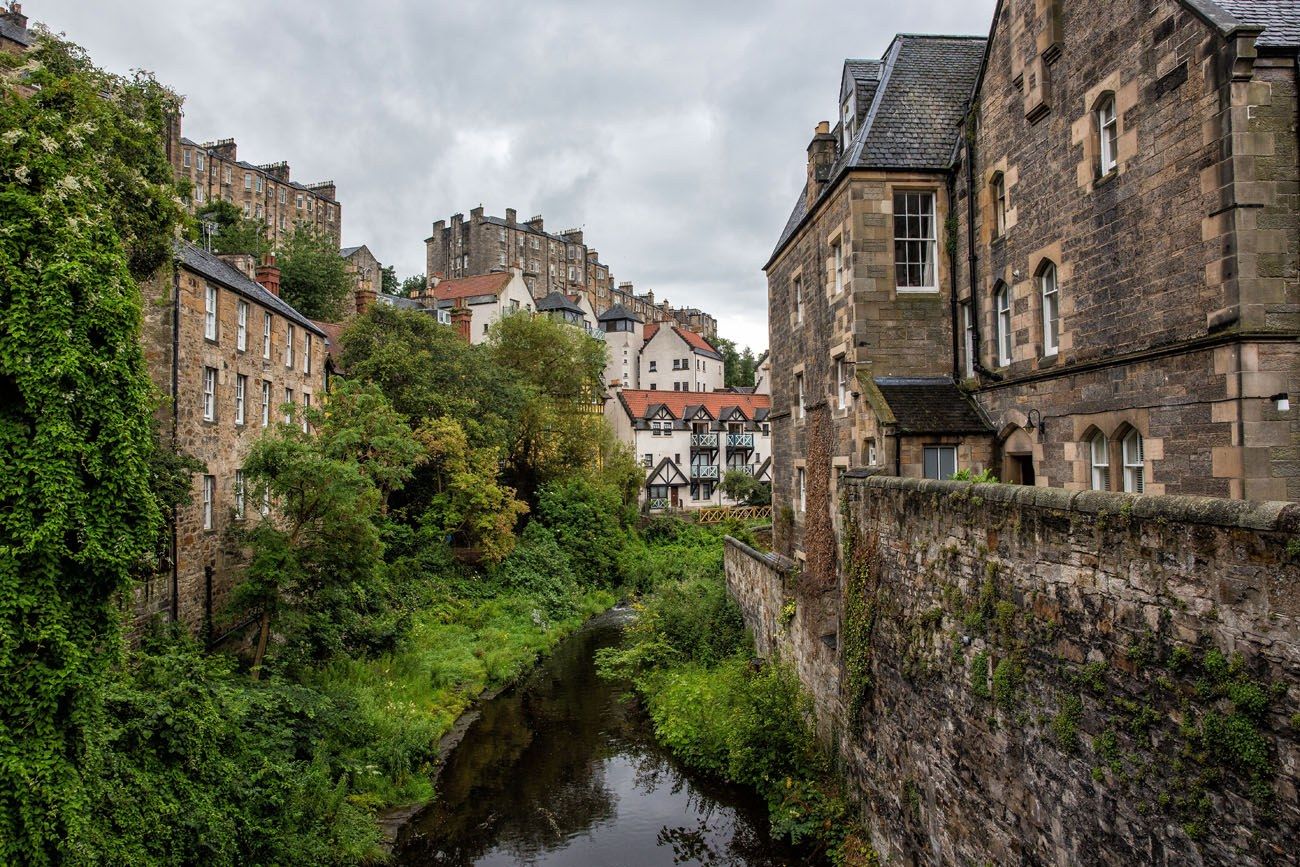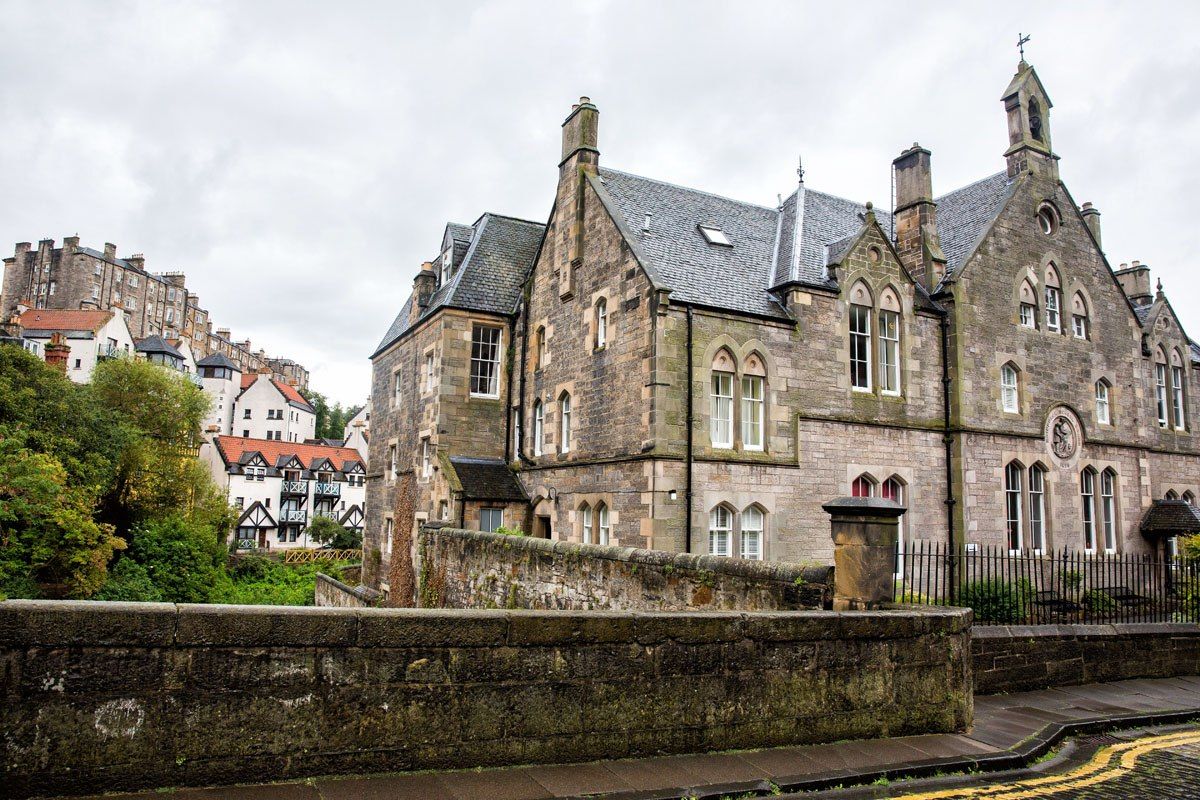 The best views are just a short walk from here. Walk down Hawthornbank Lane, a narrow, cobblestone road that heads downhill along the Water of Leith. Enjoy the views of the small houses that line the street and the views over the river.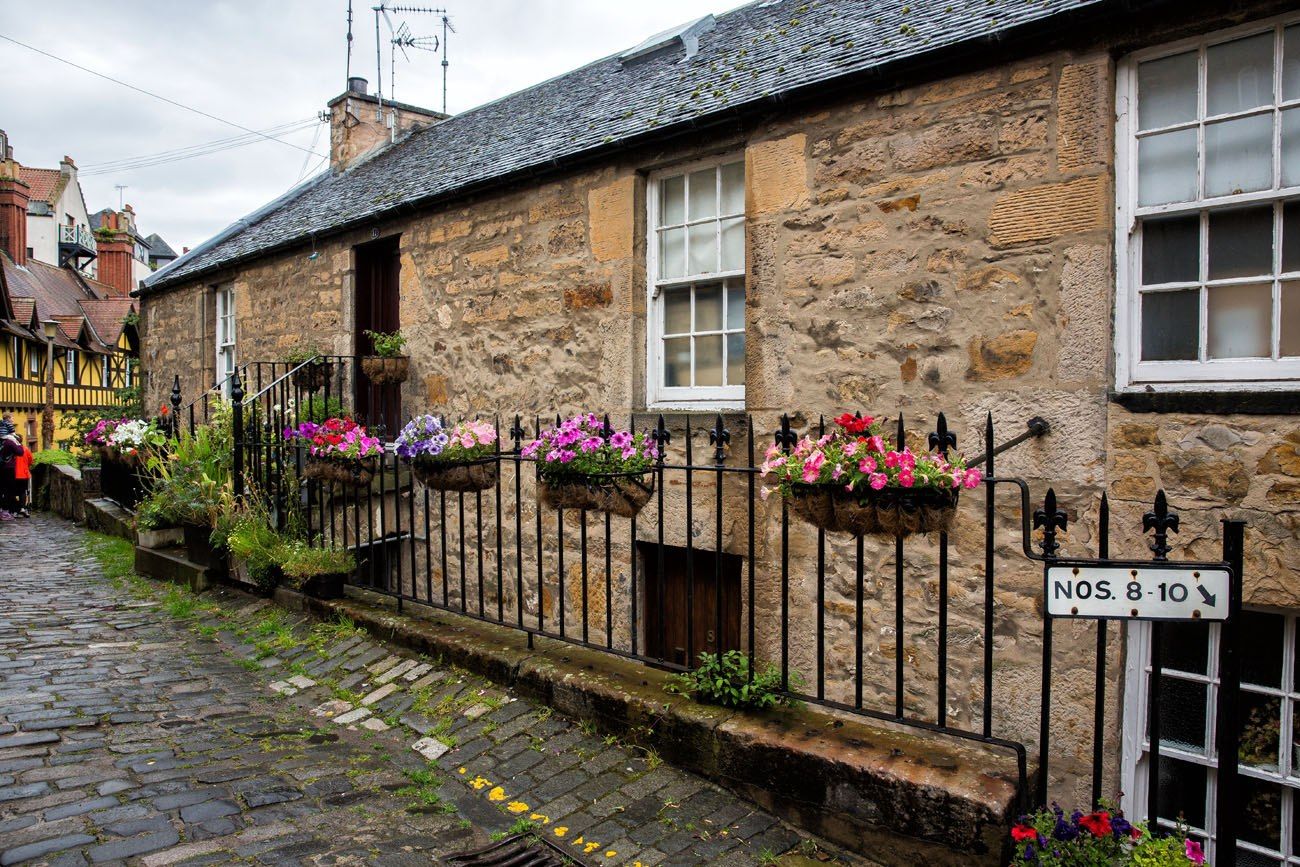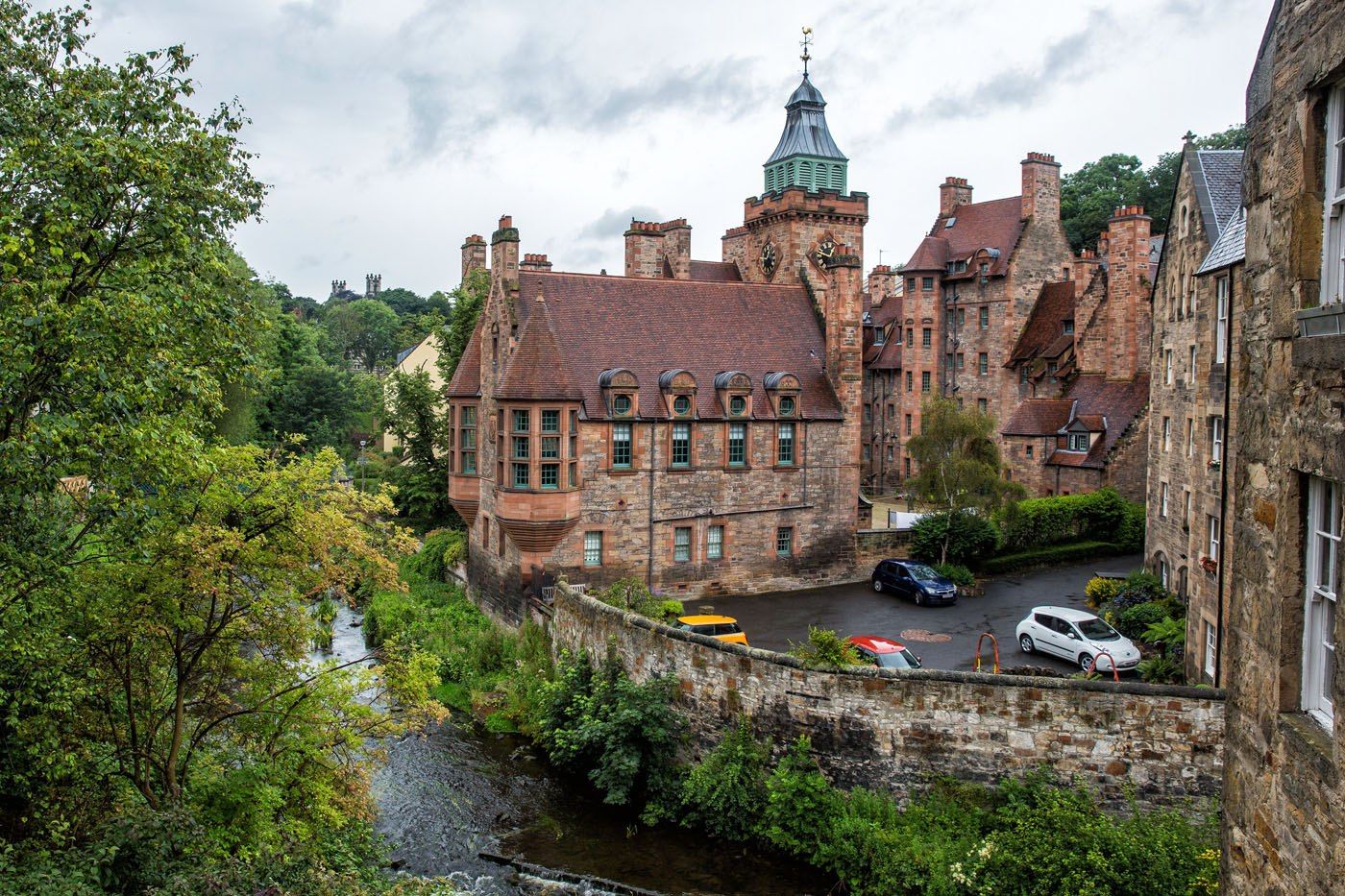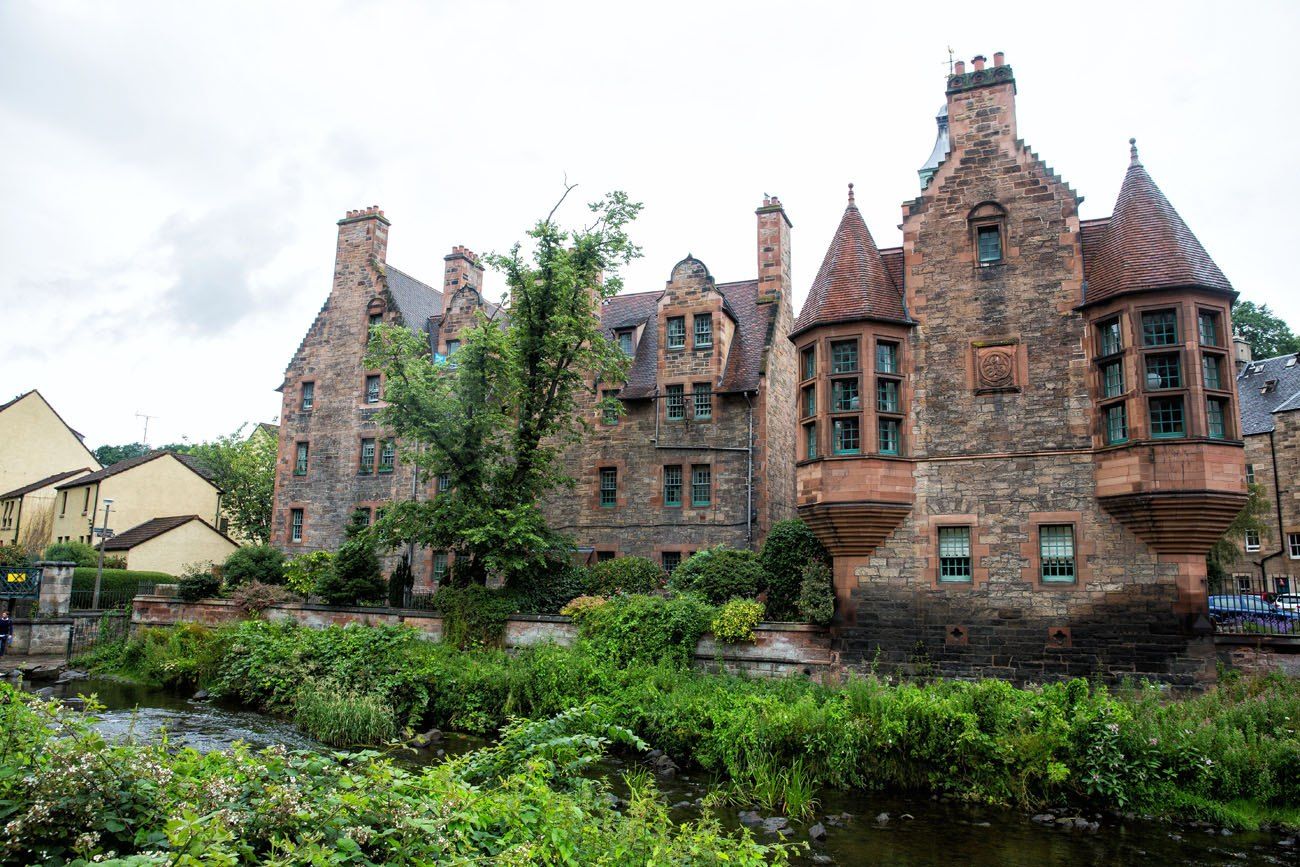 Tyler and Kara were having such a good time they didn't even mind posing for this photo. I love this one! Hardly ever do they pose for the camera like this!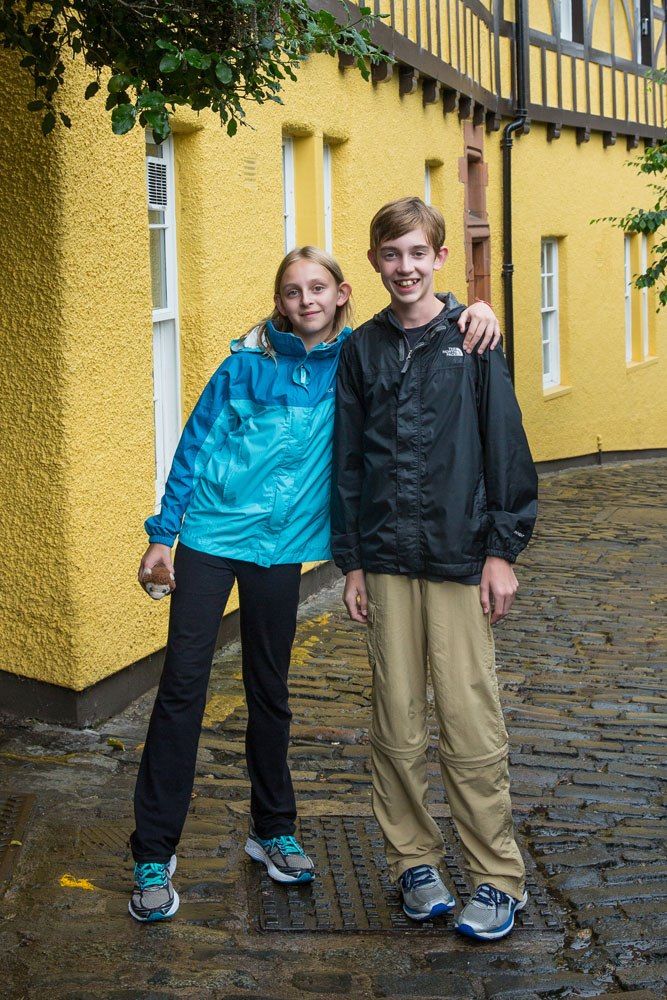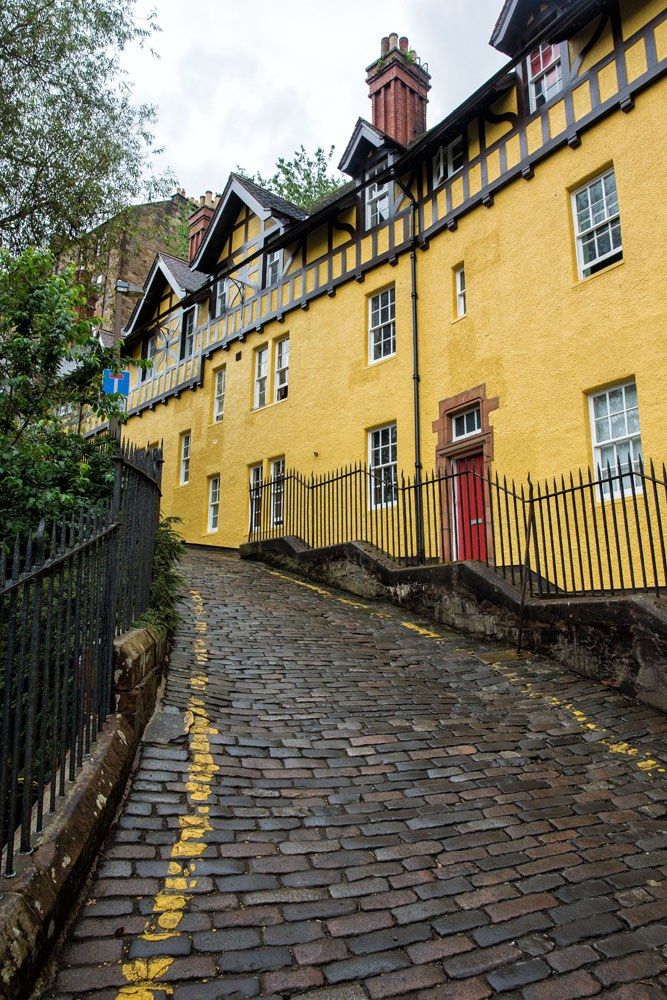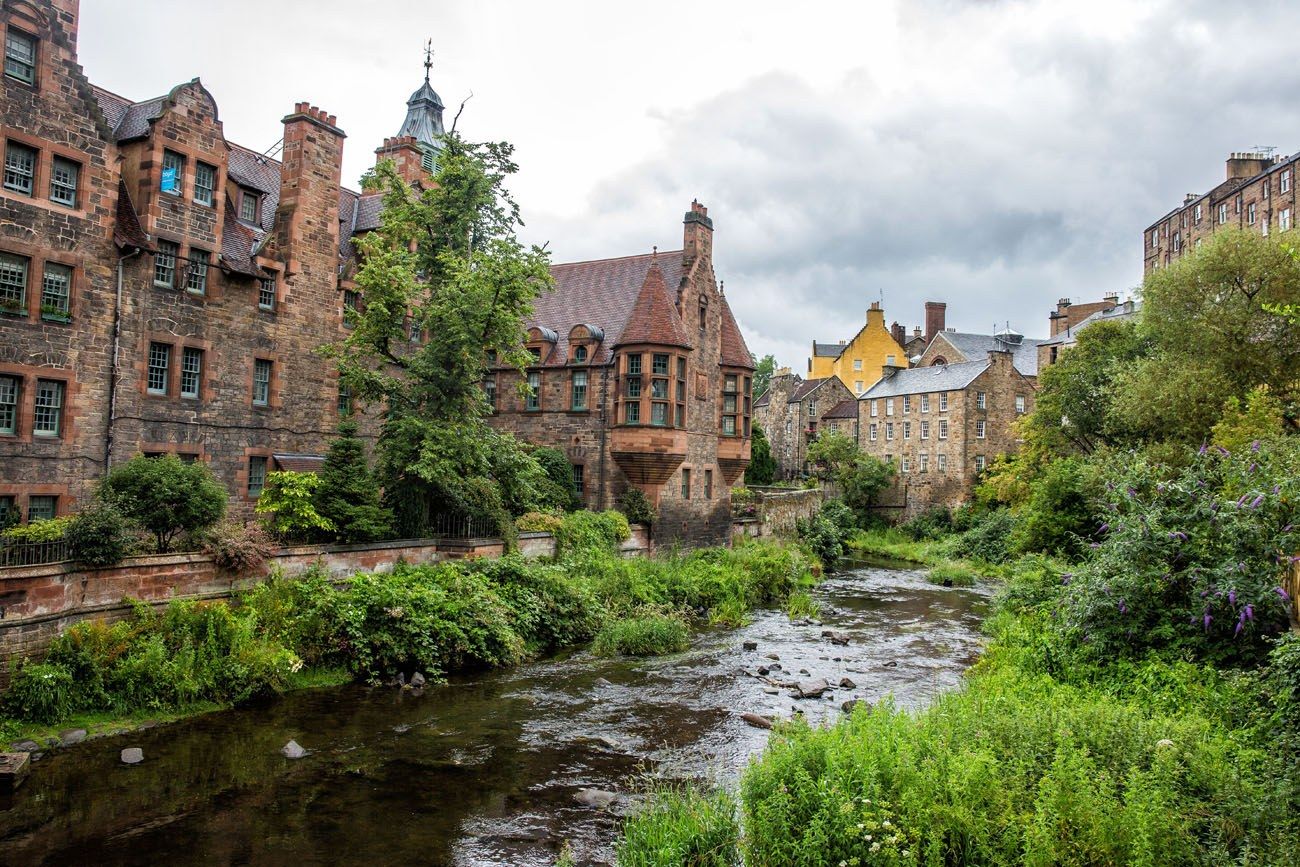 The best views are at the bottom of Hawthornbank Lane. If you don't mind climbing down to the edge of the river, you can have this view.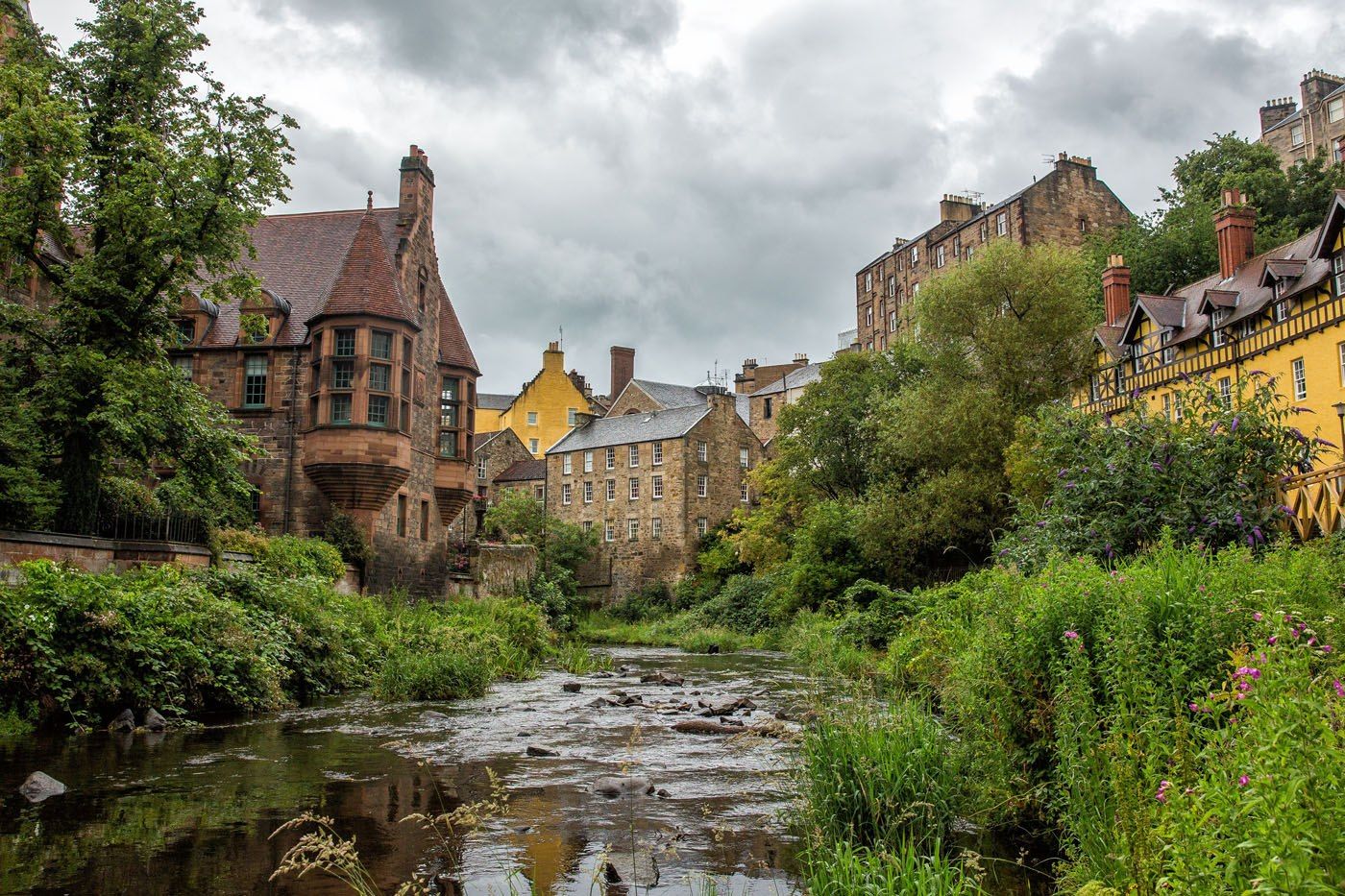 For those who do not want to go off-road, cross to the center of the metal bridge for this view.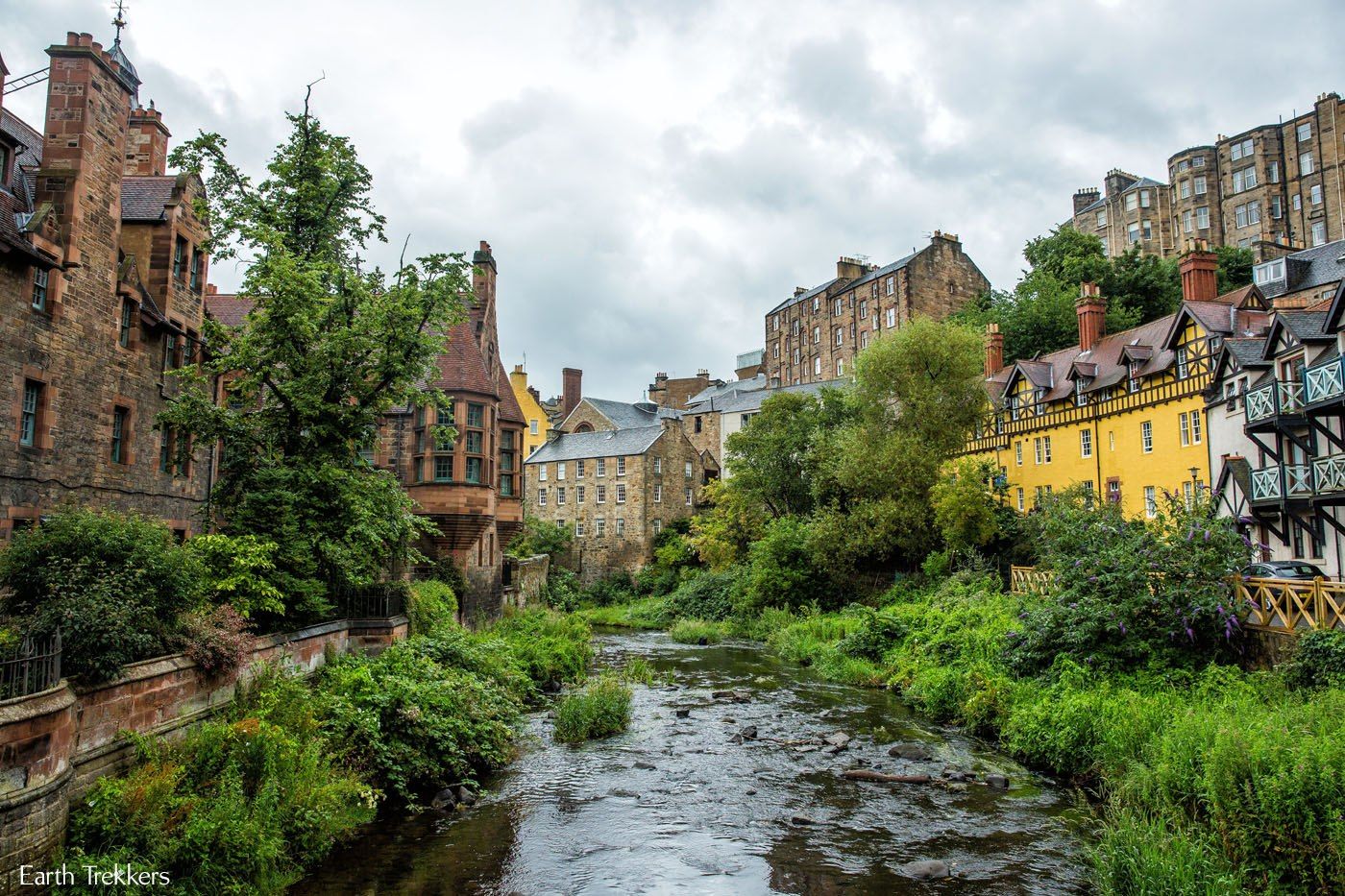 And from the other side of the bridge, the views keep changing.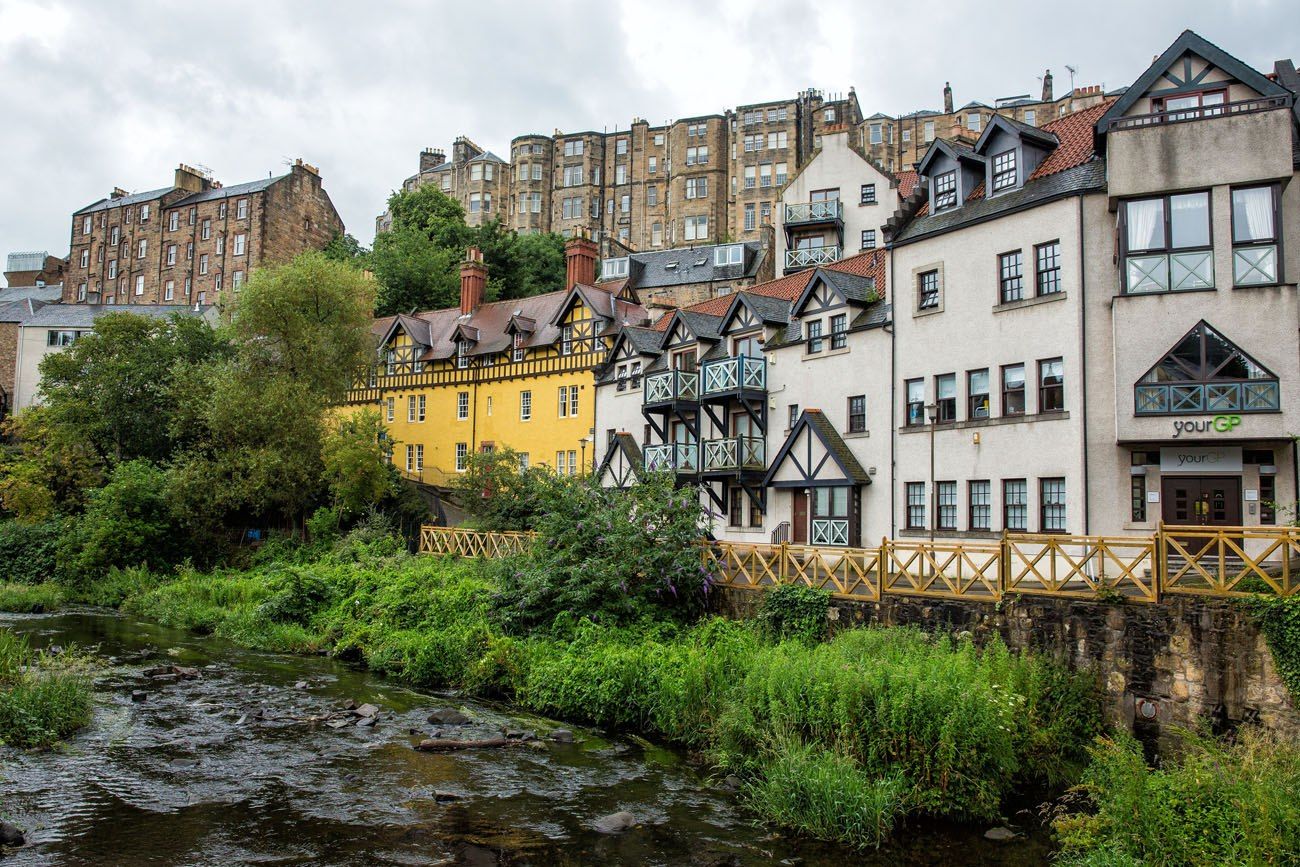 Once on the other side of the river, walk up Damside, back towards your starting point. If you want, you can check out the courtyard to your right.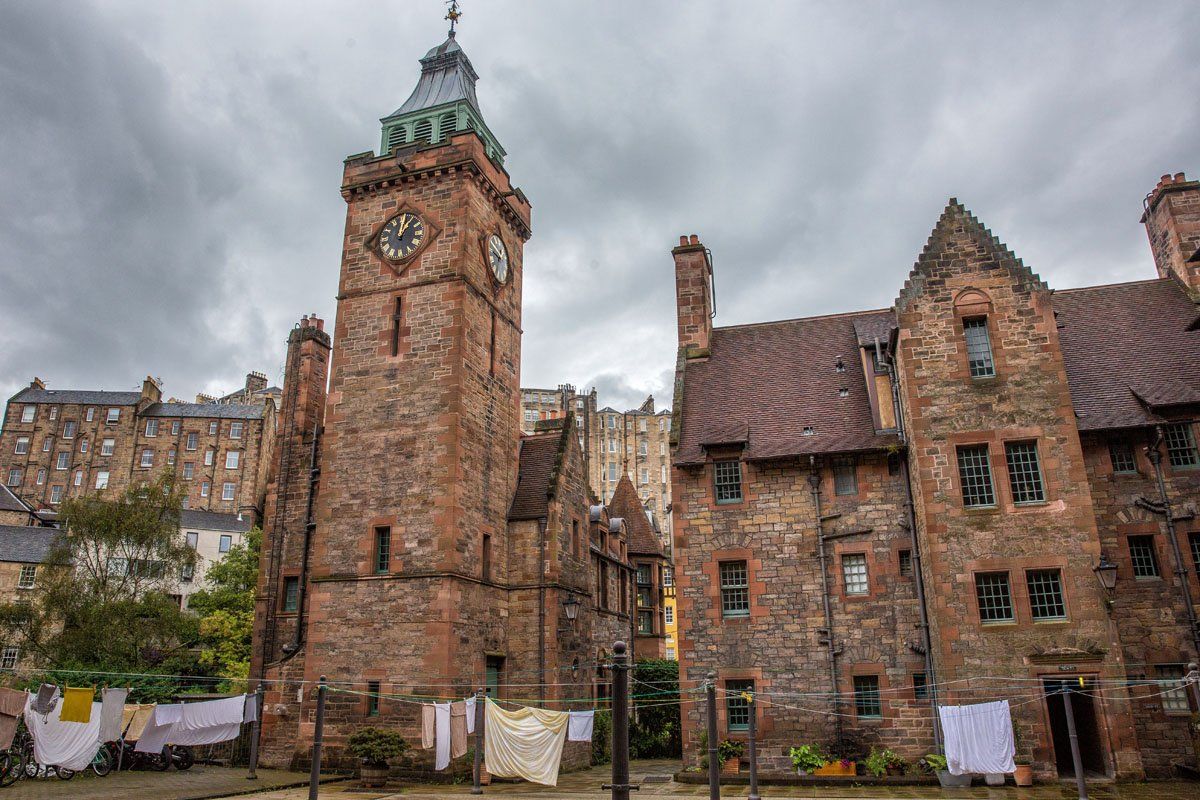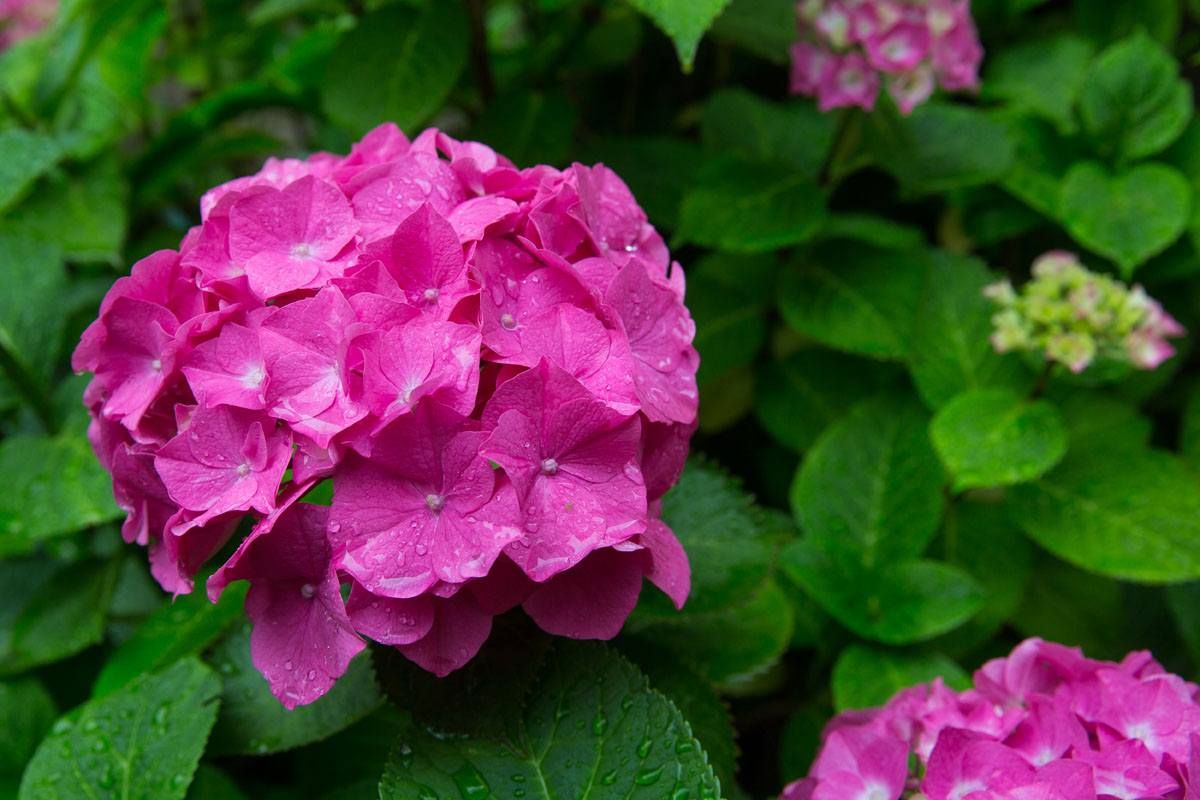 Things to Know About Dean Village
Dean Village is located near the Stockbridge neighborhood of Edinburgh. To get here, we took a 10 minute taxi ride from the National Museum of Scotland. A visit here lasts about an hour, giving you plenty of time to leisurely stroll through the village.
You can also get here on by using the Edinburgh Bus Tours hop-on hop-off bus. They offer three routes through the city and the "Edinburgh Tour" has a stop at Charlotte Square (stop #12) that is near Dean Village. From Charlotte Square, it is a half-mile walk and takes about 10 minutes to get to Dean Village. Thanks for the tip, Barbara!
Keep in mind that this is a residential area when visiting. Respect the peace and quiet of those who live here.
There are no restaurants or bathroom facilities in Dean Village. Also, once here, do not expect taxis to show up without being arranged ahead of time. From Dean Village, you will have to walk uphill on Bells Brae to a much more populated area of town. It is here that you can hail a taxi or grab a bite to eat.
For those interested, you can walk along the Water of Leith through Edinburgh. The entire trail spans approximately 18 miles, quite the distance! For more information on this walk, visit The Walkway website.
---
So, what do you think? Does a visit to Dean Village look like it is worth it?
More Information about Scotland
You Might Also Like: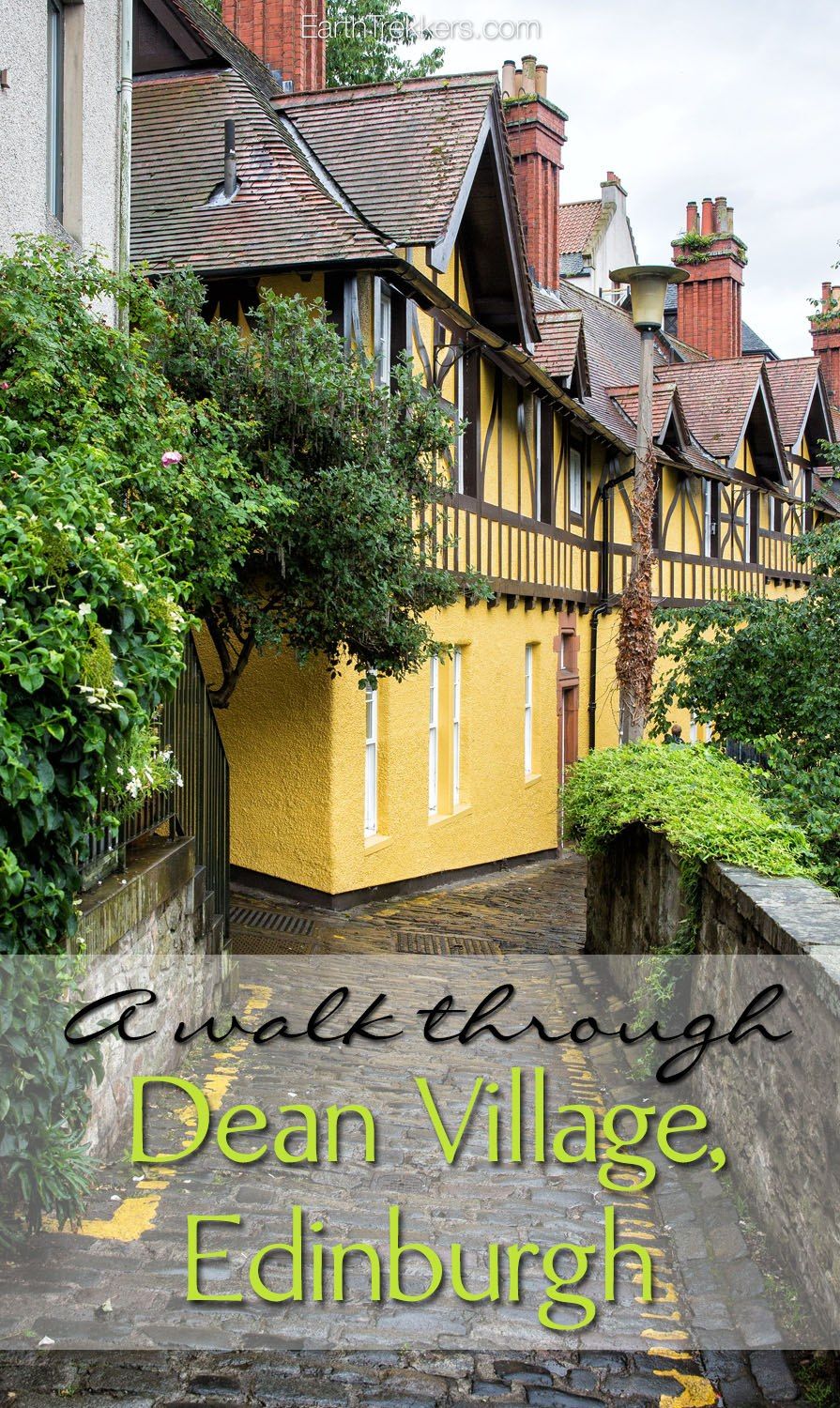 All rights reserved © Earth Trekkers. Republishing this article and/or any of its contents (text, photography, etc.), in whole or in part, is strictly prohibited.