Marmolada, also called the Queen of the Dolomites, is the tallest mountain in the Dolomites. A series of cable cars zips you to the top, where you can enjoy panoramic views of the Dolomites. In this guide, we cover how to visit Marmolada, the best things to do while you are here, and whether or not Marmolada is worth it.
Where is Marmolada?
Marmolada is located in the Dolomites, straddling the border between the Italian regions of Veneto and Trentino-Alto Adige.
This mountain is so tall (3,343 meters/10,968 feet) that on a clear day, it can be seen from Venice.
Most people visit Marmolada when touring the Italian Dolomites. The easiest way to get here is by car since public transportation is limited. Here are the driving distances and times from nearby destinations:
Selva di Val Gardena:

40 km, 1 hour

Cortina d'Ampezzo:

40 km, 1 hour

Selva di Cadore:

15 km, 20 minutes
Venice: 195 km, 3 hours and 15 minutes
Marmolada Cable Car Route
In order to get to the top of Marmolada, you will ride a series of three cable cars to the top. Here is a description of the route and what you can do and see along the way.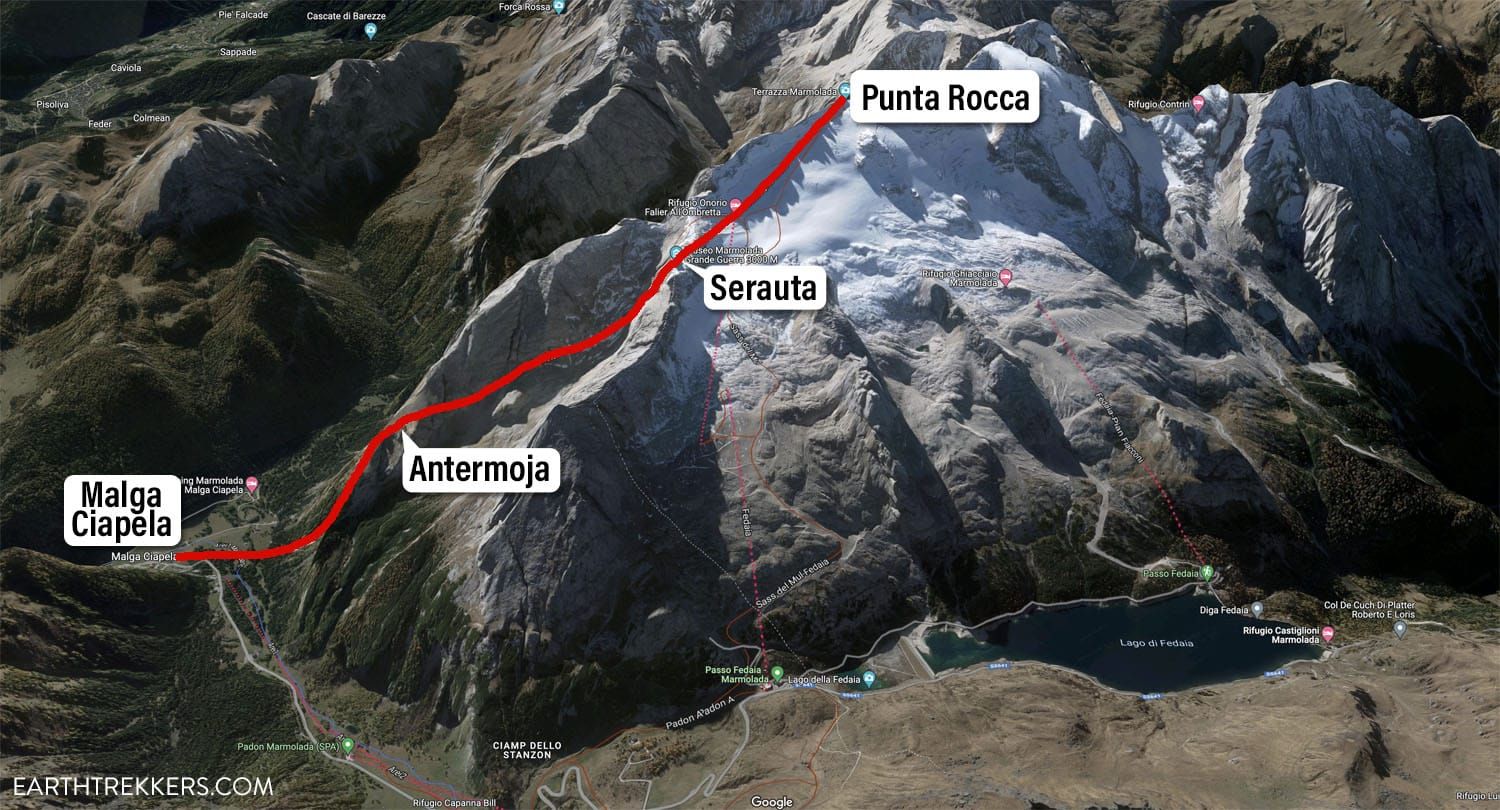 Marmolada Map: cable car route
Malga Ciapèla (1,450 meters) to Antermoja (2,350 meters)
The bottom station is called Malga Ciapèla. There is a large parking lot here as well as a restaurant. You can either purchase your tickets in advance or purchase them at the bottom station. We did this on a busy July day in 2022 and did not have to wait in line at the ticket booth.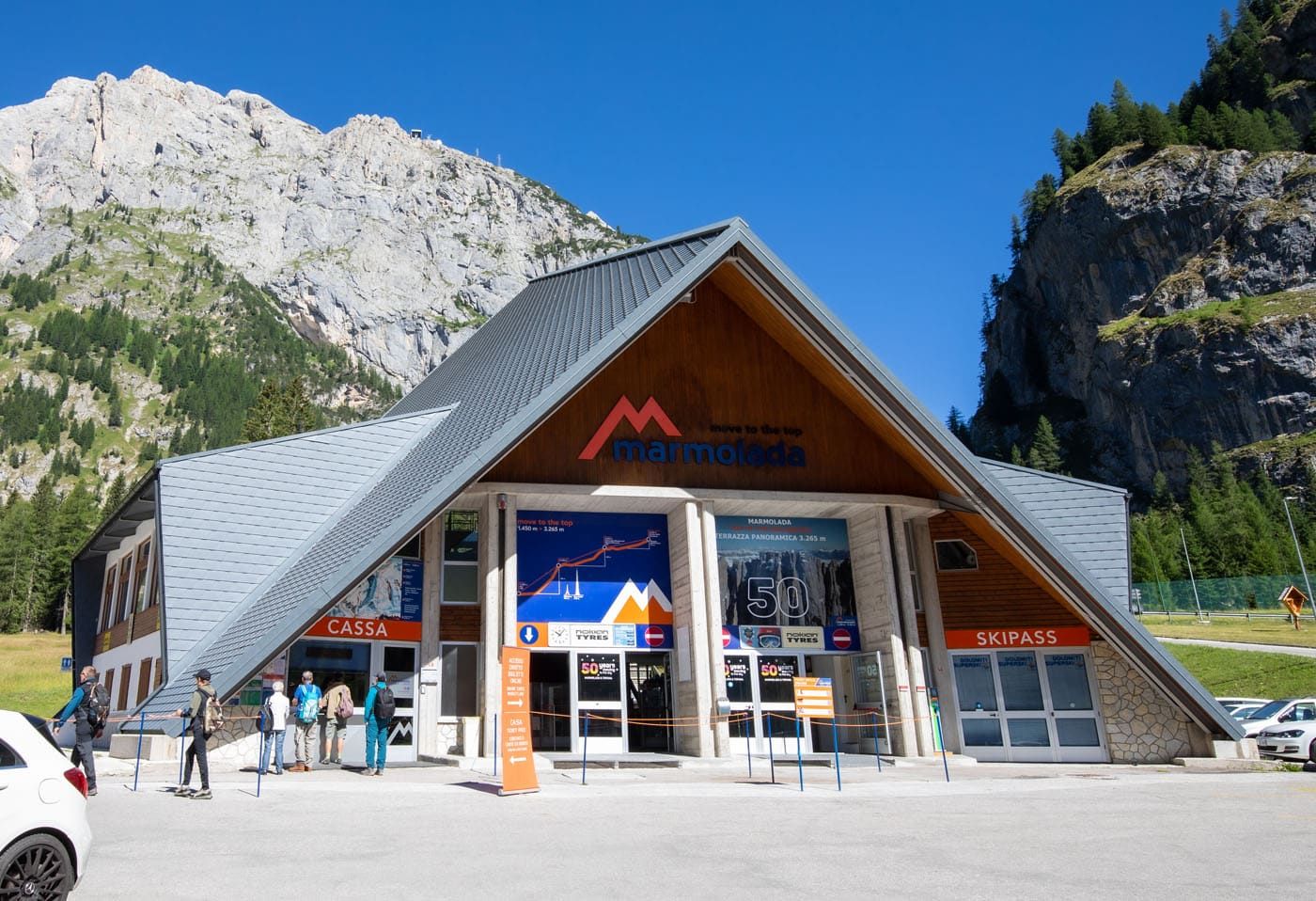 Marmolada bottom station
From Malga Ciapèla, you will ride a cable car to Antermoja. Antermoja is a transfer station, so from here, you will board the cable car to the next station (there is nothing to do here…no restrooms and no viewpoints).
Antermoja (2,350 meters) to Serauta (2,950 meters)
From Antermoja, ride the second cable car to Serauta.
Things to Do at Serauta
Photo Op by the Heart Sculpture
Walk outside for views from this point on Marmolada. Not far from the station is a heart sculpture which makes a nice photo spot on the mountain.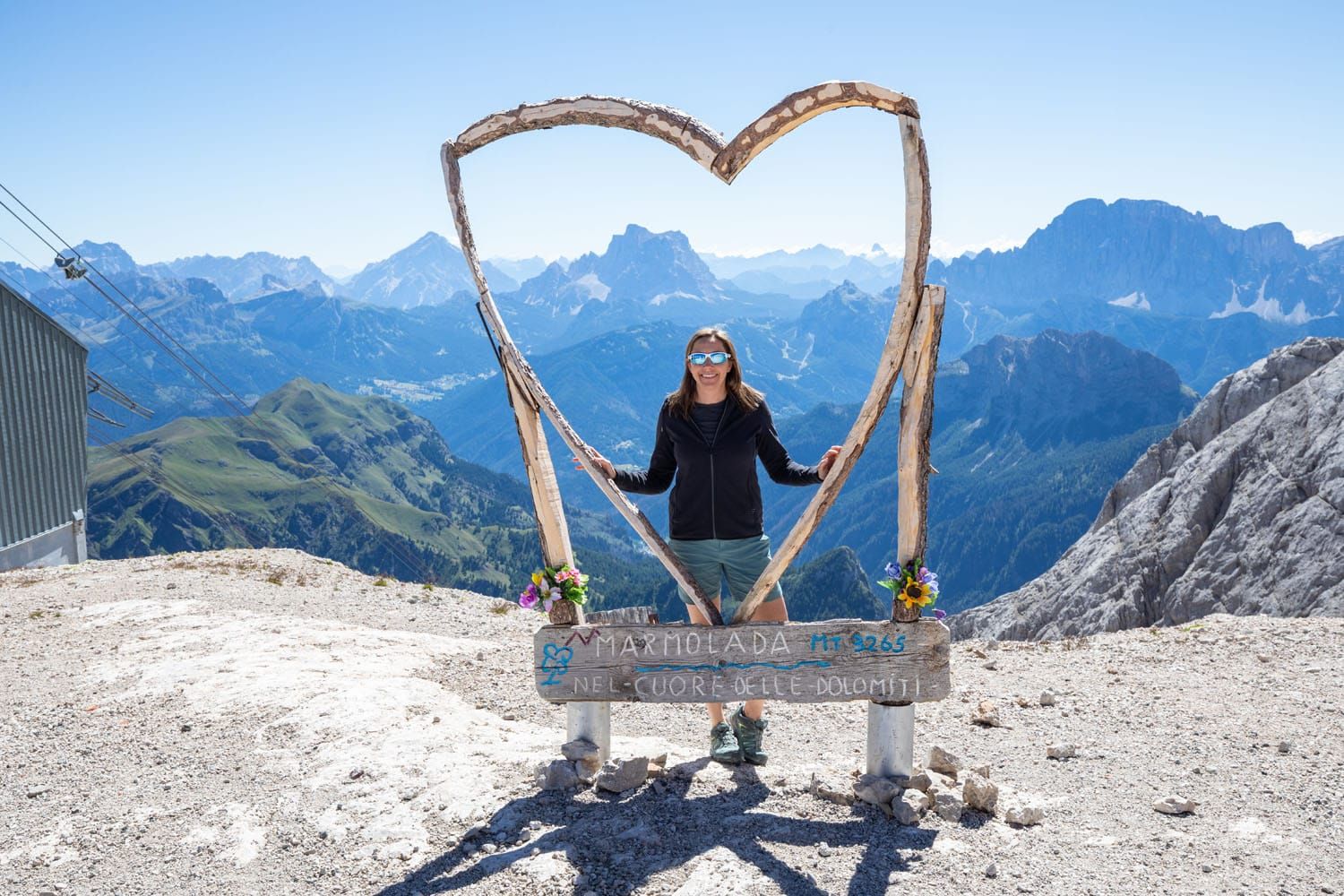 Outdoor Viewing Terrace
From the large viewing terrace, you get a great view looking north across the Dolomites. It's not quite as impressive as the view you get from Punta Rocca, since you are not as high, but from here, you can see the Marmolada Glacier and the Punta Rocca station.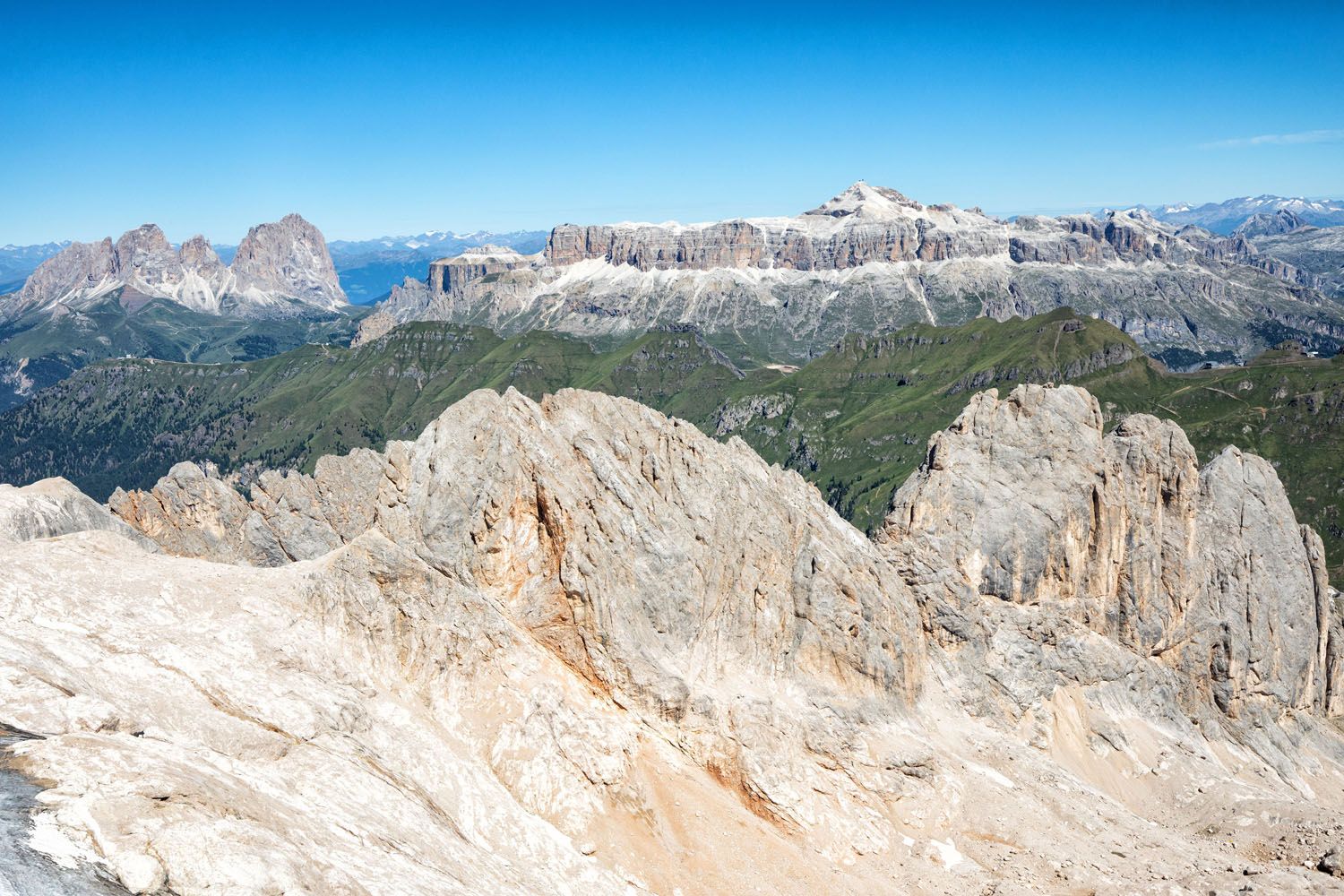 The view of Sassolungo and the Sella Group from Serauta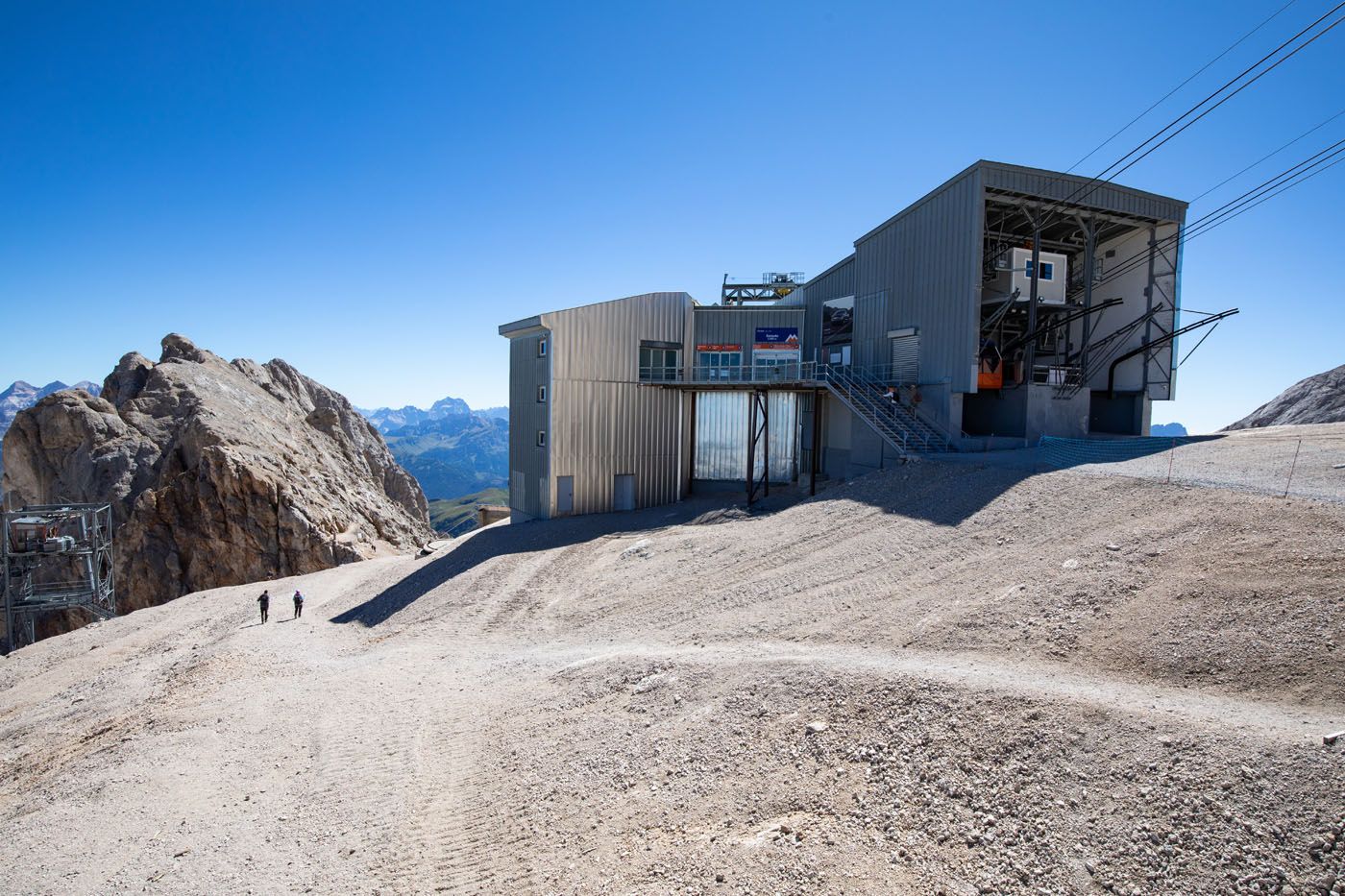 Serauta Station
Sacred Monumental Area of Punta Serauta
A short, easy downhill walk takes you to the WWI sites on Punta Serauta. In this area are bunkers and observation posts built during WWI.
Before hiking onto the trails, you will pass a sign warning visitors of the steep drops and exposed cliff edges. The final portion of this trail is a via ferrata, but you can hike the lower section without any via ferrata equipment. The trails here are very wide but if you have a fear of heights, you will find this to be very challenging.
We hiked up and around the lower part of the WWI sites. Once the trails narrowed, we stopped climbing higher, since we did not have the proper equipment.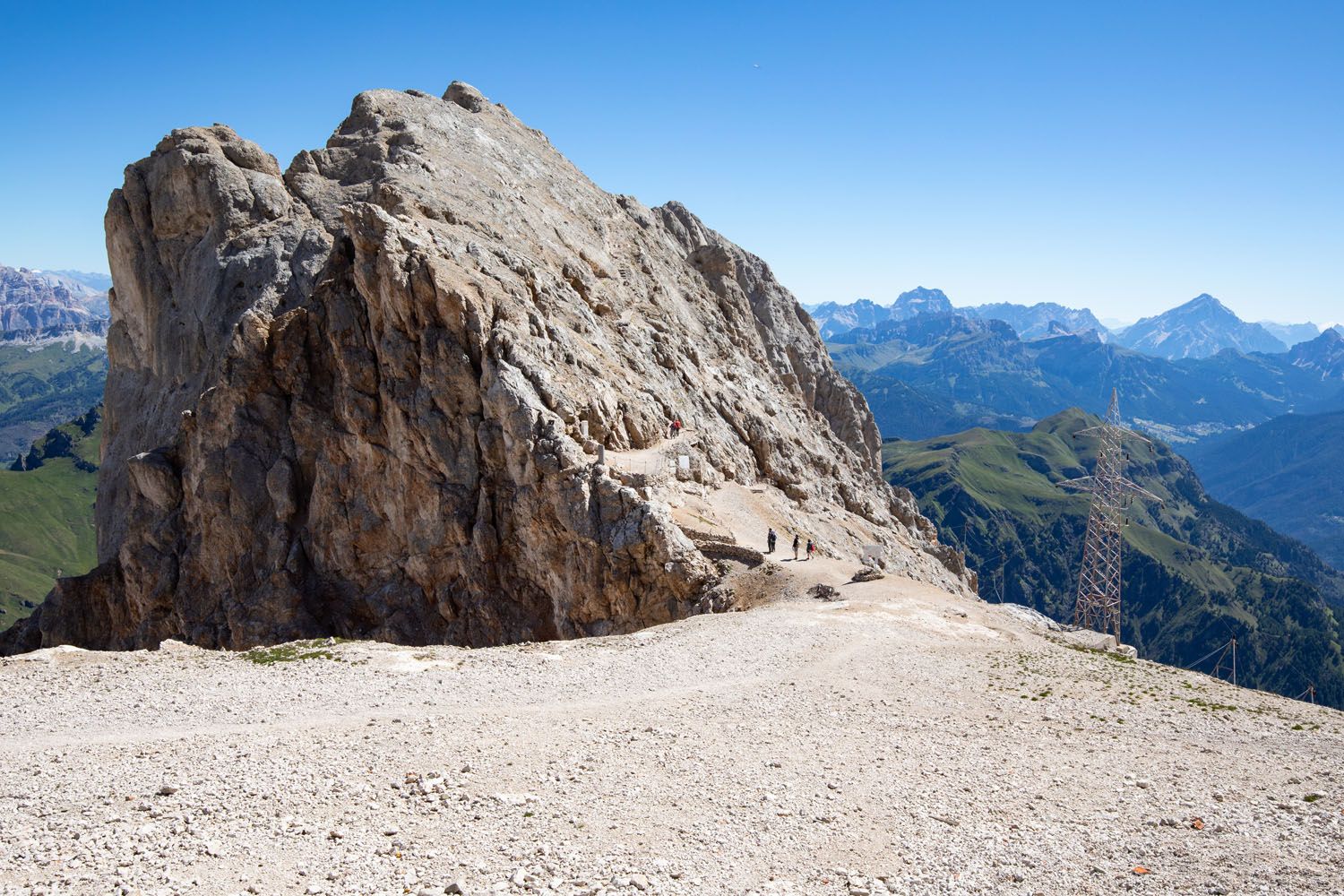 Sacred Monumental Area of Punta Serauta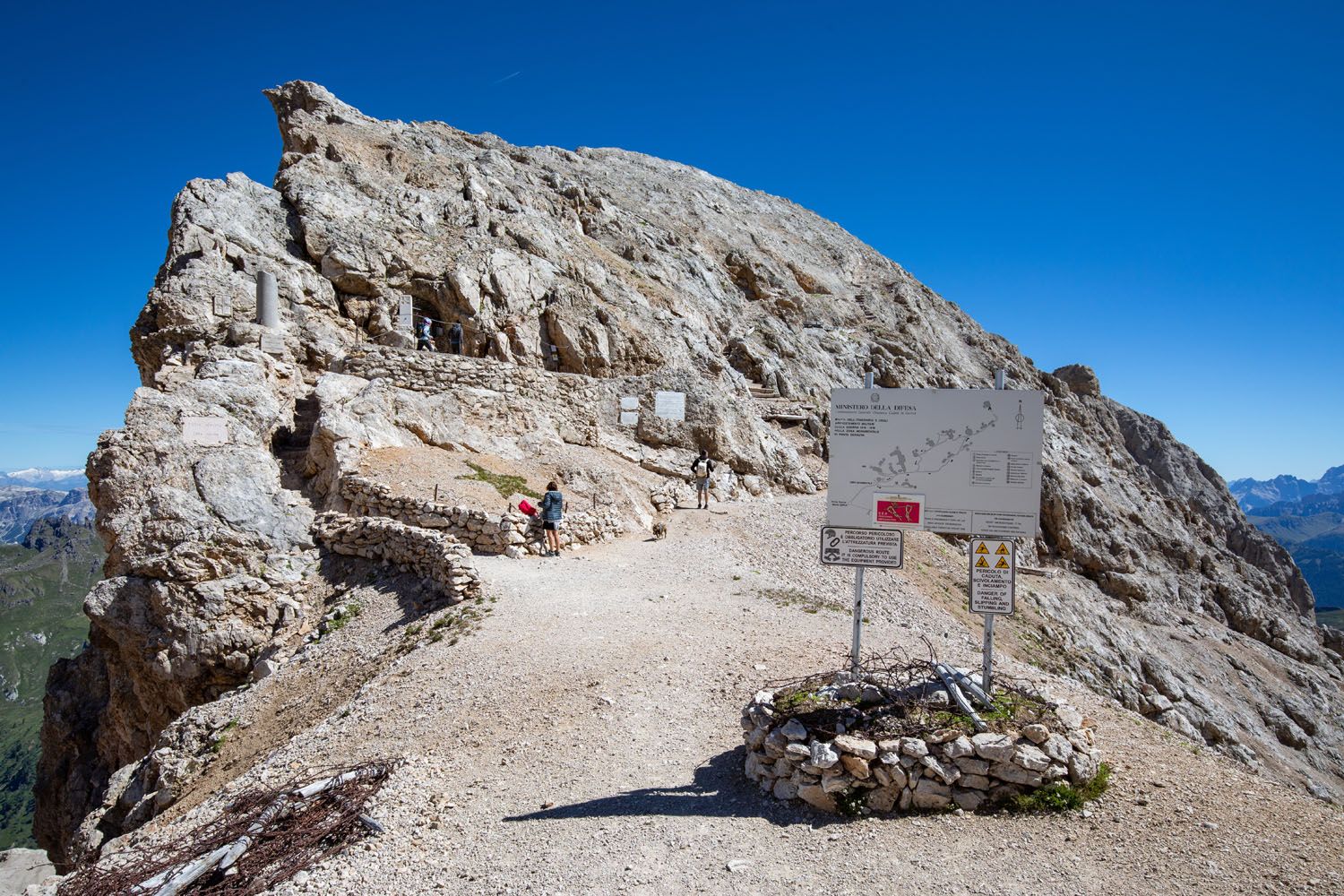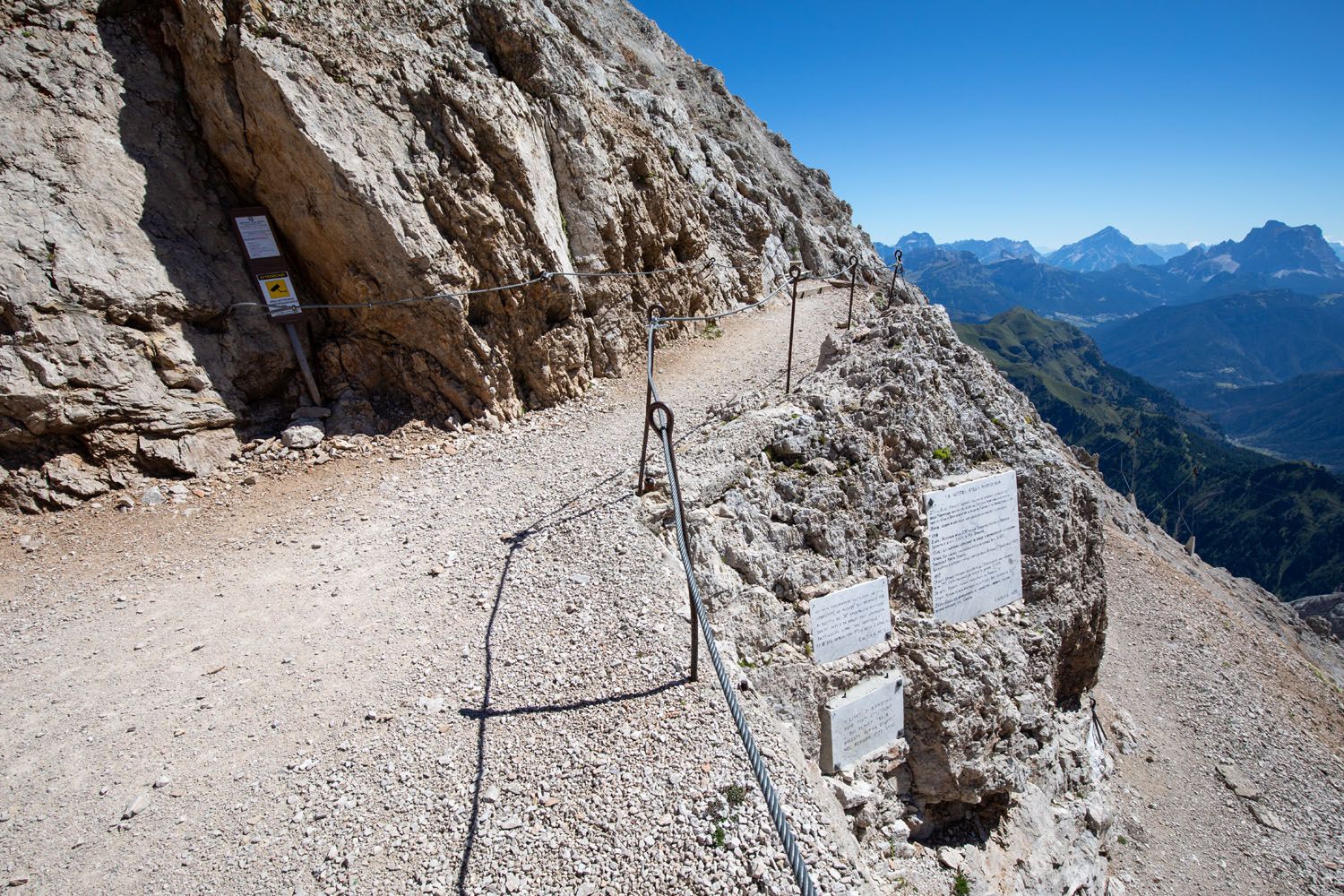 The first part of the trails are wide like the one above.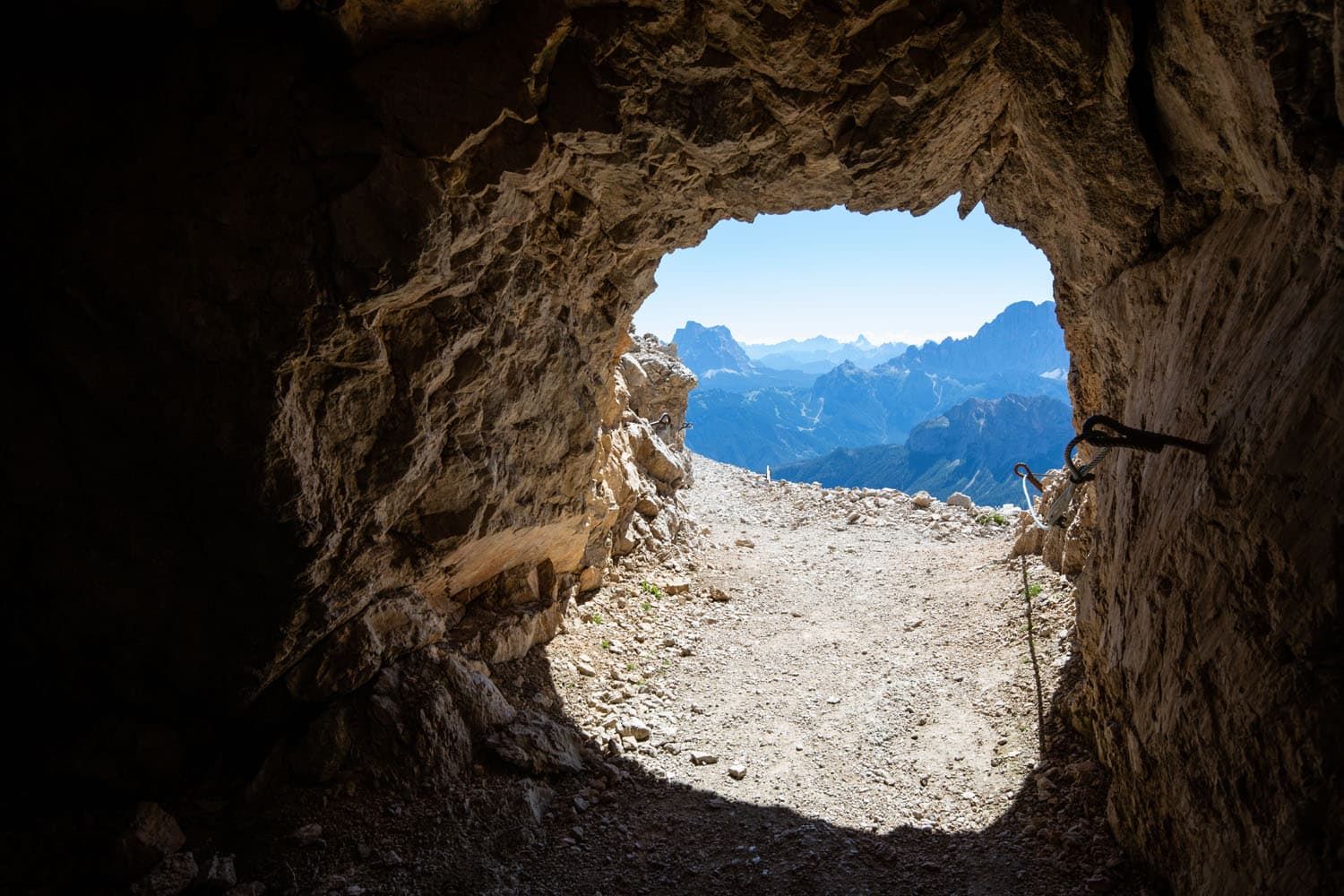 In my opinion, if you are interested in WWI historical sites, or just like the idea of exploring caves, bunkers, and having a great view of Marmolada, hiking the bottom section of the Monumental Area is worth it.
PRO TRAVEL TIP: The Monumental Area is typically open from June through September. The remainder of the year you cannot hike in this area because it is covered with snow.
Museum of the Great War
This museum includes information on what it was like for soldiers living and working on Marmolada during WWI. It is filled with artifacts, such as clothing, guns, artillery from this time period. Entrance into the museum is included with your cable car ticket.
Note: Photographs are not allowed inside of the museum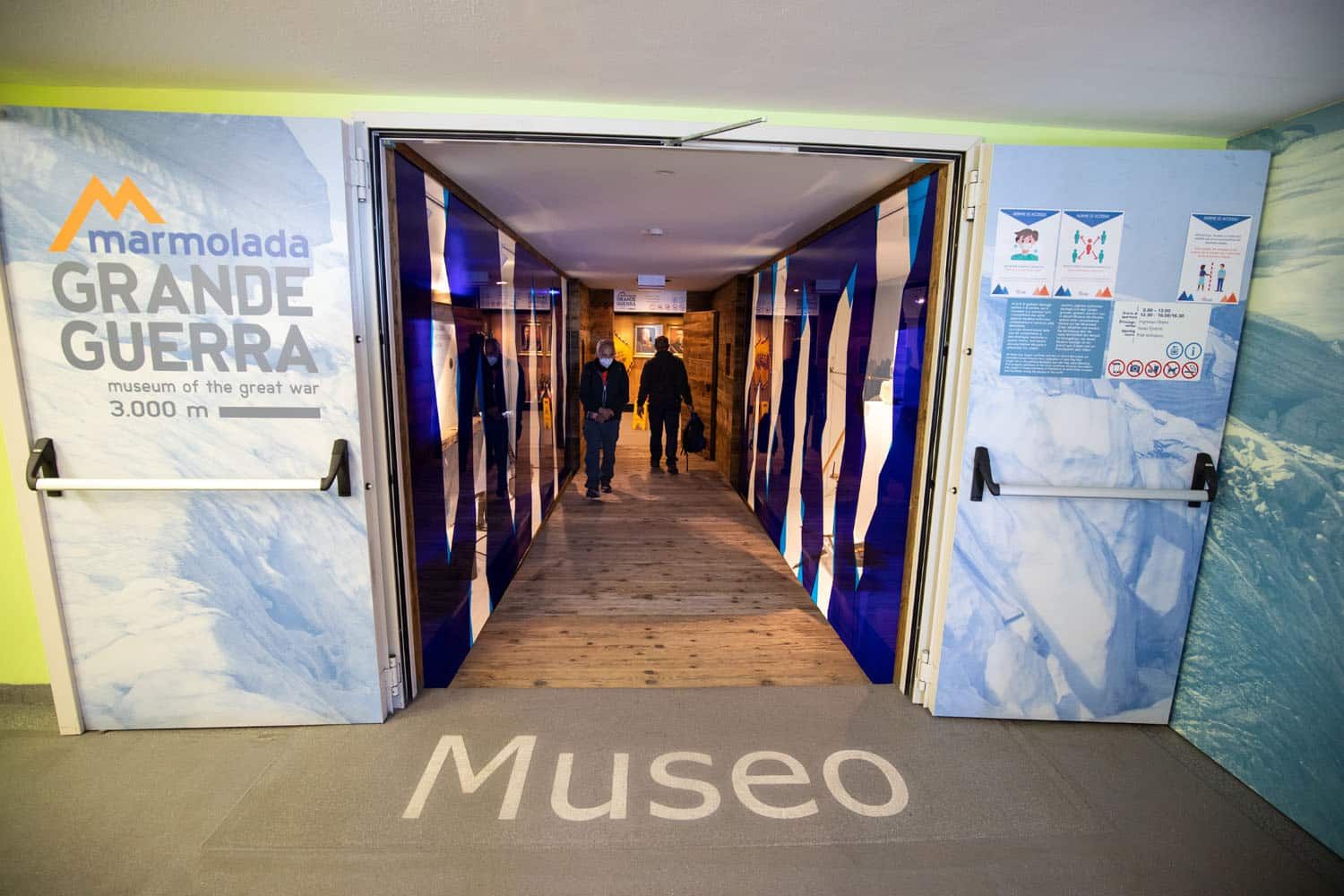 Museum of the Great War
PRO TRAVEL TIP: There are no bathrooms at Punta Rocca (the highest level yoy will visit at Marmolada). If you need to use a restroom, do so now before boarding the cable car to Punta Rocca.
Serauta (2,950 meters) to Punta Rocca (3,265 meters/10,700 feet)
Once at Punta Rocca, you are standing on one of the highest points in the Dolomites.
Marmolada is a mountain with multiple peaks. Punta Rocca, which is the location of the final cable car station, is pretty high, but it is not the tallest peak. That would be Punta Penia, which sits just a little bit higher than Punta Rocca (3,343 meters/10,968 feet). You can easily see Punta Penia from the observation deck.
Things to Do at Punta Rocca
Observation Deck
Once off the cable car, walk upstairs to the observation deck. From here, you get 360° views of the Dolomites. From here, you can see Punta Penia (the highest peak of Marmolada), Sassolungo, the Sella group, and Monte Cristallo, just to name a few.
A popular thing to do on the observation deck is to have your photo taken with the Marmolada sign on the floor. We did not do this, since it was busy (we were here late-morning in July), but it is a cool photo op, if you don't mind waiting your turn.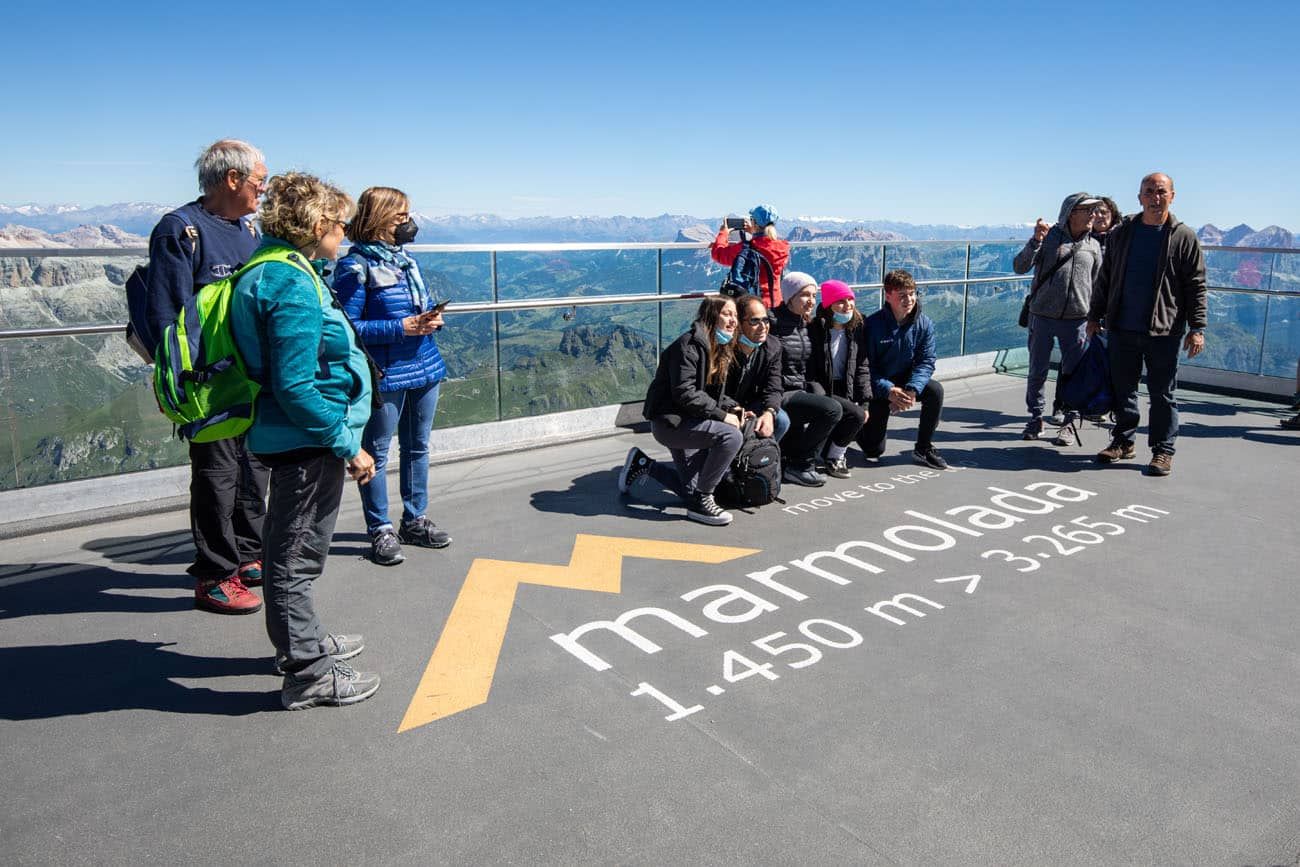 Punta Rocca observation deck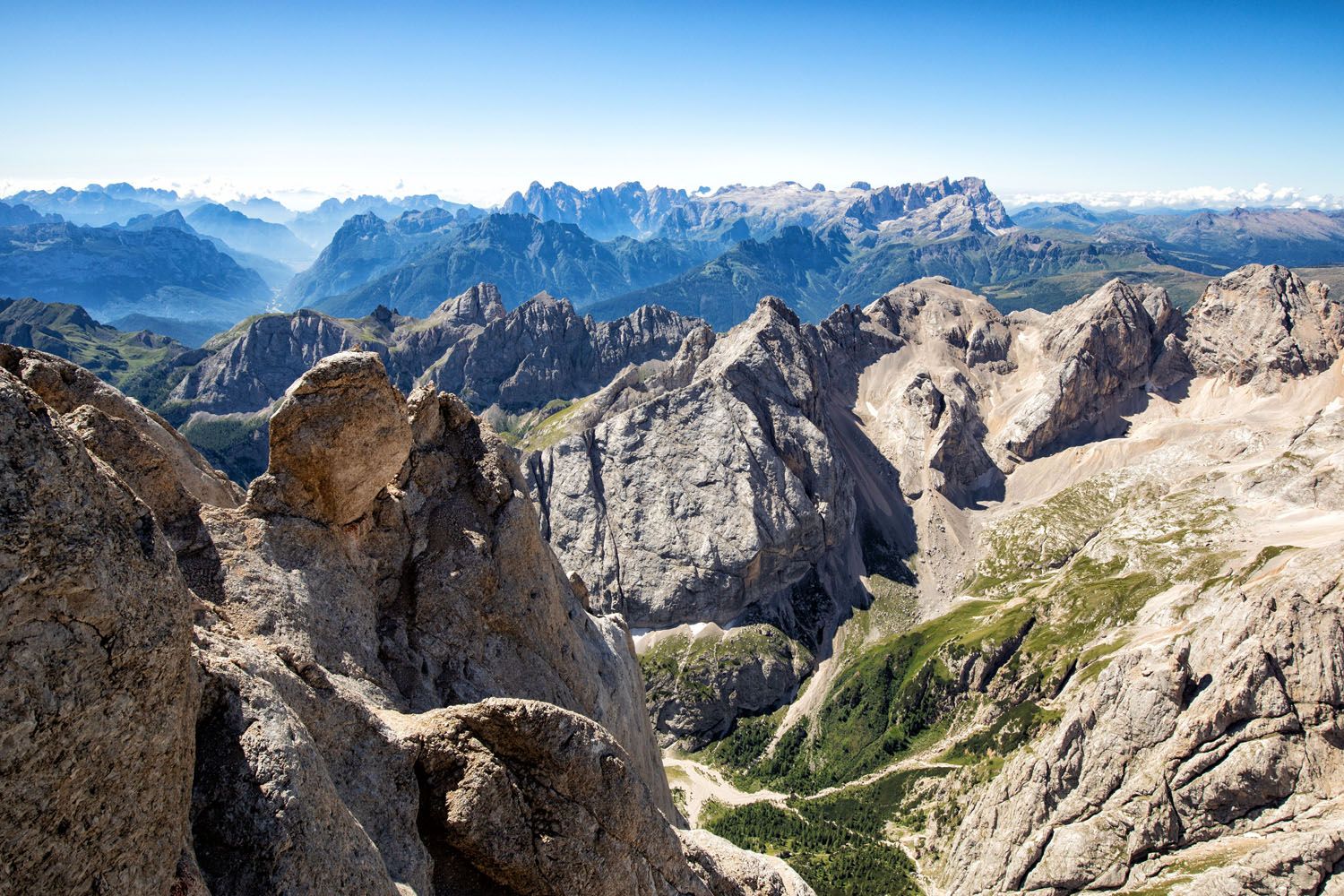 The view from the Punta Rocca observation deck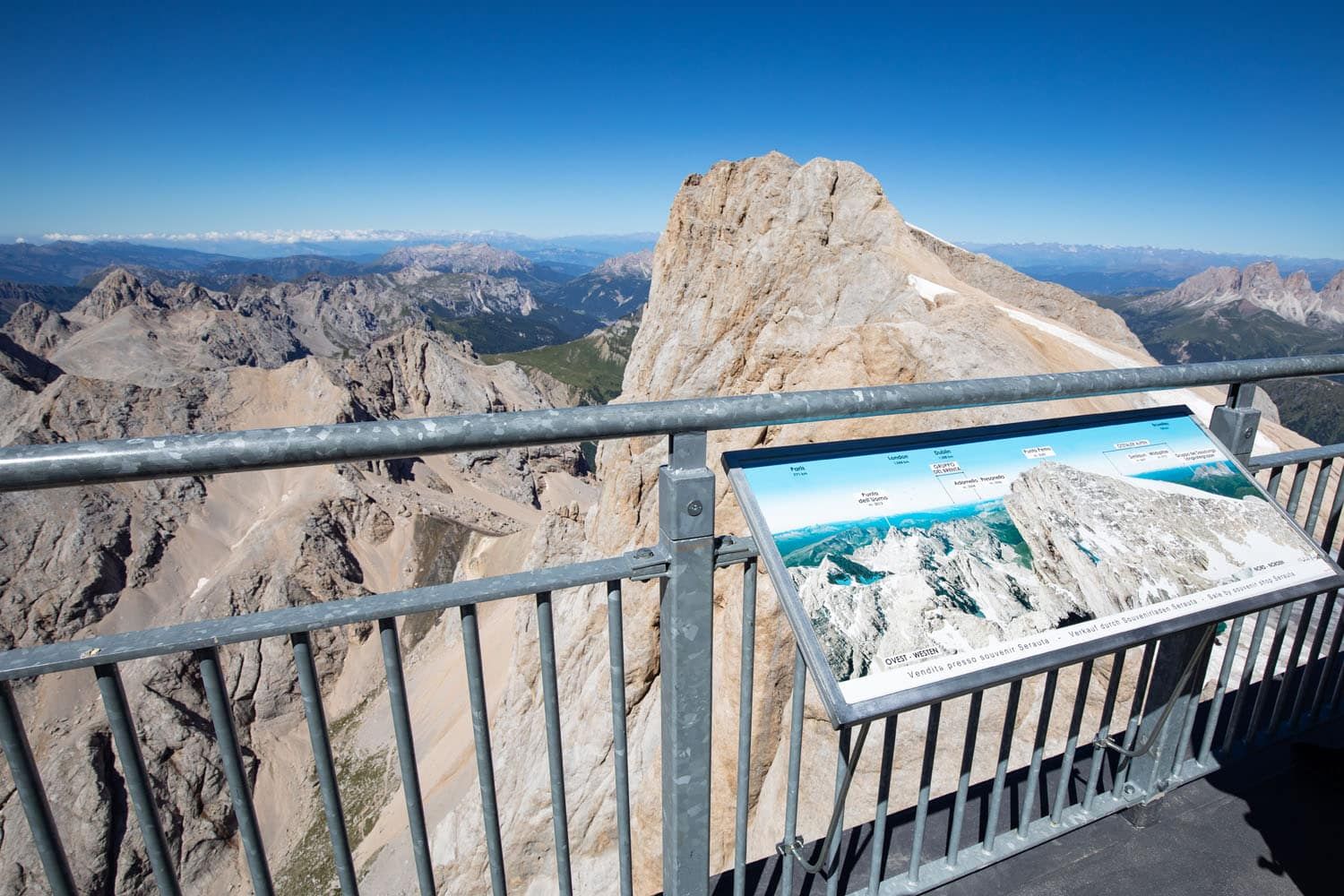 There are signs labeling the mountain peaks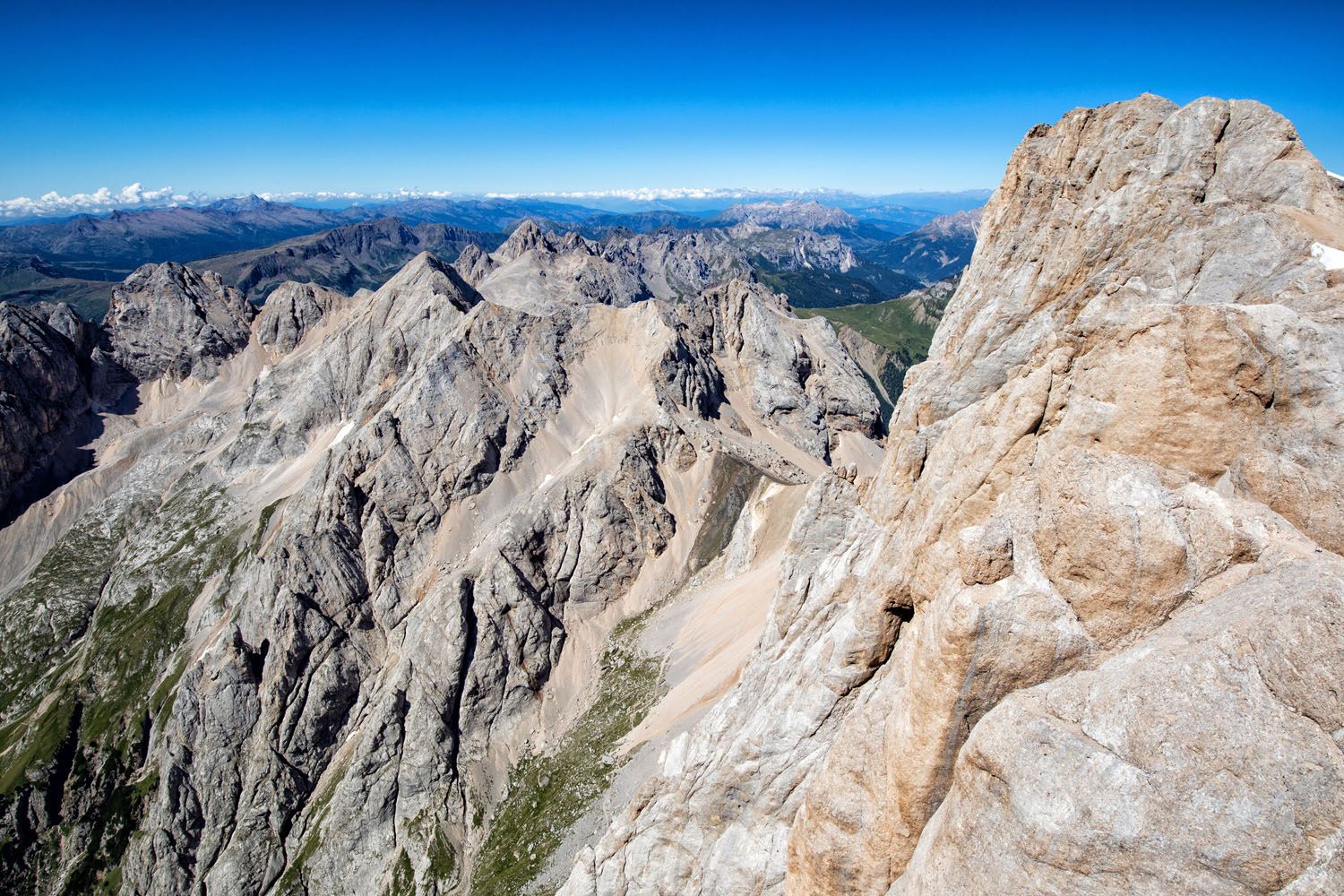 Punta Penia is the peak on the right side of this photo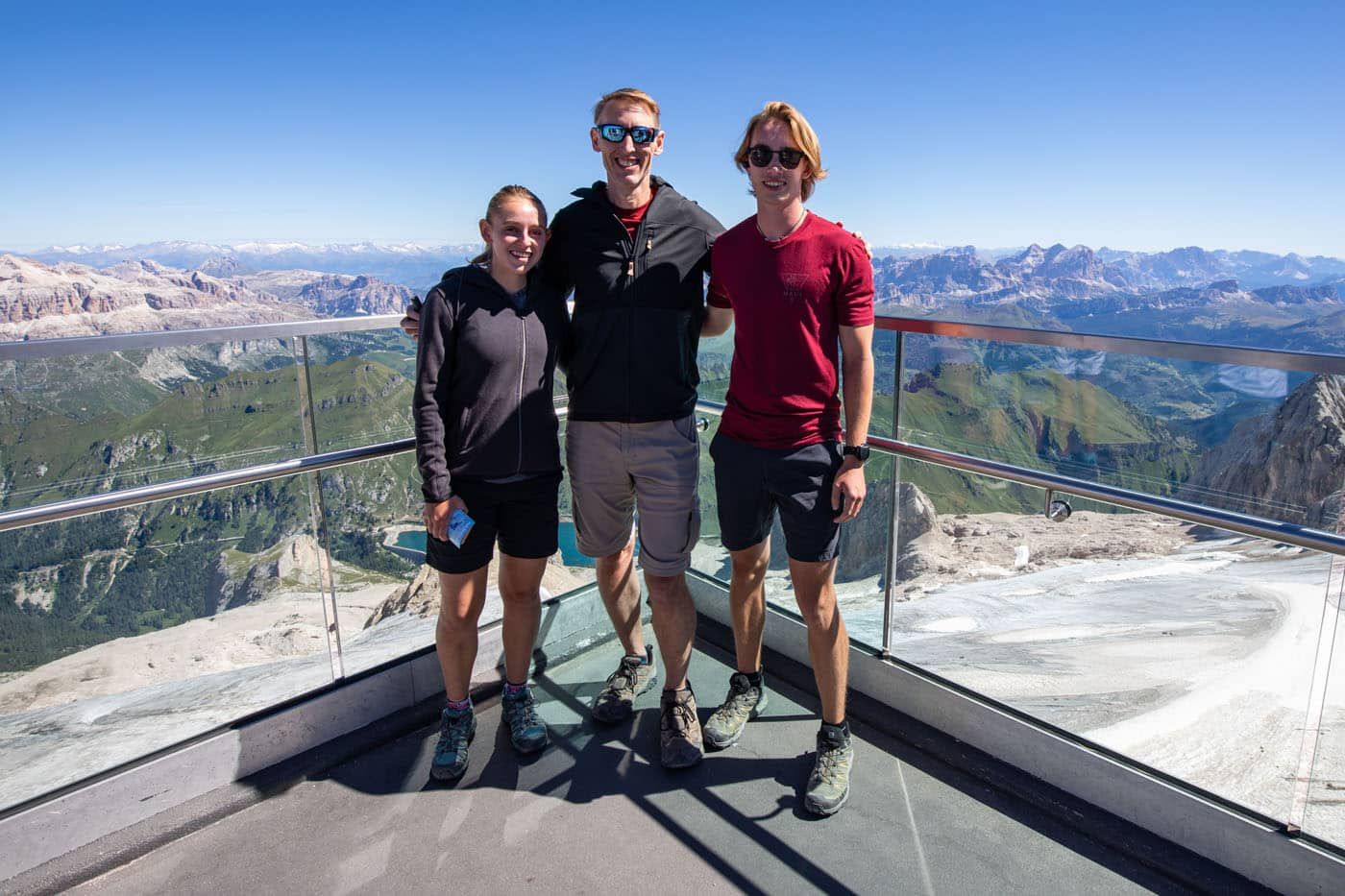 See/Walk/Ski on the Glacier
From the Punta Rocca station, you can ride the elevator down to the glacier. In the summer, walking on this glacier is a very popular thing to do on a visit to Marmolada (in the winter, it is possible to go skiing here).
We visited Marmolada in July 2022, about 10 days after the Marmolada avalanche that killed several people. The glacier was closed off and covered with a white tarp. Looking at photos from previous years, the glacier was a lot smaller on our visit, which makes me wonder if this is an activity that will be offered in future years.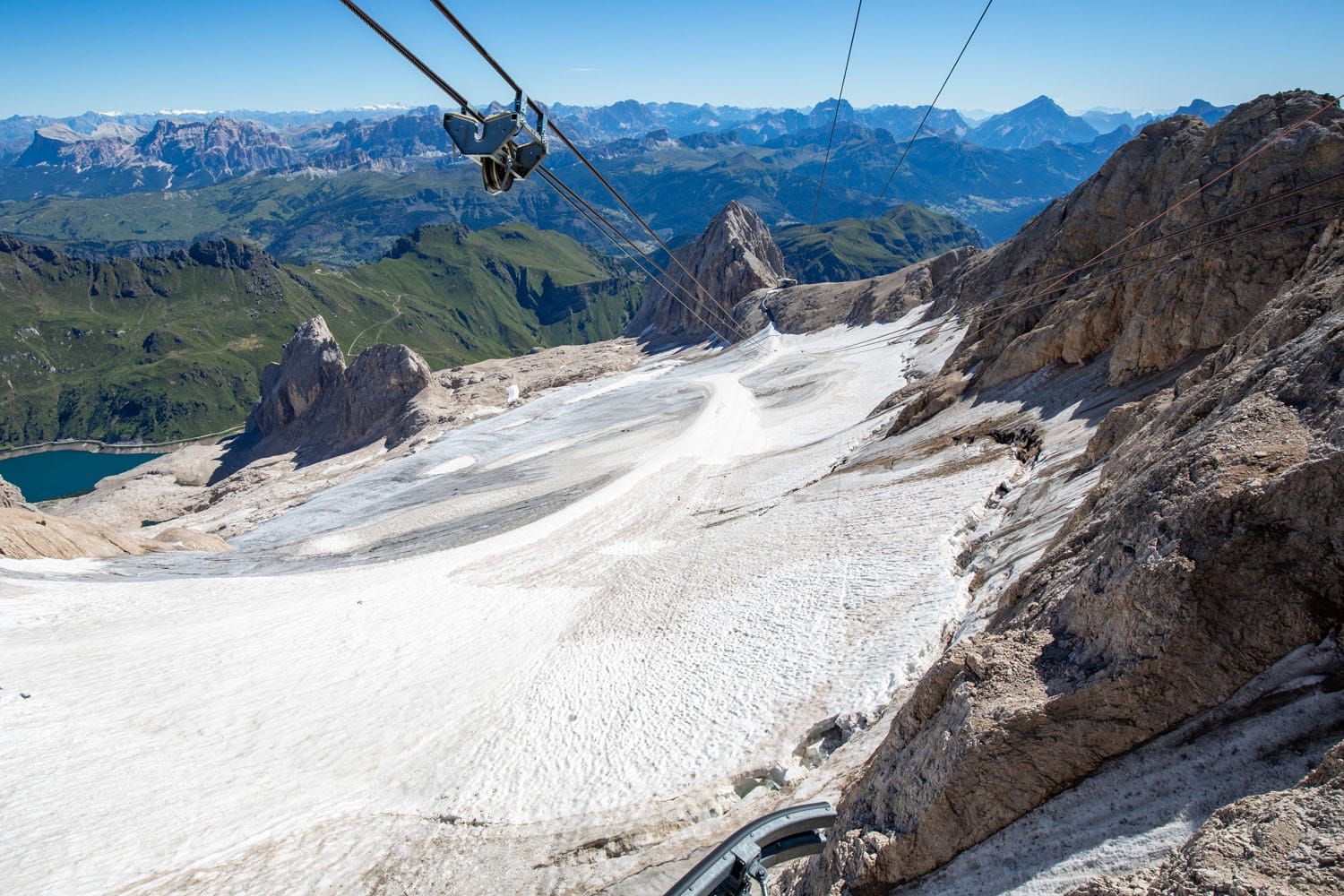 The Marmolada Glacier
Grotto of the Madonna
In this cave, there is a statue of the Madonna that was consecrated by Pope John Paul II in 1979. With a reservation, it is possible to attend mass here.
La Bellunese Ski Slope
This ski slope is 12 km long, the longest of Dolomiti Superski, with a change in altitude of 1,800 meters (5,900 feet). It's only available in winter.

Before You Go
If you need a bite to eat, we recommend the restaurant that sits next to the parking lot of Marmolada (Bar Funivia). We got paninis and apple strudel here and everything we ate was delicious. The service is super fast, too, so if you have a busy day planned, and want good food for lunch or a snack without spending a lot of time, make sure you grab a bite to eat here before traveling on to your next destination.
And before or after your lunch, just around the corner are donkeys, which are fun to watch or take your kids to see.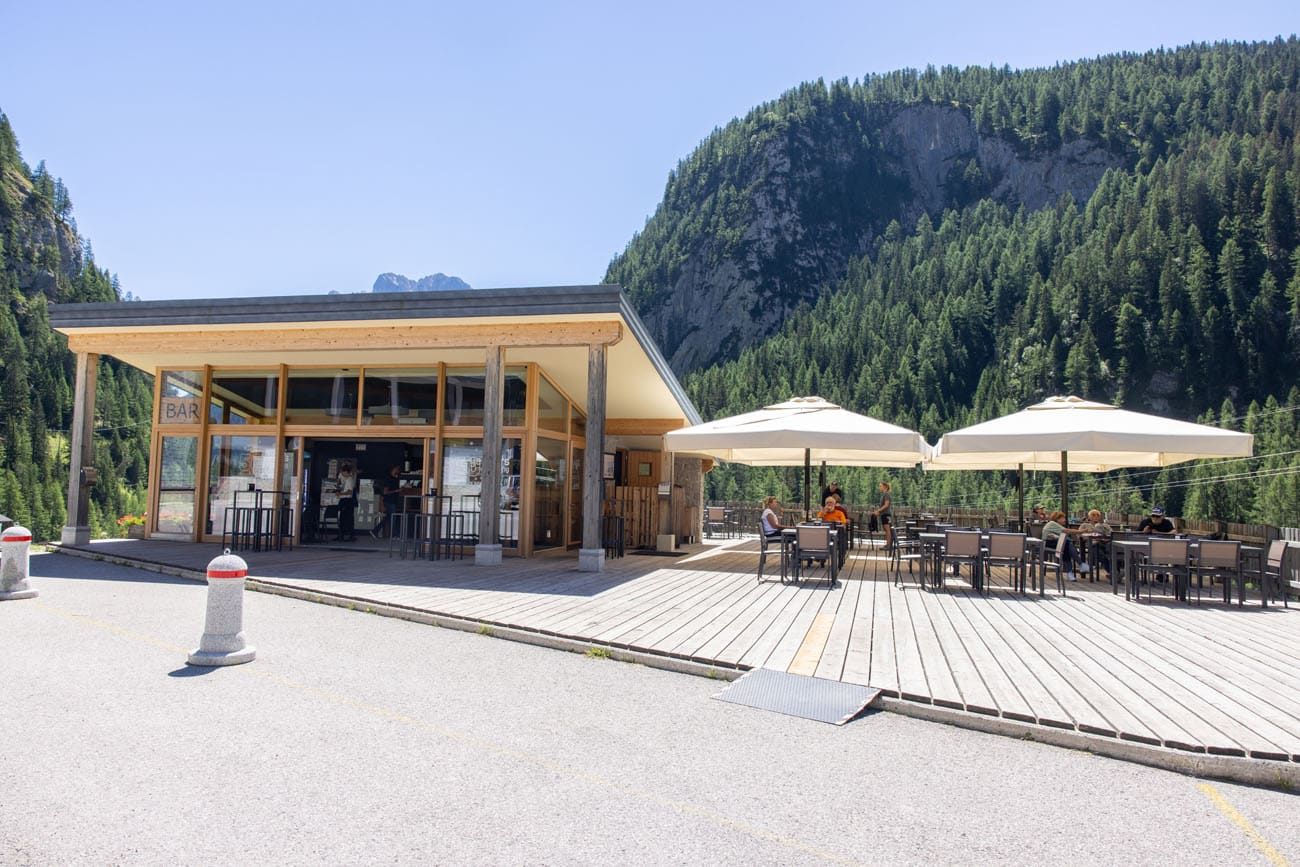 Bar Funivia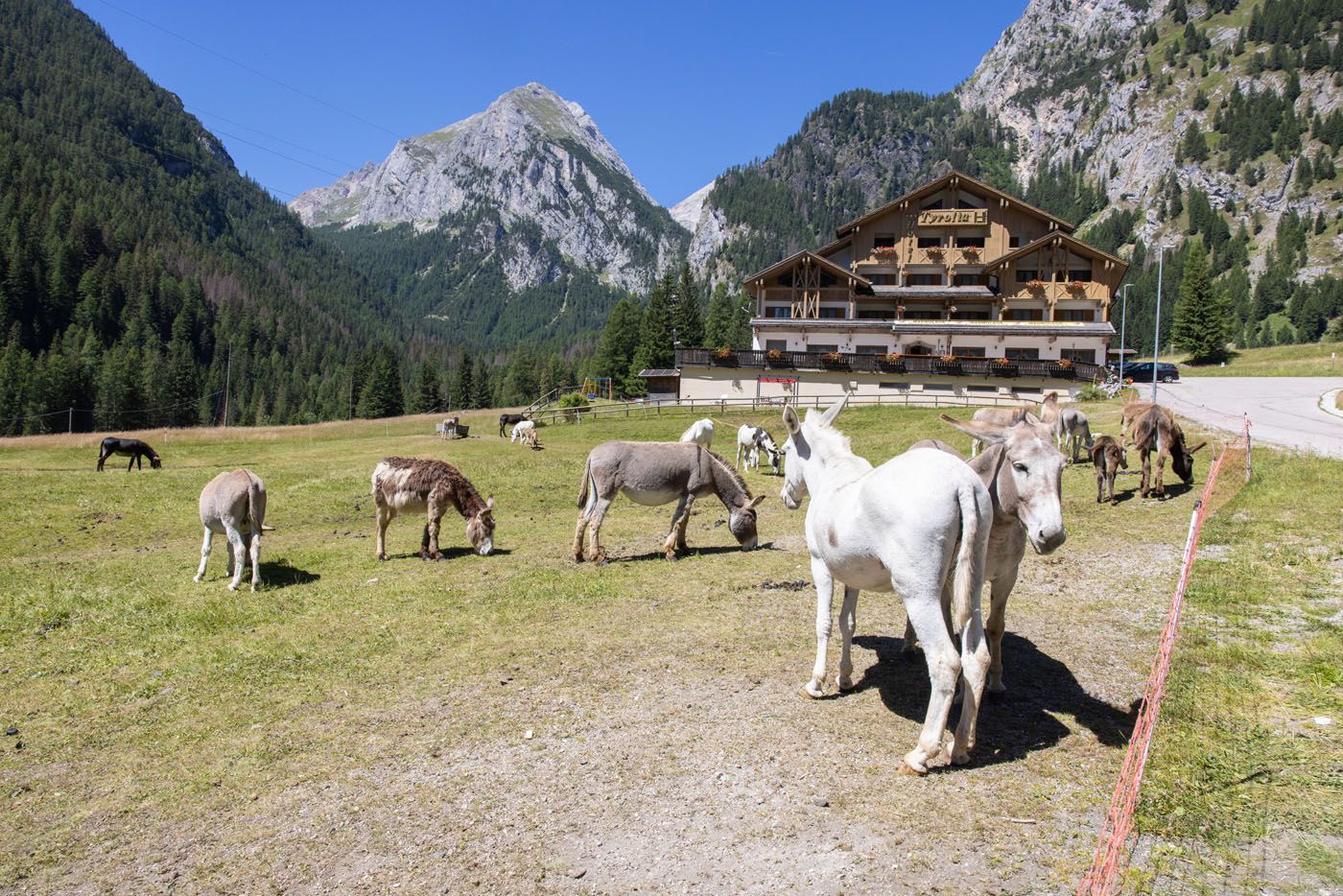 How Much Does It Cost to Visit Marmolada?
During the summer season, which runs from mid-June through mid-September, it costs €35 for a round-trip ticket from Malga Ciapela to Punta Rocca.
For updated pricing, and to purchase your tickets in advance, visit the official website.
Hours of Operation
There are two seasons that Marmolada is open, the summer season and the winter season. In the summer (mid-June through mid-September), the cable cars run from 9:00 am to 4:00 pm. The winter season runs from the end of December through early April, depending on snow conditions. During this time, the cable car operates from 8:40 am to 4:00 pm.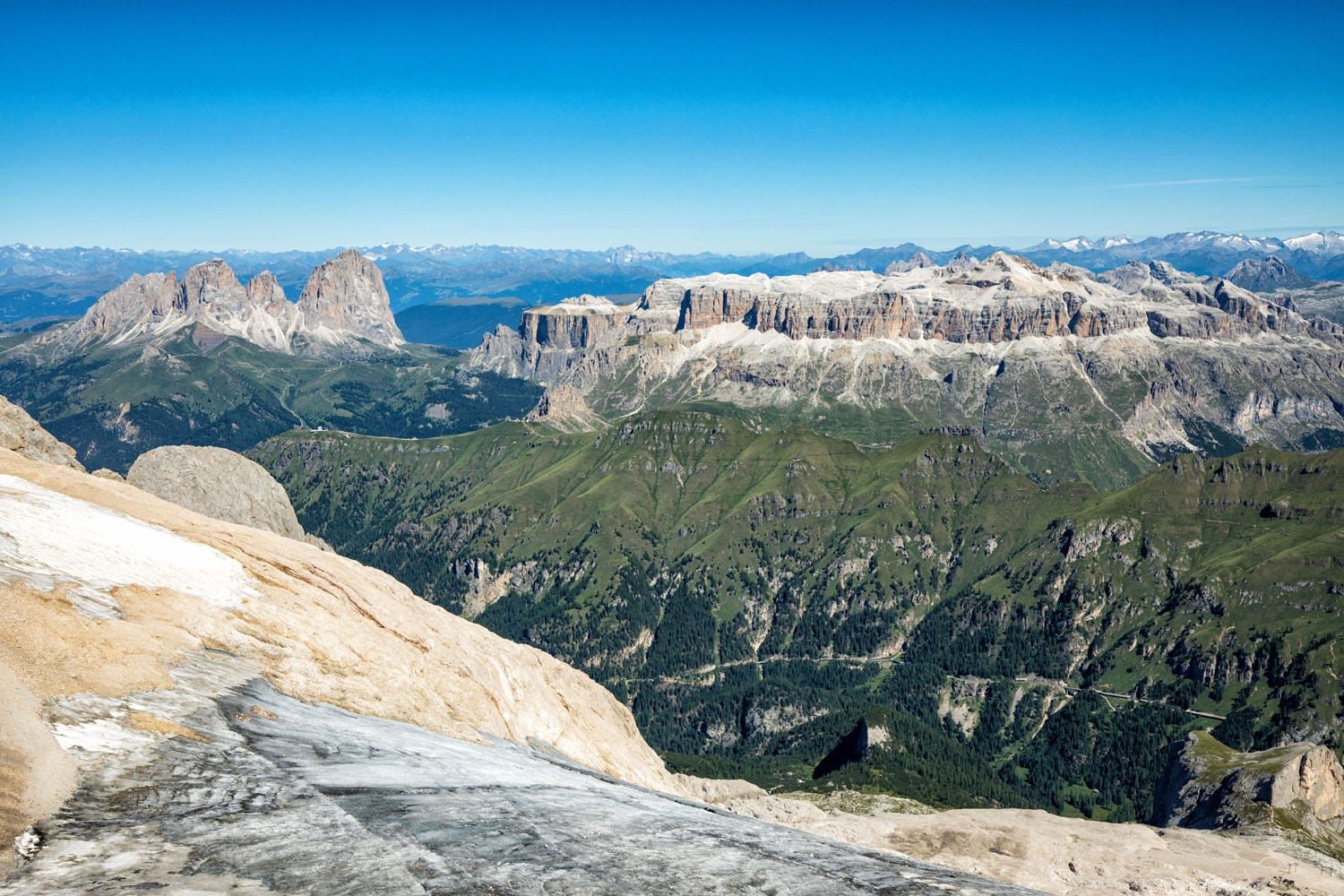 The view of the Sella Group and Sassolungo from Marmolada
Is Marmolada Worth It?
If you want to say that you stood on the highest mountain in the Dolomites, then a trip to Marmolada is worth it.
However, a visit to Marmolada is expensive and it's a bit out of the way from the other places to visit in the Dolomites. At Marmolada, our favorite experiences were the views from Punta Rocca and exploring the WWI caves and trails at Punta Serauta.
We enjoyed this visit, but I can list a lot of other activities that I think are more worth your time on a trip to the Dolomites.
There are many cable cars that take visitors to mountain peaks and hiking trails. In Cortina d'Ampezzo, we rode the Freccia nel Cielo cable car to Tofana Cima. This mountain peak is not quite as high as Marmolada, but it's less touristy, the views are just as amazing, and you can go hiking from the highest cable car station.
The views from Seceda blew us away. You can ride a gondola + cable car to Seceda and spend as little as 30 minutes here or go hiking for hours, enjoying one of the best views of the Dolomites.
And if you like hiking, there are many great trails to choose from in the Dolomites. If you like the idea of riding a gondola or cable car into the mountains to eliminate the first big climb, I recommend hiking from Lagazuoi to the Falzarego Pass or the Cinque Torri Hike +/- Rifugios Averau and Nuvolau.
Frequently Asked Questions
How long does it take to visit Marmolada?
Plan on spending 2 hours at Marmolada. This gives you enough time to ride the series of cable cars, visit the museum, enjoy the views from the observation platforms, and hike the WWI trails at Punta Serauta.
What should I wear?
Since you will be at a high altitude, it will be colder on top of Marmolada then at the bottom station. Bring one or two additional layers, since it will be cooler at the top.
Can I Bring My Dog?
Yes, you can bring a dog on the cable cars, but they must be muzzled and on a leash.
What time of year can I visit Marmolada?
Marmolada can be visited in the summer and winter. In the summer, you can hike around the Sacred Monumental Area of Punta Serauta. In the winter, Marmolada becomes a skiing destination.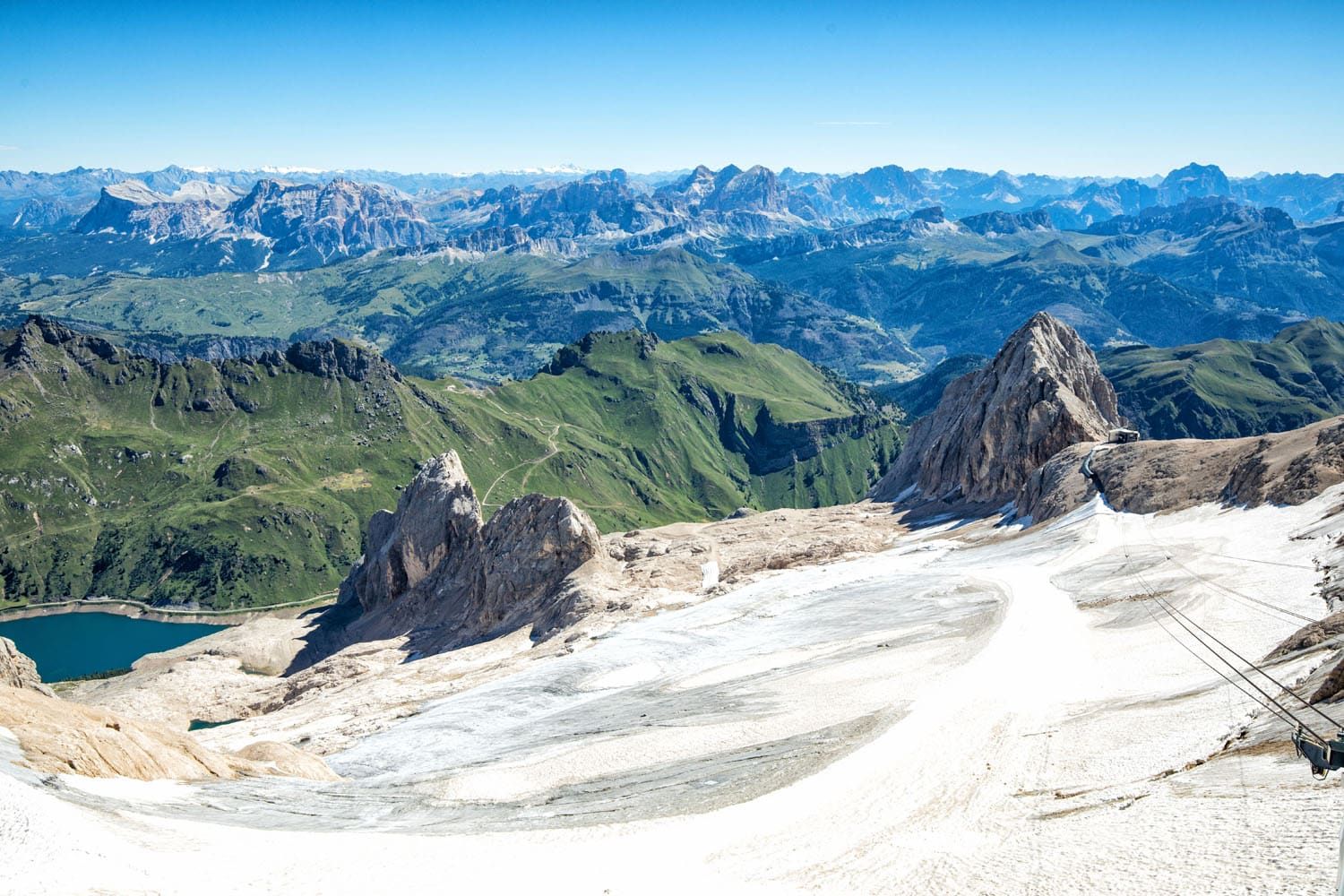 Another view from Punta Rocca
---
If you have any questions about how to visit Marmolada, let us know in the comment section below.
More Information for Your Trip to Italy
DOLOMITES: For links to all of our articles about the Dolomites, take a look at our Dolomites Travel Guide.
PLACES TO GO IN THE DOLOMITES: For a list of where to go and what to do, read our article Best Things to Do in the Dolomites and Best Hikes in the Dolomites. Learn how to plan your trip with our Dolomites Itinerary Travel Planner.
HIKES IN THE DOLOMITES: For more great hikes in the Dolomites, check out our hiking guides for the Cinque Torri, Rifugio Averau and Rifugio Nuvolau, the Cadini di Misurina viewpoint, and the Adolf Munkel Weg to Geisler Alm.
NORTHERN ITALY ITINERARY: In our Northern Italy Itinerary, visit Venice, the Dolomites, Verona, Milan, and Lake Como.
VENICE: We cover the top experiences in Venice in our Venice Bucket List. Learn where to get the best views of Venice in our article 12 Beautiful Views of Venice. And to help you plan your time, take a look at our one day in Venice itinerary and two days in Venice itinerary.
We have TONS more information about Italy in our Italy Travel Guide, including Rome, Florence, Venice, Tuscany, the Dolomites, the Amalfi Coast, the Cinque Terre, and Puglia.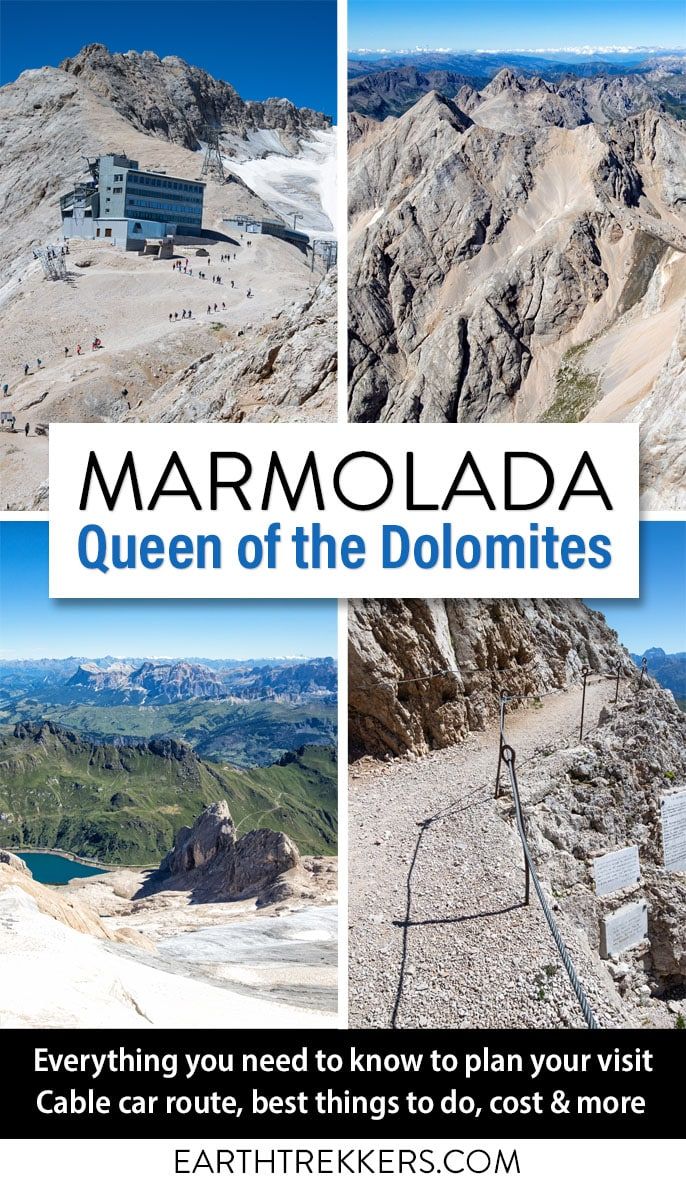 All rights reserved © Earth Trekkers. Republishing this article and/or any of its contents (text, photography, etc.), in whole or in part, is strictly prohibited.