There are several reasons why the hike to Lac Blanc is one of the best in Chamonix. For one thing, this alpine lake is beautiful. A series of gondolas and chair lifts lop off the first big climb, making this hike doable for most ages and ability levels. But one of the best reasons to do this hike is for the amazing views of Mont Blanc and the jagged mountains that surround it.
We did several hikes while in Chamonix and I have to say that this one was my favorite. Balcon Nord is also very good, but since the views of the Mont Blanc are better from this side of the valley, this hike was my favorite of the two.
In this guide, we cover what you need to know to do this hike and a few helpful tips to have the best experience.
Lac Blanc Hiking Stats
These hiking stats are for the out-and-back route that starts at L'Index.
Distance: 6.1 km (3.8 miles) out-and-back
Difficulty: Easy to moderate
Total Ascent: 360 m (1,180 feet)
Lowest Elevation: 2,265 m (7,430 feet)
Highest Elevation: 2,410 m (7,900 feet)
Time: 2 to 4 hours
Best time for photography: Midday through the afternoon (our photos were taken midday, between 11 am and 1:30 pm but I think a little later than this would be even better)
Toilets: At the cable car and chair lift stations and also at the restaurants at Lac Blanc.

Lac Blanc hike elevation profile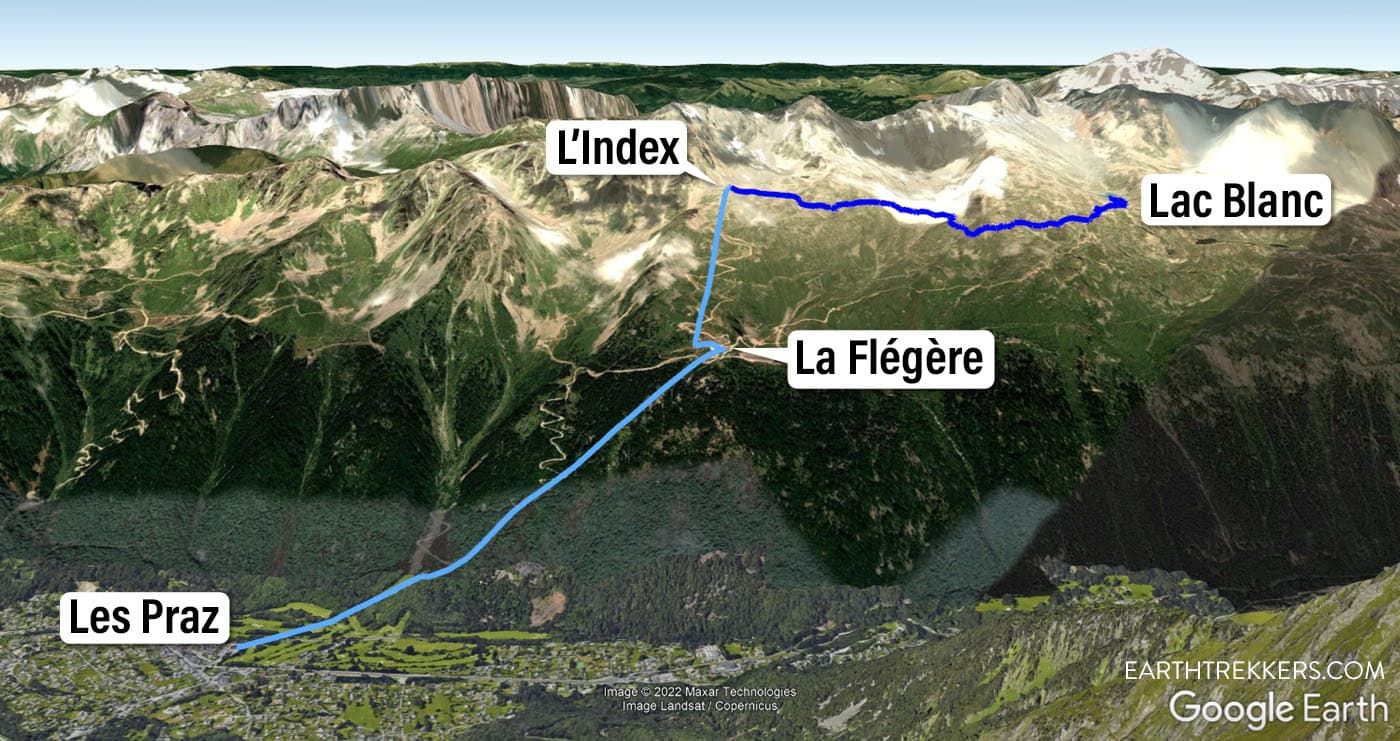 Map of the gondola from Les Praz to La Flégère, chairlift to L'Index, and the hiking route to Lac Blanc.
Please practice the seven principles of Leave No Trace: plan ahead, stay on the trail, pack out what you bring to the hiking trail, properly dispose of waste, leave areas as you found them, minimize campfire impacts, be considerate of other hikers, and do not approach or feed wildlife.
Different Routes to Lac Blanc
There are numerous options on how to hike to Lac Blanc.
One of the easiest ways to hike to Lac Blanc is to start in Les Praz de Chamonix-Mont-Blanc and ride the La Flégère gondola. From the upper station of the gondola, you can hike directly to Lac Blanc or ride the chair lift to L'Index and hike from here. We did the gondola + chair lift combo, and then hiked out-and-back to Lac Blanc, and that is how we describe the hike in this guide.
On the Tour du Mont Blanc, Lac Blanc is typically the destination of the final day, just before the trek comes to an end at the Flégère cable car station.
Lac Blanc can also be reached from Col de Montets and Tré-le-Champ.
Overview of the La Flégère to Lac Blanc Route
This is the route that we took and we highly recommend it. Not only does the gondola and chairlift eliminate the majority of the climb, the L'Index chairlift is one of the best chairlift rides we have ever taken, particularly on the way back down (the views of the Mont Blanc Massif is incredible). Even if you don't plan on hiking, this chairlift is worth the visit.
Here is an overview of the route. I will go into more details about it next.
La Flégère gondola to Refuge La Flégère
L'Index chairlift to L'Index
Hike out-and-back to Lac Blanc
L'Index chairlift to Refuge La Flégère
La Flégère gondola to Les Praz de Chamonix-Mont-Blanc
PRO TRAVEL TIP: Get timetables and prices for the La Flégère gondola and L'Index chairlift on the official website. We spent 4 days in Chamonix and purchased the Mont Blanc Multipass which includes the gondola and the chairlift. No reservations are needed for either the La Flégère gondola or the L'Index chairlift.
Lac Blanc
How to Hike to Lac Blanc
Step-By-Step Trail Guide
La Flégère Gondola
The La Flégère station is located in the town of Les Praz. From Chamonix, you can walk, ride the bus, take the train, or drive here. There is a parking lot for the gondola and when we did this in July, the lot was completely full when we walked through it at 10:30 am.
We rode the train from Chamonix to Les Praz. From the train station, it is a 5-minute walk to the La Flégère gondola.
The La Flégère gondolas hold up to 10 people and runs continuously.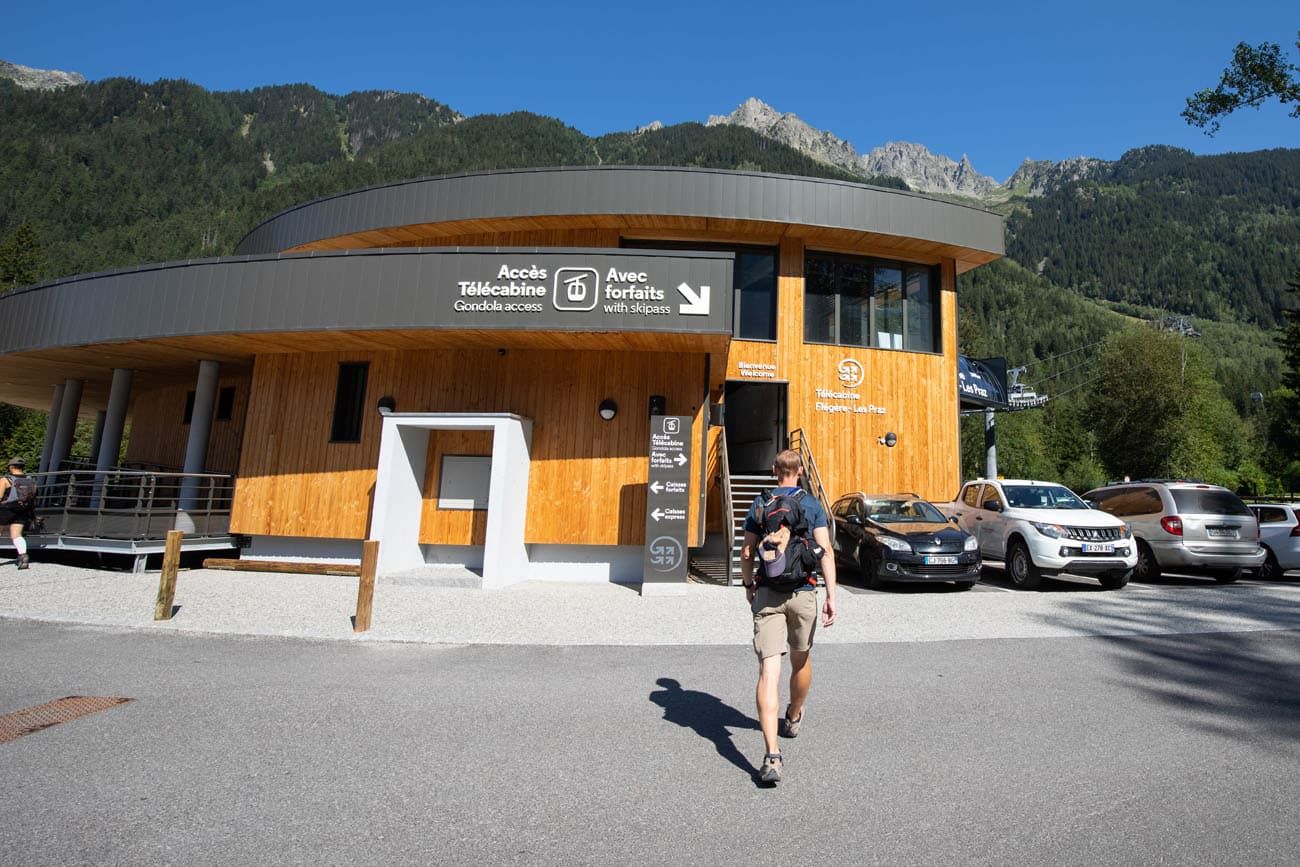 La Flégère bottom station.
At La Flégère (the top station), you are standing at 1,877 meters (6,200 feet). There is a snack bar, a restaurant and toilets here. To get to the chairlift, exit the building to the left, walk past the Snack Bar, and you will see the L'Index chairlift station.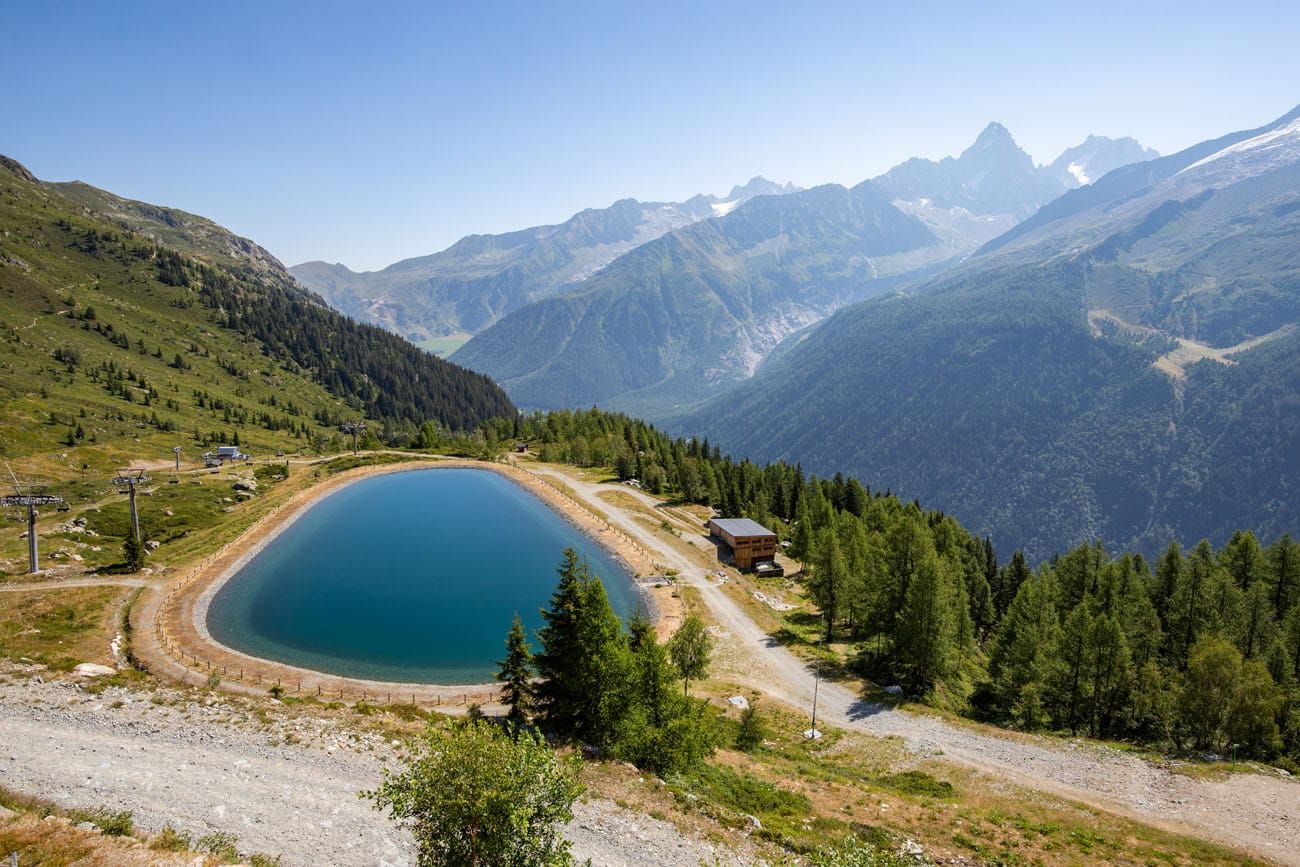 View from La Flégère
Note: It is possible to hike from La Flégère to Lac Blanc, but you will have more elevation gain than in the hiking route we list, since La Flégère is at a lower elevation than L'Index.
L'Index Chairlift
The L'Index chairlift can hold up to six people. It takes several minutes to reach the upper station at L'Index. The view is nice, but it's even better on the return ride down the chairlift, since Mont Blanc will be right in front of you.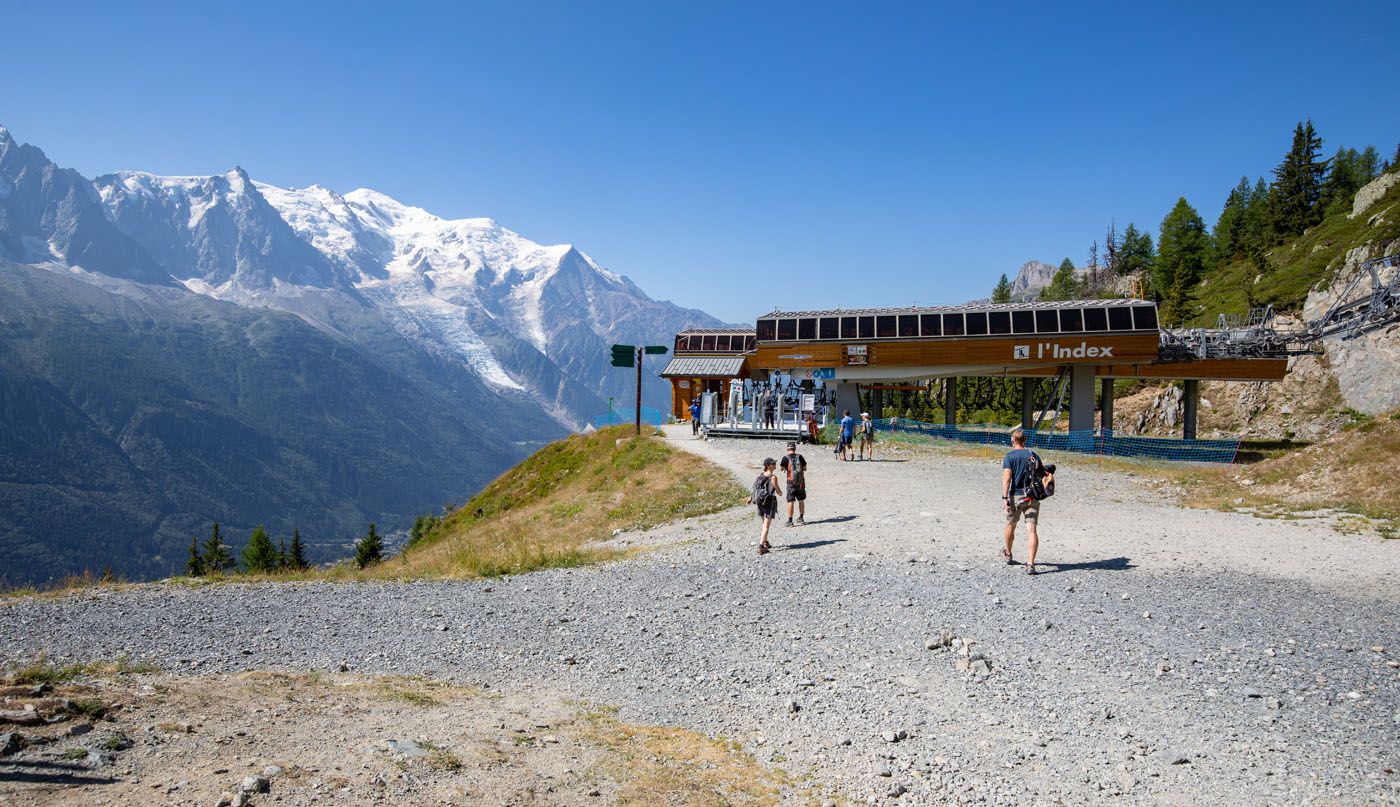 L'Index chairlift station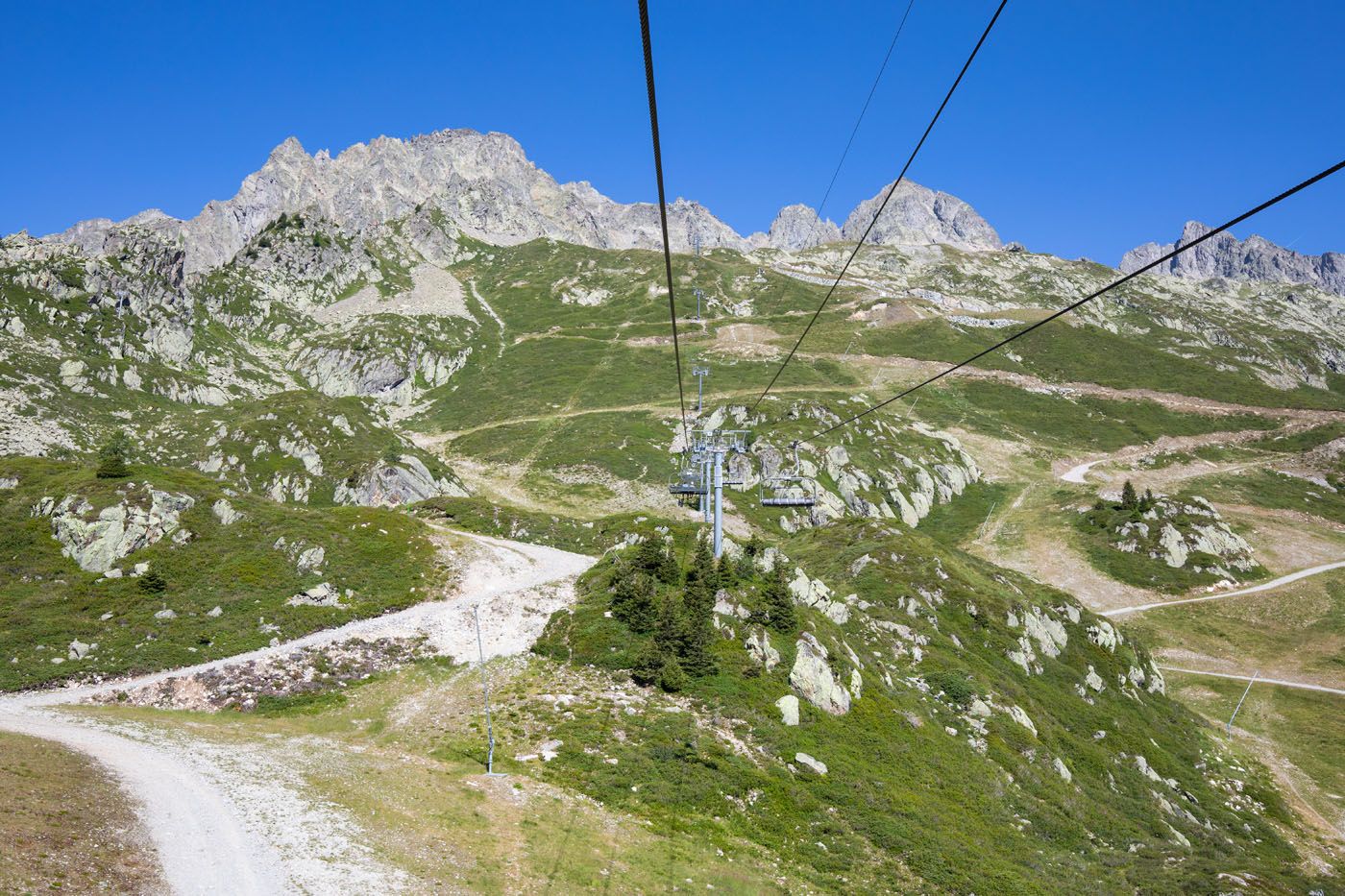 Hiking from L'Index to Lac Blanc
L'Index is where the trail to Lac Blanc begins. At this point, you are standing at 2,595 meters (8,500 feet).
Exit the chairlift station and head to the right. There are several large trail maps as well as a trail sign next to the station. The trail sign points to the right, in the direction of Lac Blanc. It states a 1 hour 15 minute hiking time to Lac Blanc, but it can be done considerably faster than this. It took us 45 minutes to hike to Lac Blanc from this point.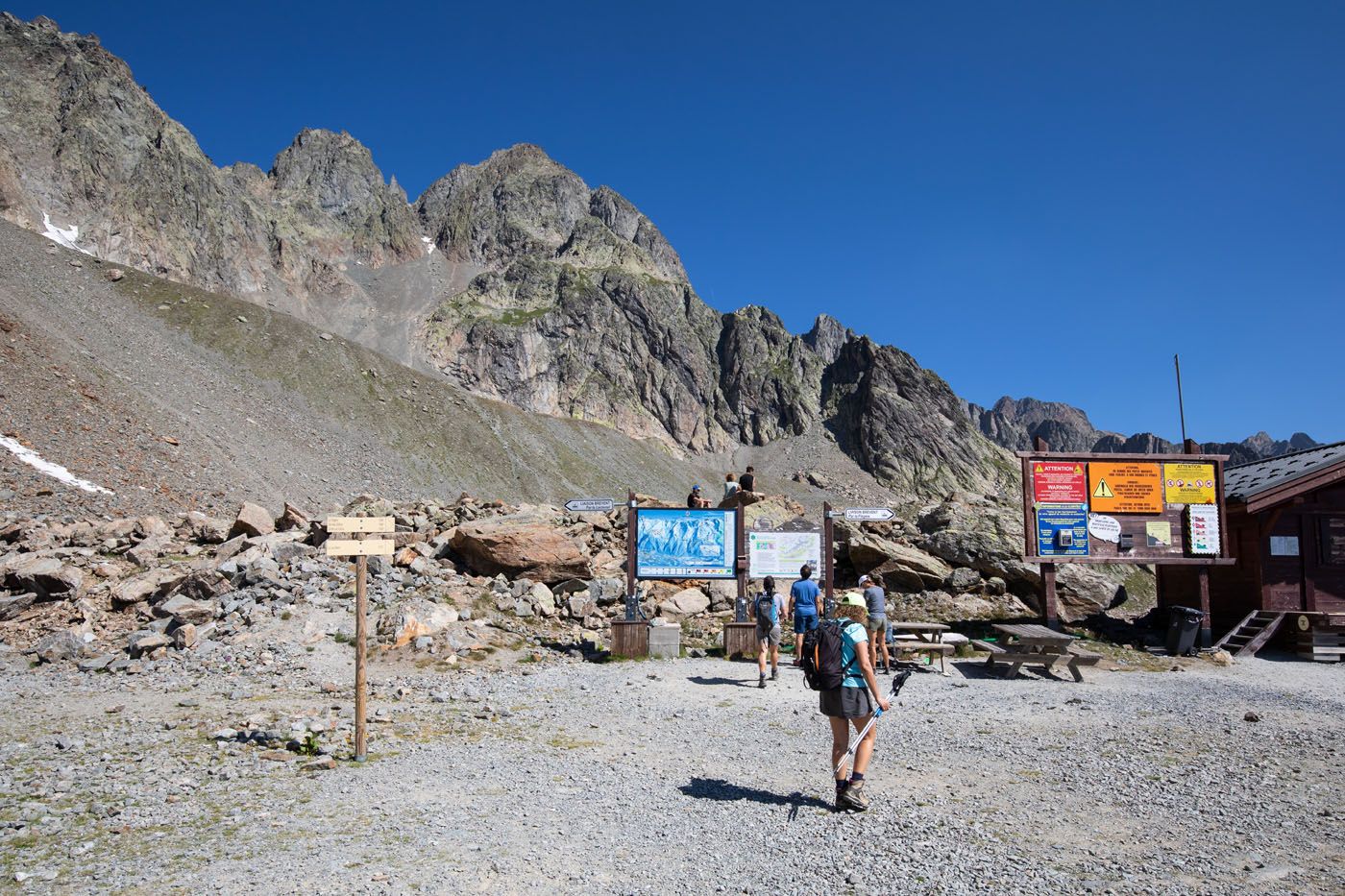 L'Index
From the chairlift, the trail first heads downhill and then has many ups and downs, none that are ever very long, as you make your way to Lac Blanc.
The trail is very rarely flat. It is either heading uphill or downhill and most of the time the trail is very rocky, so you are constantly stepping over or around boulders in the trail. There are a few times during the hike where metal steps are bolted onto the rocks or metal railings are bolted onto the rock walls.
From L'Index to Lac Blanc, most of the time Mont Blanc is behind you. You will have to turn around to see it as you hike out to Lac Blanc, but for most of the return hike, Mont Blanc will be smack in front of you.
Here are photos taken on the hike from the L'Index chairlift to Lac Blanc.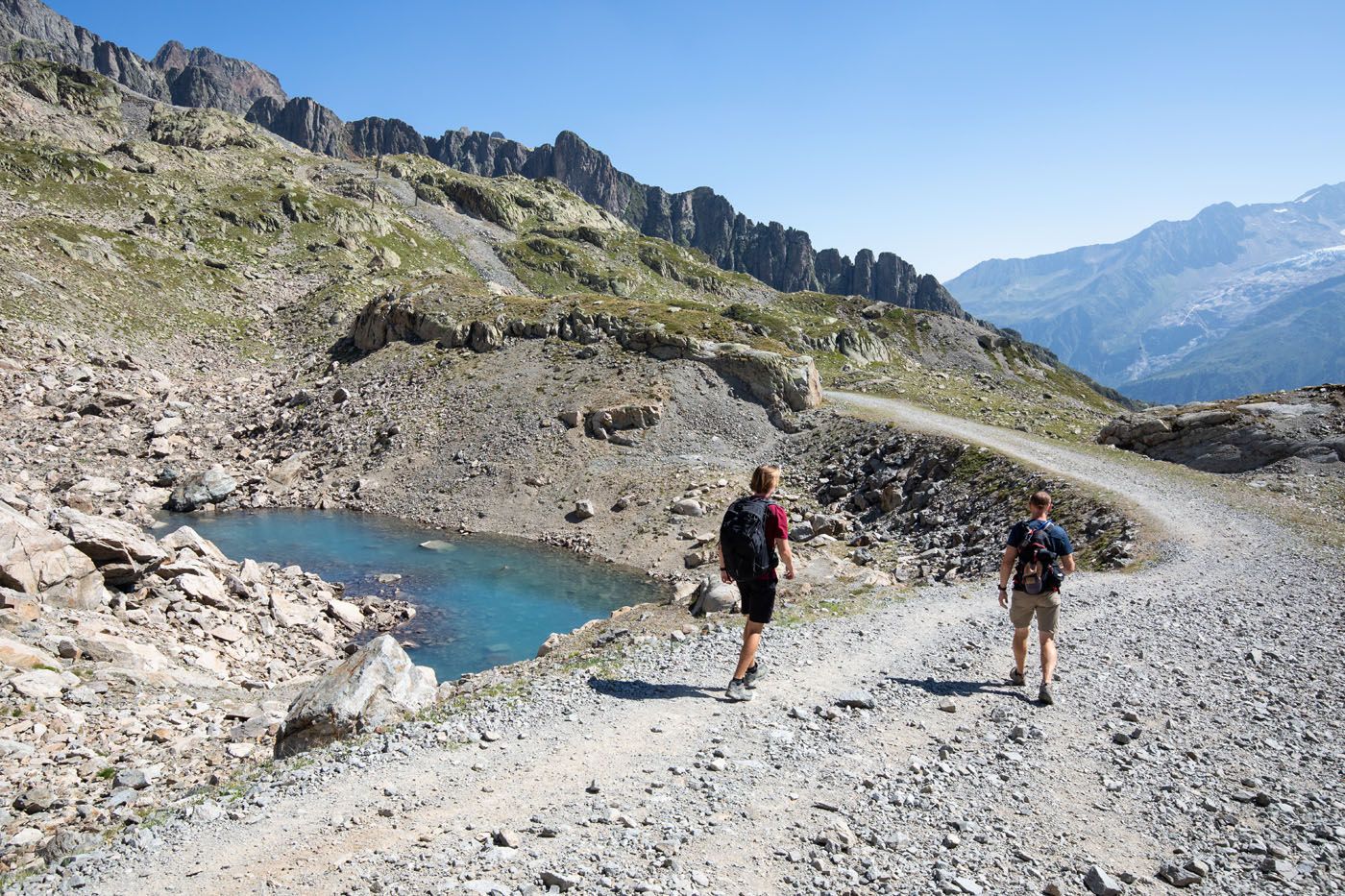 At first, the trail starts off as a wide gravel road.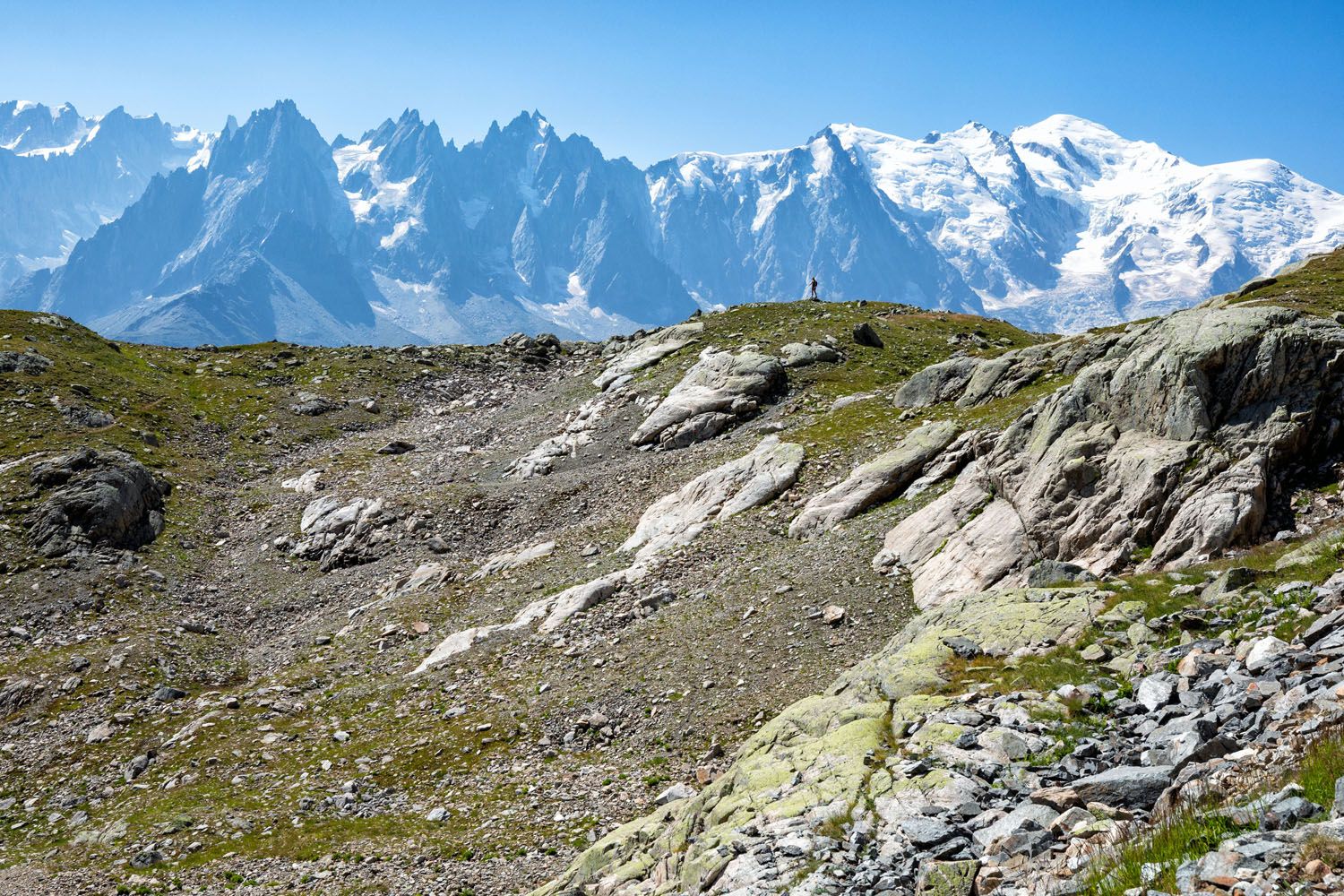 View from the trail.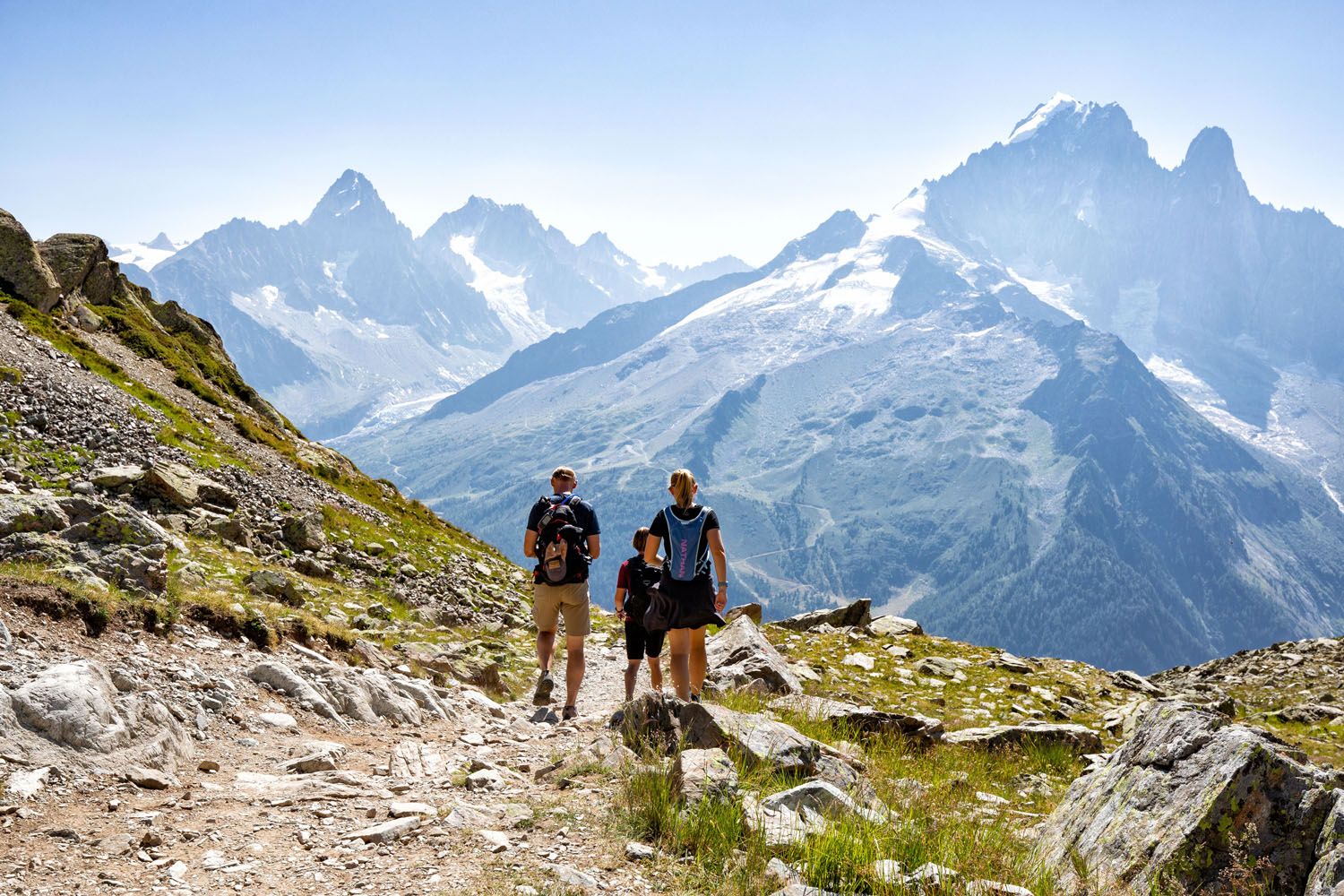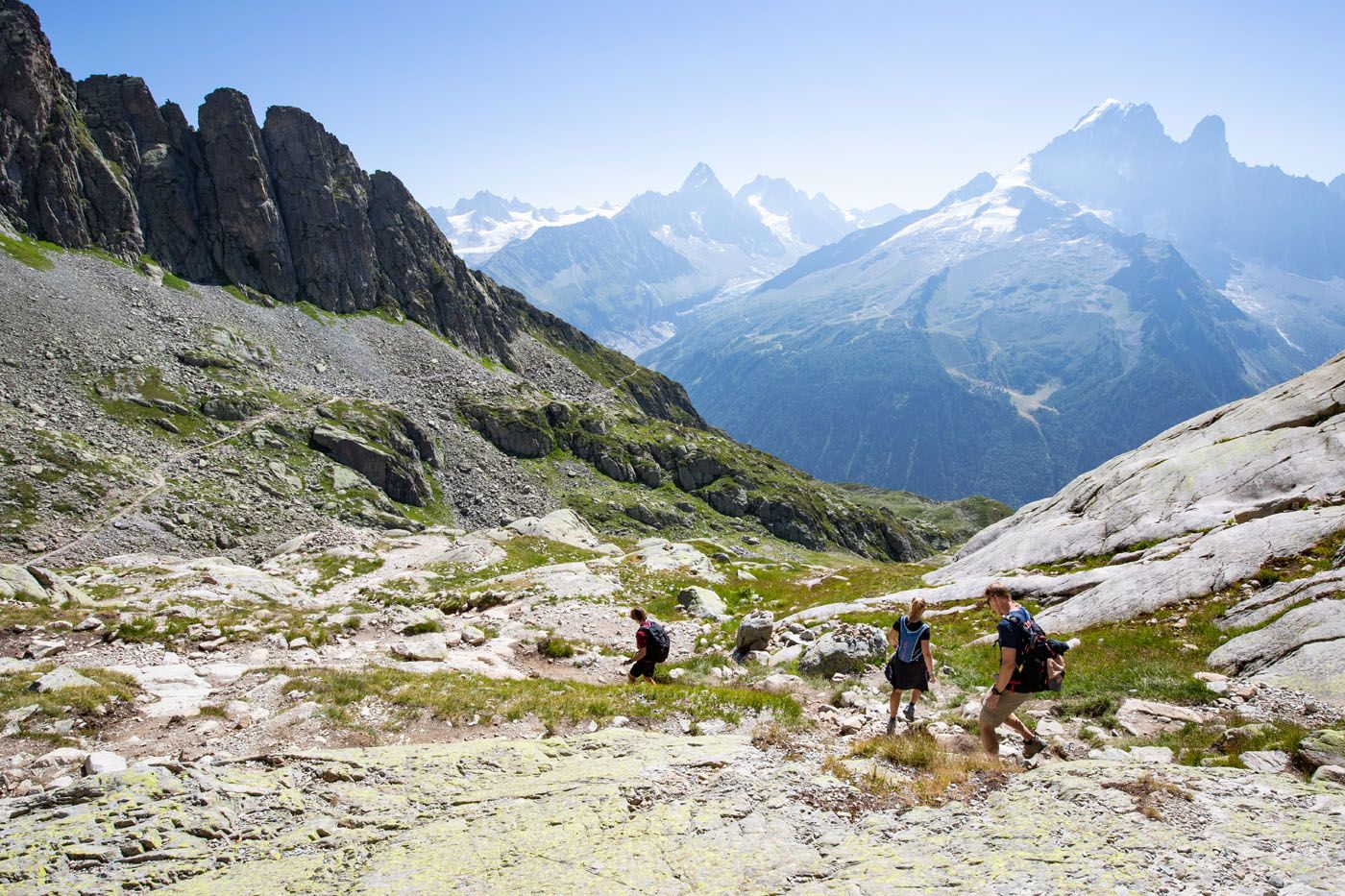 In this photo, you can see the trail as it runs under the rocky pinnacles.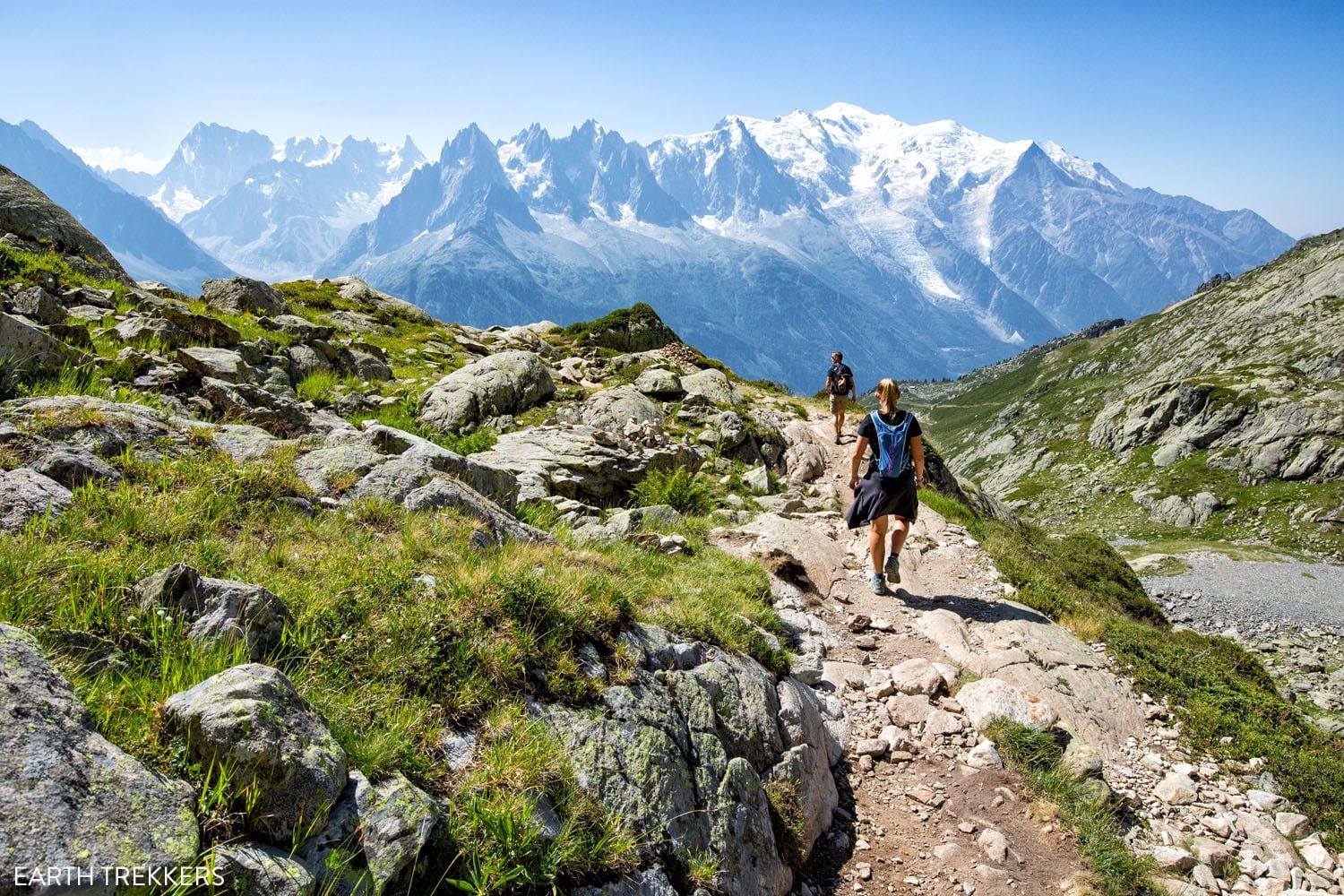 Every so often, Mont Blanc will come into view.
A short section of trail where there are metal bars to help you hike up the rocky cliff.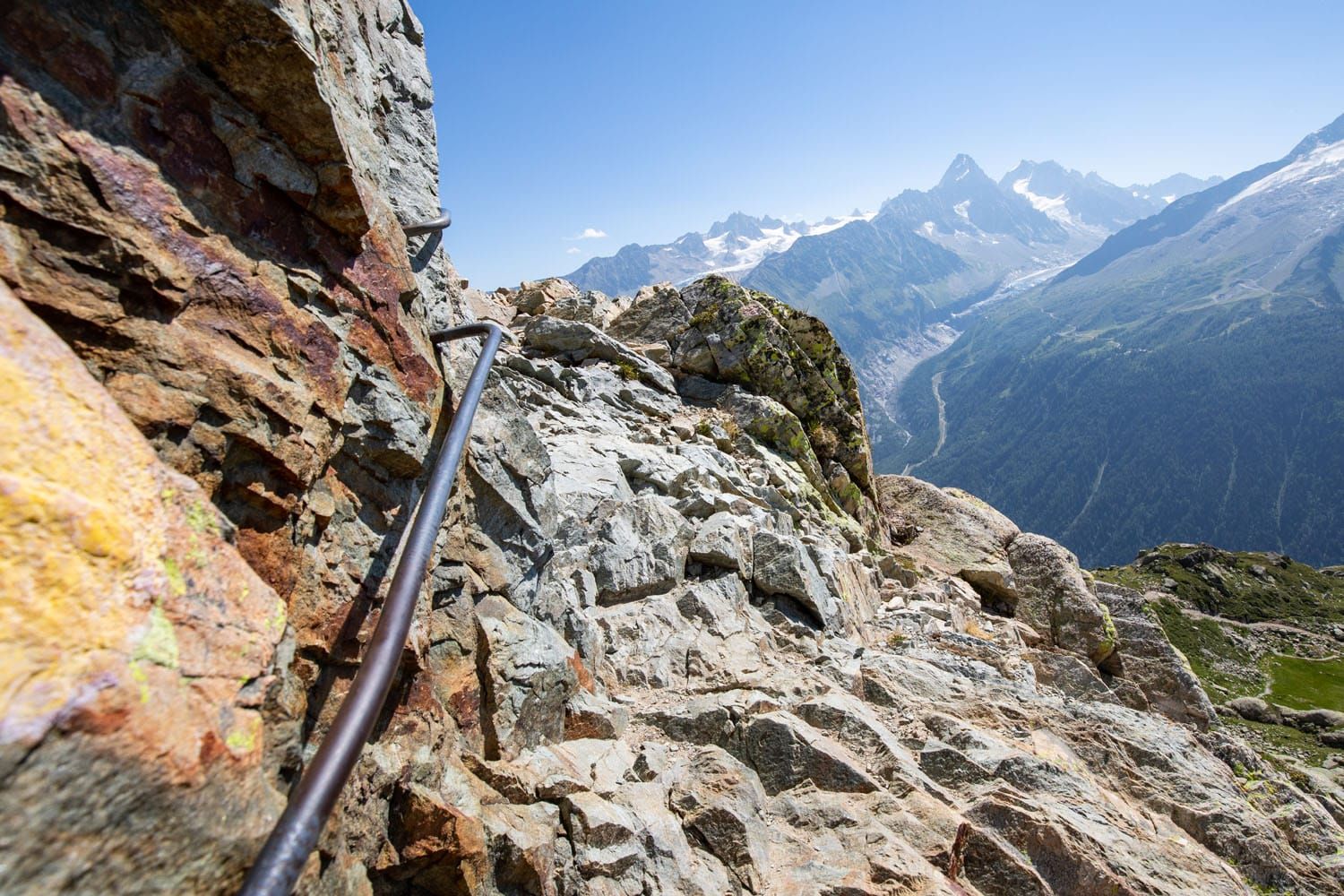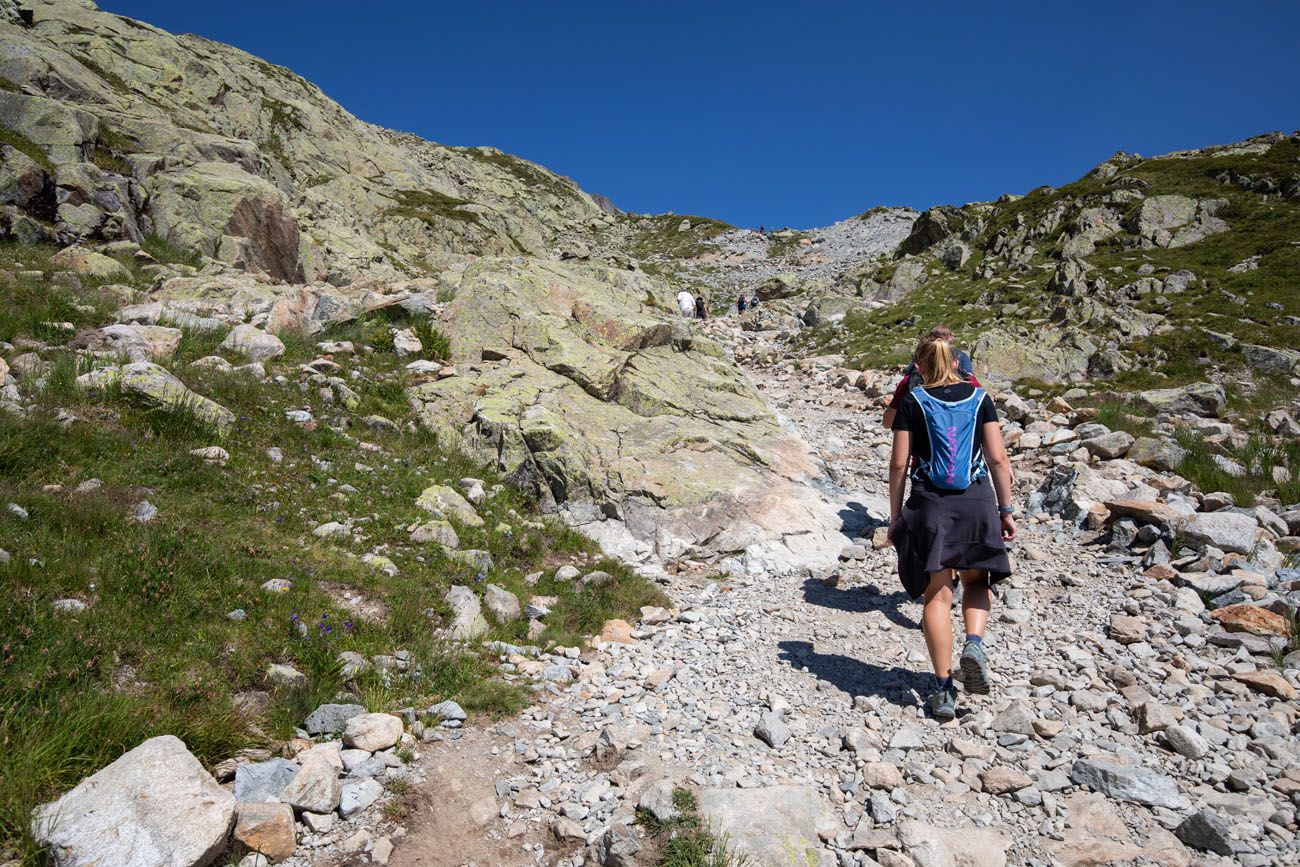 A view of the final climb just before Lac Blanc.
Just before reaching Lac Blanc there will be a trail junction. Stay to the left to continue on the trail to Lac Blanc (there is a trail sign here indicating which direction to go). This short uphill hike is the hardest part of the day and once you reach the top, Lac Blanc comes into view.
Lac Blanc
Lac Blanc is a popular spot to visit in the summer months. People hike here to capture the reflection of Mont Blanc in the lake, but conditions have to be perfect in order to do this (sunny skies and no wind). We had the sunny skies but a light breeze rippled the water just enough that we couldn't see Mont Blanc's reflection.
There are two sections to the lake, a lower lake and an upper lake. It's worth it to make the short walk to the upper lake. On the way, you can look back at the refuges and the Mont Blanc massif.
Next to the lower lake are also numerous large boulders that you can climb onto. These make great viewpoints and spots for family photos.
Finally, there are two restaurants at the lake, making this a great spot to have lunch, refuel, and relax before starting the return hike.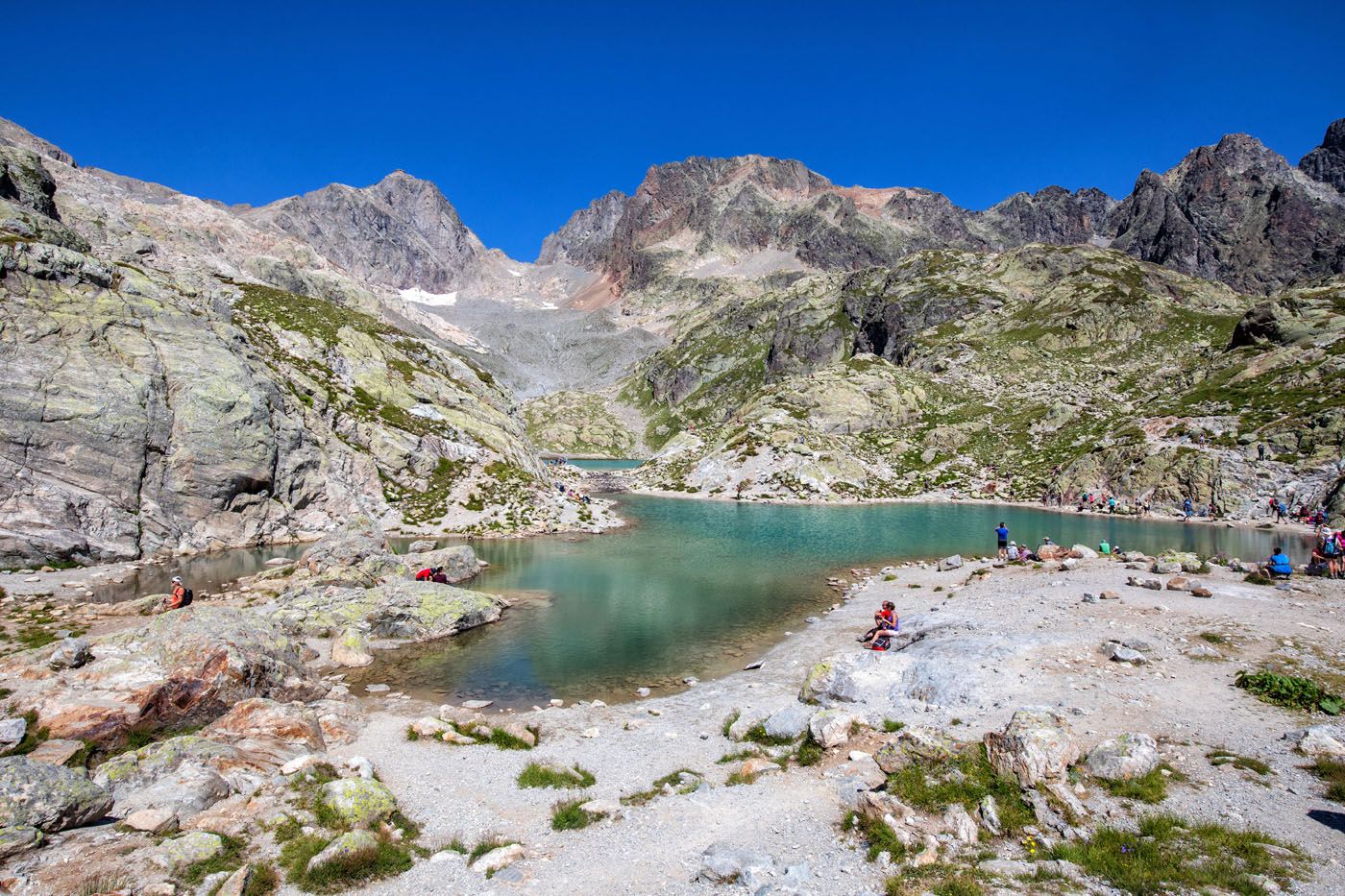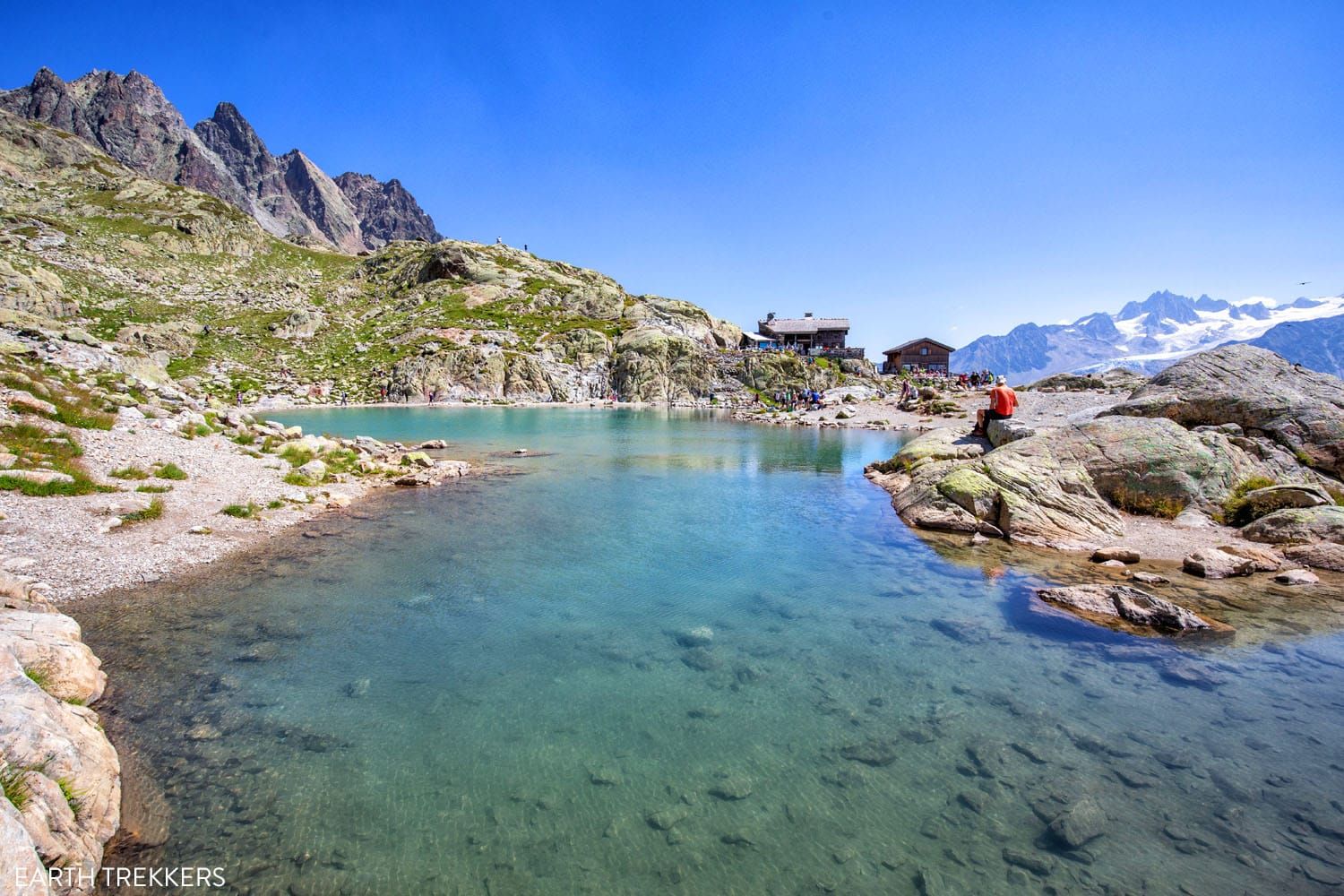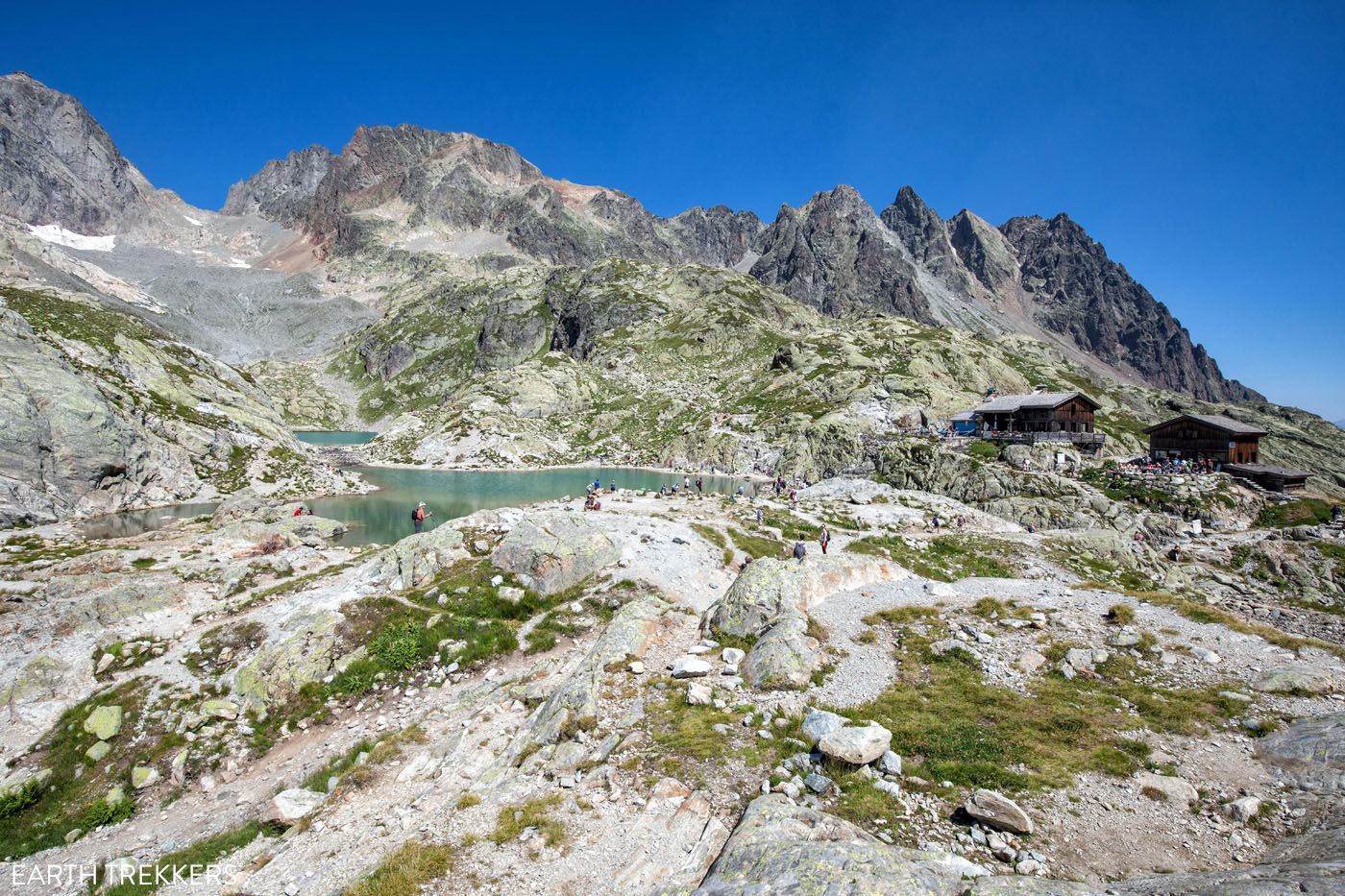 Near the lake are large boulders to climb onto, for views of the lake or to take a selfie or family photo.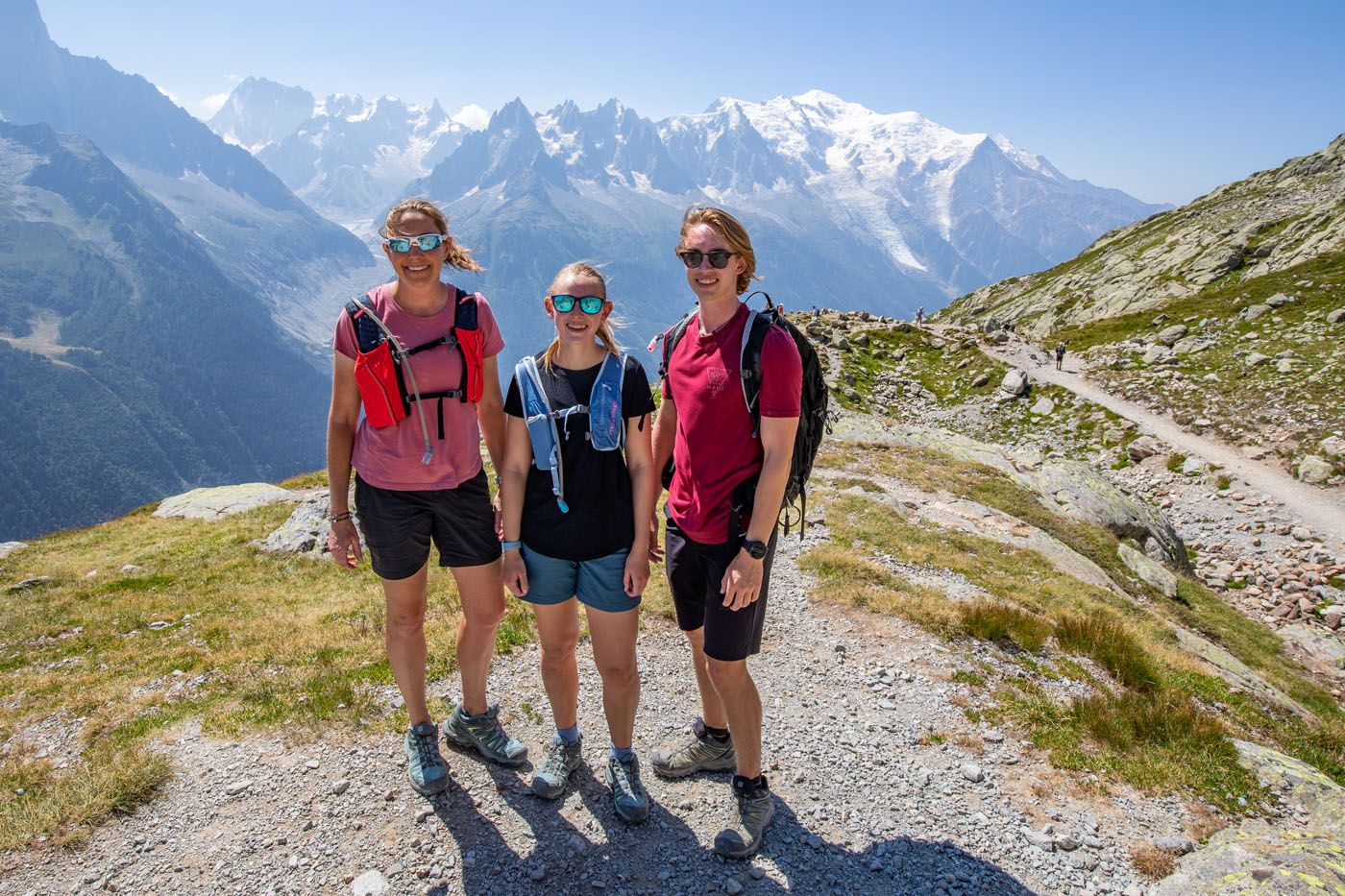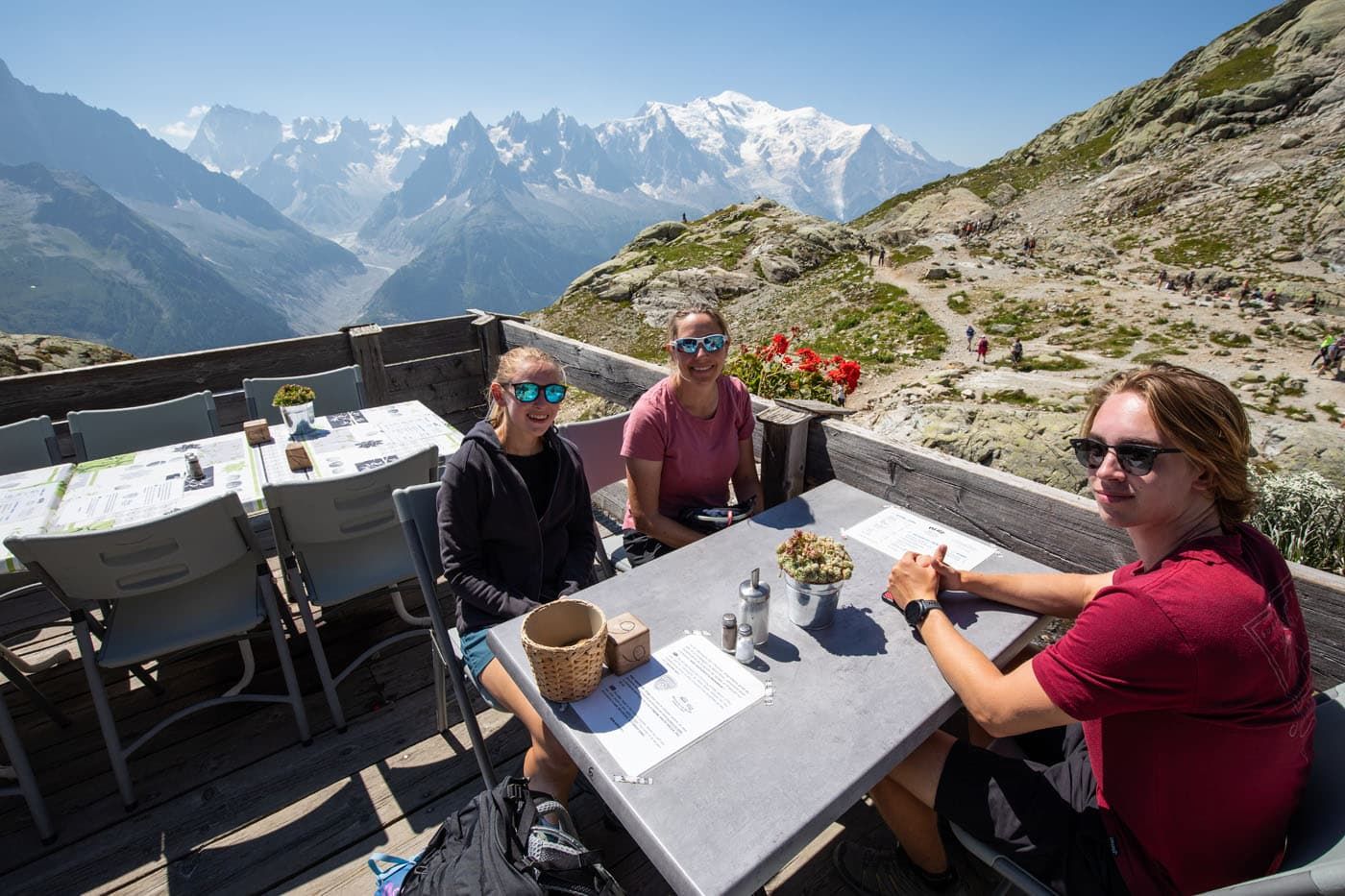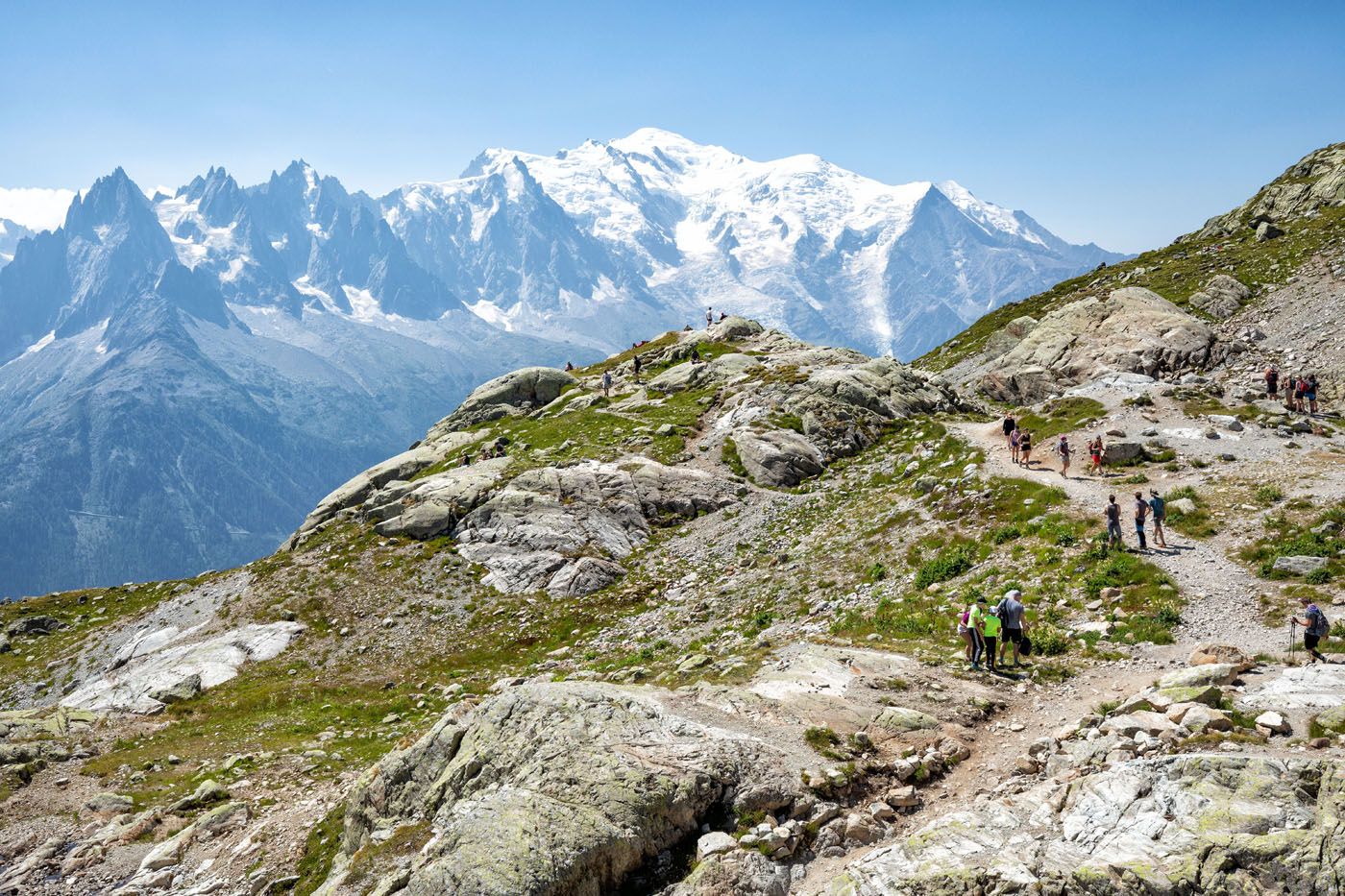 View from the Lac Blanc restaurant/hut.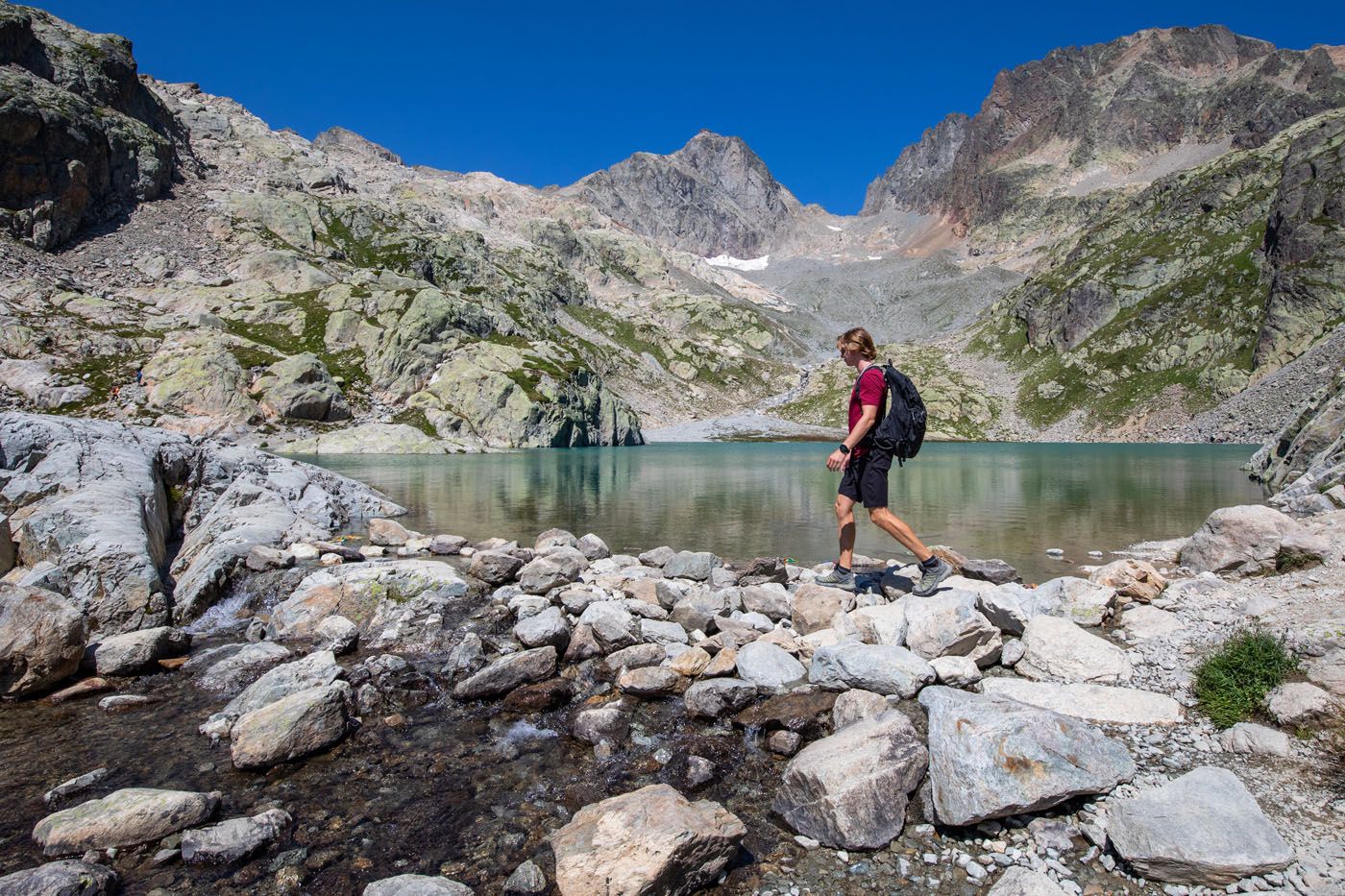 Tyler crossing the rocks for a view of the upper lake.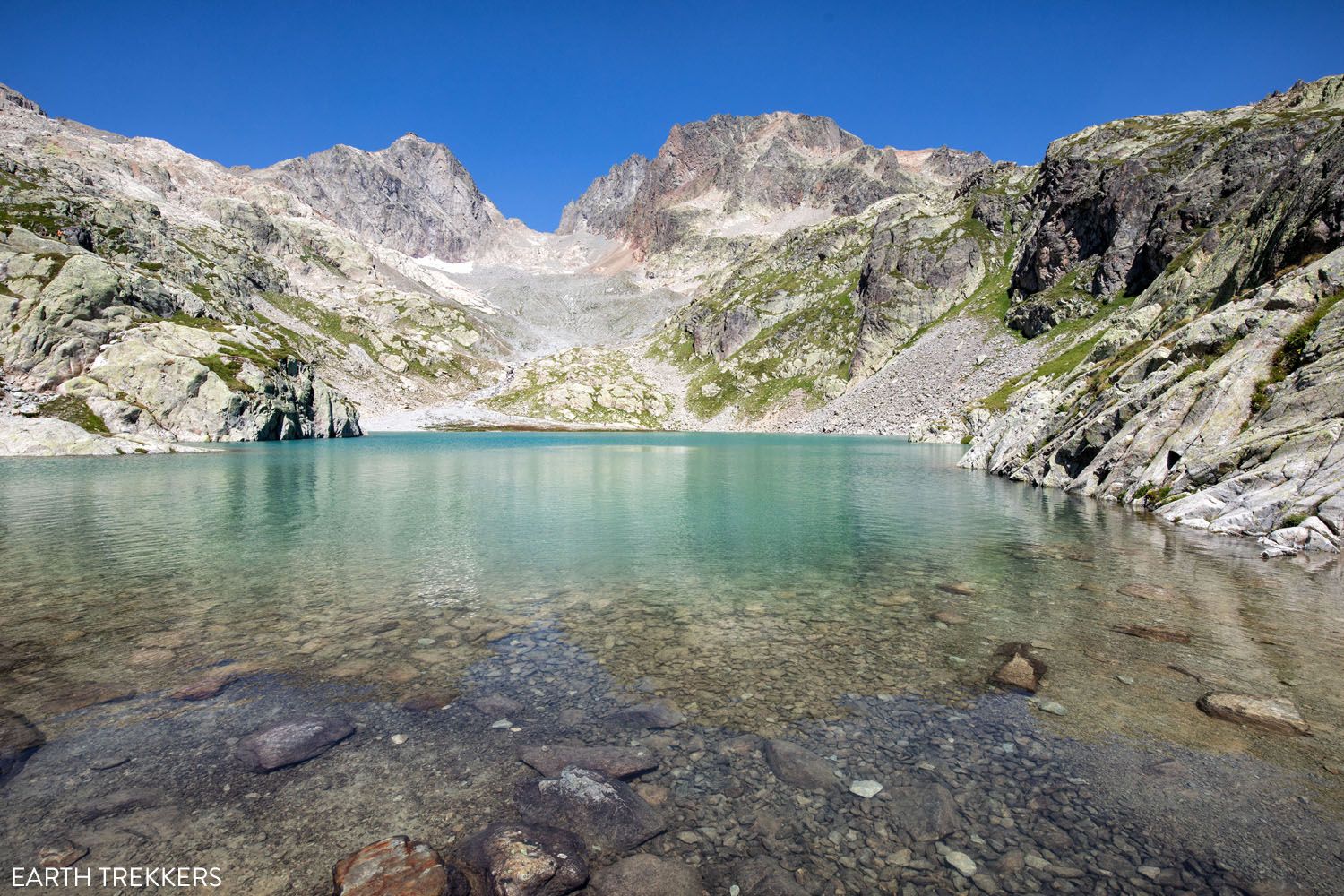 Upper lake
Return Hike to L'Index
To complete this hike, retrace your steps back to L'Index. As stated before, this part of the hike is more interesting, since you are now hiking towards Mont Blanc.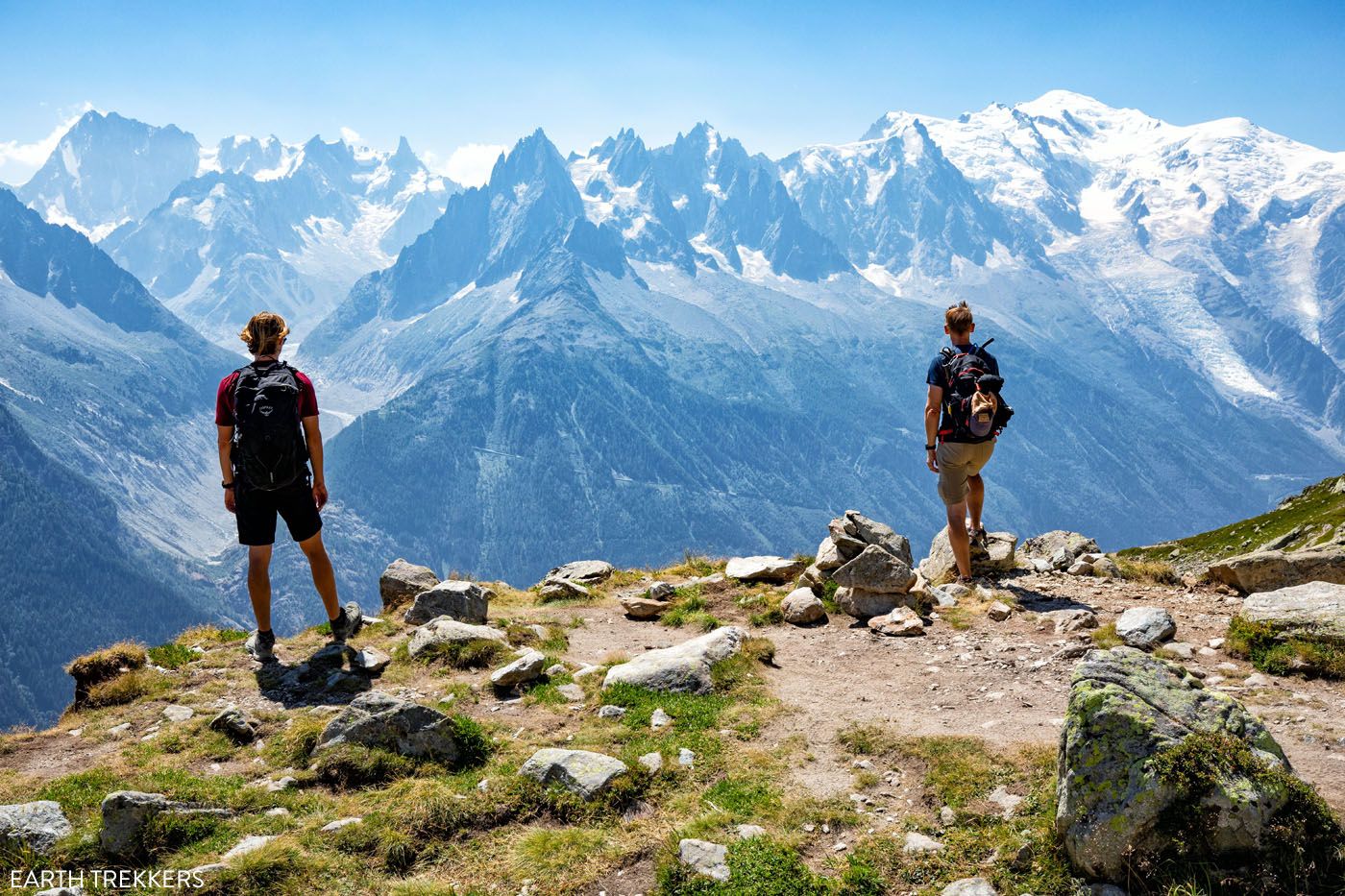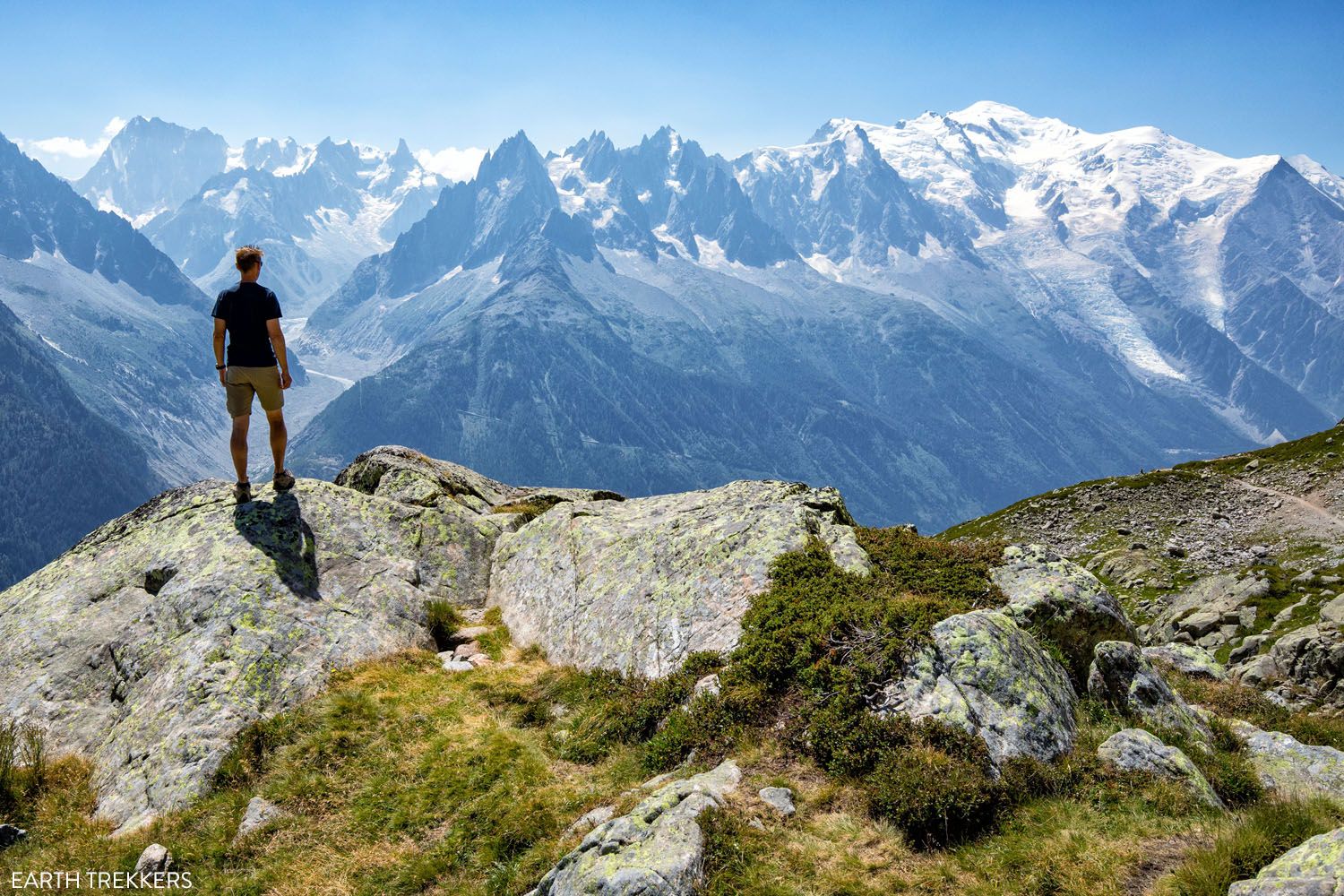 At L'Index, take the chairlift to La Flégère and take lots of photos of Mont Blanc and Chamonix.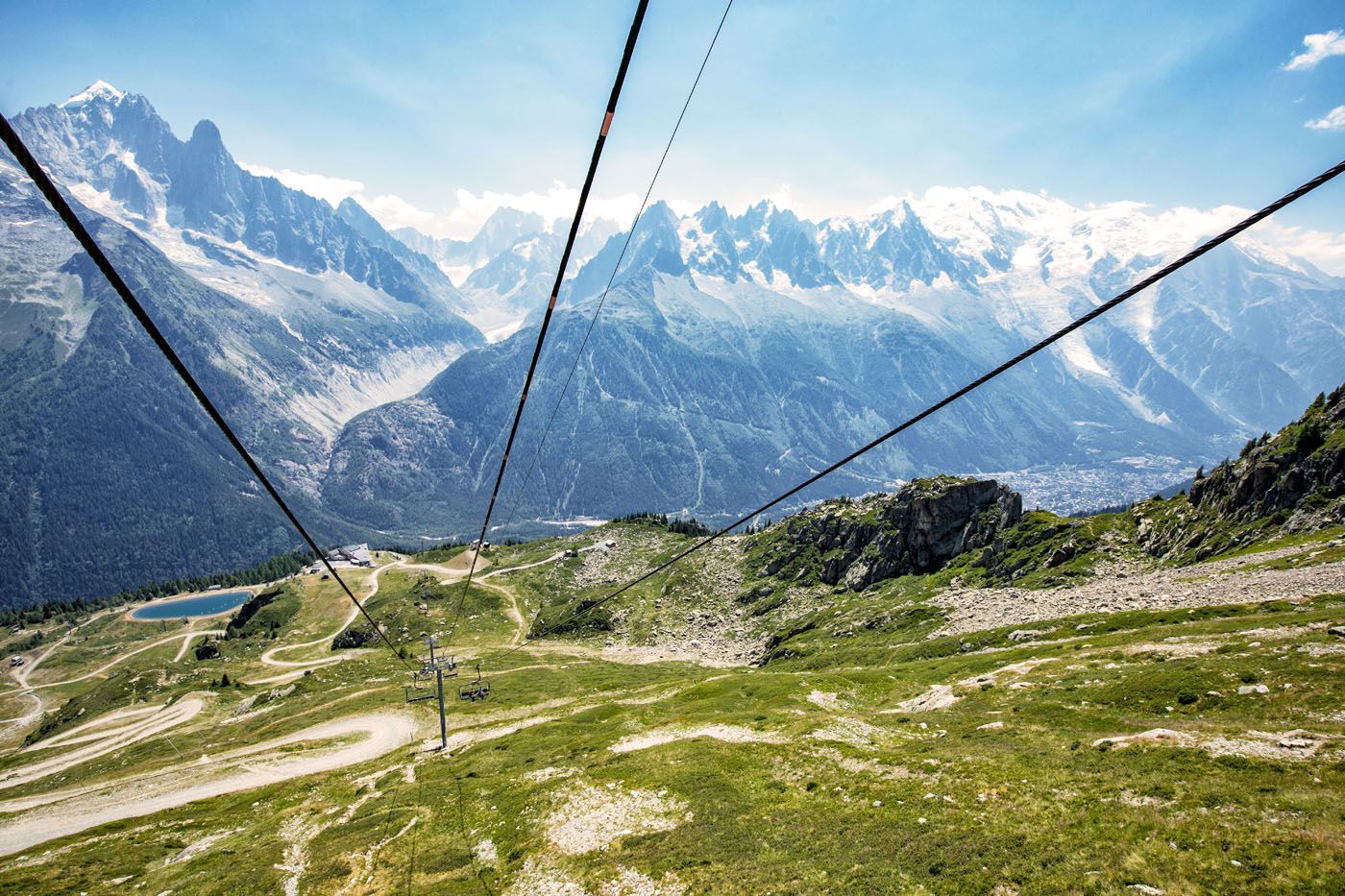 And from La Flégère, ride the gondola to Les Praz. In Les Praz, we had a great lunch at Chalet Hotel Le Castel Chamonix, which is located between the gondola station and the train station.
What to Bring on the Hike to Lac Blanc
Hiking shoes. I recommend wearing hiking shoes, since you will be hiking uphill and downhill on uneven, rocky surfaces.
Water. At least 1.5 liter of water per person. It's not a long hike, but it can be warm in the summer, and it is nice to have some cool water to drink during the hike.
Sunscreen, hat, and sunglasses. Most of the trail is fully exposed to the sun.

If you are new to hiking or are curious about what you should bring on a hike, check out our Hiking Gear Guide. Find out what we carry in our day packs and what we wear on the trails.
Frequently Asked Questions
Can you hike to Lac Blanc with kids?
Yes, this is a great hike for kids. In fact, we saw more kids on this trail than any other trail we hiked in Chamonix. We saw kids as young as 5 years old and they seemed to be doing great.
Is the hike to Lac Blanc worth it?
Absolutely. It's manageable distance and fact that most of the climb is eliminated by a cable car makes this an easy to moderate hike that most people can handle. Mont Blanc is in view every step of the way and you will have lots of great spots to have your photo taken with Mont Blanc along the trail. And of course, visiting Lac Blanc rounds out the experience, making this one of the best hikes in Chamonix.
Can you fly a drone at Lac Blanc?
No, drones are not permitted at Lac Blanc.
Can you swim at Lac Blanc?
No, swimming is not permitted. There were numerous "no swimming" and "no bathing" signs posted around Lac Blanc.
---
If you have any questions about hiking to Lac Blanc, or if you want to share your experience, let us know in the comment section below.
More Information for Your Trip to France
CHAMONIX: Get started with our guide to the Best Things to Do in Chamonix. In our Guide to Aiguille du Midi, we cover how to visit Aiguille du Midi and ride the Panoramic Mont-Blanc cable car. Learn how to hike the Grand Balcon Nord trail and how to hike to spectacular viewpoints of the Argentiere Glacier.
WALKER'S HAUTE ROUTE: The Walker's Haute Route is a spectacular multi-day trek from Chamonix, France to Zermatt, Switzerland. Learn more about this amazing journey our our Guide to the Walker's Haute Route.
ALSACE WINE REGION: Learn how to plan your visit in our 3 Day Alsace Wine Region itinerary. We also have guides to the towns on the Alsace Wine Route and how to spend one perfect day in Colmar.
HOW TO VISIT PARIS: Start with our article Best Things to Do in Paris for ideas of what to do in Paris. Plan your time in the city with our 2 Day Paris Itinerary and 3 Day Paris Itinerary. We also have a Paris Hotel Guide, advice on visiting Paris with kids, a Paris Food Guide, and advice for visiting Paris at Easter.
FRENCH RIVIERA: Plan your visit to the French Riviera and Provence in our 10 Day French Riviera Itinerary.
MORE GREAT HIKES IN EUROPE: From thrilling trails in the Alps to easy walks along the coast, read our article 20 Best Hikes in Europe for some beautiful hiking trails to put on your travel wish list.
EUROPE TRAVEL INSPIRATION: Get more travel ideas in our article 10 Days in Europe itinerary, which has 10 itineraries for your next trip to Europe. If you have less time, we also have an article that lists 25 different ways to spend one week in Europe.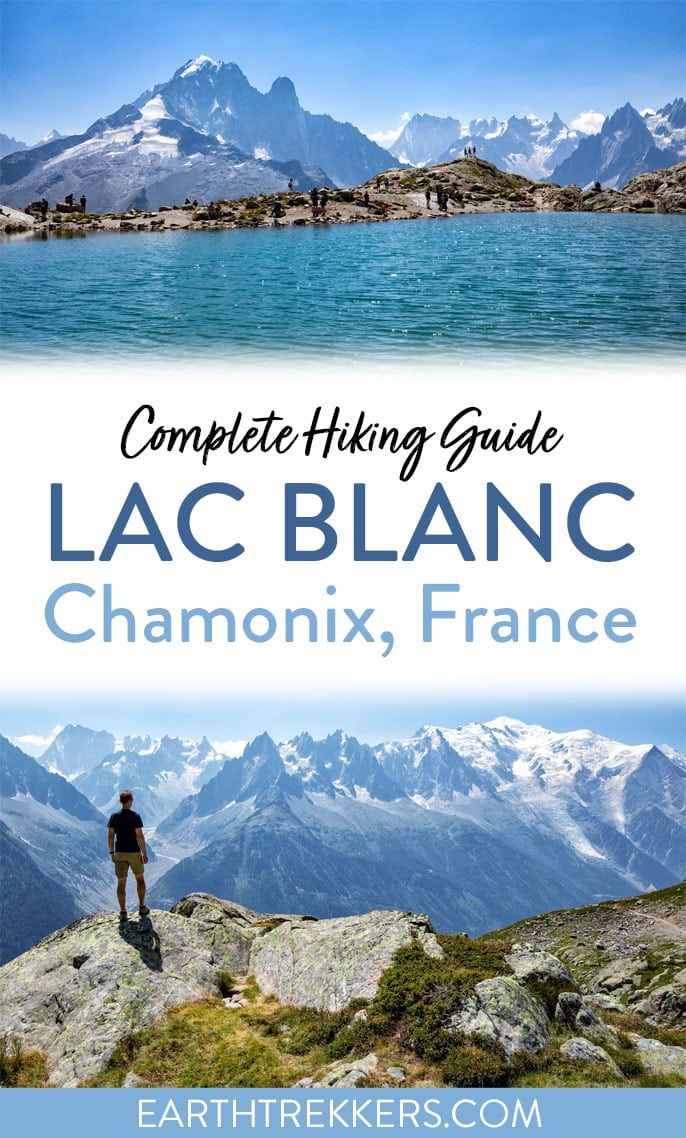 All rights reserved © Earth Trekkers. Republishing this article and/or any of its contents (text, photography, etc.), in whole or in part, is strictly prohibited.