Lausanne is a beautiful city that is located on Lake Geneva in French-speaking Switzerland. One day is all you need to visit the highlights of Lausanne, but with more time, it makes a great home base to explore western Switzerland. Here are 10 wonderful day trips from Lausanne.
Best Day Trips from Lausanne
1. Cruise Lake Geneva
One of the best things to do while in Lausanne is to take a cruise on Lake Geneva. There are several options for how to do this. You can either charter a private boat to cruise the lake or use the ferries to day trip to other towns located on Lake Geneva.
Lake Geneva Cruise Lines offers group and private tours of Lake Geneva. Click here to visit their website and see what they have to offer.
The General Navigation Company (GCN) operates boats that transport travelers from Lausanne to Château de Chillon, Montreux, Vevey, Nyon, and Morges. They also offer gourmet cruises.
Click here to learn more about the GCN cruises.
If you want to combine a cruise on Lake Geneva with a visit to the small towns, you can visit Château de Chillon along with Montreux or Vevey (listed next in this post), Yvoire, France or Évian-les-Bains, France.
2. Château de Chillon, Montreux & Vevey
Château de Chillon is a medieval castle that is located on the eastern shore of Lake Geneva. You can easily add on the towns of Montreux and Vevey.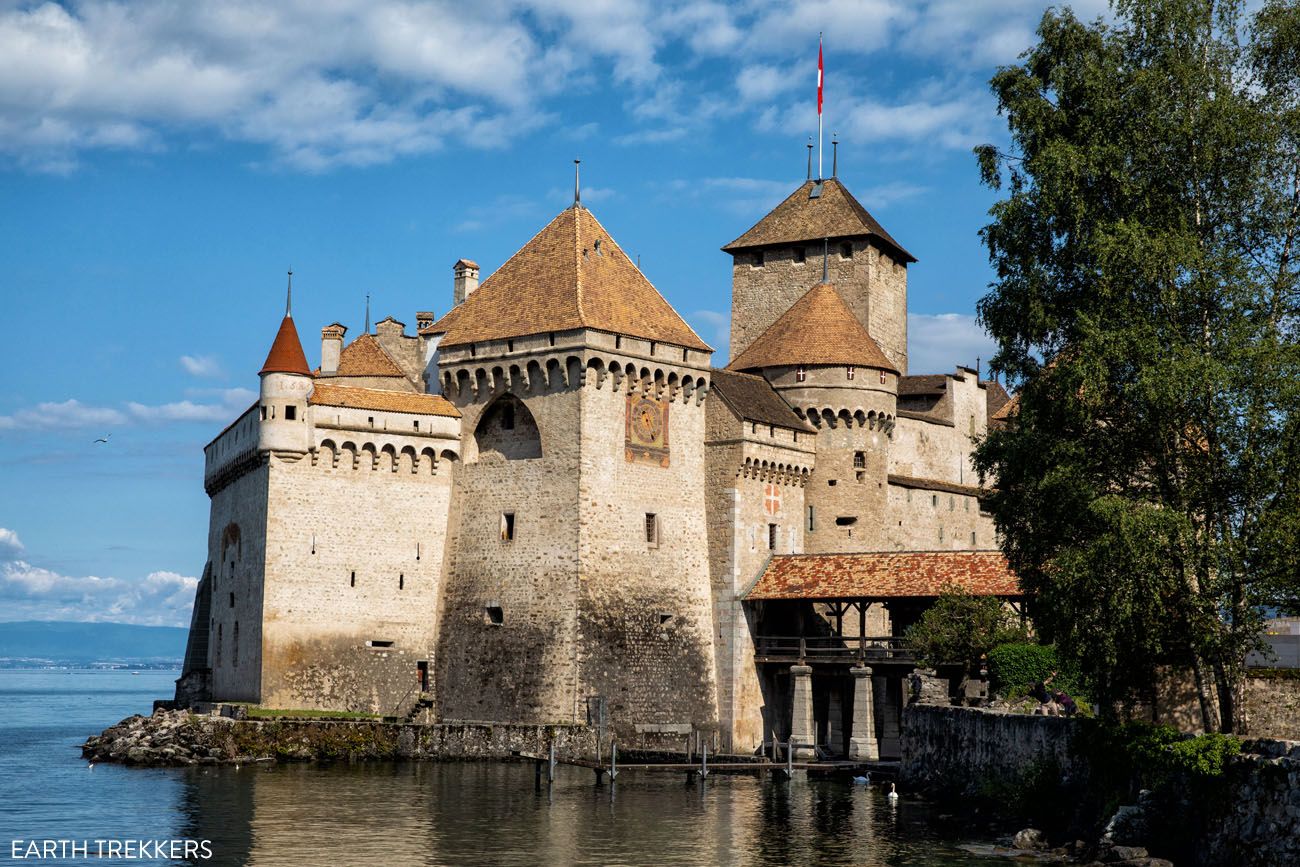 Château de Chillon | Best Day Trips from Lausanne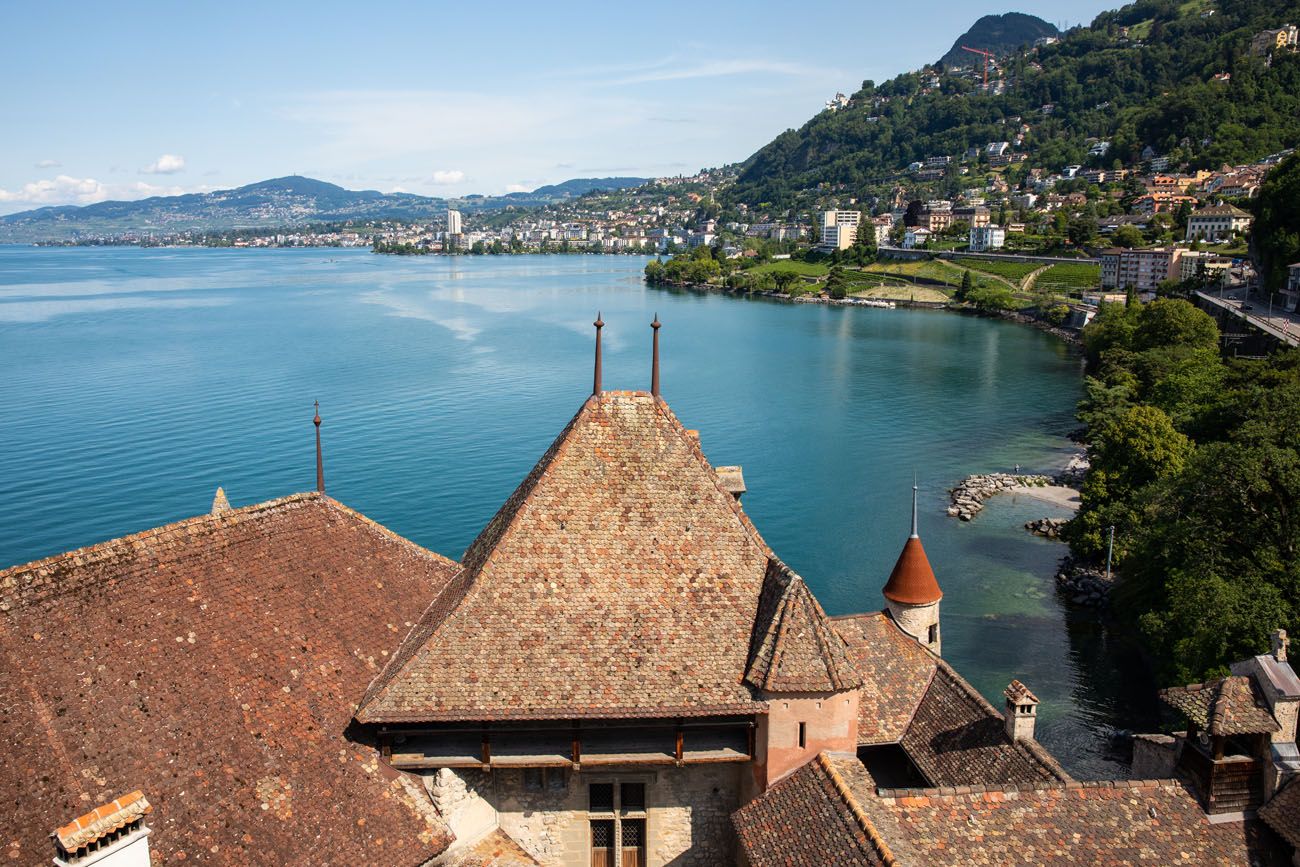 View of Montreux and Lake Geneva from Château de Chillon
Montreux sits within walking distance of Château de Chillon, although you can also take the train, bus, or ferry to get here. If you plan to visit Switzerland in July, don't miss the world-famous Jazz festival.
Vevey is another small town that sits next to Montreux. This town is the location of the world headquarters of Nestle and Charlie Chaplin called this town home until his death in 1977.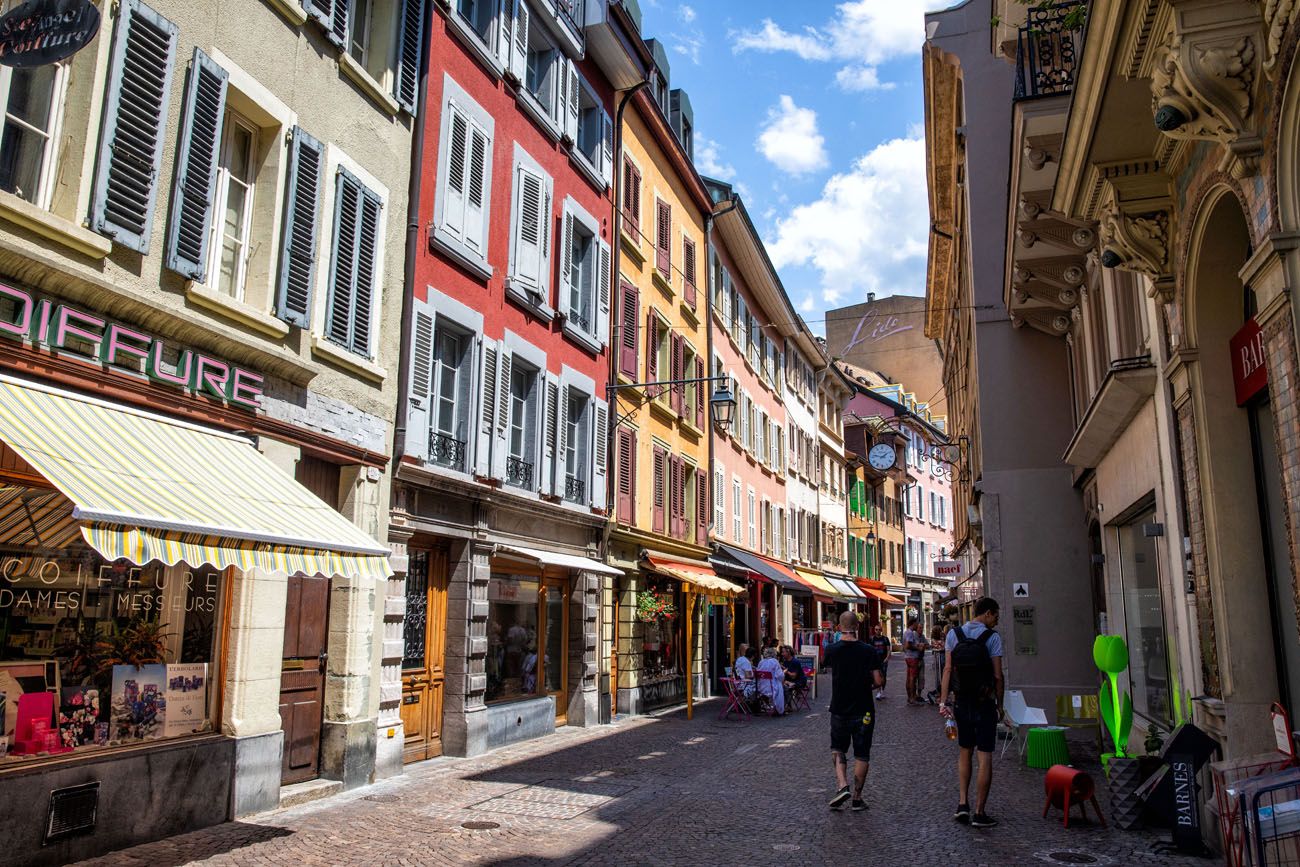 Vevey | Best Day Trips from Lausanne
3. Visit the Lavaux Wine Region
Stretching between Lausanne and Vevey are the terraced vineyards of Lavaux, a UNESCO World Heritage Site. You can walk or bike the 32 km footpath through the vineyards.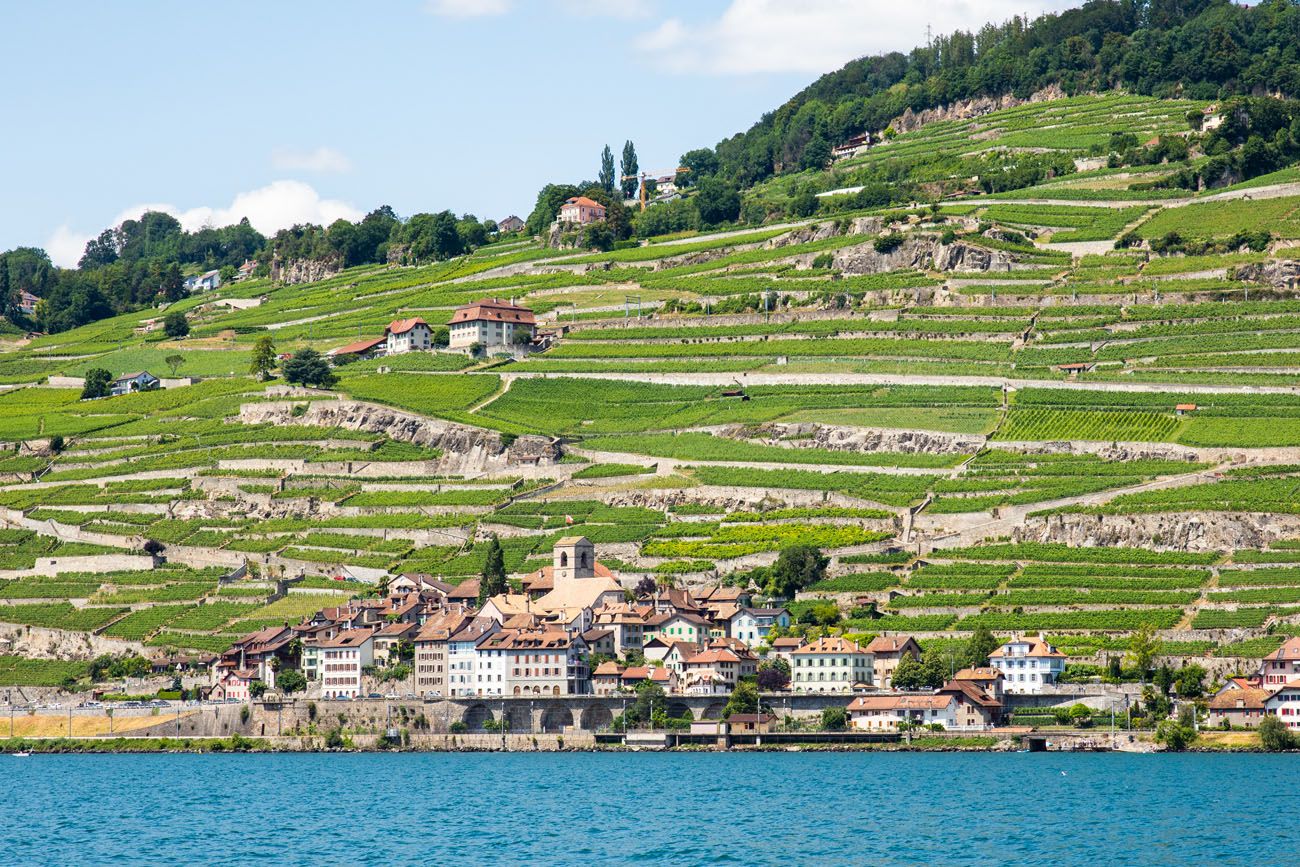 Lavaux Vineyards | Best Day Trips from Lausanne
4. Dine on Cheese and Chocolate in Gruyères
Located in the idyllic, rolling hills of French Switzerland sits Gruyères, a picture-perfect medieval town. Cheese, chocolate, and beautiful cobblestoned streets attract visitors all year round.
The medieval town of Gruyères is tiny. The main street that runs through the center of town is a whopping 300 meters long, so you can walk from one end to the other in just a matter of minutes. It's a short but beautiful walk, especially with the views of green rolling hills that surround the town of Gruyères.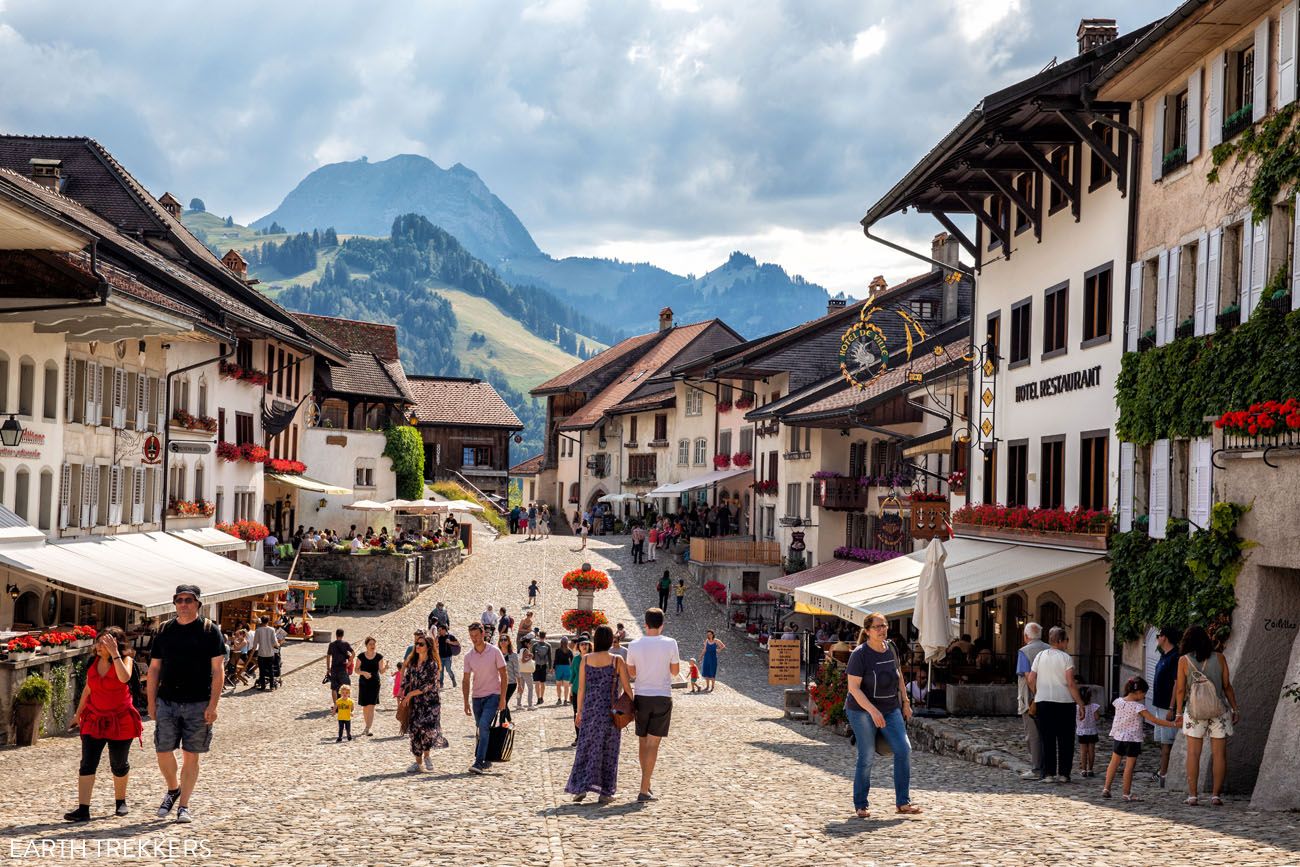 Gruyères | Best Day Trips from Lausanne
While you are here, visit Gruyères Castle, learn how cheese is made at La Maison du Gruyère, dine on cheese fondue, and take a tour of Maison Cailler, a chocolate factory that uses milk from the Gruyère region of Switzerland.
The easiest way to get to Gruyères is by car, but you can also get here by train.
Learn more about what to do in Gruyères and how to plan your day trip in our Guide to Gruyères.
5. Hike the Gastlosen Tour
The Gastlosen is a chain of limestone mountains that look very similar to the Dolomites of Italy. For 11 km, the trail loops around these magnificent, jagged mountains and you are treated to sweeping views of Switzerland.
This is a gorgeous hike. A chair lift lops off the first big climb (and the final descent), so it is manageable for many people. Since this hike is done as a loop, your views are always changing, and oh, what a view!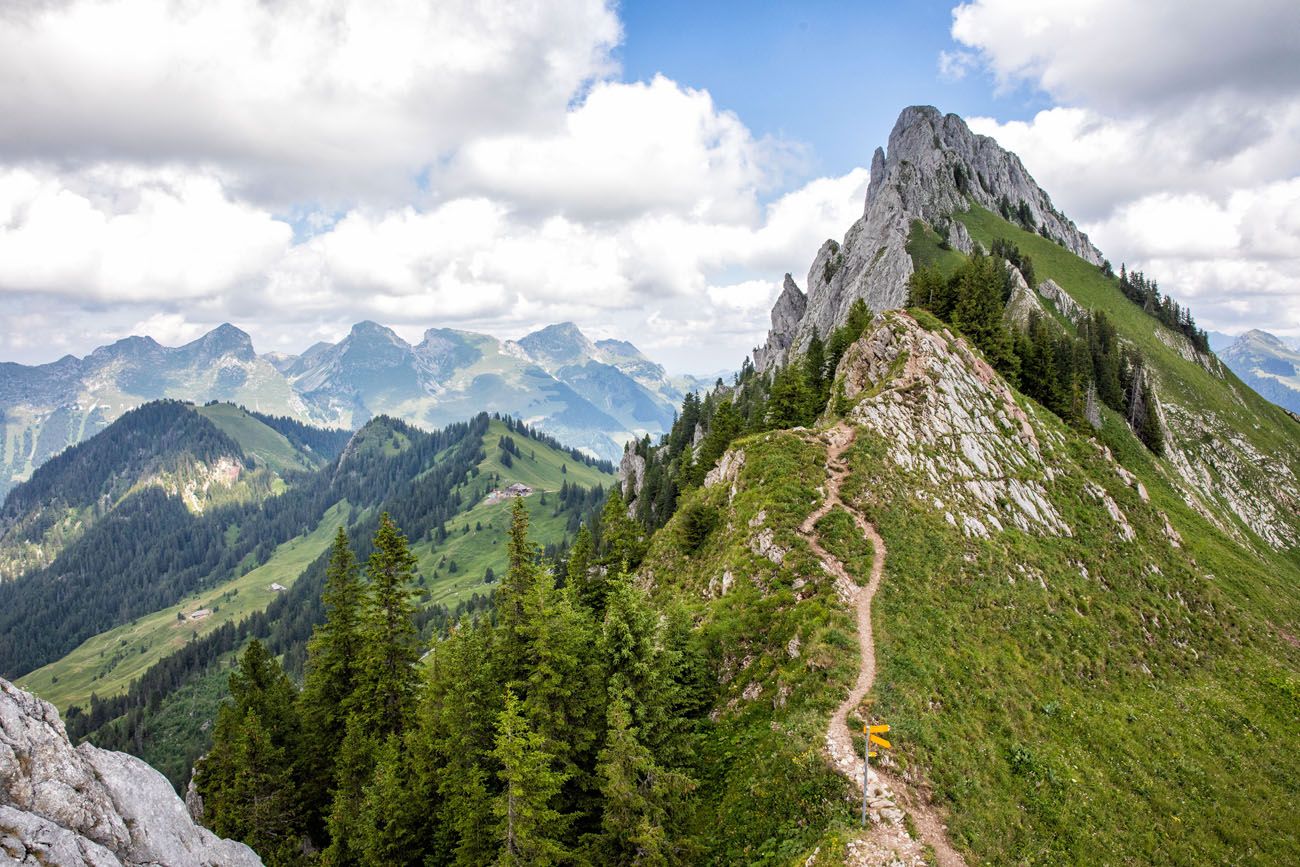 Hiking the Gastlosen | Best Day Trips from Lausanne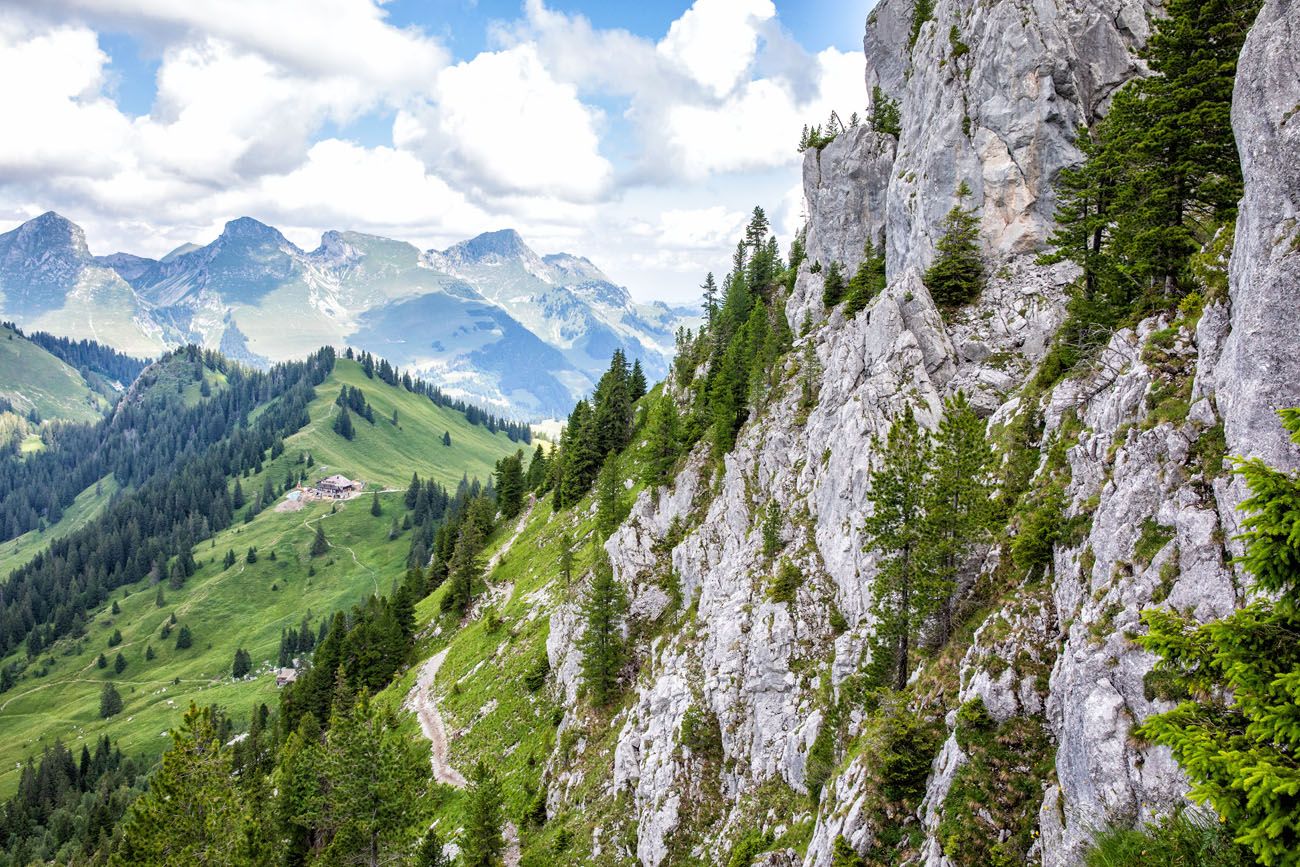 This is best done in summer and early autumn, when the trail is free of snow. During the winter, the slopes are covered with snow and this becomes a popular place to go skiing.
The Gastlosen Tour is located near Gruyères so it is easy to combine the hike with a visit to the town. Hike the Gastlosen Tour in the morning and dine on cheese and chocolate in the afternoon.
6. Hike Creux du Van
This is another great hike that you can do from Lausanne. Creux du Van is a natural rock arena that is located near Neuchâtel, Switzerland. On this hike, you walk along the rim of this rock arena and are treated to spectacular views of Switzerland. The hike is 14 km and takes about 5 hours. Learn more here.
7. Spend a Day in Bern
Bern is the capital city of Switzerland. This colorful city is a delight to visit, with its UNESCO World Heritage status old town, numerous museums, and beautiful setting on the Aare River. See where Albert Einstein lived when he developed the theory of relativity, visit the gorgeous Bern Cathedral, and watch the clock tower come to life every hour.
The easiest way to get here is by train. Trains travel very frequently between these two cities. It takes roughly an hour and fifteen minutes to travel from Lausanne and Bern, easily giving you a full day to explore the city.
8. Glacier 3000
Glacier 3000 is a high mountain summit located in the Diablerets region of Switzerland. If you are familiar with Jungfraujoch, it is a similar experience, where you can walk on a glacier, go sledding on the snow, and enjoy the view across the Swiss Alps.
If you are traveling with kids, this is a great day trip from Lausanne. You can play in the snow in the summer months, ride the alpine coaster, and even go dog sledding (when it is available).
Learn more about how to get here and things to do on the official Glacier 3000 website. You can also easily visit Glacier 3000 on this tour from Lausanne.
9. Visit Interlaken
Interlaken is a town that is located between Lake Thun and Lake Brienz. It is the gateway into the Jungfrau region of the Bernese Oberland, but if you have very limited time in Switzerland, a day trip to Interlaken is a great way to get a glimpse of these mighty, breathtaking mountains.
This is a long, busy day trip from Lausanne. It takes just over two hours to travel by train from Lausanne to Interlaken. Once in Interlaken, you have several different ways to spend your time.
Things to Do in Interlaken
Ride the funicular to Harder Kulm. From here, the views of the Alps are amazing. Dine in the restaurant and enjoy the view. If you want to stretch your legs, hiking trails lead farther up into the mountains from here.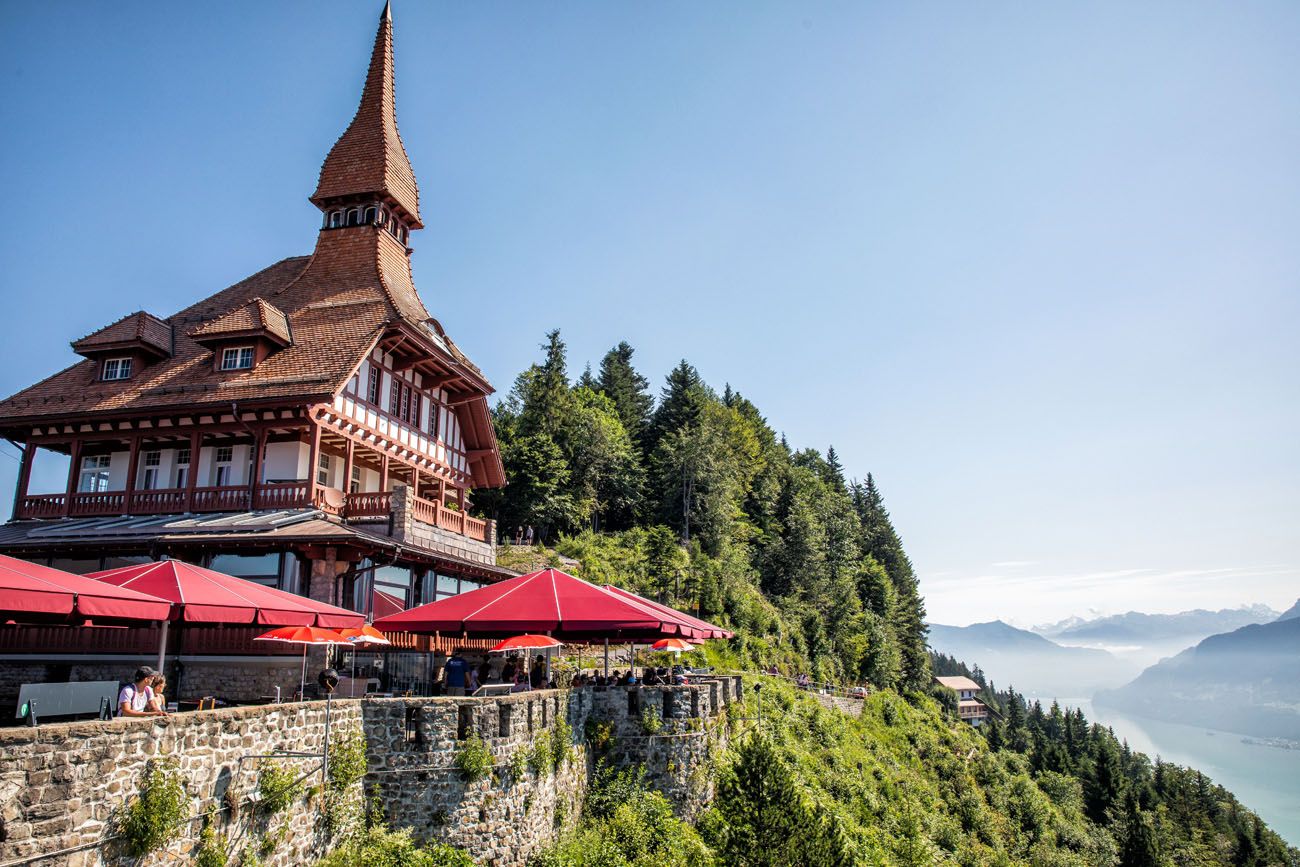 Harder Kulm | Best Day Trips from Lausanne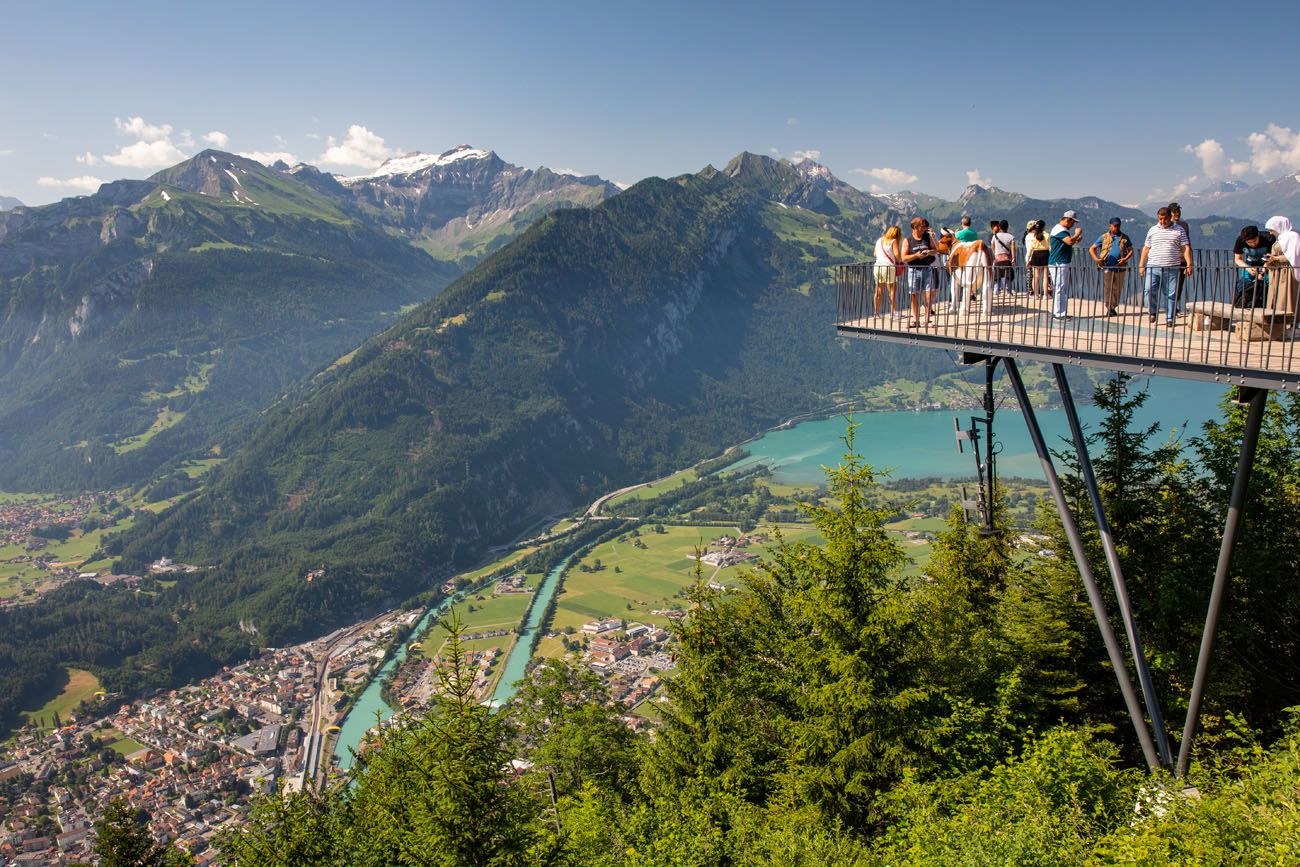 Viewing platform at Harder Kulm | Best Day Trips from Lausanne
From Interlaken, you can cruise Lake Brienz and Lake Thun.
If you don't mind a long day and more time on the train, you can even continue into the Jungfrau region. Jungfraujoch, one of the highest points you can easily travel to in Europe, is a very popular but expensive day trip idea. You can travel to Jungfraujoch by train from Lausanne.
An alternative is to visit Schynige Platte. From Interlaken, ride the train to Wilderswil. Then catch the cogwheel train to Schynige Platte and hike the Panorama Trail. On a clear day, the views are extraordinary. This will be a long day with a lot of time spent on the train, but one that you won't soon forget.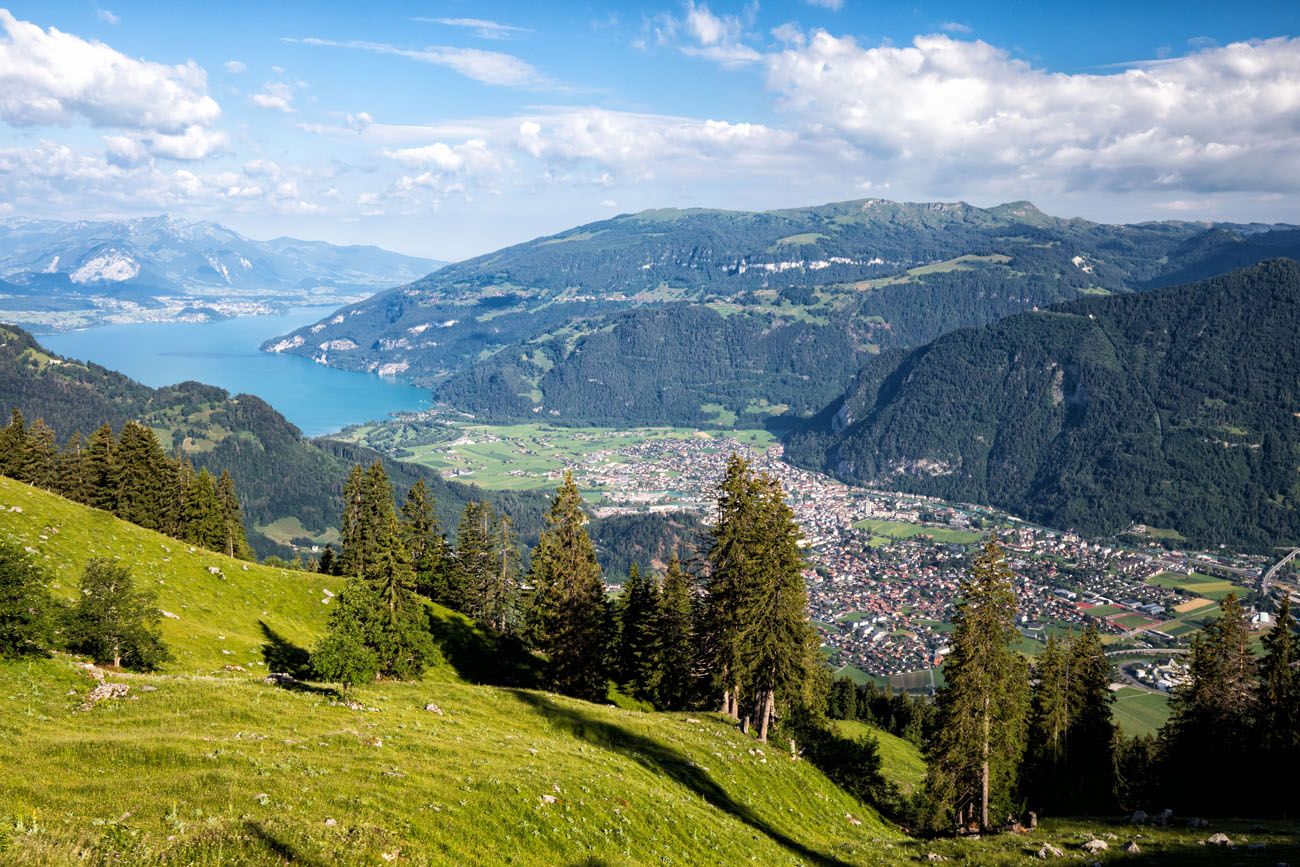 View of Interlaken from the Schynige Platte railway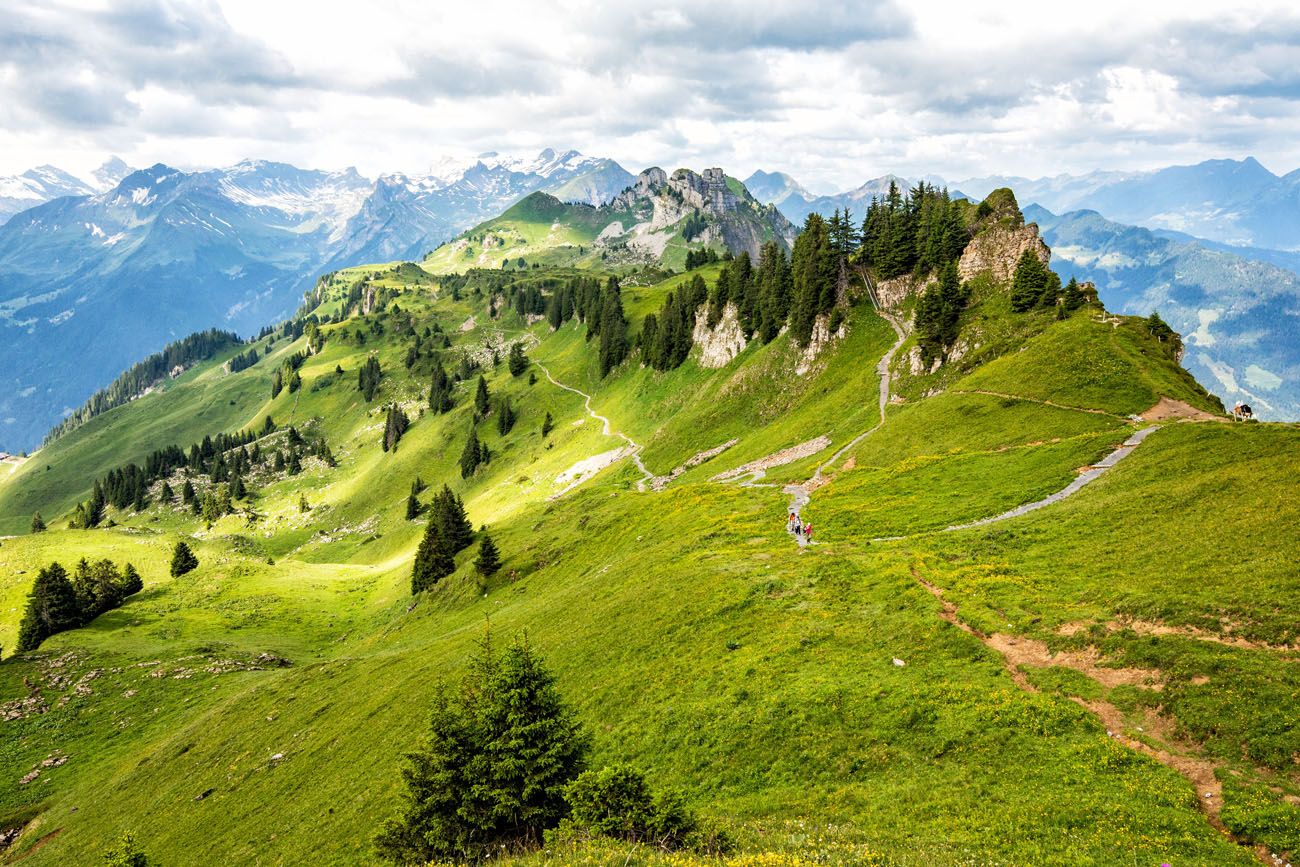 View of the Panorama Trail | Best Day Trips from Lausanne
A third option is to ride the train from Interlaken to Lauterbrunnen and spend part of the day exploring the town and photographing its beautiful waterfall (Staubbach Falls).
10. Spend a Day in Geneva
Geneva is the second largest city in Switzerland (Zürich is the most populated). It is located at the far western end of Lake Geneva. It is a major world financial center and for many travelers, the gateway into Switzerland.
We spent one day in Geneva and honestly weren't impressed. Geneva looks and feels like your typical large city and it lacks the charm you find in many other towns and villages in Switzerland. But if you are curious about what Geneva has to offer, it can easily be visited on a day trip from Lausanne.
Traveling between Geneva and Lausanne is a breeze, with travel times averaging 45 minutes on the train. Spend the day exploring the cobblestoned streets of the old town, visit the St. Pierre cathedral, see Jet d'Eau, and visit the Botanical Garden of Geneva.
Planning Your Visit to Lausanne
For a full list of things to do, with advice on where to stay and where to eat, read our article Top 10 Things to do in Lausanne.
---
If you have any questions about these day trips from Lausanne, let us know in the comment section below.
More Places to Go in Switzerland
LAUSANNE: For more information about Lausanne, read our article about the Best Things to Do in Lausanne.
SWITZERLAND ITINERARY: If your visit to Lausanne is part of a bigger trip to Switzerland, check out our Switzerland Itinerary, which has suggestions on what to do if you have 7 days, 14 days, or even longer.
JUNGFRAU REGION: What exactly is the Jungfrau region? Find out in our Guide to the Jungfrau Region, which includes maps and important travel planning information. We also have articles about the best things to do in the Jungfrau region as well as the top hikes in the Jungfrau region. The Eiger Trail and Schynige Platt to First are our favorite hikes. A visit to Jungfraujoch is one of the most popular experiences in the Jungfrau region, but is it worth it?
LUCERNE: Learn how to spend one perfect day in Lucerne with a trip to Mt. Pilatus.
LUGANO: Lugano is located in southern Switzerland. From here, you can visit the fairytale bridge Ponte dei Salti and you can easily day trip to Lake Como and Bellagio.
EUROPE TRAVEL INSPIRATION: For more great ideas on where to go in Europe, check out our article 30 Beautiful Places to Visit in Europe and the 20 Best Hikes in Europe. You can also get more travel ideas in our 10 Days in Europe itinerary guide, which has 10 great itineraries for your next trip to Europe.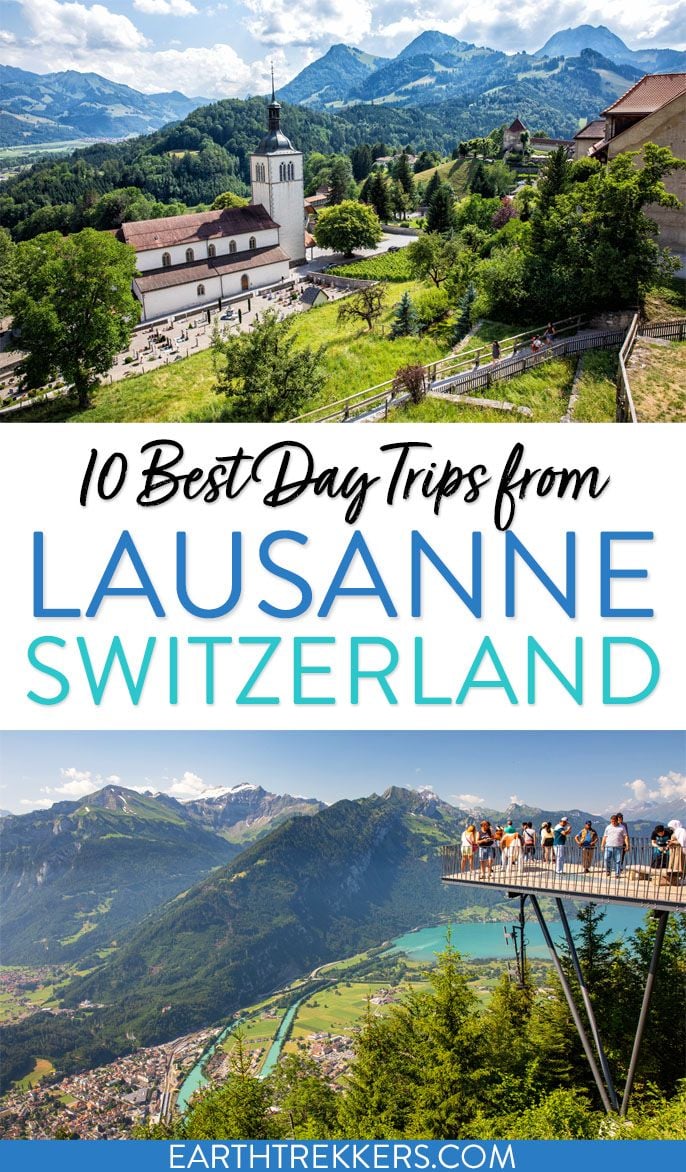 Note: This post contains affiliate links. When you make a purchase using one of these affiliate links, we get paid a small commission at no extra cost to you.
All rights reserved © Earth Trekkers. Republishing this article and/or any of its contents (text, photography, etc.), in whole or in part, is strictly prohibited.