iSimangaliso Wetland Park, the first UNESCO World Heritage Site in Africa, is located just north of St. Lucia, South Africa.
We spent several days in St. Lucia, using one of these days to tour the park. This was a huge change in scenery from where we have been, as we were now staying on the east coast of South Africa, overlooking the Indian Ocean. The park is a sanctuary for hippos and crocodiles, and there were warnings all over town to beware of hippos at night. We never had the pleasure of seeing a hippo walking through town, but heard them frequently.
iSimamgaliso Wetland Park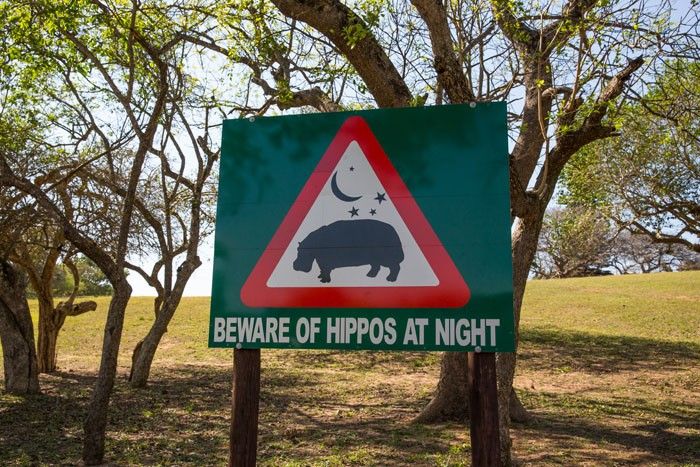 I had heard wonderful things about the park during our planning but for some reason was not expecting much. Boy, was I surprised! iSimangaliso is awesome. It's always nice when things are unexpectedly amazing! We saw rhinos, hippos, went swimming in the Indian Ocean, explored sand dunes, and had the beach almost totally to ourselves. Our day was filled with lots of drama, making the experience even better.
The diversity and beauty of the land here was one of the things that made our visit so wonderful. Tim and I expected miles and miles of flat, coastal swampland and lots of bird watching, but instead drove through hills, forests, swamps, and ended at an amazing beach.
This is an excerpt taken from the iSimangaliso Wetland Park map, which explains how diverse this park is:
The 332,000 hectare Park contains three major lake systems, 8 interlinking ecosystems, 700 year old fishing traditions, most of South Africa's remaining swamp forests, Africa's largest estuarine system, 526 bird species, and 25,000 year old coastal dunes – amongst the highest in the world. The name iSimangaliso means miracle and wonder, which aptly describes this unique place.
Upon entering the park it did not take long to spot some hippos lounging in the water. Unless they are fighting or eating, hippos are not the most exciting animal to watch, so we moved on. Things got so much more interesting from here!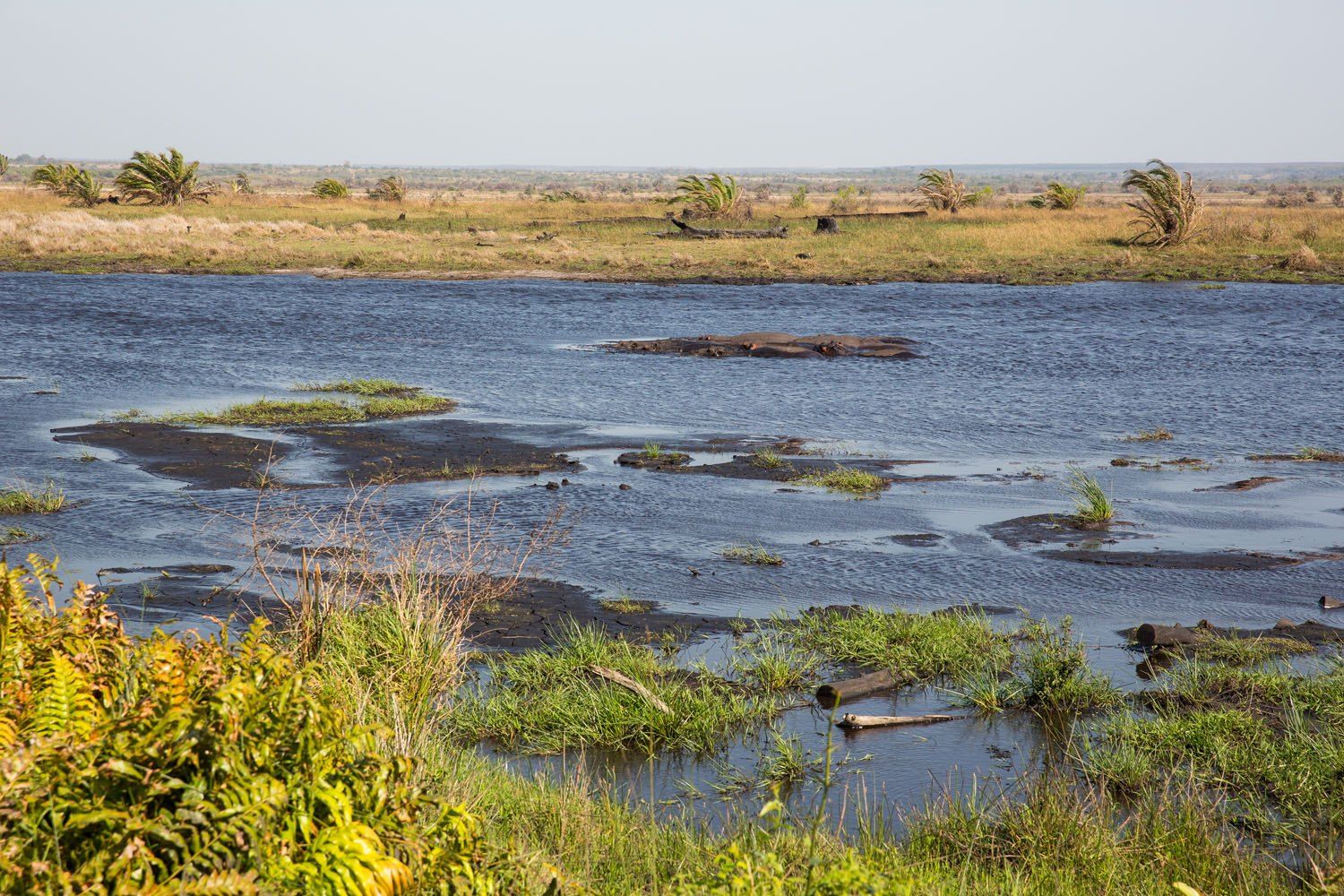 A Frisky Rhinoceros
Kara spotted a rhinoceros walking up the road so we followed behind it. The rhino stopped at a wooden post marking the end of the road for cars, and began to rub himself on it. At first we just thought he had an itch, but after a few minutes of this we realized what he was really doing. I never, ever thought we'd see something like this!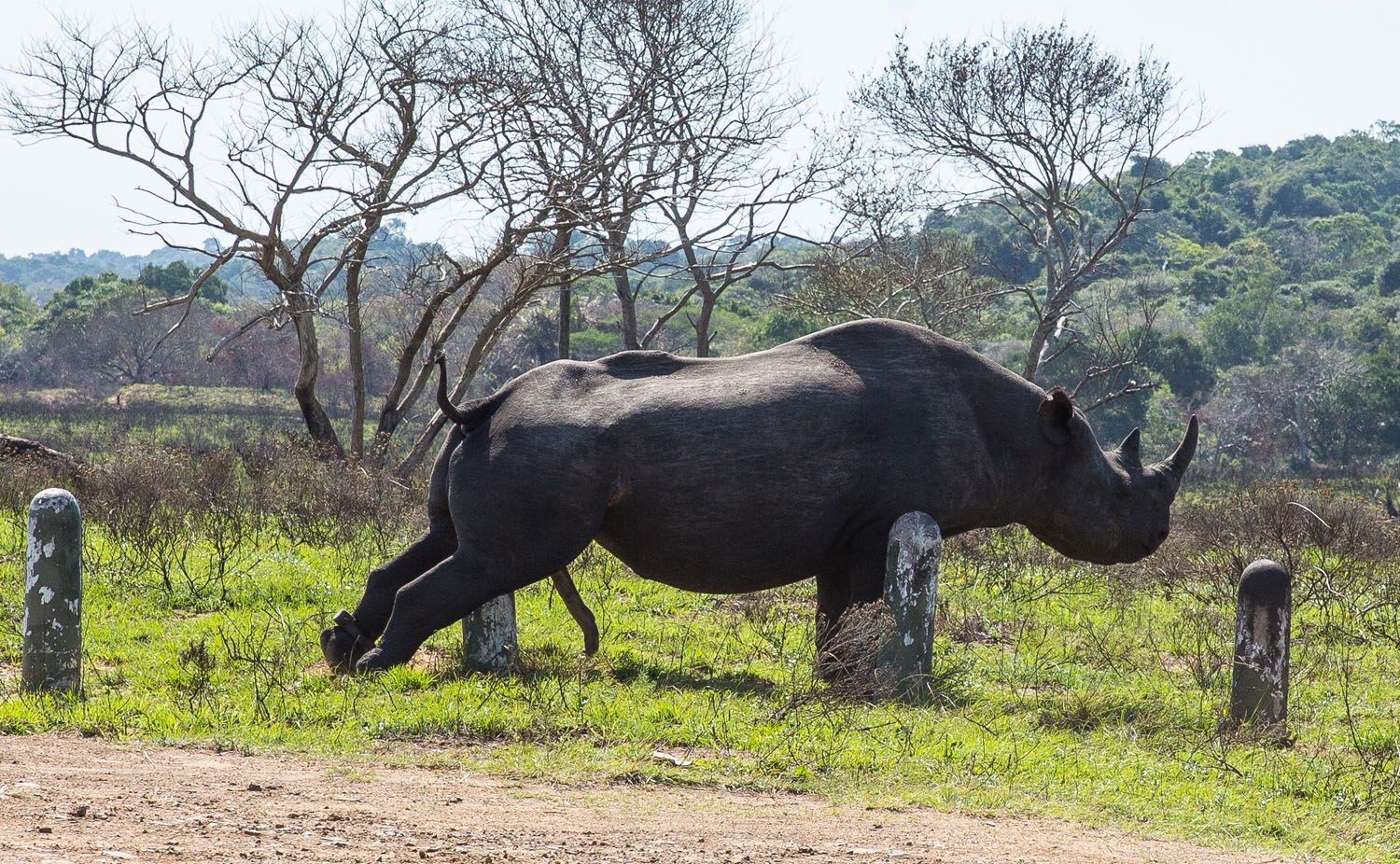 After another short drive north through the park the four of us arrived at Cape Vidal. This is the best beach in which to go swimming in the St. Lucia area. The water here is very rough and rip currents are very common. At Cape Vidal it is safe to swim only during low tide. As high tide comes in, the ocean gets too rough and too dangerous for swimming. We arrived at the beach at 11:30, one hour past low tide.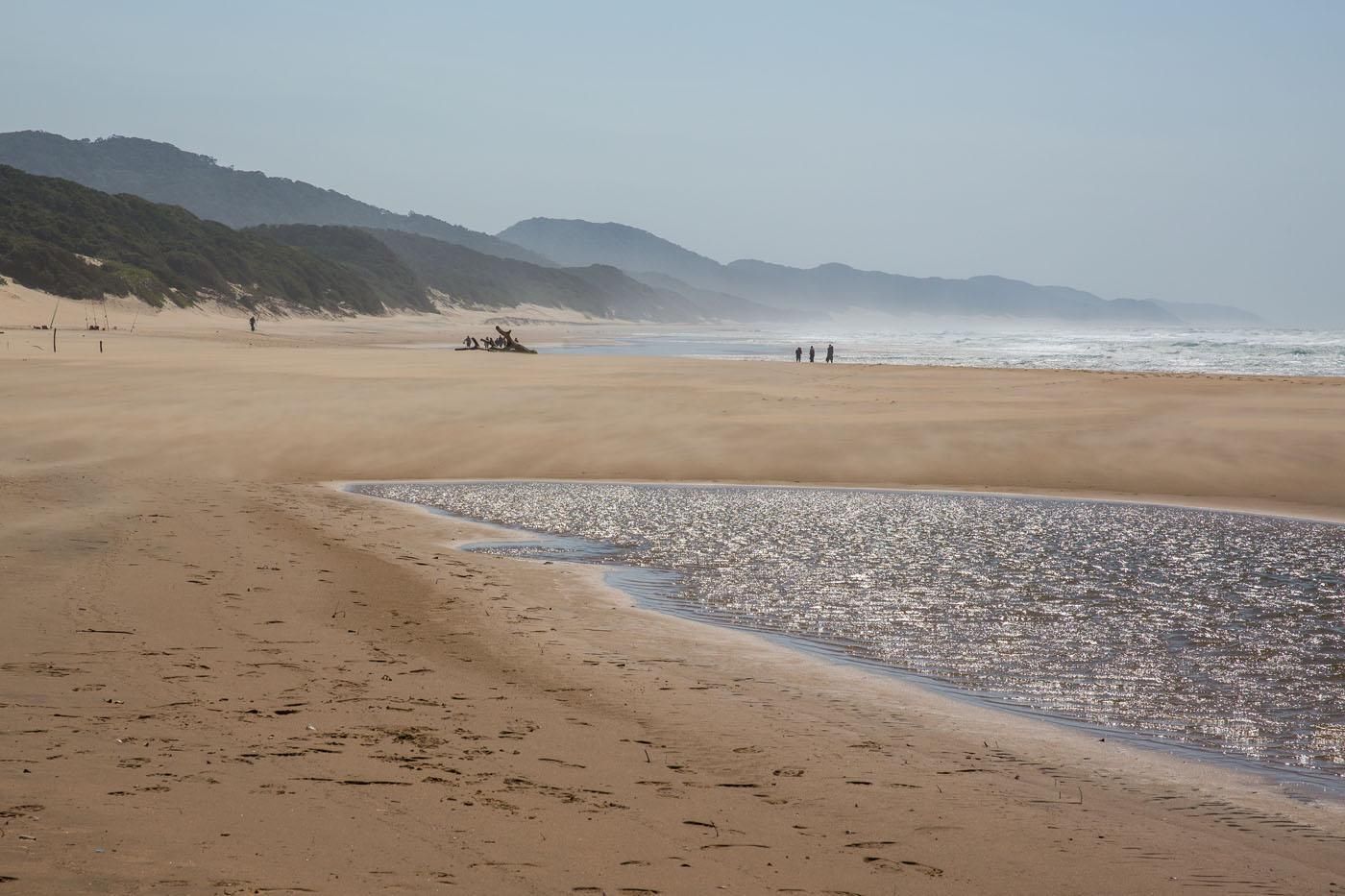 Caught in a Rip Current
Today was an incredibly windy day, and as we walked across the beach our legs got blasted with sand. Cape Vidal is beautiful. It's such a large beach with sand dunes and mountains as a back drop with clear, aquamarine water for swimming. Tyler and Kara thought we were in paradise.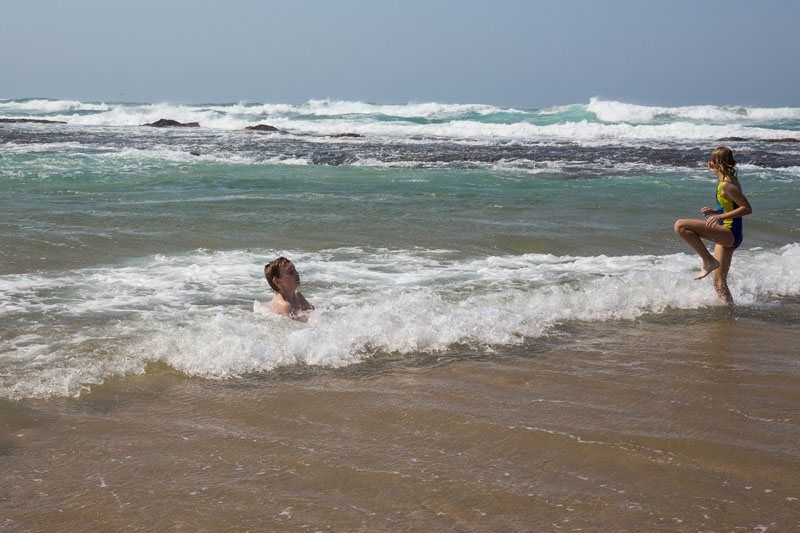 Tyler and Kara, eager to go swimming, joined the small crowd of people in the ocean. The water was warm and Tyler and Kara had tons of fun. Tim was watching them like a hawk since the water is rougher than what we are accustomed to. Eventually, almost everyone cleared out and our kids almost had the ocean to themselves. But the water was getting a lot rougher.
All of a sudden Tim noticed that Tyler and Kara were starting to drift out to sea. He called them back in but they were swimming with all their might and going nowhere. Tim gave me the backpack and jumped in after them, fully clothed. It didn't take long for Tim to grab both of them, emerging from the ocean with one kid under each arm. Tim was the hero of the day.
Well, that ended swimming for today. Both Tyler and Kara said they felt afraid when they started swimming and couldn't get back to shore. Kara was more upset and affected by the experience than Tyler. Fortunately, Tim acted quickly before things could get any worse.
Vervet Monkey Thieves
Back at our car the kids dried off and changed out of their swimsuits. Vervet monkeys wandered the parking lot looking for food. One monkey stole a banana off of our front seat and not too long afterwards another one stole our package of sandwich rolls right out of our trunk (which was open). Tyler was standing just two feet away from the trunk when this happened.
I had no idea these monkeys would be so bold. Tyler and I chased the monkey thief with our rolls but he was too fast for us. He took his loot into a nearby tree and shared it with a friend.
What a wild, crazy day this has been so far!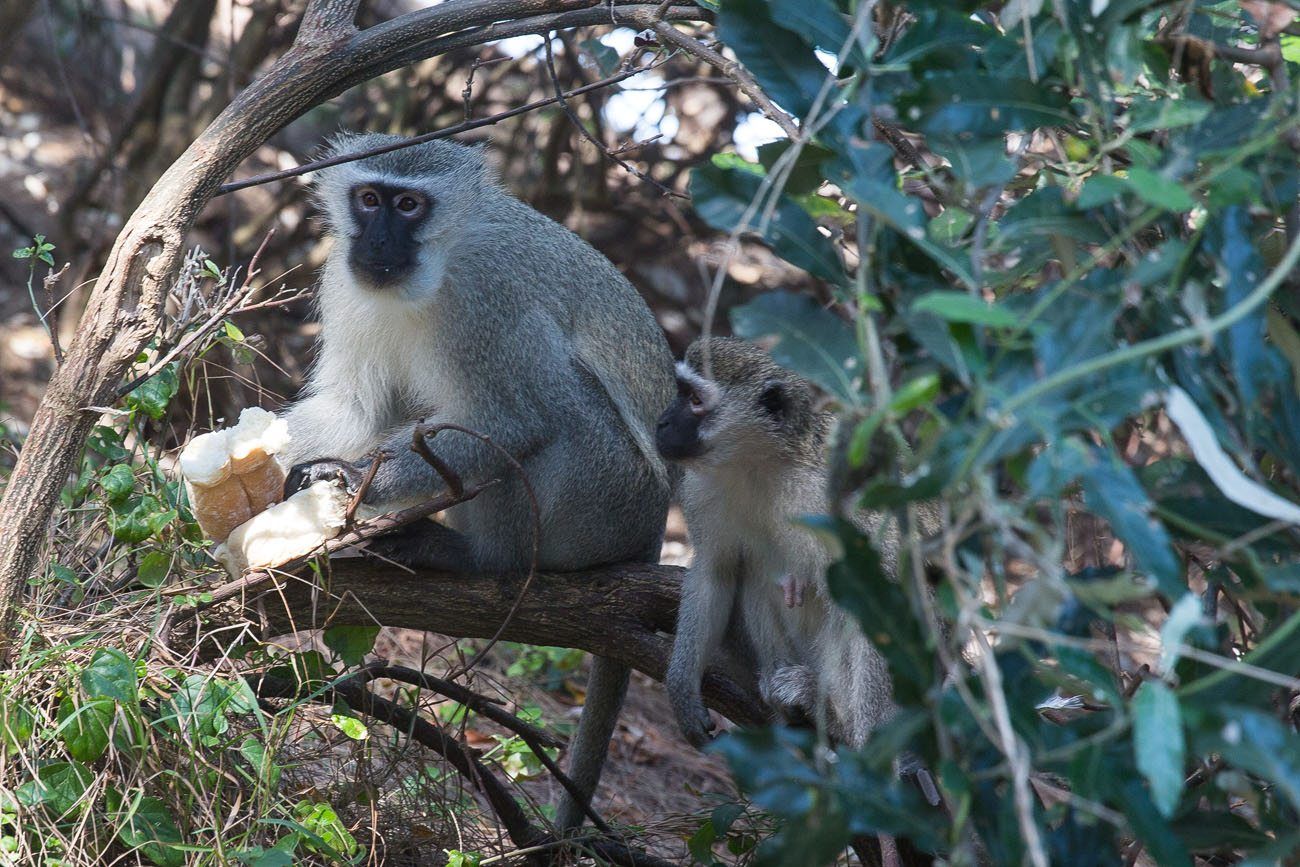 Before leaving Cape Vidal we walked up the beach to the sand dunes. Most of the people had left for the day so we practically had the coastline all to ourselves. It was amazing.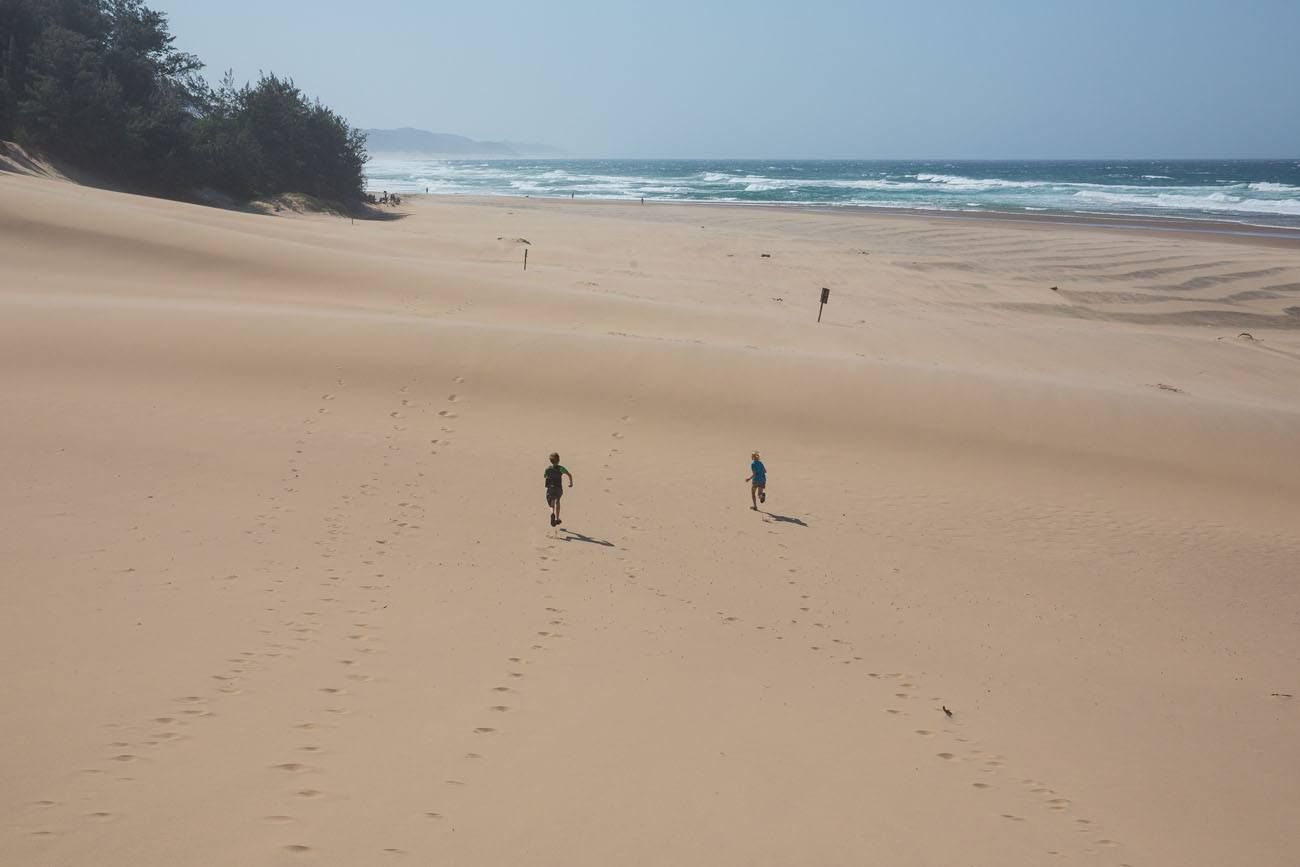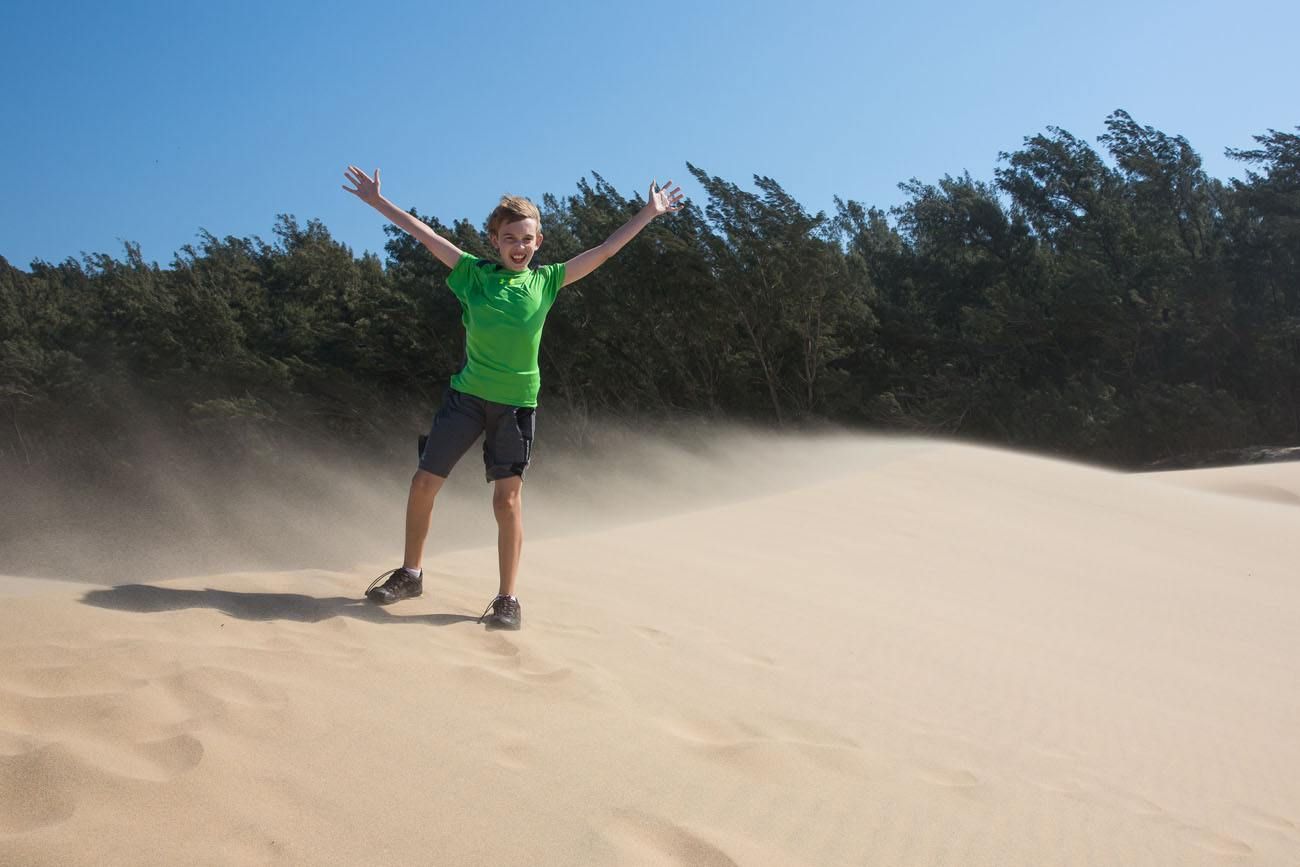 Mission Rocks
Our last stop in iSimangaliso was Mission Rocks, a short stretch of rocky coastline. Tyler and Kara loved climbing on the rocks and getting splashed by surf. Again, we were on our own. Paradise.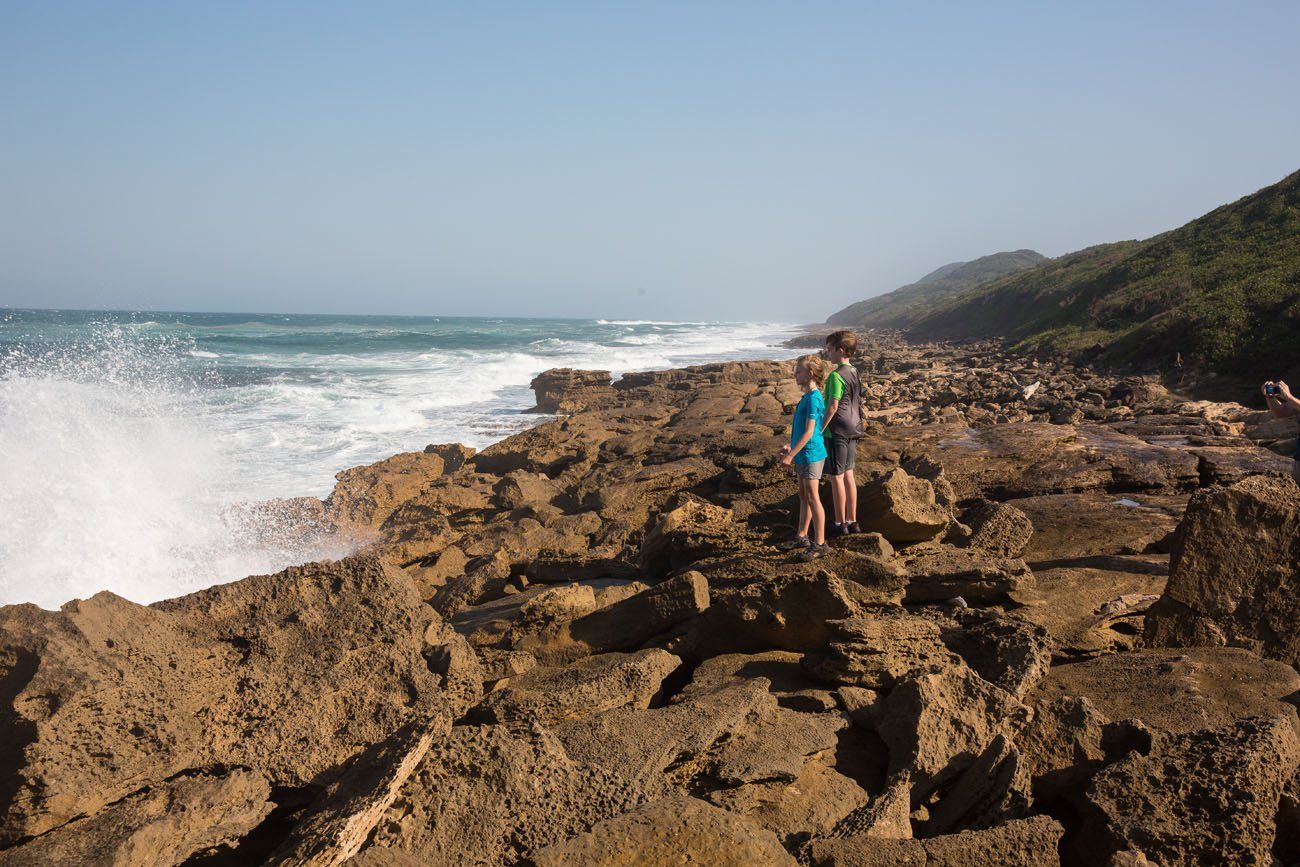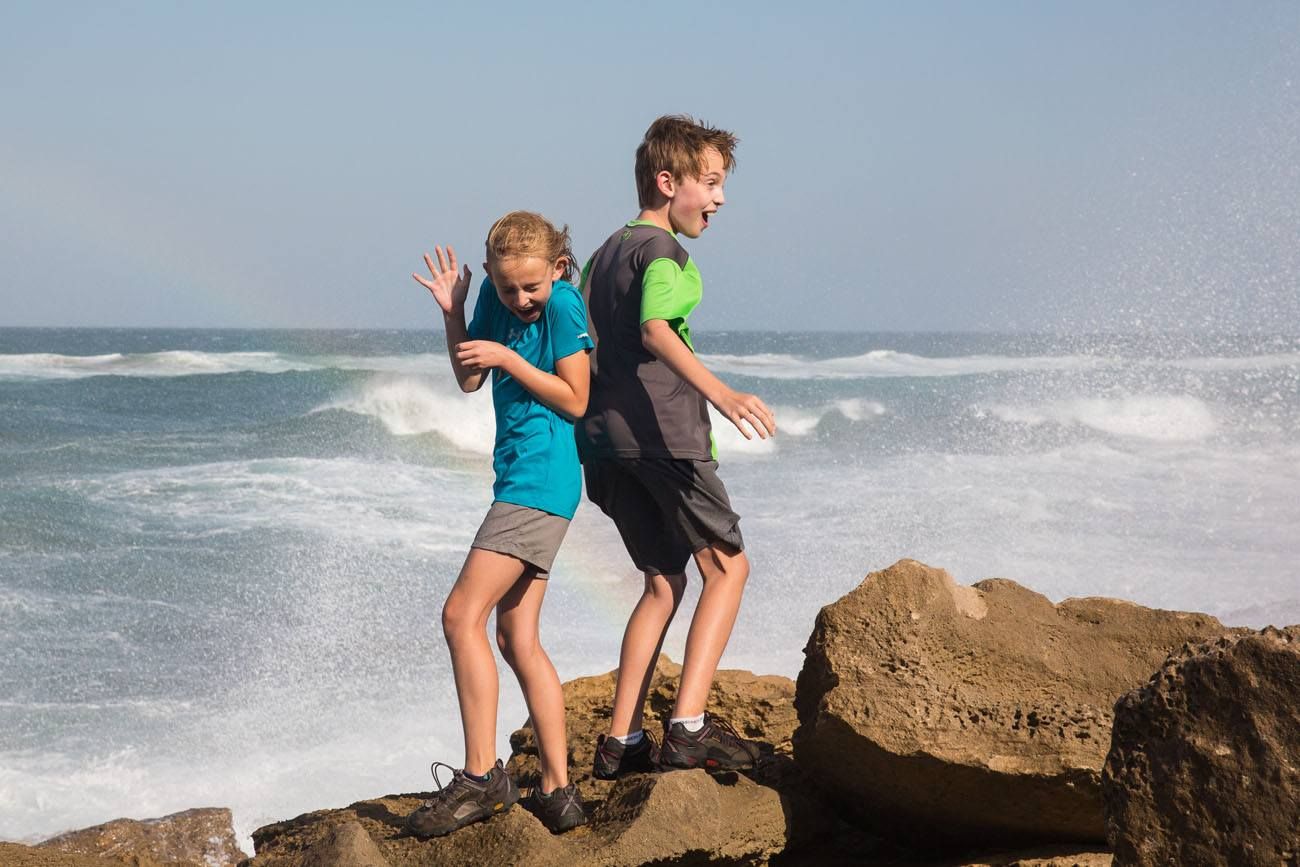 iSimangaliso is an amazing place and we had an exceptionally eventful day here, which made it even more exciting.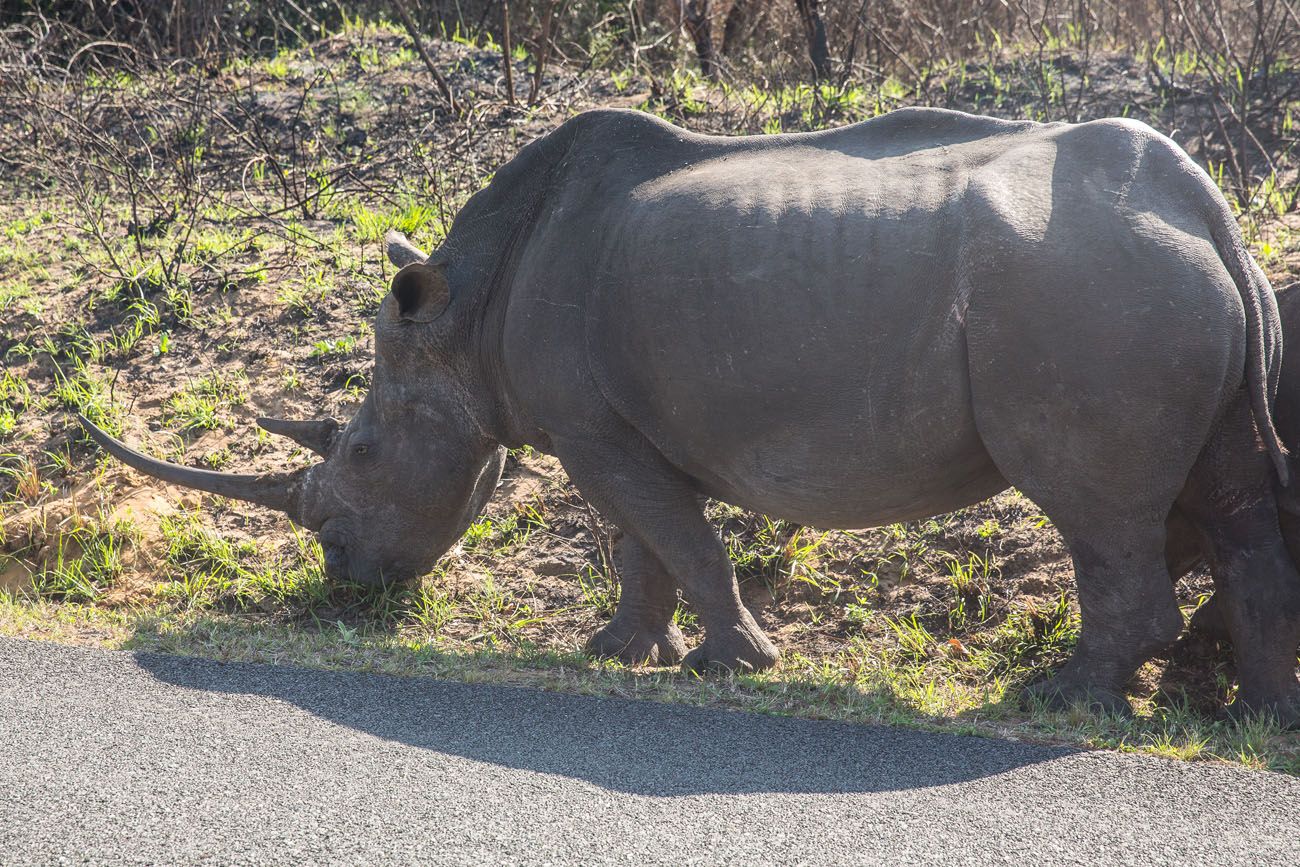 Other popular activities in St. Lucia include taking a cruise on the waterways looking for crocodiles and hippos, going on safari at nearby Hluhluwe-iMfolozi Game Park, or whale watching. Since we had just gone on safari in Chobe, Botswana and Kruger in South Africa, we were on safari overload. Hermanus, where we will be later in this trip, is where we plan to go whale watching.
So, if you are planning a trip to South Africa and have a little extra time, put St. Lucia and iSimangaliso on the list! It is unexpectedly amazing!
---