The Northface Trail in Mürren has a little bit of everything…stunning mountain views, small hamlets and chalets tucked away amidst the mountains, flower-filled alpine meadows, and pastures filled with cows and their musical bells.
This is an easy walking trail that is done as a loop from Mürren. Along the way, you are treated to spectacular views of Mönch, Eiger, and Jungfrau as well as views over the Lauterbrunnen Valley. You also have the option to add on Sprutz waterfall.
Here's how to do it.
Northface Trail Hiking Stats
Distance: 7.4 km (4.6 miles) loop
Difficulty: Easy
Elevation Gain: 380 meters (1,250 feet)
Length of Time: 2.5 hours
When to go: It is best to do this walk from May through October.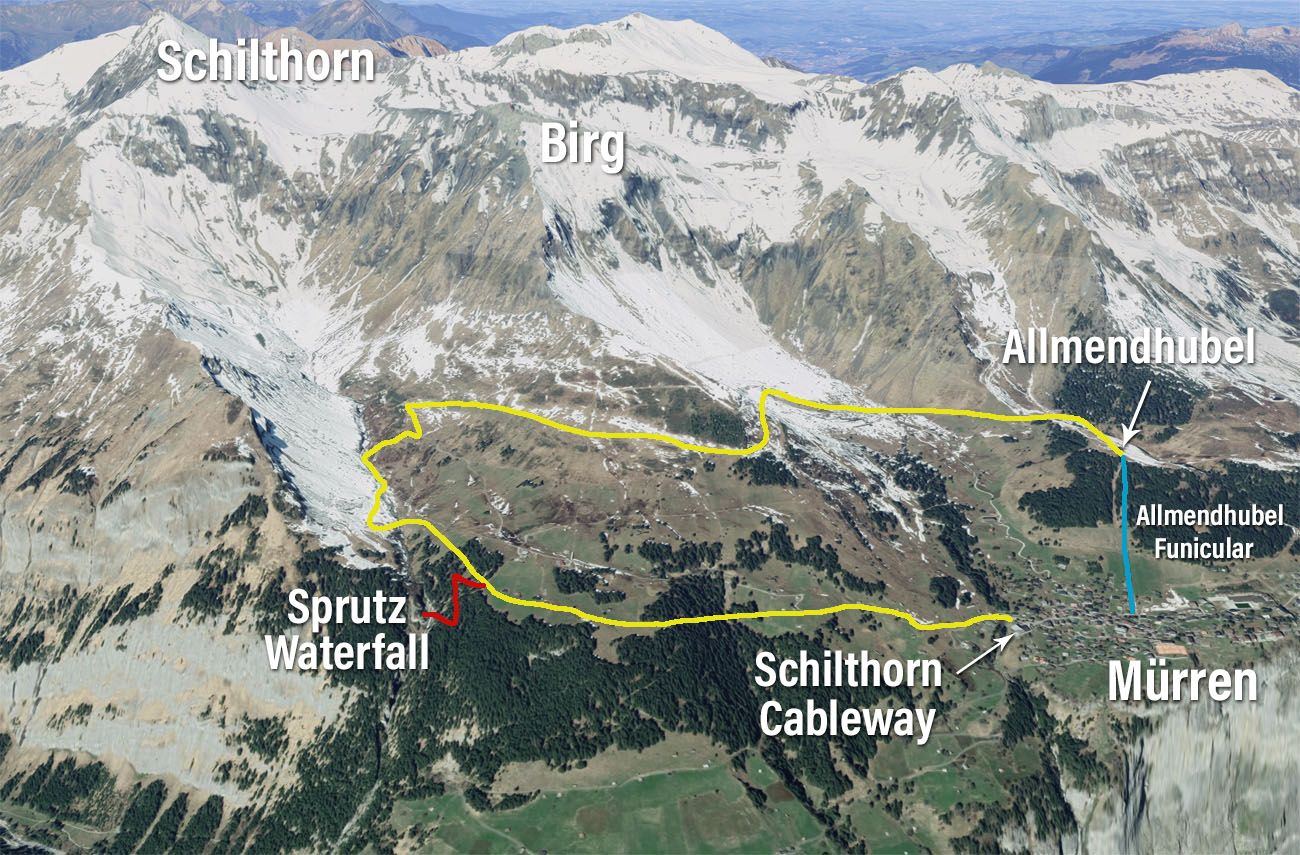 Map of the Northface Trail. The walking path is yellow, the Allmendhubel funicular is blue, and the detour to Sprutz waterfall is red.

Elevation profile of the hike. This includes the detour to Sprutz waterfall which accounts for the extra distance (the detour to the waterfall adds on 1 km to the hike).
Please practice the seven principles of Leave No Trace: plan ahead, stay on the trail, pack out what you bring to the hiking trail, properly dispose of waste, leave areas as you found them, be considerate of other hikers, and do not approach or feed wildlife.
The Northface Trail
Step-By-Step Trail Guide
Getting to the Trailhead
The Northface Trail is done as a loop and it starts and ends in Mürren.
Since this is done as a loop, you can start this hike from several different places in Mürren.
Most people start at Schilthorn Cableway station and walk the loop clockwise, ending with a ride down the Allmendhubel funicular.
However, you can do this in the opposite direction. Start at the Allmendhubel funicular and ride it to Allmendhubel, and then walk the trail counterclockwise, ending at the Schilthorn Cableway. This makes this walk slightly easier, since the funicular eliminates a small amount of elevation gain.
We started at the Schilthorn Cableway station and walked the trail clockwise. There are some brief climbs along the way but nothing too strenuous.
This post is written with the walk starting at Schilthorn Cableway station and going clockwise, ending with a ride down the Allmendhubel funicular.
On the Northface Trail
The trail is well marked. From the Schilthorn cableway station, and any time you come to a fork in the trail, simply follow the blue trail sign labeled "Northface Trail."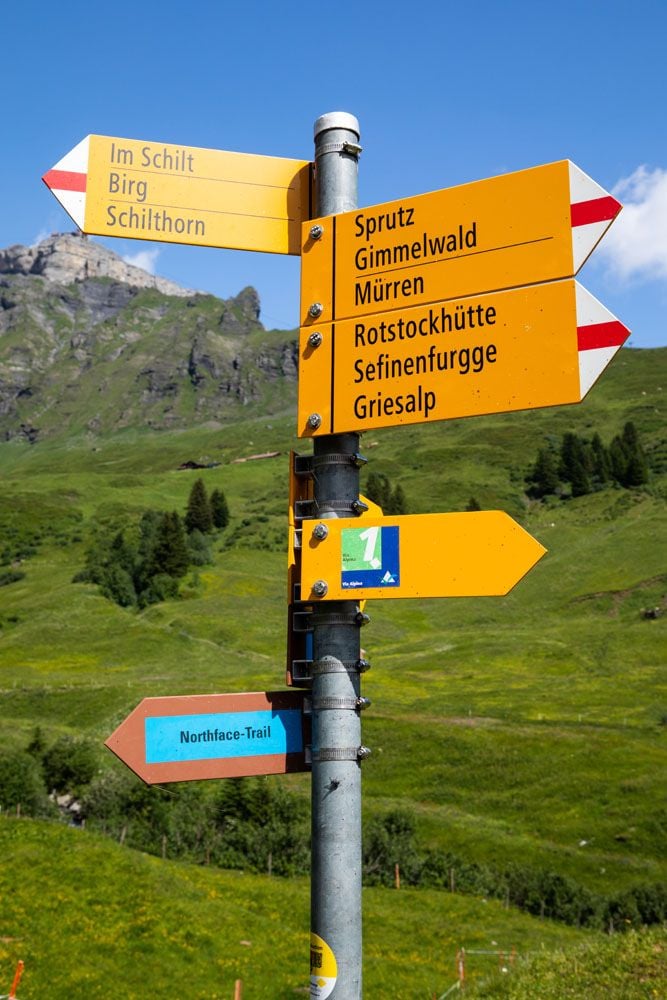 From the Schilthorn cableway station, the trail starts off as a wide paved pathway. It's an easy climb and from the top of the first hill you will have a nice view over Mürren.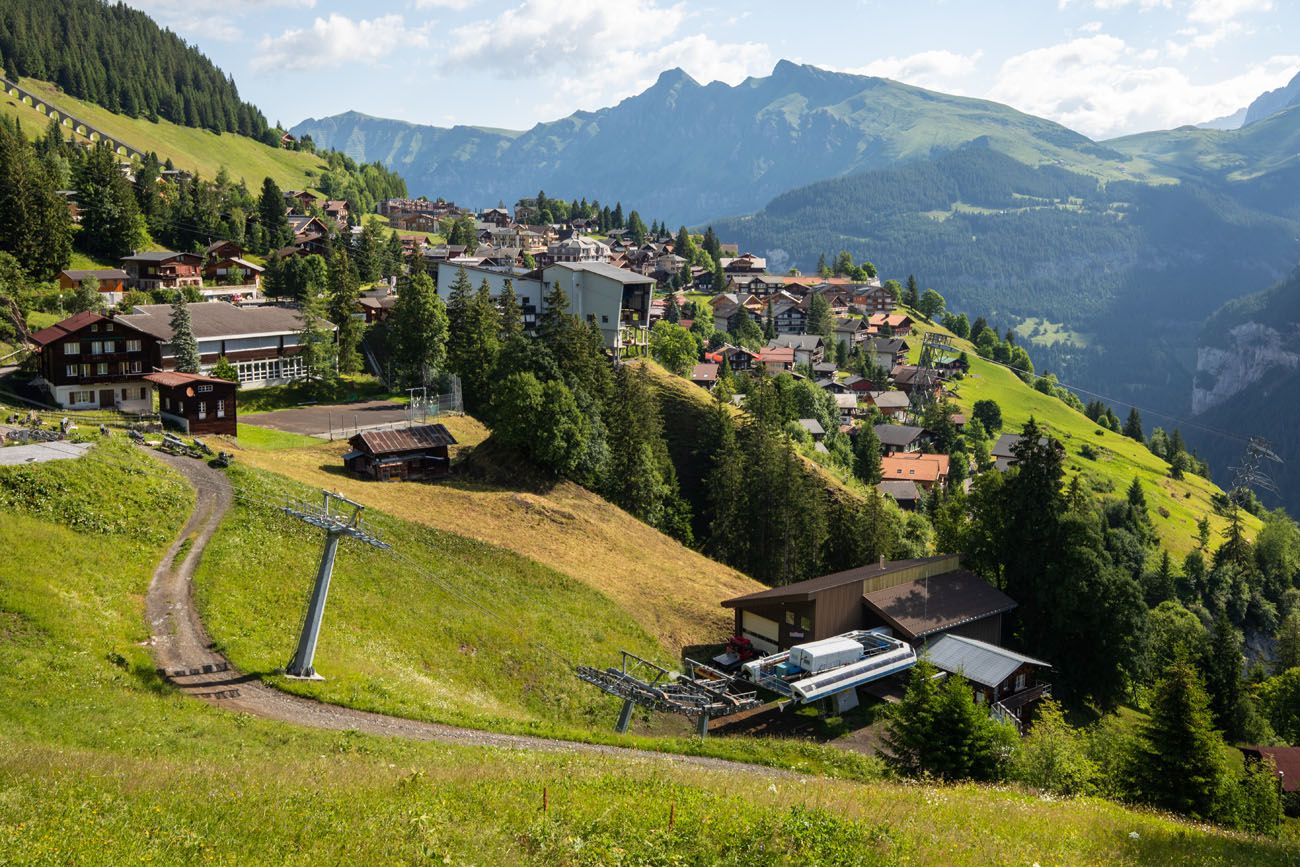 The trail heads into farmland and changes into a narrow, dirt trail. You will pass small houses and farms and have wonderful views of the mountains.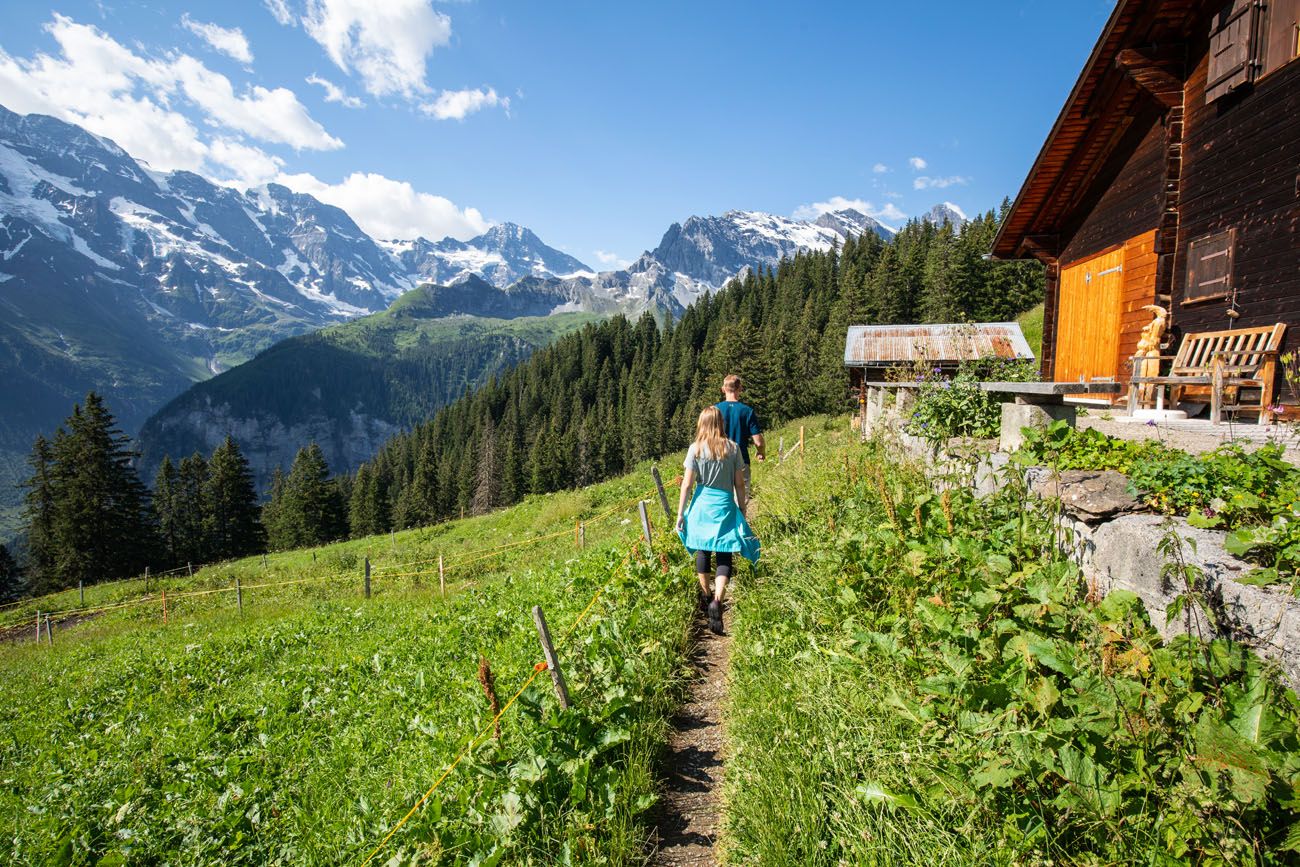 Detour to Sprutz Waterfall
Sprutz waterfall is a lovely waterfall tucked away in a forest. We liked it because you can walk behind it and even midday in July, we had it all to ourselves.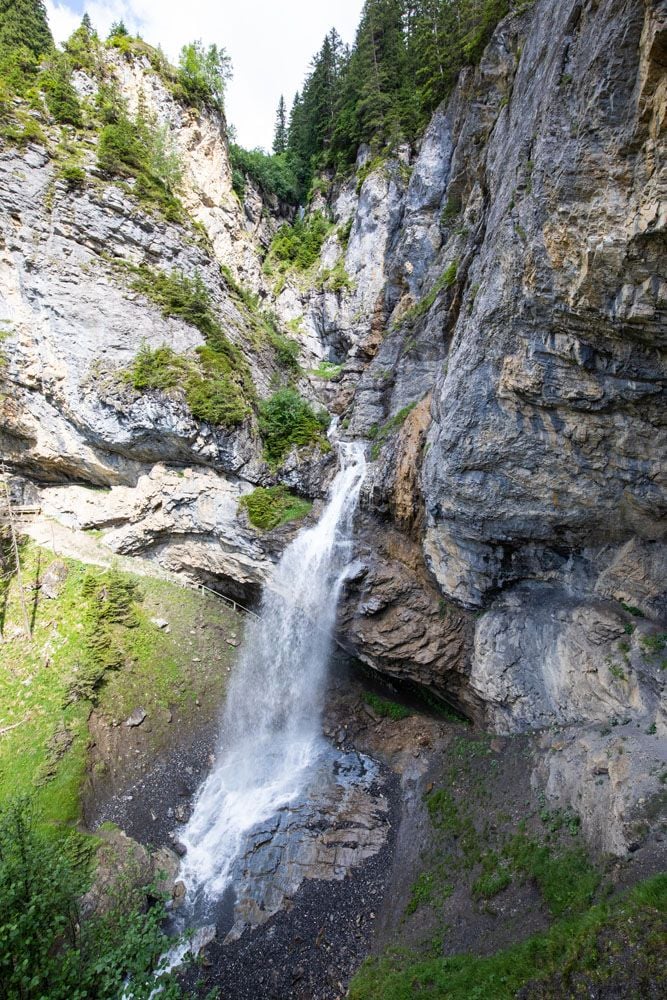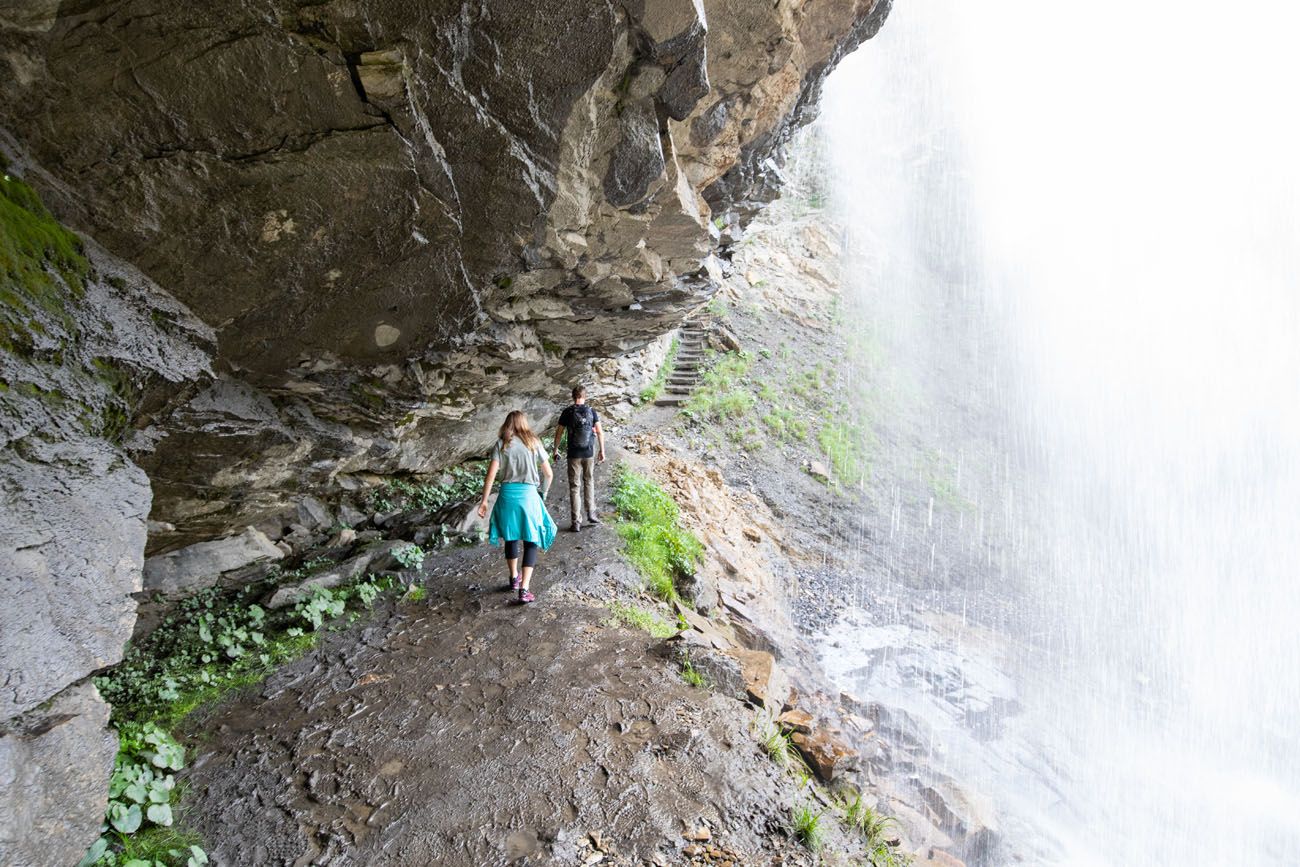 To get here, it takes 15 to 20 minutes of walking, one way, on a trail through the forest. As you approach the forest on the Northface Trail, there will be a sign pointing to the trail to Sprutz waterfall.
From the Northface Trail, it is a mostly downhill walk to get to the waterfall, which means that it will be an uphill walk to get back on the Northface Trail.
Worth it? Maybe. If you have the time and the energy for some extra walking, and like the idea of visiting a waterfall tucked away in the woods, then the walk to Sprutz is worth it. You should just know that you won't have beautiful views of the mountains on this detour, since you will be in a forest the entire time.
Back on the Northface Trail
After the detour to Sprutz waterfall, the Northface Trail really gets good. Now, you are walking through a gorgeous valley, past small farms with their rustic barns and cows grazing in the fields, with Schilthorn looming over you.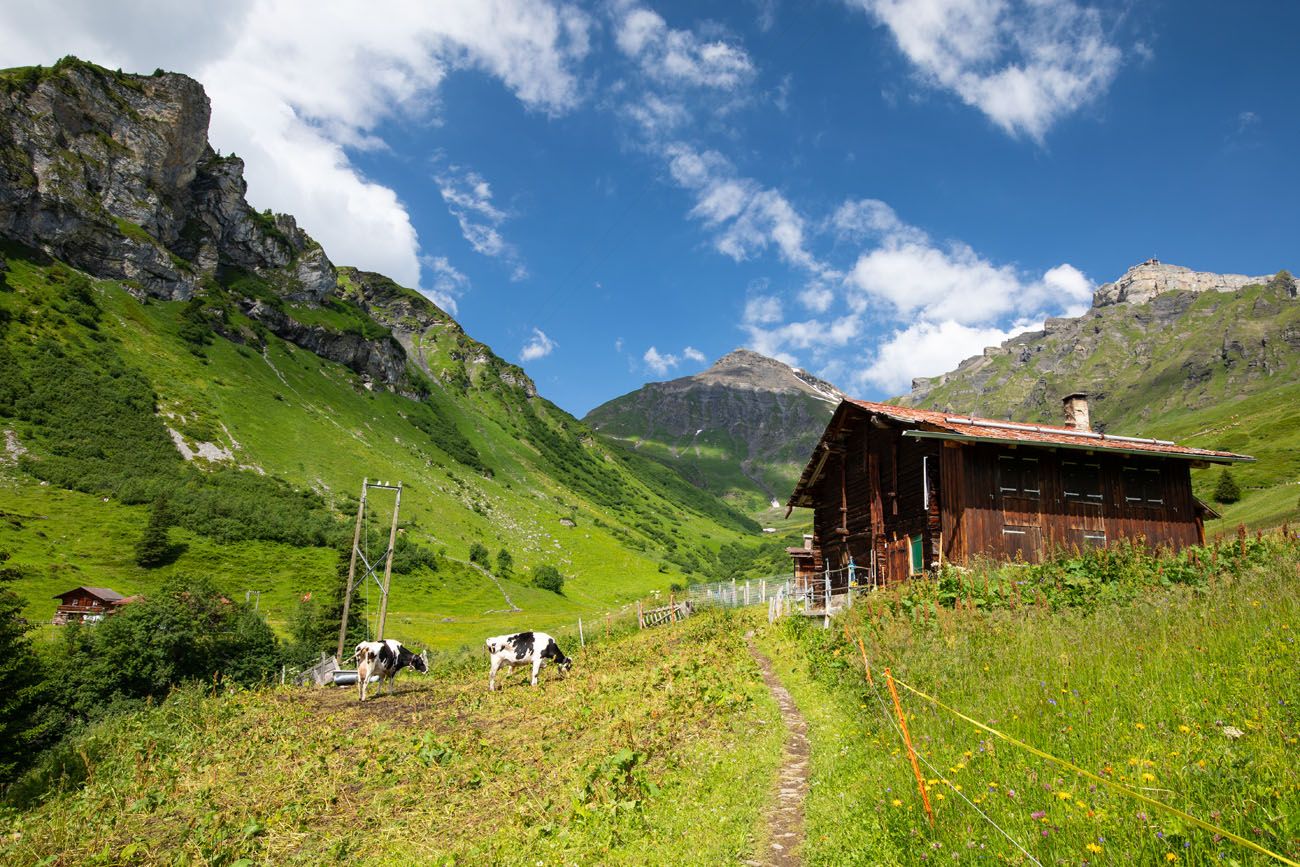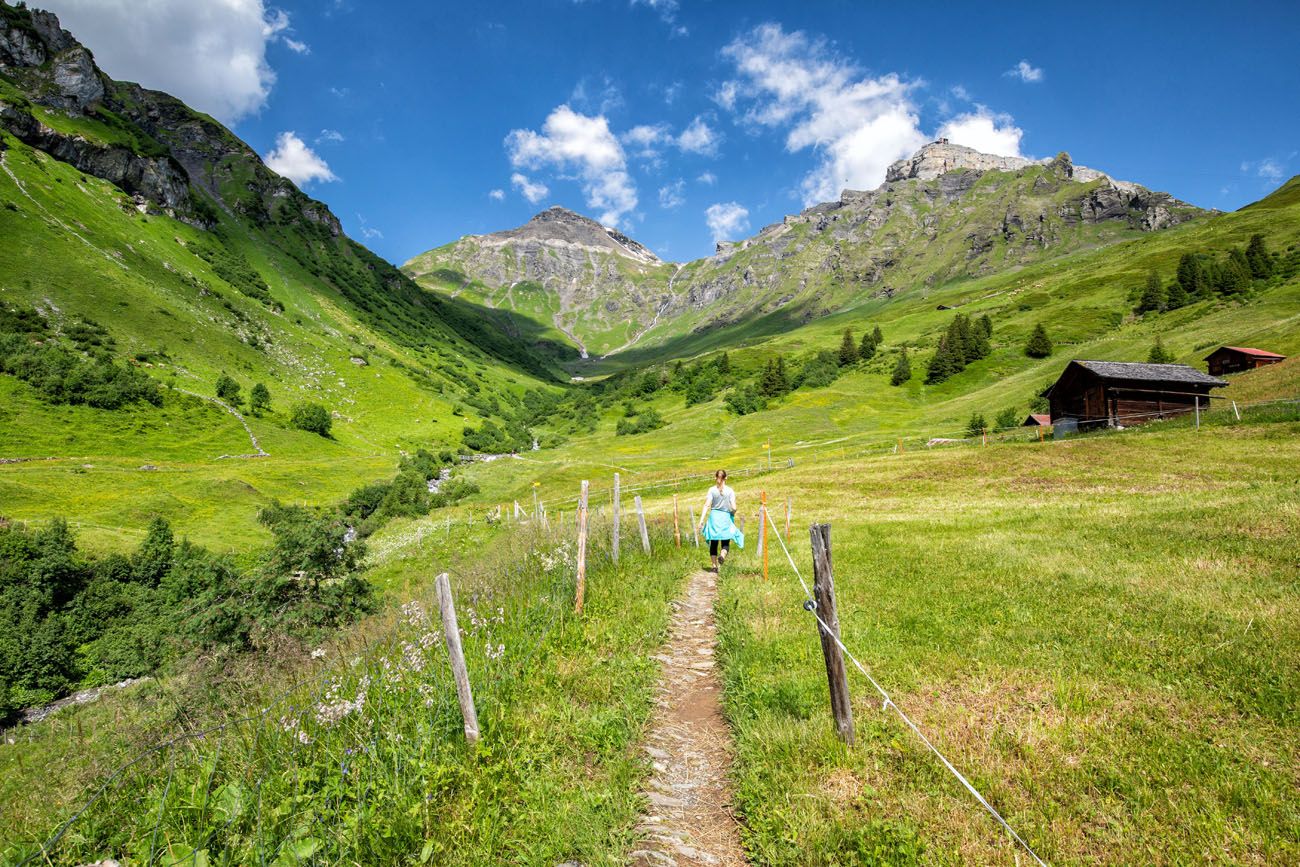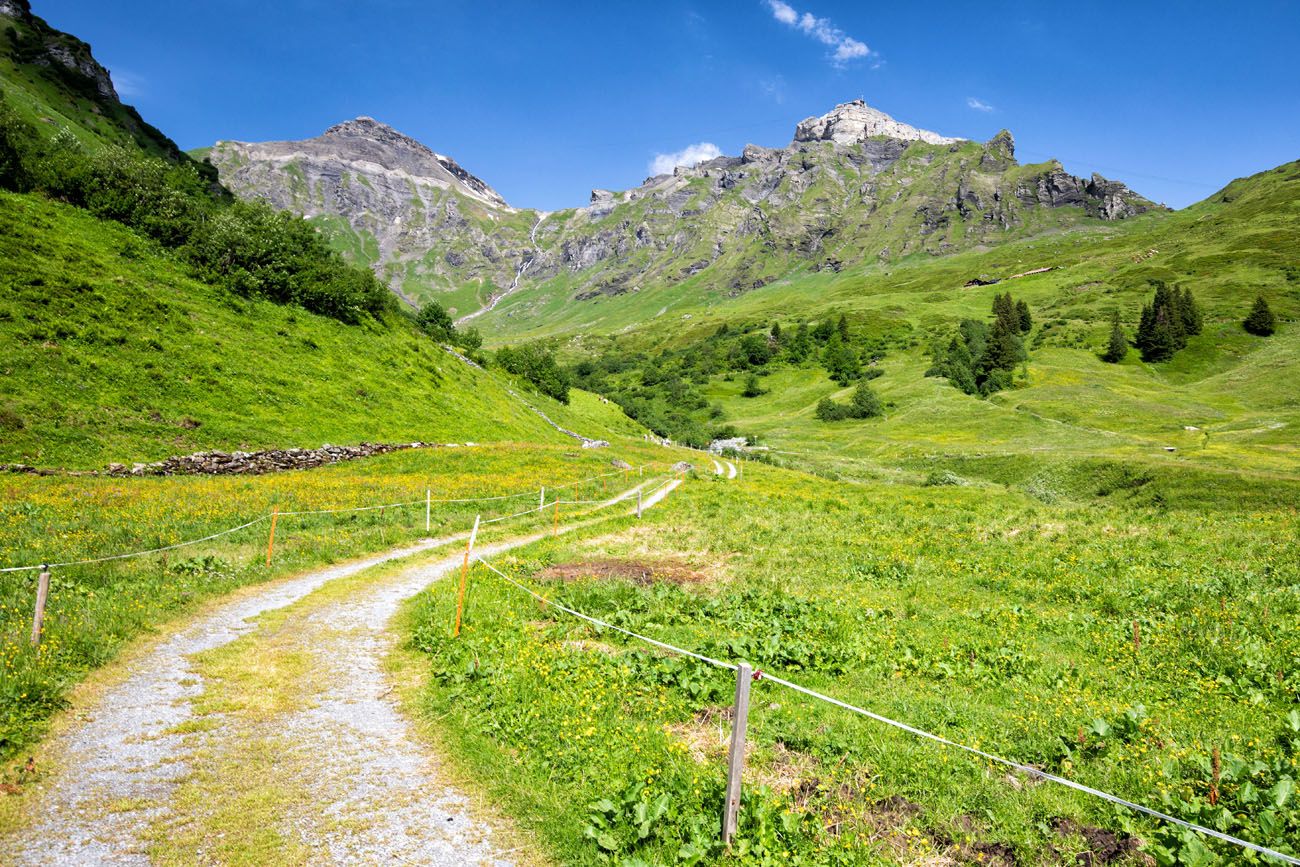 The Northface Trail with Birg and Schilthorn in the distance.
Some houses on the trail offer bathrooms, food, and water, should you need these.
As we walked up the trail, two goats greeted us, which was a wonderful surprise. They checked us out, head-butted my camera a few times, and posed for photos for Kara.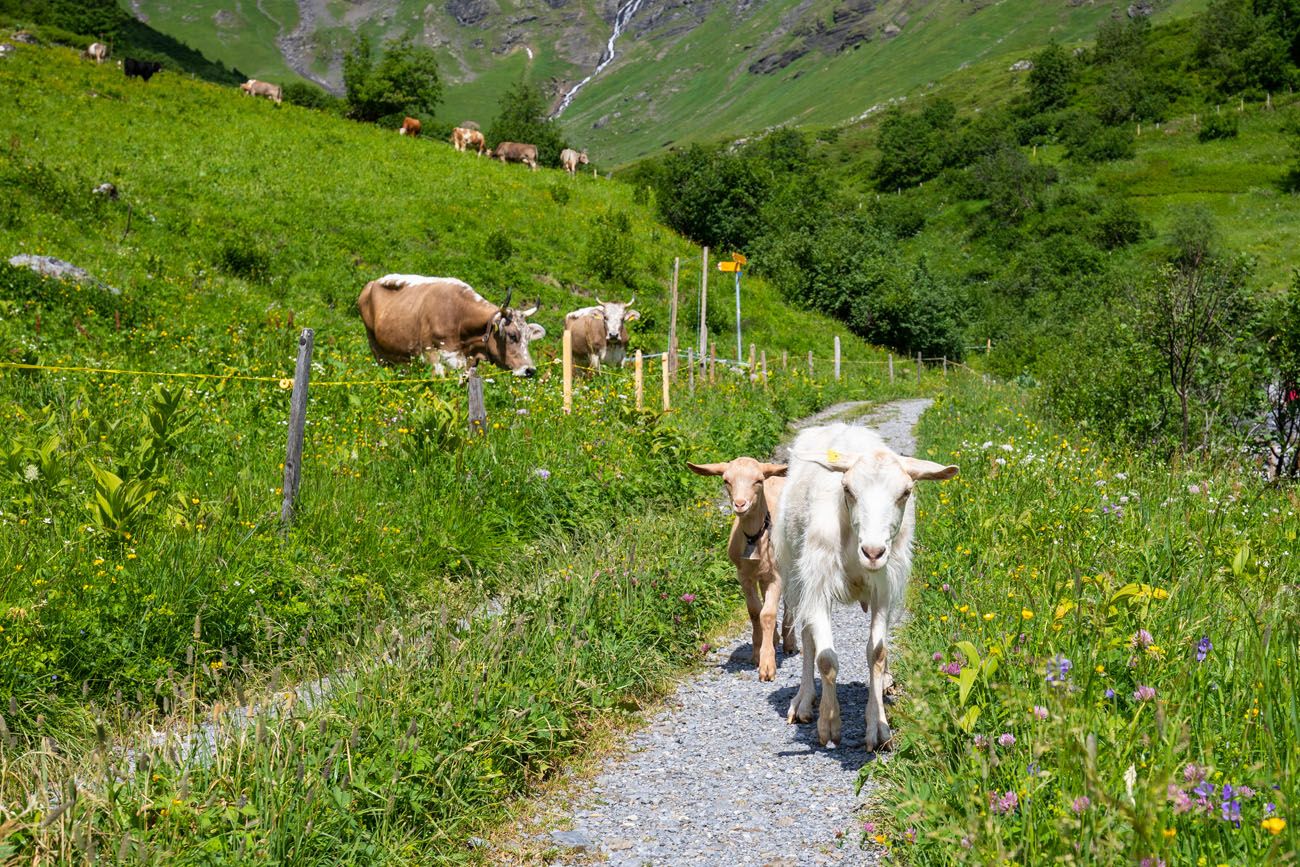 From the valley, it is a short but steep climb, but once at the top, the views are incredible. Now, you get to look down at the valley you just walked through. Meanwhile, the Schilthorn cable car quietly zips back and forth, cows and the sound of their clanging bells fills the air, and the snow-capped mountains form the perfect backdrop. If you want a hike that captures "classic Switzerland," this is it.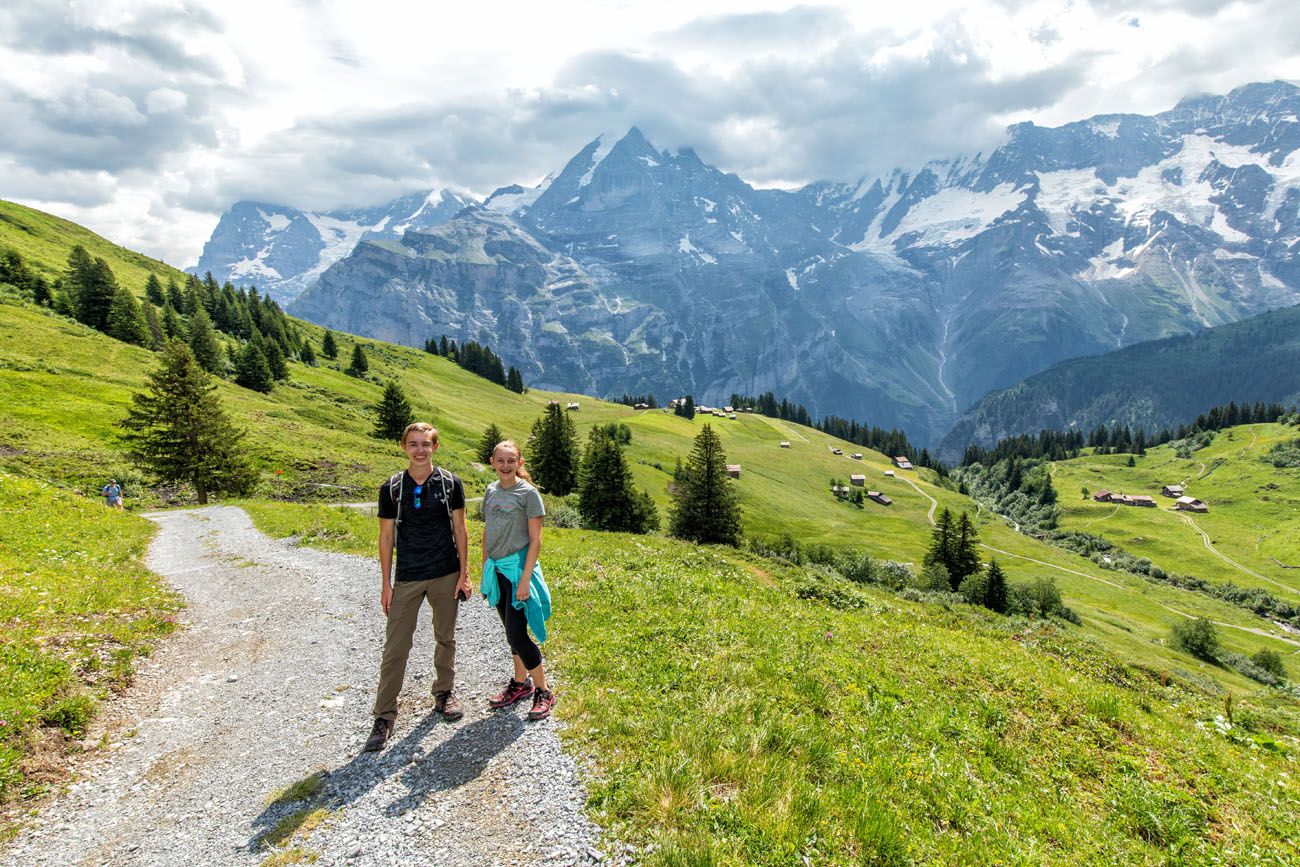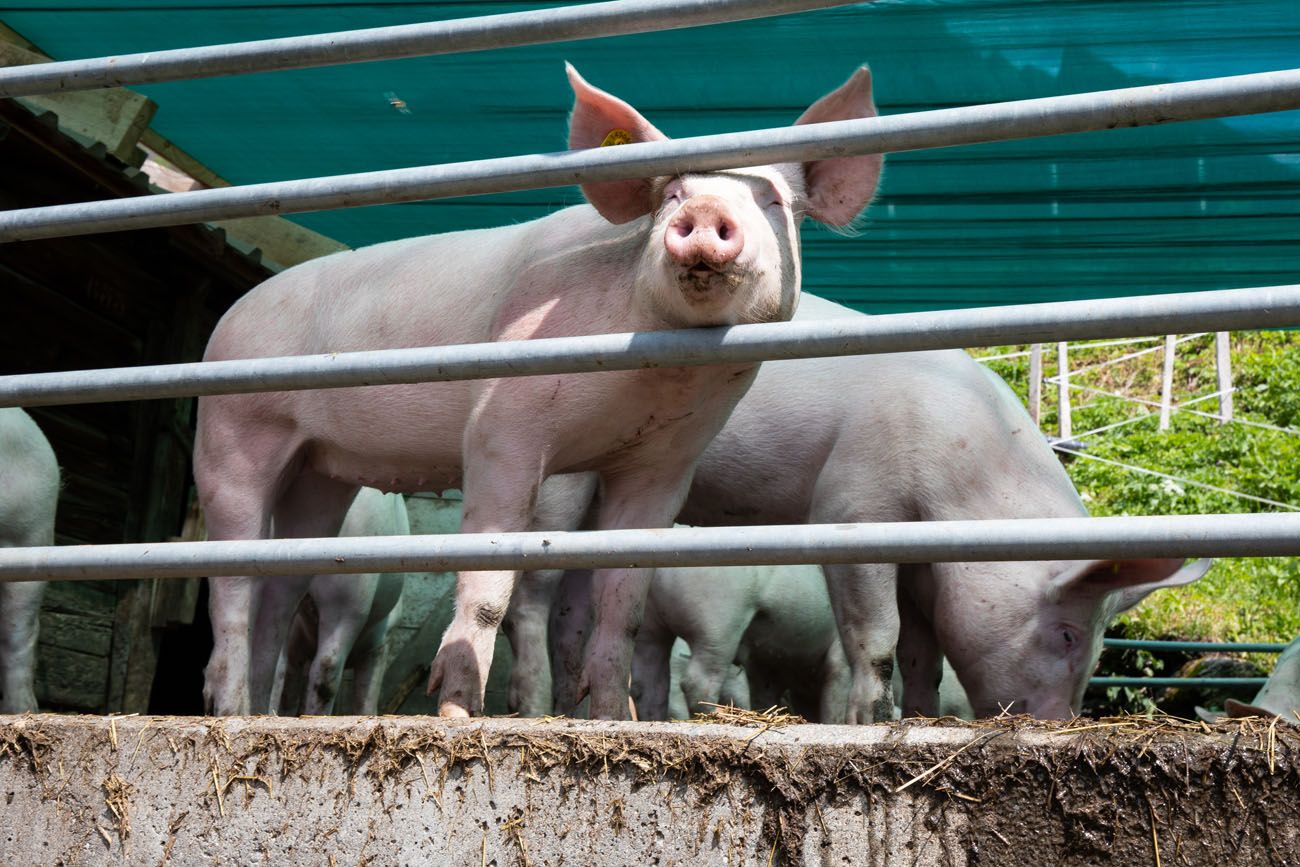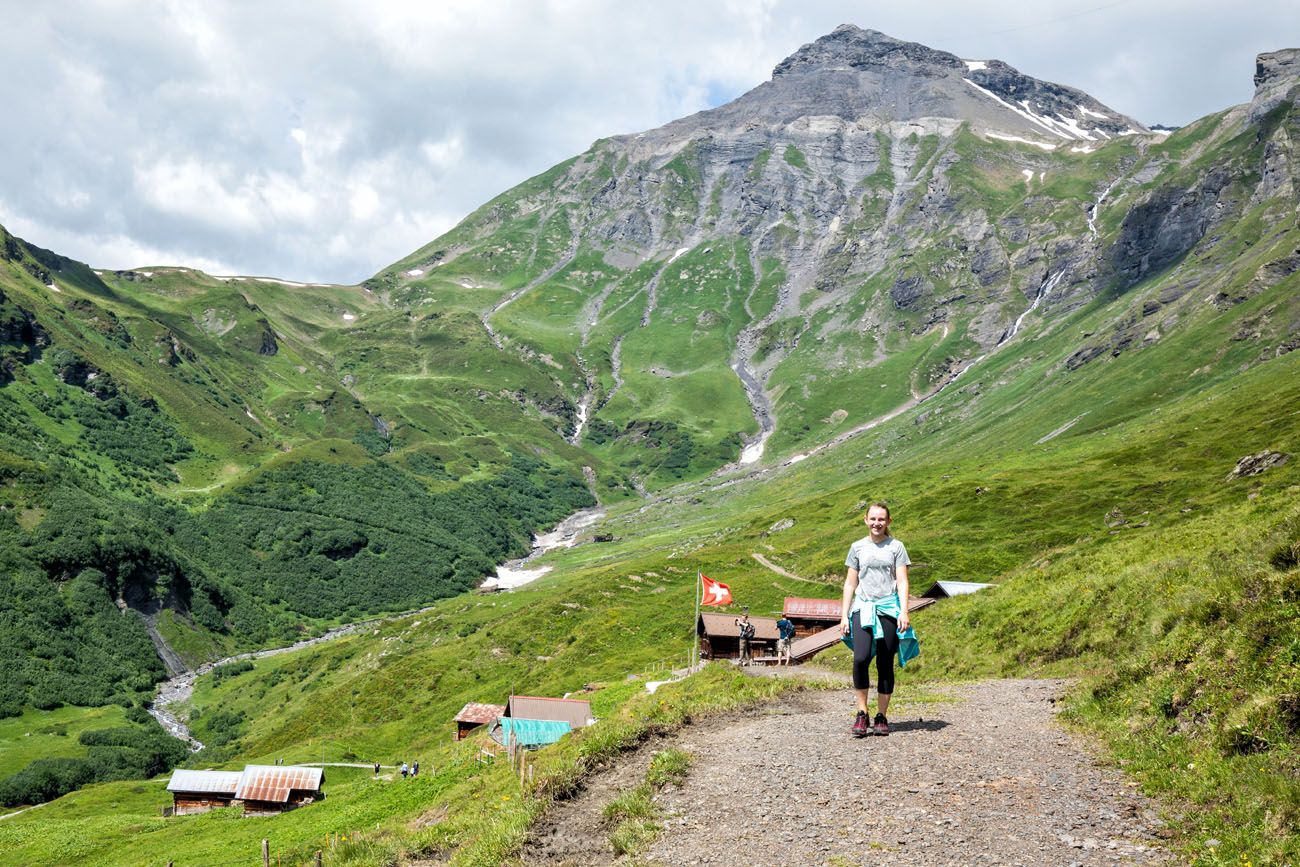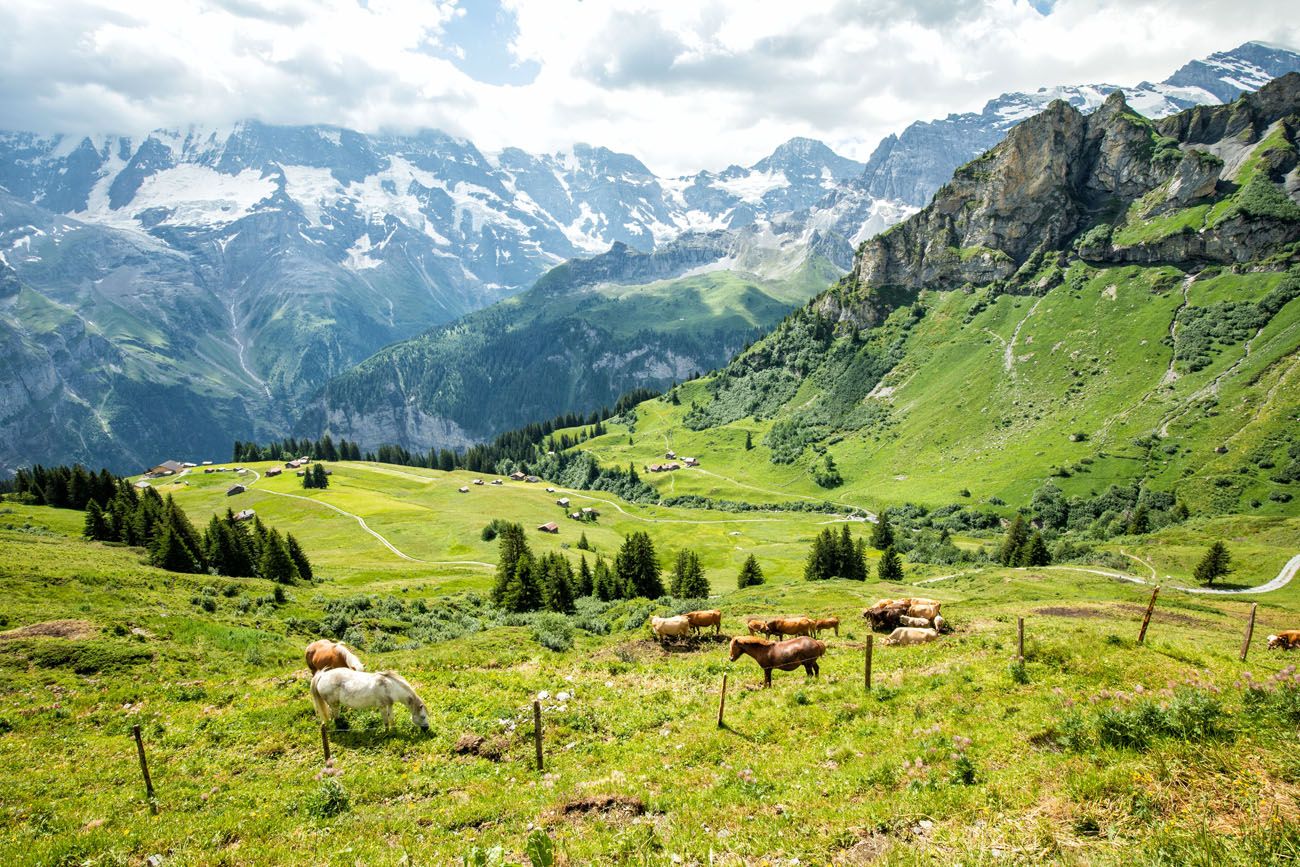 As you continue on the trail, you will have stunning views of Mürren far below. You will pass through several small hamlets and restaurants before the final, short climb to Allmendhubel.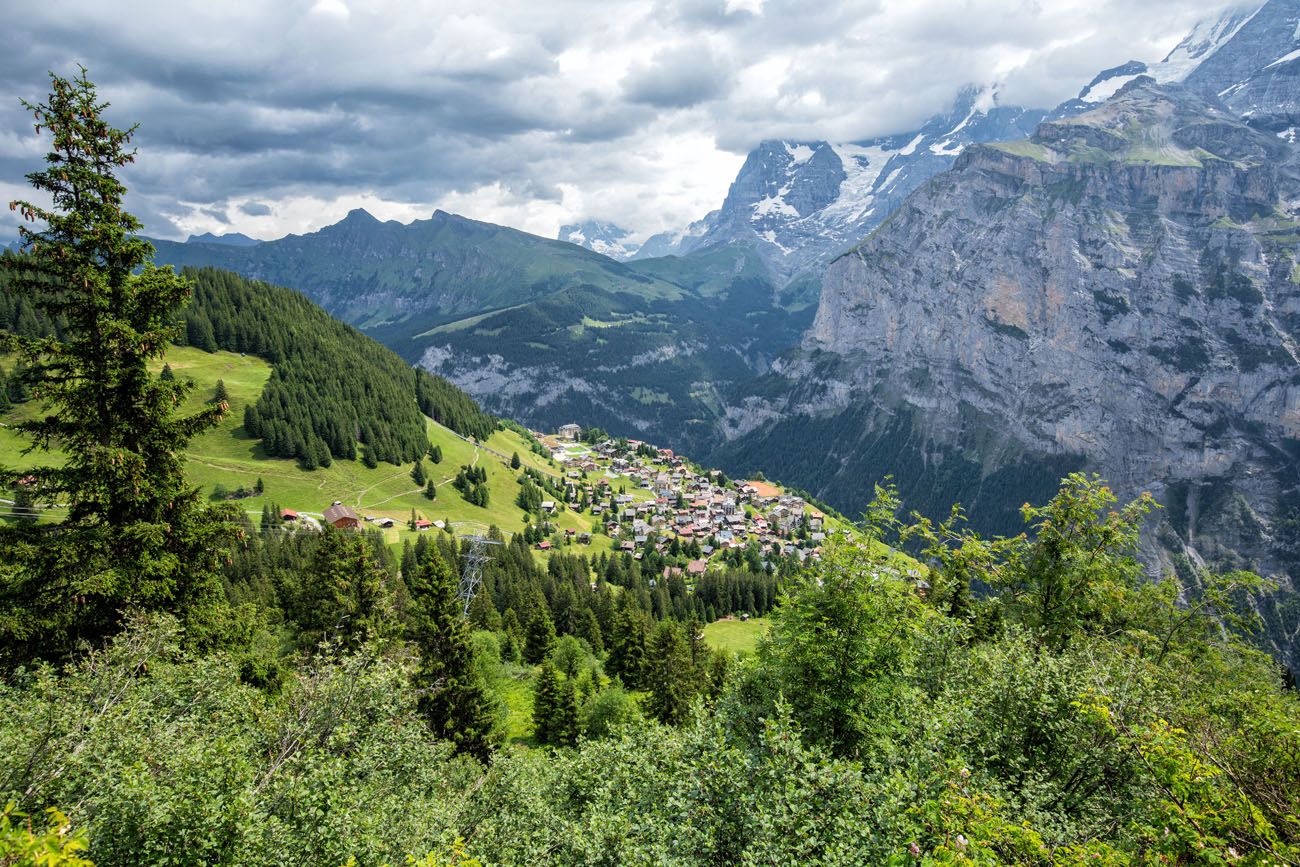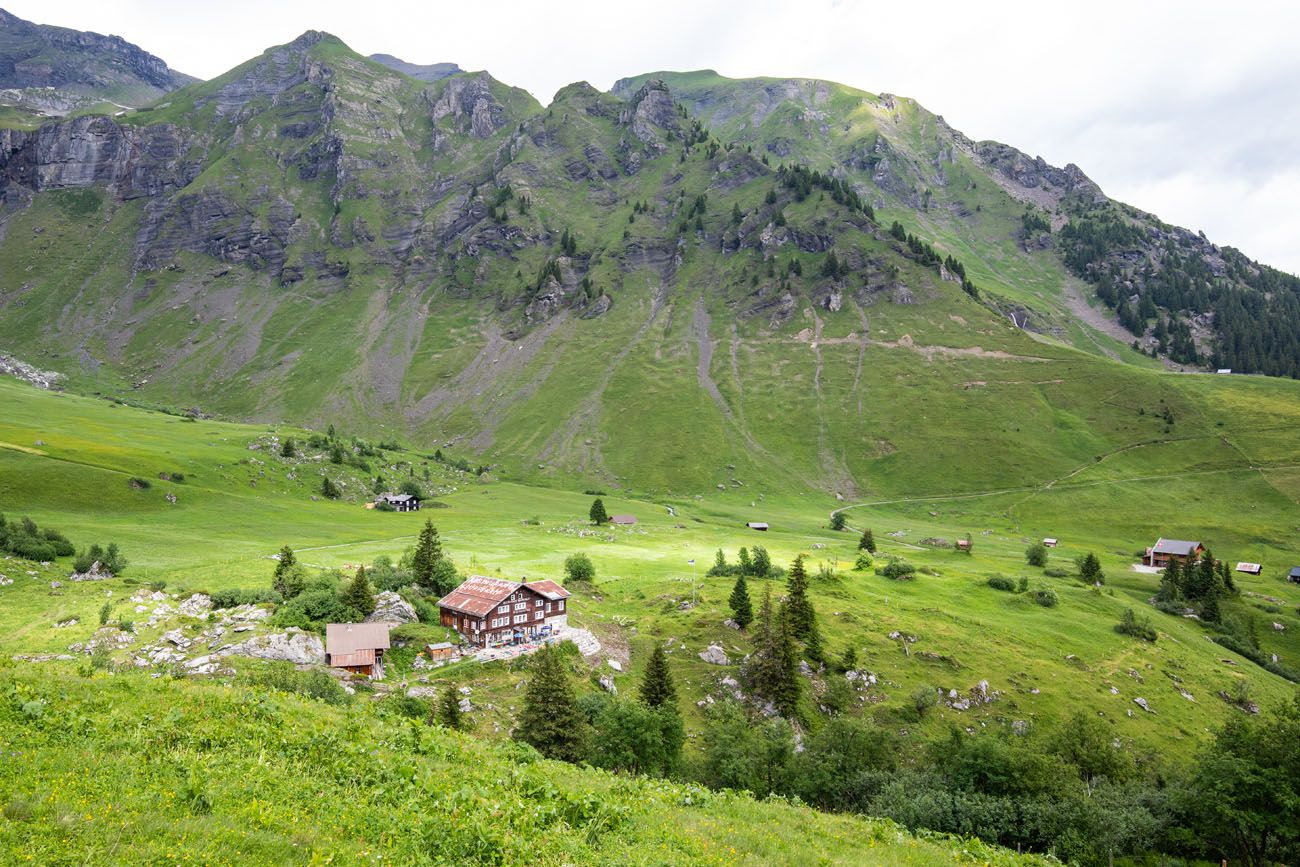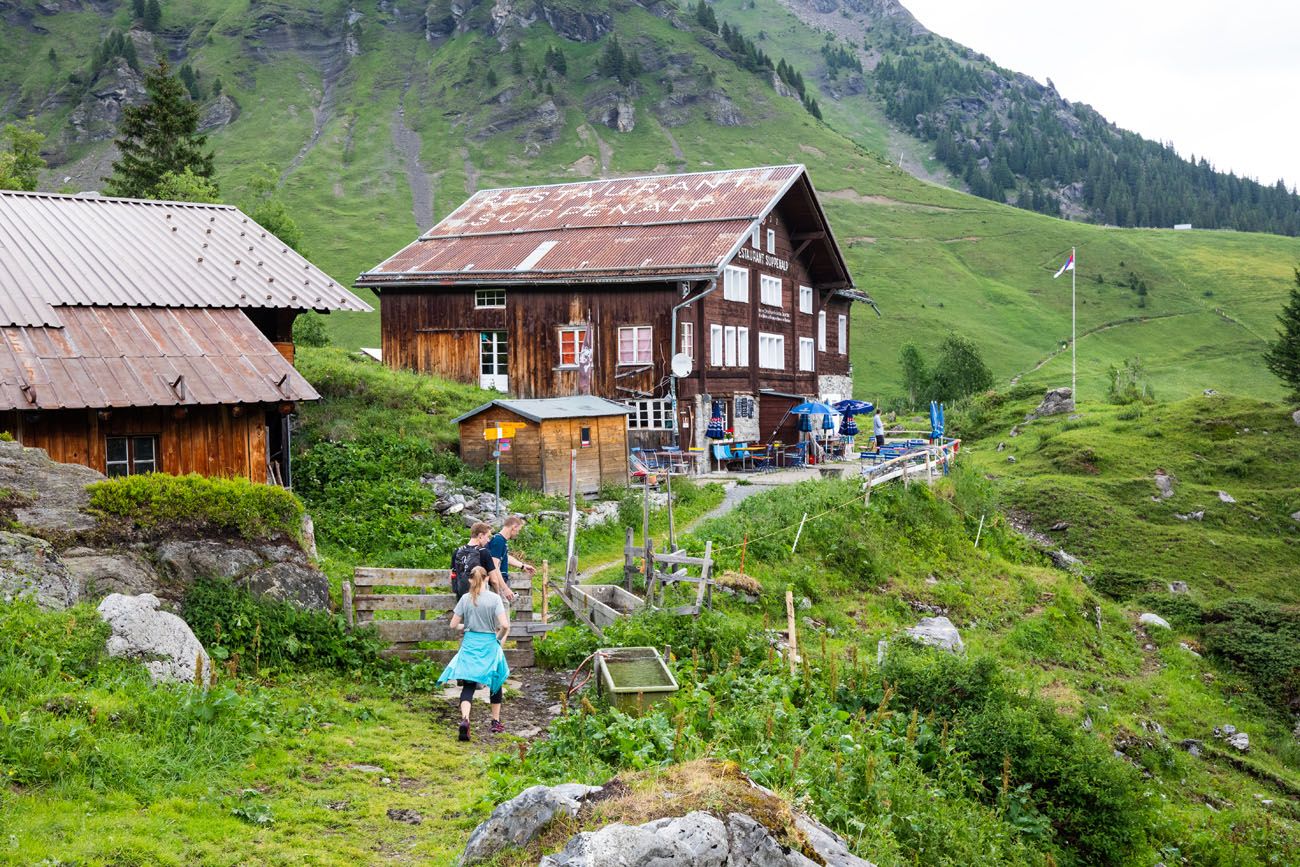 At Allmendhubel, there is a playground and a restaurant. This makes a nice place to take a break before continuing to Mürren.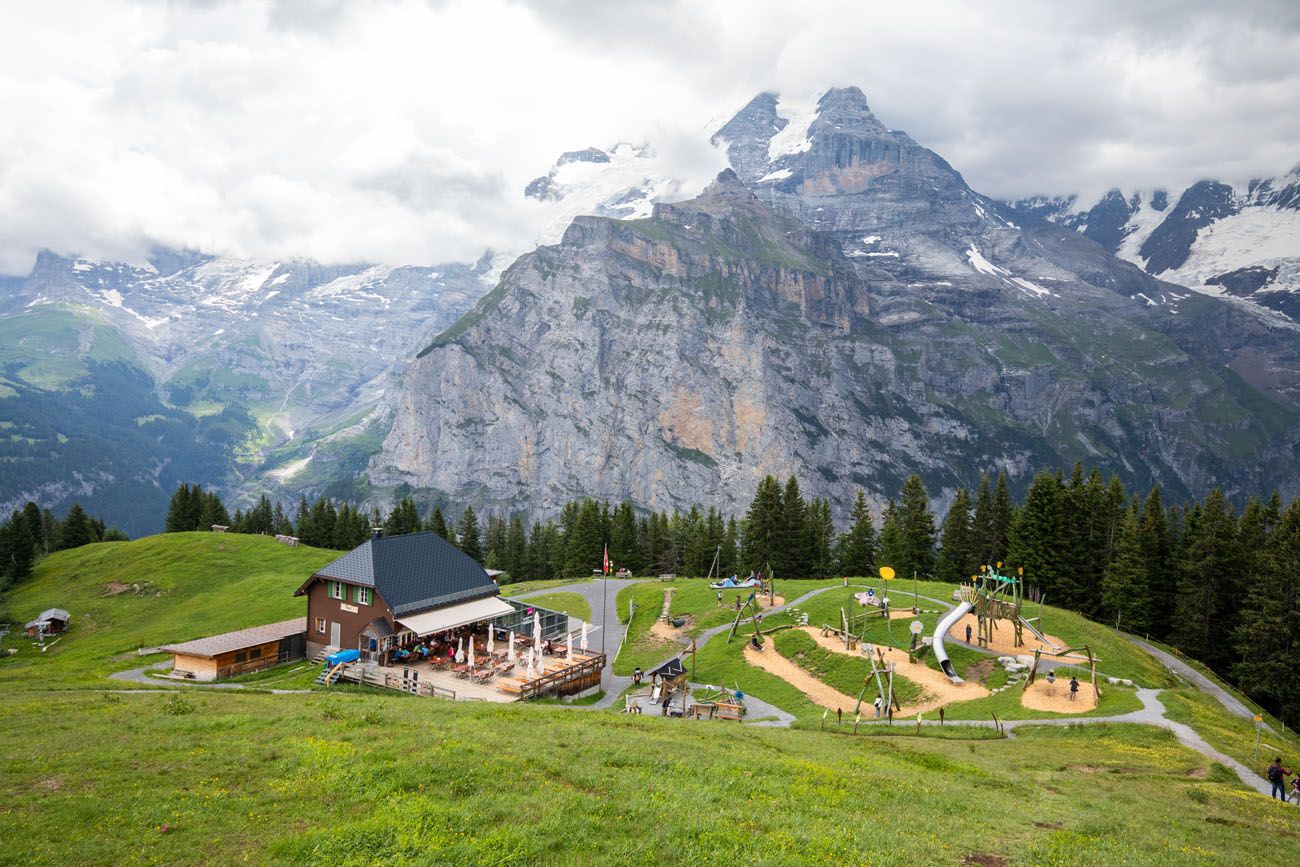 From Allmendhubel, you can ride the funicular into town. If you want more exercise, there is also a trail that heads down into Mürren, just be prepared for a steep descent.
PRO TRAVEL TIP: The Allmendhubel Funicular runs from 9 am to 5 pm, departing every 15 minutes. Click here for ticket prices and the timetable (the funicular does not run year-round; periodically it closes for maintenance work and during our visit, it was closed for two days because of technical difficulties).
Things to Know Before You Go
Wear a good pair of walking shoes. Hiking shoes are great but you will do just fine in a pair of running shoes or sturdy walking shoes. If it has recently rained, the trail to Sprutz waterfall could be muddy.
This is a great hike to do with kids. The views change frequently and with a chance to get up close with cows, goats, and pigs, this trail is good at keeping kids entertained. Plus, you end at a playground at Allmendhubel. The kids can play while the parents enjoy the amazing view.
This makes a great addition to your day if you also have plans to visit Schilthorn. A trip to Schilthorn is best in the morning, when you can have brunch at Piz Gloria, and before the midday crowds arrive. The Schilthorn cable car will drop you off in Mürren, the starting point for this trail. Hike the Northface Trail and end the day with dinner in Mürren.
Where to Eat in Mürren
Here are a few great restaurants in Mürren, great options for lunch or dinner, before or after your walk.
Hotel Bellevue. This great restaurant offers cozy, indoor seating as well as seating on their outdoor terrace, which offers spectacular views of the Alps. The food was the best we had while in Mürren.
Hotel Eiger. Located right across the street from the Mürren train station, this restaurant is a bit pricey but the food is great. We ate here twice, at lunch and at dinner, and the lunch menu is cheaper than the dinner menu.
Eiger Guesthouse Restaurant. This restaurant serves Italian and Swiss dishes. We ate here on our last night in Mürren. If we had eaten here earlier in the week, we would have been here more than once! 🙂
Where We Stayed
We spent 6 wonderful nights at Hotel Alpenblick in Mürren. This small hotel is located near the Mürren train station on the edge of town. We stayed in the family room so we had two bedrooms, one bathroom, and a balcony with a view of the Alps. The rooms are basic but they are comfortable, quiet, and cozy. The wifi works well and the views are amazing. Hotel Alpenblick is a great value for the money you spend and we chose it since it's a highly rated hotel that was cheaper than many in Mürren. We would not hesitate to stay here again.
For more information about where to stay, read our post Best Places to Stay in the Jungfrau Region.
---
If you have plans to walk the Northface Trail and have any questions, or if you want to share your experience, let us know in the comment section below.
More Places to Go in Switzerland
JUNGFRAU REGION: If you are planning a trip to the Jungfrau region, check out our Guide to the Jungfrau Region, which includes maps and important travel planning information. We also have a separate article about the best things to do in the Jungfrau region. Get more information on where to stay in the Jungfrau region and how to add on the thrilling Mürren Via Ferrata to your visit.
JUNGFRAUJOCH OR SCHILTHORN: Jungfraujoch and Schilthorn are two high alpine excursions in the Jungfrau region of Switzerland. If you only have the time for one, which is better, Jungfraujoch or Schilthorn?
LUCERNE: Learn how to spend one perfect day in Lucerne with a trip to Mt. Pilatus.
ZÜRICH: For things to do on a quick visit, check out our article One Day in Zürich.
ZERMATT: For ideas on what to do, read our article Best Things to Do in Zermatt and the best hikes in Zermatt. Plan your visit with our Zermatt Itinerary Guide. And don't miss our articles about how to visit Matterhorn Glacier Paradise, how to visit Gornergrat, and how to hike the Matterhorn Glacier Trail.
SWITZERLAND ITINERARY: If your visit to the Jungfrau region is part of a bigger trip to Switzerland, check out our Switzerland Itinerary, which has suggestions on what to do if you have 7 days, 14 days, or even longer.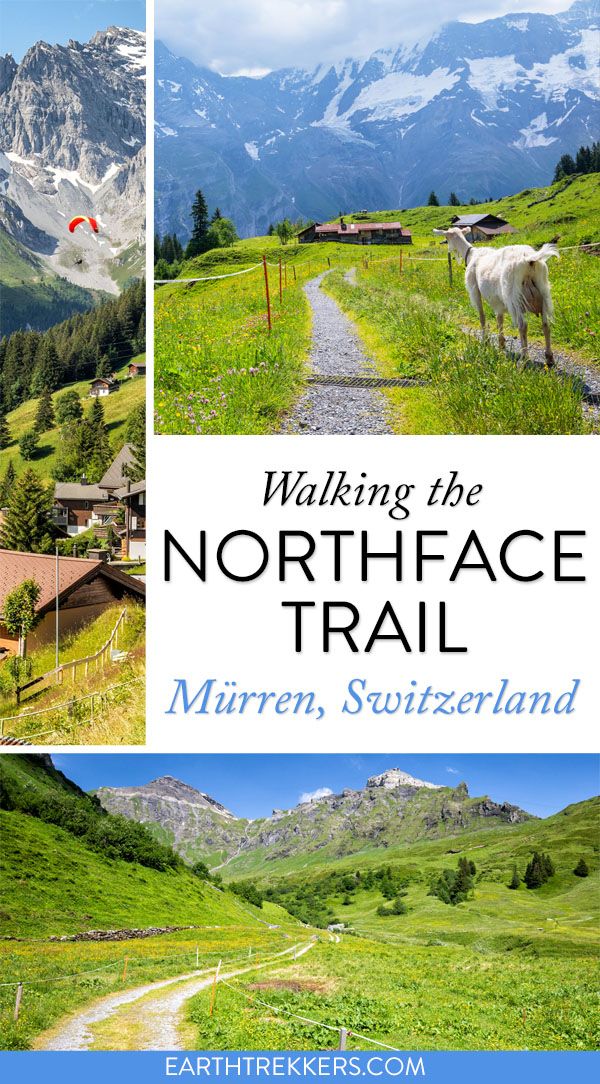 Note: This post contains affiliate links. When you make a purchase using one of these affiliate links, we get paid a small commission at no extra cost to you.
All rights reserved © Earth Trekkers. Republishing this article and/or any of its contents (text, photography, etc.), in whole or in part, is strictly prohibited.