The second half of our New Zealand adventure took us through the North Island. Although the North Island lacks the stunning scenery that we were wowed by on the South Island, there are still heaps of fun activities for families.
The North Island has it all…beaches, volcanoes, fabulous cities, famous movie sets, more adrenaline generating activities, and even caves filled with tiny, glowing worms. Like always, we were very busy, hopping from one town to the next, eventually ending at New Zealand's largest city, Auckland. Of the multitude of things we did on our North Island tour, here are some of our favorite activities, including one we could have done without.
Note: This article was written in 2015. Since that time, we have returned to New Zealand and wrote a similar article, 30 Amazing Things to Do on the North Island.
Fun Things to Do on the North Island with Kids
Tour Weta Cave in Wellington
For movie fans, young and old alike, this is a cool, quick stop. We took a tour of the Weta workshop, learning the basics on how movie props are made and getting a brief introduction into digital effects. Tyler, with his RTW video blog project and his growing obsession with robotics and computer programming, found this fascinating. Maybe we'll see him working in the film industry someday.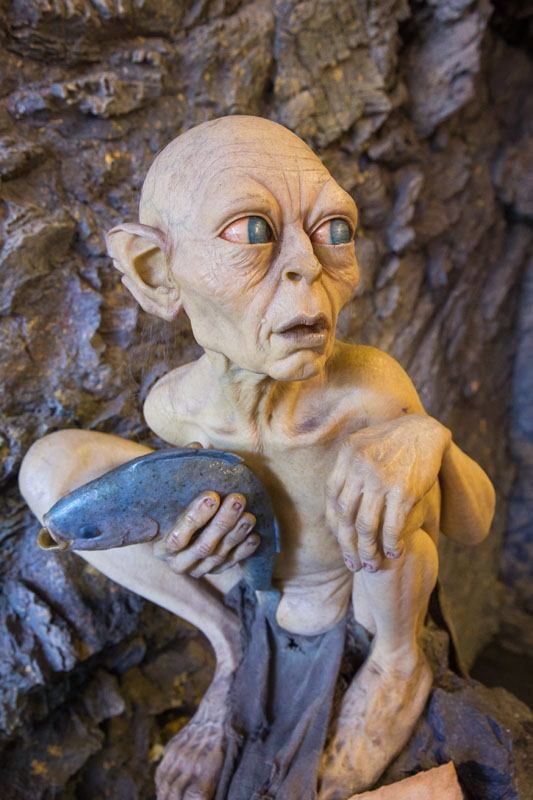 Our Favorite Hike In New Zealand, The Tongariro Alpine Crossing
The Tongariro Alpine Crossing blew away the other hikes we did while in New Zealand. The ever changing scenery, the 360° views from the summit, the smelly, sulfur filled air, along with views of a steaming, active volcano, made this one of our favorite hikes in the world.
It is a 19.4 km hike and quite strenuous at times, but we saw a family with kids as young as five years old who were doing very well. If your kids are active and adventurous and love the idea of hiking around an active volcano, do not miss this hike! After bungy jumping in Queenstown, this was our second favorite activity in New Zealand.

Go Mountain Biking in Taupo
Taupo, the adventure capital of the North Island, is very similar to Queenstown on the South Island. Things to do in Taupo include bungy jumping, jet boat riding, paragliding, and skydiving.
To us, Taupo just did not have that same vibe that we felt in Queenstown. Here in Taupo, things were quieter and more sedate and the town seemed a lot sleepier. Having partaken in most of the same activities in Queenstown, and not willing to spend the exorbitant $1300 USD to go skydiving, we chose the much cheaper option of mountain biking.
Taupo is laced with many trails of all difficulty levels, perfect for our family. This would be Tyler and Kara's first time truly mountain biking. Time for another adventure!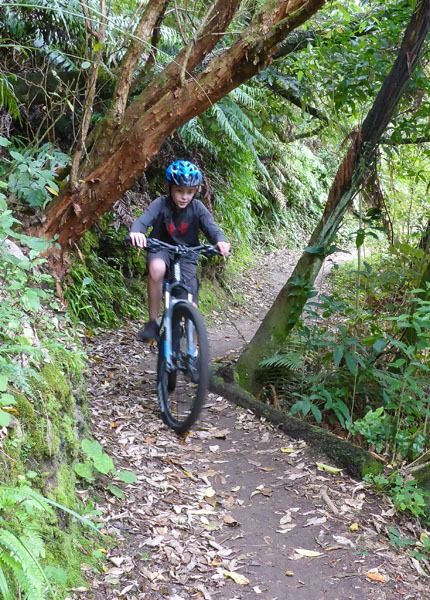 On our rented mountain bikes we headed north out of Taupo, biking along the Huka River to Huka Falls. For Tyler and Kara, these trails were relatively difficult. There were no logs or obstacles to jump our bikes over, but there were plenty of steep gradients and hairpin turns on the sides of canyons.
For me, it was a little nerve wracking. I worried that Tyler or Kara would go flying off of the trail and down into the valley ten feet below. Having broken my hand while mountain biking in Peru, I know how easily these mishaps can occur (I didn't go over the side, I just fell awkwardly on the trail, breaking my left hand and earning me a trip to a clinic in Cusco, but that's another story).
Tyler and Kara did great, and none of the horrible images of wipeouts, collisions, or tumbling down to the river below came true. They amazed Tim and I with their bike handling skills and ability to keep their bikes on the trails. For most of the time they had fun; there were several uphill sections that had us walking our bikes to the top.
The best part of the day was the trail back to Taupo, a trail that took us through eerily quiet Redwood forests on easier trails.
Check Out The Geothermal Activity Around Rotorua and Taupo
Rotorua is New Zealand's stinkiest city. The entire city smells like rotten eggs, the smell coming from sulfur bubbling up from neighboring hot springs and geothermal hot spots. I do not know how people stand to live here. There is almost no way to escape the smell. It was in our car, in restaurants, even in our hotel room, and for us, there was no getting used to it. Fortunately, we only stayed here for one night before we moved on to fresher air.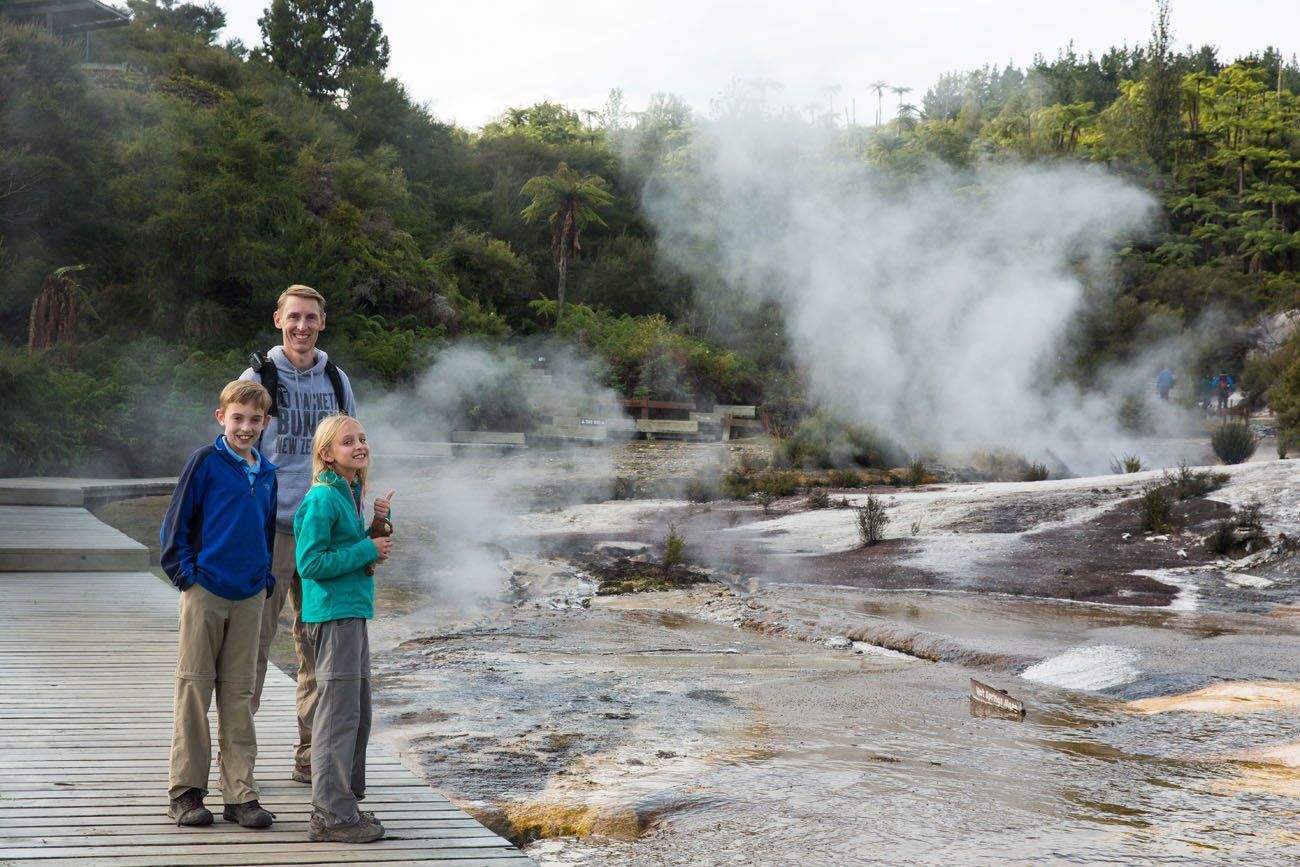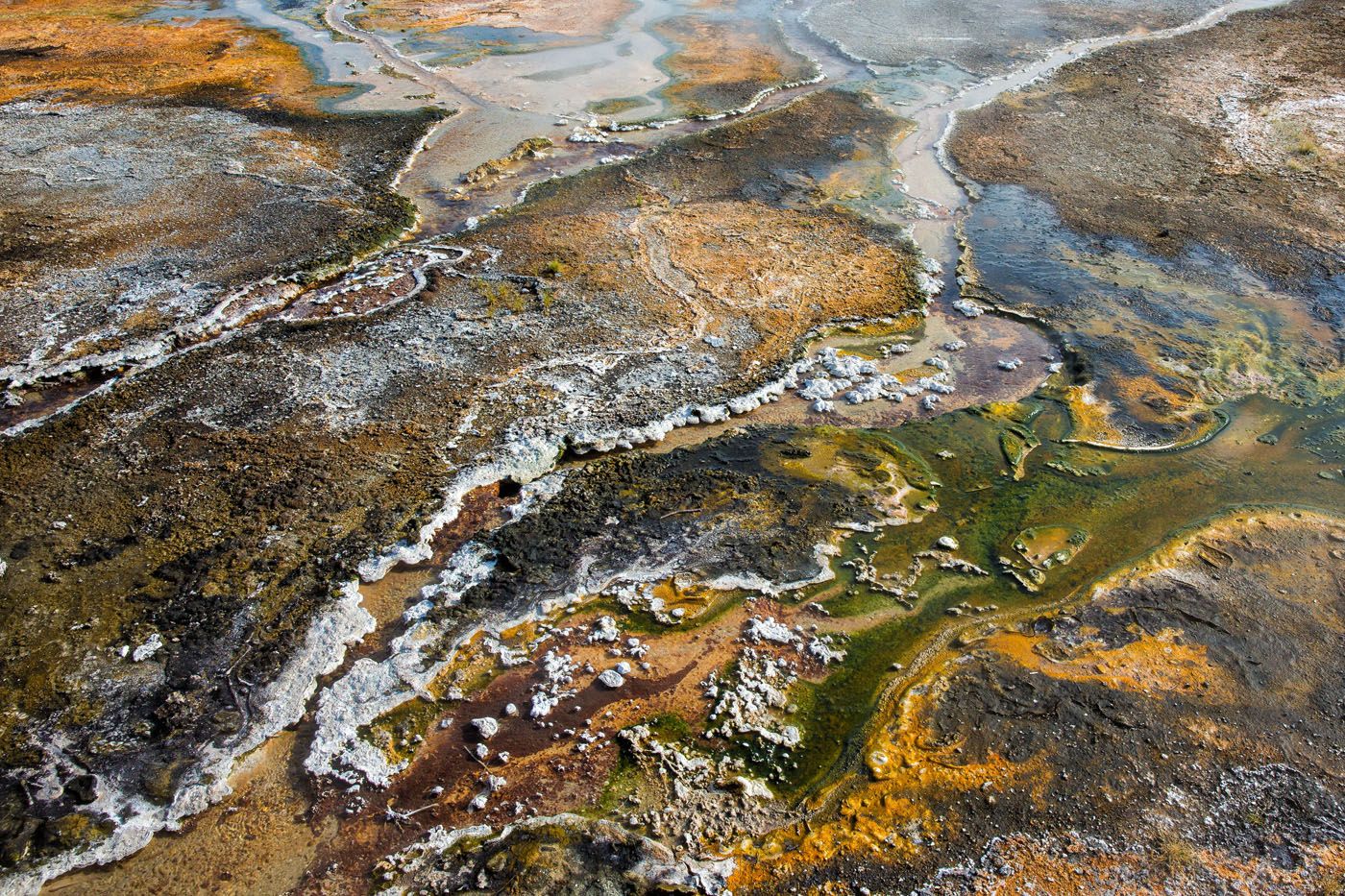 Despite the smell, Rotorua is still worth the visit. This area of New Zealand is similar to Yellowstone National Park with its bubbling mud pots, geysers, and wet, crusty, multicolored landscapes.Tyler and Kara saw their first geyser eruption, and even though it was no Old Faithful, it still elicited whoops of surprise and enjoyment as boiling hot water erupted from a hole in the ground.
The best part were the gurgling, almost calming burping sounds the boiling mud pots made. I do not know what is so fascinating about watching bubbling mud, but we were transfixed.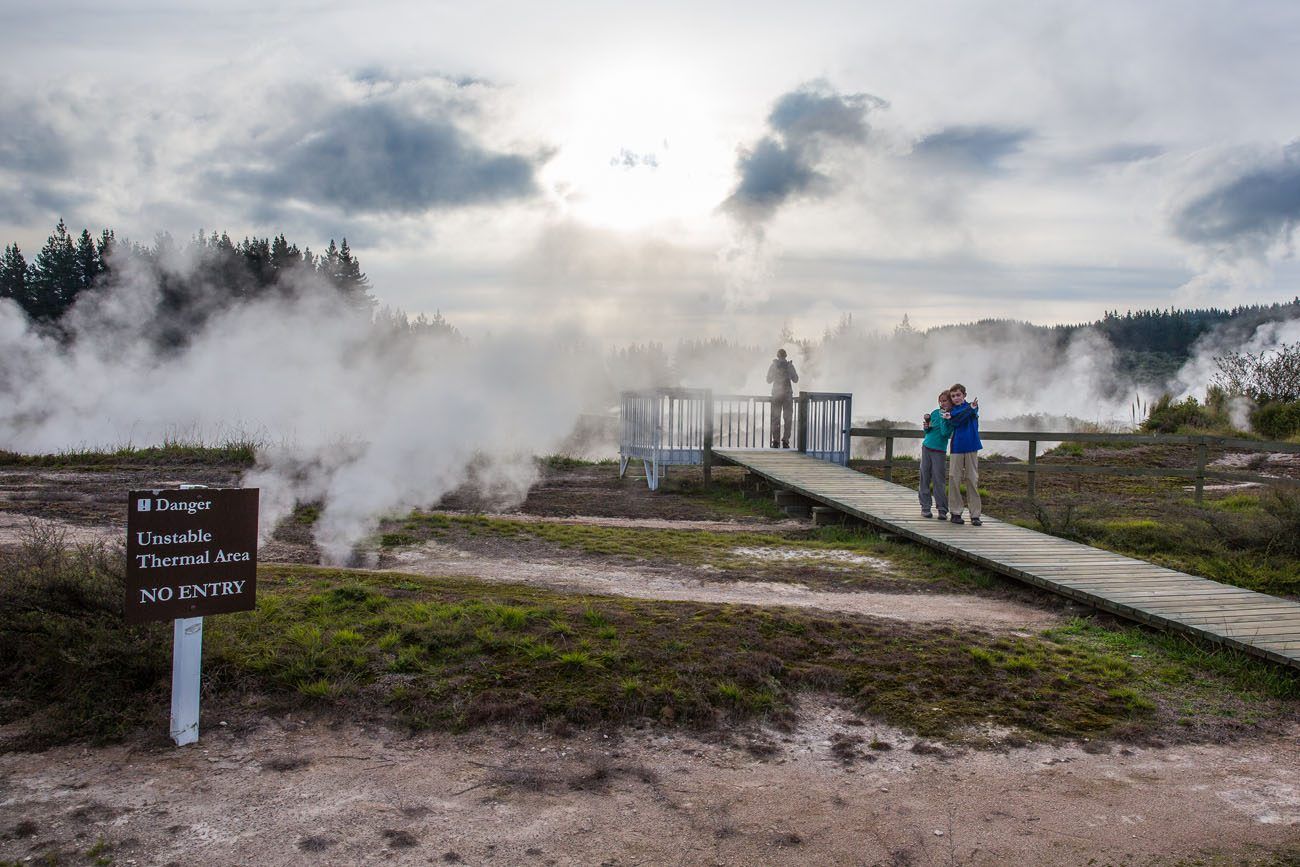 Hobbiton, A Fantasy World For Kids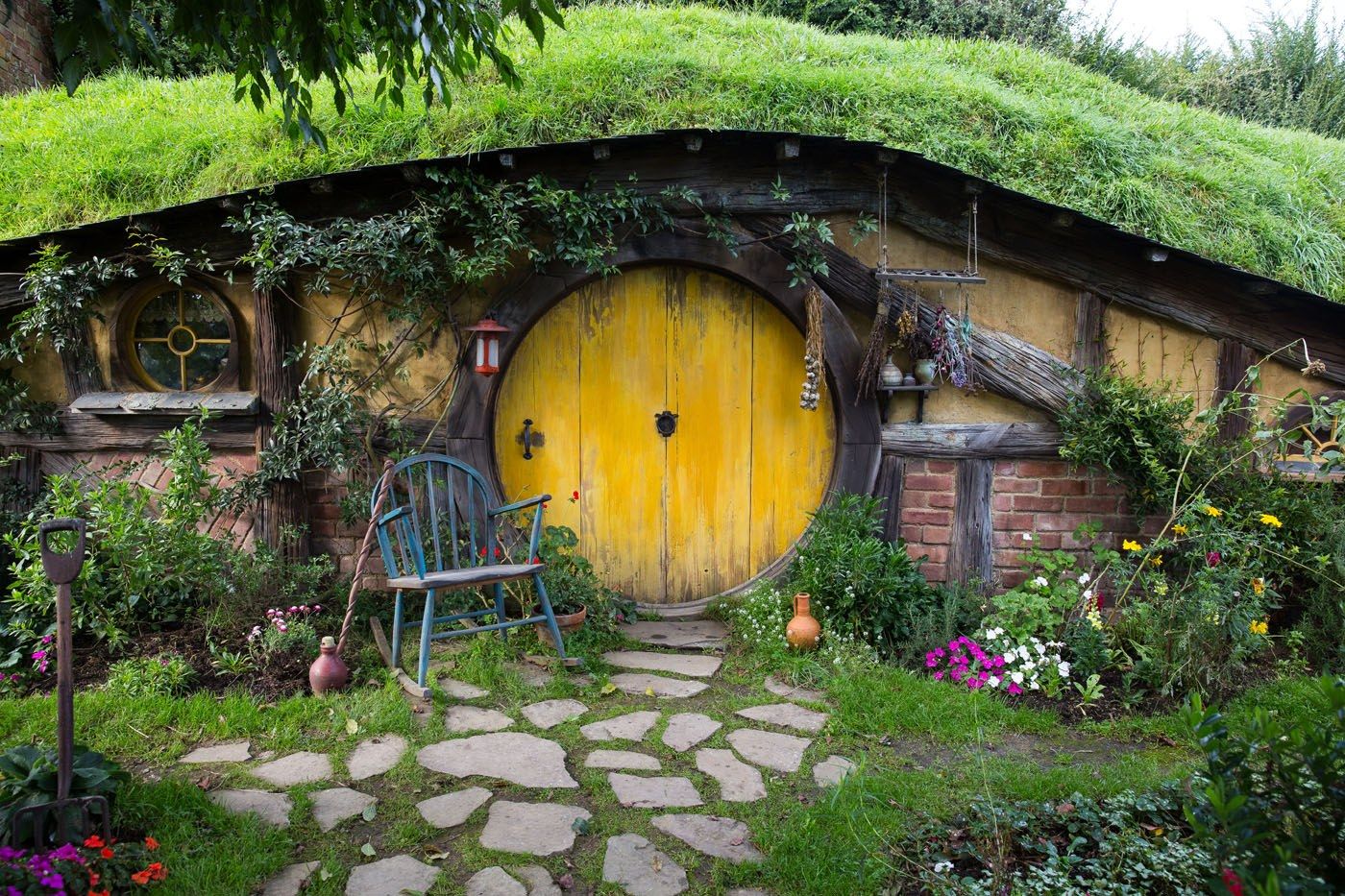 The Hobbiton Movie Set Tour was a huge hit for our family. Tyler and Kara have always dreamed of having a tree house, but if given the option, a child-sized cottage built into the hillside just might beat a house up in the trees.
What was designed as a movie set is now a huge money maker for the Alexander family, a family who just happened to own the perfect looking piece of property for "The Shire" in Peter Jackson's eyes. It is amazing the level of detail that went into designing this set, everything from the scale of the houses to the landscaping to prop design. Being here almost made Tim and I feel like kids again, wanting to run and explore these tiny hobbit houses and hideaways. You don't have to be a Lord of the Rings or Hobbit fan in order to enjoy a visit here, but it helps to be a kid at heart.
Walk Amongst California Redwoods
Located just outside Taupo is a forest of California Redwood trees. Again, this was a first for Tyler and Kara, a walk under some of the world's tallest trees. This forest, Whakarewarewa Forest, is enormous and you can spend an entire day walking the trails here.
I loved this place. We felt tiny here and these Redwood trees were not anywhere near full-grown, leaving us to wonder how old this forest really was. We did not see any trees large enough to drive a car through, and that may still be a thousand years away, but there was still something almost mystical about walking through this forest of giants.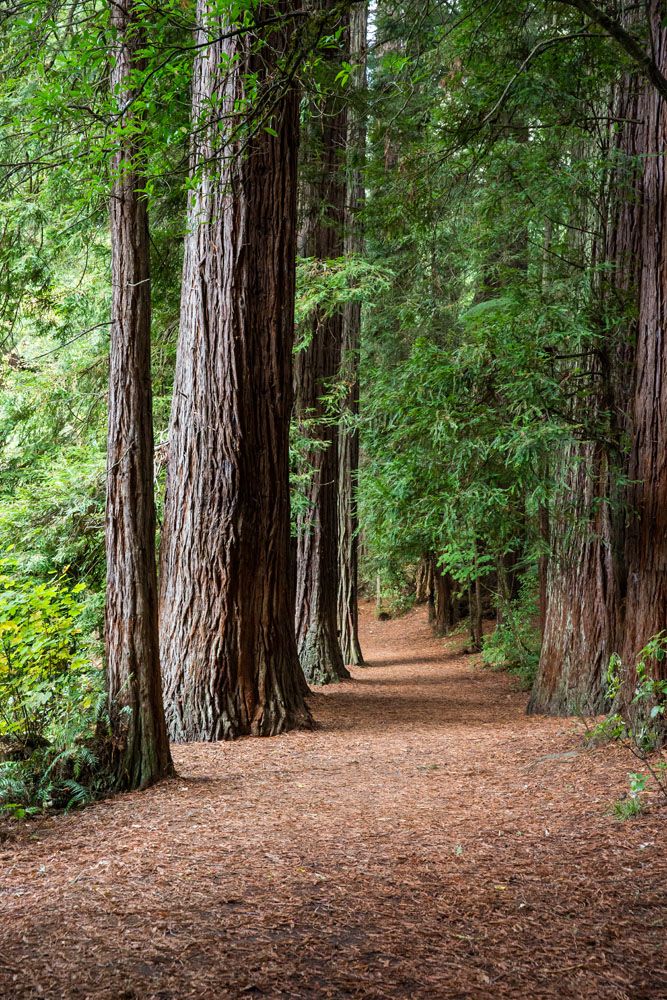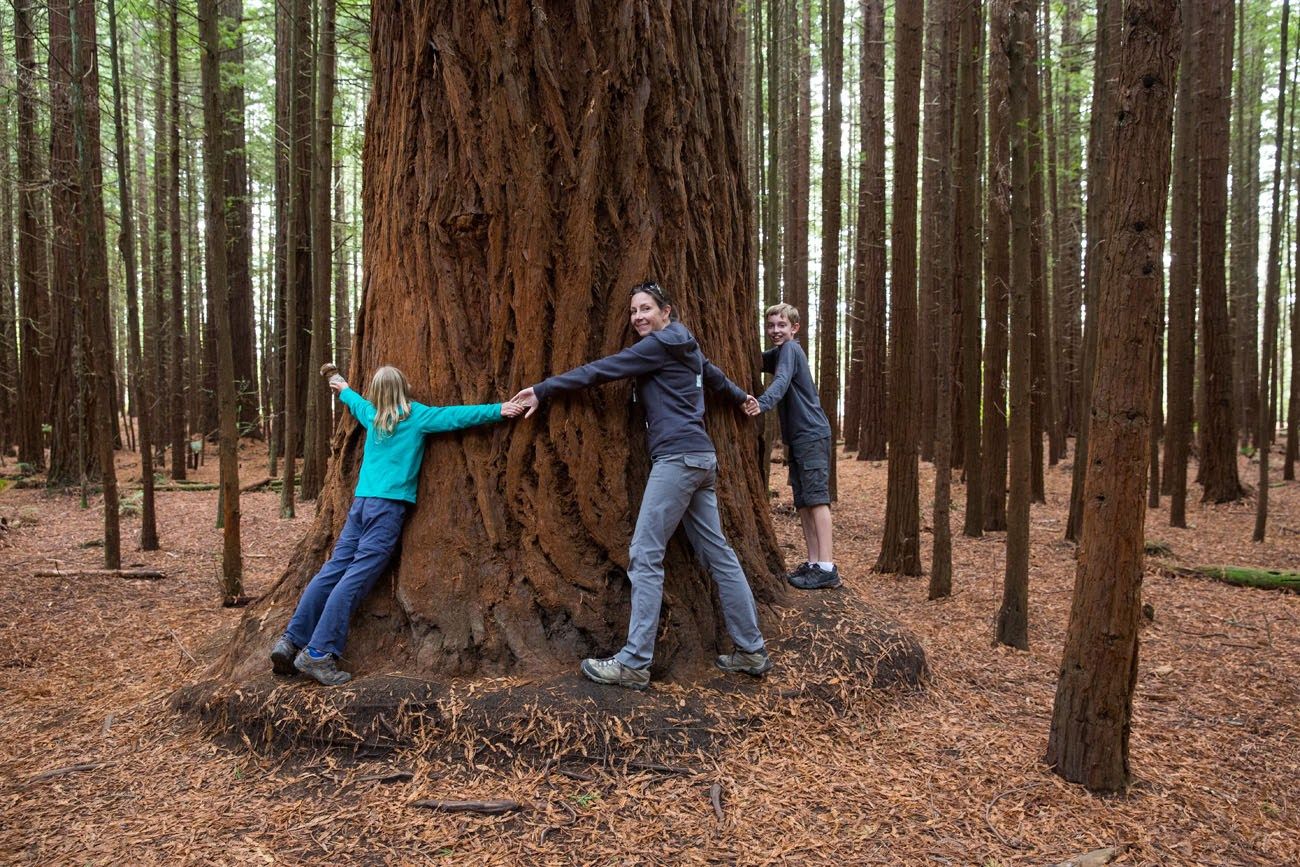 The Waitomo Glowworm Caves, Do Not Miss This!
Imagine entering a completely dark cave, looking up, and having it look like you're staring into the night sky above. The Waitomo Glowworm Caves sounded fascinating when I read about them, but seeing them blew us away.
There are multiple ways to tour the caves. The coolest way, in our opinion, would be to go black water rafting (white water rafting through caves) or tubing on the rivers that run underground here. Unfortunately, there is a minimum age of twelve years in order to do any "wet" cave exploration, so we were left with a "dry" tour. This was still amazing.
Our amazing guide led our group down into the cave, gave us a brief history lesson of the discovery of the caves, and then a science lesson about glowworms. The glowworms are really the larvae of adult insects. These larvae live for several months, attached to the ceilings of pitch-black caves. Like a spider, they dangle a thread from their bodies to catch their pray but use bioluminescence to produce the light that attracts insects to their "web."
Our tour guide had us all climb aboard a rowboat without oars or a motor. Using ropes strung up through the cave, she guided us into the darker part of the cave.
We all stared at the ceiling in amazement. Above our heads were thousands of tiny glowworms, almost twinkling like the stars in the night sky, one of the coolest things we have seen yet. The only sounds we could hear were the eerie, periodic dripping of water onto the river we were drifting on.
Another unique thing you can do in Waitomo is to go blackwater rafting in the caves. This is a great activity for adventurous families. Learn all blackwater rafting, and your various options for seeing glowworms in Waitomo, in our Guide to Waitomo Caves.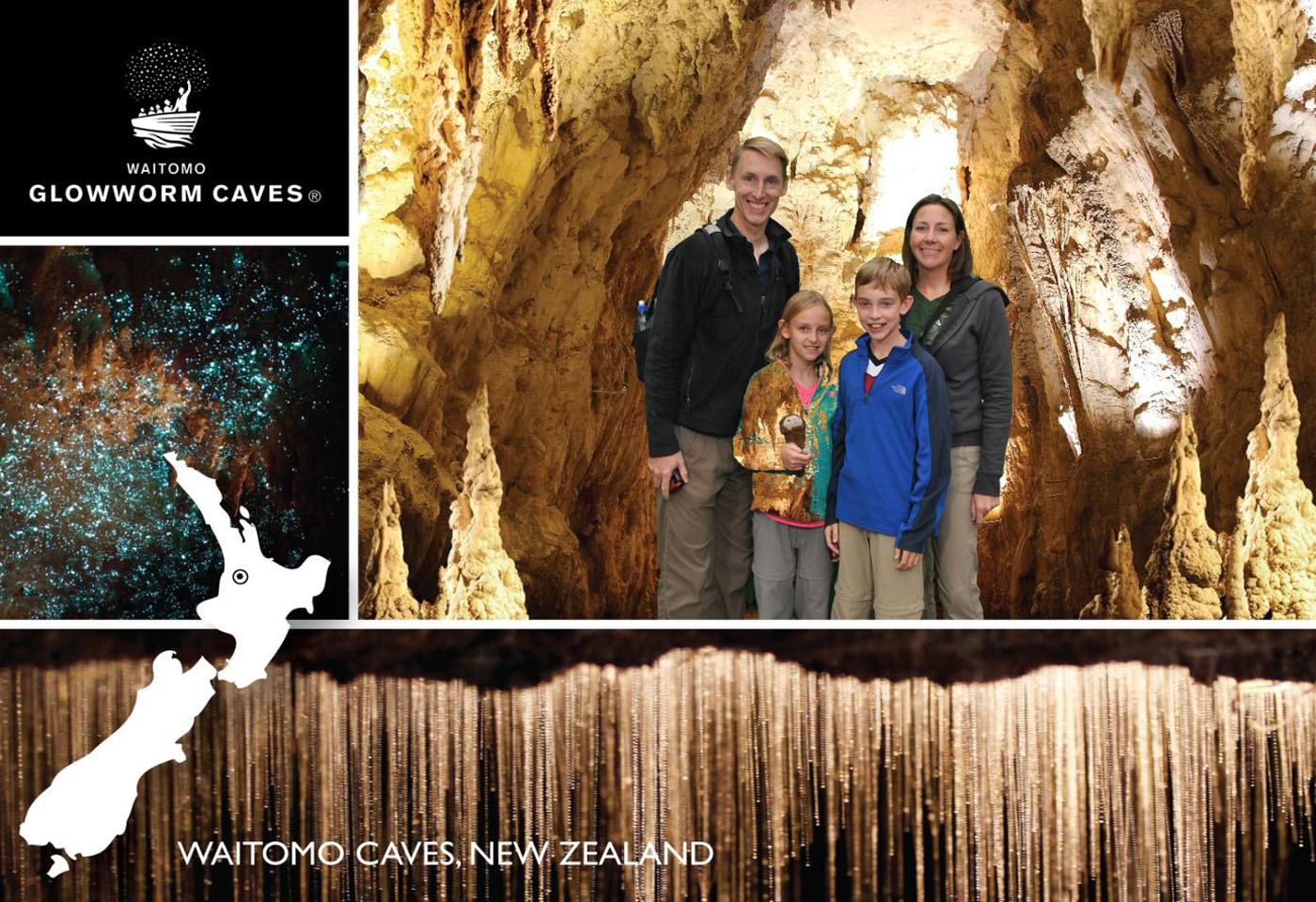 Escape From Prison At The Great Escape In Auckland
We arrived in Auckland on a rainy day and needed something to do. Having heard about these games where you are locked in a room for an hour and have to use clues and answers to puzzles to escape, we decided to give it a try. We are always up for another challenge!
There are two companies that operate escape games in Auckland and we randomly chose Great Escape. The four of us were locked in a prison cell. Using the clues provided, we had to figure out how to escape from the room. It was mentally challenging, had us thinking outside of the box, and it was a great teamwork activity. Yes, we managed to escape with one minute to spare, just before the warden discovered what we were up to.
And we were hooked.
As a family we love puzzle games, and a hands on race against the clock like this was perfect for us. We loved it so much that we went back for more. We did the Zombie Escape experience with Escape Masters, but their game was nowhere near the level of quality and intricacy as Great Escape. On our final day in Auckland we went back for round three, escaping from the insane asylum with Great Escape again.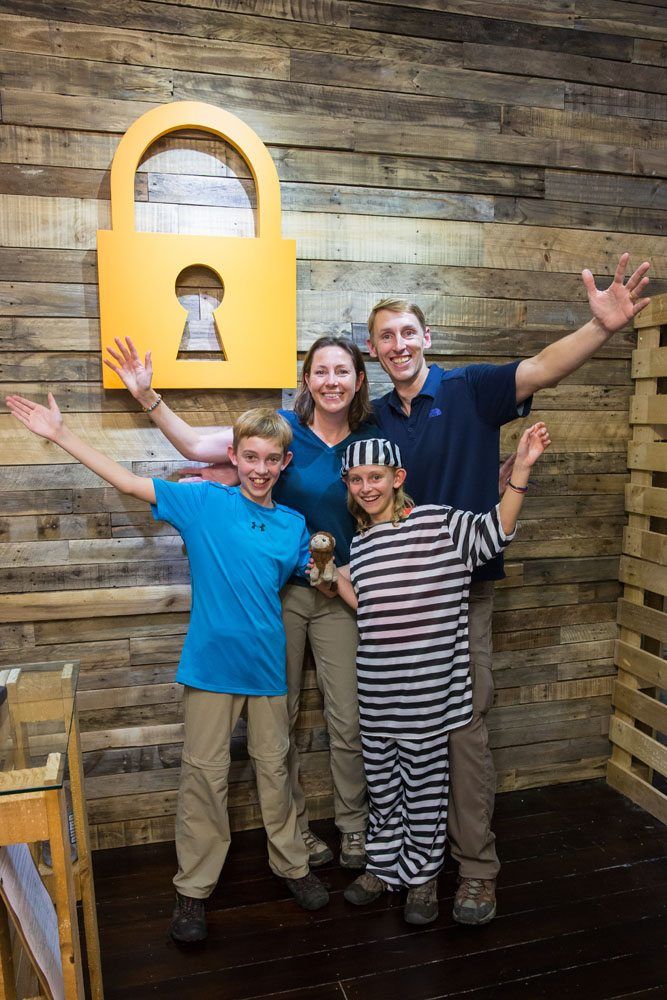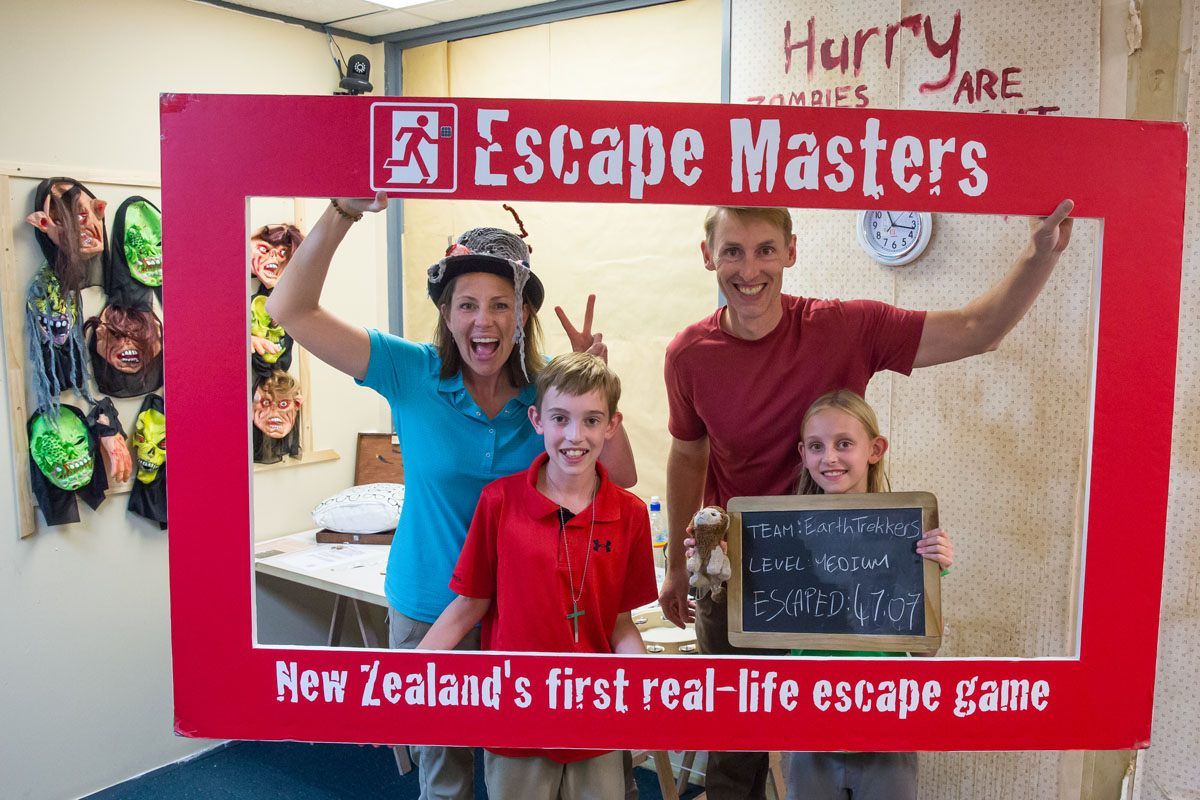 This is fun for our entire family. The hunt for clues, deciphering codes, unlocking more drawers for even more clues, we all had a blast. This is best for those twelve years and older, but even ten year old Kara contributed a lot and had just as much fun as the rest of us. Our family will be on the lookout for these games as we keep traveling. If you are in Auckland and want to play a game, go with Great Escape, these games are so much better. I'd tell you why but I do not want to give anything away!!!
Visit The Black Sand Beaches At Karekare
There are probably fifty amazing things to do while in Auckland so we had a hard time picking what we wanted to do during our two and a half days here. Not a bad problem to have.
On Mother's Day, we went on a daytrip to the western coast, just forty-five minutes outside of Auckland. The car ride to get there took us up and over the picturesque Waitakere Ranges, out to the coast, and to the black sand beaches of Karekare. It was a beautiful day, seventy degrees and sunny, it was a Sunday, and we were amazed at how empty this beach was. We almost had it all to ourselves. It was a little too rough to get into the water, but we had fun putting our feet in the water, watching the black sand ooze up between our toes.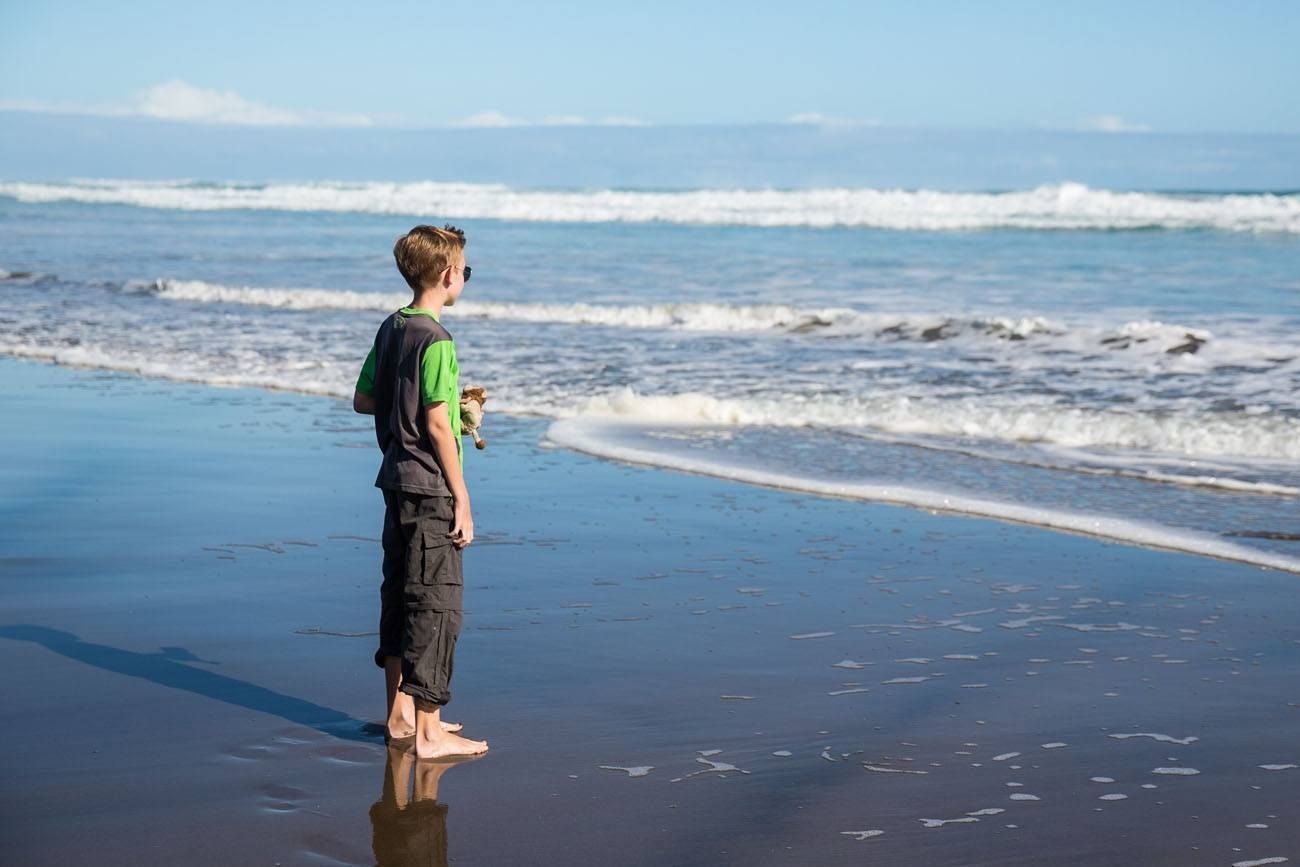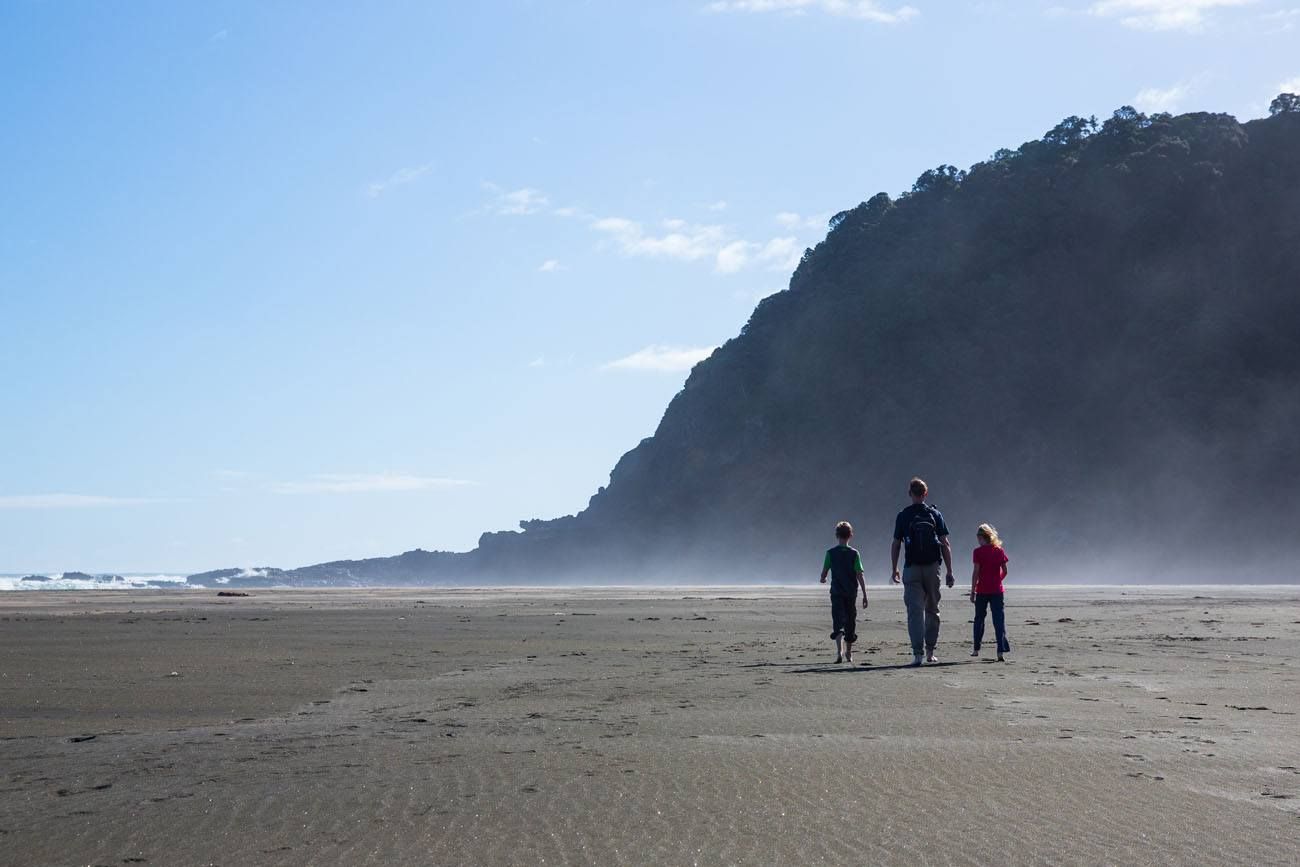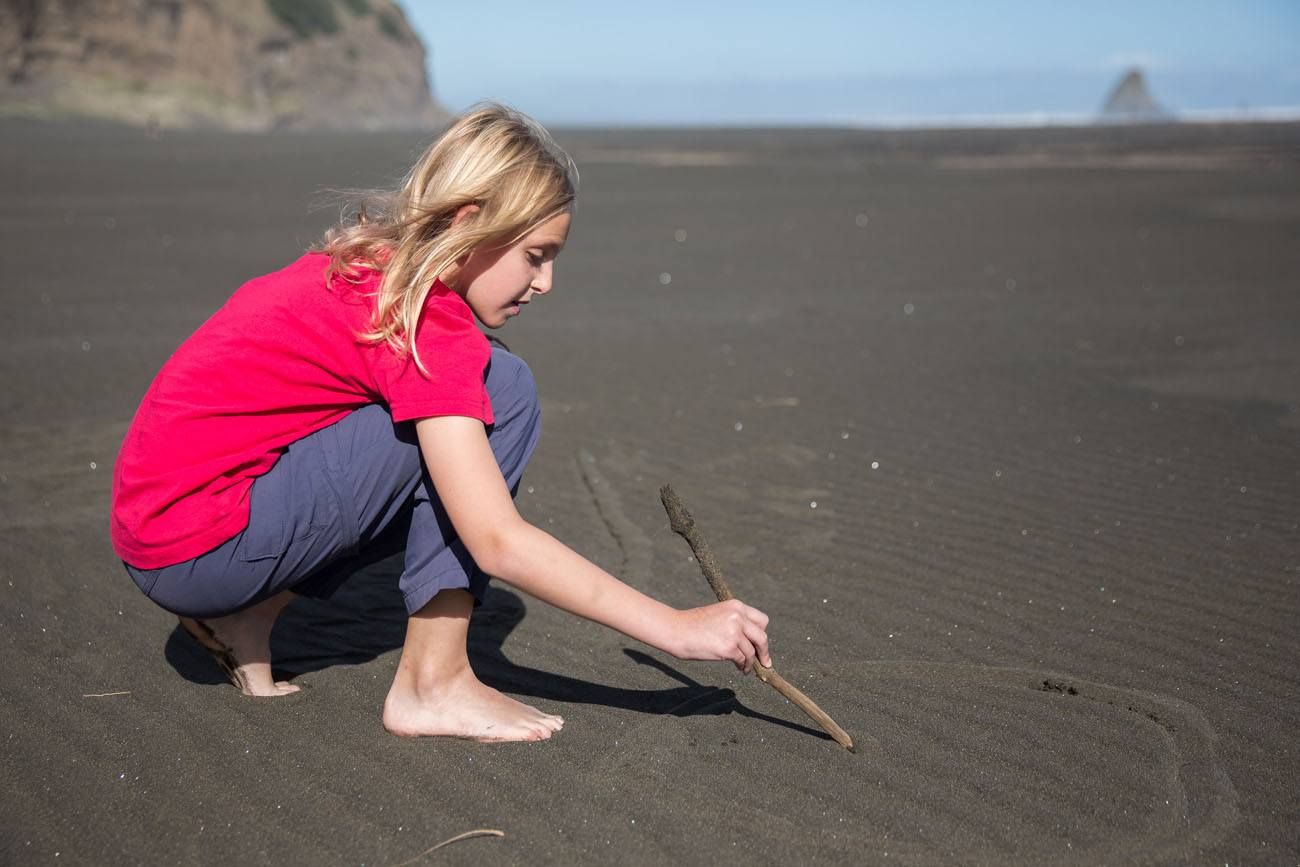 It is interesting that this beach is named Karekare, a Maori name. While in Turkey we learned that "kara" means "black." Doesn't it seem a bit coincidental that the black sand Karekare beach almost contains the same word for "black" in Turkish?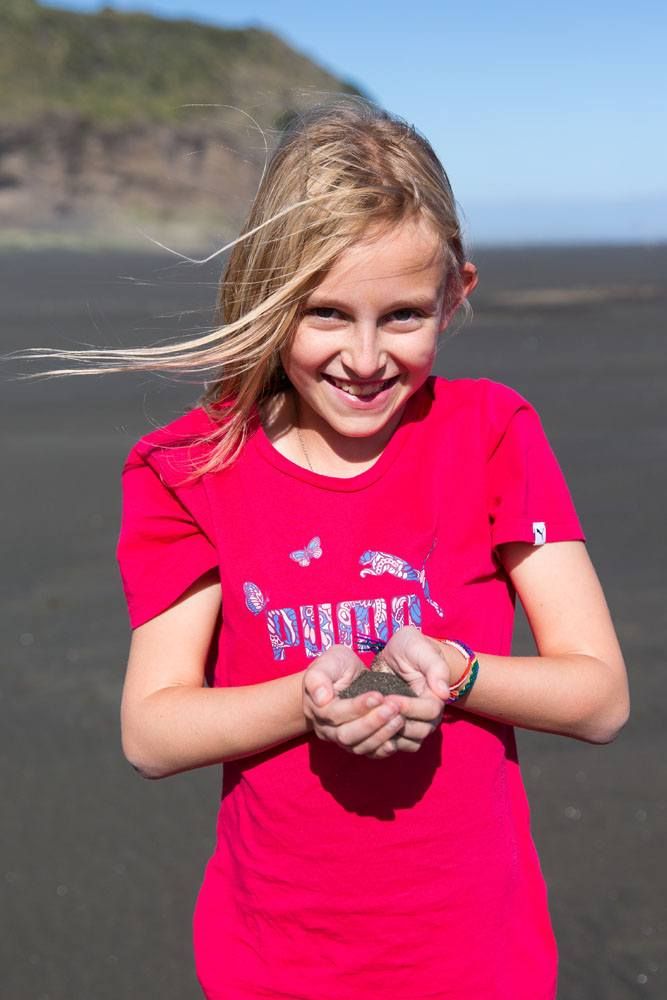 Climb Mt Eden For A Unique Perspective Of Auckland
Where else can you view the grassy caldera of an ancient volcano with one of the world's prettiest cities just beyond it? Here at Mt Eden. This just became one of my favorite places to view a city skyline. It's a bonus when your kids peer down into the mouth of the volcano and say "ooohhhh…"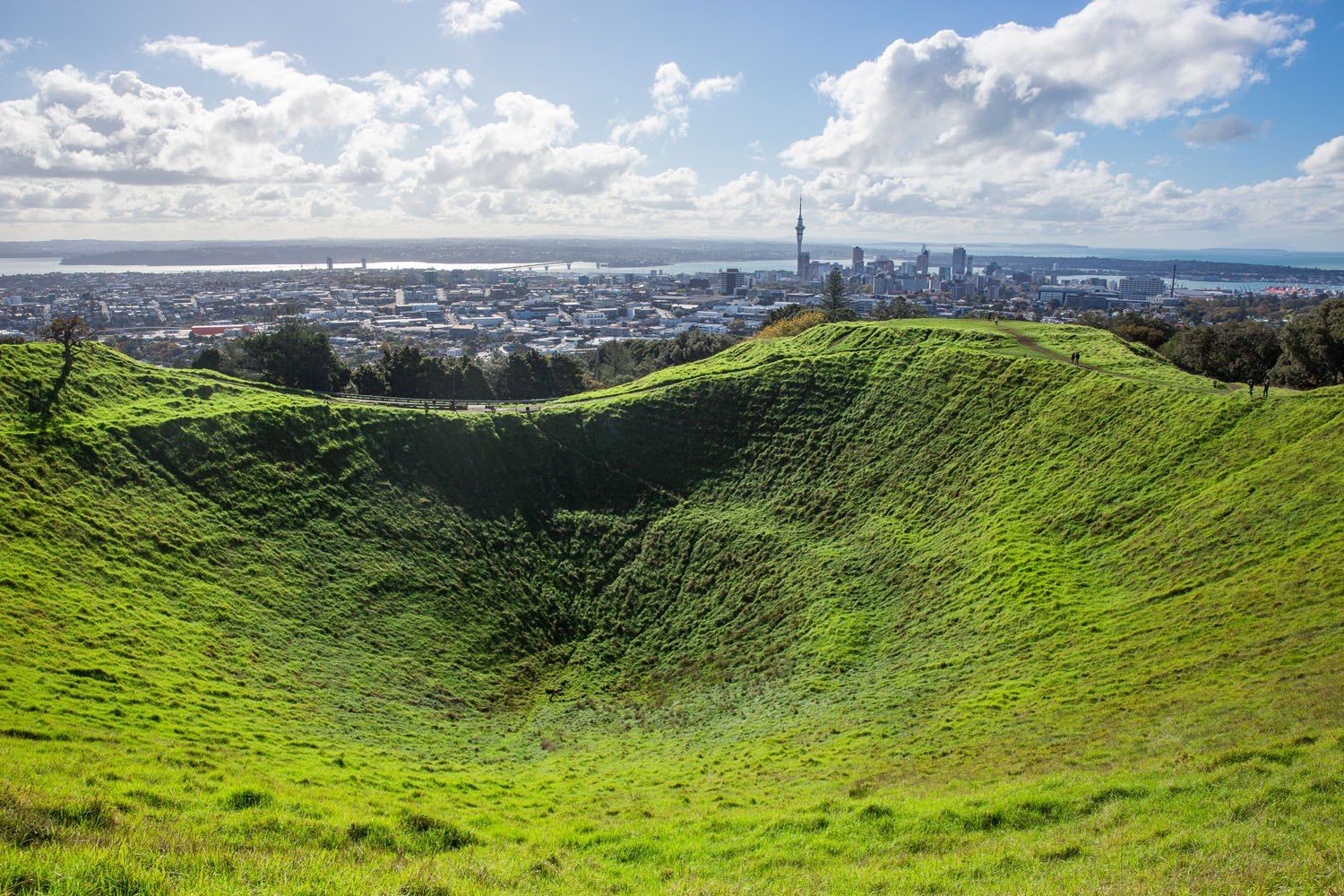 Out in the distance we could see the Hauraki Gulf, a series of islands grouped along the coastline. We missed out on going to the Hauraki Gulf on this trip, but we will hit it on our next trip to New Zealand. There is still so much to see!
Finally, The Not-So-Fun Activity For Kids, The Coast To Coast Walkway
I kept hearing about the Coast to Coast Walkway, an eight mile walk that takes those energetic enough from one harbor to the other. Along the way there are sights to see, such as Mt Eden, One Tree Hill, the Auckland Domain, and shopping areas, all things that appealed to us. It was just eight miles, really not that far, especially considering that we hiked twelve miles up and over a volcano just a week ago.
The walk started out well. We had our first 360° view of Auckland. We walked from playground to playground, giving Tyler and Kara time to swing, zipline, and just be kids.
Halfway through the walk, once we started our descent down into the city from Mt Eden, we had all grown tired of this walk. Tyler and Kara can climb mountains and hike on rugged trails for miles on end without complaint, but ask them to walk through city streets and very quickly they are bored, tired, and complain that their feet hurt. Even Tim and I had grown tired of the walk.
We abandoned the walk halfway through, finding a nice restaurant for a late lunch, and decided that our afternoon would be better spent trying to escape from zombies at Escape Masters. For adults who want a glimpse into Auckland life, don't be discouraged, this is still a great walk. But for those with kids in tow, you might want to give this one a pass.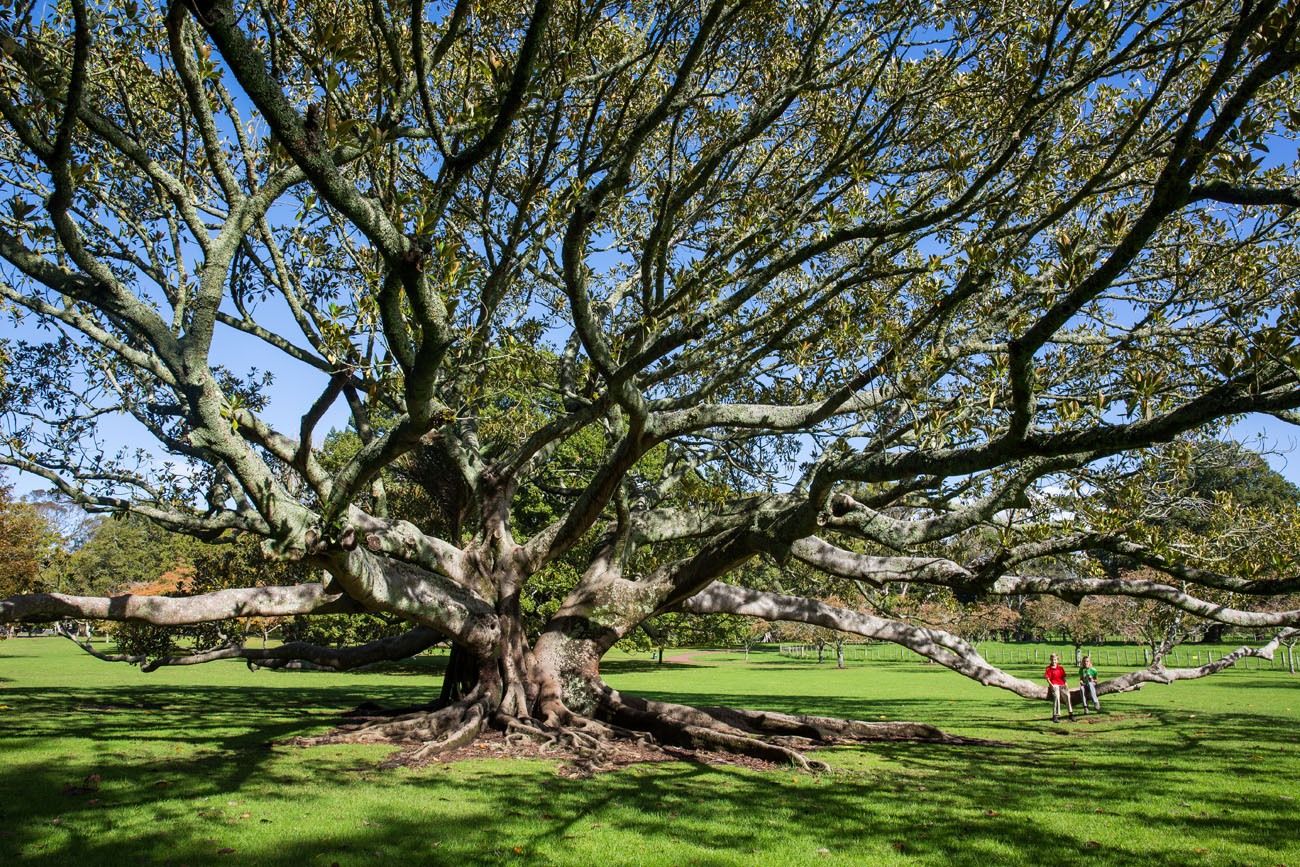 Bonus! One Additional Thing to Do on the North Island with Kids
On our second visit to New Zealand, Tim and I ventured to the northernmost part of the North Island. In this far remote area sits giant sand dunes. Called the Te Paki Giant Sand Dunes, this is a fantastic spot to take your kids sandboarding. While in the area, you can also visit Cape Reinga and a few stunning beaches.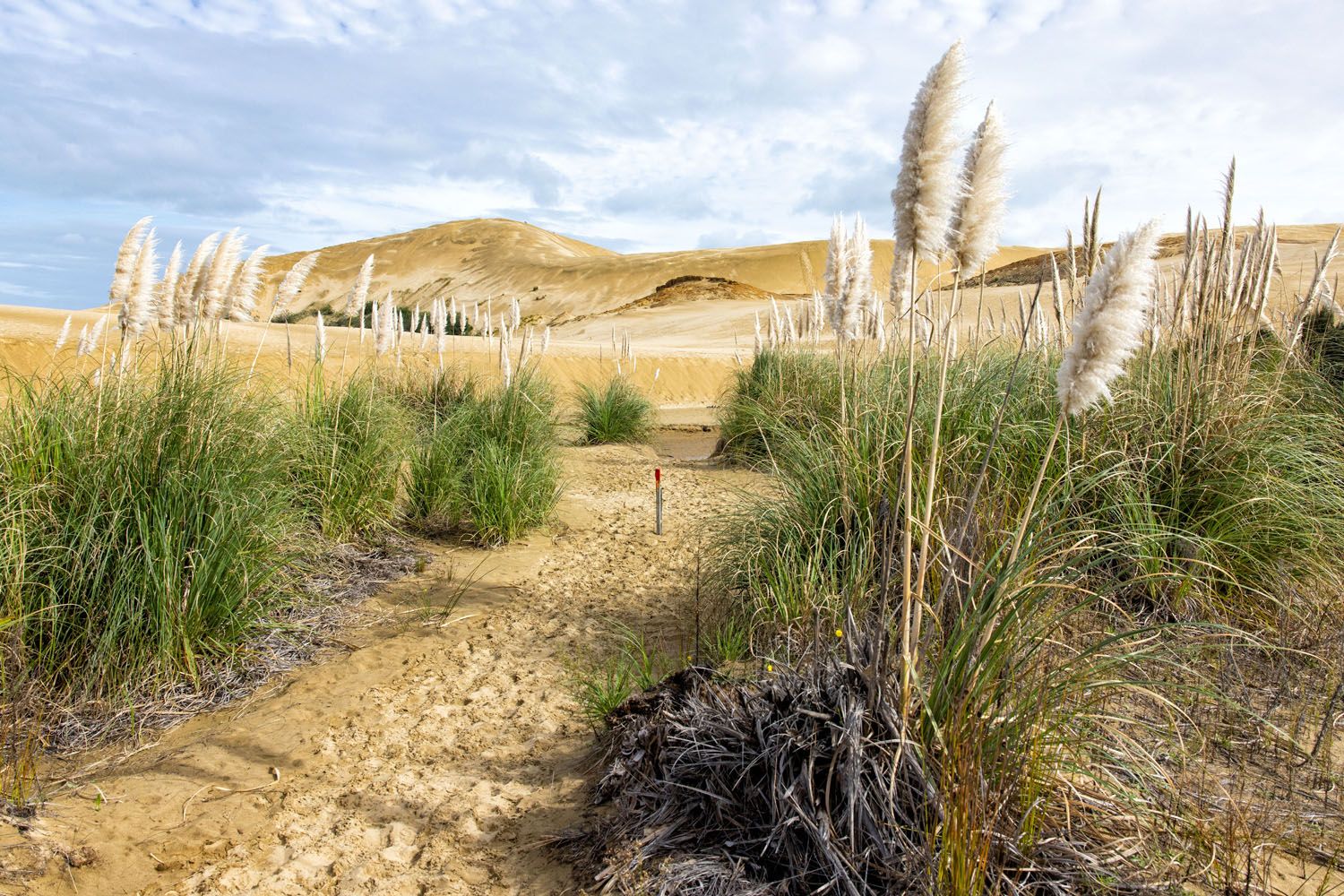 Te Paki Giant Sand Dunes
---
More Information about New Zealand
OUR FAVORITE EXPERIENCES IN NEW ZEALAND: All four of us went bungy jumping in Queenstown which was a blast. The Tongariro Alpine Crossing is our favorite hike in New Zealand, followed by Roy's Peak Track and the Routeburn Track. We also love Waiheke Island (a great day trip from Auckland), Queenstown and visiting Franz Josef (Glacier Country).
AUCKLAND: Get started with our article Best Things to Do in Auckland, which also has hotel and restaurant recommendations. Learn how to plan your time with our Auckland Itinerary.
NORTH ISLAND: Top experiences on the North Island include the Tongariro Alpine Crossing (one of the best day hikes in the world), spending a day or two in Auckland, visiting Waiheke Island on a day trip from Auckland, touring Hobbiton, a visit to Taupō, and seeing the glowworms and blackwater rafting in the Waitomo Caves. For the full list, read our article about the Best Things to Do on the North Island.
SOUTH ISLAND: On the South Island of New Zealand, visit Milford Sound and Doubtful Sound, spend a few days in Wanaka, hike the Routeburn Track, drive the Southern Scenic Route, visit the Marlborough Wine Region, and visit Franz Josef and Glacier Country. For the full list, read our article Best Things to Do on the South Island.
NEW ZEALAND ROAD TRIP: With 3 weeks in New Zealand, visit the highlights on a road trip to the North Island and South Island. If you have less time, you can shorten this itinerary by spending 2 weeks on the South Island.
We have TONS more information about New Zealand in our New Zealand Travel Guide, including Auckland, Queenstown, Wanaka, Aoraki/Mount Cook, Franz Josef, Christchurch, Wellington, Taupō, and the Milford Sound.
All rights reserved © Earth Trekkers. Republishing this article and/or any of its contents (text, photography, etc.), in whole or in part, is strictly prohibited.