The Valley of Fire is a brilliant, colorful spot located in Nevada, just one hour from Las Vegas. Filled with panoramic vistas, hiking trails, petroglyphs, and stunning red and pink rock formations, the Valley of Fire makes an excellent day trip from Vegas.
What is the Valley of Fire?
The Valley of Fire is a state park located 50 miles northeast of Las Vegas, Nevada. Its 46,000 acres are filled with red rock formations made from Aztec sandstone. On a sunny day, these rock formations look like they are on fire, giving the park its name, the Valley of Fire.
Several movies were filmed here, including Total Recall, Viva Las Vegas, The Professionals, and Star Trek Generations.
A visit to the Valley of Fire can last just an hour or two (if you drive through the park, only stopping at scenic overlooks and hiking one or two short trails) or all day, if you choose to explore every nook and cranny of this place.
We spent about four hours here, hiking several of the trails and seeing the main highlights.
Best Things to do in the Valley of Fire
Here is a map with the main attractions and hiking trails in the park.
How to Use This Map: Click the icons on the map to get more information about each point of interest. Click the star next to the title of the map to add this map to your Google Maps account. To view it on your phone or computer, open Google Maps, click the menu button, go to "Your Places," click Maps, and you will see this map on your list.
Enjoy the Landscapes
Driving through the Valley of Fire is the easiest way to enjoy the view. Pink, red, and orange sandstone rocks create amazing vistas that you can see from your car.
The main road, Mouse's Tank Road, curves its way through these rocky formations, creating beautiful views. You don't even have to get out of your car to enjoy this!
Elephant Rock
Located next to the east entrance, this arch rock formation resembles an elephant, with a little bit of imagination.
Bill45/shutterstock.com
The Beehives
These strange looking sandstone formations can be seen in just a few minutes. Get out of your car, take some photos, or climb up to on top of the highest dome for great views over the park.
Mouse's Tank
The hike to Mouse's Tank is relatively short (only .75 miles round trip), ending at a natural rock basin where water collects after rainfall. This is an easy but unexciting hike and along the way you can spot petroglyphs on the rocks. If you are short on time, I'd skip this hike and save your time for some of the better trails in the park.
Rainbow Vista
This hike is more worthwhile. Only 1 mile round trip, this hike ends with a climb up onto a large hill for a panoramic view over the Valley of Fire.
You can continue east on the trail past the panoramic point, but I'd skip this too. The best part of Rainbow Vista is the view from on top of the hill.
Pink Canyon
Pink Canyon, also called Pastel Canyon, is a spot that many people don't seem to know about. It's an unmarked spot to visit but it's one of the prettiest places we saw in the Valley of Fire. Parking is limited to only one or two cars (GPS coordinates: 36°28'47" N 114°31'36" W). From the parking spot, head east into the canyon.
It only takes about 10 minutes to walk through this short, shallow canyon, and with its pink scalloped walls it's a beauty.
While in the Valley of Fire, please practice the seven principles of Leave No Trace: plan ahead, stay on the trail, pack out what you bring to the hiking trail, properly dispose of waste, leave areas as you found them, minimize campfire impacts, be considerate of other hikers, and do not approach or feed wildlife.
The Fire Wave
This is one of the most gorgeous spots in the Valley of Fire. White and red zebra print sandstone creates a great photo opportunity. It's a 1.5-mile round trip hike out to the Fire Wave.
White Domes
This 1.25-mile loop hike was our favorite hike in the park. It's also the most challenging, with a descent at the beginning and then a climb back up to the parking lot at the end. Even so, it's not difficult, and it's a great place to bring kids to let them climb over boulders on the trail and walk through a narrow slot canyon.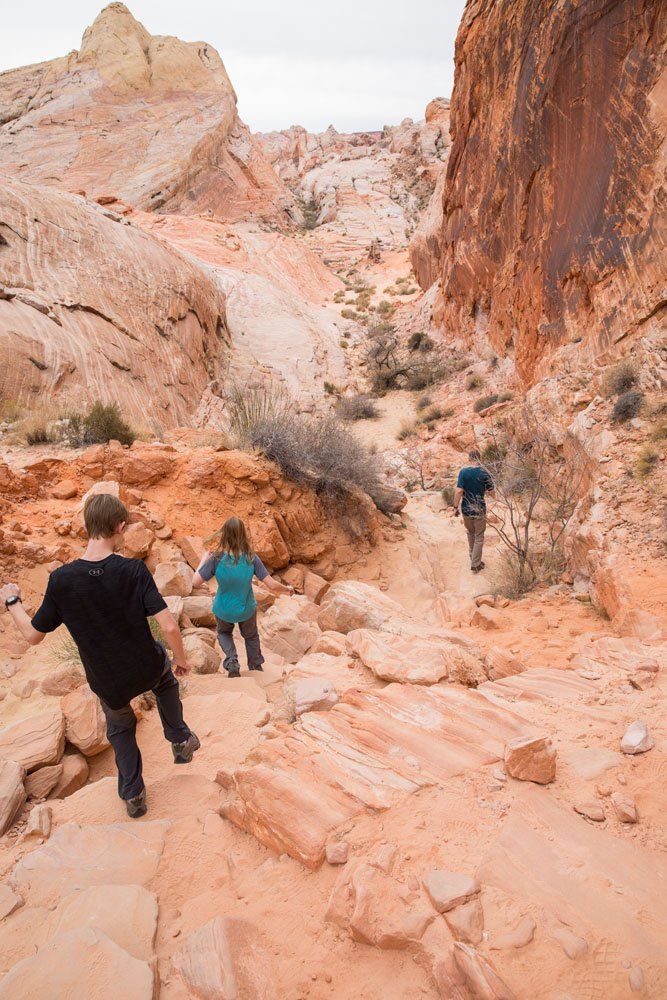 The easiest way to do this hike is to go clockwise, starting and ending in the car park. By doing it this way, you walk down the relatively steep, rocky path and later walk up a more gentle incline on a singletrack trail.
Seven Sisters
Located on the Valley of Fire Highway, this is a quick stop to see a cluster of seven sandstone rock formations.
Atlatl Rock
Climb the staircase at Atlatl Rock to see the best display of petroglyphs in the Valley of Fire.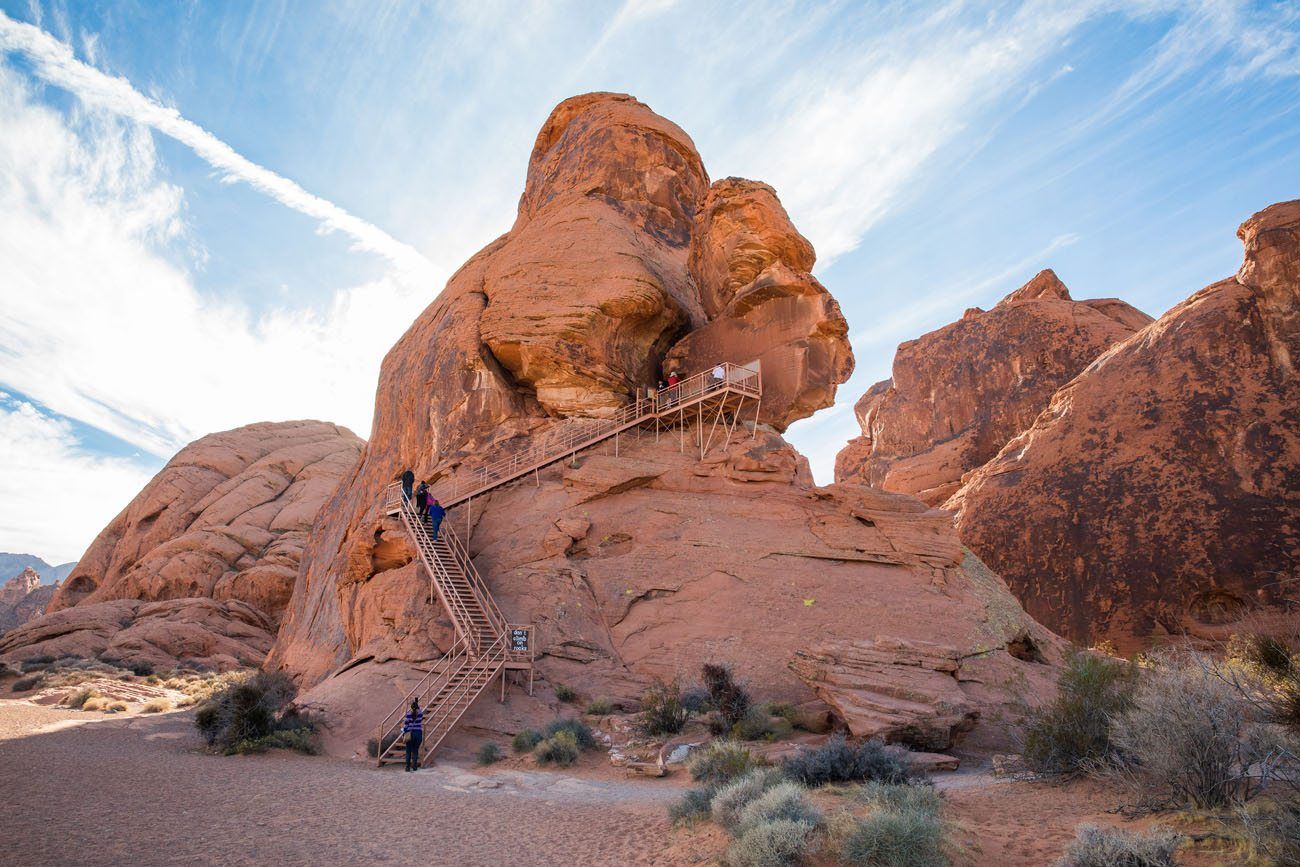 Arch Rock
This large arch in the sandstone can be seen from the Scenic Loop Road near Atlatl Rock.
Fire Cave
Also located on the Scenic Loop Road is the Fire Cave, also called Windstone Arch, another arch that may be worth making the short hike to if you like caves and getting a bit off-the-beaten-path.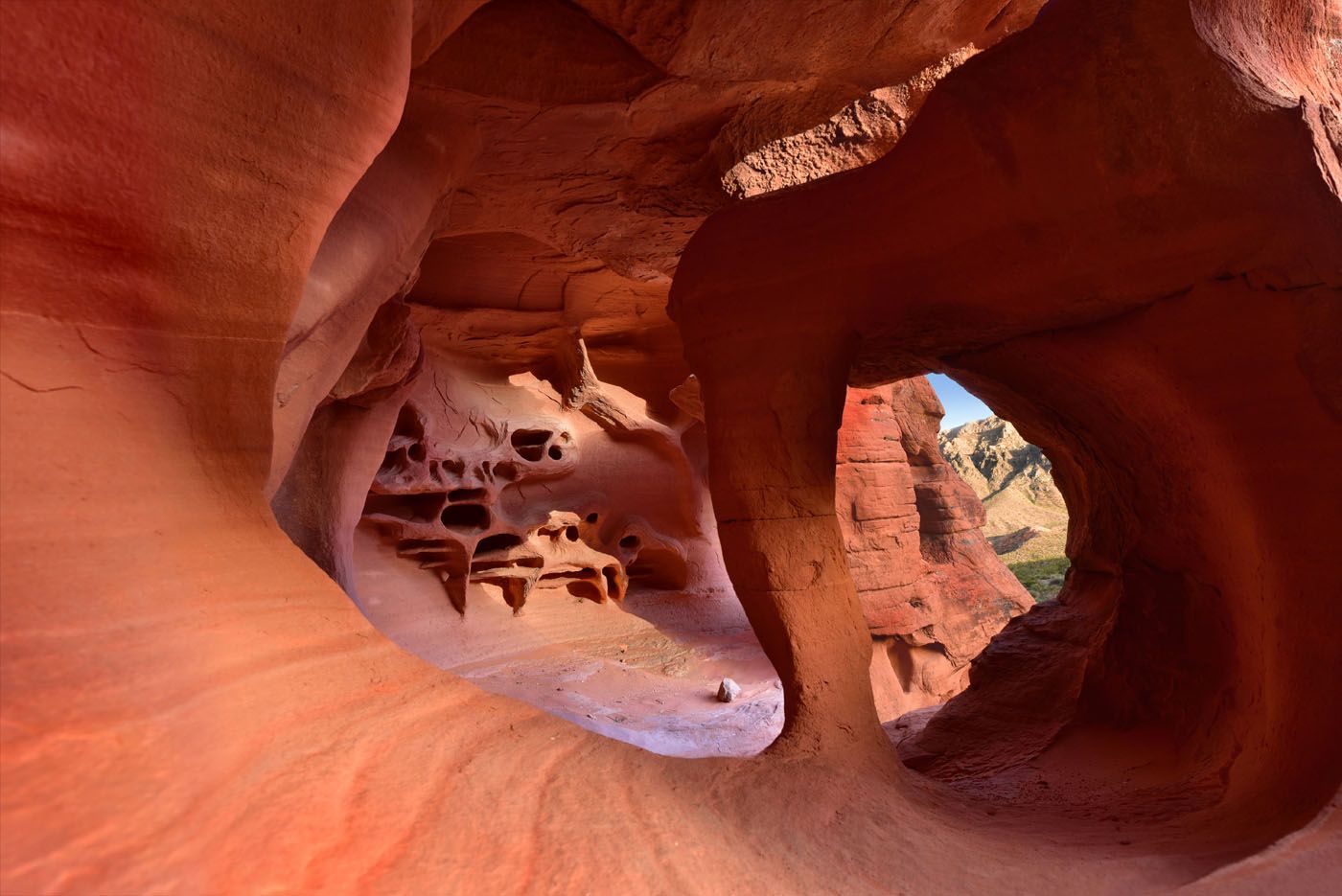 Edwin Verin/shutterstock.com
Top 5 Favorite Experiences
If you are short on time and want to see the best of the Valley of Fire, here are our five favorite spots:
Fire Wave: This 1.5 mile hike takes you out to one of the most photogenic parts of the Valley of Fire.

Mouse's Tank Road:

The main road through the park. There's an amazing view around every turn.

Pink Canyon (Pastel Canyon):

A short but very pretty walk through a pastel pink slot canyon.

The Beehives:

Scramble up to the top of the Beehives for a panoramic view over the Valley of Fire.

White Domes Hike:

Another short hike that's fun for all ages.
Getting Here
The Valley of Fire is located 50 miles northeast of Las Vegas. It takes roughly one hour to drive here. Most of the drive is on Interstate 15, a wide highway. Once you turn onto the Valley of Fire Highway, it becomes a two-lane road through a desert landscape.
If you don't have plans to rent a car during your visit, there are numerous day trip tours to choose from, like this private tour from Las Vegas or this guide hiking tour from Las Vegas.
Important Information about the Valley of Fire
To enter the park, it costs $10 per vehicle, which you will pay at the fee booth before entering. You will be given a map of the park with suggested spots to visit. Beginning April 1, 2021, there will be an additional $5 fee for out of state vehicles.
If you plan to camp at the Valley of Fire, the cost is $20 per night.
The Valley of Fire is open year round from sunrise to sunset. The visitor center is open from 8:30 am to 4:30 pm.
For more information, visit the official Valley of Fire website.
Tours of the Valley of Fire
---
Do you have plans to visit the Valley of Fire? If you have any questions or suggestions, comment below!
More Information for Your Trip to Las Vegas:
You Might Also Like: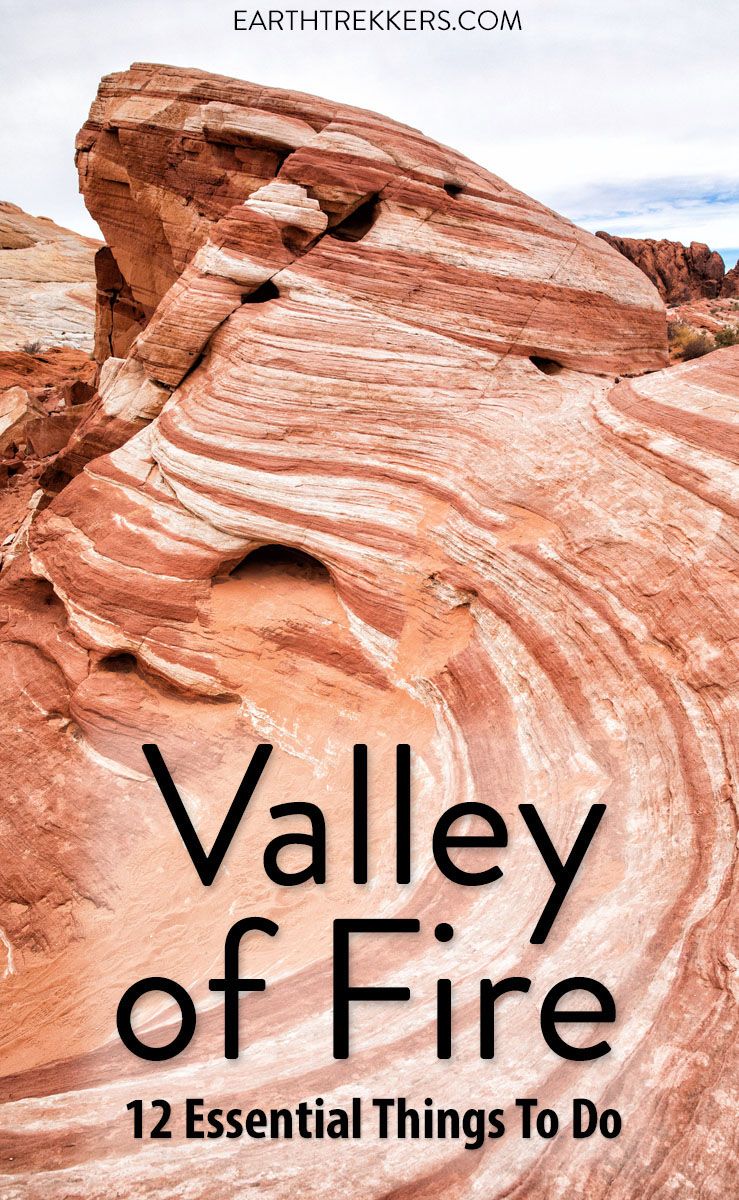 Note: This post contains affiliate links. When you make a purchase using one of these affiliate links, we get paid a small commission at no extra cost to you.
All rights reserved © Earth Trekkers. Republishing this article and/or any of its contents (text, photography, etc.), in whole or in part, is strictly prohibited.