Have you ever visited a place where you didn't quite know what to expect and then it just blew you away? For us, that was Dead Horse Point State Park.
Nearby Arches and Canyonlands National Parks get all of the attention (and all of the visitors). When looking for more things to do in the area, Dead Horse Point State Park caught our eye. First of all, what a unique name! And with it sitting just next door to Canyonlands, I figured, why not stop by and check it out?
Well, I am so glad we did. The place is awesome. It has all of the ingredients of a perfect outdoor destination: easy but fun hiking trails, low crowds, and a jaw-dropping view that just may be better than anything you would get in the nearby national parks. Plus, its small size makes it easy to explore if you are short on time.
Here are five great things to do in Dead Horse Point State Park…5 reasons why you should put this on your Utah to-do list.
Quick Facts About Dead Horse Point State Park
Location: Dead Horse Point State Park is located east of Canyonlands National Park. The closest city is Moab, Utah. To get here from Moab, it is a 45-minute drive (33 miles). From US-191, turn left onto UT-313 and drive until it ends at Dead Horse Point. For reference, if you drove from the Visitor Center of Dead Horse Point to the Canyonlands Island in the Sky Visitor Center, it would take you 20 minutes (14 miles).
Cost: $20 per vehicle for up to 8 people, valid for 2 days; $10 per motorcycle; $10 if you bike-in or walk-in
Hours: 6 am to 10 pm year round
When To Go: The best time to go is during the spring and fall months. It can get very hot during the summer months. During the winter, expect freezing temperatures with the possibility of snow. We were here at the very end of December. The high temperature was 30°F on the day we visited the park.
Official Website: https://stateparks.utah.gov/parks/dead-horse/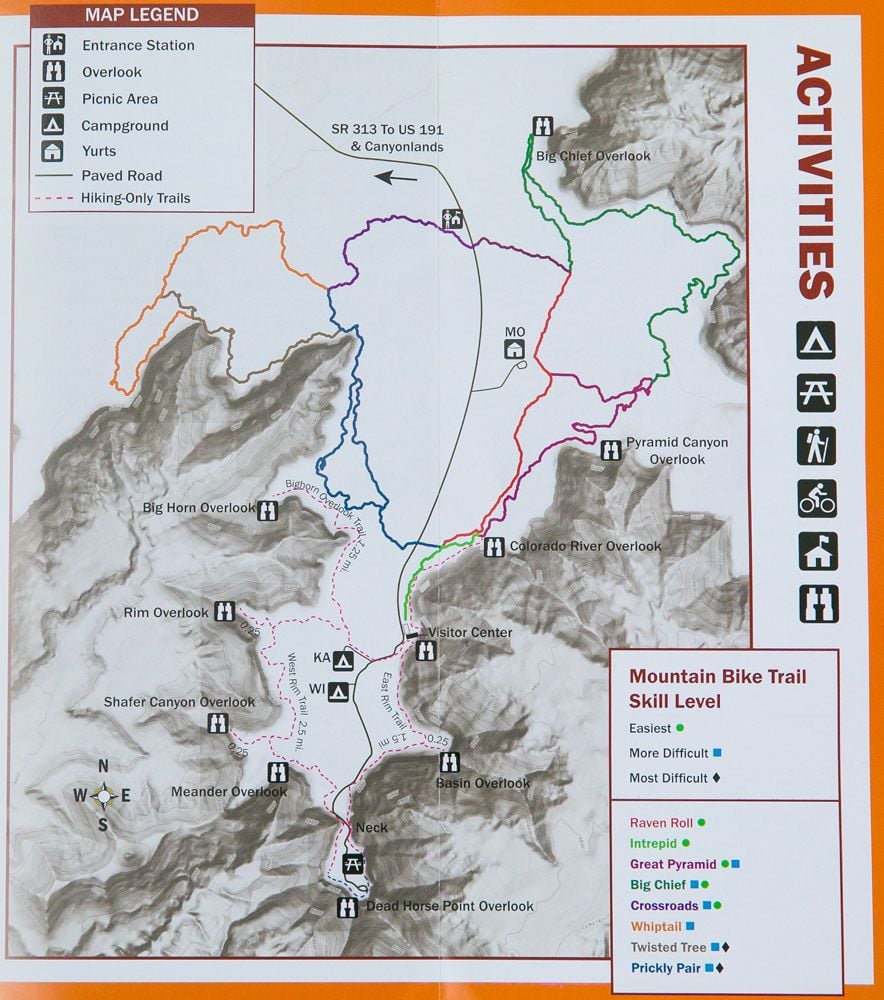 Map of the park
Why is it Called Dead Horse Point?
Dead Horse Point is a long, skinny mesa. The narrowest point of the mesa is called the "neck," and beyond this is one final outcropping of land with drop offs on all three sides.
Legend has it that cowboys corralled wild mustangs on the tip of this mesa and then fenced off the neck with branches and brush. The cowboys picked the best mustangs and left the rest of the horses trapped on the point, without water, leaving them to die.
Best Things to do at Dead Horse Point State Park
Dead Horse Point Overlook
If you only did one thing here, it should be to enjoy view from the Dead Horse Point Overlook. It is incredible!
The road through the park ends at small parking lot for this viewpoint. From here, you can look out across a stunning landscape filled with buttes and mesas. Twisting through the canyon 2000 feet below the overlook is the mighty Colorado River.
The best view is looking southwest from overlook. From here, you can see the gooseneck of the Colorado River with Canyonlands National Park in the background.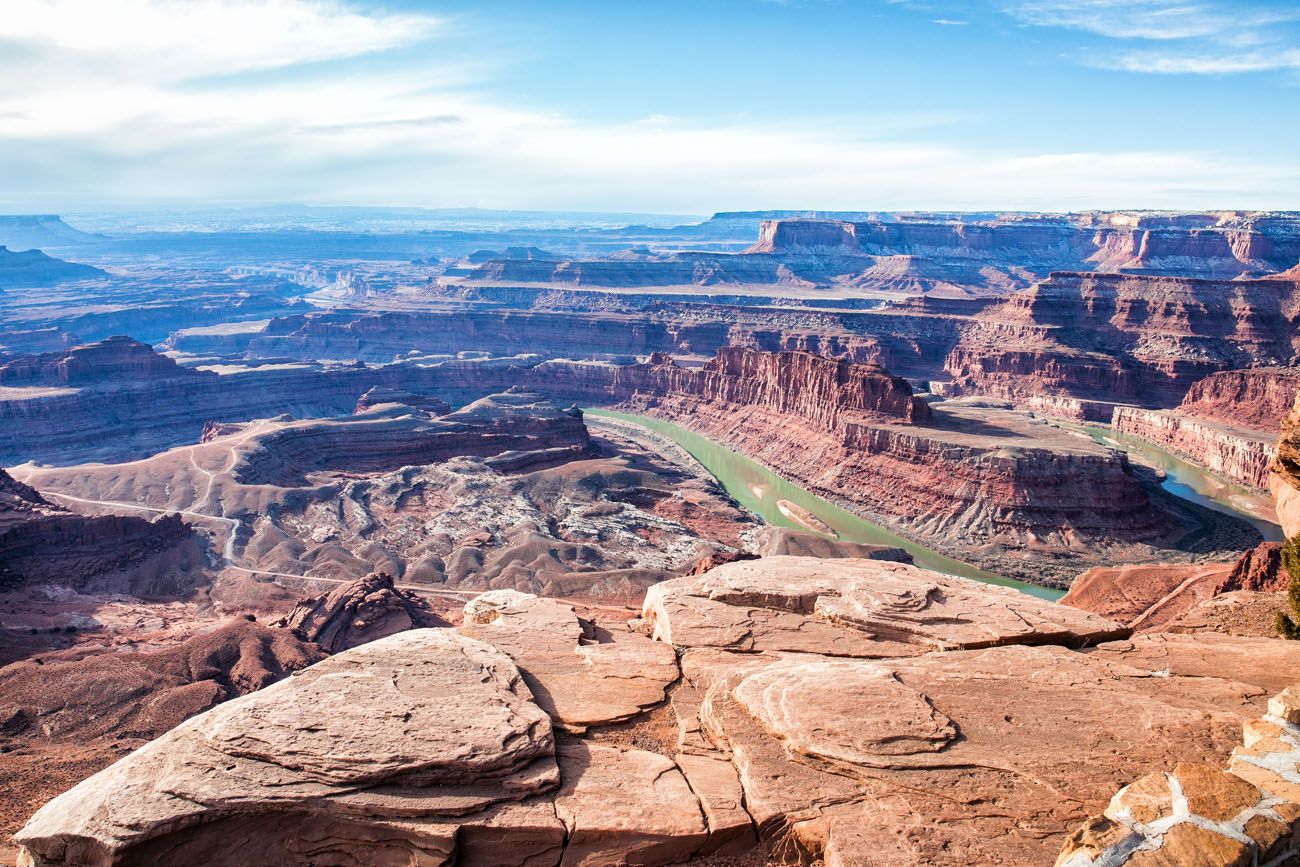 The view looking southwest and out towards Canyonlands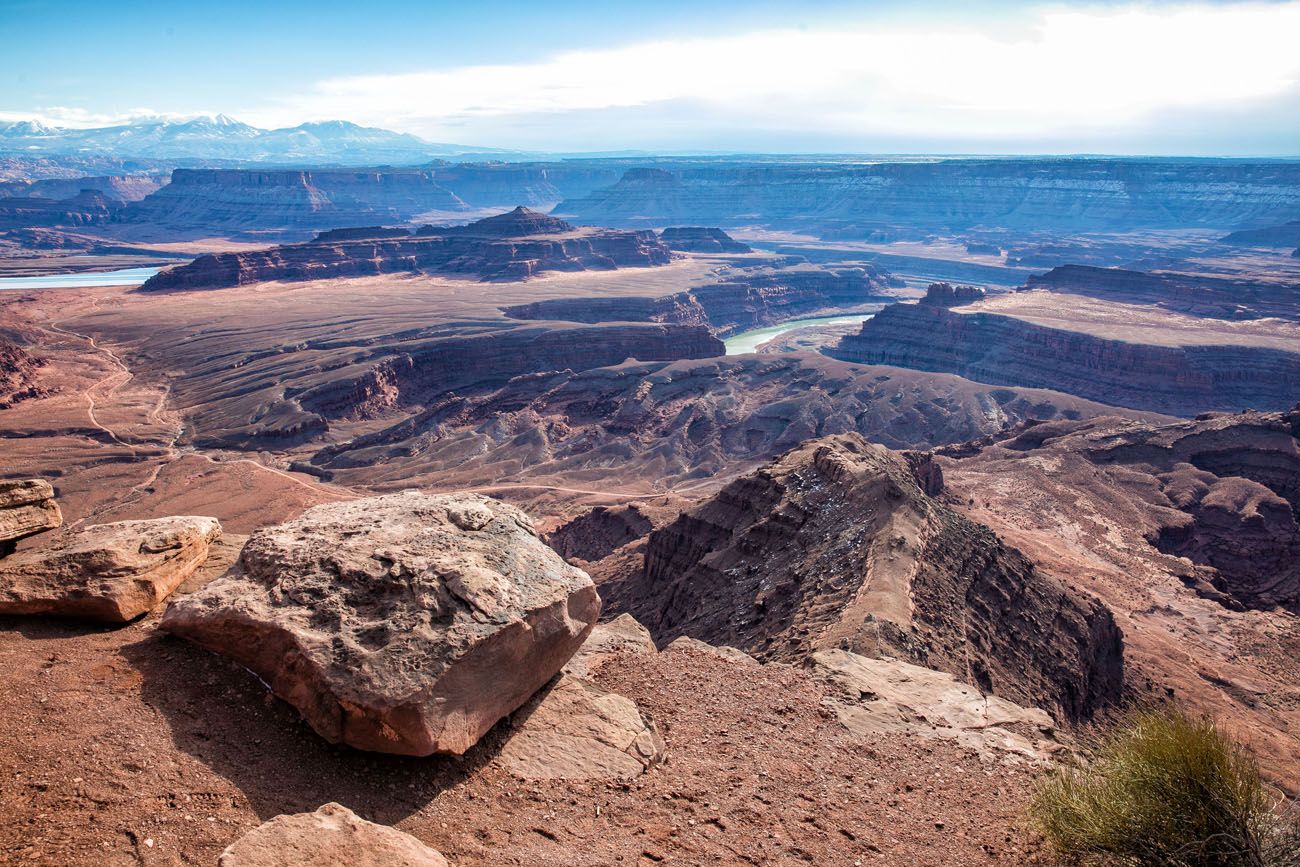 The view looking southeast
Explore the Hiking Trails
There are several hiking trails to explore. All of them are flat and rated as easy to moderate. You can hike them all (if you plan to spend an entire day in the park) or pick your favorites.
East Rim Trail
The East Rim Trail is 2 miles long, one way, if you hike from the Visitor Center to Dead Horse Point Overlook. The views from this side of the mesa are nice but we thought the West Rim Trail was more spectacular.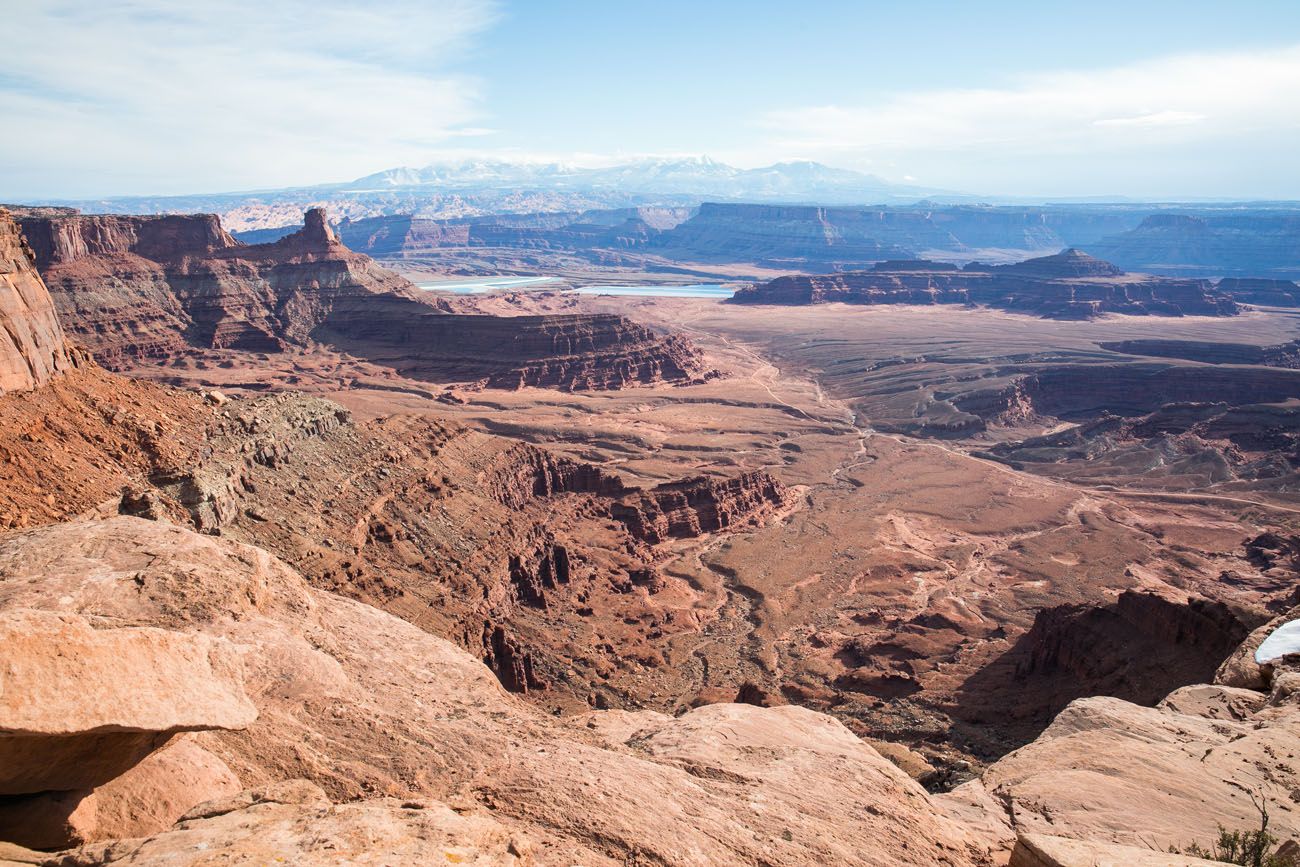 View from the East Rim
West Rim Trail
The West Rim Trail is 3.5 miles long, one way, if you include the short detours to Shafer Canyon Overlook and Rim Overlook. It starts at Dead Horse Point Overlook and ends at the Kayenta Campground.
With jaw-dropping views across the Colorado River to Canyonlands National Park and short sections of rock scrambling, this trail was the highlight of our visit here.
This is a "primitive" trail. There are several trail markers along the way, but you will need to do some route finding to stay on the trail. The West Rim Trail is marked by cairns, small piles of rock that mark the trail. Simply walk from one cairn to the next. Most of the trail is tramped down and easy to follow. However, on short sections of slickrock, you will need to follow the cairns to stay on the trail.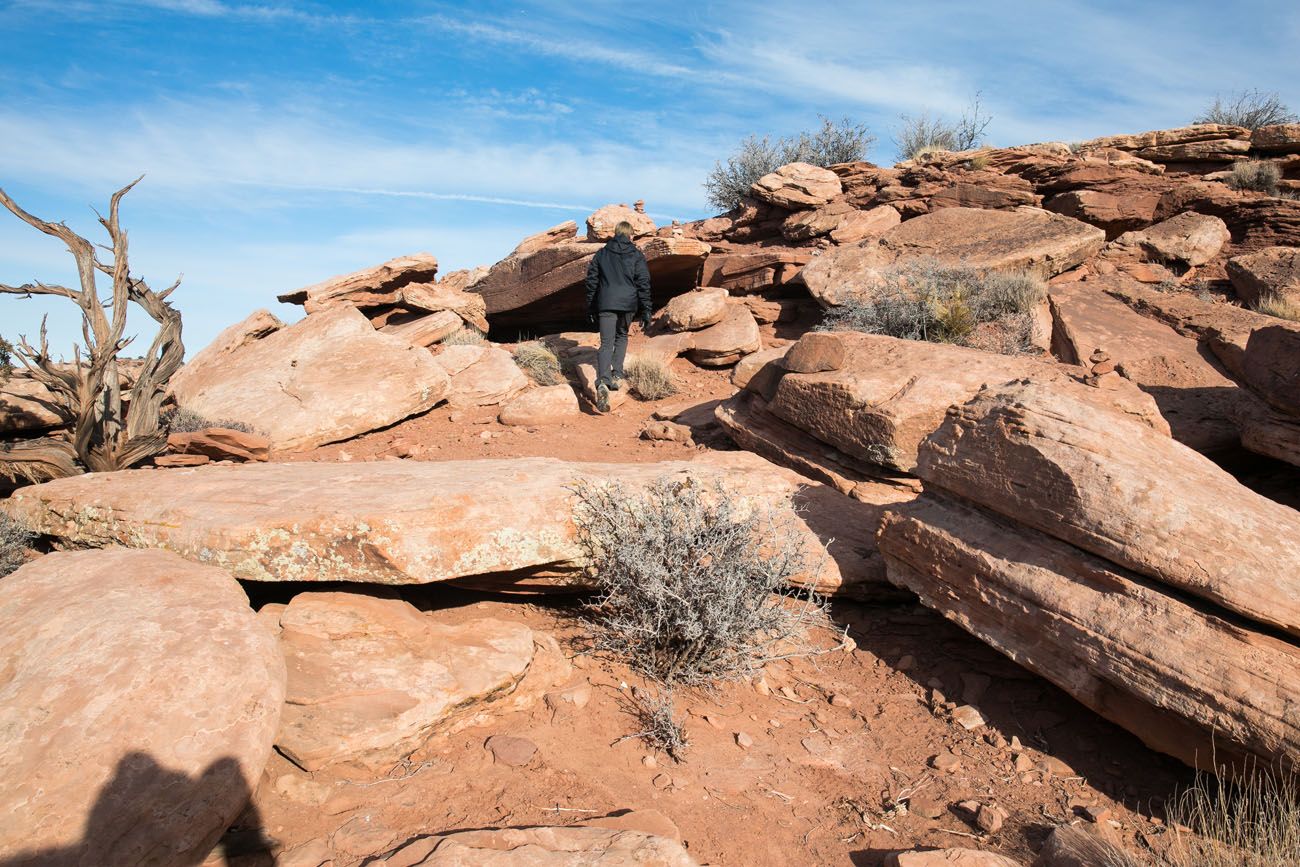 A view of the trail
How We Did This: Tyler and I hiked the West Rim Trail one way. Tim was our shuttle service, dropping us off at Dead Horse Point Overlook and picking us up at Kayenta campground. We would have liked to hike it together, however Kara was recovering from an injury so she was limited in how much walking she could do.
Here are some photos along the trail so you can decide if this hike is worth your time.
Near Dead Horse Point Overlook
In my opinion, the best part of the hike is the section between Dead Horse Point Overlook and Meander Overlook. Along this short section, you get unobstructed views of the Colorado River. Plus, there are a bunch of natural overlooks where you can take some great photographs.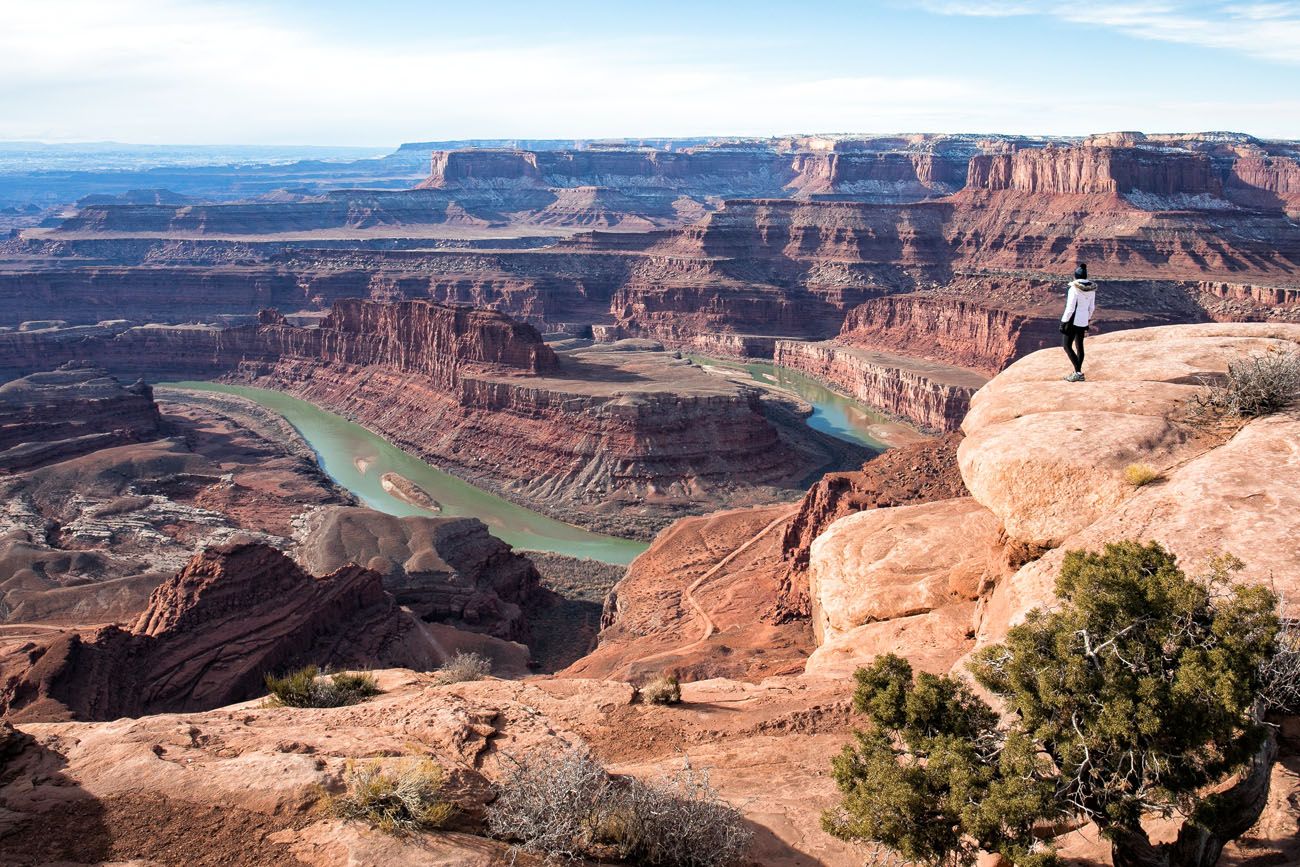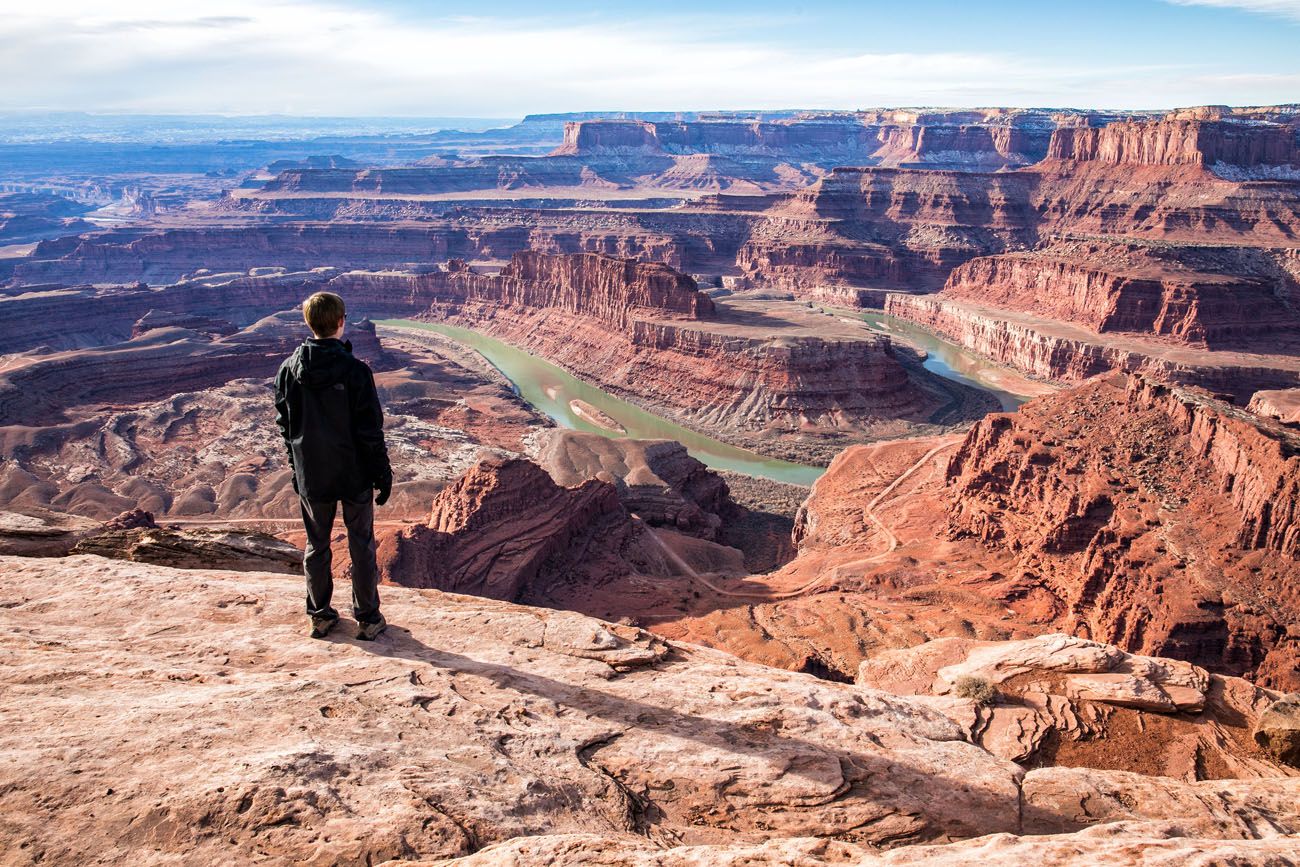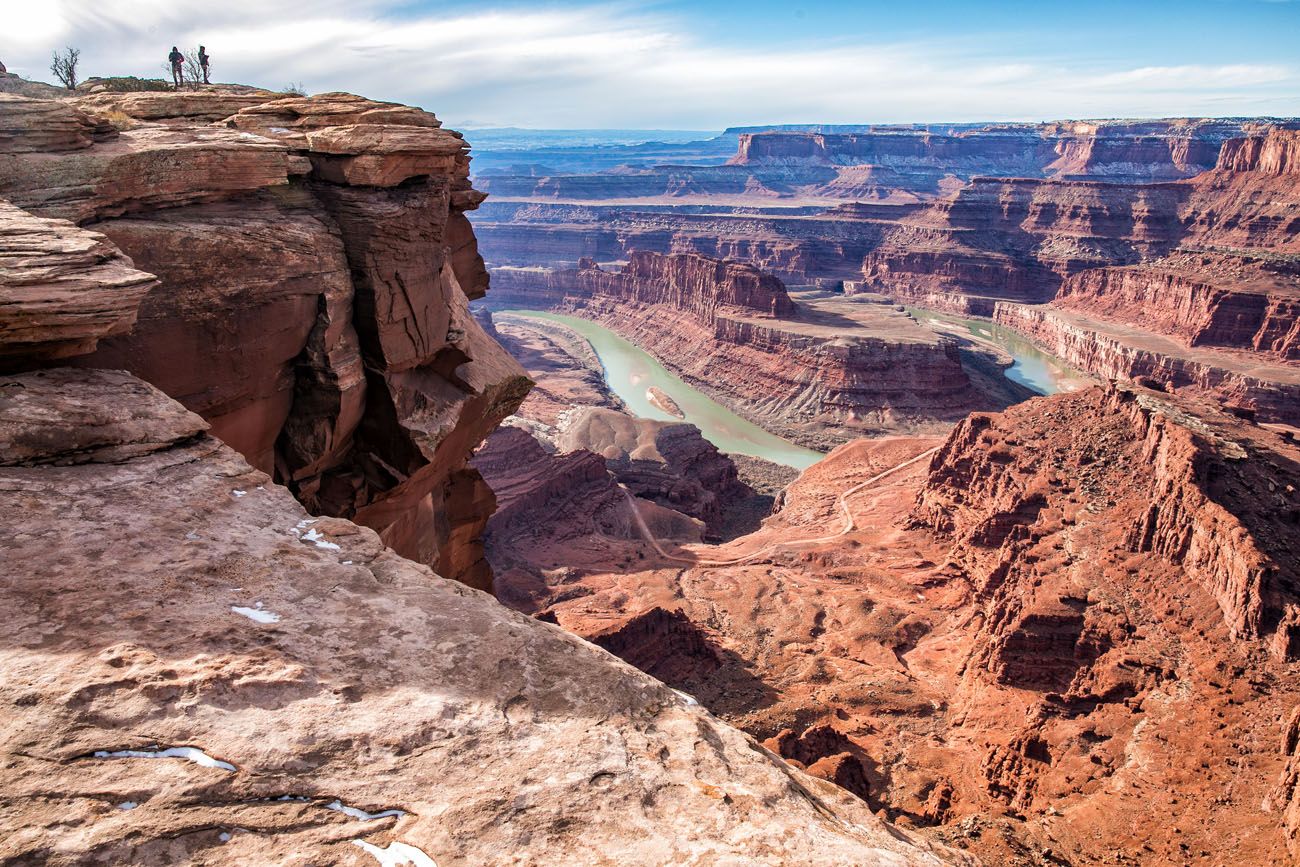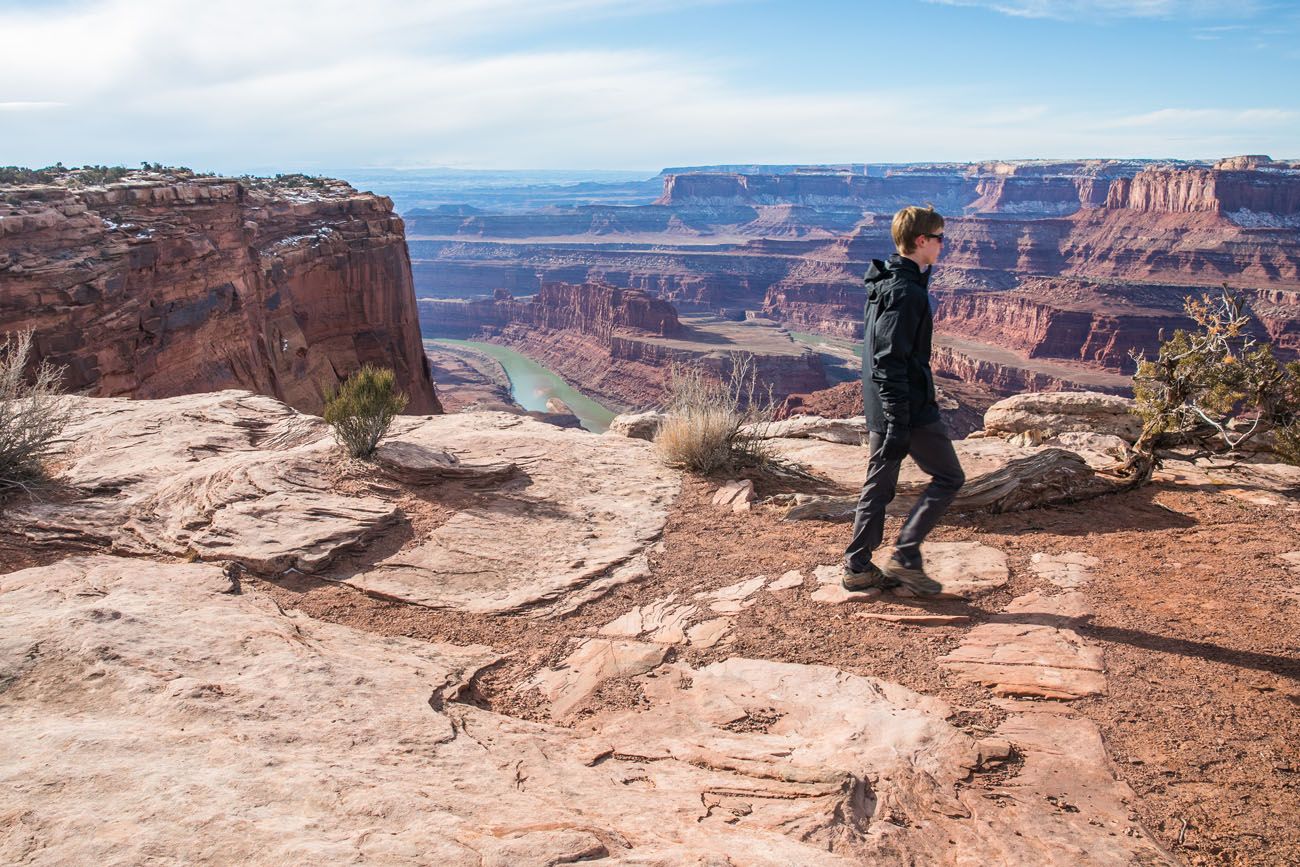 Meander Overlook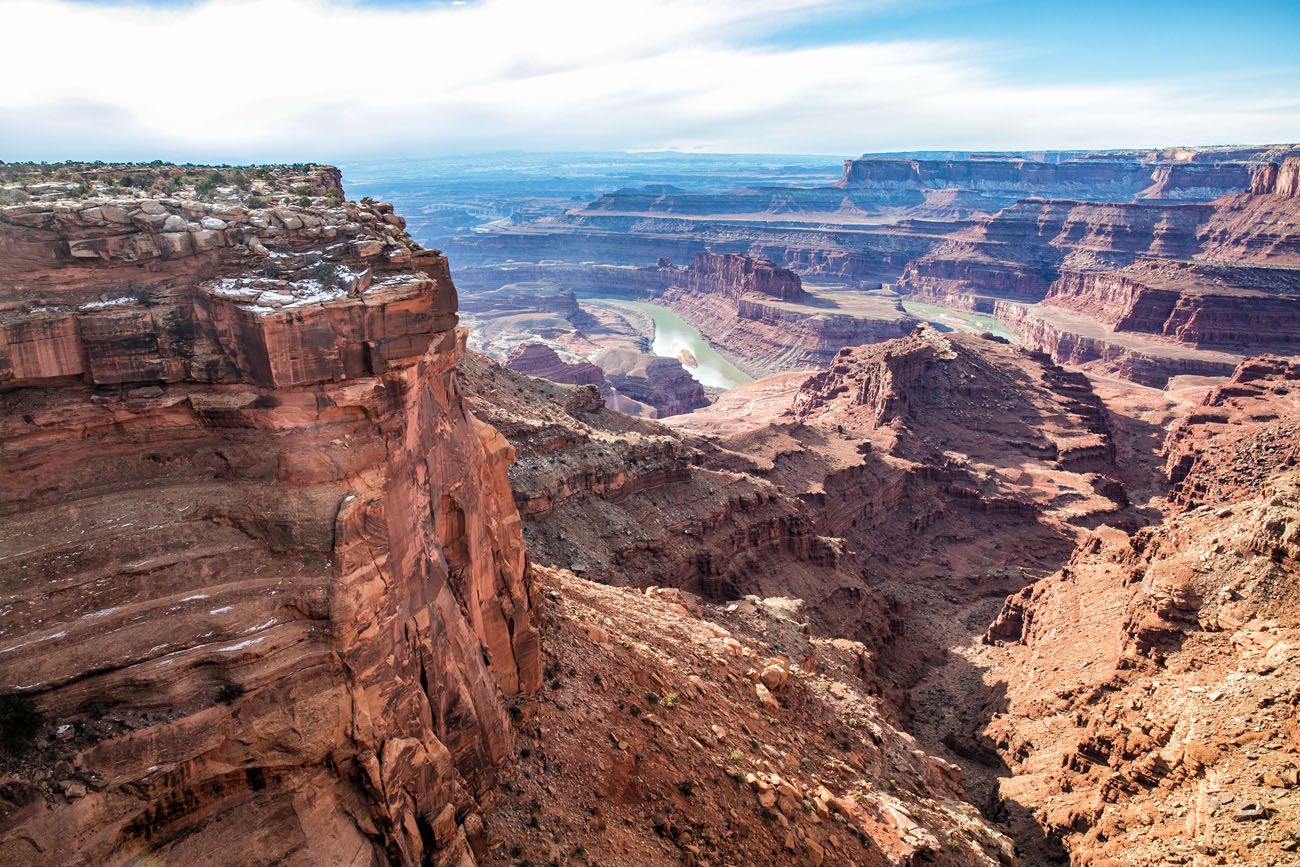 Shafer Canyon Overlook
Rim Overlook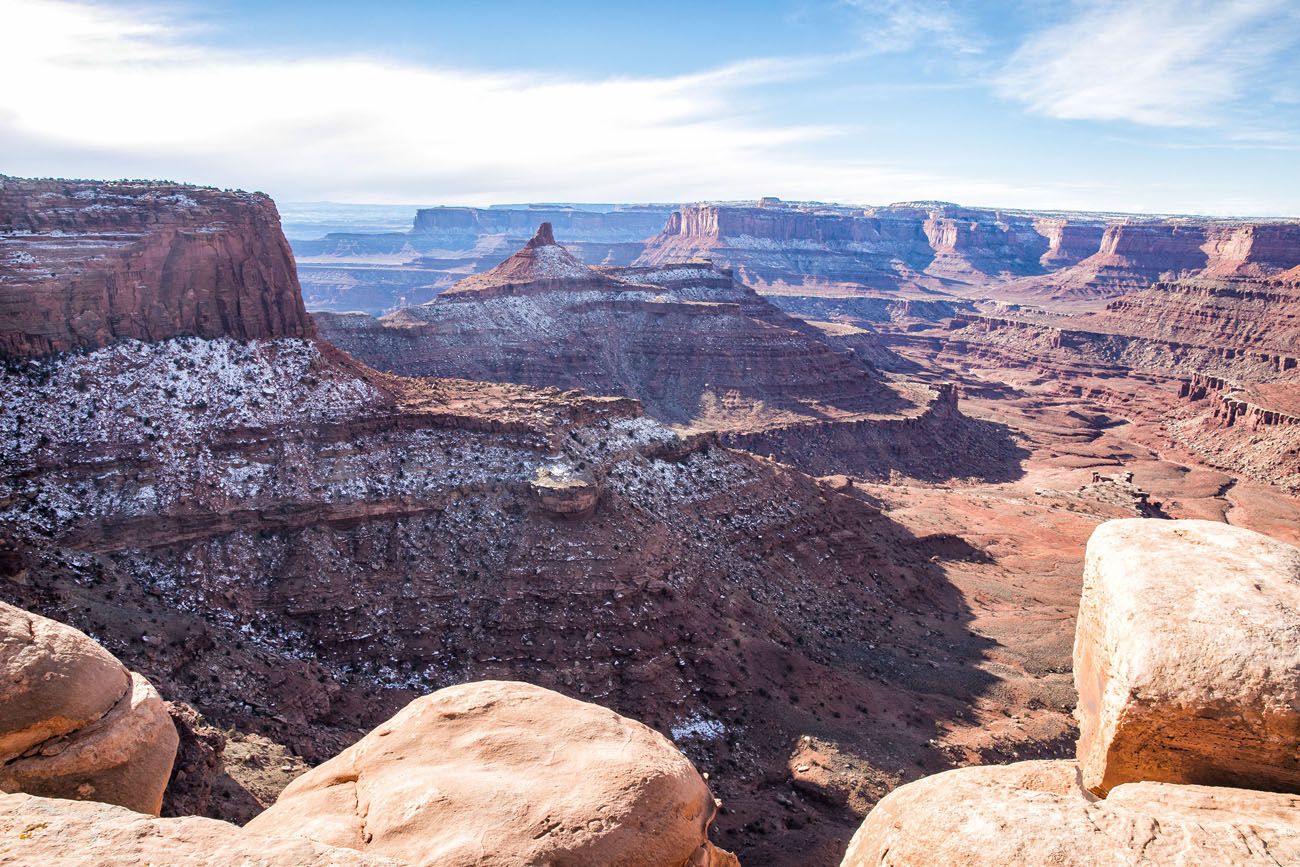 Big Horn Overlook
We did not continue on to Big Horn Overlook. This trail is 2.5 miles round trip. It would have taken us another hour and Tyler and I didn't want to keep Tim and Kara waiting too long. Plus, the farther north we hiked on the West Rim Trail, the views seemed to get repetitive and lose the "wow" factor we had near Dead Horse Point Overlook.
Combining the East and West Rim Trails
You can park at the Visitor Center and hike the East Rim Trail to Dead Horse Point Overlook and then hike back to the Visitor Center via the West Rim Trail. Or, you can do this in the opposite order.
This hike is 5.5 miles total if you include the optional detours to the overlooks on the trail.
Mountain Biking
There are miles of mountain biking trails at Dead Horse Point State Park. Called the Intrepid Trail System, the trails range in difficulty from easy to challenging. Visit the official park website for more information on the trails.
Night Sky Viewing
Dead Horse Point State Park feels like it is out in the middle of nowhere. And that's perfect if you want to view the night sky.
With very little "light pollution" you can have extraordinary views of the night sky from this state park.
In 2016, Dead Horse Point State Park was recognized as an International Dark Sky Park. This is one of the best places near Moab for stargazing and night sky photography.
Sleep in a Yurt
A yurt is a portable round tent. These were originally used by nomads in Central Asia. Now, yurts seem to be popping up everywhere.
In Dead Horse Point State Park, there are two campgrounds that offer yurts. The Moenkopi Yurts are located near the Intrepid Trail System. The Wingate Yurts are newer (they were constructed in 2018) and are located at Wingate Campground.
Staying in a yurt would be a unique experience. Plus, it is a great alternative to staying in Moab if you want early access to the hiking trails or want to enjoy amazing views of the night sky.
While in Dead Horse Point State Park, please practice the seven principles of Leave No Trace: plan ahead, stay on the trail, pack out what you bring to the hiking trail, properly dispose of waste, leave areas as you found them, minimize campfire impacts, be considerate of other hikers, and do not approach or feed wildlife.

How to Plan Your Time
In 2 hours or less: If you only have an hour or two to spend in the park, enjoy the view from Dead Horse Point Overlook and hike to Meander Overlook.
With half of a day: Park at the Visitor Center and hike the East Rim and West Rim trail loop.
With more time: You can also go mountain biking or add in the hike on the Bighorn Overlook Trail.
Visiting Dead Horse Point with Kids
I think this is a great place to bring kids. The trails are easy and with short sections of scrambling and obstacles, they can be a blast for kids.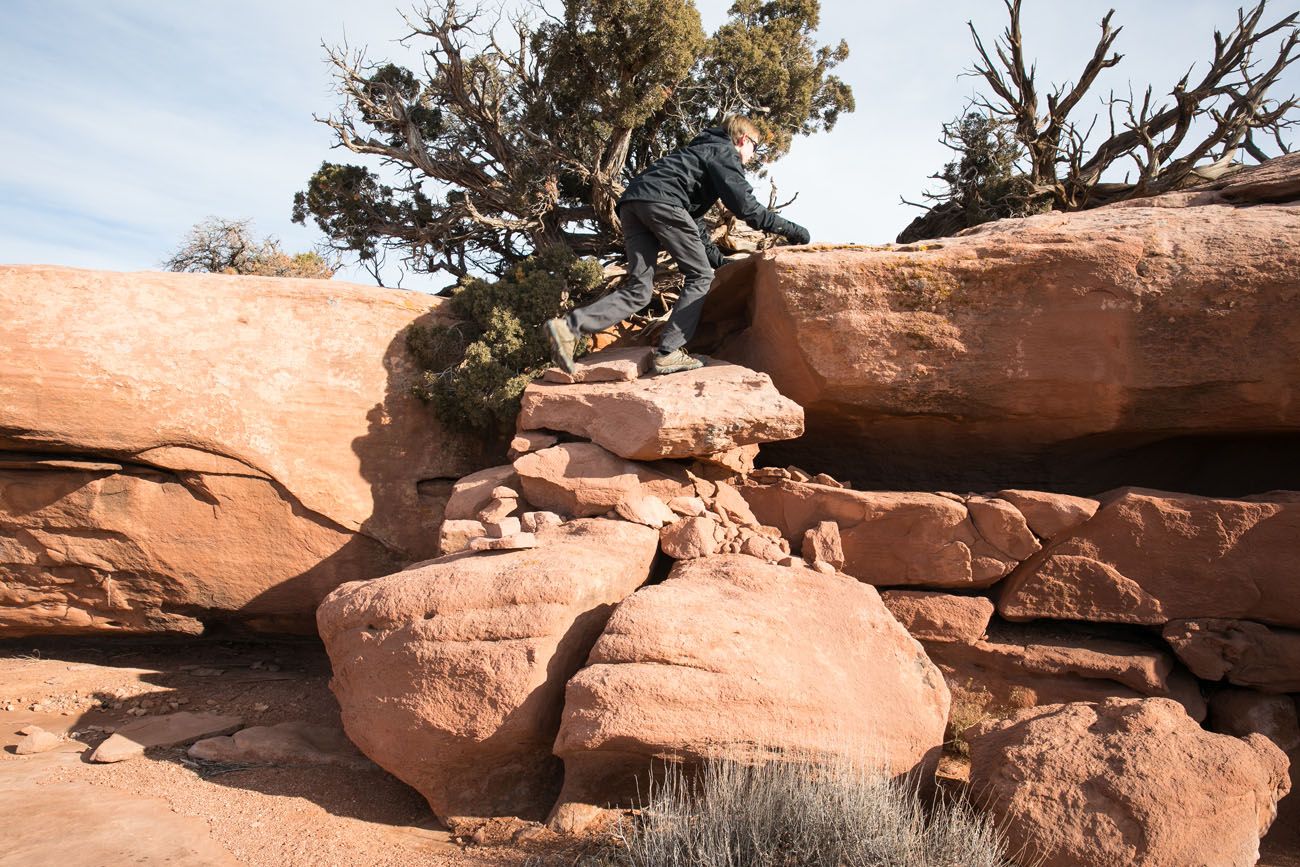 The trail does follow the edge of the mesa. However, the trail never comes dangerously close to the edge. Usually, you are good 10 or more feet from the edge of the cliff. Along the way, you have the option to detour out to rocky outcroppings for a better view or a cool photograph.
On these trails, you can hike and enjoy the views without getting near the edge of the cliffs. Even so, you should keep an eye on your kids while you are here. Keep them on the trail and don't let them stray towards the cliff edges.
Where to Stay
The best place to stay is Moab. This town, with its large collection of restaurants and hotels, is a convenient location not only for exploring Dead Horse Point State Park but also Arches and Canyonlands National Parks. In Moab, we recommend the Red Cliffs Lodge, Hyatt Place Moab, Homewood Suites, or the MainStay Suites Moab. If you are looking for an upscale hotel, the Hoodoo Moab is the nicest place in town.
---
Do you have plans to visit Dead Horse Point State Park or Moab? Comment below if you have any questions or would like to share your experience.
More Information about Utah
UTAH: To read all of our articles about Utah, check out our Utah Travel Guide.
UTAH'S MIGHTY 5: Utah's Mighty 5 is a collection of five national parks in Utah. Learn more about the parks and how to plan your visit in our Guide to Utah's Mighty 5.
ARCHES NATIONAL PARK: Take a look at our Arches National Park Travel Guide for important travel planning tips, sample itineraries, advice on when to go, where to stay, and more.
ISLAND IN THE SKY, CANYONLANDS: The Island in the Sky district is the most popular area of Canyonlands to visit. Learn how to spend one perfect day at Island in the Sky and how to hike the Syncline Loop and Gooseberry Trail.
ARCHES, CANYONLANDS, & CAPITOL REEF: On this 10 day itinerary, take your time and explore three national parks in Utah plus a few off the beaten path destinations.
GOBLIN VALLEY: Goblin Valley is a small state park packed with unique rock formations that's a fun place to explore, especially for kids. Nearby you can also hike through Little Wild Horse slot canyon.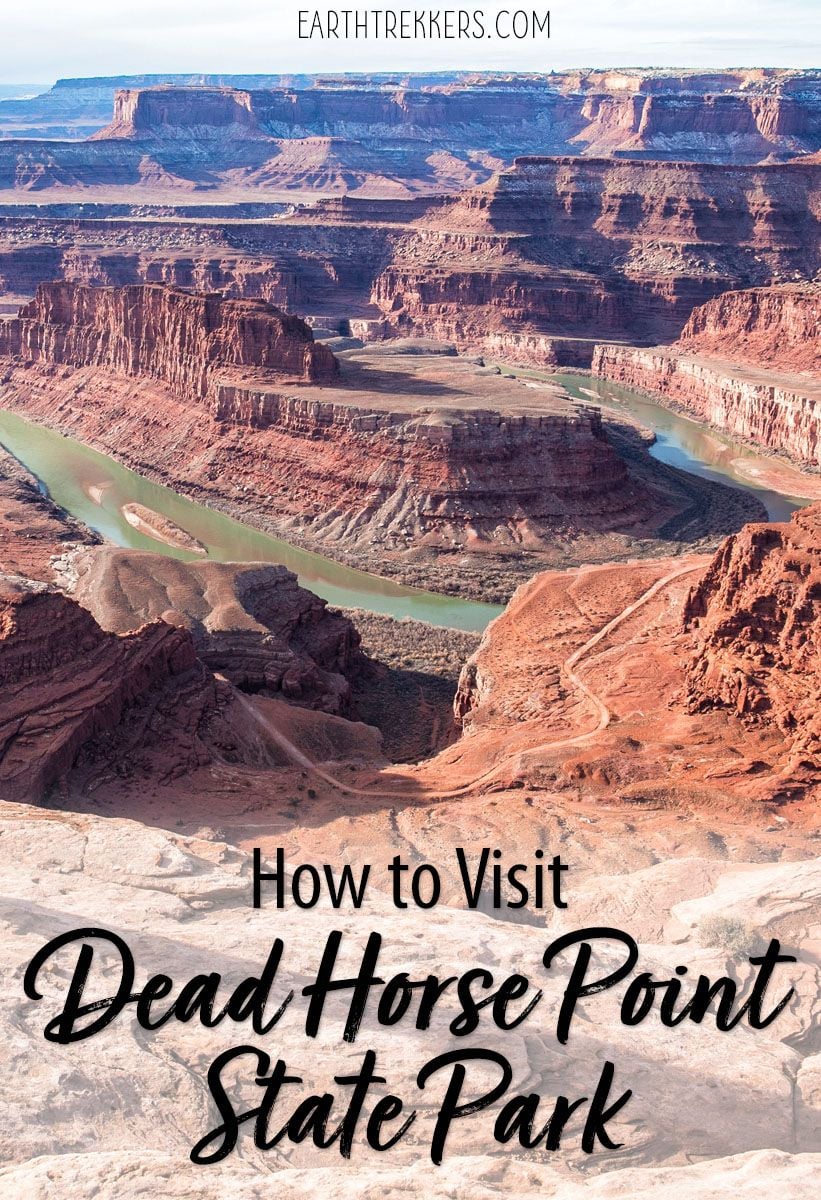 Note: This post contains affiliate links. When you make a purchase using one of these affiliate links, we get paid a small commission at no extra cost to you.
All rights reserved © Earth Trekkers. Republishing this article and/or any of its contents (text, photography, etc.), in whole or in part, is strictly prohibited.