Canyonlands National Park is one of the most underrated national parks in the USA. It's also one of our favorites.
This sprawling national park preserves the canyons, buttes, mesas, and arches that have been carved out by the Colorado and Green Rivers. It also contains the rock art of the Ancient Puebloan peoples.
From the overlooks on Island in the Sky, enjoy sweeping views across the rugged desert landscapes. Journey below the mesa for an epic scenic drive on the White Rim Road. In The Needles, zebra-striped rock formations create stunning landscapes and a unique hiking destination. If you really crave adventure, explore The Maze in a 4x4 or go rafting in Cataract Canyon.
This national park may not win the popularity award in Utah (it's both Utah's largest and least visited national park), but for those who want to venture off-the-beaten-path, it's hard to beat some of the experiences you can have in this park.
CANYONLANDS NATIONAL PARK STATS
Founded: September 12, 1964
Annual Visitors: 780,000 visitors in 2022
Size: 338,000 acres
Location: Utah
Entrance Fee: $30 per vehicle, valid for 7 days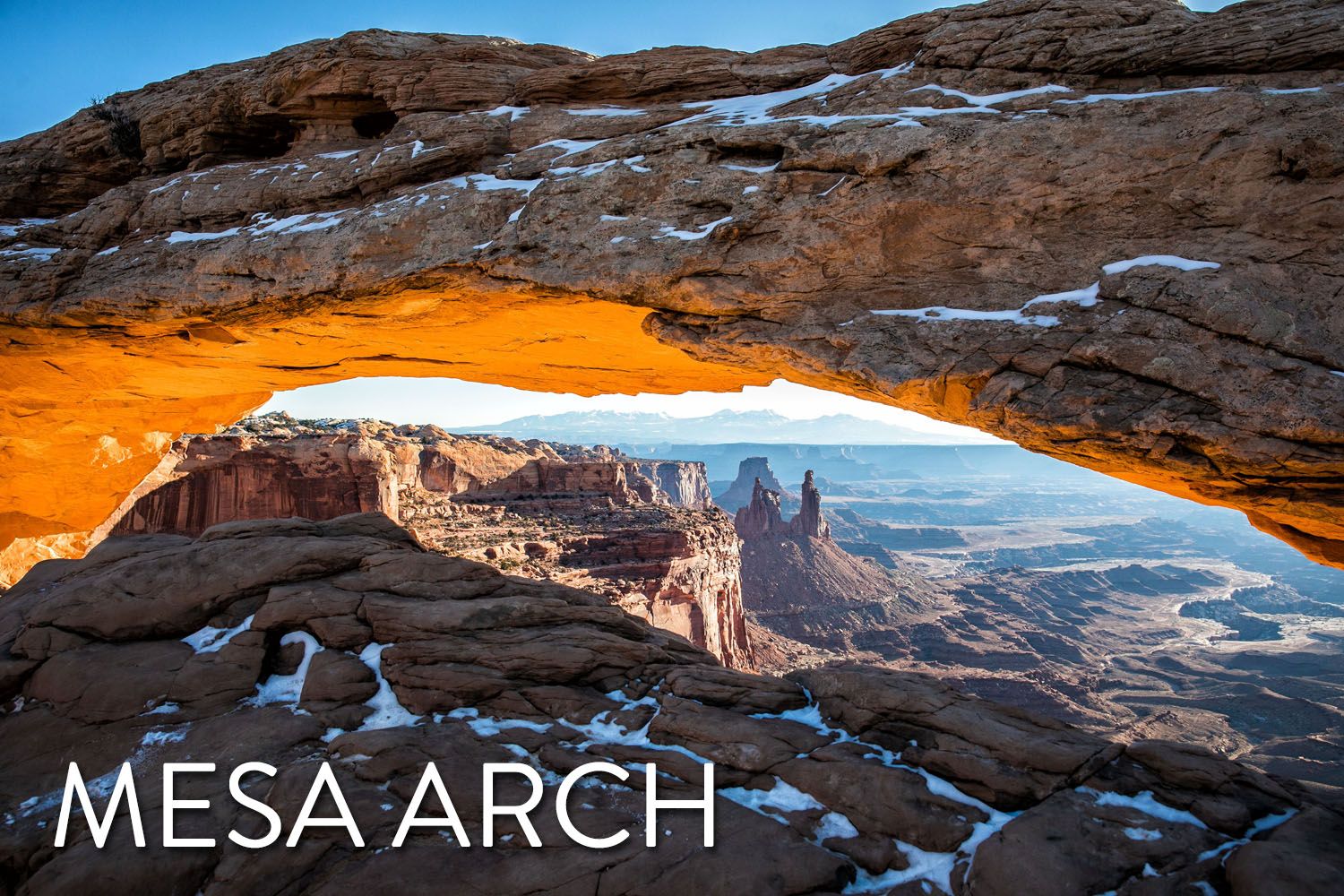 Overview of Canyonlands National Park
Canyonlands National Park is enormous. Over 330,000 acres are filled with canyons, arches, buttes, mesas, dirt roads, hiking trails, campgrounds, and overlooks. There are five districts in Canyonlands National Park.
ISLAND IN THE SKY: This is the most visited section of Canyonlands National Park. Filled with stunning overlooks and a nice mix of easy and difficult hiking trails, the Island in the Sky district gives visitors a nice overview of the park.
THE NEEDLES: Uniquely shaped sandstone rock formations create stunning landscapes. Go here for great hikes, more scenic views, and to escape the crowds that flood Island in the Sky.
THE MAZE: The Maze is a remote area of Canyonlands that is only accessible by 4×4. To explore this area of the park, backcountry experience and self-sufficiency is a must.
COLORADO & GREEN RIVERS: The Colorado and Green Rivers carved out the canyons of Canyonlands National Park. You can canoe or kayak the rivers north of Confluence. Both rivers merge at the Confluence and below this, you can go white water rafting in Cataract Canyon. 
HORSESHOE CANYON: Horseshoe Canyon is a very small section of the park. It is here that you can see the rock art of the Ancient Puebloan peoples.
Visit the Overlooks at Island in the Sky. For panoramic views over Canyonlands National Park, visit the overlooks on the Island in the Sky mesa. These are quick and easy to visit, making this one of the top experiences for first time visitors to this park.
Watch the Sunrise at Mesa Arch. Mesa Arch is one of the most photographed sights in the park and the best time to be here is at sunrise. For roughly one hour, the rising sun illuminates the bottom of the arch, creating a spectacular view.
Go Hiking in Island of the Sky. There are several short hiking trails that take you to unique viewpoints. On this list are White Rim Overlook, Whale Rock, the Grand View Point Trail, Aztec Butte, and Upheaval Dome.
Hike Below the Rim of the Island in the Sky Mesa. It's an awesome experience, to be on top of the Island in the Sky mesa, looking out at the canyons and basins. But there is something extra special about hiking from the mesa down onto the White Rim. There are several trails to choose from and the Gooseberry Trail is our favorite.
Drive Shafer Canyon Road. If you like scenic drives and white-knuckle roads, this is a good one. From the top of the mesa, Shafer Canyon Road rapidly descends to the White Rim. It's tons of fun and the views are incredible. You can extend the experience by adding on the White Rim Road or Potash Road.
Explore The Needles. This part of the park is small and easy to visit. It also looks dramatically different from Island in the Sky. You can take your pick from several short trails (we really liked the Slickrock Trail). Or go farther, hiking to Chesler Park or to Druid Arch.
Hike the Chesler Park Loop. If you want to get an up-close look at the "Needles," the sandstone spires that make the Needles district of Canyonlands National Park so uniquely beautiful, put this hike on your list. This hike ranges from 6 to 11 miles, depending on how far you go.
Explore the Maze District. This is the least accessible part of Canyonlands National Park. This area is rugged, remote, and some of the roads are extremely difficult to drive. Prior experience on rough 4×4 roads is a must if you plan to visit The Maze. You will also need to have at least 2 to 3 days of time, since this area is large and it takes quite a bit of time to get around.
Go Rafting on the Green or Colorado River. Go canoeing or kayaking above the Confluence of these two rivers, where the water is calm. Below the Confluence, you can go rafting on Class III to V whitewater.
See the Rock Art at Horseshoe Canyon. This is one of the best places to see Rock Art in North America. The Great Gallery contains life-sized figures and petroglyphs that are very well-preserved. Some of this artwork is over a thousand years old.
Learn More about Canyonlands
When to Visit Canyonlands National Park
The spring and fall months are the best times to visit Canyonlands National Park. Weather conditions are pleasant and you can avoid the big crowds that flood the park in the summer.
During the summer months, expect soaring temperatures, large crowds, and difficulty finding parking at many viewpoints.
During the winter months, it is much less crowded, but temperatures get below freezing and snow is likely.
Our favorite time to visit Utah is in October, with great weather and lower crowds than you typically see in the summer months. If you want decent weather and low crowds, November and March are also good times to visit Canyonlands National Park.
Canyonlands National Park appears in our Best US National Parks Month-By-Month series as a great park to visit in March, April, November, and December.
How Many Days Should You Spend in Canyonlands?
Ideally, you need at least two days in Canyonlands National Park.
With two days, you can visit both Island in the Sky and The Needles.
Each additional day you add gives you more time for some epic adventures, such as the White Rim Road, white water rafting, backpacking in The Needles, or exploring The Maze.
ONE DAY IN CANYONLANDS
With one day in Canyonlands, visit the overlooks on Island in the Sky and hike one or more of the trails. You can return to Moab by driving Shafer Canyon Road to Potash Road or stop by Dead Horse Point State Park on the drive.
Where to Stay
If you want to stay inside of Canyonlands National Park, there are campgrounds in Island in the Sky, The Needles, and The Maze.
Outside of the park, Moab is the best place to stay. This small town has many hotels and restaurants, as well as gas stations and grocery stores. It also makes a handy place to explore Arches National Park.
UPSCALE: Hoodoo Moab. This is one of the newest hotels in Moab and this is where we stayed on our most recent visit. I have mixed reviews about this hotel. The location is great, right in the heart of Moab with a walk or short drive to most restaurants. The hotel is gorgeous. The décor and the layout are impeccable and our room was very comfortable. However, the walls are paper thin. We could clearly hear our neighbor's conversations and they weren't being overly loud. If you are a light sleeper, you might want to consider staying in a different hotel. But if a little bit of noise doesn't bother you, and you want to stay in one of the nicest hotels in Moab, stay at the Hoodoo.
MID-RANGE: Red Cliffs Lodge. This property gets rave reviews. Every room has a patio with views of the river. Onsite is a restaurant, bar, pool, tennis courts, winery, museum, and horse corral. Red Cliffs Lodge is located outside of Moab, on Highway 128, in a beautiful setting along the Colorado River.
MID-RANGE: Homewood Suites. This is another property that gets excellent reviews. All suites have kitchenettes and some suites can accommodate up to six people. There is a small indoor pool and gym onsite.
BUDGET: MainStay Suites Moab. Rooms come equipped with a kitchenette. Some suites can accommodate up to six people so this is a great budget choice for families.
One of the best ways to visit Canyonlands National Park is on a road trip through Utah. Arches National Park sits right next door to Canyonlands, so you can use Moab as a home base to explore both of these parks. With more time, add on the other three national parks in Utah (Capitol Reef, Zion and Bryce Canyon), visiting all of Utah's Mighty 5.
Here are several road trip itineraries that include Canyonlands:
Utah's Mighty 5 Itinerary: With 7 days, you have just enough time to visit all 5 national parks in Utah.
10 Day Arches, Canyonlands & Capitol Reef Itinerary: Visit three of the five Utah National Parks and explore several off-the-beaten-path destinations.
Two Week American Southwest Itinerary: Grand Canyon and Utah's Mighty 5: This is an epic two week road trip, which is done as a loop from Las Vegas. Visit six national parks, plus Antelope Canyon, Monument Valley, and Goblin Valley State Park.
Canyonlands National Park Map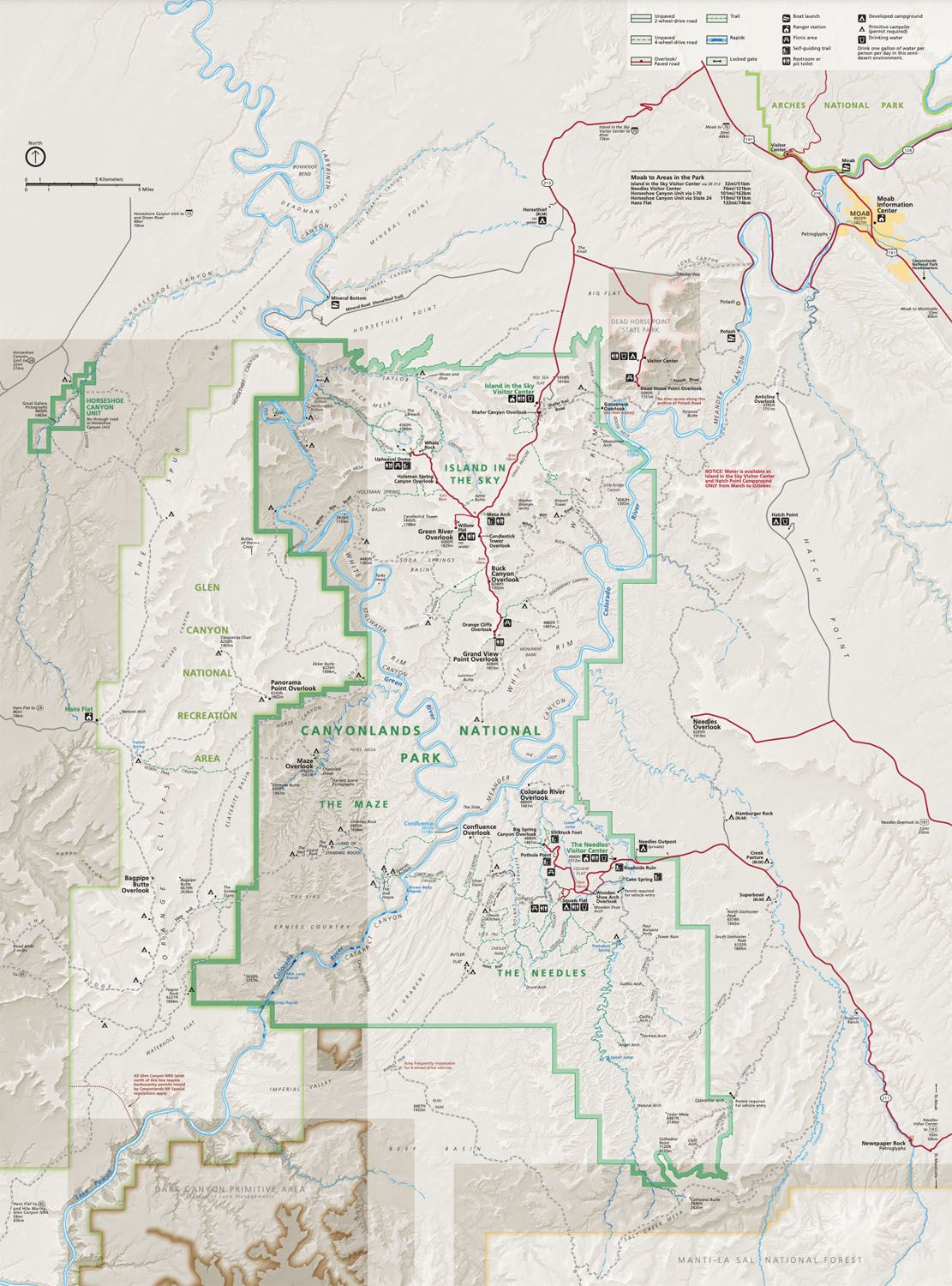 Canyonlands National Park in Photos
In our US National Parks List, get information on all of the US national parks, including interesting facts, the most and least visited national parks, and a FREE printable national parks checklist with map.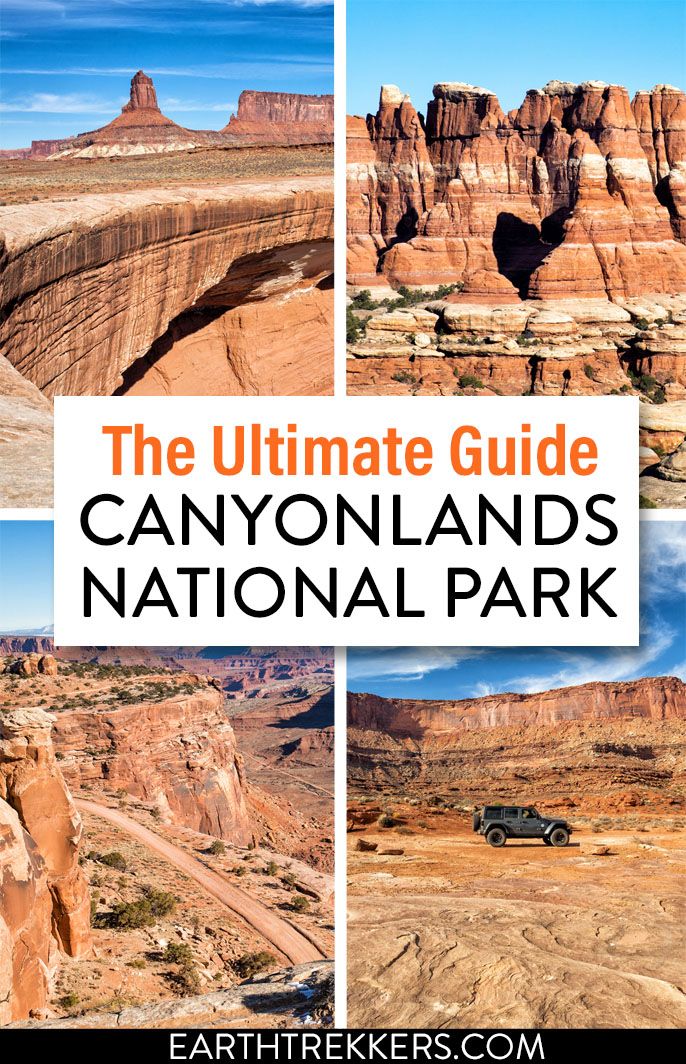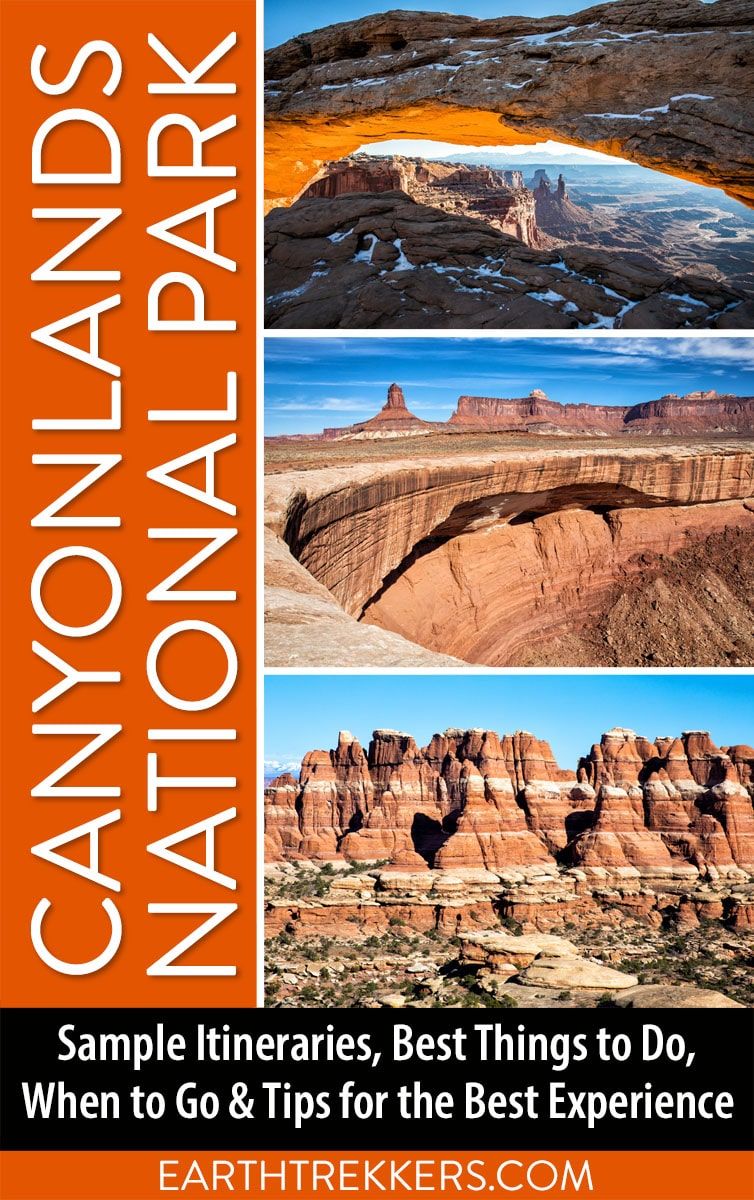 Note: This page contains affiliate links. When you make a purchase using one of these affiliate links, we get paid a small commission at no extra cost to you.
Visit More National Parks