If you are looking for a super fun hike to do, put Peek-A-Boo Gulch and Spooky Gulch on your list. Just their names make this hike sound enticing.
These slot canyons are located in Grand Staircase-Escalante National Monument on Hole-in-the-Rock Road. Getting here can be a mini-adventure, driving over 25 miles down a rough, dirt road through dry desert landscapes. And once you are here, two short, thrilling scrambles through some of the most fun slot canyons in the area awaits.
Peek-A-Boo Gulch has several sections of challenging rock scrambling, including a 12 foot climb just to enter the canyon. Spooky Gulch is one of the narrowest slot canyons around, only 10 inches wide in some spots! If you're up for the challenge, these two slot canyons are tons of fun.
Peek-A-Boo & Spooky Slot Canyon Hiking Stats
Distance: 3.5 miles
Length of Time: 3 – 4 hours
Difficulty: The trail to the slot canyons is easy to moderate. Hiking through Peek-A-Boo and Spooky Gulches can be challenging in spots. If you are claustrophobic, consider skipping Spooky Gulch.
When to go: Any time of year, although expect very high temperatures in the summer.
Please practice the seven principles of Leave No Trace: plan ahead, stay on the trail, pack out what you bring to the hiking trail, properly dispose of waste, leave areas as you found them, minimize campfire impacts, be considerate of other hikers, and do not approach or feed wildlife.
Peek-A-Boo & Spooky Slot Canyons
Step-By-Step Trail Guide
Getting to the Trailhead
The trailhead is located on Hole-in-the-Rock Road in Grand Staircase-Escalante National Monument.
In the town of Escalante, turn onto Hole-in-the-Rock Road and reset your odometer. Drive 26 miles down the road to the Lower Dry Fork turnoff on the left hand side of the road. This access road can be rutted and uneven. One of our awesome readers recently wrote in with information that this road is now a gravel road that is suitable for standard vehicles (Prior to this, only high clearance vehicles could make it the entire 1.7 miles. Low-clearance vehicles would park halfway down the road and then you would have to walk to the trailhead).
There is a second trailhead, the Upper Dry Fork trailhead, that is located at mile 24 on Hole-in-the-Rock Road. From this trailhead, it is a longer hike to get to Spooky and Peek-A-Boo slots. This trail takes you through the Dry Fork Narrows.
About Hole-in-the-Rock Road. Hole-in-the-Rock Road is a well-packed dirt and gravel road. You can drive this is a car, although an SUV is preferable and a 4×4 is ideal. We drove a Toyota Forerunner with 4×4. If it has been raining, Hole-in-the-Rock Road can be impassable, even with a 4×4.
Important Note: Road conditions on Hole-in-the-Rock Road can change from year to year. In 2020, several of our readers reported that Hole-in-the-Rock Road is very rough and difficult to drive in a standard car. But more recently, we have been hearing that road is smooth and easy to drive. If you can, try to rent an SUV or a 4×4.
The trail to Spooky Gulch and Peek-A-Boo Gulch starts at the Lower Dry Fork parking lot and trailhead.
Getting to the Slot Canyons
The trail starts on a plateau with great views of the entire area. The first part of the hike involves walking down a combination of slick rock and sandy trails.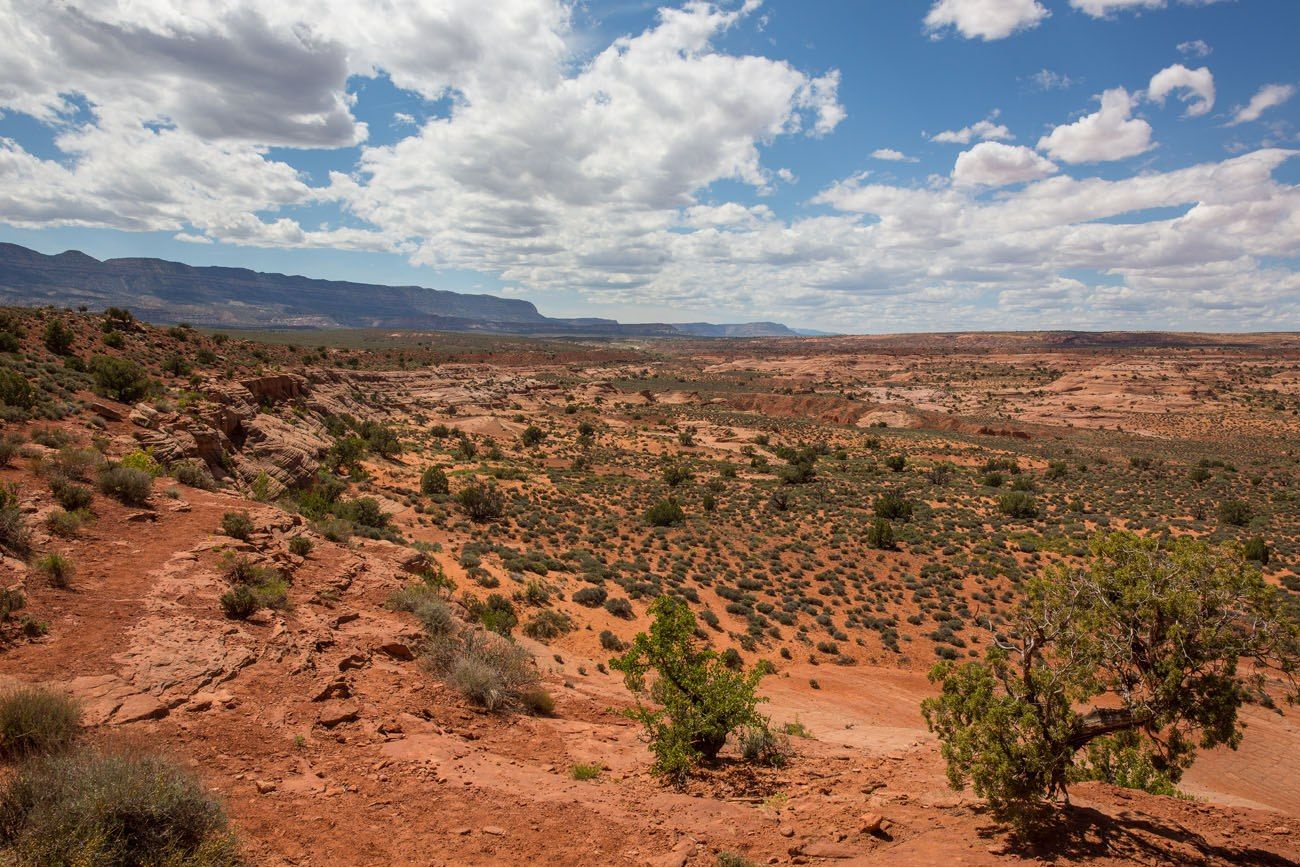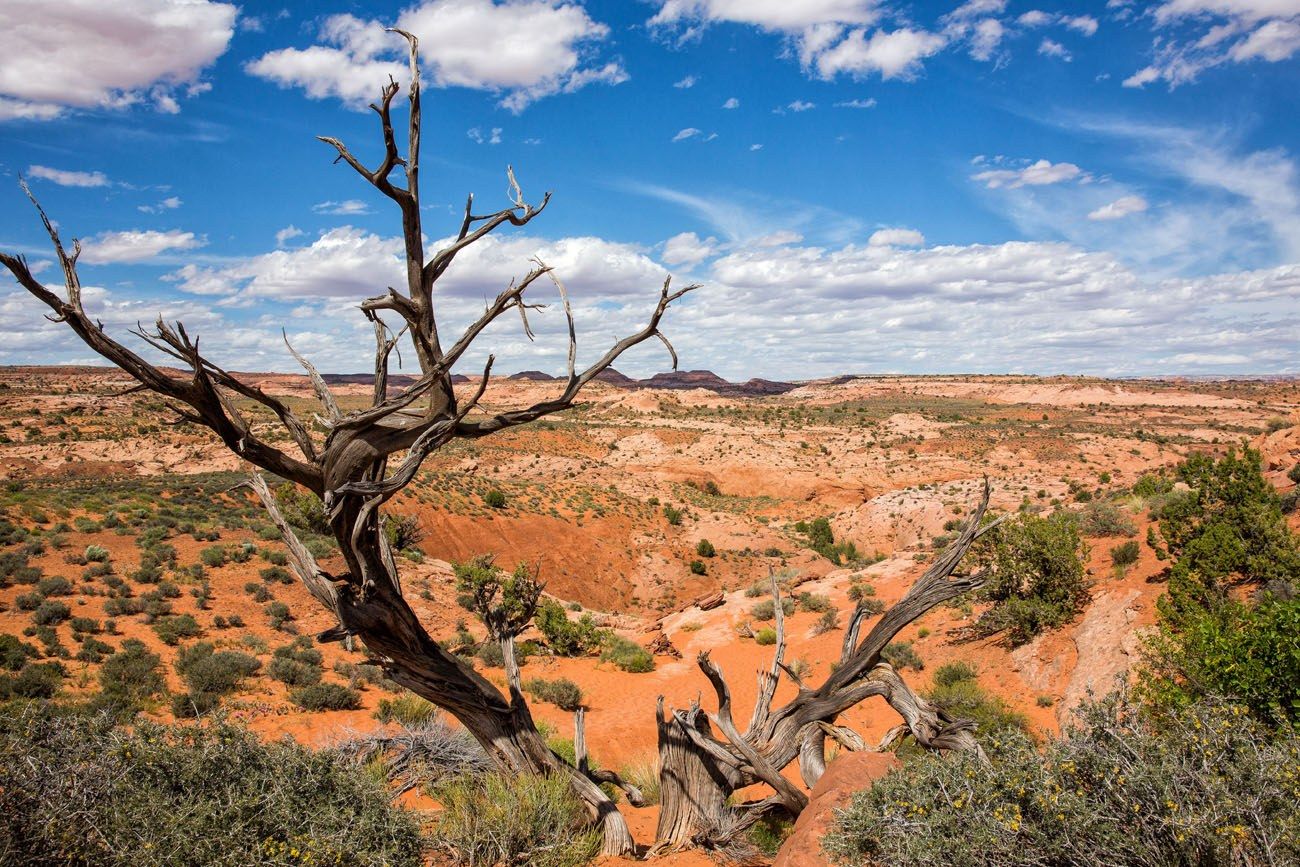 Make sure you follow the rock cairns (the stacked piles of stones). These cairns mark the trail.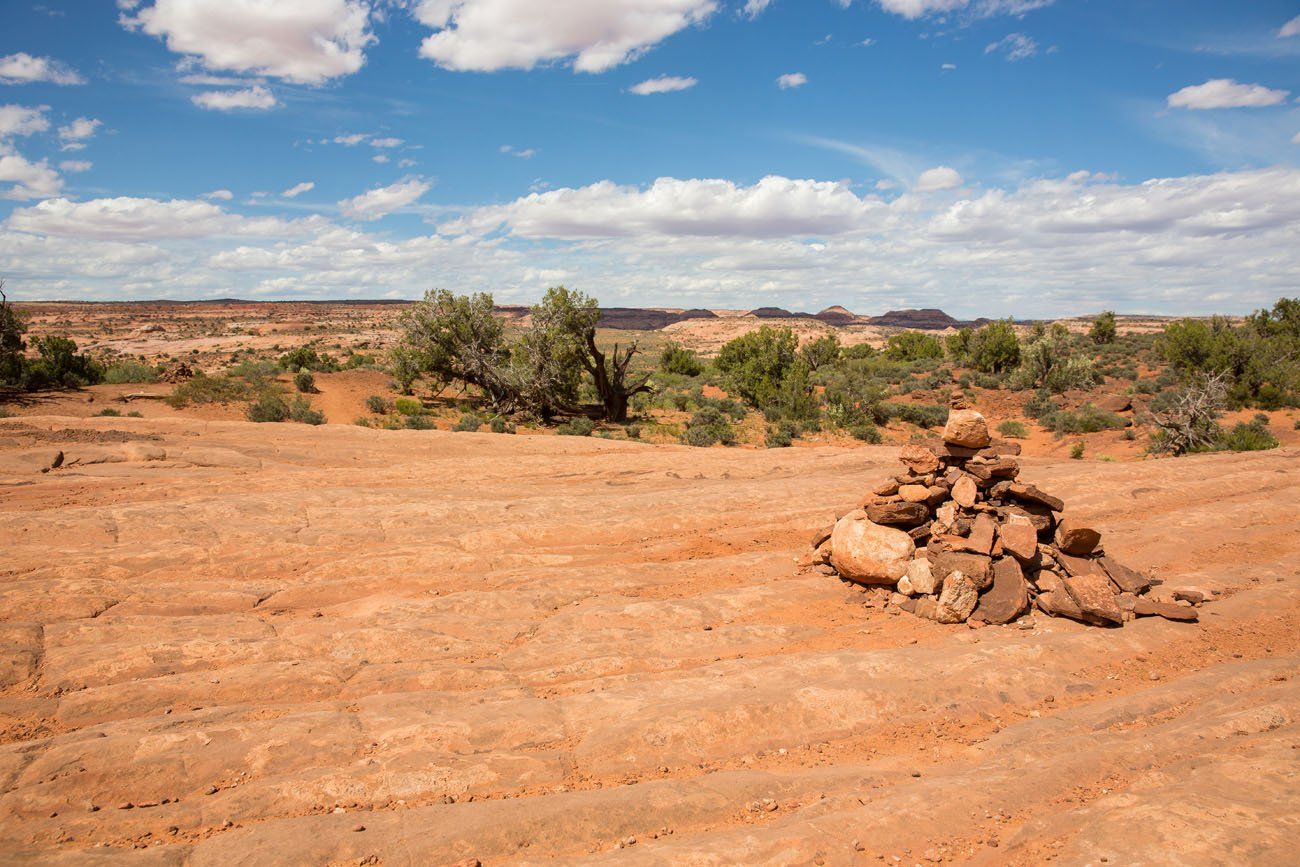 The trail ends down at the sandy bottom of the Dry Fork wash. Straight in front of you is Peek-A-Boo Gulch. To the left is the Dry Fork Narrows. And if you follow the Dry Fork wash to the right you will get to Spooky Gulch.
Should you do this Hike as a Loop or Out-and-Back?
You have two options to hike these two slot canyons. You can combine Peek-A-Boo and Spooky Gulches into one big loop or you can hike each slot canyon individually.
Hiking each slot canyon out and back is a little more fun, because you get to do them twice. Plus, they are both very short (only about a quarter mile long) so it doesn't add much time to retrace your steps. However, if you are short on time or like the idea of doing one big loop, consider linking them together.
Tim and I hiked each slot canyon separately. We did Spooky Gulch first and then Peek-A-Boo Gulch. Both are tons of fun, but I think I liked Peek-A-Boo a little more. With the sections of rock scrambling, this one was just a little more challenging and fun for me.
If you want to make one loop, I recommend starting with Peek-A-Boo and ending with Spooky. There is a difficult climb in Spooky Gulch, but if you start in the back you get to go down this section, making it a little easier.
Peek-A-Boo Gulch
The hardest part of Peek-A-Boo Gulch comes right at the beginning. In front of you is a 12 foot climb just to gain access into the slot canyon. It can be a little tricky getting up this, but if you are hiking with friends, it sometimes helps to a get a little boost up from them.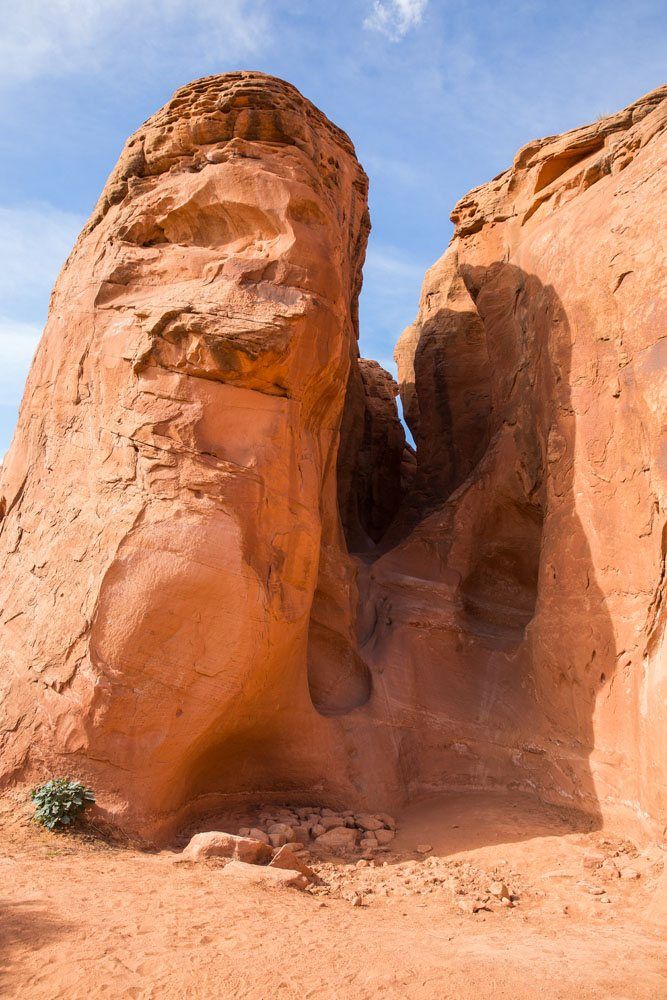 Once in Peek-A-Boo Gulch, enjoy the view. These sandstone arches look amazing!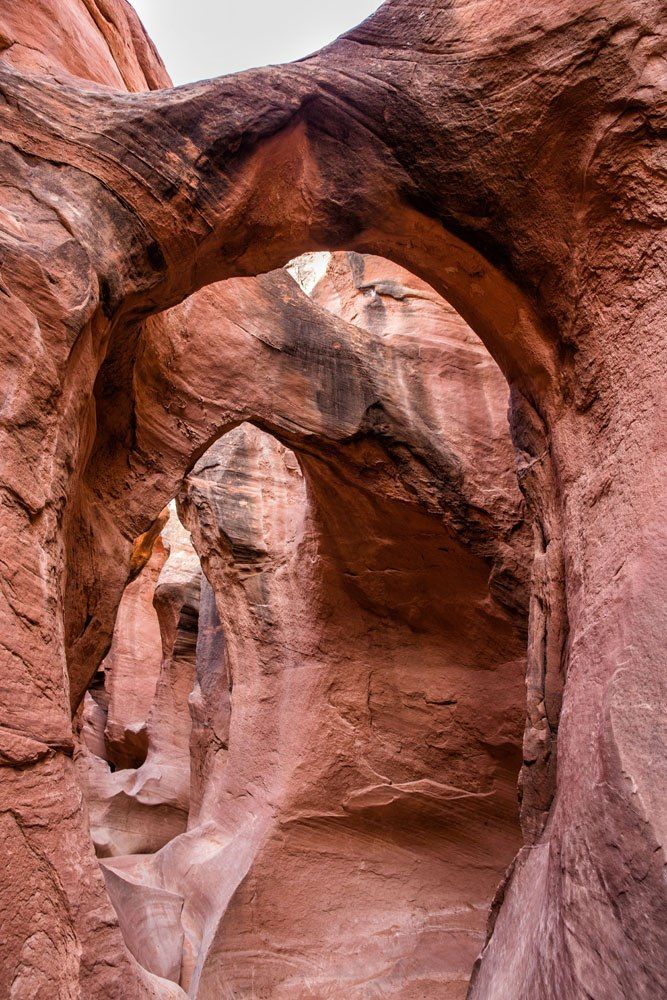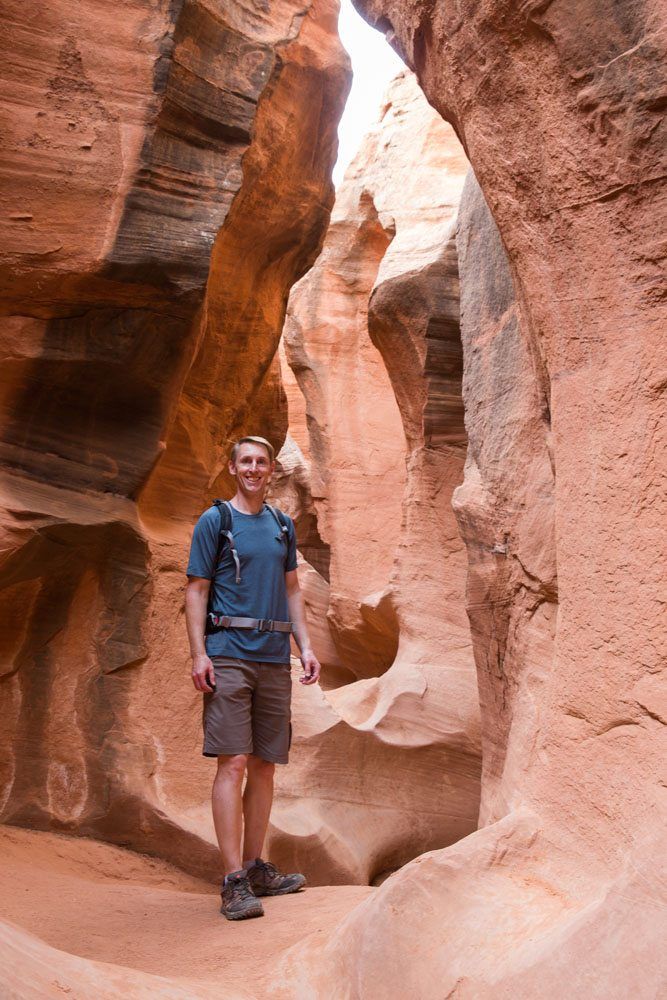 As you hike up into the slot canyon, there are a series of smaller scrambles. Each can be challenging in their own way and the fun is trying to figure how to get through each obstacle.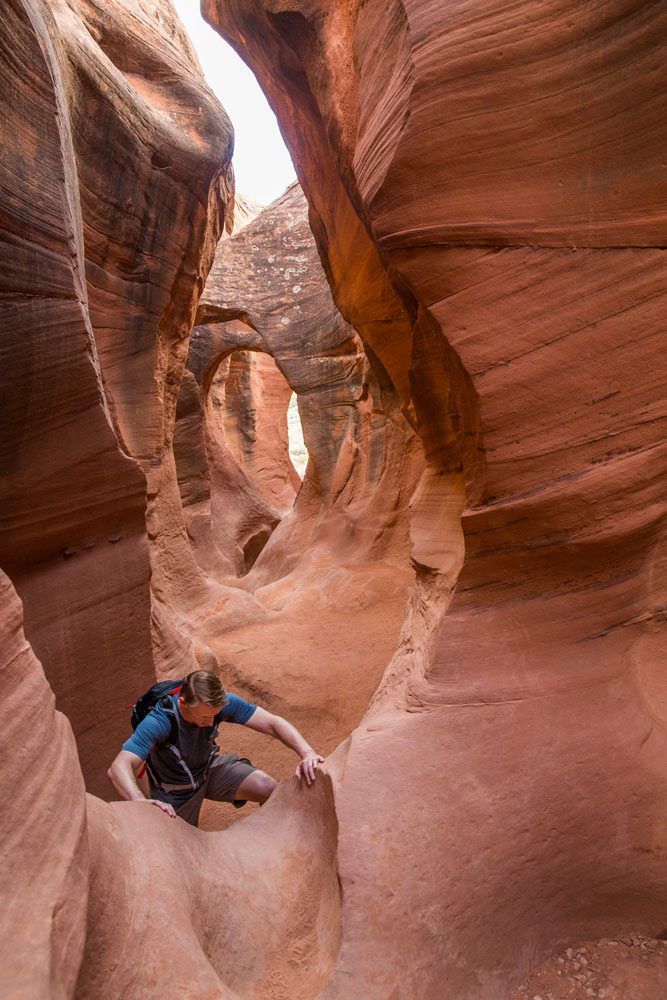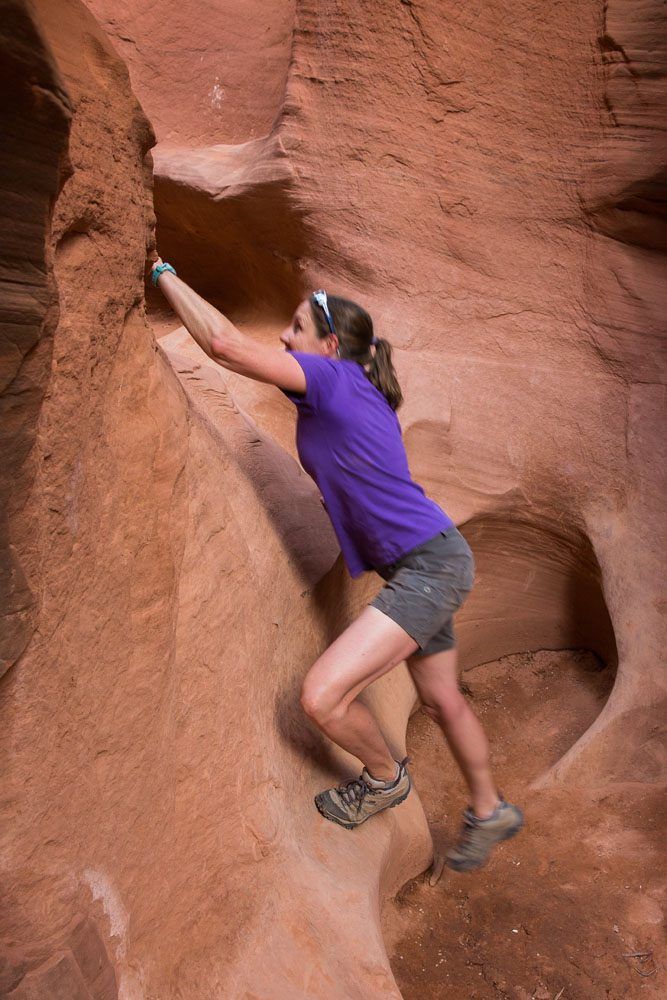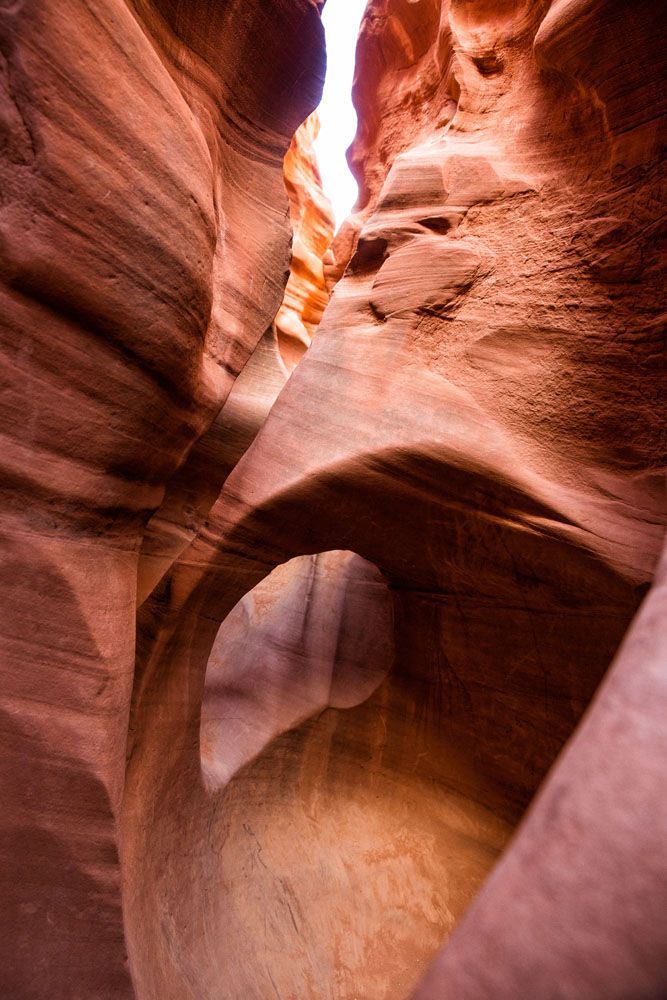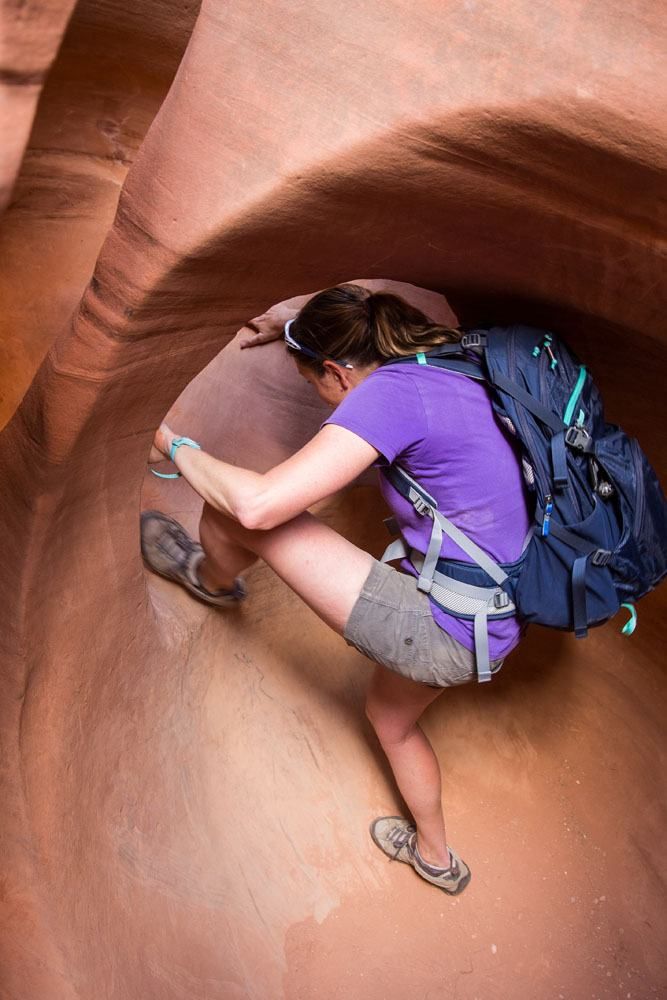 This can be a little more difficult if it has recently rained. There may pools of nasty, stagnant water at each of these sections, something you definitely want to stay away from if you don't want to walk around in soggy hiking shoes for the rest of the day.
As you climb up Peek-A-Boo Gulch, the walls get shorter and the rock scrambling sections get easier. Now it becomes a gorgeous walk through the ripples of the slot canyon.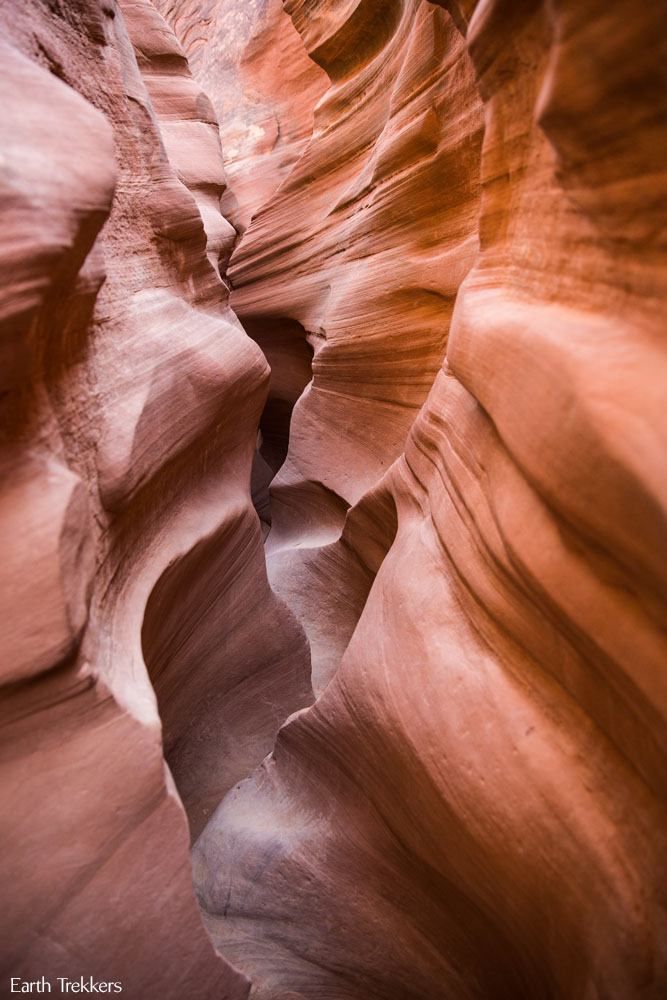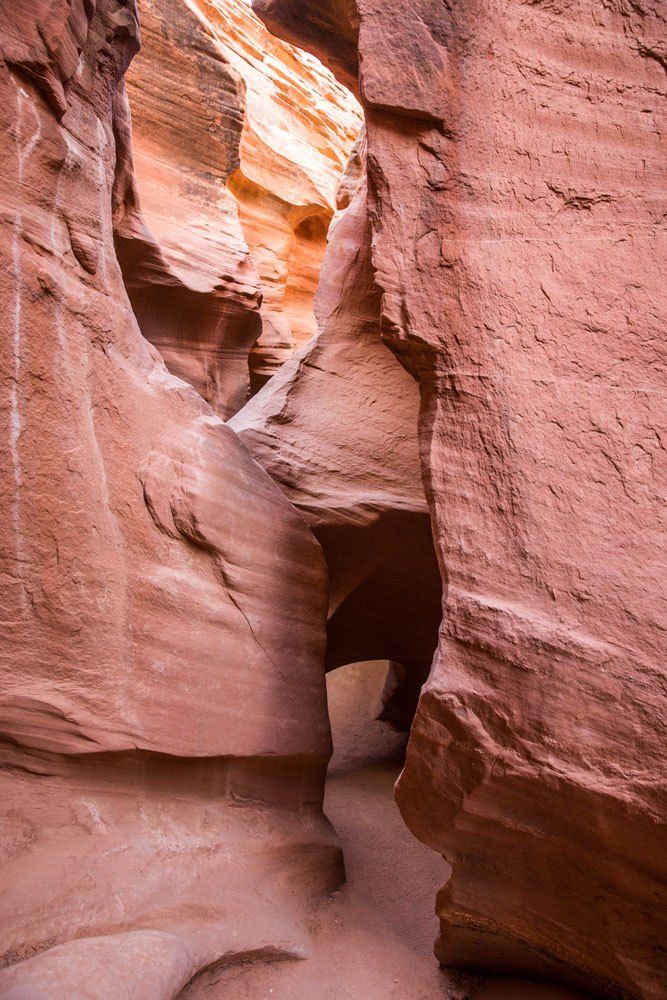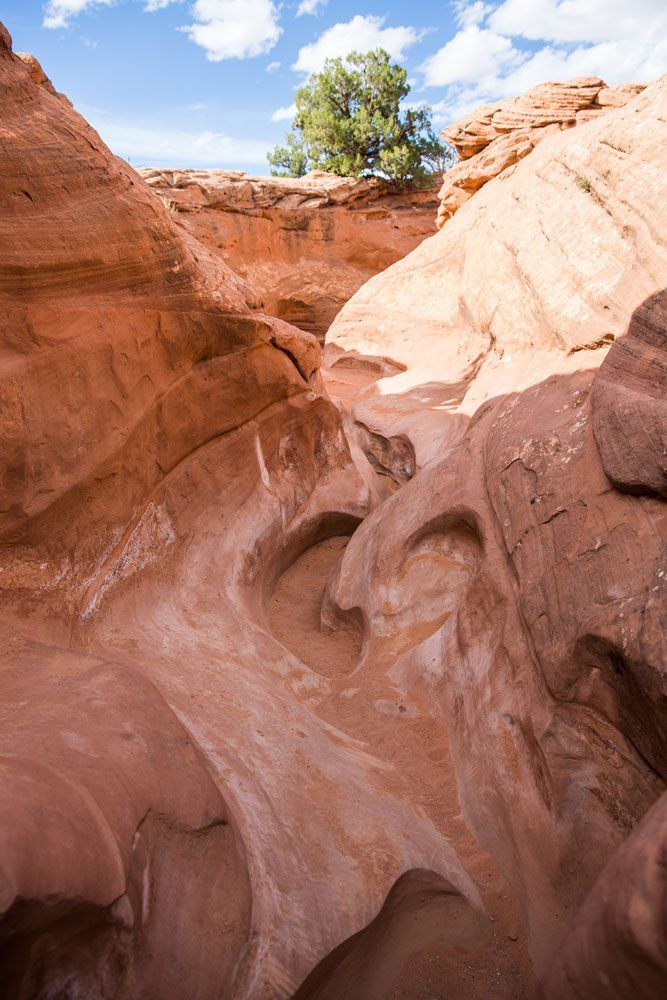 At the back of the gulch, the trail climbs up onto flat ground. You can even look down into the narrow slot canyon. So, that's why it's called Peek-A-Boo Gulch!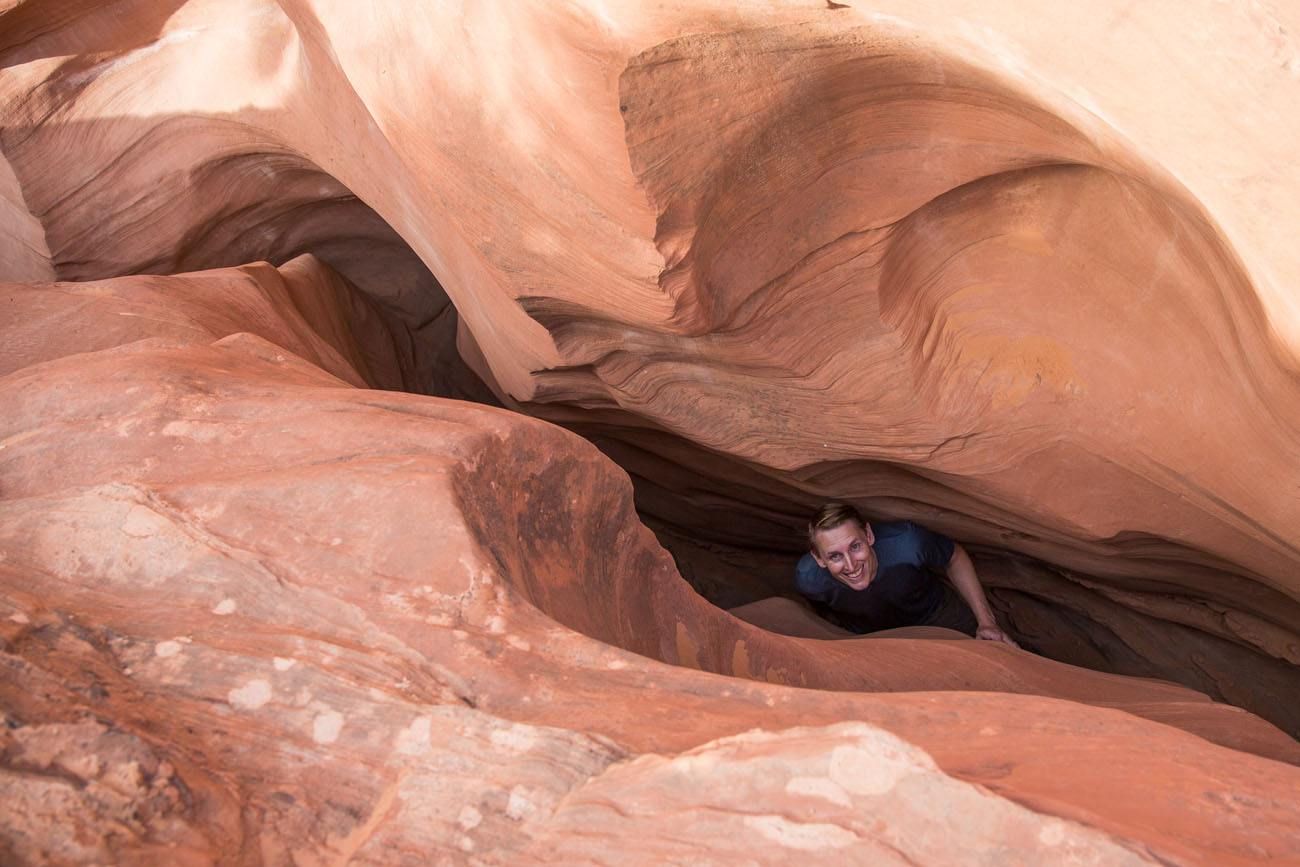 From here, you can retrace your steps back through the slot canyon, or walk about 15 minutes on a flat, sandy trail to Spooky Gulch. It can take 30 to 45 minutes to hike this slot canyon out and back.
Spooky Gulch
Why is it called Spooky Gulch? This slot canyon is much narrower and much darker than Peek-A-Boo. If you are claustrophobic, do not even attempt this part of the hike. This slot canyon is so narrow at times that it made Tim and I a little anxious, and we never have issues with claustrophobia.
From the entrance of Peek-A-Boo slot canyon, it is about a 10 minute walk down the Dry Fork wash to get to Spooky Gulch. The entrance into Spooky Canyon looks like this.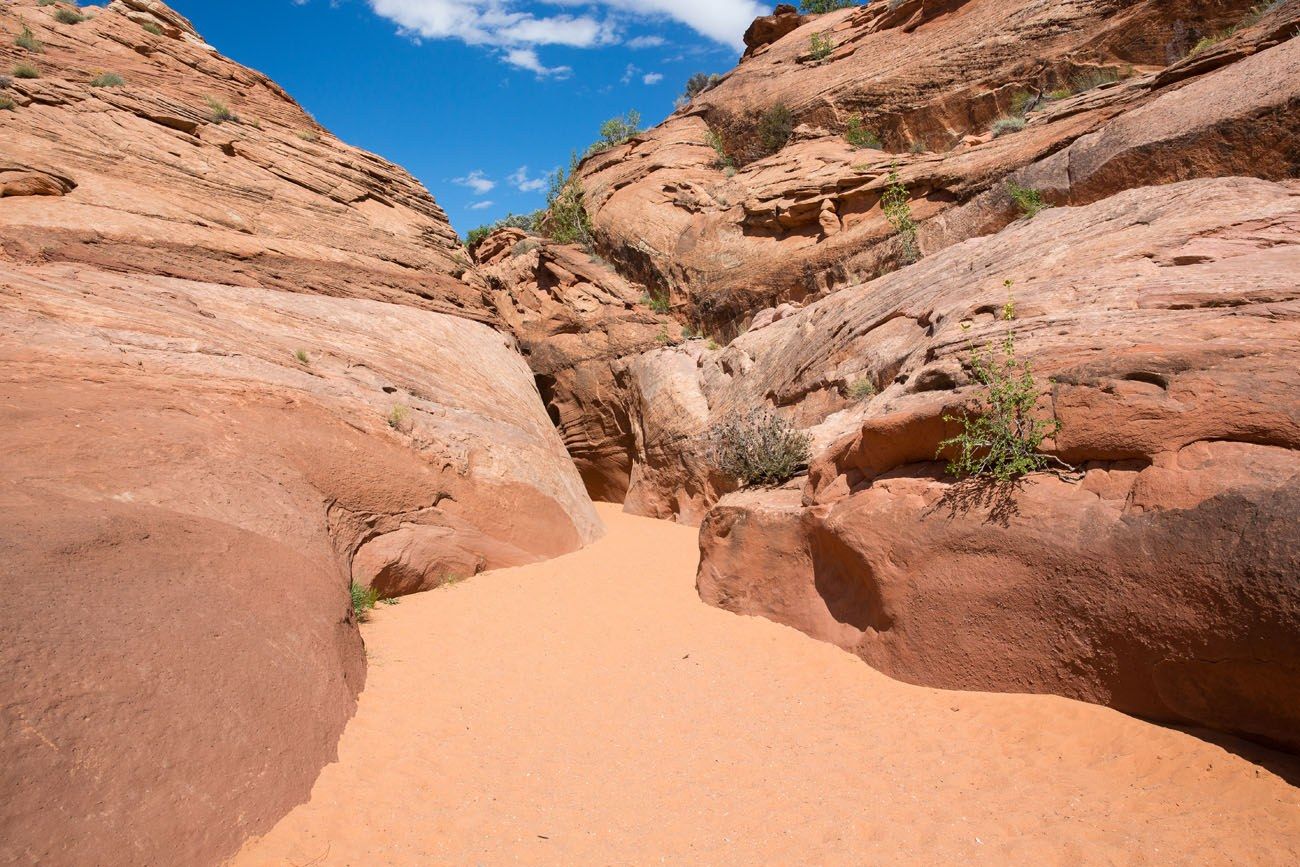 It starts off wide but wastes no time in thinning out. I recommend leaving your backpacks at the entrance, they only make hiking through these narrow spaces even more difficult (and this is another advantage to hiking each slot canyon out and back).
As you head to the back of Spooky Gulch, the canyon gets narrower and narrower and narrower. At times, we were almost dragging ourselves through the narrower spots.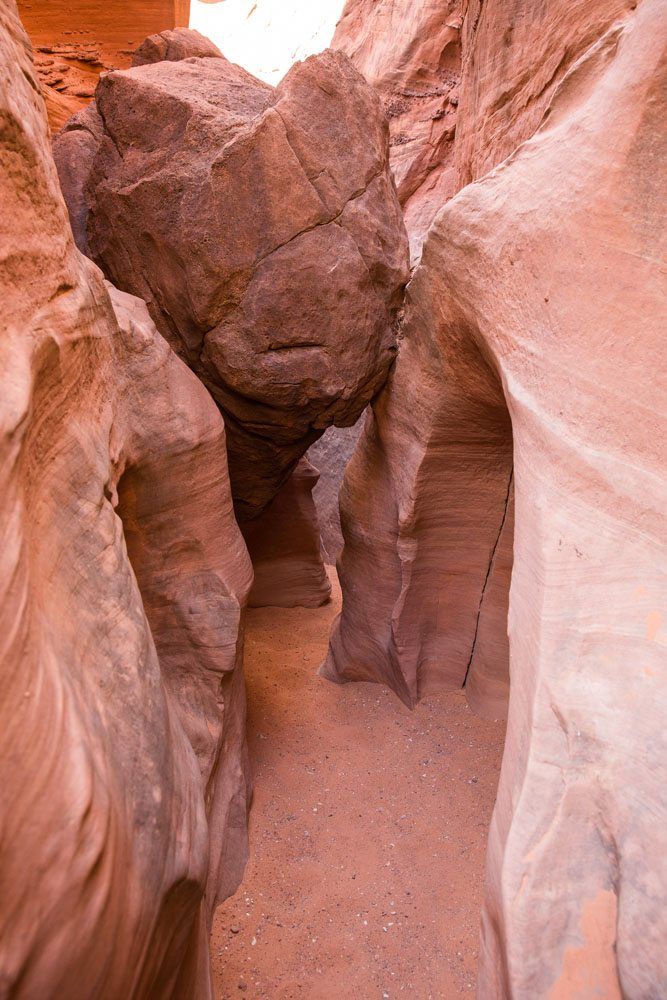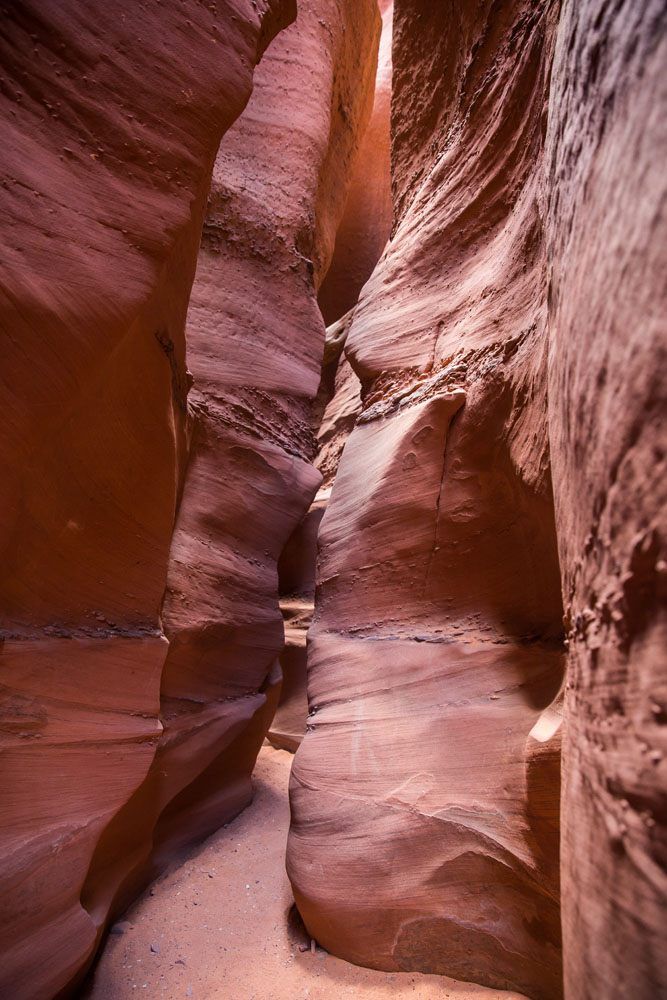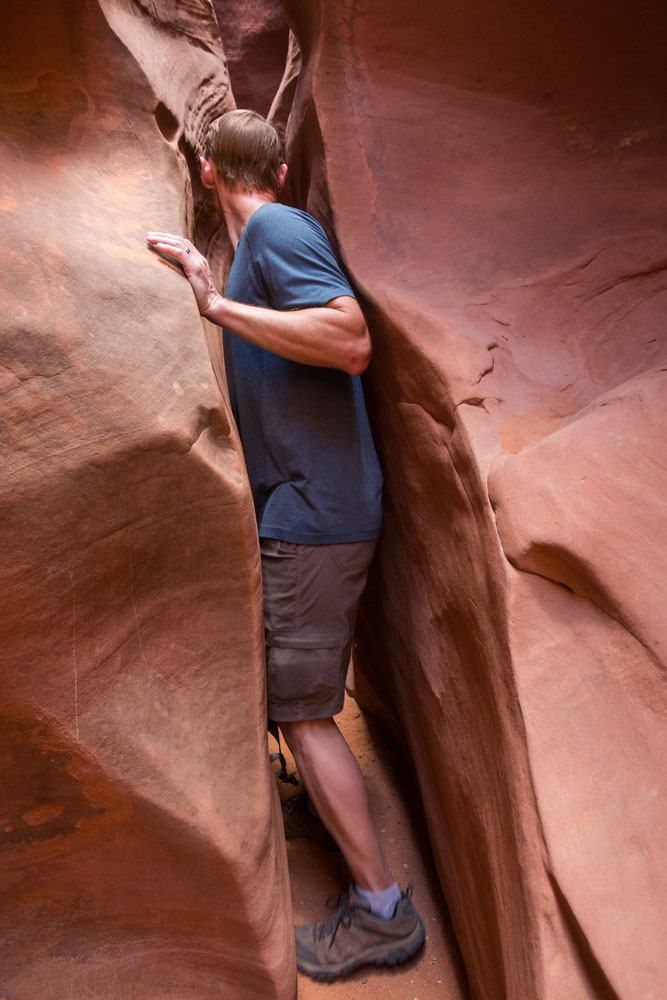 It is beautiful in here, and it's also a lot cooler than in the sunny Dry Fork canyon.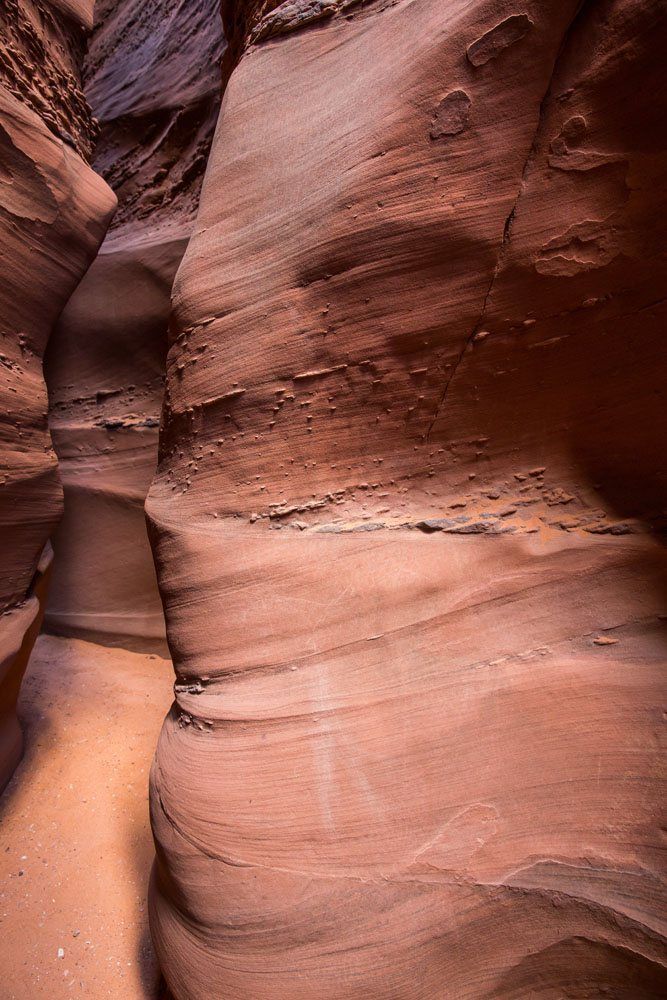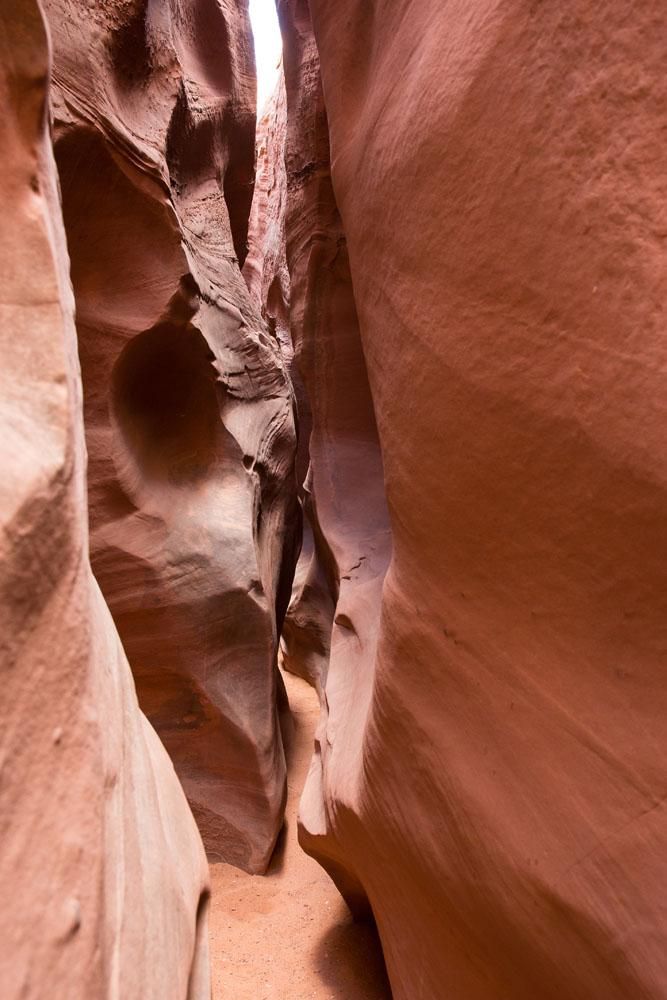 We were lucky during our visit in that we were the only ones in Spooky Gulch. I can't imagine two way traffic in this extremely narrow space!
Towards the back of the canyon you will reach a dryfall of rock. This is very challenging to climb. You can climb it and continue on or turn around here and retrace your steps. It can take up to 30 minutes to hike this slot canyon out and back, depending on how far you go.
Dry Fork Narrows
While you are here, you can hike through the Dry Fork Narrows. This is another slot canyon but it is much wider that Spooky Gulch and rather unexciting after Peek-A-Boo Gulch.
What to Bring with You
Lots of Water. BLM recommends 4 liters of water per person.
Hiking Shoes. You can get by with a good pair of running shoes, but hiking shoes will give you more traction when rock scrambling through Peek-A-Boo Gulch.
Sunscreen. There is very little shade out here. The only time you will be out of the sun is the short amount of time you are in Spooky Gulch.
What to do Next
Visit Devils Garden, just 15 miles northwest on Hole-in-the-Rock Road, a 30-minute drive back towards Escalante.
Hike Zebra Slot Canyon, 19 miles northwest on Hole-in-the-Rock Road, a 40-minute drive back towards Escalante.
Explore 1, 2, or all 5 of Utah's national parks. Learn more in our Utah's Mighty 5 Travel Guide and Road Trip Itinerary.
If you like this hike, you'll LOVE Little Wild Horse Canyon, which is in Utah, between Capitol Reef National Park and Moab.
Tours of Peek A Boo Canyon
If you want to hike Peek-A-Boo Canyon but feel more comfortable doing this with a guide, this small-group tour includes your transportation from Kanab and you hike Peek-A-Boo Canyon with an experienced guide.
---
Have you hiked Peek-A-Boo or Spooky Gulches? Do you have any advice for our readers? Comment below!
More Information about Utah
UTAH ITINERARY: If you need ideas on how to plan your road trip through Utah, check out our 7 to 10 day Mighty 5 Itinerary, our Arches, Canyonlands, and Capitol Reef Road Trip, and our 14-day American Southwest Itinerary.
GRAND STAIRCASE-ESCALANTE: In Grand Staircase-Escalante, hike Willis Creek, explore Devils Garden, and hike through Zebra Slot Canyon.
LITTLE WILD HORSE CANYON: Little Wild Horse Canyon is a narrow slot canyon that is a blast to hike. It can be visited while driving between Moab and Capitol Reef National Park. Goblin Valley State Park sits nearby so these can be combined in the same visit.
ZION NARROWS: There are two ways to hike the Narrows: top-down or bottom up. Journey down the Zion Narrows in photos and learn how to hike the Narrows top-down.
ARCHES NATIONAL PARK: If you are short on time, check out our One Day in Arches National Park to learn the best way to spend your time here.
Note: This post contains affiliate links. When you make a purchase using one of these affiliate links, we get paid a small commission at no extra cost to you.
All rights reserved © Earth Trekkers. Republishing this article and/or any of its contents (text, photography, etc.), in whole or in part, is strictly prohibited.