The Canyon Overlook Trail is a gem of a hike in Zion National Park. It's short, it's fun, and it takes you to an awesome viewpoint overlooking Zion Canyon. This is a hike that is perfect for all ages and ability levels. So if this is your first, or even your second time in Zion, put the Canyon Overlook Trail on your list of things to do.
Canyon Overlook Trail Hiking Stats
Distance: 1 mile round trip
Difficulty: easy to moderate
Elevation Gain: 150 feet
Length of Time: 1 hour
Trailhead: Highway 9, just east of the tunnel
Please practice the seven principles of Leave No Trace: plan ahead, stay on the trail, pack out what you bring to the hiking trail, properly dispose of waste, leave areas as you found them, minimize campfire impacts, be considerate of other hikers, and do not approach or feed wildlife.
The Canyon Overlook Trail
Step-By-Step Trail Guide
Getting to the Trailhead
To get to the trailhead you will need a car. This hike is not accessible using the Zion Shuttle.
From the Visitor Center, take Highway 9 northeast towards the east entrance of Zion National Park. You will drive on a series of switchbacks. From this section of the road, you can see the Great Arch looming over you. The Canyon Overlook viewpoint is on top of this arch. Yes, you will be standing up there!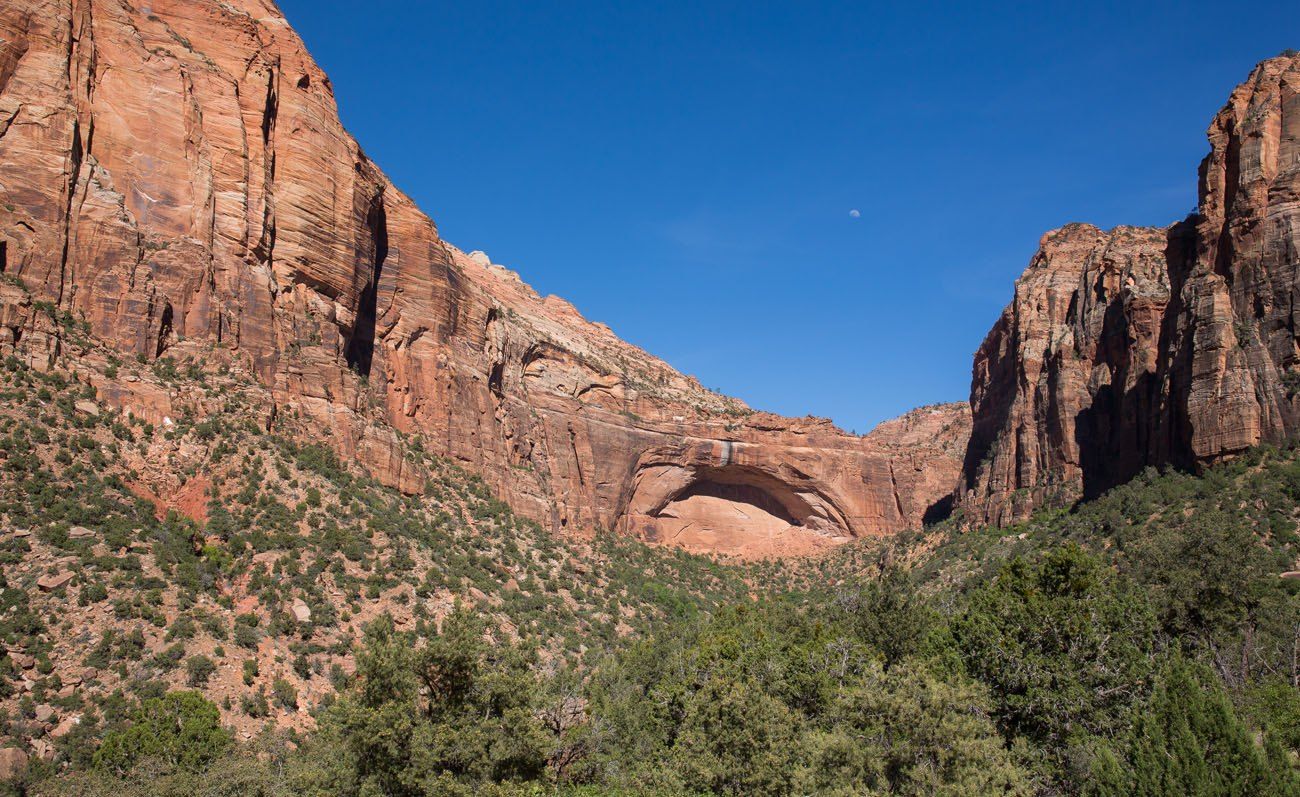 Drive through the Mount Carmel Tunnel. The parking lot is immediately past the exit of the tunnel. Turn right into the car park, and if you are lucky, there will be a parking spot. It can get crowded during the summer months and this is a very small lot. If there are no spots, continue east on Highway 9 to a second overflow parking area just a little ways down the road. But not to worry, from either parking lot it's just a short walk to the trailhead.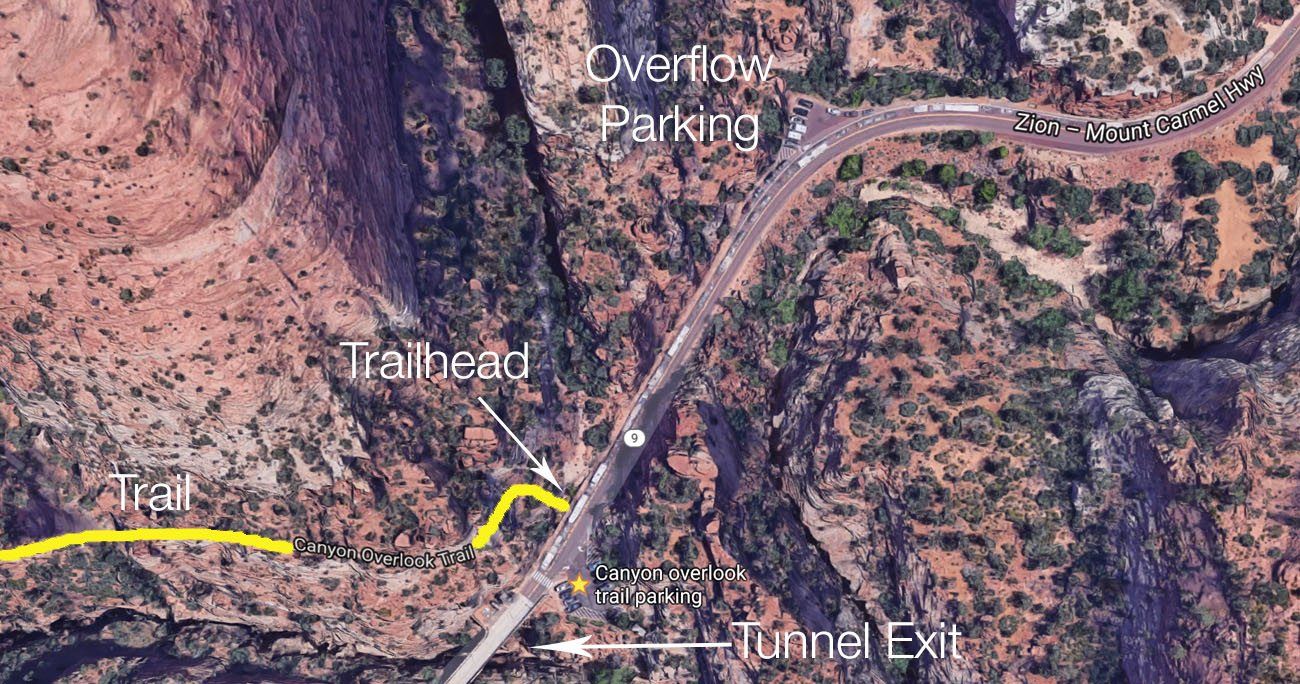 PRO TRAVEL TIP: Because it can be tricky to find a parking spot, it is best to do this hike early in the morning or later in the afternoon.
The trailhead is located right on Highway 9, near the ranger station for the tunnel.
Hiking to the Viewpoint
You gain some elevation immediately, climbing the steps that take you from Highway 9 up onto the trail. And then it is a mostly flat hike out to the viewpoint.
The trail is carved out of the sandstone walls, so for part of the hike, a giant, stonewall will be on one side of you and to the other side you will have views into the Pine Creek Narrows. At several of the more exposed sections there are railings for safety.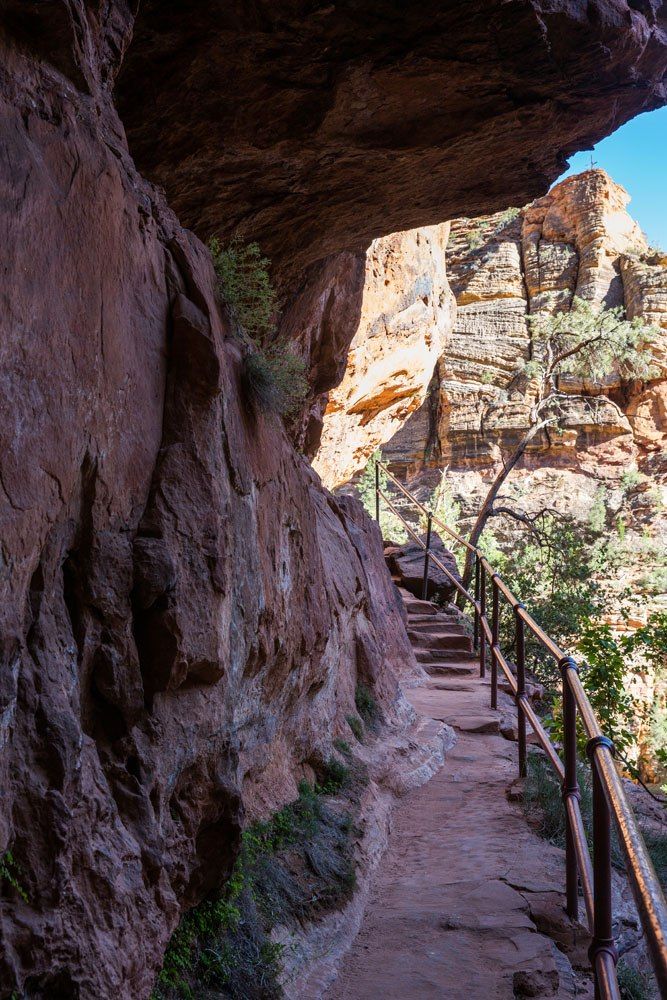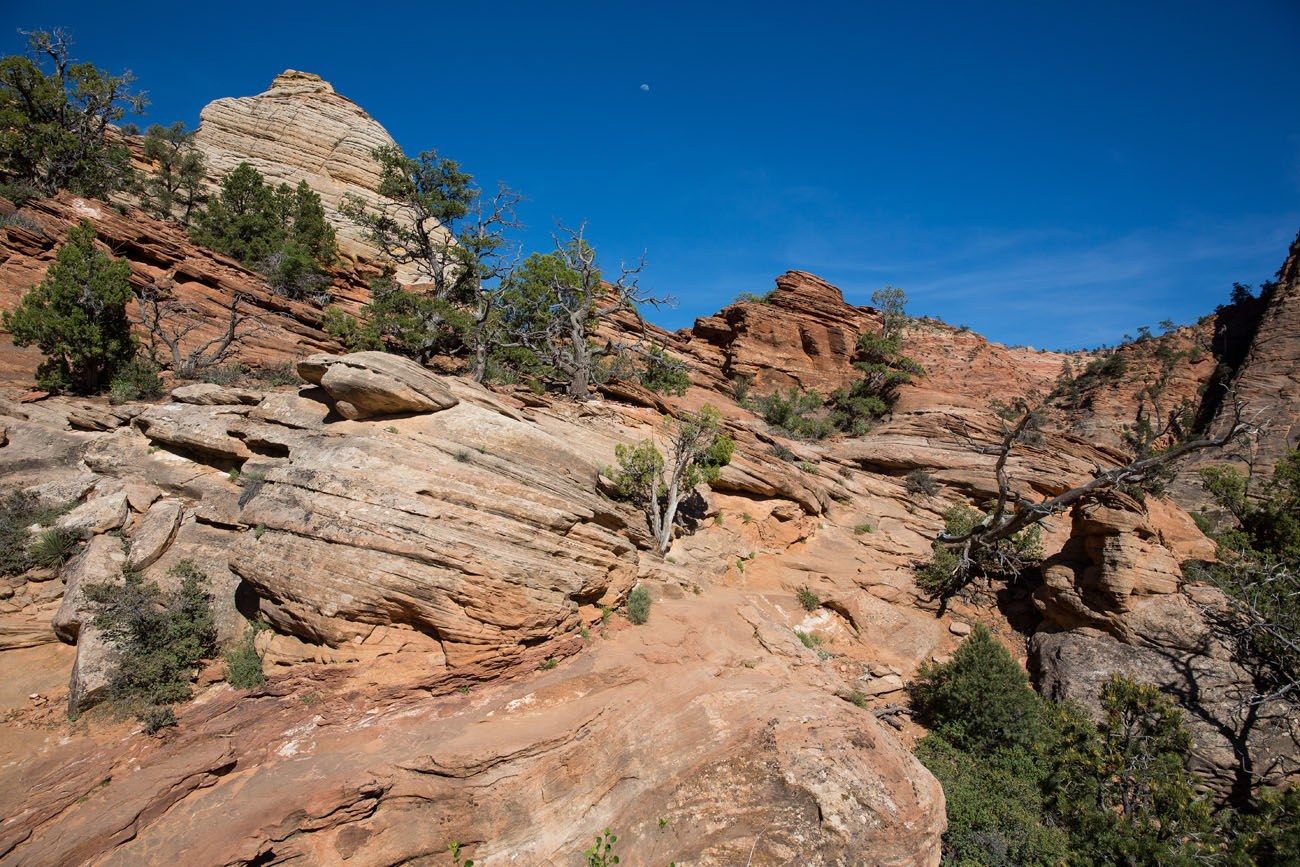 One of the best parts of this hike is walking through the cool, hidden cave. This is a nice place to take a break, if you need it. Wouldn't it be wonderful if there was someone here selling snacks or ice cream or margaritas?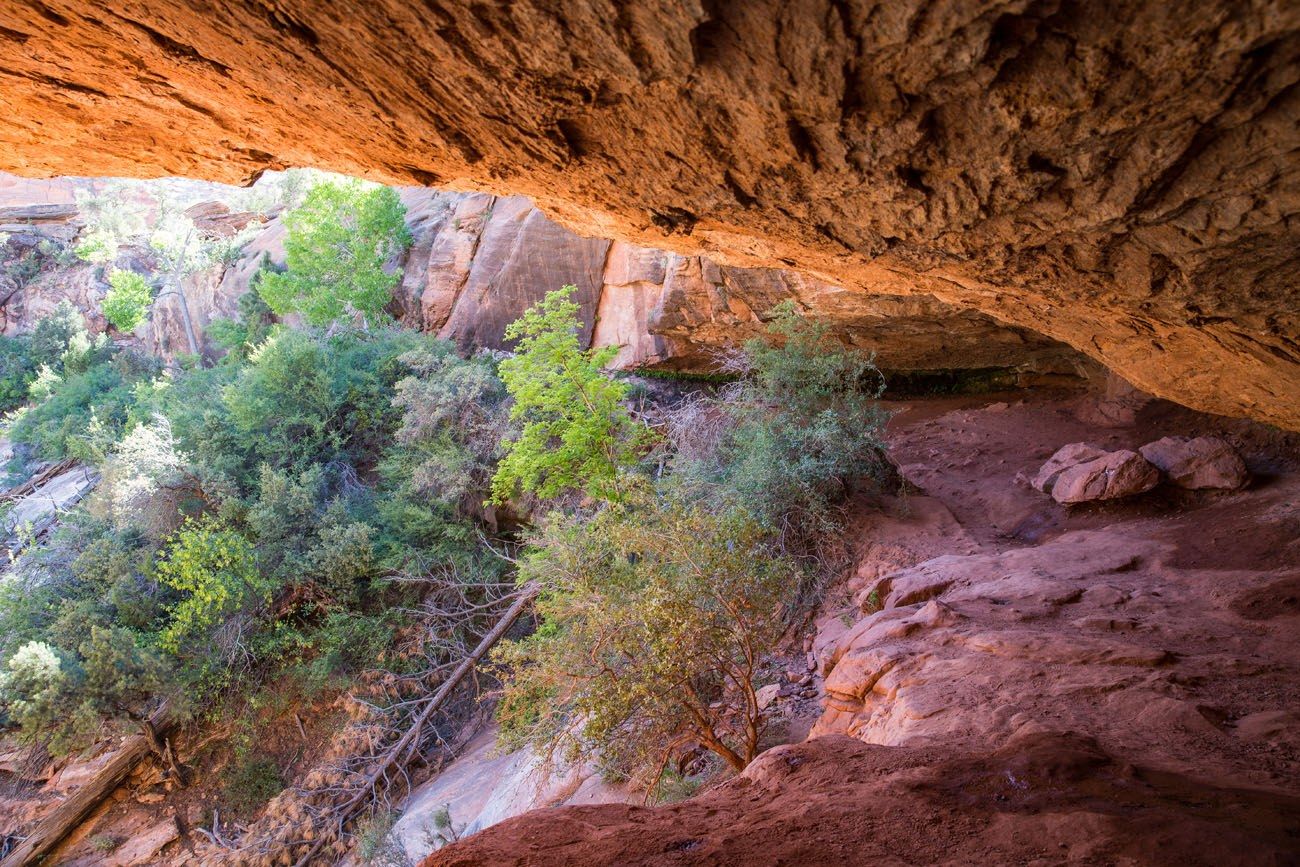 There are a few obstacles along the way, just enough to keep things interesting. The kids we saw on the trail loved climbing over the rocks and giant tree roots.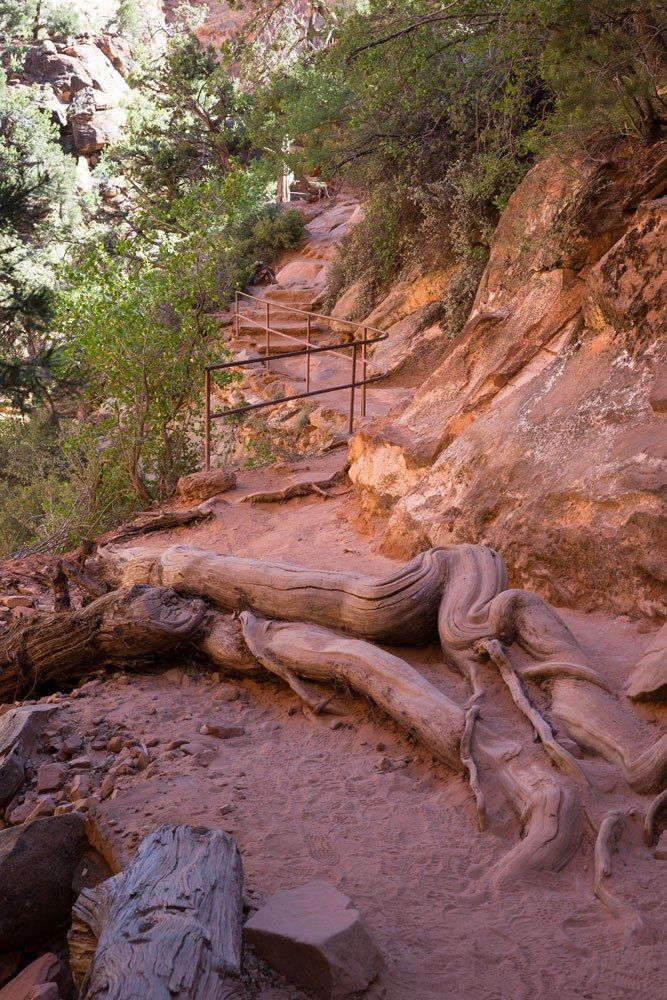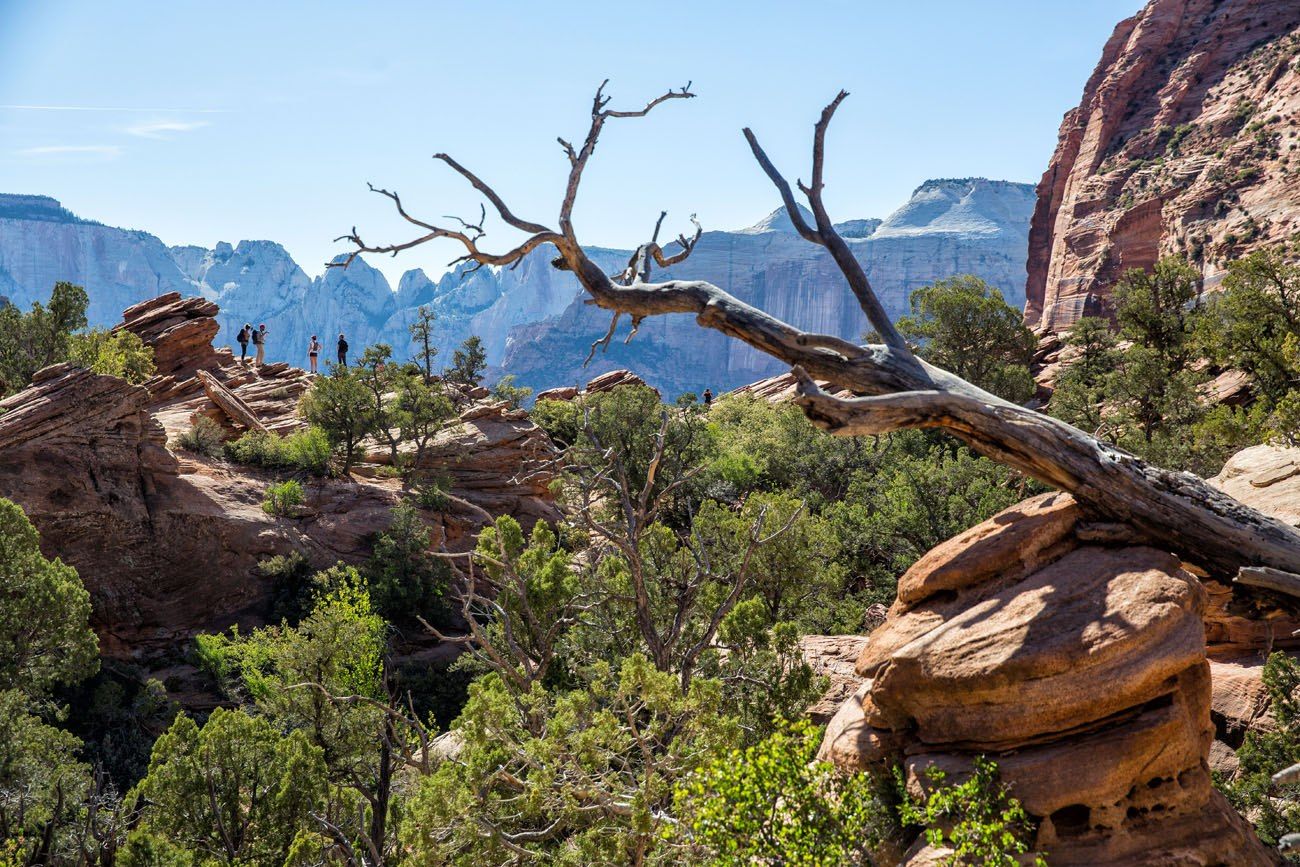 Once you reach the viewpoint, the narrow trail opens up to a wide area that overlooks Zion. This is the end of the trail. Now you are standing on top of the Great Arch and below you are the switchbacks of Highway 9. And if you look closely, you will be able to see the windows carved out of the side of the Mount Carmel Tunnel.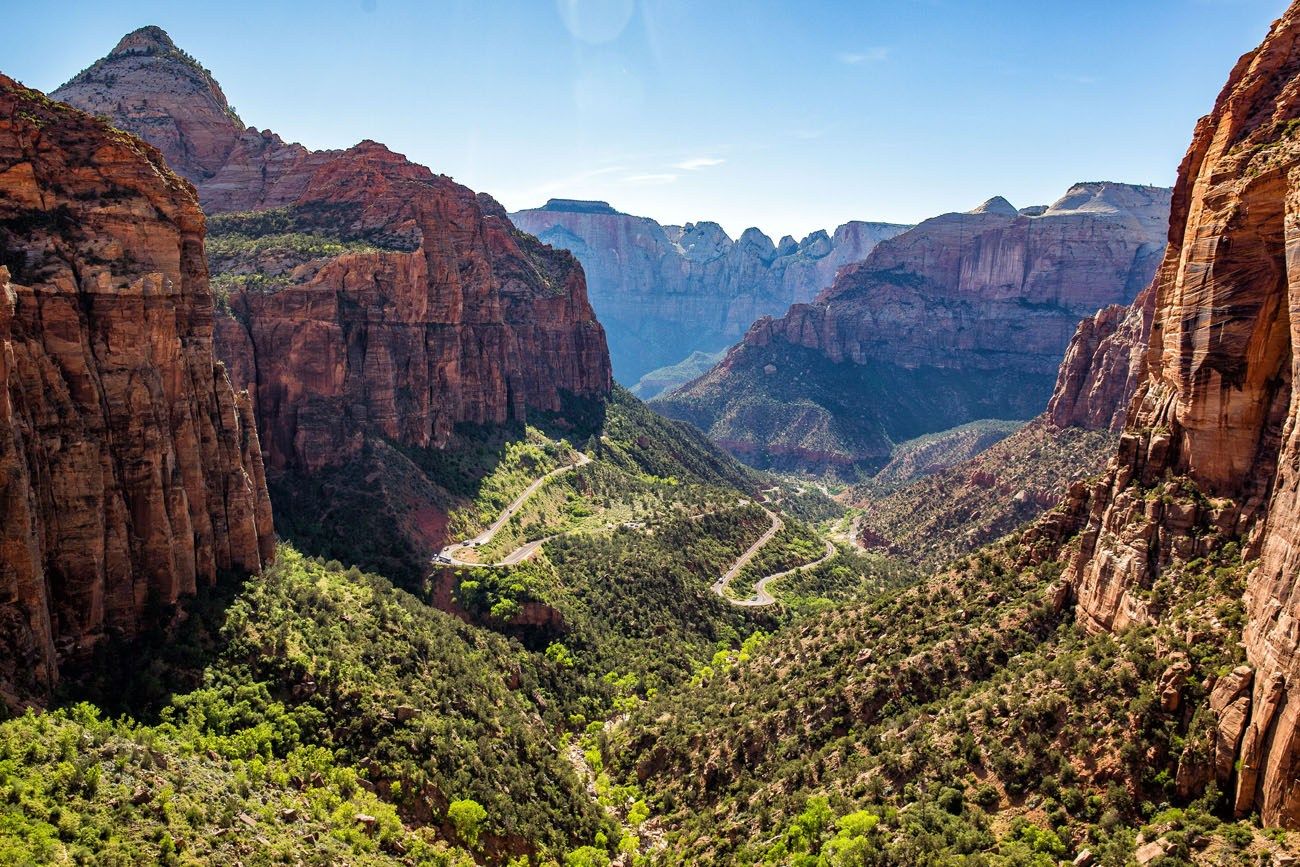 For kids, this is a fun place to explore, to a point. Just remember that you are on the edge of a cliff, and getting too close to the edge could be disastrous.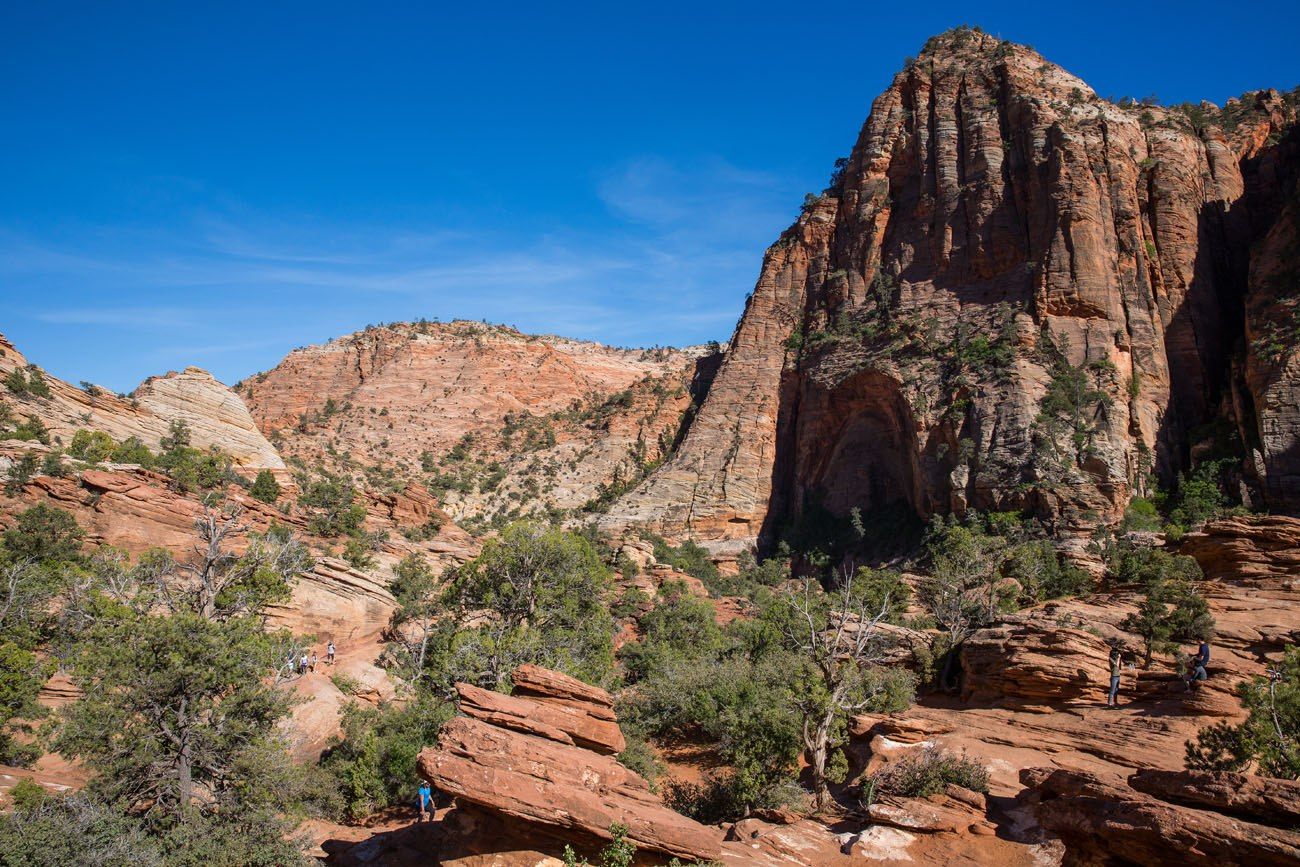 This photo was taken from the viewpoint, looking back at the trail.
Return to your car the same way you came.
Want to Explore More?
After this hike, continue east on Highway 9. The scenery in this part of the park is stunning, with white, orange and red striated sandstone mountains. We got lucky and saw a small herd of bighorn sheep.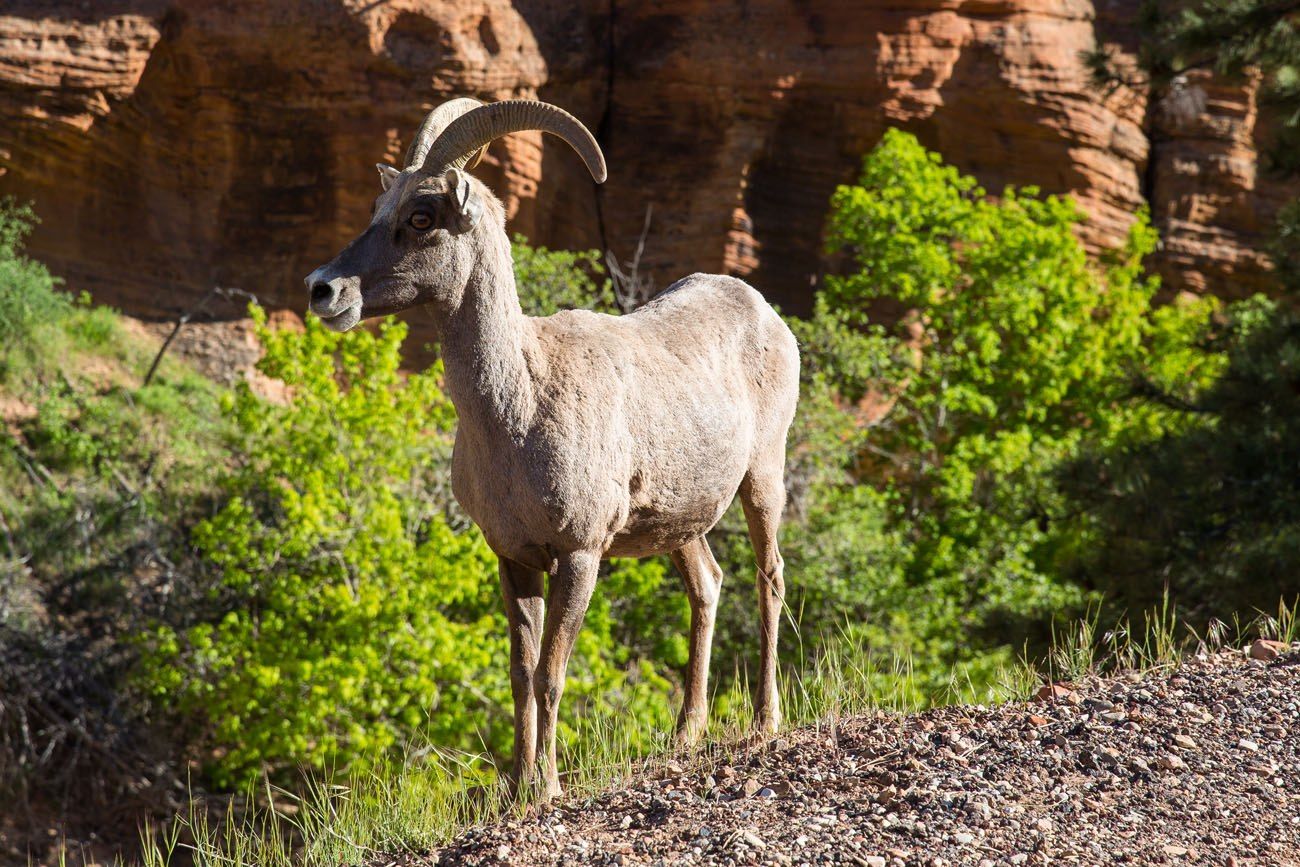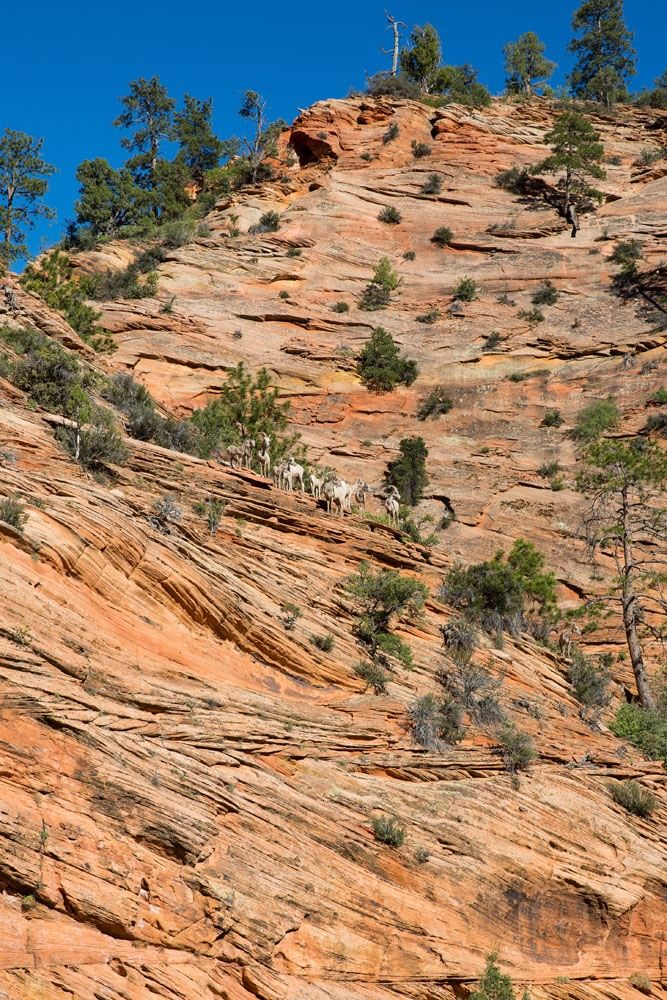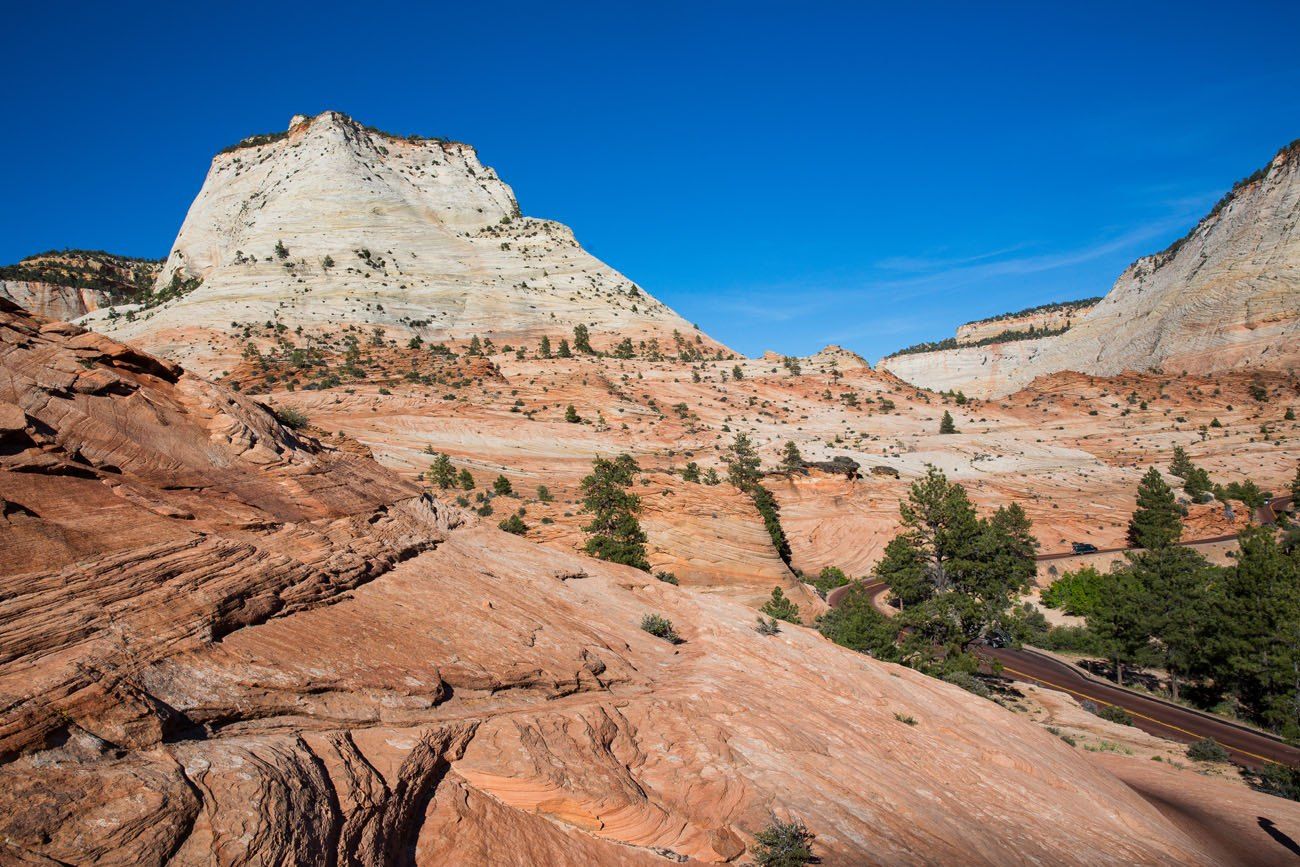 Making this detour can take an hour or longer, depending on how much you want to explore.
What to Bring on the Hike
Hiking shoes. You can get by with a good pair of walking shoes or running shoes for this hike but hiking shoes are ideal.
Water and snacks. Bring at least 1 liter of water in the summer.
Sunscreen, hat, and sunglasses. There is very little shade on this trail.
Camera. Even a smartphone will do.
If you are new to hiking or are curious about what you should bring on a hike, check out our Hiking Gear Guide. Find out what we carry in our day packs and what we wear on the trails.
---
If you have any questions about how to hike the Canyon Overlook Trail, let us know in the comment section below.
More Information about Zion & Utah
ZION NATIONAL PARK: Check out our Zion National Park Travel Guide for important travel planning tips, sample itineraries, advice on when to go, where to stay, and more.
ZION ITINERARY: Learn how to plan your perfect Zion itinerary, whether you have a day or a week.
HIKES IN ZION: Angels Landing, the Zion Narrows, Observation Point, and the Watchman Trail are some of the top hiking trails in Zion. For the full list, read our Best Hikes in Zion guide.
ZION SHUTTLE: If you are in Zion for a quick visit, or you don't want to be bothered with the shuttle, here are 11 things to do without riding the Zion shuttle.
AMERICAN SOUTHWEST ITINERARY: On the ultimate road trip through the American Southwest, visit the Grand Canyon, Utah's Mighty 5, and several awesome state parks. Get the full details in our American Southwest Itinerary.
UTAH'S MIGHTY 5: Utah's Mighty 5 is a collection of five national parks in Utah. Learn more about the parks and how to plan your visit in our Guide to Utah's Mighty 5.
NATIONAL PARKS: In our Guide to the US National Parks, get the full list of national parks with important travel planning information, such as things to do in the parks and sample itineraries.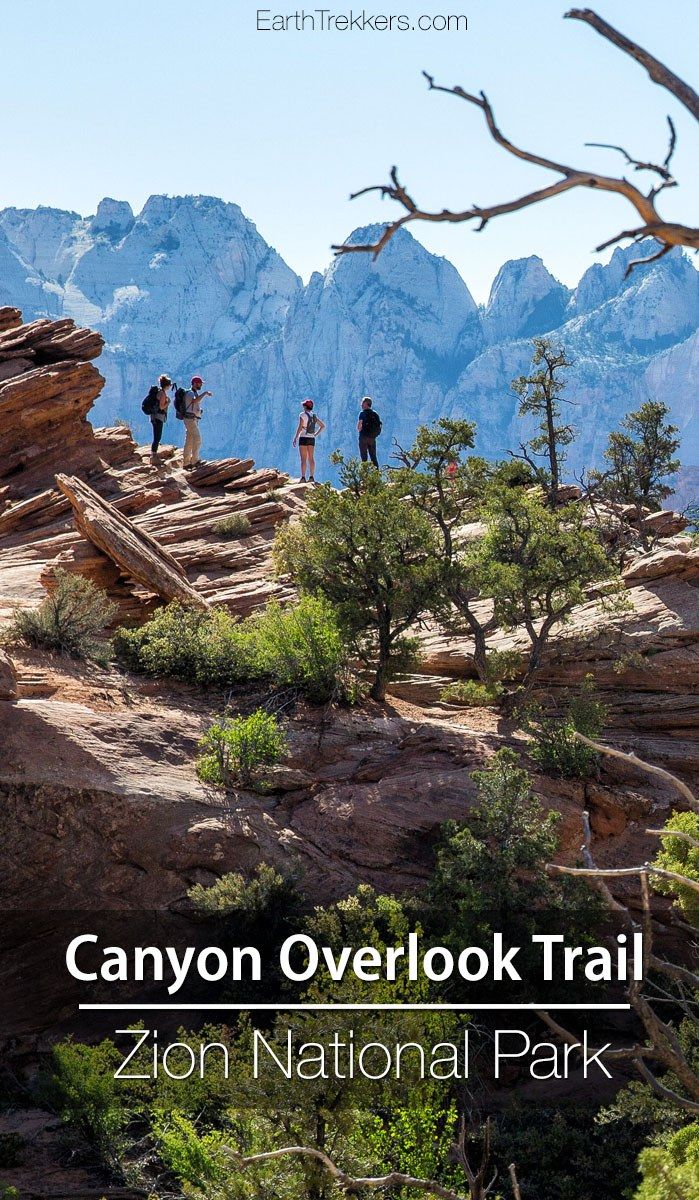 All rights reserved © Earth Trekkers. Republishing this article and/or any of its contents (text, photography, etc.), in whole or in part, is strictly prohibited.