Svolvaergeita, also called "The Goat," is a pinnacle of rock that is a popular rock climbing spot in the Lofoten Islands. It is named The Goat because of the two horns of rock that sit atop the rock. Those with a sense of adventure can climb to the top of Svolvaergeita and those who are just a little bit crazy can leap from one horn to the other.
When I first saw photos of Svolvaergeita, I thought it looked like a crazy thing to do. Which is exactly why it got added to our Lofoten itinerary. Rock climb to the top of this pillar, take ourselves outside of our comfort zones, and have one of the best views over Svolvaer…of course we wanted to do this!
Climbing Svolvaergeita was our best rock climbing experience, ever, and maybe even our top experience in the Lofoten Islands.
Northern Alpine Guides
We used Northern Alpine Guides to climb Svolvaergeita. We all have prior rock climbing experience, but I still consider us beginners, so it was necessary for us to climb with a guide. Plus, Northern Alpine Guides provides rock climbing equipment in their fee, so we did not have to travel with harnesses and rock climbing equipment, a nice bonus!
Climbing Svolvaergeita
Meeting Charlie
We met Charlie, our guide for the climb, at the Northern Alpine Guides office in Kabelvåg. He fit us with helmets, harnesses, and climbing shoes. Then we followed him in our car 20 minutes up the road to Svolvaer.
Hiking to Svolvaergeita
Before you can climb Svolvaergeita you have to hike to it.
The parking lot for the climb up Svolvaergeita is the same parking lot for the hike up Svolvaer Fløya. Parking is located near the Svolvaer cemetery. Yes, you have to park at the cemetery before you climb Svolvaergeita. A little creepy, don't you think?
We found parking on Blåtindveien, just a few steps from the trailhead. The GPS coordinates for the trailhead are 68°14'40" N 14°34'41" E.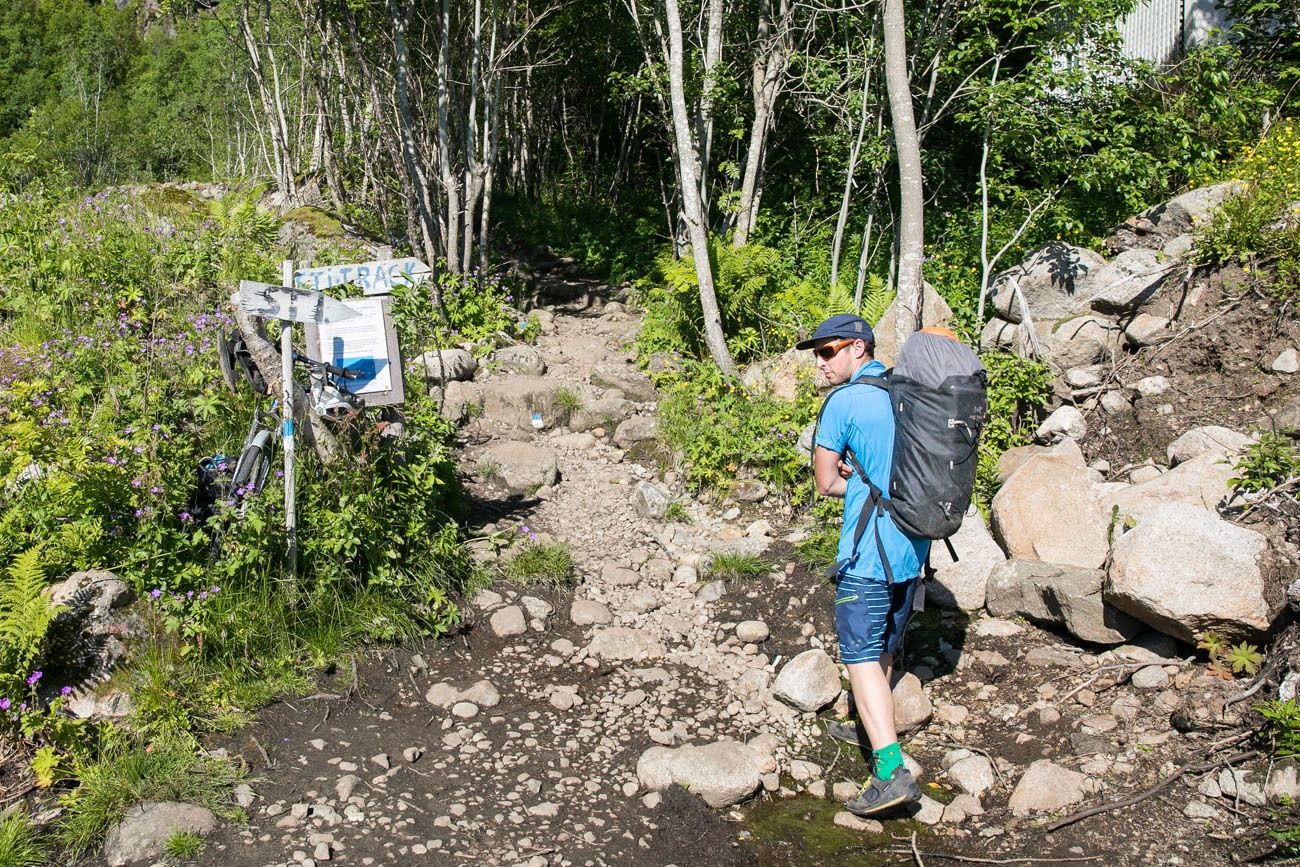 Our guide, Charlie, at the trailhead to Svolvaergeita and Svolvaer Fløya.
It takes 45 minutes to hike the 1 kilometer to the base of Svolvaergeita. The hiking trail is steep and slippery at times. There are short sections of rock scrambling and places where you will need to use a chain to pull yourself up. This hike is challenging, so be prepared to expend some energy even before the rock climbing begins.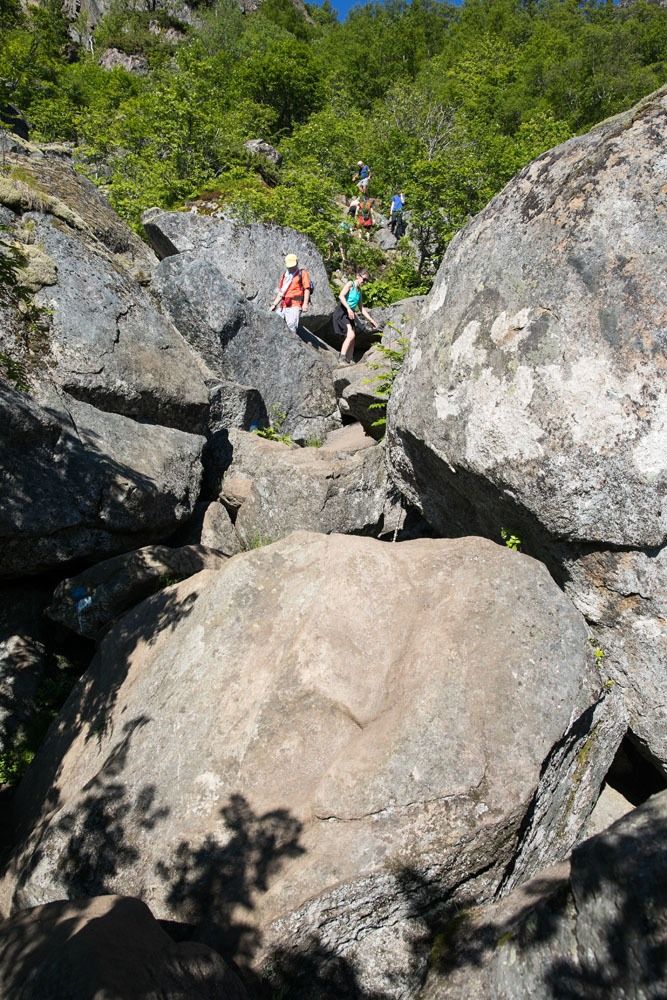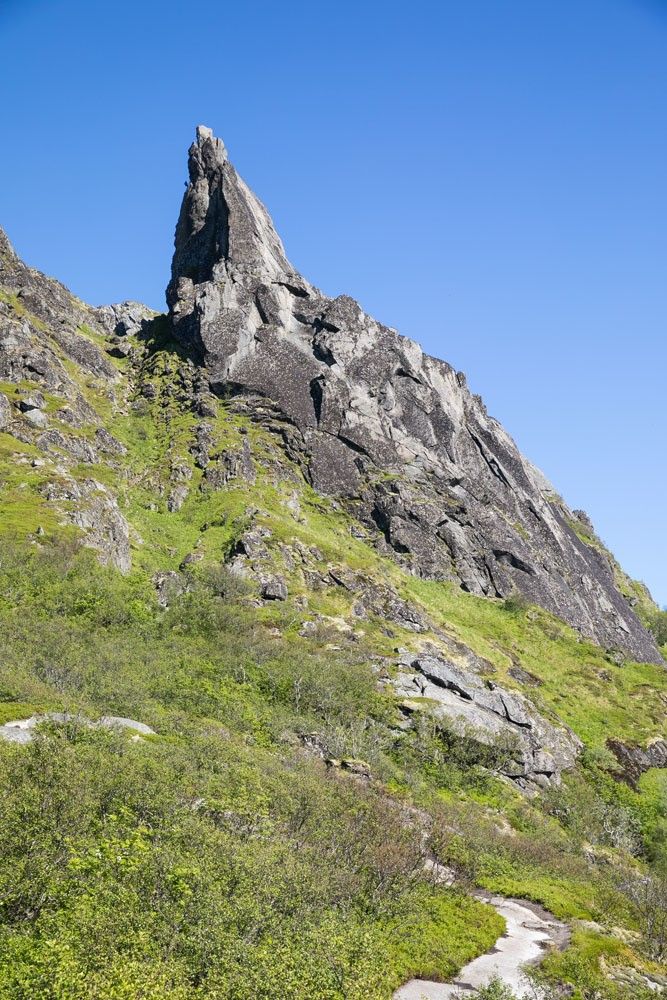 On the day we climbed Svolvaergeita, the weather was gorgeous. It was unusually warm with a high temperature of 21°C (70°F) with bright blue skies. The hike to Svolvaer Fløya was very busy today and there were more people climbing Svolvaergeita than we expected.
Overview of Svolvaergeita
At the base of Svolvaergeita is a flat area where you can change your shoes and stash your bags while you climb.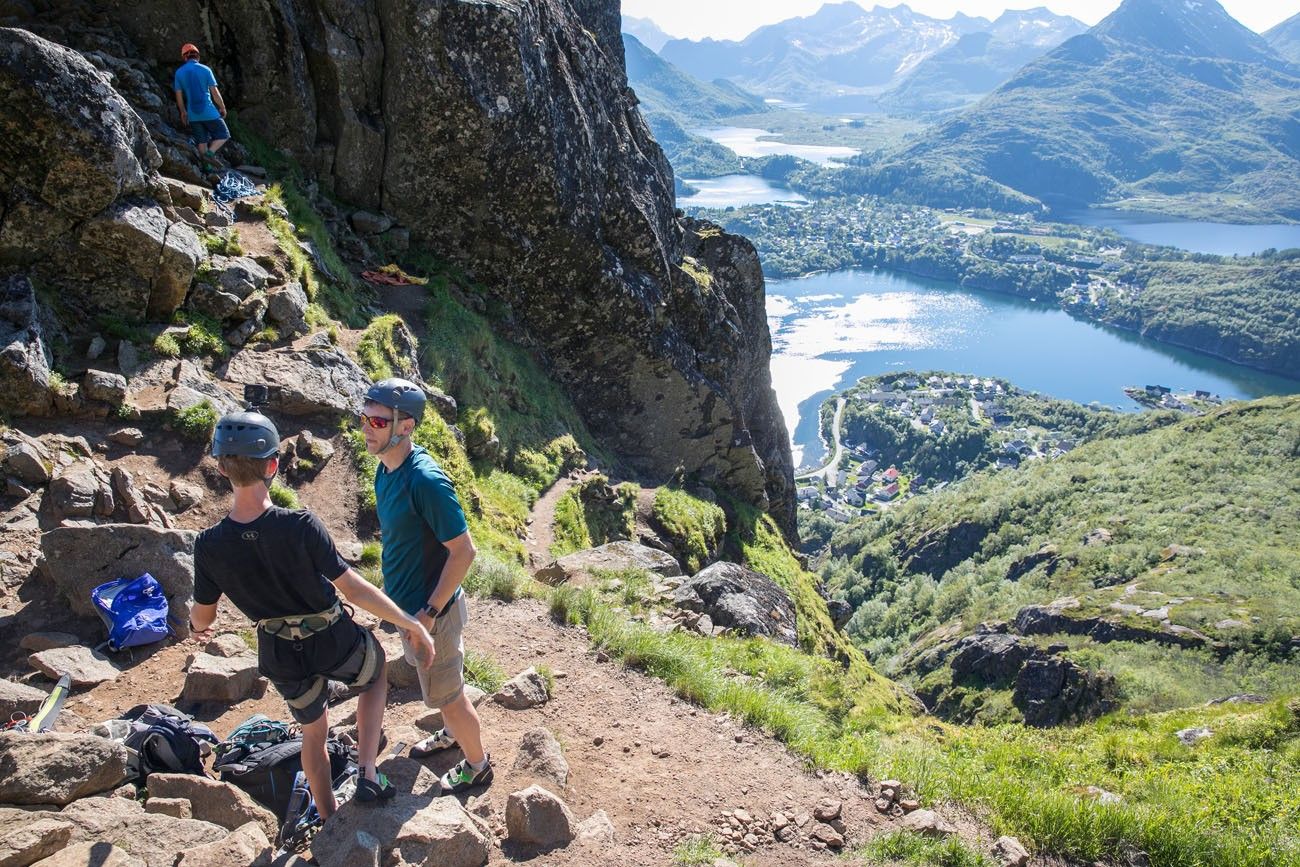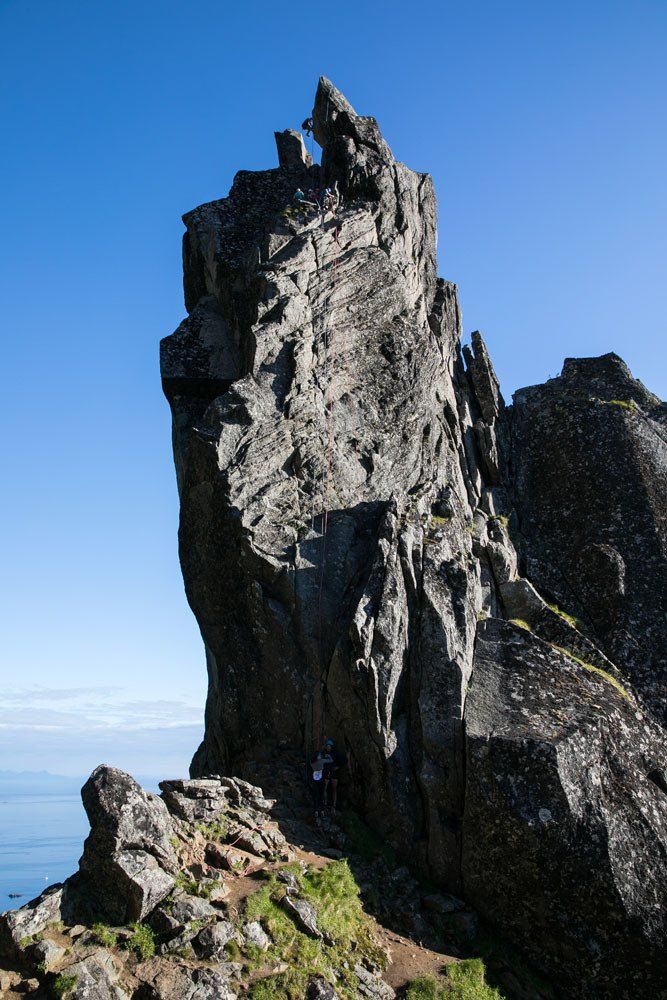 There is only space for 3 to 4 people on the very top of Svolvaergeita, so if there are a bunch of climbers, be prepared to wait your turn. There is also a "flattish" shelf of rock ¾ of the way up the pillar where several people can sit and wait their turn before making the final climb to the peak.
This is a climb that beginners can do. There are plenty of handholds and footholds and the climb is only about 50 meters, so it isn't too long. However, I think it's a huge bonus to have some climbing experience before you do this, even though Northern Alpine Guides advertises that they can take newbies up this rock.
It takes about one hour round trip to climb to the top of Svolvaergeita and rappel back down. It took us longer because of the traffic jam on the day we did this.
Rock Climbing Svolvaergeita
Charlie divided us into groups of two. Tim and Tyler climbed first followed by Kara and me.
Tim and Tyler climbed to what Charlie called the "halfway point," the shelf of rock that serves as a waiting point before the final climb. Kara and I followed up behind, meeting Tim and Tyler here on the shelf. There were also two other climbers and a guide here, so it was really getting crowded.
Then, Tim and Tyler climbed the final portion to the peak and rappelled down from this point. Once they were on solid ground, Kara and I climbed to the top of Svolvaergeita.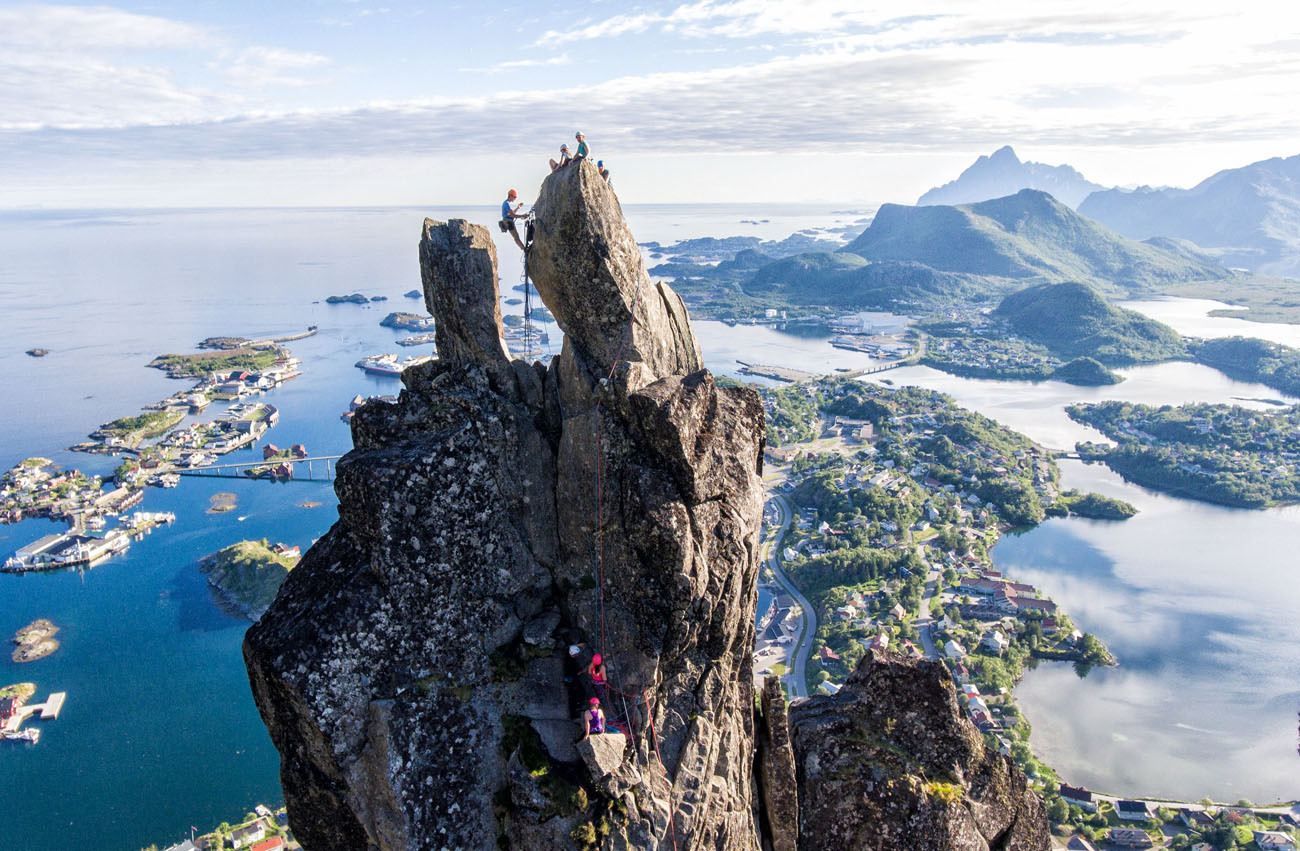 Kara and I are sitting on top of the right horn. Charlie, our guide, is perched between the two horns. Behind me (you can just see his head) is a second guide who is leading another group up Svolvaergeita. If you look lower, you can see several people in the "waiting area."
So, what is it like to climb Svolvaergeita? Challenging, exhilarating, and a tad bit tiring. There is a lot of exposure on this climb, so if you have a fear of heights, you may want to pass on Svolvaergeita.
It is a bit of a tricky climb to get onto the base of the horn. Then, you have to "walk" around the outside of the horn on a very narrow ledge of rock. As you edge around to the other side, you are greeted with awesome views of Svolvaer. It's at this point that you really get an idea of just how high you are, and that can be freaky or exhilarating, depending upon your mindset at this point. Personally, I found this to be a huge thrill.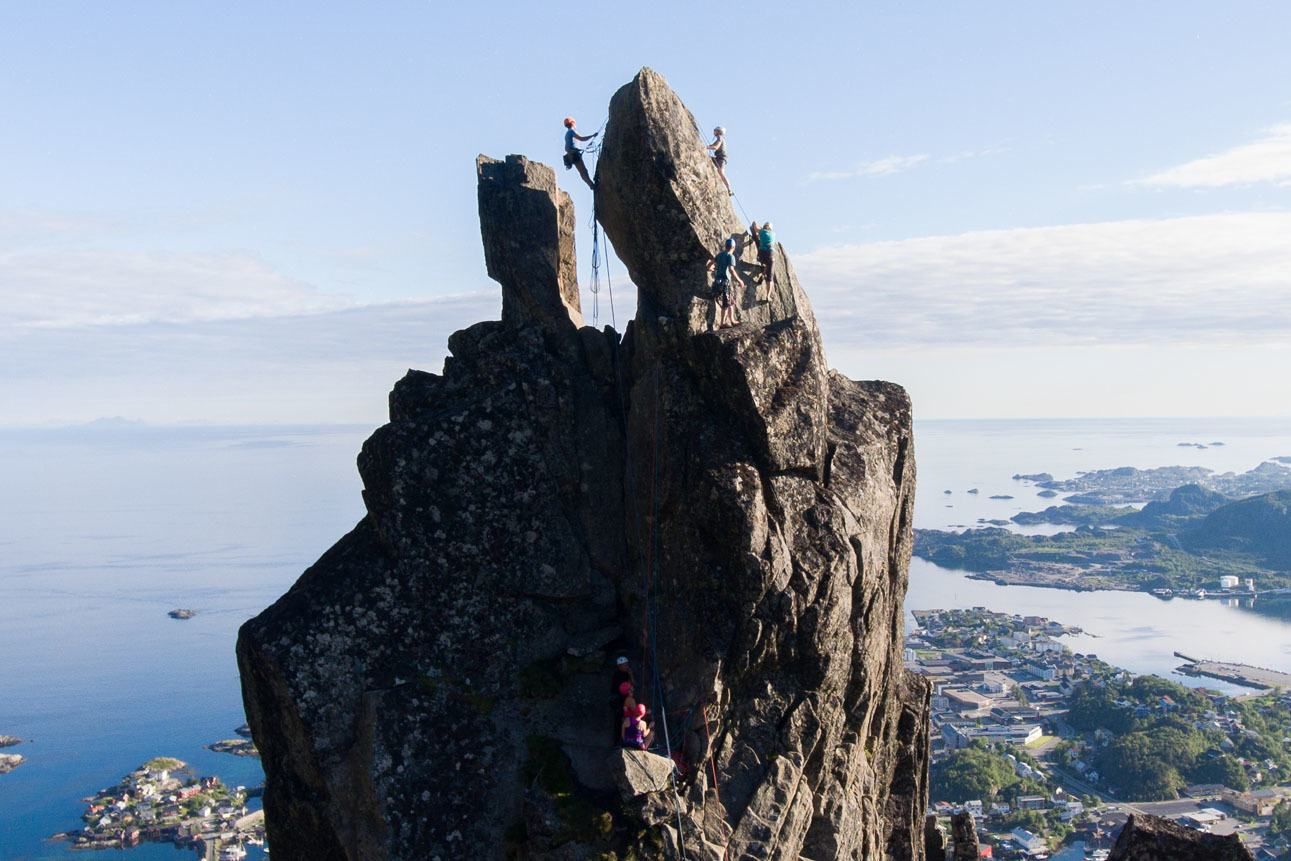 Kara climbing up the horn.
Finally, you climb up on top of the right horn. There are not many places to hold onto, and combined with the elevation, this can be very freaky. Even though I was roped in, at times it felt like I could slide right off of Svolvaergeita.
The view from the top of Svolvaergeita is incredible. What we were now sitting on was a slanted surface about 1 meter wide and 1.5 meters long. It feels crazy! Enjoy the view!!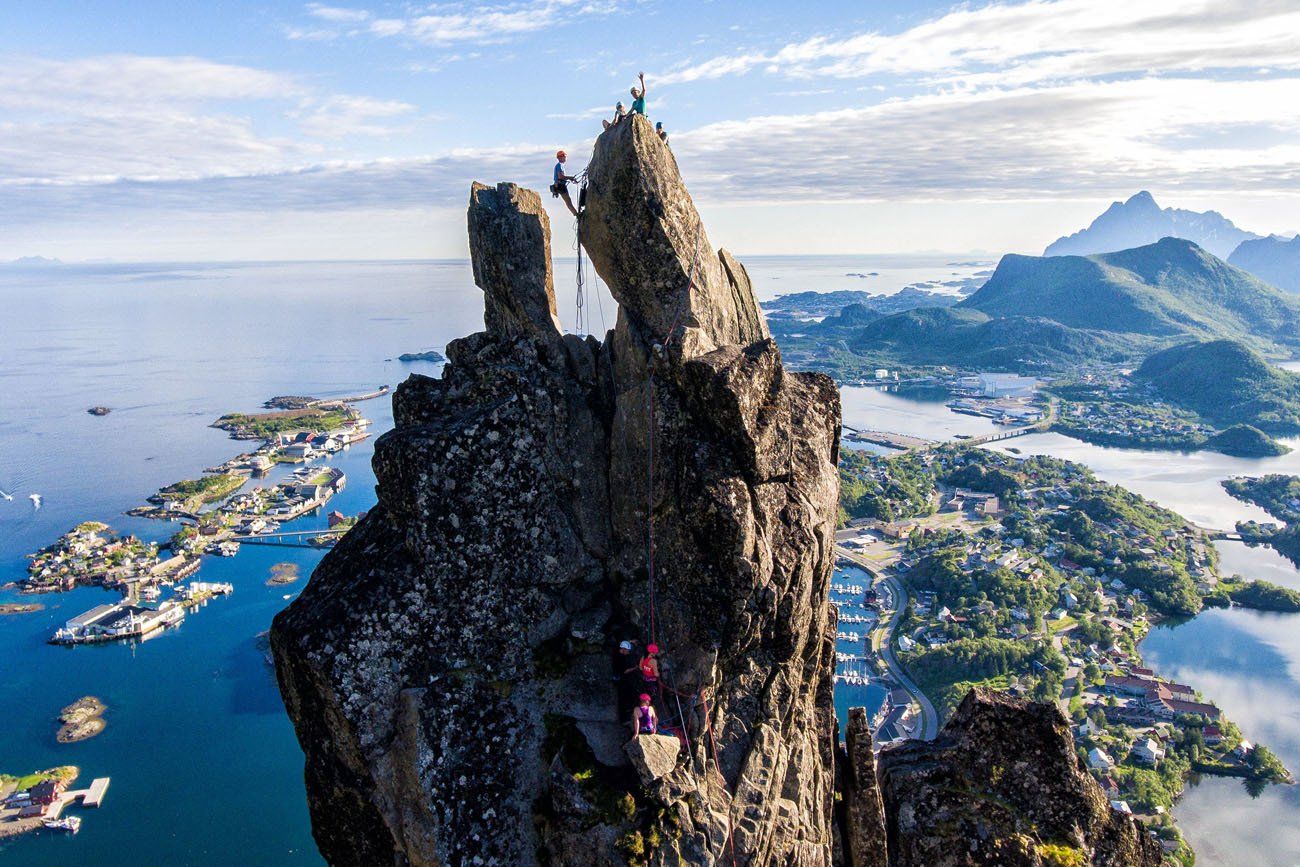 I am waving from the top of Svolvergeita and Kara is sitting beside me.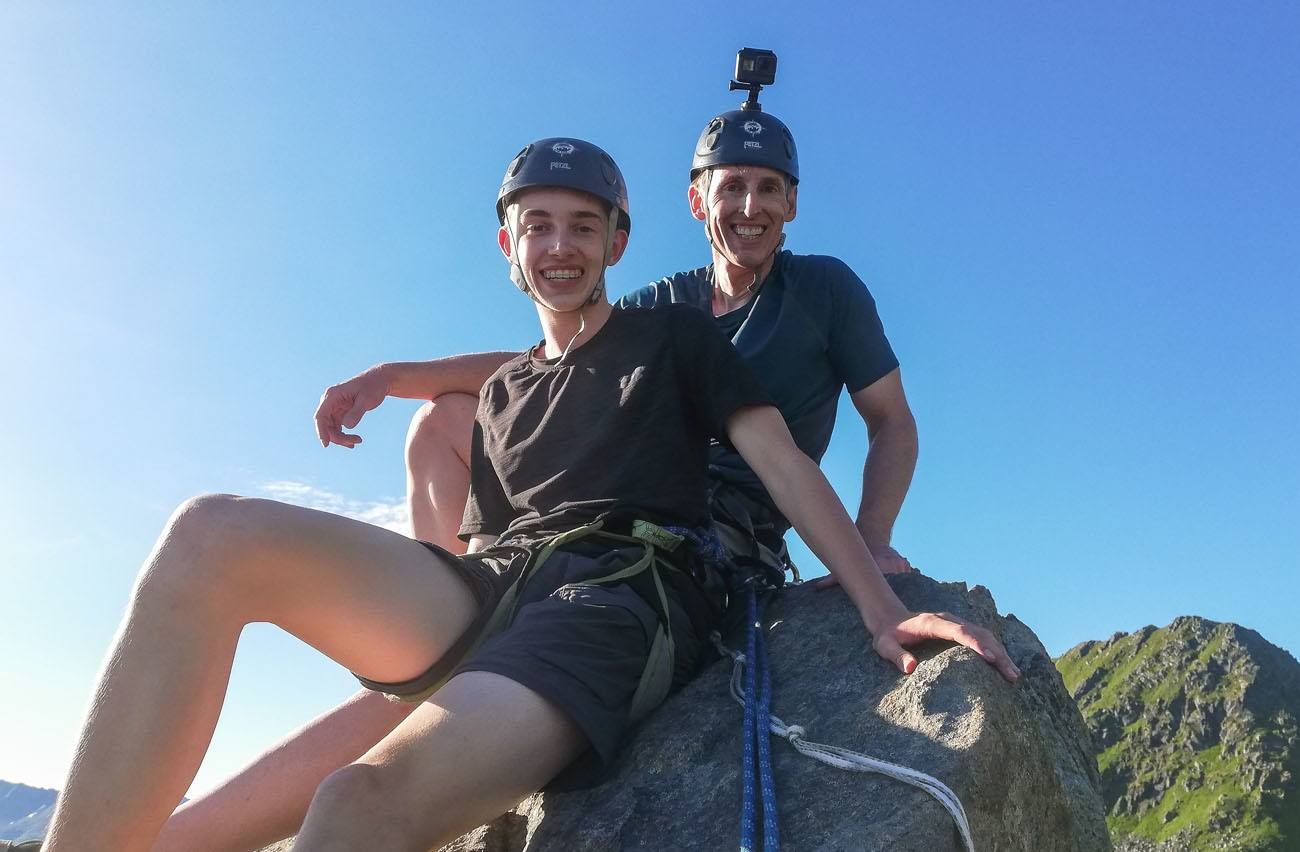 Tim and Tyler on top of Svolvaergeita.
Jumping the Horns
It is a 1.5 meter leap from one horn to the other. It looks easy to do when you are staring at Svolvaergeita in photos. It's quite another thing to get up the nerve to do it when you are sitting on top of The Goat.
It's a dangerous jump. Yes, you are roped in, so if you miss, you will not go plummeting down into the cemetery below. However, if you miss, you will swing right back into the horn you jumped from, slamming yourself into the rock.
We did not take the leap. We did not give Tyler and Kara the option, since they are still kids, and Tim and I did not feel comfortable doing it.
Note: One of our readers wrote in to tell us that Northern Alpine Guides no longer allows climbers to jump the horns due to safety reasons.
Finishing the Climb
The trip up Svolveargeita ends with a final rappel to the base of the pillar. As exciting as it is to climb to the top of Svolvaergeita, it is also a thrill, and a bit of a relief, when your feet hit solid ground.
Since Tim and Tyler hit solid ground first, they were able to fly our drone, capturing some of the coolest photos ever (all of the photos of Kara and I on Svolvaergeita were taken with our drone).
But we weren't done yet. We still had a mountain to hike! After our climb up Svolvaergeita, we hiked to the top of Svolvaer Fløya, another phenomenal hike in the Lofoten Islands. We made it back to our car at 10 pm…good thing the sun never sets during the summer months here!
Here is the view from the top of Svolvaer Fløya, if you are looking to add another adventure to your day.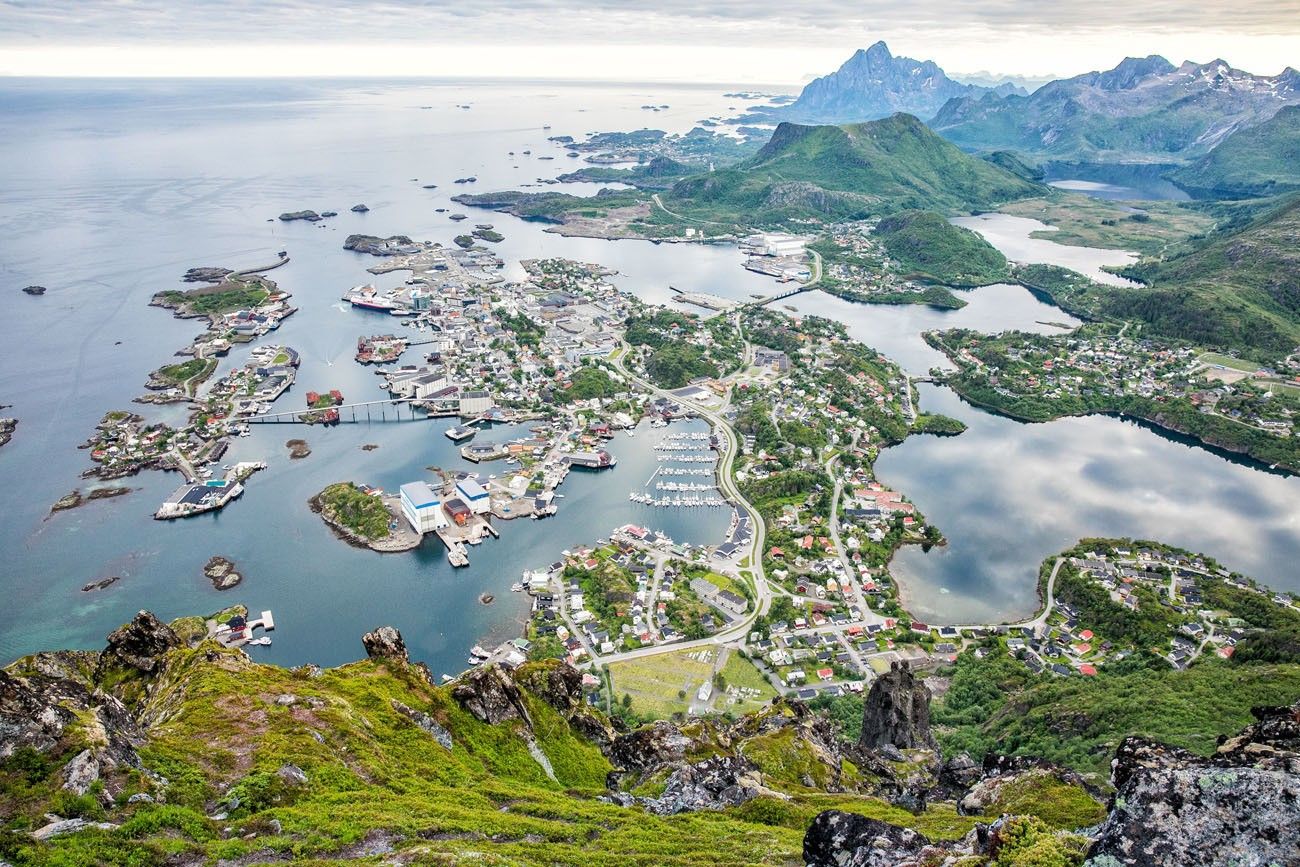 The view from Svolvaer Fløya. Can you find Svolvaergeita in the lower portion of the photo?
Want to see more? Check out our video about climbing Svolvaergeita, which is a mix of Go Pro and drone footage.
Important Things to Know about Svolvaergeita
We used Northern Alpine Guides to climb Svolvaergeita. They were fantastic! Their guides have lots of experience not only in Norway but at rock climbing locations around the world. Included in your fee is use of their equipment, so the only things you need to bring are snacks, water, a backpack to carry the gear, your own transportation, and a good sense of adventure.
Cost: 4000 NOK for one person, 5000 NOK for 2 people, 7000 NOK for 3 people, 9000 NOK for 4 people. If you have more than 4 people in your group, contact them for pricing.
When: June 1 to October 1

Website:

www.alpineguides.no
How Much Experience Do You Need?
Northern Alpine Guides claims that they can take beginner rock climbers up Svolvaergeita. I'd classify us as beginners with experience. We climbed in Krabi, Thailand and Mendoza, Argentina. For us, this climb was the perfect level of "challenging." There are lots of handholds and footholds, so it is easy by rock climbing standards, but there is also a lot of exposure.
If you are brand new to rock climbing, I would not recommend making this your first outdoor climb.
If you are traveling with kids, contact Northern Alpine Guides for their recommendation. Tyler was 15 and Kara was 13 when we did this. Plus, Kara has one year of experience on a rock climbing team in our home town, and she made Svolvaergeita look easy.
Where We Stayed
We stayed at Nyvågar Rorbuhotel in Kabelvåg, a 15 minute drive south of Svolvaer. A rorbuer is a classic fisherman's cottage that has been converted into a hotel room, that usually comes equipped with a kitchen, living room, and private bedroom. We had a two bedroom cabin with the bedrooms on the second floor and the kitchen and living area on the lower floor. While visiting the Lofoten Islands, it's worth staying in a rorbuer at least one time. Nyvågar Rorbuhotel also has an onsite restaurant and breakfast was included during our stay.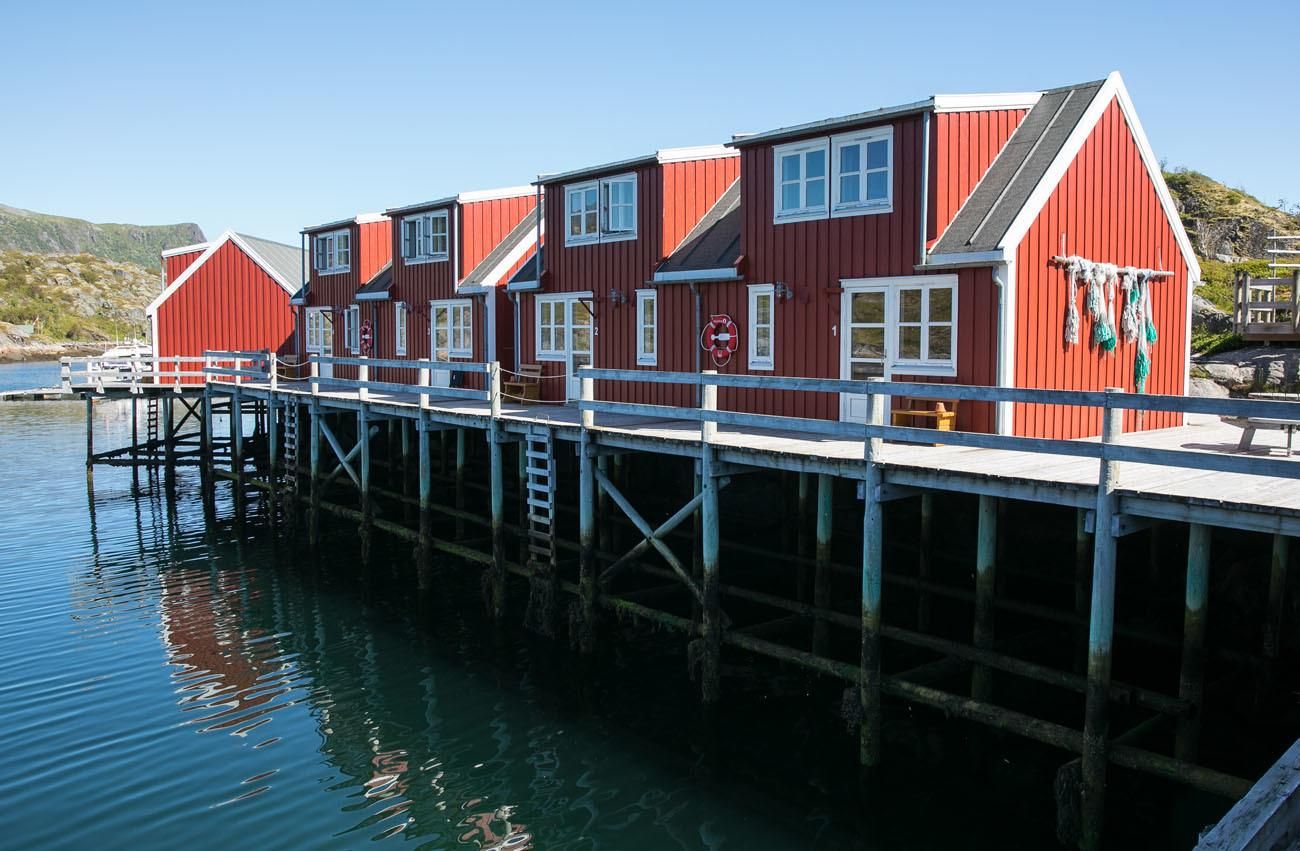 ---
Does this look like something you would like to do? Comment below if you have any questions or would like to offer advice to our readers.
More Information for Your Trip to Norway
ADVENTURES IN NORWAY: Trolltunga and Kjeragbolten are two of the best hikes to do in Norway. For a longer list of hikes to do in Norway, including several spectacular hikes in the Lofoten Islands, read our Norway Hiking Guide. Traveling to Svalbard in the arctic circle is an adventure in itself, but you can also go glacier kayaking or hike to one of the tallest peaks on Spitsbergen.
BEST OF THE LOFOTEN ISLANDS: For an overview of the best things to do, read our Lofoten Islands Top Ten List. Great hikes in the Lofoten Islands include Ryten, Reinebringen, Festvagtind, and Svolvaer Floya. For a big adventure, climb Svolvaergeita for one of the most unique experiences in the Lofoten Islands.
NORTHERN NORWAY ITINERARY: On this 10 day Norway itinerary, road trip through Senja and the Vesteralen Islands, two beautiful off the beaten path destinations, and visit the Lofoten Islands.
NORWAY TRAVEL INSPIRATION: Norway is one of the most beautiful countries we have visited. Don't miss our article Northern Norway in Photos to see some gorgeous shots of Norway. For a list of the best places to visit in Norway, check out our Norway Bucket List.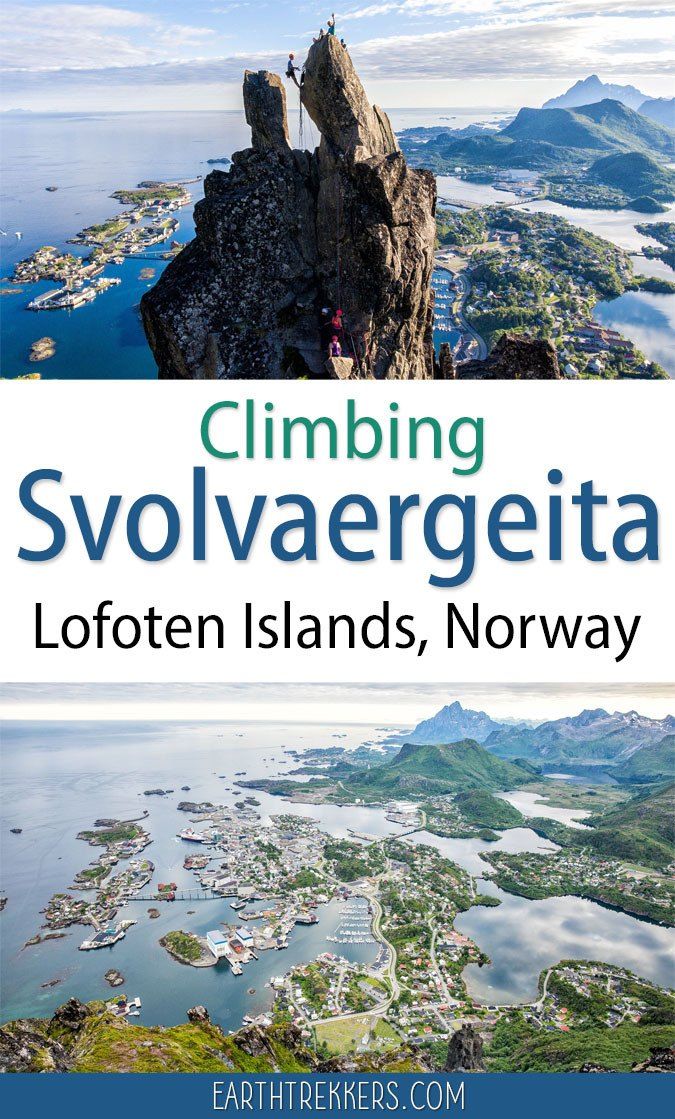 Note: This post contains affiliate links. When you make a purchase using one of these affiliate links, we get paid a small commission at no extra cost to you.
All rights reserved © Earth Trekkers. Republishing this article and/or any of its contents (text, photography, etc.), in whole or in part, is strictly prohibited.