Without a doubt, northern Norway is one of the most spectacular places we have been. With rugged coastlines, small harbors filled with picture-perfect red fishing cabins, winding roads through the mountains, and beaches that look like they belong in the Caribbean, northern Norway is a delight to explore.
We spent just over one week road tripping through northern Norway. Our journey started in Tromsø. From Tromsø, we drove south through Senja and the Vesteralen Islands, ending in the Lofoten Islands. Yes, the Lofoten Islands are gorgeous (as you will soon see), but the less popular Vesteralen Islands and Senja are just as beautiful.
So, in no particular order, here are some of our best photos of northern Norway. We hope they inspire you to visit this gorgeous place and explore the less popular but just as beautiful Vesteralen Islands and Senja.
Northern Norway in Photos
This was our introduction to northern Norway…overlooking Tromsø from Fløya.
Tyler, overlooking the island of Senja during our hike up Segla.
Red fishing cabins, also called rorbuers, in the Lofoten Islands.
Just your typical view while driving through the Lofoten Islands. Nice place for a road trip, don't you think?
Just down the road from Svolvaer in the Lofoten Islands we found this pretty little lake with a very nice view.
Tim's view from Reinebringen, one of the most popular hikes to do in the Lofoten Islands.
This is Høyvika Beach on the Vesteralen Islands (seen from Måtind).
Here is another view of Høyvika Beach, the coastline, and Kara, taken from the top of Måtind.
The beaches here are gorgeous!! This is Uttakleiv Beach in the Lofoten Islands.
And this is Ramberg, also on the Lofoten Islands.
Finally, this is the view of Kvalvika Beach, seen from Ryten in the Lofoten Islands.
I love the red fishing cottages. This was taken from the ferry stop in Brensholmen, on the way to Senja.
If you like hiking, put northern Norway on your list! There is no better way to explore Norway than putting one foot in front of the other on a hiking trail. This photo was taken on the island of Senja on the hike to Segla.
When you hike in Norway, you can stand in all kinds of crazy places, like Tim on the top of Segla.
Or Tim on the hike to Ryten.
Or me from the top of Måtind.
We also took the opportunity to rock climb Svolvaergeita, one of the coolest things we have done in Norway. Kara and I are sitting on top of the rock and Tyler captured this photo with our drone.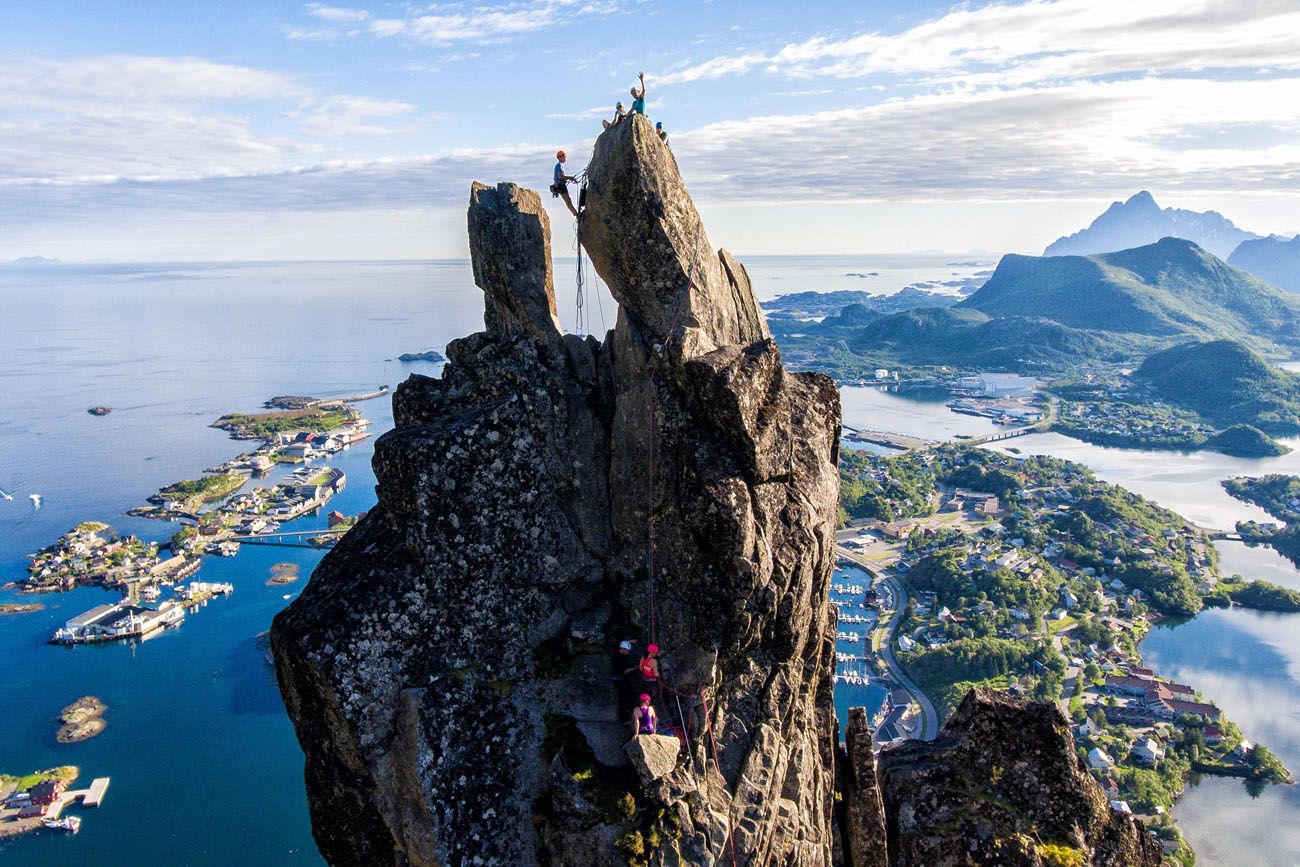 Here is a view of the Fredvang Bridges in the Lofoten Island, taken by drone.
And here is a view of Segla, also taken by drone.
This is a view of Sommarøy, an off-the-beaten-path destination just a short drive from Tromsø. The hike to the top of Ørnfløya is short and sweet and this view is your reward.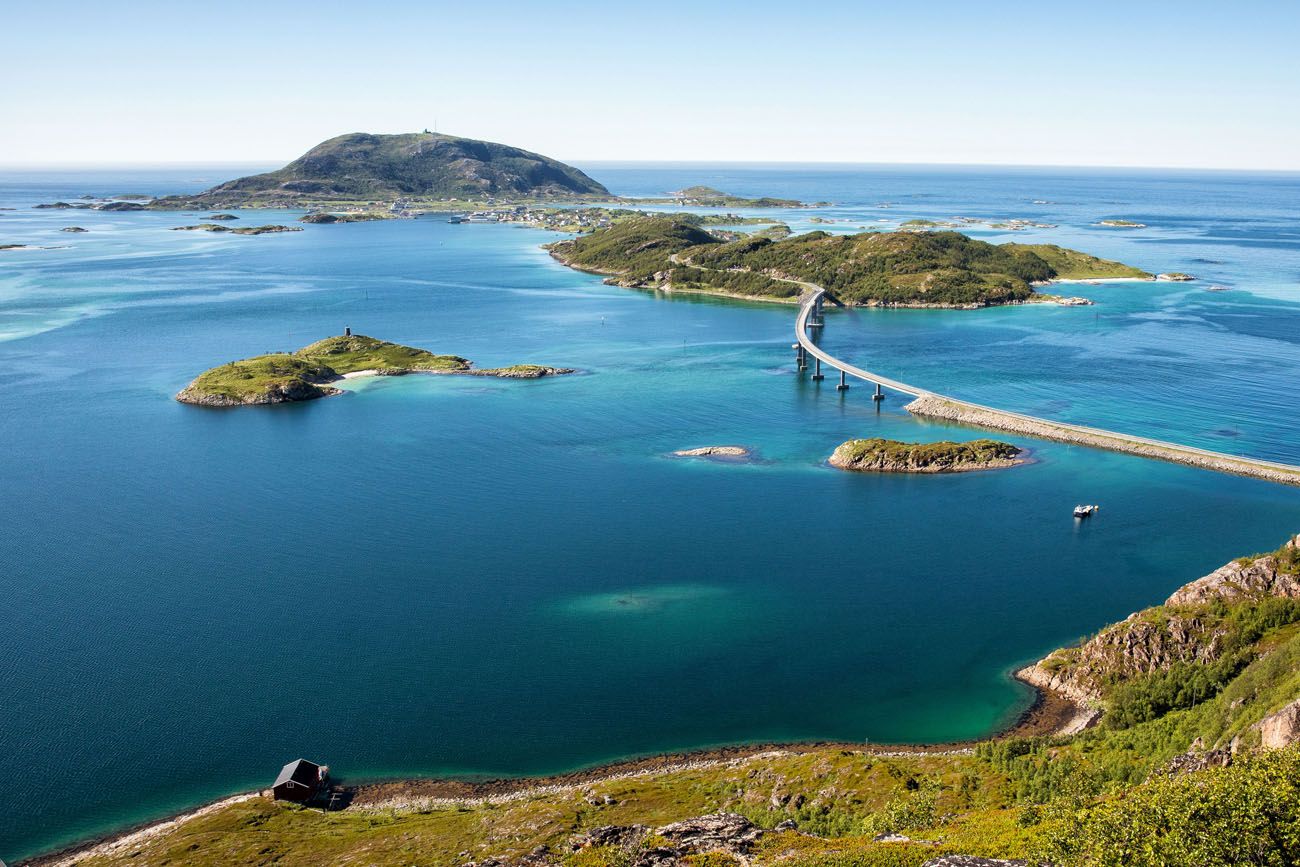 In Svolvaer, you can also hike to a viewpoint for the best view over the city. In the summertime, the sun never sets, so you can hike all night long if you wish. This photo was taken at 9:00 pm!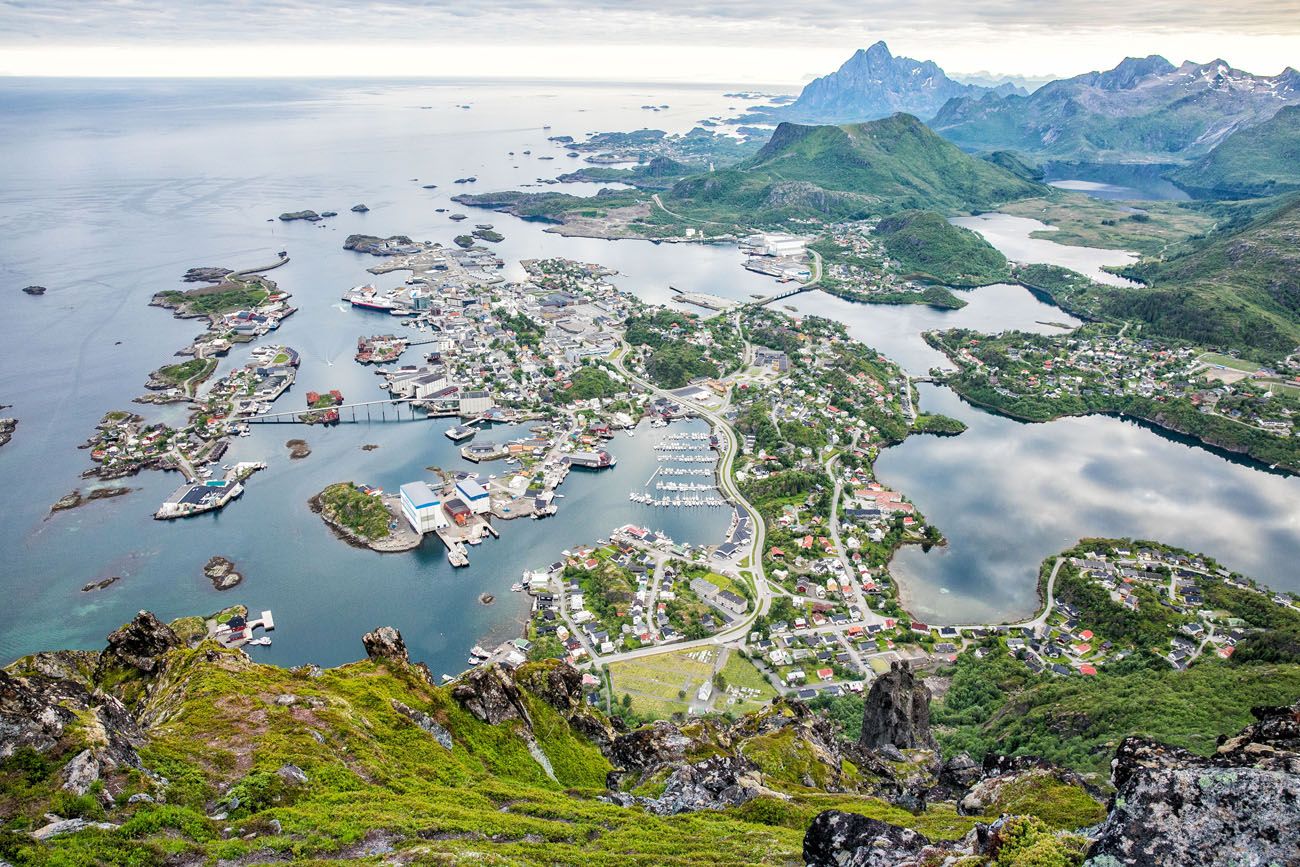 In Norway, towns are clustered on the shore of the fjords, like Fjordgard on Senja.
More fishing cottages in Reine.
The view over the Lofoten Islands from Ryten.
And finally, one last view…another spectacular beach while driving through the Lofoten Islands.
---
Are you ready to start planning your trip to northern Norway? Read next:
10 Day Lofoten Islands and Northern Norway Itinerary
Lofoten Islands Itinerary: Complete Guide for First Time Visitors
Check out our road trip through southern Norway. Visit Oslo, Bergen, Stavanger, Geirangerfjord and hike to Trolltunga, Pulpit Rock, and Kjeragbolten.
10 Days in Norway: The Ultimate Road Trip through the Fjord Region
Finally, learn how to combine the Lofoten Islands and southern Norway into a 10 day holiday.
10 Days in Norway: The Fjords and the Lofoten Islands
---
Did we inspire you? Comment below if you have any questions about visiting northern (or southern) Norway!
You Might Also Like:
All rights reserved © Earth Trekkers. Republishing this article and/or any of its contents (text, photography, etc.), in whole or in part, is strictly prohibited.