Reinebringen, with its dazzling view over the fishing villages of Reine, Sakrisøy, and Hamnøy, is the most popular hike in the Lofoten Islands.
It's a hard, steep, challenging hike on muddy, rocky trails, so it's not to be underestimated. Don't let the short distance fool you…it's a tough hike and you need to have a good level of physical fitness to do this.
Facts About the Hike
Distance: 3 km (2 miles) round trip
Elevation Gain: 510 meters (1677 feet)
Difficulty: Strenuous
Length of Time: 3 hours
These statistics include hiking to both viewpoints on Reinebringen, which accounts for the longer distance than you may read on other blogs.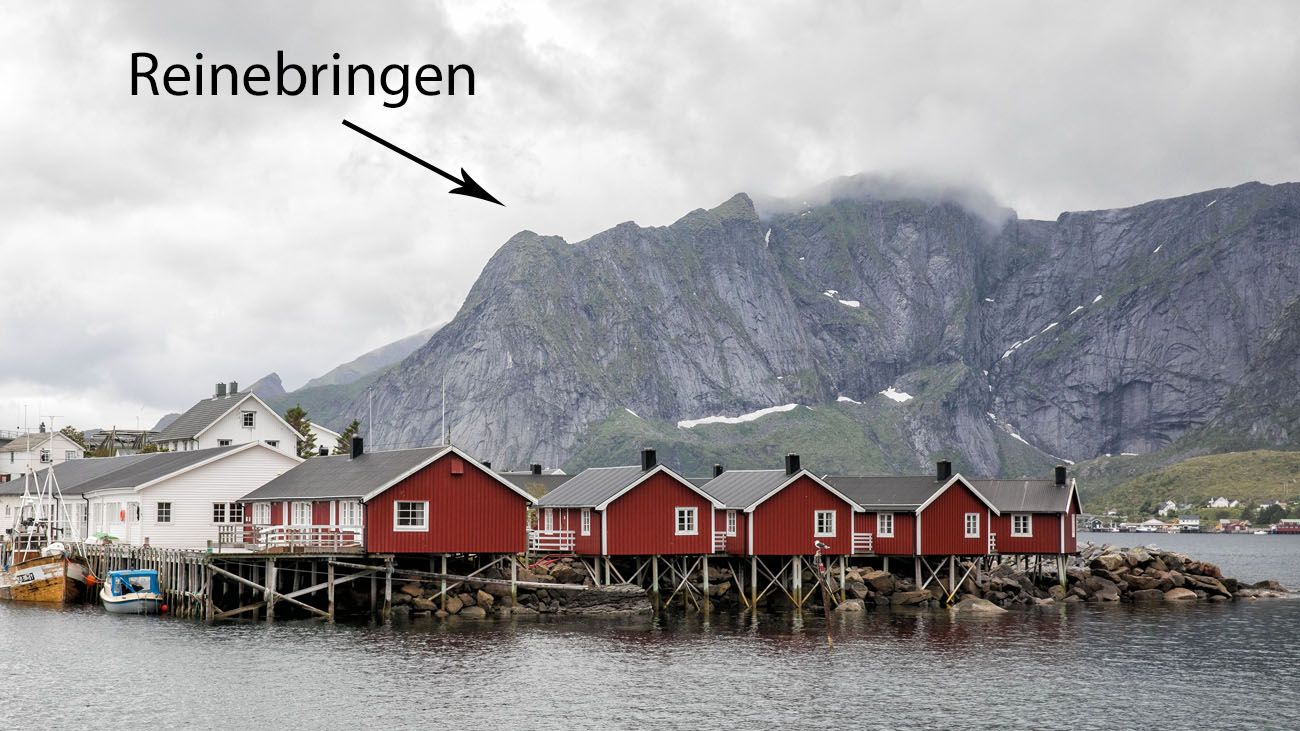 Should You Hike Reinebringen?
Before we get into how to hike Reinebringen, we have to ask the question, should you hike Reinebringen?
Instagram and Facebook have made this a very popular hike. The view from the top of Reinebringen truly is spectacular. When I first saw this view several years ago, the Lofoten Islands got bumped up to the top of my travel wish list. This is just another example of how social media is influencing where people choose to travel.
However, the high traffic on Reinebringen is seriously damaging the trail. Trail erosion and rock falls are becoming a common occurrence, sometimes injuring other hikers on the trail.
In 2016, a portion of the trail was replaced with stone steps, in order to make the trail safer for everyone. Since 2016, the trail can occasionally close for renovation work.
More work is planned for 2019. The trail will be closed for 6 weeks starting June 1. Before you go, check the Reinebringen Facebook page for updates.
The second half of the trail, which is the top, steep section, is still very dangerous to hike. The trail at the top is very eroded, with loose rock and stones. If these are knocked loose by a hiker above you, they could hit you, causing an injury. Or you could knock them loose, injuring a hiker lower on the trail. If you choose to hike Reinebringen, you do this at your own risk.
Knowing all of this, we still chose to hike Reinebringen. Like many visitors to the Lofoten Islands, we dreamed of having that awesome view over Reine. I'm glad we did it, but this was not our favorite hike in the Lofoten Islands.
So, if you absolutely must have this view, then hike Reinebringen. However, if you are looking for a hike that is more enjoyable and still gives you breathtaking views of the Lofoten Islands, take a look at our recommendations at the end of this post.
How to Hike to Reinebringen
Where to Park
There are three parking areas near the trailhead. There are two parking areas on E10 located near the turn off into Reine (see the map below).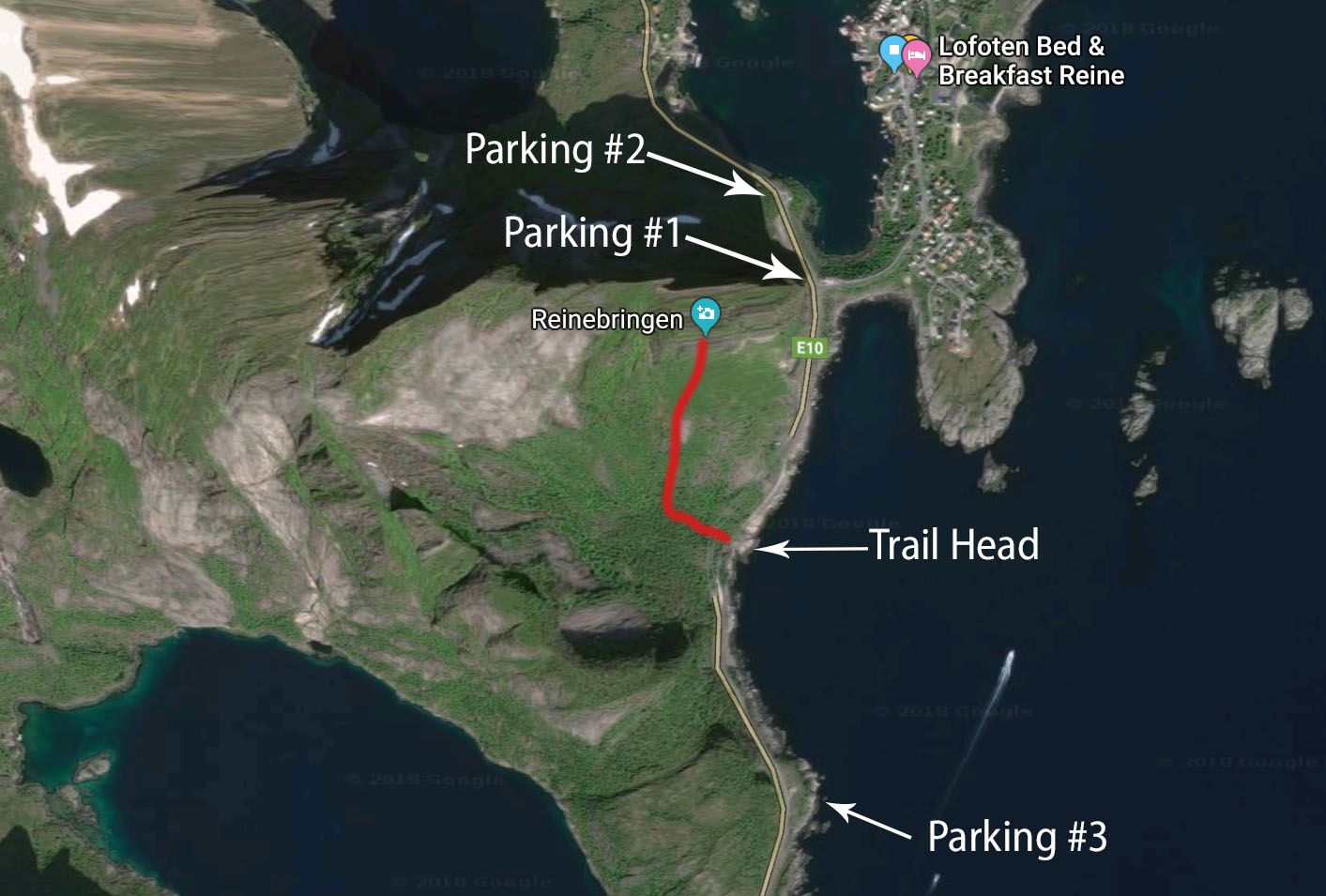 Parking lot #1 is the most popular lot and it can hold about 10 to 15 cars. We parked at the smaller lot, lot #2, since all of the spaces were taken on lot #1. Parking lot #2 is also used as a scenic viewpoint for Reine. It's not unusual for cars and buses to temporarily pull in here so people can take a photo. This happened when we were ready to leave. A giant tour bus blocked everyone in while all of its tourists popped out to take a photo.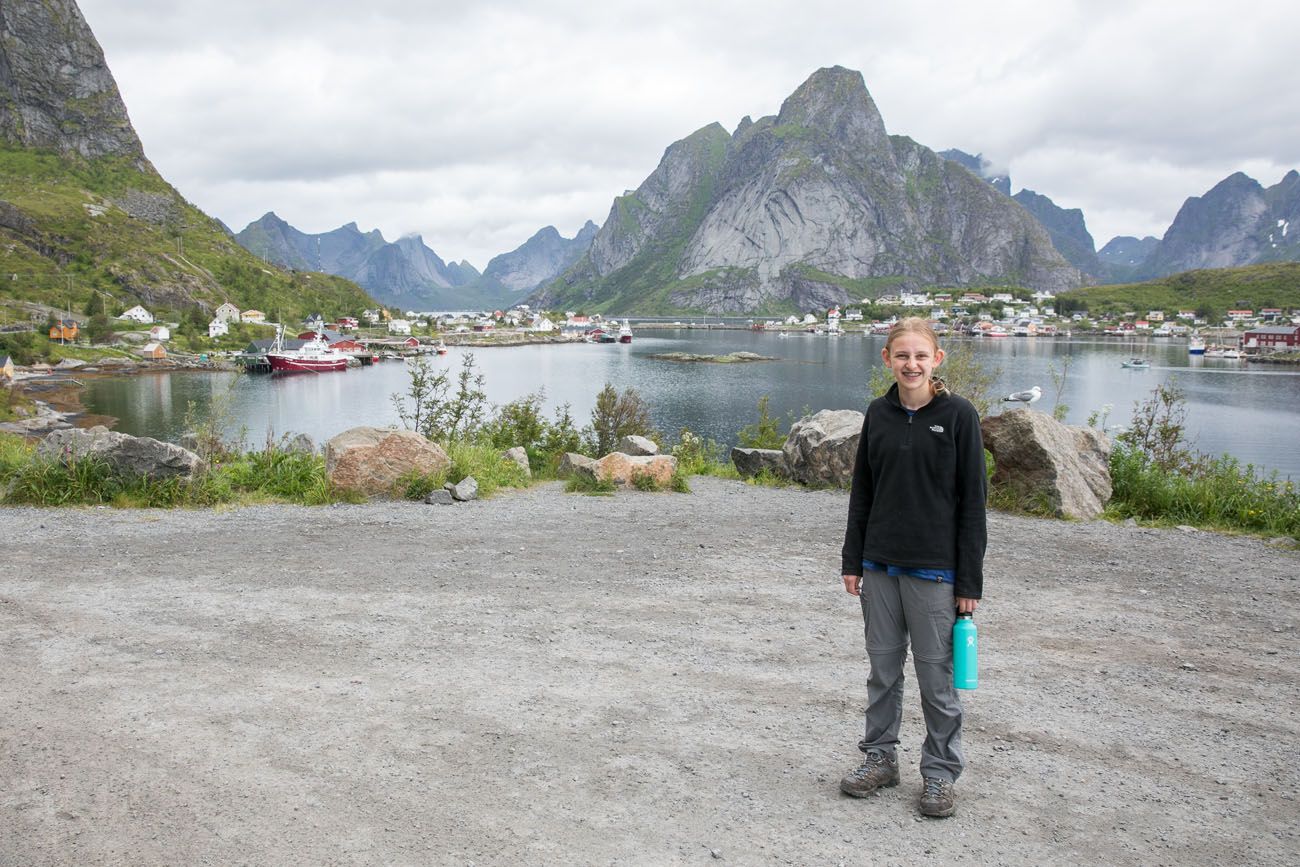 Kara, standing in parking lot #2, early in the morning.
From lots #1 and #2, follow the dirt trail south along E10 to the trailhead. Do not walk into the tunnel (Ramsvikstunnelen)!
Parking lot #3 is located on E10 south of the trailhead. From here, walk north along the side of the road until you get to the trailhead.
The Trailhead
From the parking lot, it is roughly a 500 meter walk to the trailhead. Look for the white arrows painted on the ground that point to a narrow trail in a forest.
Hiking Reinebringen
It's only about 1 km to hike up to the viewpoint. It's easiest to think about the hike in three sections.
The first third of the hike is on muddy, slippery trails (even if it hasn't rained in a while). The trail climbs through a forest and at times you will have to scramble across large, giant boulders. The climb is slightly steep but the most challenging part, at least for us, was dodging the mud puddles without leaving the trail.
The trail emerges on a long staircase made of huge stone steps. This is the "sherpa trail," the new section that was added in 2016. It's a steady, thigh-burning climb, but it's a nice break from the muddy trails in the trees.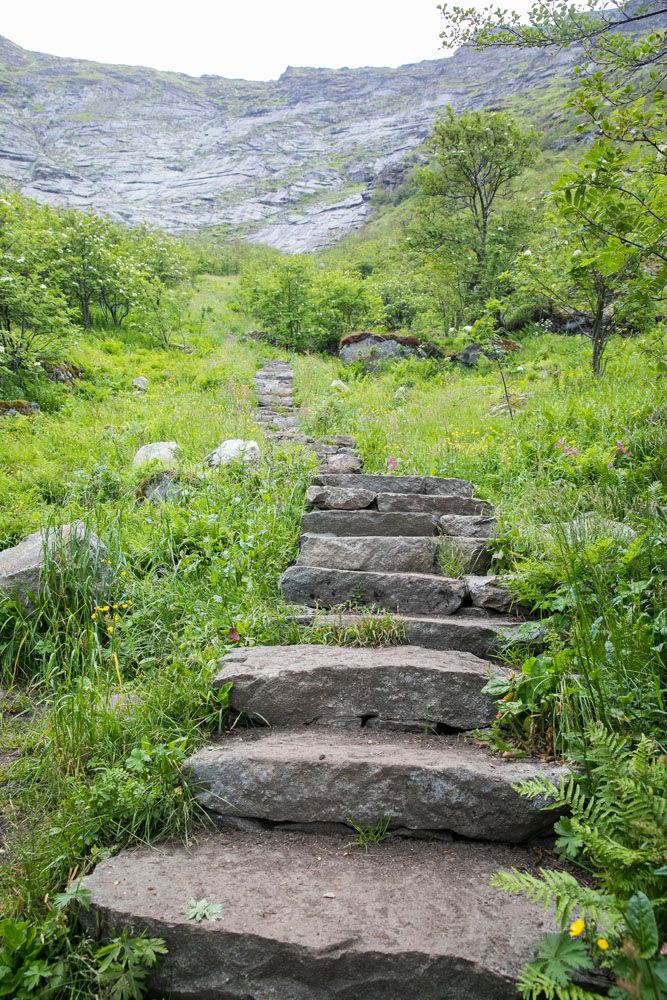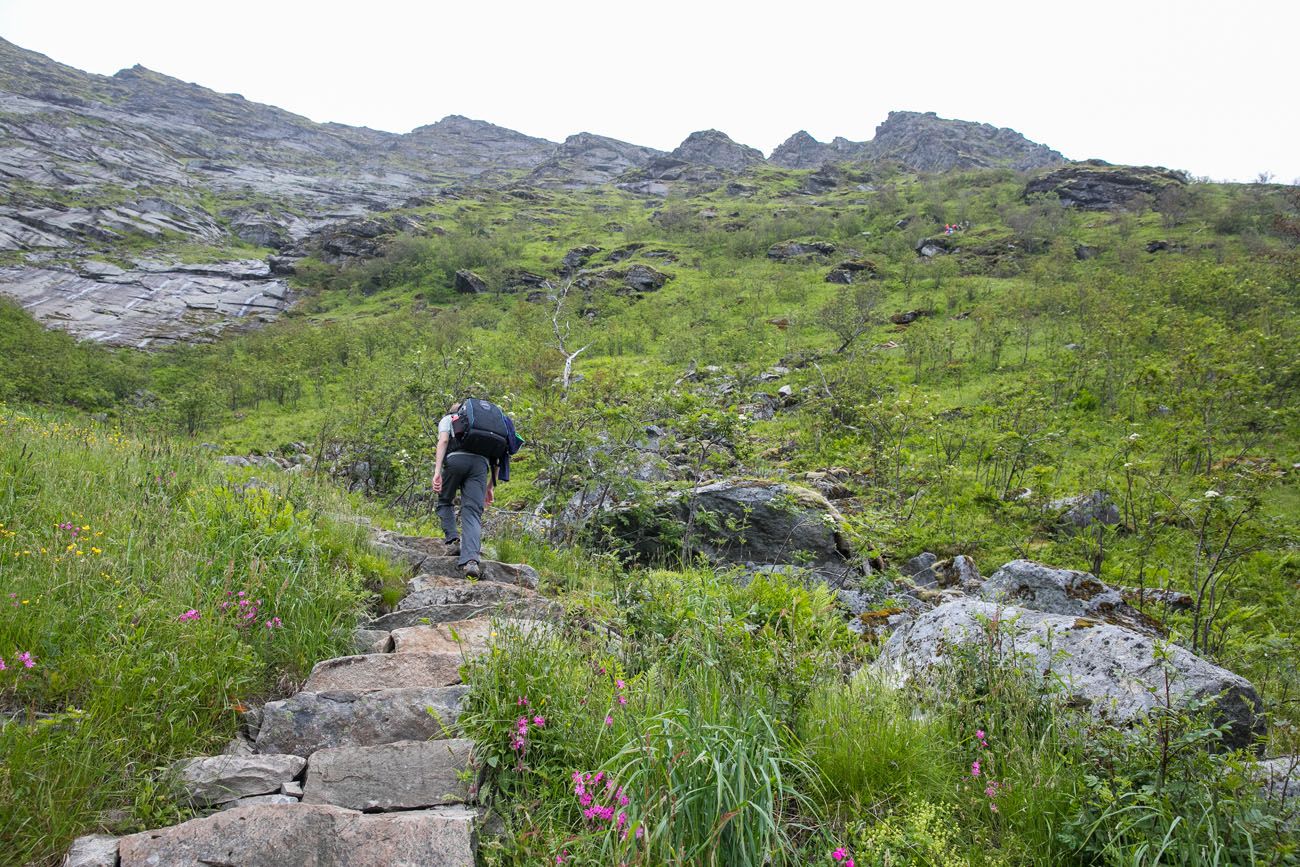 At the top of the steps, the final, steep, challenging hike to the top of Reinebringen awaits you. This is the most challenging part of the hike.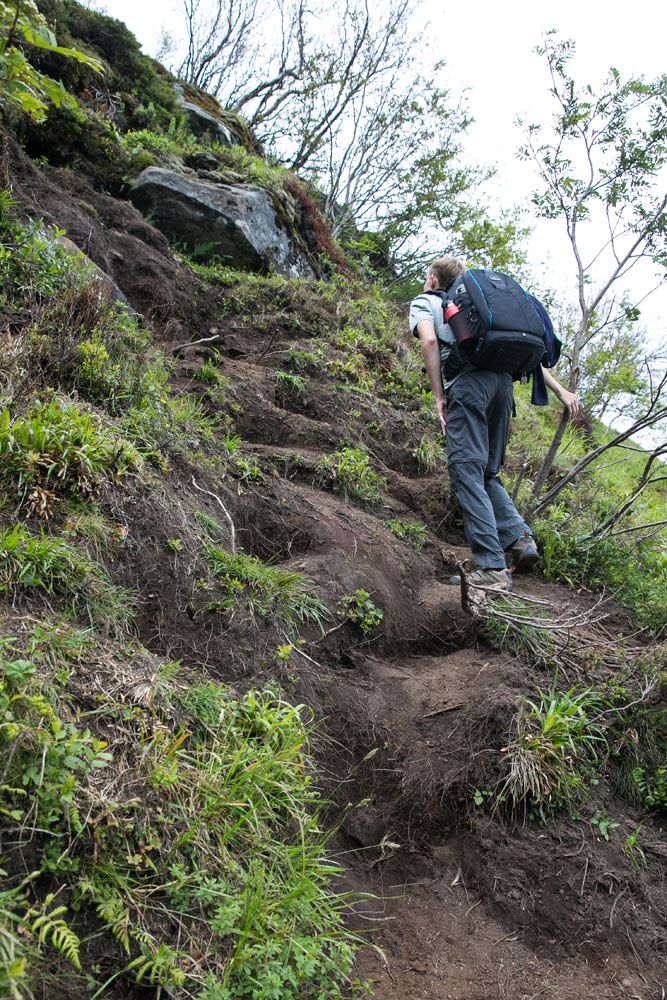 The trail is steep and slippery. At times, you may be climbing up on all fours. Take your time here, to stay safe and to avoid kicking loose stones onto the hikers below you. If you knock a rock loose, warn others below by yelling "Rock!"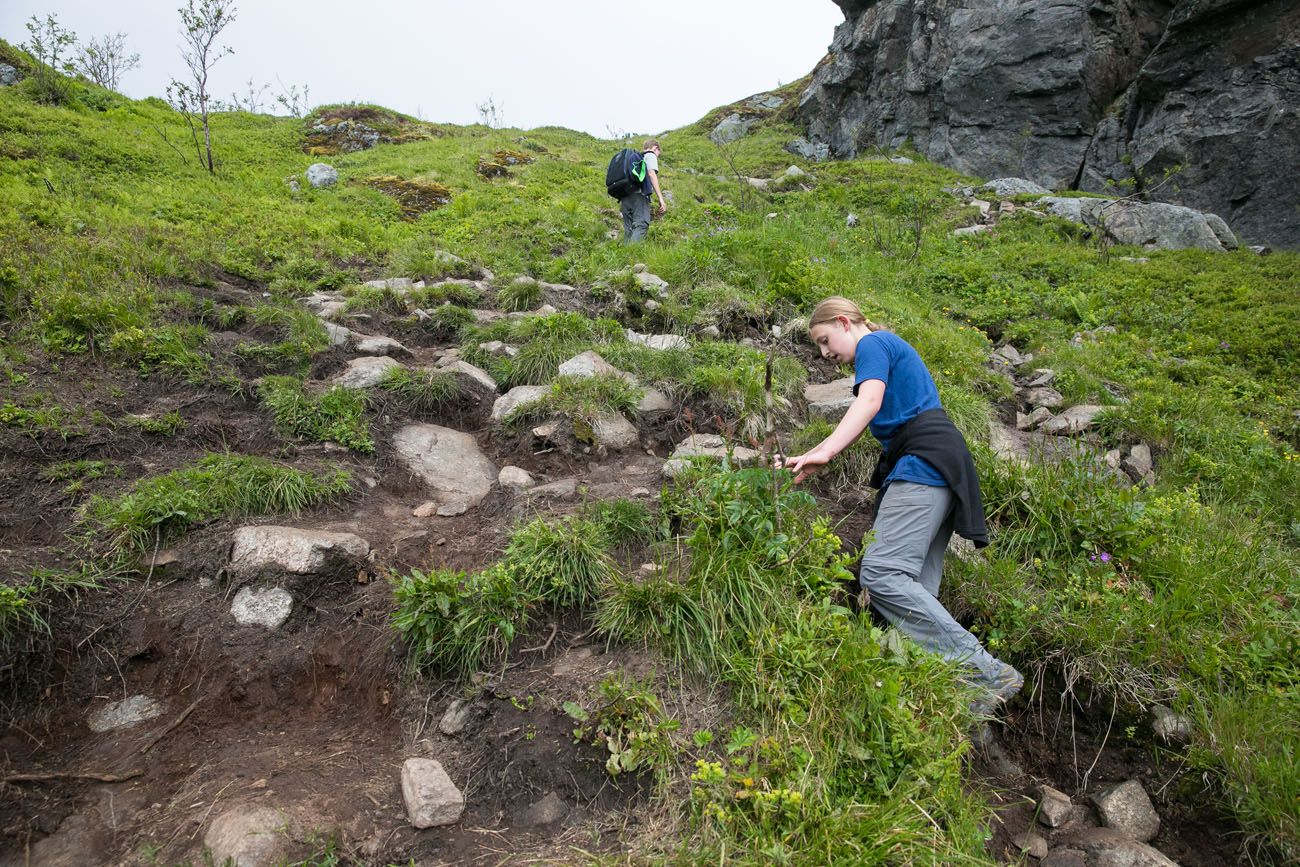 Just before reaching the summit, the trail forks. You can choose to turn right or left here.
If you go right, you hike up to the lower viewpoint with a rock cairn marking the summit. This is the direction we went and most of our photos are taken from this point.
Sprawling out in front of you are the tiny islands of Reine, Hamnøy, and Sakrisøy, with a backdrop of tall, rocky mountains.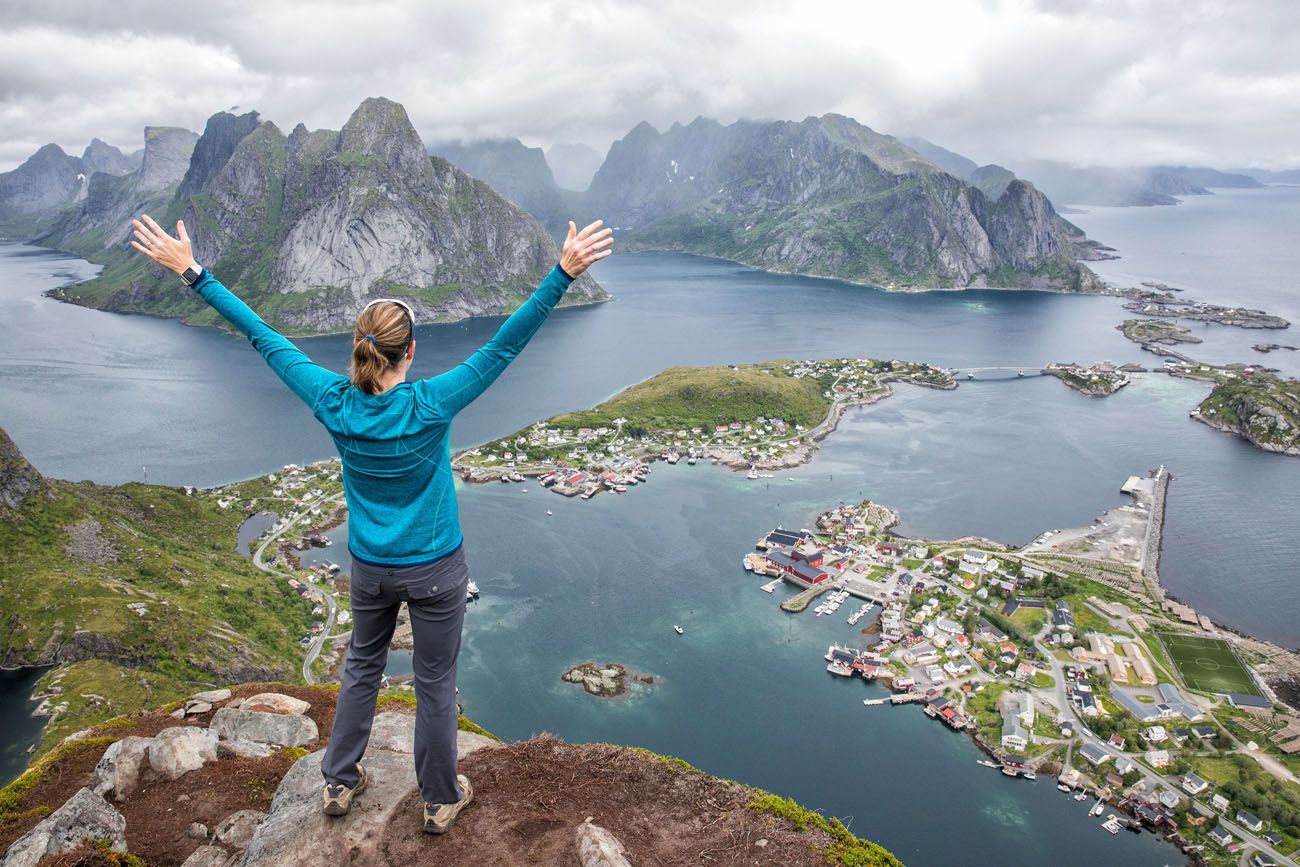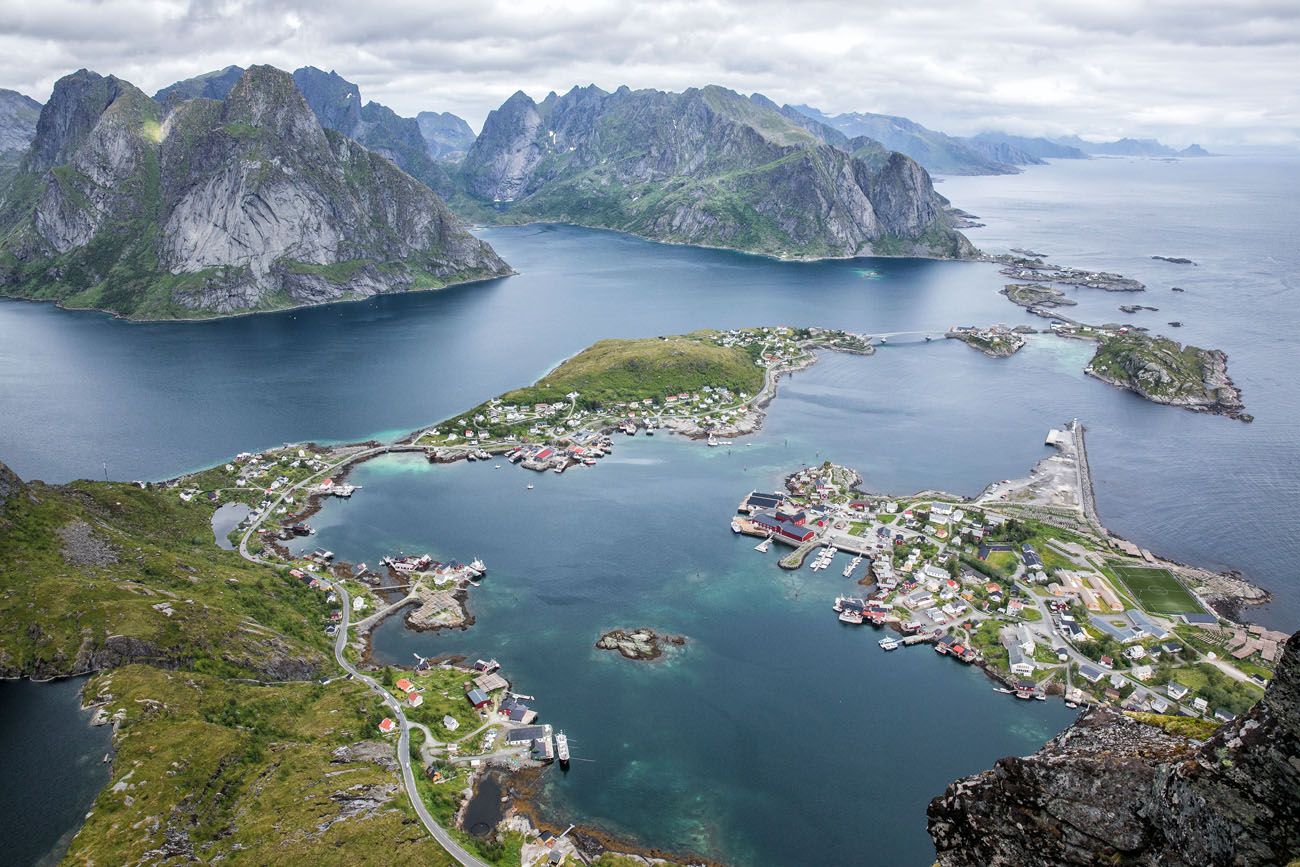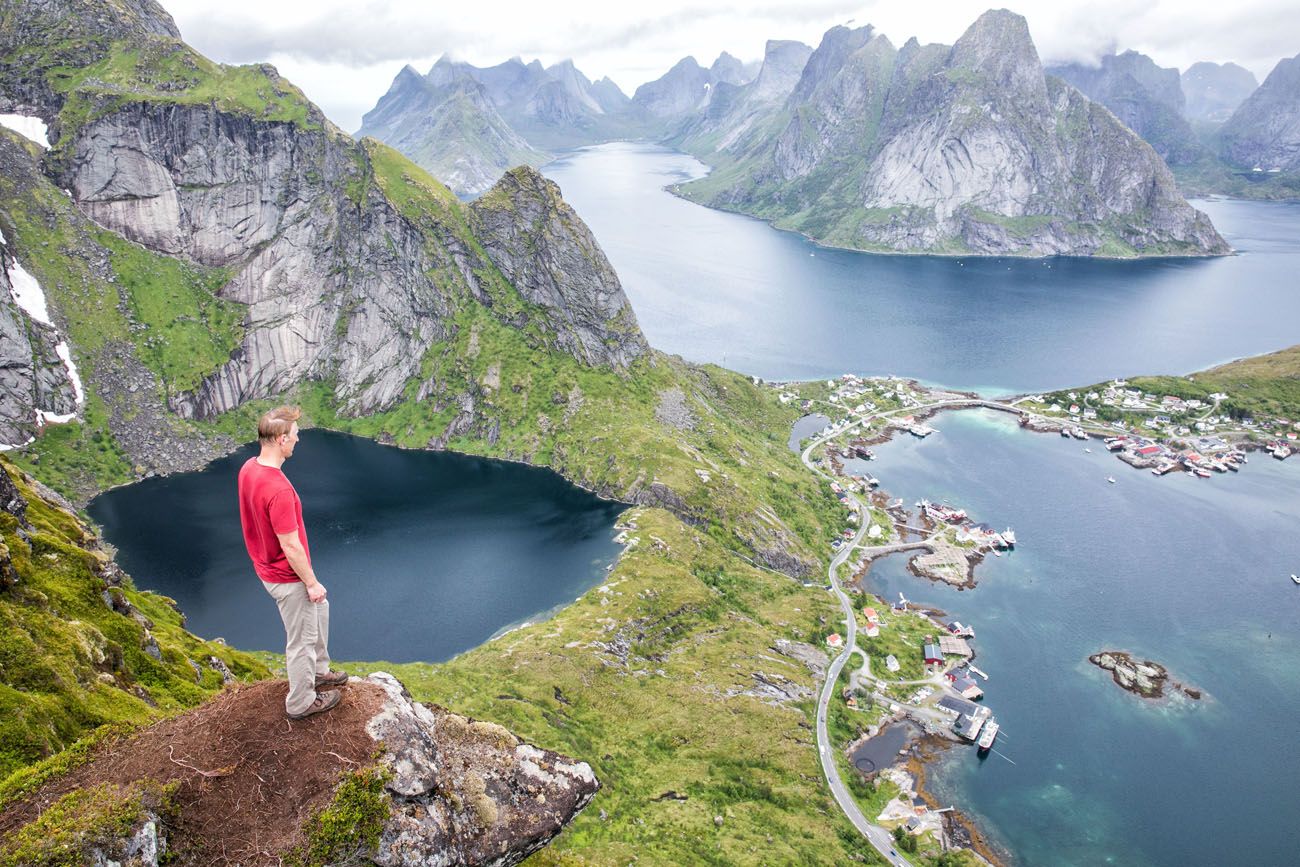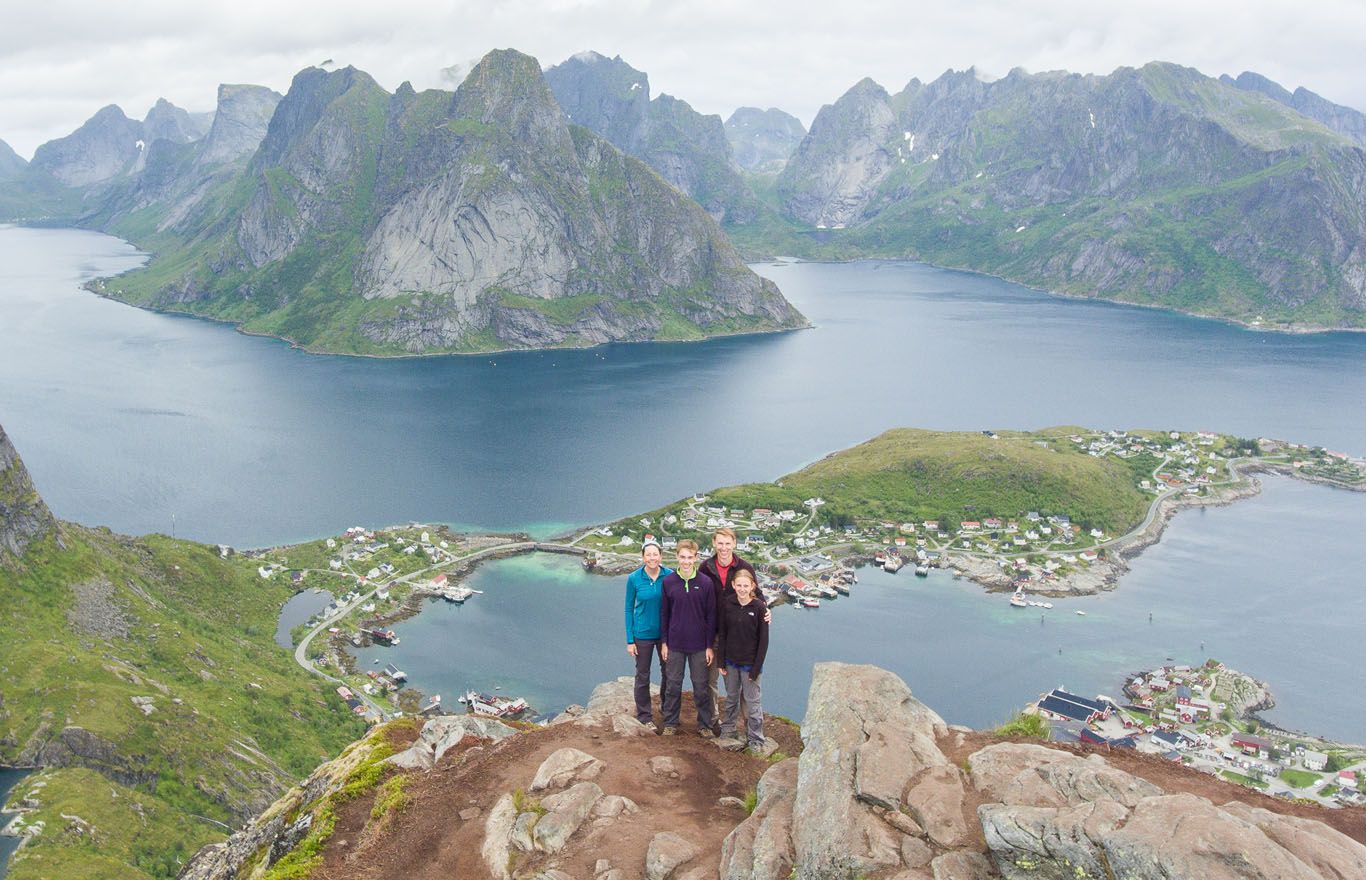 Panorama that Tim took with his iPhone
If you want to hike up to the higher section to the left, you will have to hike back down a short distance to where the trail forks. The hike up the left side is easier, less steep, and less slippery, but it is a longer distance. The view is not that different but it may be worth it if you want the full experience.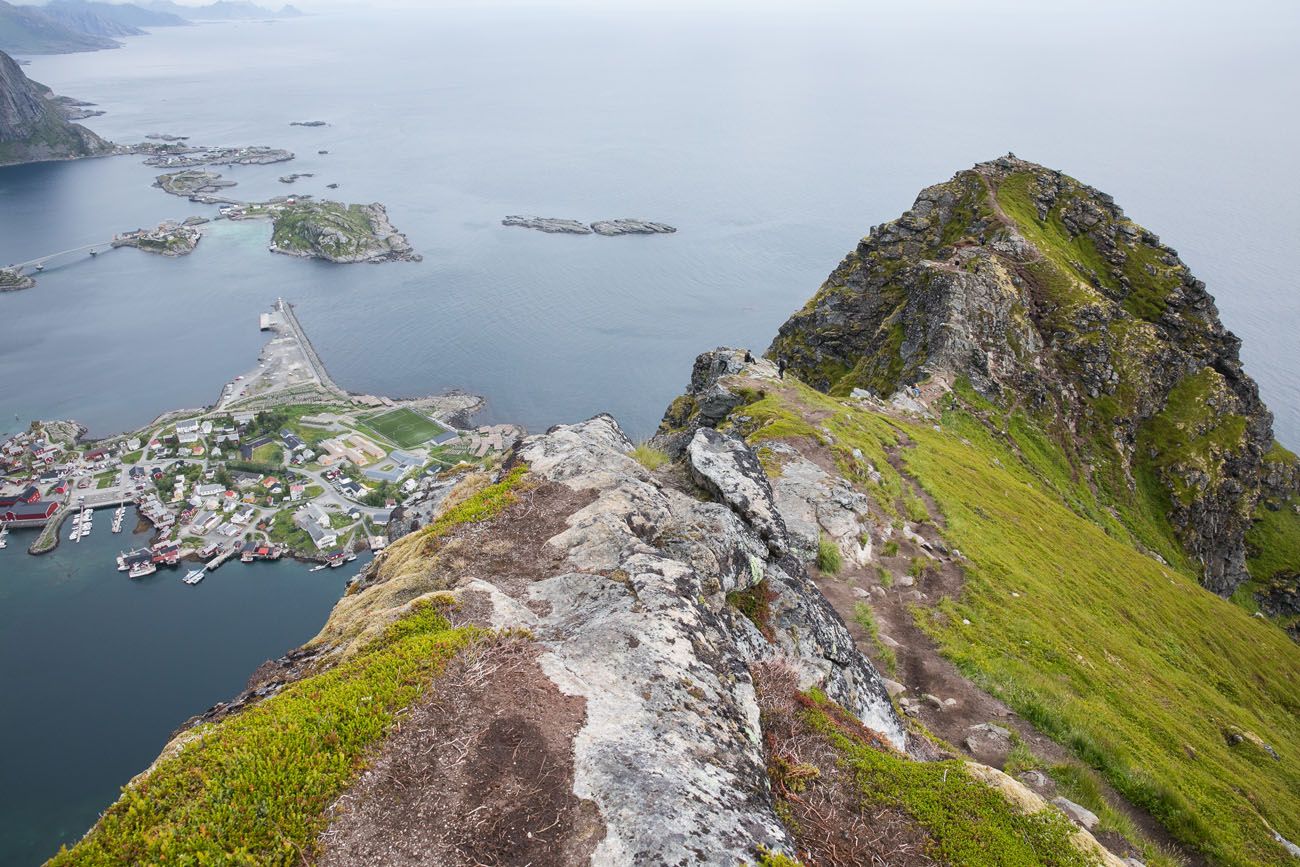 The view from the higher viewpoint.
Hike back down the same way and take your time.
Tips to Have the Best Experience
Avoid hiking Reinebringen in rainy, wet conditions. Not only is the trail more dangerous when it's wet, but you will also contribute more to trail erosion. Plus, once you finally get to the top, you may have zero visibility. We spent a rainy day in Reine and all day the top of Reinebringen was stuck in the clouds.
The trail is busiest midday. Consider hiking Reinebringen early in the morning or in the evening to avoid the crowds.
Stick to the trails. If the trail is muddy, do not leave the trail. If you leave the trail, you will be creating more parallel tracks, which damages the mountain and causes more erosion and rockslides.
Our Thoughts on the Hike
Honestly, there is really nothing fun about this hike. It's just an uphill slog to the top, but what you do get is an amazing view. It is worth hiking Reinebringen for the view, but we did several other hikes in the Lofoten Islands (and northern Norway) that we liked a lot more.
Ryten is a longer hike but what you get is a very cool view over Kvalvika Beach and a stunning mountain landscape. It was unexpectedly awesome.
Svolvaer Fløya and Festvågtind are similar to Reinebringen, where you hike to a viewpoint and look out across a series of islands.
Our final day in the Lofoten Islands was a rainy one, so we missed out on hiking Munken, which is a shame, because it looks and sounds amazing. It's just around the corner from Reinebringen, so if you are looking for great hike near Reine, this is a good one to add to your list.
Where We Stayed
We stayed in Hamnøy at Reinefjorden Sjohus. This place is wonderful. We stayed in a 2 bedroom apartment, which is really a two-level cabin with a kitchen and a living area. The view from the living room was AMAZING! We could look across the water to Sakrisøy and Reine and see Reinebringen in the background. My only complaint is that they do not have black out curtains, so with the midnight sun, I did find it difficult to sleep. That's easy to fix by bringing along a sleeping mask. But without a doubt, we would stay here again.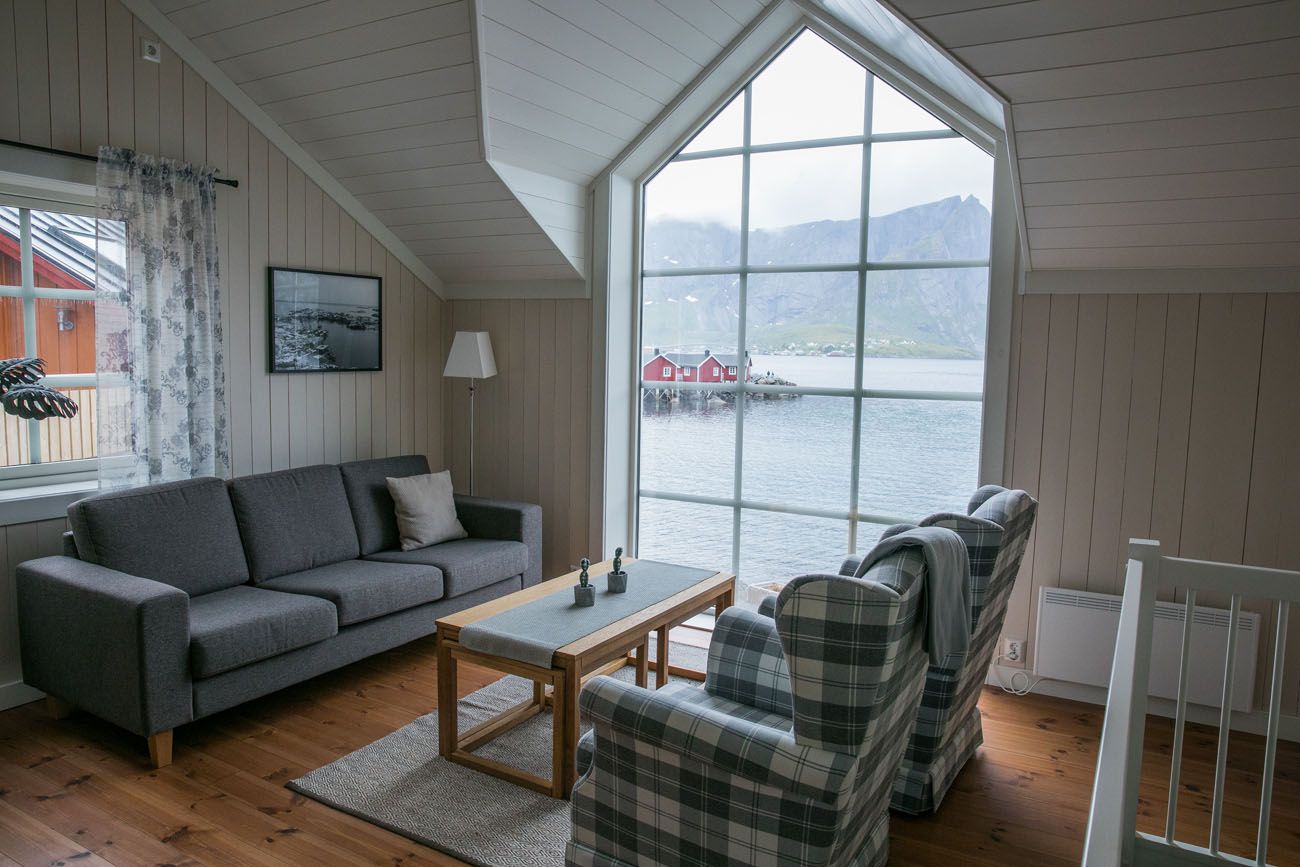 ---
Does this look like something you would like to do? If you have any questions, leave in the comment section below.
More Information for Your Trip to Norway
Are you planning a trip to Norway? Read all of our articles about Norway in our Norway Travel Guide.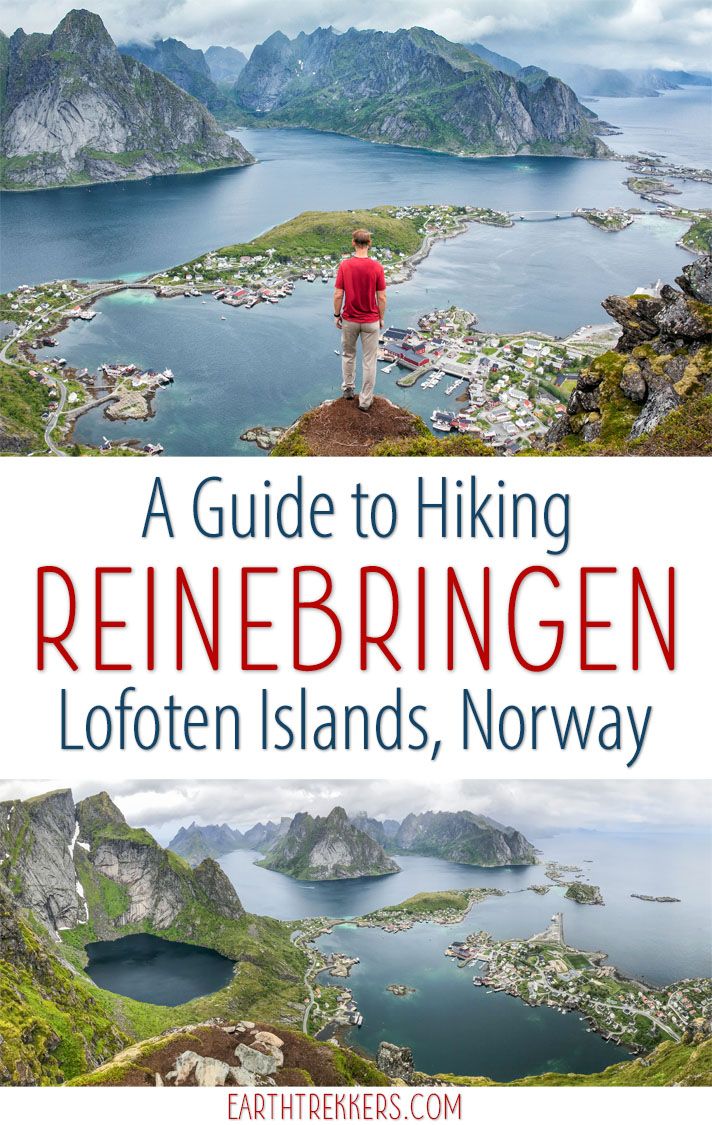 Note: This post contains affiliate links. When you make a purchase using one of these affiliate links, we get paid a small commission at no extra cost to you.