The view from Ørnfløya over Sommarøy is gorgeous! The hike up Ørnfløya is short and easy, perfect if you like the idea of getting an amazing view with minimal effort. This hike can be done as a day trip from Tromsø or if you are road tripping through Norway.
How to Hike Ørnfløya
Ørnfløya Hiking Stats
Distance: 1.5 miles round trip
Difficulty: Easy
Elevation Gain: 155 meters (510 feet)
Length of Time: 2 to 3 hours
Ørnfløya Trail Guide
Getting to the Trailhead
Ørnfløya is a large bump of rock that overlooks Sommarøy. It is located just 5 minutes from Sommarøy and Brensholmen. If you are coming from Tromsø, it is a one hour drive to get here.
There are two trailheads (from what we saw) on the road that wraps around Ørnfløya. We parked at the small carpark on Brensholmvegen, joining five other cars, maxing out the available parking here. GPS coordinates: 69°36'28.6″N 18°04'12.2″E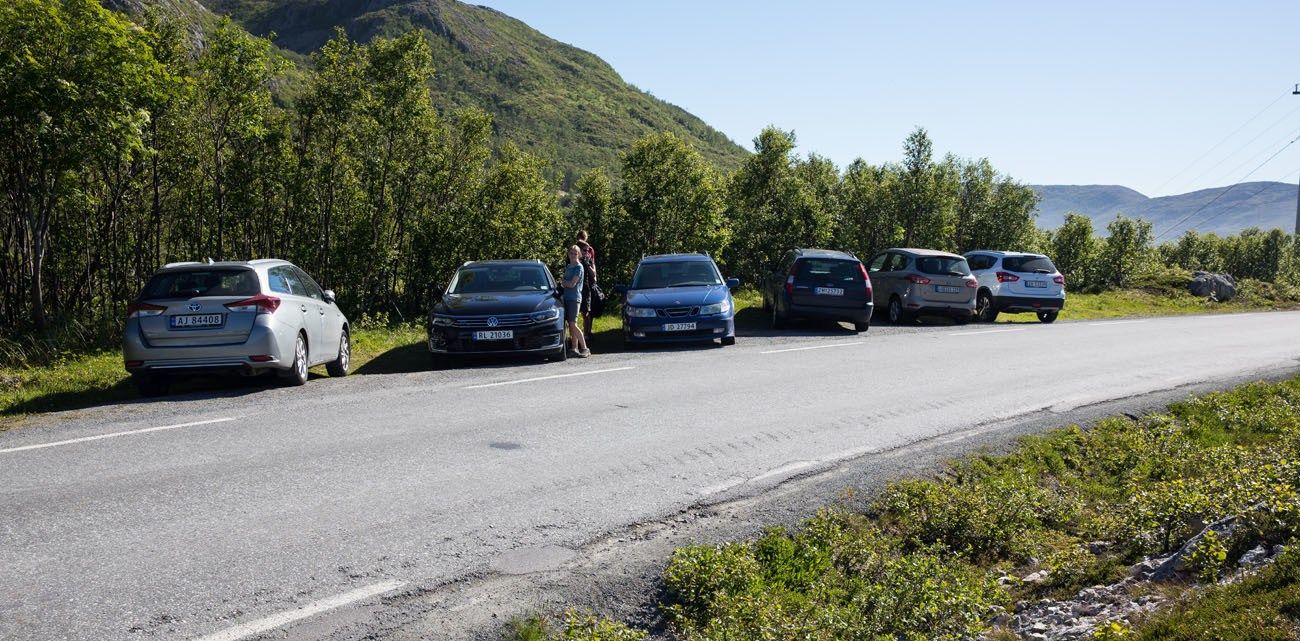 The trailhead is right across the road. If you see this sign, with the hard to read carving "Ørnfløya," you know you are in the right spot.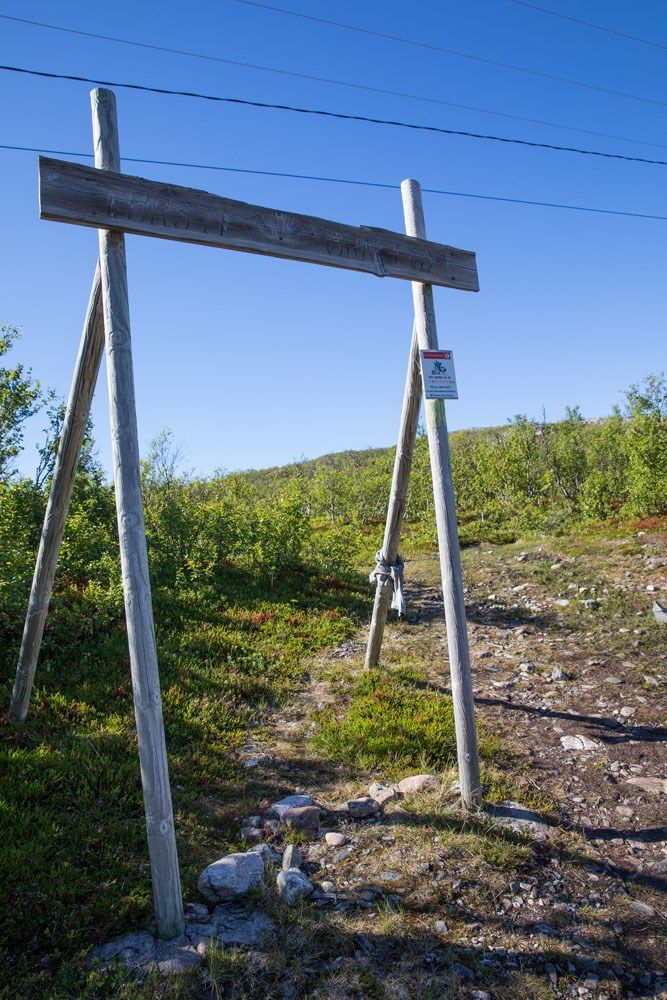 Hiking Ørnfløya
It's a slow and steady climb up a rocky dirt trail. Some parts of the trail can be muddy, depending upon the recent weather.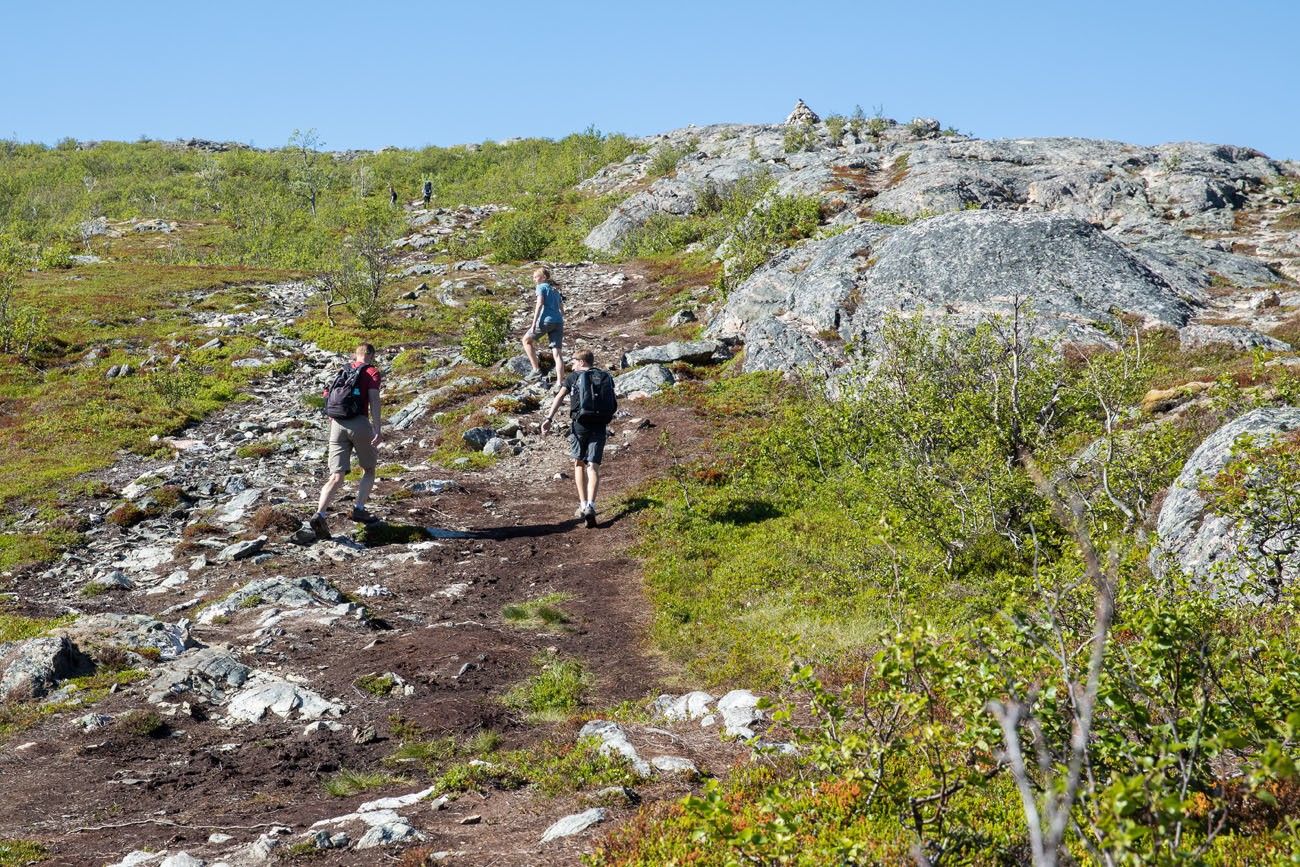 It doesn't take long for the view to really open up.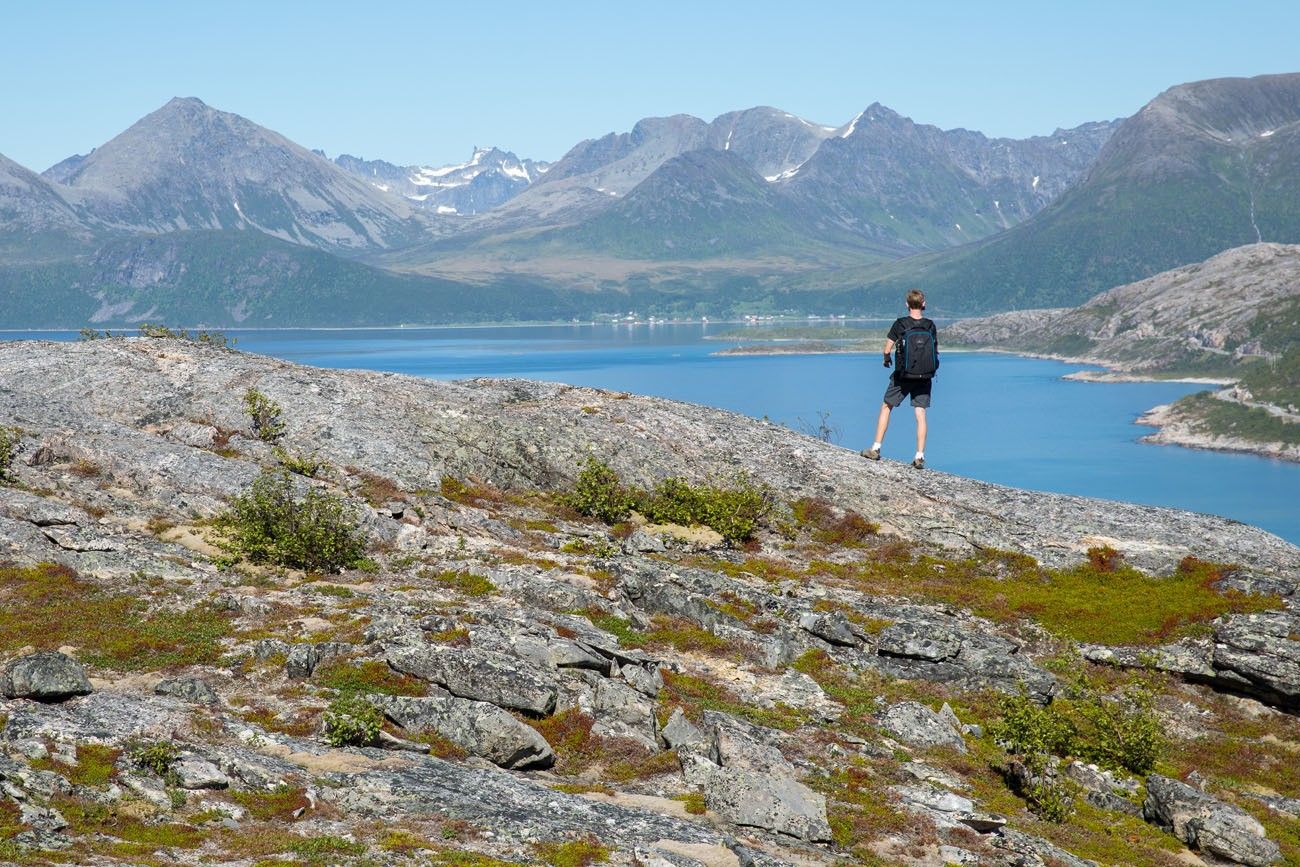 Kara's view over Brensholmen
The real treat comes from the top of Ørnfløya. From here, you have 360° views of the area, and the highlight is looking out over the small islands of Sommarøy. Picture perfect!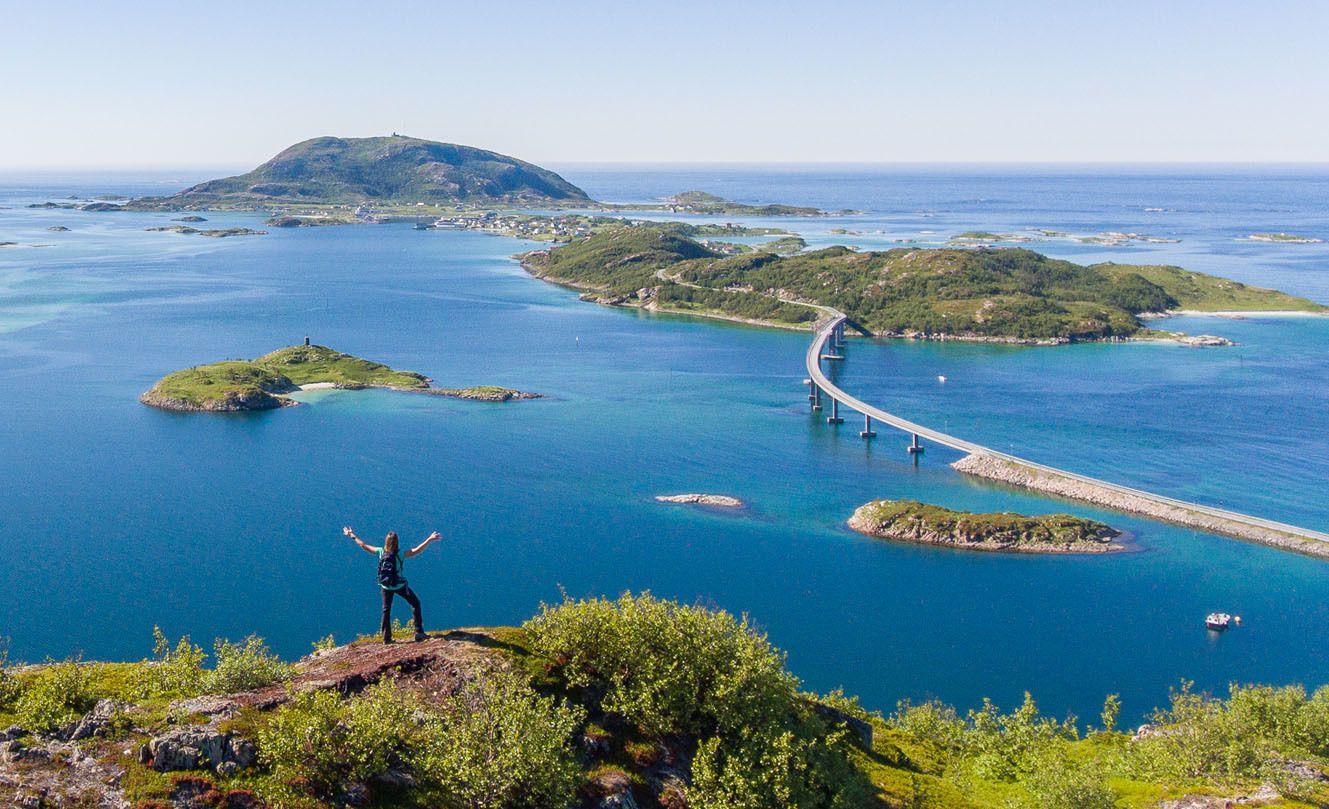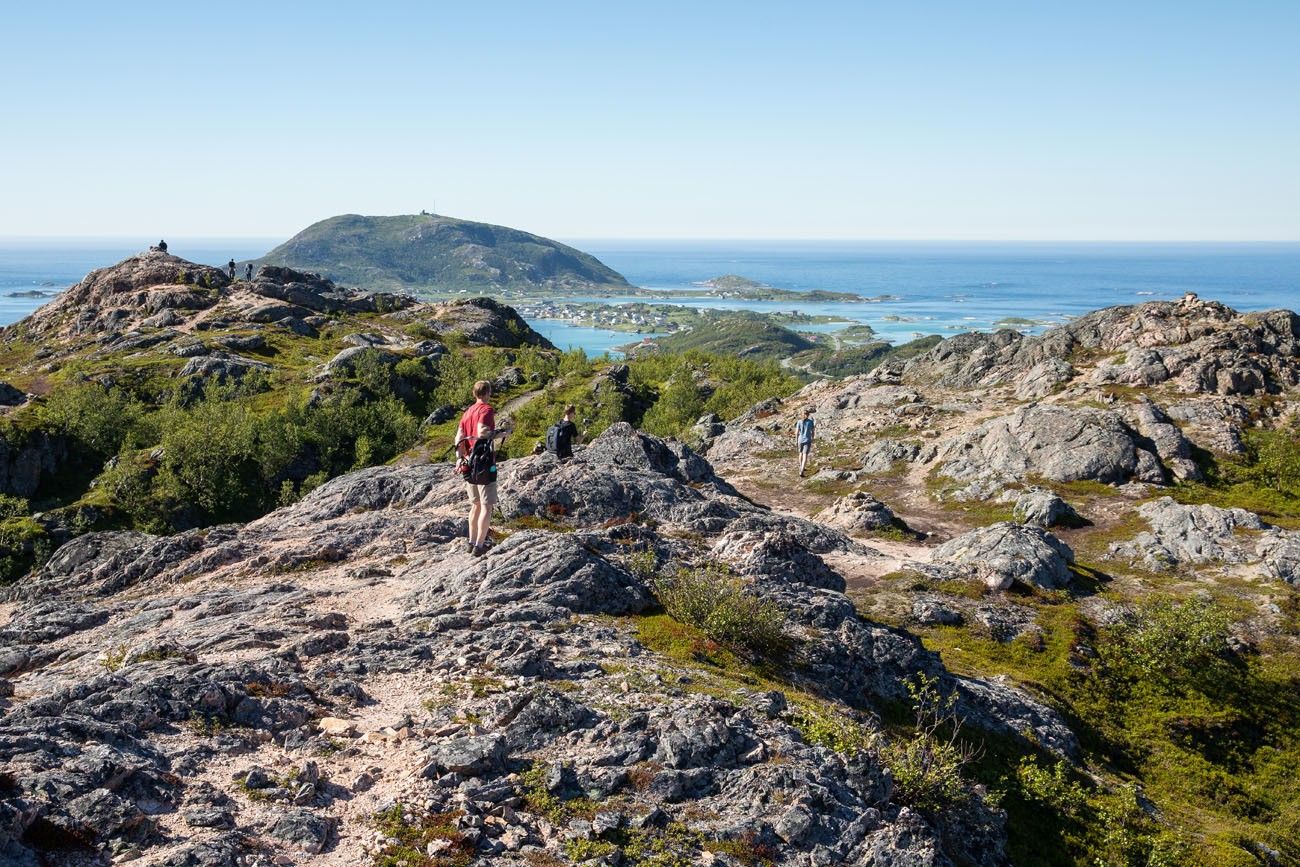 The top of Ørnfløya
It doesn't take long to get to the top of Ørnfløya (about 20 to 30 minutes) but you need to allow enough time to linger at the top. We spent almost one hour on top of Ørnfløya, exploring the various viewpoints and taking photos and drone videos.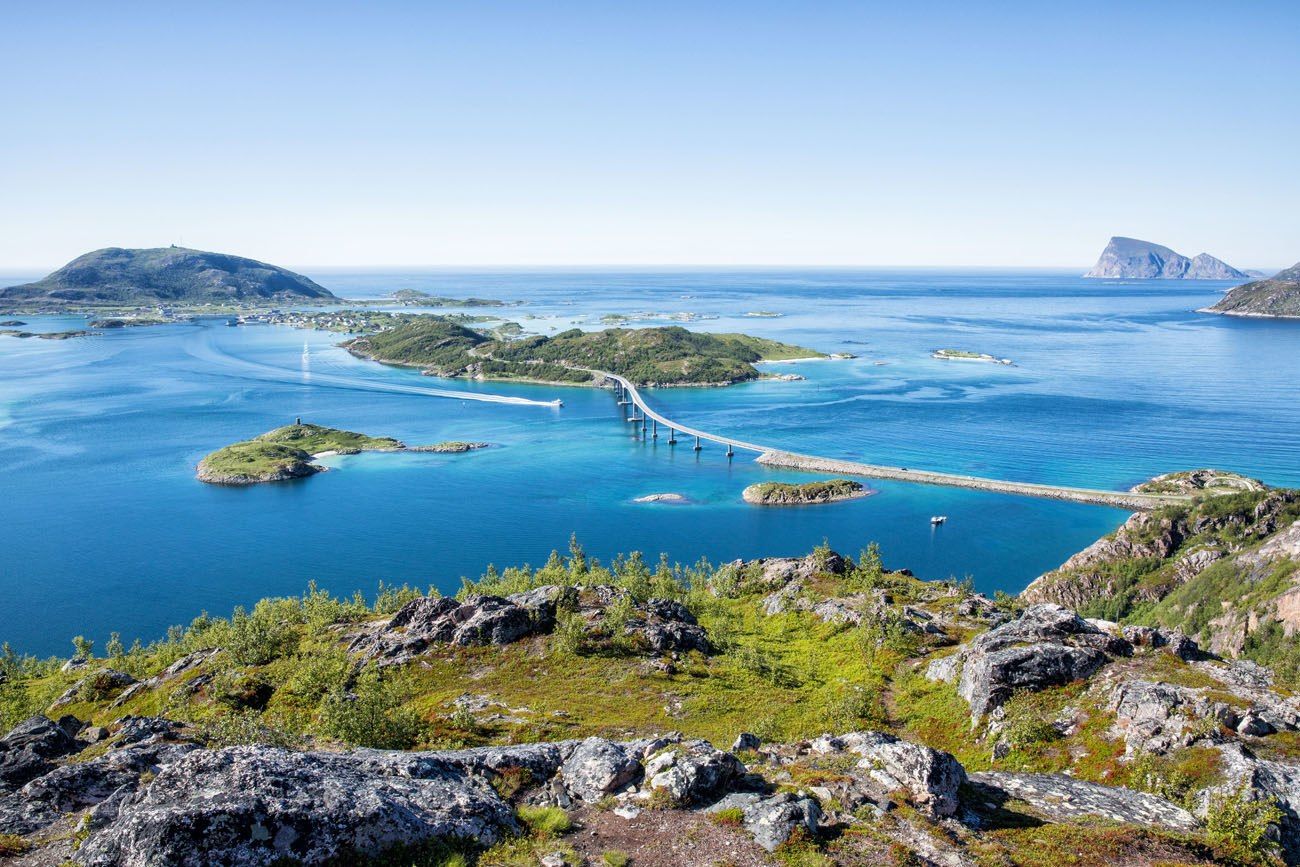 When you have had your fill of the view, return to your car the same way.
Ørnfløya by Drone
Want to see more? Check out Tyler's drone video of Ørnfløya here:
Visiting Sommarøy…is It Worth It?
Many visitors to Norway skip right over Sommarøy, putting their time into Tromsø and the Lofoten Islands instead. In fact, if you drive from Tromsø to Senja, you could literally drive right past this "hidden treasure" without even knowing what you are missing.
And yes, Sommarøy is a treasure. I like to think of it as Norwegian paradise. Hiking trails, amazing views, tiny islands with white sandy beaches, and picture perfect red cabins dotting the water's edge…can it get any better than this?
Plus, Sommarøy is very quiet. Just a handful of people live and visit here, and at times you may feel like you have it all to yourself.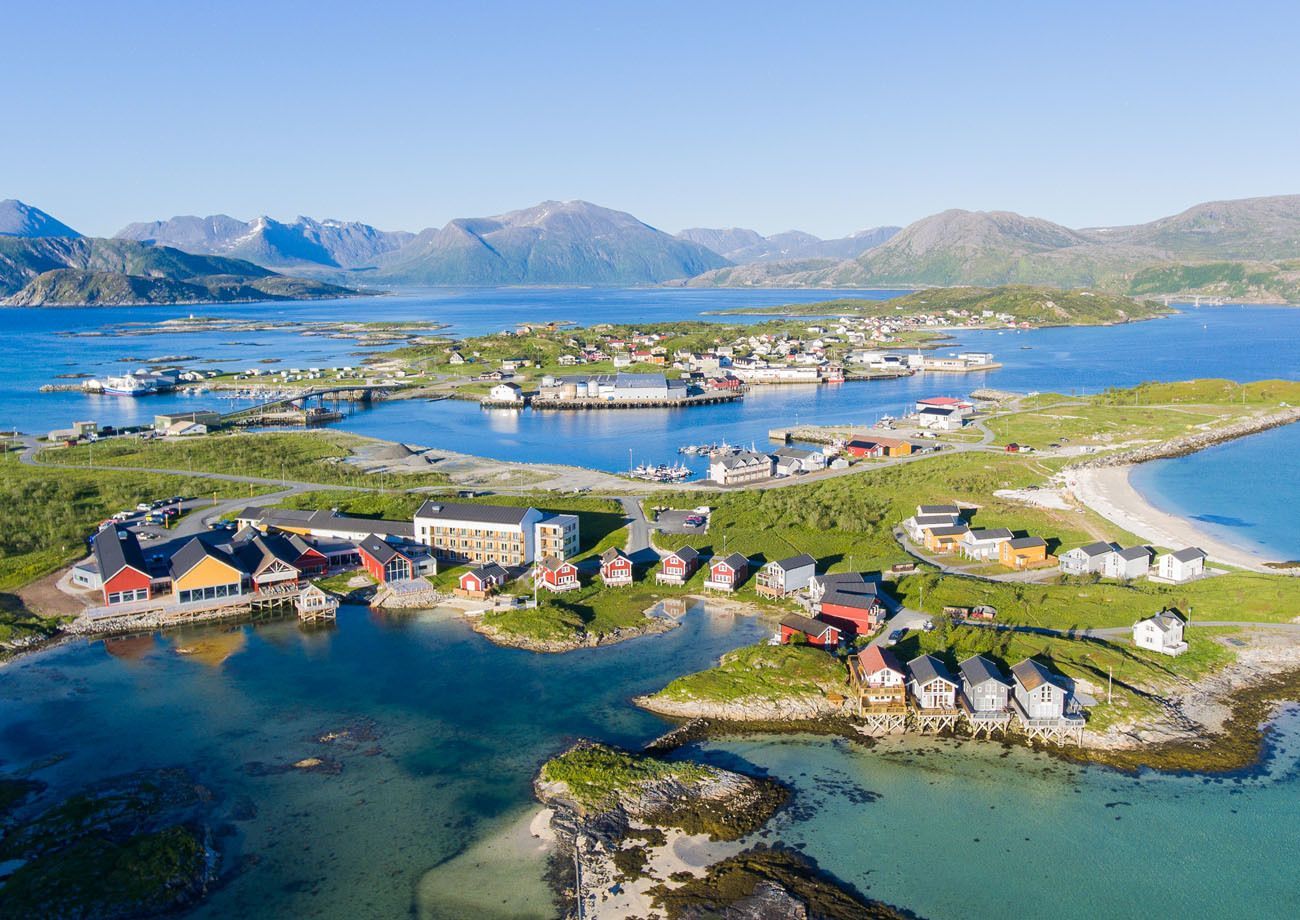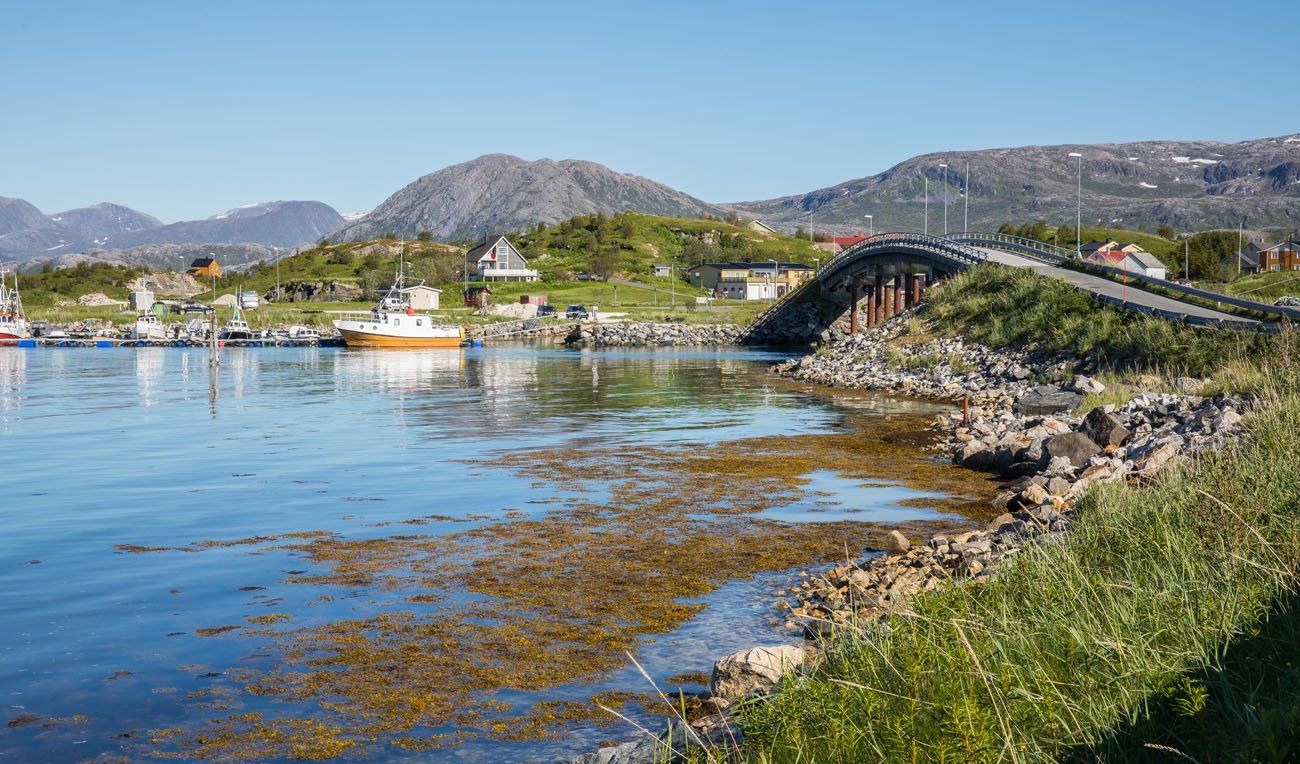 Where to Stay in Sommarøy
The Sommarøy Arctic Hotel is the only game in town. They offer an assortment of traditional hotel rooms and cabins by the water.
We stayed in a two bedroom apartment on the second floor of a cabin. Our apartment had a full kitchen and 2 balconies that offered views in two different directions. Tyler and Kara slept in a bedroom with bunk beds. Tim and I shared a tiny "full-sized" bed in the second bedroom. Our bed was the base of a bunk bed and it was just a little bit larger than an American twin bed. This was cozy and too small for two adults to share. A larger bed for two adults would be much better and this is our only complaint about the hotel.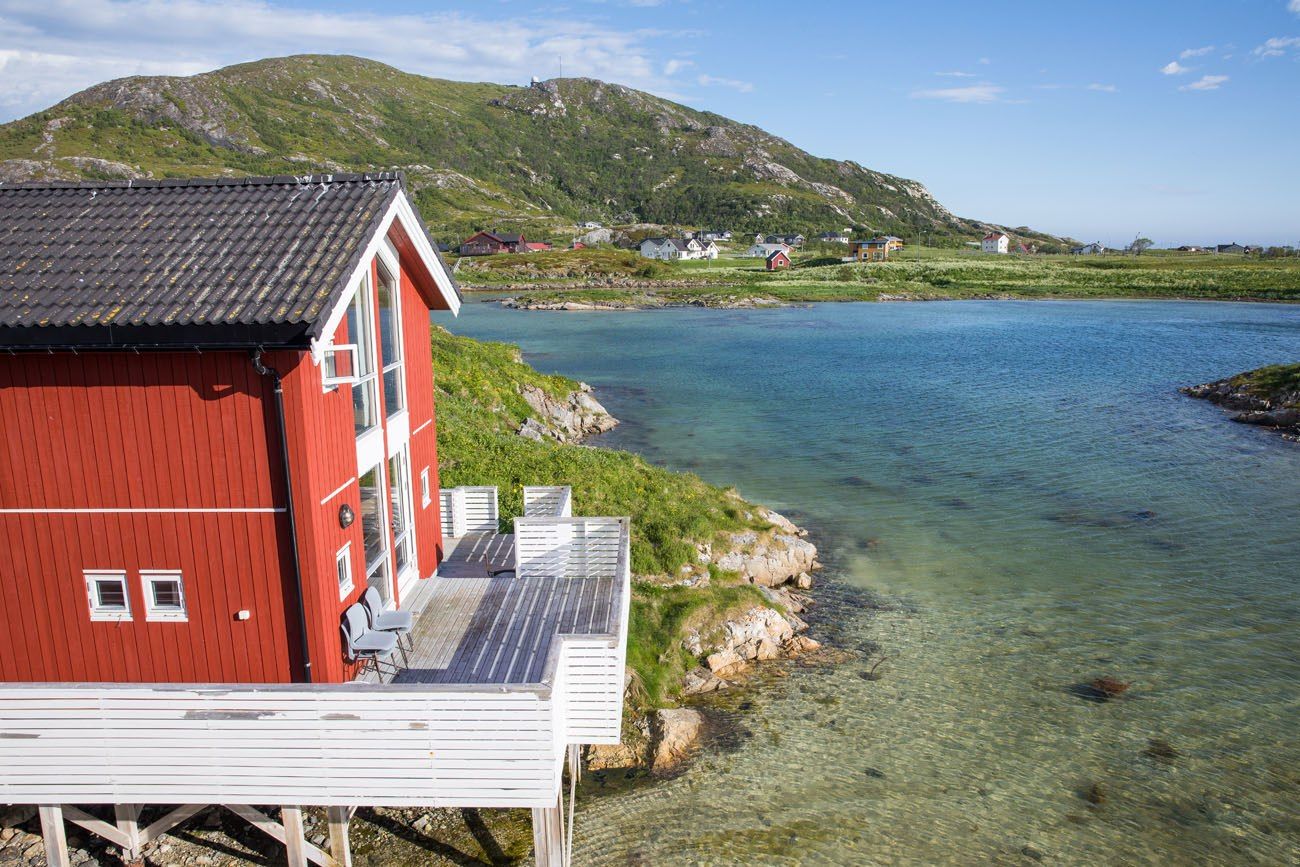 View from our cabin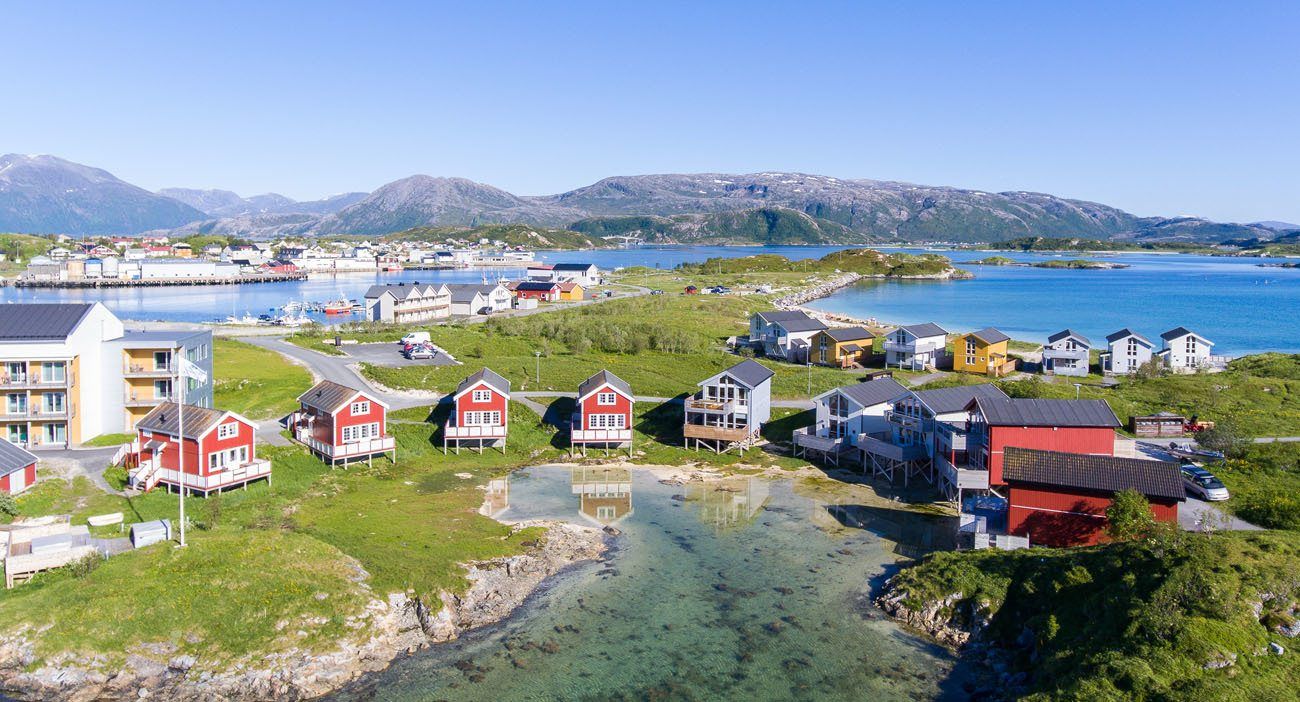 Sommarøy Arctic Hotel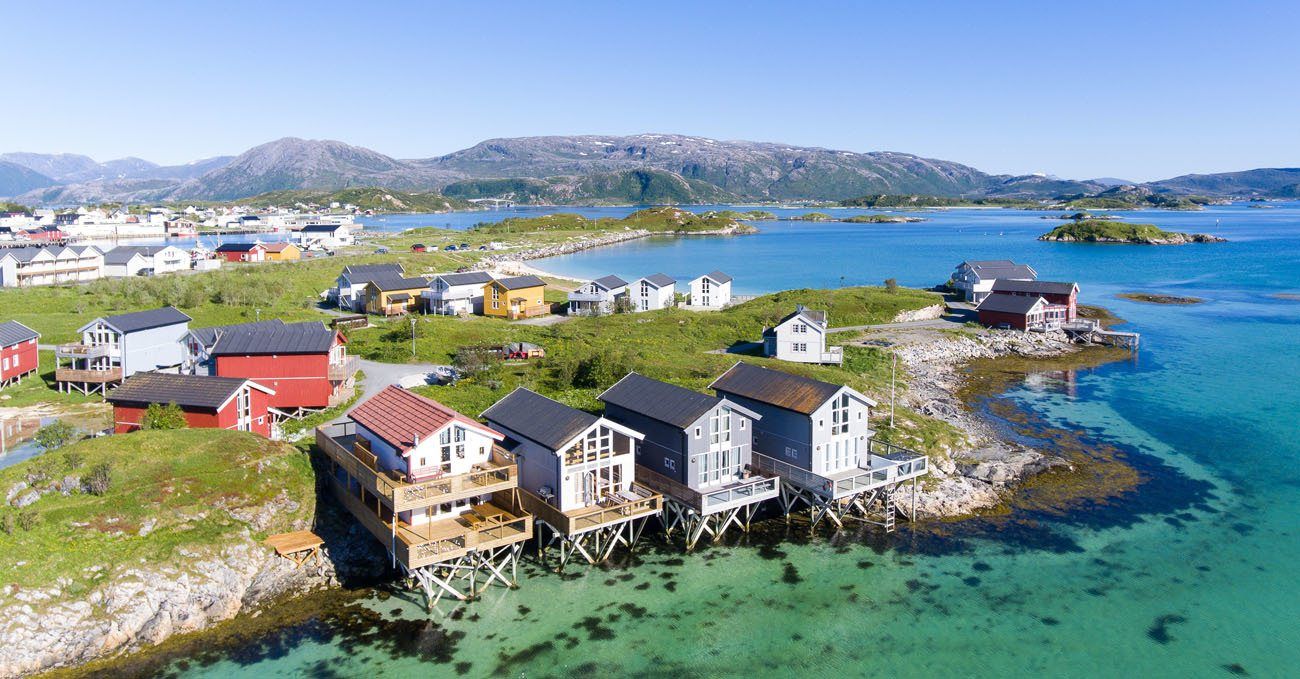 Drone photo of the Sommarøy Arctic Hotel
Where To Eat
Again, the Sommarøy Arctic Hotel is the only restaurant in Sommarøy. The food is expensive (190 NOK for a burger and 300 NOK for main entrees) but these prices are typical for most of the restaurants we ate at while in northern Norway. The food is decent but nothing spectacular.
Traveling on to Senja
If you have plans to travel to Senja, the Brensholmen – Botnhamn ferry is just a 10-minute drive from Sommarøy. The ferry runs roughly 5 to 6 times per day and it takes 45 minutes to sail between towns. We got in line one hour early for the first ferry and we were the first in line.
For the ferry schedule, click here.
---
Do you have plans to visit Sommarøy or road trip through Norway? Comment below if you have any questions or want to offer advice for our readers.
More Information for Your Trip to Norway
NORTHERN NORWAY ITINERARY: On this 10 day Norway itinerary, road trip through Senja and the Vesteralen Islands, two beautiful off the beaten path destinations, and visit the Lofoten Islands.
NORWAY TRAVEL INSPIRATION: Norway is one of the most beautiful countries we have visited. Take a look at our article Northern Norway in Photos to see some gorgeous shots of Norway.
PLACES TO GO IN NORWAY: For a list of top experiences in Norway, don't miss our Norway Bucket List. If you are a hiker, we also have a hiking guide with 14 epic day hikes to do in Norway.
HIKES IN NORTHERN NORWAY: Segla is a beautiful but tough hike on the island of Senja. The Stave-Bleik Coastal Trail is a gorgeous hike in the Vesteralen Islands. In the Lofoten Islands, you can also hike to Ryten, hike Svolvaer Floya for views over Solvaer, or hike to the top of Reinebringen.
LOFOTEN ISLANDS: For an overview of the best things to do, read our Lofoten Islands Top Ten List. Get lots of travel planning advice in our Lofoten Islands Itinerary. For advice on where to stay, read our Lofoten Islands Hotel Guide.
HOW TO VISIT SVALBARD: Learn more about how to plan a trip to Svalbard in our Svalbard Travel Guide. We also provide important planning information in our Svalbard Packing List and in our article about how much it costs to visit Svalbard.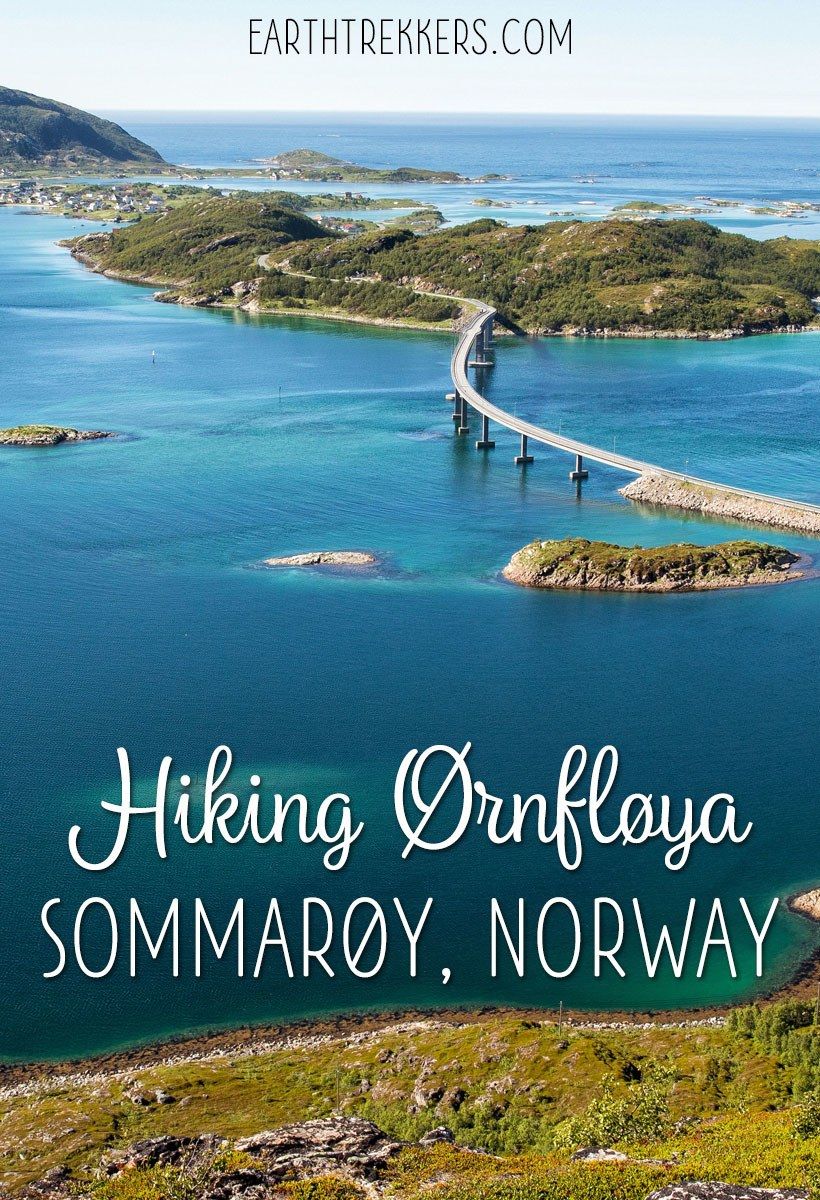 Note: This post contains affiliate links. When you make a purchase using one of these affiliate links, we get paid a small commission at no extra cost to you.
All rights reserved © Earth Trekkers. Republishing this article and/or any of its contents (text, photography, etc.), in whole or in part, is strictly prohibited.