The hike up to the summit of Segla is one of Senja's most popular hikes. And this was our main reason for visiting Senja.
Many visitors skip past Senja, heading directly to the Lofoten Islands. But those people are missing out seeing a gorgeous part of Norway and some hidden gems. That's fine…that means less crowded hiking trails for people "in the know."
The hike up Segla is short but it is surprisingly tough. You have to be prepared to work hard to get to the summit, but you will be rewarded with breathtaking panoramic views of Norway.
It's worth traveling to Senja just to do this hike.
How to Hike to Segla
Segla Hiking Stats
Distance: 5 km round trip
Difficulty: Strenuous
Elevation gain: 610 meters (2000 feet) with a max elevation of 639 meters at the peak
Length of time: 3 to 4 hours
When: May through September
Optional: You can combine this hike with Barden (more at the end of this post)

Segla Elevation Profile
Please practice the seven principles of Leave No Trace: plan ahead, stay on the trail, pack out what you bring to the hiking trail, properly dispose of waste, leave areas as you found them, be considerate of other hikers, and do not approach or feed wildlife.
Segla Trail Guide
Getting to the Trailhead
The trailhead is located in Fjordgard. From the Brensholmen – Botnhamn ferry it takes 25 minutes to drive here.
A small parking lot is located behind Senja Montessoriskole, the Fjordgard school. GPS coordinates: 69.504415, 17.625956
Next to the parking lot is a sign marking the trailhead.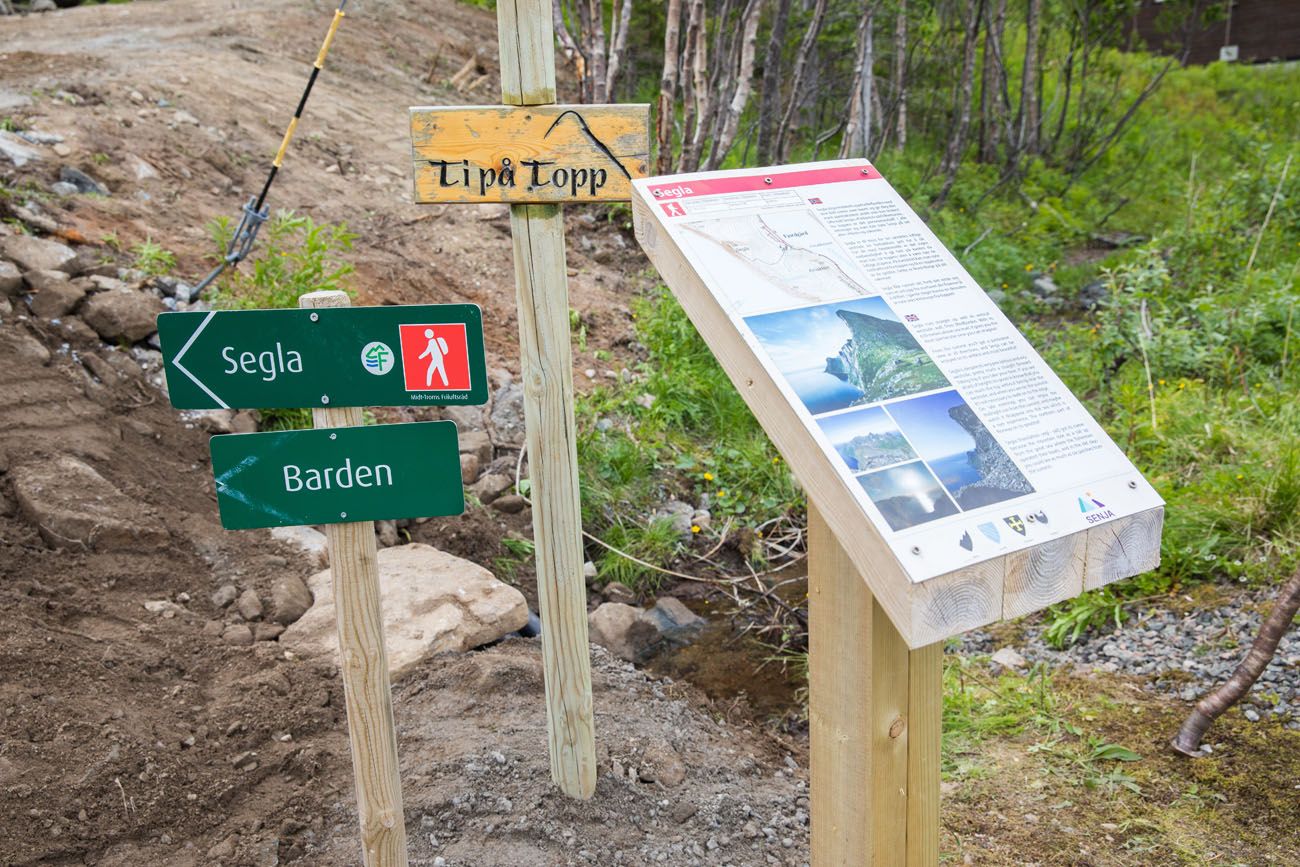 On the Trail to Segla
A wide gravel path wastes no time in gaining elevation. It is a slow and steady climb until you come to a fork in the trail. Stay to the right to continue up to Segla or turn left to hike up Barden.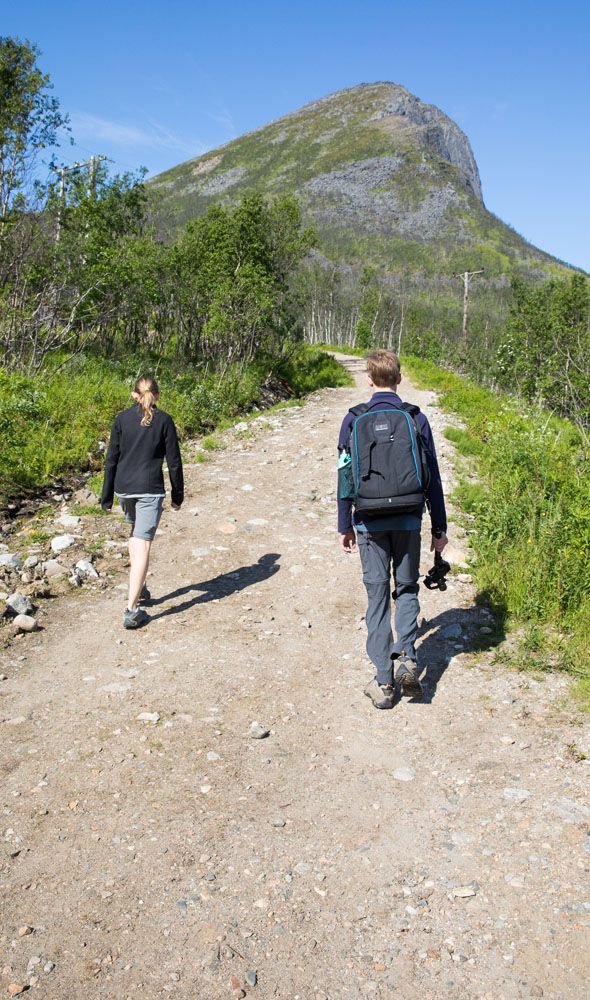 The start of the hike. The peak of Segla can be seen in this photo.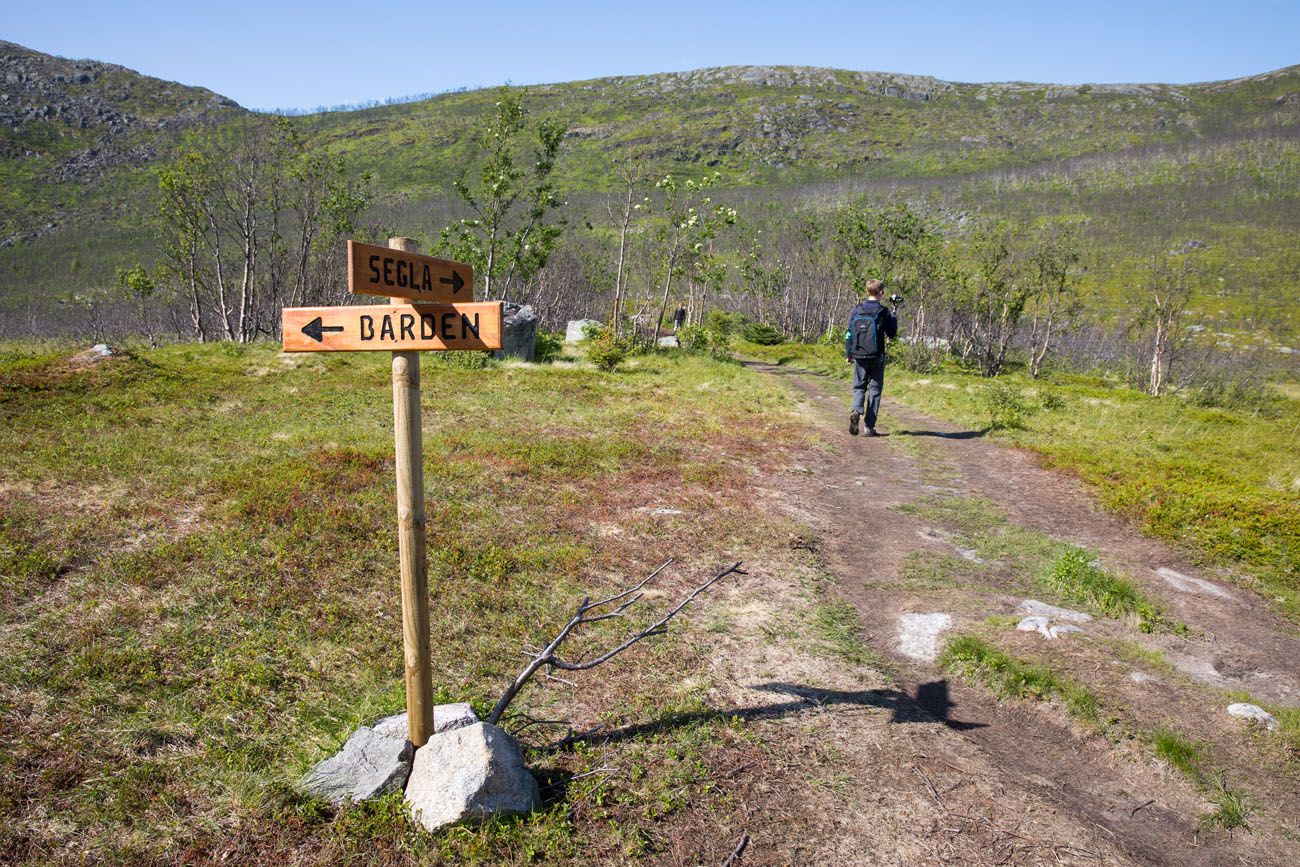 Optional Detour: You can take the trail to Barden, summit Barden, and then hike to Segla from here. We did not do this so I don't have the details on how much elevation gain and distance this adds, but it's quite a lot. If you have plenty of energy and a full day to do this, it looks like a great addition to the Segla hike.
After you pass through a small, almost flat valley, the trail narrows and becomes very rocky. It also gets steeper. This is just a preview of the climb that awaits you further up the trail.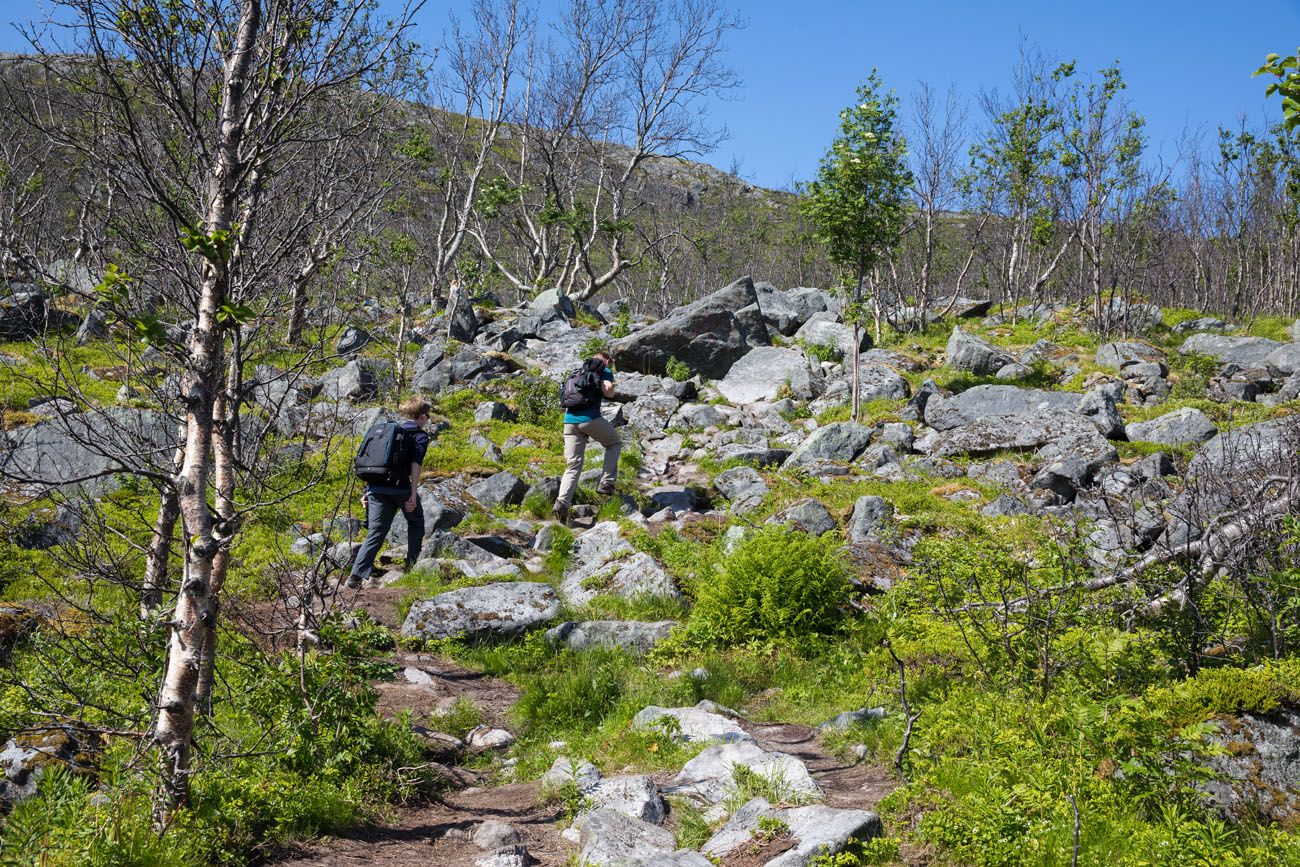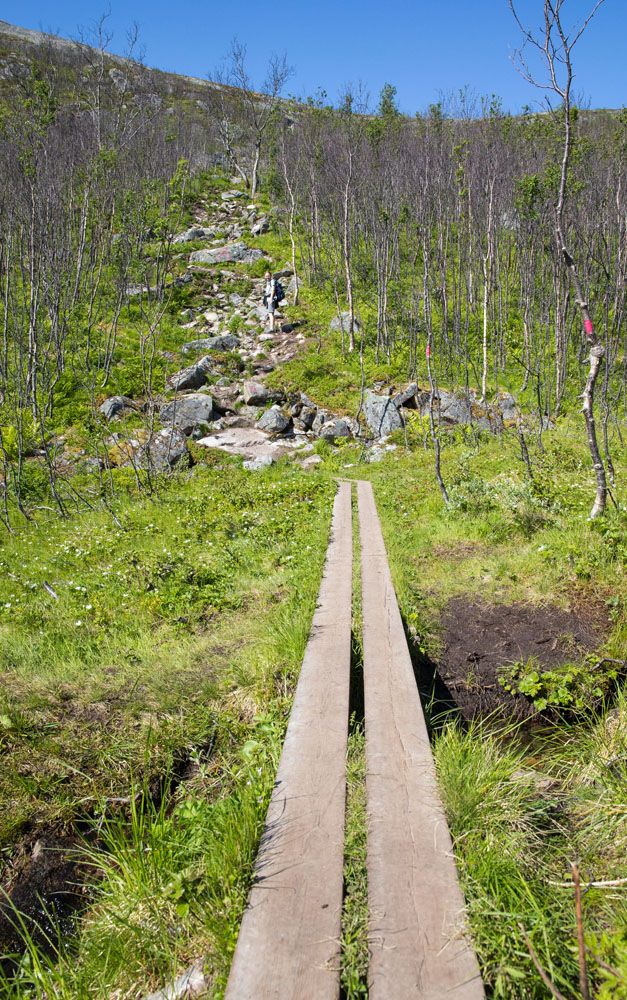 As you pause to catch your breath and rest your legs, look back towards Fjordgard and enjoy the view.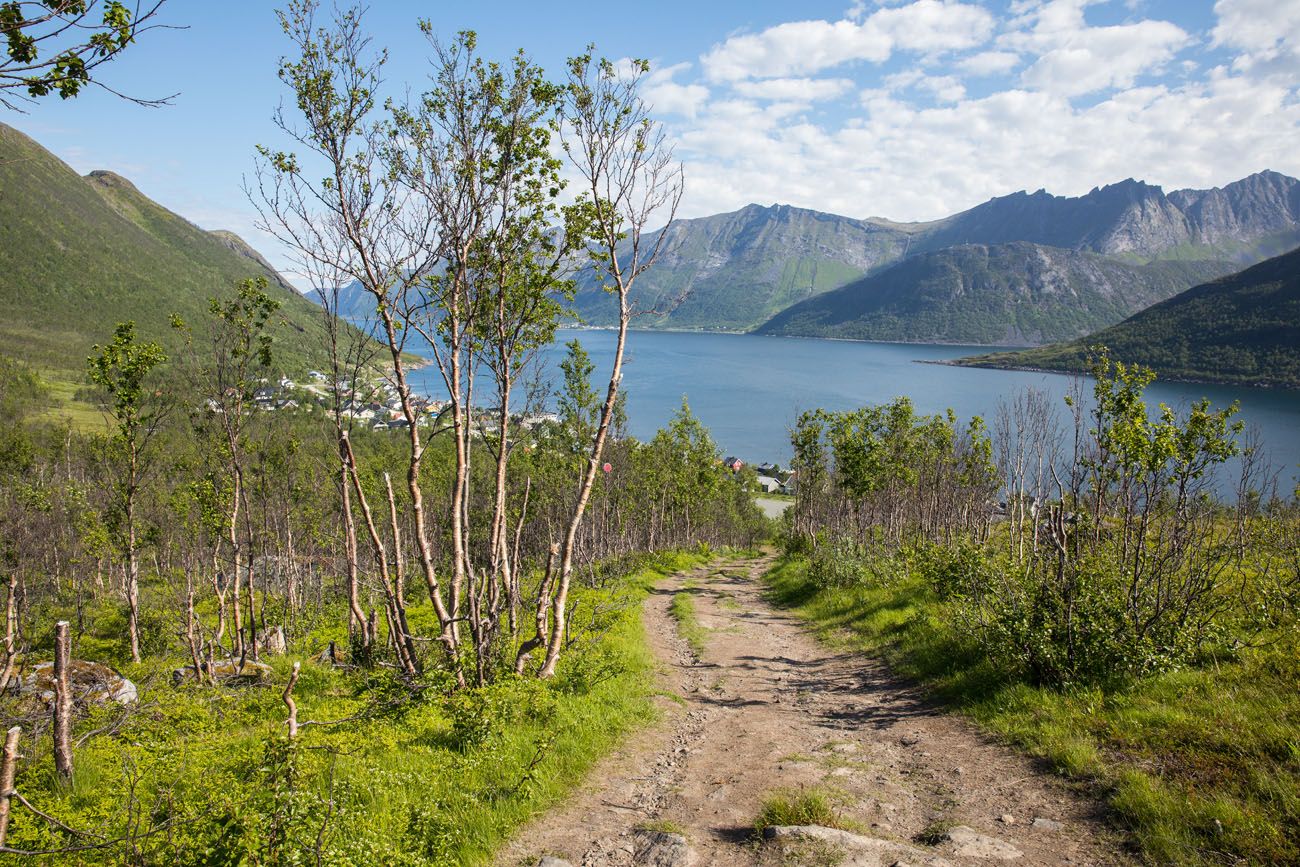 The Final Climb
After hiking up the rocky trail through the forest, you end up on a plateau. The views really open up here and you get your first view of the final climb to the summit.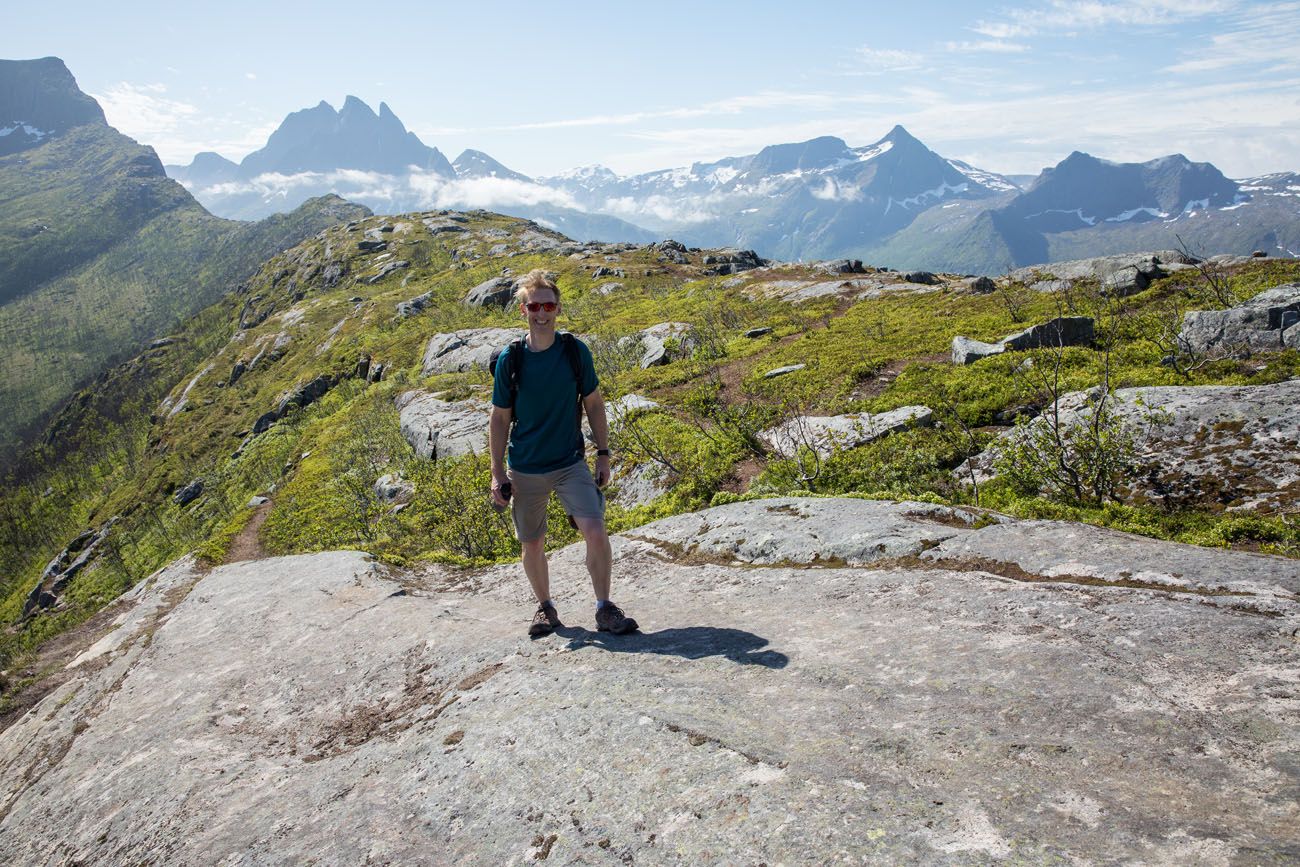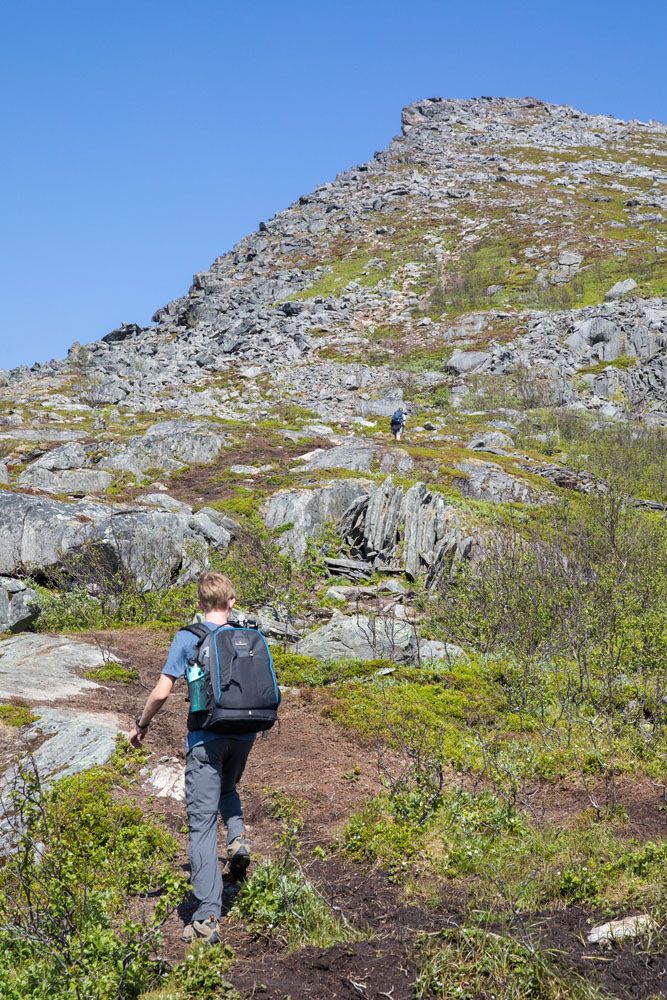 View of the final climb to the top of Segla.
To reach the top of Segla, a long, rocky, and very steep climb awaits you. It looks deceptively easier than it feels (and at times it feels like it will never end).
If you climb up just a short distance, you get one of the best views of the day (so far). Follow the view of the plateau out to Barden, with the jagged, gorgeous mountains making a stunning backdrop.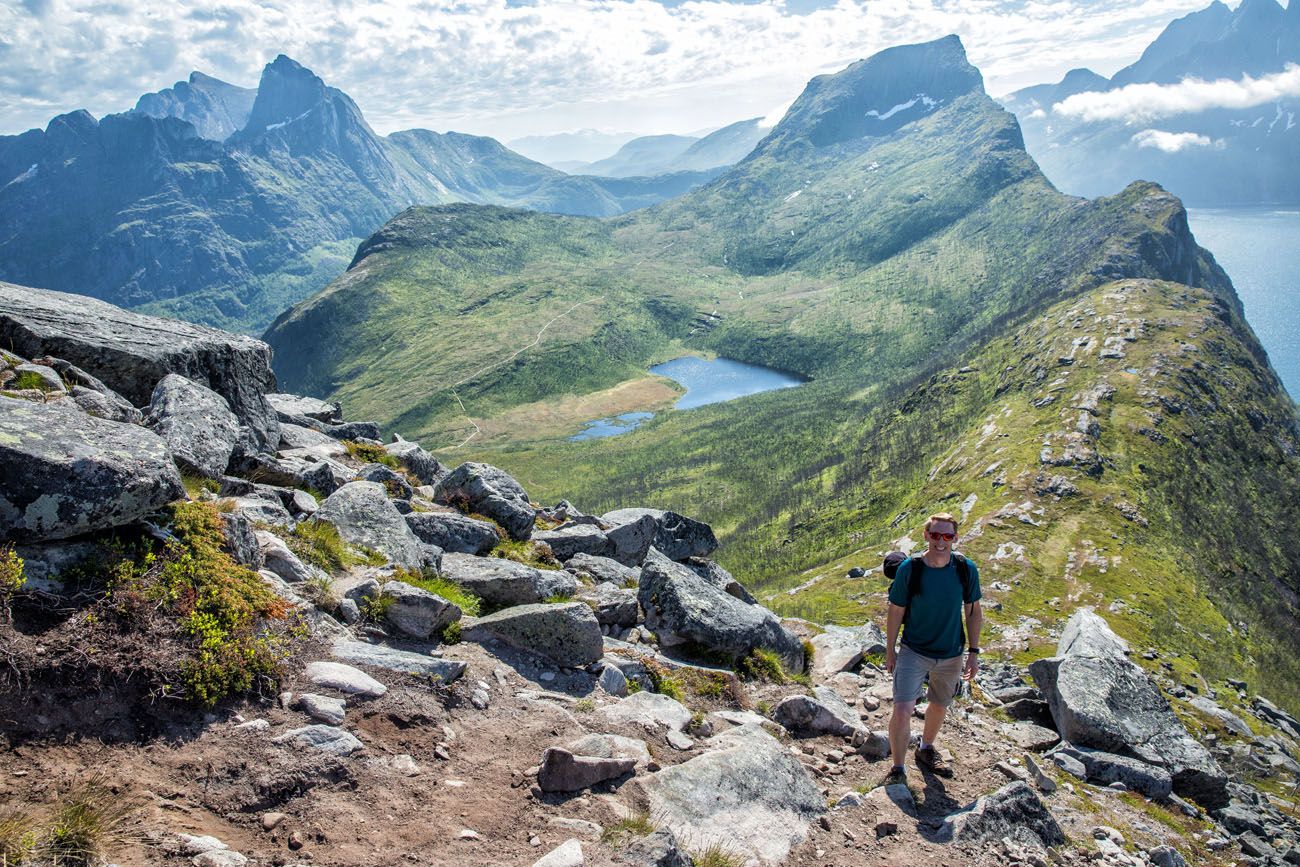 Looking back over the plateau. You can see the peak of Barden off in the distance.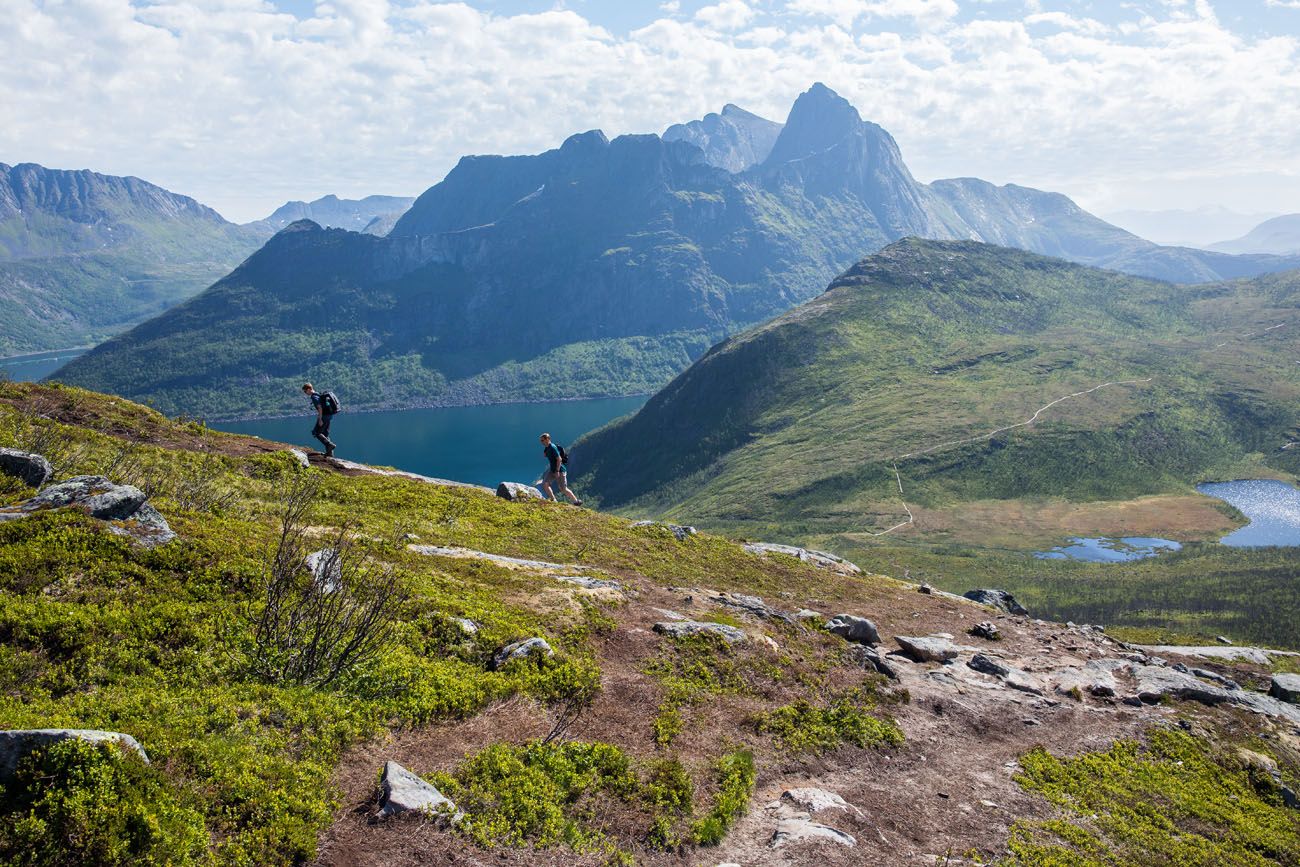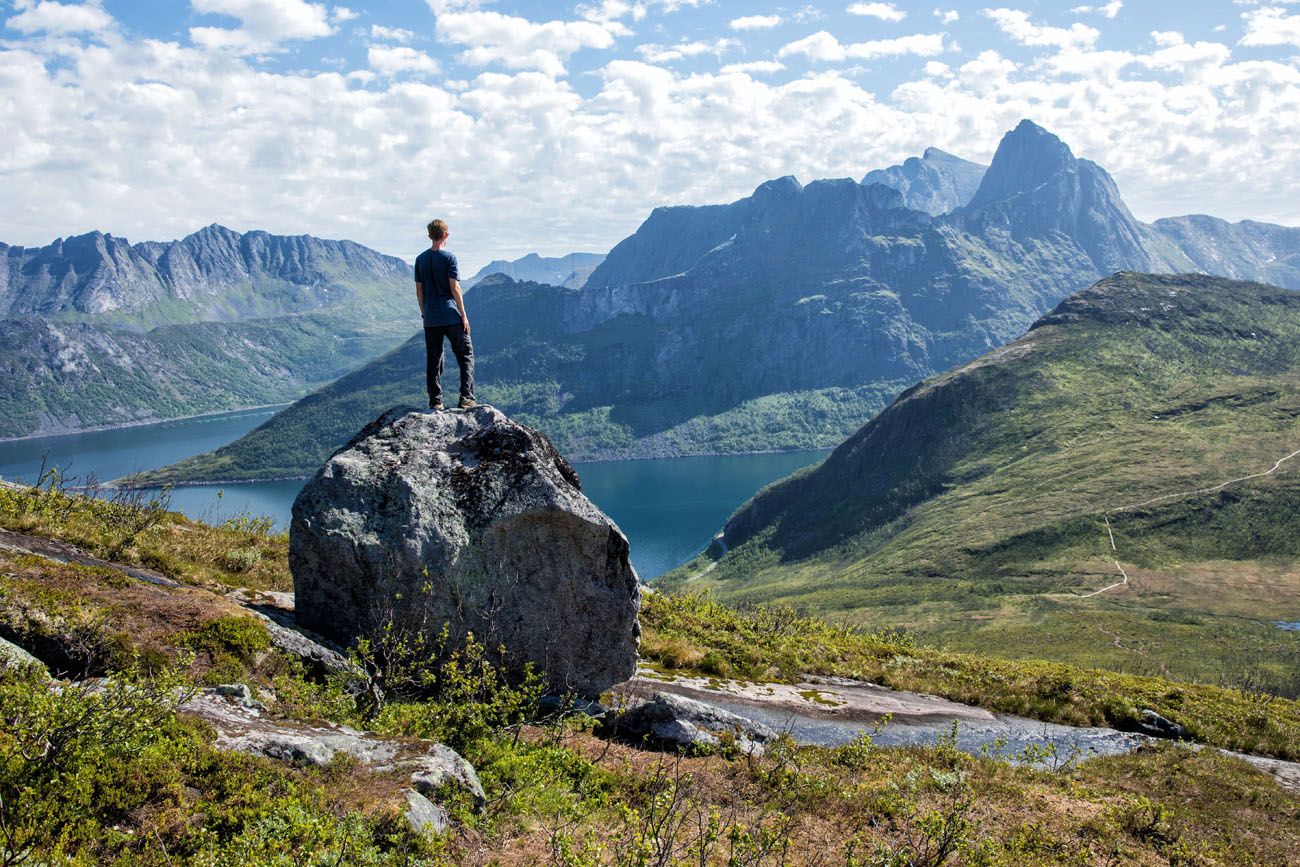 It took us roughly 30 minutes to make the final climb up Segla. This is very steep and very strenuous. We would hike up a short distance, pause to catch our breath, and continue on again. At this point, you are climbing a trail with a 45° incline.
There is no single trail to the top. Over the years, previous hikers carved out several different trails to the top. If you take the trail that is on the far left you will hike near the edge of Segla. There are some outcroppings of rock here that give you a vantage point to see the sheer face of Segla. Segla does not look impressive, or beautiful, from the hiking trail. It's not until you get a view of the cliff plunging into Mefjord that you truly appreciate the beauty of this mountain.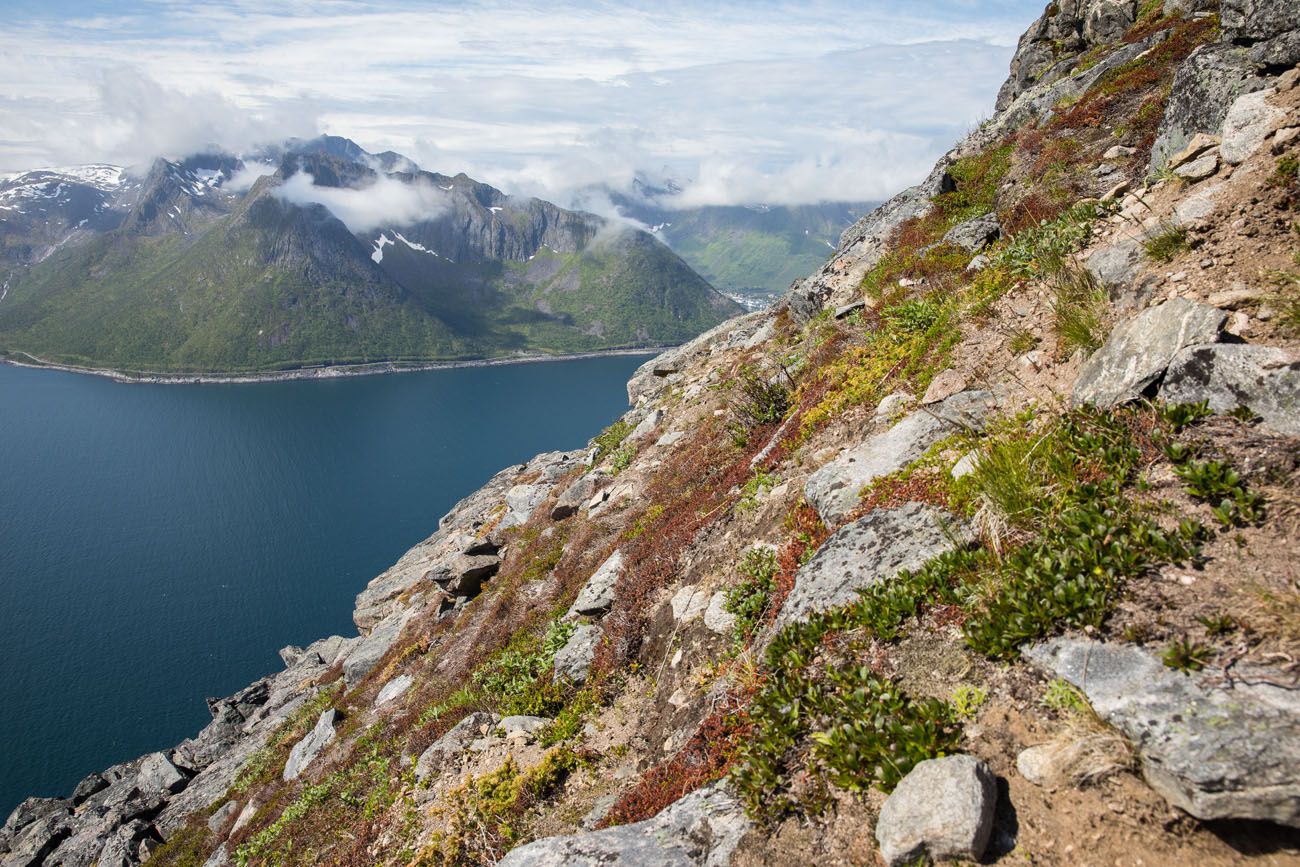 In this photo, you can get an idea of how steep the trail is.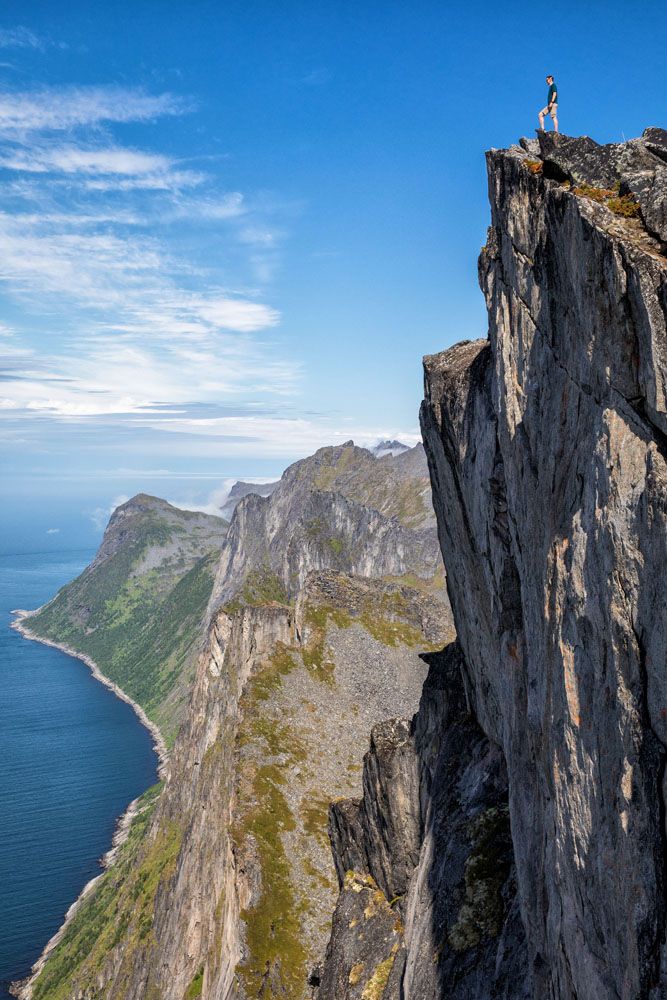 Tim, standing on Segla.
Finally, we reached the summit of Segla and were rewarded with one of our most spectacular views of Norway.
Views from the Top of Segla
From the top of Segla, enjoy 360° panoramic views of Senja. Gorgeous, right?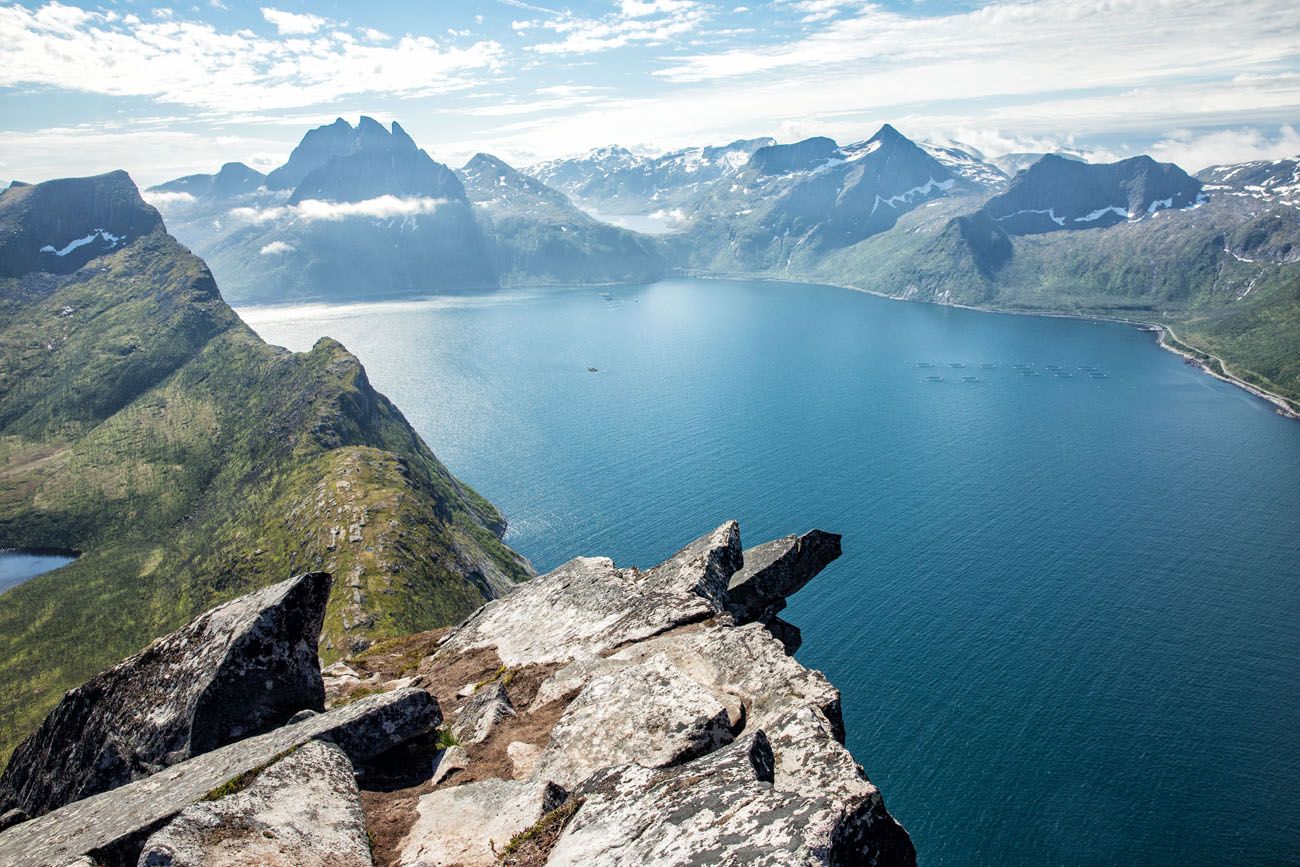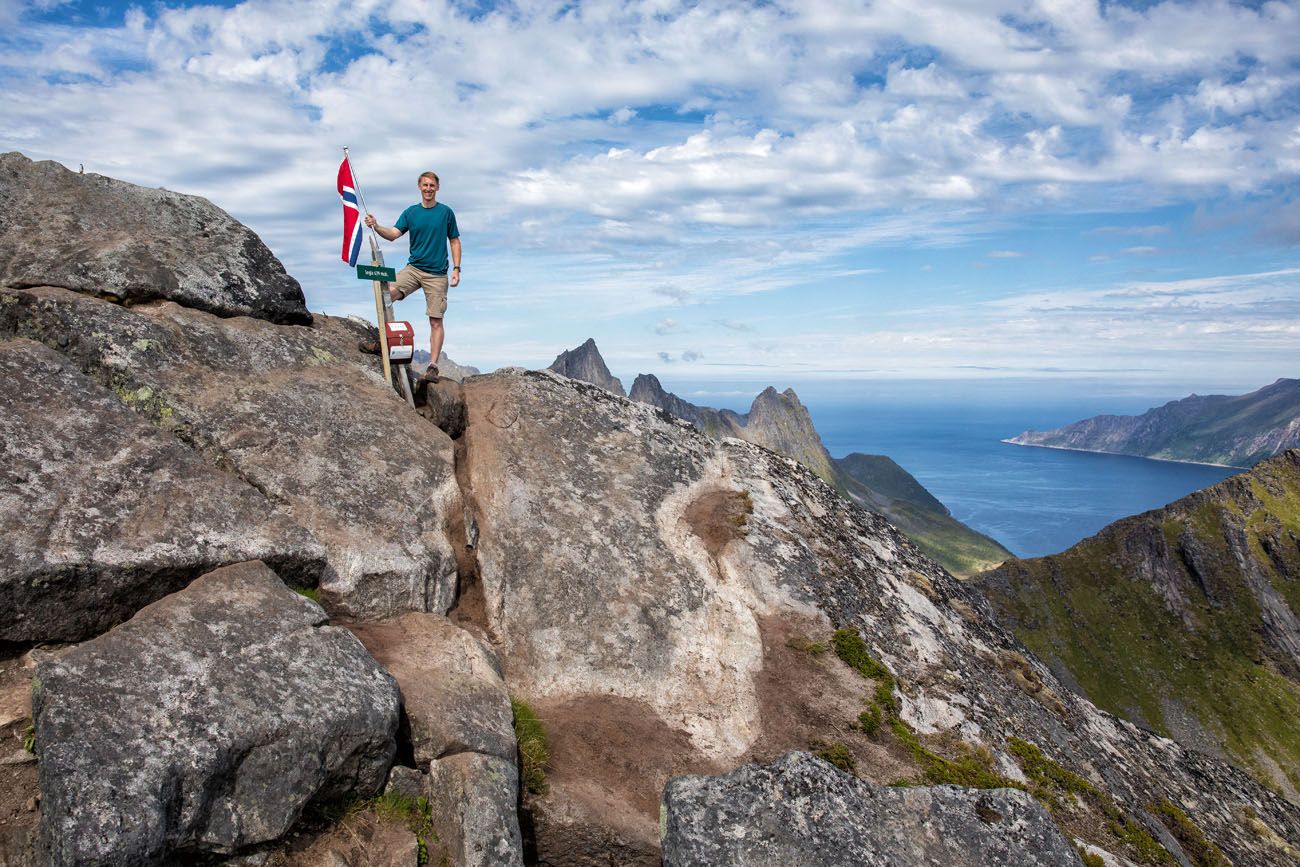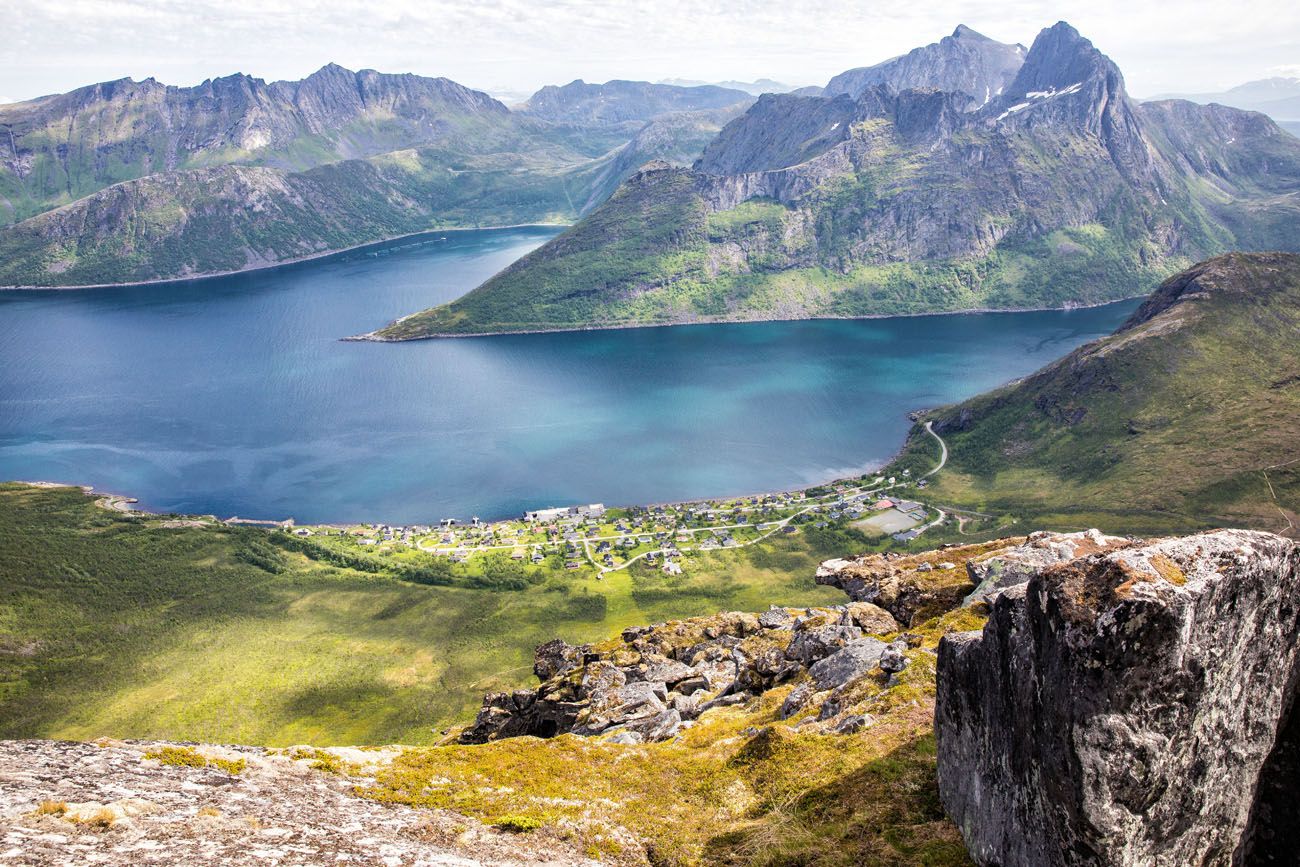 Looking down at Fjordgard.
Sign the turboka (the signature book), take your photo at the summit, and spend some time enjoying this amazing view.
We spent an hour at the summit and for a little bit we had it all to ourselves.
Return Hike
Return to your car the same way or add on the hike to Barden. To hike to Barden, descend back down to the plateau, hike across the plateau, and then hike up to the summit of Barden for another amazing view. You can then take the trail directly from Barden back to the parking lot.
Video of the Segla Hike
Want to see more of the trail? Watch our video about the hike up Segla, including clips shot with our drone.
Our Experience
We did this hike as part of our road trip through northern Norway. The night before we slept in Sommarøy.
From Brensholmen, which is the ferry stop closest to Sommarøy, we took the first ferry of the day (8:45 am). We arrived in Botnhamn at 9:30 am and drove to Fjordgard. At 10 am, there were only 3 other cars in the parking lot for this hike. When we got to the peak of Segla, there was only one other group of hikers here. Once they left, we had the peak of Segla all to ourselves. It was wonderful.
By the time we began our hike back to our car, many more people were on the trail and the parking lot was full. It wasn't too bad but if you would like to have a quieter experience, start this hike early in the day if your schedule allows.
What To Bring
Sturdy shoes with good traction. Hiking shoes are ideal but we saw people wearing sneakers and they were doing just fine.
Water
Camera
Sunblock
Snacks
Hiking poles (optional)
If you are new to hiking or are curious about what you should bring on a hike, check out our Hiking Gear Guide. Find out what we carry in our day packs and what we wear on the trails.
Be Careful!
Sections of the trail pass near the edge of Segla. Be careful here so that you don't slip and fall. You can hike up Segla on one of the trails that do not get close to the edge, which is recommended if you are doing this with children or you have a fear of heights.
Hesten
Segla looks the most impressive if you see it from the north. But you will never get this view on this hike, since it approaches Segla from the south. We only got this view because we have a drone.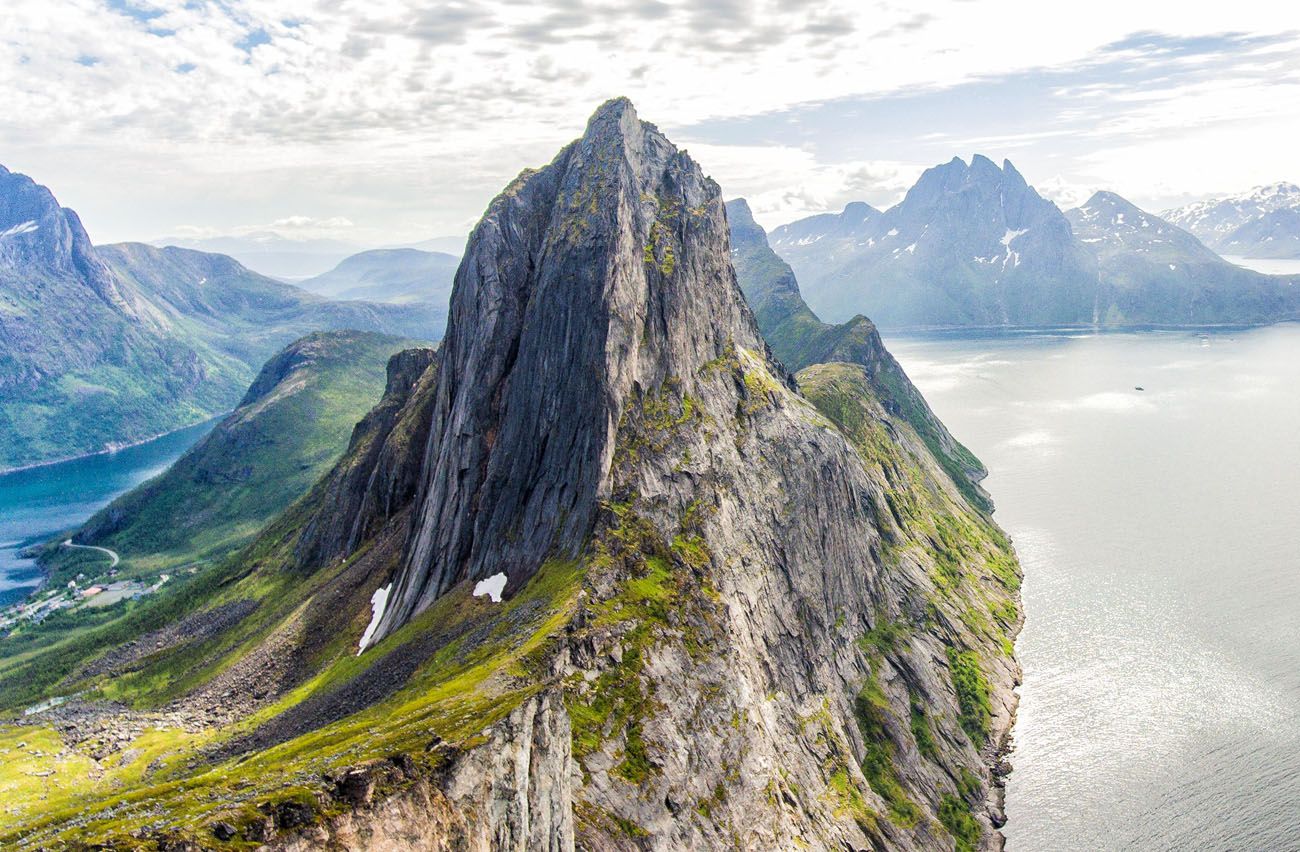 Our drone photo of Segla. You can get a similar view by hiking to Hesten.
If you are interested, you can get this view by hiking to Hesten. While on top of Segla, I spotted a trail that leaves from Fjordgard and heads to the Hesten and the mountains north of Segla.
There is only one trail up and down Segla and that is on the southern face. There is no trail that takes you down the north side of Segla. It's almost a straight down drop and it would be extremely dangerous to attempt this. So if you want to hike Segla and get the iconic view of it, you will have to do two separate hikes.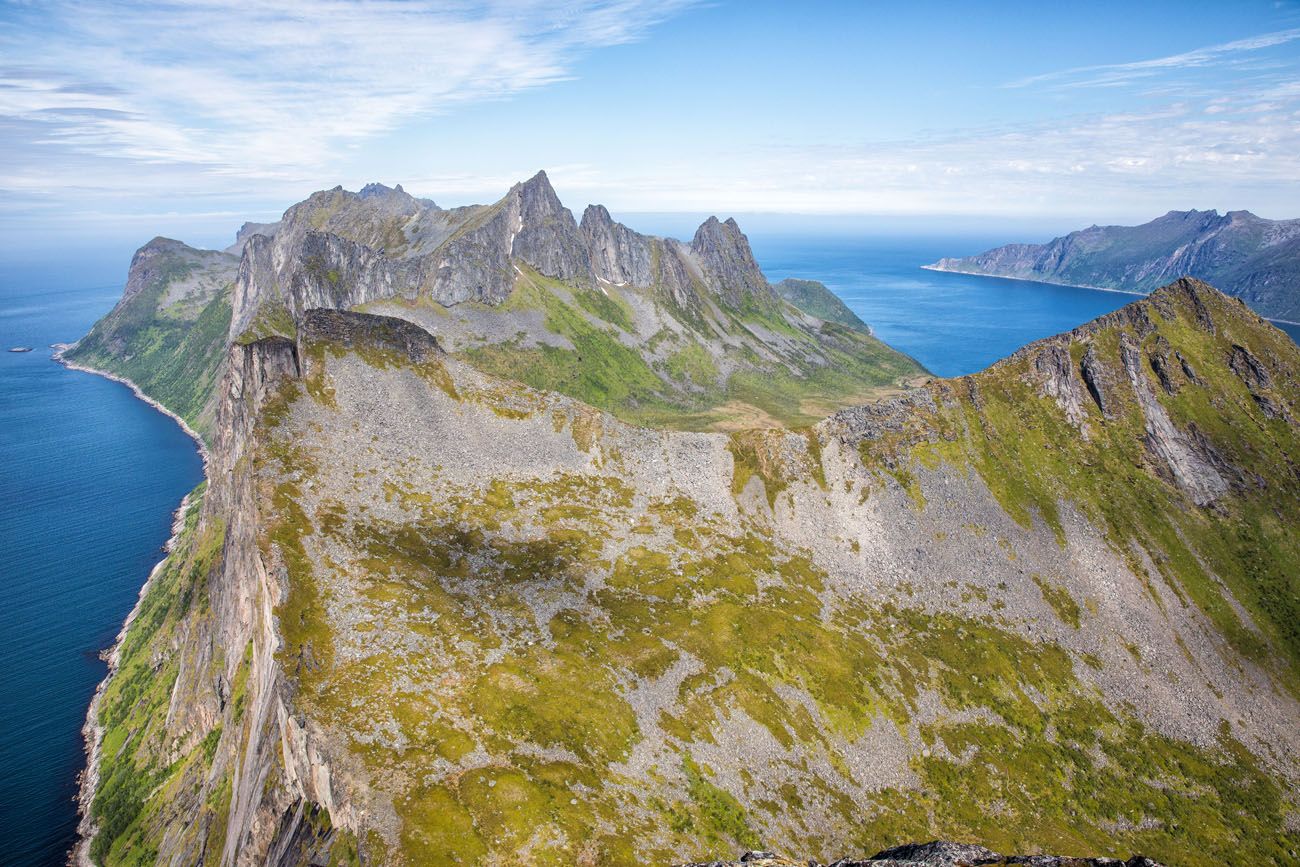 Looking north from Segla. Hesten is one of the peaks near Mefjord.
Where We Stayed
We stayed in Mefjordvaer at Mefjord Brygge. This place was great. We had our own house with three bedrooms, two bathrooms, two living rooms, and a full kitchen. It was awesome having so much space to spread out in. Mefjord Brygge also runs a restaurant that serves fresh fish and seafood and really good desserts. From the property we could look out over Mefjord and see Segla.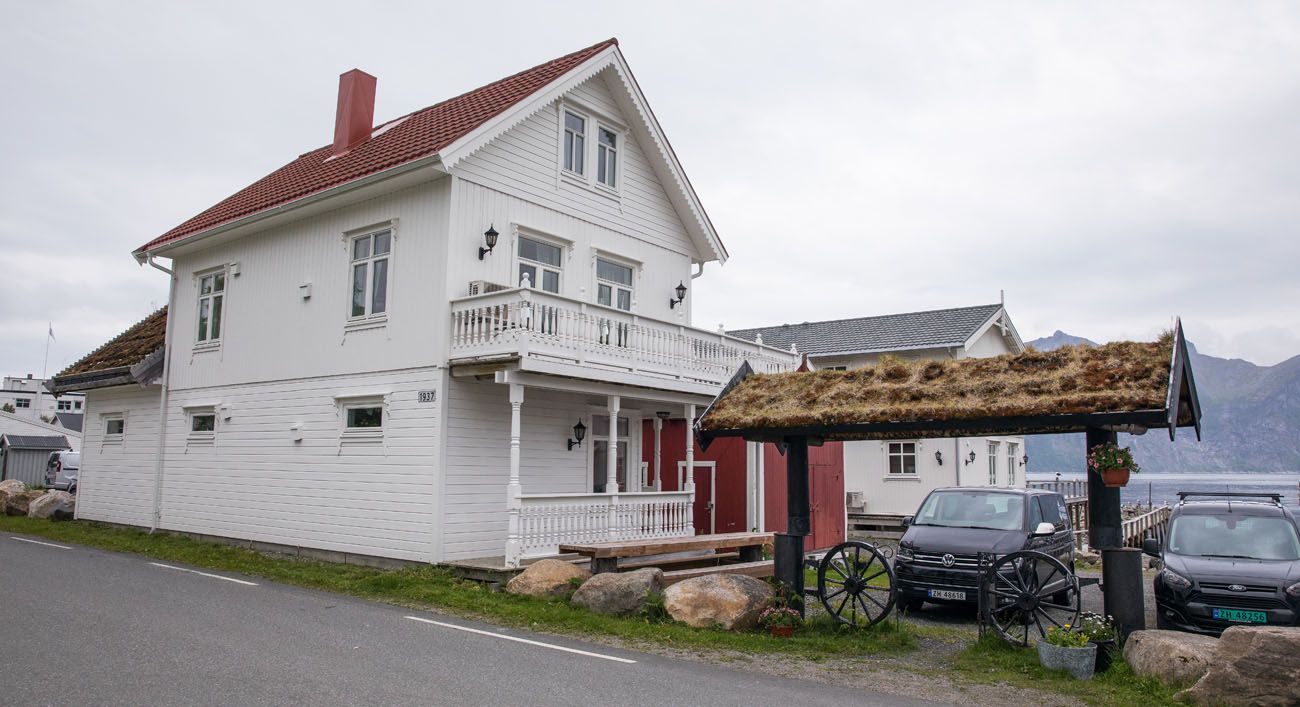 For more information on what to do and see on the island of Senja, check out this article by Amanda Williams.
---
If you have any questions about hiking Segla or visiting Senja, comment below!
More Information for Your Trip to Norway:
NORTHERN NORWAY ITINERARY: On this 10 day Norway itinerary, road trip through Senja and the Vesteralen Islands, two beautiful off the beaten path destinations, and visit the Lofoten Islands.
BEST OF NORWAY ITINERARY: In this guide, we share two different ways to plan a 10 day trip that includes both the Lofoten Islands and southern Norway.
LOFOTEN ISLANDS: For an overview of the best things to do, read our Lofoten Islands Top Ten List. Get lots of travel planning advice in our Lofoten Islands Itinerary. For advice on where to stay, read our Lofoten Islands Hotel Guide.
HIKES IN NORTHERN NORWAY: The Stave-Bleik Coastal Trail is a gorgeous hike in the Vesteralen Islands. In the Lofoten Islands, you can also hike to Ryten, hike Svolvaer Floya for views over Solvaer, or hike to the top of Reinebringen.
ADVENTURES IN NORWAY: Trolltunga and Kjeragbolten are two of the best hikes to do in Norway. For an even bigger adventure, climb Svolvaergeita in the Lofoten Islands. Traveling to Svalbard in the arctic circle is an adventure in itself, but you can also go glacier kayaking or hike to one of the tallest peaks on Spitsbergen.
MORE GREAT HIKES IN EUROPE: From thrilling trails in the Alps to easy walks along the coast, read our article 20 Best Hikes in Europe for some beautiful hiking trails to put on your travel wish list.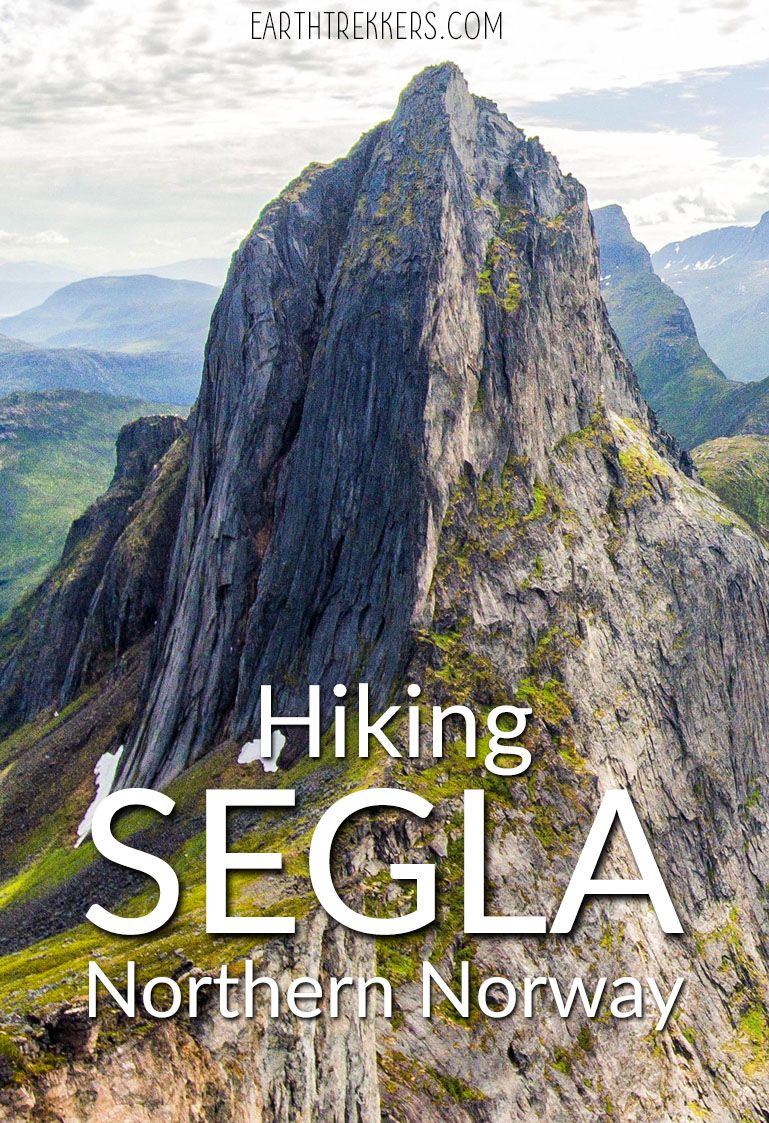 Note: This post contains affiliate links. When you make a purchase using one of these affiliate links, we get paid a small commission at no extra cost to you.
All rights reserved © Earth Trekkers. Republishing this article and/or any of its contents (text, photography, etc.), in whole or in part, is strictly prohibited.