Svalbard. An arctic playground where there are more polar bears than people. This is a land of glaciers, the northern lights, the midnight sun, and frozen tundra. Svalbard may seem barren, but it is filled with arctic wildlife like reindeer, walrus, and polar bears. If you like the idea of exploring the great outdoors, your options are almost endless, winter or summer.
Svalbard Travel Guide
Why Go to Svalbard?
If you look at Svalbard on globe, it looks like it's just a hop, skip and a jump away from the North Pole. Longyearbyen, located at 78° north, is the world's northernmost community.
This is the kind of place where the locals take their kayak, their rifle, their tent, and their dog, and spend days exploring the icy landscapes. These people are badass.
In Svalbard, many adventures await. You can go on "soft" adventures like short hikes or boat cruises. You can step it up a notch by kayaking past glaciers or exploring the snowy landscapes by snowmobile. Or you can be a badass too and go on multi-day snowmobile or sled dog expeditions. If you have lots of time and money to spend, take a one-week cruise around Svalbard in search of polar bears.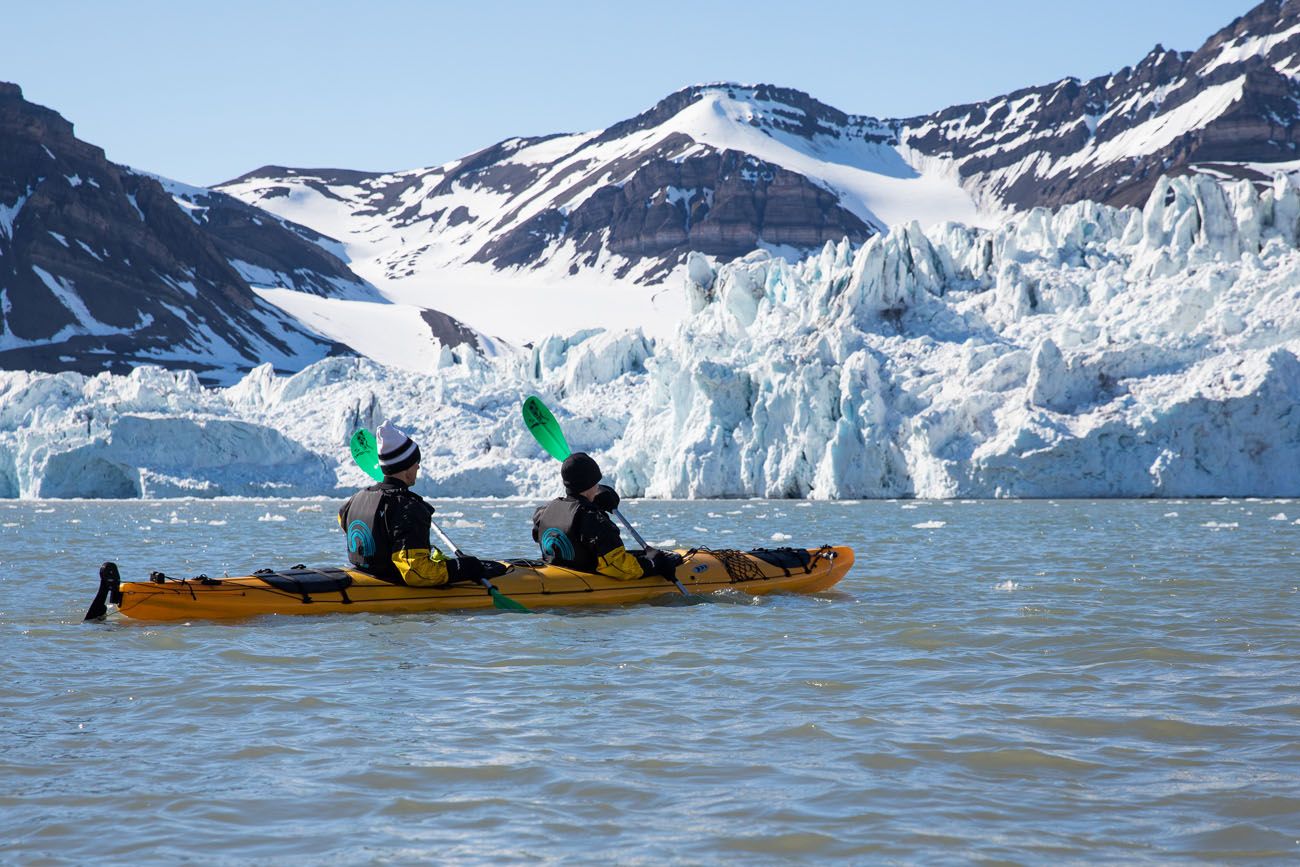 Kayaking in front of Svea Glacier | Best Things to Do in Svalbard
Svalbard stole my heart. And I was totally unprepared for that. I am not the type of person who likes the cold, or treeless landscapes, or the barrenness that you find in Svalbard. And for some reason, that is exactly why I fell in love it.
Svalbard feels like an adventure. New landscapes, new experiences…it just may become your new favorite place.
Interesting Facts about Svalbard
About 2,100 people from 50 countries call Svalbard home. Norwegians are the largest group, but you can also meet a fair amount of people from Sweden, Russia, and Thailand.
The streets in Longyearbyen have numbers rather than names.
July is the warmest month, with high temperatures averaging a balmy 7°C (45°F). It's coldest here from January through March, with high temperatures averaging -13°C (9°F). That's cold, but probably not what you would expect for a city located so far north. The western side of Svalbard receives the warm Atlantic current and this helps moderate the temperatures in Longyearbyen.
Cats are banned in Svalbard since they hunt and kill the native birds.
It's "illegal" to die in Svalbard. Actually, it's not really illegal to die here, but if you do, you won't be buried here. The ground is made of permafrost, so bodies that are buried here do not decompose. So yes, there still are perfectly preserved bodies in Svalbard cemetery from 100 years ago.
Giving birth is out of the question, too. Three weeks before a woman's due date, she must return to the mainland in order to give birth. The medical facilities on Svalbard are not equipped to handle an emergency should one arise during labor and delivery.
It's customary to remove your shoes when entering hotels, shops, and restaurants in Longyearbyen. This is a tradition that dates back to the coal mining days, as a way to prevent coal dust from being tracked into the buildings.
If you plan to leave town, make sure you are carrying a rifle, just in case you cross paths with a wandering polar bear.
Svalbard Geography 101
Before we dive into what to do and where to go, it helps to get a quick geography lesson.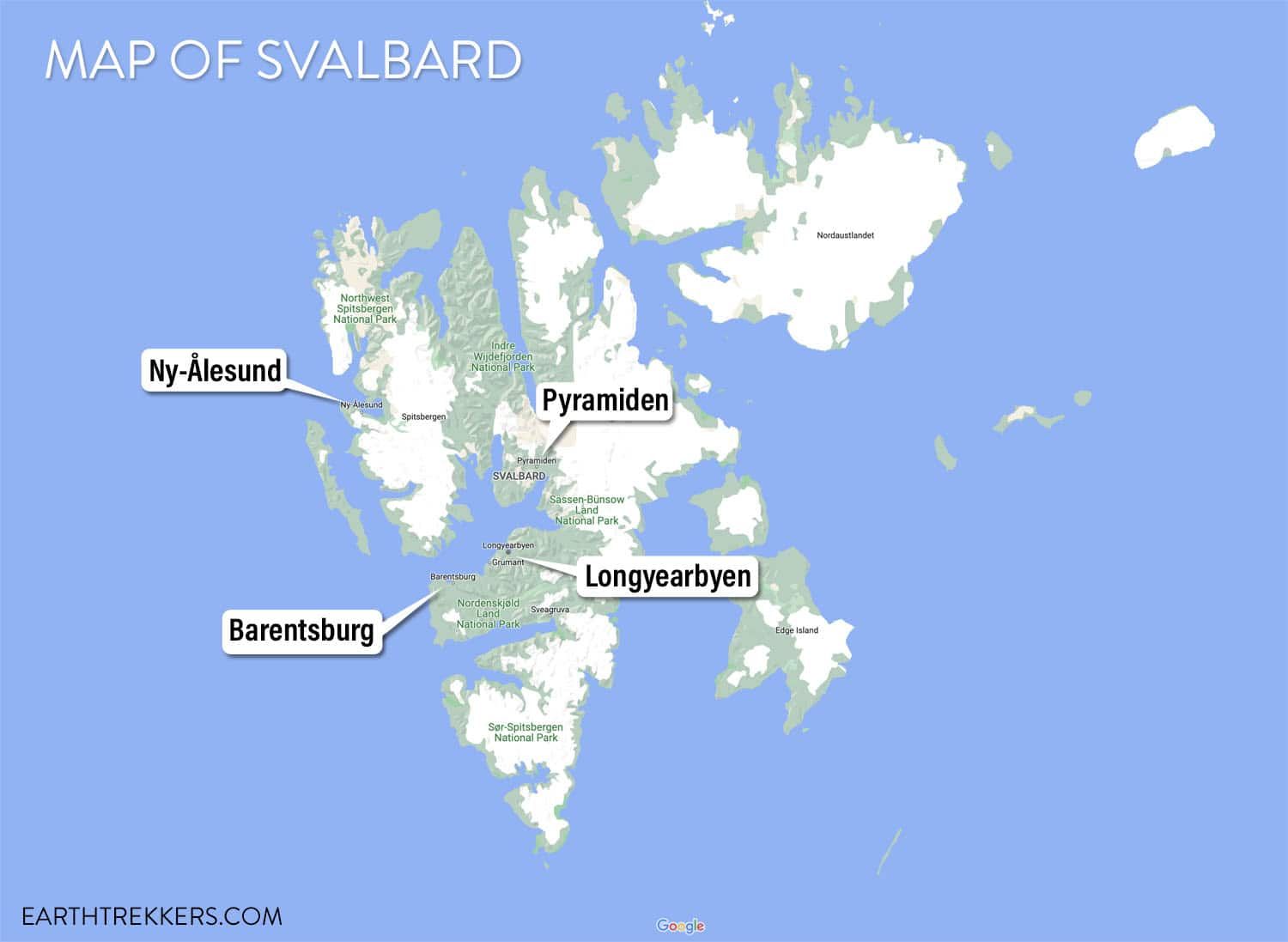 Svalbard Map
Svalbard
Svalbard is a Norwegian archipelago that is located in the Arctic Ocean. The name Svalbard refers to this entire group of islands.
Spitsbergen
Spitsbergen is the largest island in Svalbard. This island takes up more than half of Svalbard and it is where you will find almost all of the towns and settlements, with the exception of a few meteorological outposts.
Before the signing of the Svalbard Treaty of 1920, the entire archipelago was known as Spitsbergen. In the 1920's, Norway renamed the archipelago Svalbard, but even today, you can still sometimes see this landmass referred to as Spitsbergen.
The smaller islands go by the names Nordaustlandet and Edgeøya.
Longyearbyen
Longyearbyen is the largest settlement in Svalbard. It is also the world's northernmost city. This is a town where the streets have no names, reindeer wander through town, and there are more snowmobiles than people. If you have plans to visit Svalbard, Longyearbyen is where you will eat, sleep, and fill your time in between arctic adventures.
Learn more about Longyearbyen, including what to do in town in between excursions, in our article Top Ten Things to do in Longyearbyen.
Pyramiden
Pyramiden is an abandoned Russian mining town near Longyearbyen and it is one of the most popular excursions in Svalbard. According to National Geographic, Pyramiden is one of the top ten best ghost towns to visit in the world.
Learn more on how to plan a visit here in our article about Pyramiden.
Barentsburg
Barentsburg is the only Russian settlement since Pyramiden was abandoned. It is primarily a mining town although there is a hotel and a few shops for those tourists who visit here from Longyearbyen.
A popular day trip from Longyearbyen is a full day cruise to Barentsburg and Pyramiden.
Ny-Ålesund
Ny-Ålesund is a settlement that is primarily a research facility. This town is owned and operated by Kings Bay, which provides the facilities for the research institutes.
Best Time to Go to Svalbard
Svalbard can be visited year round and the season will have a huge impact on what you can do.
There are three main seasons on Svalbard. The summer months, from mid-May through the end of September, have relatively warm temperatures (up to 10°C, 50°F). This is the time of the midnight sun, so if you haven't experienced this yet, it's wild to see the sun shining at 1 am! The summer months are the best time to go hiking and kayaking. However, there won't be any snow on the ground, so don't expect to go snowmobiling.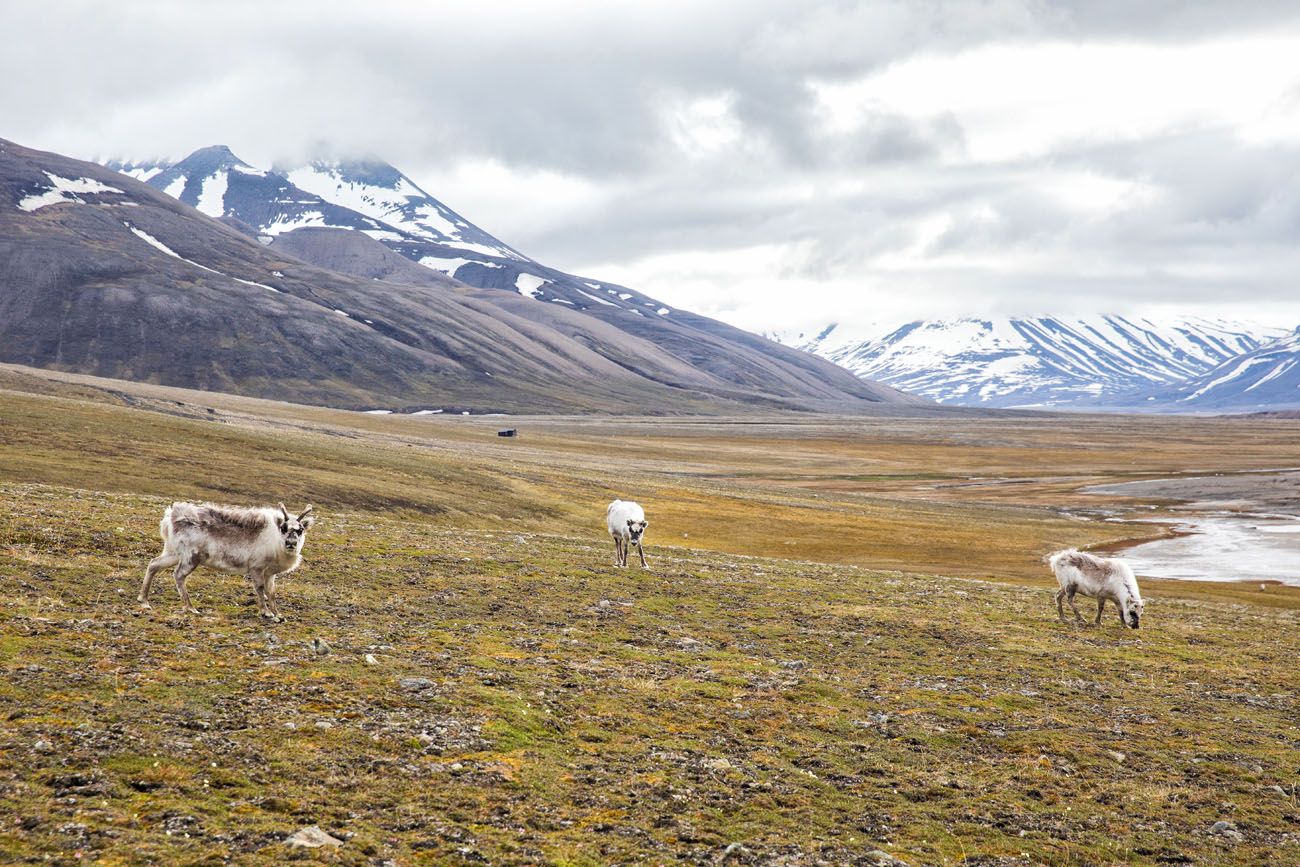 Svalbard in June
During the winter months, from the beginning of October through the end of February, Svalbard is dark and cold. The advantage of 24 hours of darkness is the chance to catch the northern lights day and night. Wouldn't that be wild…to see the northern lights midday?!
The spring months, from March through mid-May, is an awesome time to visit Svalbard. The sun is making an appearance once again, it's getting a little warmer, and there is enough snow on the ground to go on those snowmobiling and sled dog expeditions.
We visited Svalbard at the end of June 2018. Temperatures hovered around 45°F. This is peak season, so expect higher temperatures and higher crowds. Even so, Longyearbyen feels almost empty compared with pretty much every other spot in Europe during the summertime.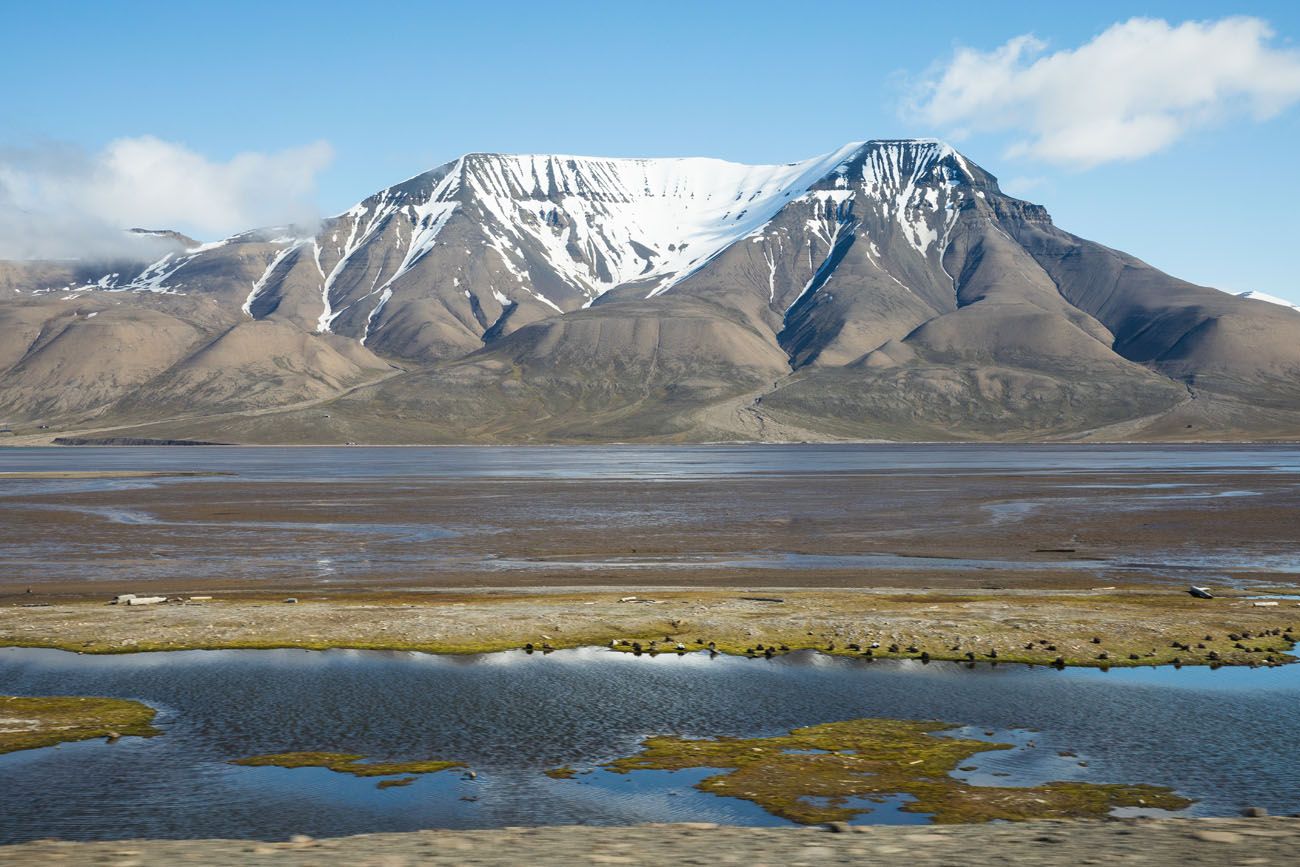 Hiorthfjellet | Hiking to the top of this mountain is one of the best things to do in Svalbard
Best Things to Do in Svalbard
So, what is there to do in Svalbard? A lot. You may be surprised by your choices.
Summer Months (mid-May through September)
Kayaking

Hiking

Boat Cruises

Walrus Safari

ATV Safari

Fishing Trips

Fat Tire Biking

Dog Sledding (on wheels)
Winter Months (October through February)
Northern Lights Expeditions

Explore an Ice Cave

Full Moon Snowmobile trips

Dog Sledding
Spring Months (March through mid-May)
Hiking

Snowmobile Excursions

Boat Cruises

Walrus Expeditions

Northern Lights Expeditions (through March)

Ski Expedition
For a full list of the activities and excursions in Svalbard, visit the official Visit Svalbard website. It can be a little overwhelming, but by using the filters of time of year, activity, and duration, you can narrow down your choices.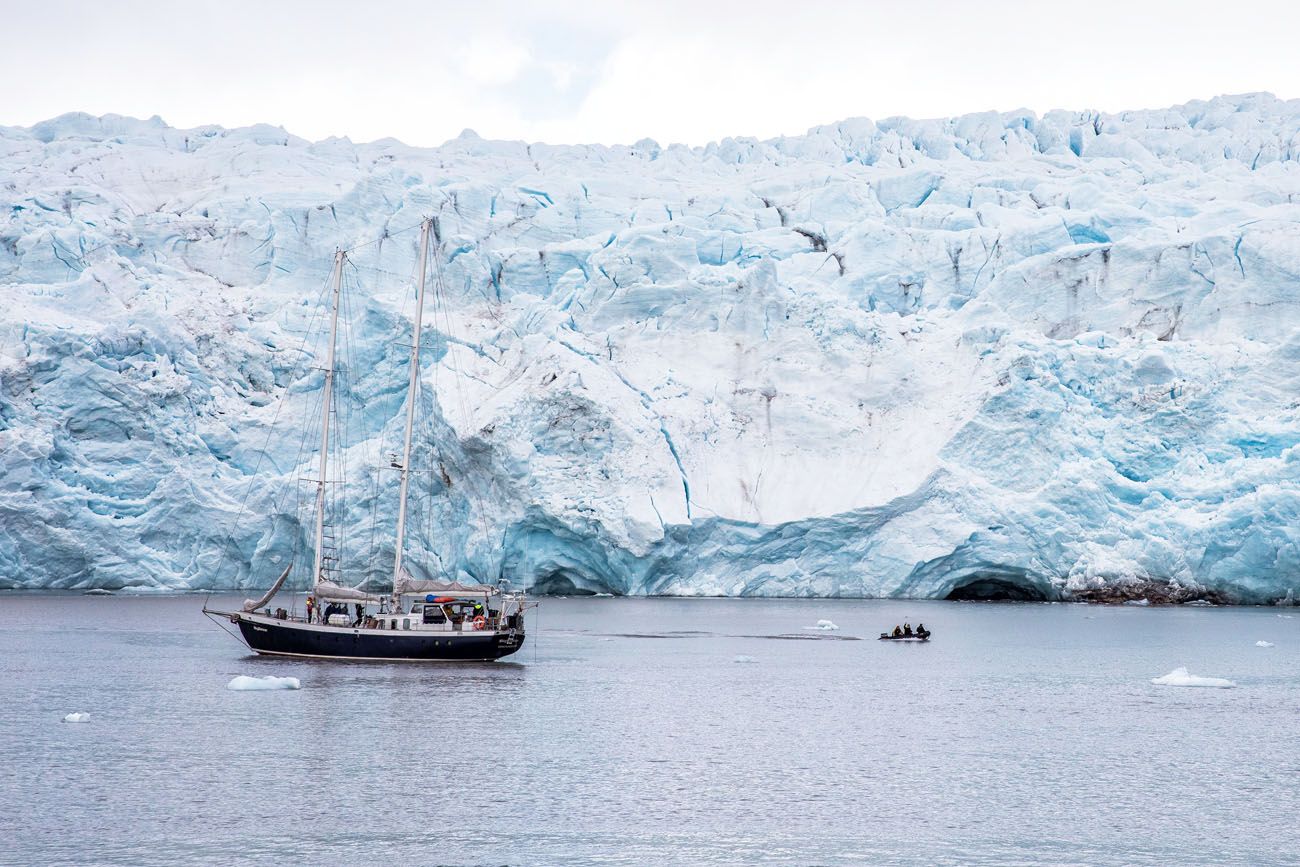 Nordenskiold Glacier | Best Things to Do in Svalbard
What's the Best Way to See a Polar Bear?
It's estimated that 3,000 polar bears call Svalbard home. It may sound like a lot, but even so, you have to be very lucky in order to spot one of these guys.
There are no "official" polar bear expeditions. You just have to hope that you are lucky enough to spot a polar bear while out on another expedition.
Your best chances of spotting a polar bear is by going on a multi-day cruise around Svalbard, usually during the summer months. Even then, there is no guarantee.
How to Get to Svalbard
You can get to Svalbard by airplane or on a cruise.
SAS offers daily flights to Longyearbyen via Tromsø. Norwegian offers flights several days a week out of Oslo.
Hurtigruten offers cruises to and from Svalbard. For a full list of their options, click here.
Svalbard is located outside of the Schengen zone. You will need to bring your passport.
How to Get around Longyearbyen
To get from the airport into town, you can either take the airport shuttle (NOK 170 round trip) or take a taxi (more expensive). Click here for the bus timetable.
Longyearbyen is a small town and it is easy to walk everywhere. For any excursions you sign up for, transportation is usually covered in the cost.
Where to Stay in Longyearbyen
Basecamp Hotel. Warm, cozy, and rustic, this is just what you would imagine an arctic hotel to look like. The hotel offers lots of different excursions, the included breakfast is awesome, and the hotel has a fantastic location right in the center of town.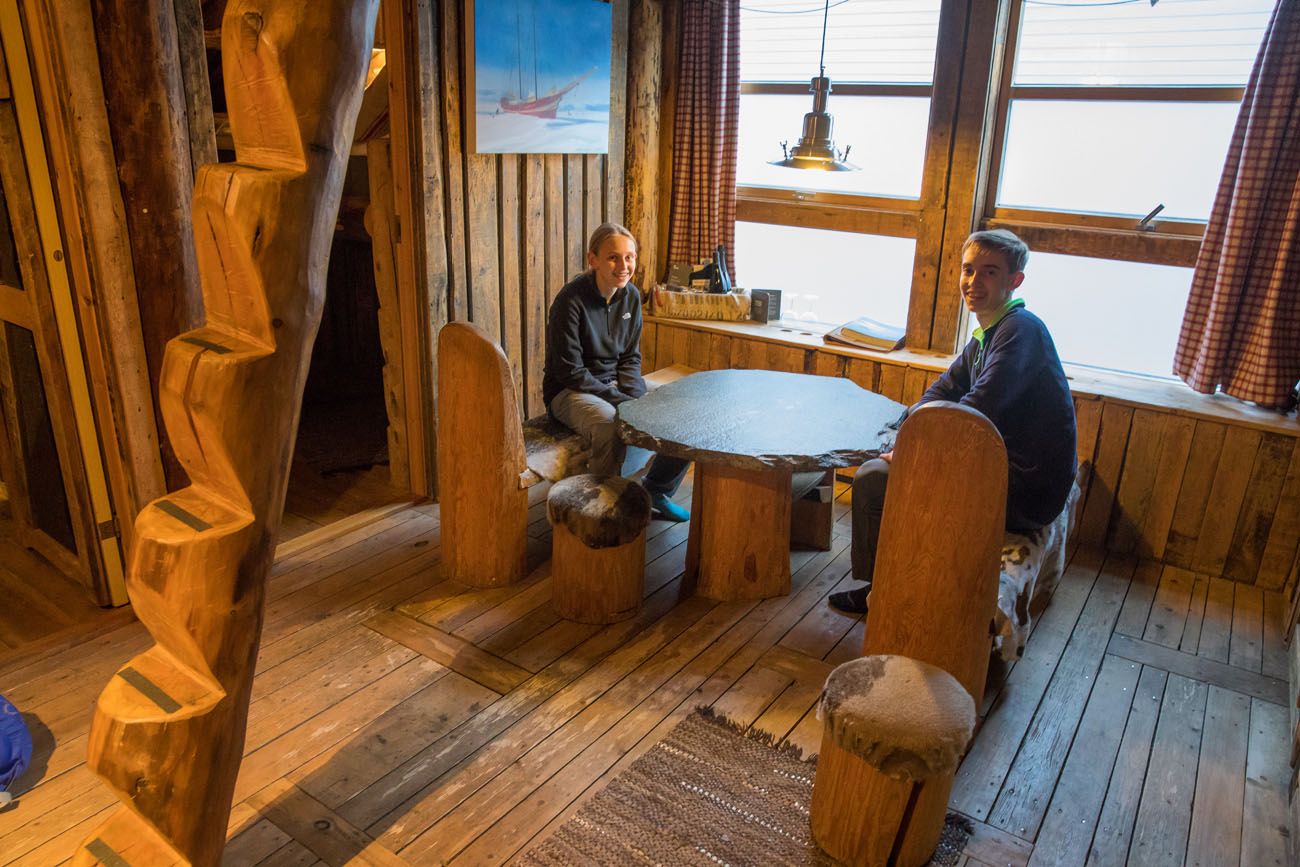 Basecamp Hotel | Best Things to Do in Svalbard
We spent two nights here, staying in the family room. We had two bedrooms, a loft, a bathroom, and a small living area. We loved it here.
Radisson Blu Polar Hotel. The Radisson Blu is the largest hotel in Longyearbyen. This had a totally different vibe than the Basecamp Explorer. This seemed to be where all of the tour groups stayed. It did not have that quiet, cozy, rustic feel like Basecamp Explorer but our room was amazing.
We stayed in the Ulf Prytz suite. This place was huge and our view across Adventfjord to Hiorthfjellet was spectacular. Tyler and Kara slept on pull out sofas in the living room and Tim and I slept in the bedroom. Breakfast was also included.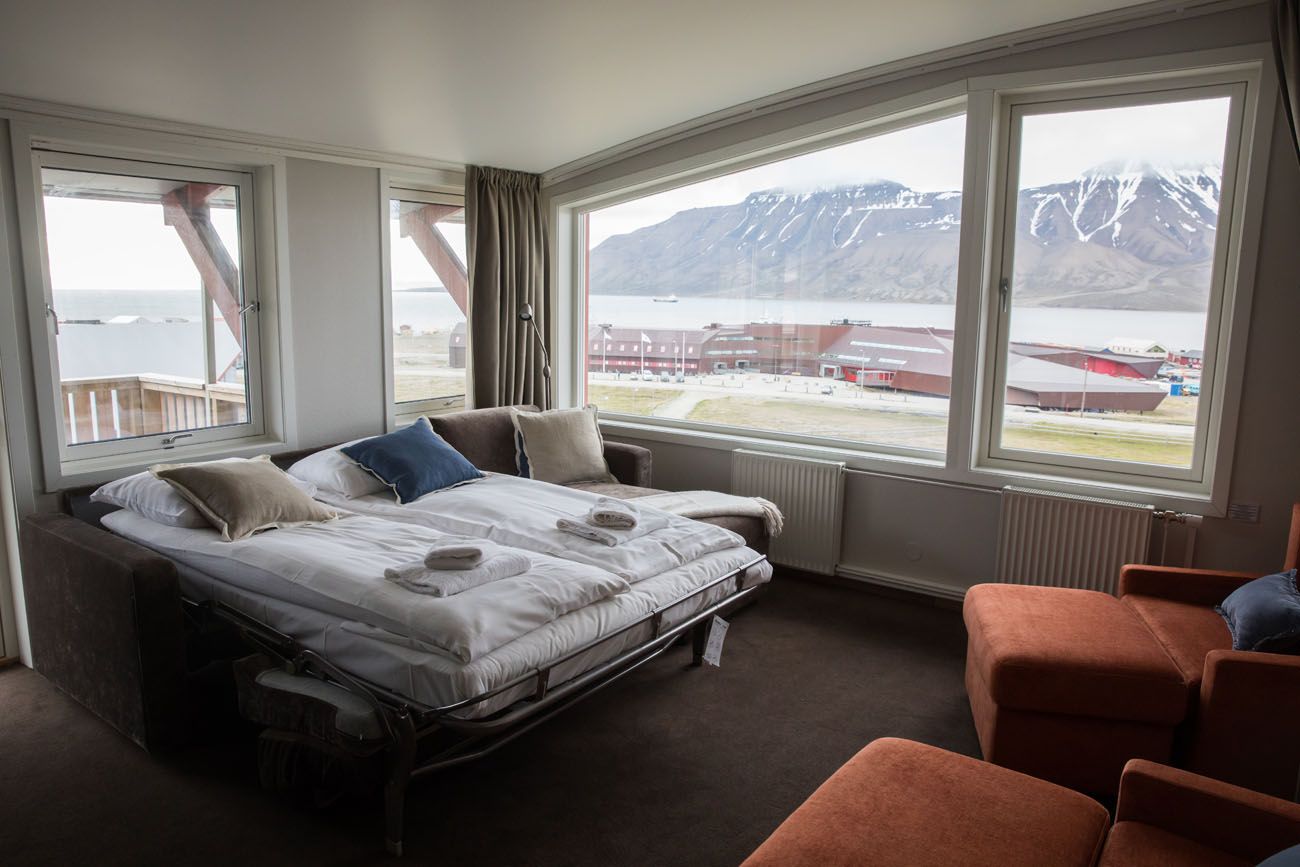 We disliked the crowded, touristy feel of this hotel. If it weren't for our awesome suite and its amazing view, I think we would have disliked it here. Our hotel room was located in a separate building so we only had to join the crowds when we ate breakfast.
Svalbard Hotell. This modern hotel is located in the center of Longyearbyen. The rooms are beautifully decorated and complimentary breakfast is provided. This hotel is also home to Polfareren, a gourmet restaurant we loved.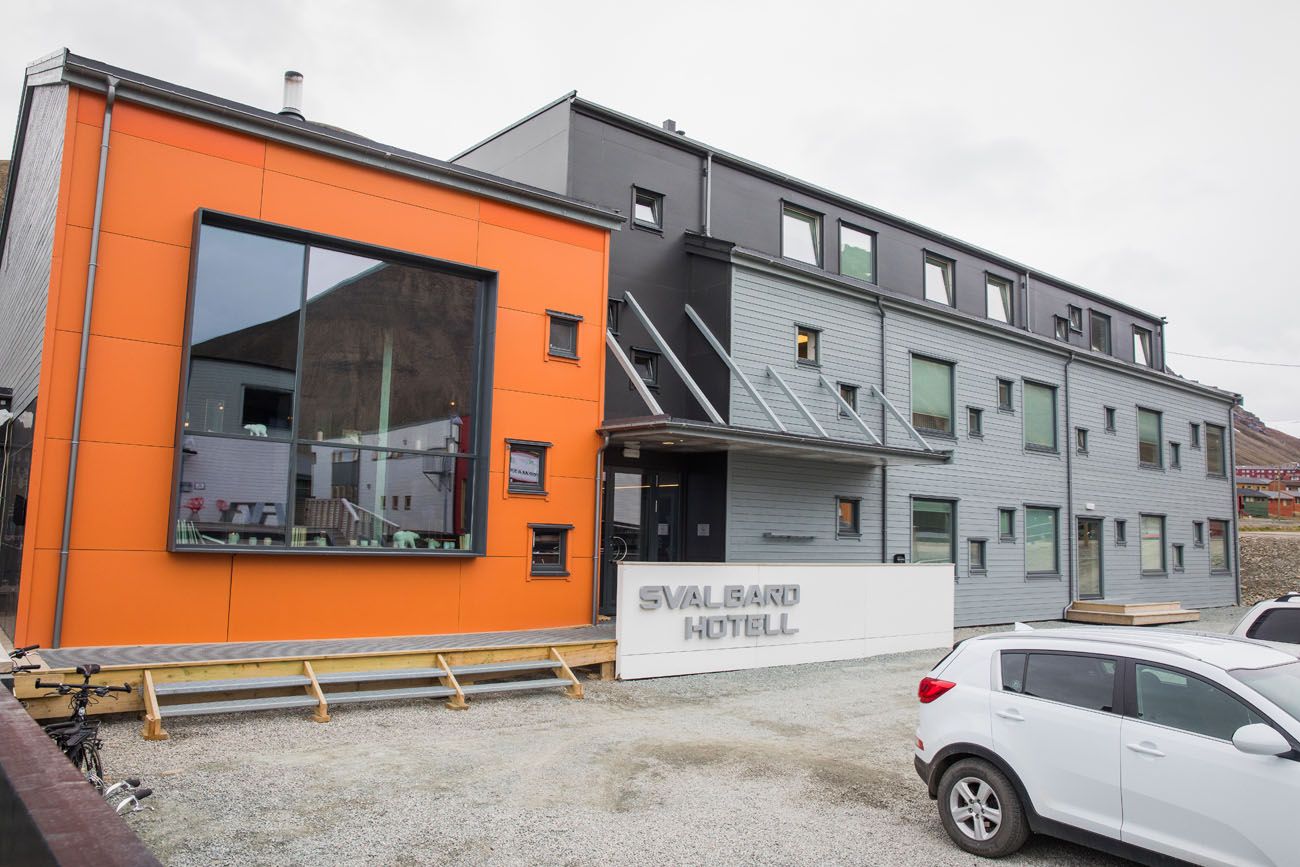 Coal Miner's Cabins. If you are looking for a decent budget accommodation, this is a great choice. Many rooms have a shared bathroom, although there are a few rooms where you can pay more for a private bathroom. This hotel is located outside of the city center so expect a 20-minute walk to get down into town.
Gjestehuset 102. This hostel is another good budget option. It's located very close to the Coal Miner's Cabins. All rooms have a shared bathroom.
Funken Lodge. This newly refurbished hotel is one of the most expensive options on this list. Rooms are large and modern and there is a French restaurant attached to the property. Funken Lodge is located a short walk outside of the heart of Longyearbyen.
Mary-Ann's Polarigg. This quirky hotel has turned the old, wooden barracks of the miners into hotel rooms. Prices vary widely, from cheaper rooms with a shared bathroom to very expensive suites.
PRO TRAVEL TIP: If you will be visiting Svalbard during the summer months, make sure you pack a sleep mask. Not all hotels provide blackout curtains and having a sleep mask could help you catch those zzz's you need.
Our recommendations
If you are looking for a small, rustic hotel, pick the Basecamp Explorer.
If you want a modern hotel that gets rave reviews and is located in the center of town, stay at the Svalbard Hotell.
If you don't want to spend a fortune, take your pick from the Coal Miner's Cabins or Gjestehuset 102.
Finally, if you want a room with a view, try booking the Ulf Prytz Suite at the Radisson Blu.
PRO TRAVEL TIP: Book your hotels and your excursions as soon as you know the dates for your trip. We booked our hotels at the beginning of February for our trip at the end of June. We were unable to get four consecutive nights at one hotel for our dates, which is why we stayed in two different hotels.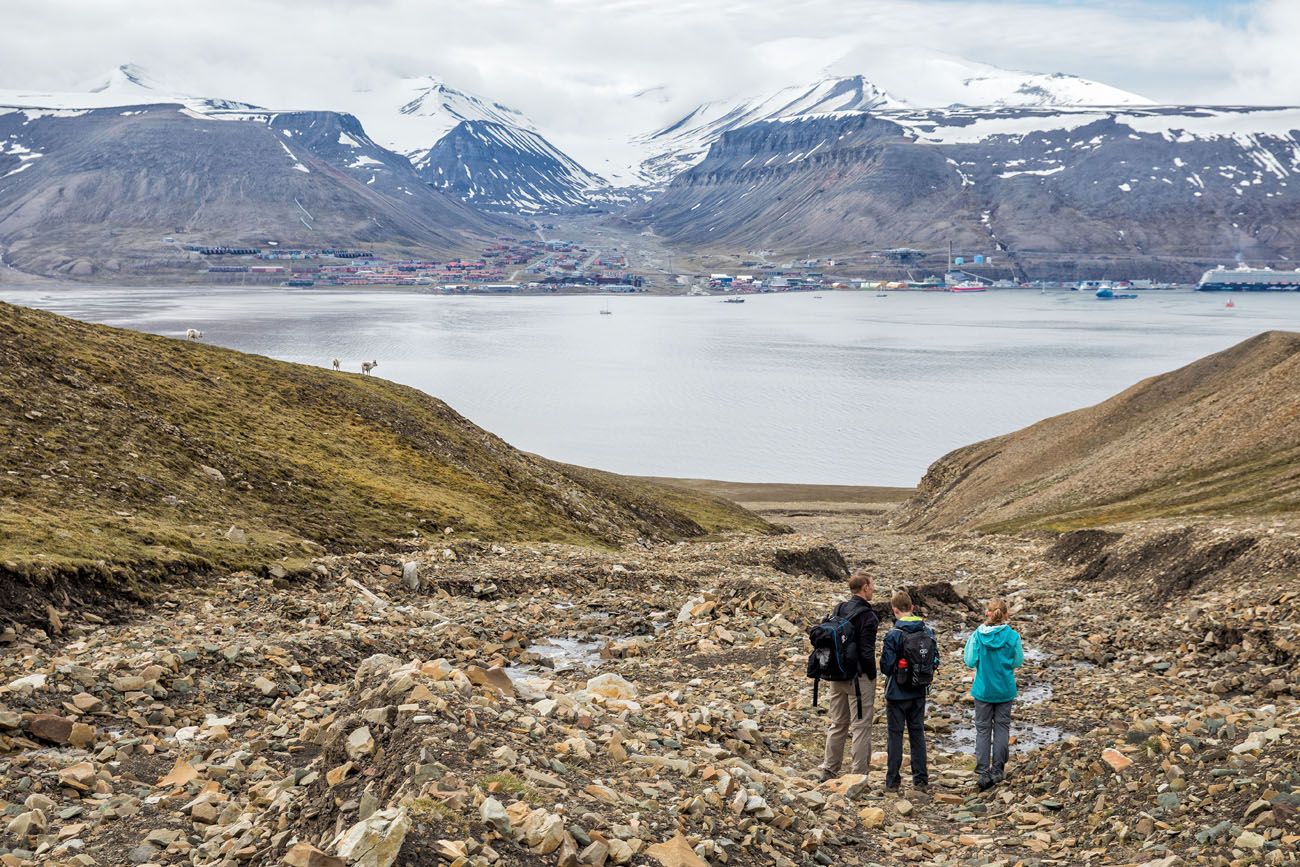 Looking back at Longyearbyen during our hike up Hiorthfjellet | Best Things to Do in Svalbard
Where to Eat
Kroa. This restaurant was recommended to us by Nanna, our guide on the Arctic Challenge. It was so good we ate here twice! It's warm and cozy inside, with a rustic décor and animal skins on the walls. The moose burgers are awesome and so is the chocolate fondant cake. If you're vegetarian, I ate the lentil stew, which was also very good.
Svalbar. This is a great place to go for burgers and beer.
Polfareren. If you want a gourmet meal that doesn't totally blow the budget, we recommend this restaurant. Everything we ate was amazing.
Fruene Kaffe Og Vinbar. This bakery serves pastries and sandwiches and soups. It's a great place if you are looking for good, budget friendly food.
Gruvelageret. This is the closest you can get to a Michelin starred restaurant in Svalbard. Located in an old mining hut, you dine on a four course set menu of white bean soup, reindeer, halibut, and profiteroles.
Huset Svalbard. This is Longyearbyen's premier dining experience. Come here for a gourmet dinner or for a wine tasting. The 20,000 bottle wine cellar is the northernmost wine cellar in the world and receives multiple awards from Wine Spectator.
How Much does it Cost to Visit Svalbard?
Svalbard is expensive. This is not a budget destination. There are ways to cut costs, such as staying in a hostel and buying your food at the grocery store rather than dining in restaurants. But if you're going to fly all of the way to Svalbard, you have to be prepared to fork over some serious money to really experience the island.
We have detailed article of how much we spent in Svalbard, with a full cost breakdown of flights, activities, accommodations, and meals.
Packing List for Svalbard
For a detailed list of what to pack for the summer months, read our Svalbard Packing Guide.
Svalbard Itinerary
How much time should you spend in Svalbard? At a minimum, you should plan on spending two full days and three nights in Svalbard. This gives you two days to go on excursions. More time is better, if you have the time and money.
We spent 5 days in Svalbard in June 2018.
Here is Our Itinerary:
Day 1: 9 pm: arrive in Longyearbyen from Oslo
Day 2: Full day excursion – the Arctic Challenge: kayaking Adventfjord and hiking Hiorthfjellet. Dinner at Polfareren.
Day 3: Free morning to explore Longyearbyen. Noon to 7 pm on the cruise to Pyramiden. Dinner at Kroa.
Day 4: All day glacier kayaking excursion with Better Moments. Dinner at Kroa.
Day 5: Morning to explore Longyearbyen. Lunch at Fruene Kaffe. 2 pm flight to Tromsø.
We felt like this was a nice amount of time for our first visit to Svalbard. If we had one more day, it would have been perfect. During the planning process, we weren't sure if we were going to like Svalbard, which sounds crazy, because now it's one of our favorite spots in the world.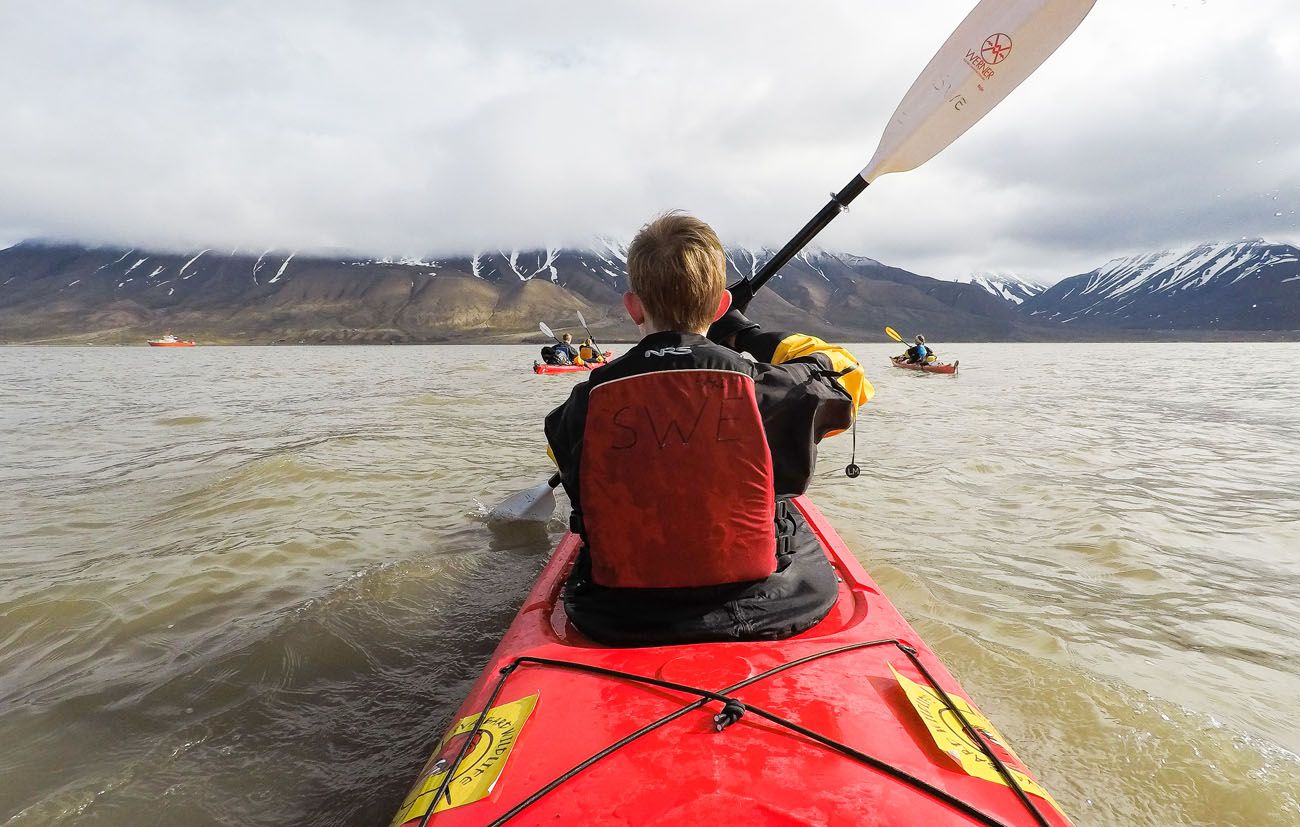 Kayaking across Adventfjord | Best Things to Do in Svalbard
---
Are you planning a trip to Svalbard? Did we miss anything? Comment below if you have any questions!
More Information for Your Trip to Svalbard & Norway:
NORTHERN NORWAY ITINERARY: On this 10 day Norway itinerary, visit the Lofoten Islands but also road trip through Senja and the Vesteralen Islands, two beautiful off the beaten path destinations.
10 DAYS IN THE FJORD REGION: On this 10 day itinerary through the fjord region, visit southern Norway: Bergen, Geirangerfjord, and Stavanger and hike Trolltunga, Pulpit Rock and Kjeragbolten.
LOFOTEN ISLANDS: For an overview of the best things to do, read our Lofoten Islands Top Ten List. Get lots of travel planning advice in our Lofoten Islands Itinerary. For advice on where to stay, read our Lofoten Islands Hotel Guide.
BEST OF NORWAY: For a list of top experiences in Norway, don't miss our Norway Bucket List. If you are a hiker, we also have a hiking guide with 14 epic day hikes to do in Norway.
ADVENTURES IN NORWAY: Trolltunga and Kjeragbolten are two of the best hikes to do in Norway. For an even bigger adventure, climb Svolvaergeita in the Lofoten Islands.
EUROPE TRAVEL INSPIRATION: For more great ideas on where to go in Europe, check out our article 30 Beautiful Places to Visit in Europe and the 20 Best Hikes in Europe. You can also get more travel ideas in our 10 Days in Europe itinerary guide, which has 10 great itineraries for your next trip to Europe.
Is your trip to Svalbard part of a bigger trip to Norway? Read all of our articles about Norway in our Norway Travel Guide.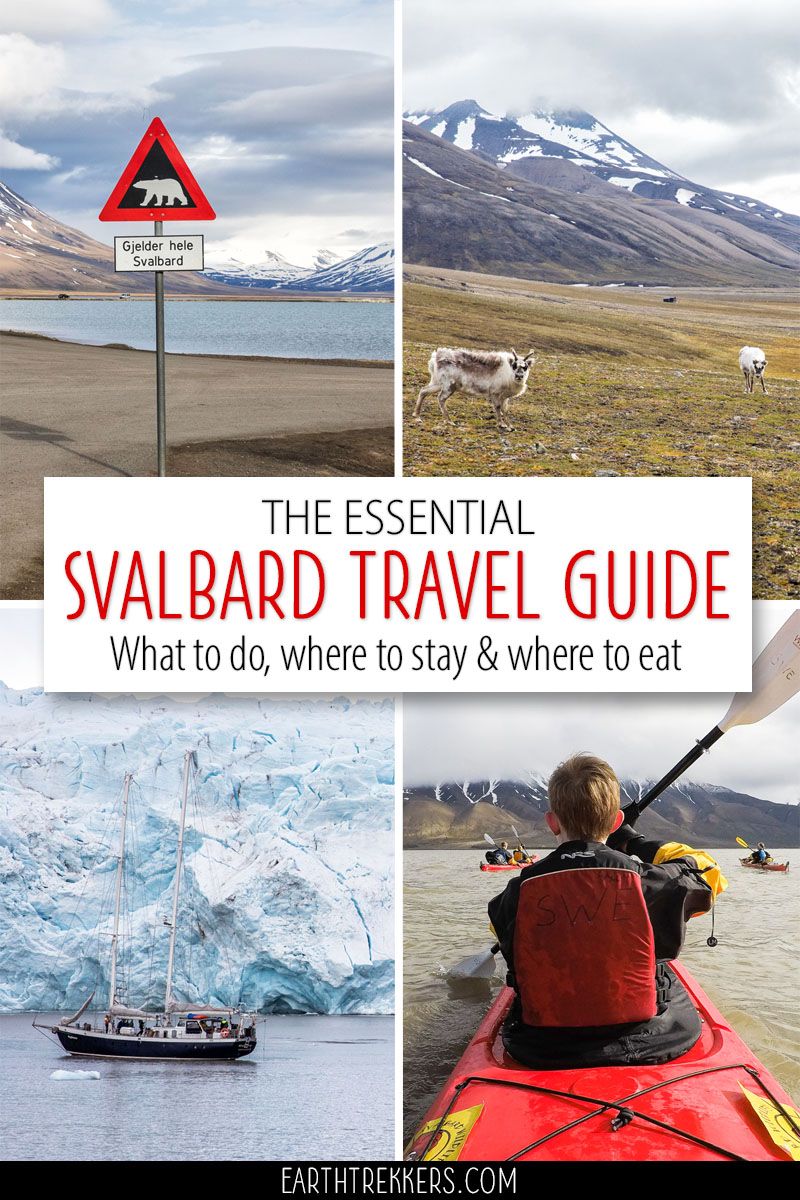 Note: This post contains affiliate links. When you make a purchase using one of these affiliate links, we get paid a small commission at no extra cost to you.
All rights reserved © Earth Trekkers. Republishing this article and/or any of its contents (text, photography, etc.), in whole or in part, is strictly prohibited.