The hike to Pulpit Rock is one of the most popular hikes in Norway. With great views, a relatively easy hiking trail, and convenient accessibility from the town of Stavanger, this hike has a big appeal for many visitors to Norway.
With that being said, you should expect big crowds in the summer months. Unless you start your day early or time your visit for the end of the day, expect to share the trail with many other hikers.
We did this hike in 2013. Even then it was very, very crowded. But what an amazing experience. This is a gorgeous spot in Norway and the views over the Lysefjord are incredible.
Pulpit Rock Hiking Stats
Distance: 7.6 km (4.7 miles) out-and-back
Elevation Gain: 350 meters (1150 feet)
Difficulty: Moderate
Length of Time: 4 to 5 hours
When to Go: It is possible to hike to Pulpit Rock year round. If you plan to do this hike in the off-season (November through April), click here for important information.
Please practice the seven principles of Leave No Trace: plan ahead, stay on the trail, pack out what you bring to the hiking trail, properly dispose of waste, leave areas as you found them, minimize campfire impacts, be considerate of other hikers, and do not approach or feed wildlife.
Interesting Facts about Pulpit Rock
Pulpit Rock is also called Preikestolen. This uniquely shaped rock towers 604 meters over Lysefjord.
Pulpit Rock made an appearance in Mission: Impossible – Fallout staring Tom Cruise. For one week in 2017, the rock was off limits to hikers while movie scenes were filmed.
Lonely Planet called Pulpit Rock one of the world's "most impressive viewpoints."
With these accolades, movie cameos, and hikers posting their photos on Facebook and Instagram, it's no surprise that Pulpit Rock is one of Norway's most popular hikes.
How to Get to Pulpit Rock
The Ryfylke Tunnel connects Stavanger with Tau. This tunnel is just over 14 km long and it is one of the world's longest and deepest subsea tunnels.
Public Bus
There are two bus companies that provide transportation from Stavanger to the Pulpit Rock hiking trail:
The trip with Go Fjords includes a cruise on Lysefjord which accounts for the higher price.
By Car
From Stavanger, you can now drive directly to the Pulpit Rock parking lot without taking the car ferry. By way of the Ryfylketunnelen, it is a 45-minute drive to the Pulpit Rock parking lot. You will have to pay a toll fee of 171 NOK one-way, 342 NOK round trip. There is also a parking fee of 250 NOK. This brings your grand total to 592 NOK to drive and park at Pulpit Rock.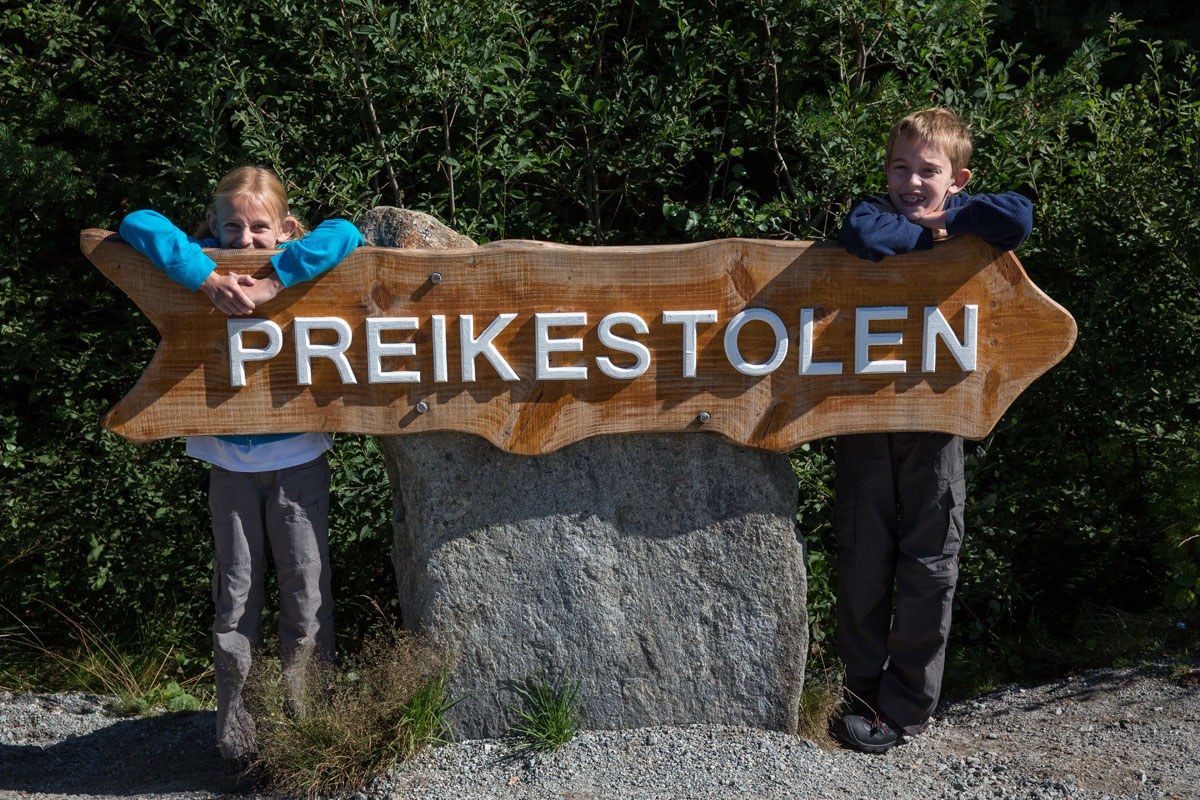 How to Hike to Pulpit Rock
Step-By-Step Trail Guide
Overview of the Trail
The hike to Pulpit Rock is just under five miles round trip. By Norwegian standards, it is classified as a moderate hike. This is a suitable hike for active adults and adventurous kids.
Guide books and the Visit Norway website recommends two hours to hike to Pulpit Rock, an hour to spend at Pulpit Rock, and two hours to hike back.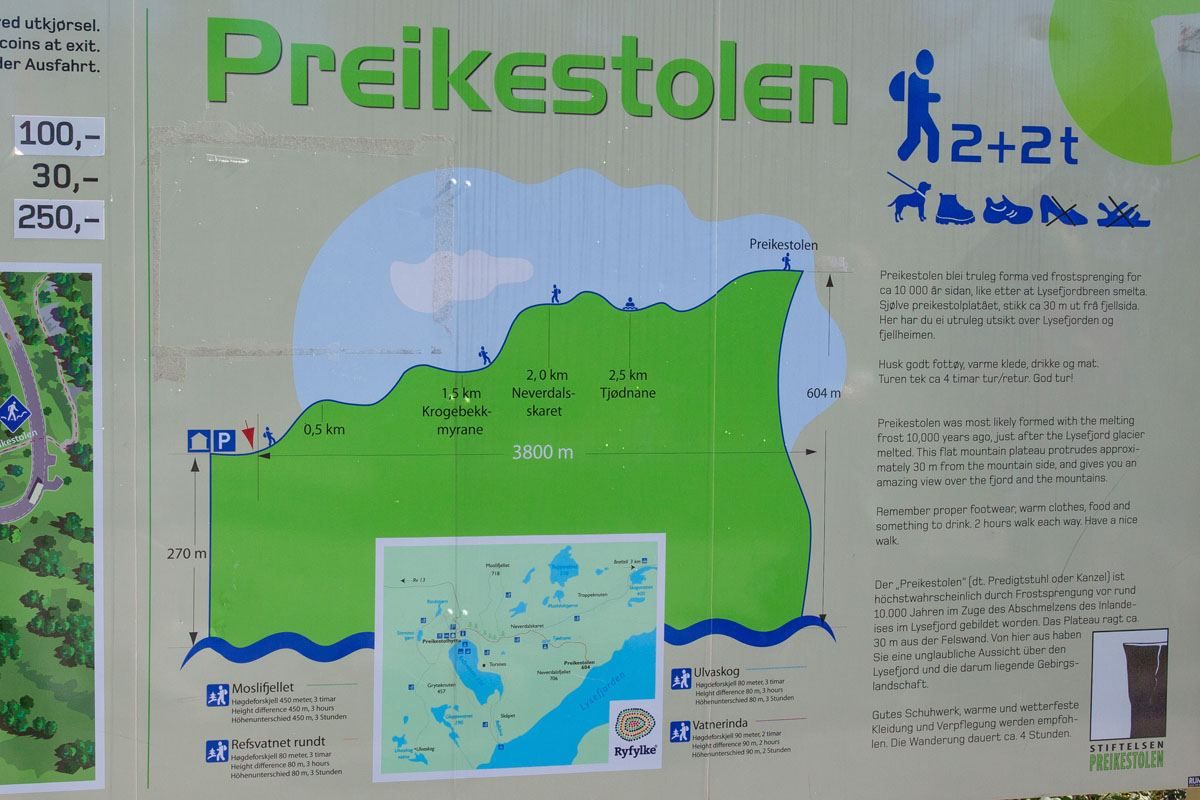 Pulpit Rock Trail Sign
On the Trail to Pulpit Rock
At noon we started our way up the mountain. It was very steep at first and it didn't take long until we were scrambling up boulders amidst pine forests.
There were an incredible number of people on the trail. This was a sunny day on a weekend so the hike was very busy.
The trail alternates between relatively flat, easy sections and steep climbs up staircases built from giant rocks. For the first half of the hike to Lysefjord, there is not much of a view. You will hike in and out of pine forests as you climb up these long staircases.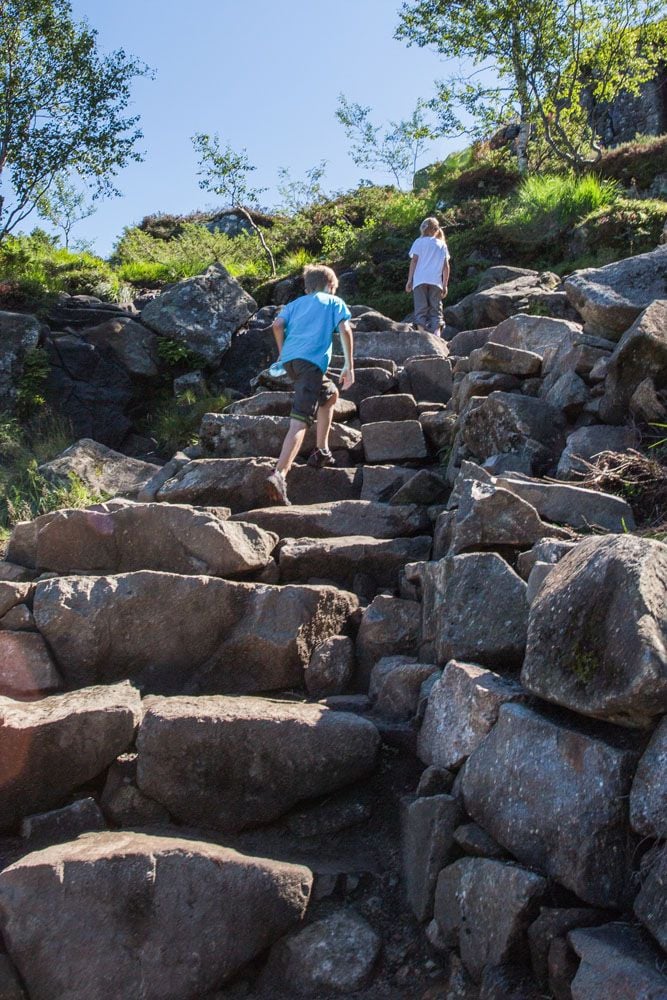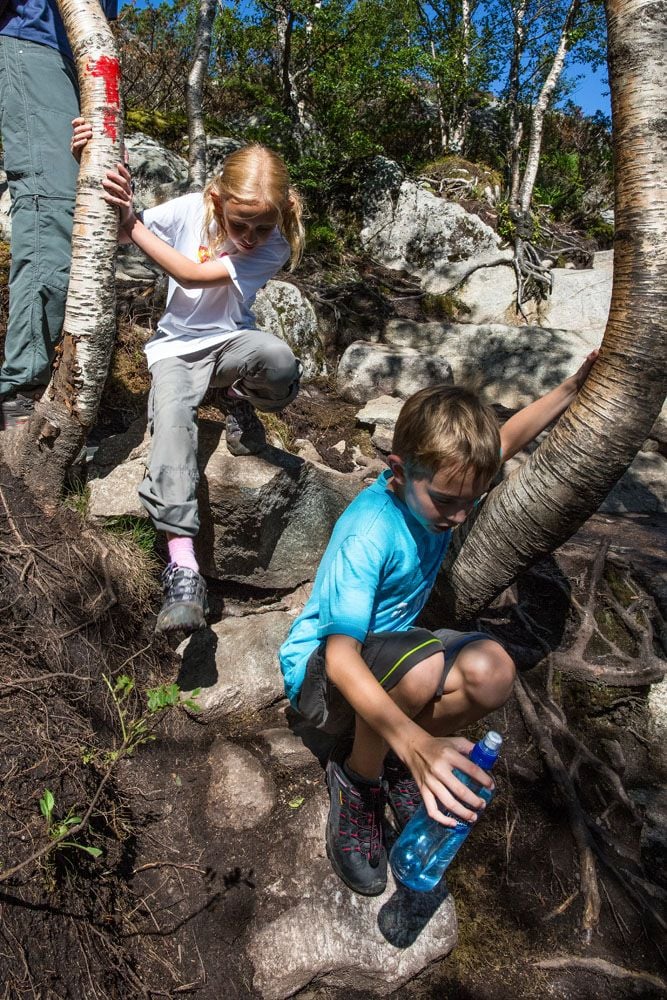 The last kilometer, just before reaching Pulpit Rock, is the best part of the hike. The trail levels out and now you have views of Lysefjord.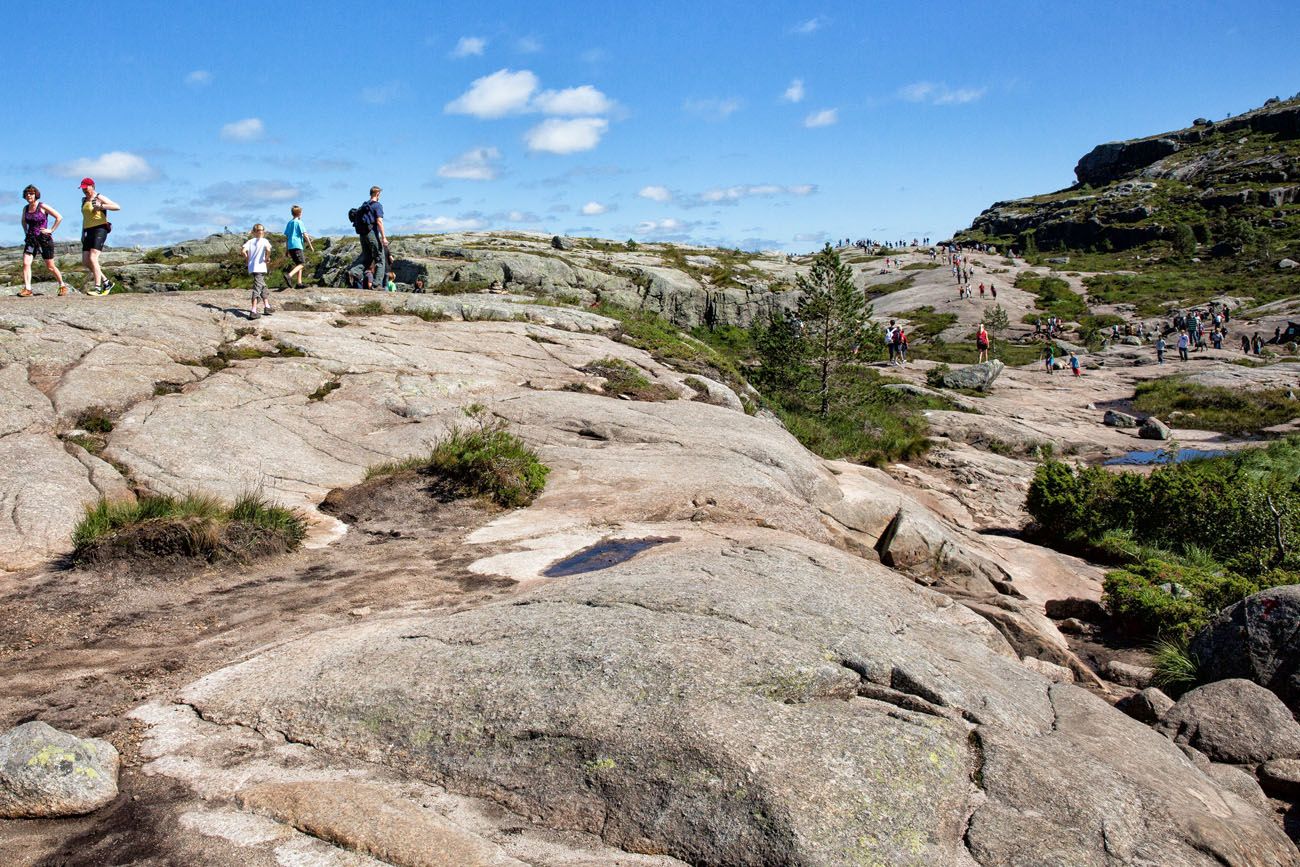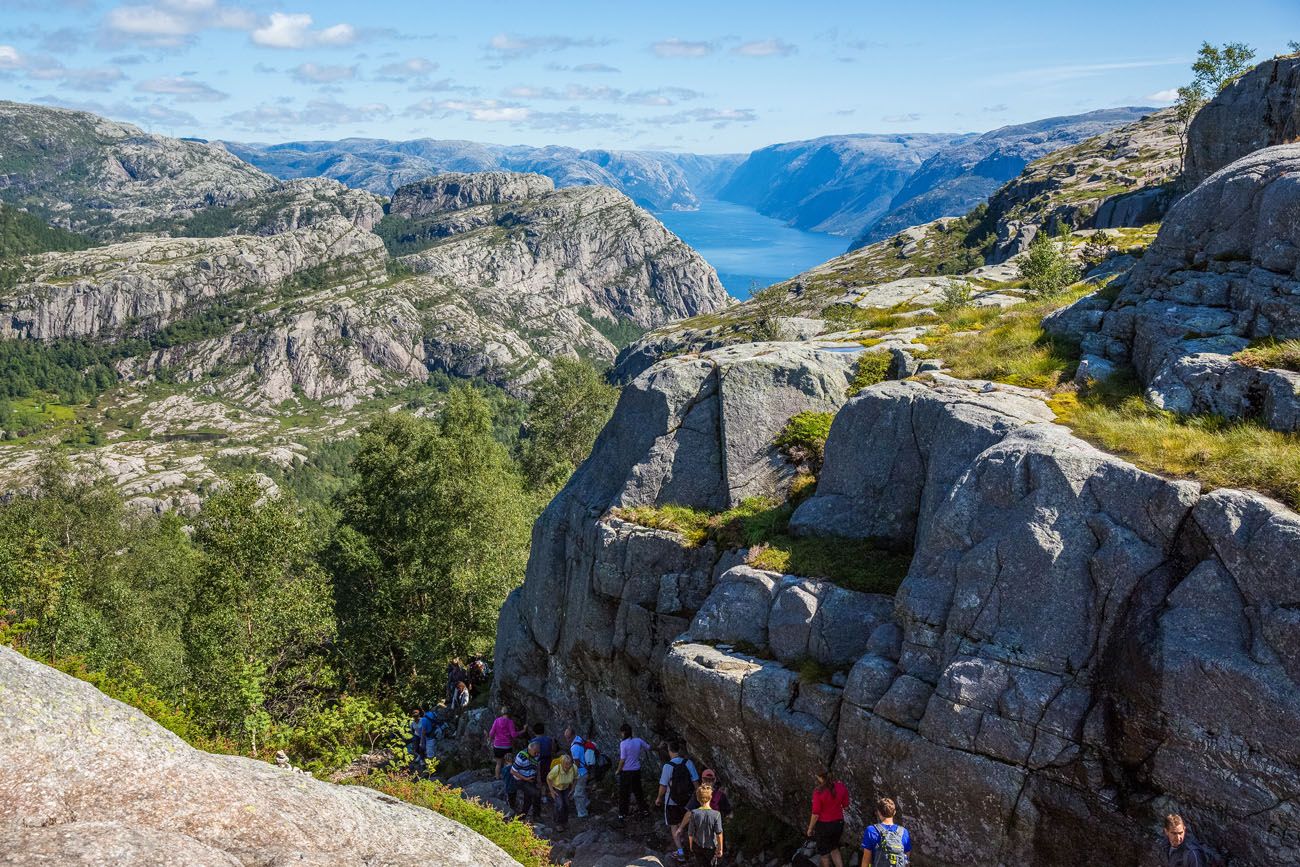 First view of Lysefjord
To get to Pulpit Rock, there is one short section where the trail skirts the edge of a cliff, so if you have a fear of heights, this part of the hike might be challenging for you.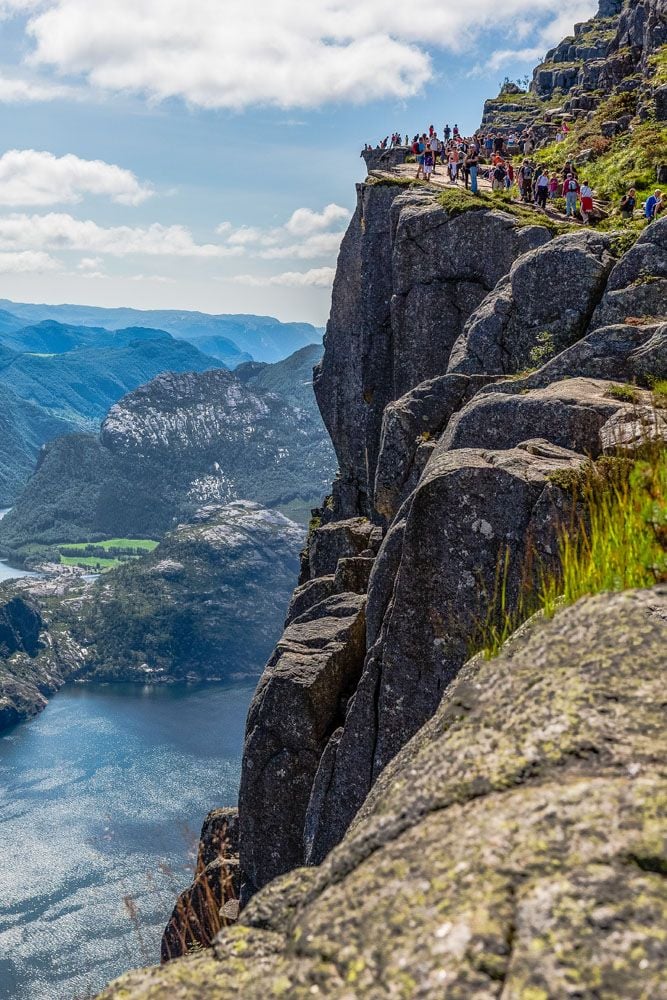 Cliff Trail to Pulpit Rock
PRO TRAVEL TIP: If you do not want to walk along the cliff trail, you can hike the Hill Trail to Pulpit Rock. As you approach Lysefjord, a second trail, labeled "Hill Trail" will break off from the main trail. This adds a little extra elevation gain but you can avoid walking along the cliff, great for families and those with a fear of heights.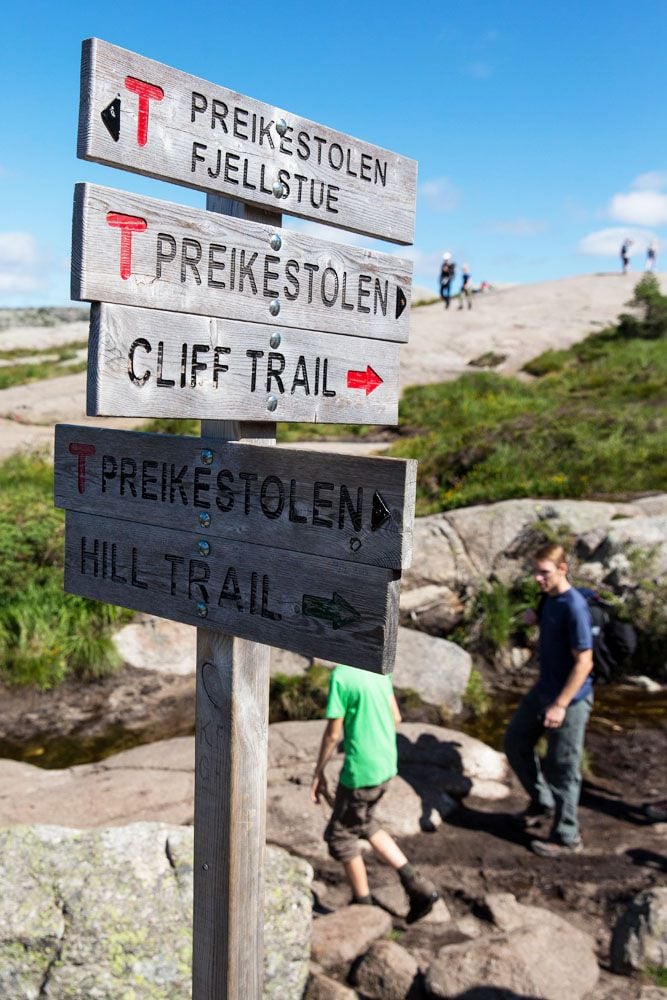 Trail split for the Cliff Trail and Hill Trail
On Pulpit Rock
It took us an hour and forty-five minutes to reach Pulpit Rock. What a view, but wow, look at all of the people!!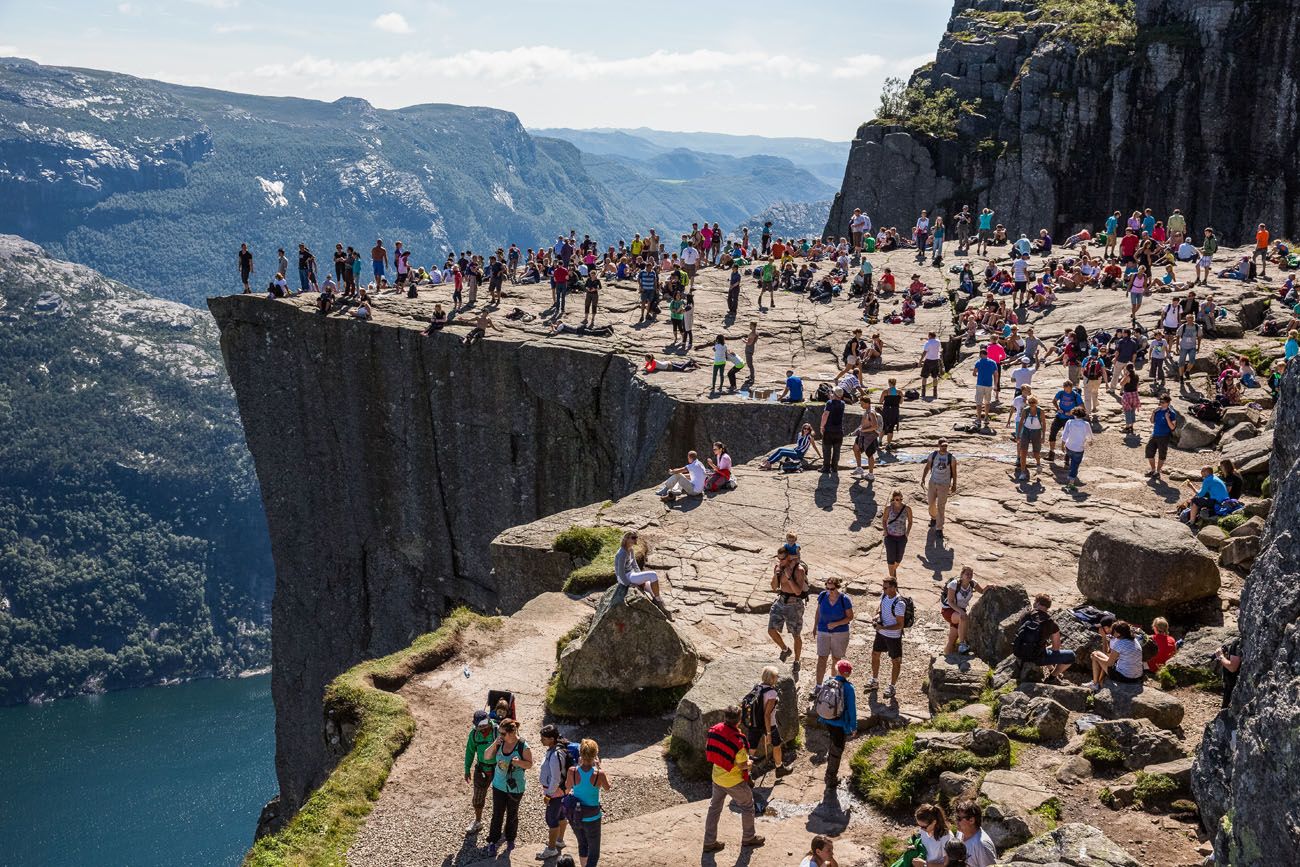 August is peak season for vacationing in Norway and we were hiking on a perfect day just before the start of the weekend. The crowds were unavoidable.
We spent just enough time here to enjoy the view and take some photos.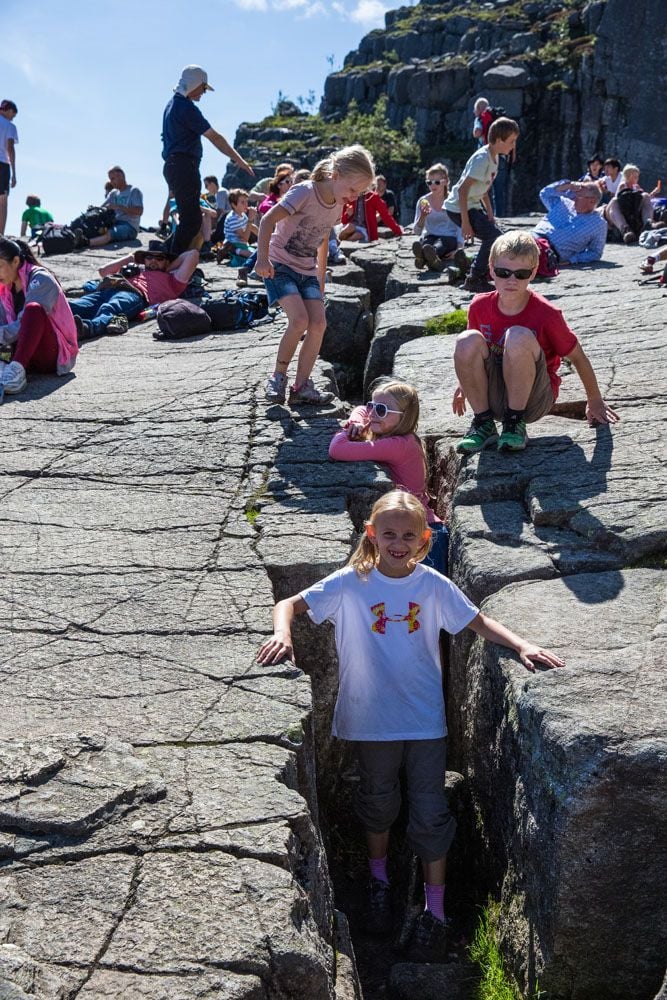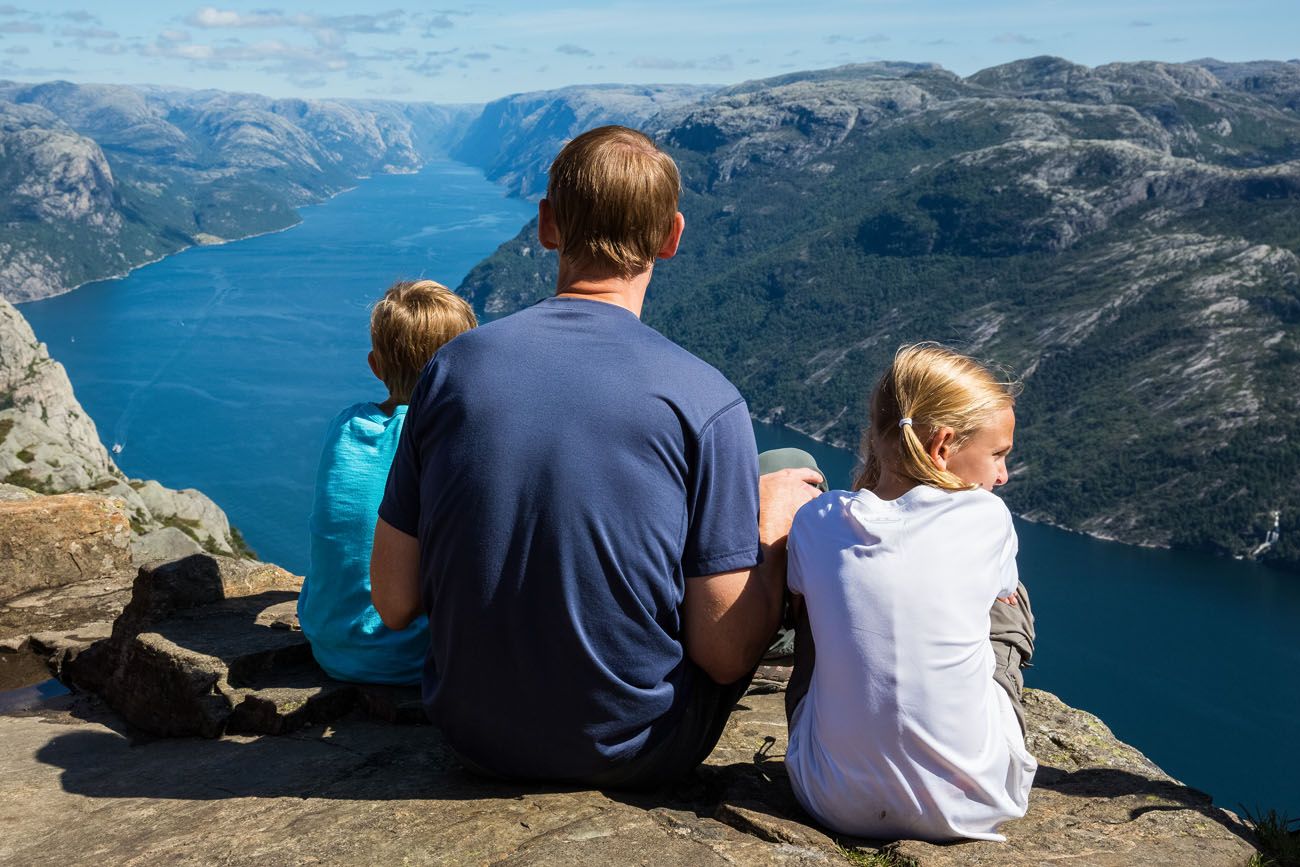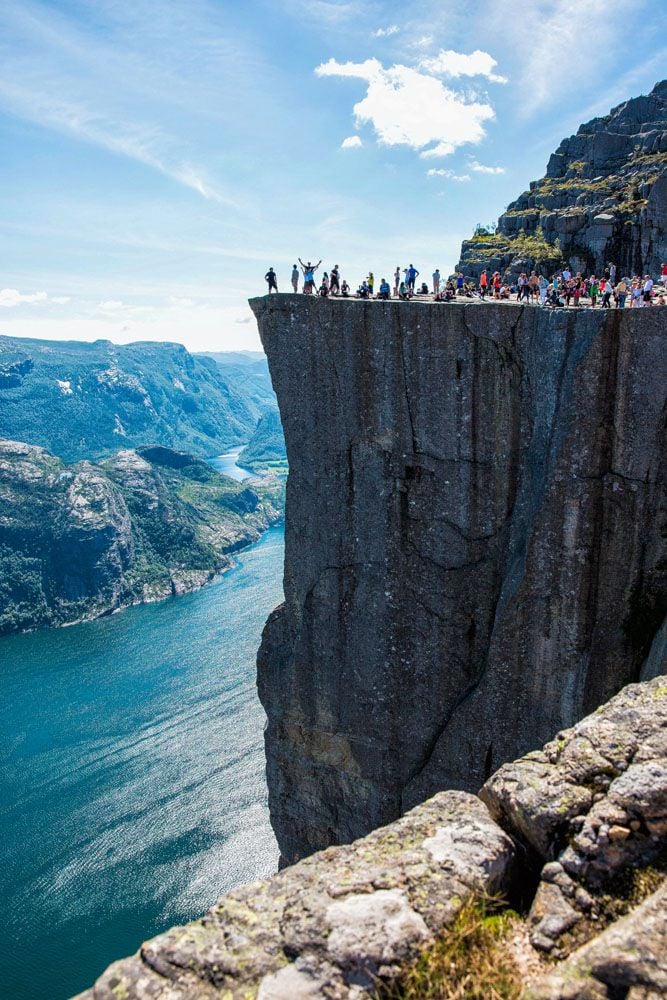 For a view down onto Pulpit Rock, you can hike up the hill behind it for this view.
Return Hike and Getting Back to Stavanger
Now it was time to start the trek back downhill. Weaving between groups of people, hopping over rocks, crossing over wet, muddy areas, and climbing over thousands of boulders we made it to the starting point in just 45 minutes. Tyler and Kara may be kids, but they hike fast!
From the Pulpit Rock parking lot, return by car or by bus.
Thoughts on the Hike
The four of us had a good time hiking to Pulpit Rock. Climbing over the boulders was fun and the views from Pulpit Rock were amazing! Unfortunately, the crowds of people on the trails took away from the enjoyment of the hike. Still, we are glad we did it. For someone looking for a relatively quick and easy hike with fabulous views of the Norwegian fjords, Pulpit Rock is perfect.
However, if you have plans to visit Stavanger and only have time for one hike, take a look at Kjeragbolten. It's a harder hike but you get the chance to do something crazy and stand on this boulder wedged between two cliffs. The views are also spectacular and the trail tends to be a little less crowded than Pulpit Rock.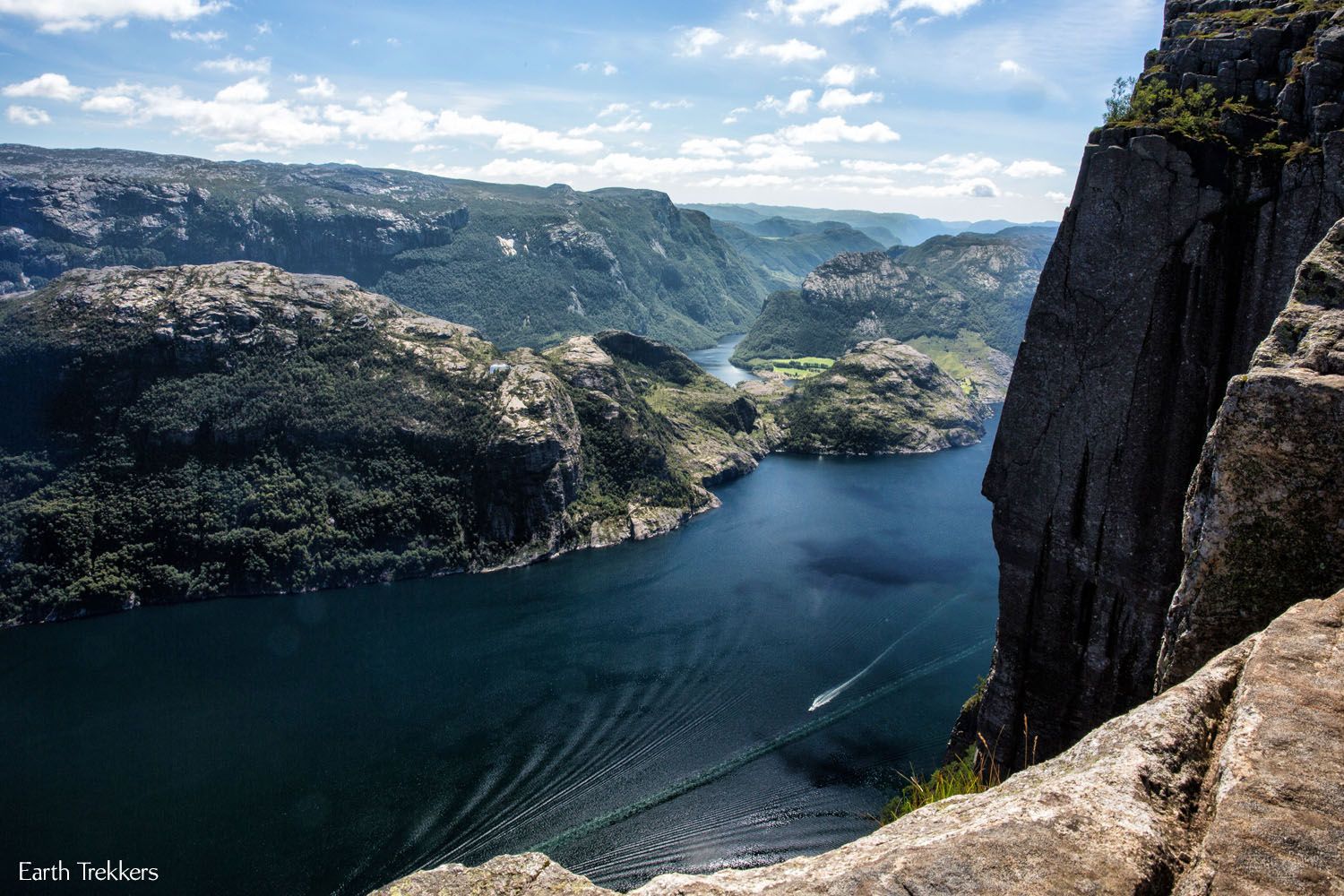 Hiking to Pulpit Rock with Kids
Tyler and Kara (who were 10 and 8 at the time) had a great time on the hike. Just put a boulder in their path and they have a good time.
As far as their hiking experience prior to this trip, we had done some hiking at home in Maryland and in Shenandoah, Virginia, and also in Cappadocia, Turkey. The hike to Pulpit Rock was easy for them, but they would be much more challenged in our upcoming hikes in Norway (Kjeragbolten, Trolltunga, and Romsdalseggen Ridge).
In our opinion, if you want to hike to Pulpit Rock with kids, your children should be at least six years old. It is a somewhat strenuous uphill climb over rocks and boulders to get to Pulpit Rock. There is also a short section of the trail just prior to Pulpit Rock with a drop off down to Lysefjord (but you can avoid this by taking the Hill Trail).

When Can You Hike to Pulpit Rock?
The main hiking season for Pulpit Rock is from April through October. Peak season is during the summer months of June through August. Expect large crowds during these months. To avoid the crowds, hike on weekdays and start the hike early in the morning.
It is possible to hike Pulpit Rock year round. From November through March, temperatures will be very cold, snow could be on the ground, and you will have very limited daylight. Read this article to learn more.
Guided Hikes
If you would prefer to hike Pulpit Rock with a guide then the following guided tour gets excellent reviews. Plus the tour includes your transportation.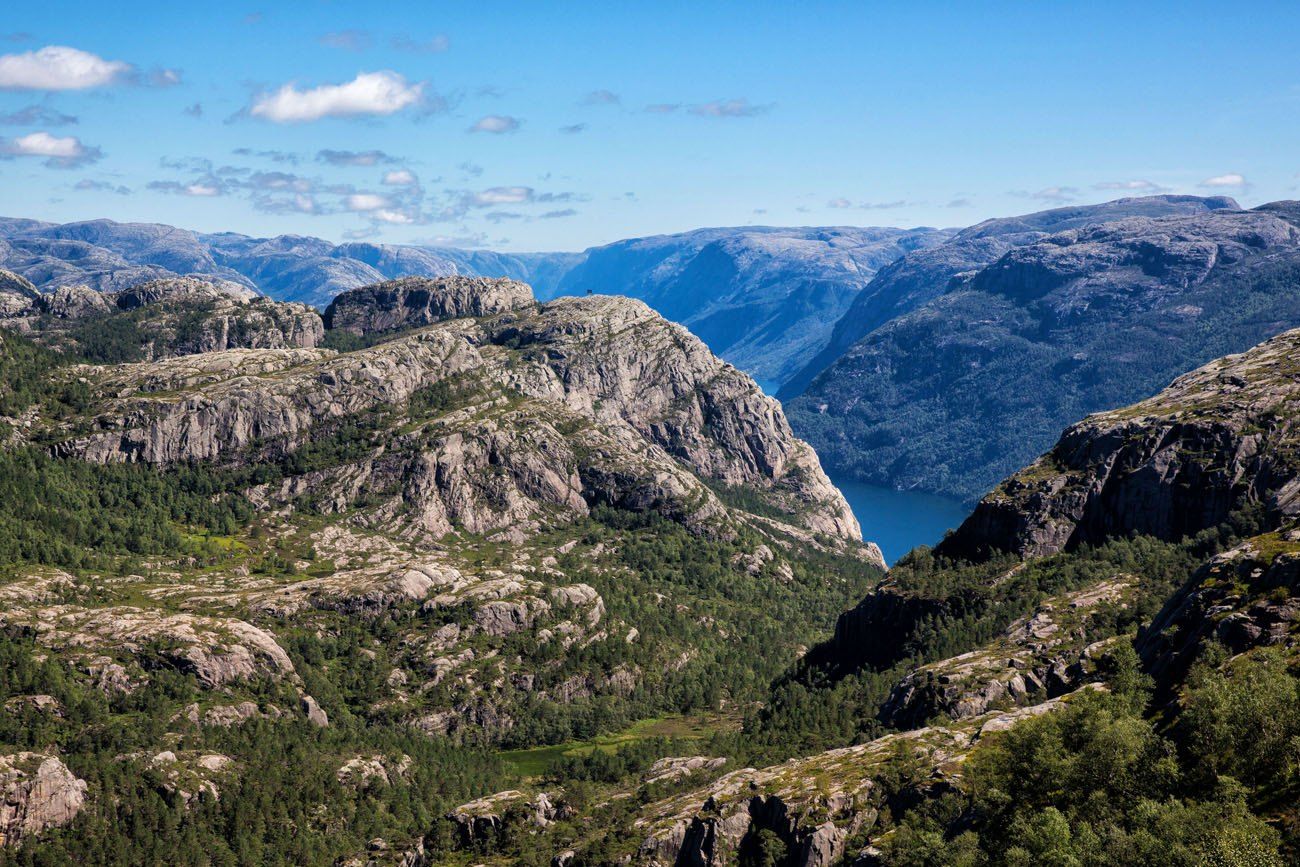 Frequently Asked Questions
Is Pulpit Rock worth It?
If you are looking for a short, easy to moderate hike with views of a Norwegian fjord, then yes, this hike is worth it. To stand on iconic Pulpit Rock is icing on the cake. However, if you are looking for a more thrilling hike, Kjeragbolten and Trolltunga are two more hikes to consider.
How hard is the hike to Pulpit Rock?
The hike to Pulpit Rock is classified as a moderate hike. Round trip, this hike is 7.6 km (4.7 miles) that takes 4 to 5 hours. Kids can do this hike. Our kids were 10 and 8 at the time, but adventurous kids 6 years and older can hike to Pulpit Rock.
When is the best time to hike to Pulpit Rock?
The best time to hike Pulpit Rock is the summer and fall months. During this time, the weather is warm, the days are long, and the trail is free of snow. June, July, and August are peak season for this hike, the time when crowds will be at their highest. September is one of the best months of the year to do this hike, since crowds are lower and the weather still remains relatively warm.
Where We Stayed in Stavanger
The Comfort Square Hotel. This modernly decorated hotel (with interesting artwork) is located within the heart of Stavanger. Take-away breakfast is available, perfect if you want to grab breakfast and get an early start hiking.
---
If you have any questions on how to get to Pulpit Rock or how to hike Pulpit Rock with kids, let us know in the comment section below.
More Information for Your Trip to Norway
ADVENTURES IN NORWAY: Trolltunga and Kjeragbolten are two of the best hikes to do in Norway. For an even bigger adventure, climb Svolvaergeita in the Lofoten Islands. Traveling to Svalbard in the arctic circle is an adventure in itself, but you can also go glacier kayaking or hike to one of the tallest peaks on Spitsbergen.
PLACES TO GO IN NORWAY: For a list of top experiences in Norway, don't miss our Norway Bucket List.
10 DAYS IN THE FJORD REGION: On this 10 day itinerary through the fjord region, visit southern Norway: Bergen, Geirangerfjord, and Stavanger and hike Trolltunga, Pulpit Rock and Kjeragbolten.
BEST OF NORWAY ITINERARY: In this guide, we share two different ways to plan a 10 day trip that includes both the Lofoten Islands and southern Norway.
MORE GREAT HIKES IN EUROPE: From thrilling trails in the Alps to easy walks along the coast, read our article 20 Best Hikes in Europe for some beautiful hiking trails to put on your travel wish list.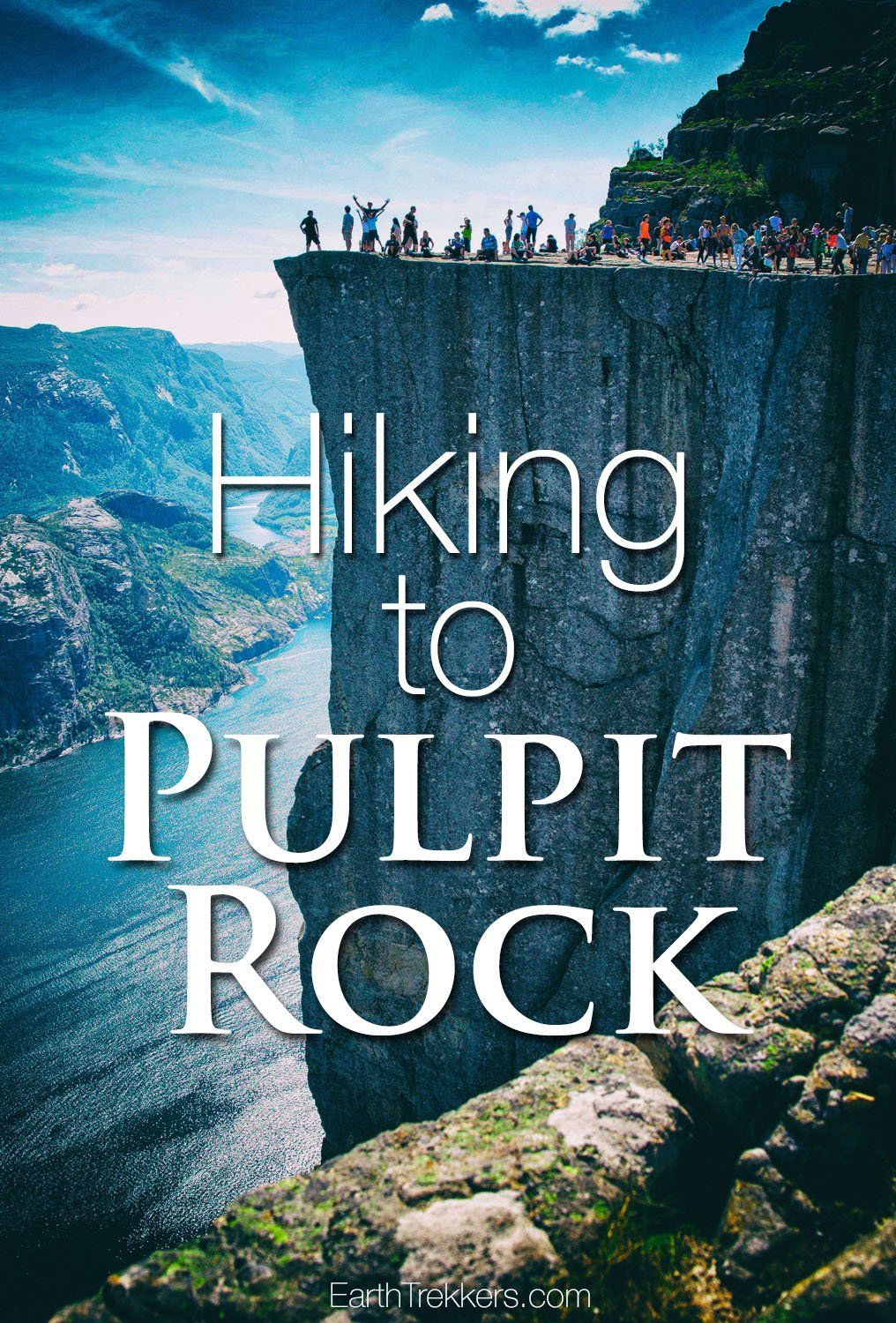 Note: This post contains affiliate links. When you make a purchase using one of these affiliate links, we get paid a small commission at no extra cost to you.
All rights reserved © Earth Trekkers. Republishing this article and/or any of its contents (text, photography, etc.), in whole or in part, is strictly prohibited.