Trolltunga is one of Norway's most popular hikes for good reason. It is an incredibly scenic hike, ending at the Troll's tongue, a thin sliver of rock perfect for creative photographs. This is definitely a hike to add to your bucket list.
For us, the hike to Trolltunga was our third of four hikes in Norway. Kjeragbolten was our favorite, but this hike was not far behind. The scenery along the hike is phenomenal with views out over lakes and snow capped mountains, and posing on Trolltunga for photos is a blast.
How to Hike Trolltunga
Trolltunga Hiking Stats
Distance: 28 km (17.4 miles) out and back
Elevation Gain: 800 meters (2,625 feet)
Difficulty:Strenuous
Length of time:10 – 12 hours
When to go: June 1 to September 30 (without a guide). At all other times of the year you must hike with a guide. For more information, visit the Visit Norway website.
Important Update: You have the option to park in a small parking lot that shaves off the first big climb of the hike. If you park here, the hike will be shorter with less elevation gain than what is listed above. From P3 Mågelitopp (the upper parking lot) the hiking distance is 20 km (12.4 miles) with 300 meters (1,000 feet) of elevation gain. From the car park, the round trip hike takes 7 to 10 hours. However, there are only 30 spots so you need to get here very early in the morning. Read more below.
What Makes Trolltunga Special?
Trolltunga is one of the most popular hikes in Norway. Posing for photos on Trolltunga (the Troll's Tongue) is the main reason for doing this hike, but from start to finish it is a beautiful journey. For hiker's, Trolltunga just may be the highlight on a visit to Norway. Many people who do this hike say that it is one of their favorite hiking experiences. Maybe you will too.
Trolltunga Trail Guide
The First Big Climb
The trailhead for Trolltunga is at the Skjeggedal carpark.
The first ascent of the hike is the most strenuous. It is 1 km of constant, steep climbing on stone steps and gravel trails before the terrain levels out.
There were once old funicular tracks here that you could climb instead of the rocky trail. This is what we did in 2013 (so we have photos of the funicular tracks but not the first part of the trail).
Note: If you park at P3 Mågelitopp, you can avoid this first big climb.
Trail to Trolltunga
Once you conquer the first 1 km climb, things get easier. The trail levels out, for just a little bit, and then you will have several smaller climbs. However, these are nothing like what you just did.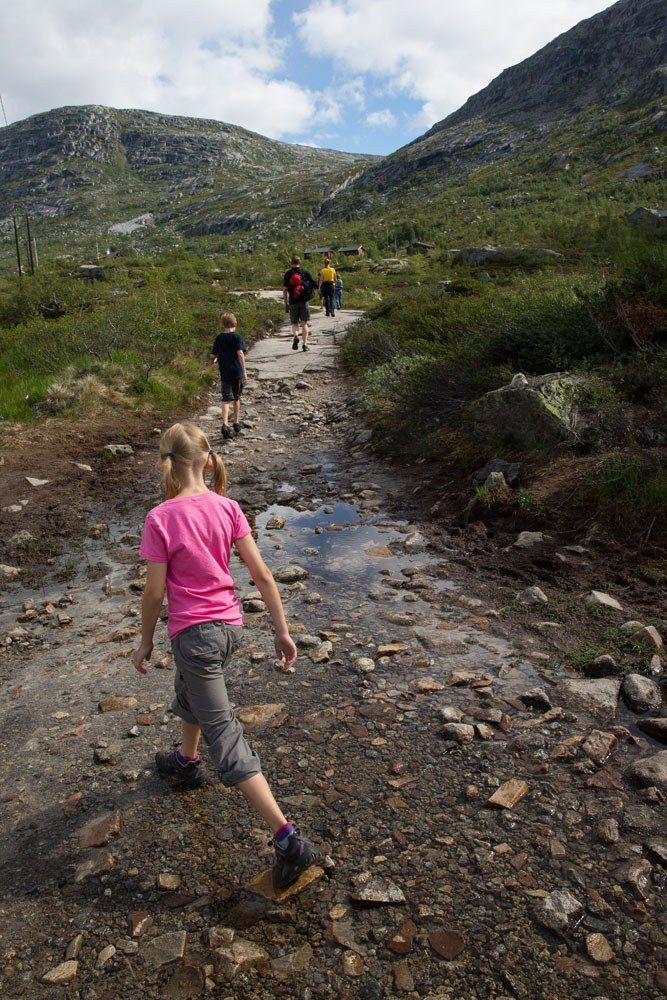 Just before the start of the another climb.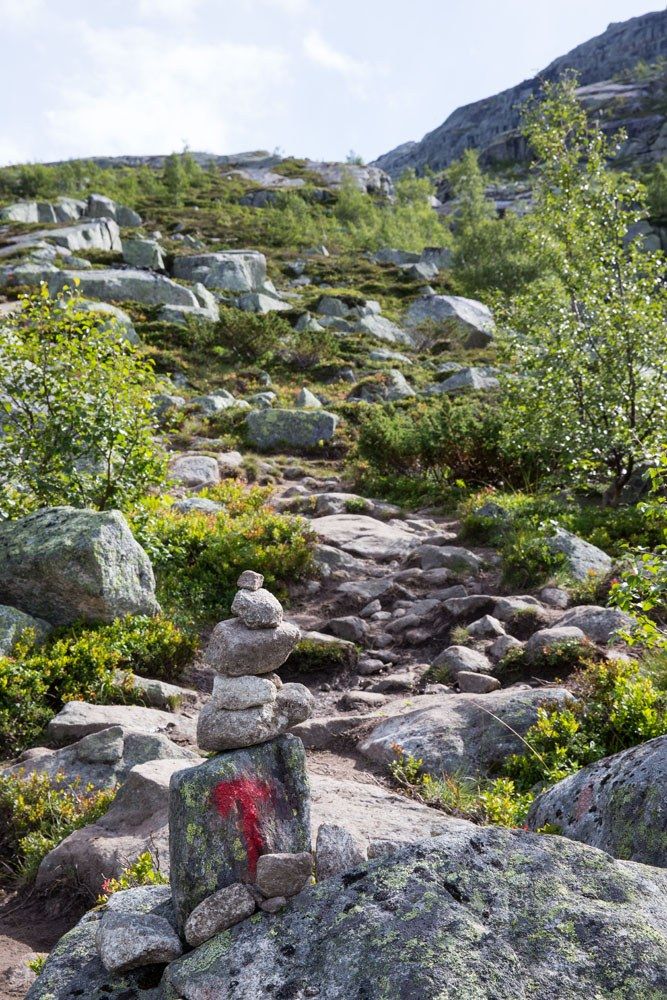 Follow the red T's to get to Trolltunga.
Looking out over the valley and what we just hiked. If you look closely, you can see the faint line of the hiking trail.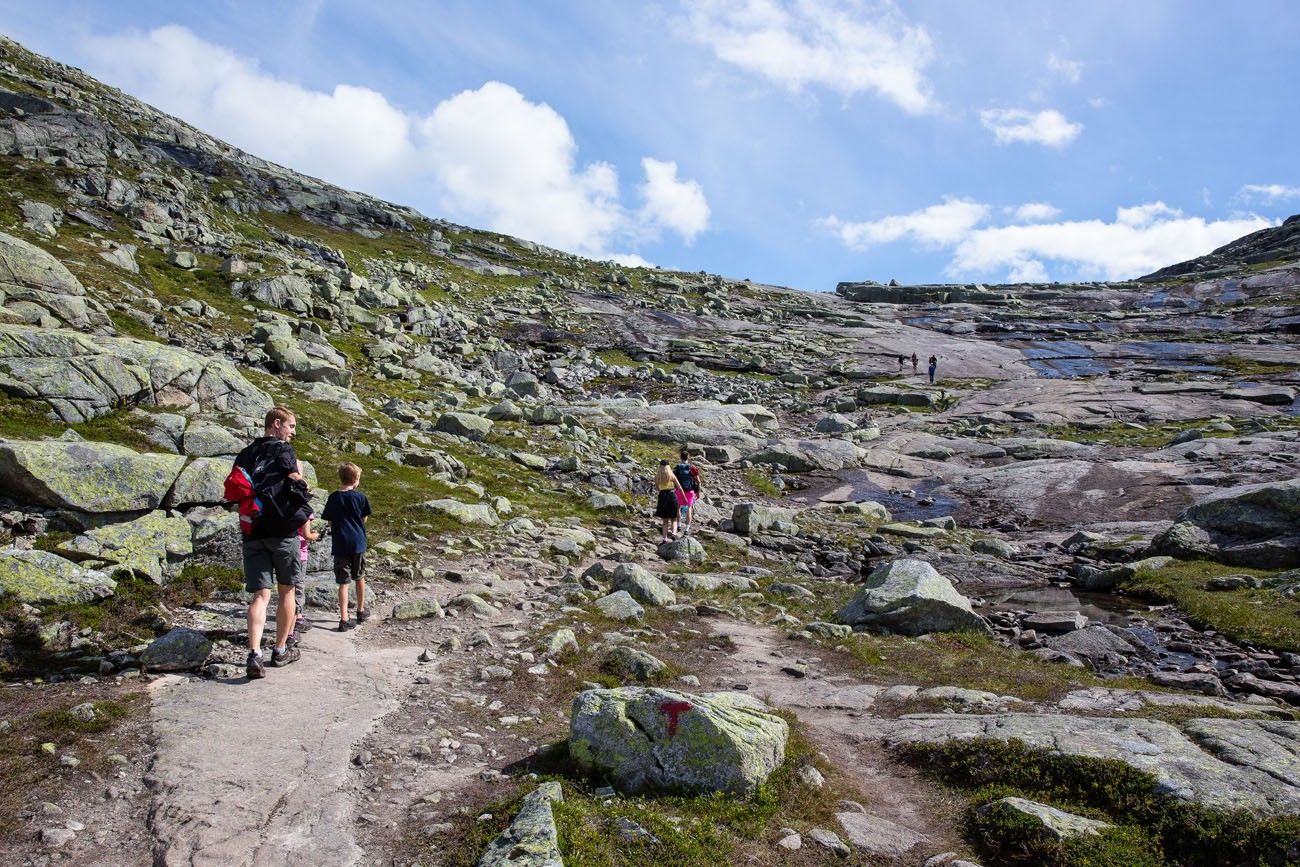 One more climb. After this, the trail levels out for awhile.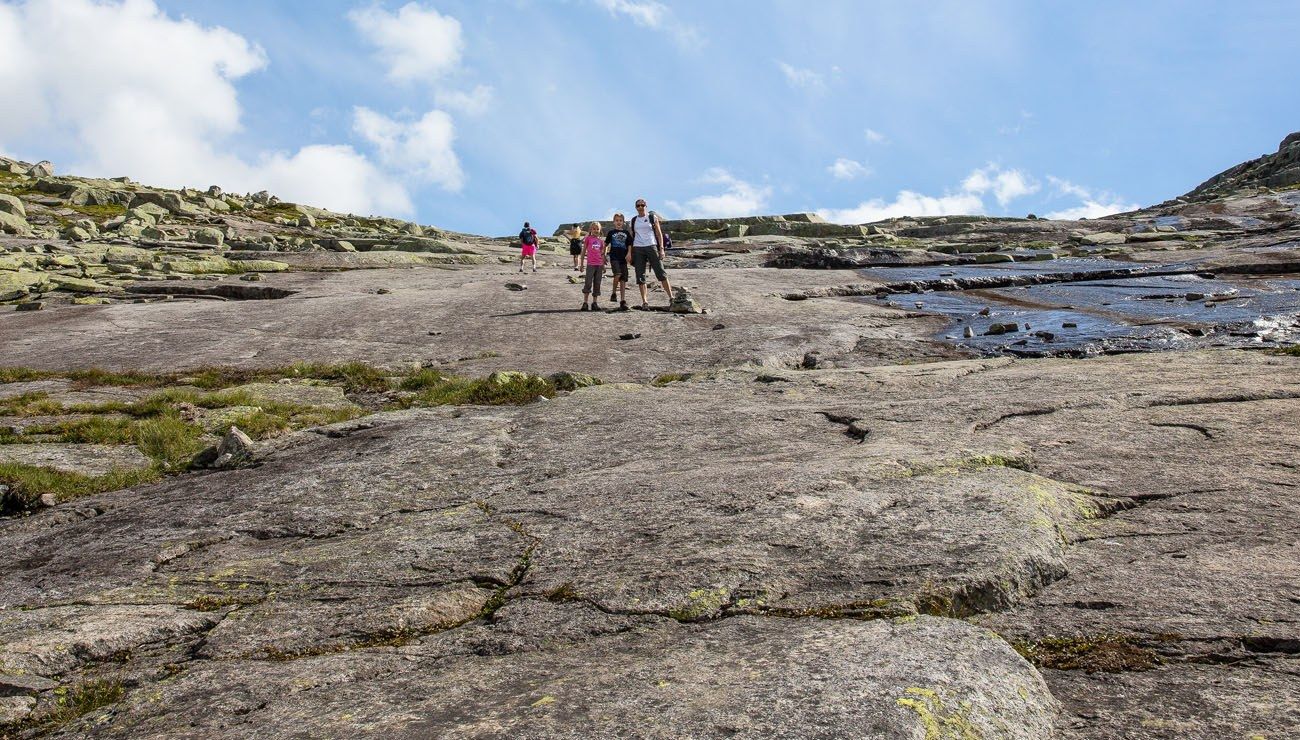 Standing on the granite face of the trail.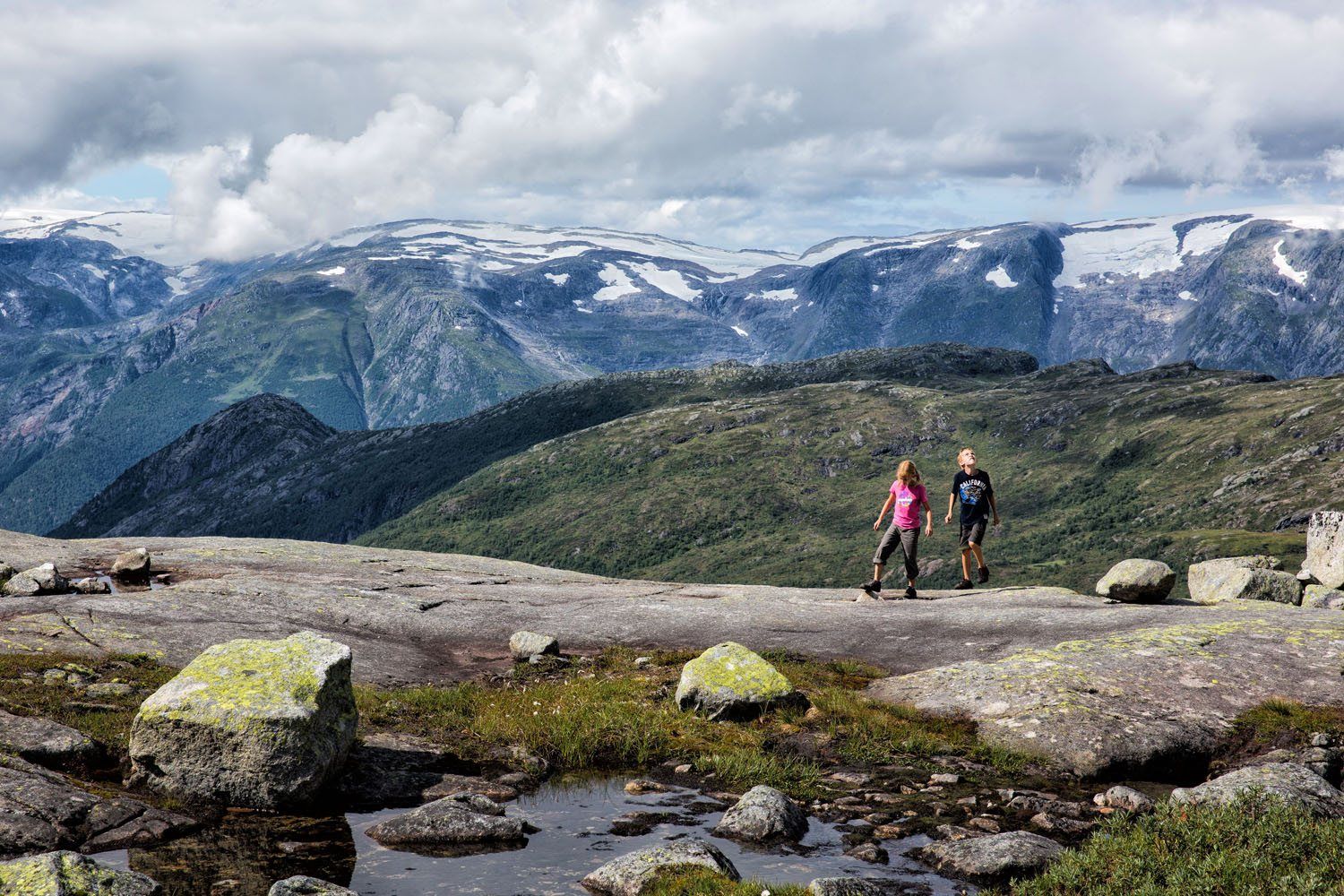 This is the view from the top of that last climb.
One of the tricks to having a good experience is to take breaks along the way. From this altitude, you have amazing panoramic views of Norway. Sure, getting to Trolltunga is the goal but enjoy this whole journey…it's awesome!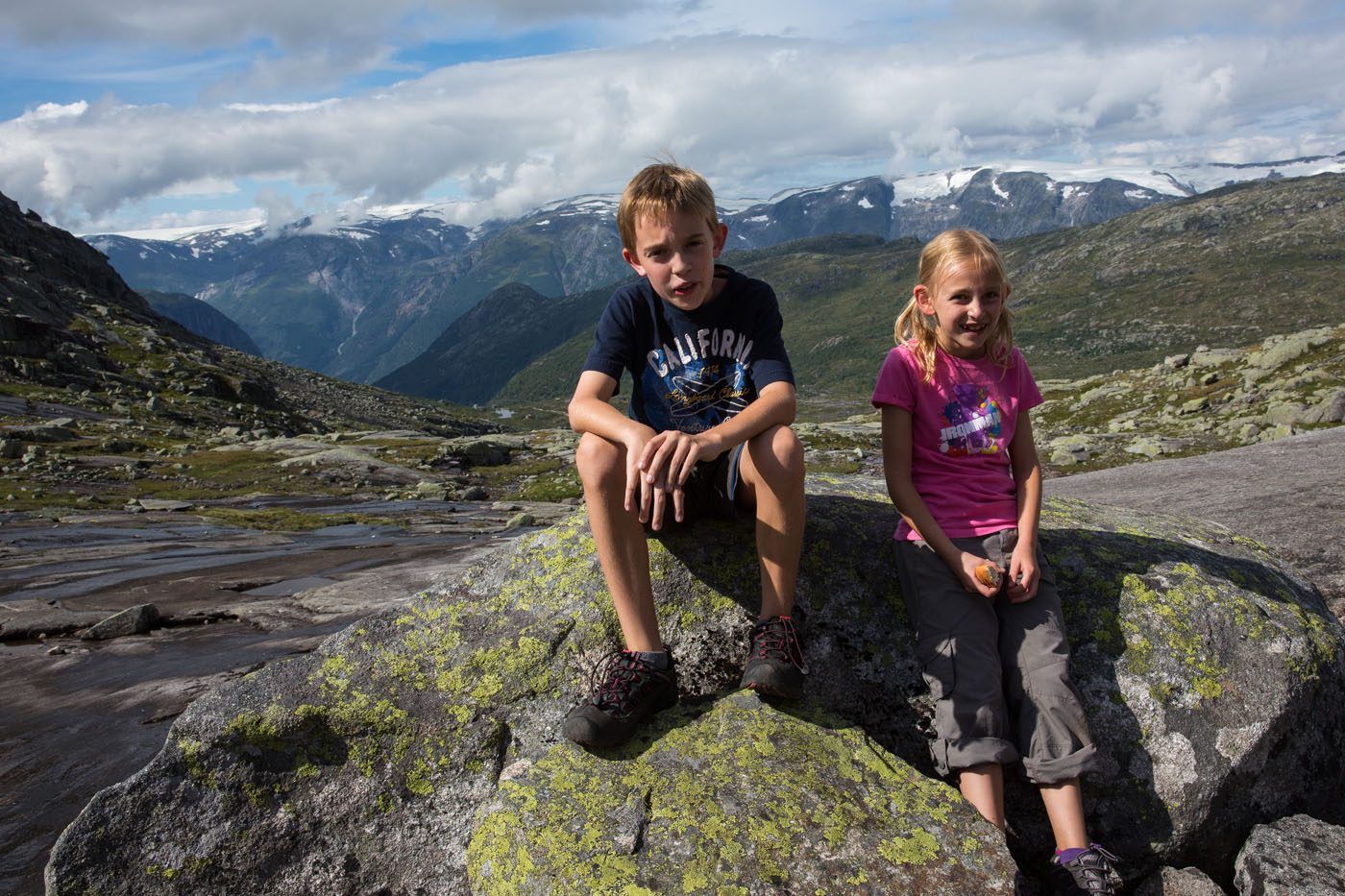 We continued our trek, dodging mud puddles, climbing over boulders, and crossing numerous streams and creeks. Once you climb that granite face, the hike levels out, for the most part. There are several small climbs but nothing too difficult. Here are more photos of the trail until you get to Trolltunga.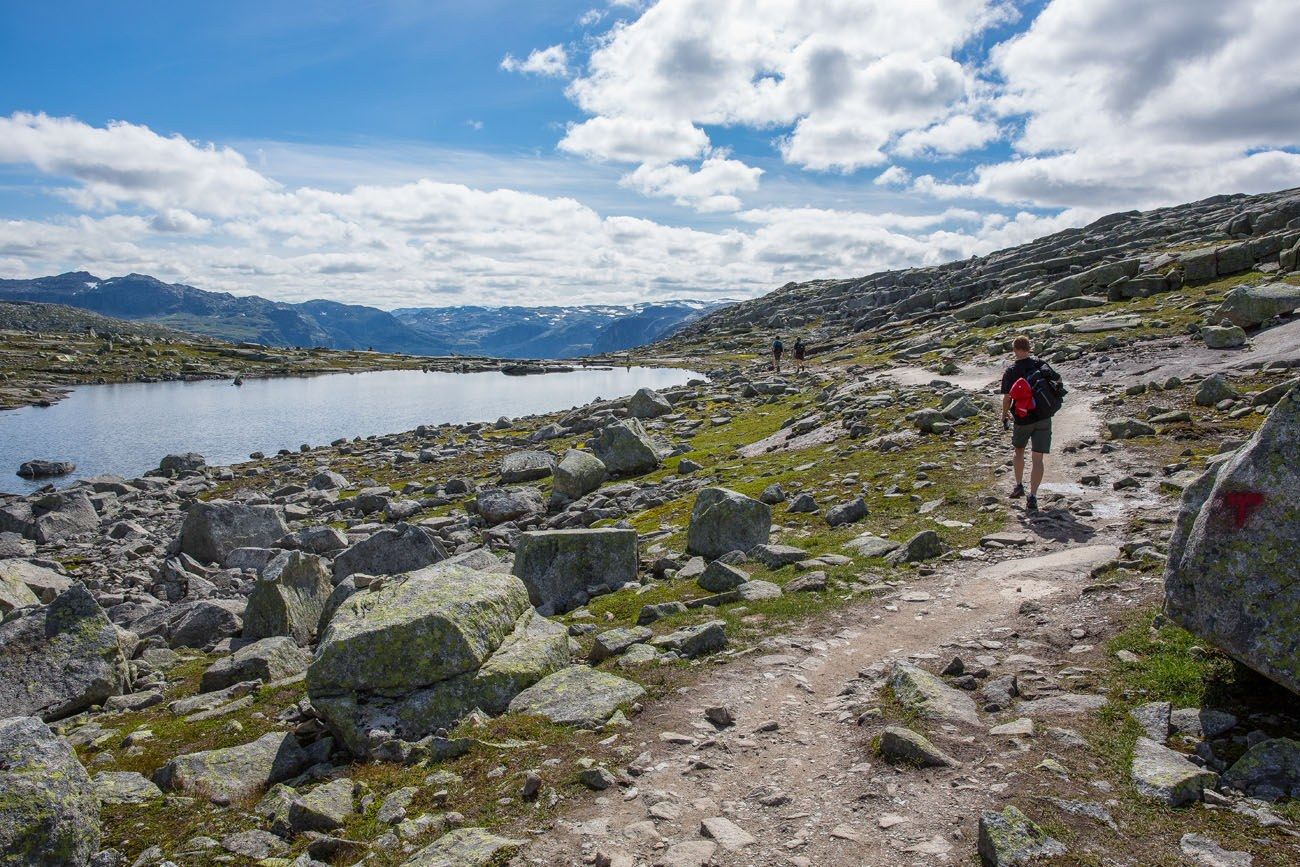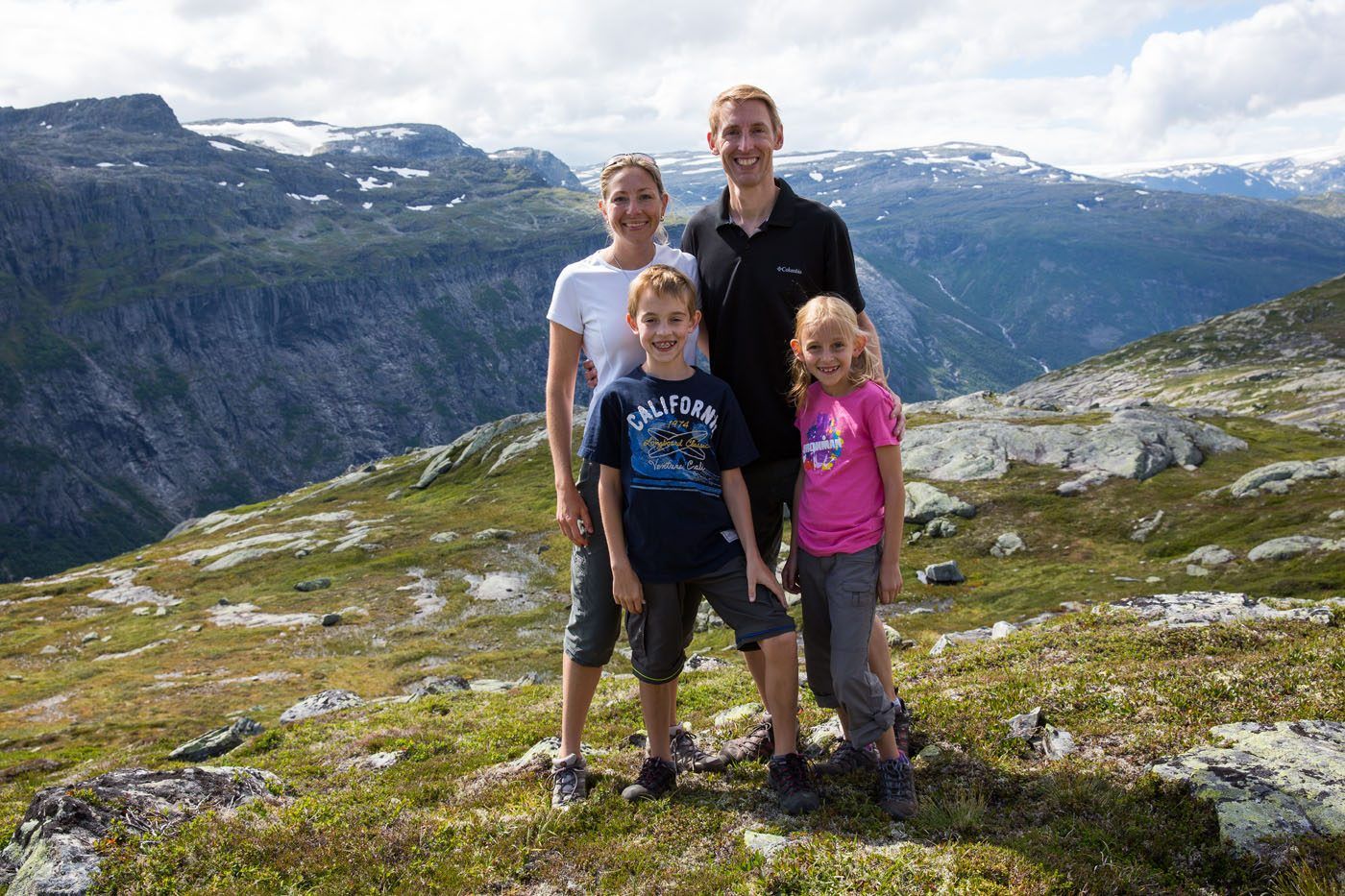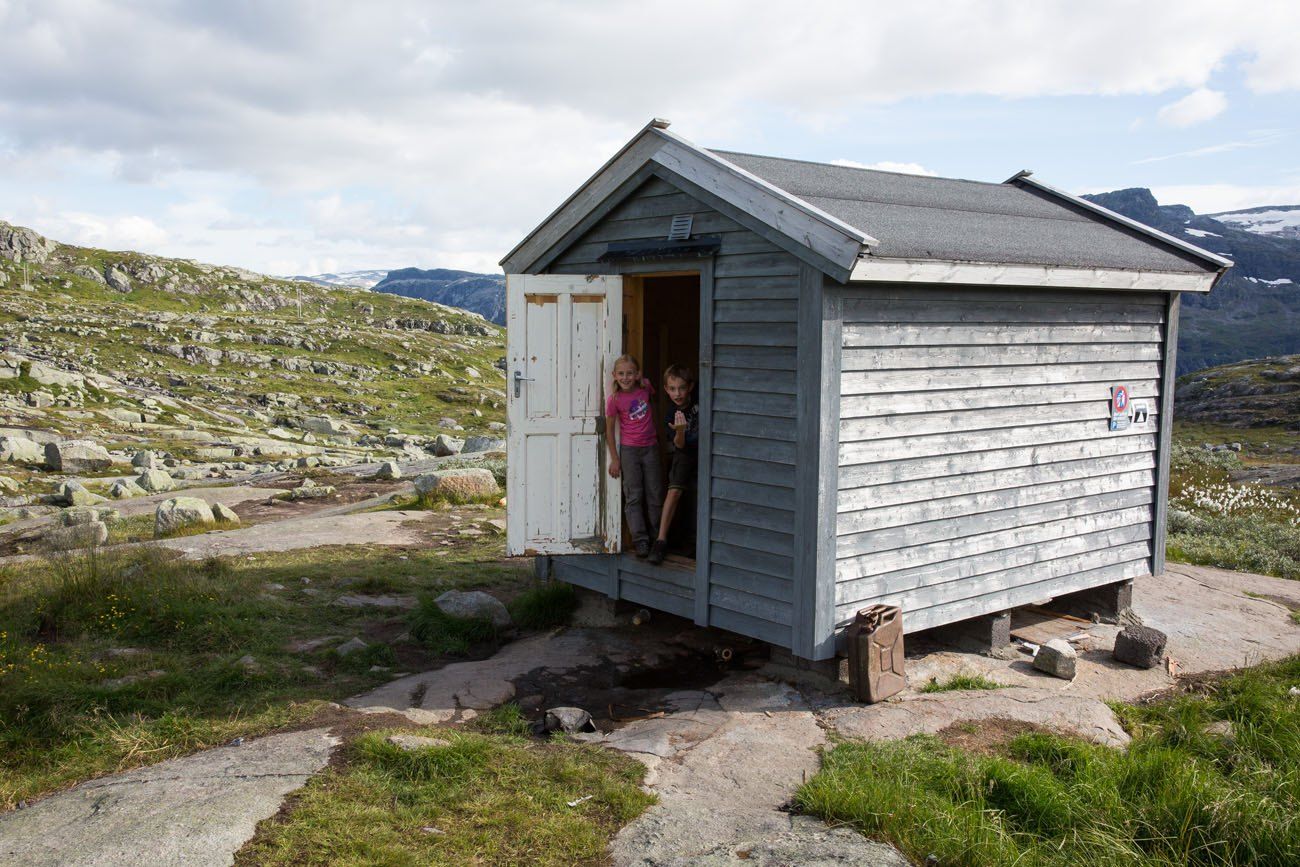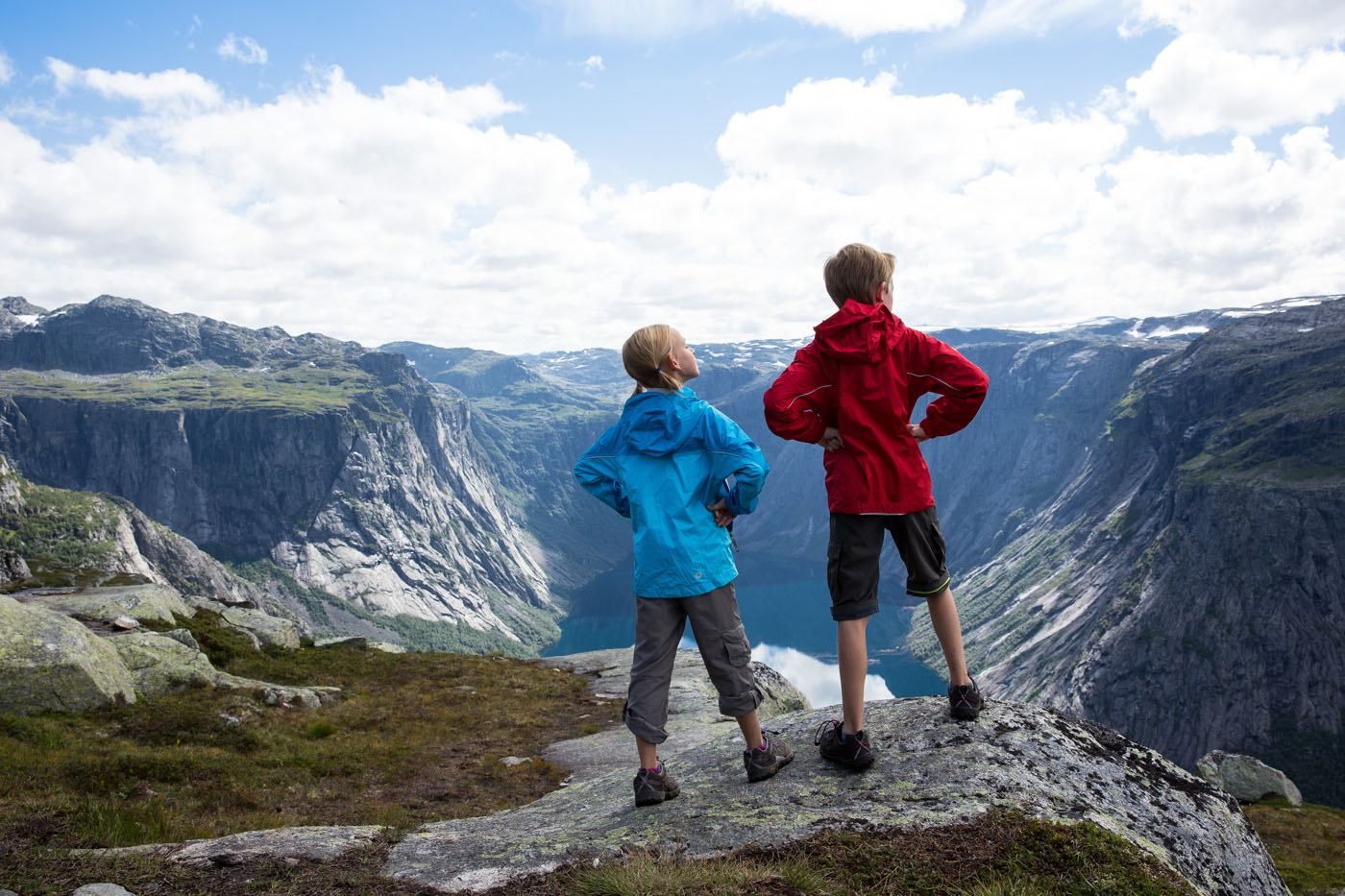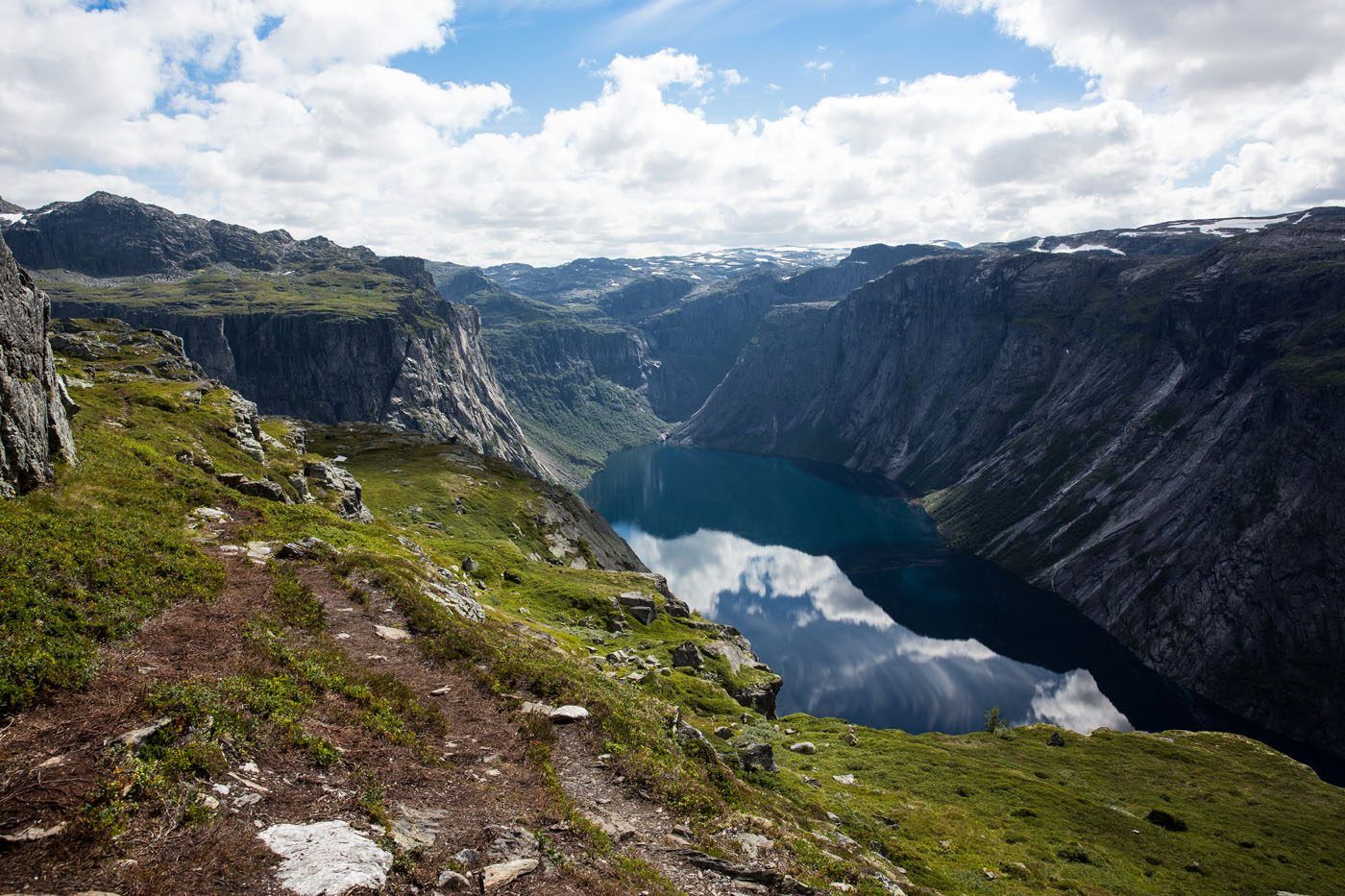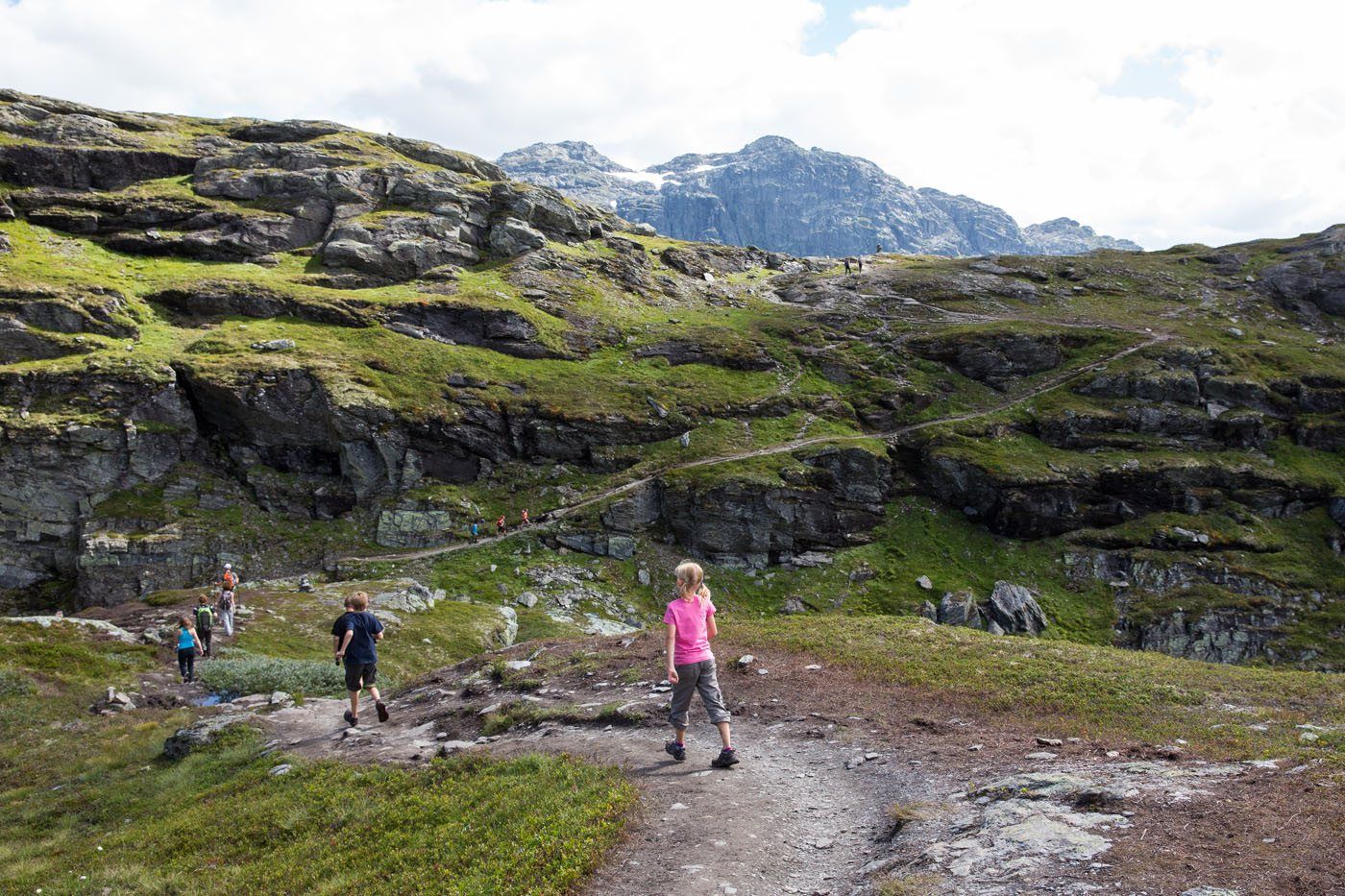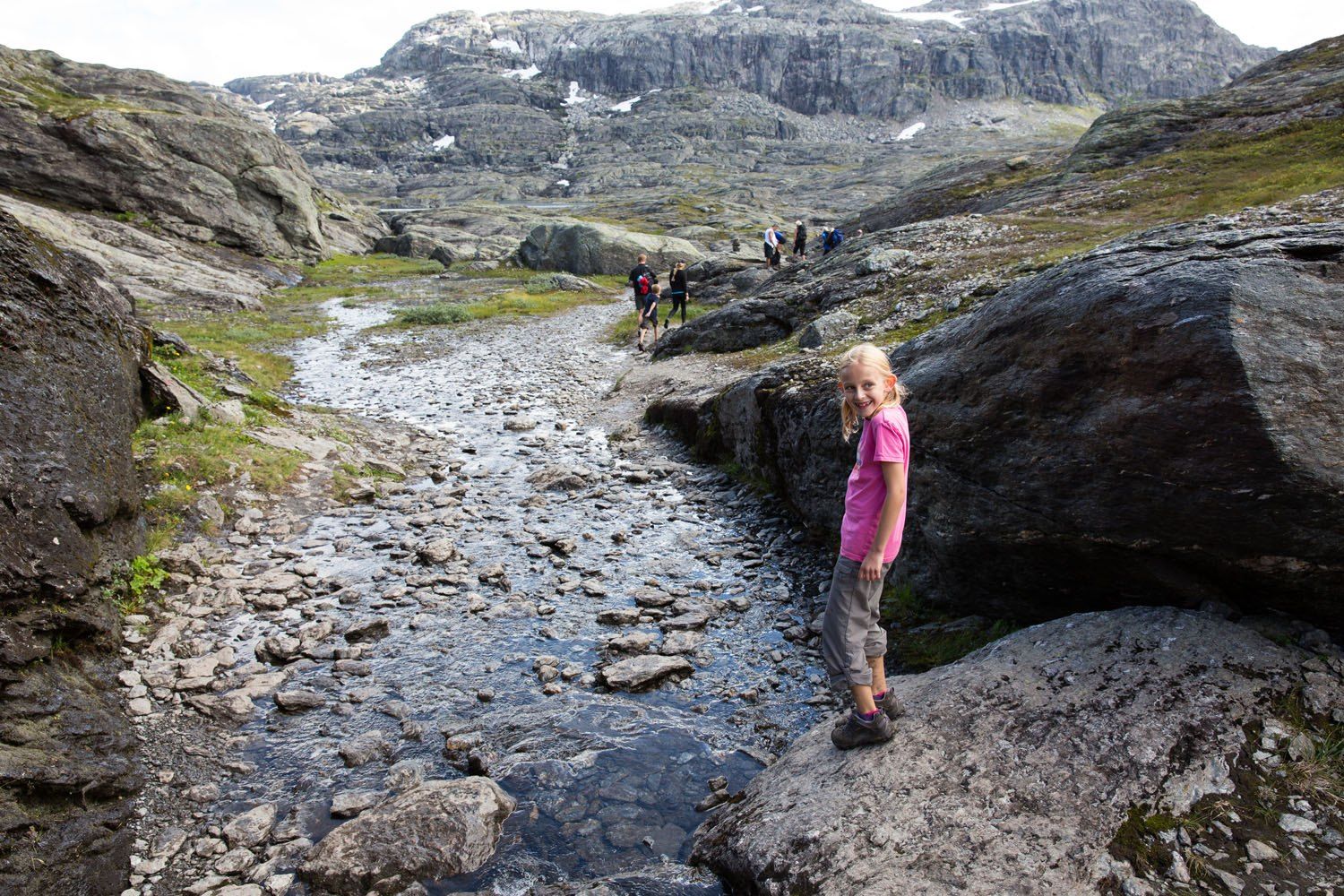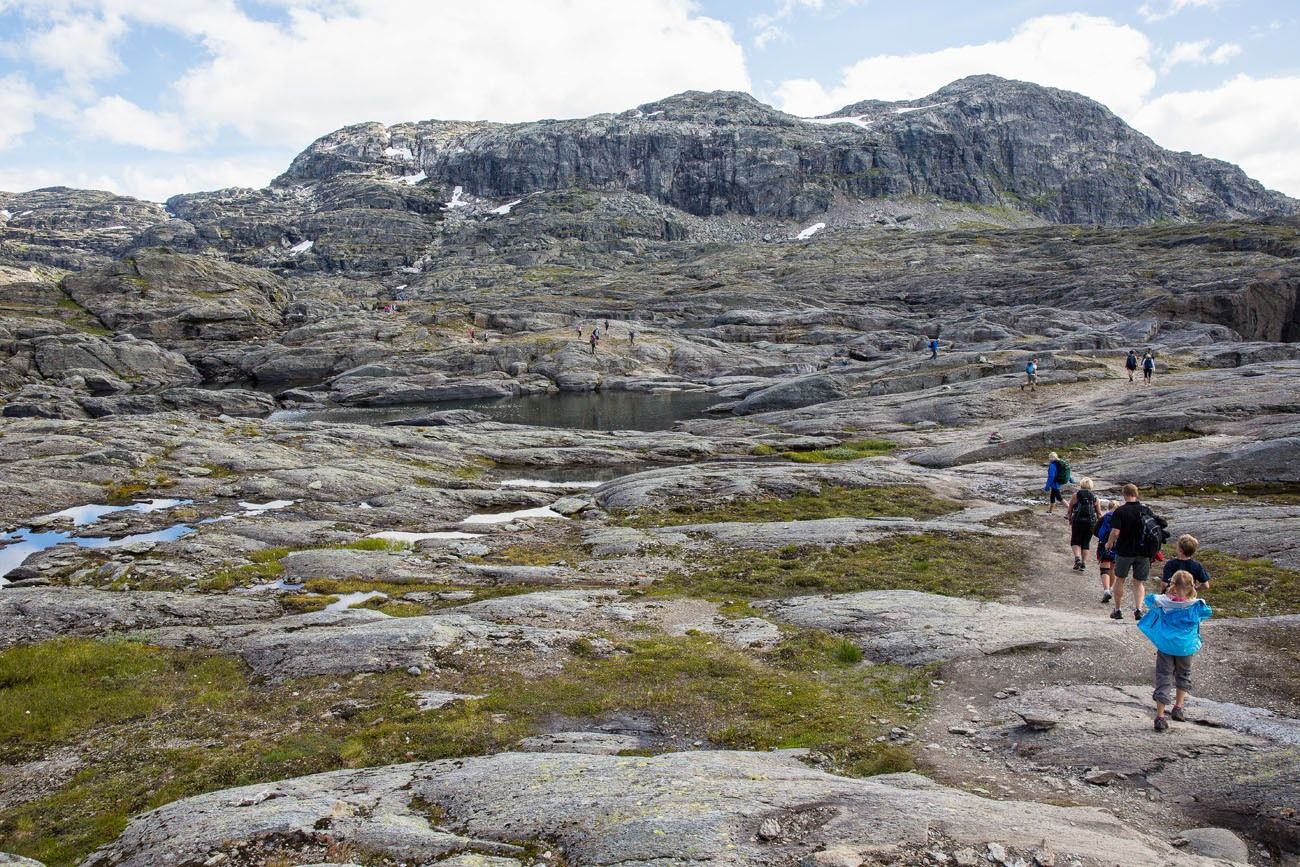 Stepping out onto Trolltunga
It took us three and a half hours to hike from the carpark to Trolltunga.
The views over Trolltunga and out over the lake were awesome. There were tons of people here, some waiting in line to step out onto the ledge and others were waiting to take their photos. Tyler and Kara were two of the three kids we saw during the entire hike. Go kiddos!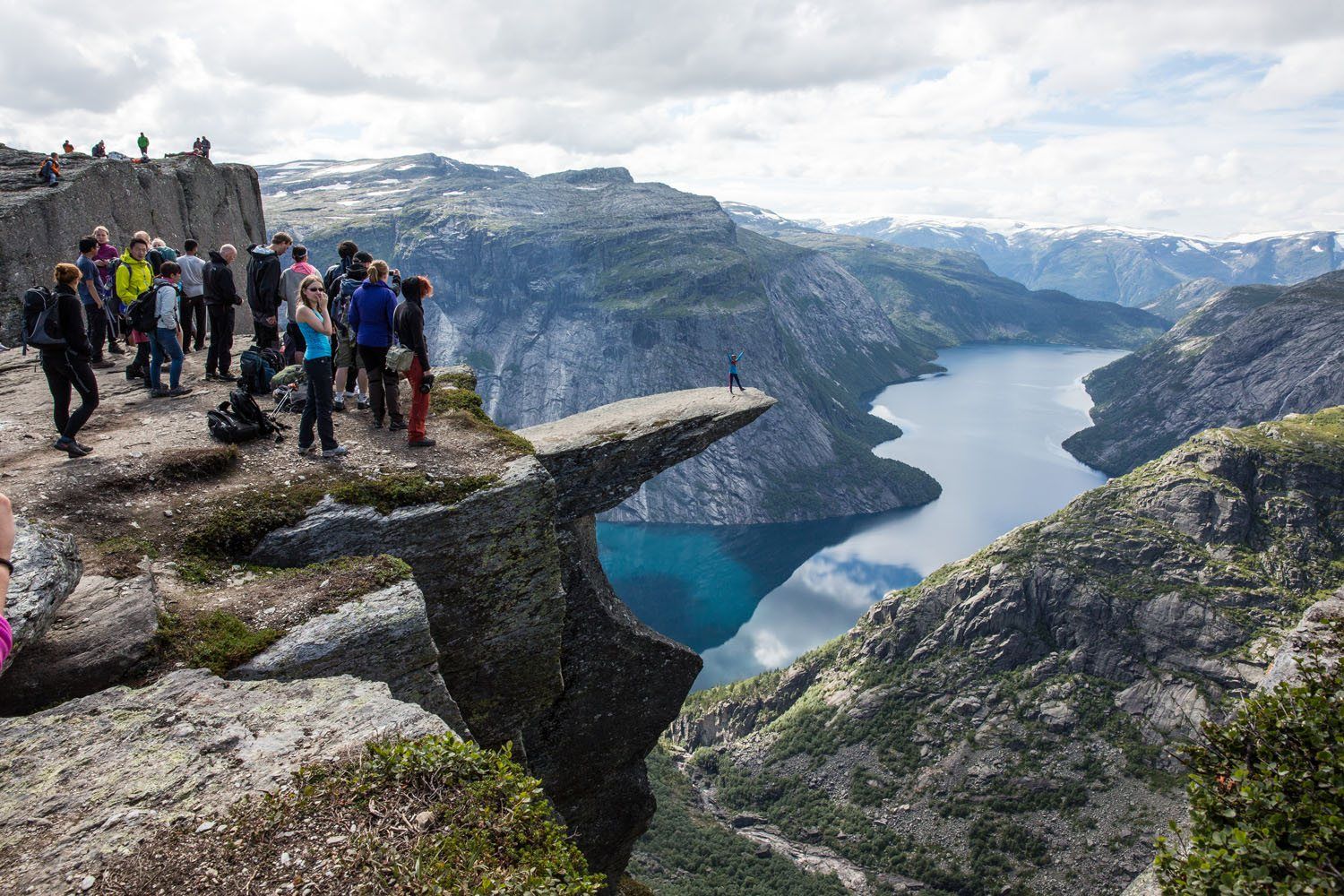 Kara and I went first onto the tongue (after 45 minutes of waiting in line). After stepping out onto Kjeragbolten this did not seem scary at all. Kara and I did a few poses, then I took her back to sit on a rock and wait for me. I went back out to the tip of the tongue to sit with my feet hanging over the side.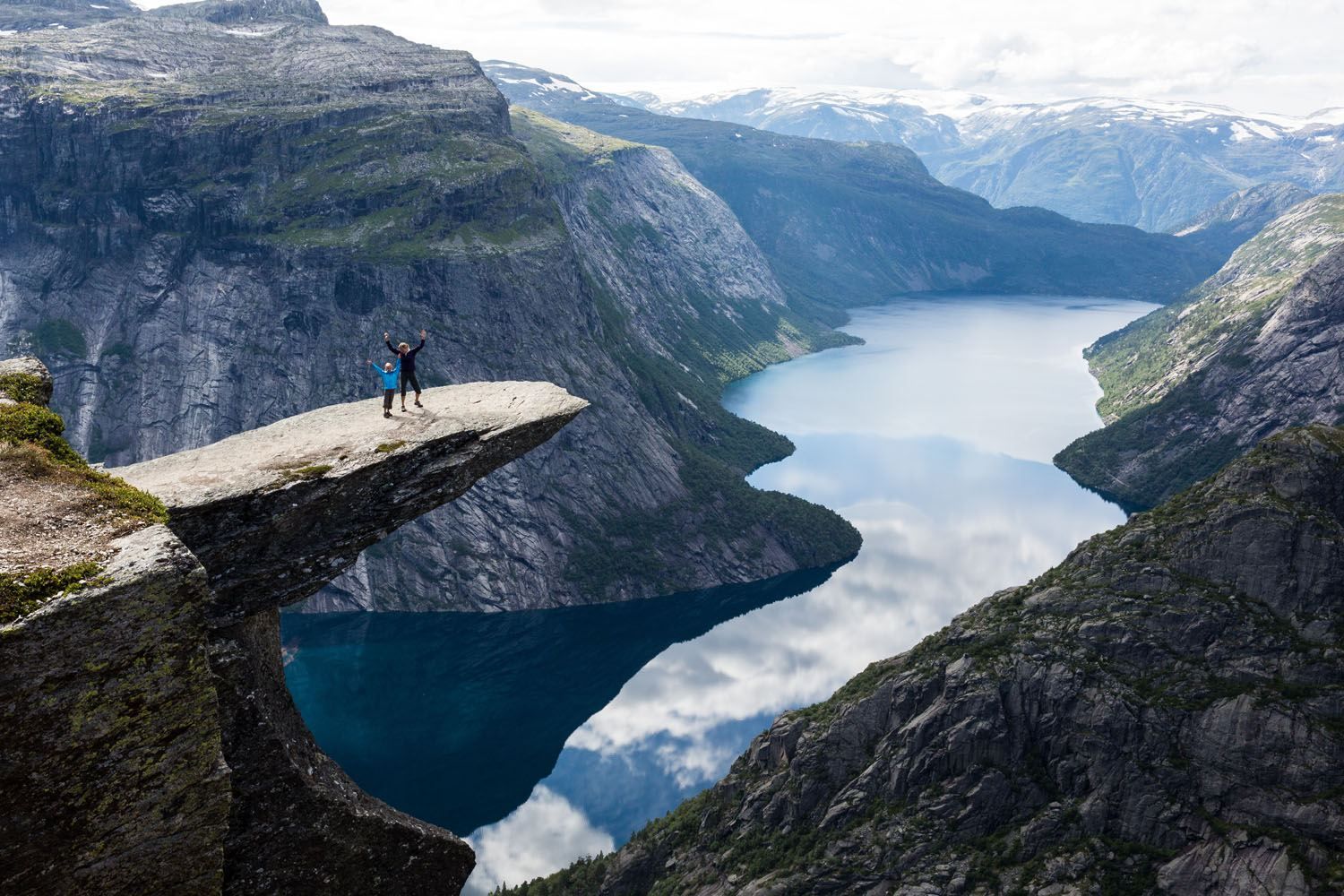 Next it was Tim and Tyler's turn. By now we were all getting quite cold. Temperatures were in the high 40's (8 – 9°C) and it was early August.
Fortunately, the line was a little shorter for Tim and Tyler. Here they are, posing for the camera.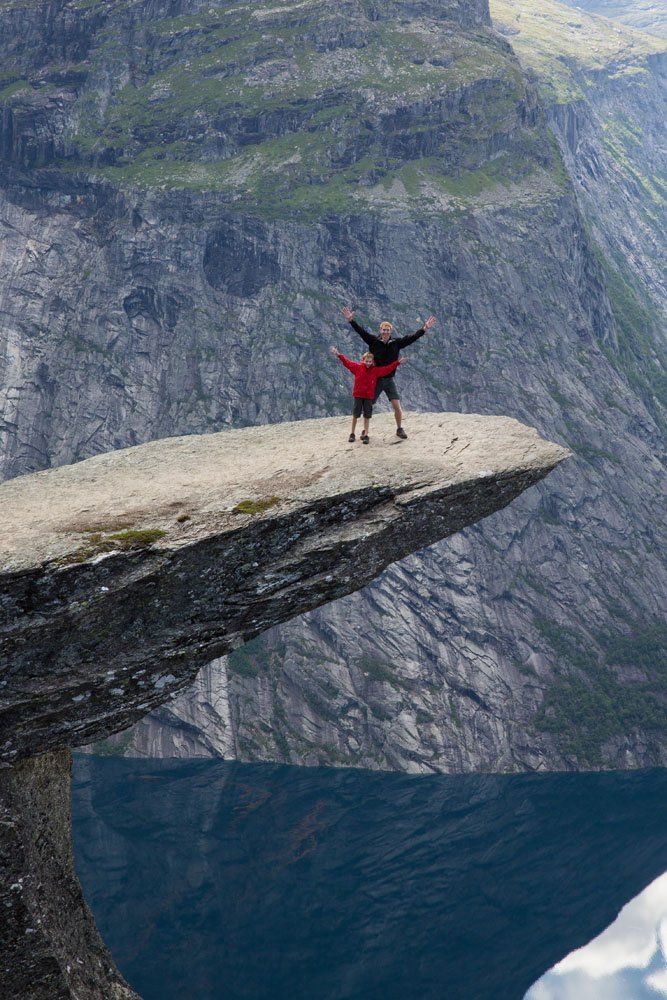 It took an hour and a half for all of us to have our photos taken. By now we were very chilly and already somewhat tired. All four of us were hoping the walk back to the car would be quicker than the walk out.
The Return Hike
The walk back was slightly faster. We did not need to stop for sunscreen, photos, or much food now. The signs counting down the kilometers kept us going, and we snacked on lots of cookies. It took us three hours to hike back to a car, shaving off about a half hour from the hike to get to Trolltunga.
About Our Experience
We did this hike in August 2013 when the funicular tracks were still open. At the time we did this hike, Tyler was 10 and Kara was 8 years old.
We are very fast hikers, even with kids. The four of us hiked to Trolltunga in 8 hours (3.5 hours to get to Trolltunga, 1.5 hours for photos, and 3 hours to hike back to the car) from the Skjeggedal car park. We were constantly overtaking other people and we had perfect weather conditions. If you take your time or encounter marshy, snowy terrain, this hike can take as long as 10 to 12 hours.

How Do You Get to Trolltunga?
Trolltunga is located in southern Norway near Hardangerfjord. Most people stay in Odda or Tyssedal to hike Trolltunga.
Distances to Trolltunga:
From Bergen: 3 hours
From Oslo: 5 to 6 hours
From Stavanger: 3.5 hours
Lately, we have been getting a lot of questions from people who want to day trip from Bergen, hike Trolltunga, and then drive back to Bergen the same day. That is possible to do, but it will be a very long, tiring day, and I don't recommend it. The hike to Trolltunga can take 12 hours (although if you take the shuttle to and from the upper parking lot you can save about 3 hours). Add in 6 hours of driving for the day and that's a very long day. Plus, you will have to drive all of the way back to Bergen after hiking 28 km. It will be a much more enjoyable (and safer) experience if you stay near Trolltunga, at least for one night.
The best way to get around this region of Norway is by car. Having a rental car gives you the freedom to take your time, stop and enjoy the views (this part of Norway is gorgeous!), and visit small towns and off-the-beaten-path destinations.
However, if you are relying on public transportation, you can get to Odda by bus and by train.
Getting to Odda By Bus
The Trolltunga-Preikestolen Express bus connects the Trolltunga hike with Pulpit Rock during the summer months.
From Stavanger, take the Nor-Way bus.
From Oslo, take the Haukliekspressen bus.
From Bergen, take bus 930.
Getting to Odda By Train
The Bergensbanen connects Bergen and Odda.
Where to Park at Trolltunga
Main Lot
From Tyssedal, drive 7 km on Skjeggedalsvegen to the car park at the start of the hike. This is where the trailhead is located. There is a parking lot (P2) with 180 space and toilets. Parking costs NOK 500.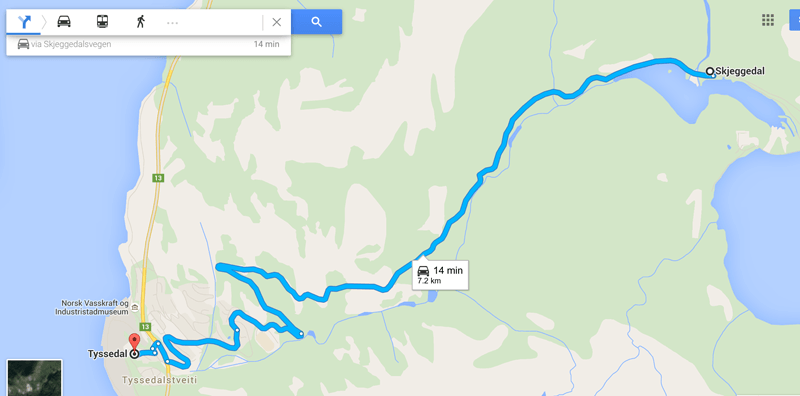 Map of the drive from Tyssedal to the parking lot in Skjeggedal.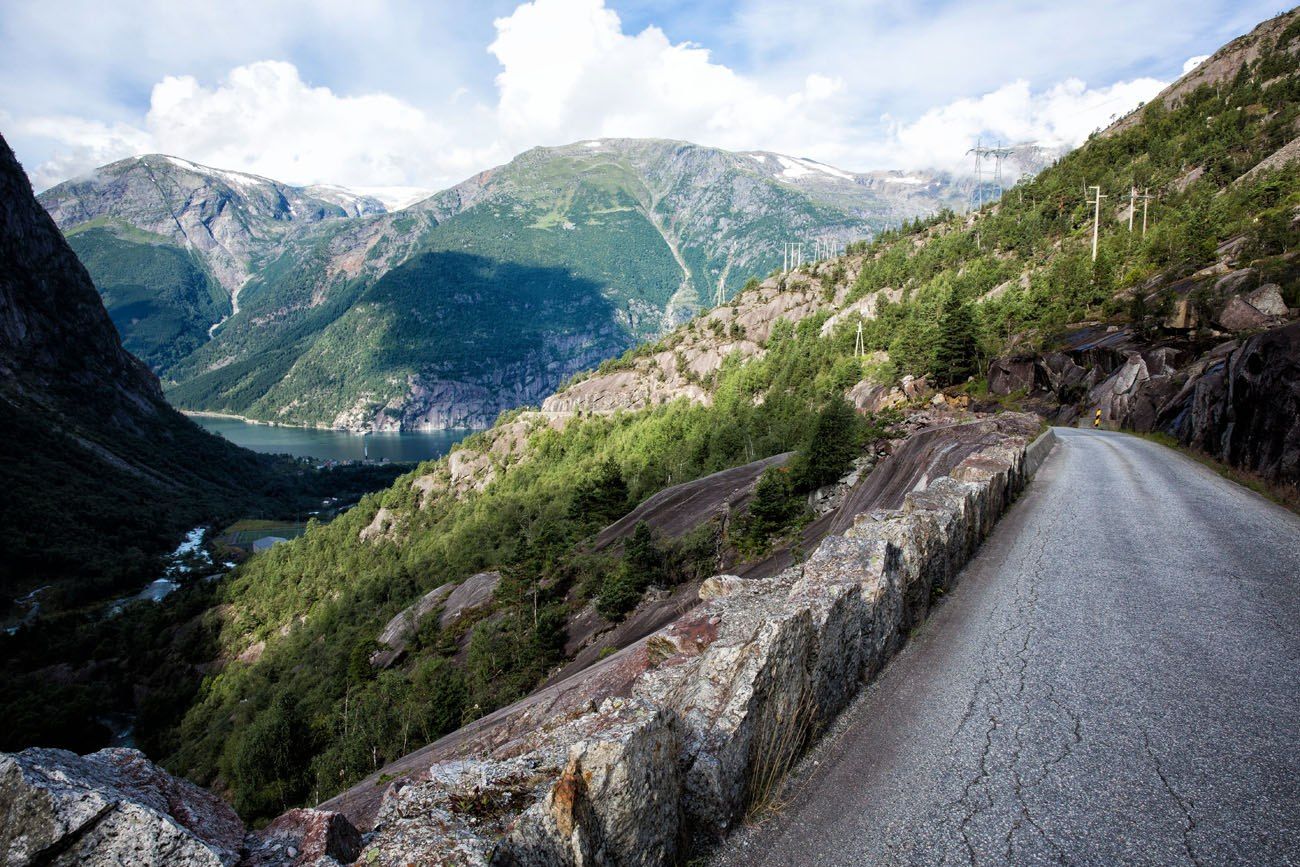 The road from Tyssedal to the car park (looking back towards Tyssedal and Sorfjord).
Trolltunga Road Lot
There is a second, much smaller parking lot (called Mågelitopp or P3) that holds 30 cars (NOK 600). This road is very steep, you need to have good driving skills and be able to drive tight, hairpin turns. To drive this road, you must also pay the toll road fee (NOK 200), which brings your total to NOK 800. Driving to this parking lot eliminates the first climb and final descent of the hike, shaving off a whopping 3 hours of hiking time. The gates open at 6:30 am.
Purchase your ticket in advance for Magelitopp (P3). Click here to learn more and to make your reservation.
Sue, one of our awesome readers, wrote in with more information about the new car park. She states that the road is now paved and although it is steep, you no longer need a 4×4. You can read her full report in the comment section below. Thanks Sue! 🙂
You can park in P2 Skjeggedal (the lower lot) and take a shuttle bus up to Mågelitopp, the upper lot. Taking the shuttle one way saves you roughly 1.5 hours of hiking time. Prices start at NOK 150. Click here to learn more.
For a map of the parking areas and a full list of prices for all of these parking options, visit the official website for Trolltunga.
Best Places to Stay Near Trolltunga
There are people who hike Trolltunga on a day trip from Bergen but we don't recommend it. You are setting yourself up for a very long, exhausting day. For the best experience, plan on staying in one of the small towns near Trolltunga: Tyssedal, Odda, Kinsarvik, or Eidfjord. For more details on where to stay, including the best hotels in the area, read our detailed guide on the best places to stay near Trolltunga.
Helpful Tips for Trolltunga
Start early! This is a long day and you want to give yourself as much time as possible. Try to hit the trail no later than 8 am.
Don't underestimate this hike. It's a long, tiring hike. And yes, it really can take 12 hours. Over the course of the day, you will essentially be hiking a half marathon with lots of elevation gain. You wouldn't just plan on rolling out of bed one day to go run a half marathon, right? 🙂 You need to be in good shape to do this.
There is no fee to hike Trolltunga. However, if you have a car, you will have to pay for parking.
Use the bathroom in the car park before starting the hike. This is your only chance to use a toilet until you get back to the parking lot.
Between June 1 and September 30 you do not need a guide to do this hike. There are enough people on the trail, and the trail is marked well enough, that you should have no issues finding your way to Trolltunga. Once you are at Trolltunga, you can have another hiker take your photograph (if you are hiking solo).
If you are hiking from October 1 to May 31, Visit Norway recommends hiring a guide. Every year there are numerous rescues for people who got in over their heads. Don't be one of these statistics.
Please practice the seven principles of Leave No Trace: plan ahead, stay on the trail, pack out what you bring to the hiking trail, properly dispose of waste, leave areas as you found them, minimize campfire impacts, be considerate of other hikers, and do not approach or feed wildlife.
What to Bring on the Trolltunga Hike
Waterproof hiking shoes
Plenty of food and water
Sunscreen
First Aid Kit
Rain jacket and warm clothing (the weather can change rapidly!)
Camera
If you are new to hiking or are curious about what you should bring on a hike, check out our Hiking Gear Guide. Find out what we carry in our day packs and what we wear on the trails.
Can You Hike Trolltunga with Kids?
At the time we did this hike, Tyler was 10 and Kara was 8 years old. They both did awesome. They were happy and having a good time for almost the entire time (Kara struggled a little with the walk down the funicular line).
We only saw one other child (about 10 years old) on the trail. A very adventurous child, eight years or older with lots of long distance hiking experience, should be able to handle this hike.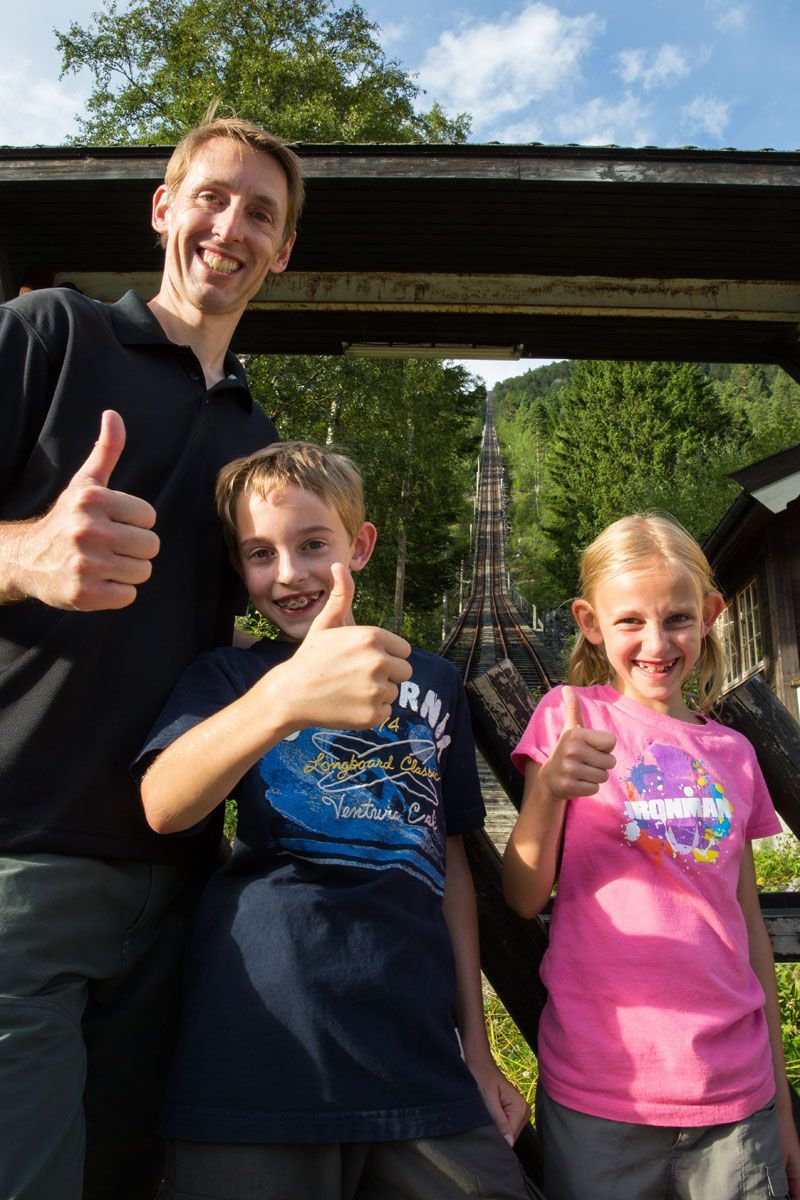 Alternative Route to Trolltunga
If you do not like the idea of the hike, there is a combination cycle trip and Via Ferrata climb to get you to Trolltunga. The Via Ferrata was not option when we did the hike so we do not have much information about it. For more information on the Via Ferrata click here.
---
Help Keep this Post Updated
Have you hiked Trolltunga? Is there something we missed? Let us know in the comments below so we can keep this post updated. Thanks!! And happy hiking. 🙂
Where Are You Going Next?
To help you plan your trip, here are more articles about Norway.
ADVENTURES IN NORWAY: Pulpit Rock and Kjeragbolten are two of the best hikes to do in Norway. For an even bigger adventure, climb Svolvaergeita in the Lofoten Islands. Traveling to Svalbard in the arctic circle is an adventure in itself, but you can also go glacier kayaking or hike to one of the tallest peaks on Spitsbergen.
HIKES IN NORWAY: For an overview for some of the best hikes in Norway, take a look at our Norway Hiking Guide. We also have detailed trail guides to Romdalseggen Ridge, Pulpit Rock, Reinebringen, and Segla.
NORWAY ITINERARY: On this 10 day itinerary through the fjord region, visit southern Norway: Bergen, Geirangerfjord, and Stavanger and hike Trolltunga, Pulpit Rock and Kjeragbolten.
PLACES TO GO IN NORWAY: For a list of top experiences in Norway, don't miss our Norway Bucket List.
LOFOTEN ISLANDS: For an overview of the best things to do, read our Lofoten Islands Top Ten List. Get lots of travel planning advice in our Lofoten Islands Itinerary. For advice on where to stay, read our Lofoten Islands Hotel Guide.
MORE GREAT HIKES IN EUROPE: From thrilling trails in the Alps to easy walks along the coast, read our article 20 Best Hikes in Europe for some beautiful hiking trails to put on your travel wish list.
Are you planning a trip to the Norway? Read all of our articles about Norway in our Norway Travel Guide.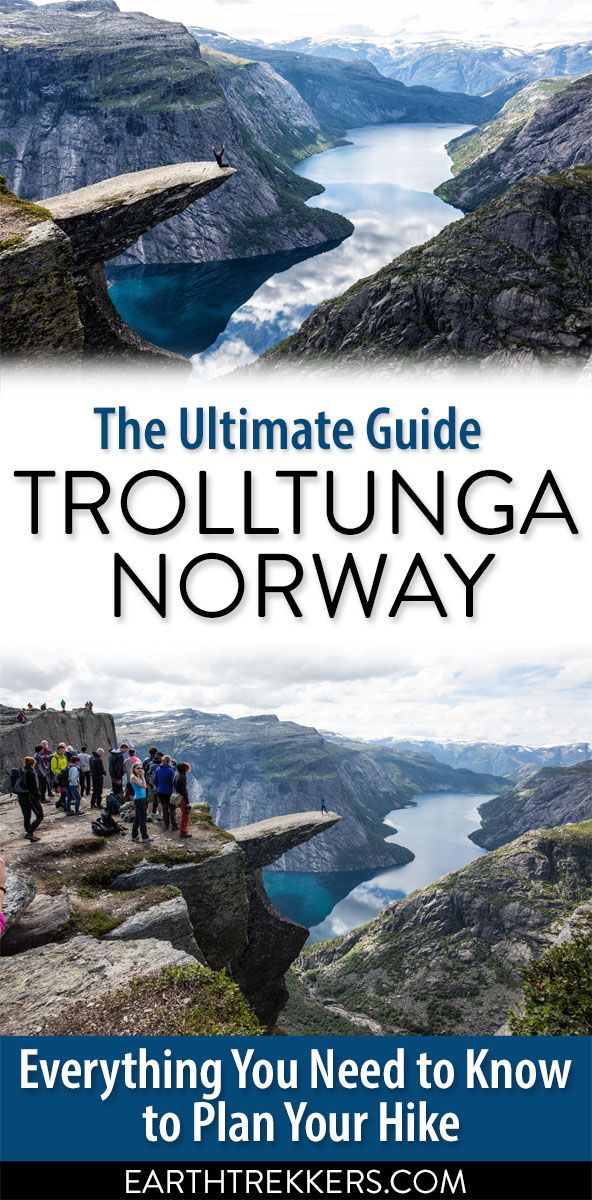 All rights reserved © Earth Trekkers. Republishing this article and/or any of its contents (text, photography, etc.), in whole or in part, is strictly prohibited.