10 days in Norway…the options are endless for the best way to explore this gorgeous country.
We have been to Norway twice and after each trip we wrote a 10-day Norway itinerary. One itinerary only covers the fjord region, from Stavanger to Ålesund, with epic hikes, fjord cruises, kayaking, and more. Our second itinerary covers northern Norway, starting in Tromsø and road tripping through Senja and the Vesteralen Islands, ending in the Lofoten Islands.
Since publishing our second itinerary, we frequently get questions on how to combine both of them. With 10 days, how can you visit the fjord region and the Lofoten Islands?
In this article, we have several ideas on how to do this. One itinerary is geared more towards hikers and the second itinerary is geared to seeing some of the main highlights of the fjord region.
Since I am combining two 10-day itineraries into one 10-day itinerary, you will need to give up some very cool destinations.
Which leads me to this point: if you think you will ever return to Norway again (and trust me, after your first visit, you'll be dreaming of a return trip), skip the combo itineraries in this article and just focus on one region on your first trip. It will be easier to plan, cheaper (since you will be taking fewer flights), and overall more enjoyable, since you will have a more leisurely experience.
But if you plan to take only one trip to Norway, you might like these two itinerary ideas.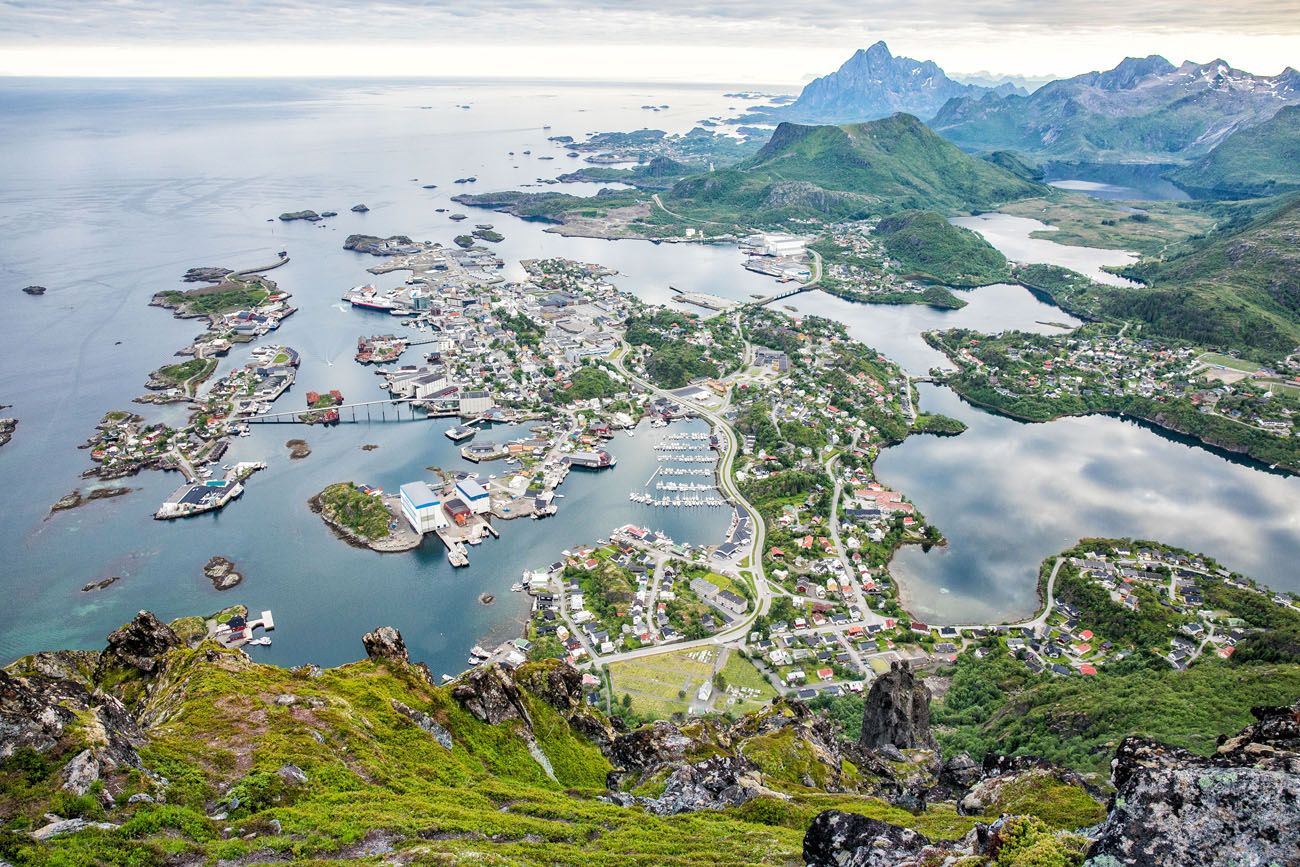 Overlooking Svolvaer from Svolvaer Fløya in the Lofoten Islands
About These Itineraries
Best Time To Go
These itineraries are best between the months of June and October. Due to weather and snowfall, some hiking trails do not "open" until June. Plus, some roads can be closed until late spring, such as Trollstigen, a steep, iconic, twisting road near Geirangerfjord.
These Itineraries are Designed as a Road Trip
Renting a car gives you more flexibility than public transportation. It is possible to get around by public transportation, and if you want more information on how to do this, I recommend visiting the Visit Norway website.
Internal Flights
In order to travel between the fjord region and northern Norway, I recommend flying. You can travel by train, but if you only have 10 days to spare, you will lose precious time.
To fly from southern Norway to the Lofoten Islands, you will most likely end up booking flights with more than one stop. Many flights will go through Oslo or Bodø in order to get to the Lofoten Islands. Total flight times can range from 3 to 7 hours, depending on the flight schedule for the day and your point of origin and final destination.
Essentially, traveling from the fjord region to the Lofoten Islands can take the majority of a day.
Lofoten Islands
10 Days in Norway: Sample Itineraries
#1 Epic Hikes in the Fjord Region
This itinerary is geared towards hikers. You will hike three of Norway's most iconic hikes, Kjeragbolten, Pulpit Rock, and Trolltunga, visit Stavanger and beautiful Bergen, and spend three days in the Lofoten Islands.
If you plan to follow this itinerary, you will need to do it between June 1 and September 30, unless you plan to hire a guide to hike Trolltunga.
10 Days in Norway: Kjeragbolten, Trolltunga & the Lofoten Islands
Day 1: Arrive in Oslo, fly to Stavanger
Day 2: Hike Kjeragbolten
Day 3: Hike Pulpit Rock, drive to Trolltunga
Day 4: Hike Trolltunga
Day 5: Drive to Bergen, visit Bergen
Day 6: Fly to the Lofoten Islands
Day 7: Lofoten Islands
Day 8: Lofoten Islands
Day 9: Lofoten Islands
Day 10: Fly Home
How to Use This Map: Click the tab in the top left hand corner of the map to view the layers (points of interest and the driving route). You can click the check marks to hide or show layers. If you click the icons on the map, you can get more information about each point of interest.

If you click the star next to the title of the map, this map will be added to your Google Maps account. To view it on your phone or computer, open Google Maps, click the menu button, go to "Your Places," click Maps, and you will see this map on your list.
Day 1: Arrive in Stavanger
Most international flights will arrive in Oslo. From here, take a connecting flight to Stavanger.
Pick up a rental car, either at the Stavanger airport or in the town of Stavanger.
Sleep in Stavanger. We stayed at the Comfort Square Hotel. This modernly decorated hotel (with interesting artwork) is located within the heart of Stavanger. Take-away breakfast is available, perfect if you want to grab breakfast and get an early start hiking.
Day 2: Hike to Kjeragbolten
Total Driving Distance: 292 km (including the Lyseveggen Road detour)
Total Driving Time: 5.5 hours
Get an early start today. Have breakfast at your hotel and then drive to the trailhead for the Kjeragbolten hike. It takes two and a half hours to drive to Kjeragbolten (140 km) from Stavanger.
This is an incredible hike. In fact, it's one of our favorite hikes, ever. Not only do you get to test how daring you are by standing on Kjerag, but the scenery from the trail is jaw-dropping. Even if you can't get up the nerve to stand on the boulder, this is still an epic hike.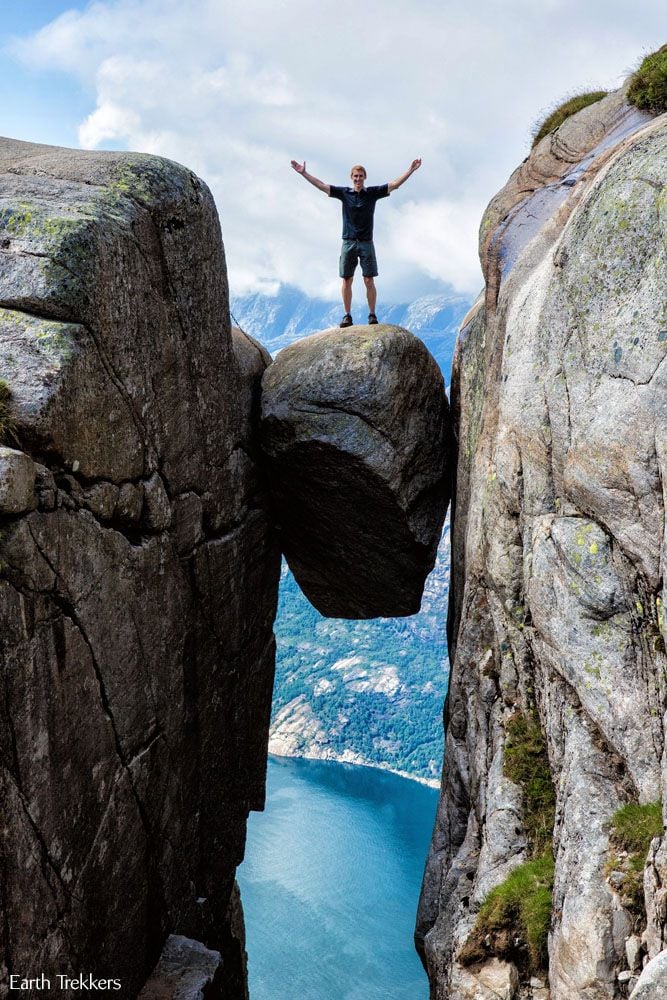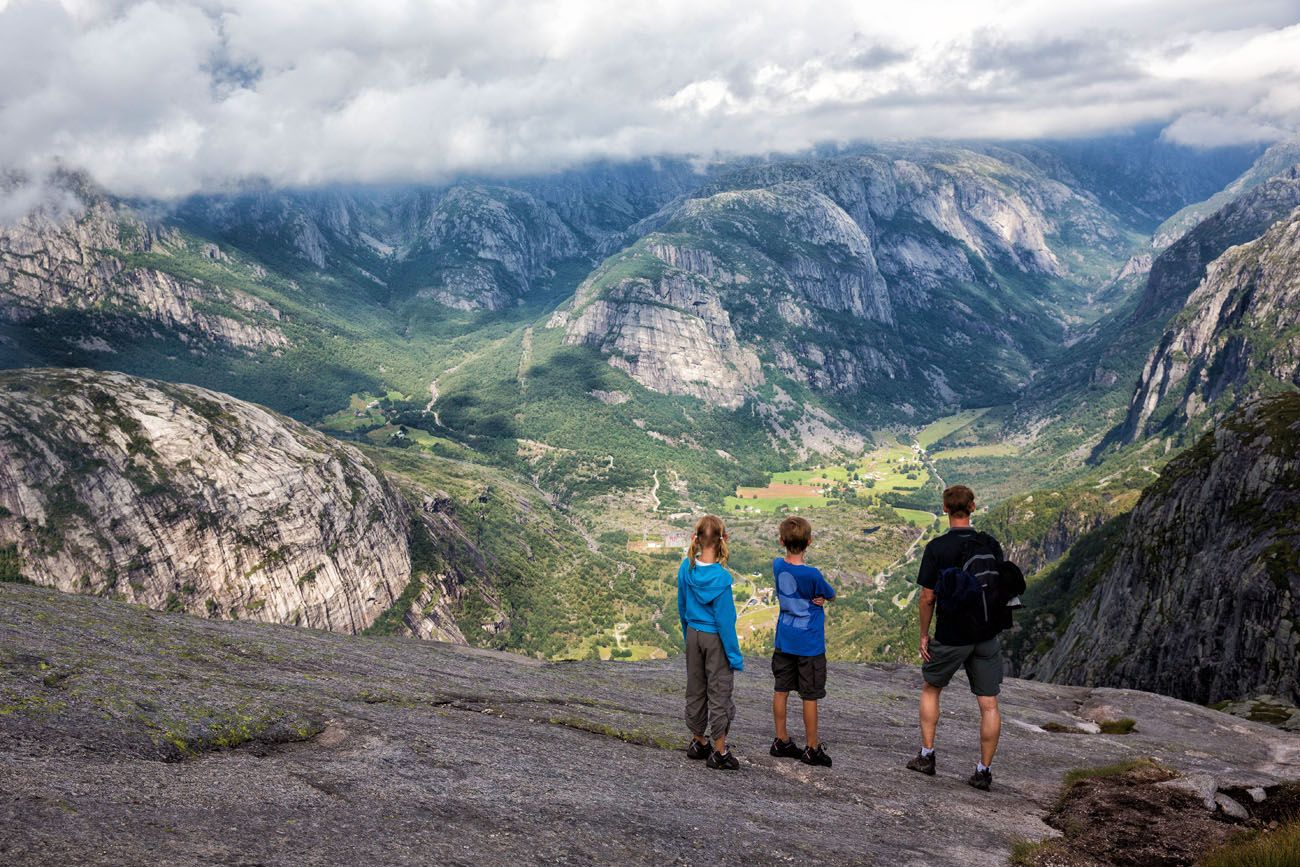 The hike to Kjeragbolten is 12 km round trip and takes between 5 and 7 hours.
If you are doing great on time, consider this scenic detour. You can drive down (and then back up) Lyseveggen Road, a narrow road with 32 hairpin turns, an average gradient of 9.4%, and an elevation difference of more than 800 meters (2600 ft) over 5.8 km (3.6 miles). And if that isn't crazy enough, there is a tunnel near the bottom than turns 340 degrees.
If you are up for this adventure, like we were, turn left when you pull out of the Kjerag parking lot and you will start going down this windy, switchback road almost right away. This road connects the Kjeragbolten car park with the town of Lysebotn.
Return to Stavanger.
Day 3: Hike to Pulpit Rock, drive to Trolltunga
Total Driving Distance: 225 km
Total Driving Time: 4.5 hours
This is another long day with a lot of driving. However, the hike to Pulpit Rock is short and sweet and one of Norway's most popular hikes.
ITINERARY MODIFICATION: You can skip the Pulpit Rock hike and drive to Trolltunga. If you like this idea, spend the night in Lysebotn after hiking Kjeragbolten (on day 2) and drive to Odda or Tyssedal from here.
Get an early start today. With the recent opening of the tunnel you can now drive from Stavanger directly to Pulpit Rock.
The hike to Pulpit Rock is 8 km (5 miles) round trip and takes a total of four to five hours, less time if you are a fast hiker.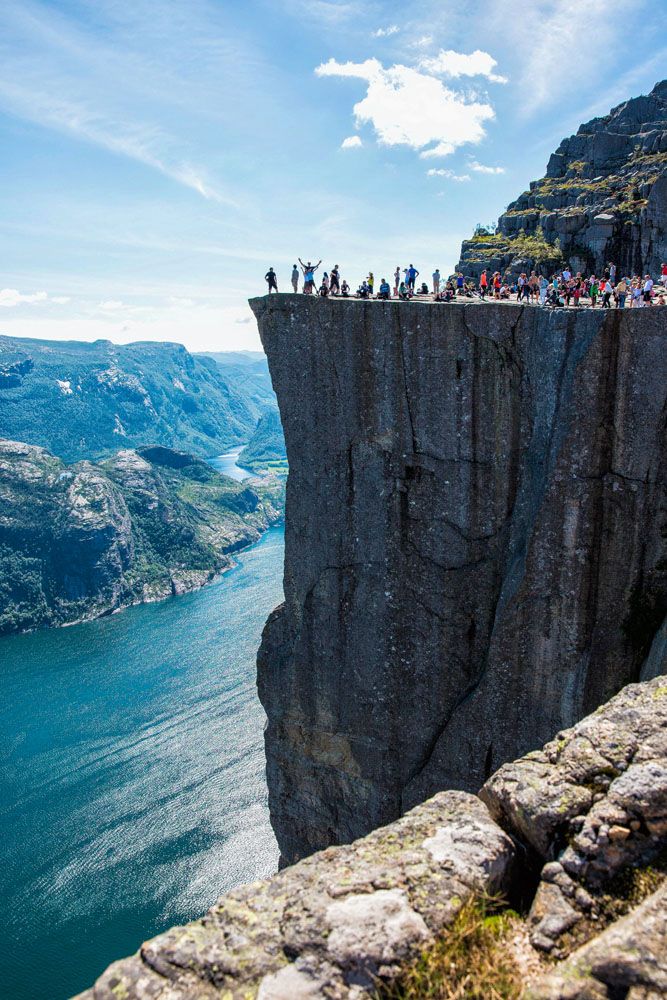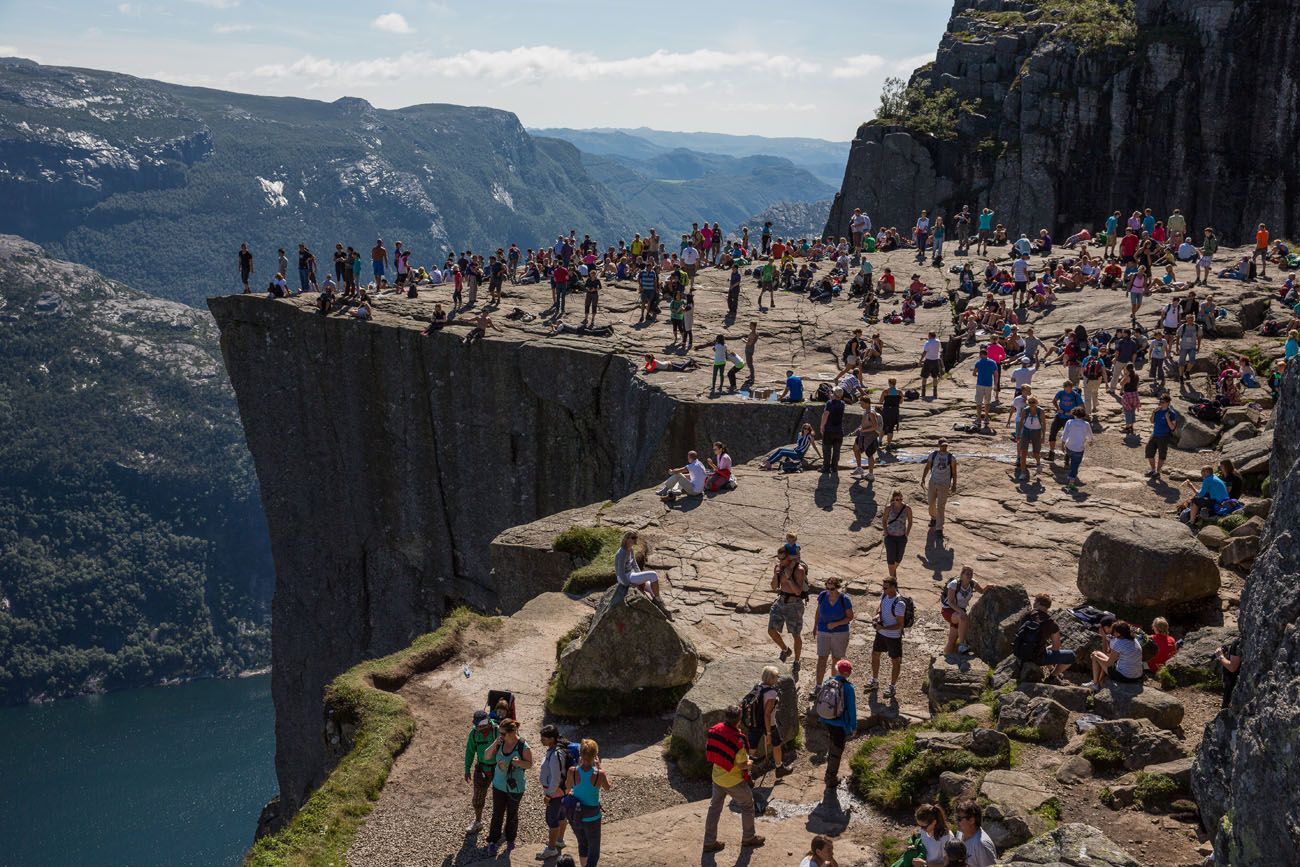 Midday crowds at Pulpit Rock in August.
Since this hike is so popular, it's important to get an early start today. Not only will you avoid crowds on the trail, but an early start will also give you more time to drive to Trolltunga.
After the hike, drive to one of the towns near Trolltunga. I recommend staying in Odda or Tyssedal. From the Pulpit Rock parking lot, it takes 4 hours to drive to these two towns.
Day 4: Hike Trolltunga
Trolltunga is another Norwegian hike whose popularity has been boosted by Instagram in recent years. Since we did this hike in 2013, there have been a lot of changes. The funicular has been dismantled and a new road to an upper parking lot has been added. Now, it's possible to skip the first major climb of the hike, and drive it instead.
If you hike the entire trail to and from Trolltunga, it is 28 km (17.4 miles) round trip with 900 meters of elevation gain. It's a big day, which is why we give you a full day to do this hike. However, if you park in the upper lot, you eliminate the hardest part of the hike and save yourself roughly 1.5 hours.
Like the hike to Kjeragbolten, the scenery along the trail is breathtaking. The trail ends at the Troll's Tongue, a sliver of rock perfect for photographs.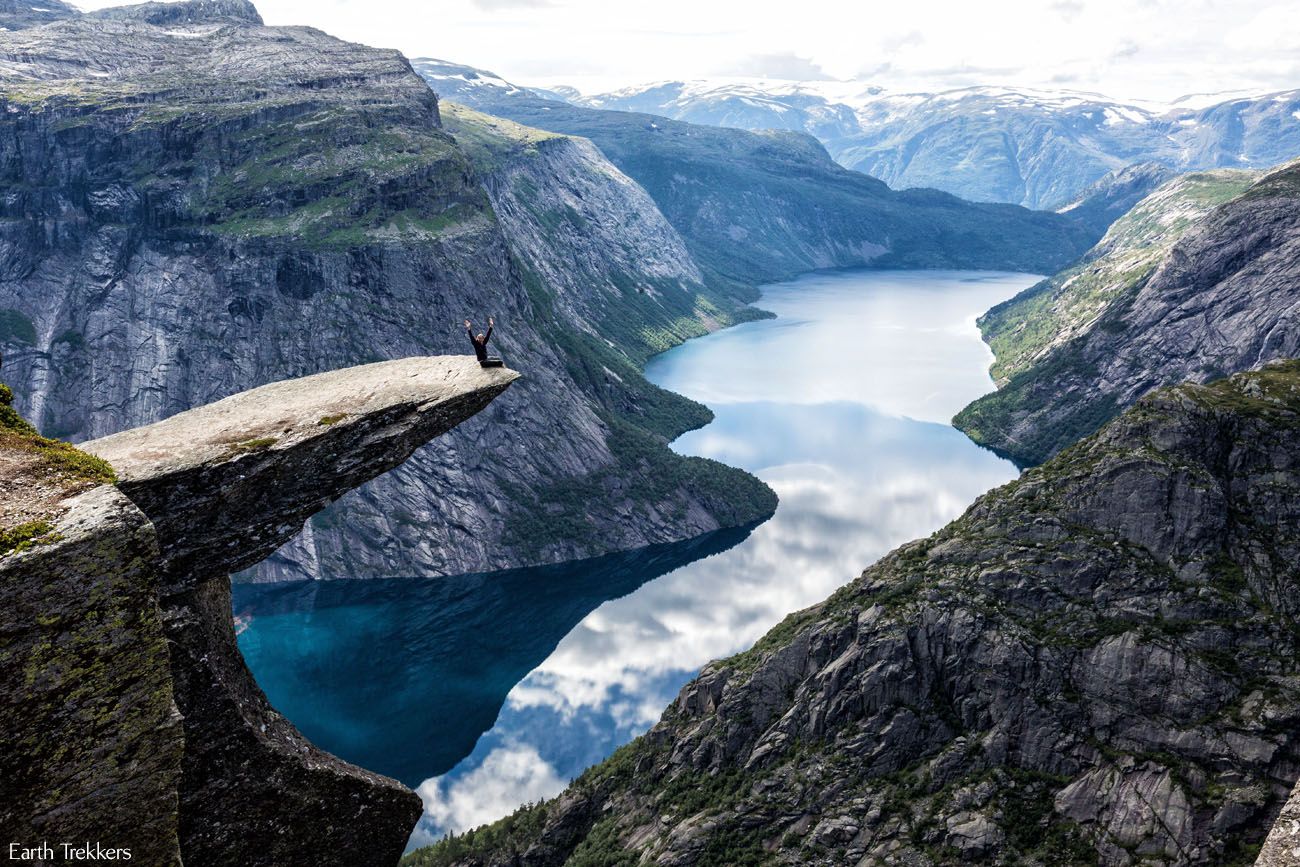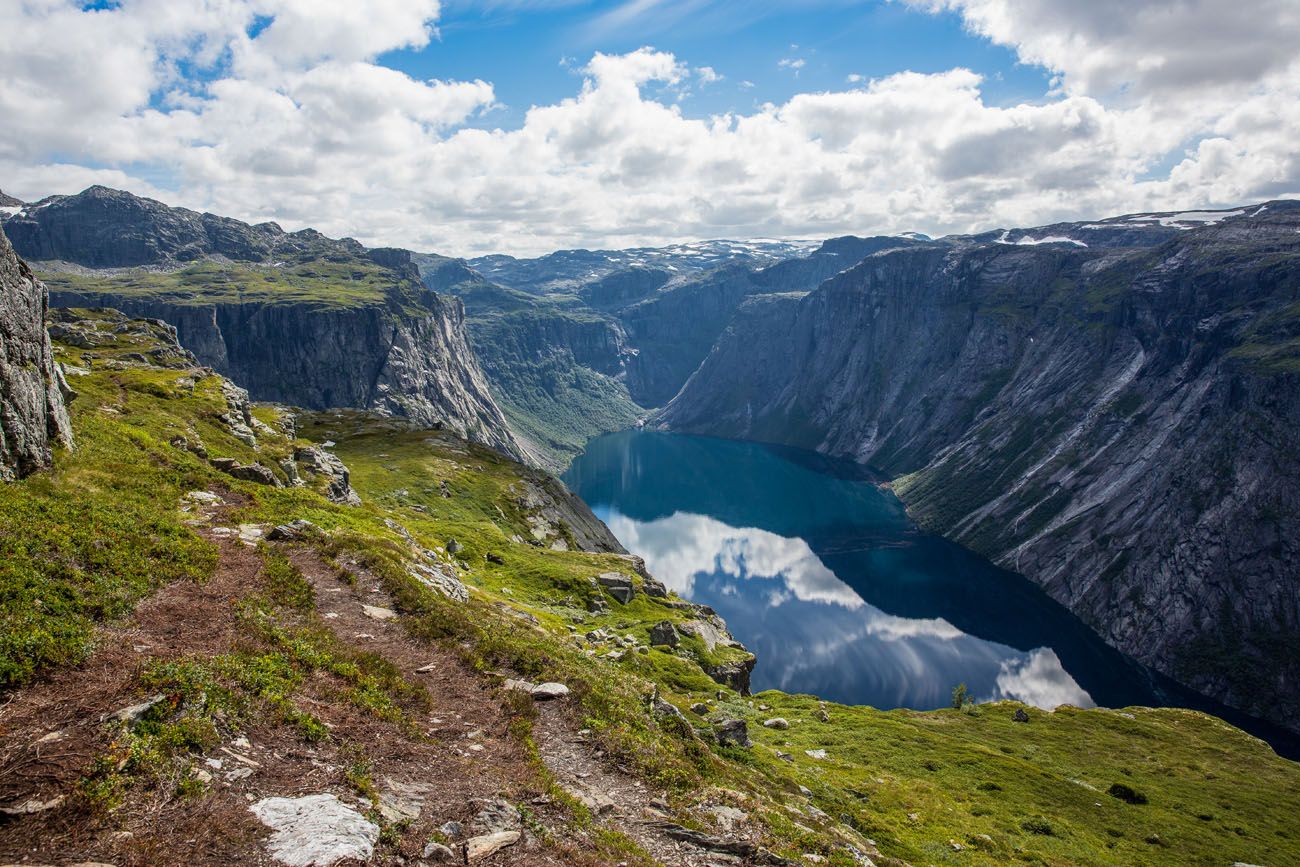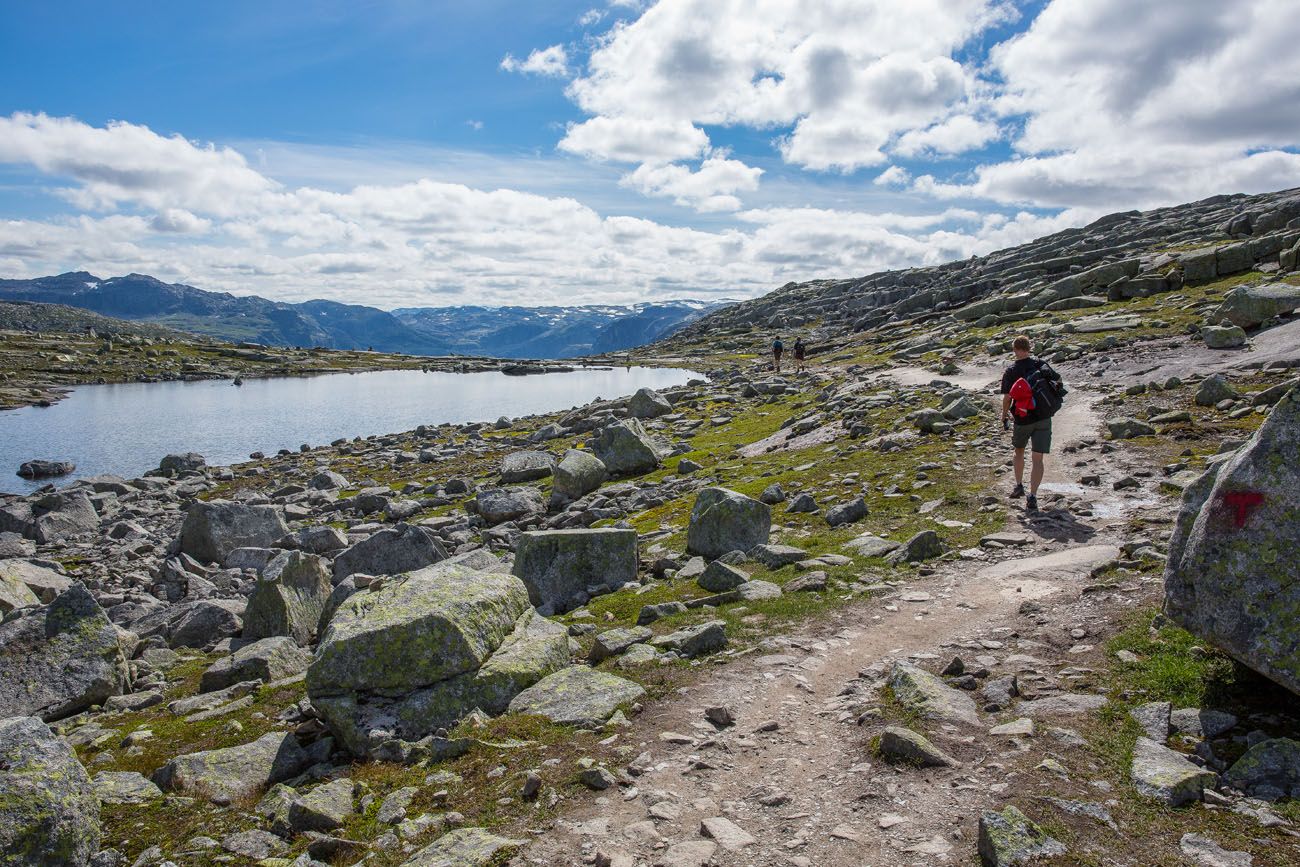 Sleep in Odda or Tyssedal.
Day 5: Drive to Bergen, Visit Bergen
Total Driving Distance: 140 km
Total Driving Time: 3 hours
In the morning, drive to Bergen. From Tyssedal, the drive is 140 km and takes 3 hours.
Spend the remainder of the day in Bergen. Have lunch at the fish market, wander the cobblestoned streets, take the funicular up the hillside for the best views over Bergen, and explore Bryggen, the location of the Hanseatic houses along the harbor.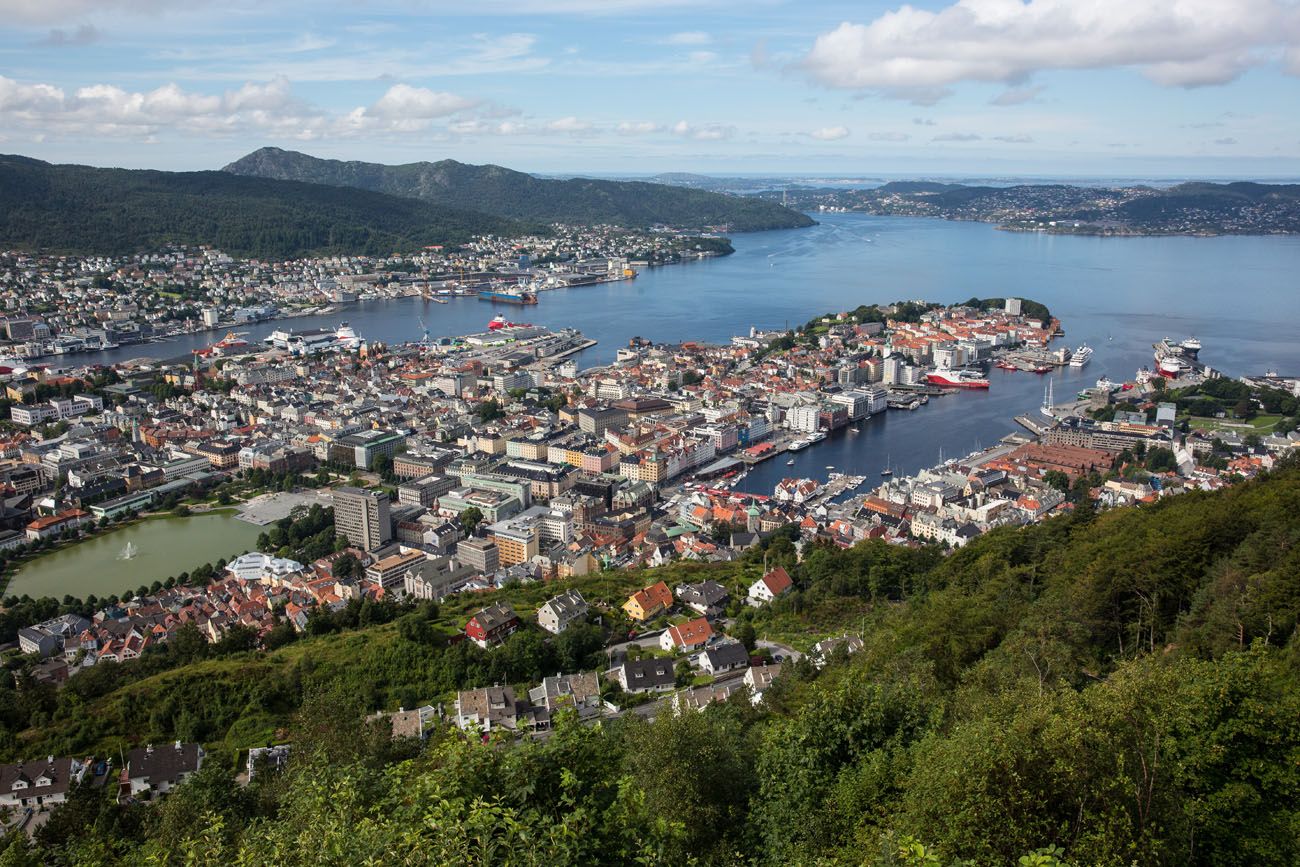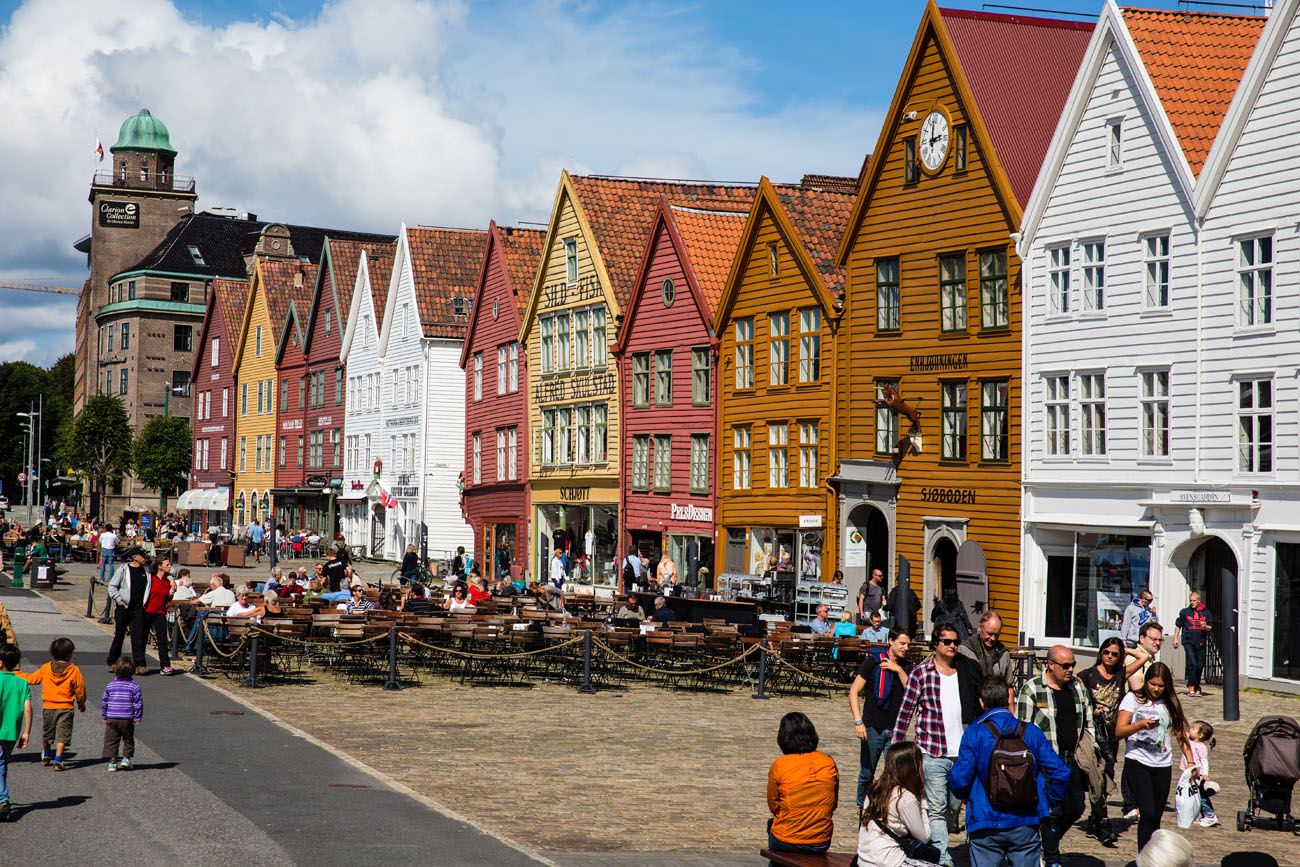 Day 6: Fly to the Lofoten Islands
Today, fly from Bergen to the Lofoten Islands.
There are two airports in the Lofoten Islands. Svolvaer Airport is located in Svolvaer, in the northern part of the Lofoten Islands. The Leknes airport is more centrally located in the Lofoten Islands. Ideally, fly to Leknes since it is centrally located.
When I searched flights from Bergen to the Lofoten Islands, I could not find any direct flights. Most flights went through Oslo or Bodø. Bodø is a city on the mainland that is not far from the Lofoten Islands. You have the option to fly to Bodø and then take a ferry to the Lofoten Islands, but flying from Bodø to Leknes or Svolvaer will most likely be faster.
There are three airlines that fly to the Lofoten Islands: Wideroe, Norwegian Airlines, and SAS. We have flown all of these airlines and have had good experiences with each of them.
To search flights, you can use Skyscanner. I also like the Wideroe website. The Wideroe website will give you flight options with Norwegian Airlines and SAS.
Flights can take 3.5 hours to 5 hours to get from Bergen to the Lofoten Islands. Average flight costs range from $200 to $450 USD per person during the summer months.
Once in the Lofoten Islands, pick up your rental car and get settled into your hotel and if you have any extra time, explore the area.
Day 7, 8 & 9: Lofoten Islands
The Lofoten Islands may look small on a map, but there is a lot to do here. Many of the best things to do are located between Svolvaer and the town of Å.
It can take quite some time to drive from one end to the other (it takes just over 2 hours to drive from Å to Svolvaer). But what a drive it is! It seems like there is another gorgeous view around every bend in the Lofoten Islands.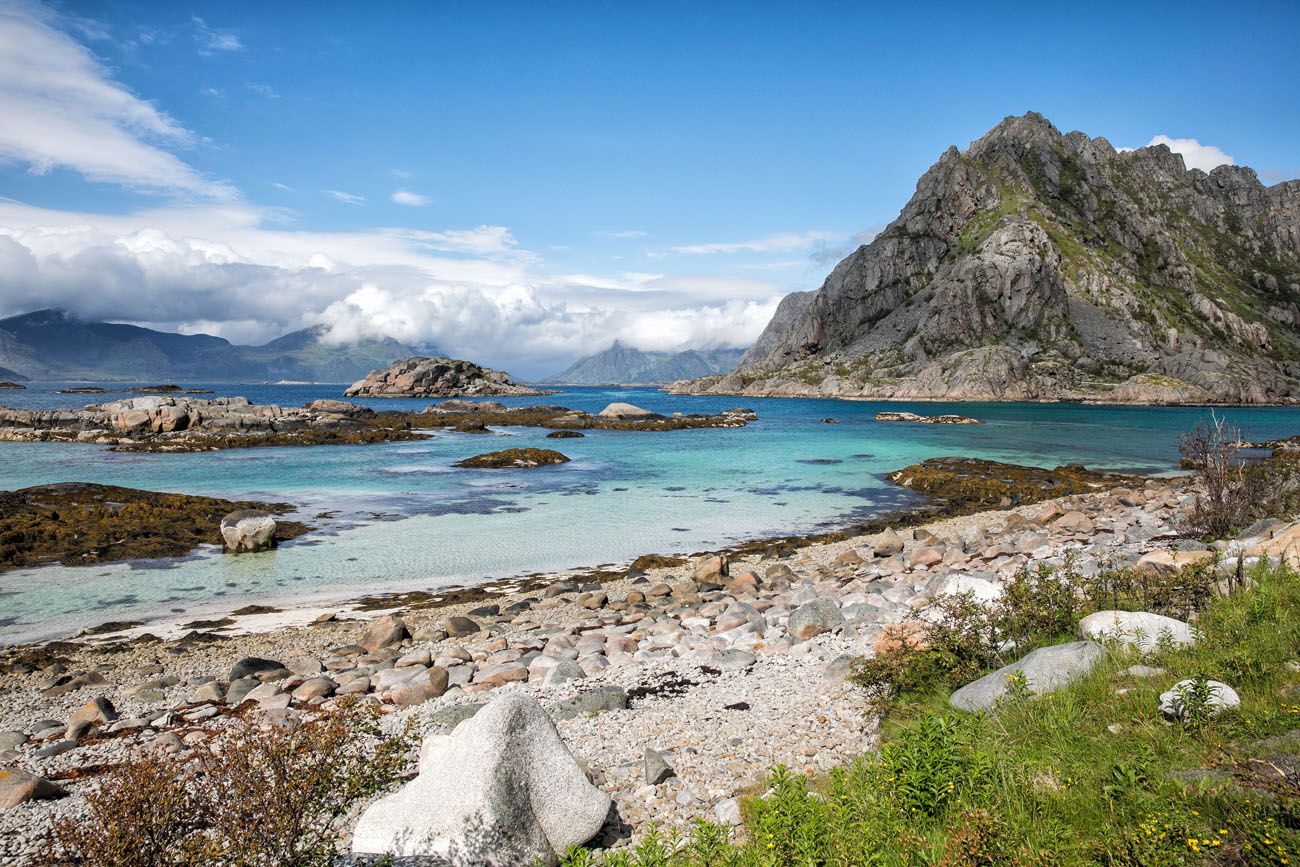 The Lofoten Islands are located in the Arctic Circle, but it may be warmer here than what you would expect. The warm Gulf Stream current keeps temperatures moderate. During the summer months, daytime temperatures range from 13 to 24°C (60 to 75°F). Also, from late May to mid-July you will get to experience the midnight sun.
You have three full days to tour the Lofoten Islands. During this time, explore the fishing villages, hike the trails, enjoy those scenic drives, and go to the beach. Yes, the beach. They are gorgeous here! It may be too cold for most people to get in the water, but the white sandy beaches and aquamarine water are stunning.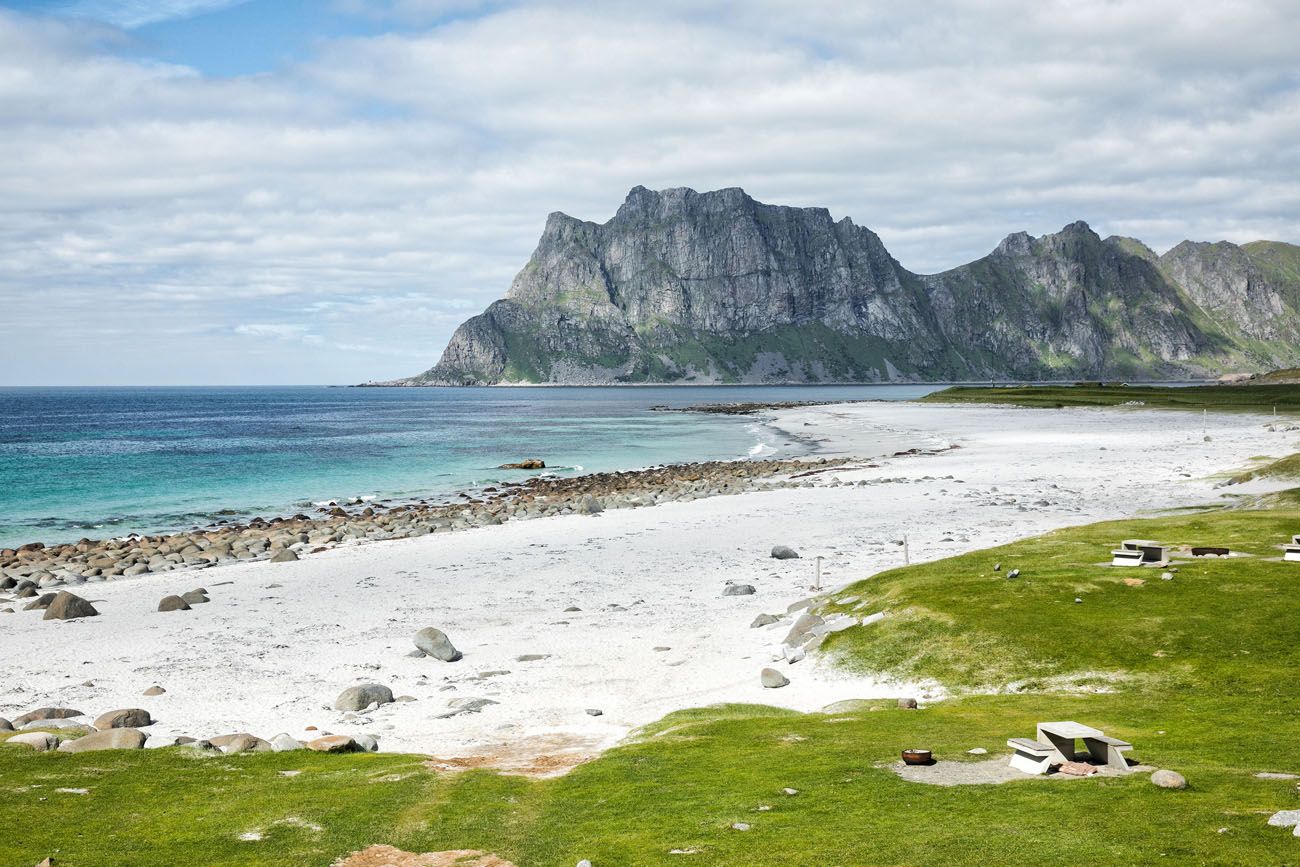 Uttakleiv Beach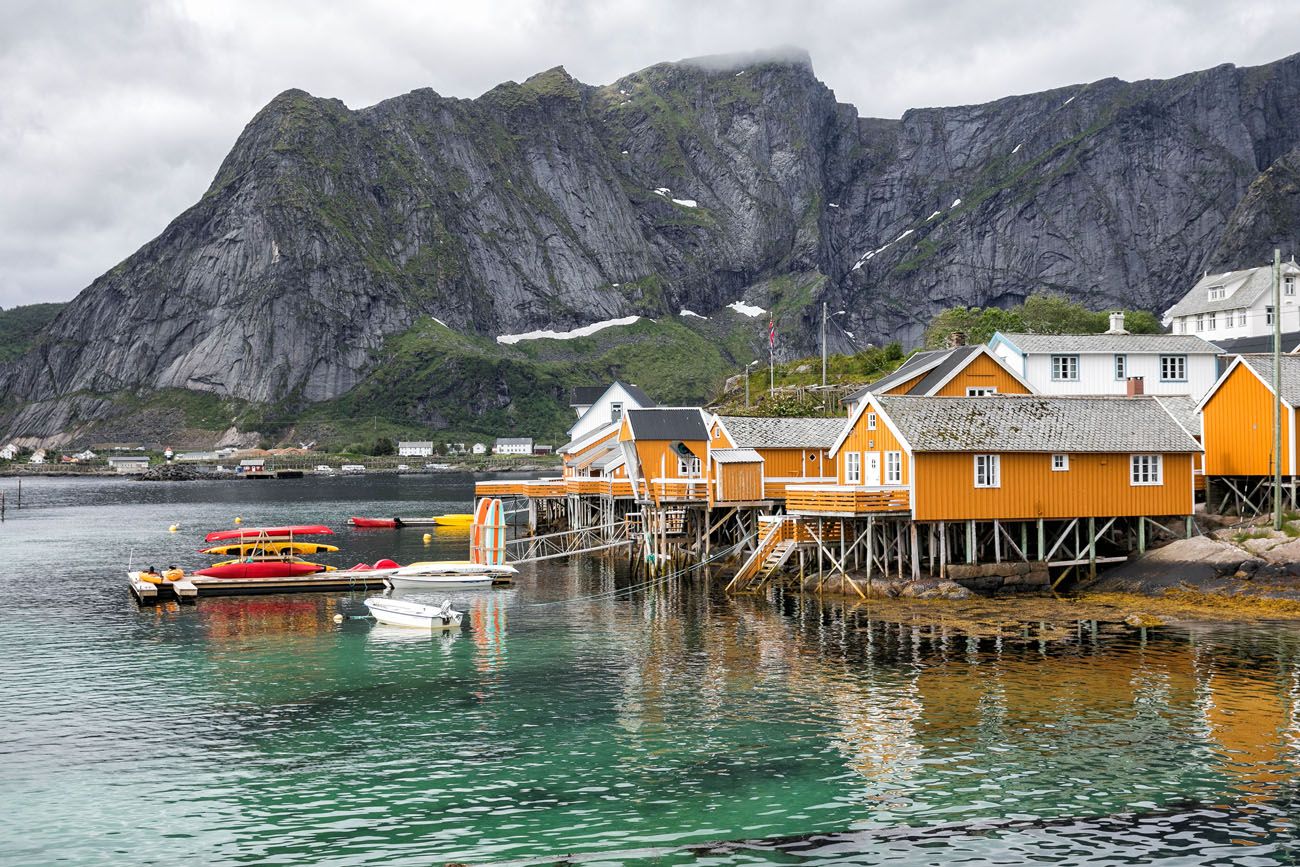 Rorbuers in the Lofoten Islands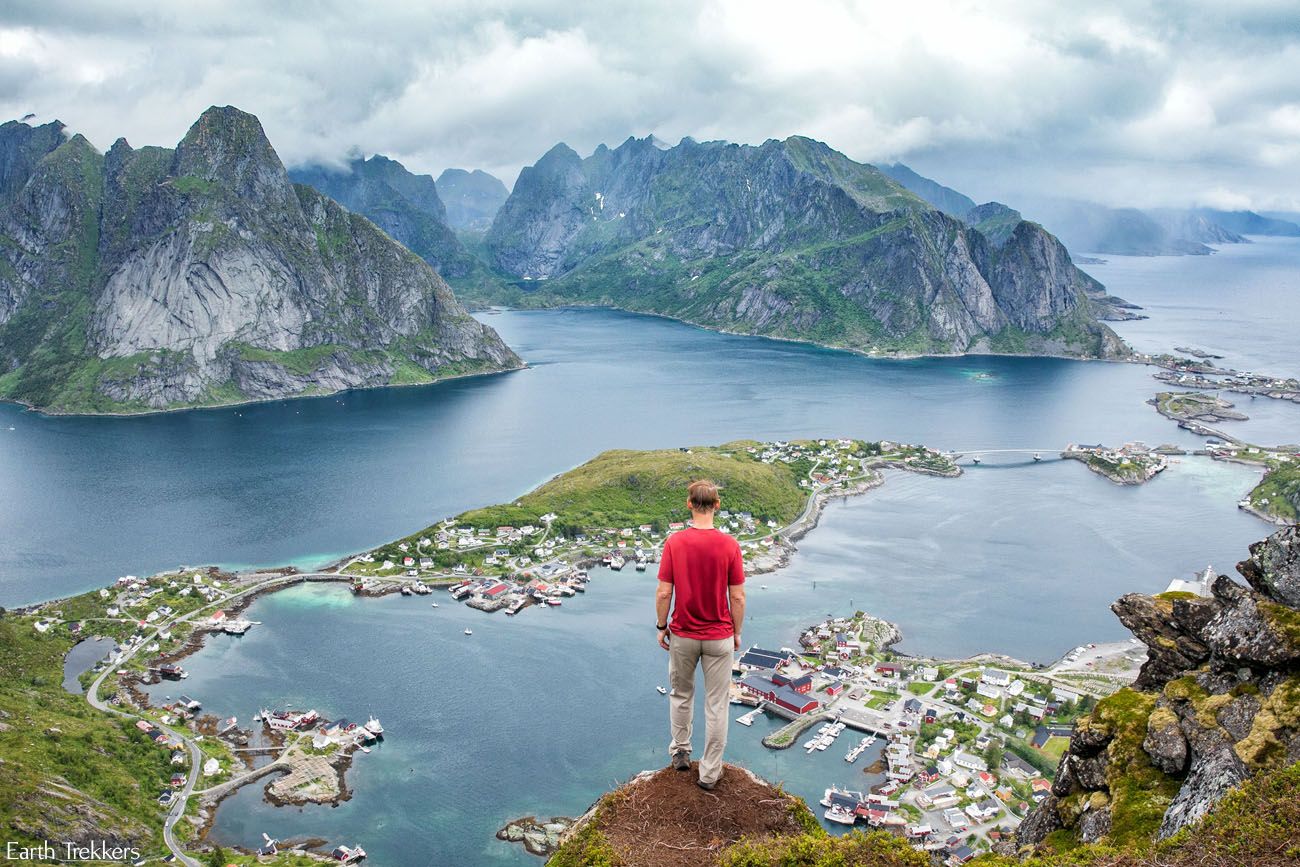 Reinebringen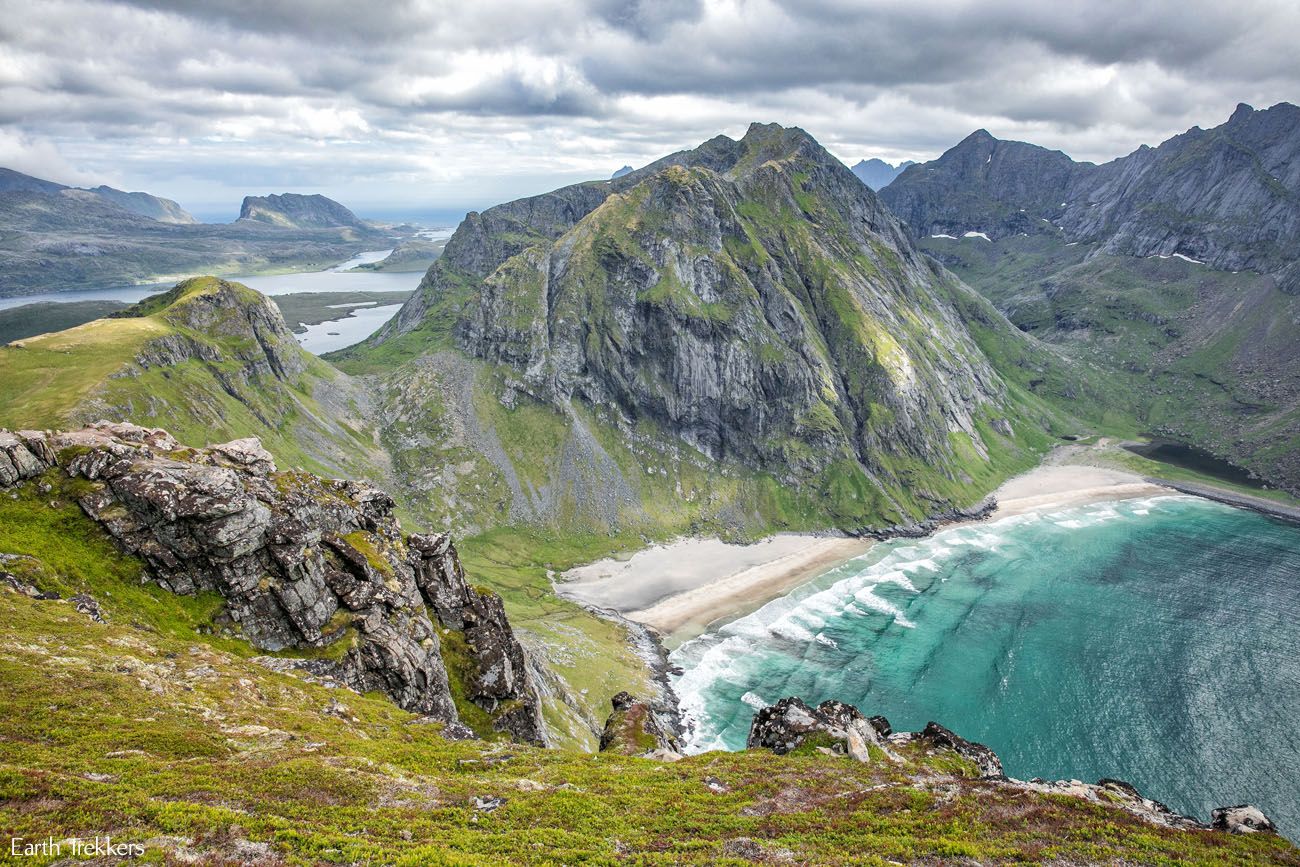 The view of Kvalvika Beach from Ryten
There are a lot of different ways to plan your time while you are here. You could spend a day in Svolvaer (hike Svolvaer Floya and/or rock climb Svolvaergeita) and Henningsvaer. On day 2 you could hike one or two hiking trails (Ryten, Reinebringen, and Festvågtind all make nice choices). On day 3 you explore historic Nusfjord, visit Uttakleiv and Haukland Beaches, hike another trail, and explore Hamnøy and Reine.
Day 10: Fly Home
To leave the Lofoten Islands, the best option is to fly from Leknes or Svolvaer to Oslo and then fly home from here. Alternatively, you can also take the ferry from Moskenes to Bodø and catch a flight from here. The ferry crossing takes 3 hours and it can be quite rough at times.
For those of you flying on to another destination other than Europe, you may not be able to travel from the Lofoten Islands to an international destination all in the same day. On day 9, you may need to travel to Oslo and on day 10, fly home (or continue your travels) from here. This is just something to keep in mind when looking at flights.
---
#2 Highlights of the Fjord Region
This itinerary gives you three days in the Lofoten Islands and four days in the fjord region of Norway.
Rather than spending your time in the fjord region on the hiking trails, you visit Ålesund, drive Trollstigen, see beautiful Geirangerfjord, do Norway in a Nutshell, and visit Bergen. If you like the idea of doing a little bit of hiking, you can do so at Geirangerfjord, Åndalsnes, and in the Lofoten Islands.
10 Days in Norway:

Geirangerfjord, Norway in a Nutshell, Bergen & the Lofoten Islands
Day 1: Arrive in Oslo, fly to Ålesund
Day 2: Tour Ålesund, drive to Geirangerfjord
Day 3: Geirangerfjord
Day 4: Drive to Flåm
Day 5: Norway in a Nutshell, drive to Bergen
Day 6: Fly to the Lofoten Islands
Day 7: Lofoten Islands
Day 8: Lofoten Islands
Day 9: Lofoten Islands
Day 10: Fly Home
Day 1: Arrive in Ålesund
Arrive in Oslo and take a connecting flight to Ålesund. Spend the evening in Ålesund.
Day 2: Ålesund, Trollstigen, and Geirangerfjord
Total Driving Distance: 194 km
Total Driving Time: 3.5 hours
Spend one to two hours exploring Ålesund. It is a very small town and it does not take long to see it. Don't miss the view from Fjellstua for this amazing view over the city.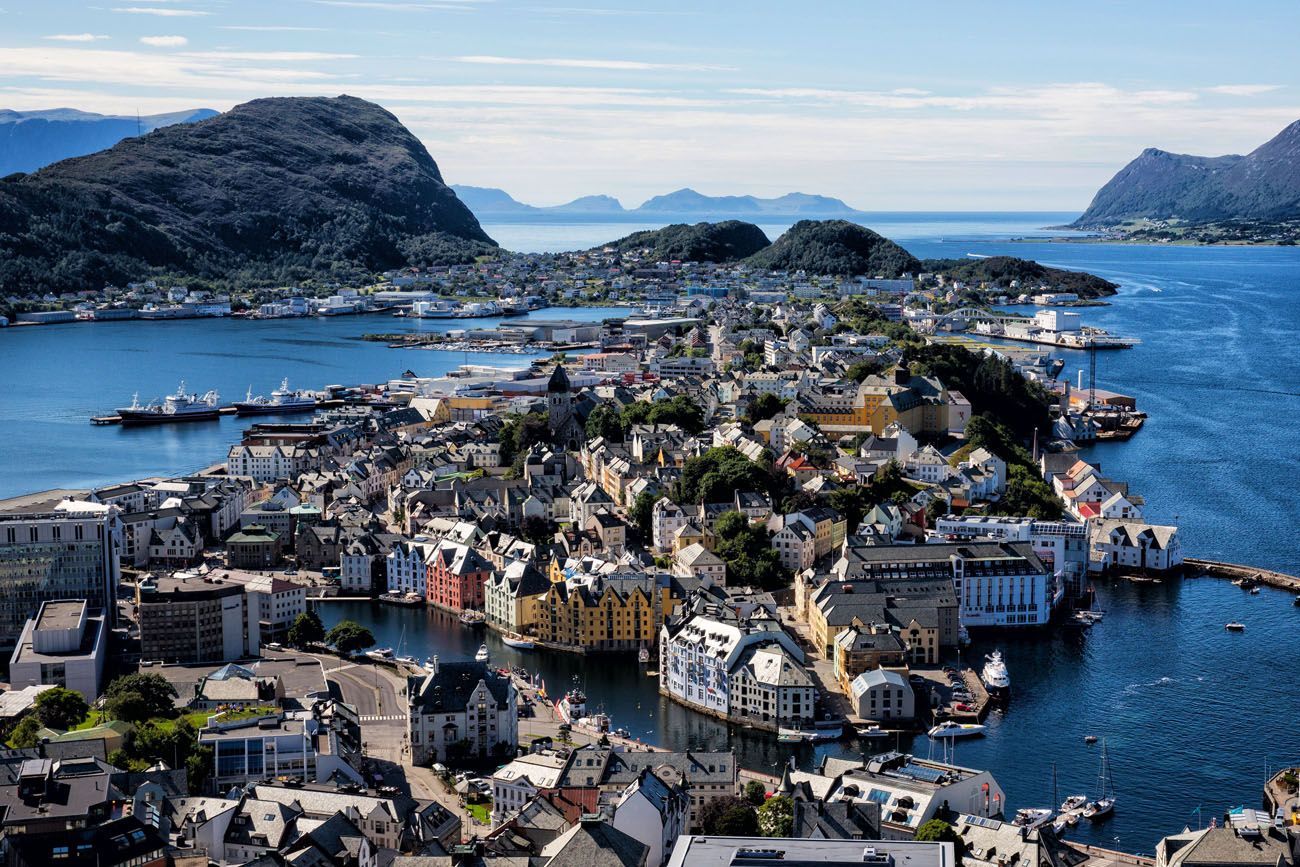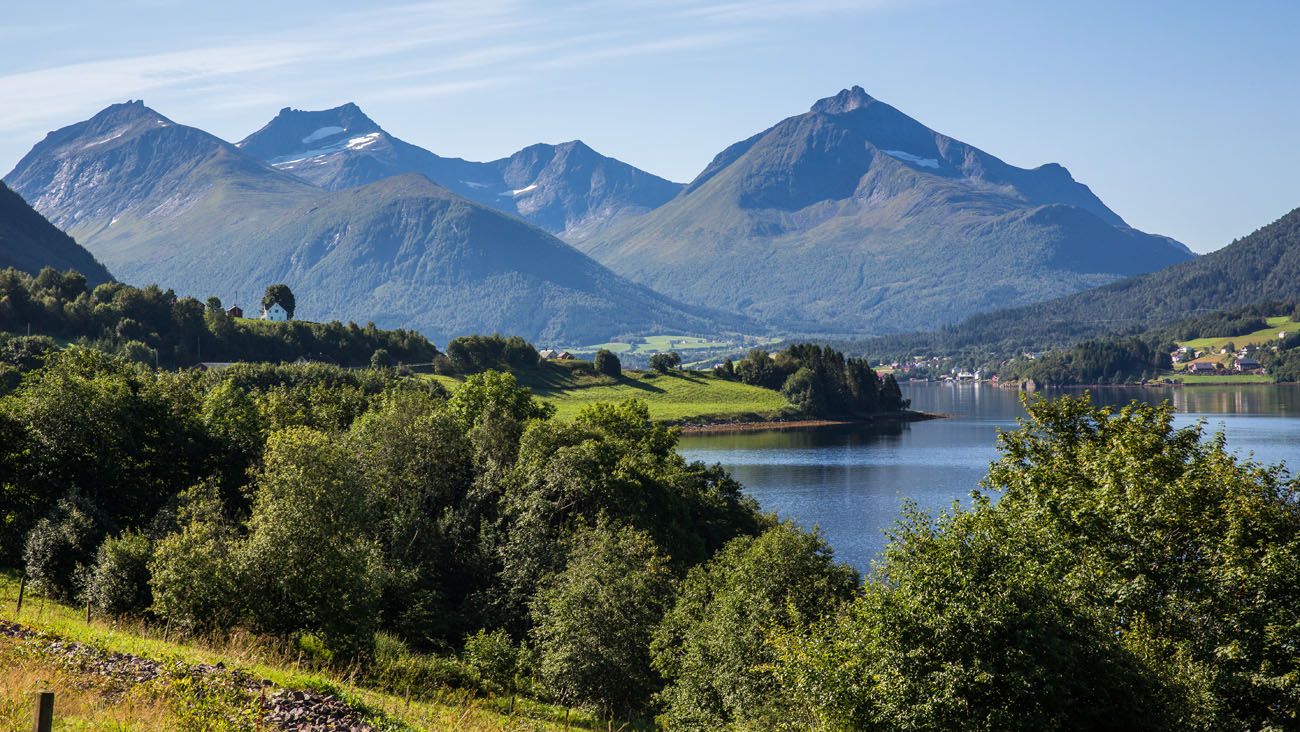 Scenery on the drive between Ålesund and Åndalsnes
From Ålesund, drive to Åndalsnes. Have lunch in town and consider walking up to the Rampestreken Viewpoint for an amazing view. It's a hefty uphill walk to get here with 700 meters of climbing. It will take about 3 hours round trip, but on a clear day the views over the area are stunning.
This viewpoint is located along the Romsdalseggen Ridge hiking trail. You do not have enough time to hike the entire trail today, since it takes 8 to 9 hours, but this viewpoint gives you a very similar view.
From Åndalsnes, drive to Trollstigen. Trollstigen (Troll's Ladder) is a switchback road that is one of the most popular drives in Norway.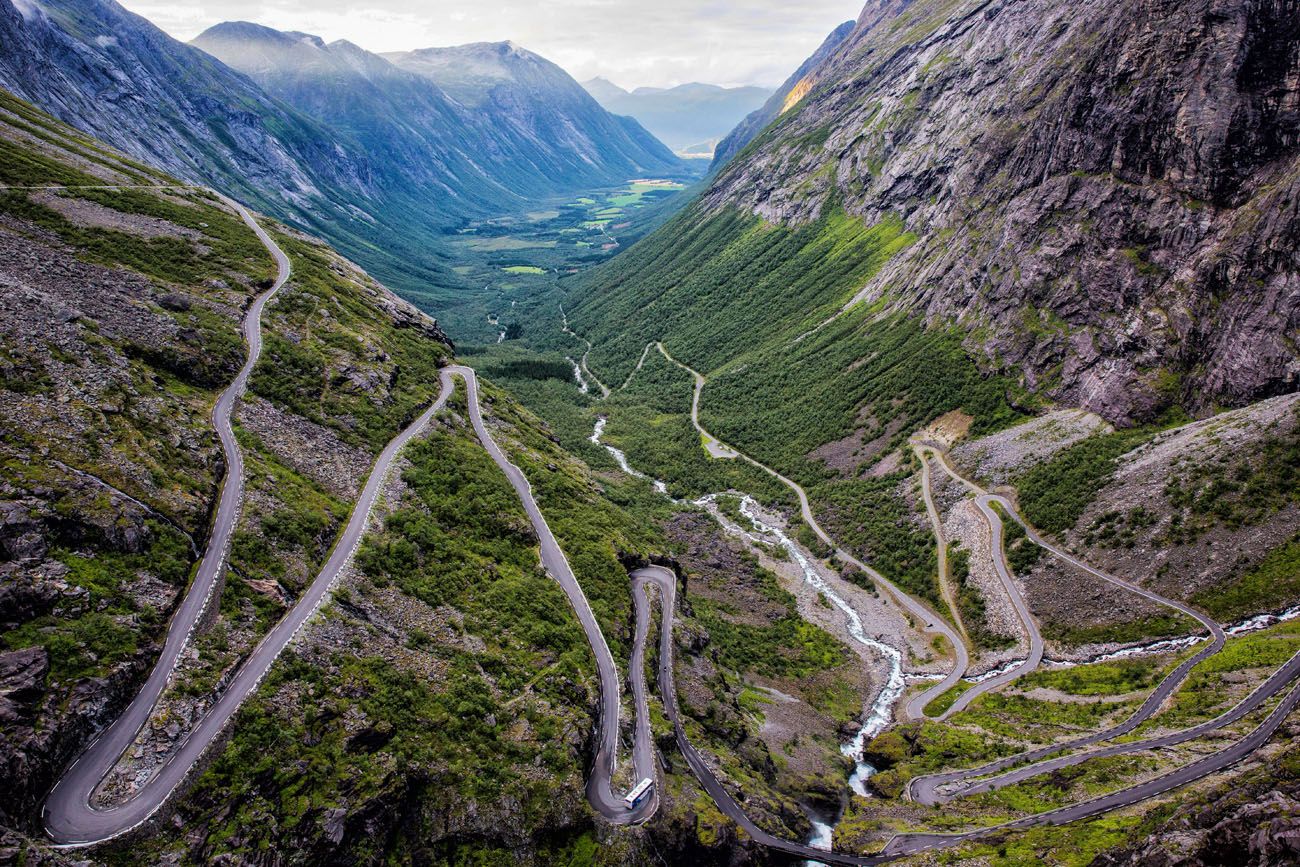 Traveling in this direction, you will drive up Trollstigen. From the top, make sure you stop to enjoy the view.
Finally, continue on to Geirangerfjord and check into your hotel. We stayed at Hotel Utsikten. This hotel offers awesome views over Geirangerfjord, at least when the weather is clear (we were not so lucky).
Day 3: Geirangerfjord
Geirangerfjord is a UNESCO World Heritage Site and one of the prettiest fjords in Norway. While you are here, you can go kayaking, explore the short hiking trails, visit the viewpoints over the fjord, and explore the town of Geiranger.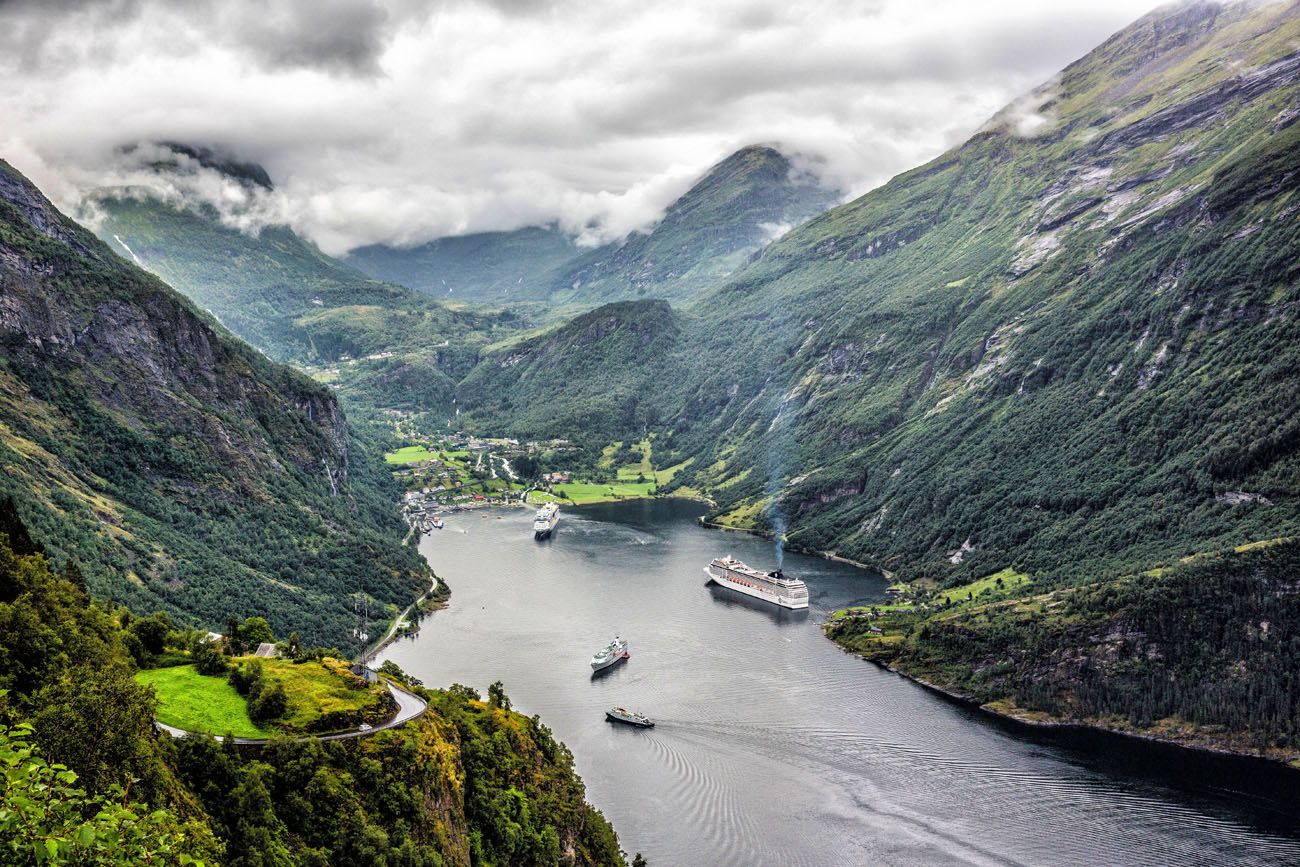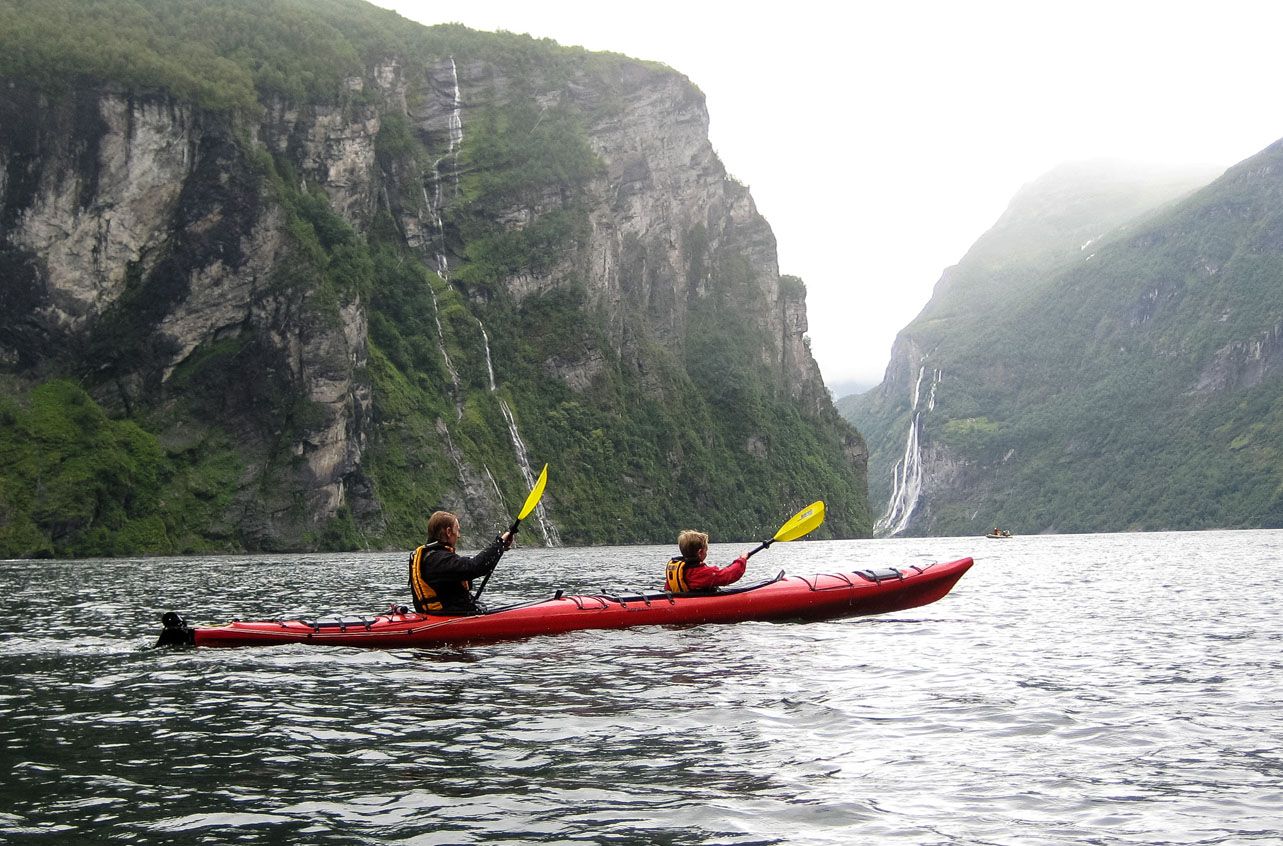 Day 4: Drive to Flåm
Total Driving Distance: 280 km
Total Driving Time: 6 hours
The drive from Geiranger to Flåm is 280 km and takes 6 hours. That may sound like a lot of driving, and it is, but there are some things to do along the way.
Dalsnibba Viewpoint. Just south of Geiranger, drive on Norway's highest road to this viewpoint. From here, you will have an amazing view over Geirangerfjord. This is only worth it on a clear day. We did this on a rainy day and saw nothing but clouds.
Old Strynefjell Mountain Road and Buldrefossen. A scenic drive on a high mountain road and quick visit to a waterfall.
Jostedalsbreen National Park Center. Stop here to learn about glaciers. Jostedalsbreen is the largest glacier in mainland Europe.
Once in Flåm, get settled into your hotel.
Day 5: Norway in a Nutshell and Bergen
Total Driving Distance: 167 km
Total Driving Time: 2.5 hours
The Norway in a Nutshell tour is a very popular excursion for first-time visitors to Norway. This tour includes a cruise on Naeroyfjord (another UNESCO Site and the narrowest fjord in Norway) and Aurlandsfjord, a railway journey to and from Myrdal, and a spectacular view of the Naeroydalen valley from the Stalheim Hotel.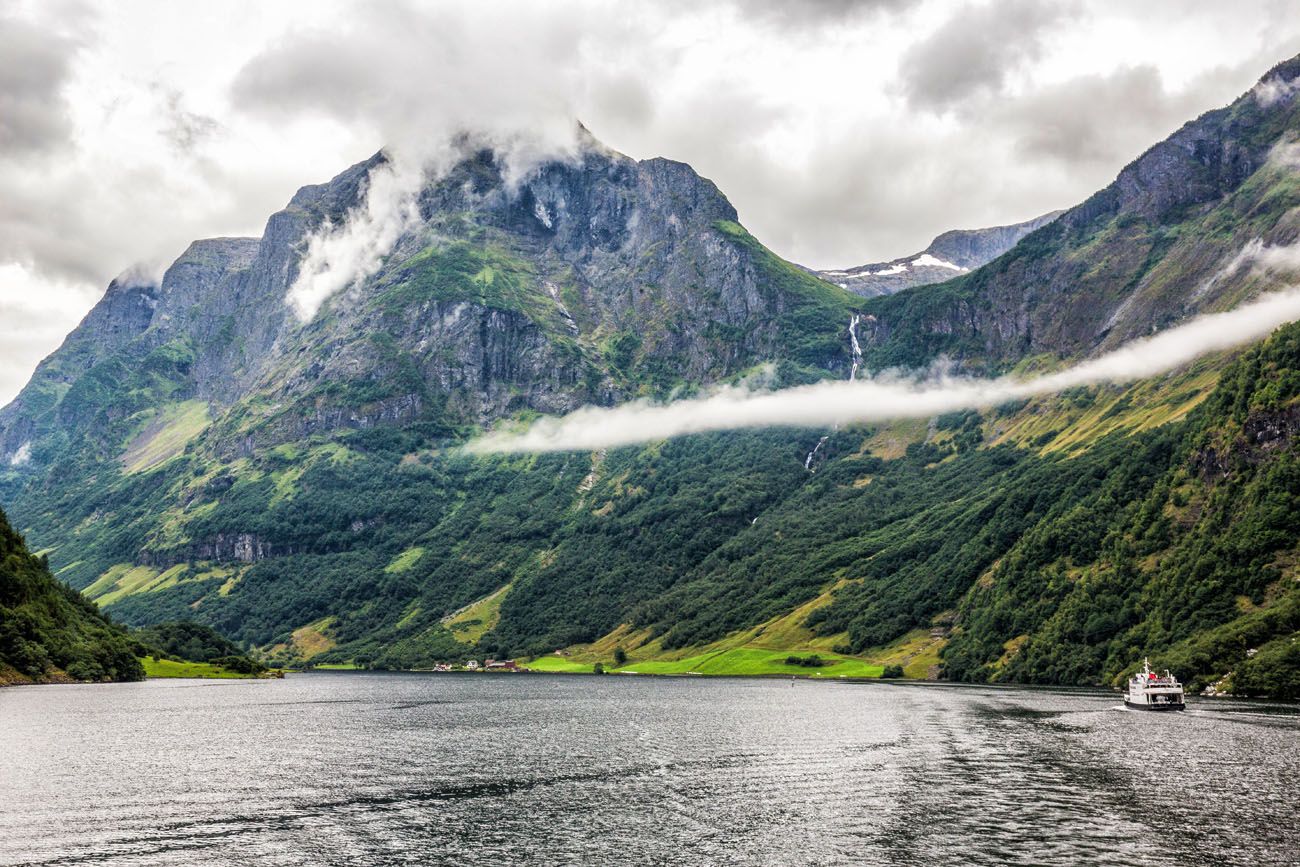 You can book the entire excursion as a tour on the Norway in a Nutshell website. However, since you have your own car, you can save some money by piecing it together yourself.
From Flåm, you can ride the Flåmsbana to Myrdal and back. This journey by train takes about 2 hours round trip and has been described as one of the most beautiful rail journeys in the world.
Also, from Flåm, you can cruise Naeroyfjord and Aurlandsfjord and then return to Flåm via bus. This round-trip journey takes 2.5 hours.
Of course, you do not have to cruise the fjords and ride the Flåmsbana. You can choose to do one or the other.
Get all of the details on how to book your own tickets, including pricing and links to purchase your tickets, in our article How to do the Norway in a Nutshell Tour on Your Own. This article also has several cool viewpoints and detours to add to your visit in Flåm.
From Flåm, drive west towards Bergen. On the drive, you will come to a quick detour where you can drive up the Stalheimskleiva, one of the steepest roads in Europe, to the Stalheim Hotel. From the hotel, enjoy the awesome view of Naeroydalen Valley. This quick detour is also part of the Norway in a Nutshell tour. Since you have a car, you can do this on your own, and you don't have to pay the extra fee to do this as part of a tour.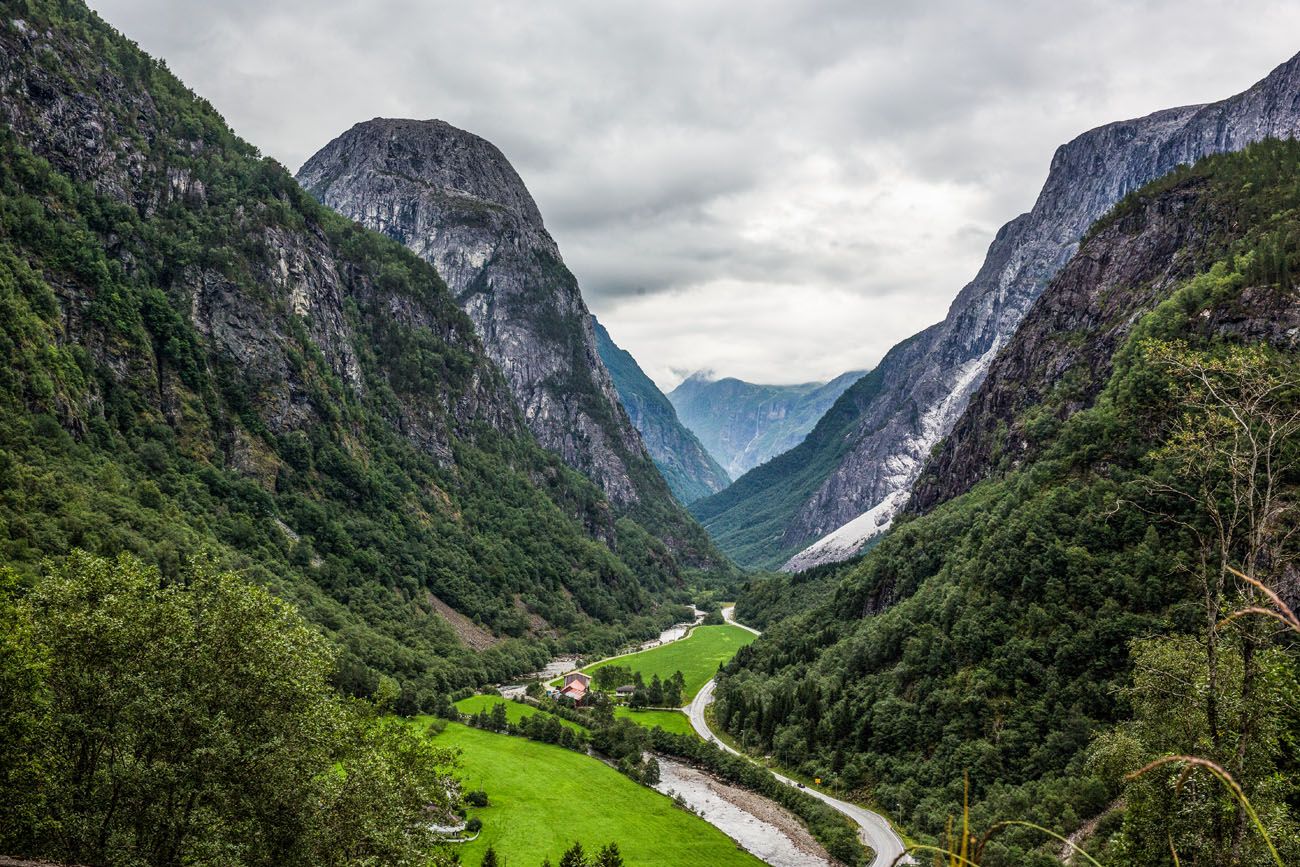 The view of Naeroydalen from the Stalheim Hotel
From the Stalheim Hotel, it takes two hours to drive to Bergen.
Get settled in your hotel and spend the evening exploring Bergen.
Day 6: Bergen, Fly to the Lofoten Islands
Spend the morning in Bergen. In the afternoon, fly to the Lofoten Islands and get settled into your hotel.
Day 7, 8 & 9: Lofoten Islands
Tour the Lofoten Islands. See the first itinerary in this post for ideas on how to spend your time.
Day 10: Fly Home
Begin your journey home (or continue on to your next destination).
Know Before You Go
Flight Delays To/From the Lofoten Islands
Bad weather disrupted our flight plans on the day we left the Lofoten Islands.
From the Lofoten Islands, we traveled to Gdansk, Poland. Rainy weather cancelled our flight from Leknes. We were bussed to Svolvaer, rerouted on a short hop to Bodø, and took a second flight to Oslo. From Oslo, we flew to Warsaw and then to Gdansk.
Flight delays are not an unusual occurrence on the Lofoten Islands and we got lucky that we still made it to Gdansk on our planned day (although a lot later at night and with four flights in one day…yes, it took four flights to get us from Svolvaer to Gdansk).
How to Modify this Itinerary
With More Time
More time in the Lofoten Islands. We spent five days here and would have loved to have had more time. Extra days give you more time to go hiking and adds some "contingency time" if you have rainy days while you are here.
Tromsø. With two more days, you can drive from the Lofoten Islands to Tromsø and then spend one day in Tromsø.
Oslo. Add a day in Oslo at the beginning or end of the itinerary to tour the city.
The Atlantic Road. The Atlantic Road is another very scenic drive in Norway. On itinerary #2, you can add one day and drive the Atlantic Road from Ålesund.
Hike Romsdalseggen Ridge. On itinerary #2, you hike Romsdalseggen Ridge, a challenging but spectacular hike, from Åndalsnes. To do this, plan to stay overnight in Åndalsnes before and after the hike. Learn more in our article on how to hike Romsdalseggen.
With Less Time
I do not recommend doing this itinerary unless you have a full ten days.
There is a lot to see and do in the Lofoten Islands, and to make it worth the time and expense of flying here, I recommend that you have a full 3 days.
It's almost impossible to shorten the fjord region of these itineraries without creating very long days filled with long drives and a packed hiking/sightseeing schedule.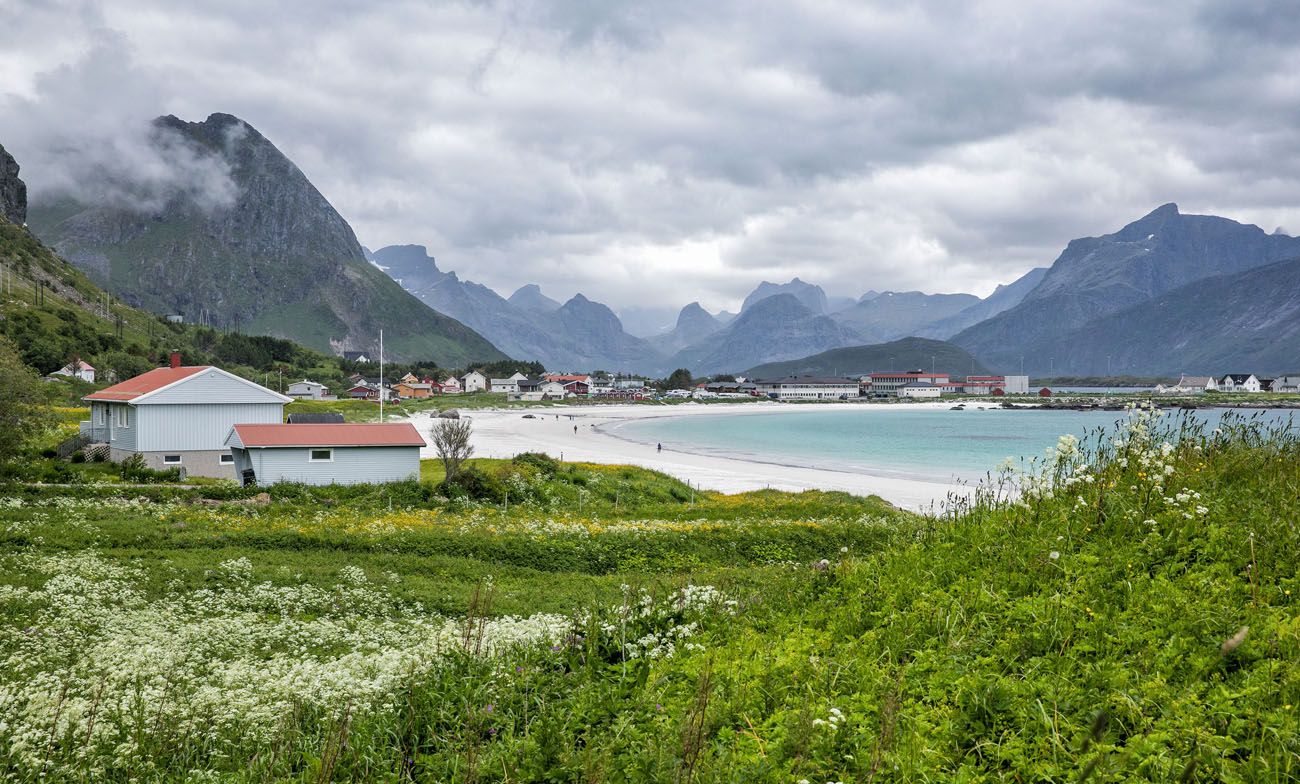 Ramberg Beach in the Lofoten Islands
More Information for Your Trip to Norway
Travel Advice:
More Norway Itineraries:
Some of Norway's Best Hikes:
Lofoten Islands:
---
Are you planning a trip to Norway? Comment below if you have any questions about these itineraries or how to spend 10 days in Norway.
You Might Also Like: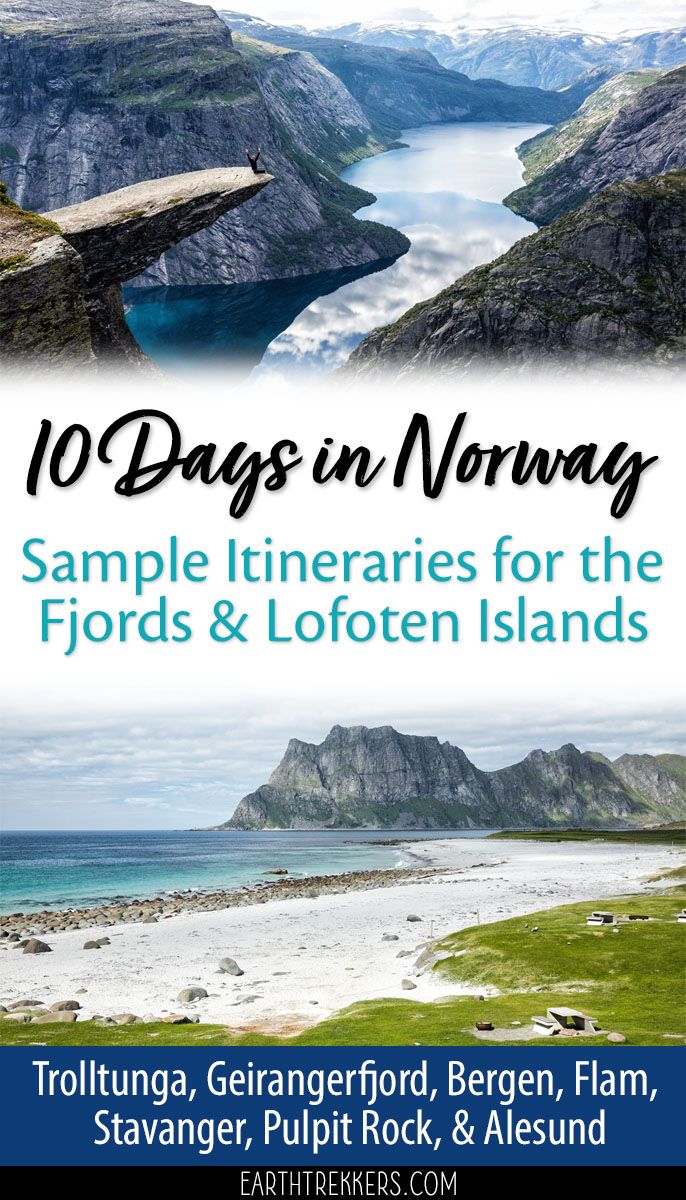 Note: This post contains affiliate links. When you make a purchase using one of these affiliate links, we get paid a small commission at no extra cost to you.
All rights reserved © Earth Trekkers. Republishing this article and/or any of its contents (text, photography, etc.), in whole or in part, is strictly prohibited.