In thirteen months of travel we stayed in a lot of places, 149 to be exact. We moved quite frequently, never having much time to settle down before packing up and moving on again. This type of fast paced travel had us staying in places like hotels and home stays more than apartment rentals. Even so, some of the few apartment rentals we did have made this list, as all four of us really appreciated the extra space and the ability to cook some meals.
Out of the 149 places we stayed, keep reading to find out our top ten accommodations from around the world.
Where We Stayed
Our range of accommodations is amazing…we slept in hotels and motels, hostels, home stays, apartments, bungalows, airplanes and trains, cabins, tents, silos, teahouses, villas, boats, beehive huts, and we even slept under the stars out in the Indian desert.
Mostly, we stayed in two star and three star accommodations, putting our money into activities rather than hotels. The majority of the places we did stay in were nothing fancy, usually one room with a bathroom and just enough space for the four of us and our backpacks. There were a few places that were terrible, budget accommodations that are almost a necessity of this type of travel. We were able to balance out those bad stays with the occasional splurge on a fancier place or the chance to stay somewhere very unique.
If you are planning a trip soon and heading to any of these places, check out these accommodations. Most are very budget friendly, several are very unique, and one is reasonable splurge worth every penny. Here are our top ten accommodations in the world (in no particular order).
Yangshuo Village Retreat, Yangshuo, China
Yangshuo was one of those places where we wished we had a lot more time. We spent only four nights here and really should have stayed a lot longer. There is so much to do in Yangshuo, from shopping to hiking and cycling, to calligraphy, Kung Fu, and cooking classes. The Yangshuo Village Retreat made this easy by offering some of these activities right at the hotel or by transporting us into town where they were offered.
At the hotel's restaurant we enjoyed delicious meals, where we could eat Chinese food or more familiar western cuisines. Kara and I were big fans of soup for breakfast and Tyler got a break from Chinese food by having spaghetti bolognese for dinner.
The staff was fantastic. They quickly picked up on the fact that Tyler and I were trying to learn Mandarin and they were so helpful, giving us quick lessons when we ordered our meals. Tim and I also became friends with Gerd, the owner of the property, who has been following our travels from the very beginning. It was great to finally be able to put a face to the man who left such nice comments on our site.
We stayed in the superior family suite, one of the roomiest and most comfortable family rooms we have ever stayed in. Our bedroom was gigantic, equipped with a large bathroom and flat screen TV. Tyler and Kara had their own room next to ours, giving us all a little more space and privacy that was greatly appreciated.
For more on what we did while in Yangshuo:
Kung Fu, Calligraphy, and Exploring Yangshuo, China
SiloStay, Little River, New Zealand
SiloStay in New Zealand is definitely one of the most unique places we have ever stayed in. At first, I was a little hesitant about staying here…really, a silo? In my head, I was imagining corn, cows, and farmland. Boy was I wrong. These silos were one of the most modern and comfortable accommodations of the year.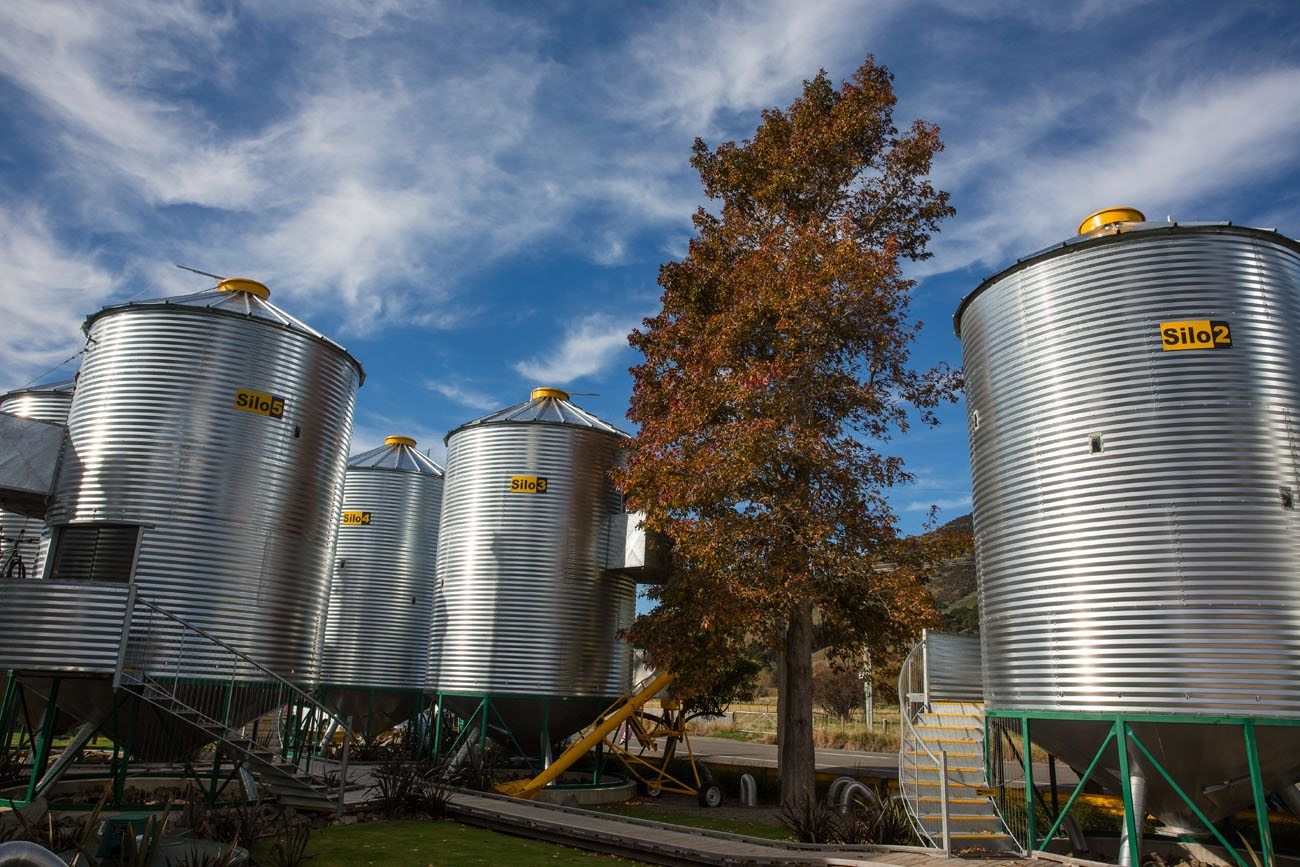 All but one of the silos are one bedroom, so our family of four needed two silos. Tyler and Kara were on their own, getting solo silo time away from their parents. This did not happen often while traveling and I do not know who was the most thrilled with this setup, the kids or the parents.
The silos are ecologically friendly, constructed using "green" materials, and having features like the sink water that filled up the toilet tank and the hot water pipes that doubled as a towel warmer. The interior of the silos were decorated in a modern, industrial sort of way. The coolest feature…the skylight over the bed that allowed for star gazing just before falling asleep.
SiloStay is located 50 minutes away from Christchurch and just 20 minutes away from the picturesque town of Akaroa on the Banks Peninsula.

For Families: There is a wheelchair accessible silo that can accommodate a family of four in one location. The floor plan is different from staying in a traditional silo but this may be worth the cost savings.
For more information about SiloStay, local attractions, and to make a booking, click here.
Tyler and Kara liked SiloStay so much that they wrote a blog post about it: Silo Stay.
Tamboti Tented Camp, Kruger National Park, South Africa
If going on safari and sleeping with the background sound of lions roaring in the middle of the night is your thing, then Tamboti Tented Camp should be on your list. We stayed in three rest camps in Kruger National Park and this was our favorite by far.
Tamboti Tented Camp is located just outside of the Orpen Rest Camp, on the western border of Kruger National Park. This area of Kruger is one of the best places to spot baboons, wildebeest, and jackals, but we saw so much more than these animals here.
The tents overlook the dry riverbed of the Timbavati River. During the days we would watch as elephants walked along the dry riverbed and warthogs would go scurrying by. Every night our trashcans would get raided by baboons.
In our opinion, the nighttime cacophony of noises is what made Tamboti so special. All night long we could hear lions in the not too far off distance, roaring and communicating with one another. One night, just before going to sleep, we heard a lion kill not far from our tent. Although we never saw the lions in this area it was still great being able to hear them.
We stayed in a four bed budget tent on stilts that came with a refrigerator and ceiling fan. There was a deck that overlooked the riverbed as well as a communal cooking area and bathrooms. The tents were well spaced, giving us a little privacy from our neighbors. Who wants to listen to more people when you could be hearing lions right outside your door?If you don't like the idea of sharing a bathroom with other people, there are several semi-luxury tents for three people that come with their own shower and cooking area.
About reserving accommodations at Kruger National Park: Bookings can be made up to 11 months in advance on the San Parks website. For some of the more popular rest camps, the best rooms will be reserved almost immediately. Tamboti is less popular and we had no problem reserving our tents five months ahead of time. Make your reservation online and you will have 30 days before a deposit needs to be made. If you did not get your first choice, check the site before making your deposit because cancellations are common. For sanparks.org booking methods, click here.
For more about what we did while in Kruger, check out these links:
Sleeping with Lions in Tamboti Camp, Kruger National Park
Why Kruger National Park Should be on Your List as a Budget Safari Destination
Michael's House, Beijing, China
When you come stumbling into a hotel at 3 am and are greeted by a very sweet and very enthusiastic hotel staff person, you know you have come to a great place.
We arrived in Beijing in the very early morning hours after taking a late flight from Zhangjiajie. Tim had alerted the hotel to our early morning arrival and it was Celine who waited up for us and let us in. She was fantastic as she quickly checked us in so we could get two very tired kiddos into bed. For eight nights we stayed at Michael's House and it was fabulous.
Since Kathy and Valerie joined us here, we had three rooms, each accommodating two people. The rooms were small but the beds were comfortable and the bathrooms were very clean. Michael's House is a small place, with only a handful of rooms, and they all open up to the main courtyard. We ate the provided breakfast here everyday and would relax on the sofas in the evenings after sightseeing.
All of the staff were fantastic but it was Celine who stole our hearts. She loved Tyler and Kara and she was a great resource to Tyler as he was trying to learn as much Mandarin as possible while in China.
Location: Michael's House is located in the Haidian area of Beijing. From the hotel it is an eight minute walk to the Jishuitan subway station. Within walking distance of the hotel are small convenience stores and restaurants. We ordered carryout food that was excellent on two of the nights we were here with the help of Celine.
For things to do in Beijing, check this out: The Best of Beijing, China.
Senyati Safari Camp, Kasane, Botswana
If you are traveling to Chobe National Park in Botswana or Victoria Falls in Zimbabwe, Senyati Safari Camp is definitely worth at least one night's stay. I would not classify Senyati Safari Camp as "budget friendly," since it is priced high for an accommodation in Africa, but what you get is a watering hole with an almost constant supply of African elephants. Like hearing the lions at Tamboti Tented Camp in Kruger, at Senyati we could hear the trumpeting of elephants at all hours of the day.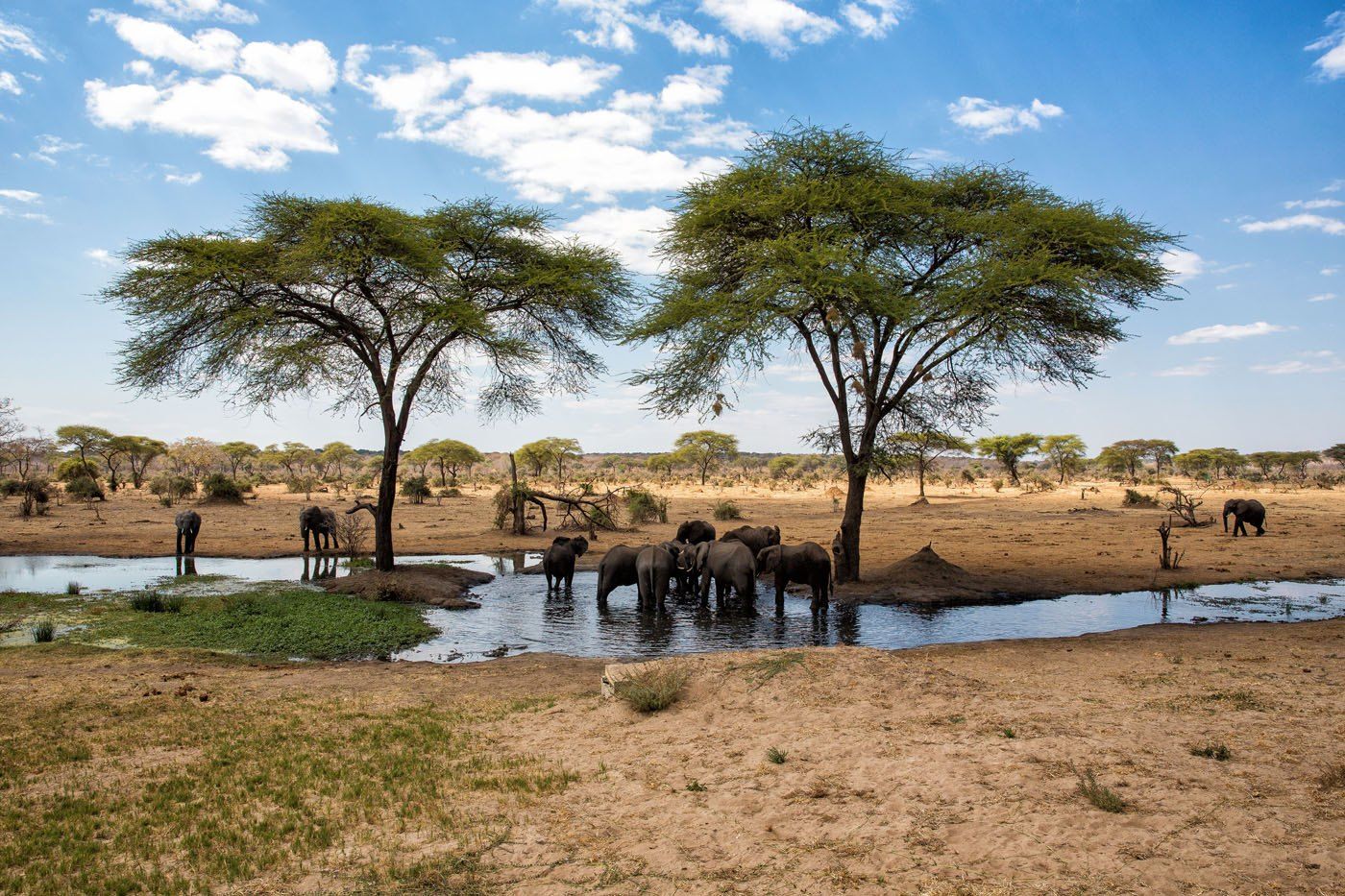 Senyati Safari Camp is another small property with 8 chalets and 20 campsites. We stayed in a family chalet, which had an upstairs loft with two twin beds for Tyler and Kara and two double beds on the main floor. Our hut also came with an ensuite bath, ceiling fans, and a patio with great views out to the elephant watering hole.
During the day we would sit at the look-out deck overlooking the watering hole. It was here that we could get on the WiFi, homeschool Tyler and Kara, and enjoy those amazing views of elephants at the watering hole.Another cool feature at Senyati was the elephant bunker, an underground room with small windows looking out to the watering hole. From here, we could get a lot closer to the elephants, watching them from ground level.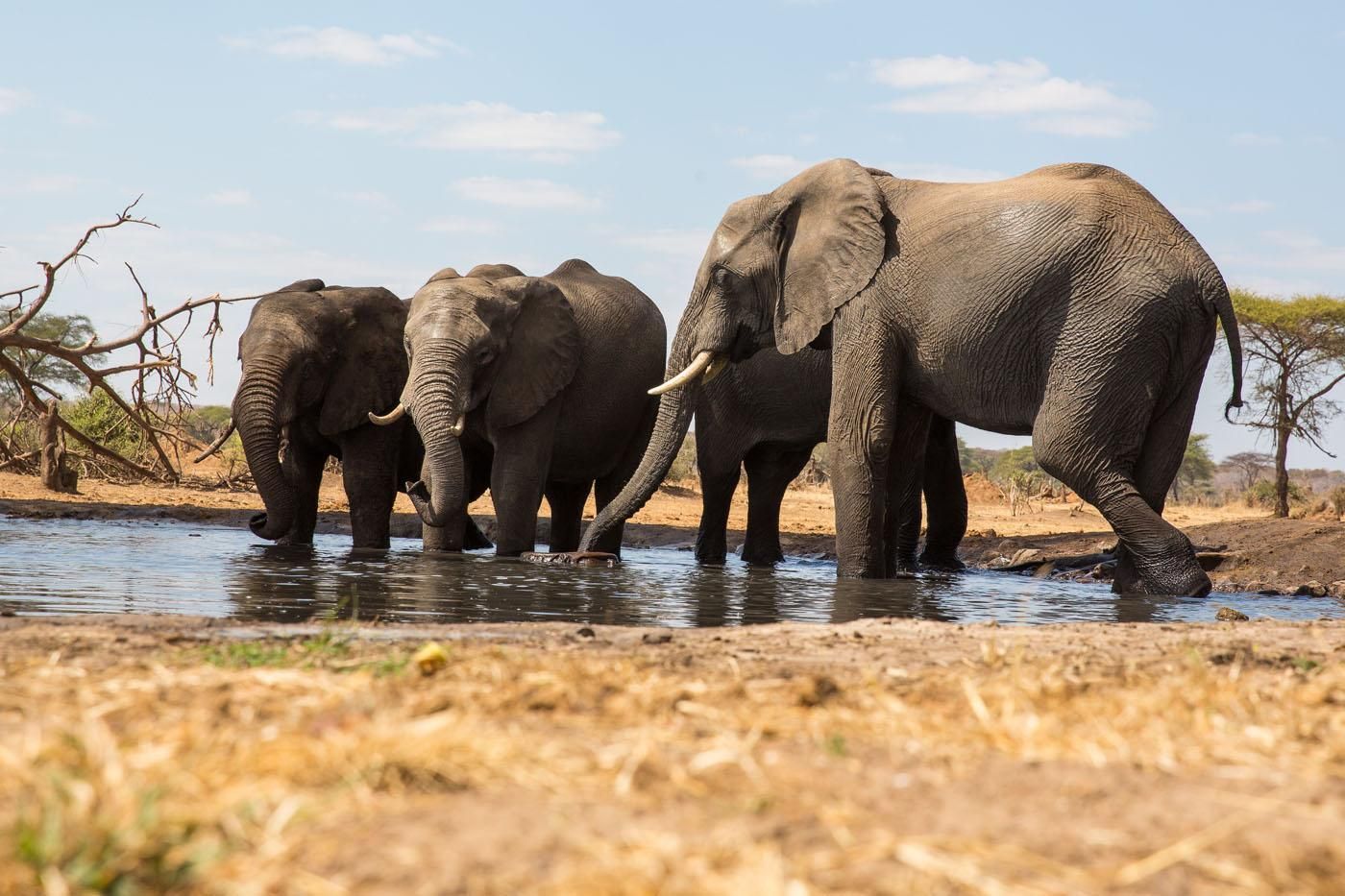 Arriving in Senyati Safari Camp: Having a 4×4 is preferable but not necessary in order to make it onto the property. The main road to the camp is a sandy road only accessible by four-wheel drive. We were driving a VW Kombi Van which did not have four wheel drive. We were able to take a longer dirt road and with Tim's terrific driving skills we made it without any problems. Full instructions are available on Senyati's website.
Cost: For updated pricing, contact Senyati directly.
Beehive Huts, Mlilwane Sanctuary, Eswatini
Falling into the unique category of accommodations, the beehive huts at Mlilwane Wildlife Sanctuary were one of our favorites. The four of us shared a family hut, giving us beds for the four of us as well as an ensuite bathroom.
The huts are made of thatch, traditional African style housing found around Swaziland, South Africa, and other nearby countries. Nelson Mandela lived in one of these huts as a child. Once inside, the huts smelled like straw and were not very soundproof, as we could hear our neighbors loud and clear. Still, this was a very cool place for one night and it was one of Kara's favorite places.


Mlilwane Wildlife Sanctuary is home to zebras, wildebeest, hippopotamus, giraffe, and more. What it is not home to are predators like lions and leopards, so a popular thing to do while staying here is to rent bicycles and cycle around the property, going on safari on two wheels rather than in a safari jeep. Kudu, steenbok, and other animals roam the property and it was not unusual to see them grazing next to the beehive huts and the restaurant.
Booking: Visit the Big Game Parks website for more information.
For more on what we did in Swaziland, check out Cycling with Zebras in Swaziland.
Ibis Styles Hotel, Krabi, Thailand
This is Tyler's favorite hotel, ever. He loved it here and talked endlessly about it for the remainder of the trip. For him, this was paradise.
This place had it all for kids. Our family room had bunk beds, an Xbox with its own small TV, two bean bag chairs for kids, and a view out over the pool and karst mountains of Krabi. In the lobby there was a pool table and a bar, and a huge, continental style breakfast was provided everyday with the cost of the room.
It took us twenty minutes to walk from the hotel to the beach, one of the only downsides of staying here, but we were used to walking long distances by this point of our travels. This was a bit of a splurge for us, but since we were staying here over the Christmas holidays we felt like it was worth the extra money. We stayed here nine days, the longest we would stay in one location in thirteen months of travel.
Cost: For up-to-date pricing, click here.
For more on things to do in Krabi, Thailand, check out these links:
Favorite Photos, Favorite Moments from Krabi, Thailand
Island Hopping Off the Coast of Thailand
GlenLin Apartment, Glen Cairn, South Africa
This gorgeous, spacious, budget friendly apartment was located forty-five minutes outside of Cape Town, South Africa. For us, it was worth the drive to save the money and to have the space.
This place was so roomy and so well appointed we would have no problem living here. For one week we had a full kitchen, living and dining rooms, two bedrooms, and two bathrooms. Our deck had views out to False Bay and we saw some gorgeous sunrises.




In nearby Fish Hoek, there were plenty of restaurants for dinner and places to go shopping. We also were not far from the Cape of Good Hope and Boulders Beach, home to a penguin colony. This is another accommodation I highly recommend and would not hesitate to stay in again.
Hotel Villa-Ubud, Ubud, Bali
This amazing place gets my vote for favorite accommodation of the year. The Hotel Villa Ubud was our splurge place, a four star accommodation that was worth every penny. Tim and I celebrated our 16th wedding anniversary here so we spent a little extra to make it special. Even as a splurge, the Hotel Villa-Ubud ended up costing us a lot less than some of the mediocre, budget accommodations we stayed in Australia.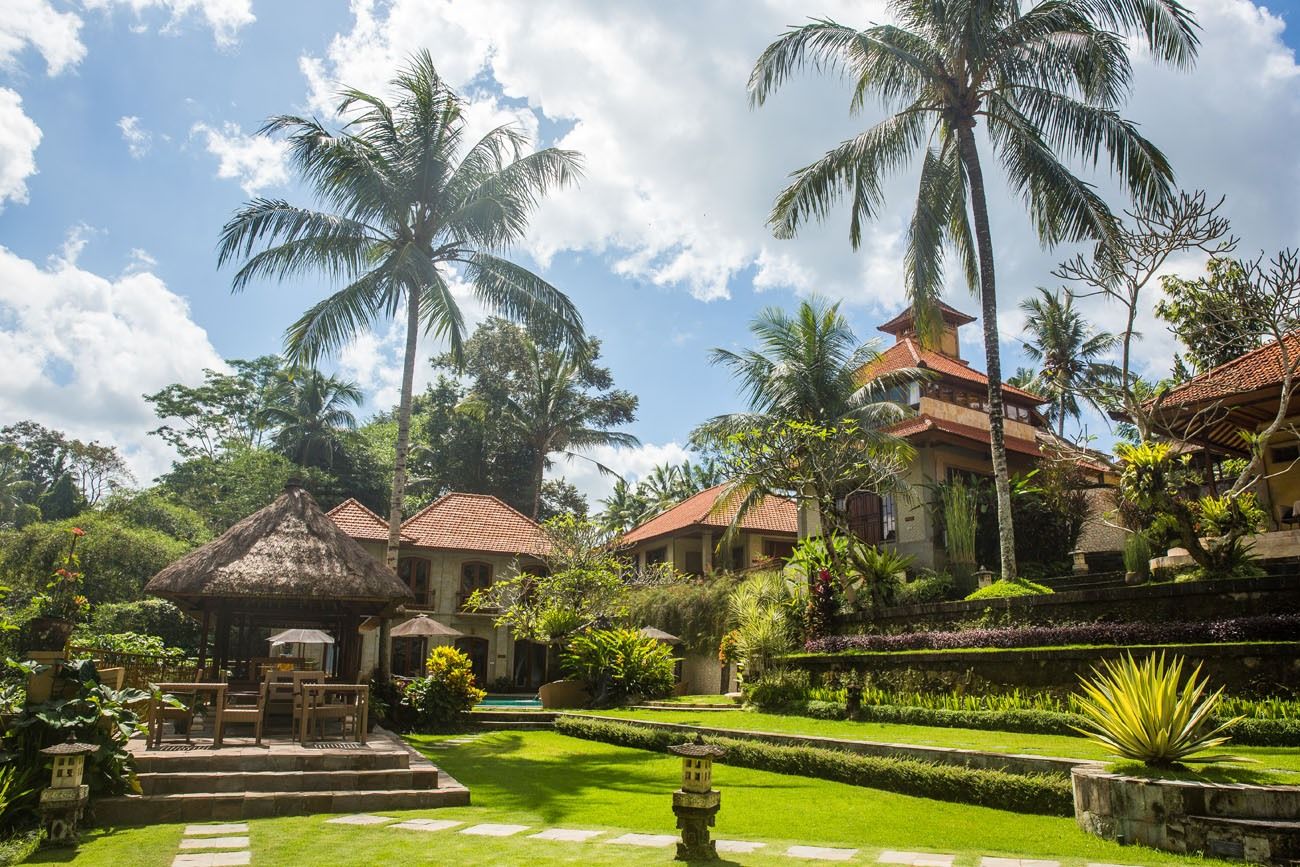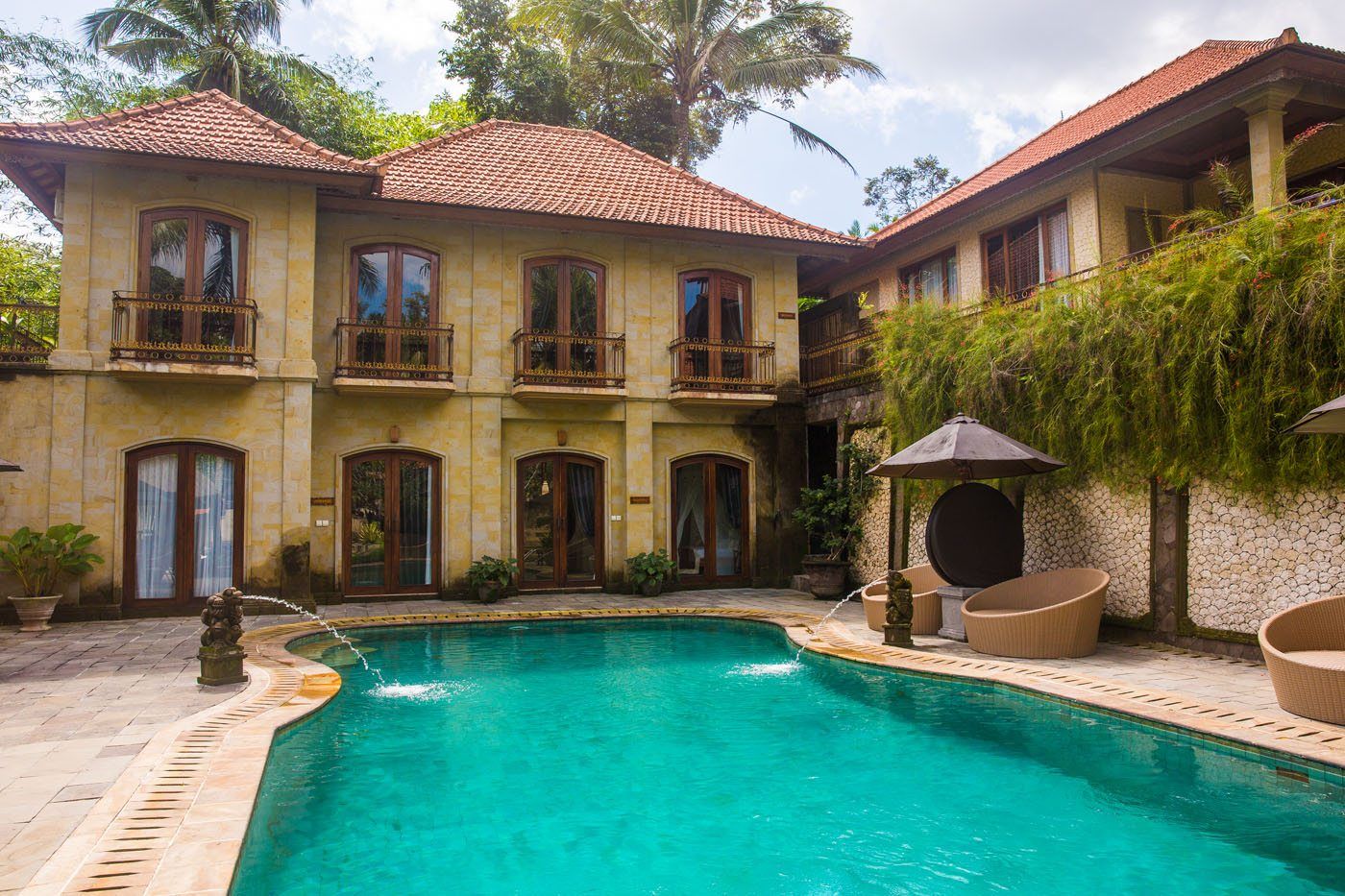 We had two rooms, the Lovina and the Nusa Dua. Both were very large, the beds were comfortable, and the bathrooms were beautiful. At night we slept under mosquito nets and in the morning we did awake to the sounds of roosters off in the distance, something that we really did not mind.
Breakfast was included, but we also ate lunch and dinner here as well and everything was fabulous. Tim and I were big fans of the alcoholic drink called the Arak Attack, a drink made with the local Balinese liquor.
Kara and I got massages down by the pool and Tyler and Kara spent many hours swimming and splashing in the pool. On a daily basis, Tim and I would go for a morning walk in the neighboring rice fields.
The Hotel Villa-Ubud is located fifteen minutes outside of Ubud by car and it was fabulous being located outside of town with rice fields all around us.
Cost: Cost depends on the season and type of room. We paid approximately $150 USD total per night for two premium rooms during high season.
For things to do in Ubud, Bali, check this out: Chillaxing Bali Style.
Apartment Debbie, Garmisch-Partenkirchen, Germany
Located in Bavaria, Germany, nestled at the foot of the Alps, the location alone made this apartment an automatic contender for favorite accommodation.


We spent one fabulous week here. Not only was the location fantastic, but we had two levels connected with a spiral staircase, two bathrooms, and large living area equipped with a full kitchen. After five weeks of traveling and living out of tiny, European box-sized accommodations, this apartment was a very welcome change. We could walk to the grocery store and the toboggan ride that Tyler and Kara were huge fans of. Our only complaint was the surprisingly slow Wi-Fi, but this is just minor.
Unfortunately, Apartment Debbie is no longer available, which is a shame. It was a great place to stay!
---
Bonus! Three More Awesome Recommendations
Do you want more recommendations? Here is a list of three honorable mentions. These are just as great as our top ten and definitely worth looking into if your travels take you to these destinations.
Panorama Lodge in Knysna, South Africa. The owners, Dieter and Tina, made us feel like family during our stay. We stayed in the Zebra Family Room, giving us a good sized room, ensuite bathroom, and a kitchenette.
Thongbay Guesthouse in Luang Prabang, Laos. We stayed in a bungalow overlooking the river. This guesthouse served the best breakfast of the year, with pancakes, fruit, ramen soups, coffee, tea, croissants, and more. Every morning breakfast would be delivered to our room and we would fill ourselves up on this delicious, mini feast all while looking across the river to palm trees, banana trees, and small farms.
Golden Butterfly Villa, Siem Reap, Cambodia. This place was cheap, comfortable, and the staff could not have been any friendlier or more accommodating. The staff greeted us by our first name and upon returning to the hotel in the afternoon we would be served ice cold tea and handed cool, wet washcloths. This was a 3 star accommodation offering 5 star service. Look no further if you are searching for a place to stay in Siem Reap!
---
More Travel Inspiration
AROUND THE WORLD ITINERARY: We spend 396 days traveling around the world. Here is our around the world itinerary and a recap of our trip around the world.
TRAVEL INSPIRATION: For more travel ideas, here are 10 unique destinations to put on your travel wish list and 15 fairytale destinations from around the world.
TRAVEL BLOGGING: This website started with a trip around the world and has become one of the most popular travel sites on the internet. Learn more about what it is like to run this website in our article My Life as a Travel Blogger…An Unexpected Journey.
Note: This post contains affiliate links. When you make a purchase using one of these affiliate links, we get paid a small commission at no extra cost to you.
All rights reserved © Earth Trekkers. Republishing this article and/or any of its contents (text, photography, etc.), in whole or in part, is strictly prohibited.