Does the idea of kayaking in icy waters to get up close to a glacier sound like fun to you? If so, put the Icebreaker excursion with Better Moments on your list of things to do in Svalbard. We had a lot of awesome experiences in Svalbard, and this just may be the best one.
When we read that we could kayak right up to a glacier, with ice chunks floating all around us, we were sold. Yes, this excursion has a high price tag. And yes, we had to get into a kayak and paddle through icy waters (a first for us!), but we couldn't pass up this opportunity.
With just a small group of people (a total of 12 people are allowed on this excursion), a bumpy but thrilling ride on a rib boat to get to the glacier, and several hours kayaking in front of an active glacier, this entire experience was a blast.
Glacier Kayaking in Svalbard
We awoke to nearly cloudless, bright blue skies, a rare gift in Longyearbyen in the summer, from what we have been told. Our guide Arien was thrilled at the beautiful weather, and so were we.
The four of us and 8 other people were picked up in town and driven just 5 minutes to the Better Moments headquarters. We were outfitted with dry suits and life vests and then driven once again back to the harbor in Longyearbyen.
Boat Trip to Svea Glacier
To get out to the glacier, it's a 45 to 60 minute ride in an enclosed rib boat. It was a fast and slightly bumpy ride, but the seas were calm so we made great time.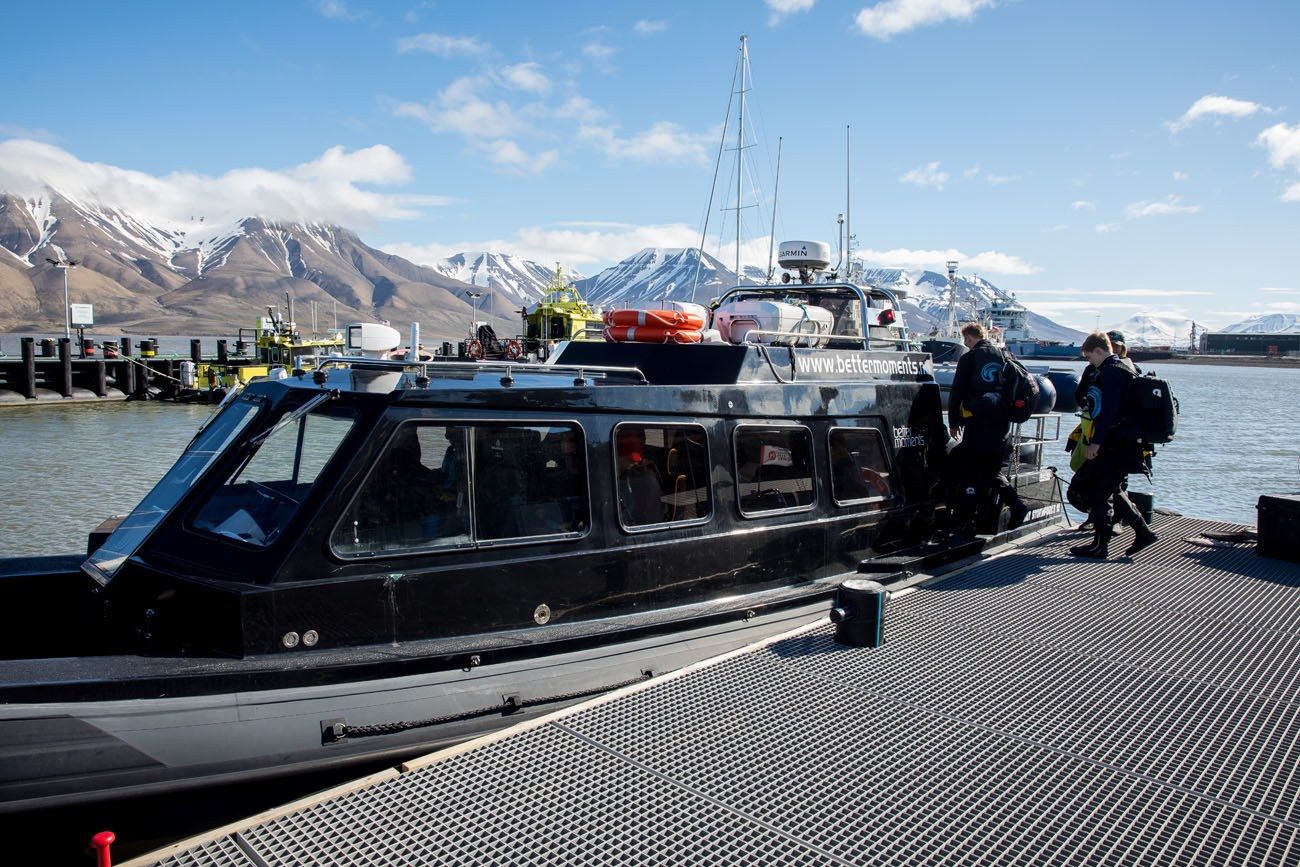 Better Moments has a cluster of kayaks roped together on shore near the Svea glacier. A dingy took small groups of us from the rib boat to shore. We paired off in groups of two and dragged our kayaks to the water's edge.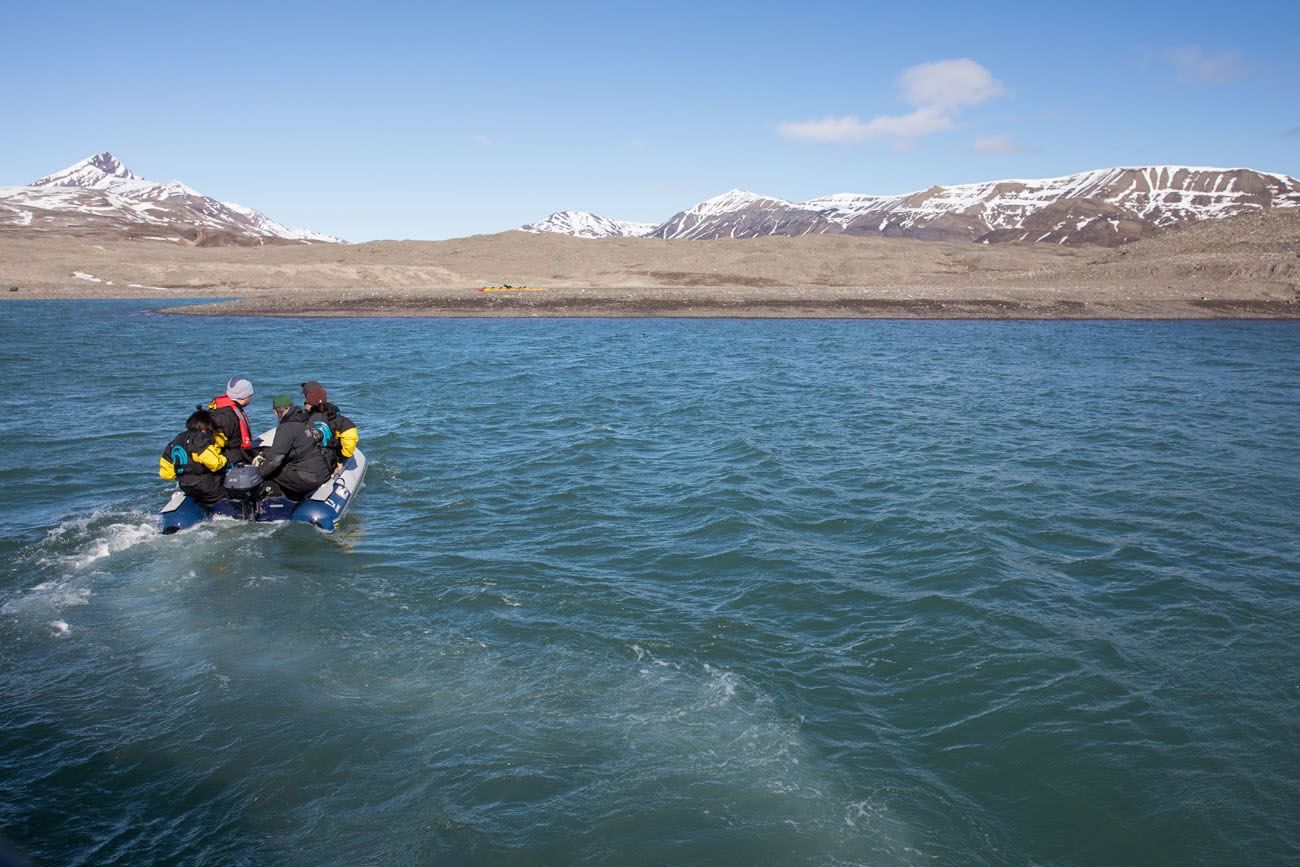 Kayaking at Svea Glacier
It was much, much colder here than in Longyearbyen. A wickedly cold wind whipped down off of the glacier, kicking up waves and chilling the air.
Arien warned us that we might not make it out to the glacier (which was just 100 meters away!) because the strong winds could make it very difficult to get to and from our landing site. Even with crystal clear skies, we might lose our chance to get up close with the glacier!
And it was so cold here! We were thrilled to climb into the kayaks, fasten the skirt around the seat openings, and push ourselves out into the water. At least sitting low to the surface of the water with our legs protected from the wind we could warm up a little bit.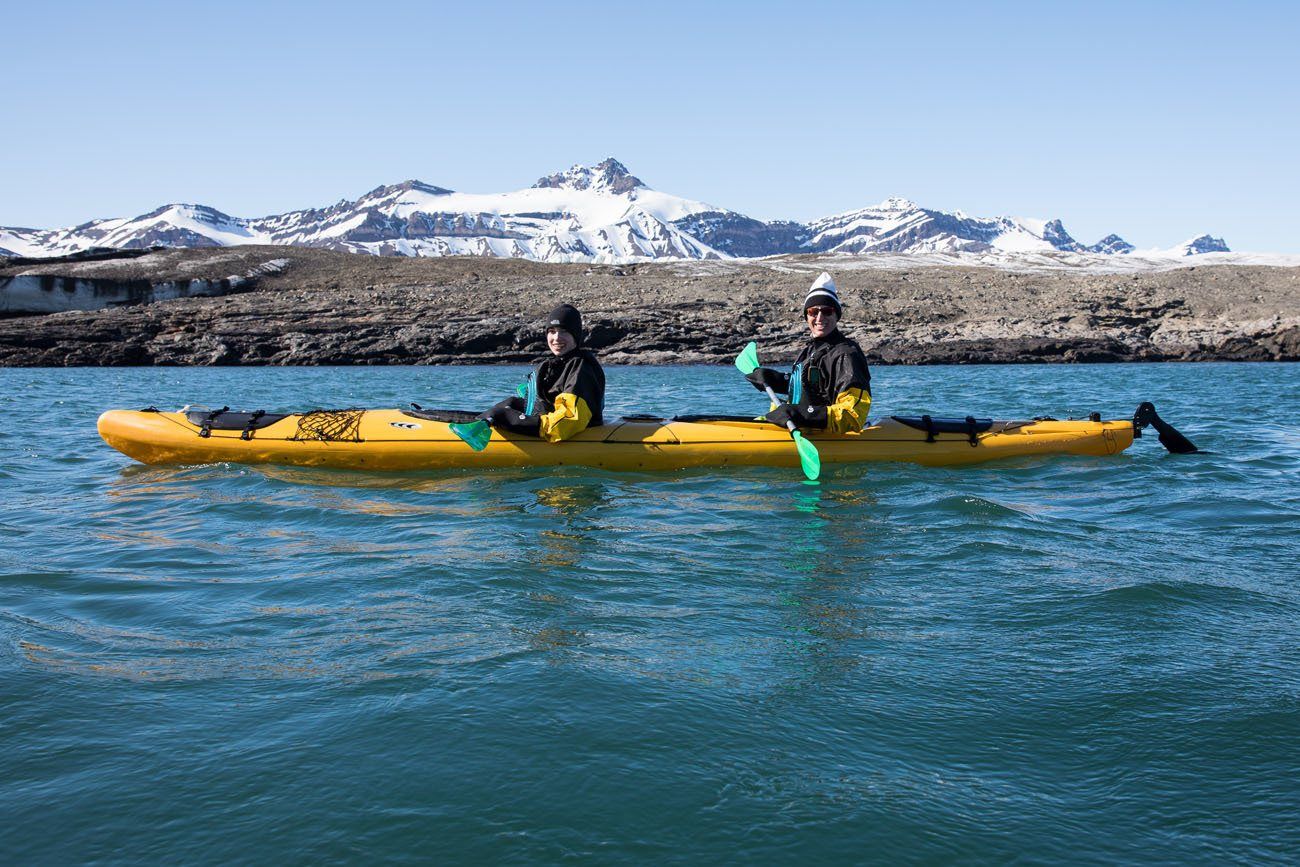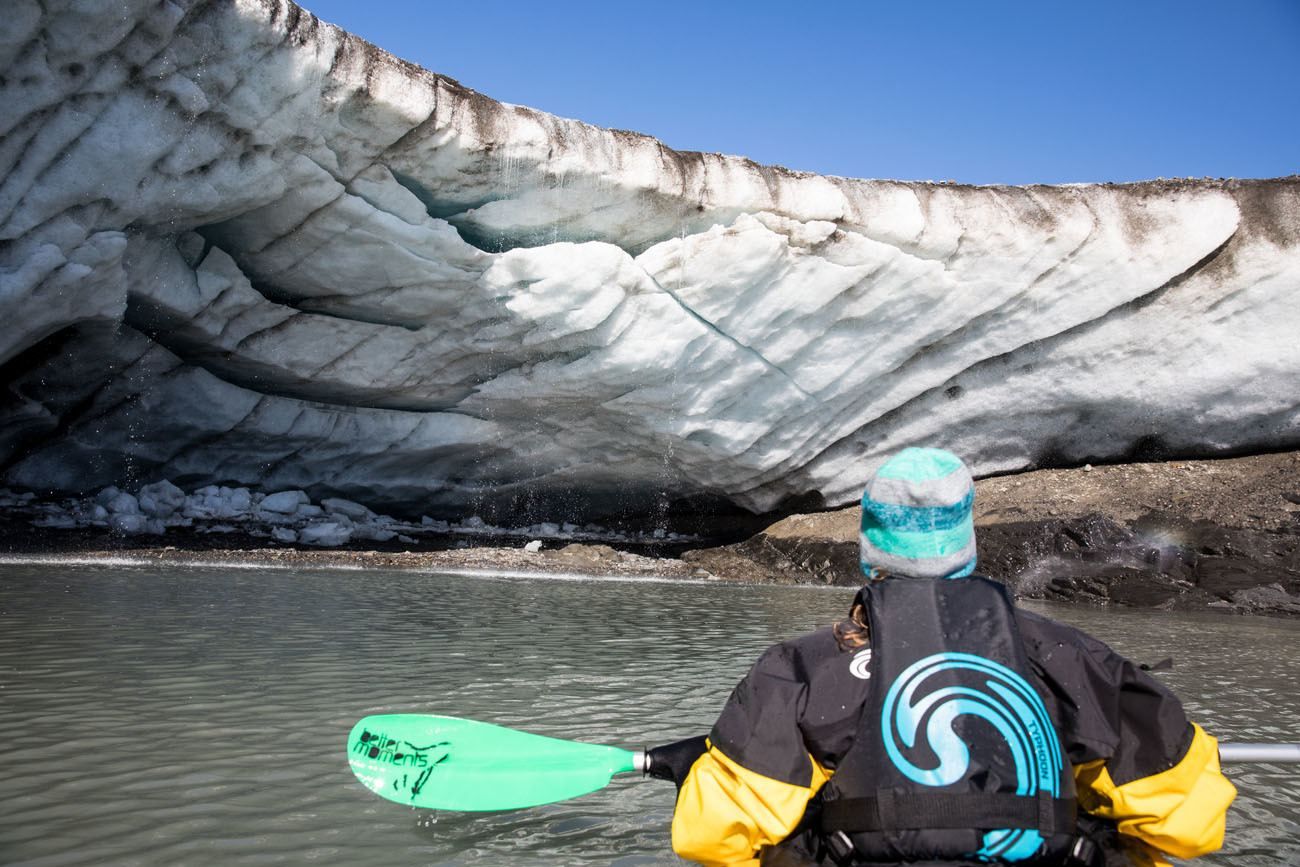 Kara was my kayaking buddy today. As we kayaked around the bay, the wind would blow the cold water off of the oars into our faces. Be prepared to be cold and little wet, even with the dry suits. But it's worth it!
As we kayaked towards the glacier, our guide felt confident that we could all safely make it back and forth to the glacier. Now the real fun was about to start.
The Svea Glacier
As we entered the bay where the glacier meets the water, we were met with a gorgeous sight. Chunks of ice bobbed in the water and seagulls perched on the small icebergs. At times, we would bump into floating chunks of ice and push them away with our oars.
Out in front us was the Svea glacier, a gorgeous, twisted, crevassed monstrosity that formed one of the coolest backdrops ever for family photos.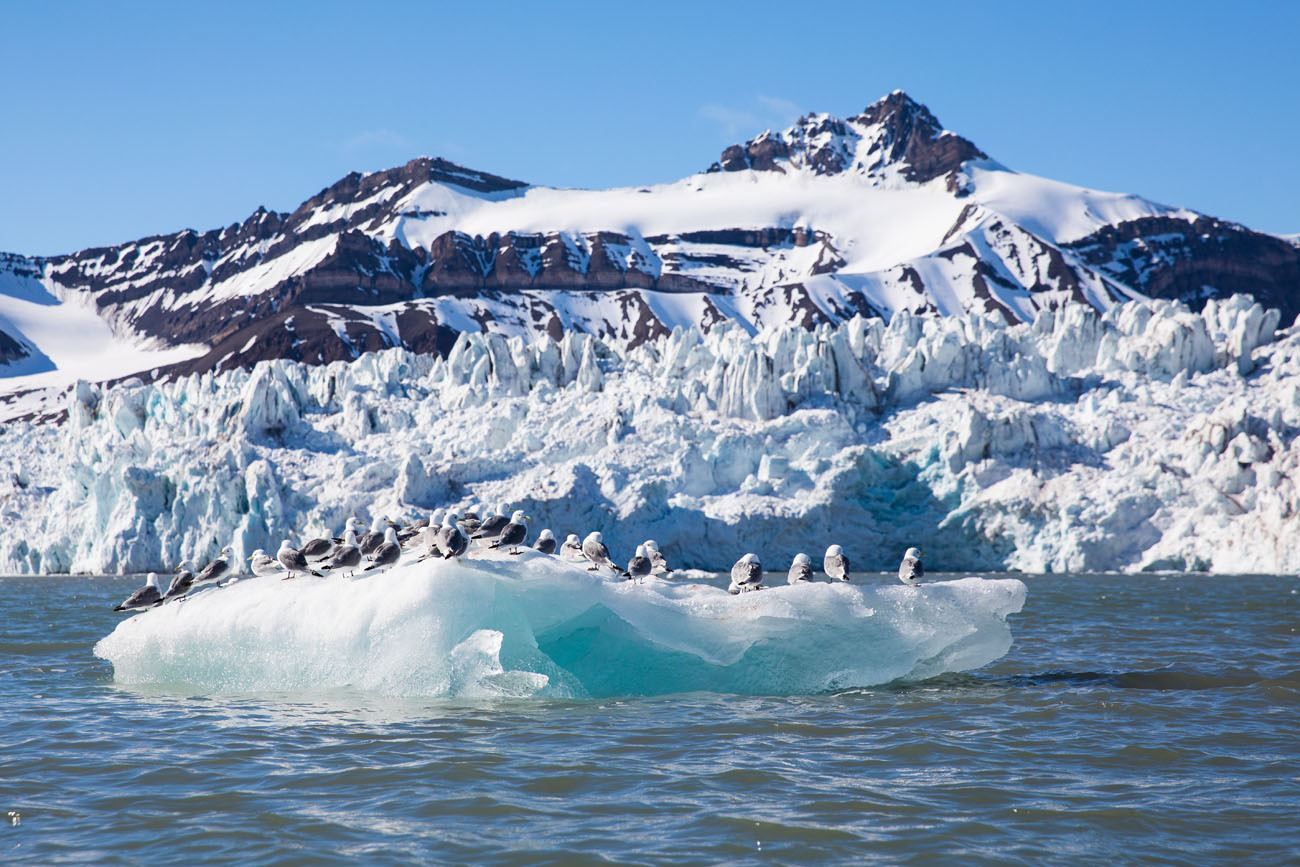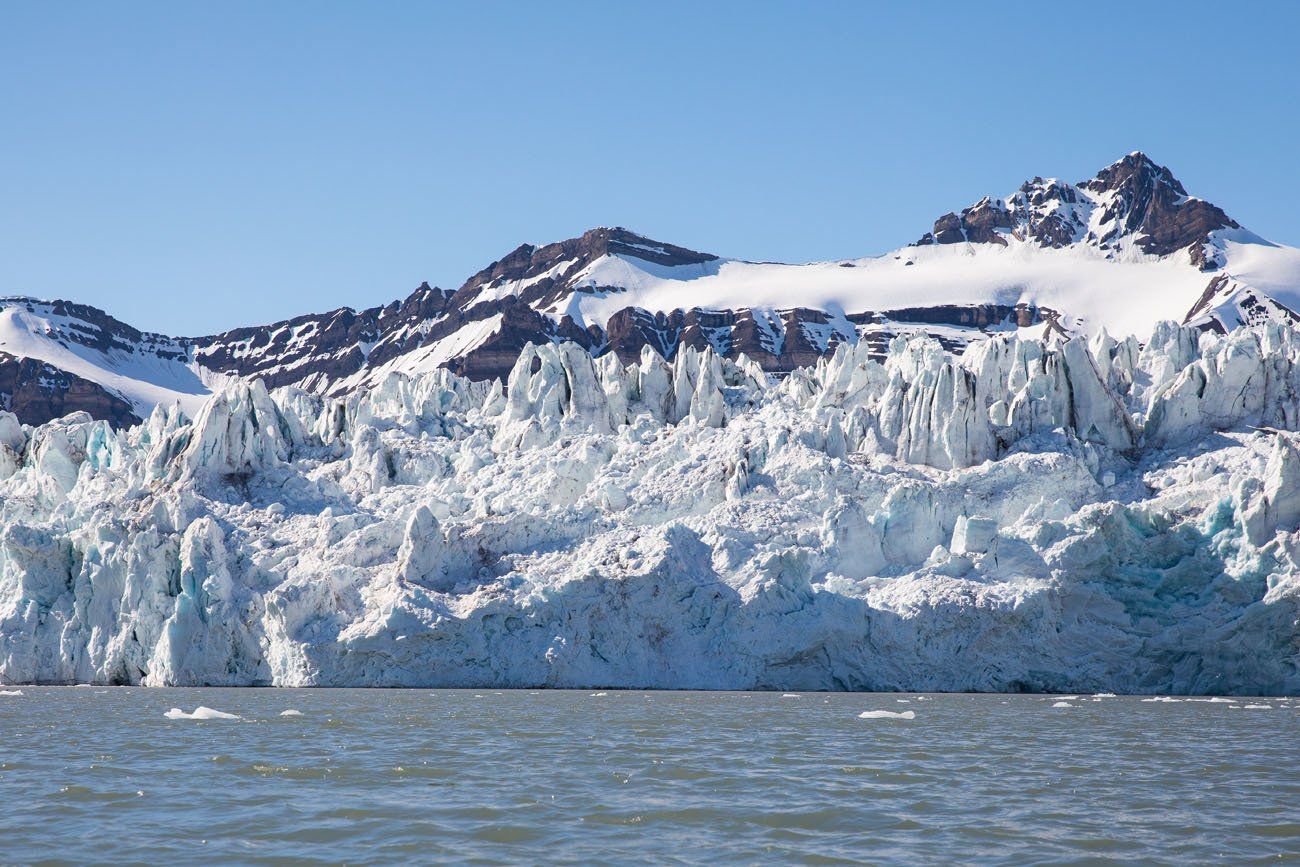 The glacier is actively moving and changing. Occasionally, it would elicit loud pops and cracks, like gunshots were going off inside of it. Seconds later, chunks of ice would calve into the water. At times, the amount of the ice that fell was quite massive and the entire area would echo with thunderous noise.
Tim, Tyler, Kara, and I kayaked around the bay, amazed and delighted to be here. Yes, we were a little cold and our hands and faces were wet but that is all part of the fun. We were thrilled to be able to experience the arctic this way (and now that we had this little taste, we can't wait to travel north again and experience more of the arctic….it's amazing!).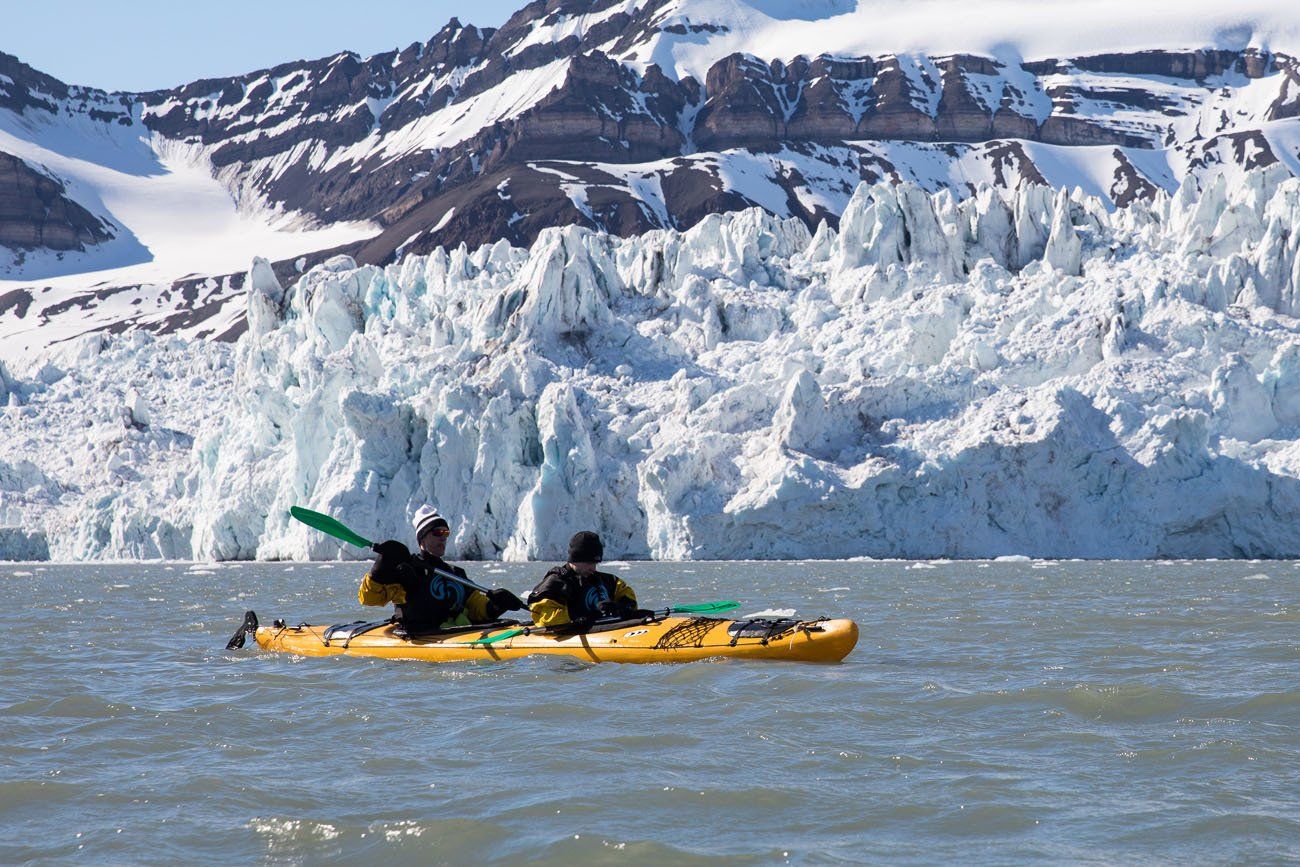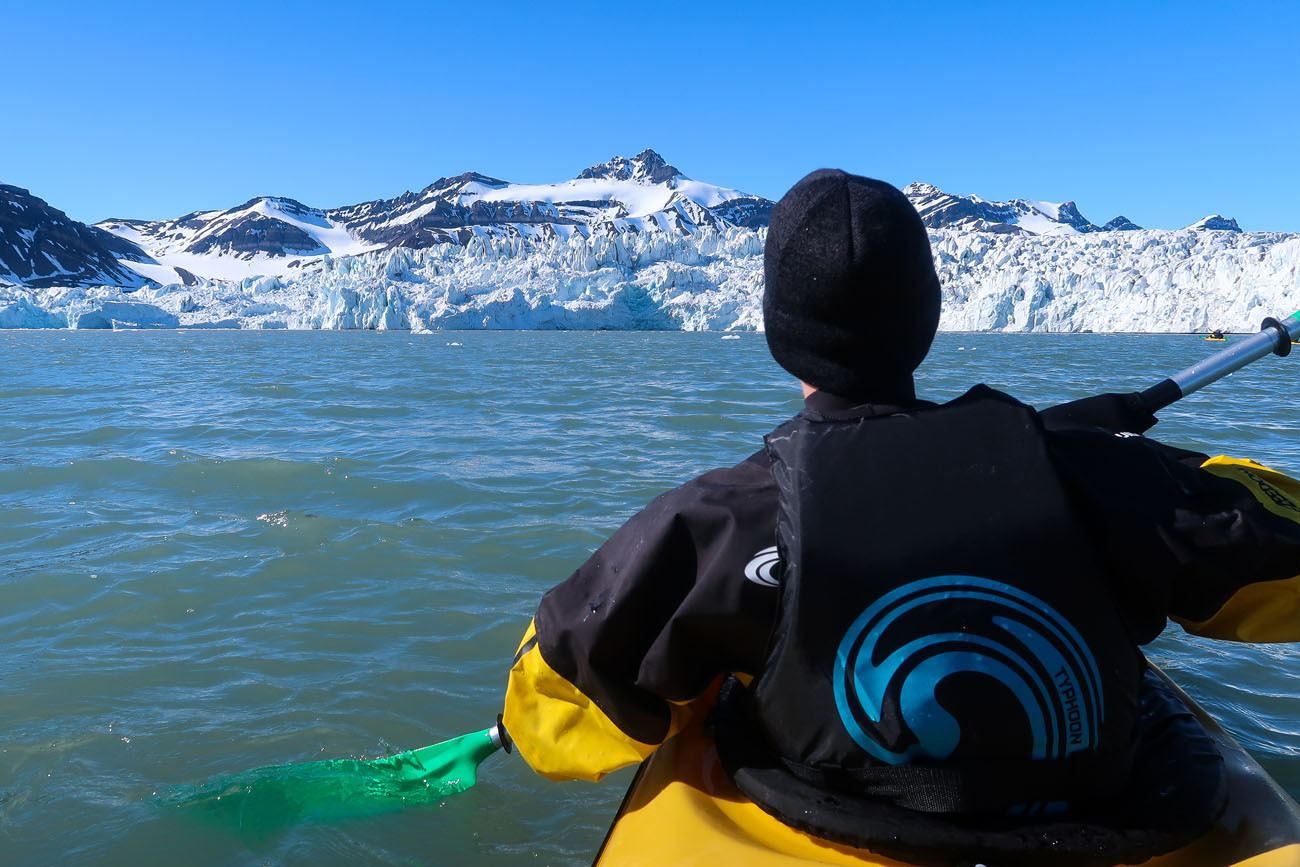 For over two hours we kayaked in this bay and it never got boring. It did get cold, as time wore on, but it was never boring.
With numb fingers and chilled bodies, we happily climbed out of the kayaks and onto the rib boat, but we were sad for this almost life changing experience to be over.
On board the rib boat, we had a lunch of warm soup as we enjoyed one final look at the glacier before speeding back to Longyearbyen.
The Ride Back to Longyearbyen
And how quickly conditions can change here in Svalbard. Clouds were moving in and huge swells in the water made our ride back to town a rocking and rolling adventure. The rib boat bounced and heaved over these large swells, and at times we actually got airborne, painfully crashing back down into the water. Even our experienced guide was amazed at how big these waves were.
It was amazing that no one got seasick on the ride back to Longyearbyen. Arien said that she has had trips with waves like these and many people on board were puking (so if you are considering doing this kayaking trip and suffer from motion sickness, make sure you bring your anti-nausea medications).
We arrived back in Longyearbyen at 4:45, 15 minutes early. It felt wonderful to step back on ground and into the warmer temps of Longyearbyen.
About the "Icebreaker" Tour
Company: Better Moments AS
Cost: NOK 2990 per person
When: Early June through end of August
Minimum age: 12 years
IMPORTANT NOTE: There is some risk that you may not be able to kayak right up to the glacier. If weather conditions are unfavorable, the guide can pull the plug on kayaking right up in front of glacier. If this happens, I do not know if you get a partial refund of your money. That may be something to ask when you make your reservation.
Better Moments also offers hiking, snowmobiling, and wildlife excursions. Visit their website to learn more about this kayaking tour and the other services they offer.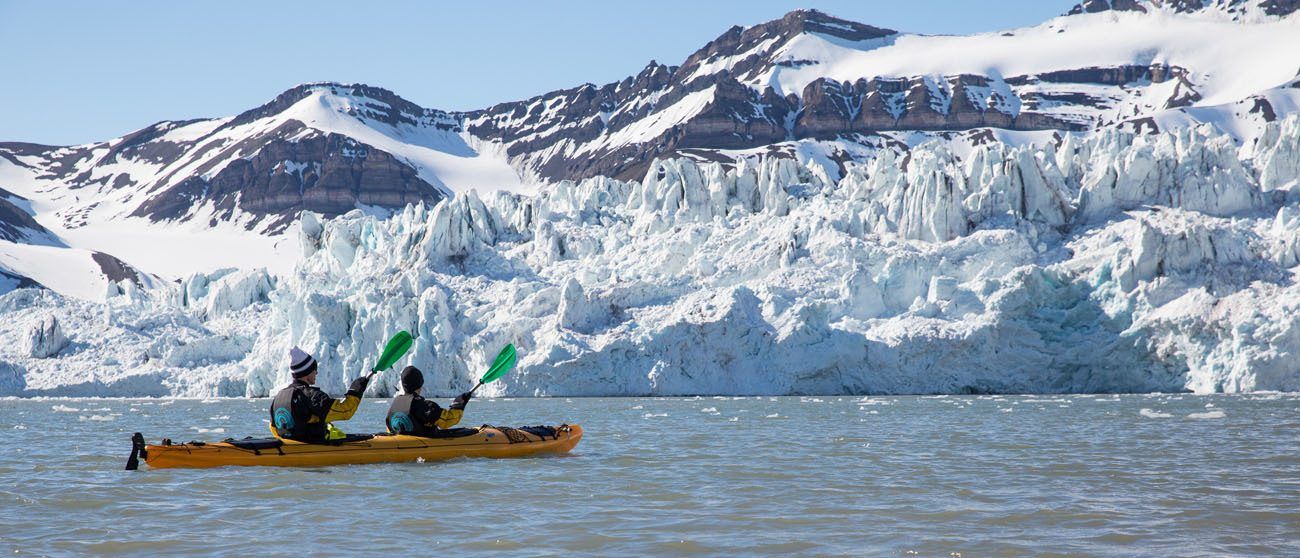 Is it Worth It?
This is very expensive (we paid full price for a total of $1332 USD, factoring in the conversion rate when we made this booking). We balked at the price and almost didn't do it because it is so expensive. But how often do you get the chance to kayak around an active glacier? And if you are going to fly all of the way to Svalbard, unfortunately you have to be prepared to fork out some serious money in order to leave Longyearbyen and really experience the islands.
But for us, it was worth it. Our guide Arien was phenomenal, the gear looked brand new, and even the rib boat looked barely used. All around, it was a great experience and just may be one of our favorite travel moments.
Want to See More? Check out our video on YouTube:
---
Does this look like something you would like to do? Comment below if you have any questions.
More Information for your trip to Svalbard & Norway
SVALBARD: Plan the perfect visit to Svalbard with our Svalbard Travel Guide. We also have articles about the best things to do in Longyearbyen, what to pack for Svalbard in the summer, and how much does it cost to visit Svalbard?
LOFOTEN ISLANDS: For an overview of the best things to do, read our Lofoten Islands Top Ten List. Get lots of travel planning advice in our Lofoten Islands Itinerary. For advice on where to stay, read our Lofoten Islands Hotel Guide.
NORTHERN NORWAY ITINERARY: On this 10 day Norway itinerary, road trip through Senja and the Vesteralen Islands, two beautiful off the beaten path destinations, and visit the Lofoten Islands.
NORWAY TRAVEL INSPIRATION: Norway is one of the most beautiful countries we have visited. Don't miss our article Northern Norway in Photos to see some gorgeous shots of Norway. For a list of the best places to visit in Norway, check out our Norway Bucket List.
Is your trip to Svalbard part of a bigger trip to Norway? Read all of our articles about Norway in our Norway Travel Guide.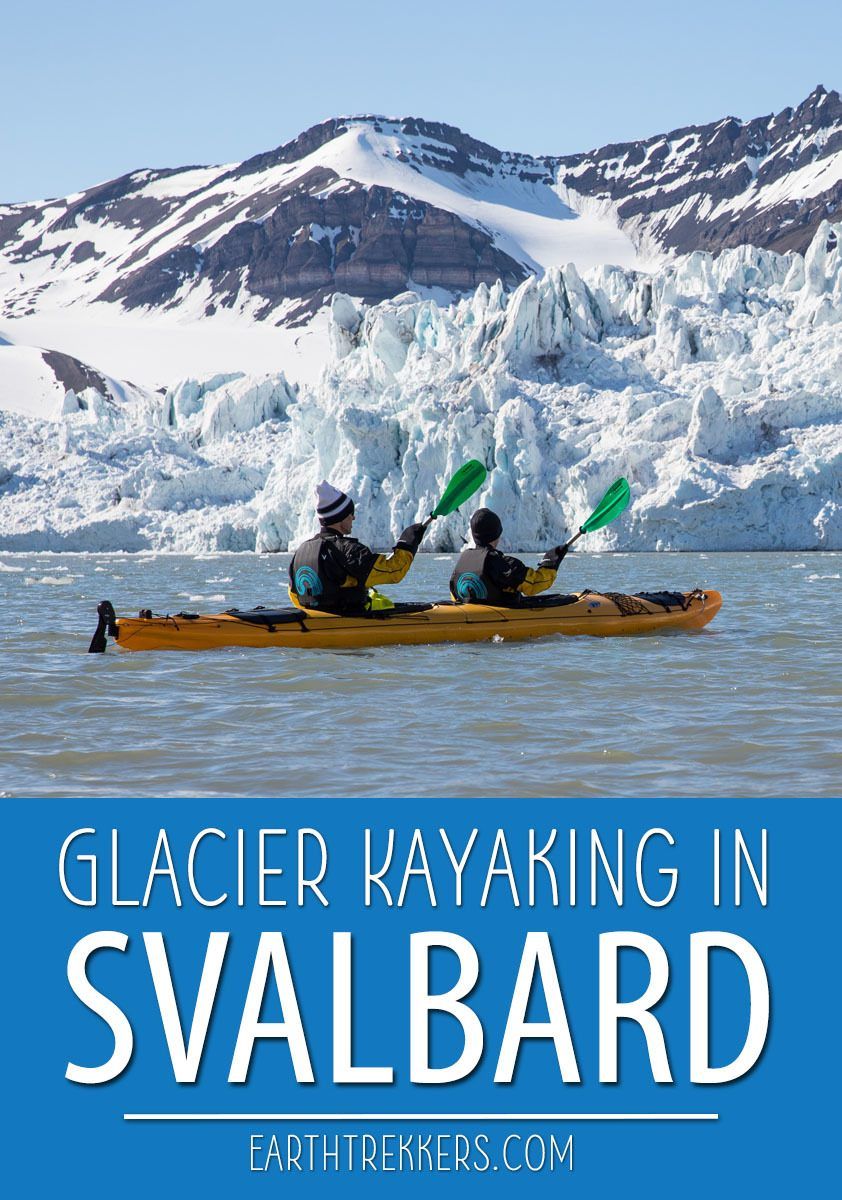 All rights reserved © Earth Trekkers. Republishing this article and/or any of its contents (text, photography, etc.), in whole or in part, is strictly prohibited.