One of the biggest questions we had while planning our trip to Svalbard was "what do we pack?" Svalbard is located so far north that it's easy to assume that it will be ice-cold all year round. Good news! That's not the case, at least not during the summer months. Even so, we packed an assortment of lightweight, warm clothes and threw in our heavy winter coats, just in case we needed them. In this Svalbard packing list, find out what we actually used, what never got touched, and the one thing we really wished we had!
Summer Weather in Svalbard
If you look at Svalbard on a globe you get a sense of how far north it is. And you would think that it could be quite cold here, even in the summer months.
The larger island of Spitsbergen, where Longyearbyen is located, receives the warm Atlantic current. This current helps to moderate the temperatures on Svalbard. Sure, it can get downright frosty in the wintertime, but during the summer months, it can be rather comfortable.
Summer in Svalbard can be surprisingly warm. Daily temperatures can be quite balmy (given its arctic location), ranging from 3°C to 8°C (36°F to 47°F). Add in the midnight sun, and the temperatures do not change much over the course of the day, since the sun never sets.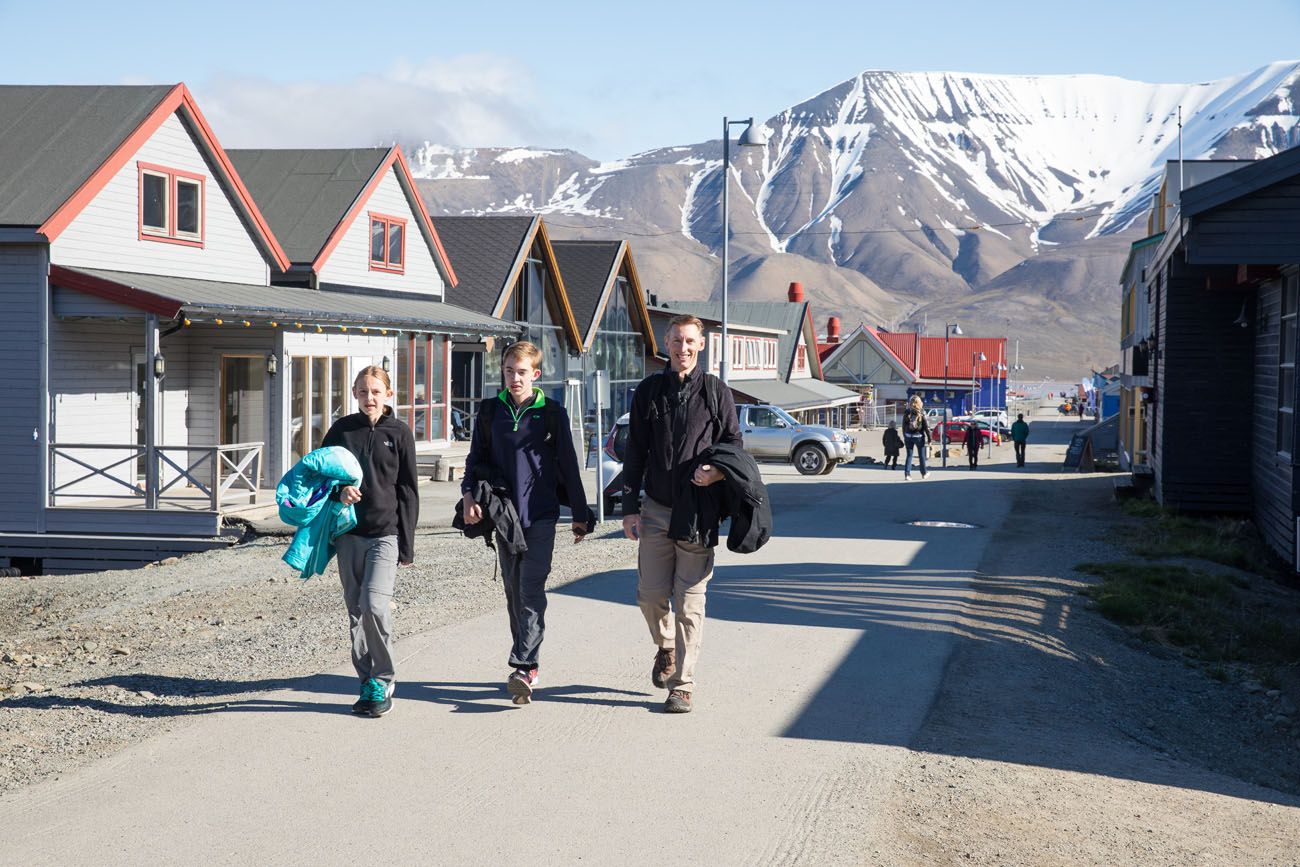 We spent four days in Svalbard at the end of June. In Longyearbyen, the average temperature hovered right around 4°C (40°F). It rained the day we left and we had snow showers on our hike up Hiorthfjellet.
If you will be in Svalbard during the summer months, you can expect chilly temperatures with a chance of rain.
Svalbard Packing List
Here is our summer Svalbard packing list.
Clothing (per person)
2 pairs of hiking pants (Tyler had a pair of jeans)
1 wool base layer
2 long-sleeved shirts
1 fleece
1 rain jacket
1 wool hat
1 pair of thin gloves
1 pair of thick gloves (never used them)
1 heavy coat (only used once)
1 pair of pajamas
underwear
wool socks
For the most part, we wore our hiking pants with a long-sleeved shirt, a rain jacket and/or a fleece, and a pair of light gloves, and felt very comfortable walking around Longyearbyen.
The only time we wore our heavy coats was during the cruise to Pyramiden. And even then, we were still a little bit cold. It's a big item to pack and we only used it once but I am very glad we had our heavy coats.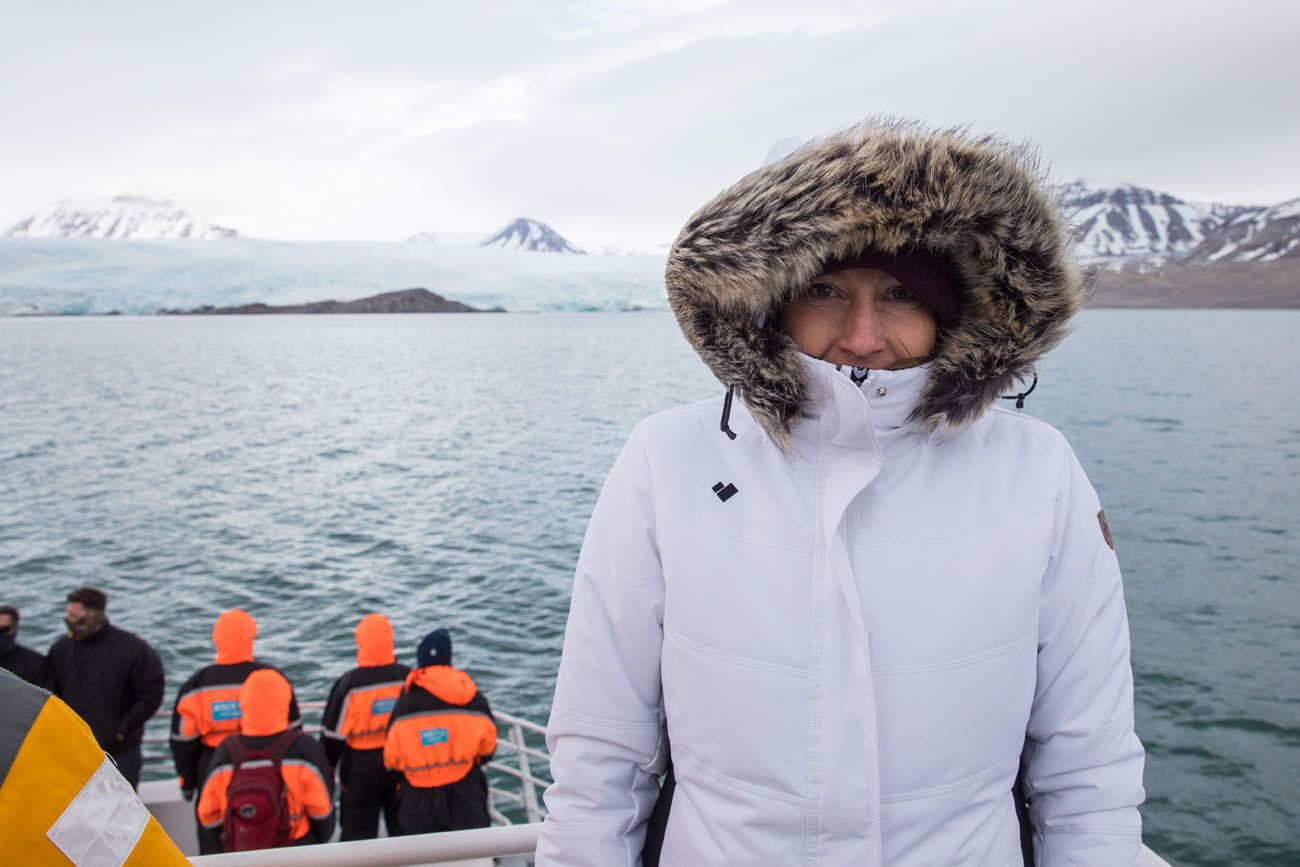 We never used the base layer for our legs or our thick gloves.
Shoes
We all wore Merrell waterproof hiking shoes. The waterproof feature is important, especially if you plan to do any hiking. The ground can be very wet and muddy from the melting snow, so your shoes need to be waterproof in order to keep your feet dry.
On our hike up Hiorthfjellet, we walked through snow that was almost up to our knees in places, so our feet got drenched, even with waterproof shoes. A pair of gaiters would be a good idea if you plan to do this hike or something similar.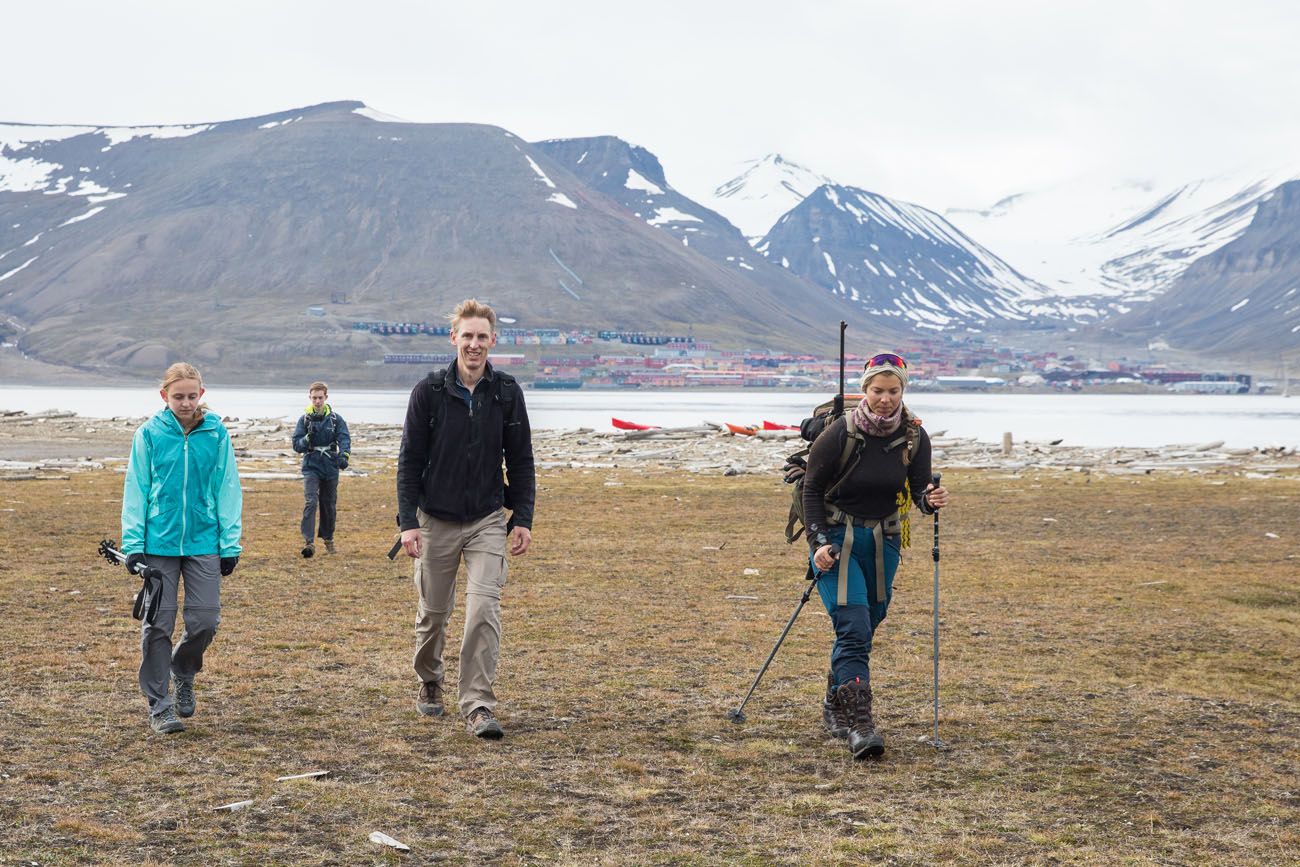 The beginning of the hike up Hiorthfjellet. Longyearbyen is in the background.
Miscellaneous
Sunglasses are a must. And guess what, with that midnight sun, you may even need them at 1 am, if you're up that late!
Don't forget your power adapters so you can charge your electronics. Bringing along a small power strip makes your life a lot easier since there never seems to be enough outlets in some hotel rooms.
A camera is the most important thing on this list, if you ask me. And it's always a good idea to back up your photos on a back up hard drive.
We love the Hydro Flask water bottles!! In environmentally friendly Norway and Svalbard, hotels and restaurants will gladly refill your water bottles for you. And yes, the water is safe to drink.
Oh, that Midnight Sun!
It was here in Svalbard where we experienced the midnight sun for the first time. At first, it's really cool. At midnight, sunlight is streaming in through your windows. And then you try to go to sleep. It feels more like you are trying to take a nap, not go to bed.
You would think that hotels would be prepared for this and provide blackout curtains. Nope. We stayed in 2 hotels in Svalbard and 7 hotels as we road tripped through northern Norway, and only 1 hotel provided blackout curtains (our hotel in Tromsø).
I had a terrible time sleeping. Actually, all four of us had a terrible time sleeping.
When it looks like midday, all day and all night long, your body never really gets those cues to get sleepy. It's the strangest thing. I would eventually fall asleep but it was hard to stay asleep with the brightness in our hotel rooms.
So, the one thing I REALLY wished we packed, but didn't, was a sleeping mask. Do yourself a favor and put this at the top of your list! 🙂
---
Have fun planning your trip to Svalbard. It's an awesome place and one of our new favorite spots in the world. If you have any questions, leave them in the comment section below. Cheers!
More Information for Your Trip to Svalbard & Norway
SVALBARD: Plan the perfect visit to Svalbard with our Svalbard Travel Guide. We also have articles about the best things to do in Longyearbyen, what it is like to go glacier kayaking, and how much does it cost to visit Svalbard?
BEST OF NORWAY: For a list of top experiences in Norway, don't miss our Norway Bucket List. If you are a hiker, we also have a hiking guide with 14 epic day hikes to do in Norway.
NORTHERN NORWAY ITINERARY: On this 10 day Norway itinerary, road trip through Senja and the Vesteralen Islands, two beautiful off the beaten path destinations, and visit the Lofoten Islands.
LOFOTEN ISLANDS: For an overview of the best things to do, read our Lofoten Islands Top Ten List. Get lots of travel planning advice in our Lofoten Islands Itinerary. For advice on where to stay, read our Lofoten Islands Hotel Guide.
PLACES TO GO IN NORWAY: For a list of top experiences in Norway, don't miss our Norway Bucket List. If you are a hiker, we also have a hiking guide with 14 epic day hikes to do in Norway.
Note: This post contains affiliate links. When you make a purchase using one of these affiliate links, we get paid a small commission at no extra cost to you.
All rights reserved © Earth Trekkers. Republishing this article and/or any of its contents (text, photography, etc.), in whole or in part, is strictly prohibited.