Svalbard offers a wide range of adventure activites. Ride on a rib boat and search for walrus, kayak in front of an active glacier, or cruise out to an abandoned mining town. For a really cool one day adventure, how about kayaking across Adventfjord and then hiking to the summit of Hiorthfjellet, one of the tallest mountains in the area?
We signed up for Svalbard Wildlife Expedition's excursion, "Arctic Challenge." On this excursion, you kayak from Longyearbyen across Adventfjord, hike to the summit of Hiorthfjellet, and then return to Longyearbyen the same way. It's an awesome one day adventure and perfect if you want to be active and (if you are lucky with the weather) get a unique view of Longyearbyen.
Quick Overview of the Arctic Challenge
Adventfjord is the body of water that Longyearbyen sits on. Directly across Adventfjord from Longyearbyen rises a tall, brown mountain that is called Hiorthfjellet. On this hike, you hike to the top of Hiorthfjellet. It is not technically challenging, but you do need a good level of fitness to kayak twice and climb this mountain.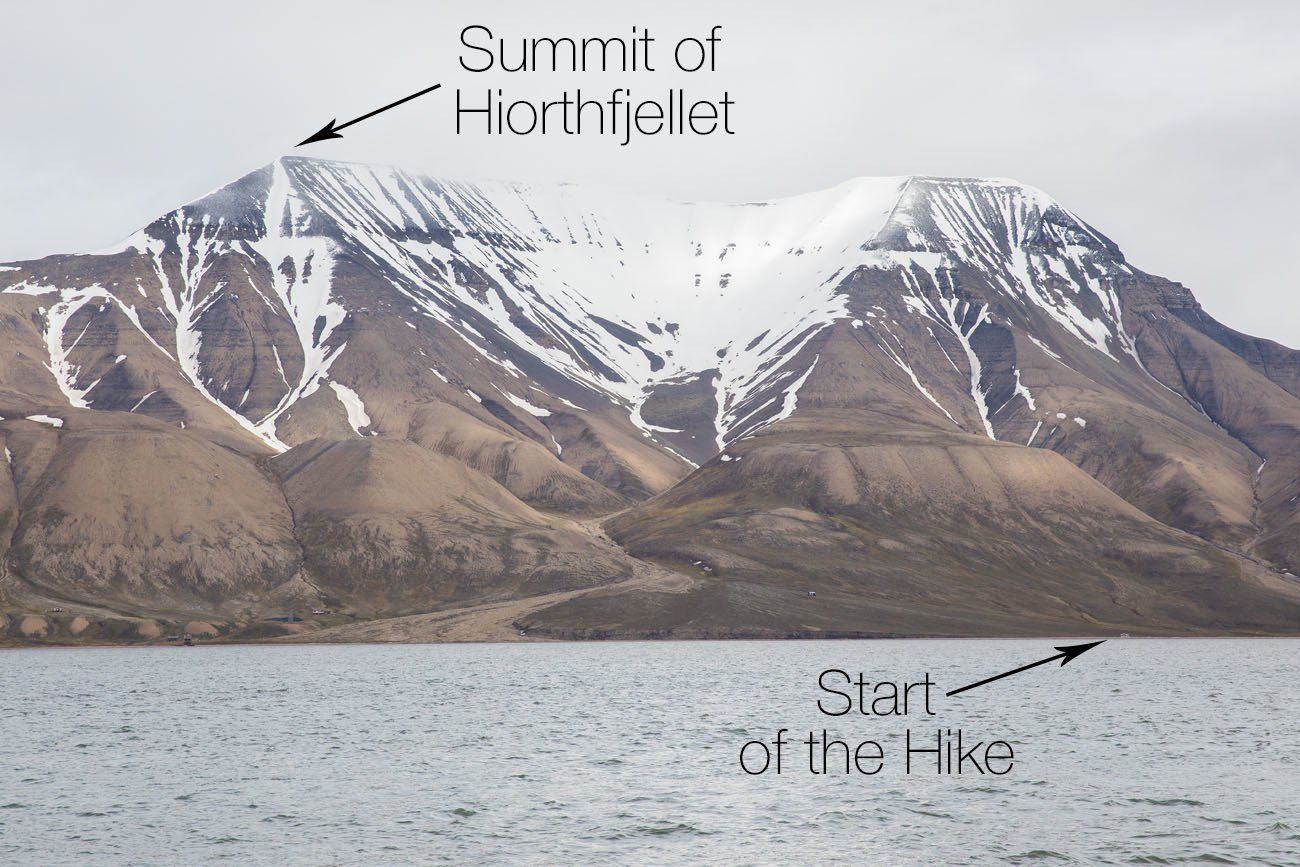 We did this on our first full day in Svalbard, and what a treat to look up at this mountain for the remainder of our visit with the knowledge that we stood up there. Hiorthfjellet dominates the view from Longyearbyen, so it's pretty cool to stand on the summit.
Quick Facts:
Round trip kayaking distance on Adventfjord: 5.4 km (3.4 miles)
Round trip Hiking Distance on Hiorthfjellet: 8.7 km (5.4 miles)
Elevation Gain: 915 meters (3000 feet)
Difficulty Level: Strenuous
Length of Time: 11 hours
When To Go: June to September
Cost: NOK 2100 per person
Minimum Age: 16 years
Company: Svalbard Wildlife Expeditions

This elevation profile includes the kayaking at the beginning and the end of the excursion.
Please practice the seven principles of Leave No Trace: plan ahead, stay on the trail, pack out what you bring to the hiking trail, properly dispose of waste, leave areas as you found them, be considerate of other hikers, and do not approach or feed wildlife.
Arctic Challenge: Adventfjord & Hiorthfjellet
Kayaking Adventfjord
At 8 am, Nanna, our guide with Svalbard Wildlife Expeditions (SWE), picked the four of us up at our hotel and drove us five minutes to the SWE office.
Nanna is a young, Norwegian woman who moved to Svalbard and became a permanent resident here about five years ago. She was awesome. And as the day wore on, I became more and more amazed at her strength and toughness.
At this office, we were outfitted with drysuits, kayaking skirts and gloves, and then we packed our things into drybags for the trip across the fjord.
Down by the water's edge, we loaded our bags into the kayaks. This whole process, from arriving at the office to our first paddle strokes on Adventfjord, took about one hour. It was surprising how much prep went into keeping our things and ourselves dry.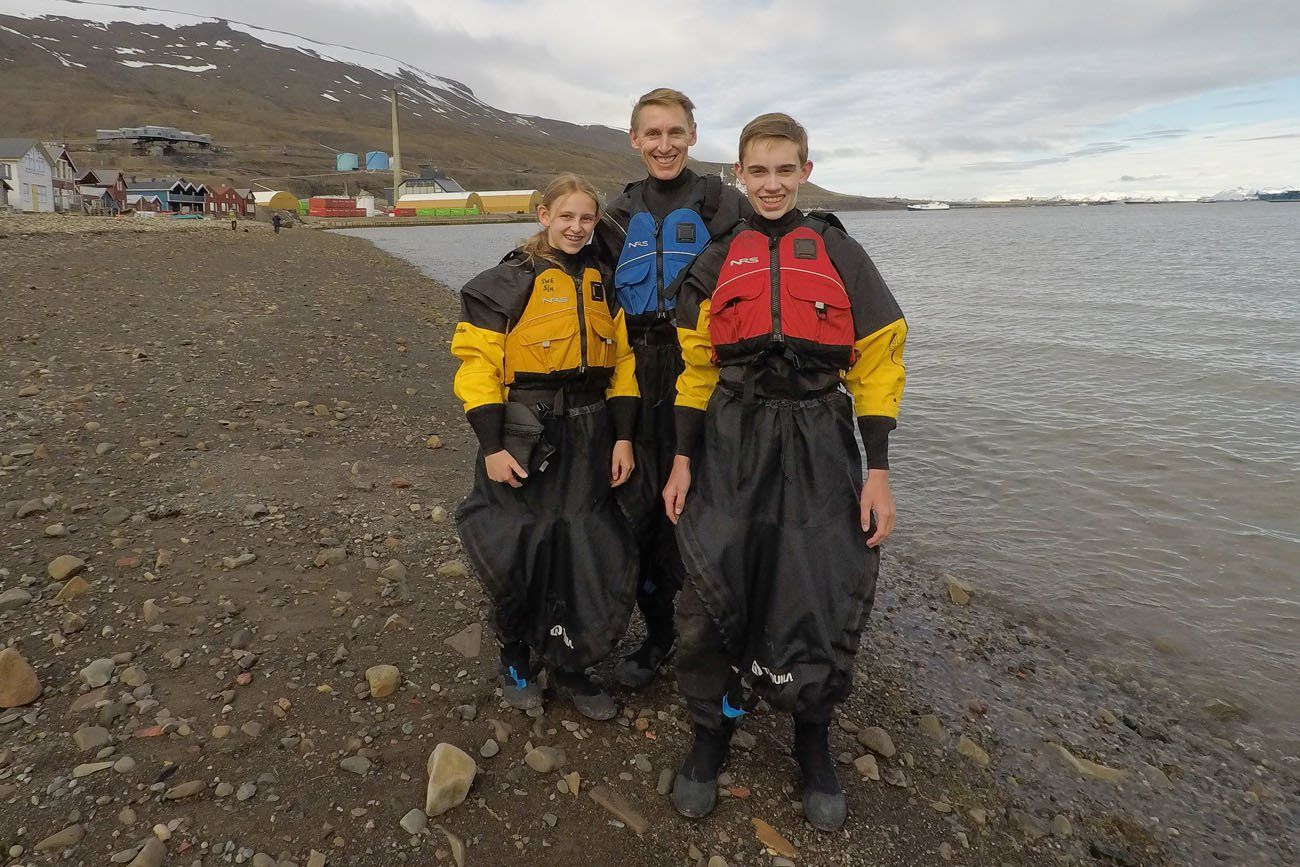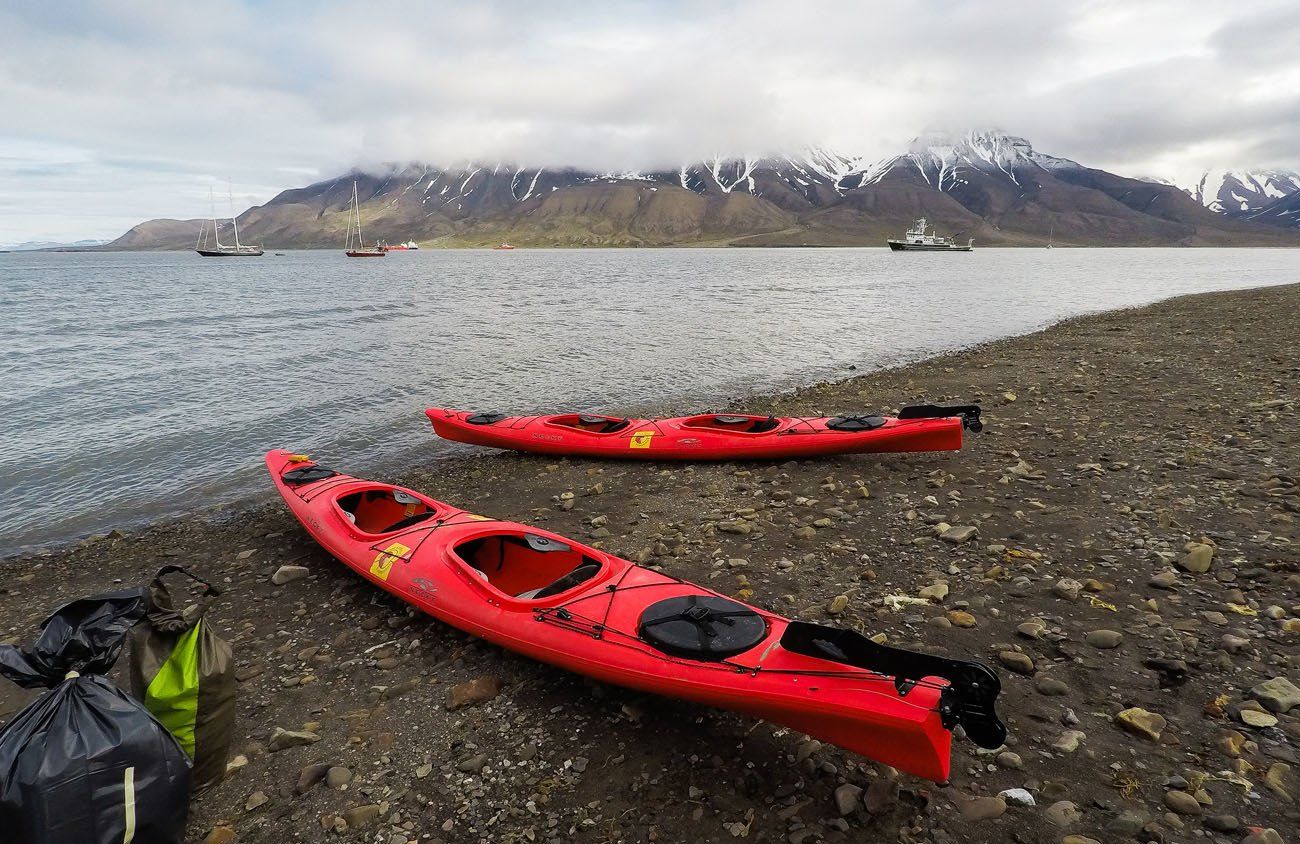 This was our first experience kayaking in cold water and we were a little clueless about the gear. But we learned fast. Later in the week we went glacier kayaking and we felt much more comfortable with the gear and with being in icy water.
Once out on the water, the real fun started. It was an overcast day with the temperature about 6°C (43°F). Clouds hid the top of Hiorthfjellet, but periodically the sun would shine on Longyearbyen.
We stopped a lot to take photos and video and to enjoy this experience. We are kayaking in Svalbard!!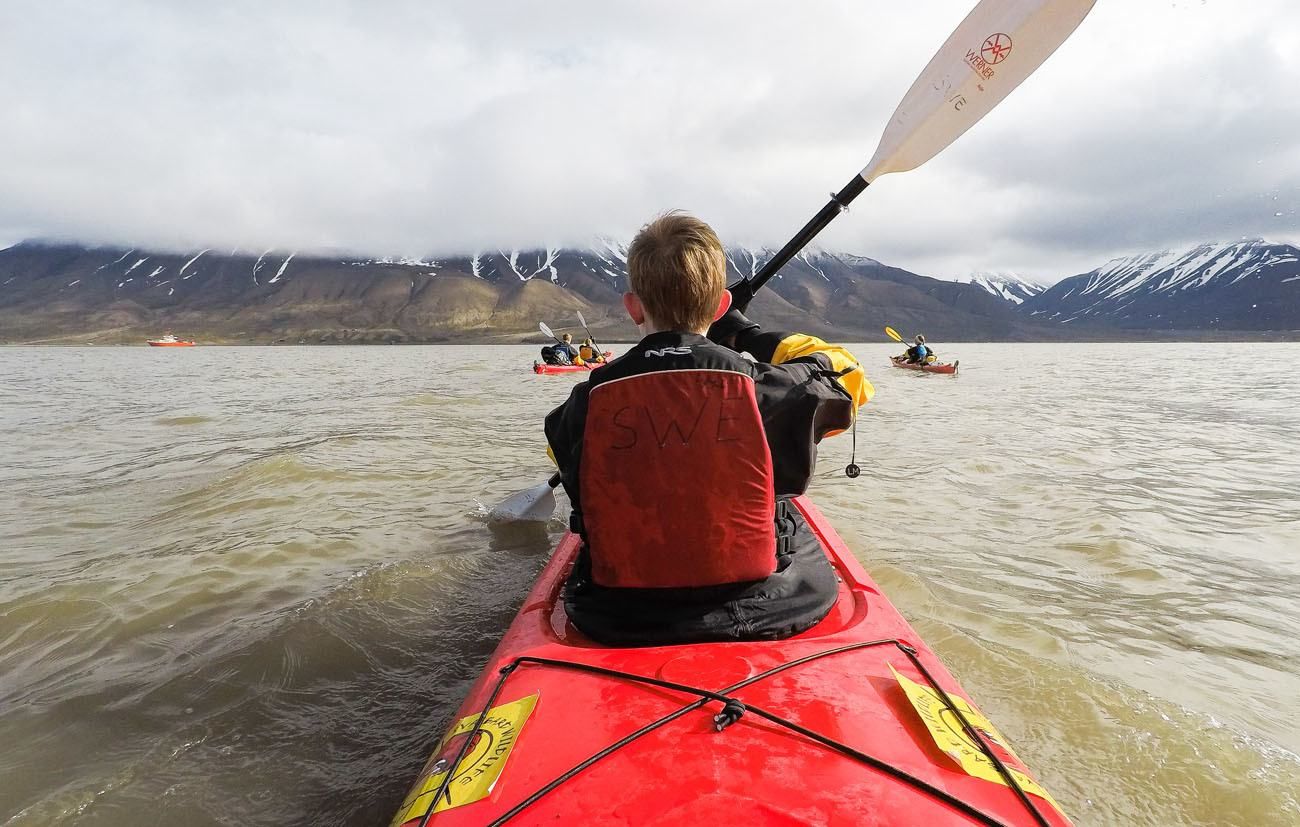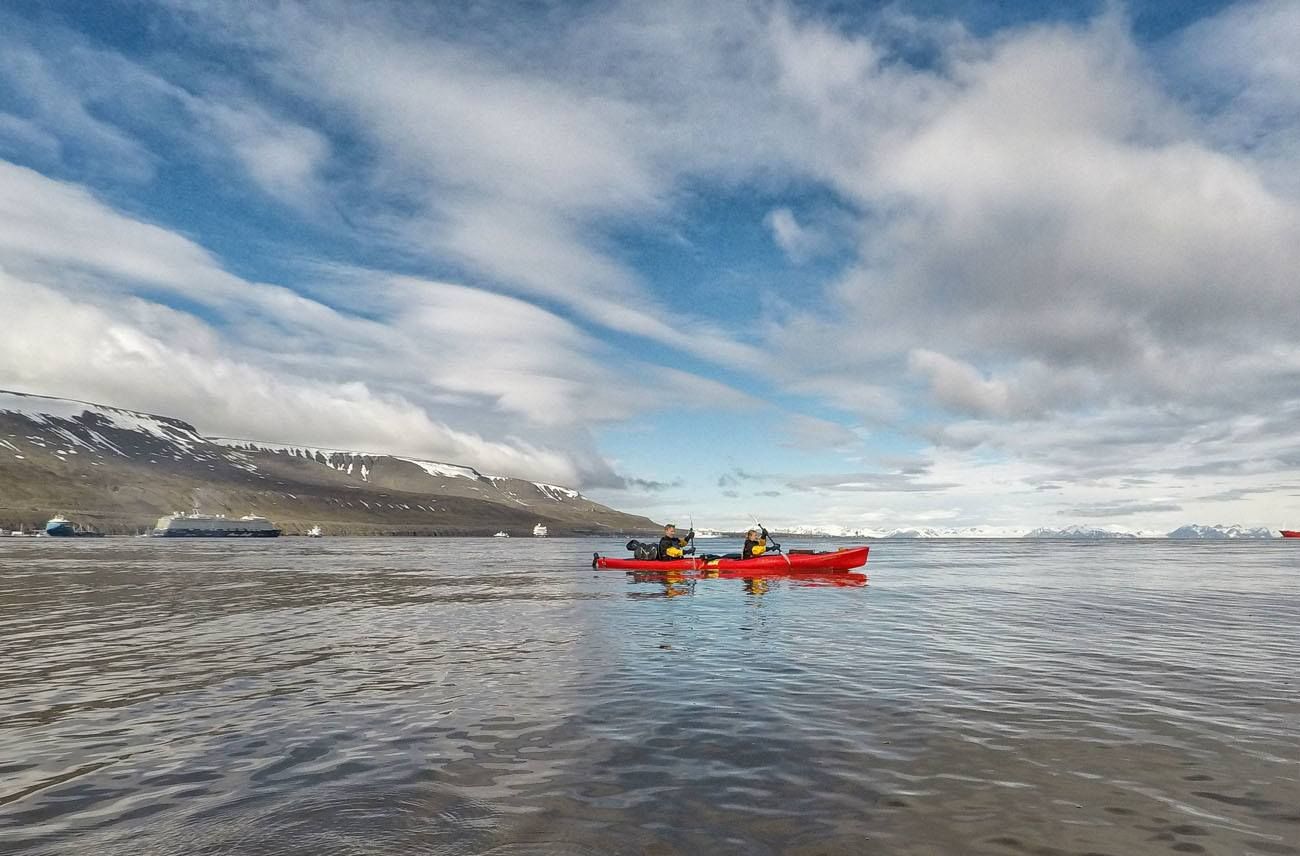 It took us about 30 minutes to kayak across Adventfjord. I actually felt hot and sweaty and couldn't wait to get out of my drysuit!
We pulled our kayaks on shore, unloaded our drypacks, and started on our way.
On the Trail to Hiorthfjellet
Looming above us was Hiorthfjellet. If the snowy, whiteout conditions continued on the summit, we would have to end the hike early. Nanna also gave us a 2:30 pm turn around time. It felt a bit like we were going for the summit of Everest, only without the extremely high altitude and the oxygen thin air.
There is no trail and no trail markers up the mountain. We simply walked through the fields, crossed streams, and climbed through fields of boulders.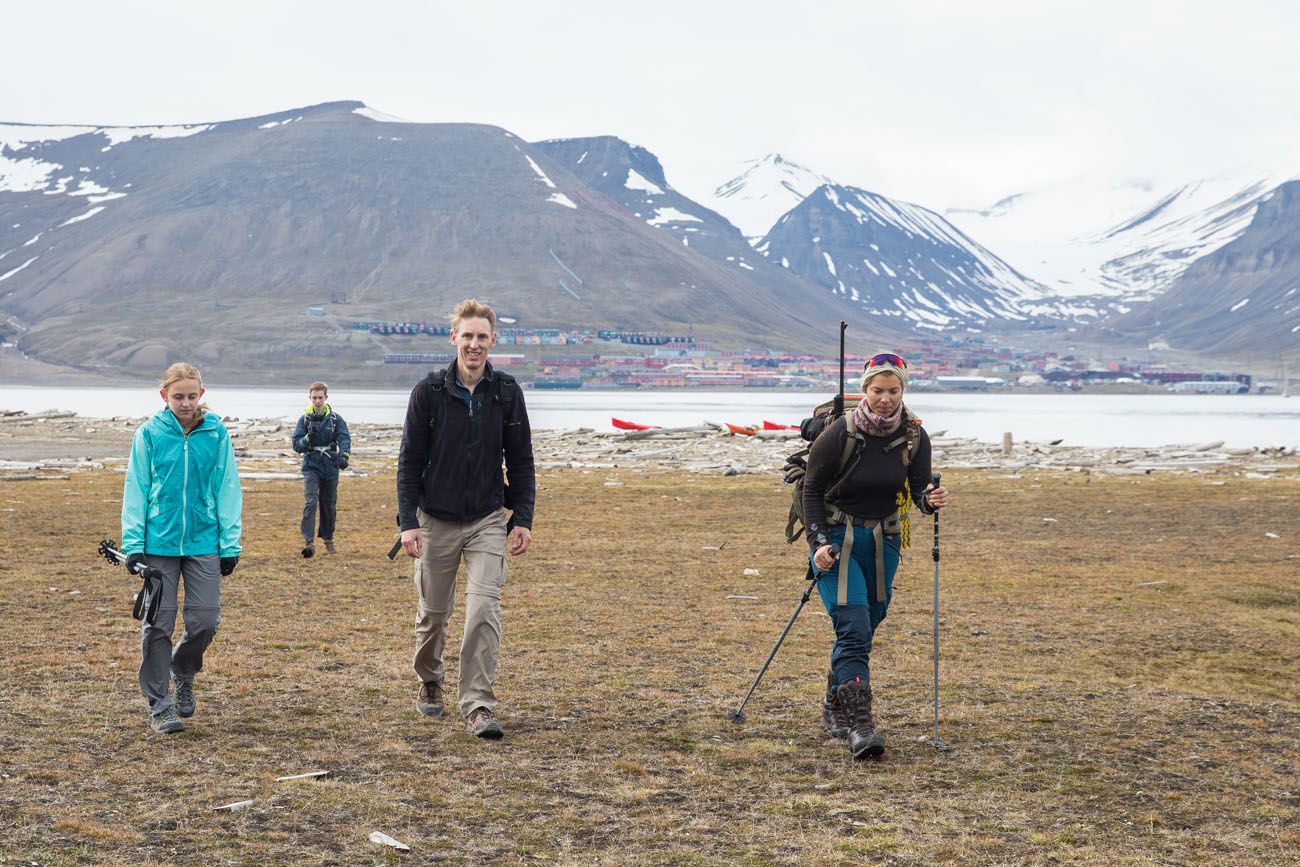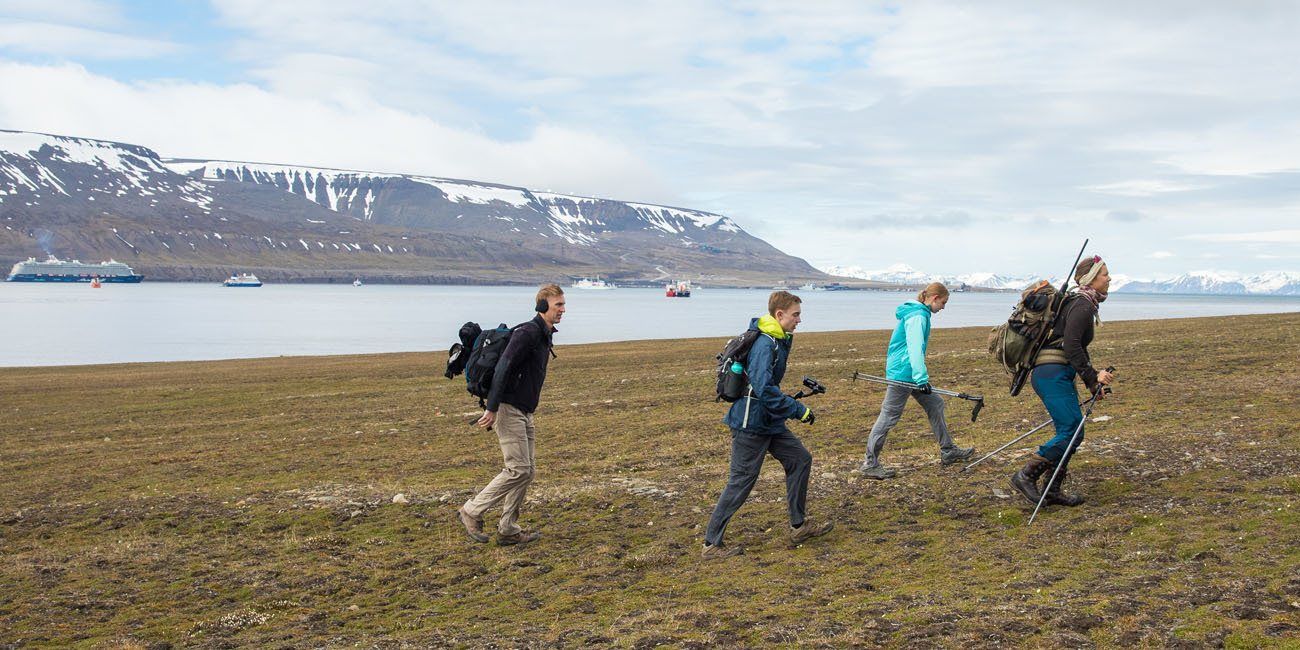 At first, we walked through a field. The soil was soft and squishy, almost like a groundhog created tunnels throughout the surface of the ground. Moss, short grass, and very pretty but very tiny wildflowers made up the soft carpet we walked on.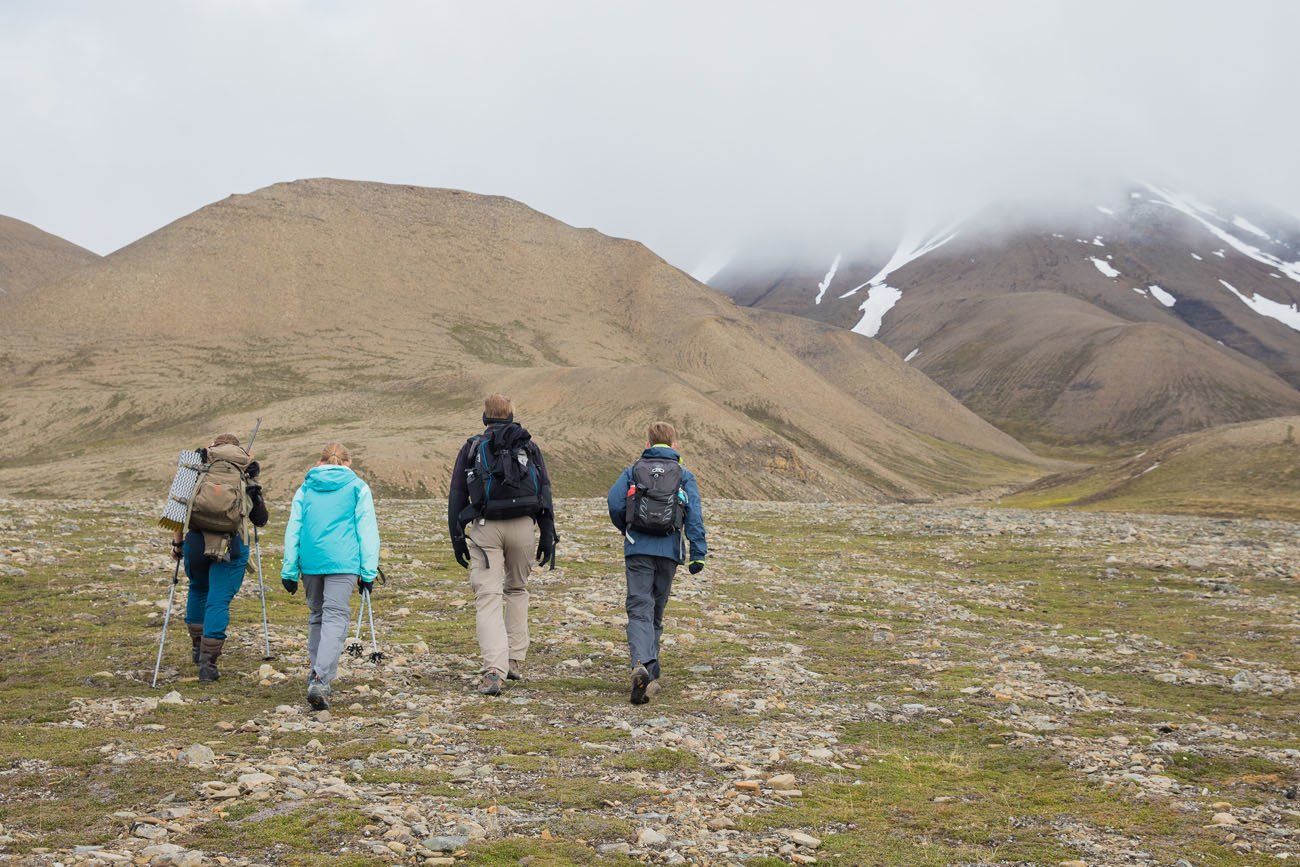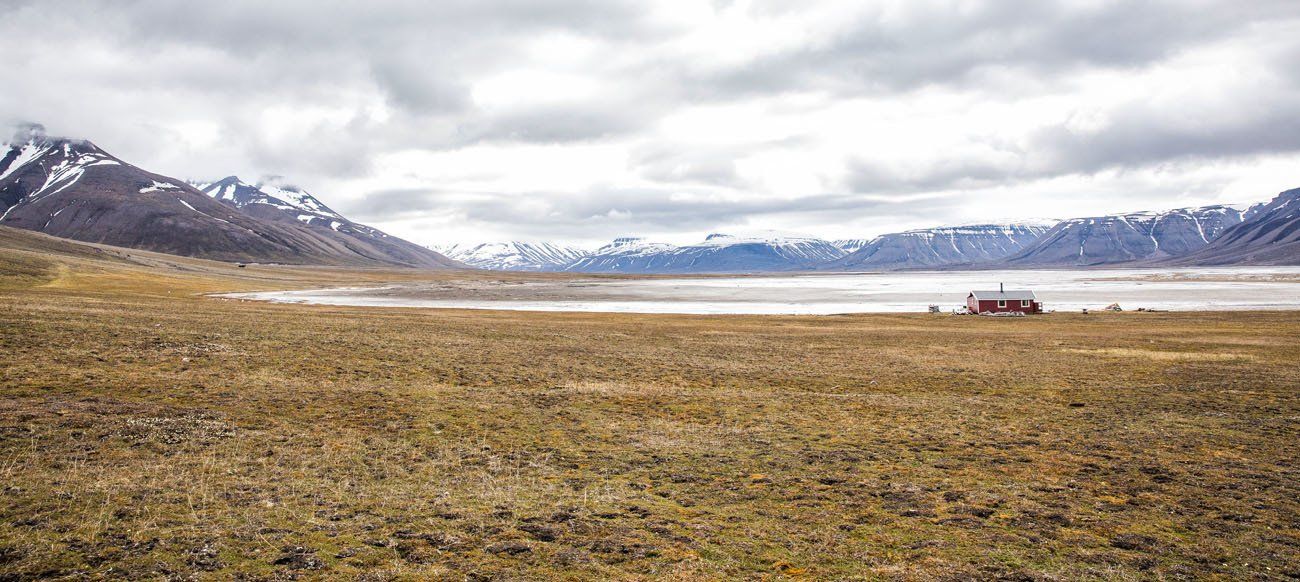 Along the way, we got to see Svalbard reindeer, short, stocky reindeer that were in the process of shedding their winter coats. In late June, they were mostly white with patches of their brown summer coats peeking through.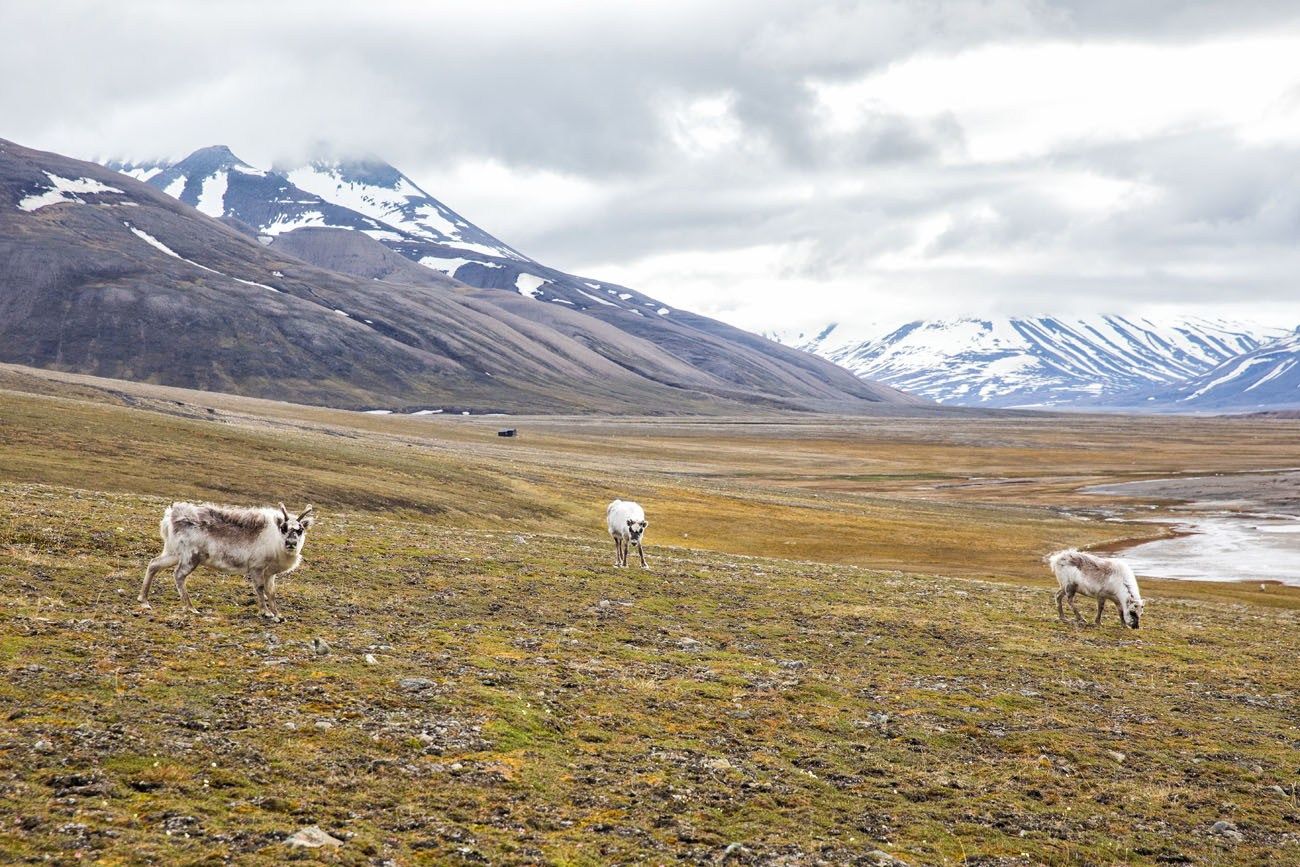 The first part of the hike was relatively easy. Nanna led us up the hillside through this landscape, over small streams, until we reached a steep hill that looked like a landslide of boulders.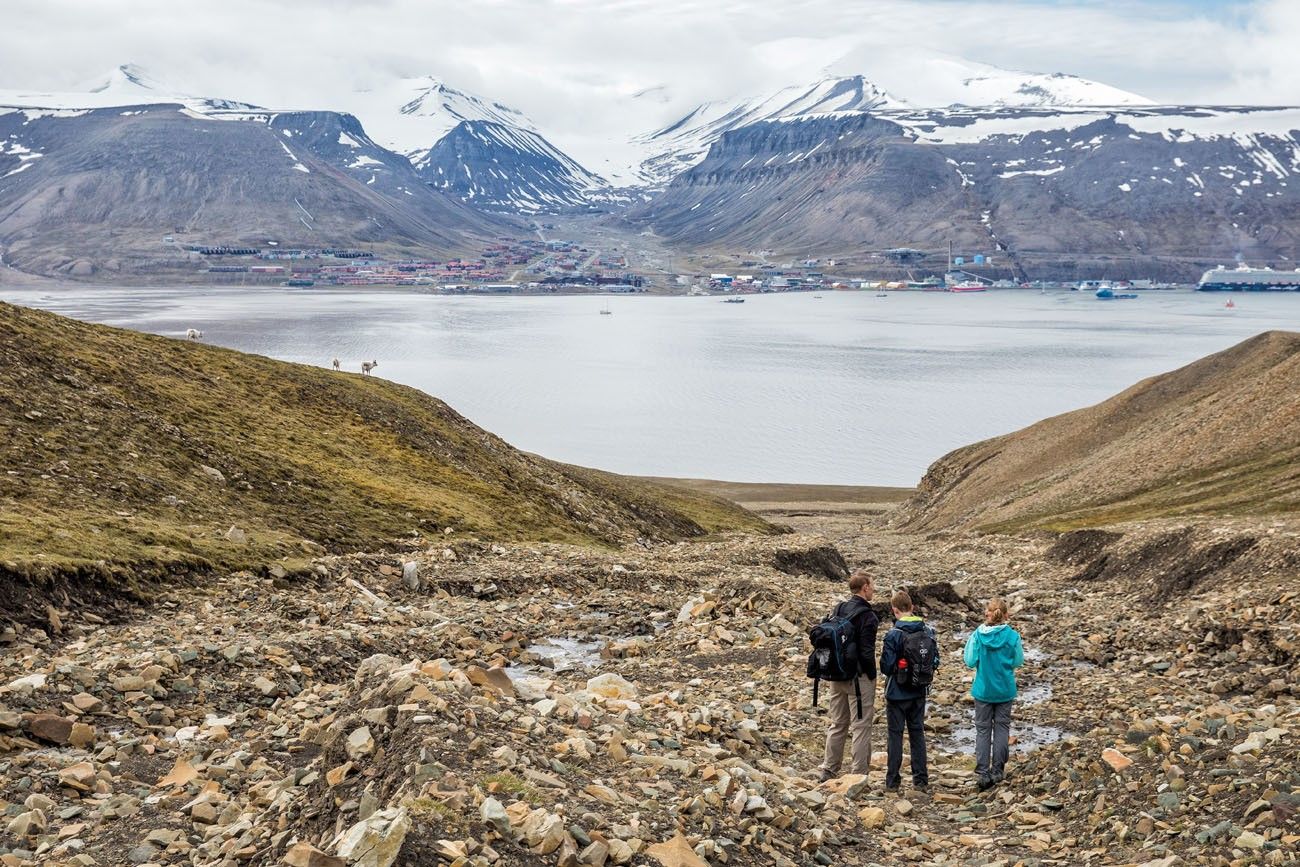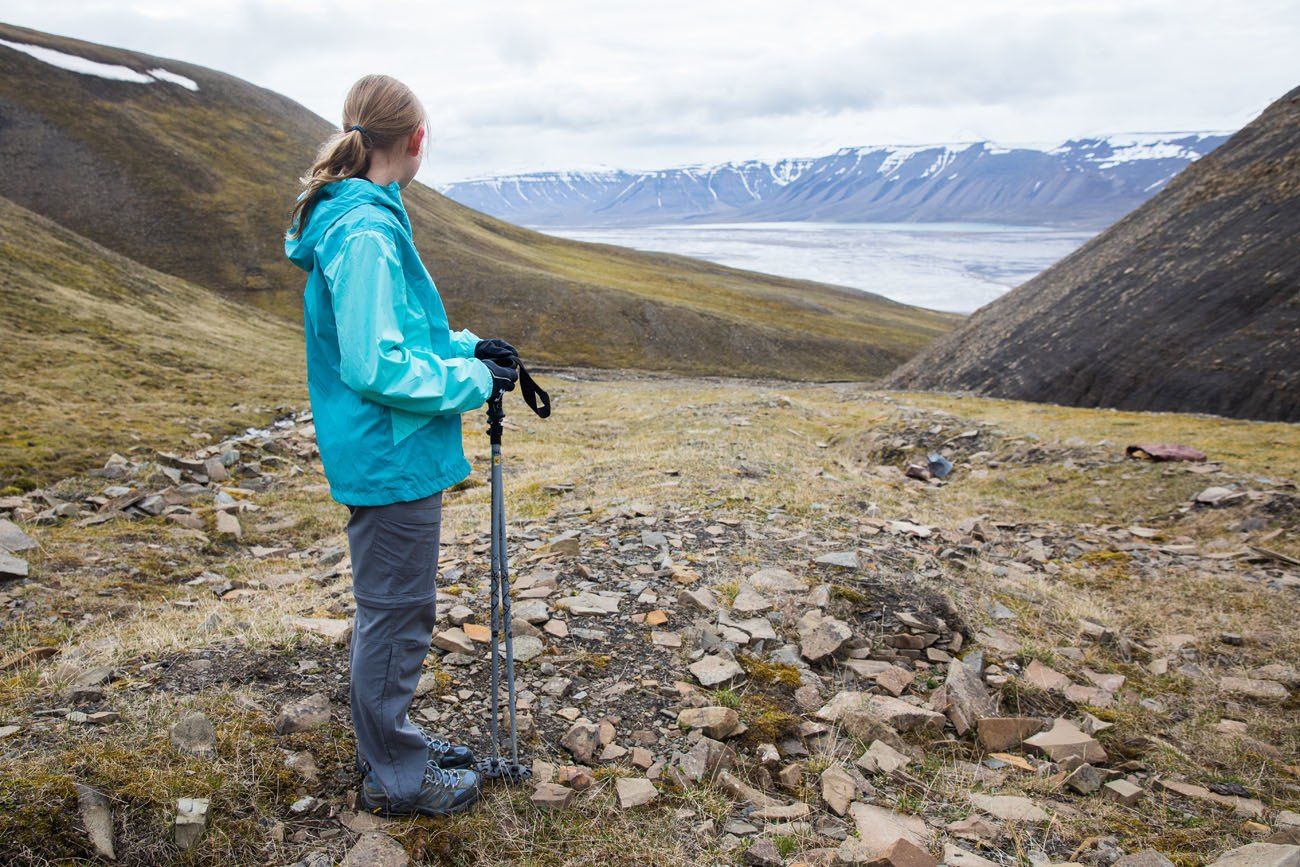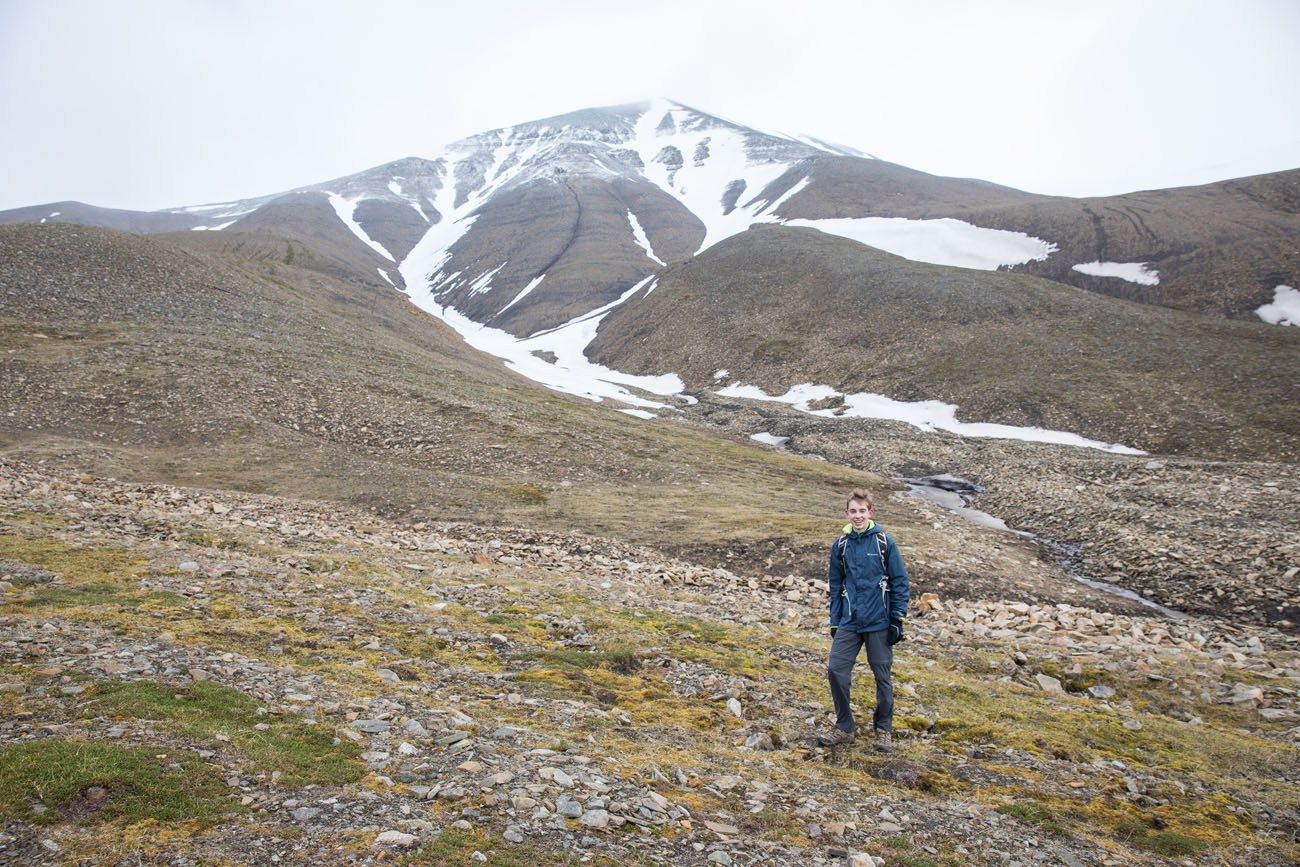 An Early Lunch Break
It was only 11 am but we were all hungry for lunch. On the menu for today: freeze-dried food. I can't say that this was something we were looking forward to, but it was delicious! Each of us had a pouch of freeze-dried food (pork for Tim, Tyler and Kara and I ate chicken tikka masala) that we reconstituted with hot water out of a thermos. Hot lunch on the side of a mountain, with a superb view back to Longyearbyen…what an unexpected treat!
It was quiet, it was peaceful, and it was beautiful. This is why we hike, to explore new places and experience the great outdoors.
Hiking to the Summit of Hiorthfjellet
My pack had the heavy thermoses of water, so we left that behind as we pushed to the summit. This is where the hard part starts.
For about 30 minutes, we hiked up a steep incline that was a sea of boulders and small rocks. Many were unstable, throwing us off balance and causing us to stumble occasionally. If we injured ourselves on this hike, this would be the spot.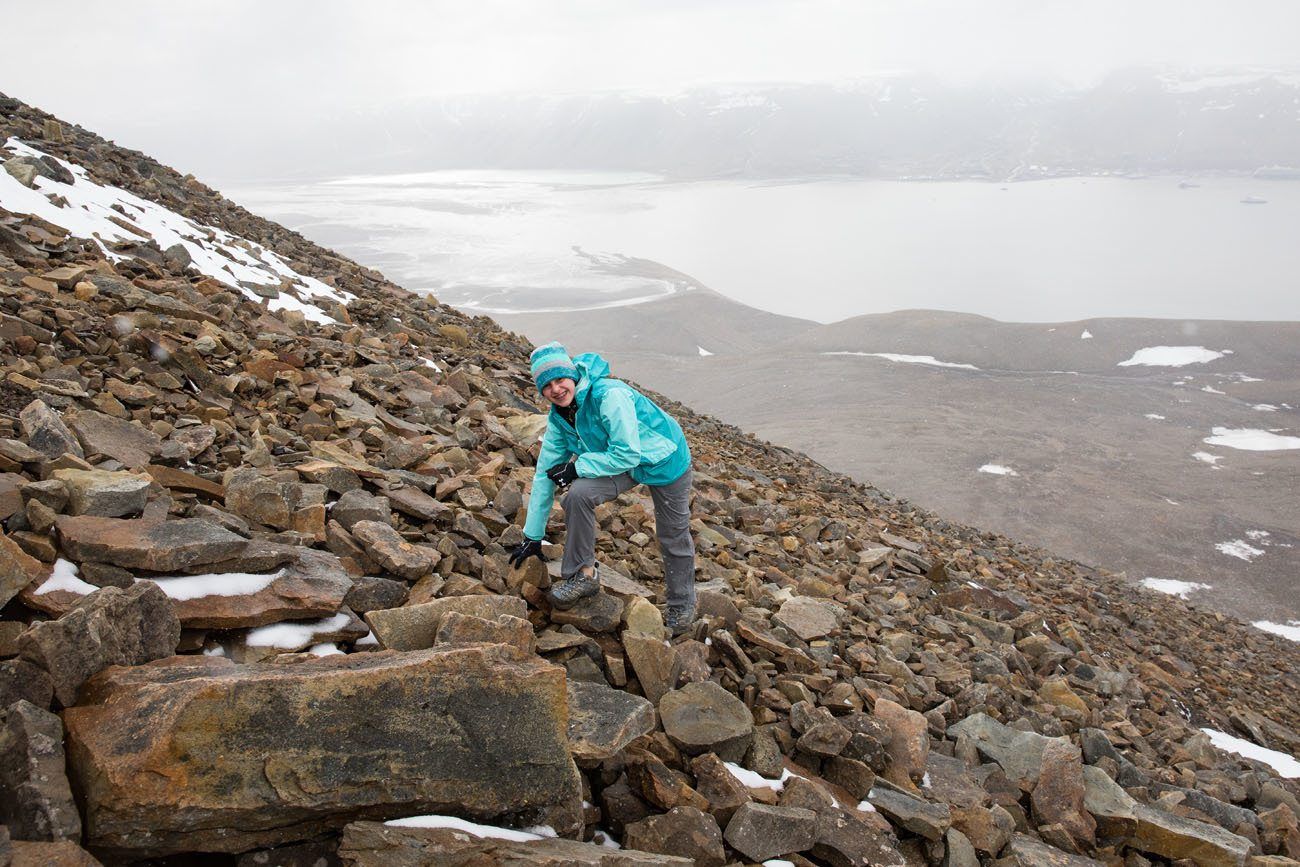 Safely to the top of that climb we entered the snowy top section of Hiorthfjellet. The four of us picked our way through the snow, which was quite deep in some places, trying to keep our hiking shoes dry. This was futile. Our feet would end up getting soaking wet.
As we climbed higher, snow clouds moved in. We lost those amazing views of Longyearbyen, but the snow added to the excitement of the hike. To be hiking in the arctic in June with freshly falling snow was a perfect introduction to Svalbard.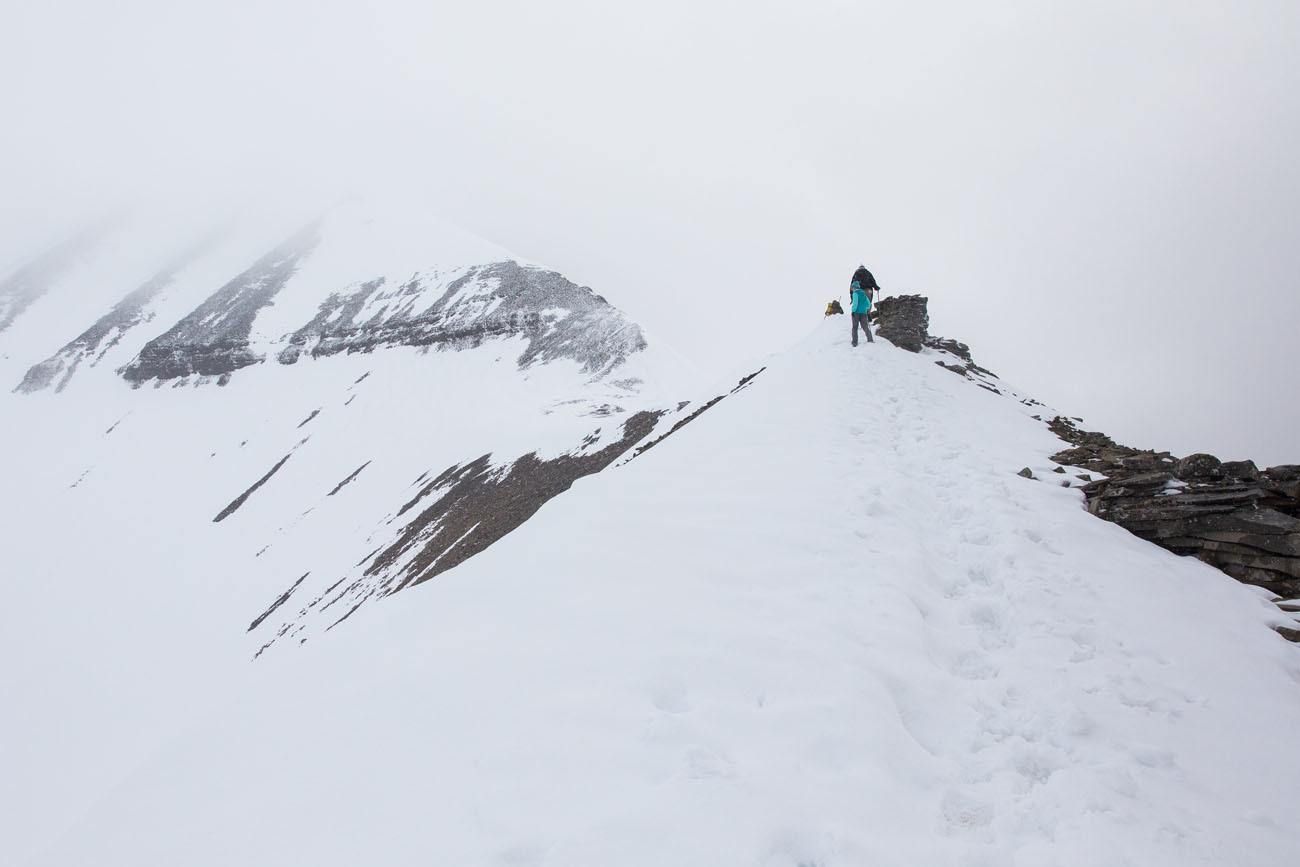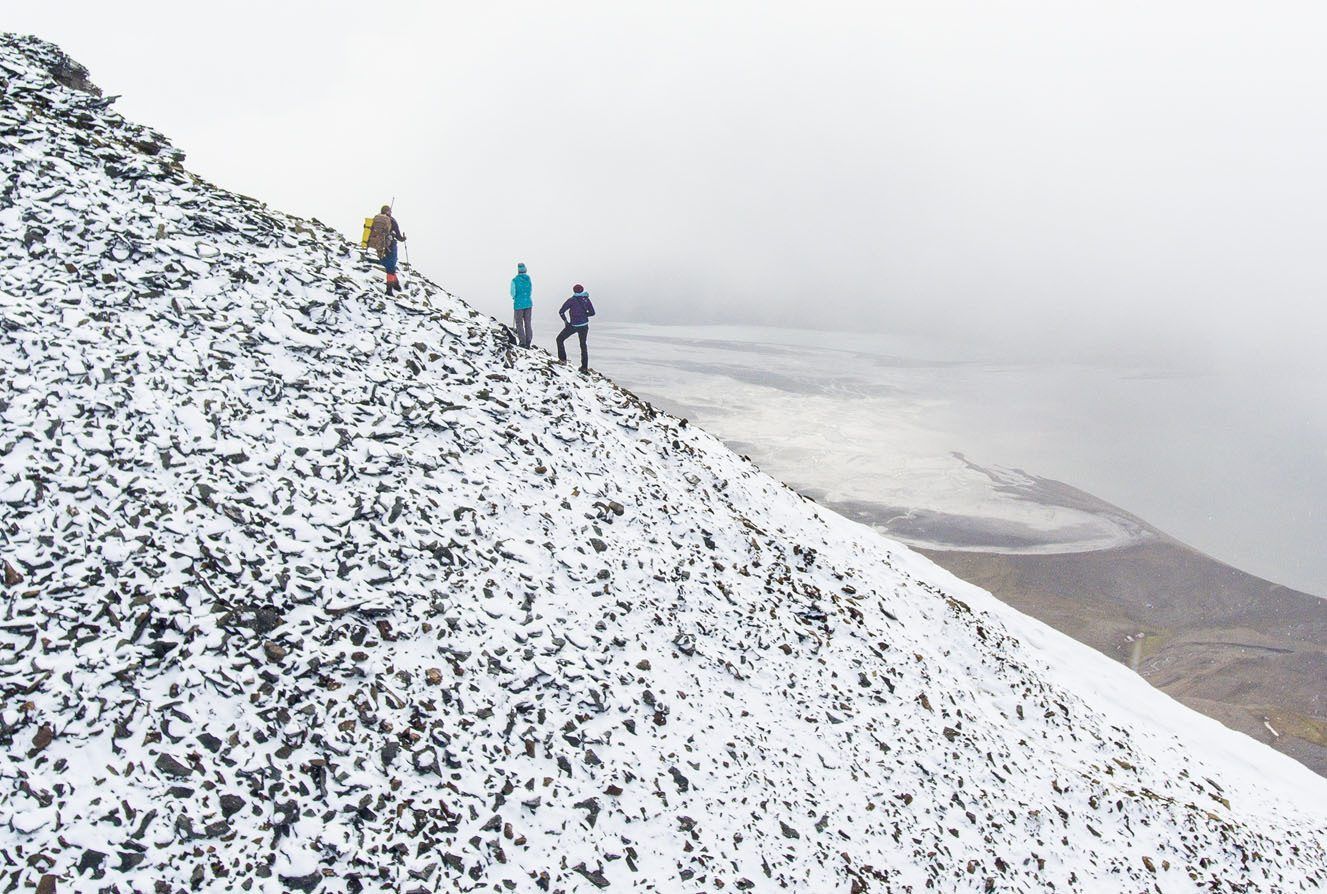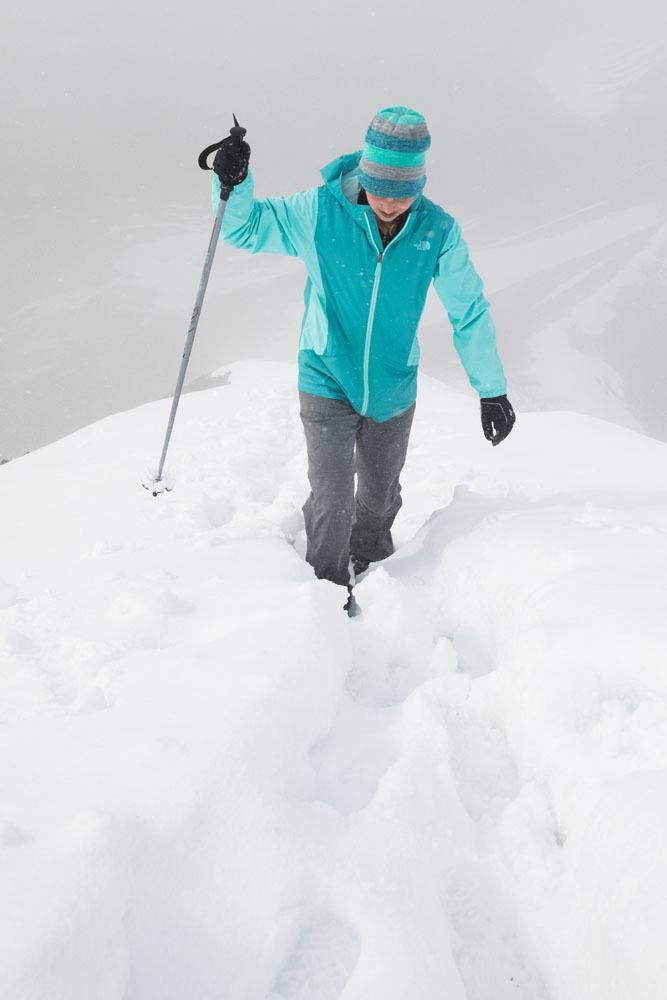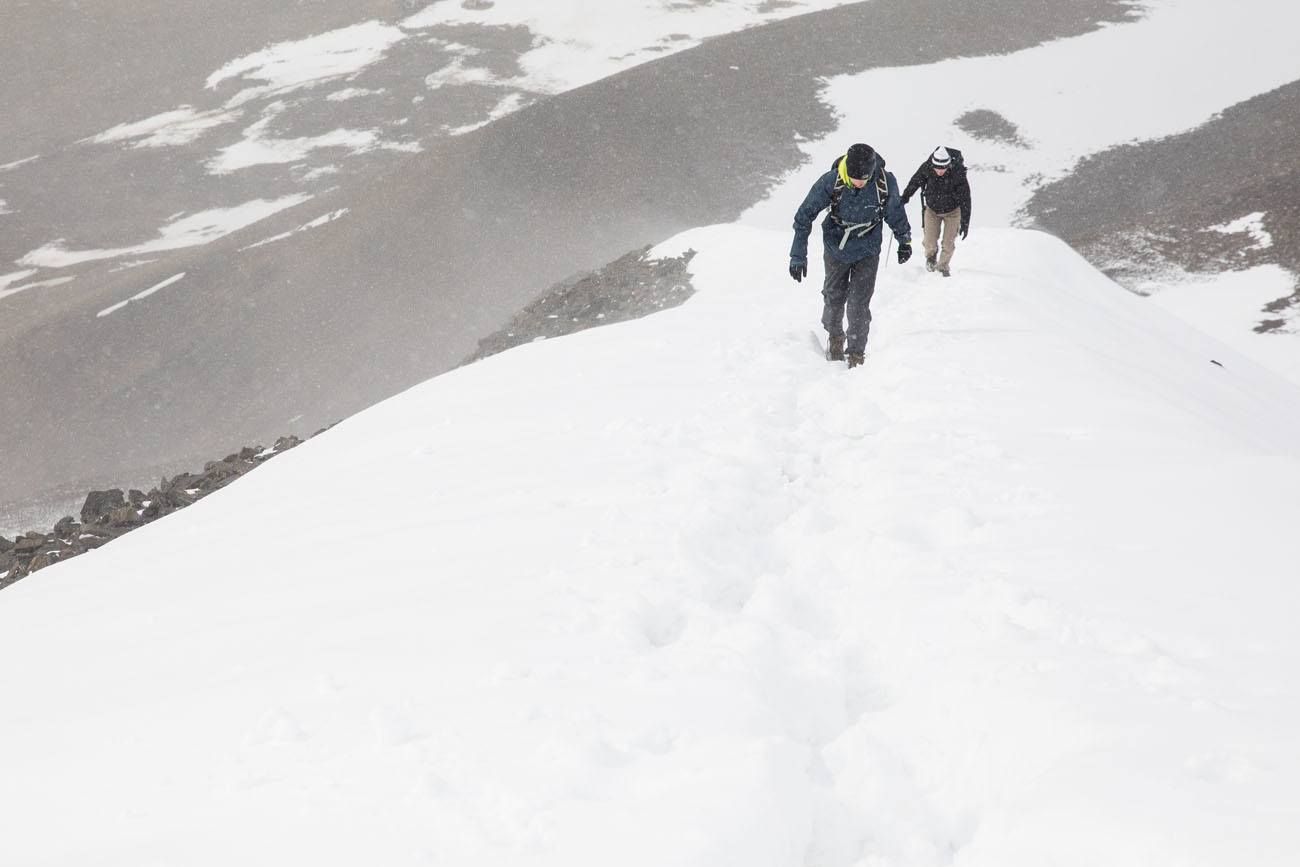 Despite cold fingers and wet toes, we were all having a blast.
And Nanna, with her heavy pack and rifle, kept up a strong pace. She seemed unfazed by the cold temperature. We were chilly, our noses were running, and we couldn't stop for long without really getting cold. Not Nanna. At times, she wasn't even wearing gloves, and her face didn't have the red, rosy cheeks like ours did. Her summer weather is our winter weather.
We hiked up the snowy, slippery ridge and made it to the summit at 1:45 pm, well before the turn around time, and that included our extra time for lunch. Nanna was thrilled (and so were we!).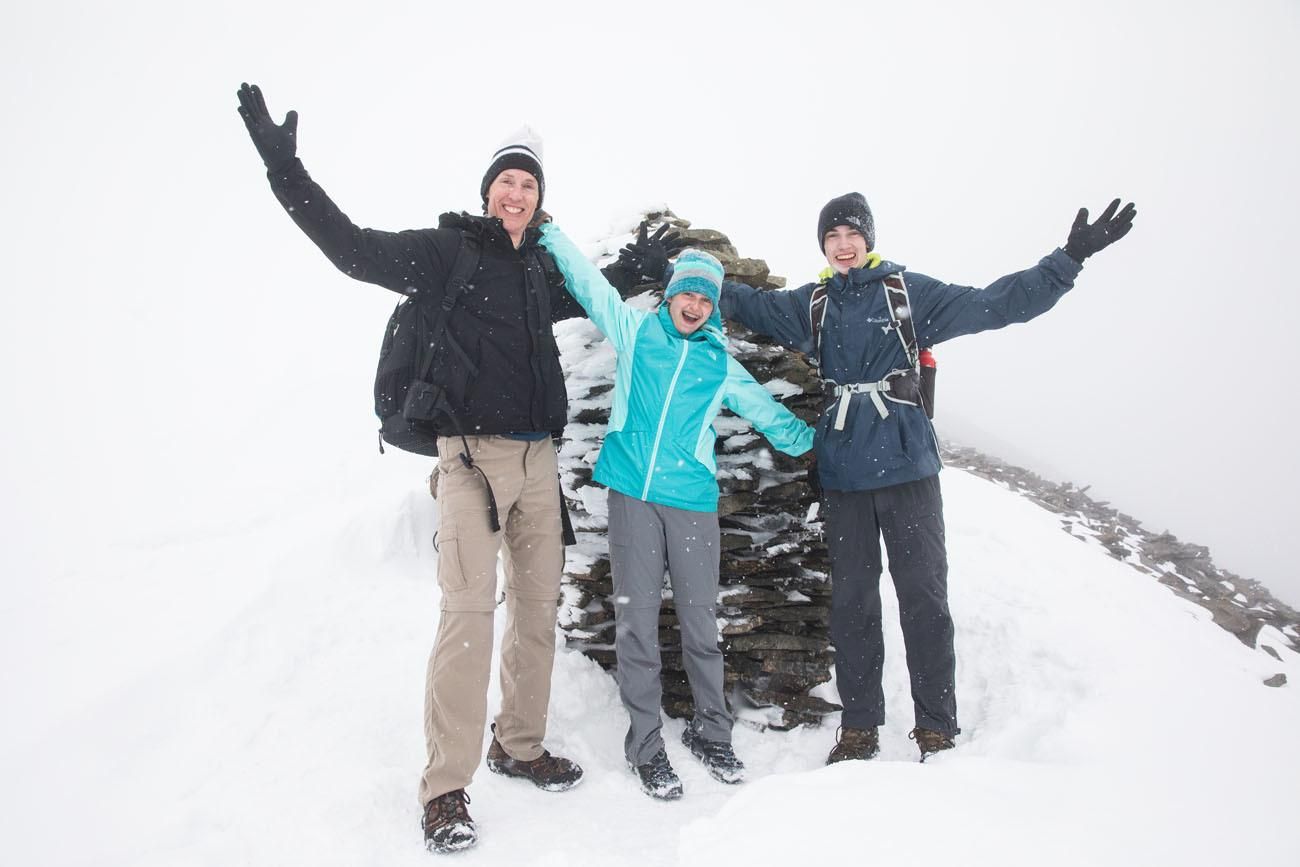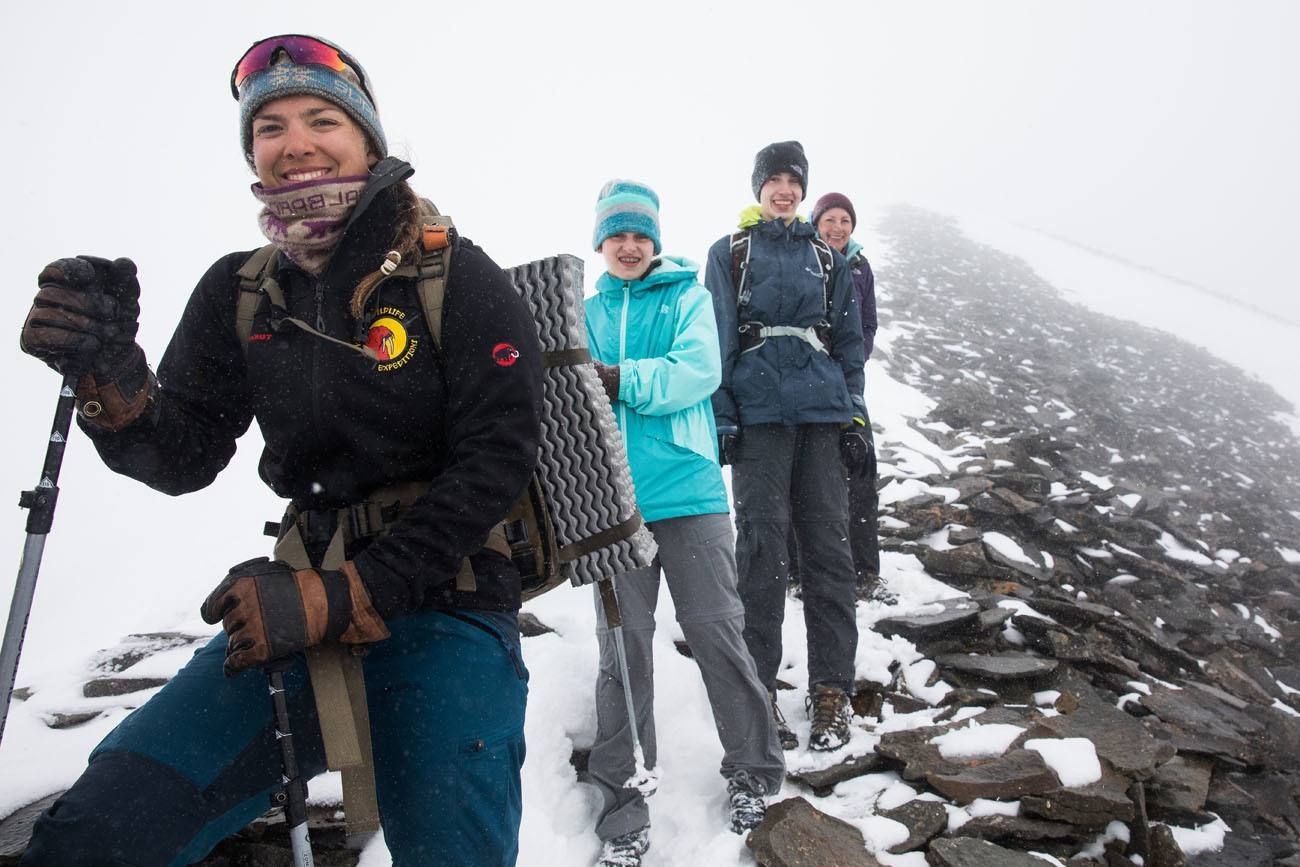 After a quick celebration of Bixit cookies at the summit, we started the hike down Hiorthfjellet. Going down was more treacherous, especially the steep field of boulders.
Return to Longyearbyen
Fortunately, the snow stopped, so we warmed up a little bit.
Unfortunately, my camera stopped working during the end of the hike. The batteries got too cold and failed to function. This was my first time spending so much time out in the cold air that I didn't even think to keep the batteries warm. Rookie mistake, I guess. From here on, I kept my spare batteries against my body whenever we ventured out into the cold, arctic air.
By the time we got back to the kayaks the sun was shining. We kayaked across Adventfjorden and our excursion was over.
What a perfect way to start our tour of Svalbard. Now, whenever we looked across the fjord to Hiorthfjellet, we could proudly reminisce about the few moments that we stood up there.
This entire day was amazing. If you like hiking or you are looking for a unique one day adventure in Svalbard, this is one to add to your list. Not only do you get to summit a mountain in the arctic, but you get to see wildlife, learn about the miners who lived and worked here, and get the feeling that you are hiking somewhere relatively remote.
Want to see more? Check out Tyler's video:
Helpful Tips for Hiking to Hiorthfjellet
We did this hike at the end of June. The high temperature in Longyearbyen was 6°C (43°F) and it was much colder up on Hiorthfjellet.
The minimum age is 16 years. When we did this, Tyler was 15 and Kara was 13. We spoke directly with SWE, and once they learned of Tyler and Kara's extensive hiking and kayaking experience, they waived the 16-year minimum age. However, we agree that the minimum age of 16 is a good recommendation. This is a long day and weather conditions can change quickly, so it is not recommended for younger kids.
We wore waterproof Merrell hiking shoes, one pair of socks, one pair of hiking pants, one long-sleeve shirt, a fleece, a rain jacket, a hat, and gloves. There were a few moments where we did get cold, but I'm glad that we left our big, bulky winter coats in the hotel.
If it is a windy day, it can feel much colder. We had to deal with snow but the winds were relatively calm. If you have plans to do this when the winds are blowing, consider bringing more layers.
The amount of snow on the trail varies day-by-day and year-by-year. Some years, the snow can be completely gone by late June. In 2018, when we did this, the snow was over 2 feet deep in some spots. Hiking boots will help, but even those do not go high enough on your legs to keep your feet dry. Nanna's boots went almost up to her knees.
In addition to bringing along cold, water resistant clothing, you should also bring water, sunblock, and your camera.
Can you hike Hiorthfjellet on your own?
It is possible to do this hike on your own, but you will need to carry a rifle (in case you cross paths with a polar bear) and rent a kayak and drysuit to cross Adventfjord. Since there is not a marked trail up Hiorthfjellet, you can either follow a GPS map or simply climb the mountain until you get to the top.
Nanna told us that it is possible to rent a rifle in Longyearbyen. I do not have the details about this (since we did not do it), so it make take some research on your part if you are considering hiking on your own.
---
More Information
about
Svalbard:
---
Does this look like something you would like to do? Comment below if you have any questions.
More Information for Your Trip to Norway
PLACES TO GO IN NORWAY: For a list of top experiences in Norway, don't miss our Norway Bucket List. If you are a hiker, we also have a hiking guide with 14 epic day hikes to do in Norway.
NORTHERN NORWAY ITINERARY: On this 10 day Norway itinerary, road trip through Senja and the Vesteralen Islands, two beautiful off the beaten path destinations, and visit the Lofoten Islands.
10 DAYS IN THE FJORD REGION: On this 10 day itinerary through the fjord region, visit southern Norway: Bergen, Geirangerfjord, and Stavanger and hike Trolltunga, Pulpit Rock and Kjeragbolten.
MORE GREAT HIKES IN EUROPE: From thrilling trails in the Alps to easy walks along the coast, read our article 20 Best Hikes in Europe for some beautiful hiking trails to put on your travel wish list.
EUROPE TRAVEL INSPIRATION: For more great ideas on where to go in Europe, check out our article 30 Beautiful Places to Visit in Europe. You can also get more travel ideas in our 10 Days in Europe itinerary guide, which has 10 great itineraries for your next trip to Europe.
Is your trip to Svalbard part of a bigger trip to Norway? Read all of our articles about Norway in our Norway Travel Guide.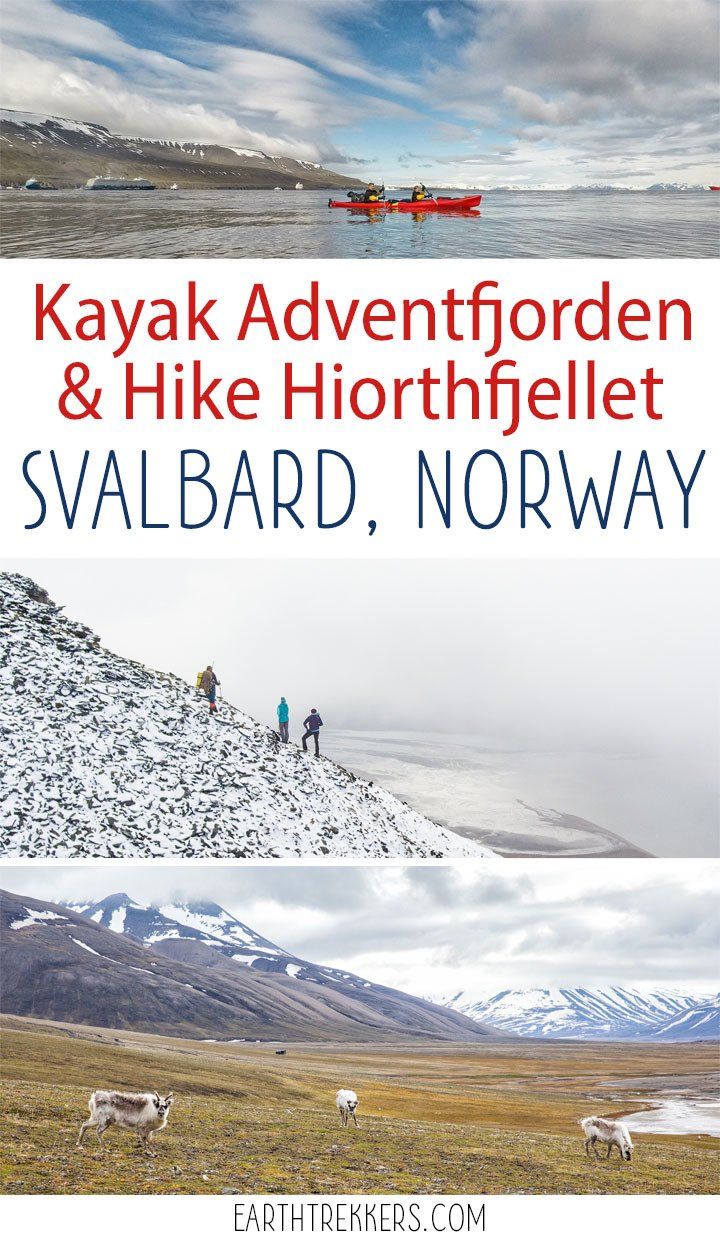 All rights reserved © Earth Trekkers. Republishing this article and/or any of its contents (text, photography, etc.), in whole or in part, is strictly prohibited.