Do you have big dreams of visiting Svalbard? Then you probably also have the question how much does it cost to visit Svalbard? The short answer: it can be very expensive. We spent four days in Svalbard at the end of June 2018. Here is our Svalbard budget, with a full cost breakdown of flights, activities, food, and accommodations.
Why is Svalbard so Expensive?
Svalbard is the most expensive place we have visited. With a high cost of living and the fact that almost everything you see here was imported, you will absorb some of that expense in your trip costs.
It is also very difficult to travel independently in Svalbard. With polar bears roaming around, you cannot leave the town of Longyearbyen without a guide and/or a rifle. That forces you to join tours or hire a guide if you want to do pretty much anything: hike, kayak, cruise, you get the idea.
If you travel to Svalbard, you'll want to do a whole lot more than wander the few streets of Longyearbyen. And you'll have to pay to do that.
But it's worth it. Svalbard is such a unique place and it's worth spending the money to go out and explore it.
Without further ado, here is our Svalbard budget. Our prices are for the four of us (2 adults and 2 kids). The conversions from Norwegian Krone to US dollars is from March 2020.
Our Svalbard Budget
Accommodations
We stayed in two hotels, simply because we could not find availability for a decent hotel for the four consecutive nights we stayed in Svalbard. And we made our reservations in February for our late June visit.
Basecamp Explorer: 2 nights
Cost: NOK 6794; $650.89 USD
We shared a family room that had 2 bedrooms that each had 2 single beds. There was also a loft that slept two people, so this room can accommodate up to 6 people. We had our own bathroom and a small living area. Breakfast is included with the price of the room.
This place was awesome. Warm, cozy, and rustic, it's just what you imagine an arctic hotel to look like.
Click here to check room availability and rates on Booking.com.
Radisson Blu: 2 nights
Cost: NOK 5566; $533.24 USD
The Radisson Blu is the largest hotel in Longyearbyen. This had a totally different vibe than the Basecamp Explorer. This seemed to be where all of the tour groups stayed. It did not have that quiet, cozy, rustic feel like Basecamp Explorer but our room was amazing.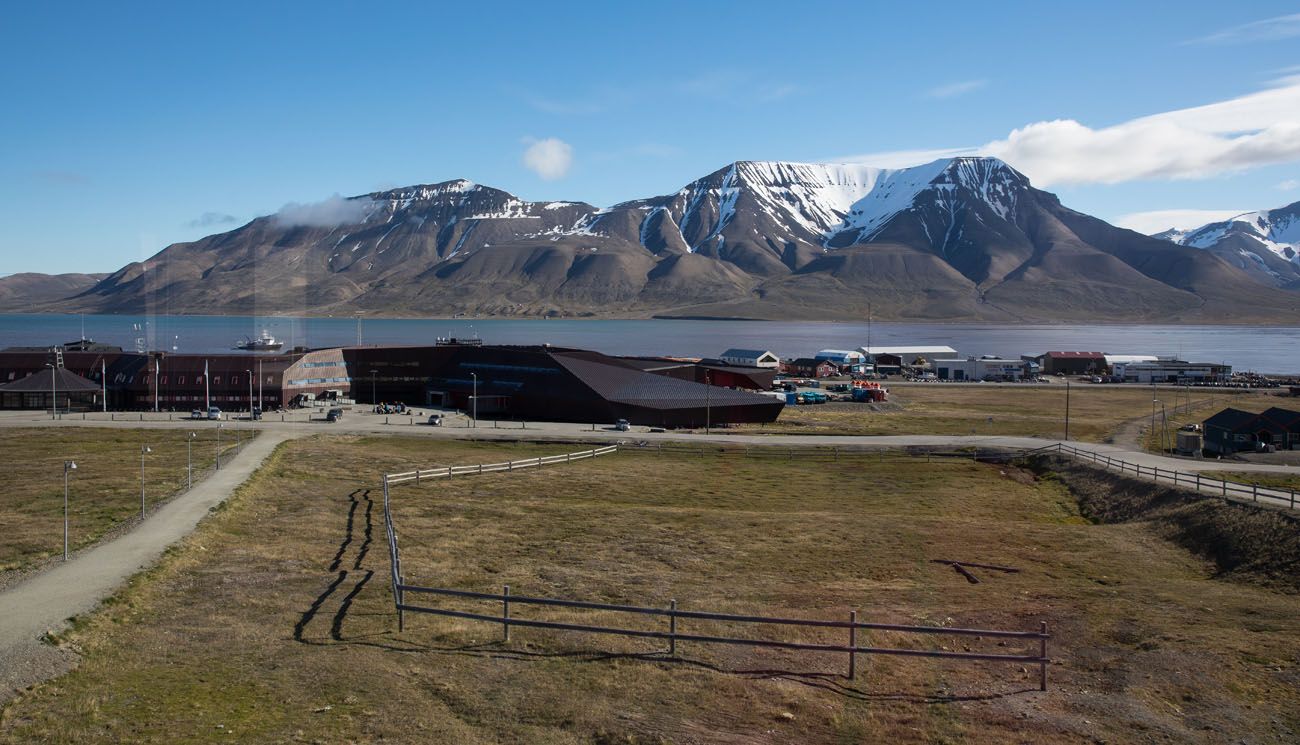 View from our room.
We stayed in the Ulf Prytz suite. This place was huge and our view across Adventfjord to Hiorthfjellet was spectacular. Tyler and Kara slept on pull out sofas in the living room and Tim and I slept in the bedroom. Breakfast was also included.
Click here to check room availability and rates on Booking.com.
Total for Accommodations: NOK 12,360, $1,184.14
Food
If you have heard the legends that dining out in Norway is expensive, it's no different in Svalbard. However, we were pleasantly surprised to learn that Longyearbyen has some great restaurants. So, at least when you spend a small fortune for dinner you know that the food will be good.
Breakfast was included at our hotels and for two days our lunches were included with our excursions. That left us on our own for 3 dinners and two lunches. Here's what we spent.
Dinner at Polfareren: NOK 1498, $143.49 USD
Dinner at Kroa: NOK 1418, $135.83 USD

Dinner at Kroa:

NOK 1138, $109.01 USD
Lunch at Svalbar: NOK 916, $87.74 USD
Lunch at Fruene AS: NOK 321; $30.75 USD

Snack on board the cruise to Pyramiden:

NOK 76, $7.28 USD
At dinner, we would order 4 entrees. The first night at Kroa we all ordered dessert which accounts for the higher cost that night. At several dinners, Tim and I also had wine. Lunch at Svalbar was 4 cheeseburgers, 3 Coca-Colas, and Tim and I split a beer.
Total cost for Food: NOK 5367, $514.06
Tips to Keep Costs Down: Skip the alcohol and desserts. Polfareren is an upscale, gourmet restaurant which explains why this was our most expensive meal. Stay in an accommodation where you can cook your own meals and buy your food at the grocery store in town.
Pro Travel Tip: It's better to put your money into the excursions than into dinner every night, in my opinion. By cutting costs on meals you will have more money to go dog sledding or kayaking.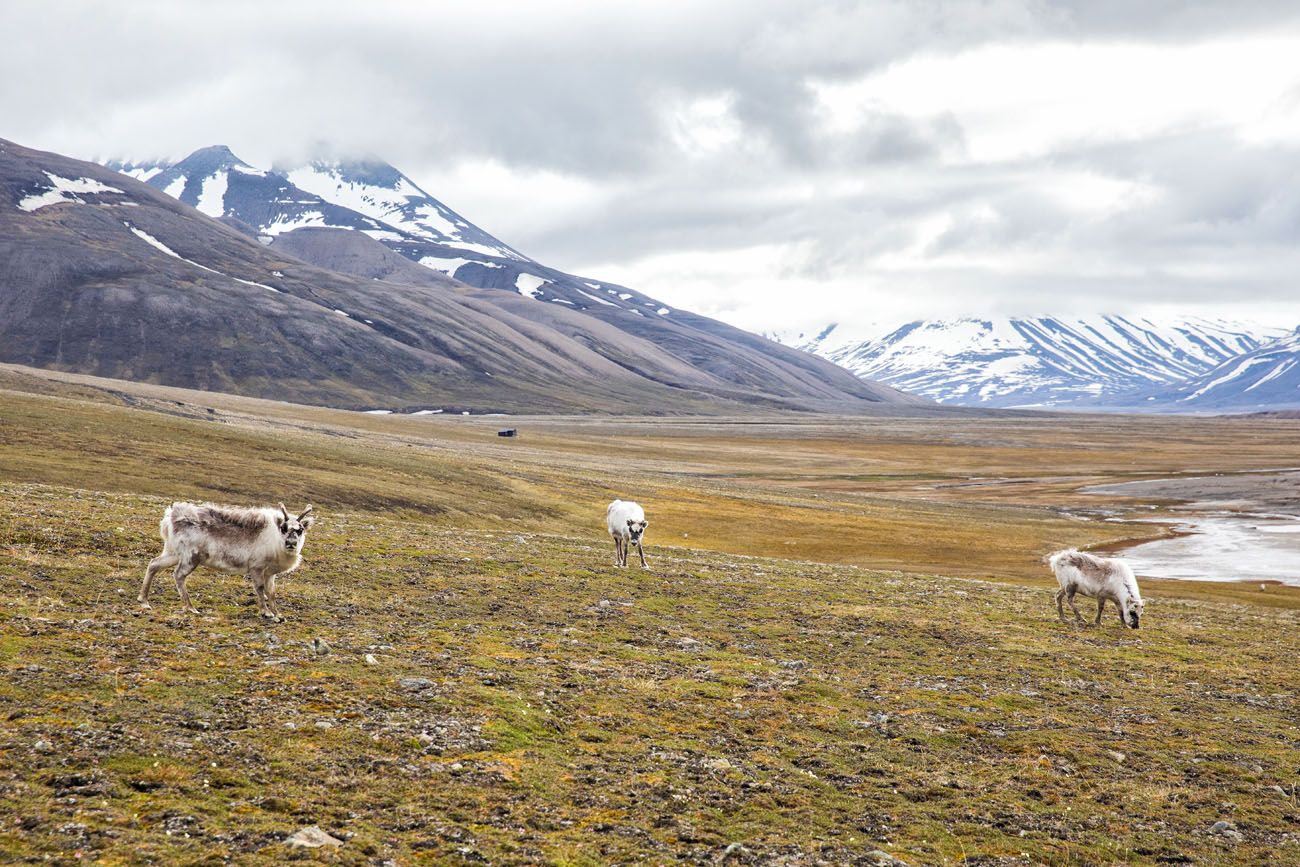 Svalbard reindeer seen on our hike to Hiorthfjellet
Excursions
Depending on what you choose to do, excursions will be the most expensive part of your Svalbard budget. But you have to do it. If you are going to fly all of the way to Svalbard, you have to be prepared to fork out some serious money in order to leave Longyearbyen and really experience the island.
Cruise to Pyramiden
Cost: NOK 5100; $488.49 USD
This is the cheapest excursion we did. It's also extremely popular, probably because of its lower cost and ease to do.
With a company called Arctic Explorer, we spent 7 hours cruising from Longyearbyen to Skansbukta, Nordenskiold Glacier, and the Russian ghost town, Pyramiden.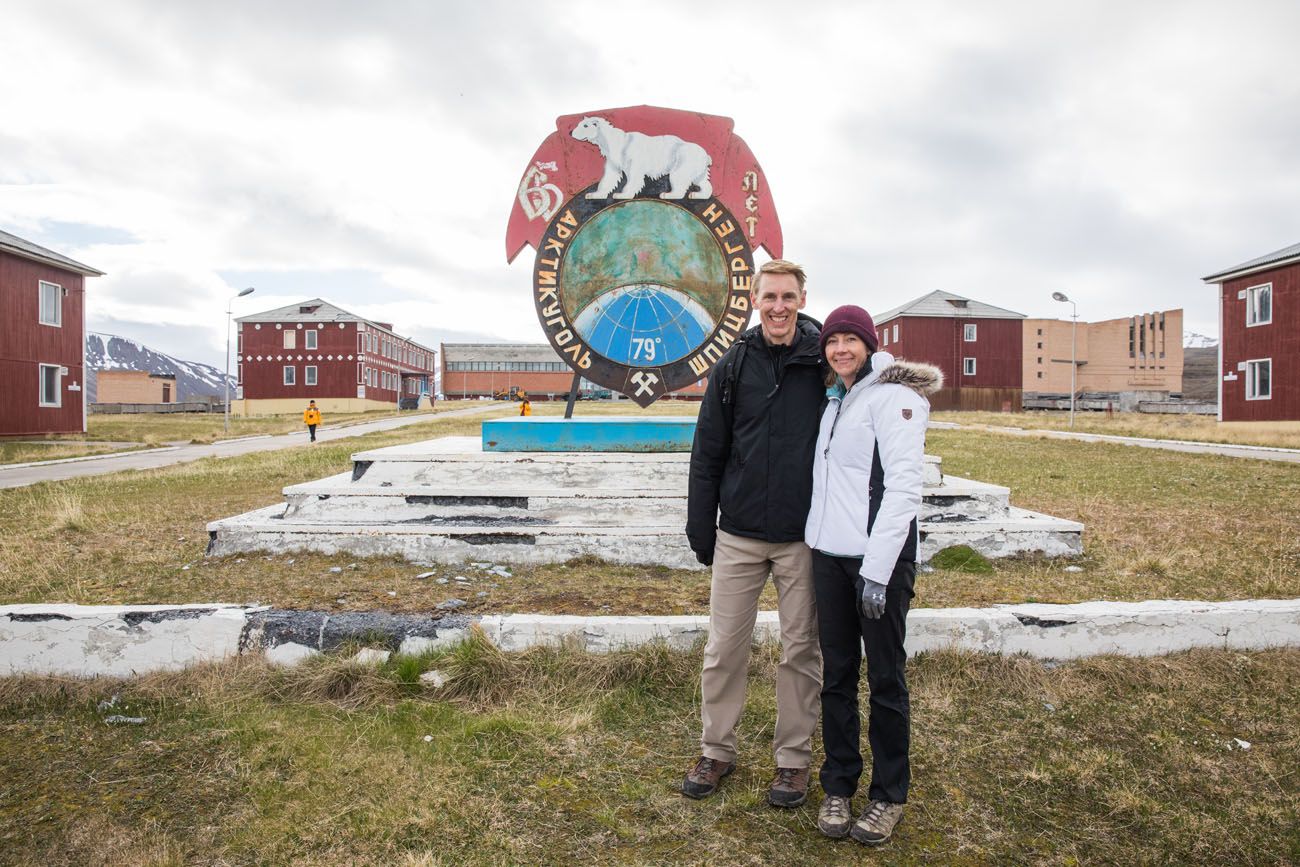 We paid a little extra to cruise with Arctic Explorer, since they offer the "fast boat." There are other companies that offer the same excursion at cheaper prices, but their boats are slower so this can take up your entire day.
Kayaking and Hiking Excursion
Cost: NOK 6760; $647.48 USD
This was awesome. On our first full day in Svalbard, we kayaked across Adventfjord, hiked up Hiorthfjellet, and then kayaked back to Longyearbyen. It was a 10-hour day and all of our gear and lunch was provided. It may sound expensive just to go kayaking and hiking (and it is) but it was worth every single penny.

Kayaking across Adventfjord
Glacier Kayaking
Cost: NOK 10,360, $991.82 USD
This was our big ticket item in Svalbard. We balked at the price and almost didn't do it because it was so expensive.
With a company called Better Moments, we joined a small group, took a rib boat out to Skea Glacier, and then spent several hours kayaking around the front of this active glacier. During the ride back to Longyearbyen, we ate lunch on board the rib boat. Just like the kayaking and hiking excursion, this was awesome and worth every penny.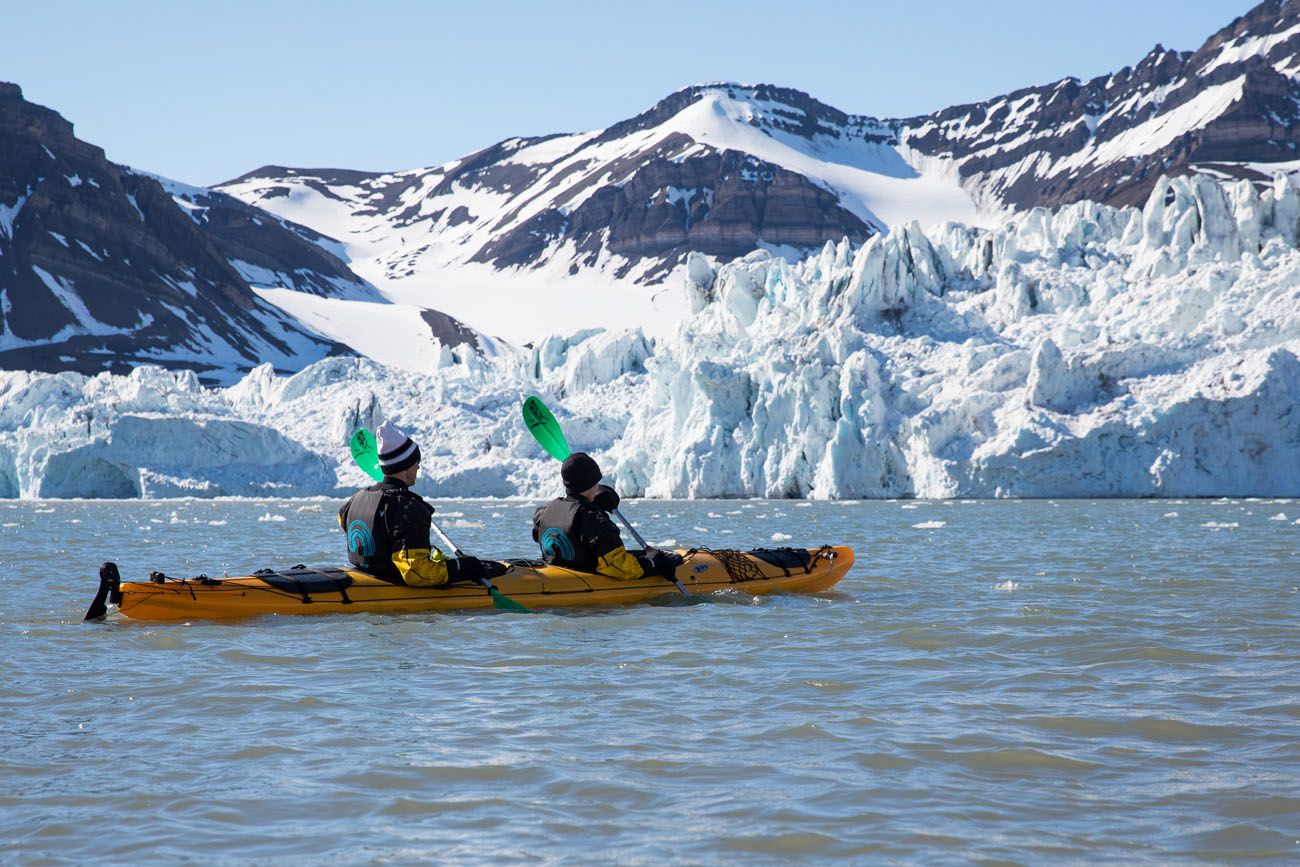 Total Cost for Excursions: NOK 22,220, $2,127.24 USD
Sample Costs for other Excursions
Here are some costs of other activities you can do on Svalbard. All of these prices are per person. You can see more on the Visit Svalbard website.
Half-day Dog Sledding in summer: NOK 1660

Half-day Dog Sledding in winter:

NOK1250, kids NOK 1050

Hike to Platafjellet (3 hour hike):

NOK 550
Snowmobile to the Northern Lights Camp (5 hours): NOK1990
Full day snowmobiling from Longyearbyen: NOK 3290

Visit an Ice Cave:

NOK 2490
Flights to and from Svalbard
We flew from JFK Airport to Oslo to Longyearbyen on Norwegian, so our first flight cost includes the trans-Atlantic journey. We paid $2092 USD to fly from JFK to Longyearbyen.
Later in the week, we flew from Longyearbyen to Tromsø on SAS Airlines, for a total cost of $948.32.
Norwegian and SAS offer flights to and from Longyearbyen. SAS offers daily flights from Tromsø. Norwegian offers three flights per week, more during the summer months. The cost of these flights can change dramatically depending upon the season you visit. Visit their websites for updated information.
Miscellaneous
Airport Shuttle Bus
To get to and from the airport, you can hire a taxi (more expensive) or take the shuttle bus (less expensive). We took the shuttle bus.
Cost per person: NOK 75 one-way; NOK 120 round-trip
Our total cost: NOK 240, $23; they did not charge for Tyler and Kara since they were kids, so this price of NOK 240 is for two adults.
Svalbard Museum
Cost: NOK 210, $20 USD
North Pole Museum
Cost: NOK 300, $29 USD
Total for Miscellaneous Expenses: NOK 750, $72
Grand Total
Here is our grand total for 3.5 days and 4 nights in Svalbard, not including flights, for our family of four:
Grand Total: NOK 40,697, $3,894.74 USD
Worth it? Totally. It was the highlight of our summer travels and one of the coolest places we have ever been (no pun intended).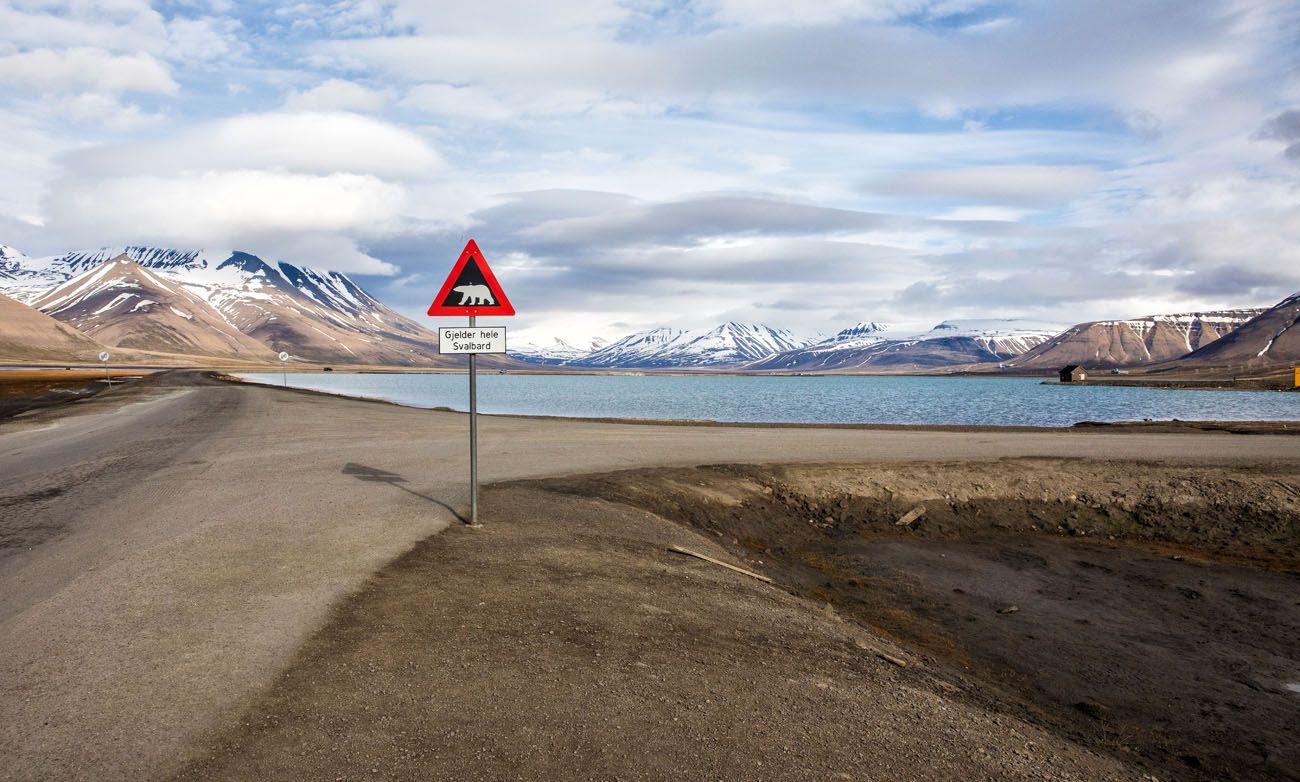 Plan Your Trip to Svalbard
Read more about visiting Svalbard:
Visit Svalbard
Go to the Visit Svalbard website to learn more about excursions, where to stay, and when to go. You can also book your excursions through the Visit Svalbard website.
---
Do you have plans to visit Svalbard? If you have any questions about this budget or want to learn more about Svalbard, ask us in the comment section below.
You Might Also Like: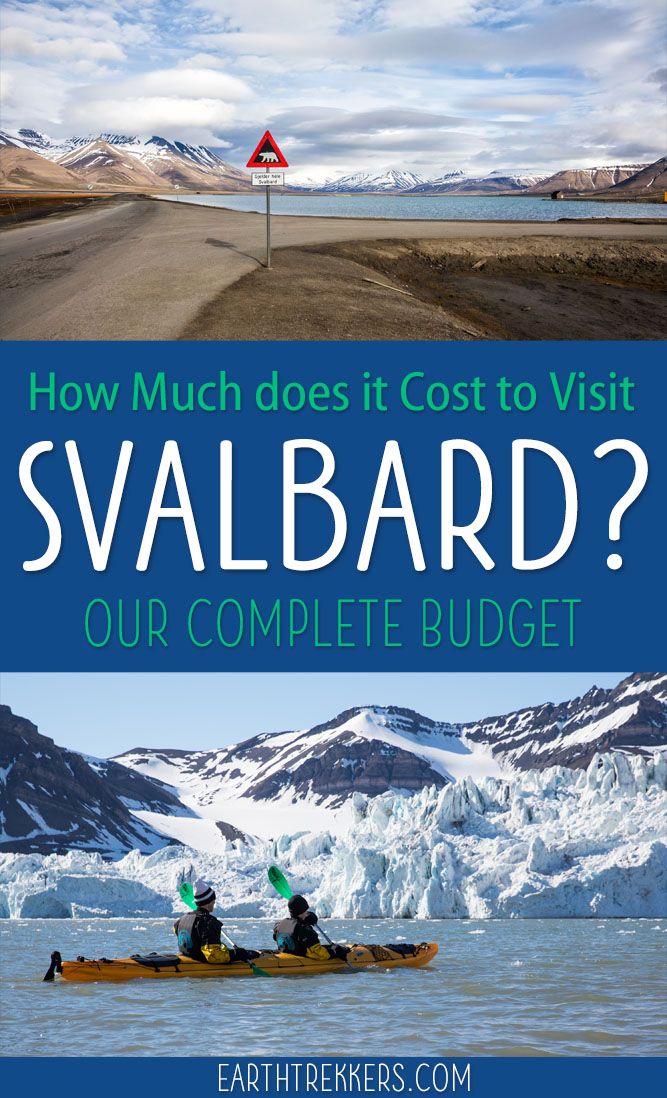 Note: This post contains affiliate links. When you make a purchase using one of these affiliate links, we get paid a small commission at no extra cost to you.
All rights reserved © Earth Trekkers. Republishing this article and/or any of its contents (text, photography, links, etc.), in whole or in part, is strictly prohibited.