Longyearbyen is the world's northernmost city. This is a town where the streets have no names, reindeer wander through town, and there are more snowmobiles than people. If you have plans to visit Svalbard, Longyearbyen is where you will eat, sleep, and fill your time in between arctic adventures.
The best thing to do in Svalbard is to leave the "city" behind and go on excursions into the wilderness. Here are some ways to fill your time while hanging out in town.
But first…
A Few Fun Facts about Svalbard
About 2,100 people from 50 countries call Svalbard home. Norwegians are the largest group, but you can also meet a fair amount of people from Sweden, Russia, and Thailand.
The streets have numbers rather than names.
July is the warmest month, with high temperatures averaging a balmy 7°C (45°F). It's coldest here from January through March, with high temperatures averaging -13°C (9°F). That's cold, but probably not what you would expect for a city located so far north. The western side of Svalbard receives the warm Atlantic current and this helps moderate the temperatures in Longyearbyen.
Cats are banned in Svalbard since they hunt and kill the native birds.
It's "illegal" to die in Svalbard. Actually, it's not really illegal to die here, but if you do, you won't be buried here. The ground is made of permafrost, so bodies that are buried here do not decompose. So yes, there still are perfectly preserved bodies in Svalbard cemetery from 100 years ago.
Giving birth is out of the question, too. Three weeks before a woman's due date, she must return to the mainland in order to give birth. The medical facilities on Svalbard are not equipped to handle an emergency should one arise during labor and delivery.
It's customary to remove your shoes when entering hotels, shops, and restaurants in Longyearbyen. This is a tradition that dates back to the coal mining days, as a way to prevent coal dust from being tracked into the buildings.
If you plan to leave town, make sure you are carrying a rifle, just in case you cross paths with a wandering polar bear.
Best Things to Do in Longyearbyen
1. Svalbard Museum
This small museum teaches you about the history, geology, and wildlife of Svalbard. Learn about climate change, the animals that call Svalbard home, and the local history of Longyearbyen and nearby settlements. If you only have time to visit one museum while in Svalbard, this one gets our vote.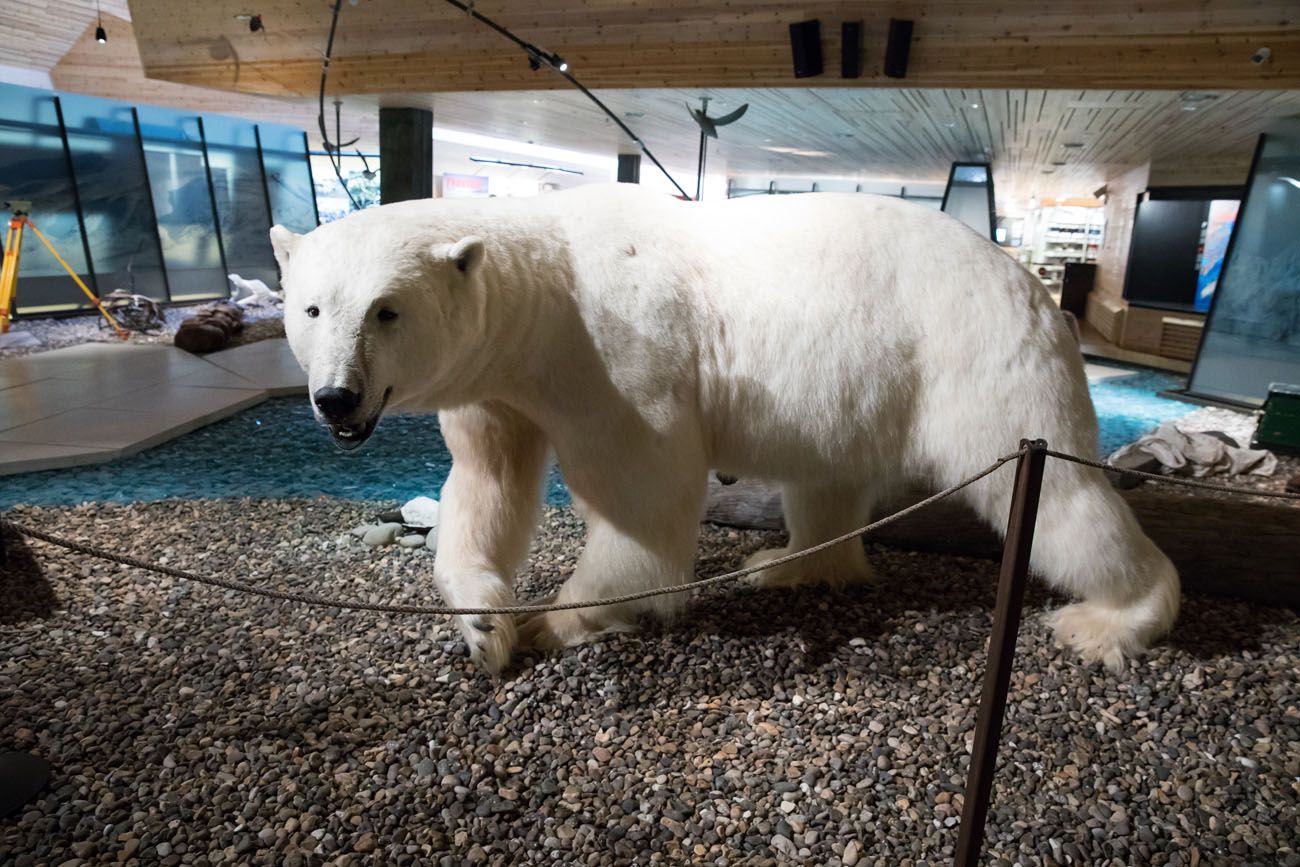 Svalbard Museum | Best Things to Do in Longyearbyen
2. North Pole Expedition Museum
Learn about the expeditions to the North Pole that have departed from Svalbard. Told through a large collection of newspaper clippings and posters, there is a lot of information here. This is worth it if you are interested in exploration history. Even though we thought the topic of North Pole exploration is fascinating, we thought the presentation of the information was overly detailed and even a little boring.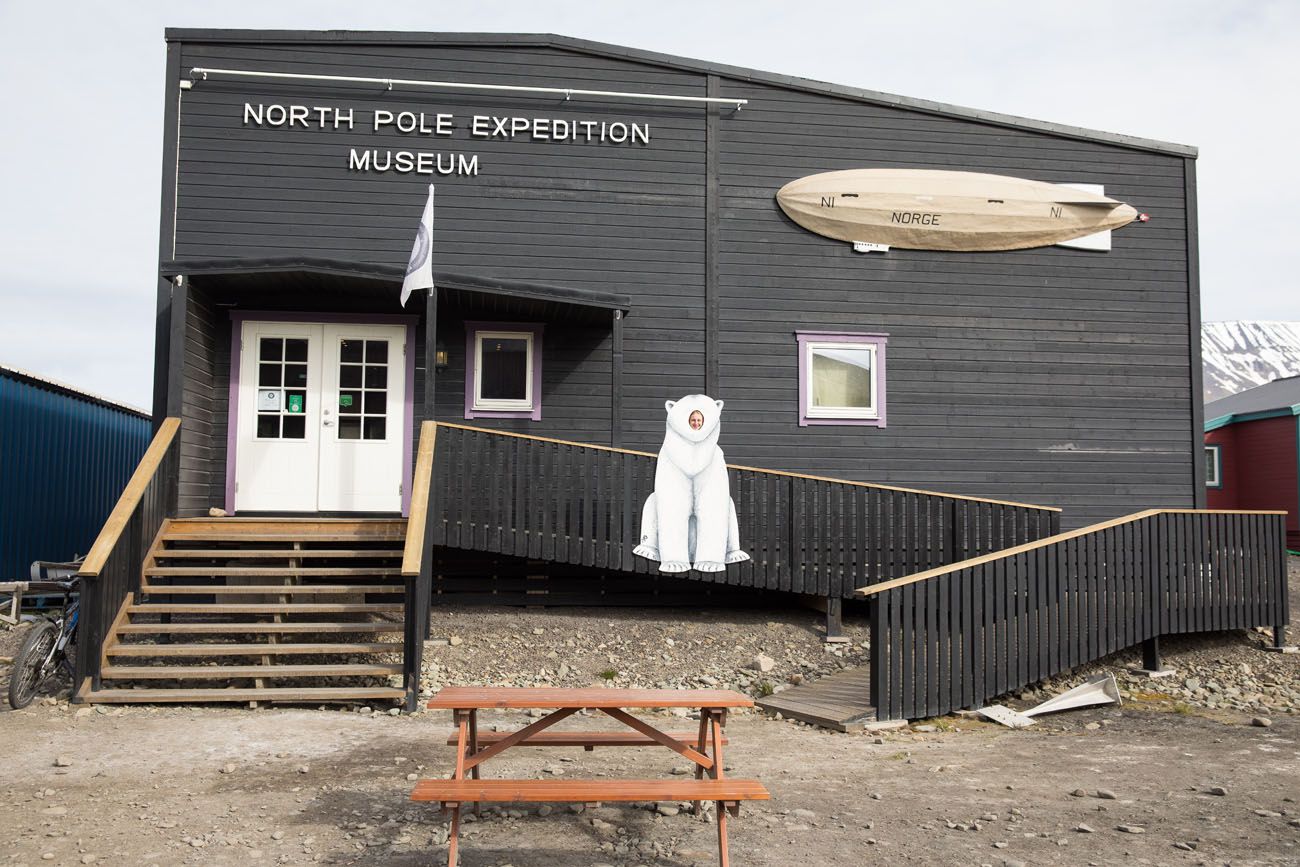 North Pole Expedition Museum | Best Things to Do in Longyearbyen
3. The Global Seed Vault
Housing 2.5 billion seeds, this vault is the world's safety net in case of global disaster. Almost 1 million different types of seeds are safely stored beneath the permafrost of Svalbard.
Visitors are not permitted inside of the Seed Vault, however, you can take a photo of the outside. Due to construction going on around the vault during our visit, we were unable to get near the entrance.
4. See How Many Polar Bears You Can Find
It's rare to see a polar bear in Longyearbyen, although it does occasionally happen. However, there are still a few places where you can spot a polar bear, whether it's graffiti, on signs, or as a work of art.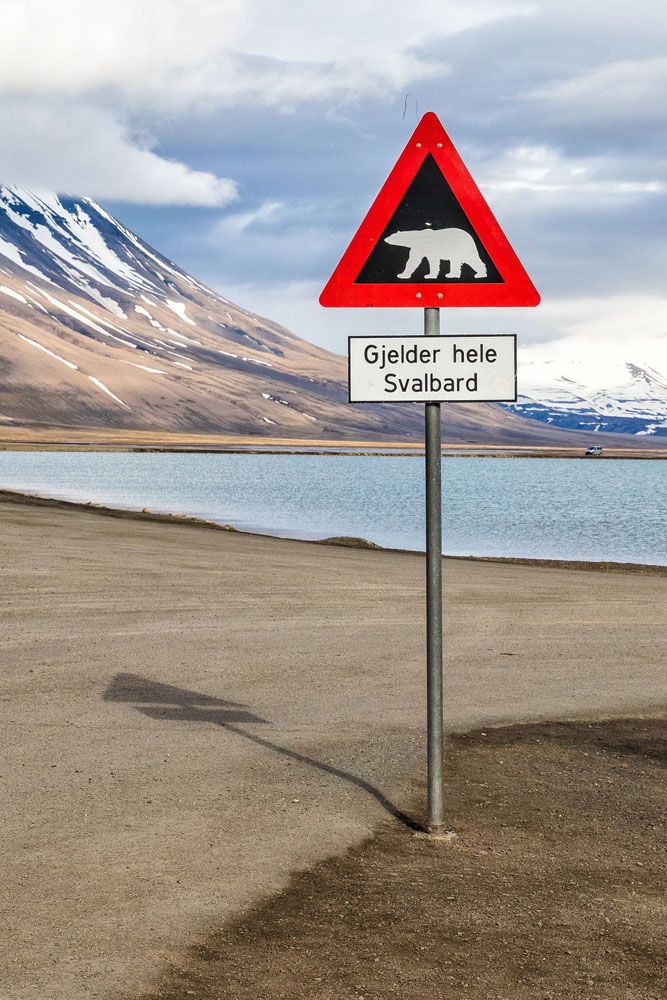 This popular street sign, located on the edge of town, marks where polar bear territory begins.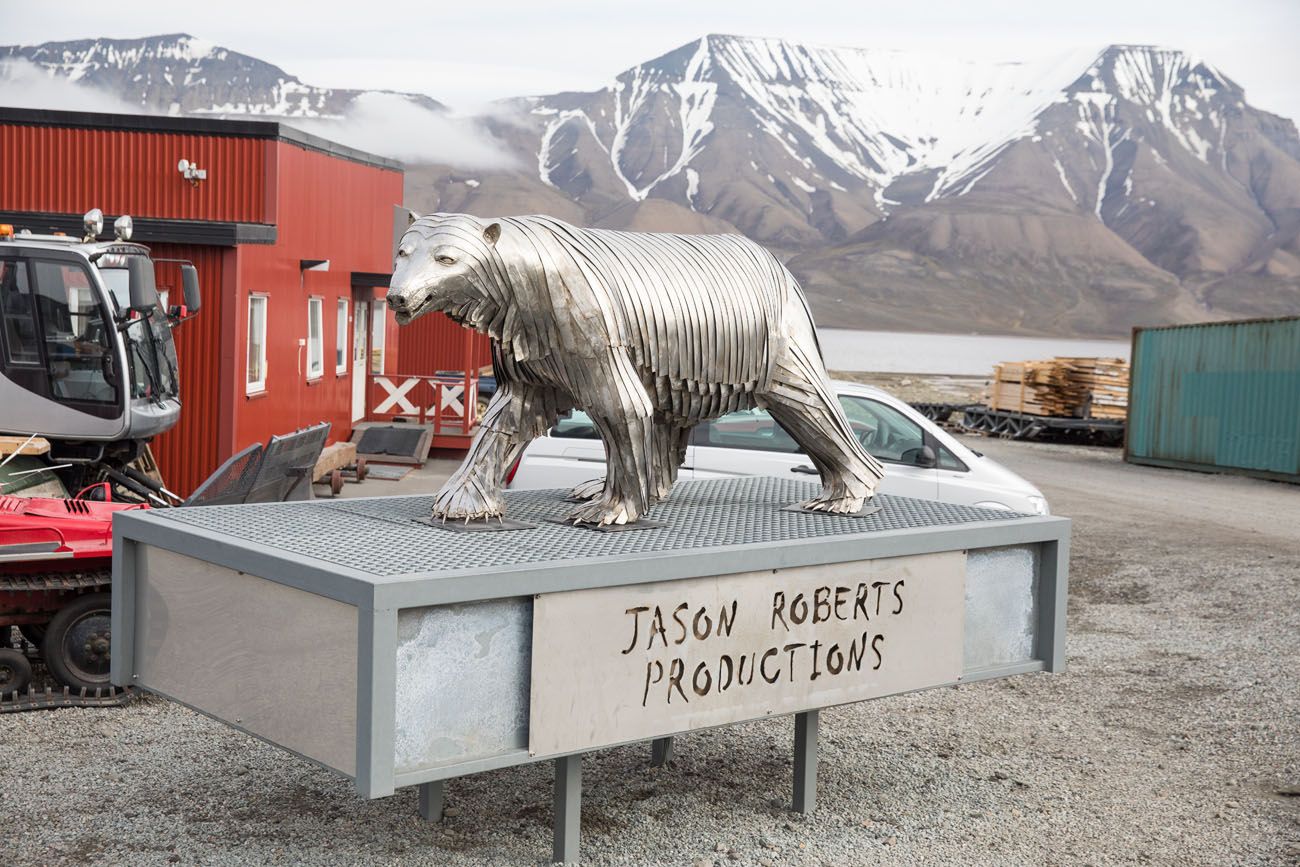 You can find polar statues on the side of the road.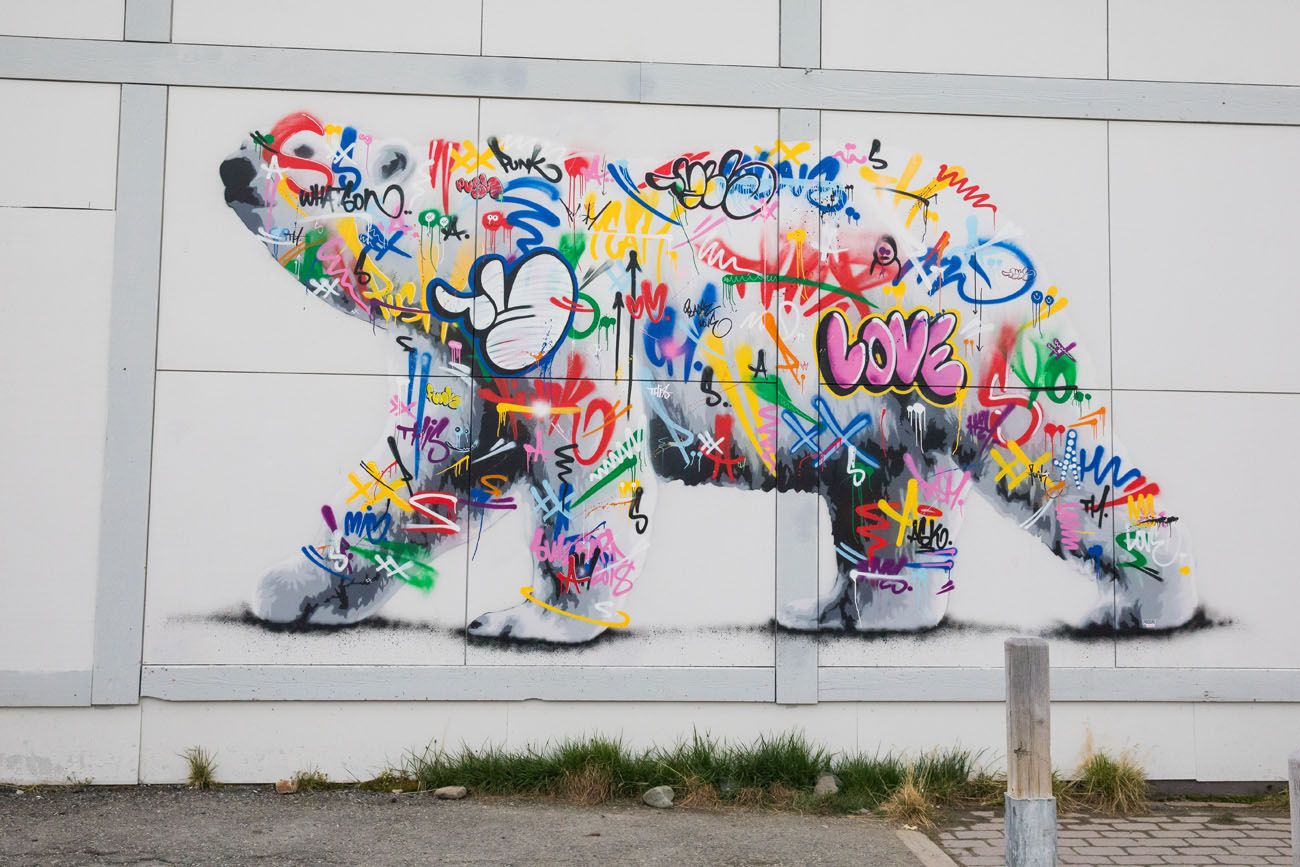 You can even find polar bear graffiti in town.
5. Svalbard Church
This is the northernmost church in the world. Located on hill on the edge of town, you can pop in for a quick visit and enjoy the view over Longyearbyen.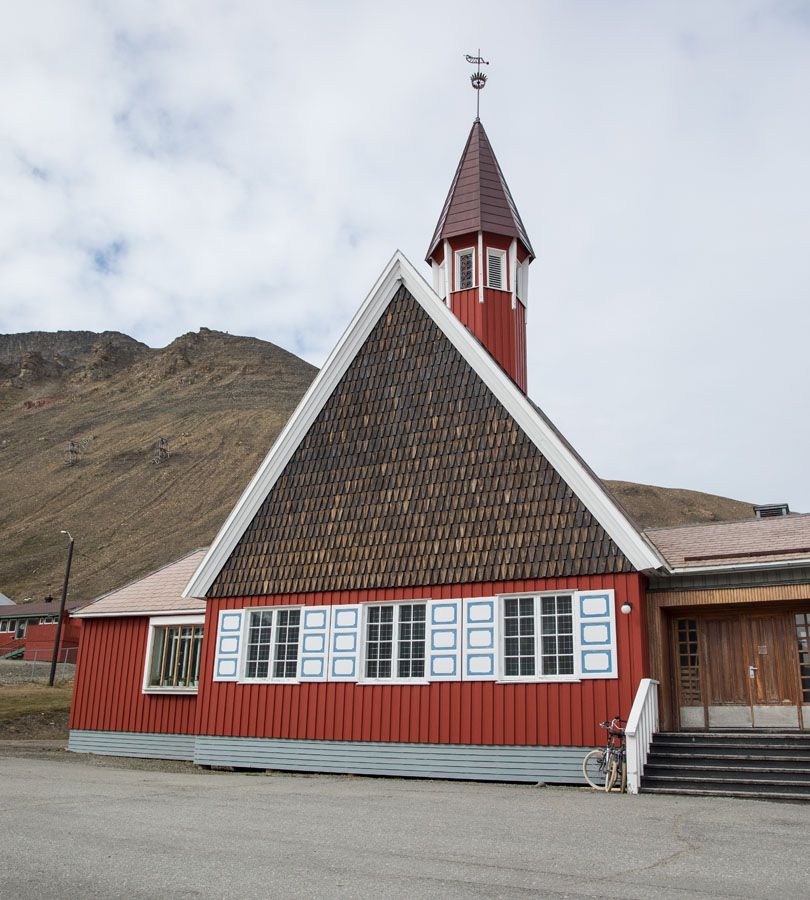 Svalbard Church | Best Things to Do in Longyearbyen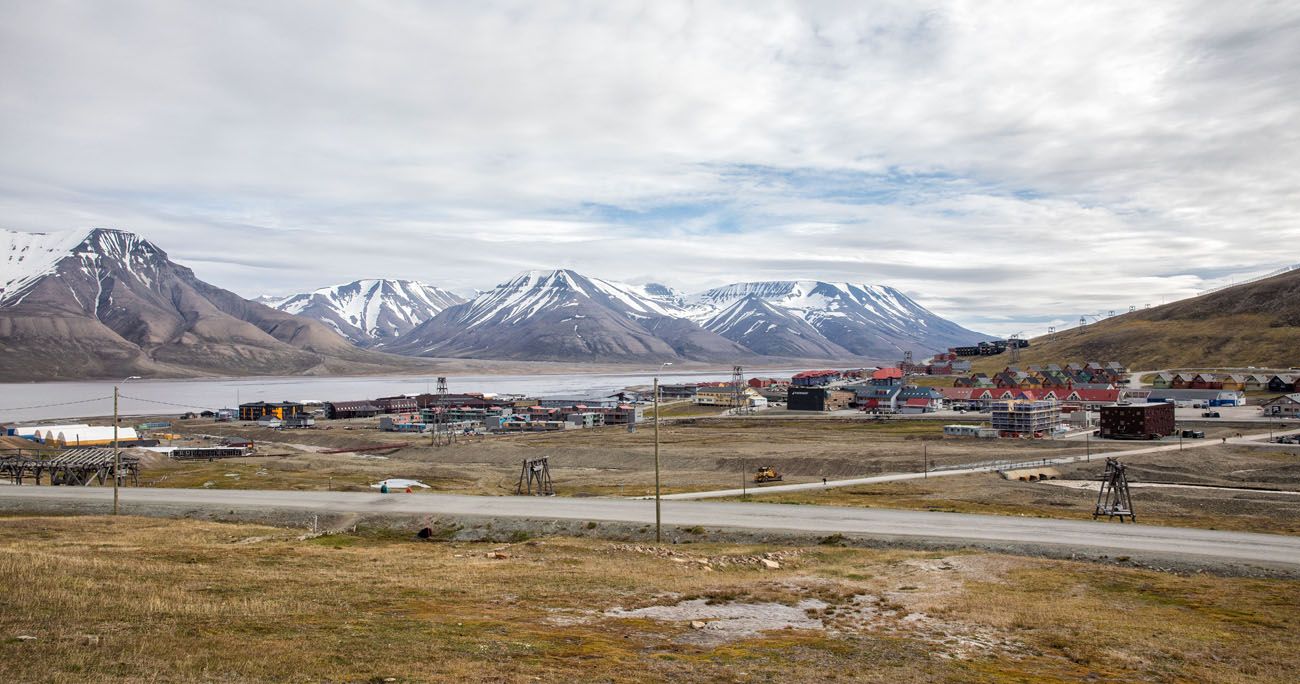 6. Go Shopping
Located along the main street in Longyearbyen are several clothing shops. This is the perfect place to go shopping for those unique Svalbard souvenirs: polar bear Christmas ornaments, toys for kids, and the quintessential "I've Been to Svalbard" t-shirt.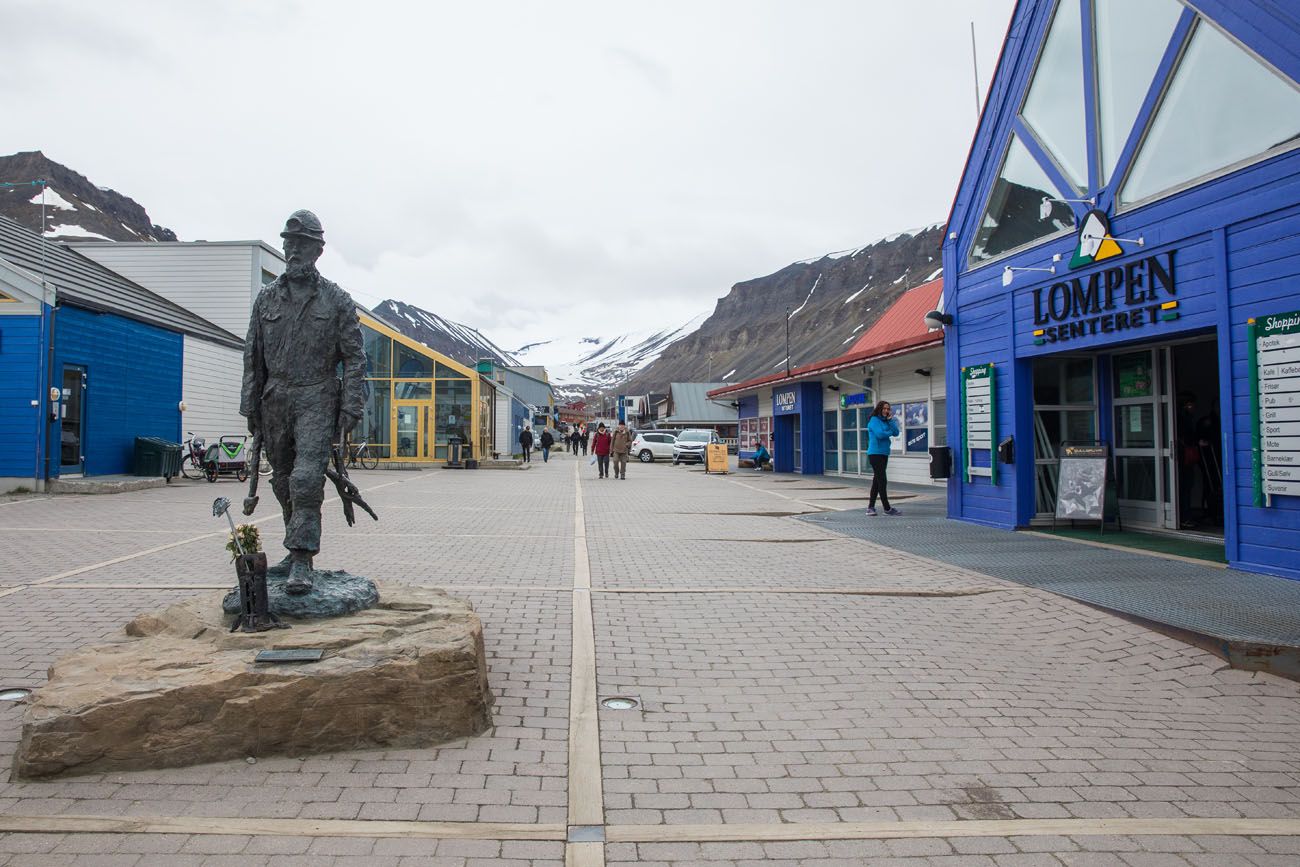 The main pedestrian walkway through the center of town | Best Things to Do in Longyearbyen
7. Svalbard Brewery
2015 is the year that the first beer was brewed in Longyearbyen. While in town, take a tour at the world's northernmost brewery.
8. Gallery Svalbard
Gallery Svalbard is Longyearbyen's art gallery and arts and crafts center. It is located in Nybyen, a small settlement just south of Longyearbyen, about a 10-minute walk from the center of town.
9. Pick Your Favorite Restaurant
This came as a complete surprise to us…there are a lot of great restaurants in Longyearbyen. We had no idea that such a small town in the arctic could be home to so many fantastic restaurants.
We were in town for a few days and some of our meals were included on our excursions, so we had limited time to try all of the restaurants on my list. Here is where we ate, plus a few highly recommended restaurants that we wished we made it to.
Kroa. This restaurant was recommended to us by Nanna, our guide on the Arctic Challenge. It was so good we ate here twice! It's warm and cozy inside, with a rustic décor and animal skins on the walls. The moose burgers are awesome and so is the chocolate fondant cake. If you're vegetarian, I ate the lentil stew, which was also very good.
Svalbar. This is a great place to go for burgers and beer.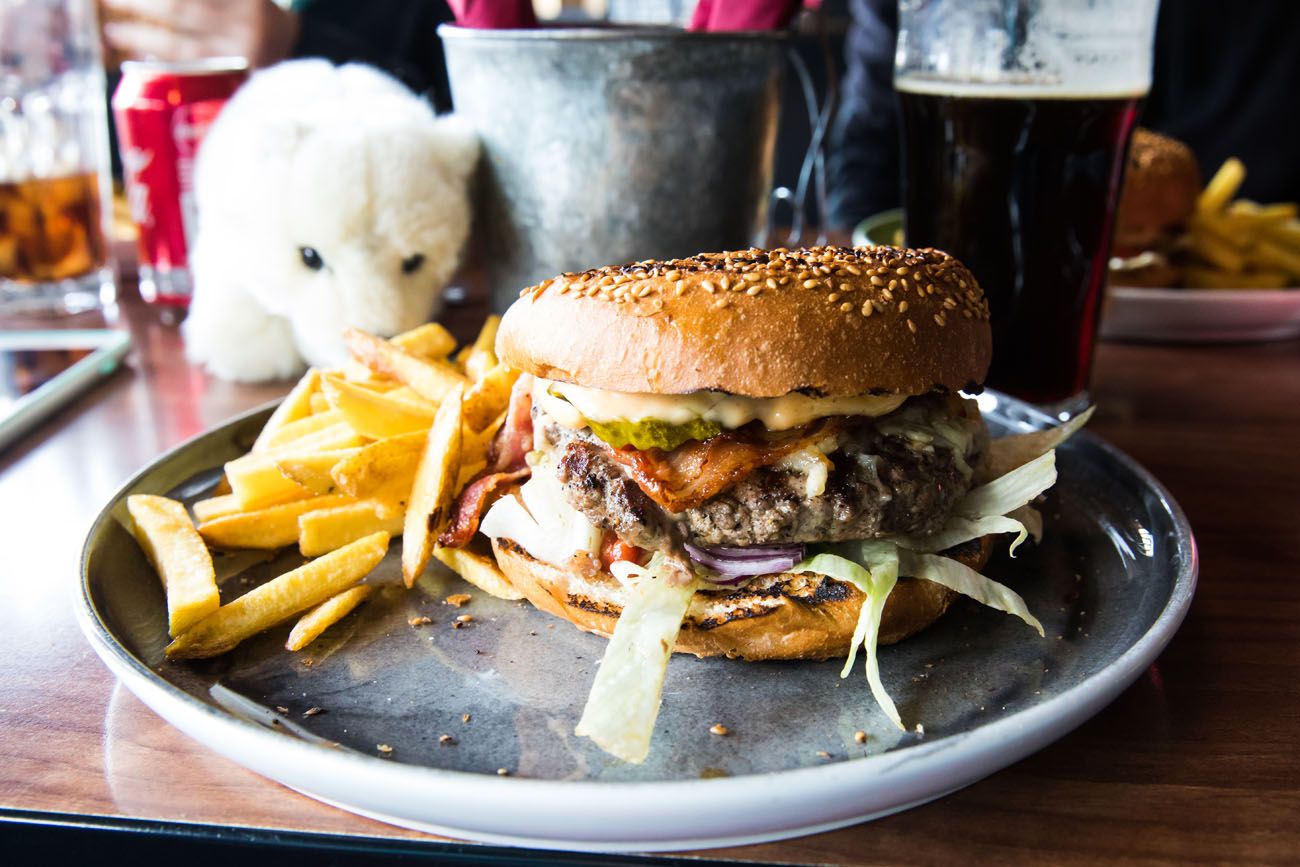 Polfareren. If you want a gourmet meal that doesn't totally blow the budget, we recommend this restaurant. Everything we ate was amazing.
Fruene Kaffe Og Vinbar. This bakery serves pastries and sandwiches and soups. It's a great place if you are looking for good, budget friendly food.
Gruvelageret. This is the closest you can get to a Michelin starred restaurant in Svalbard. Located in an old mining hut, you dine on a four course set menu of white bean soup, reindeer, halibut, and profiteroles.
Huset Svalbard. This is Longyearbyen's premier dining experience. Come here for a gourmet dinner or for a wine tasting. The 20,000 bottle wine cellar is the northernmost wine cellar in the world and receives multiple awards from Wine Spectator.
10. Hike up Plåtafjellet
So this technically is not in Longyearbyen, but if you want a bird's eye view of town and like the idea of hiking, put Plåtafjellet on your list. You will need to hire a guide, since you are leaving Longyearbyen and heading out into polar bear territory. It takes about 3 hours round trip and what a view!
We did not do this, choosing instead to hike Hiorthfjellet, but it's on our list if we are lucky enough to visit Svalbard again.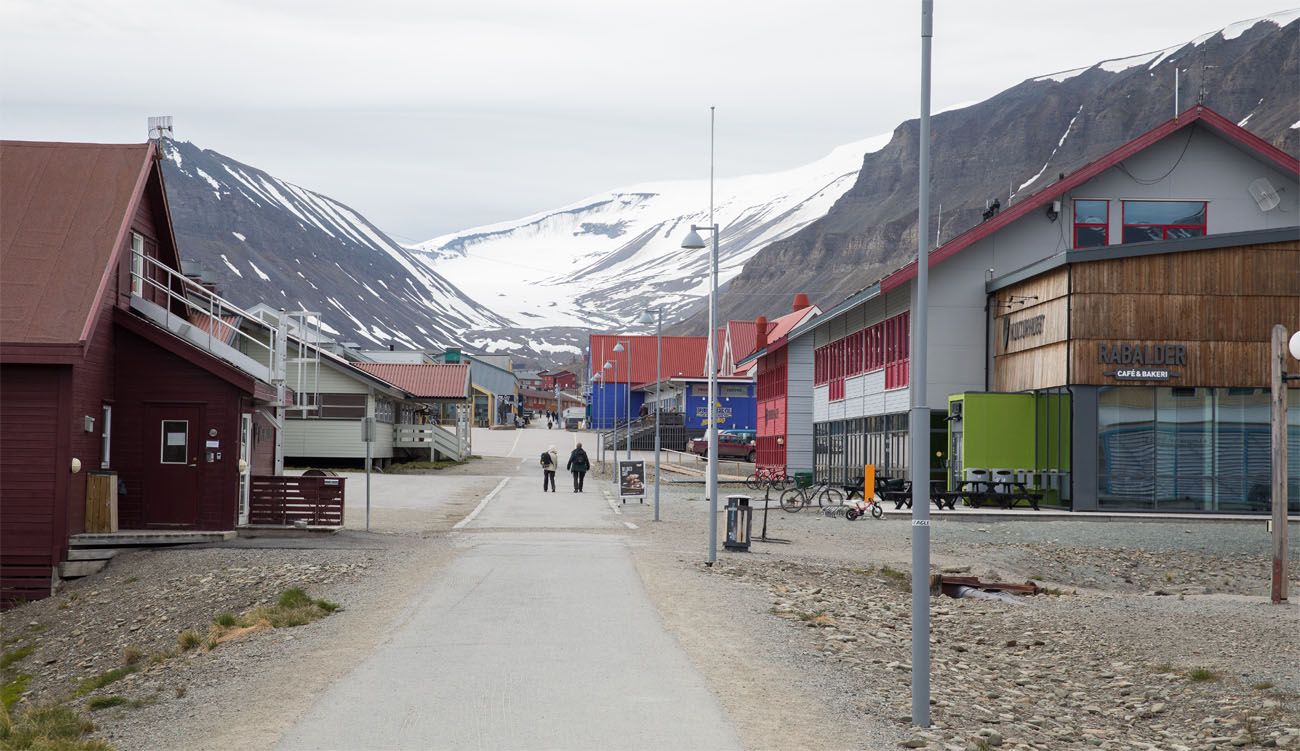 Another view of town | Best Things to Do in Longyearbyen
---
Longyearbyen is a very cool town to visit, but the best part about a visit here is leaving town and venturing out into the wilderness. Cruise the fjords, go on a snowmobile or dog sledding expedition, go kayaking or hiking…there are tons of adventures to choose from. We spent several days in Svalbard and went on three excursions. Check them out:
Where We Stayed
Basecamp Hotel. We shared a family room that had 2 bedrooms that each had 2 single beds. There was also a loft that slept two people, so this room can accommodate up to 6 people. We had our own bathroom and a small living area. Breakfast is included with the price of the room. This place was awesome. Warm, cozy, and rustic, it's just what you imagine an arctic hotel to look like.
Radisson Blu. The Radisson Blu is the largest hotel in Longyearbyen. This had a totally different vibe than the Basecamp Explorer. This seemed to be where all of the tour groups stayed. It did not have that quiet, cozy, rustic feel like Basecamp Explorer but our room was amazing. We stayed in the Ulf Prytz suite. This place was huge and our view across Adventfjord to Hiorthfjellet was spectacular. Tyler and Kara slept on pull out sofas in the living room and Tim and I slept in the bedroom. Breakfast was also included.
---
If you have any questions about the best things to do in Longyearbyen, let us know in the comment section below.
More Information for Your Trip to Svalbard & Norway
HOW TO VISIT SVALBARD: Learn more about how to plan a trip to Svalbard in our Svalbard Travel Guide. We also provide important planning information in our Svalbard Packing List and in our article about how much it costs to visit Svalbard.
LOFOTEN ISLANDS: For an overview of the best things to do, read our Lofoten Islands Top Ten List. Learn how to plan your time in our Lofoten Islands Itinerary. For advice on where to stay, read our Lofoten Islands Hotel Guide.
NORTHERN NORWAY ITINERARY: On this 10 day Norway itinerary, road trip through Senja and the Vesteralen Islands, two beautiful off the beaten path destinations, and visit the Lofoten Islands.
HIKES IN NORTHERN NORWAY: Segla is a beautiful but tough hike on the island of Senja. The Stave-Bleik Coastal Trail is a gorgeous hike in the Vesteralen Islands. In the Lofoten Islands, you can also hike to Ryten, hike Svolvaer Floya for views over Solvaer, or hike to the top of Reinebringen.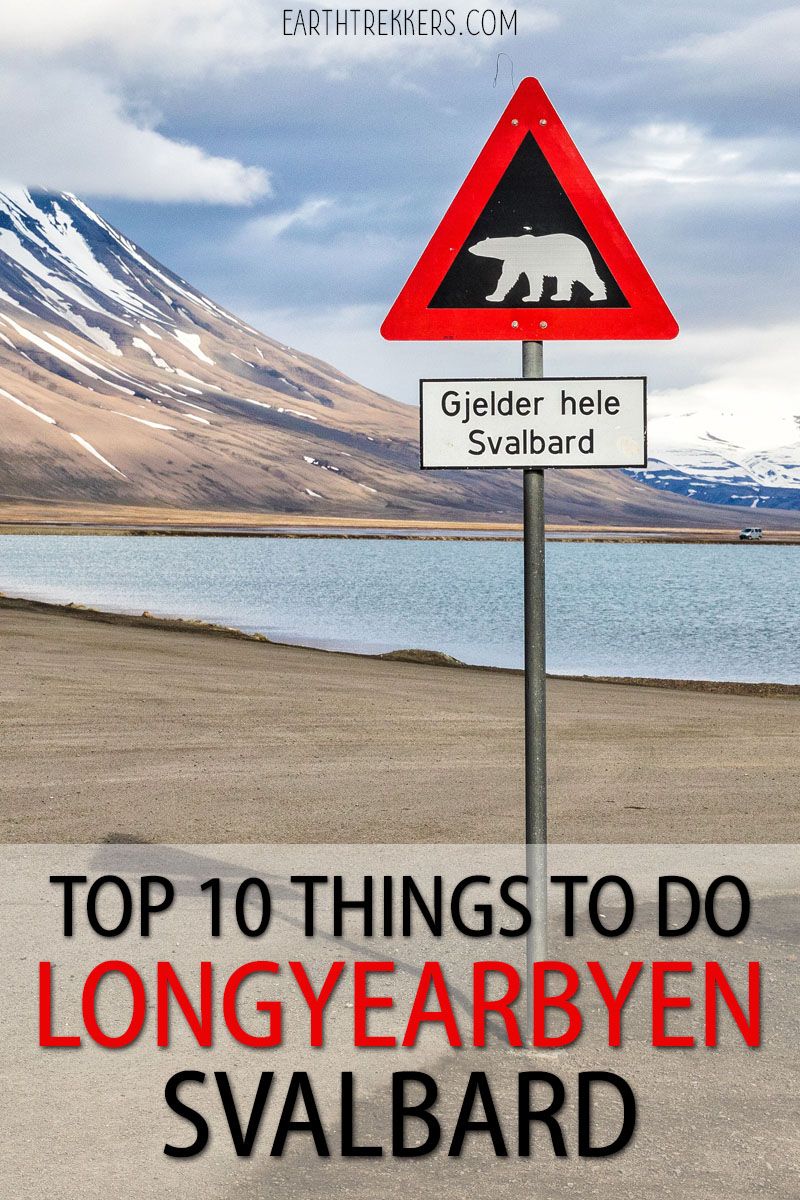 Note: This post contains affiliate links. When you make a purchase using one of these affiliate links, we get paid a small commission at no extra cost to you.
All rights reserved © Earth Trekkers. Republishing this article and/or any of its contents (text, photography, etc.), in whole or in part, is strictly prohibited.