Cruising to Pyramiden, an abandoned Russian mining town near Longyearbyen, is one of the most popular excursions in Svalbard. On the way, you also get to see a massive glacier, go whale watching, and if you're really lucky, you could even spot a polar bear.
According to National Geographic, Pyramiden is one of the top ten best ghost towns to visit in the world.
Why Cruise to Pyramiden:
Tour a ghost town in the Arctic circle
See the amazing Nordenskiold Glacier
Mail a postcard home from Pyramiden
Try Russian vodka at the hotel in Pyramiden
Get your passport stamped with a Russian stamp
Have a chance to see whale, arctic fox, reindeer, and maybe even a polar bear
We try to avoid tours and tour groups as much as possible when we travel, but this seemed like a must-do while we were in Svalbard. During the summer months, when the fjords are relatively ice-free, you can get to Pyramiden by boat.
Some boats take all day to make the round trip journey from Longyearbyen. However, there is a company, Arctic Explorer, that can zip you back and forth to Pyramiden in much less time.
We chose Arctic Explorer because their boat, the Aurora Explorer, is the "fast boat." It completes the journey to Pyramiden and back in just 6 hours, with quick side trips to Skansbukta and Nordenskioldbreen.
Important Note: Tours to Pyramiden are currently not being offered. The VisitSvalbard website states that any tours with any form of connection to Russian state-owned companies have been removed from their platform. Learn more here.
How to Cruise to Pyramiden
On the Cruise to Pyramiden
At 12:45 pm we were picked up from our hotel and driven to the Longyearbyen harbor. It was here that we boarded the Aurora Explorer.
The Aurora Explorer is a large catamaran that holds approximately 100 people. All seating is indoors, which is a good thing, because even during the summer months it can be quite cold. There are tables and chairs lining the sides of the boat, prime seating with the best view out of the windows. Line up early to get these seats. There are also rows of seats, similar to airplane seating, down the center of the boat.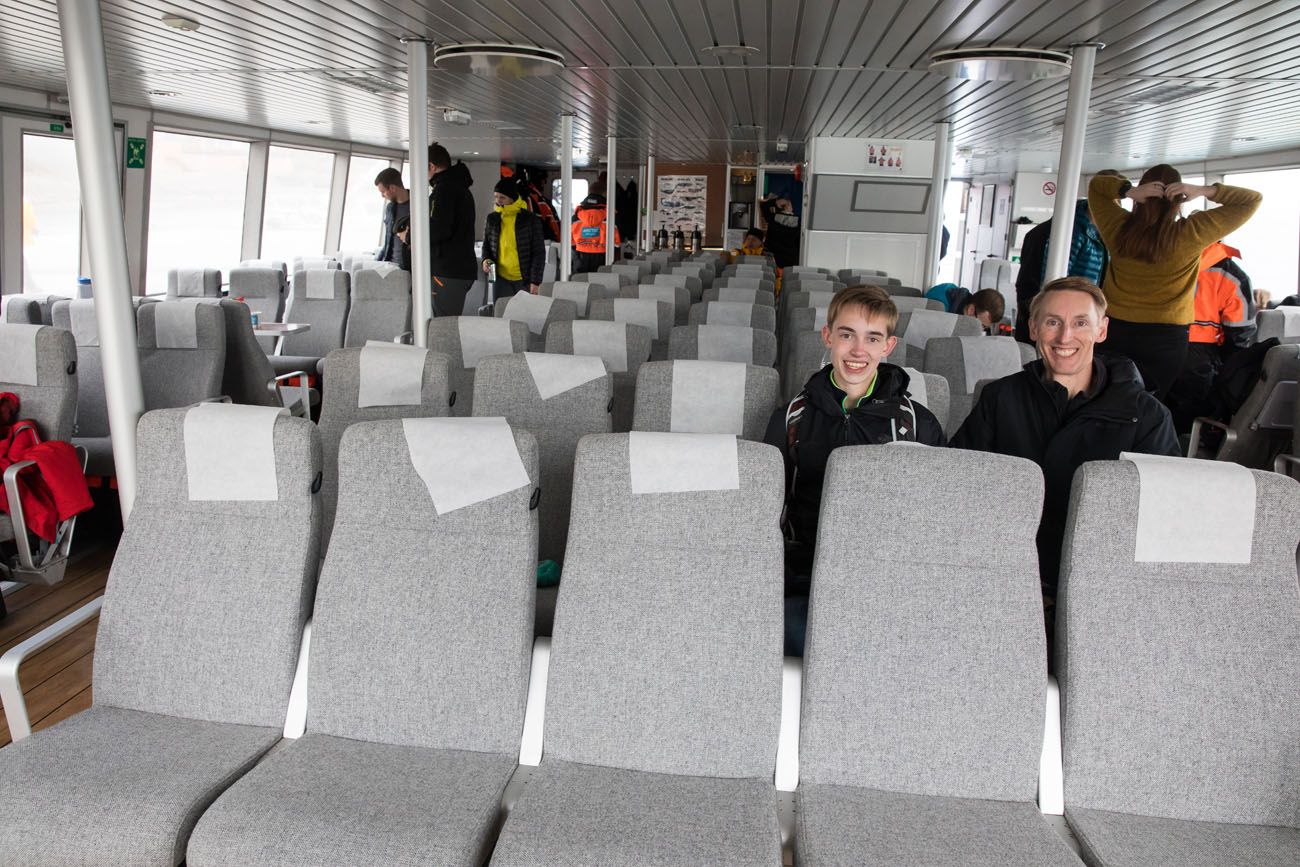 On board the boat is a café and a bathroom.
While the boat is in motion you are free to walk outside on the decks to take photos and enjoy the view. Just make sure you dress warmly! The air hitting you is bitterly cold, even in the summer.
At 1 pm the boat left the Longyearbyen harbor. We got stuck in the center seats since we were one of the last on board, but it wasn't a big deal since we got up so many times to go outside and take photos.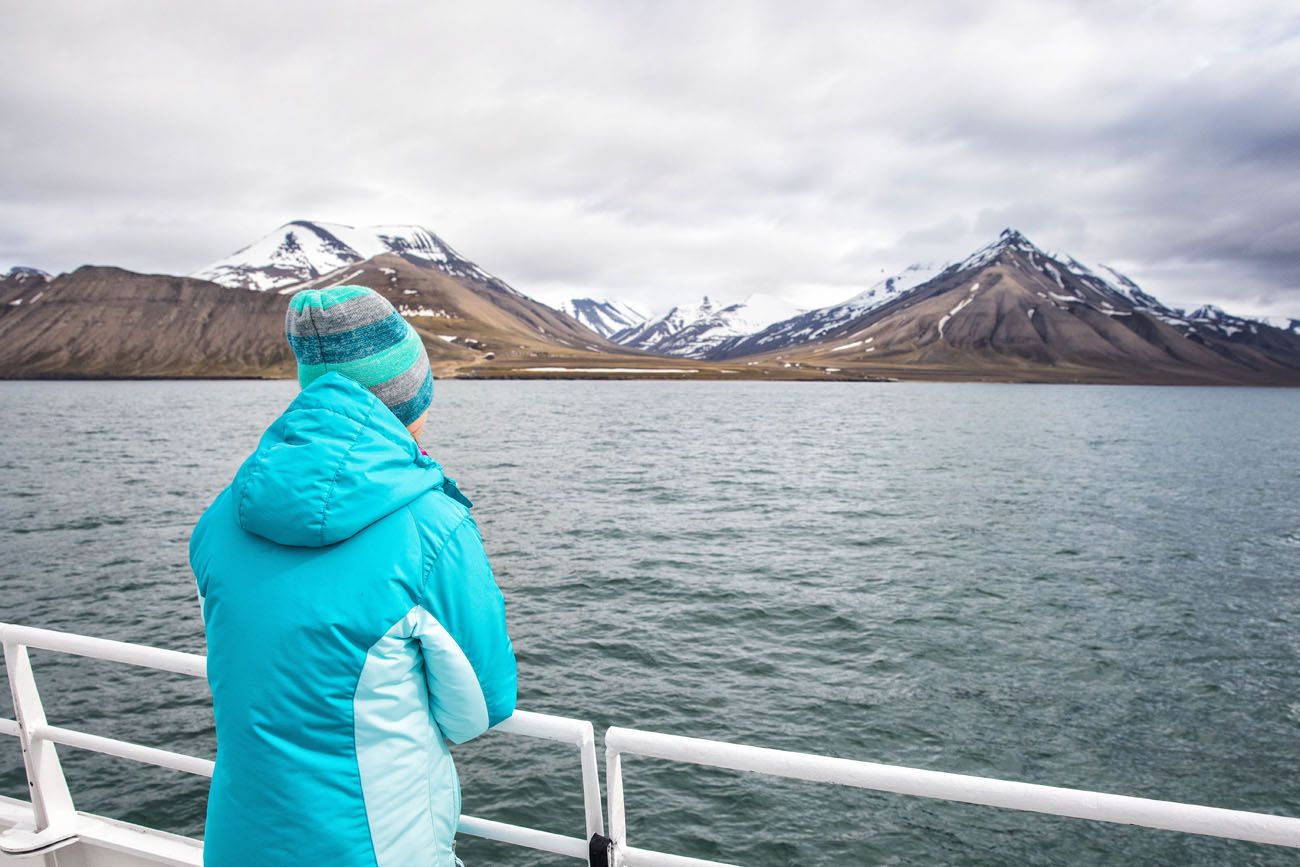 Skansbukta
It took about one hour to get to our first stop, Skansbukta. For 15 minutes we drifted in the bay, enjoying the views and hoping to spot a polar bear. We never did get to see a polar bear but we did spot a whale that surfaced a few times.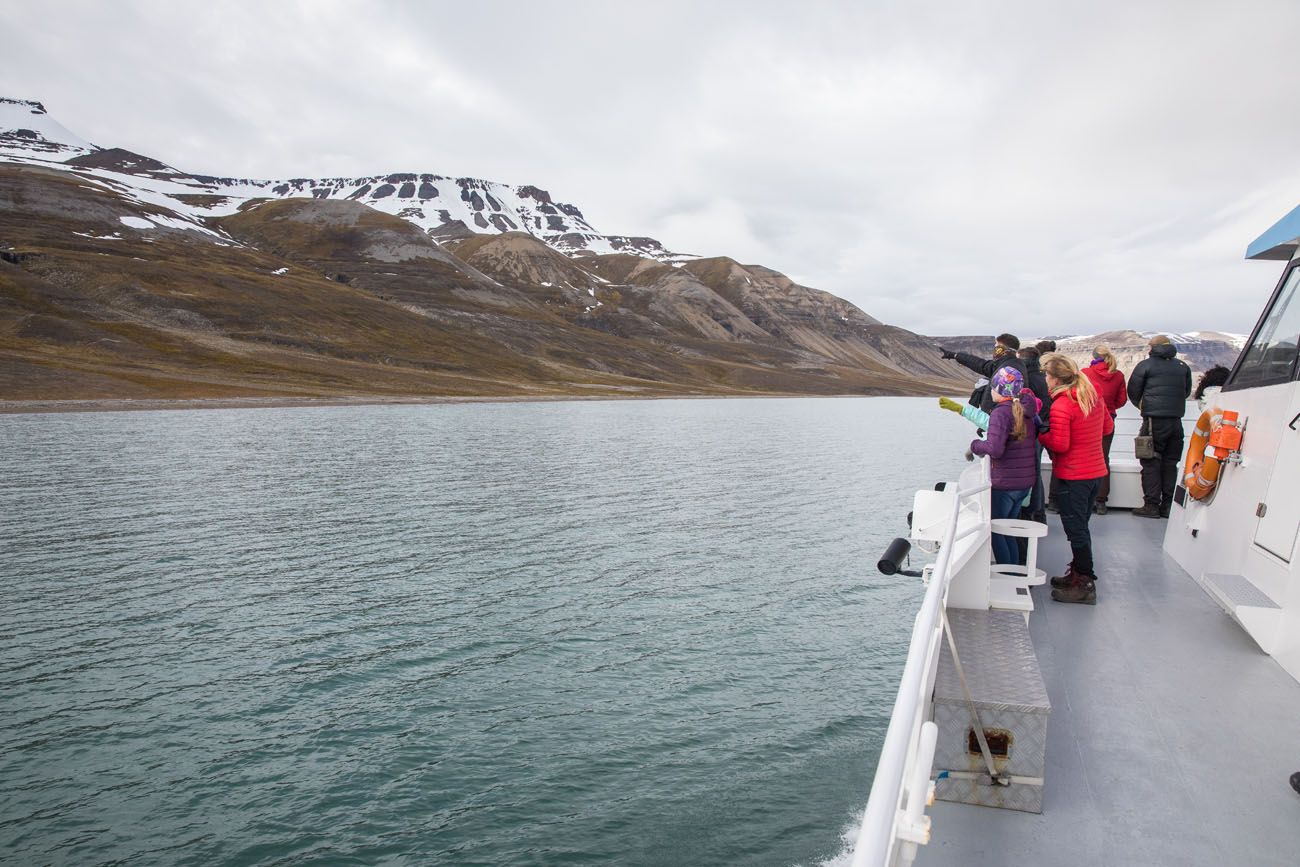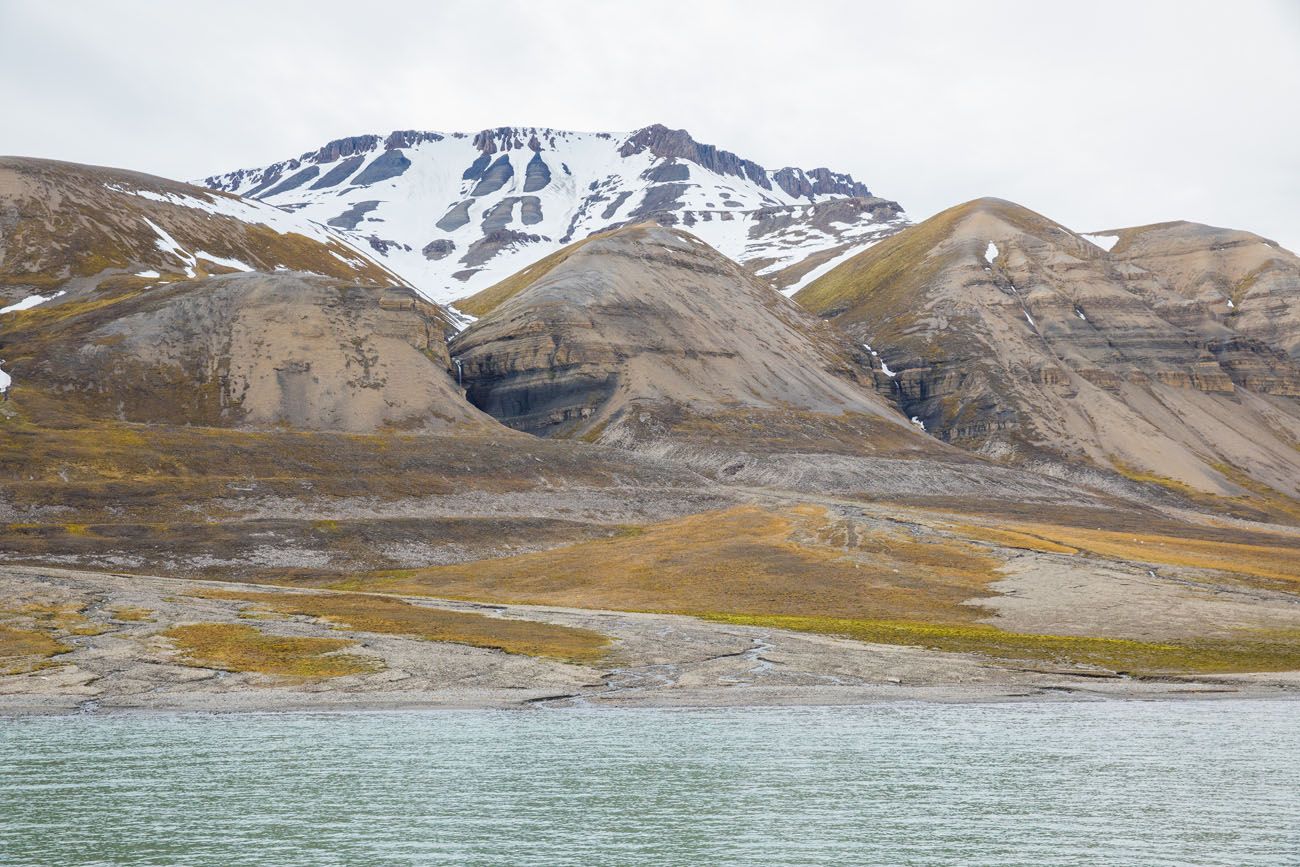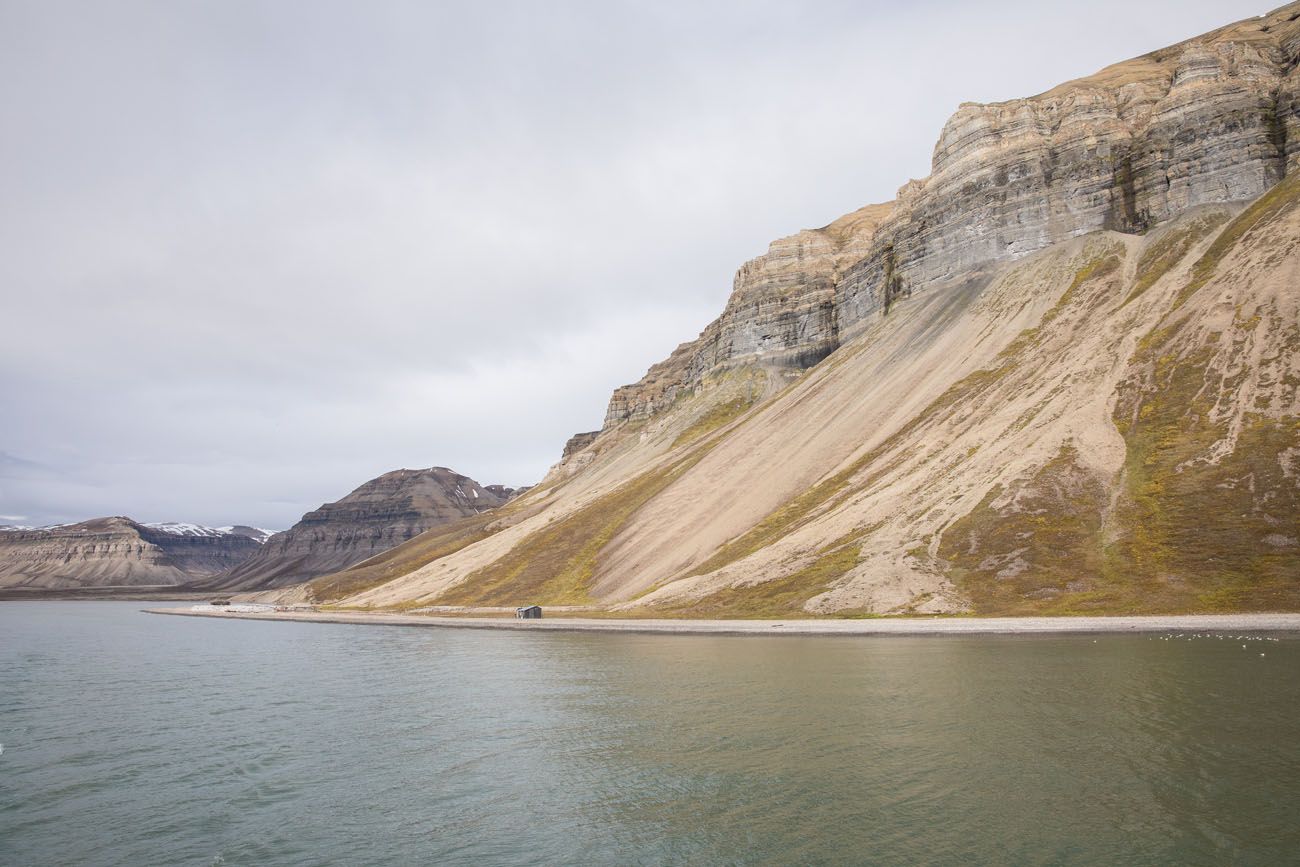 Nordenskioldbreen
The best part of the excursion was Nordenskiold Glacier. This was amazing. Nordenskiold Glacier, also called Nordenskioldbreen, is a glacier that is massive in size. When you stand right in front of it, it's hard to appreciate the full extent of just how big it is. However, when you see it from a distance (which you will from Pyramiden) you can really see just how massive it is.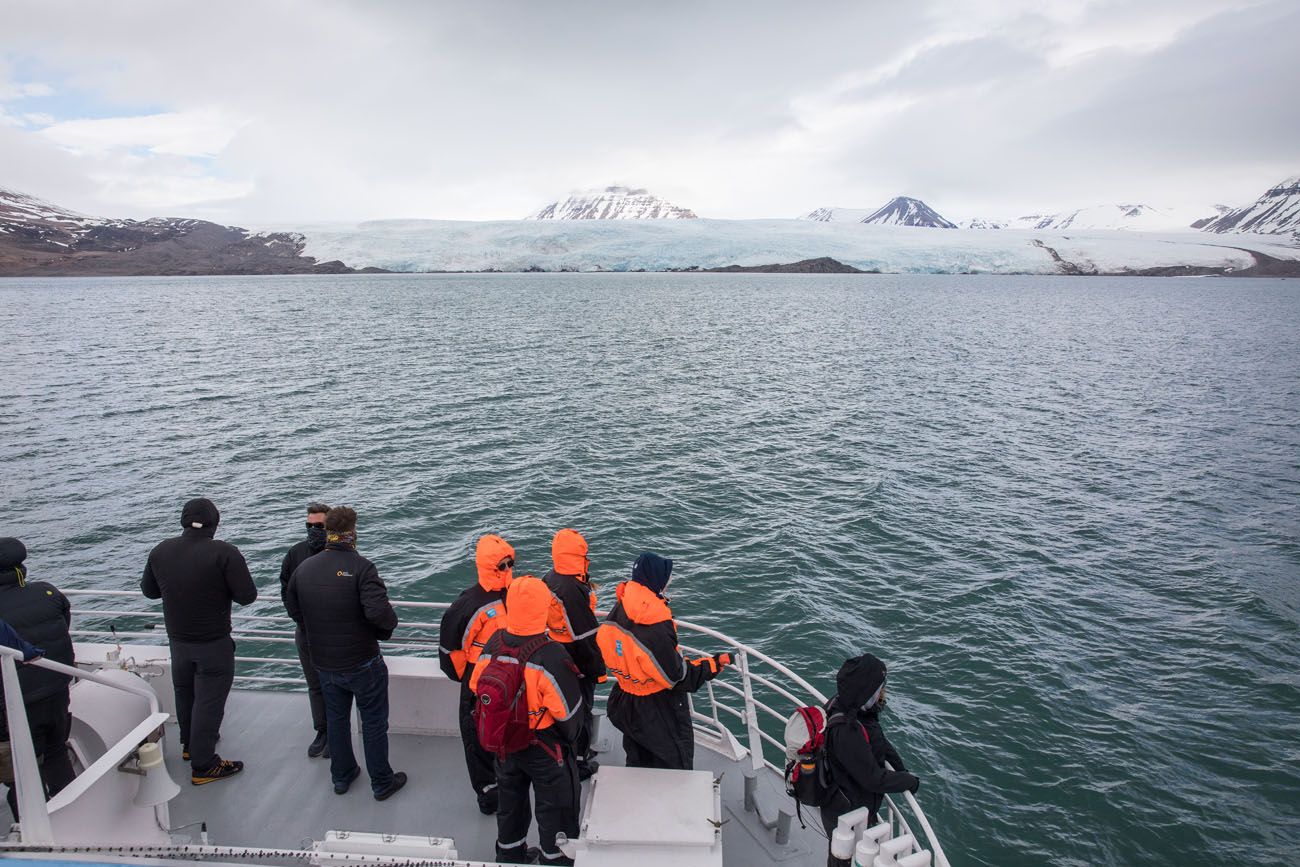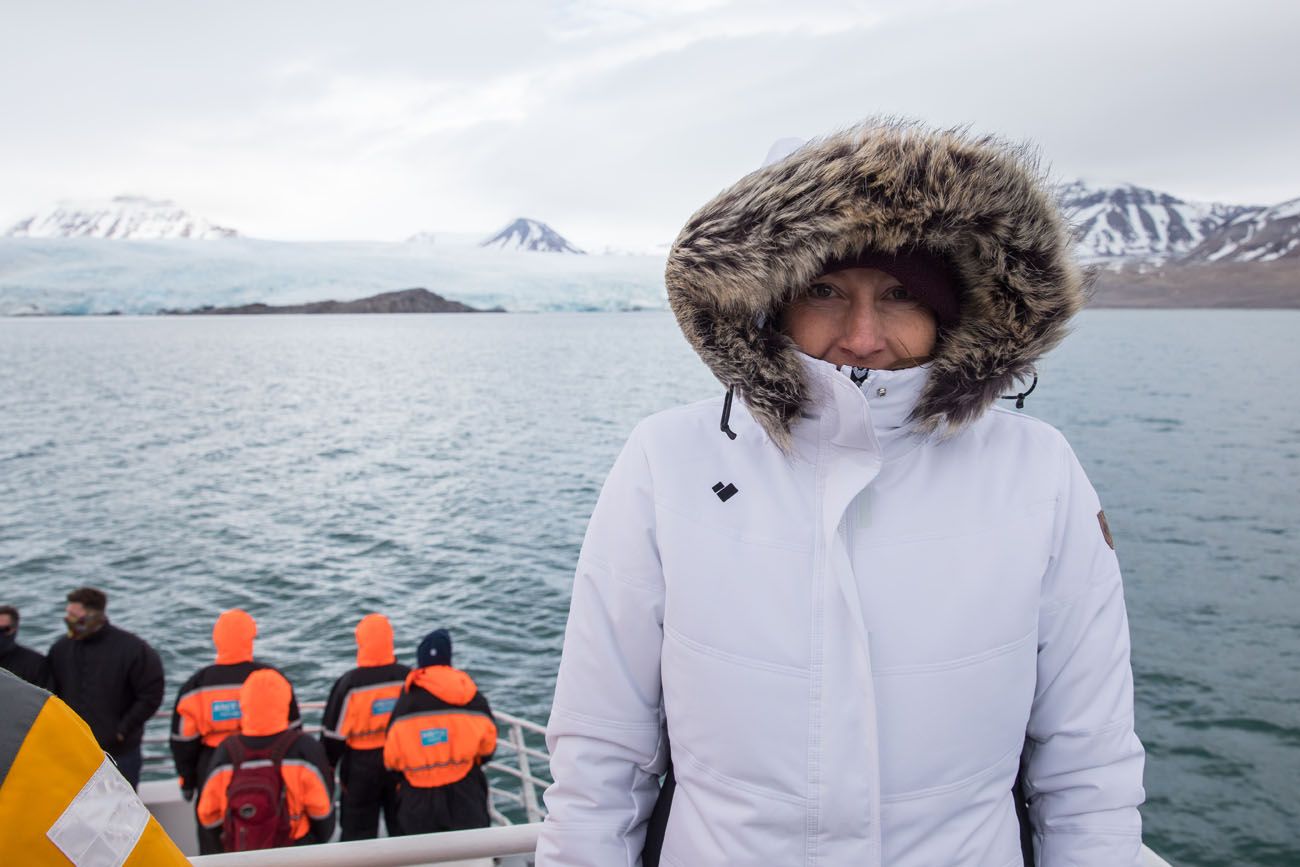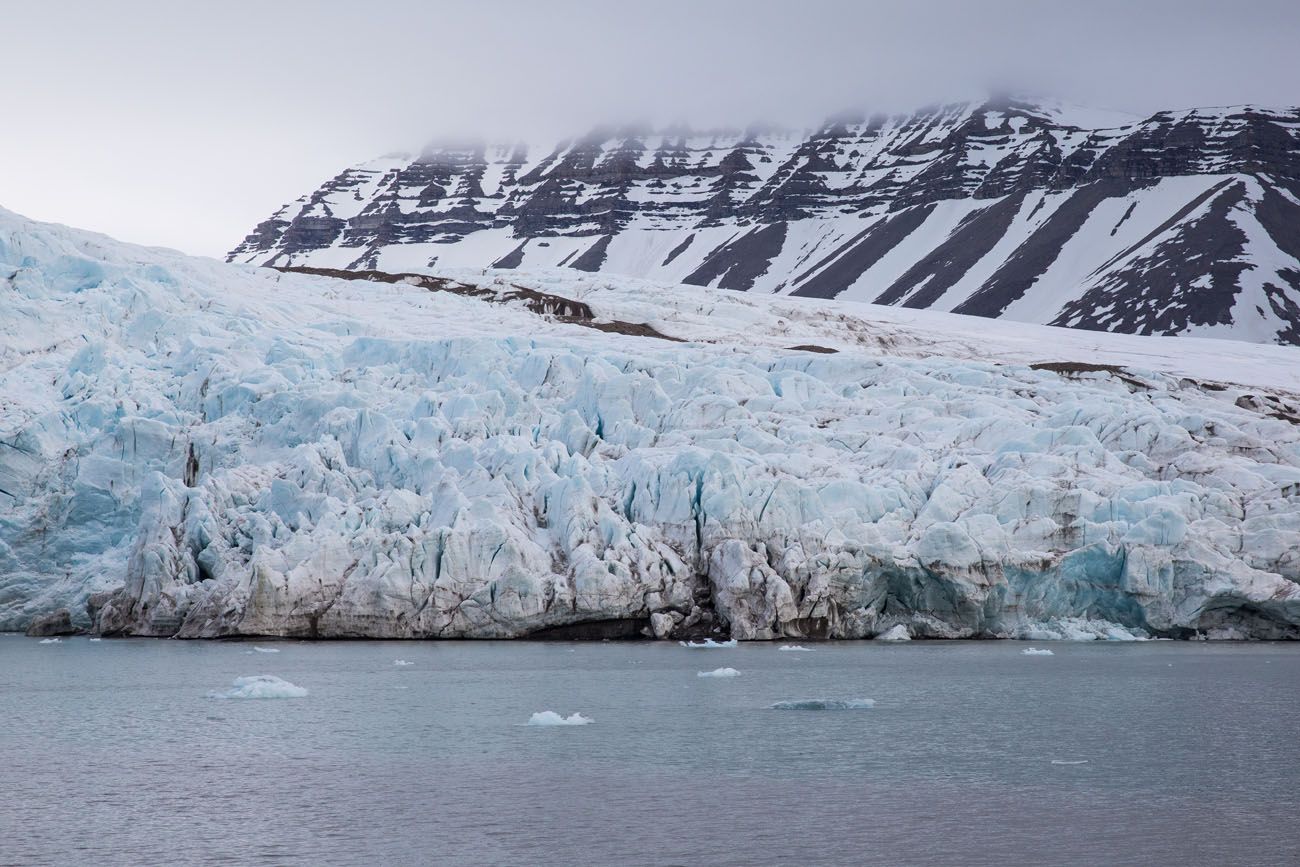 Conveniently, a sailboat parked right in front of it. The sailboat is dwarfed by the enormity of the glacier.
Judging by the number of people who came out on deck to see the glacier, this was a highlight for many on board.
Visiting Pyramiden
Pyramiden is an old, Russian mining town that was abandoned in 1998. Now, it is a ghost town in the arctic. During the past 20 years, the buildings have been vandalized and fallen into disrepair. Seagulls have made nesting sites of the buildings. Neglected buildings sit silent, their paint peeling and their windows broken. And the statue of Lenin still watches over the town.
For me, visiting Pyramiden felt melancholy and just a little bit creepy. I kept feeling like I was on the movie set of "The Shining."
We disembarked the Aurora Explorer on an old, rickety dock. Metal plates cover the spots where the dock has rotted away, creating a strange patchwork of creaky wood and rusted metal.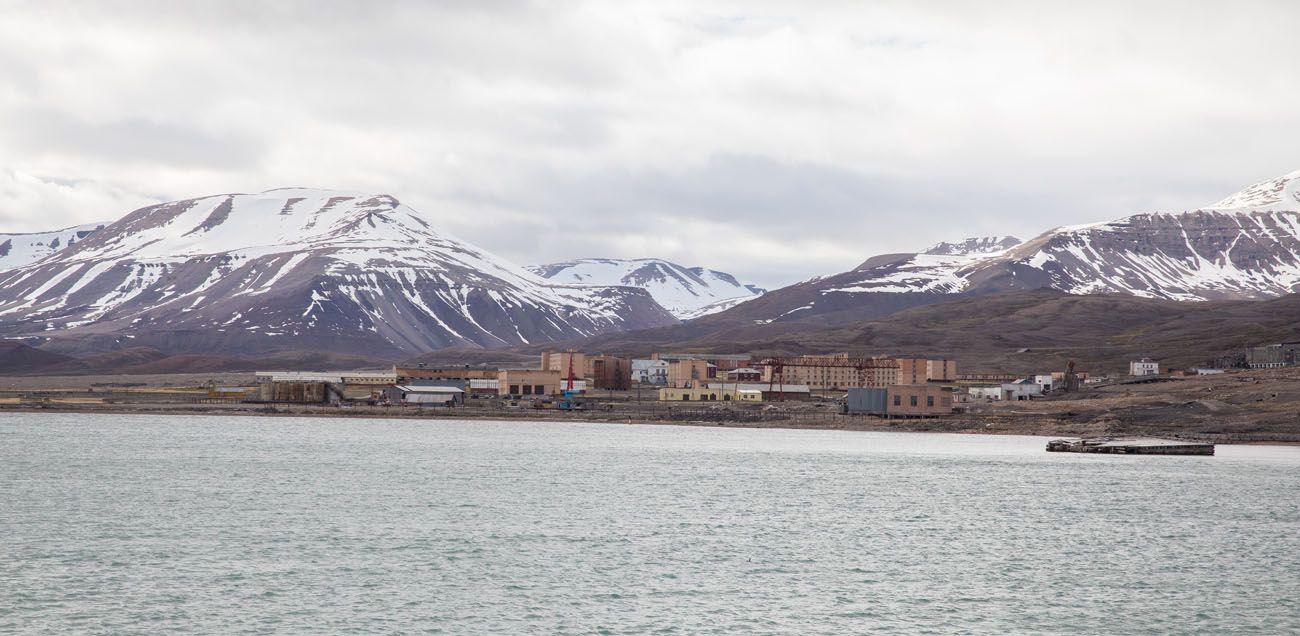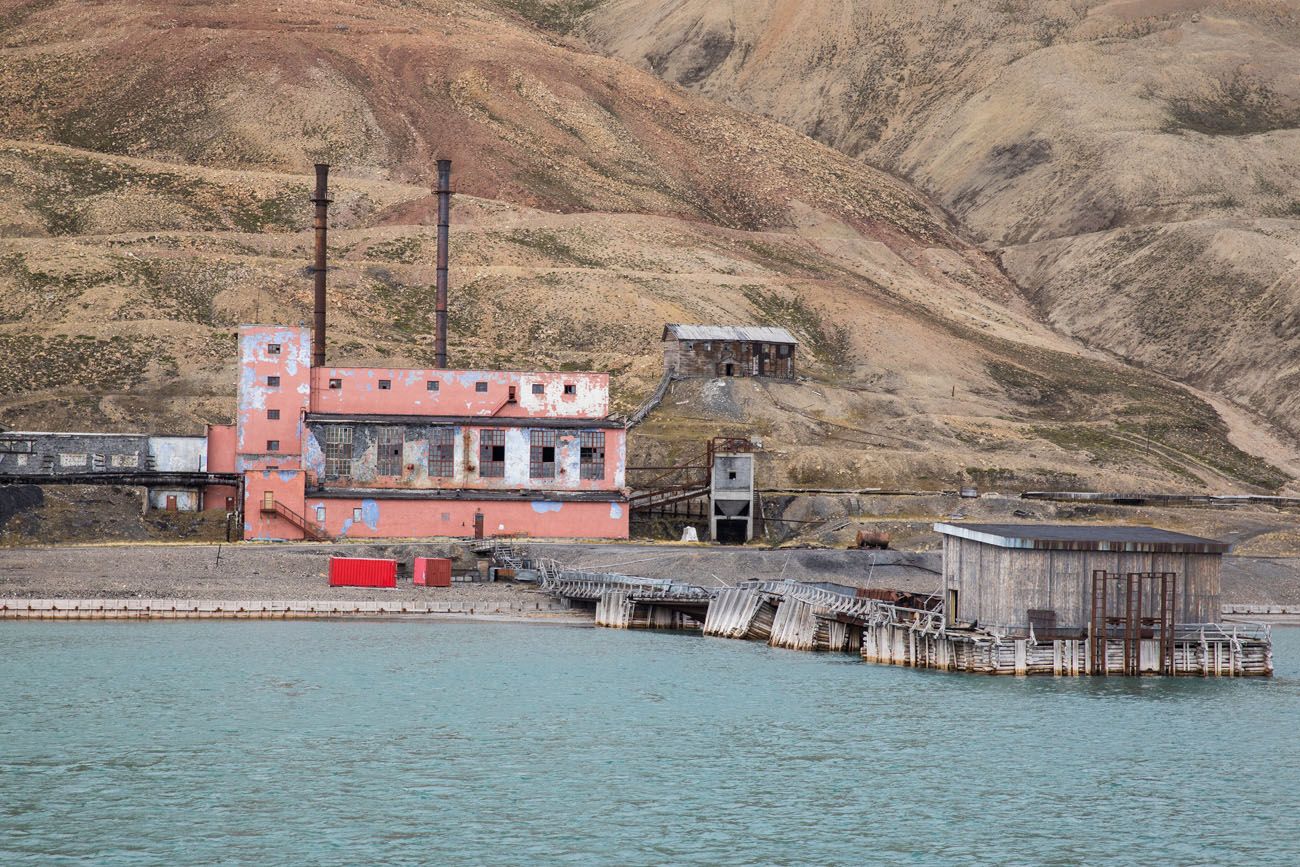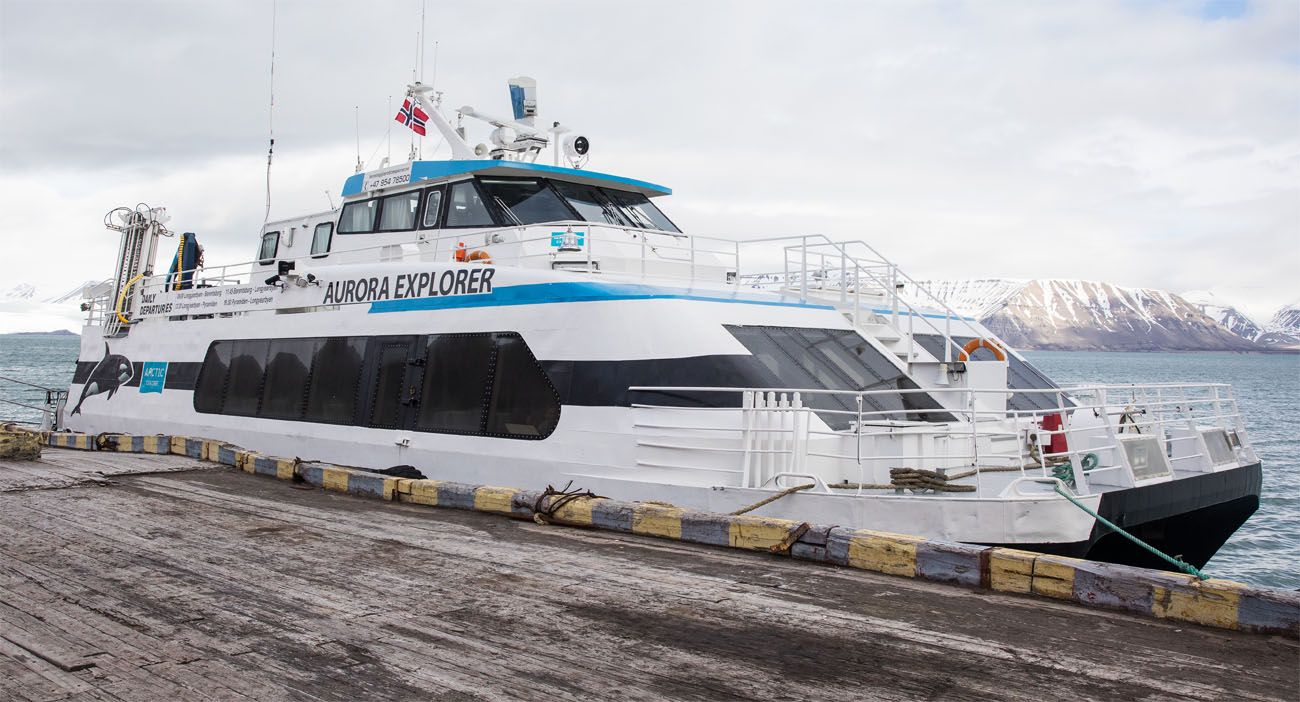 A bus drove us a short distance to the Pyramiden sign, where we met up with our tour guide. For about an hour and a half, our giant group followed this very sweet lady with a very quiet voice. It was difficult to hear what she was saying so unfortunately we missed a lot of the history about this place.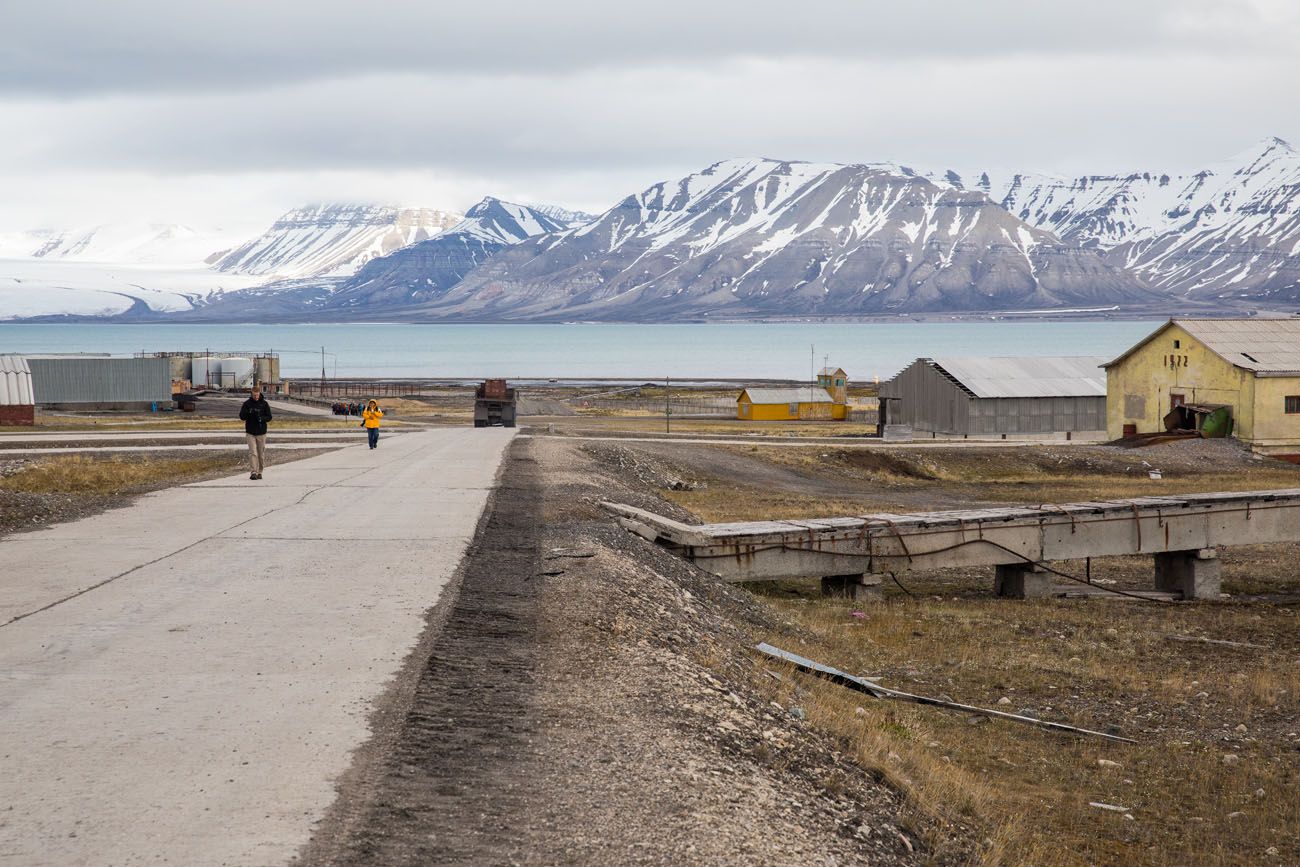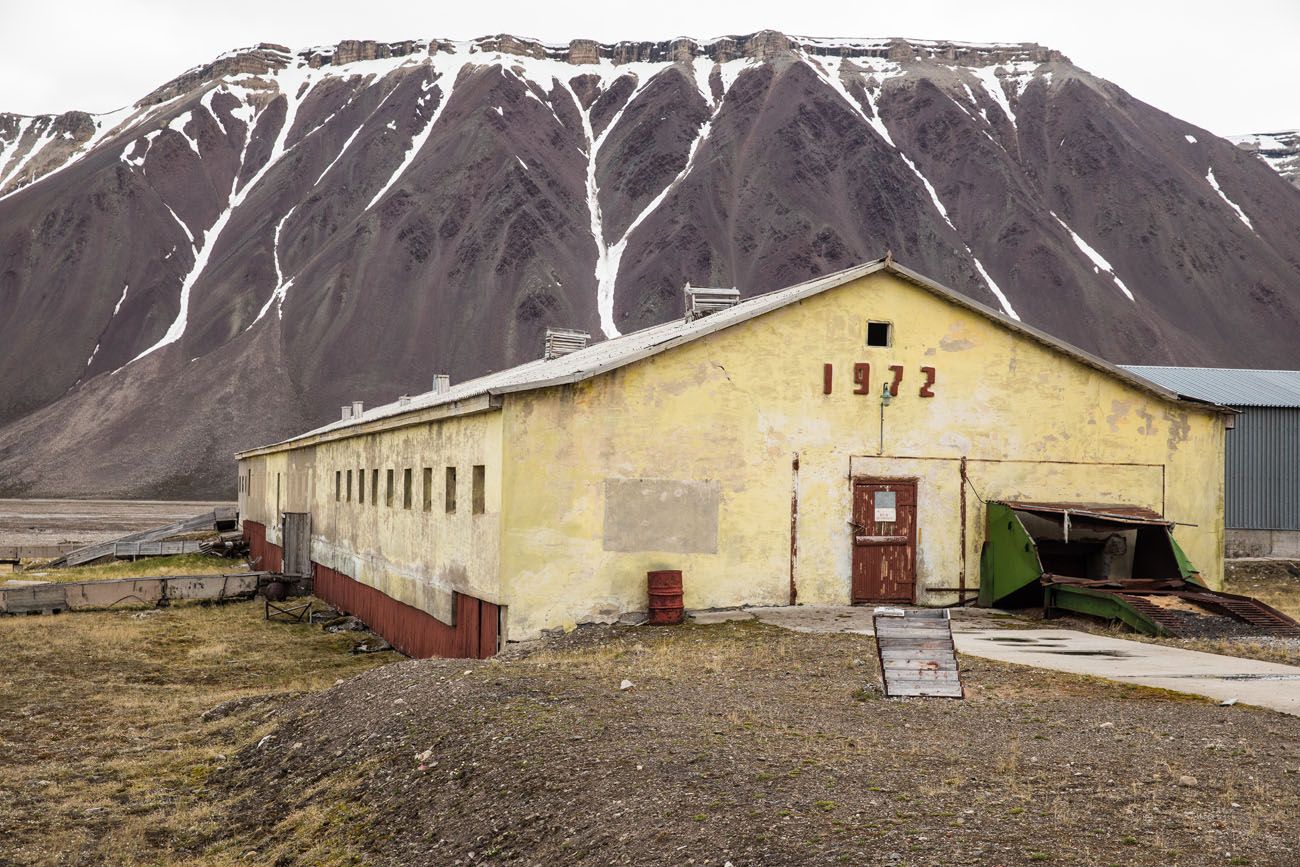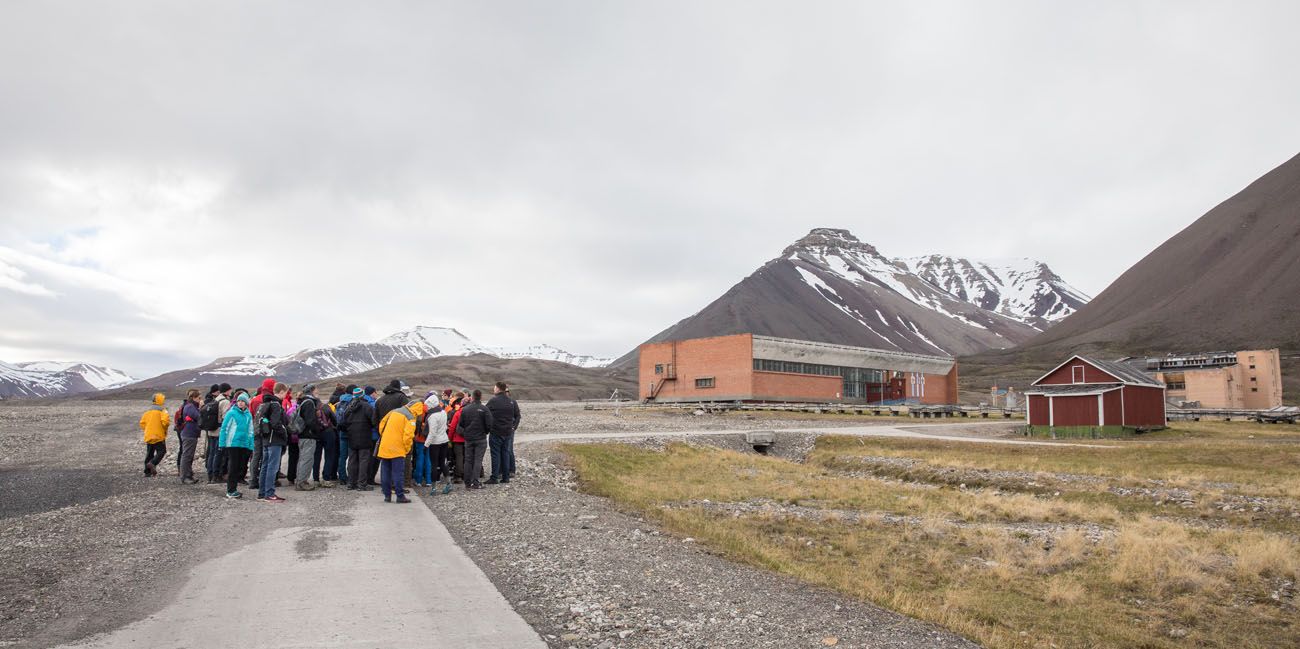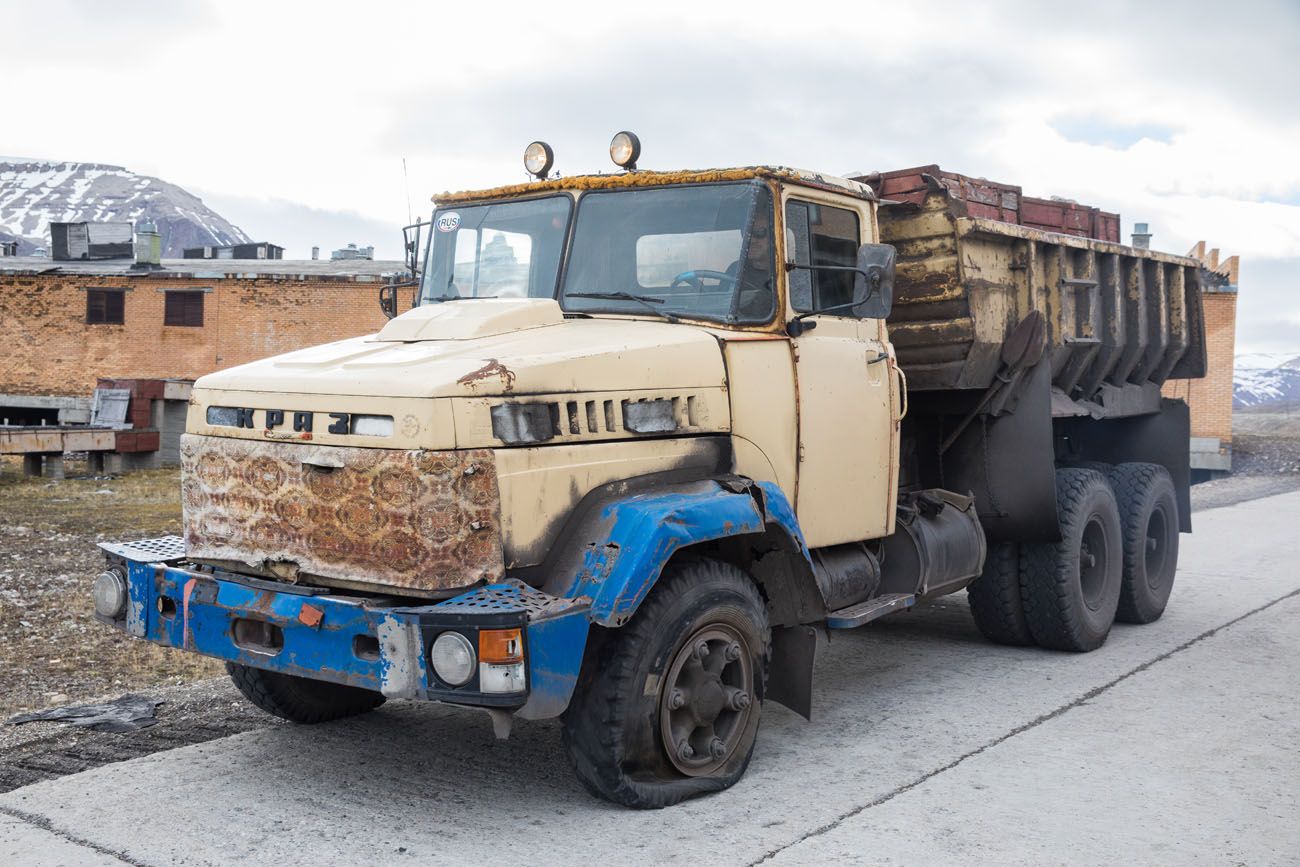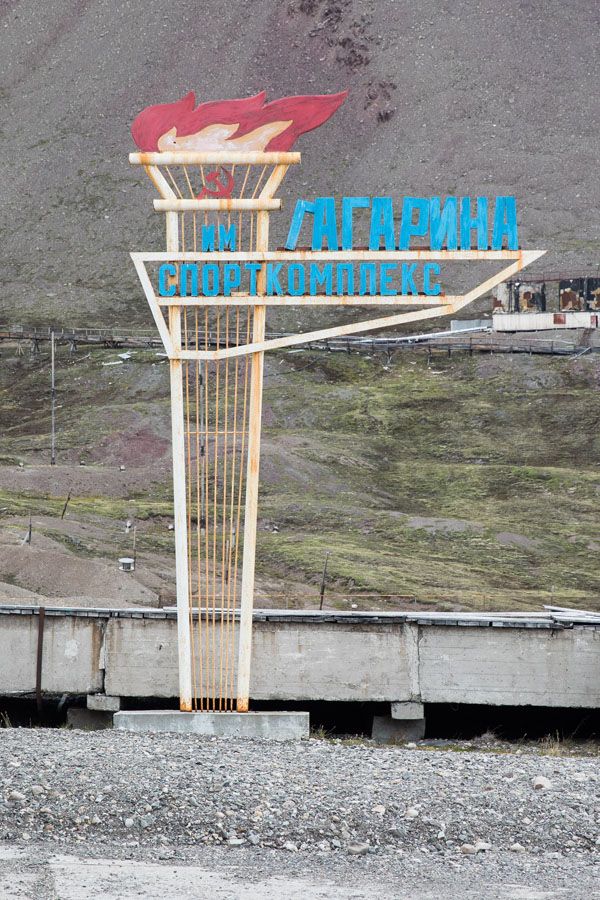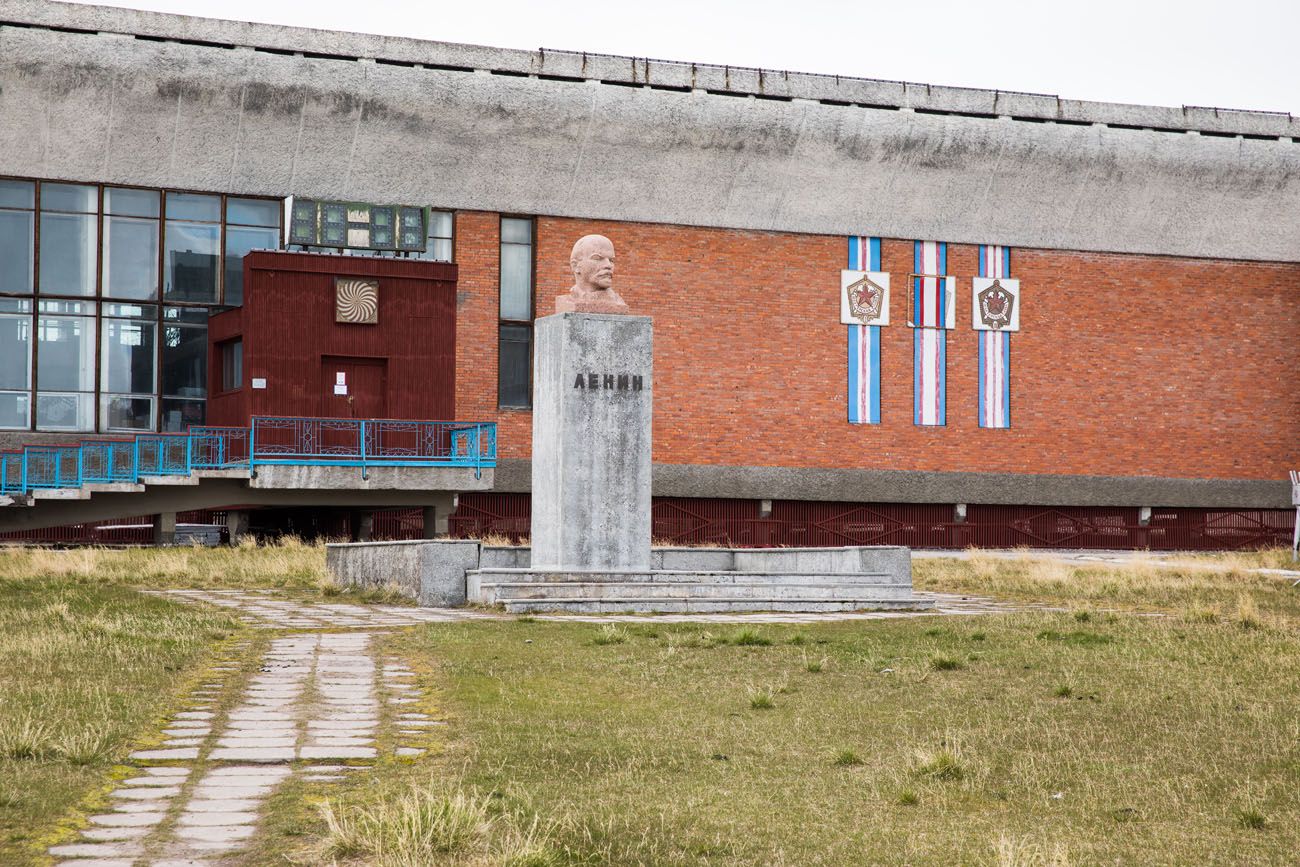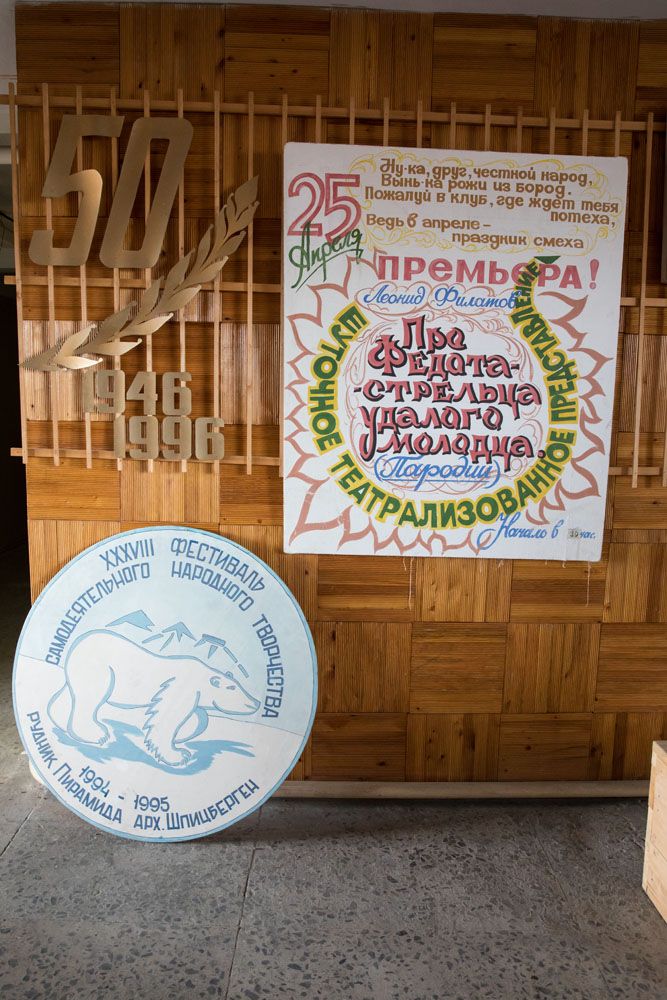 The view from the top of town was awesome. Off in the distance was Nordenskiold Glacier, and from here, we got a much better appreciation of just how massive it is.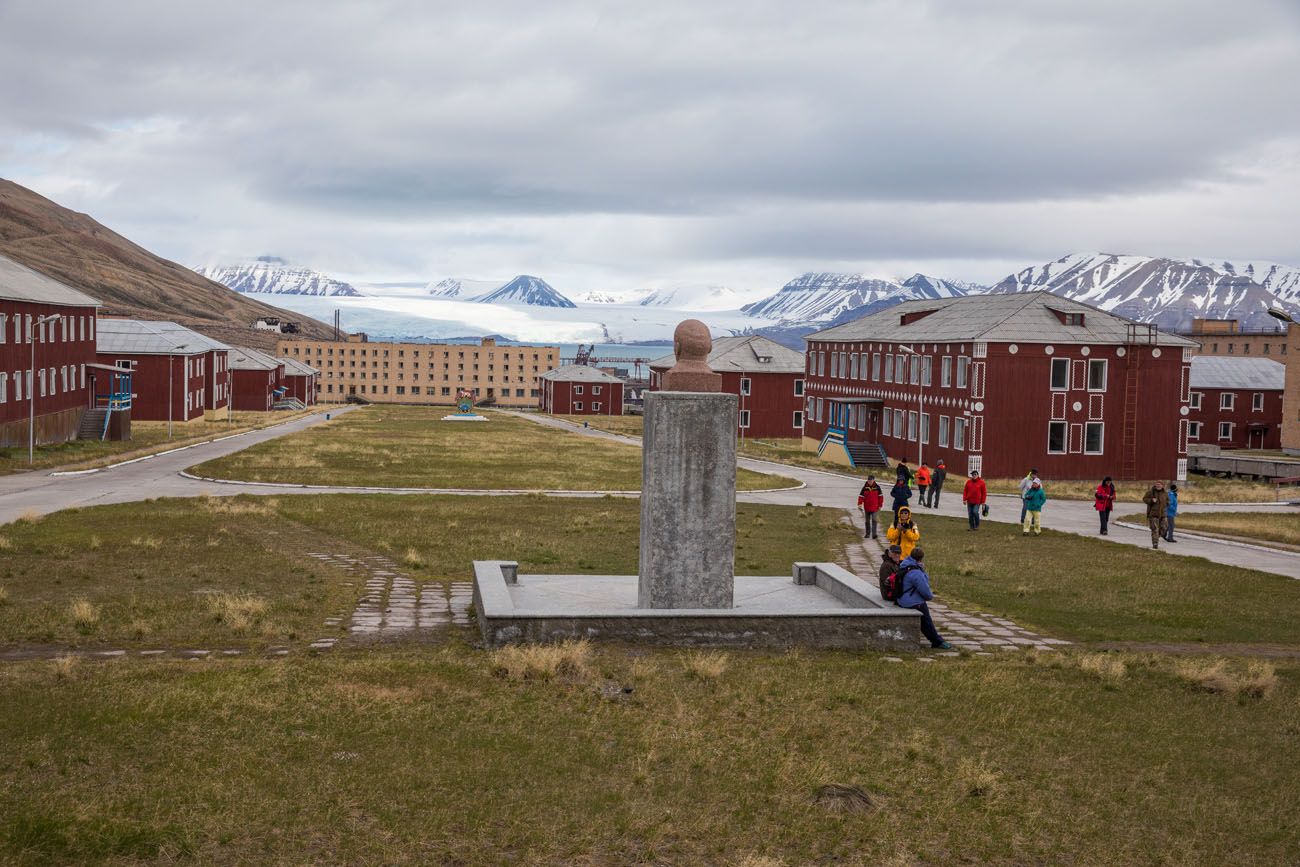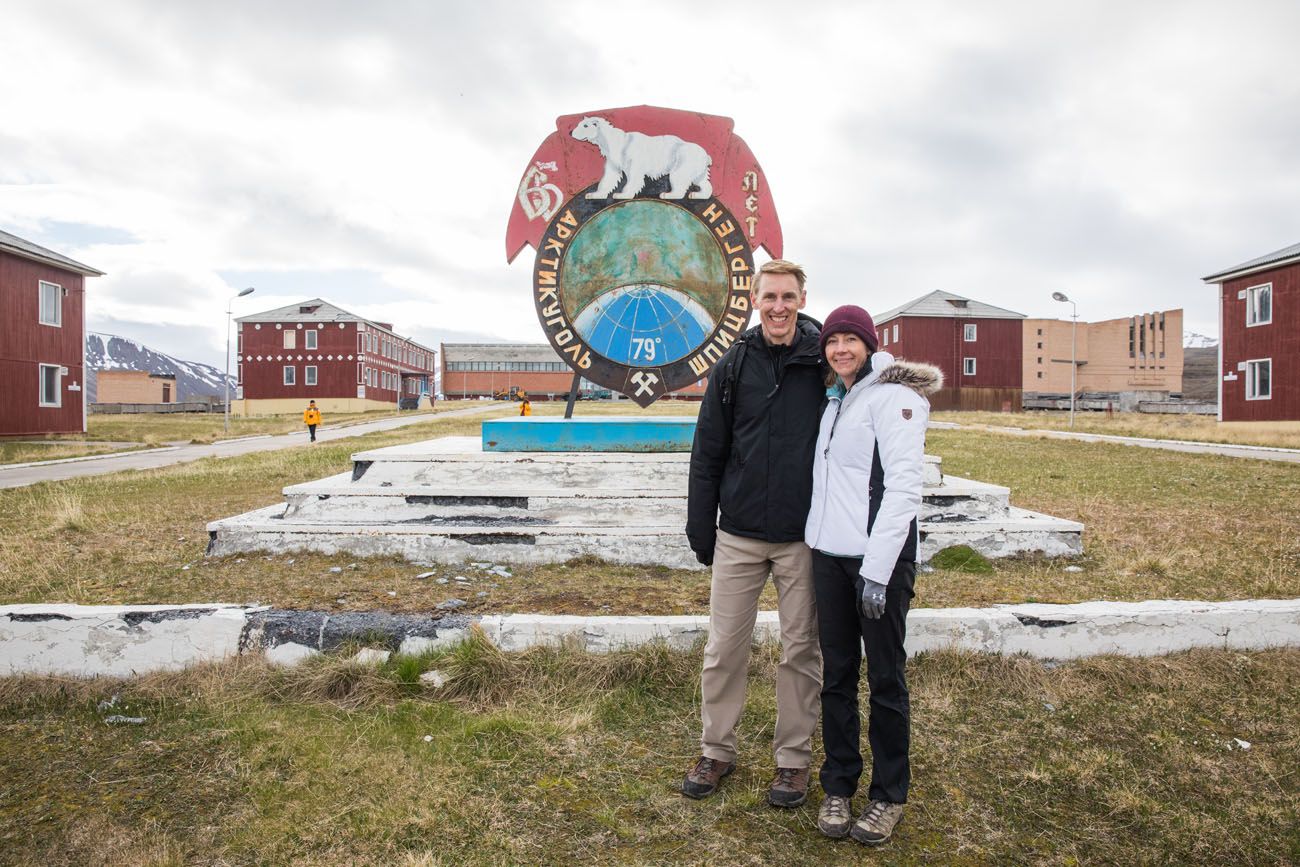 Walking through the buildings was very interesting. The people who lived here just got up and left, leaving things behind. Potted plants now droop, still clinging to their dead leaves. Huge flakes of paint hang from the ceiling and litter the floor. Photos still hang on the walls and cans of food still sit on the shelves of the main kitchen.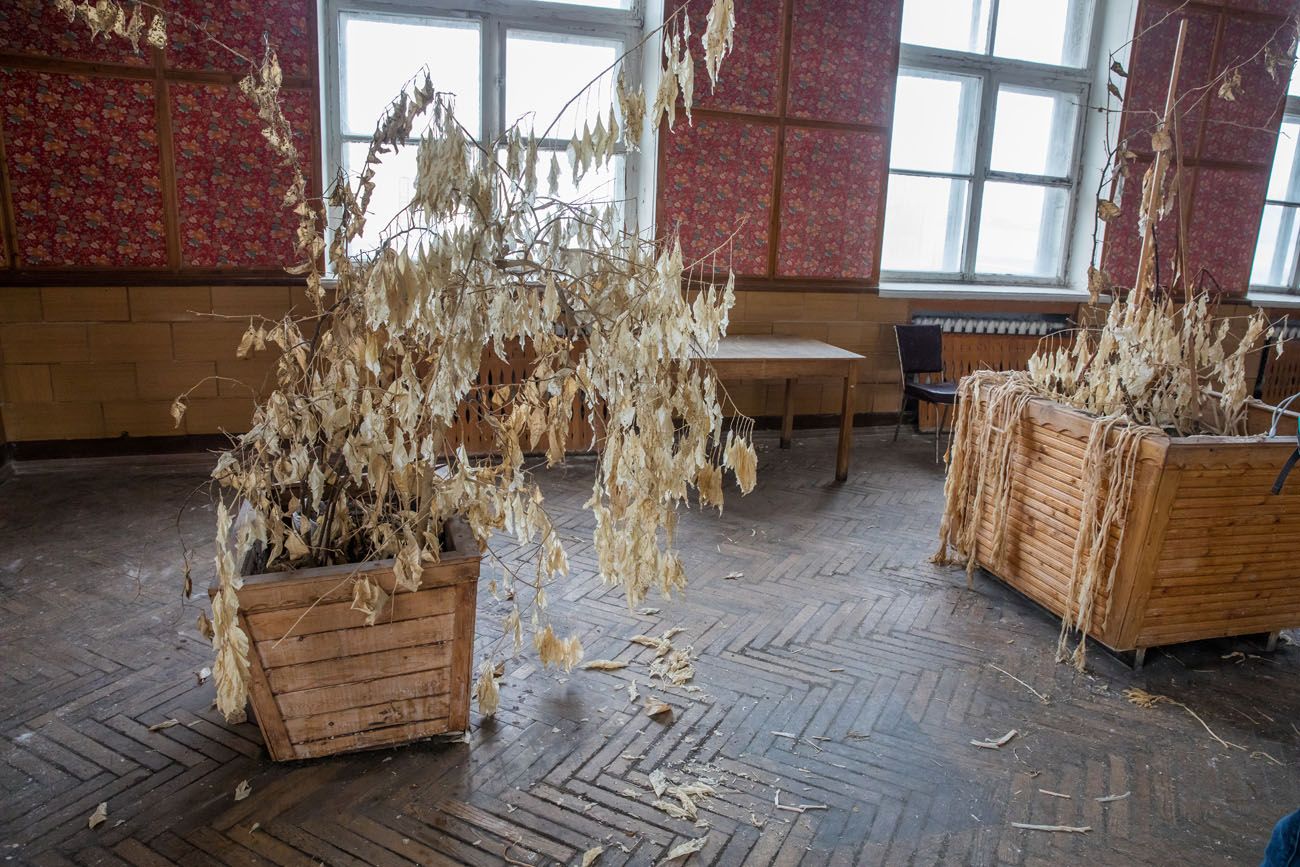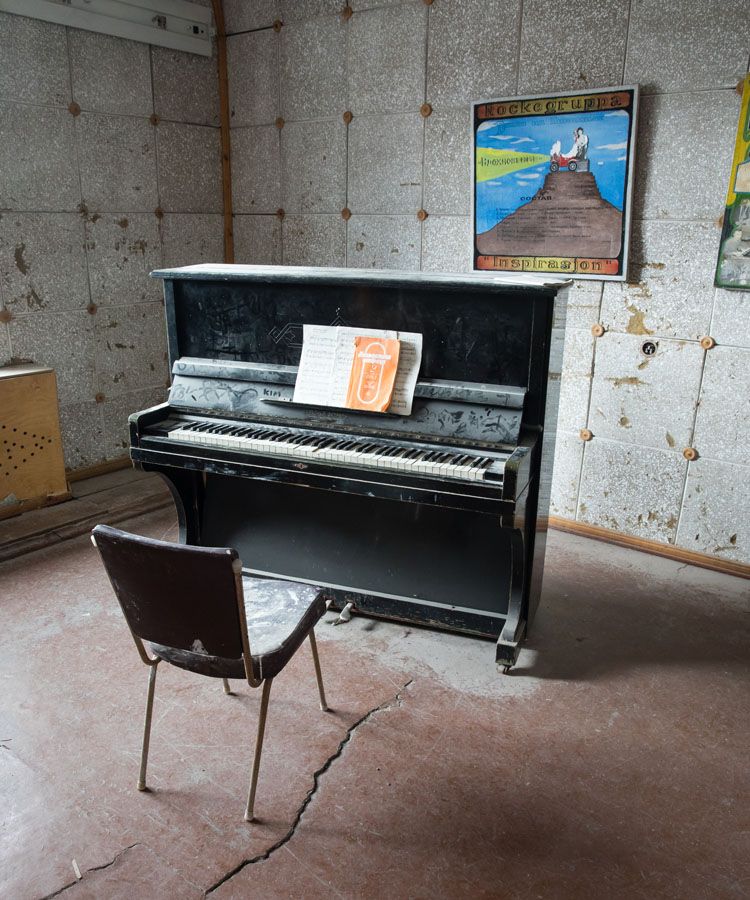 The tour of Pyramiden ends at the Pyramiden Hotel, which actually is working today. Eight people live and work in Pyramiden. At the hotel, you can mail a postcard home from the post office or have Russian vodka or beer brewed in Barentsburg at the bar.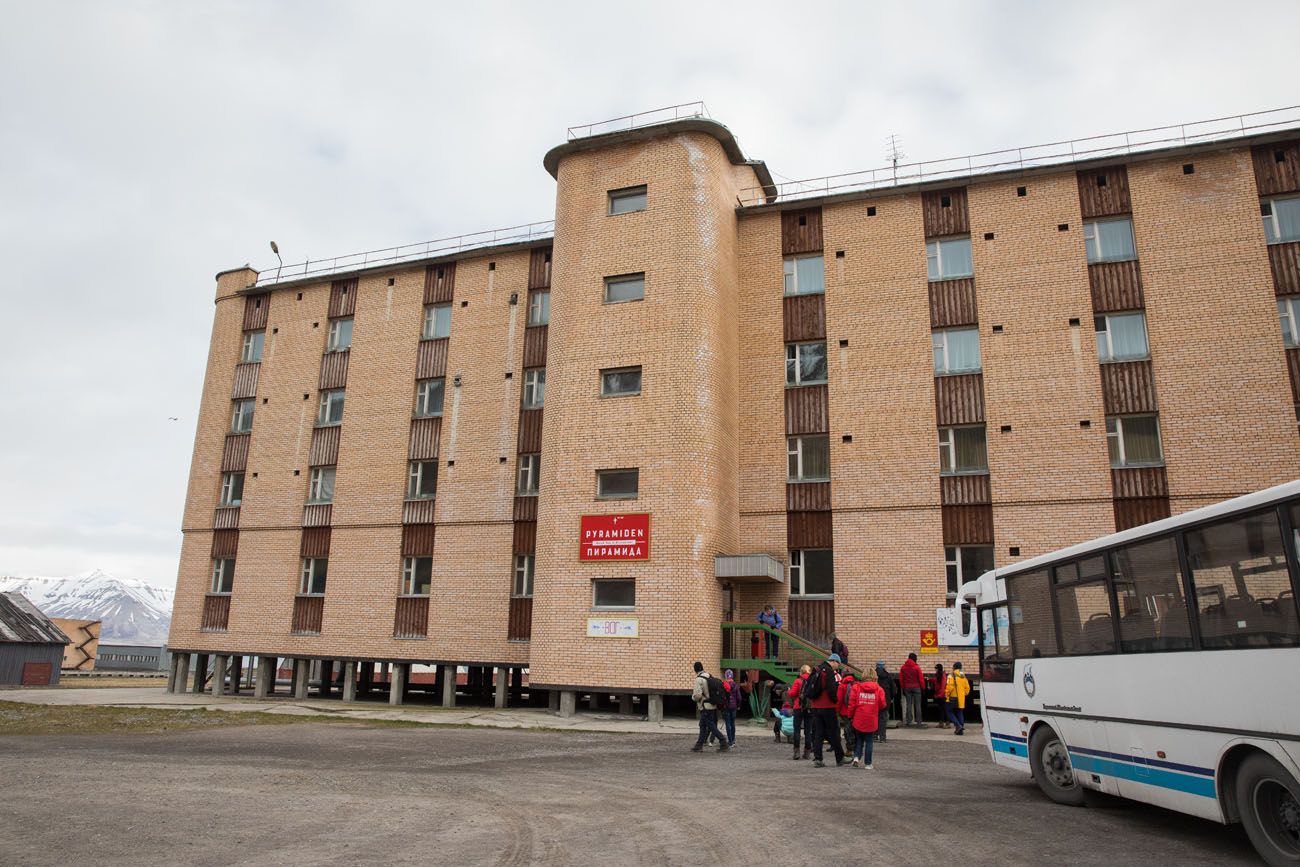 Several people on our boat spent the night at the hotel. I don't know what else you would do on a visit here, but an overnight stay is definitely going off-the-beaten-path.
By the way, you are not allowed to wander around Pyramiden on your own, just in case you wander across the path of a polar bear.
We saw several arctic fox wandering around the hotel and it's very common to also see reindeer.
After the tour of Pyramiden, it's a 1.5 hour ride in the Aurora Explorer back to Longyearbyen.
In total, this excursion lasted 7 hours from pick up to drop-off at our hotel.
Want to See More? Check out this video:
Is the Cruise to Pyramiden Worth It?
We have mixed feelings about this cruise. Tim and I are glad that we saw Pyramiden and the view of Nordenskioldbreen was definitely the highlight of the day.
Walking through the town of Pyramiden and the abandoned buildings was fascinating. However, the tour of Pyramiden was disappointing. We were stuck in a large tour group and could barely hear our guide, so we got almost nothing out of the tour. The tour is run by Pyramiden, not by Arctic Explorer.
Arctic Explorer was great. The staff was friendly, everything ran on schedule, and the boat is comfortable and fast. I am glad that we picked this company. We could not imagine spending all day doing this one excursion.
Tyler and Kara thought the entire excursion was boring. We did not see many other kids on the cruise. In fact, we saw very few kids during our entire visit to Svalbard.
About the Cruise to Pyramiden
For companies offering this tour from Longyearbyen, visit the Visit Svalbard website.
What about Seasickness?
Seasickness was not an issue for anyone on board the cruise during our visit, at least from what I noticed. However, the sea was very calm.
The catamaran is very stable. It did rock and roll for a short period of time when we cruised out of Adventfjorden, but this only lasted about 10 minutes. However, conditions can change and there is the chance that you could have rougher conditions during your cruise.
What We Wore
We did this cruise at the end of June. Average daytime temperatures in Longyearbyen were 6 to 7°C (in the low 40's).
We wore long pants, a long-sleeved shirt, a fleece, and a heavy winter coat. We also wore a thin pair of gloves and a hat. Even with all of this clothing, it was very cold to be out on deck for extended periods of time while the boat was moving. It was also colder in Pyramiden than it was in Longyearbyen.
Even if you plan to do this in the summer, bring a heavy coat, gloves, and wear several layers (even if it feels "warm" in Longyearbyen). If you have windproof clothing, consider wearing this for the cruise.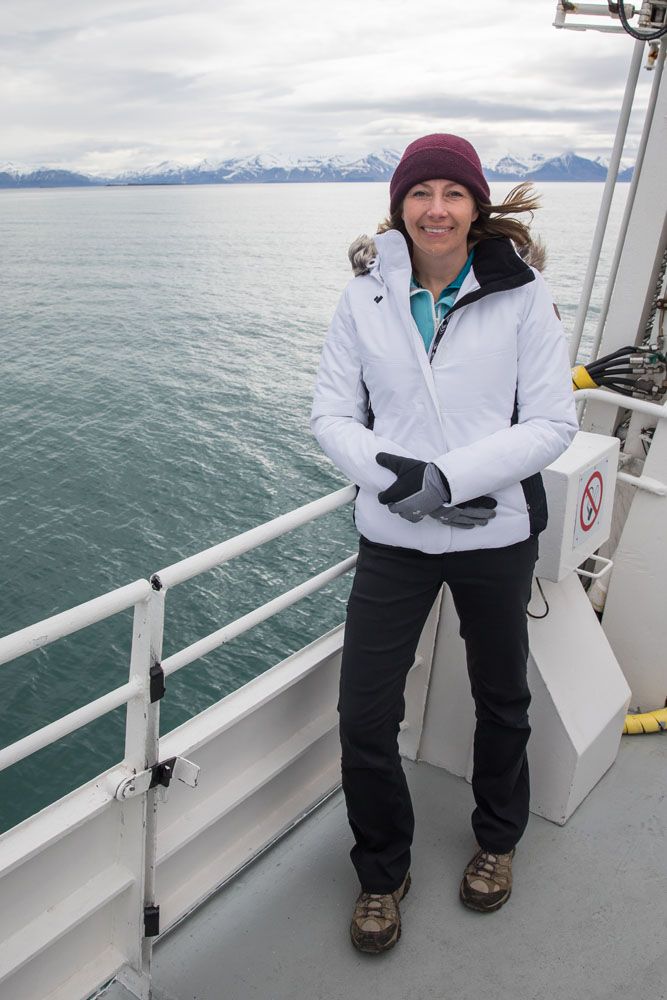 More Excursions from Longyearbyen
We did two more excursions during our time in Svalbard:
We spent one day kayaking across Adventfjord and hiking up Hiorthfjellet, one of the highest mountains in the area. If you like hiking, the hike up Hiorthfjellet is one of the best to do in Svalbard.
Kayaking Adventfjord and Hiking Hiorthfjellet: A One Day Adventure in Svalbard
You can also kayak in front of an active glacier, our "coolest" experience in Svalbard.
---
More Information for your trip to Svalbard & Norway:
SVALBARD:Plan the perfect visit to Svalbard with our Svalbard Travel Guide. We also have articles about the best things to do in Longyearbyen, what to pack for Svalbard in the summer, and how much does it cost to visit Svalbard?
BEST OF NORWAY: For a list of top experiences in Norway, don't miss our Norway Bucket List. If you are a hiker, we also have a hiking guide with 14 epic day hikes to do in Norway.
NORTHERN NORWAY ITINERARY: On this 10 day Norway itinerary, road trip through Senja and the Vesteralen Islands, two beautiful off the beaten path destinations, and spend some time in the Lofoten Islands.
LOFOTEN ISLANDS: For an overview of the best things to do, read our Lofoten Islands Top Ten List. Get lots of travel planning advice in our Lofoten Islands Itinerary. For advice on where to stay, read our Lofoten Islands Hotel Guide.
BEST OF NORWAY ITINERARY: In this guide, we share two different ways to plan a 10 day trip that includes both the Lofoten Islands and southern Norway.
NORWAY TRAVEL INSPIRATION: Norway is one of the most beautiful countries we have visited. Don't miss our article Northern Norway in Photos to see some gorgeous shots of Norway. Our articles about Ornfloya and the Best of Norway in Photos are also filled with beautiful photos.
Is your trip to Svalbard part of a bigger trip to Norway? Read all of our articles about Norway in our Norway Travel Guide.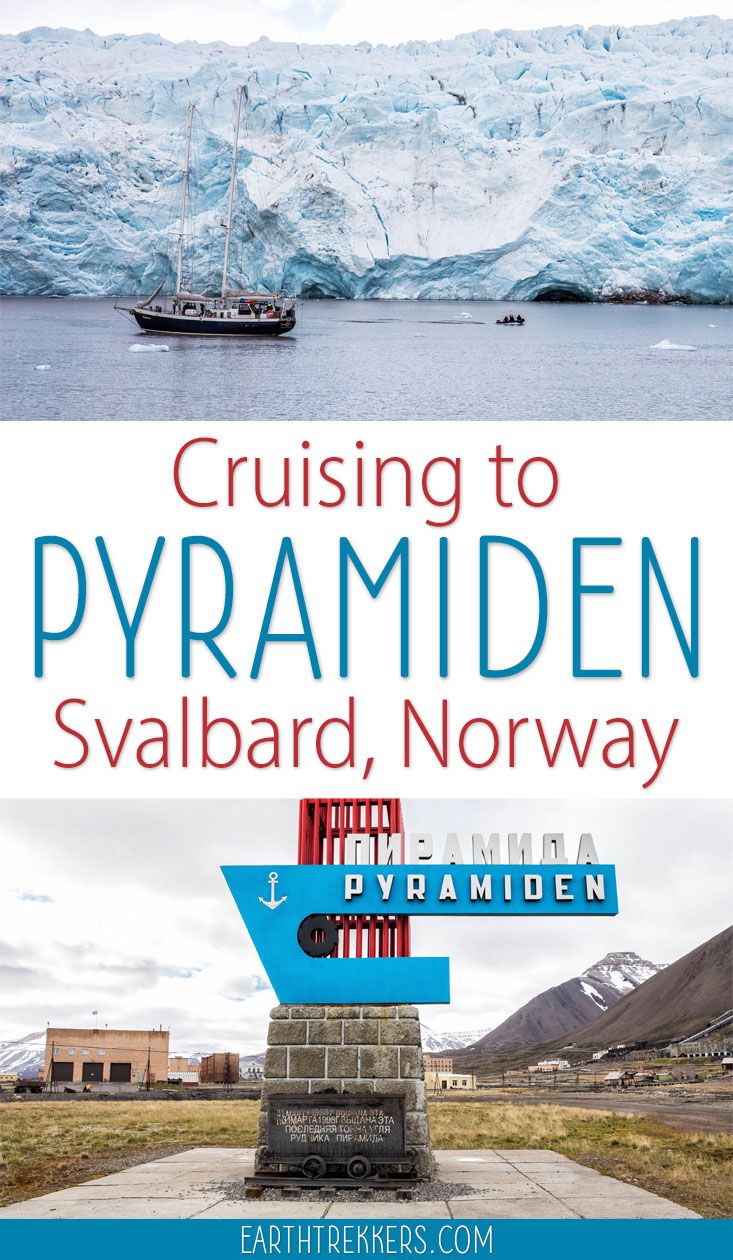 All rights reserved © Earth Trekkers. Republishing this article and/or any of its contents (text, photography, etc.), in whole or in part, is strictly prohibited.