When Tim and I first researched Norway as a travel destination, we repeatedly saw photos of what looked to be crazy people standing on a boulder with 3000 feet of empty space underneath of it. Who does this? As we learned more about the hike, Tim and I decided we wanted to join the club. We added Kjeragbolten to our list of adventures in Norway, and before we knew it, it was our turn to step out onto the boulder.
Our Experience
The start of the hike can be reached by car from the town of Stavanger. We rented a car for one day, returning to Stavanger at about 8 pm the same day. It makes for a long day but one you will not soon forget!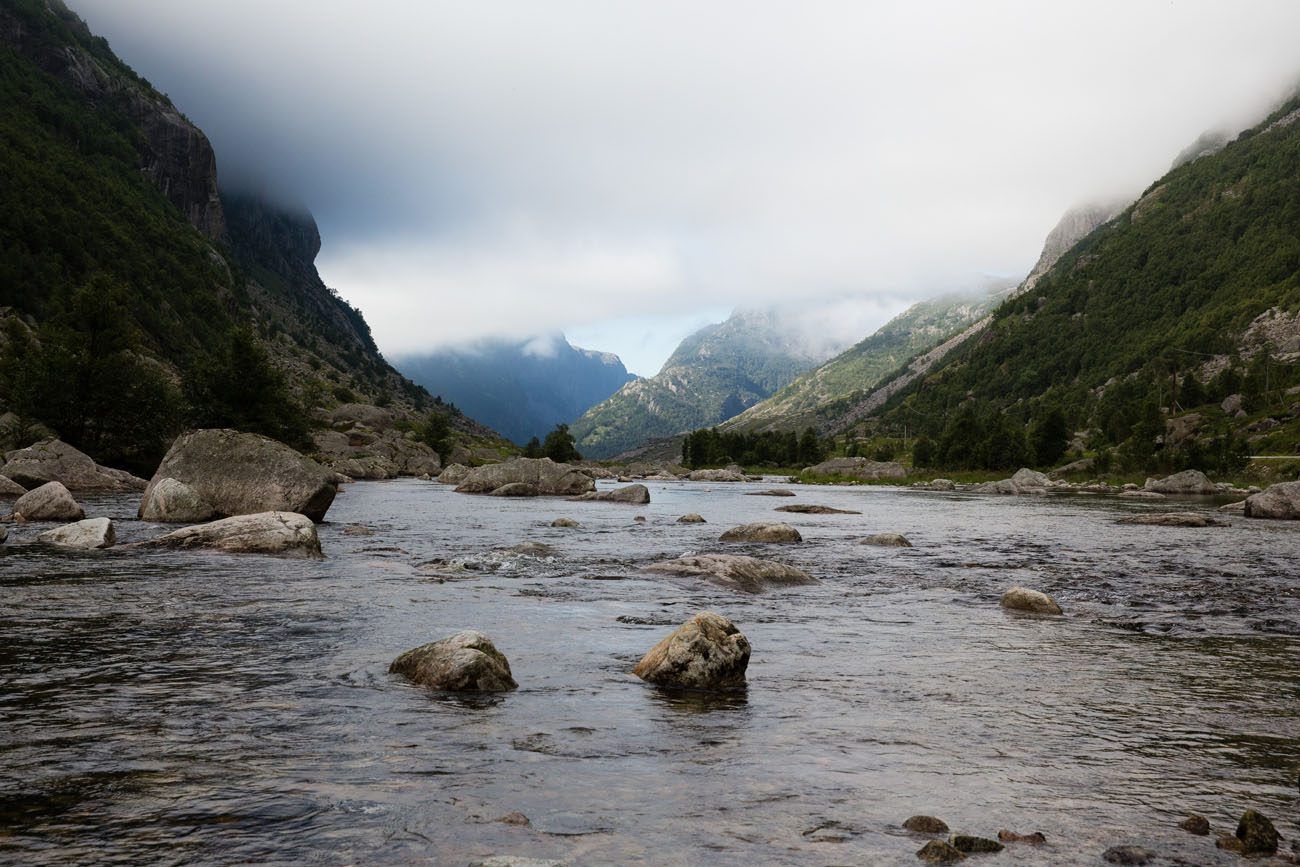 It was bright and sunny when we left Stavanger, but as we drove into the mountains weather conditions changed. Sunny skies became cloudy, the clouds turned into fog, and soon it was raining. It was a beautiful two hour drive despite the changing weather conditions.
As we approached the starting point of the hike, Tim and I wondered if this was a good idea. Tim had read about people losing their way in foggy conditions and neither of us wanted to step onto a wet boulder.
We pulled into the parking lot. It was cold and drizzly and clouds obscured the mountain tops. I read the sign at the start of the hike which warned people not to attempt this hike in wet, foggy conditions. So, now what?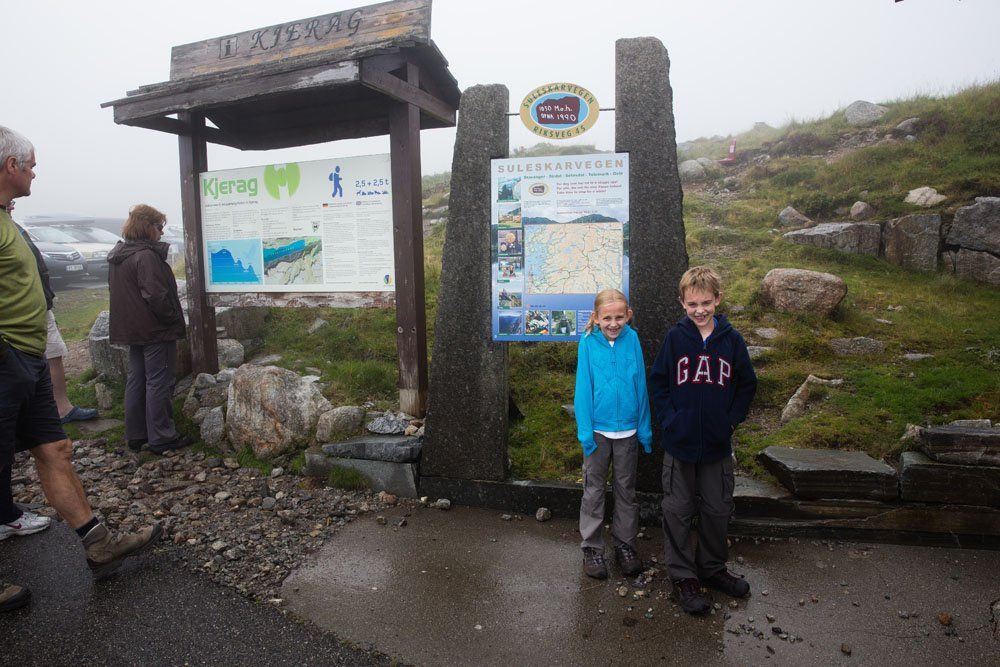 Well, we decided to do it, of course! Tim wanted to at least start the hike and see how it goes. I agreed, and Tyler and Kara unenthusiastically agreed, also. We were on our way.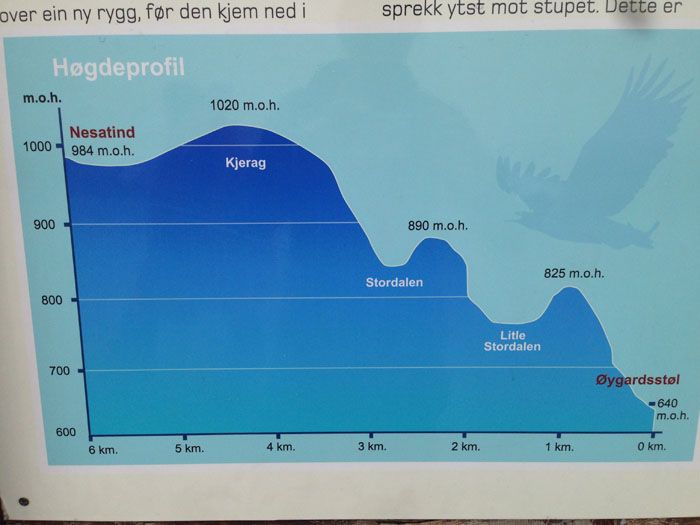 Immediately we were hiking up a wet hillside. It didn't take long until we were climbing wet, slippery, granite rocks with the aid of chain ropes attached to the mountain. We were slipping and sliding and Tyler and Kara were having a blast.
Not ten minutes into the hike the day began to clear and we could see sun and blue sky. We were so glad we decided to do this hike.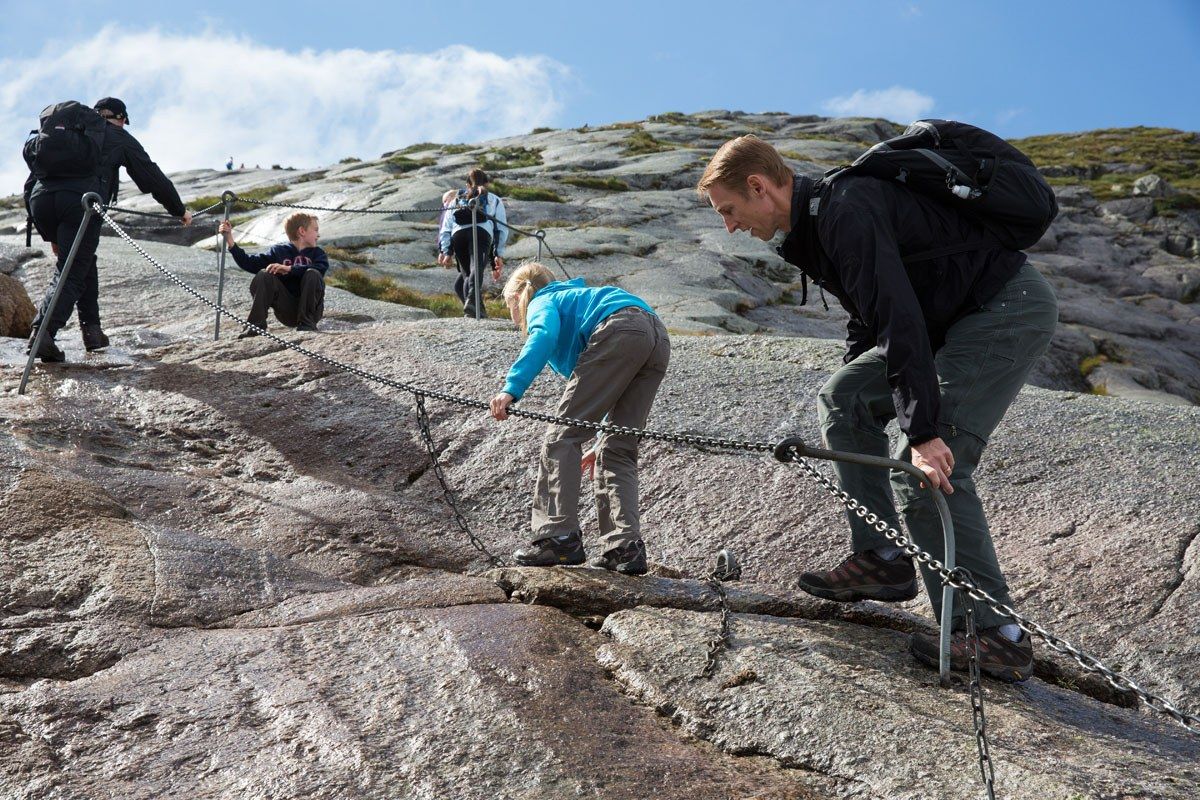 The four of us climbed up and up the incredibly steep granite wall to the top of the first climb. We all had a great time and couldn't wait to keep going. By now the sun was out in full force and it was turning out to be a gorgeous day.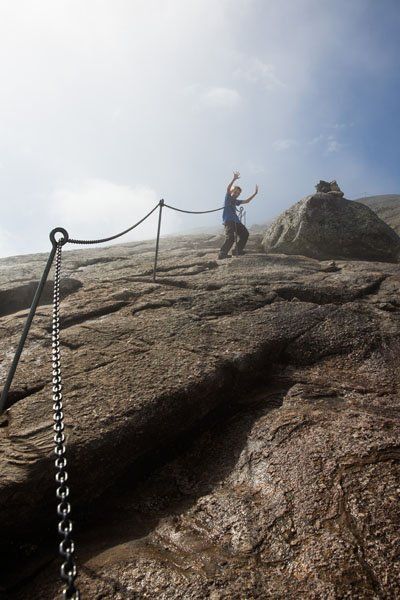 Once the skies completely cleared the views were amazing. Over every climb and around every bend the views were stunning. This was such a beautiful hike! Crowds were much fewer than yesterday's hike to Pulpit Rock, the views were incredible, and the hike was just challenging enough to keep it interesting and fun.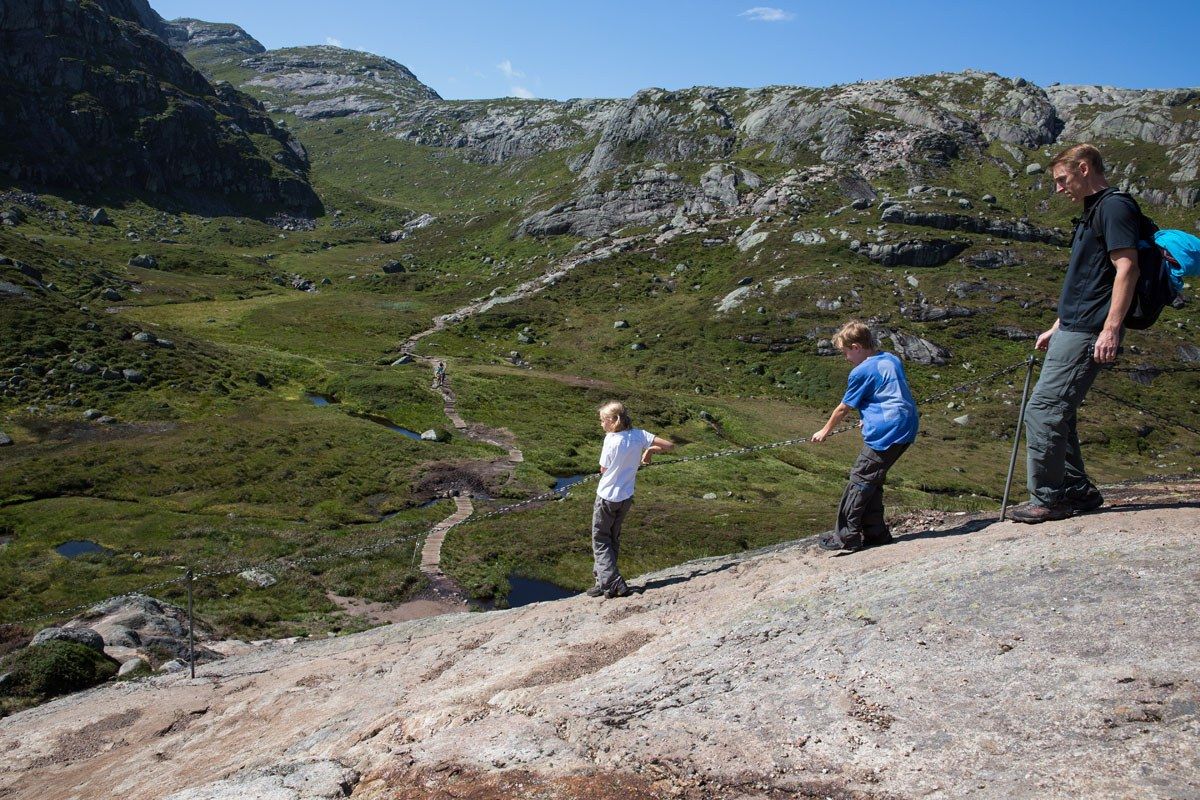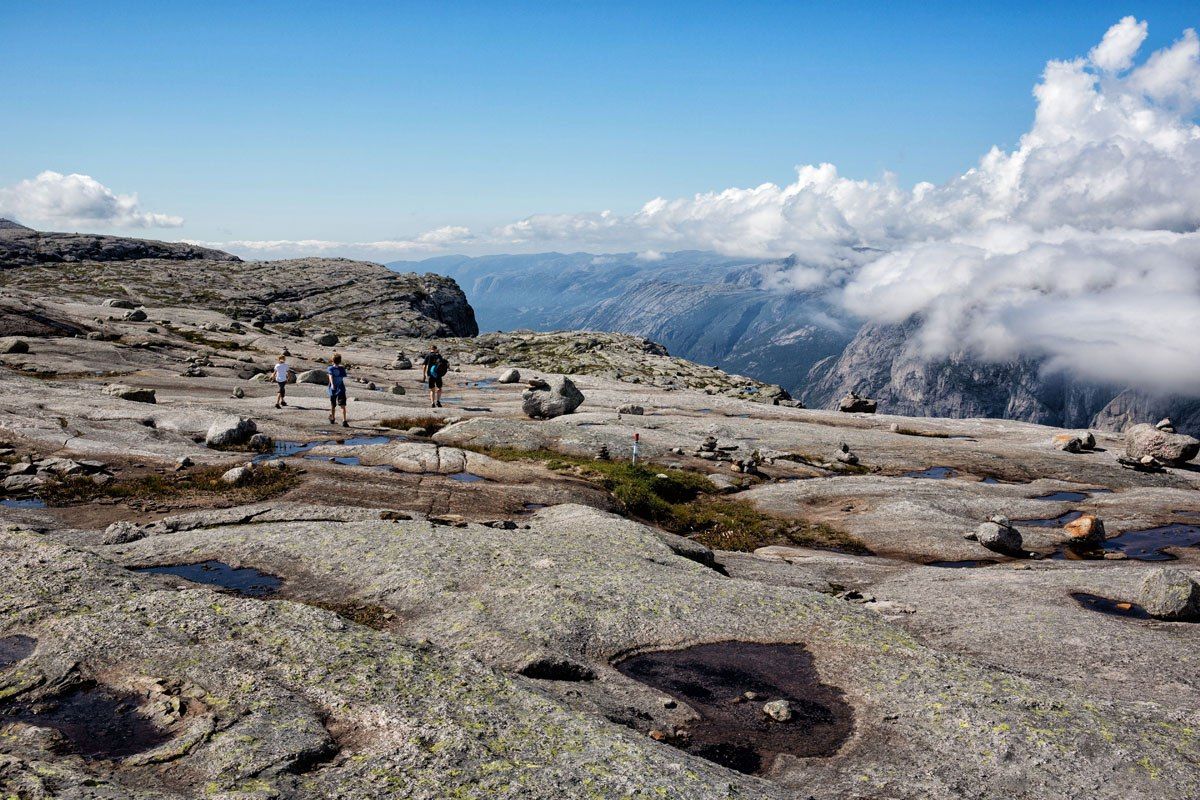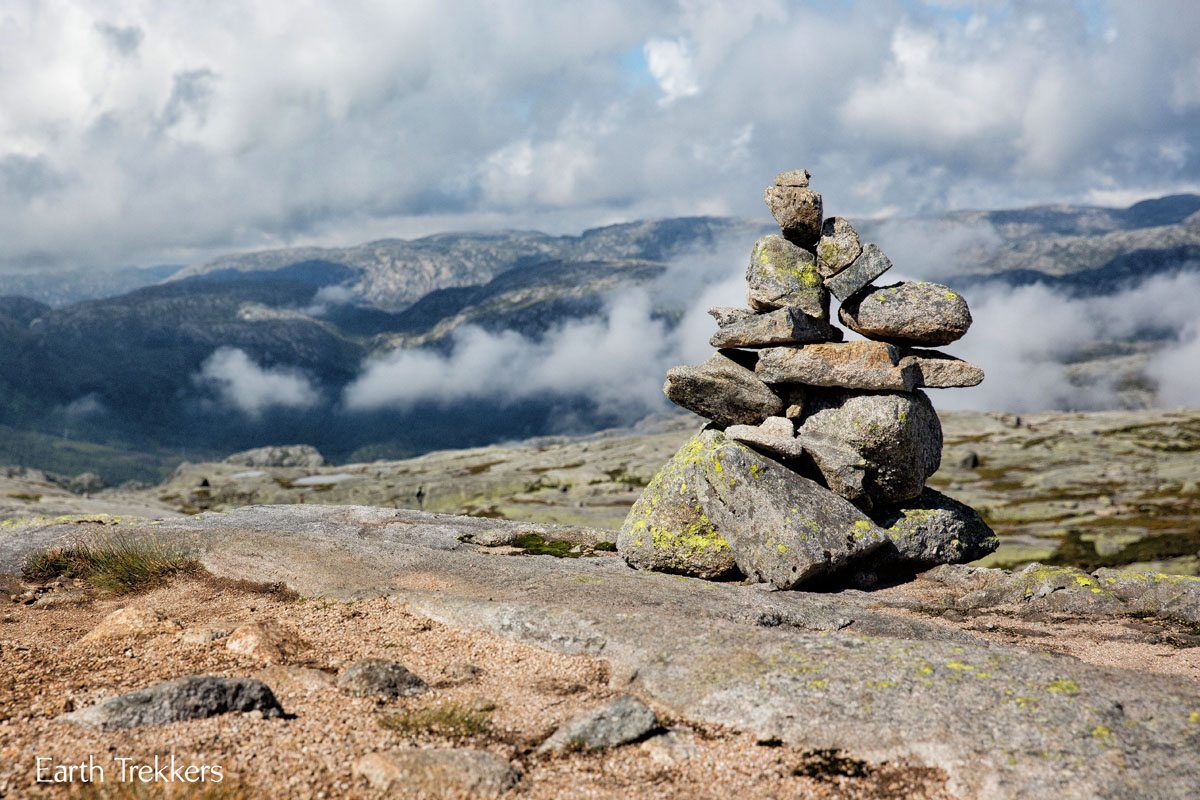 After two more climbs to the top of the mountain and after seeing 1,000 amazing views of Norway we were at the boulder.
The boulder looked bigger than I had imagined it, but oh how high it was off of the ground. In fact, it sits 1000 meters off of the ground, which is about two-thirds of a mile. That's a long way to fall.
We went to the "waiting area" with the kids and got them situated so they could sit and wait. There was no way we would let them step out onto that boulder. This was for crazy parents only.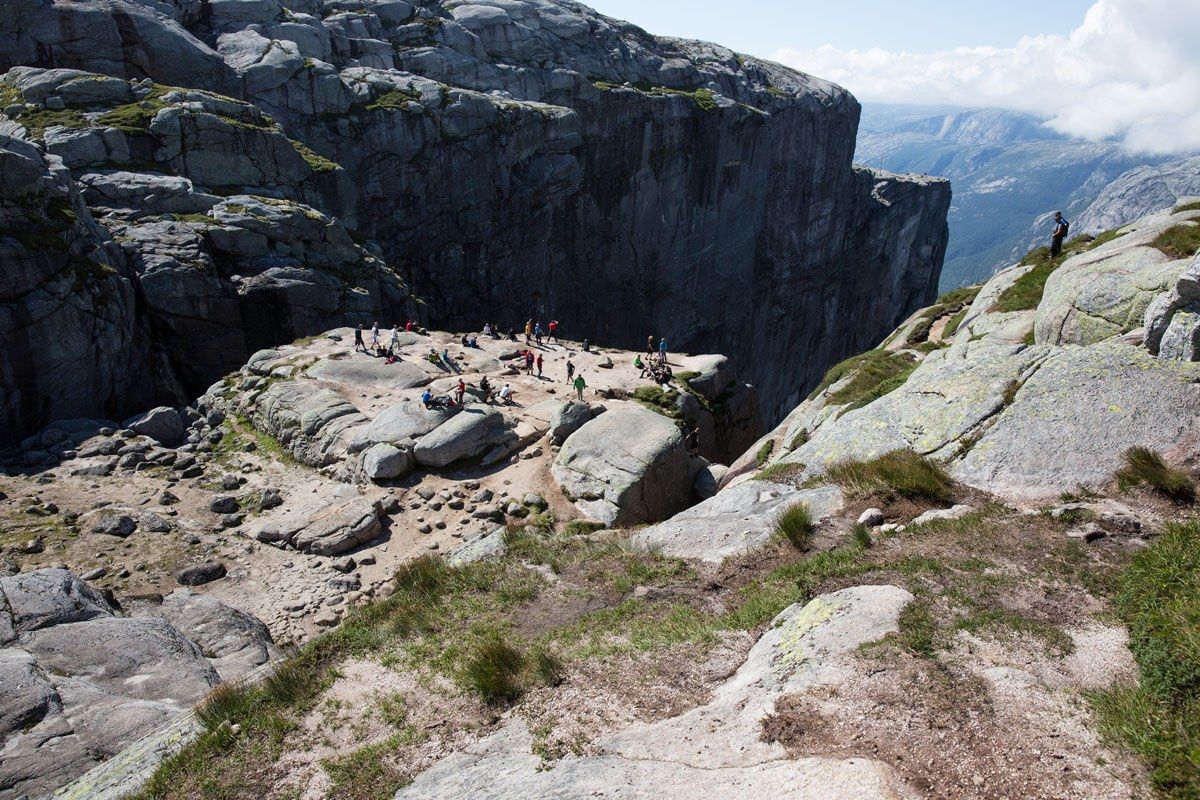 Tim decided to go first. I got in position with my camera while Tim waited in line. I know he must have been nervous, but the longer I stared at the boulder and watched everyone getting on and off the more nervous I became. Finally I saw Tim. He stepped onto the boulder like it was nothing, saw me, and smiled. Tim raised his arms overhead and I snapped away. Go Tim! But I was so relieved when I saw him hop back over onto solid ground.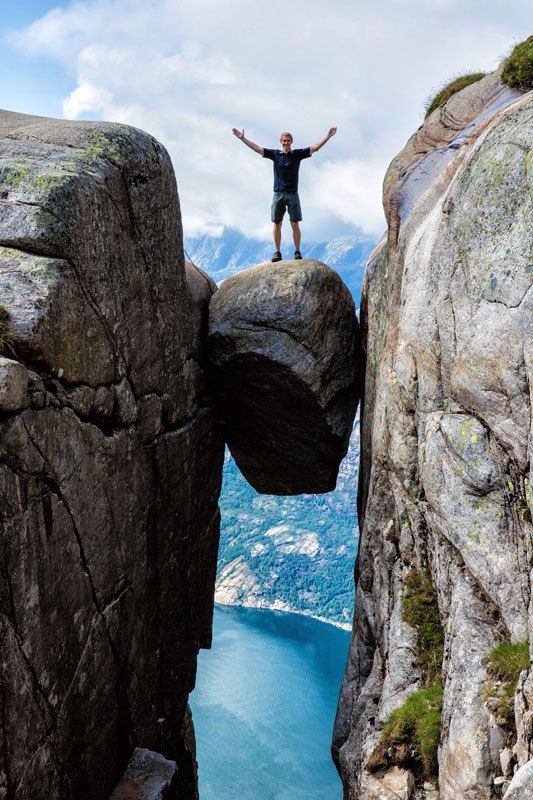 Tim and I changed positions. I waved over to Tyler and Kara, and I could tell they were worried about me. As I waited my turn in line, I tried not to look down at the fjord but I couldn't help it. We were really high off of the ground!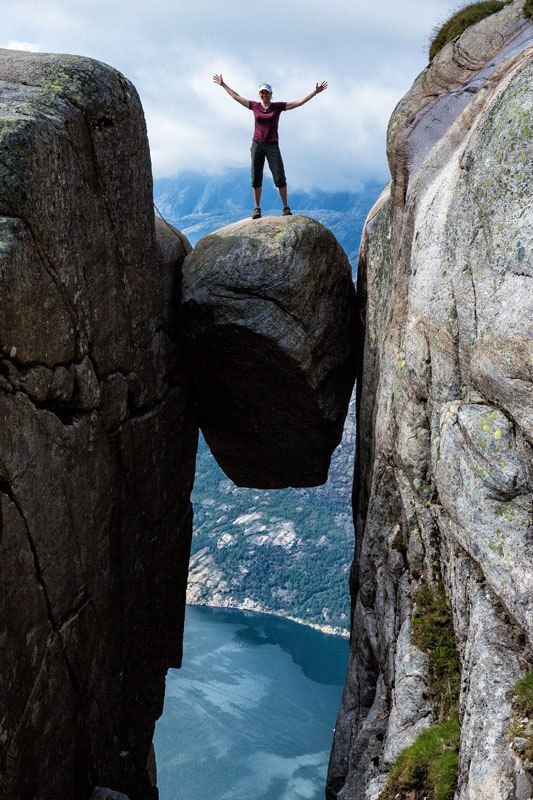 And then it was my turn. I climbed up the step and there in front of me was the boulder. It was a very large boulder, nothing really to be afraid of, other than the fact that there was nothing below it. I cautiously stepped out onto it, found Tim, smiled, and raised my arms for the photos. I was very excited to be on this rock, but also nervous and a little freaked out. Tim got his photos, then I happily stepped back onto solid ground. Tyler and Kara were very relieved their Mom was OK.
The hike back to our car went much faster than the hike to kjeragbolten. Now we were walking mostly downhill and were were not stopping so often for photos. Our walk back took about an hour and forty-five minutes. We finished the hike with very tired legs!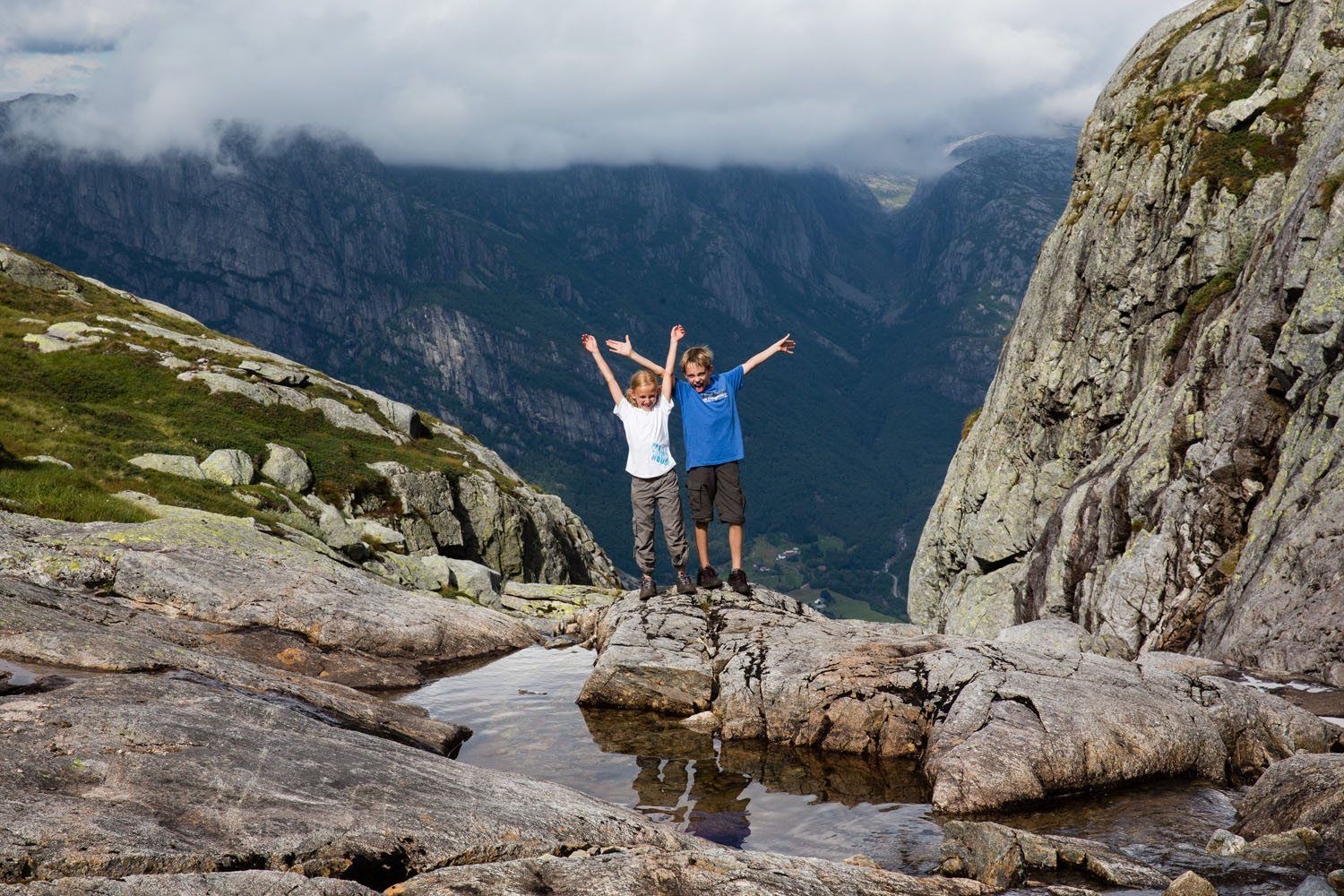 Those tired legs deserved a treat! We stopped at the restaurant at the car park for a dinner of hot dogs and french fries. The views from the restaurant and out over Lysefjord were amazing.
The drive back to Stavanger took another two hours. The views were amazing. I know I keep saying that but in this part of Norway around every bend is another fabulous view. Plus, Tim was having a great time driving these narrow, winding roads.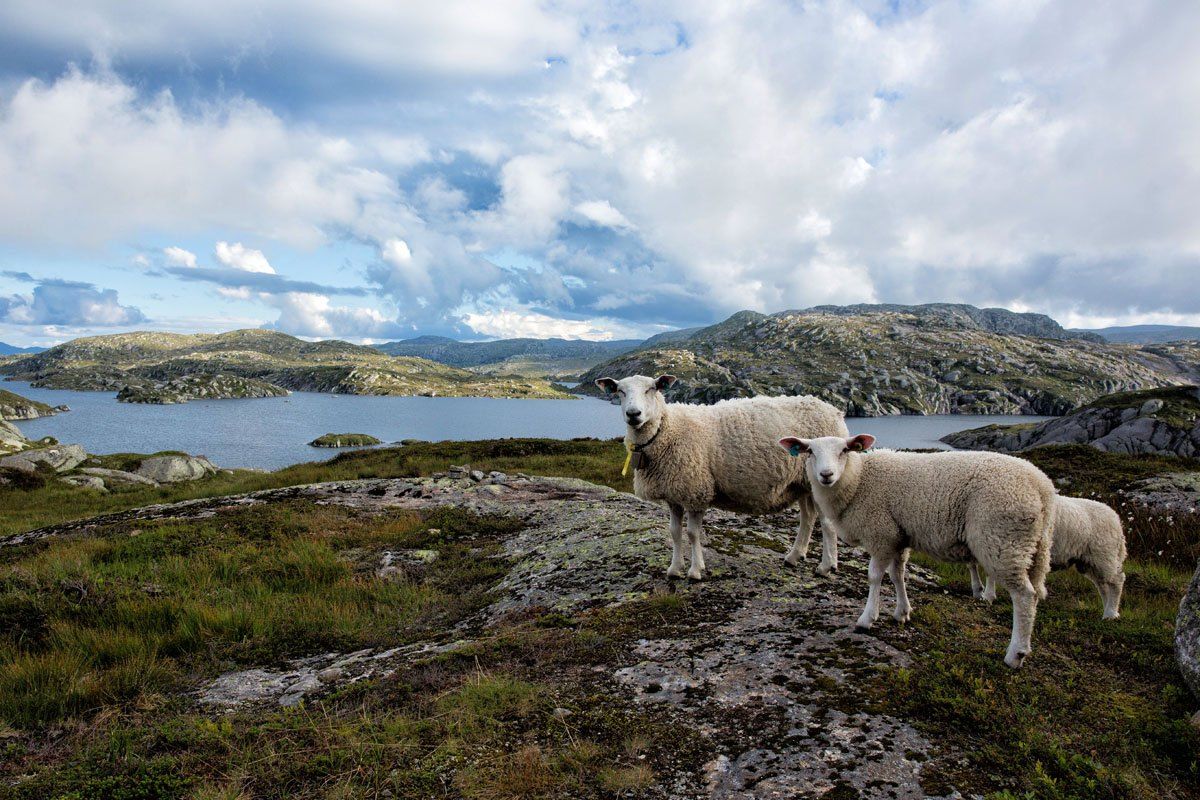 Tim and I are so glad we stepped out onto Kjeragbolten. It was a risky and crazy thing to do but also very exciting and memorable. All four of us were so happy we decided to go through with the hike. The entire hike was absolutely amazing. Norway is awesome!
Even Tyler and Kara, who did not have the experience of stepping out onto the boulder, said this was their favorite hike in Norway (including the two that we would do later in the trip, Trolltunga and Romsdalseggen). Our kids loved climbing with the assistance of the chains, the steep climbs up the mountains, and the amazing scenery.
This hike did challenge them. It is a 12 km out and back hike with 570 meters of climbing. Our round trip hike took six and a half hours, including the time spent at Kjeragbolten. This hike would be suitable for an adventurous kid who is at least 9 years old (Kara was one month from turning 9). Our kids were the only children we saw on the hike, a theme that would continue through the next two hikes.
Check out our Guide to Hiking Kjeragbolten
For more information, read our article How to Hike Kjeragbolten: A Complete Guide. This is an in-depth guide to how to hike to Kjeragbolten, including photos of what the entire hiking trail looks like. If you are wondering if you or your children can complete this hike, don't miss this post!
Guided Hikes
If you would prefer to hike Kjeragbolten with a guide then the following guided tour gets excellent reviews. Plus the tour includes your transportation.
Where We Stayed
We stayed in Stavanger at the Comfort Hotel Square. This was within walking distance of the restaurants and harbor area of Stavanger.
---
More Information for Your Trip to Norway
10 DAYS IN THE FJORD REGION: On this 10 day itinerary through the fjord region, visit southern Norway: Bergen, Geirangerfjord, and Stavanger and hike Trolltunga, Pulpit Rock and Kjeragbolten.
BEST OF NORWAY ITINERARY: In this guide, we share two different ways to plan a 10 day trip that includes both the Lofoten Islands and southern Norway.
BEST OF NORWAY: For a list of top experiences in Norway, don't miss our Norway Bucket List. If you are a hiker, we also have a hiking guide with 14 epic day hikes to do in Norway.
HIKES IN NORWAY: For an overview for some of the best hikes in Norway, take a look at our Norway Hiking Guide. We also have detailed trail guides to Trolltunga, Pulpit Rock, Reinebringen, and Segla.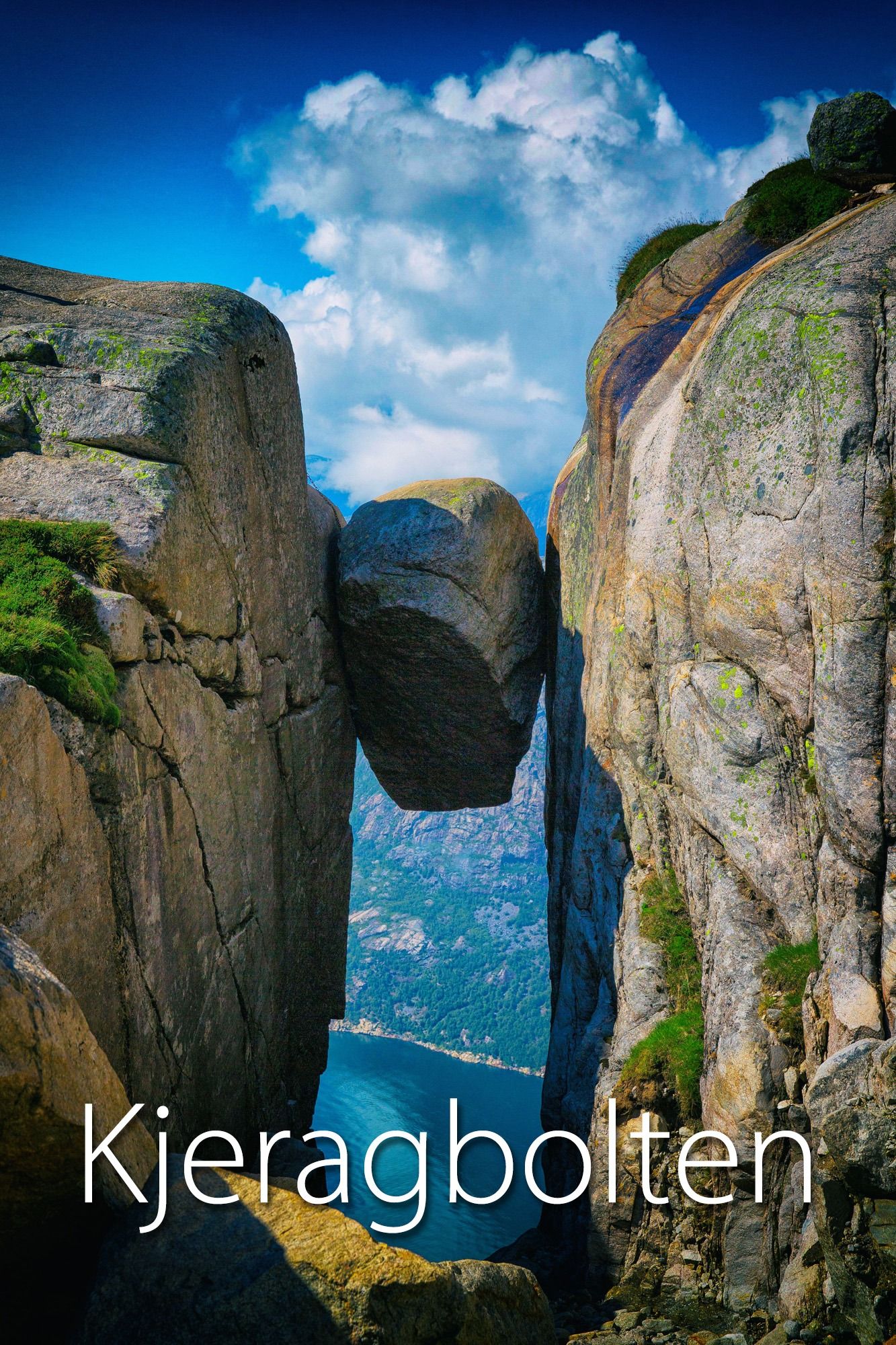 Note: This post contains affiliate links. When you make a purchase using one of these affiliate links, we get paid a small commission at no extra cost to you.
All rights reserved © Earth Trekkers. Republishing this article and/or any of its contents (text, photography, etc.), in whole or in part, is strictly prohibited.